NYC Family Travel
NYC Family Travel
New York City is one of the greatest cities in the whole world, and having grown up there makes it all the more endearing to me. When I was younger, I would dream of one day having a family of my own, and experiencing the magic of NYC with my little ones, just as my Grandmother Lucy had with me. This fall, my heart grew four sizes as I watched my kids' eyes light up, day after day, as we experienced some of my favorite places in the Big Apple as a family. If you're looking for a fun-filled, fall family adventure in NYC, I've got you covered. Here are my top NYC travel recommendations for the whole family!
The Parker New York
We stayed at The Parker New York for many reasons, but the incredible views and the enclosed rooftop pool were among the standout features. If you're looking to swim in the heart of winter, look no further. I highly recommend this hotel for a big family, because the guest rooms are all at least 300 sq. ft, making it the perfect space to relax after a long day of walking around the city! And trust me, you will do a lot of walking. Read all about our stay at the Parker New York here.
Mom Tip #1: Wear comfy shoes. Your feet will thank me later. And be sure to take lots of breaks to prevent the kids from complaining, because chances are, they're not used to the hustle of NYC. And remember, when it doubt, stop for ice-cream and everybody wins!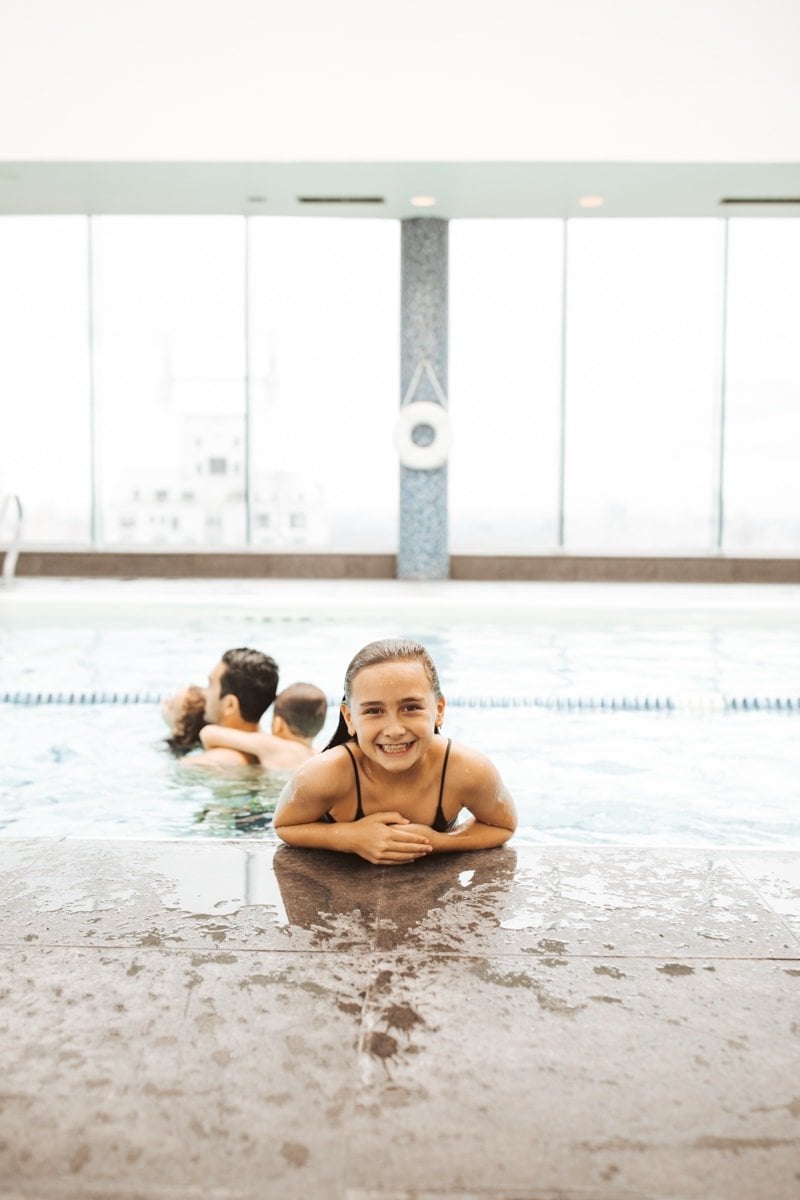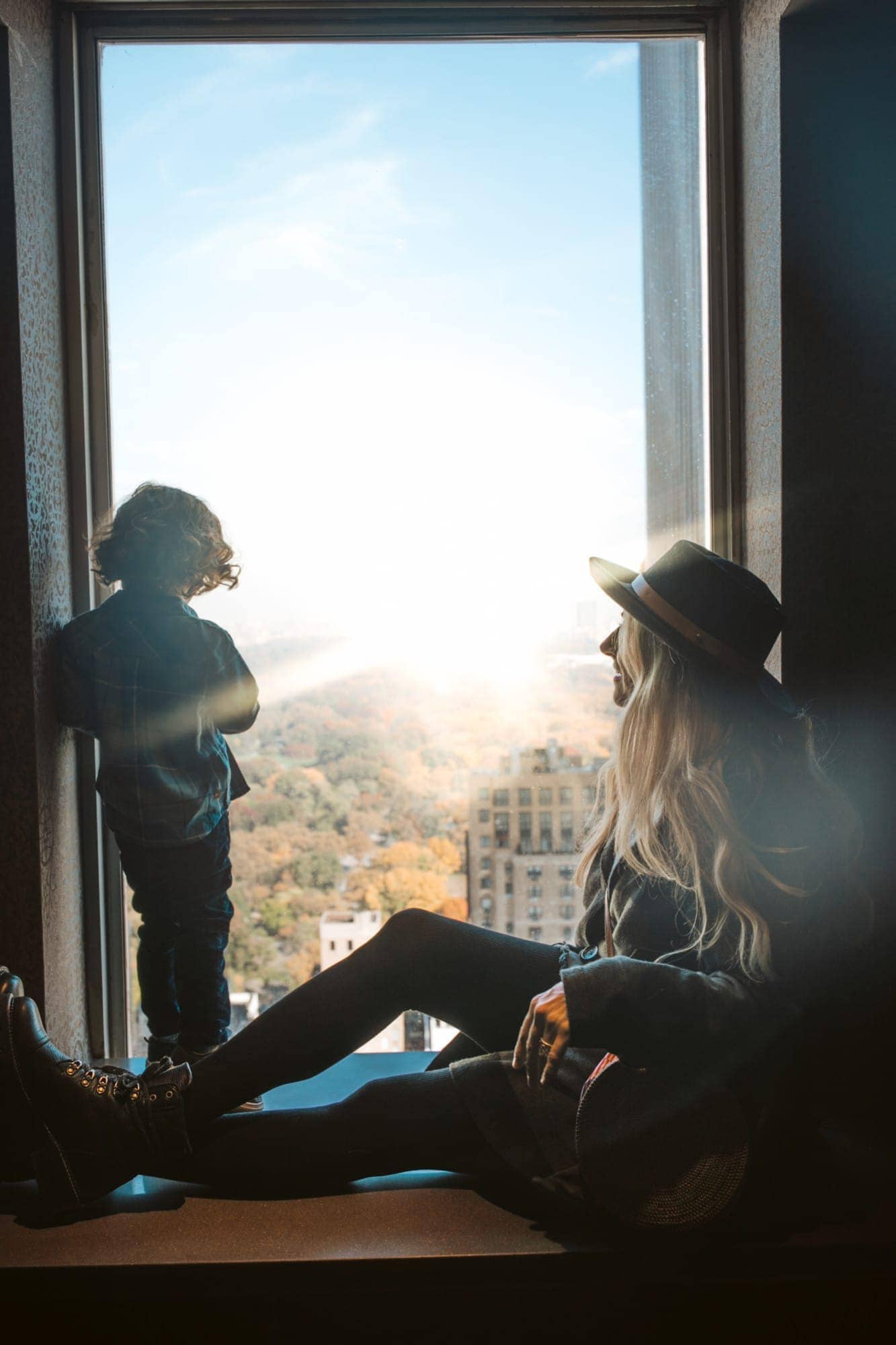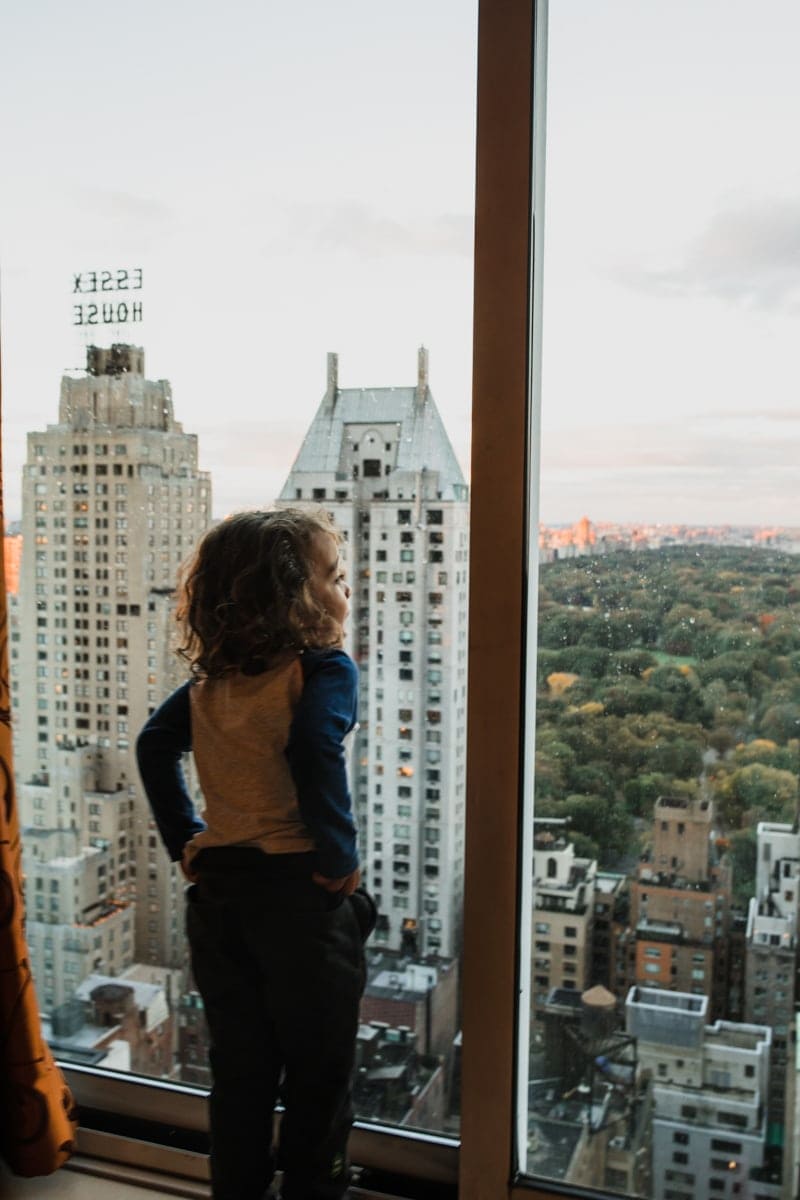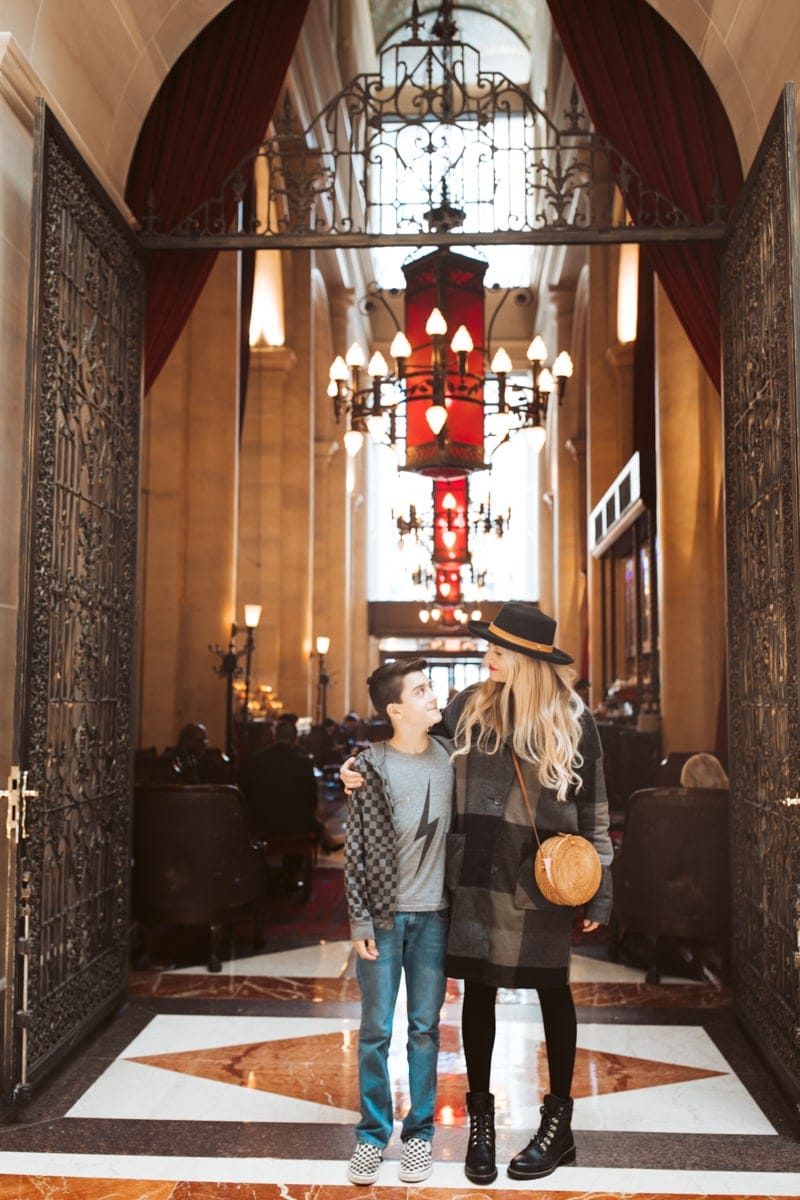 Central Park
The storybook setting of Central Park drew us back day after day during our New York City vacation. It's a wonderful change of pace, and it's perfect for picnicking and people watching alike. The kids loved climbing on the big rocks scattered about. If you're looking to burn off some energy (perhaps after that ice scream stop), bring a frisbee or ball. The park is massive and there's so much you can do and explore. The kids absolutely loved the zoo, specifically the penguins. It's only $12 for adults and $7 for children, which is a steal compared to prices in Southern California!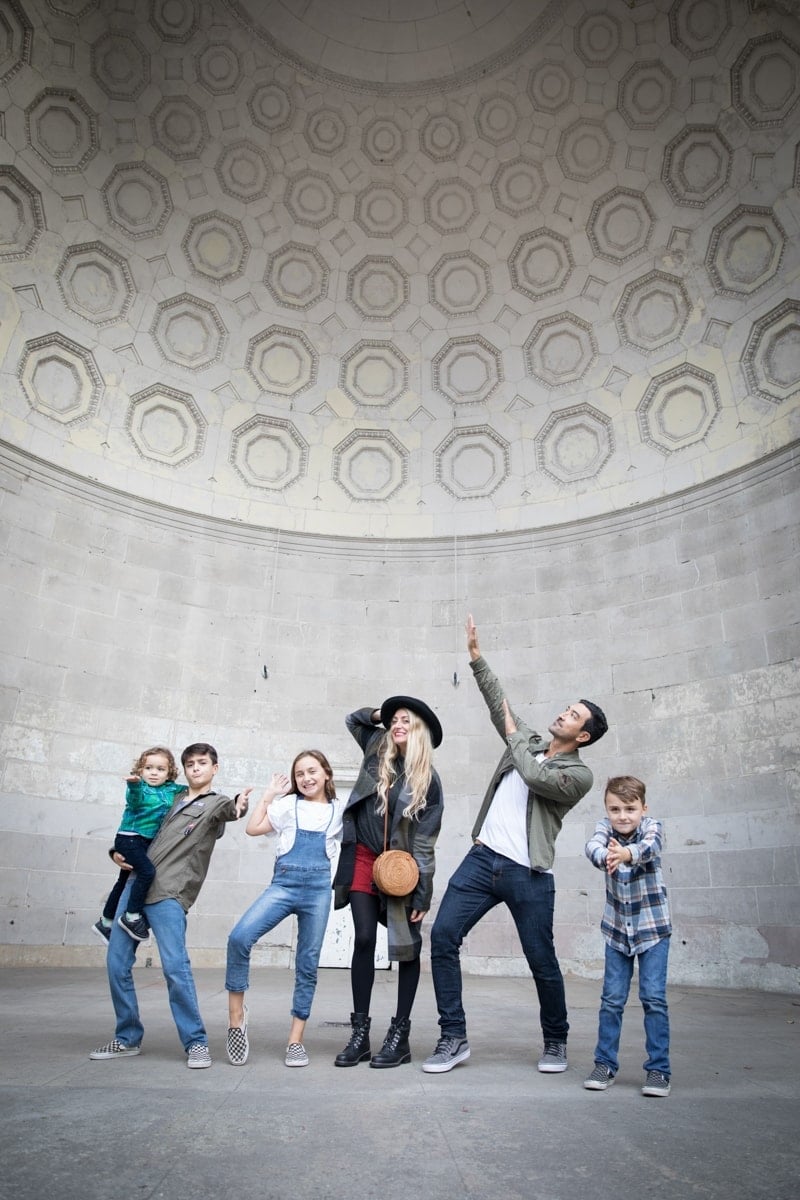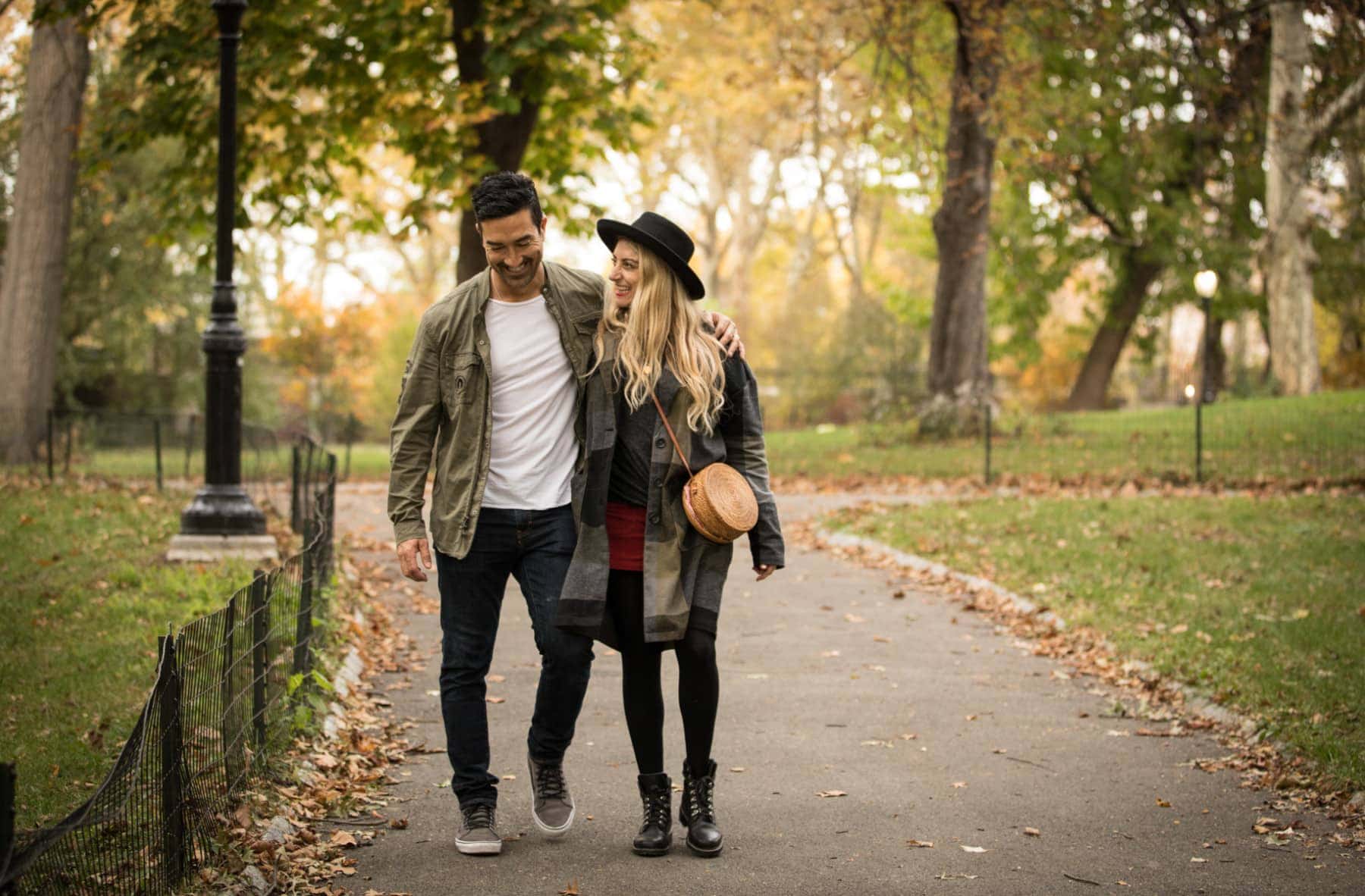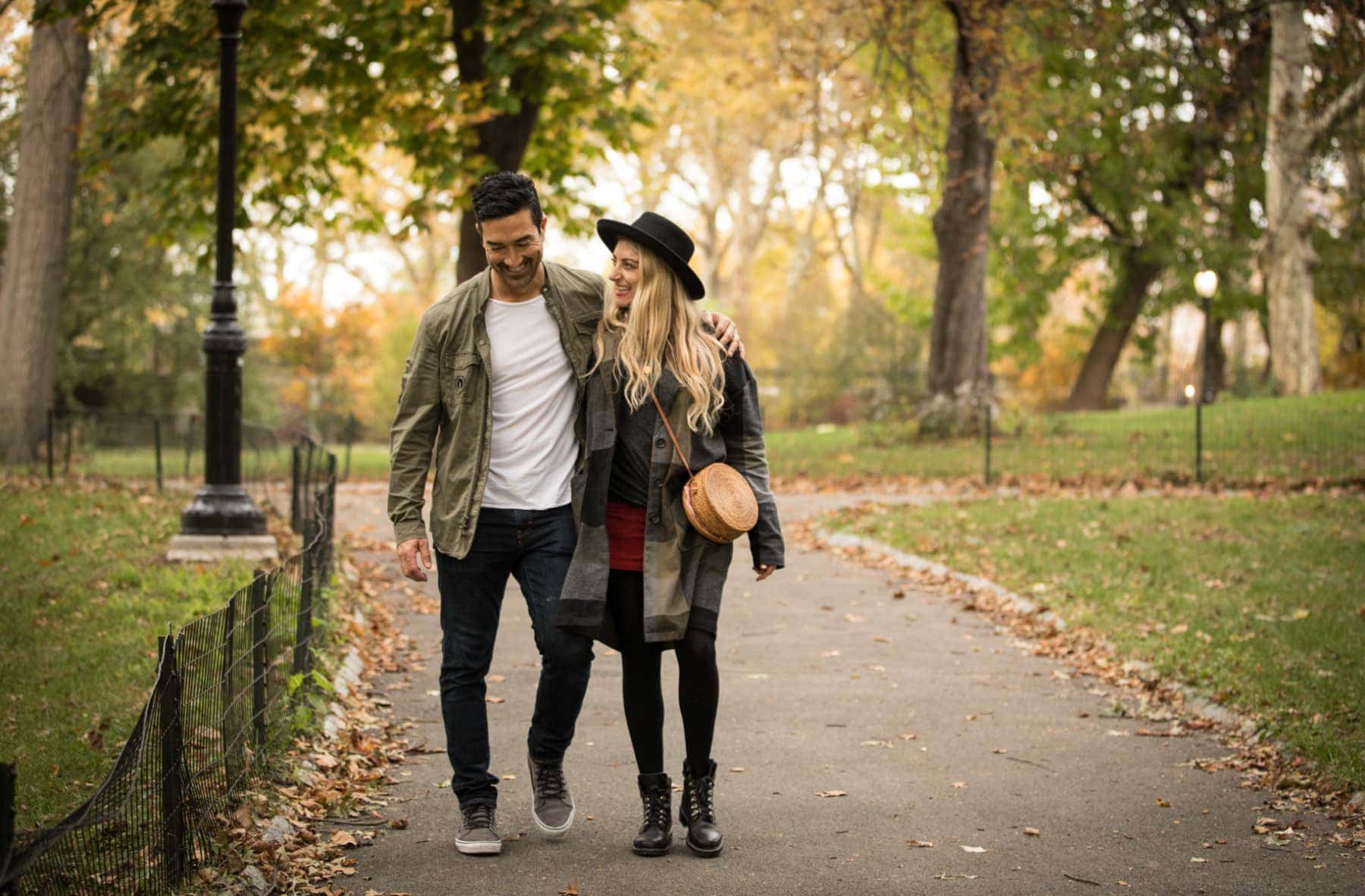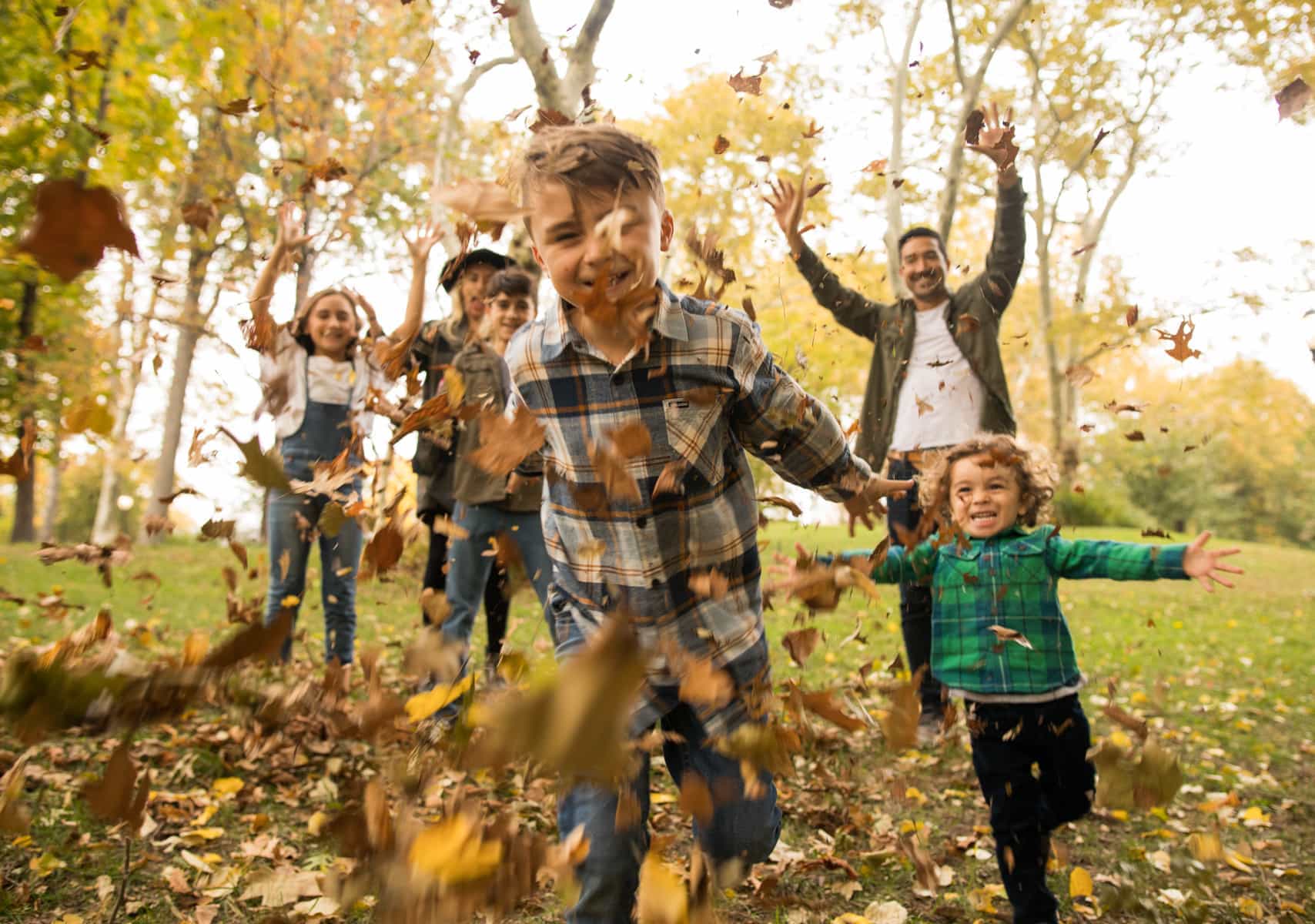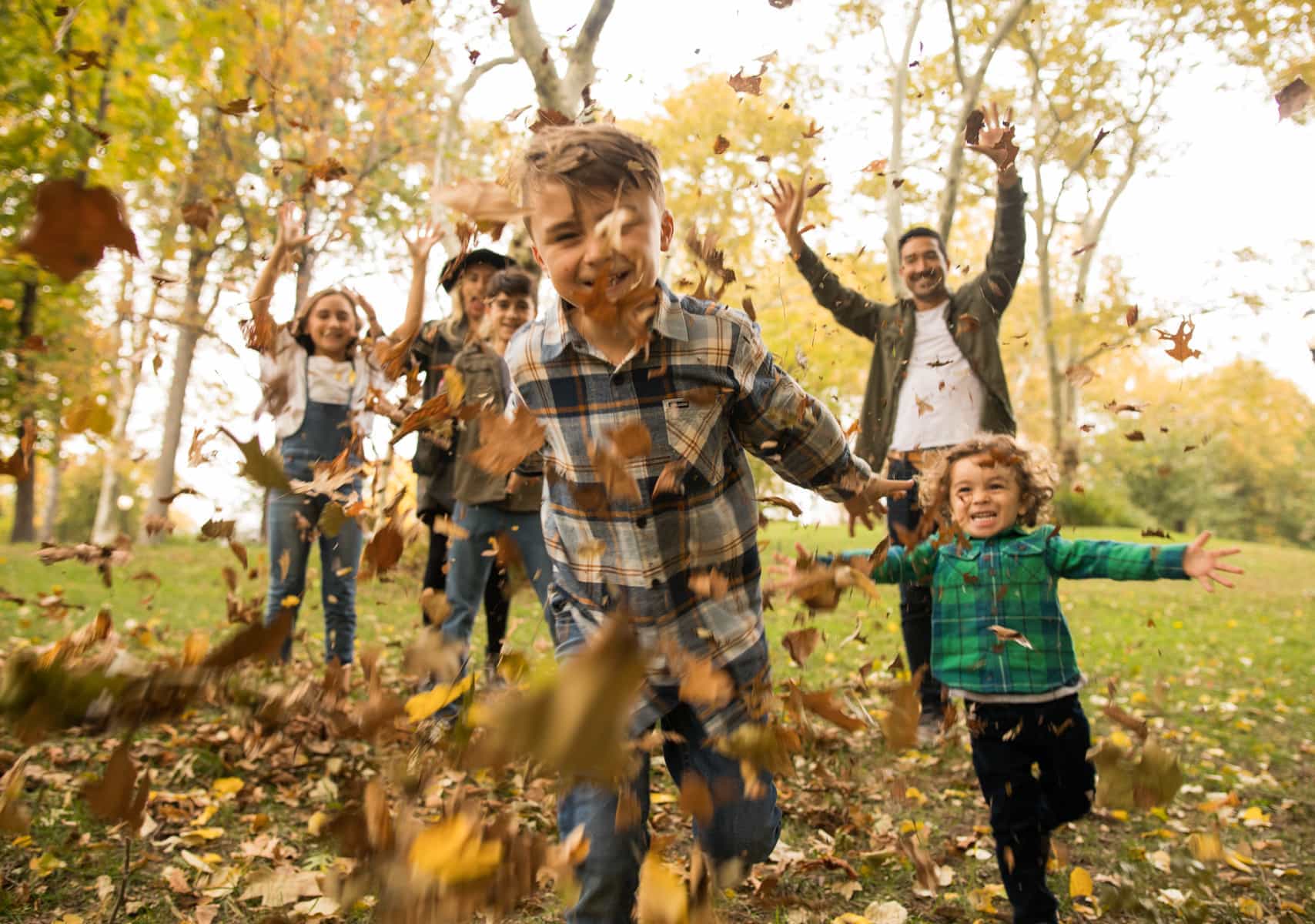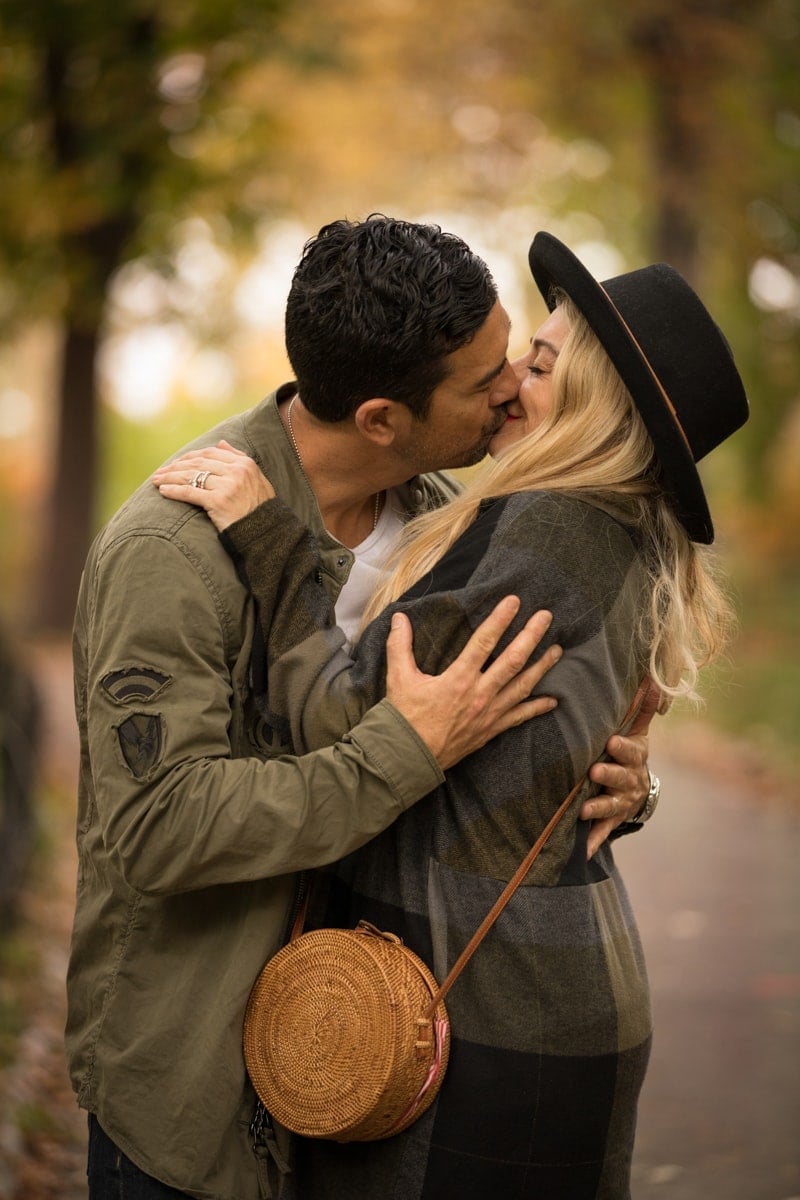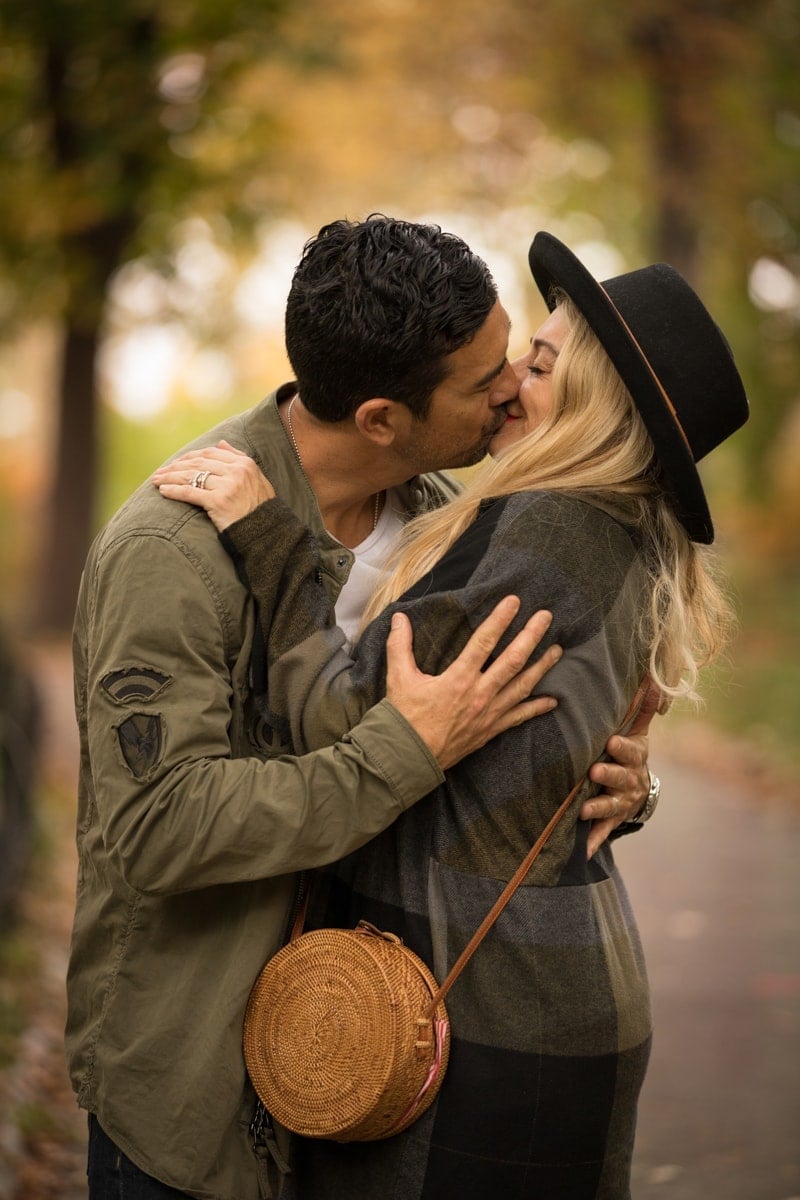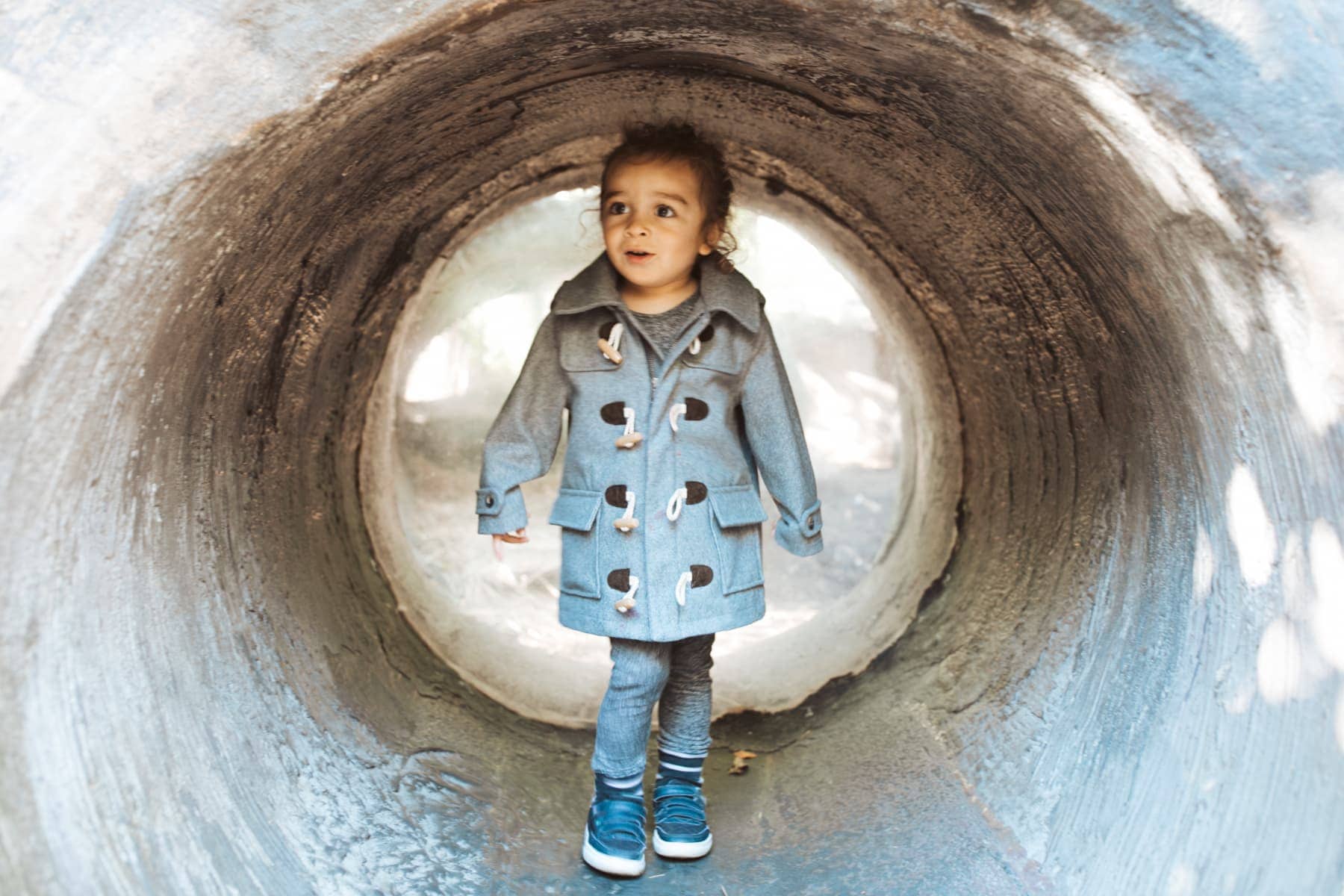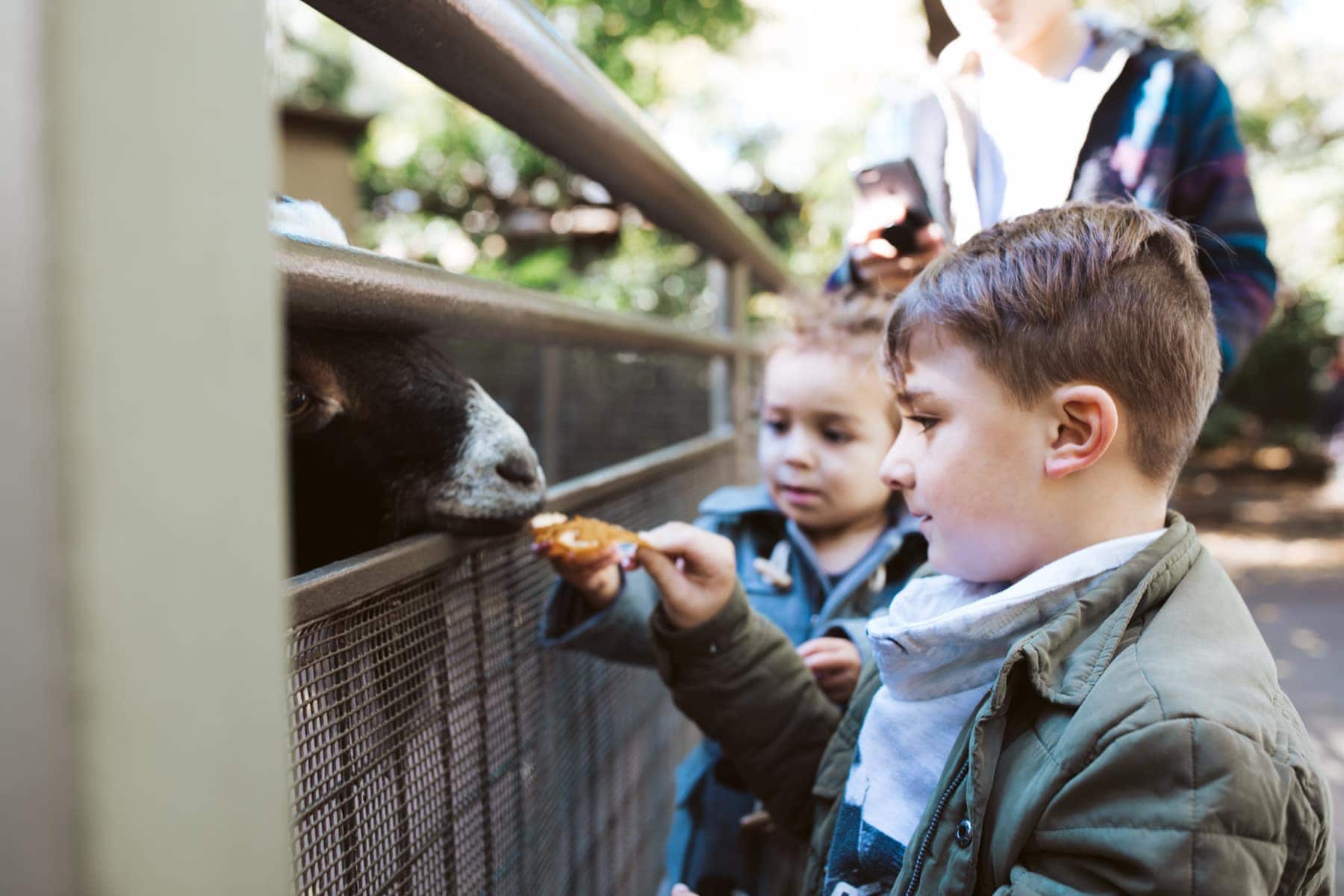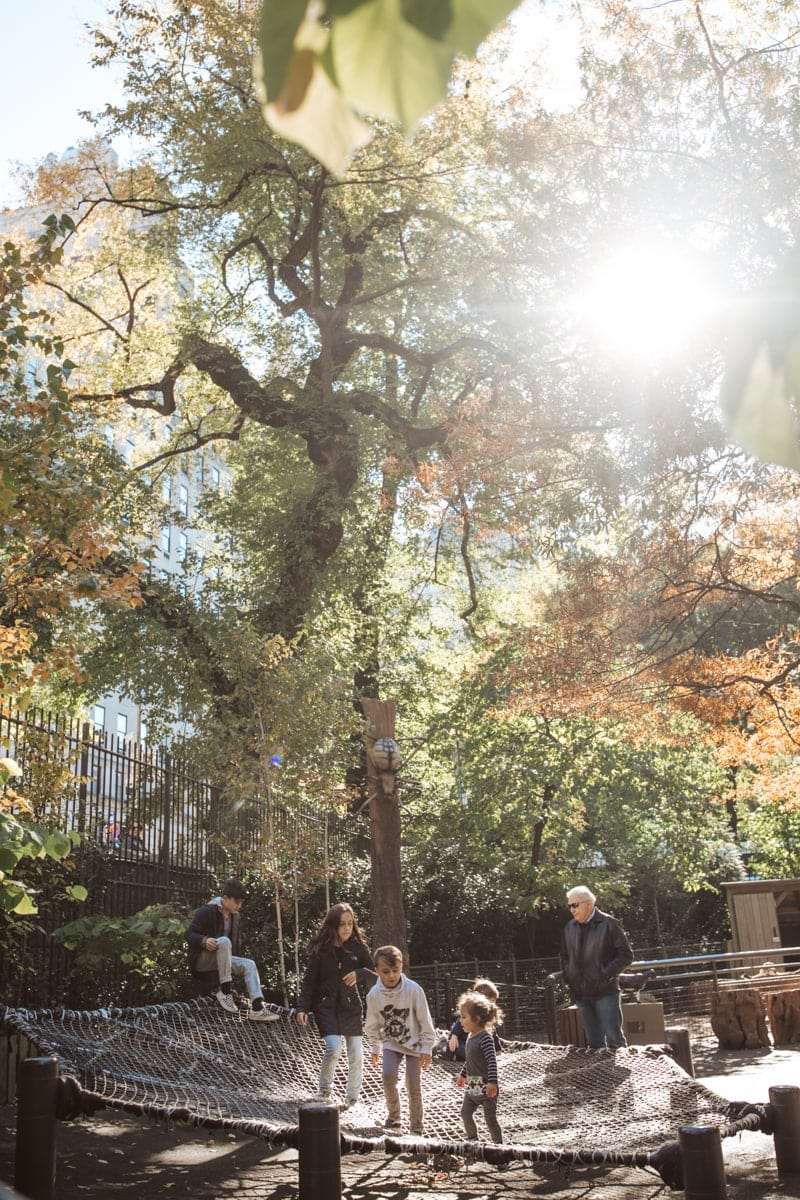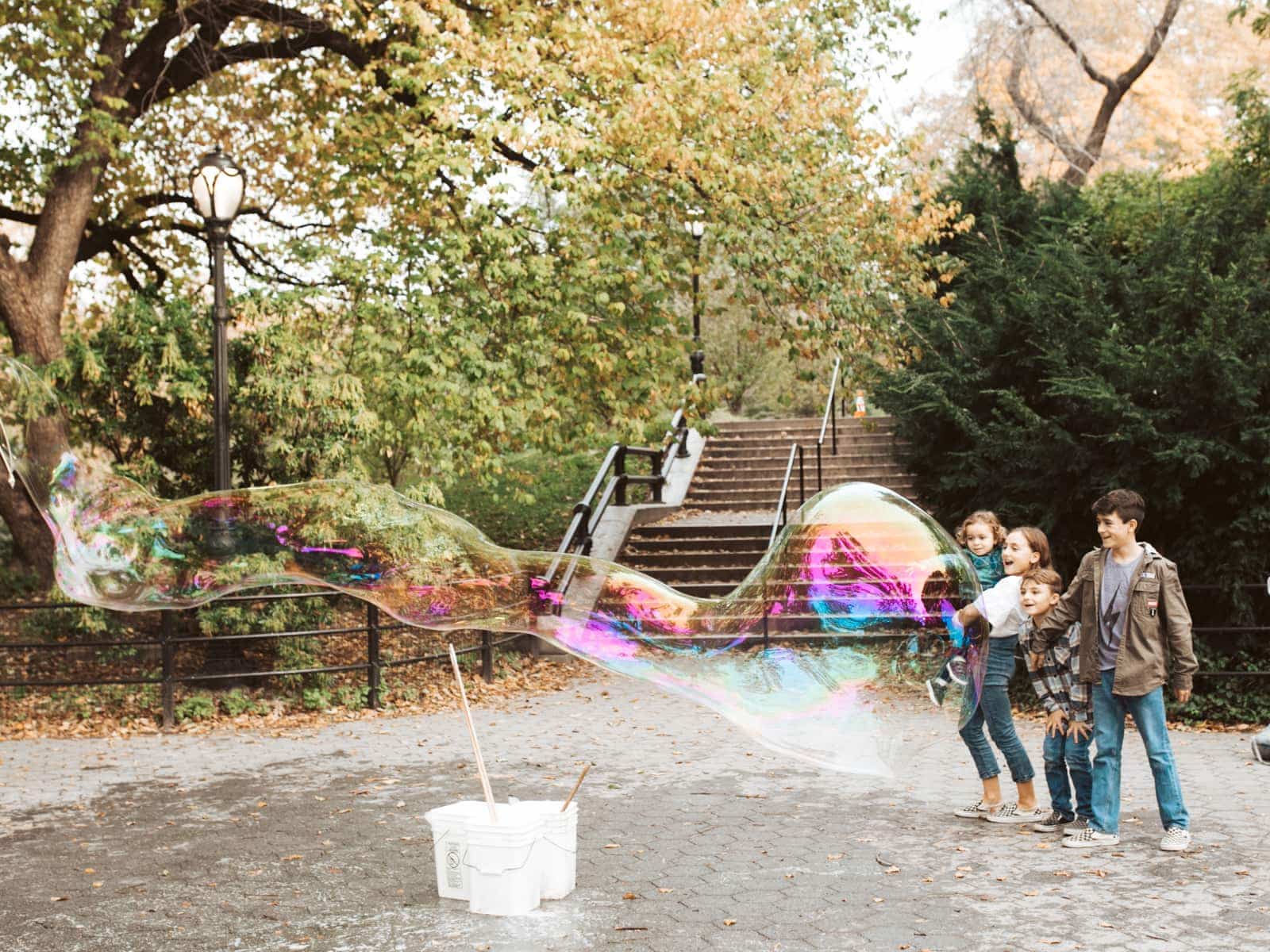 Carriage Rides
A classic NYC tourist indulgence is to take a horse and carriage ride, which was a special treat when I was a kid. Rides usually start around $60 for 15 minutes. We totally would have done this, except our family of six exceeds maximum capacity! We did, however enjoy seeing the horses in all of their beauty.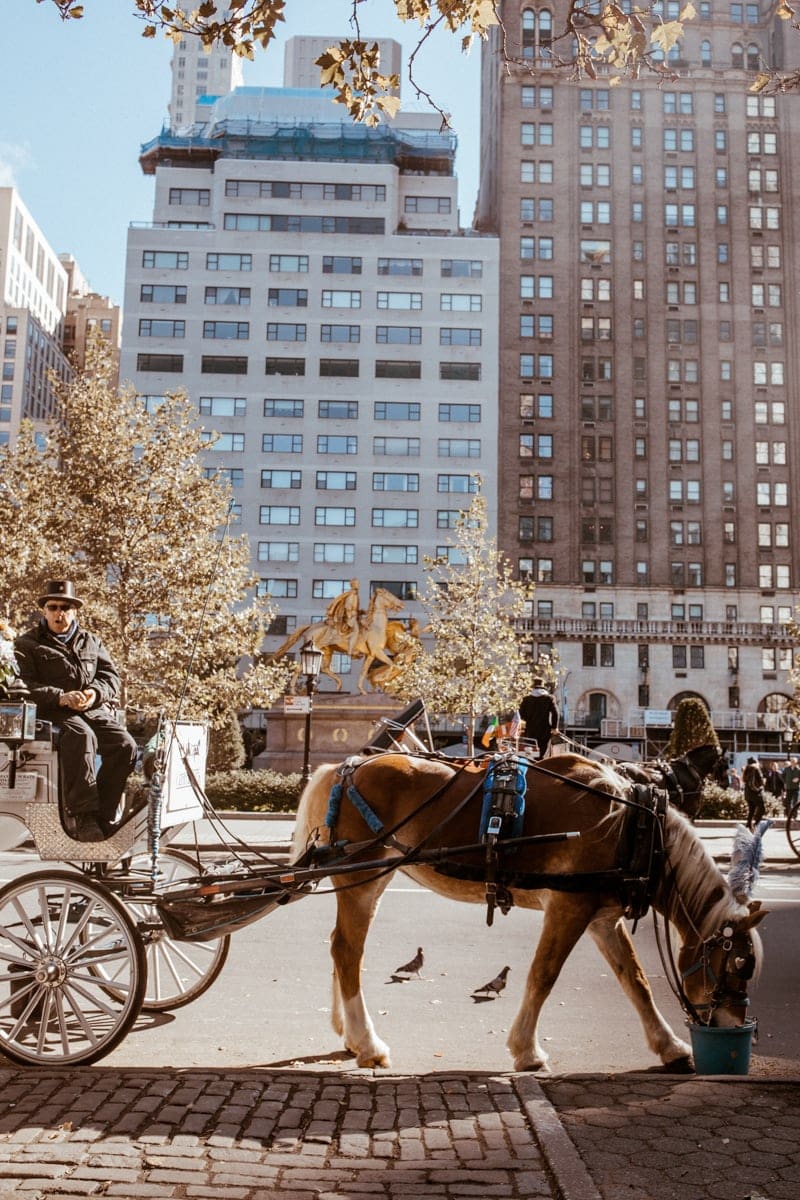 The Plaza Hotel
A trip to NYC is not complete without stopping at the famed Plaza Hotel. The hotel is simply gorgeous and such an iconic sight that to see it in person is the only way. Plus, my kids love Home Alone, and thought it was really cool to see where mischievous Kevin McCallister gets up to trouble in the second movie. When we walked in, I played the soundtrack on my phone, and they got a real kick out of that.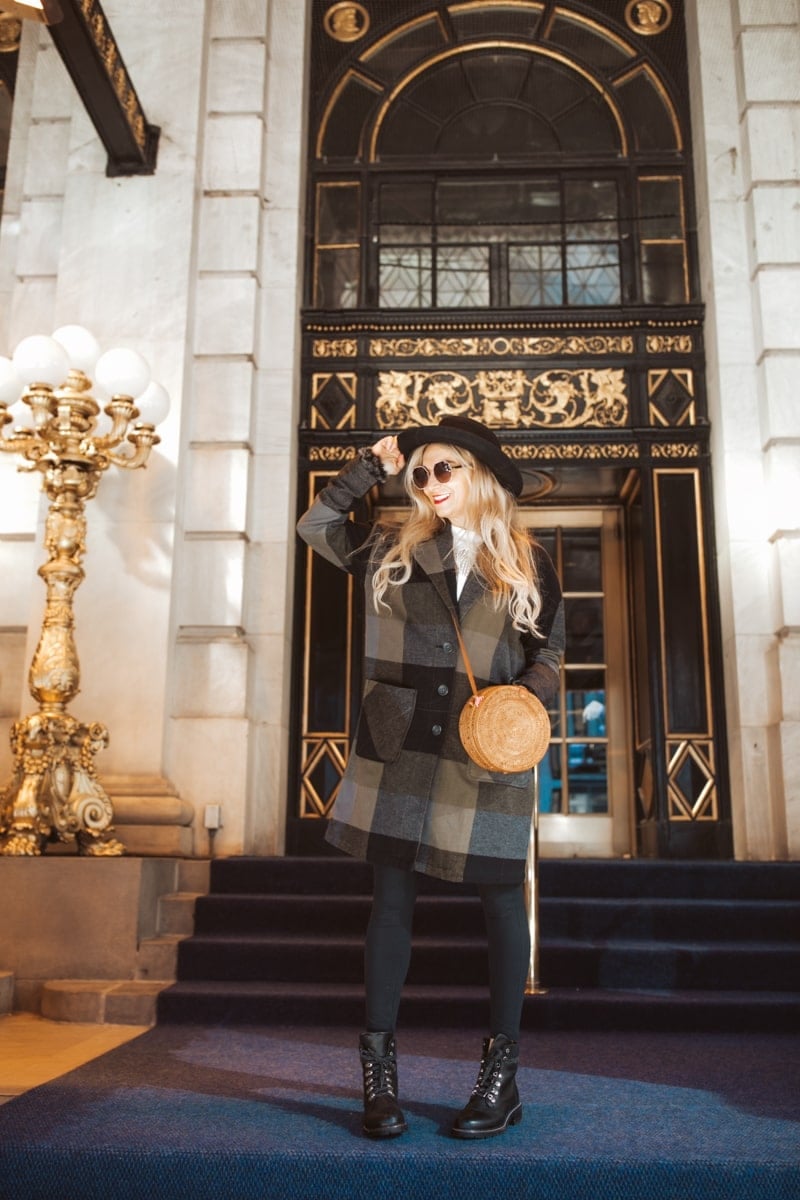 Light Bites
In NYC, walking around the busy streets can tire you out and sometimes a quick bite to eat is the best option. The street hot dogs are surprisingly delicious and they're practically on every corner. The kids will love eating a hot dog outside of central park just like in the movies, and it'll save you a few bucks!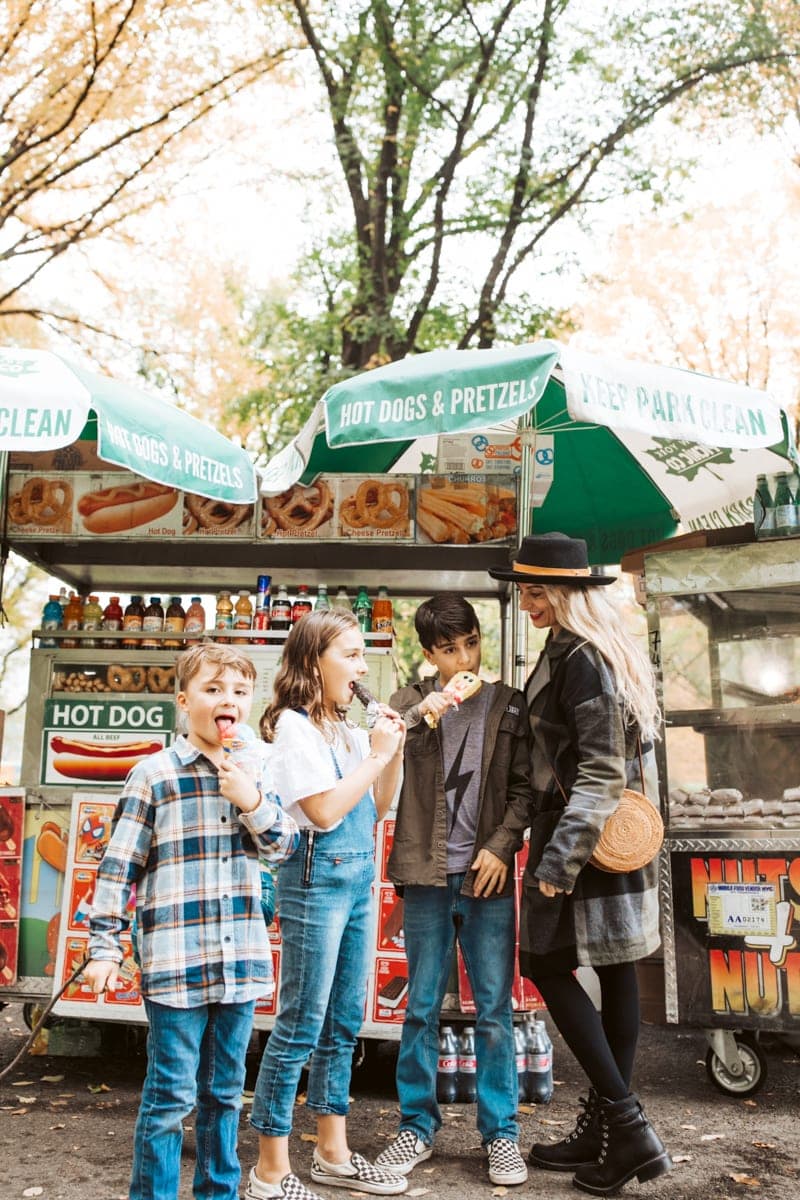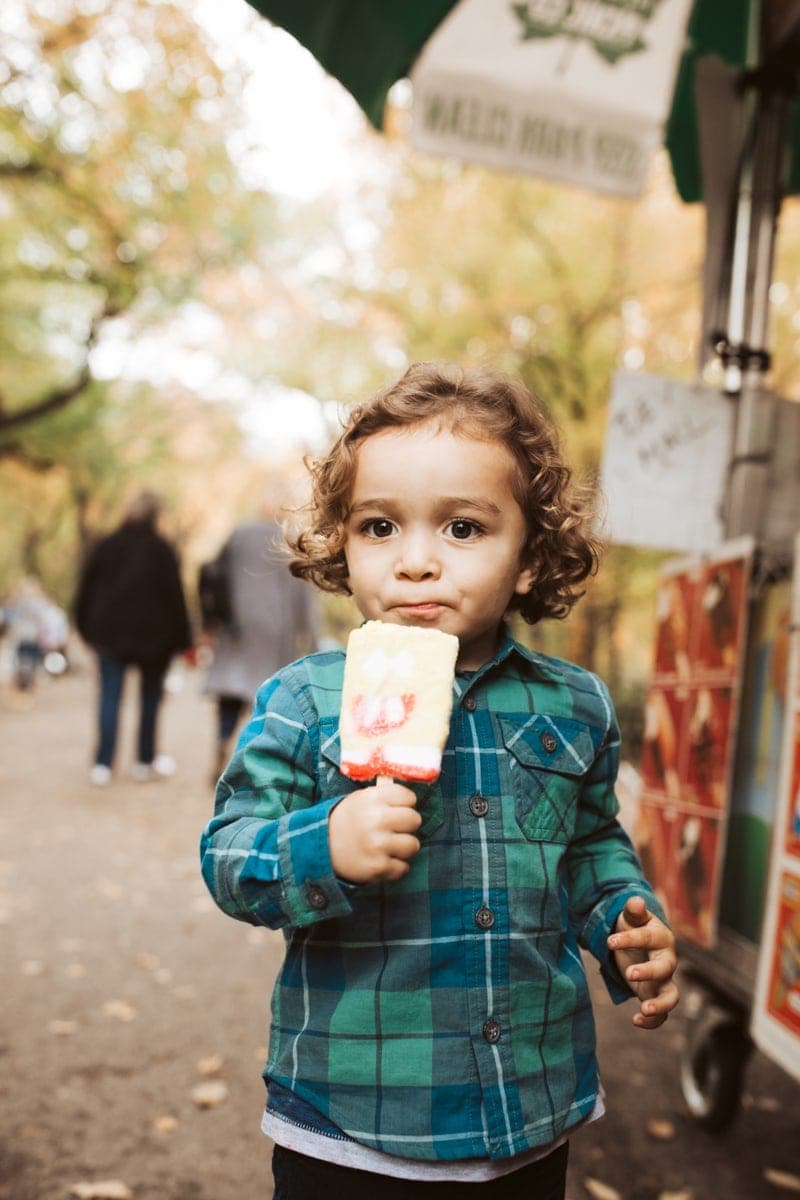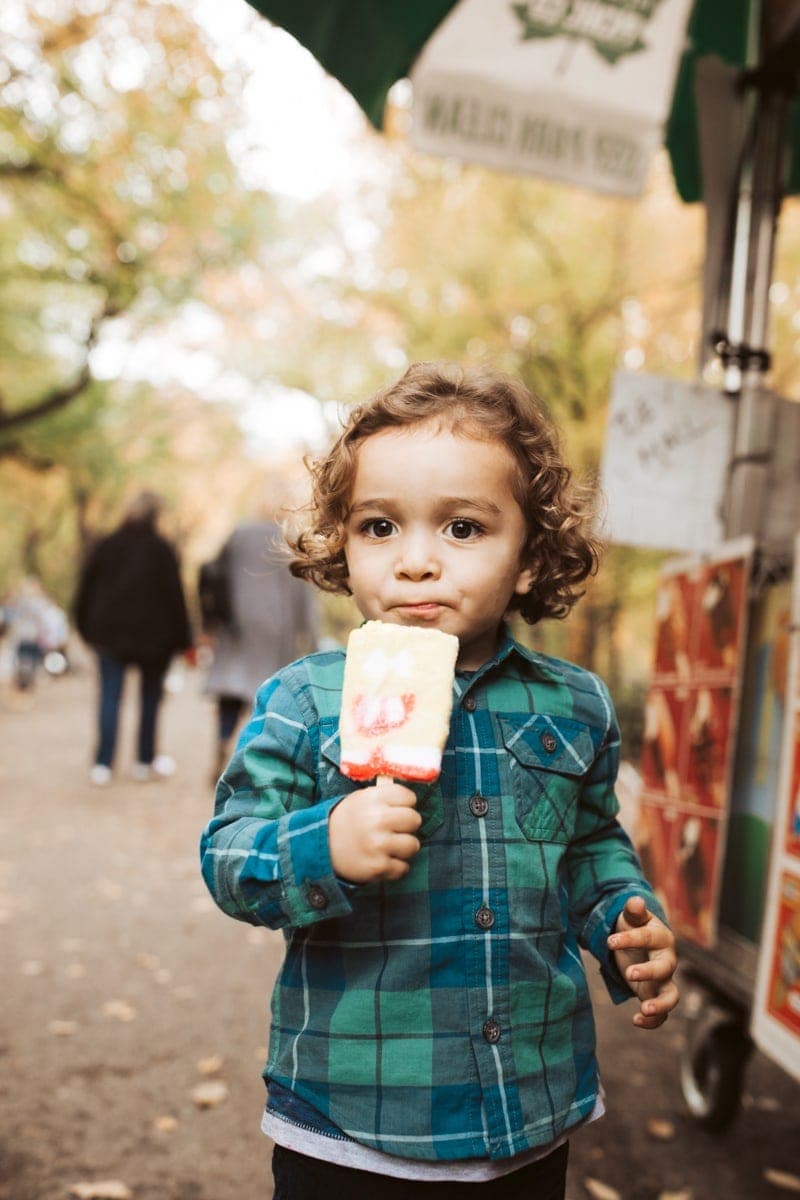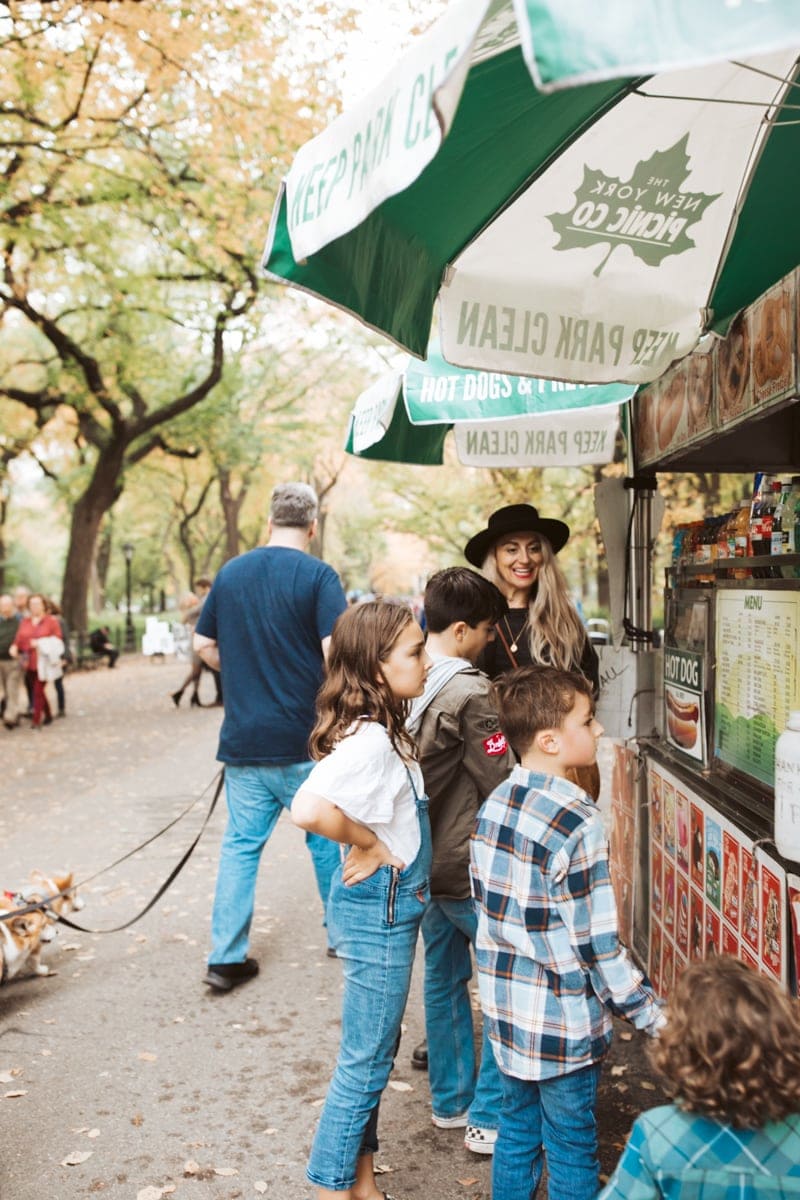 The Rink
Ice skating at The Rink at Rockefeller Center is a MUST. We've all pretty much grown up seeing this famous rink in countless movies, so getting to actually skate there is an unforgettable experience. During the holiday season, lines can get really long, especially once the big tree is up. It's definitely no fun to be standing outside in the freezing cold with hundreds of other people, so I'd recommend reserving VIP tickets in advance so you can skip the line. Totally worth the money. Another must of Rockefeller Center is Ralph Lauren's iconic Ralph's Coffee truck. The BEST lattes ever!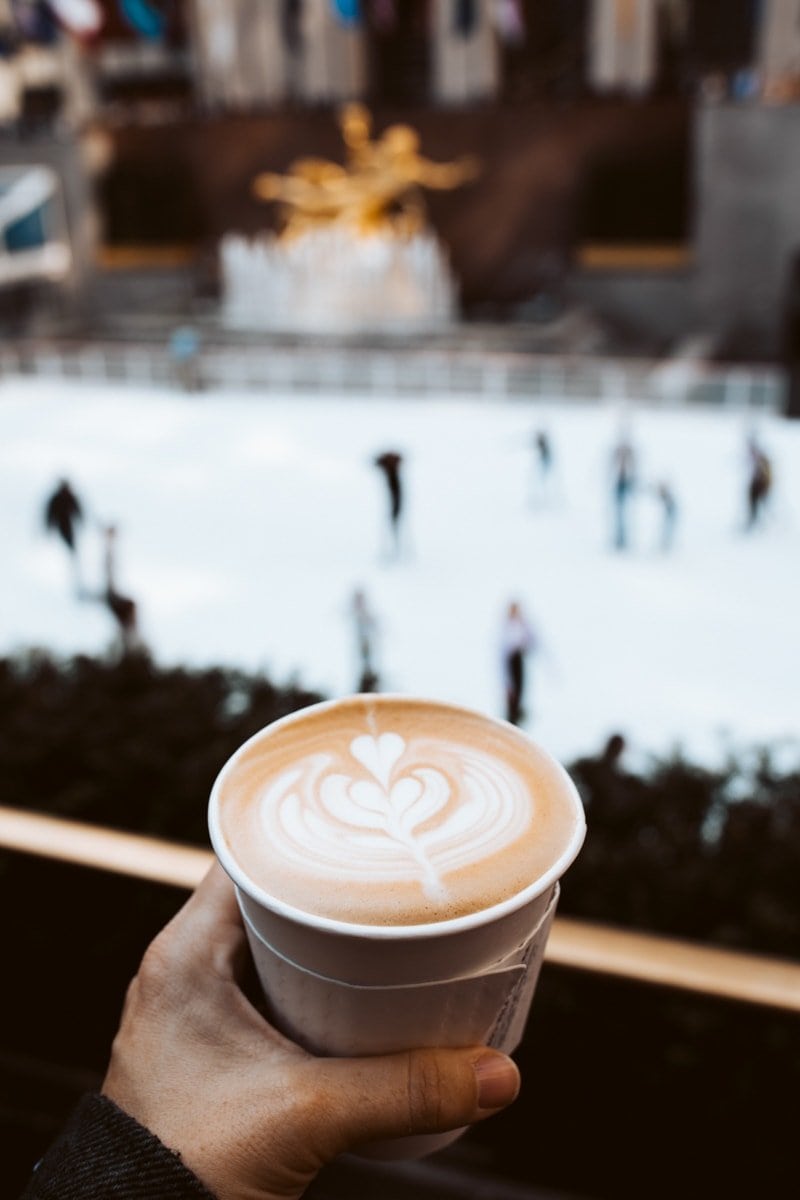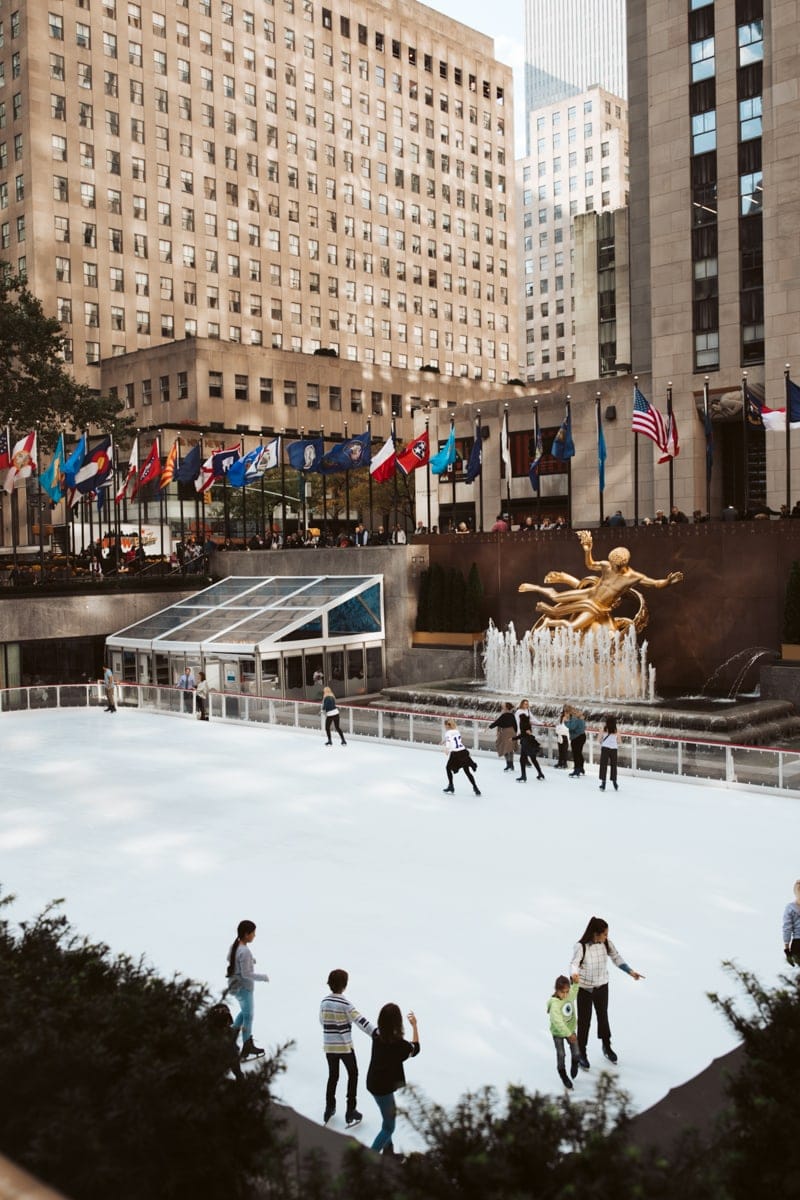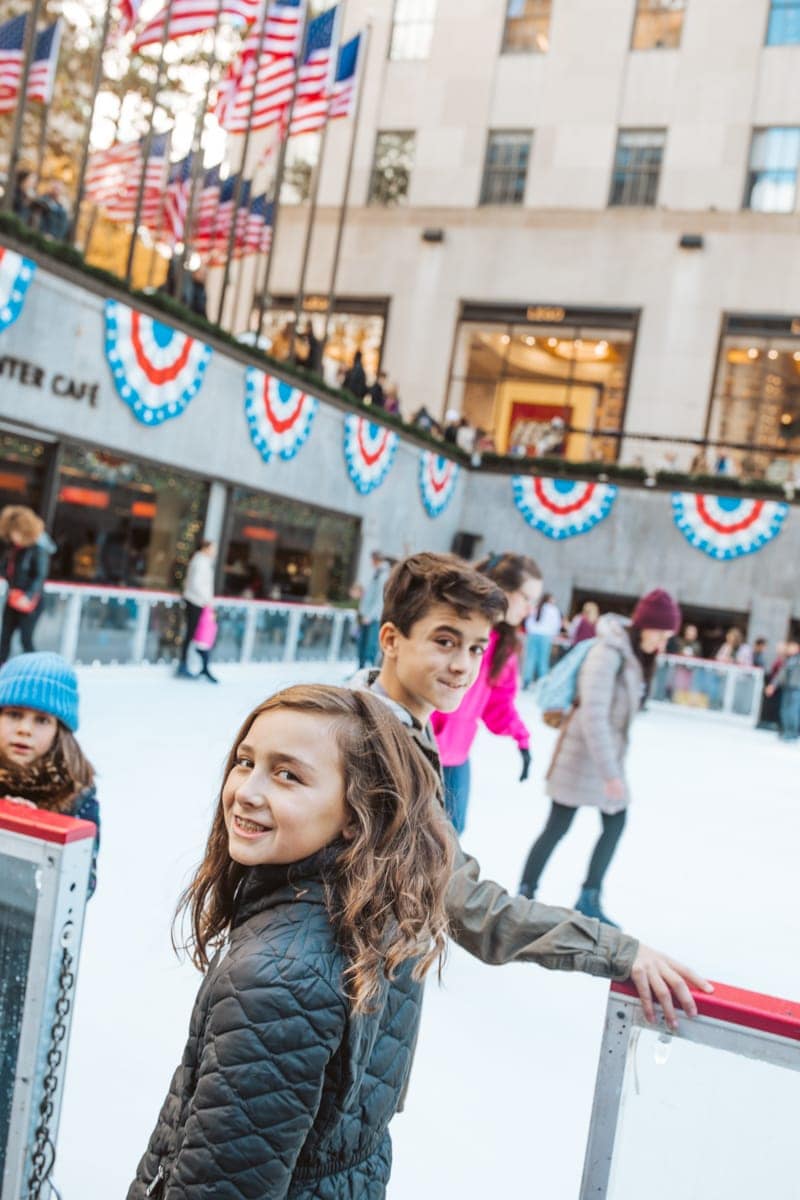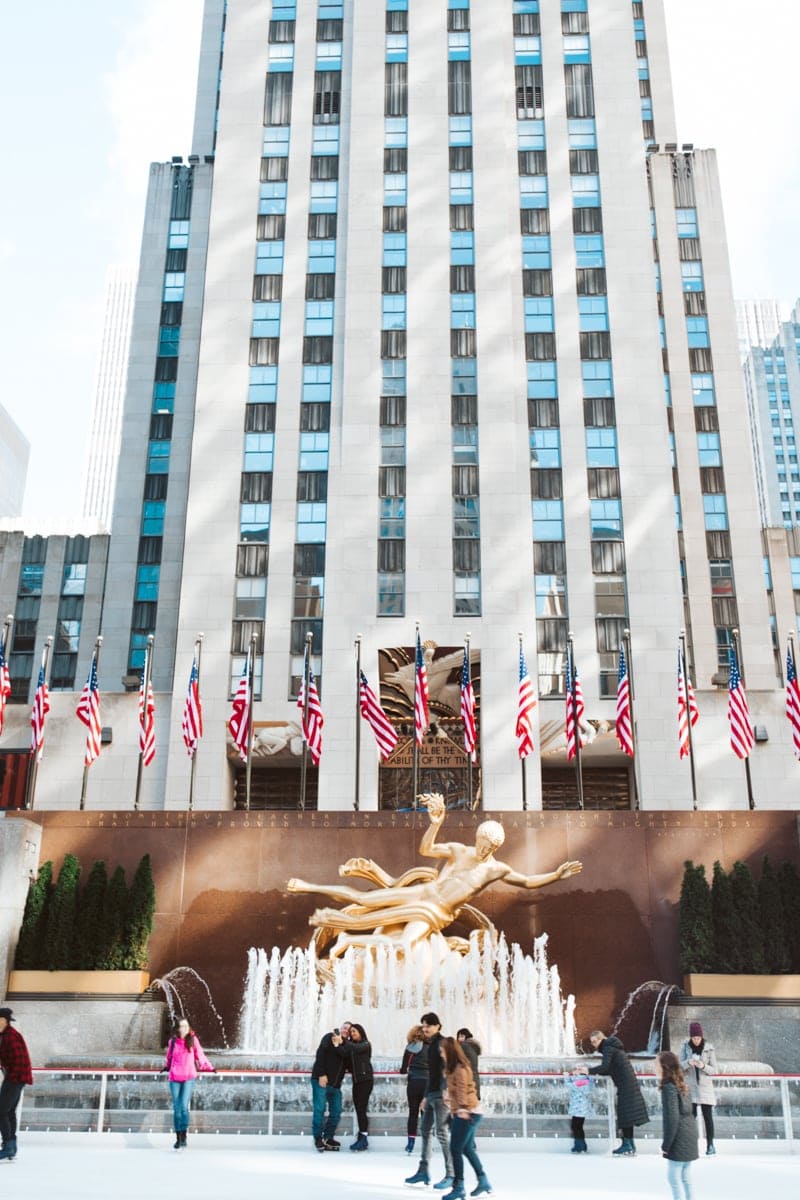 Game On
Want to get out of the city and experience an NFL football game? Metlife Stadium in New Jersey is a distance away. With a family of six and a 2 to 4 ratio of girls to boys, you'd better believe this was on our NYC bucket list! We're huge football fans and would never turn down the chance to partake in one of the greatest American traditions of all time- tailgating! With our Coleman tailgating must haves in tow, we had a ball (no pun intended). Check out our awesome experience at the New York Giants game here. We also had the chance to take our football loving family to the NFL experience in Times Square.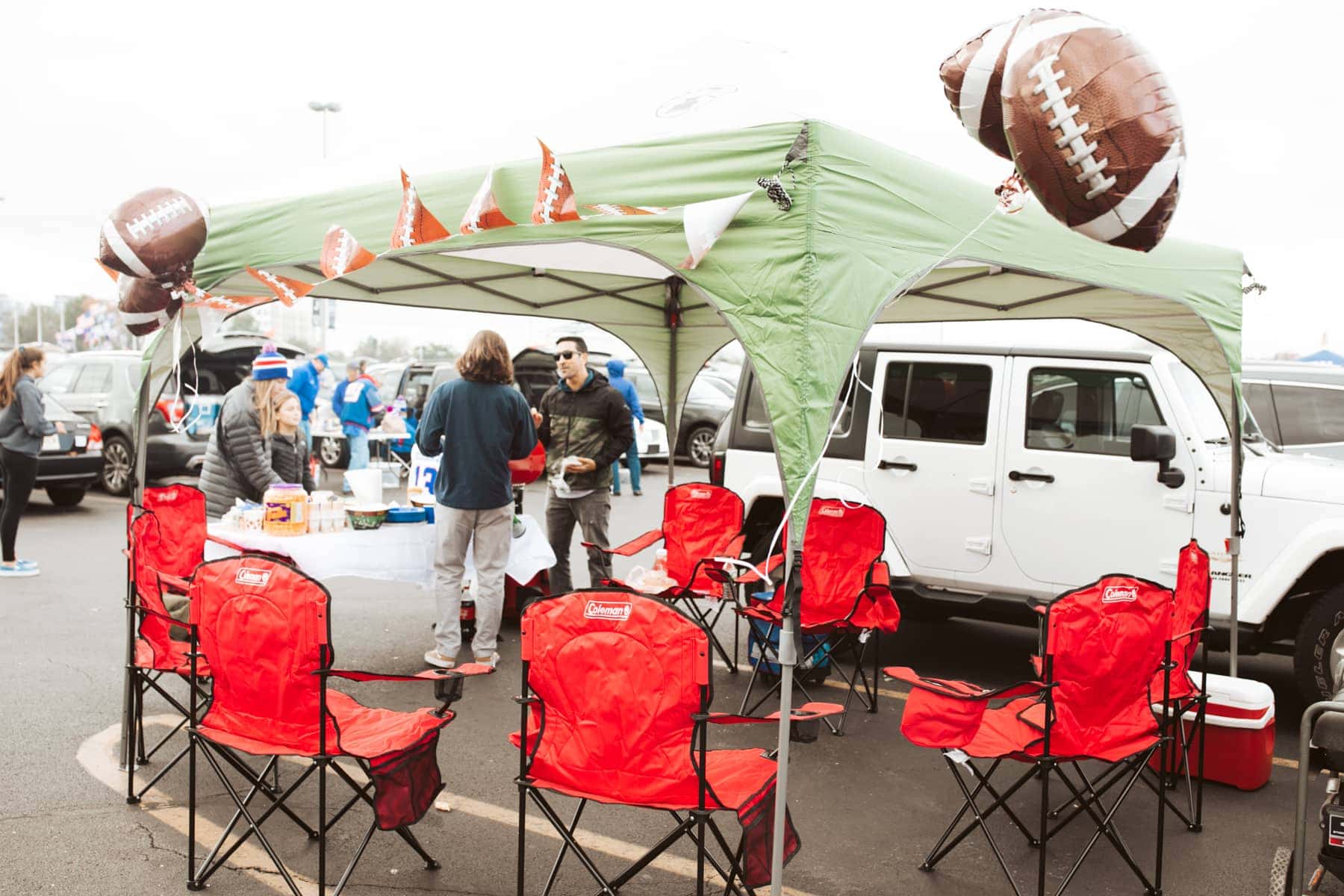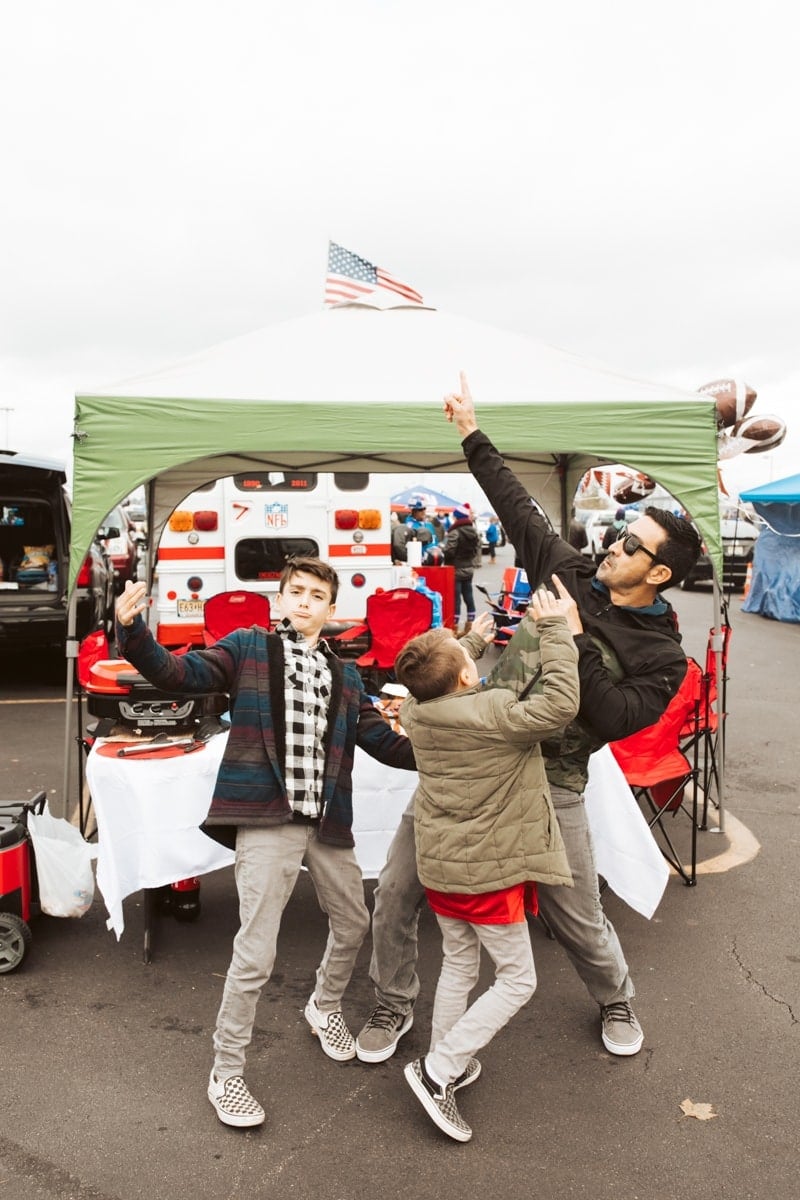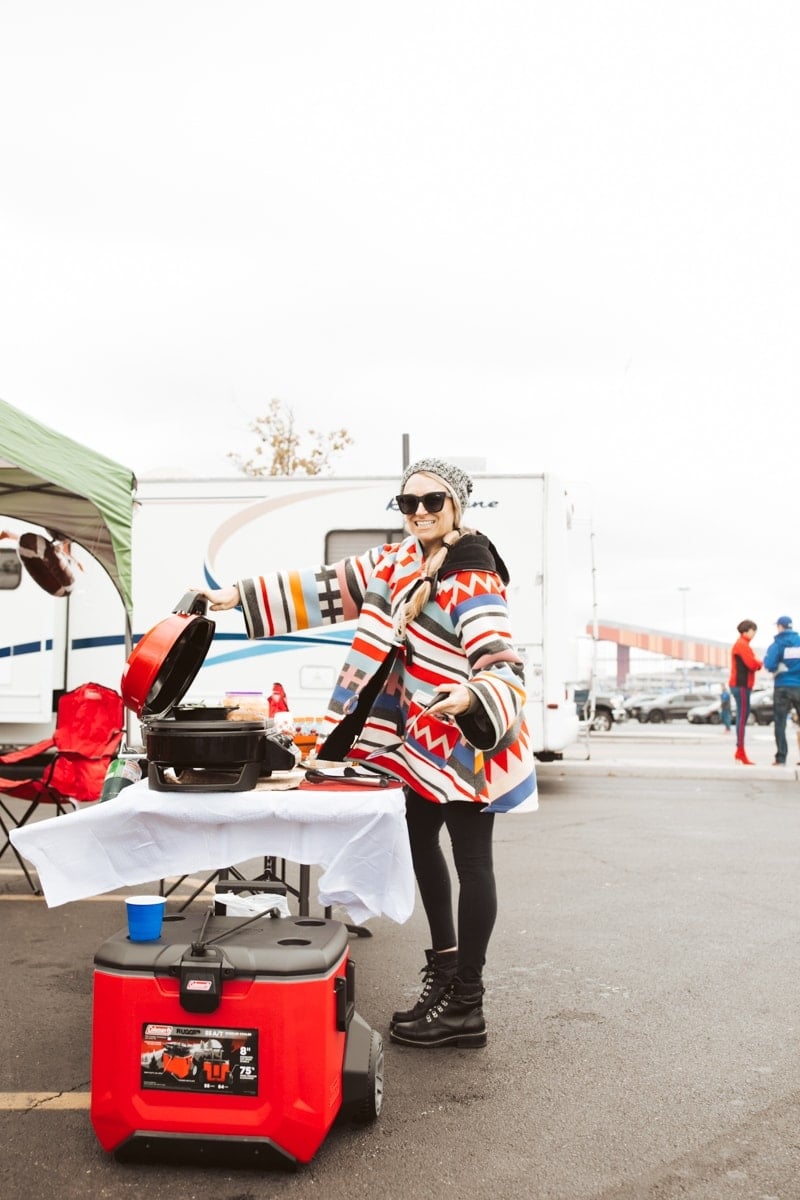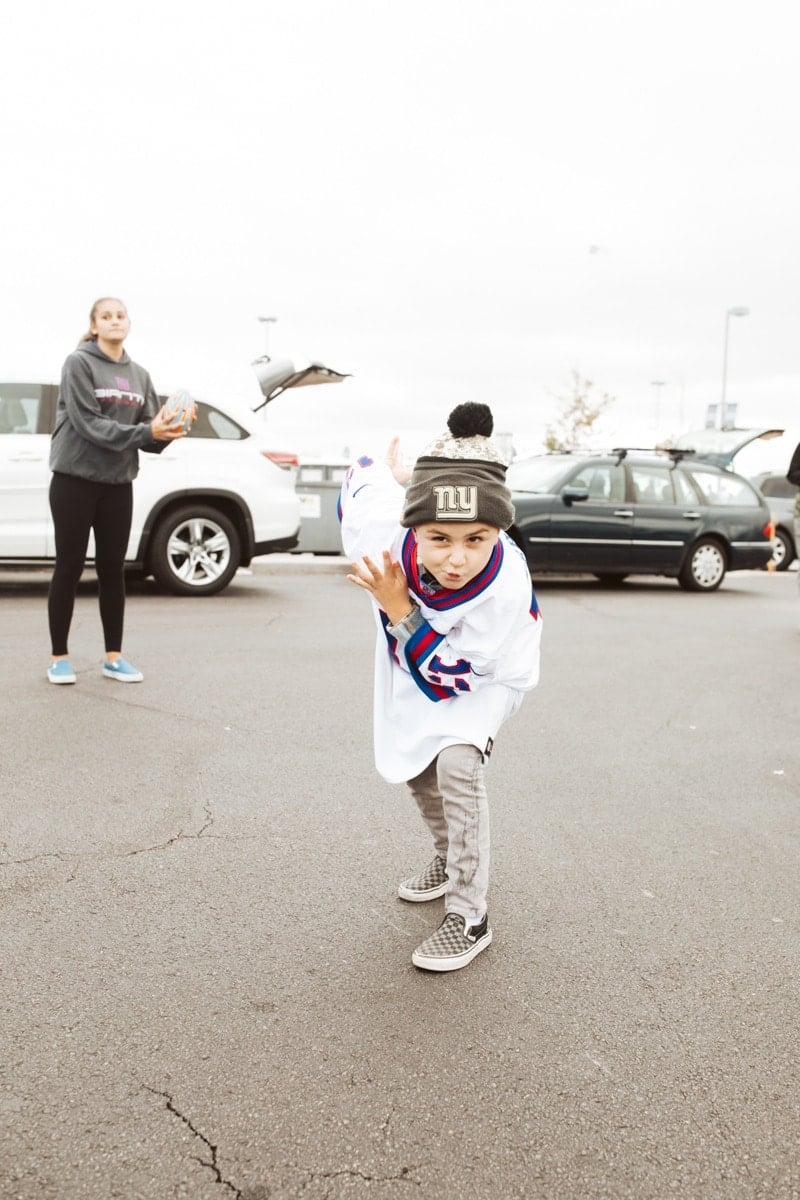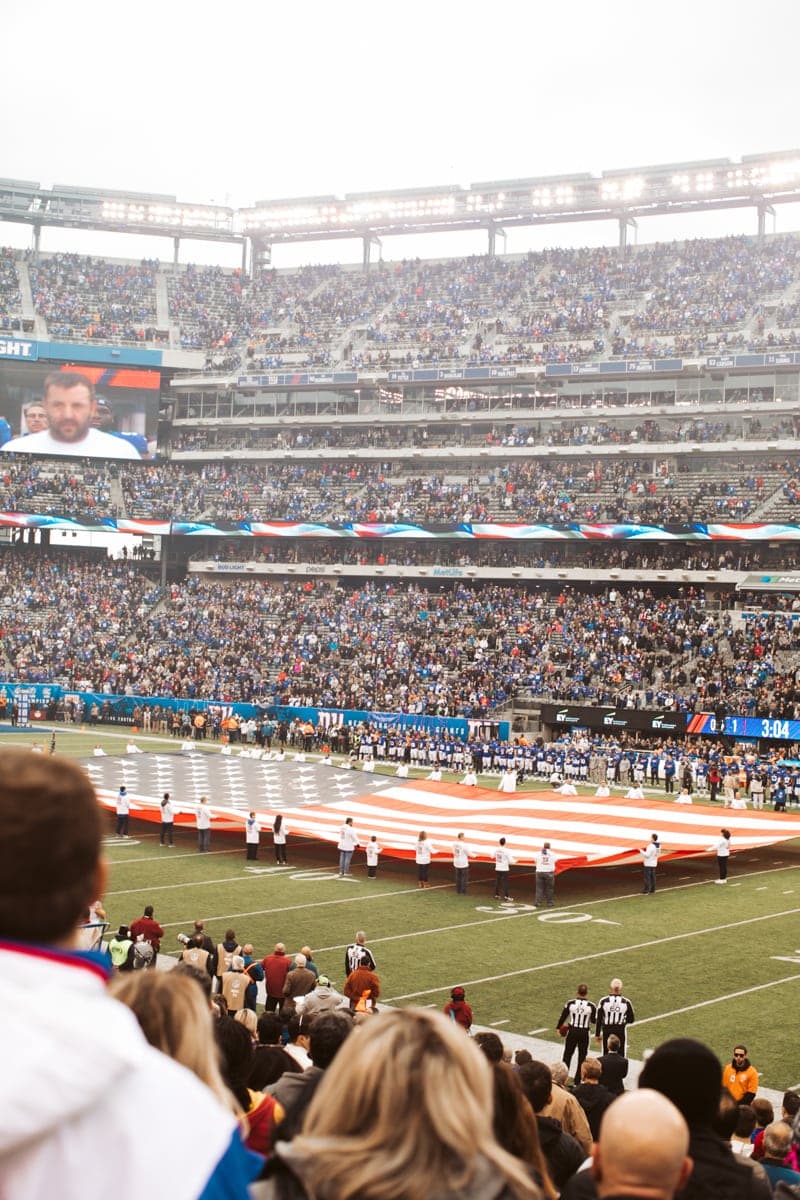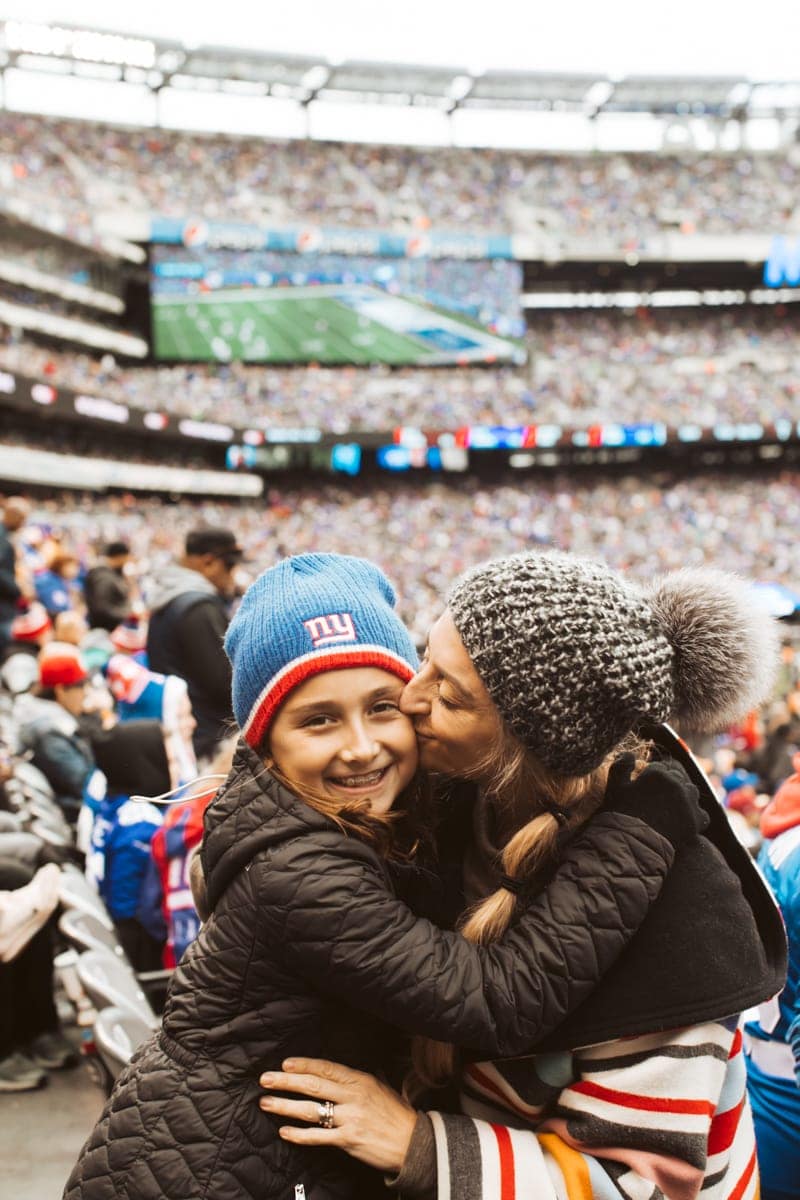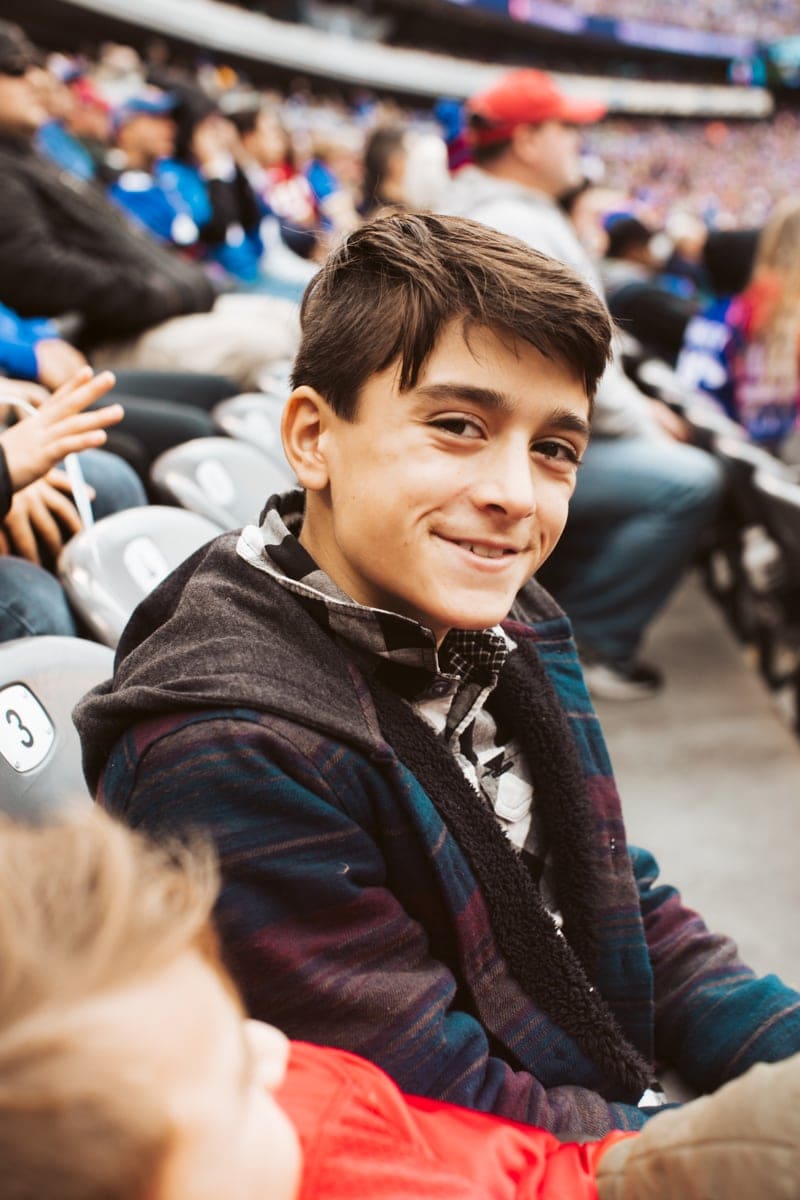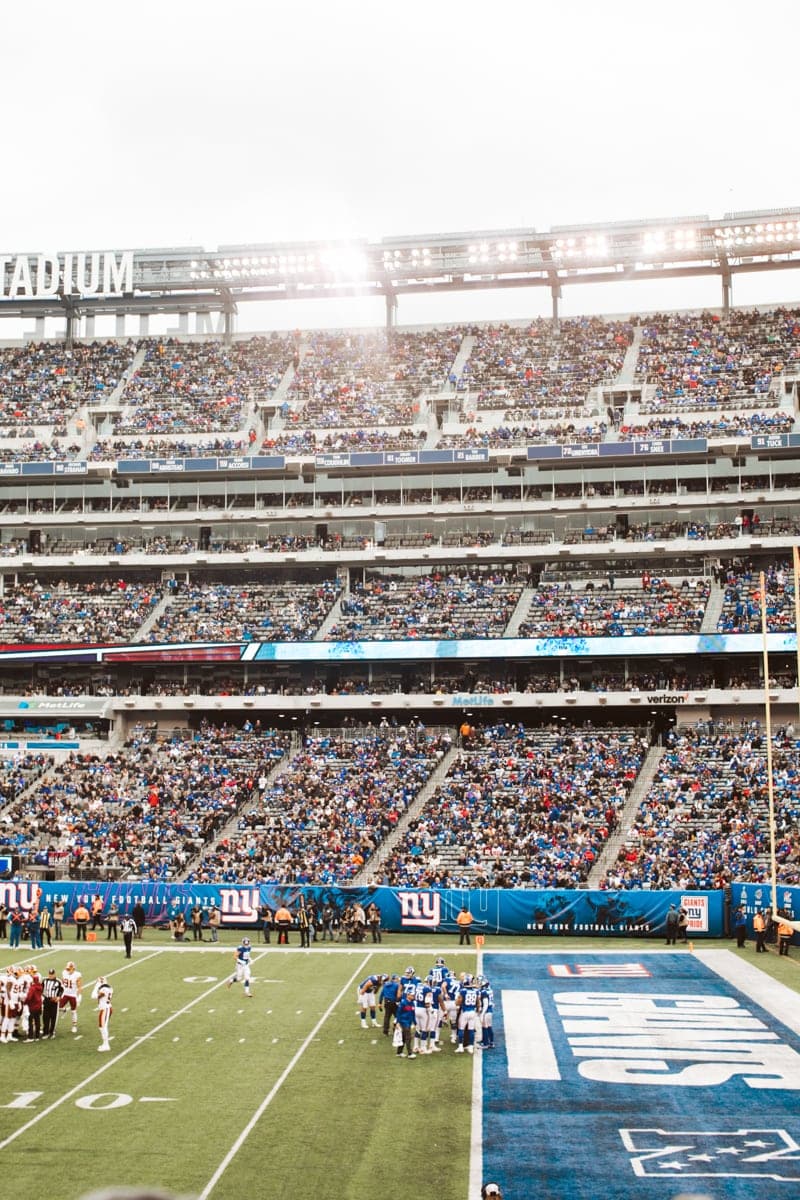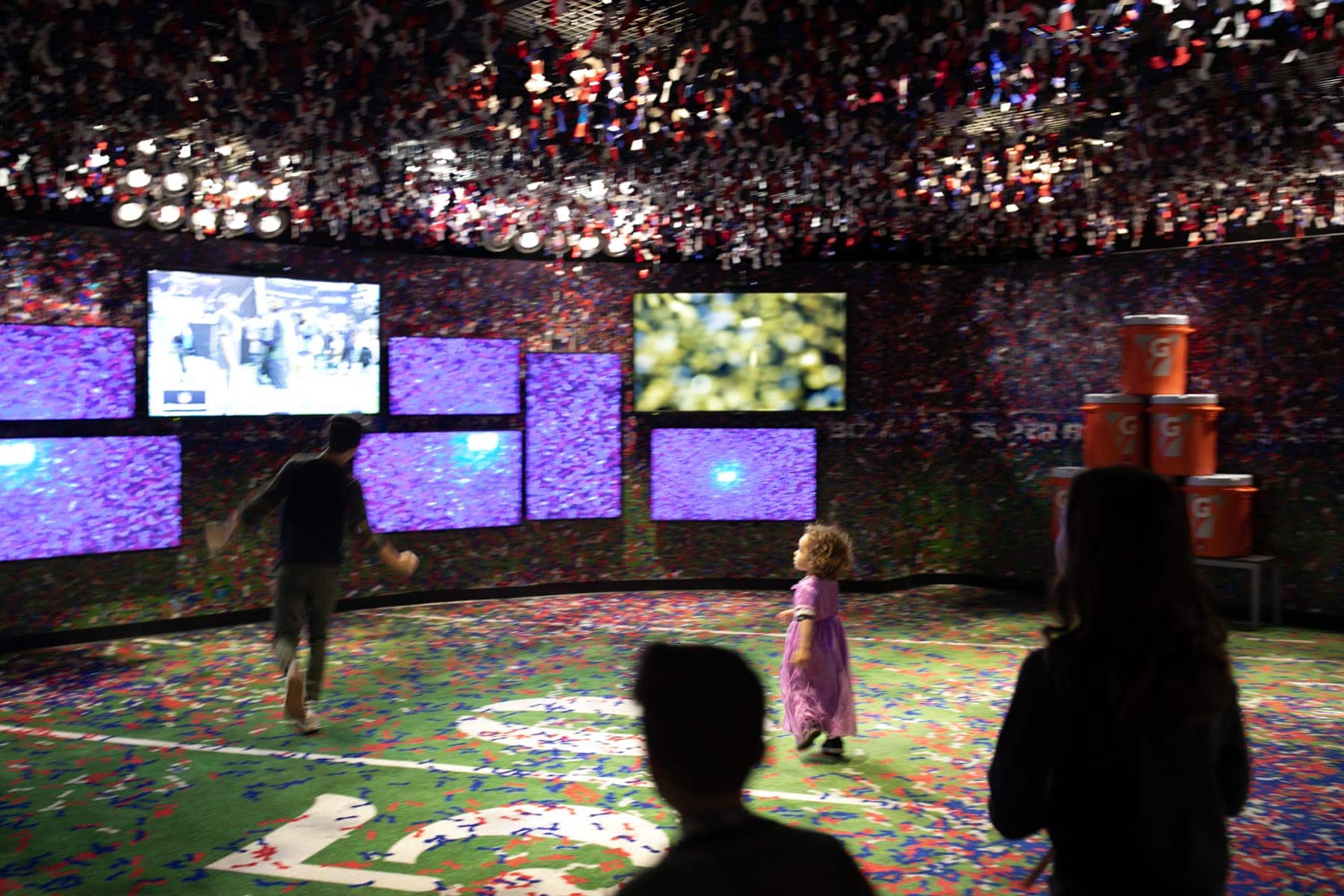 Broadway
Want to see two spectacular shows that are fantastic for the family? School of Rock and Frozen on Broadway were both amazing! The story of School of Rock is the same as the 2003 film starring Jack Black, and if you haven't seen it I won't spoil it, but here's the gist: A substitute teacher influences a group of prep school kids to start a rock band and hilarity ensues. And everyone knows Frozen of course, the magical tale of princesses Elsa and Anna. Frozen The Musical is different than anything we have ever seen. Not only were the kids enchanted by this full-length Broadway experience, the parents were too.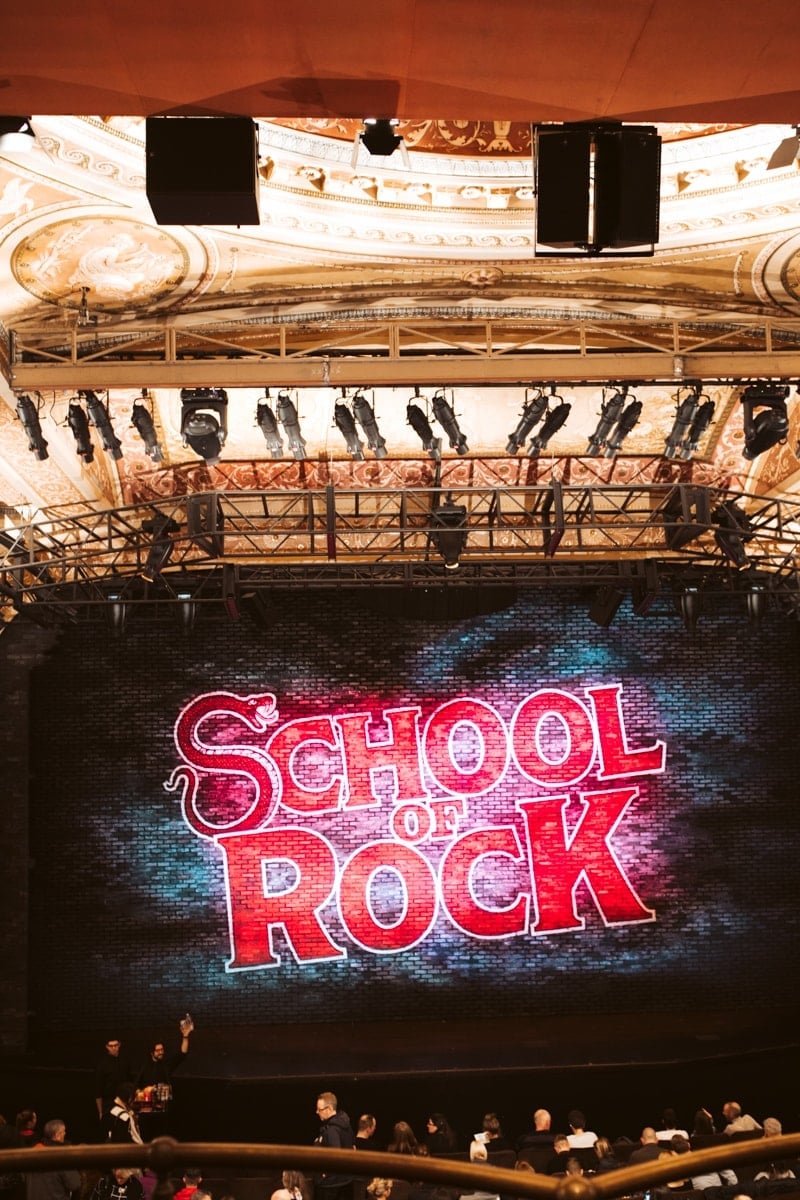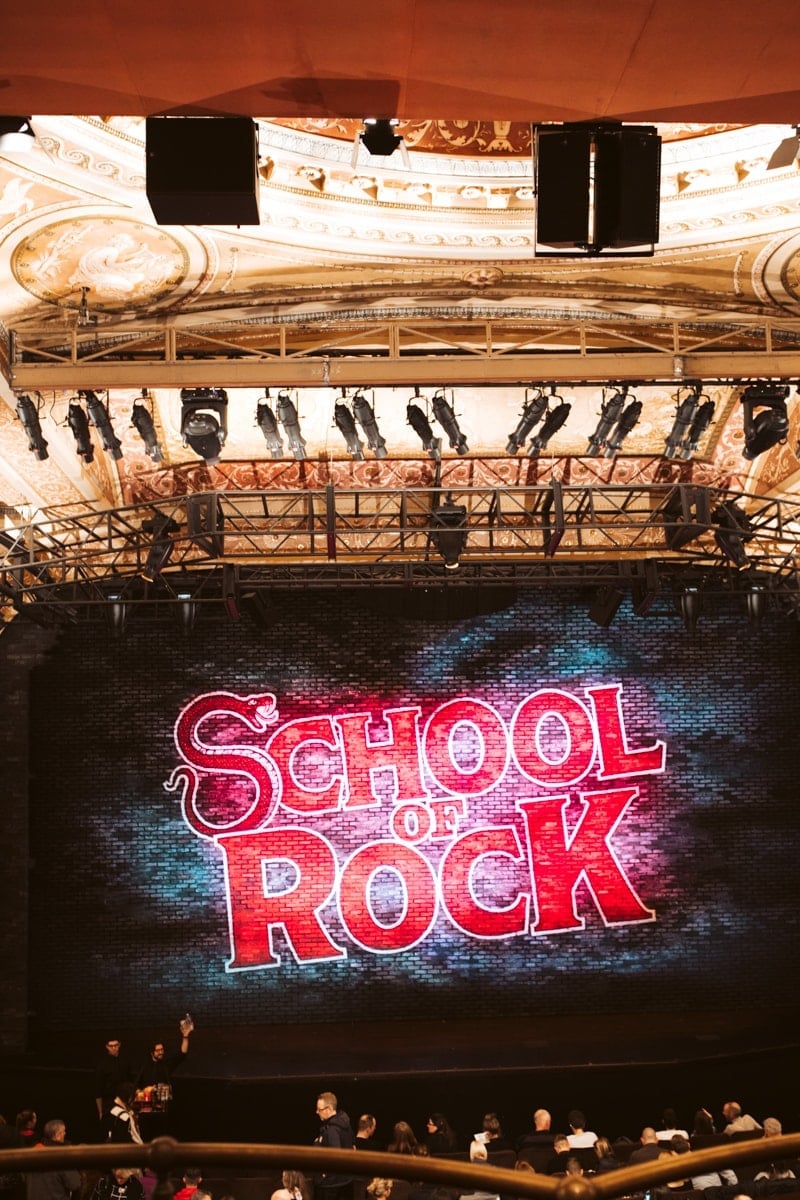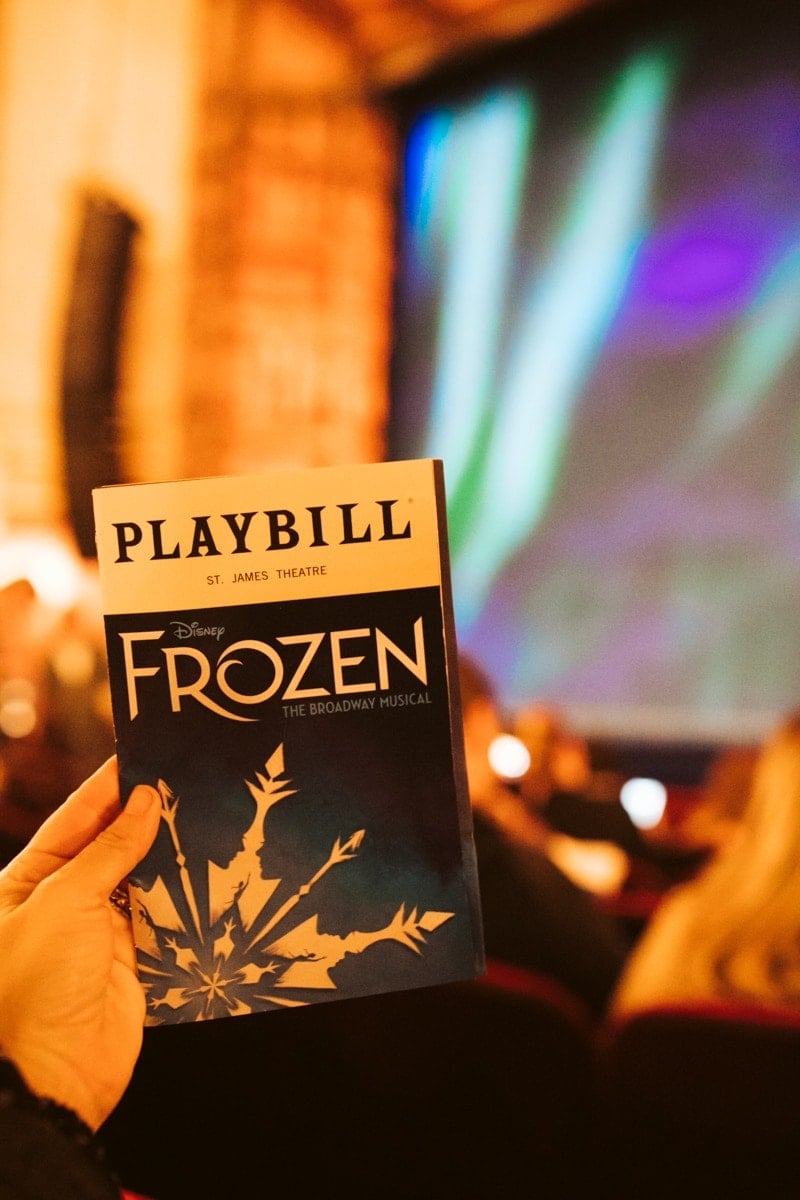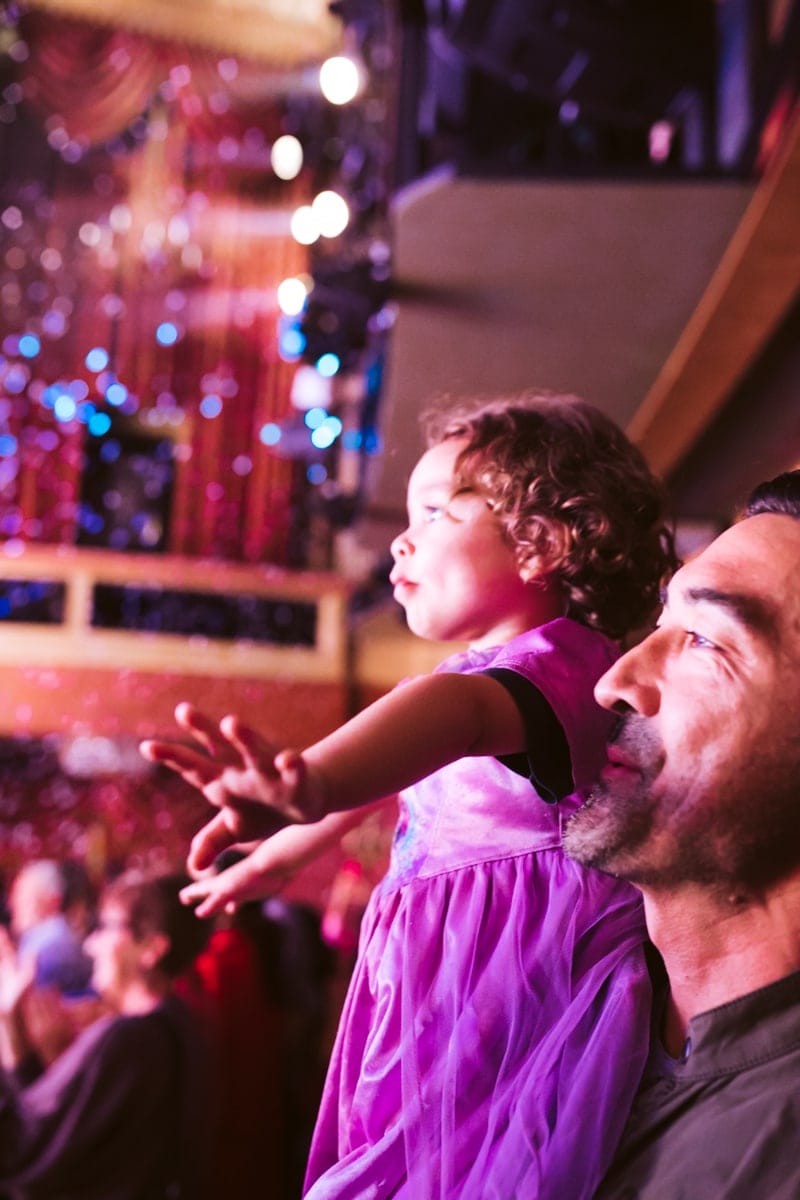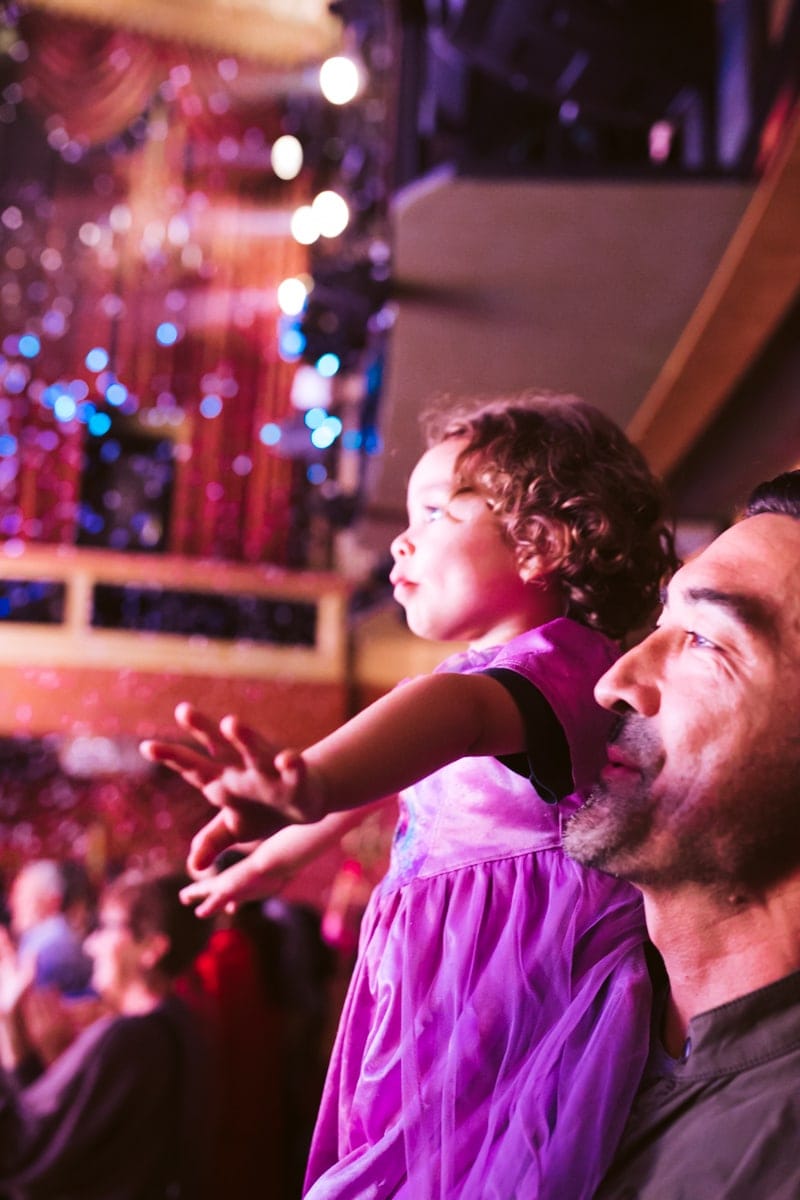 Candytopia
If you're looking for something unique and sweet to do on your trip, Candytopia is really cool. It's an interactive candyland perfect for kids, but adults will love it, too. Eat your way through many captivating rooms decorated in Willy Wonka fashion. Candytopia is only open until January 6th, so act fast with this one! Tickets are $26 for kids and $34 for adults.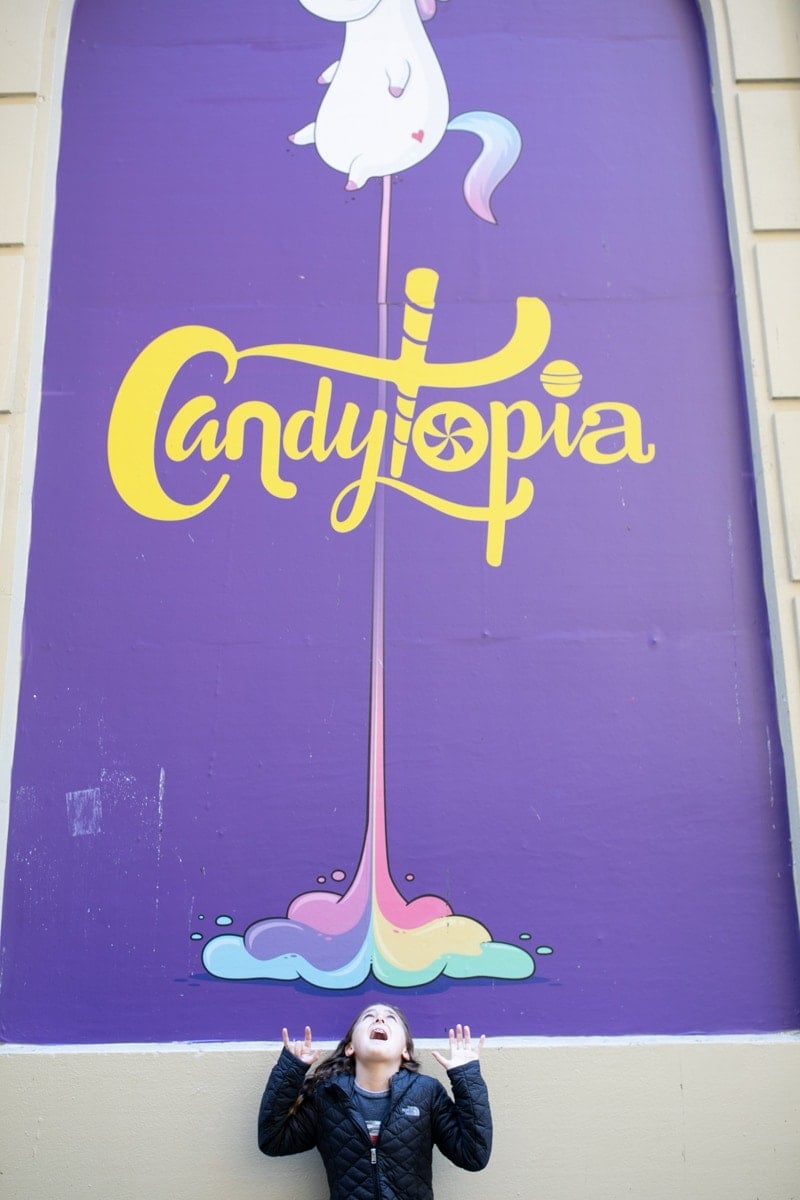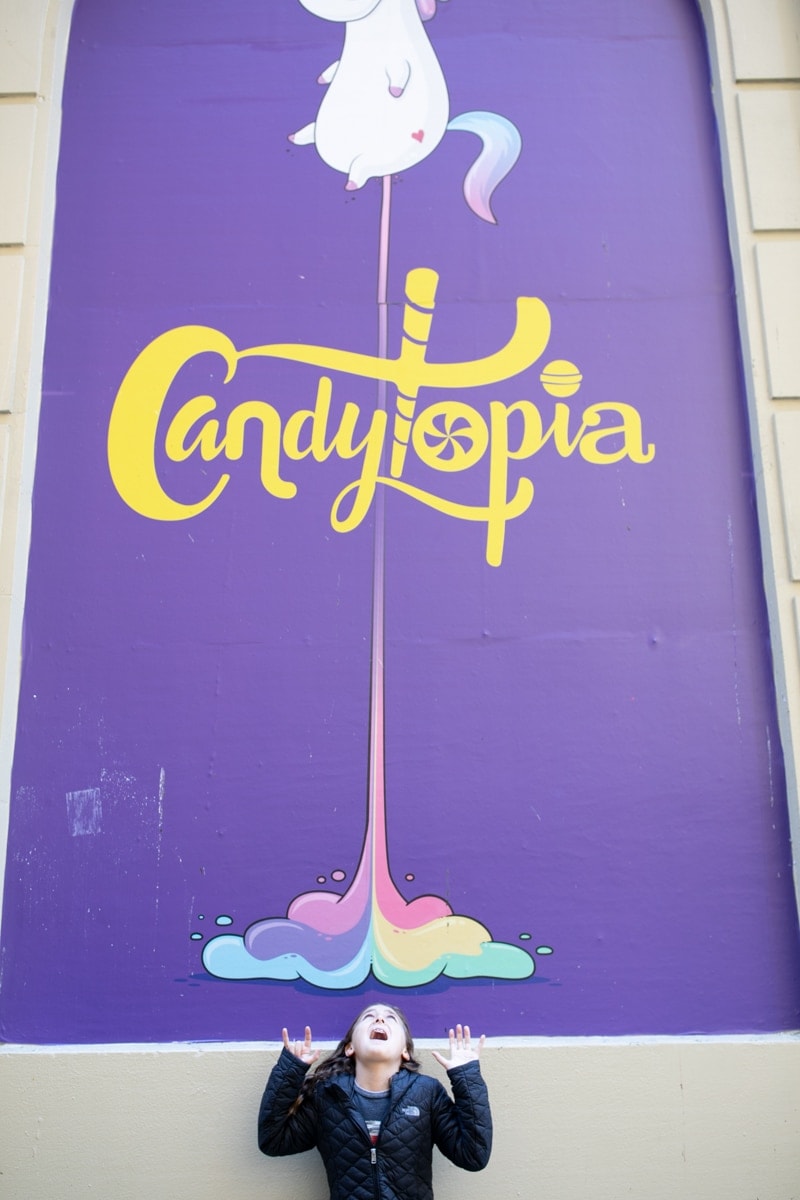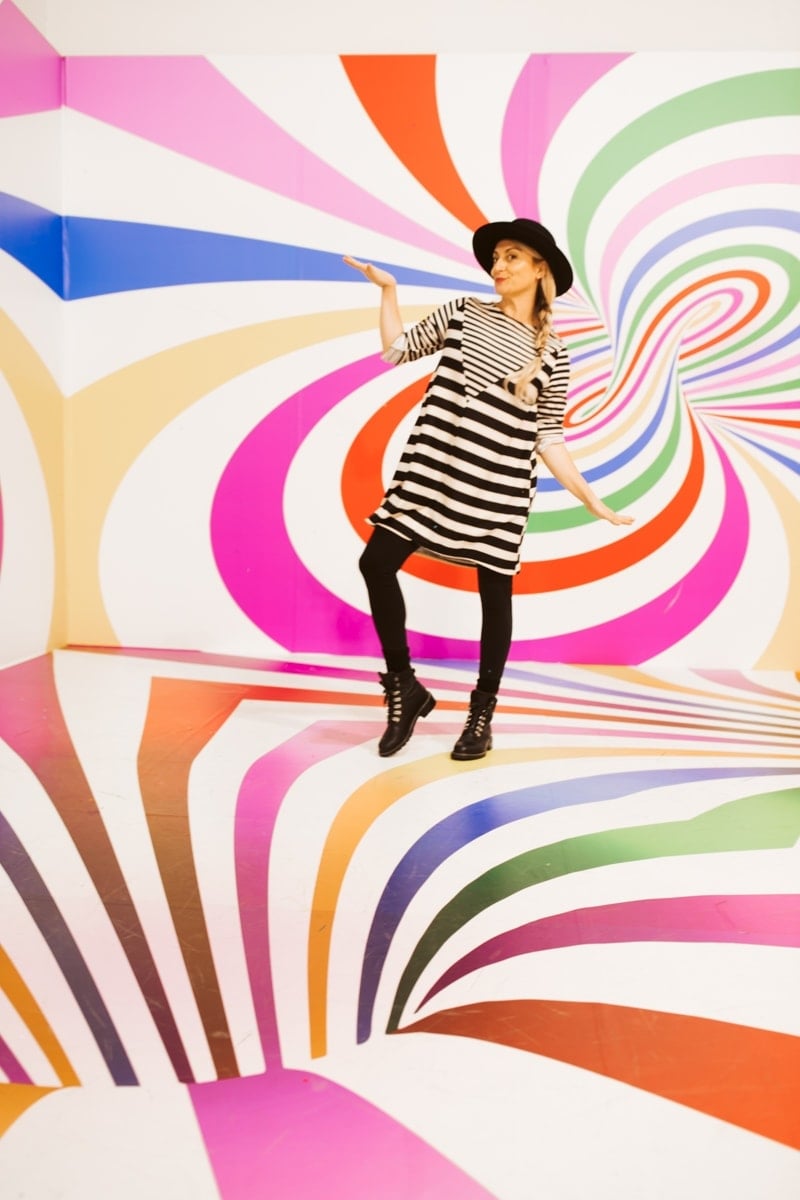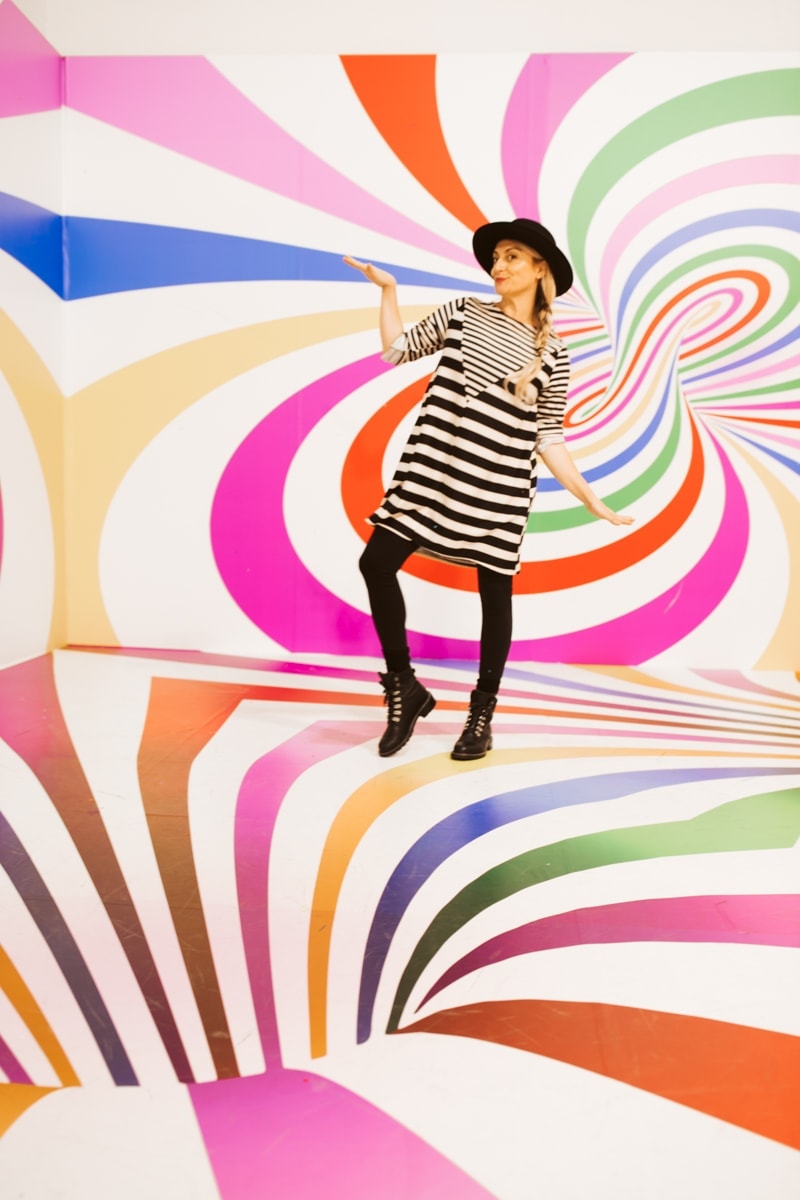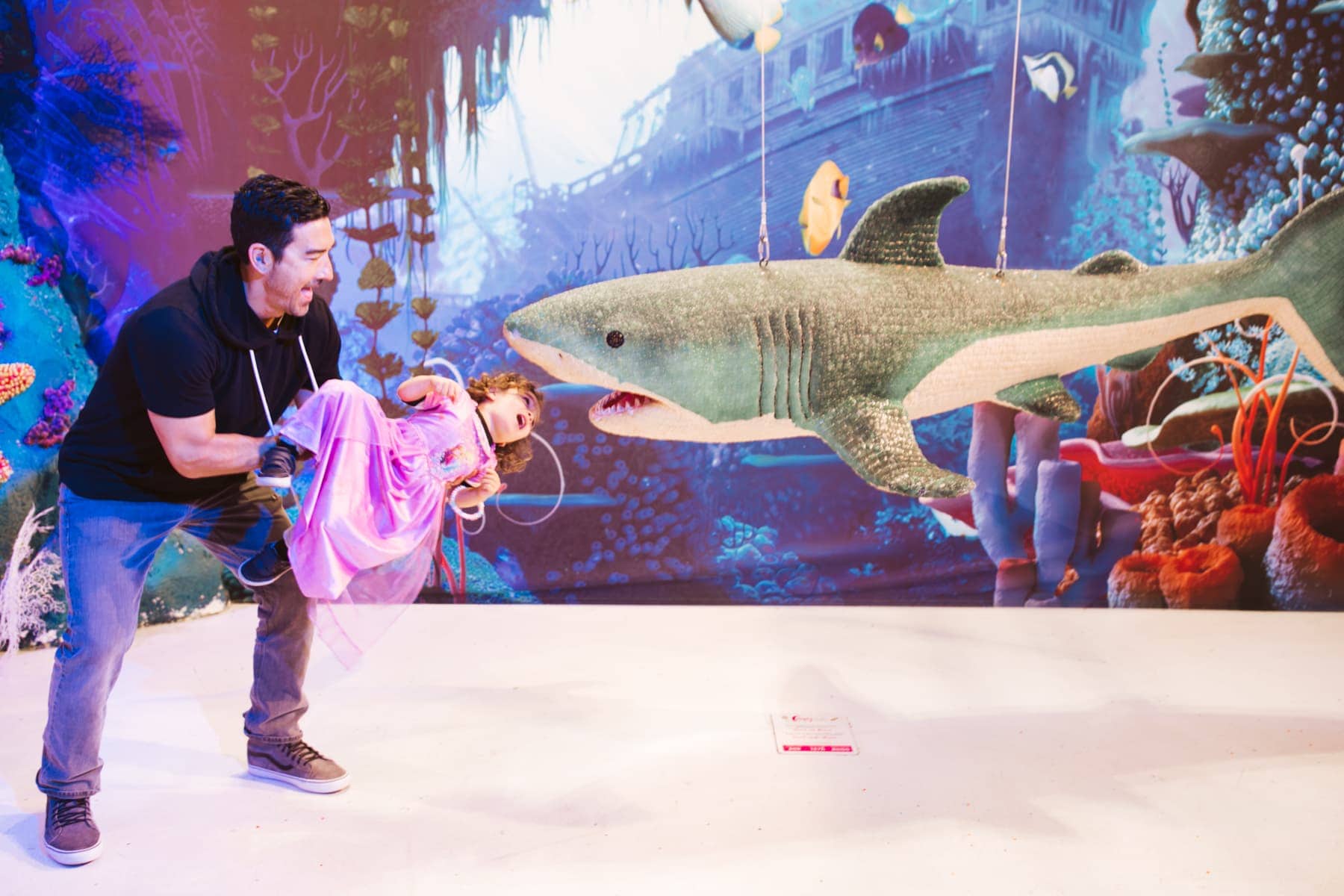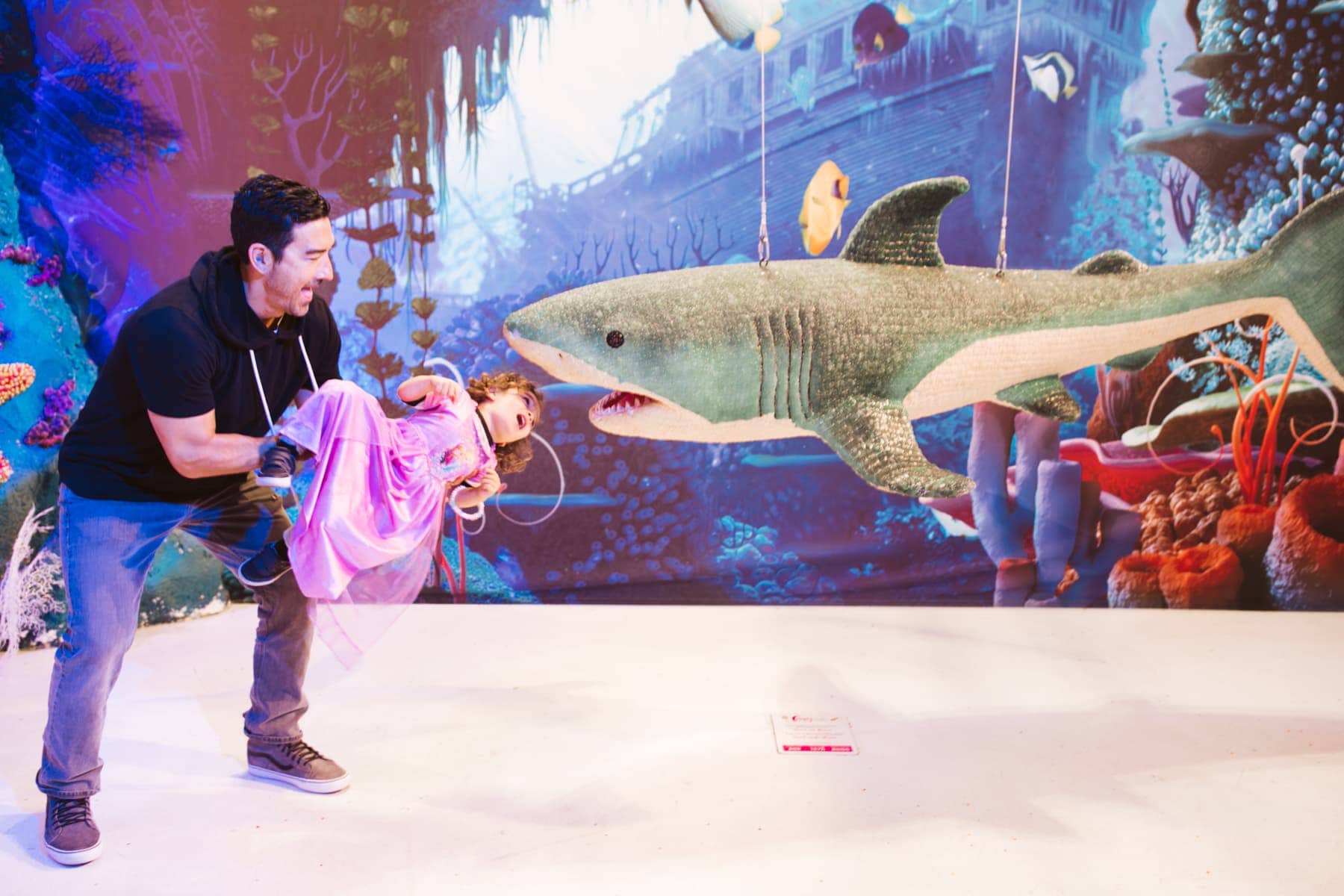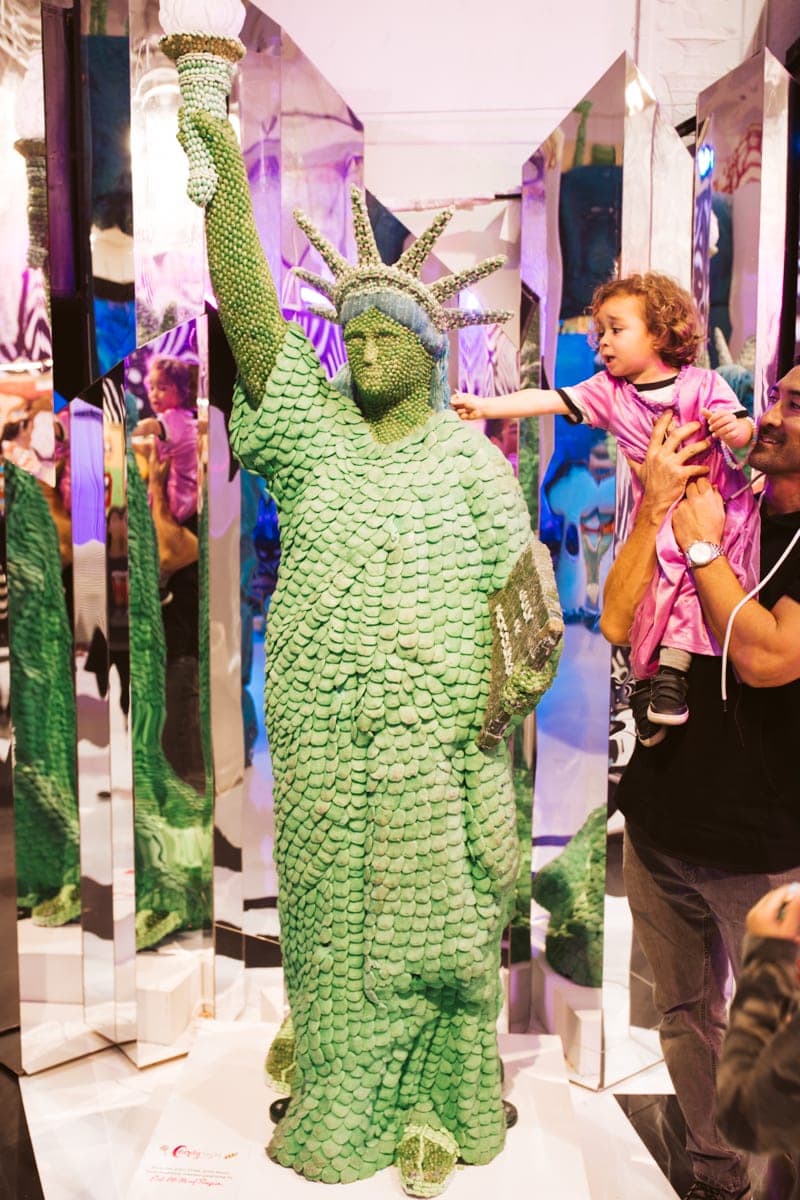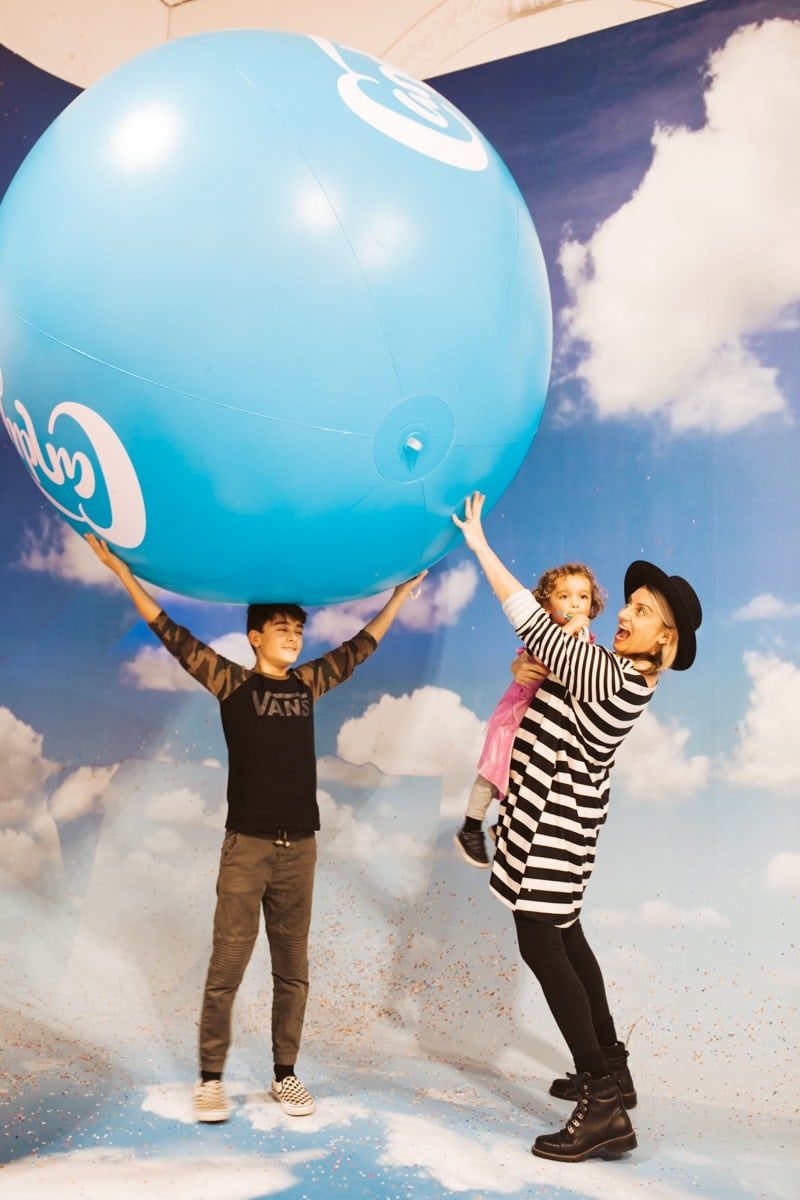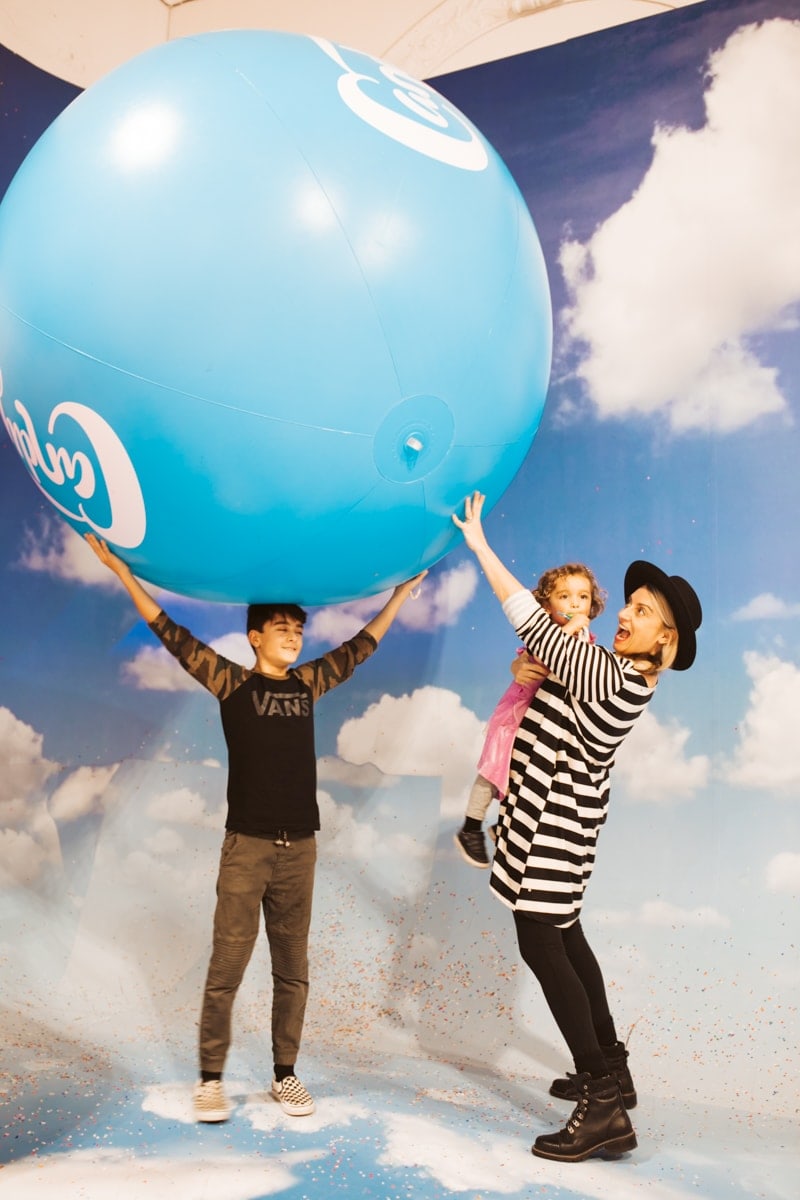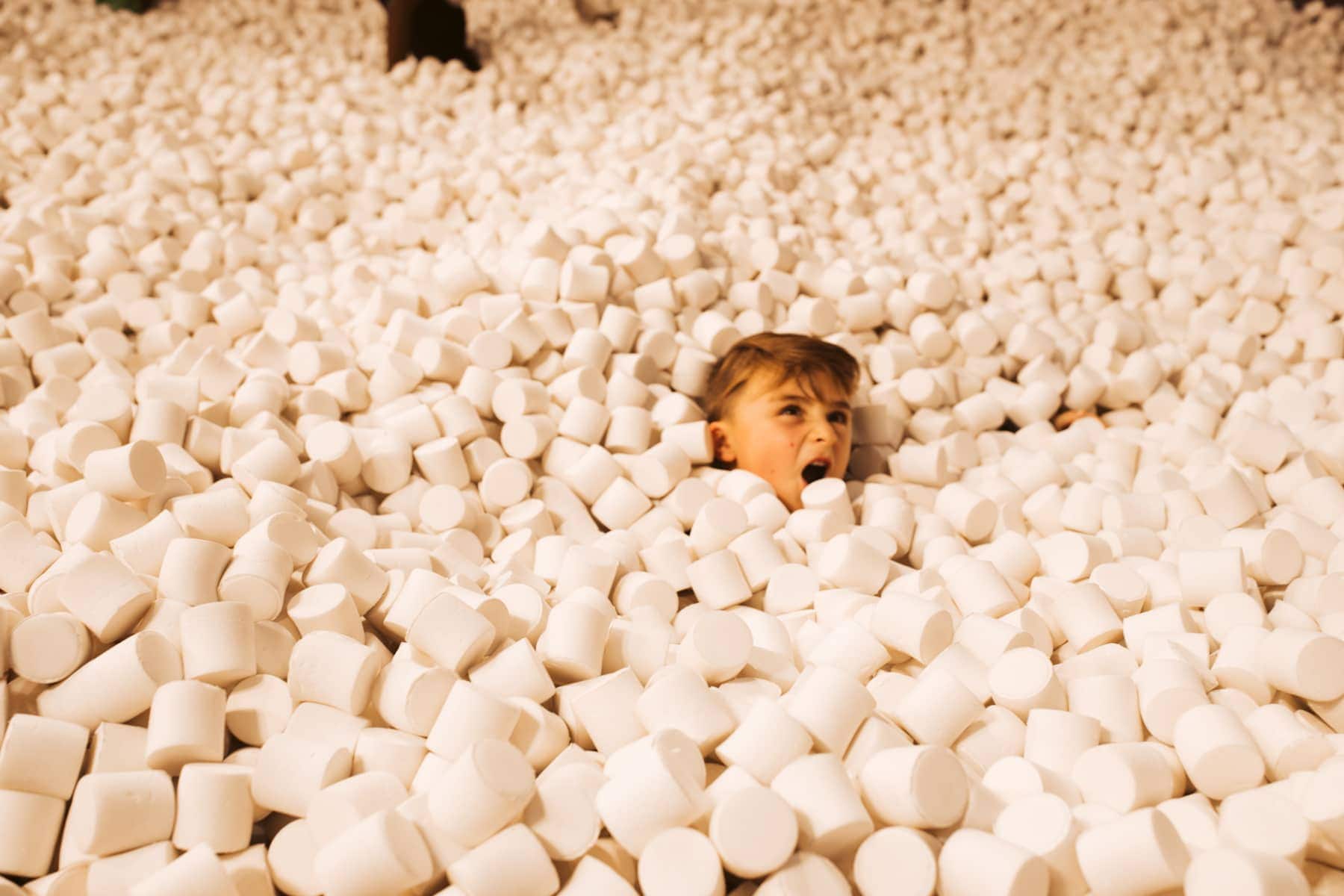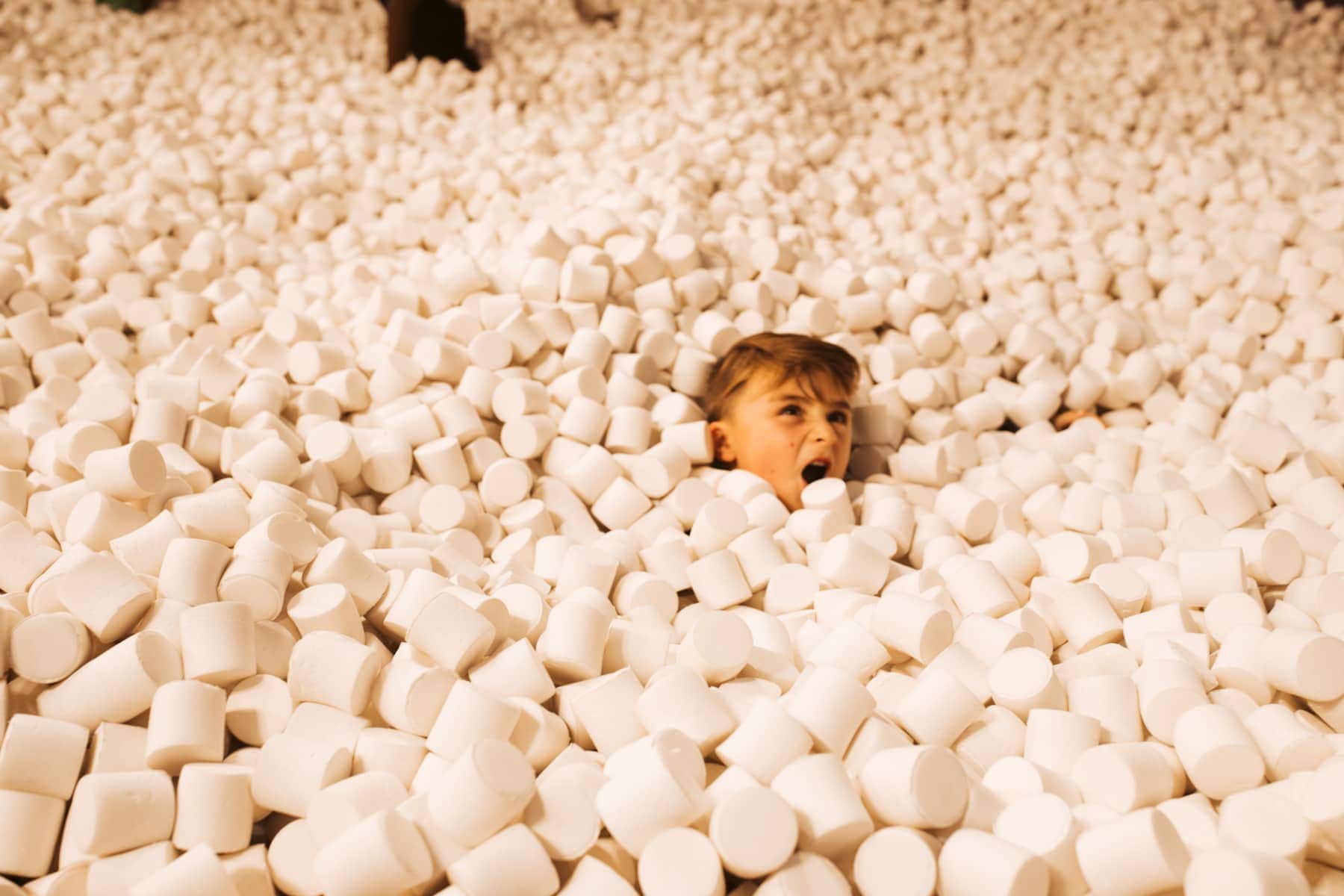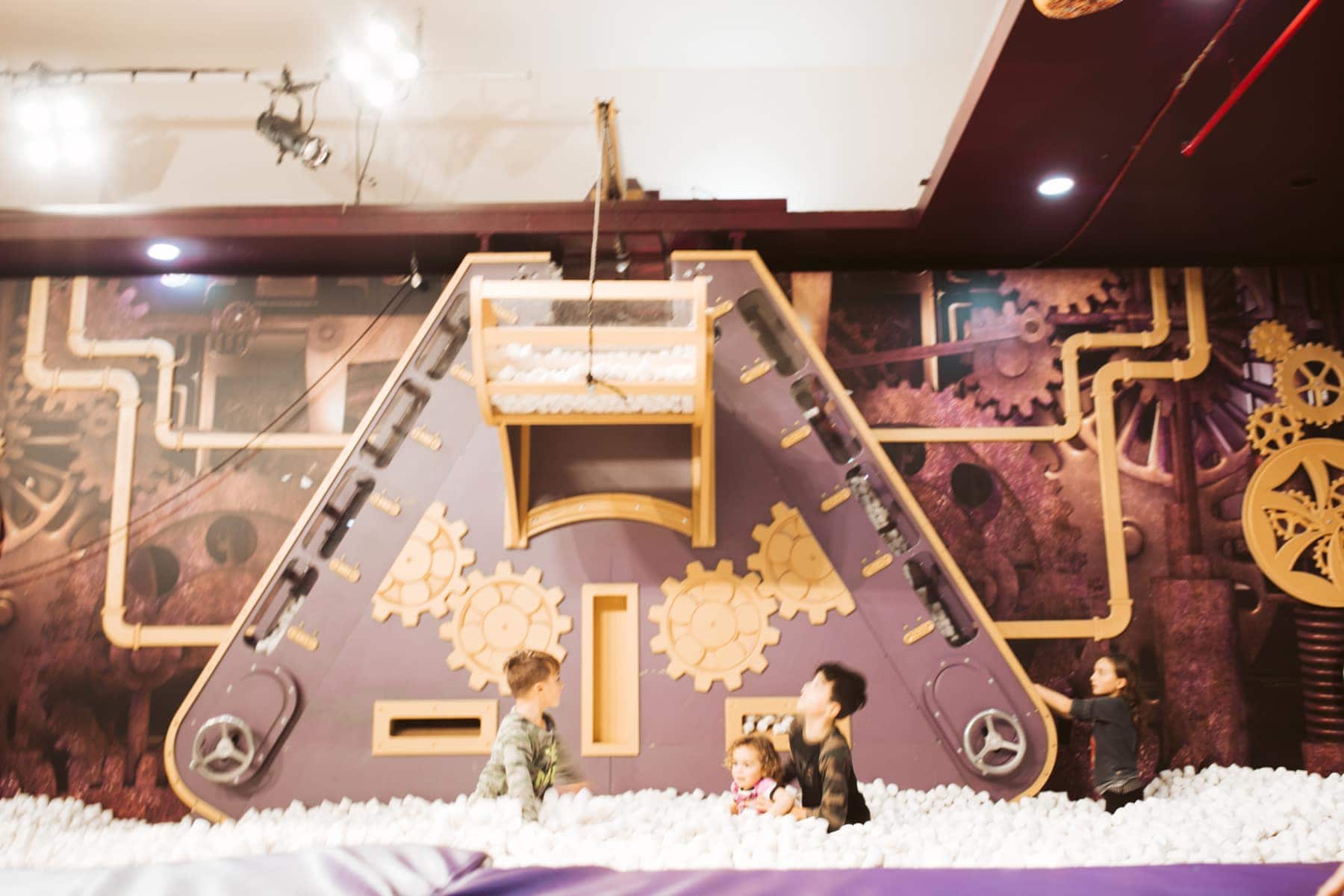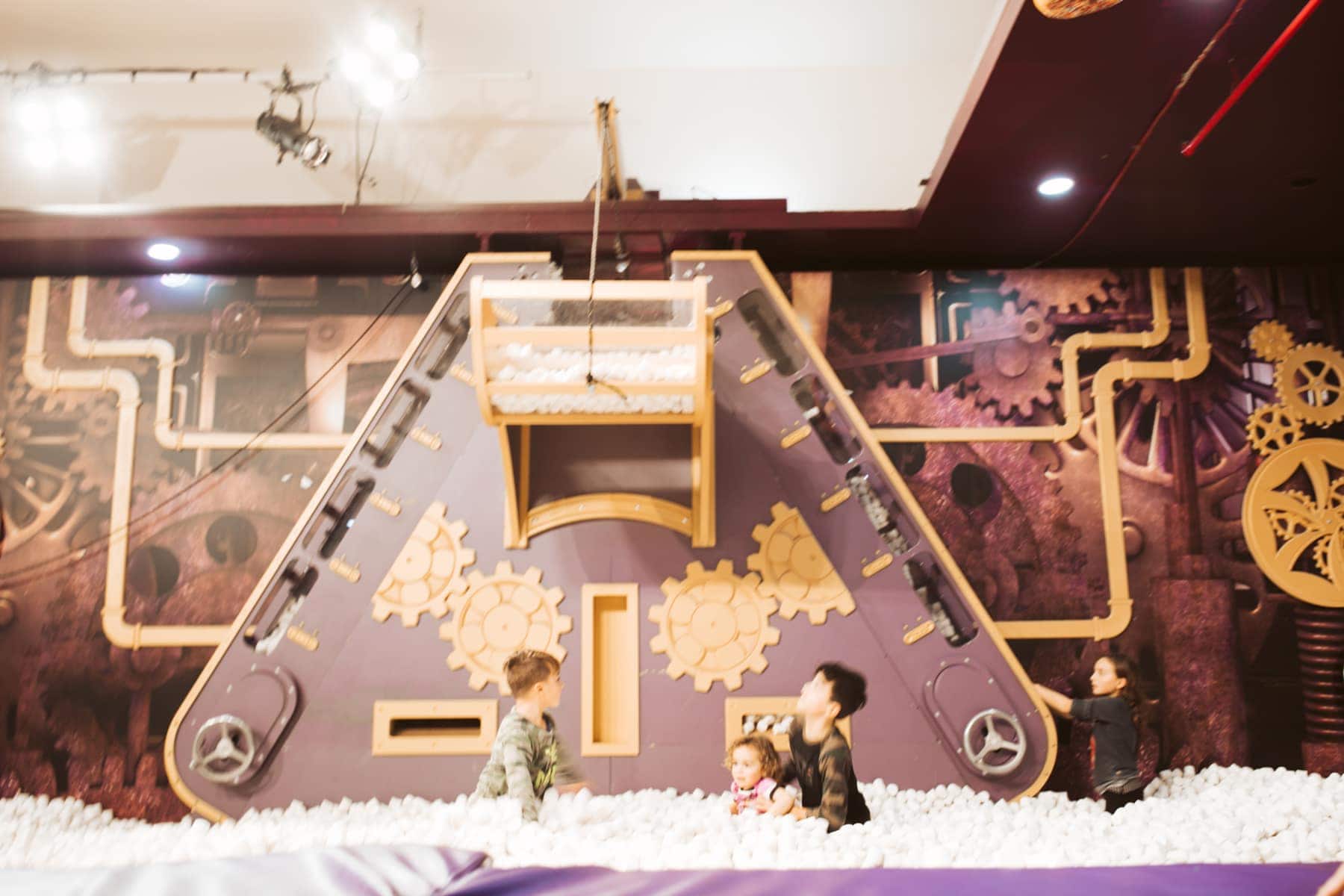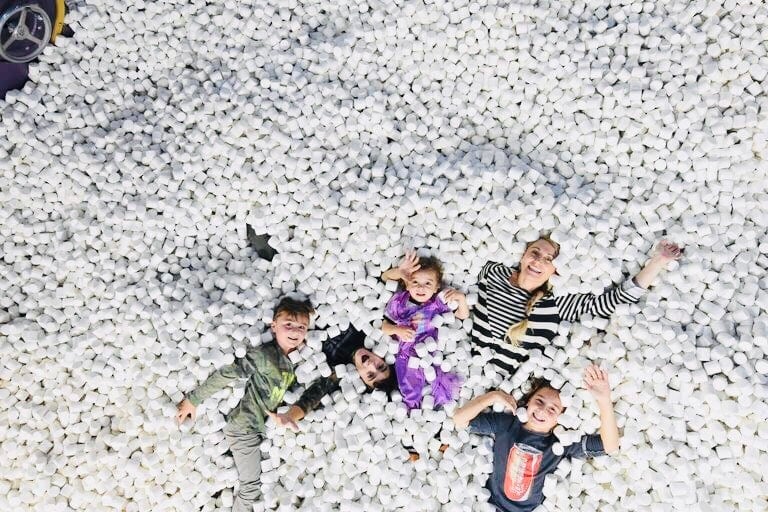 The High Line
When the weather is nice, walking The High Line is one of NYC's simple pleasures. Almost two miles of a quaint path featuring greenery, artwork, amazing architecture and all sorts of kiosks and food vendors. During the winter season, the only place on the highline that is open is the yummy Italian restaurant, Santina, but it's still worth the stroll if you've never before experienced it. The kids had fun trying to guess what each interesting art sculpture was along the way. I was just happy they got to see the city from that perspective. And for an active family like ours who loves being outside, this was another great family activity – and guess what? It's free!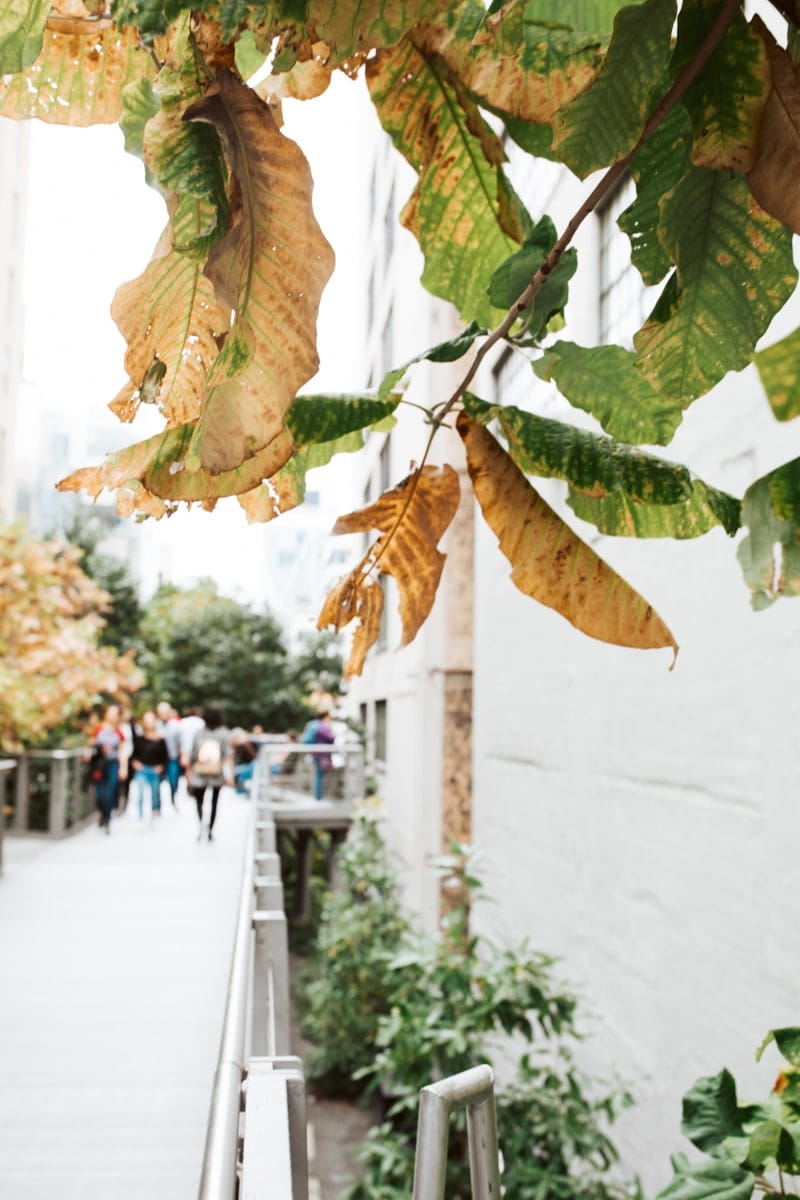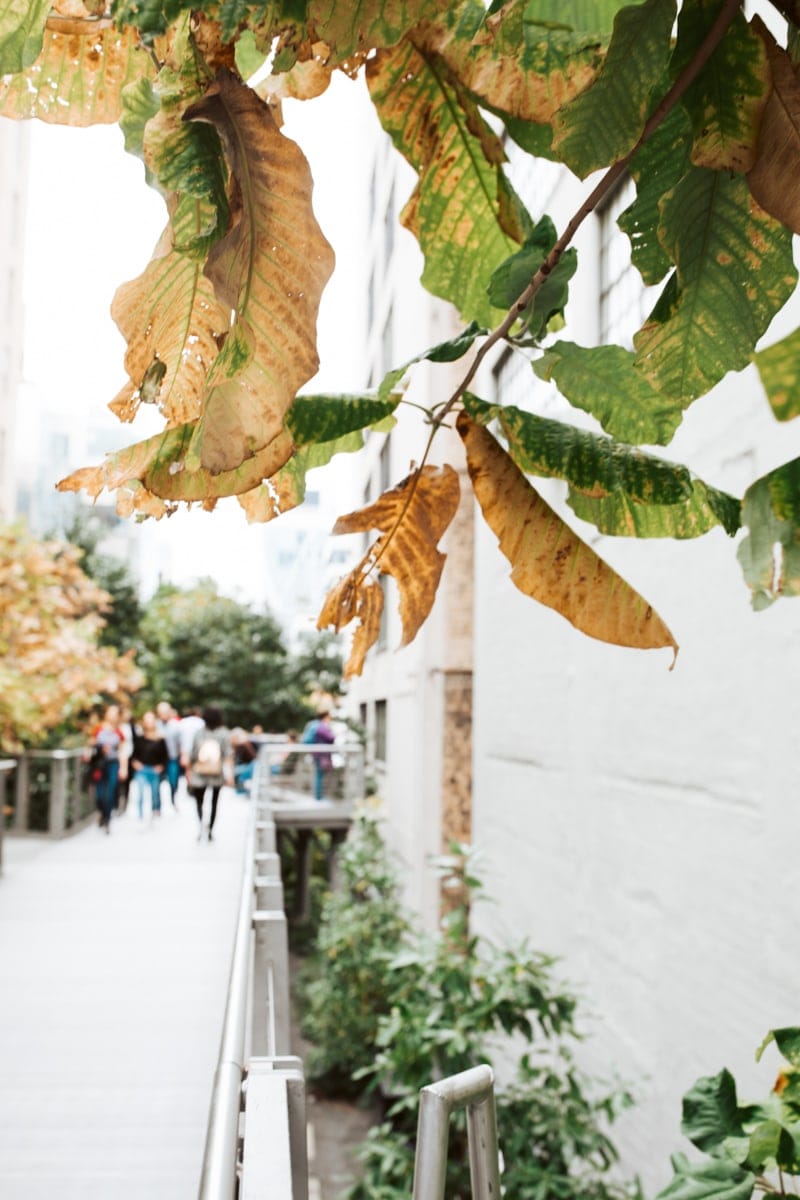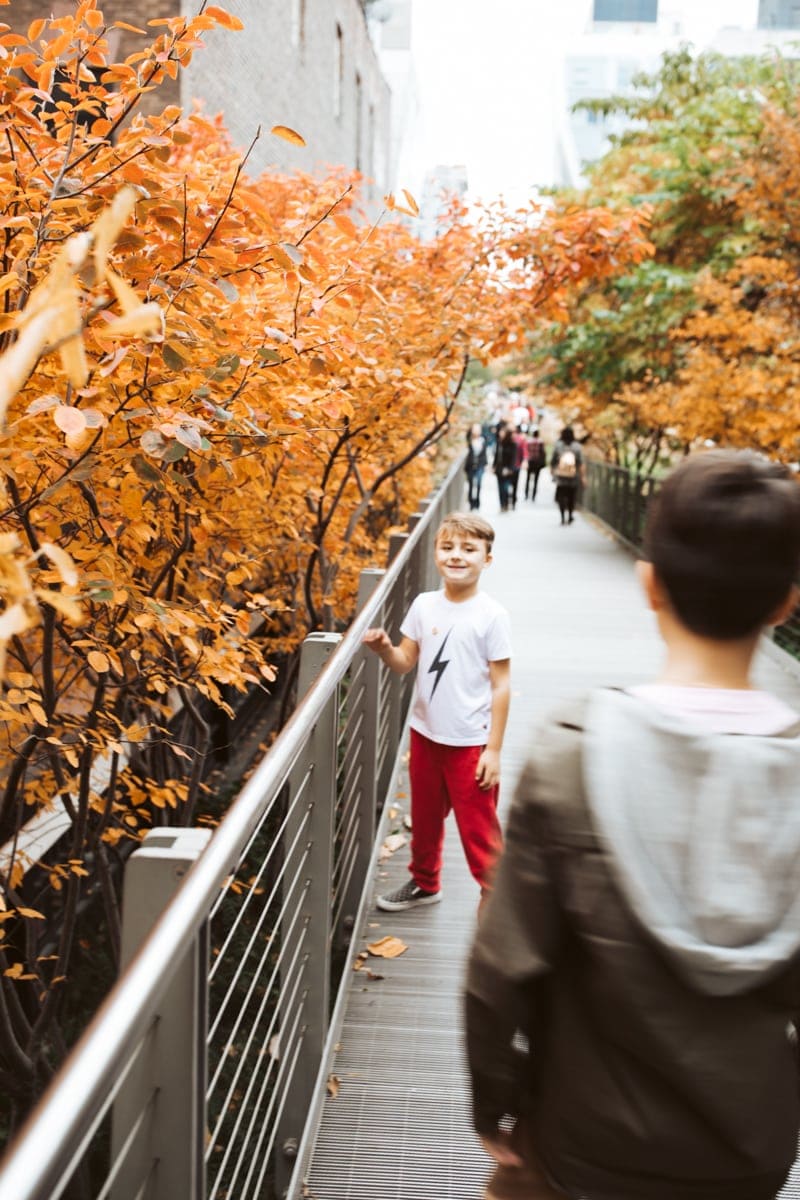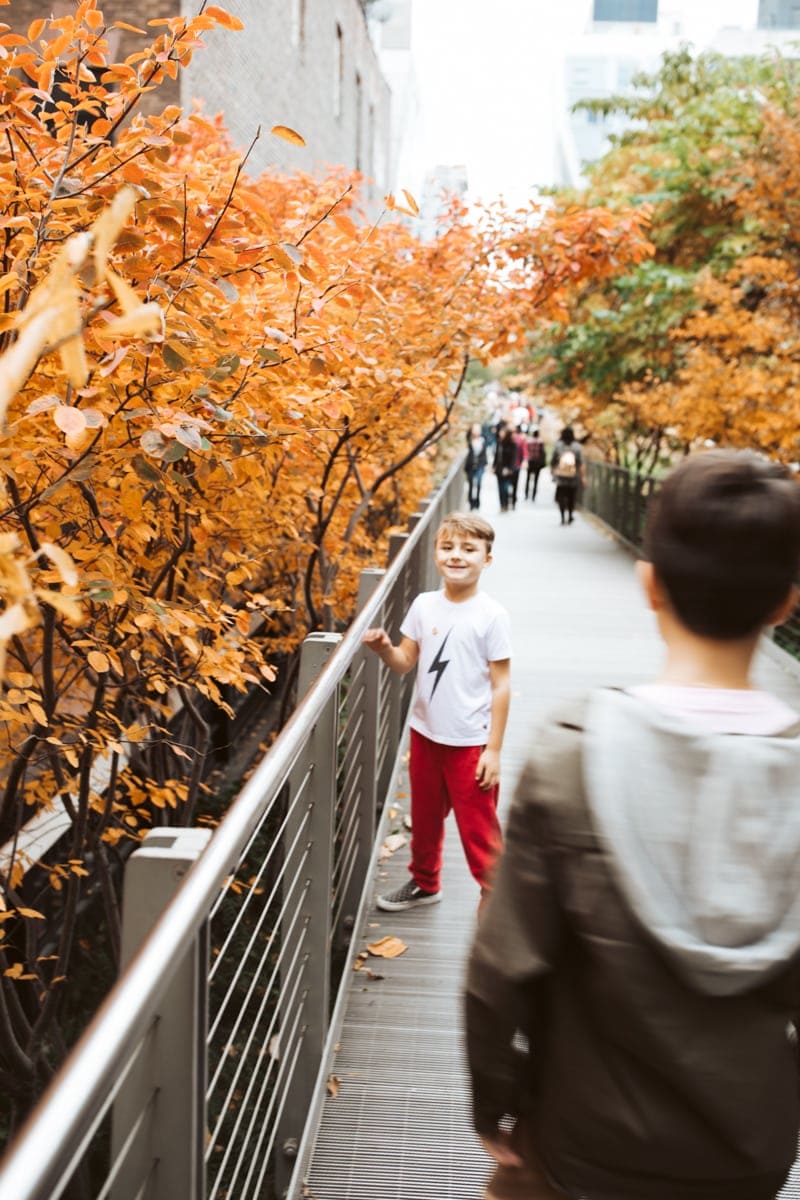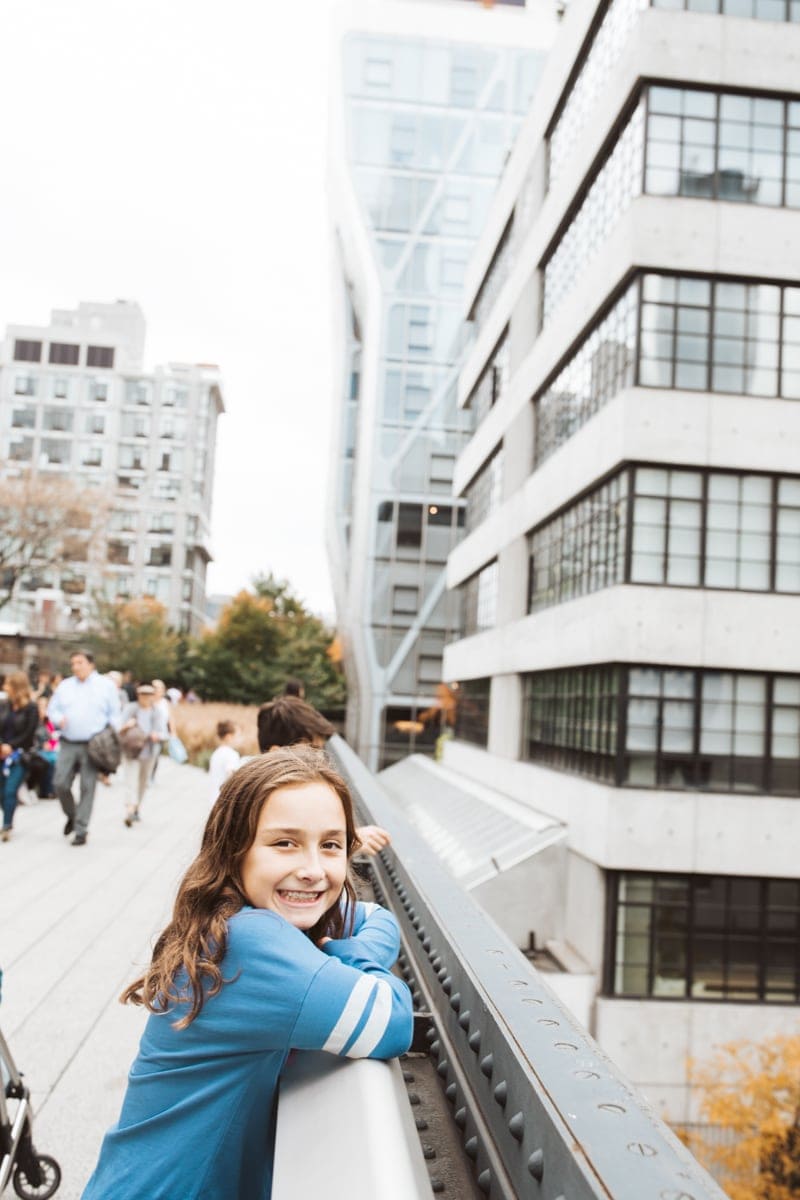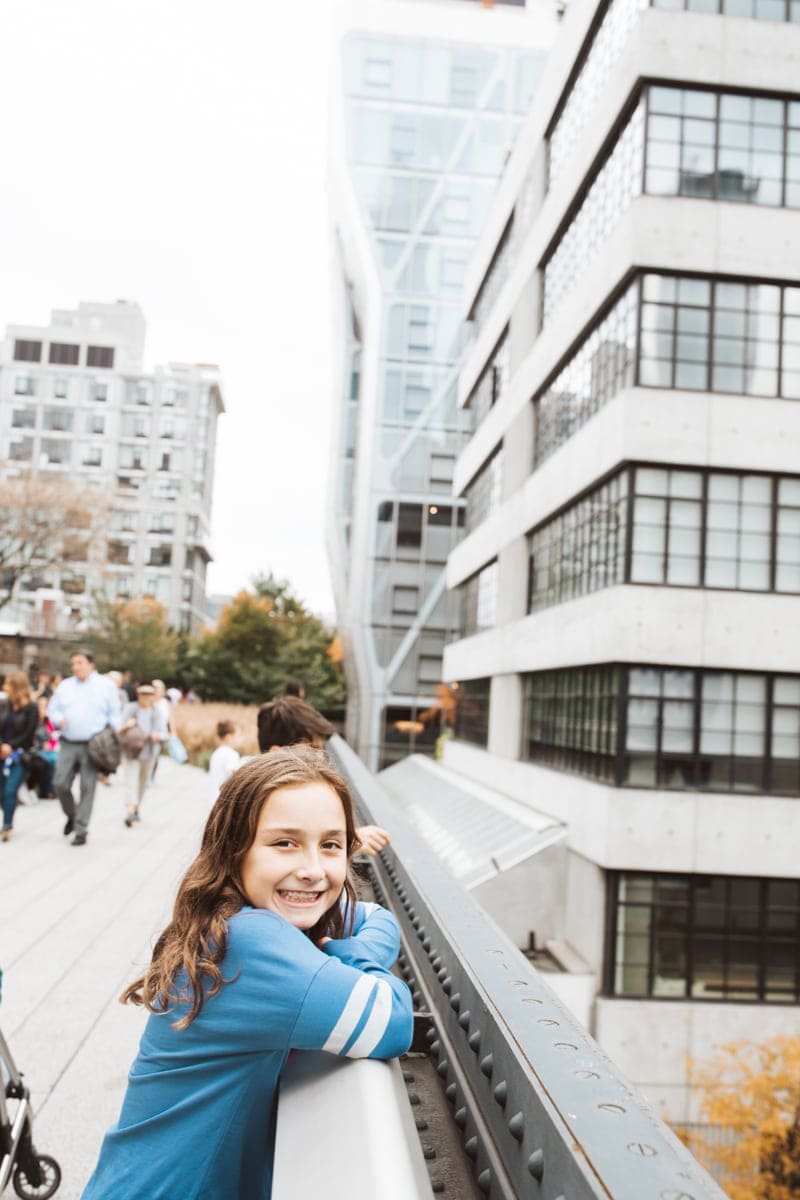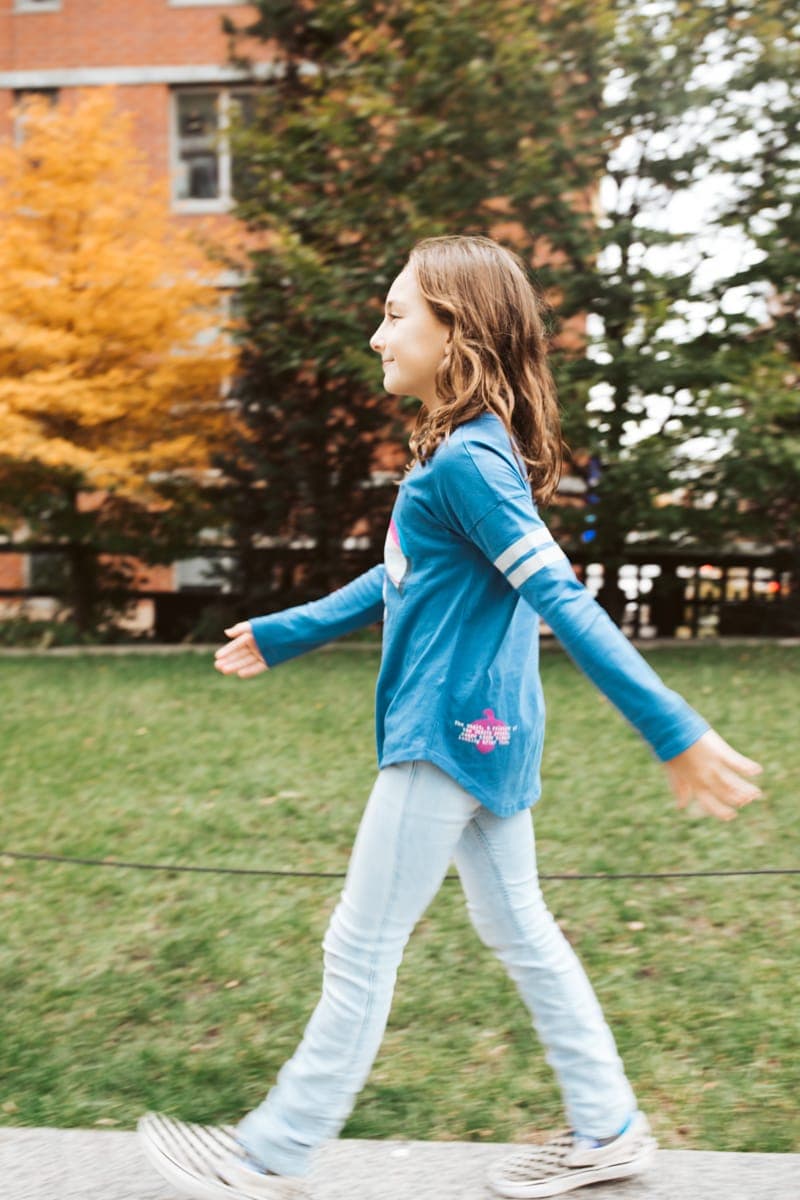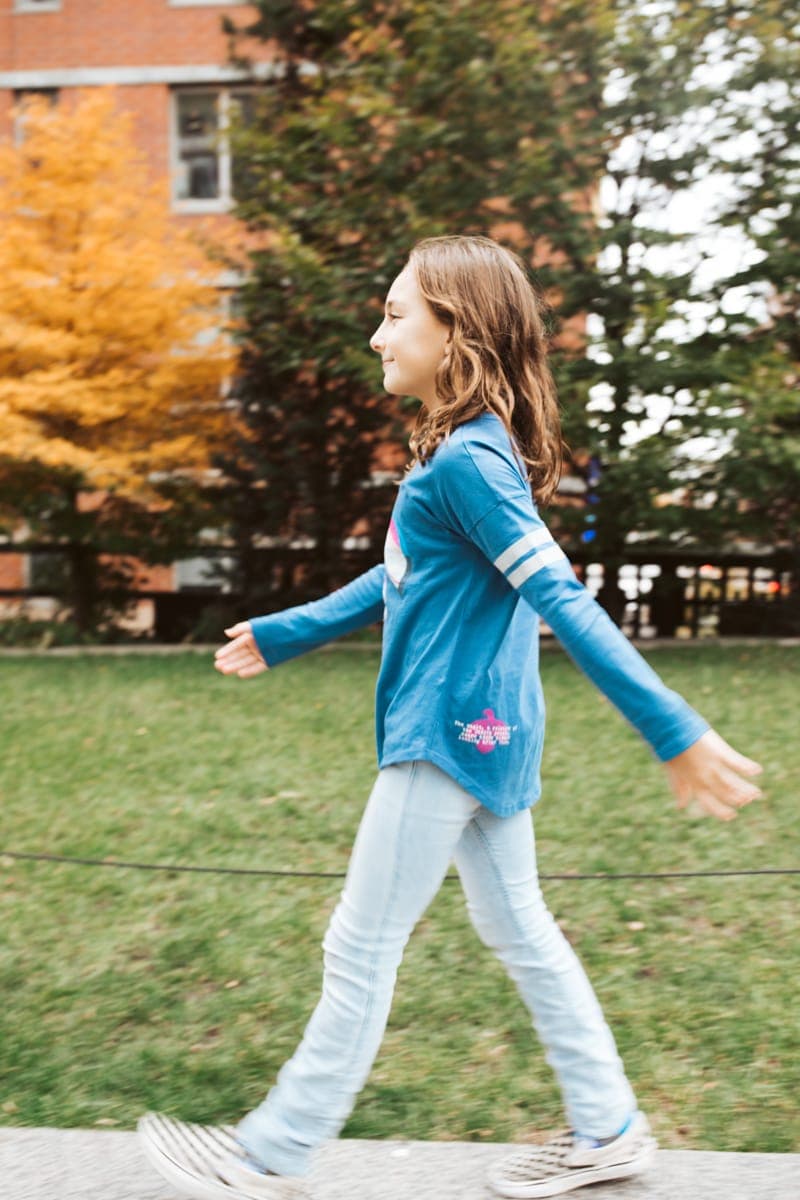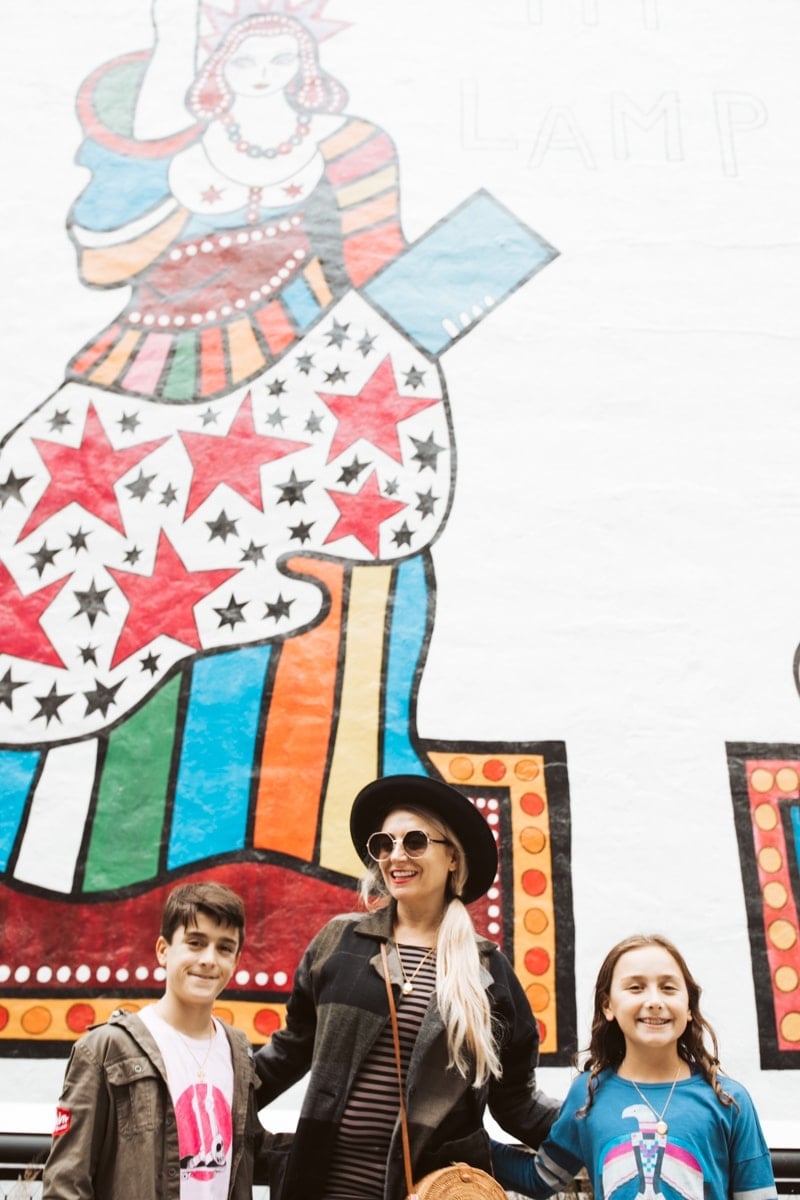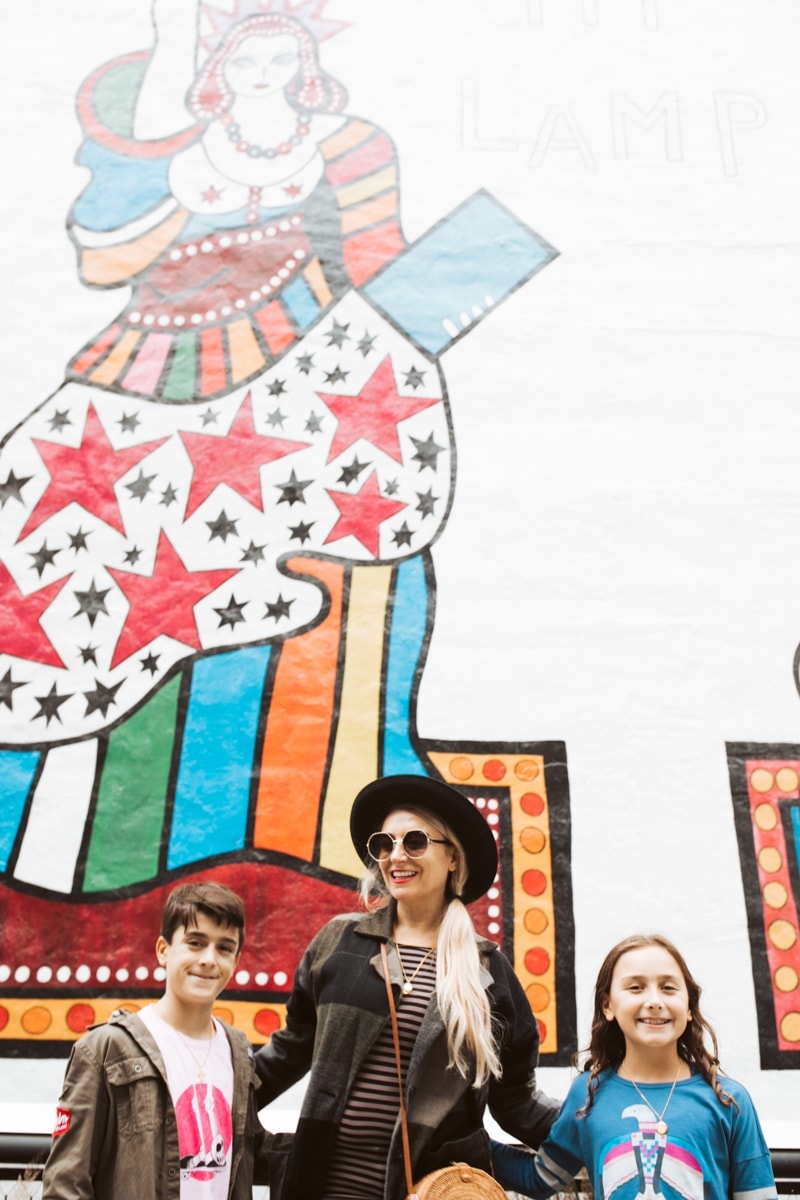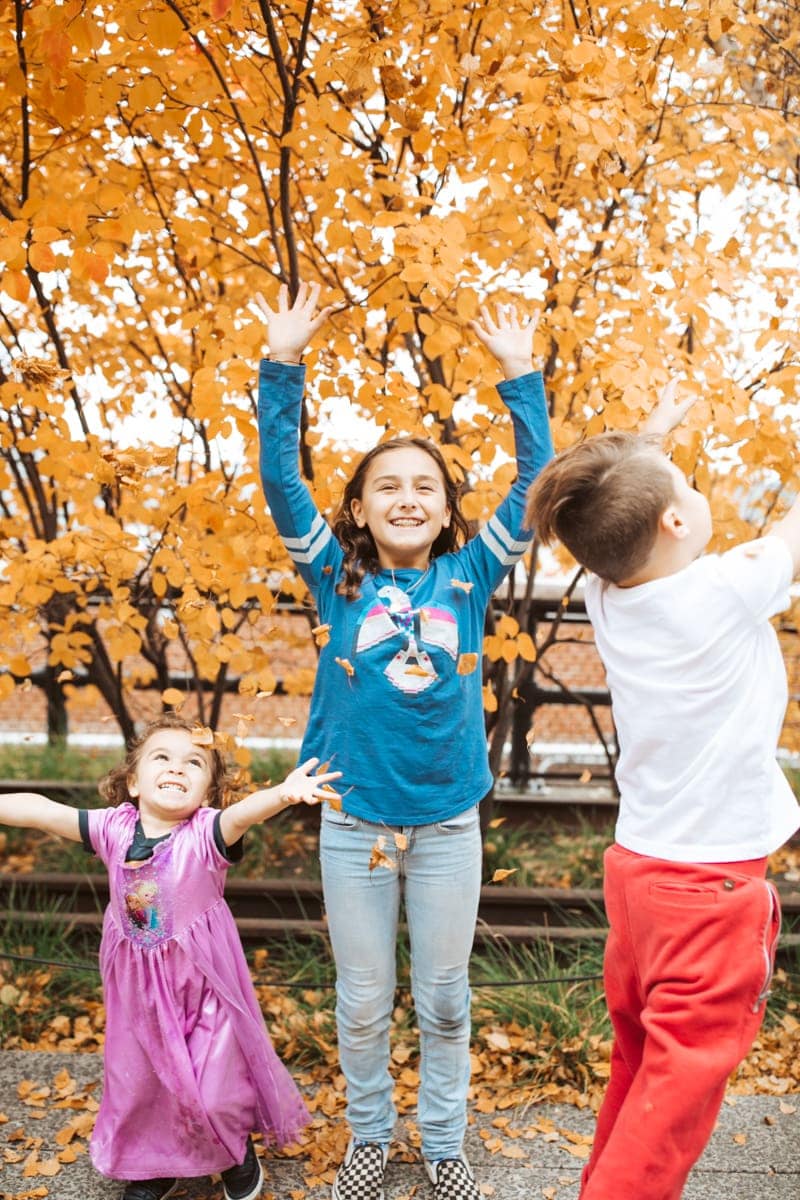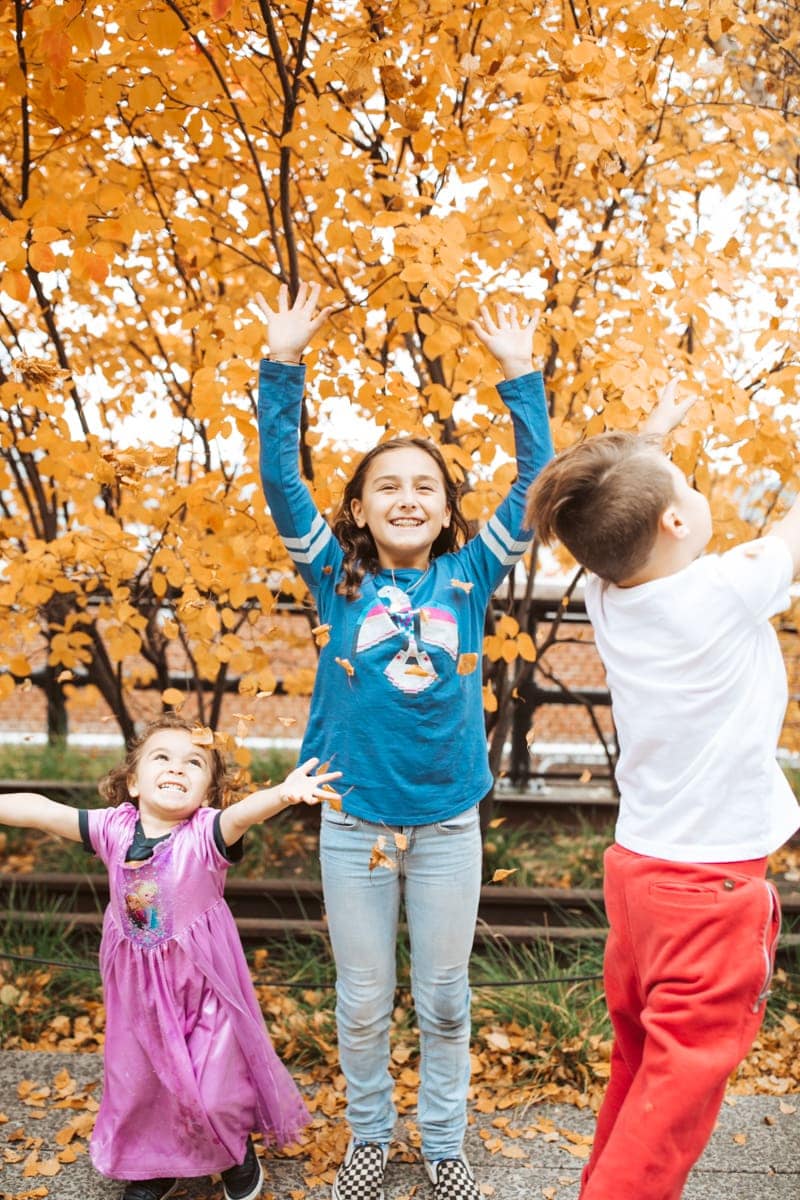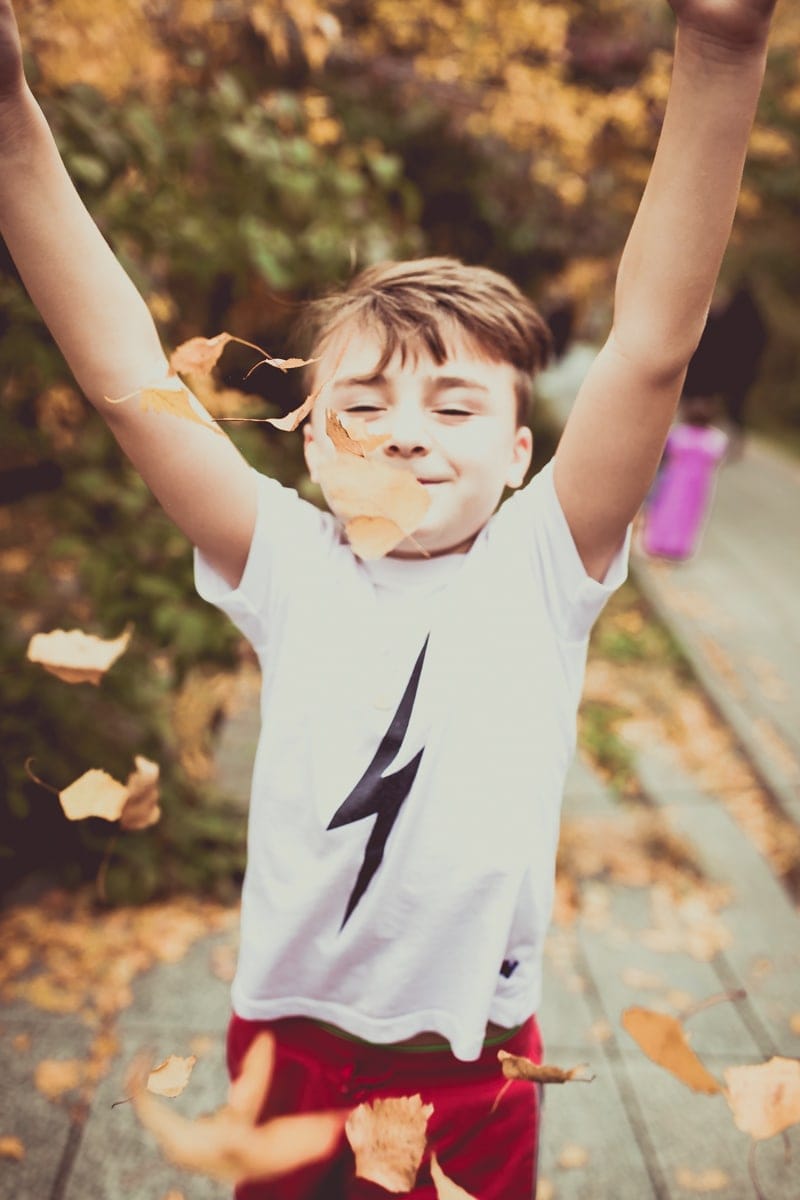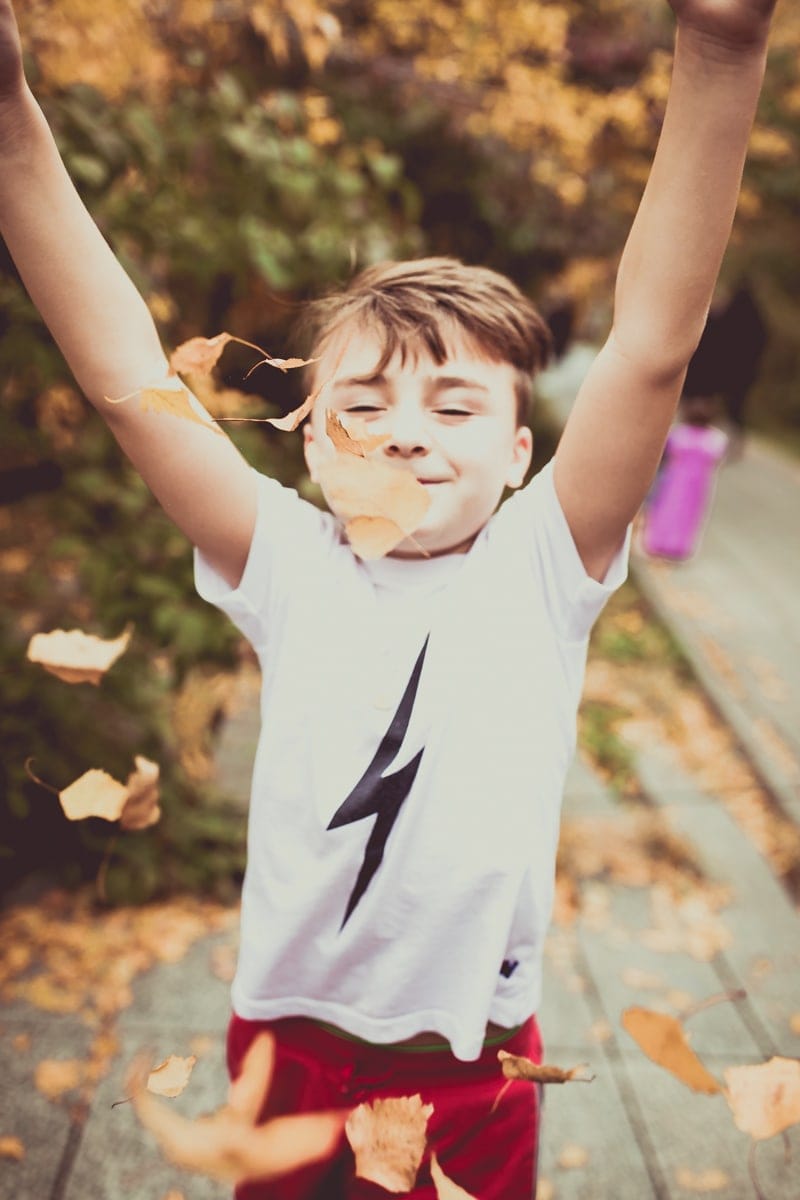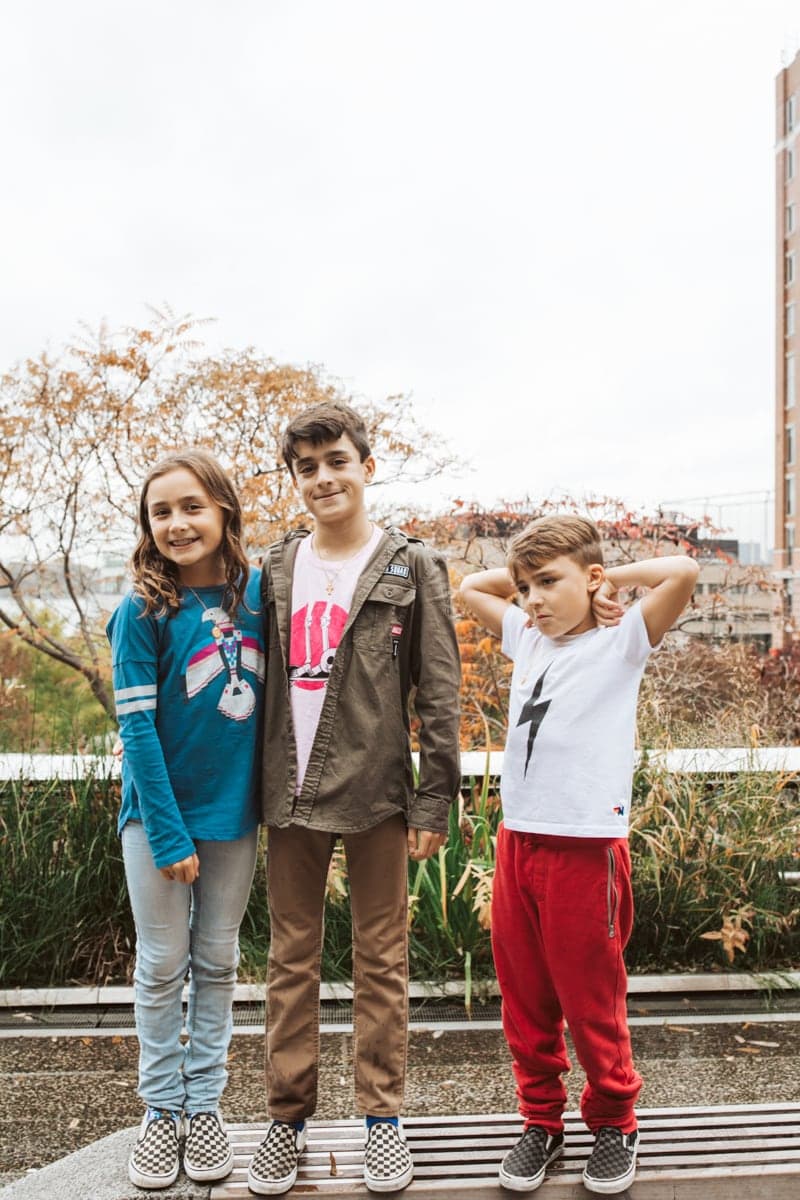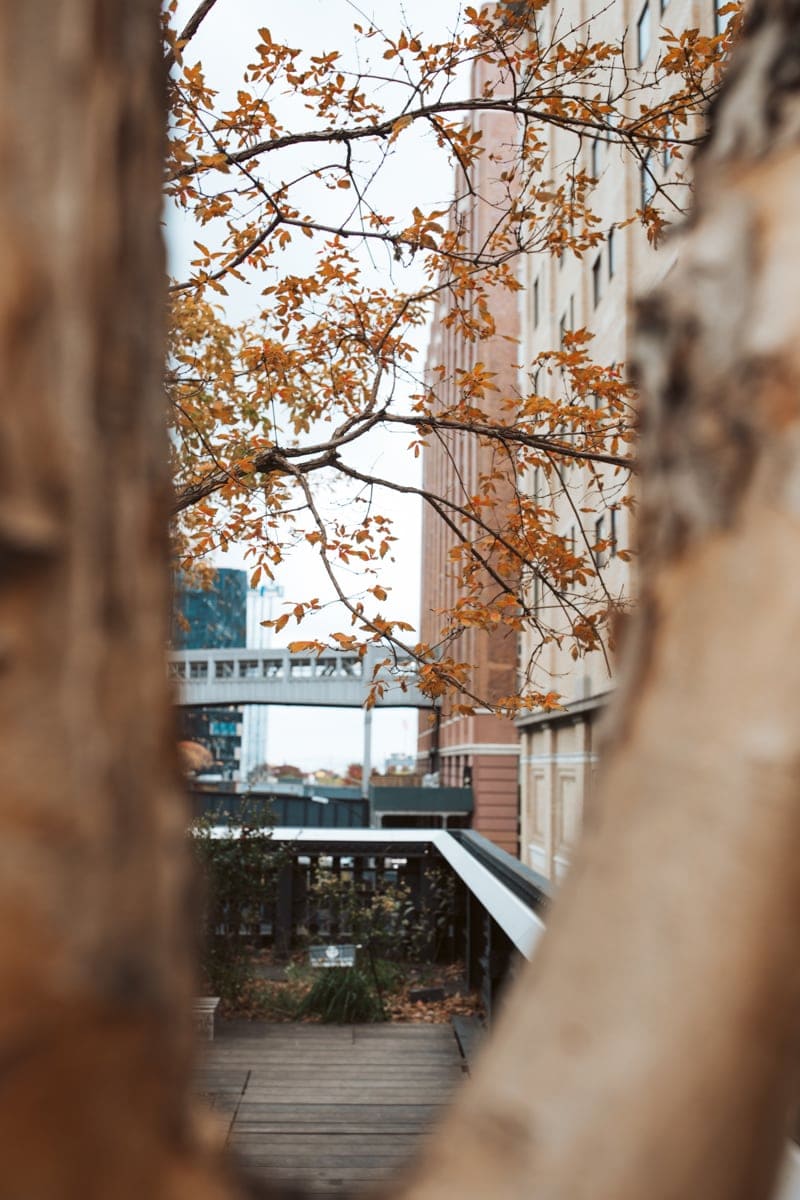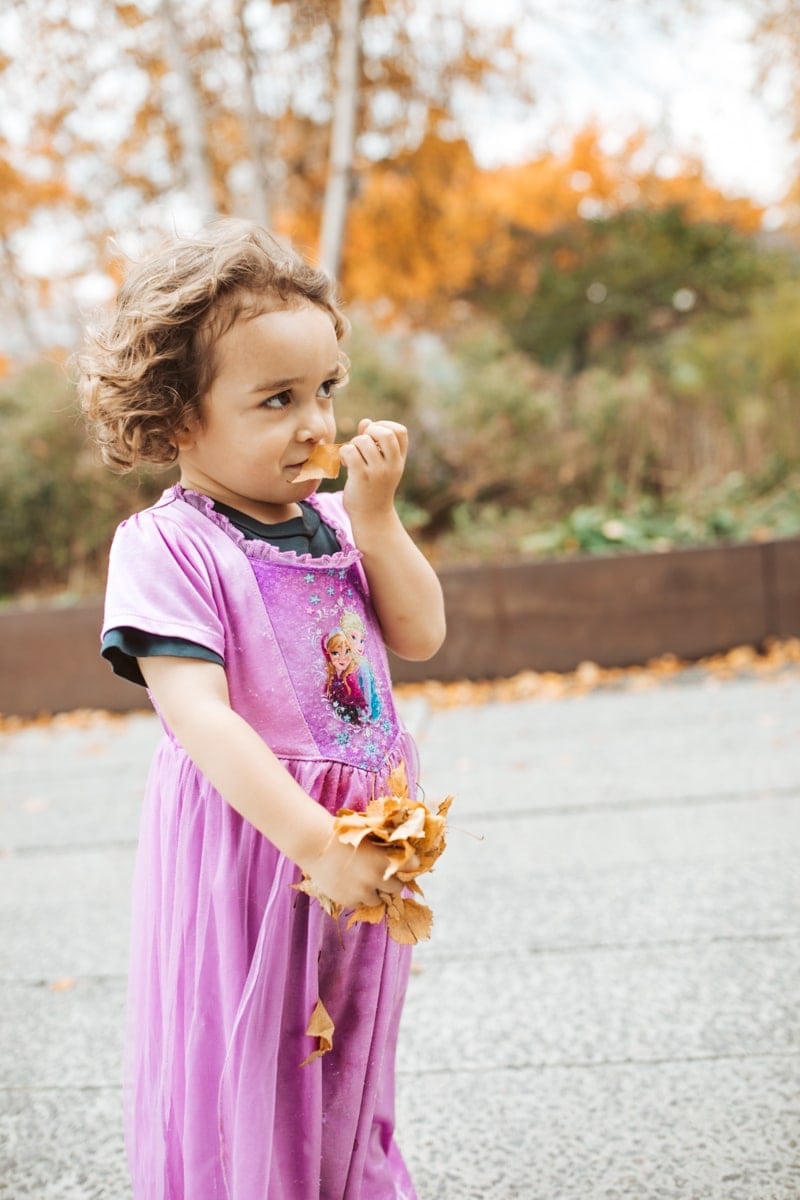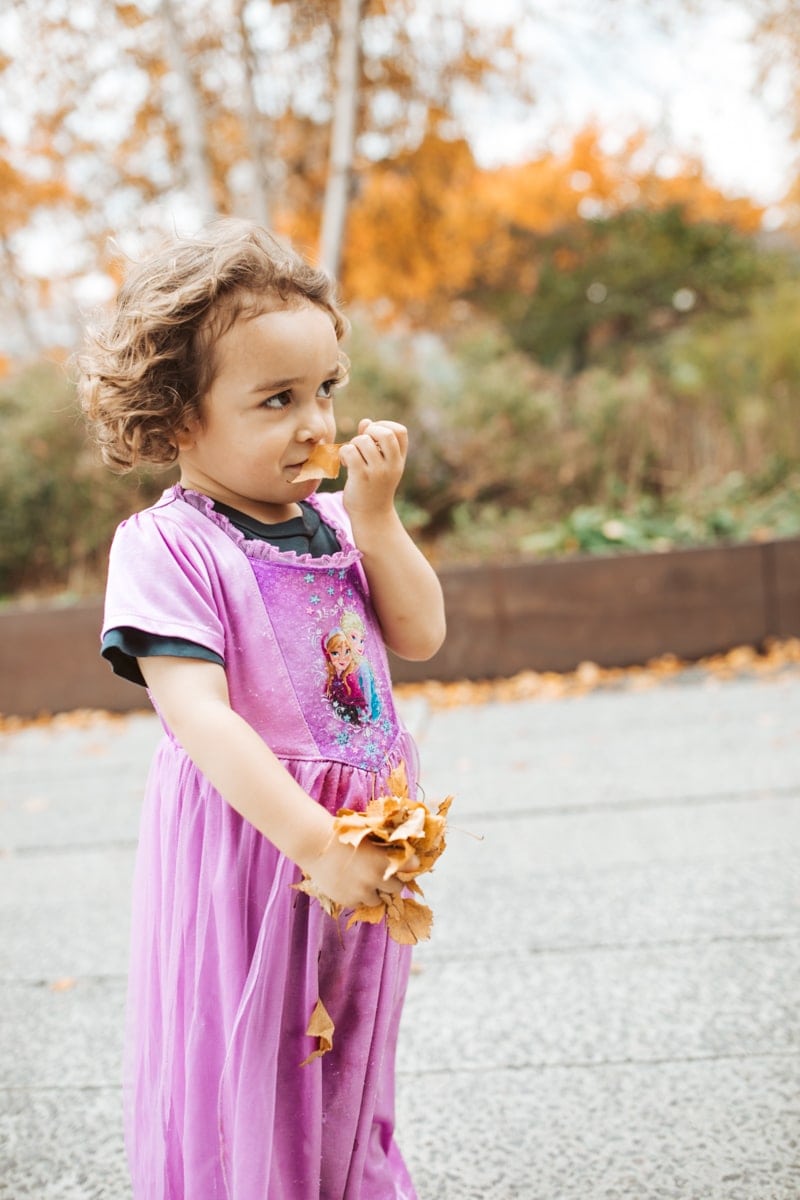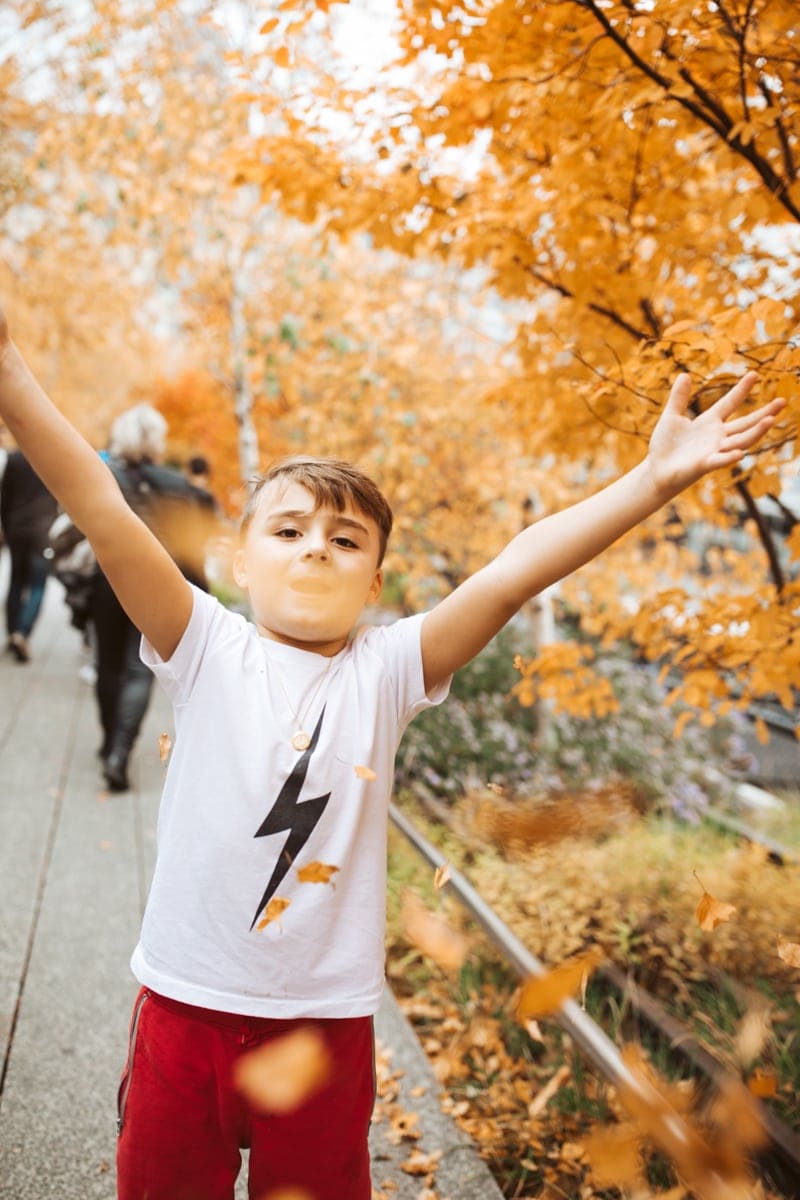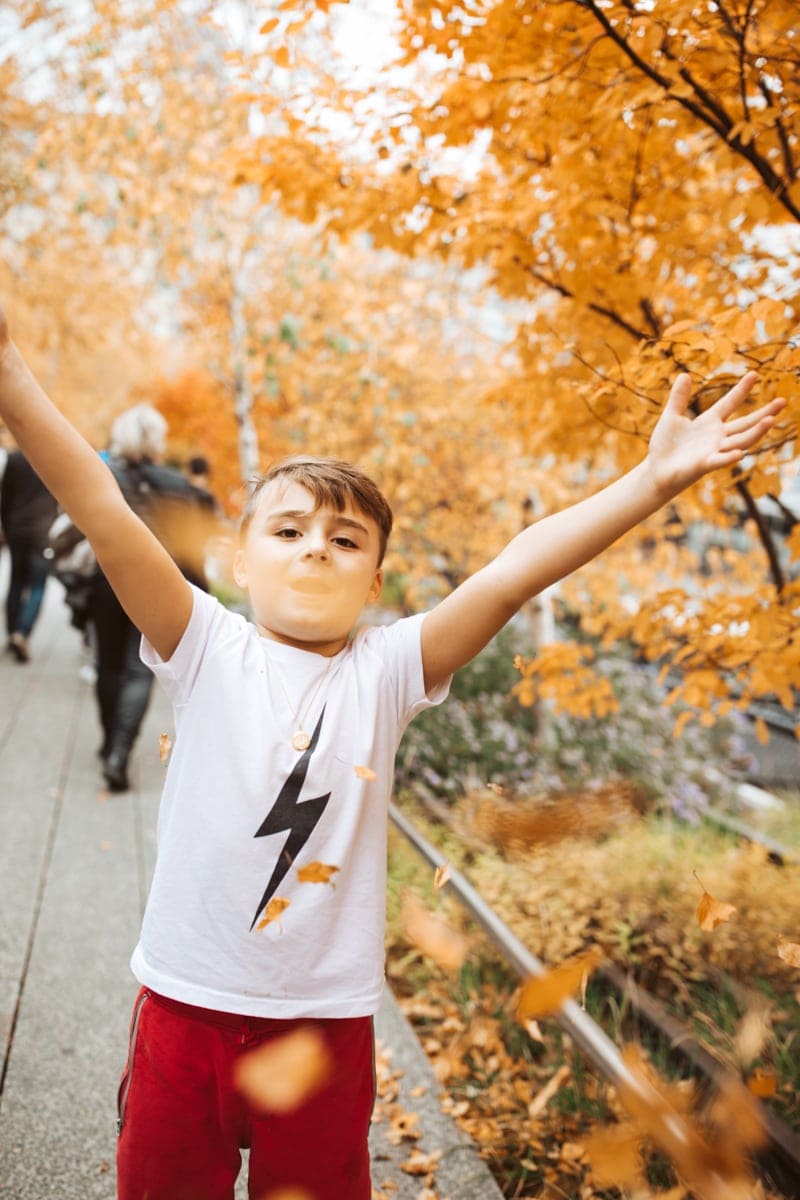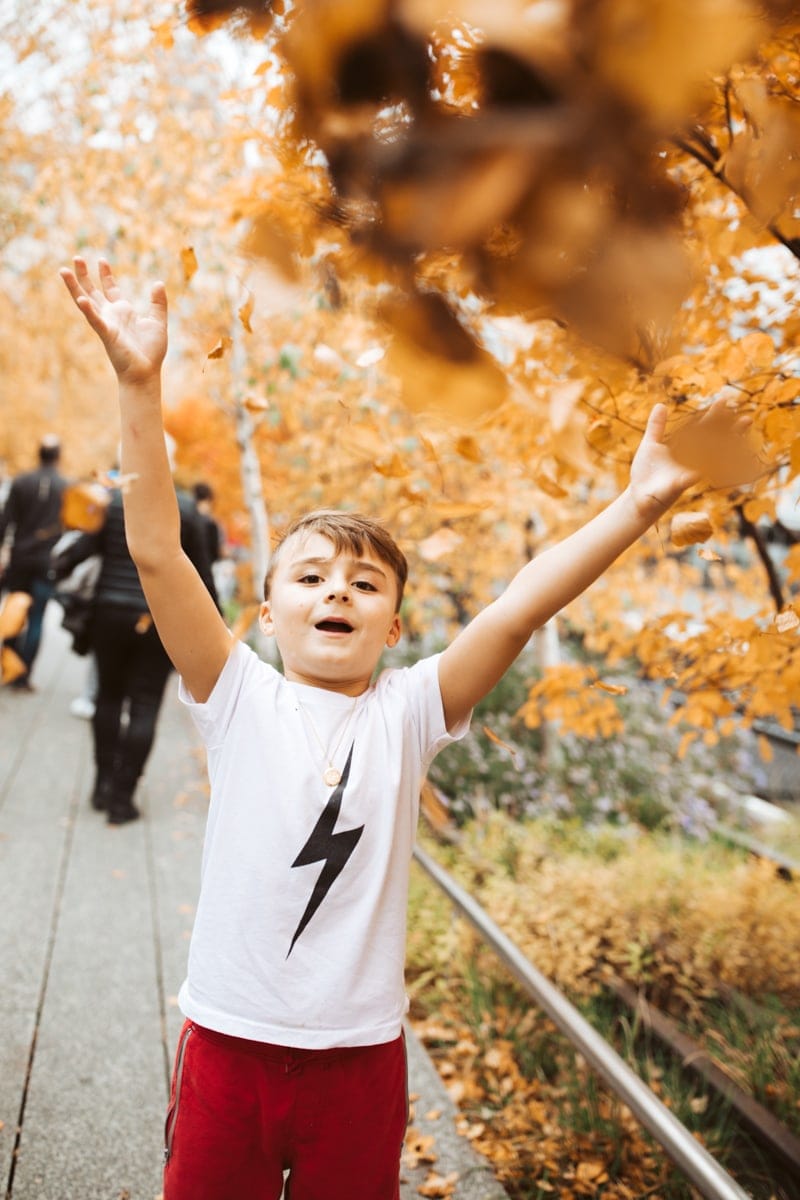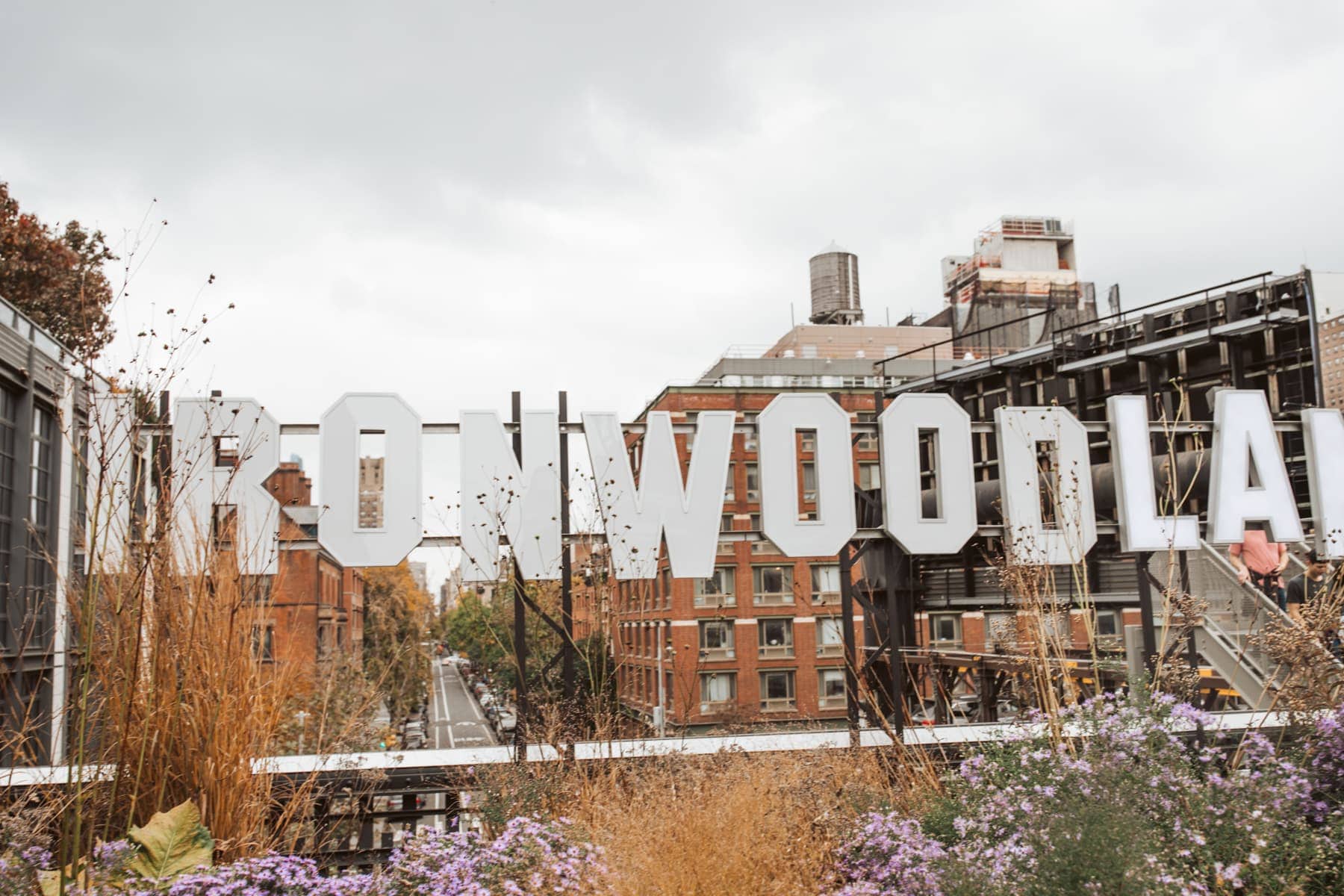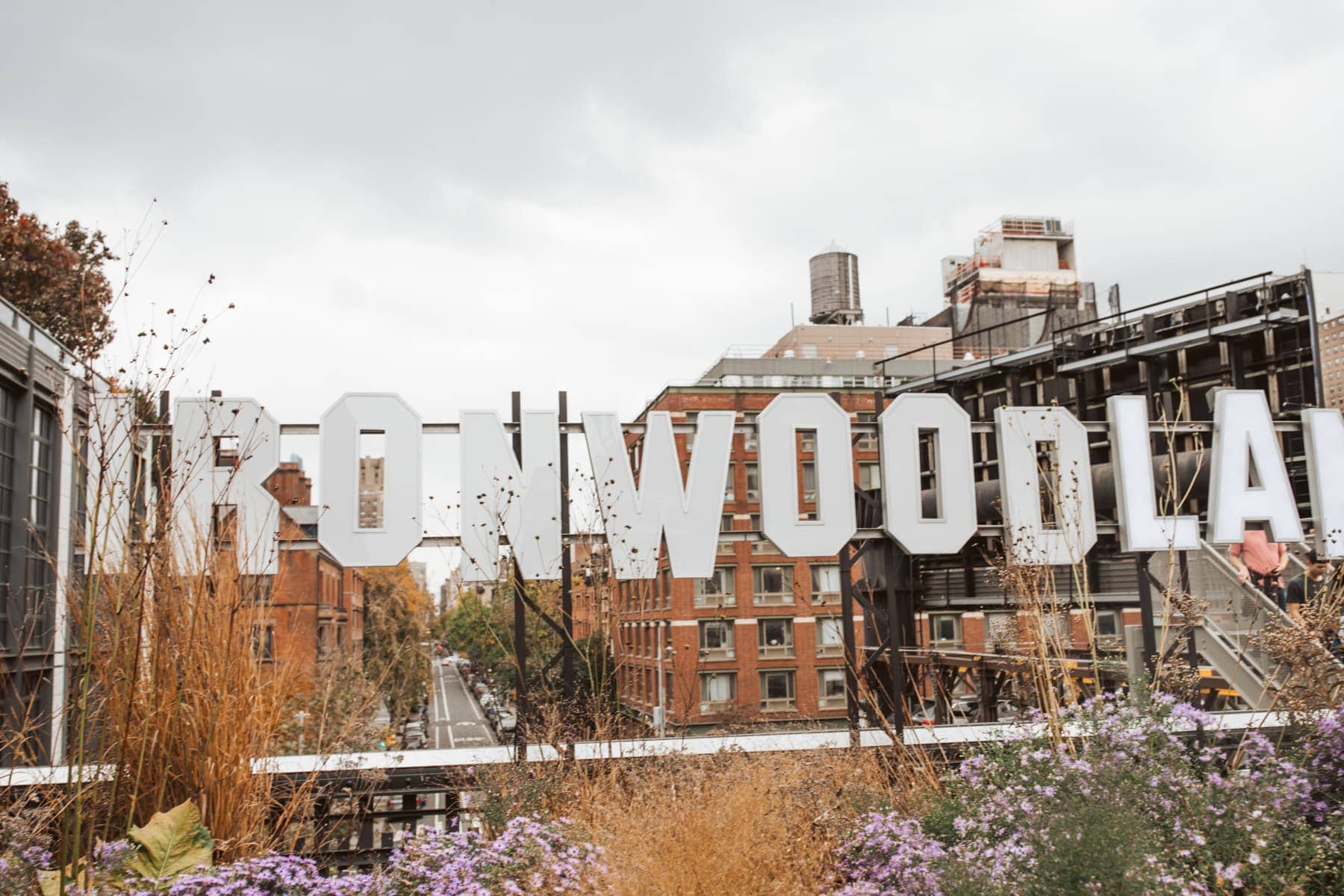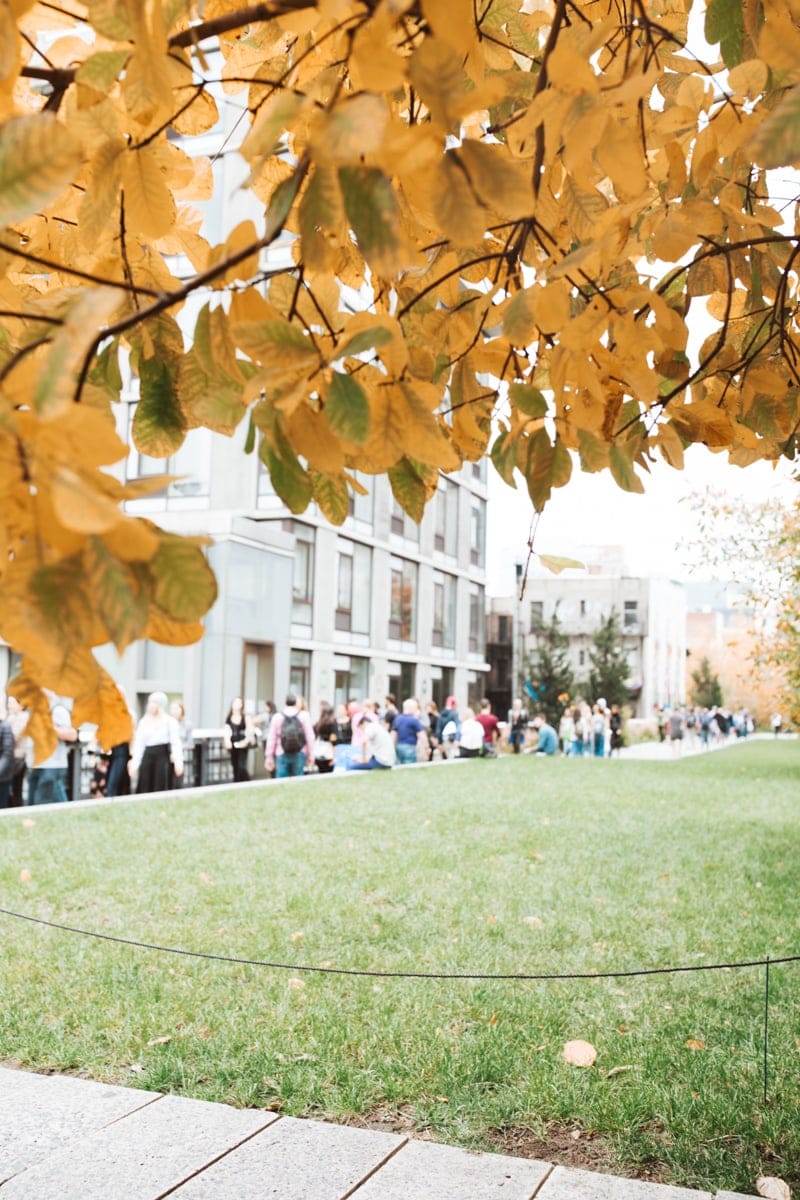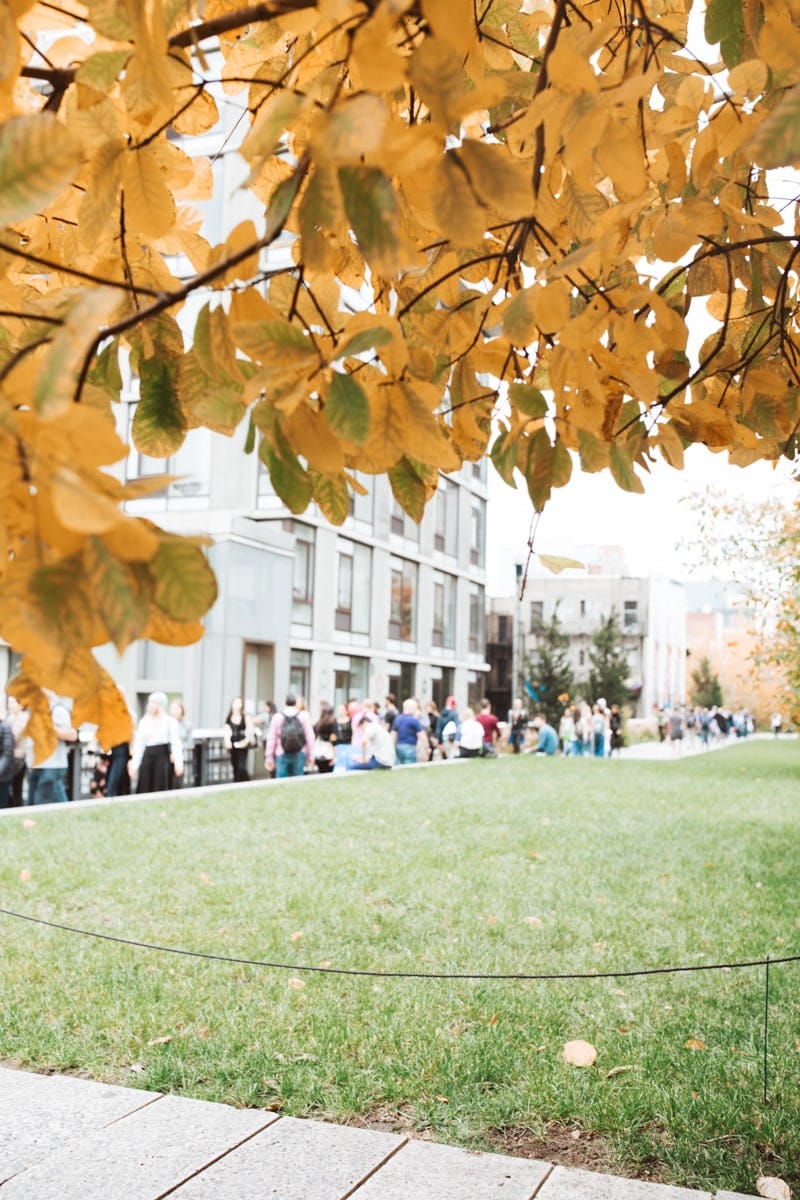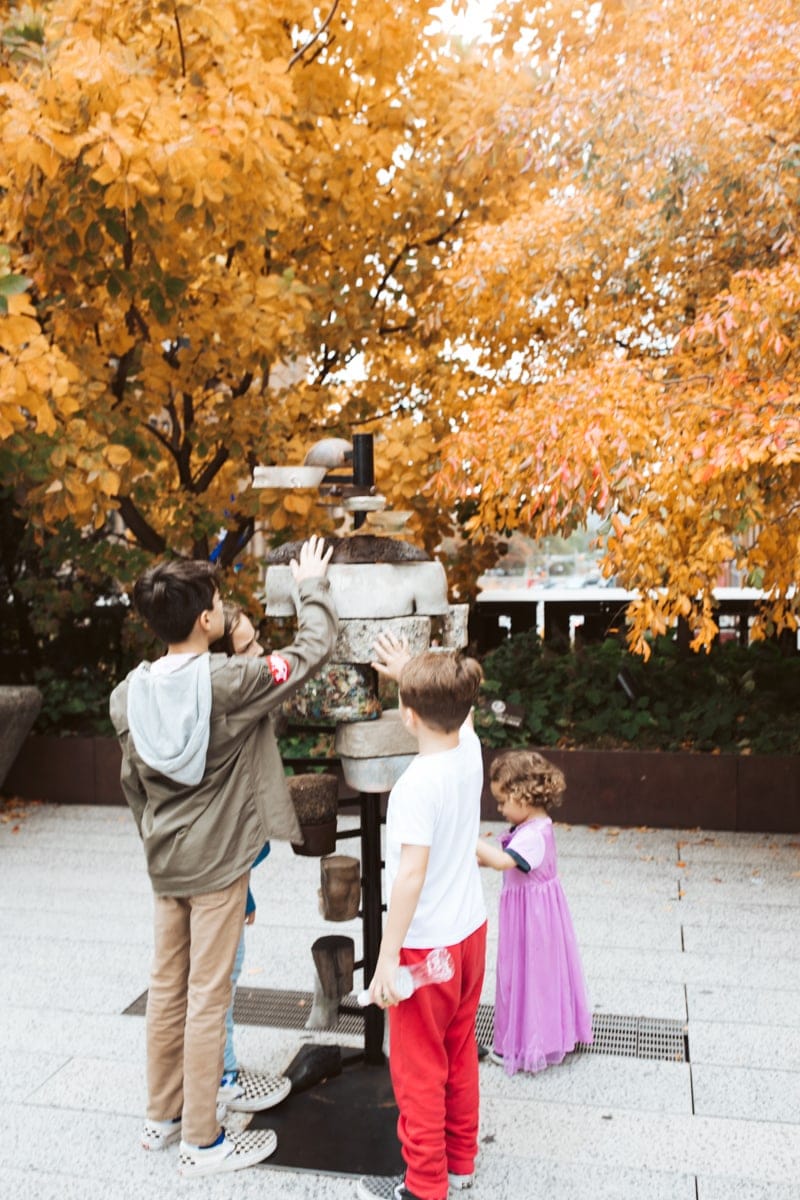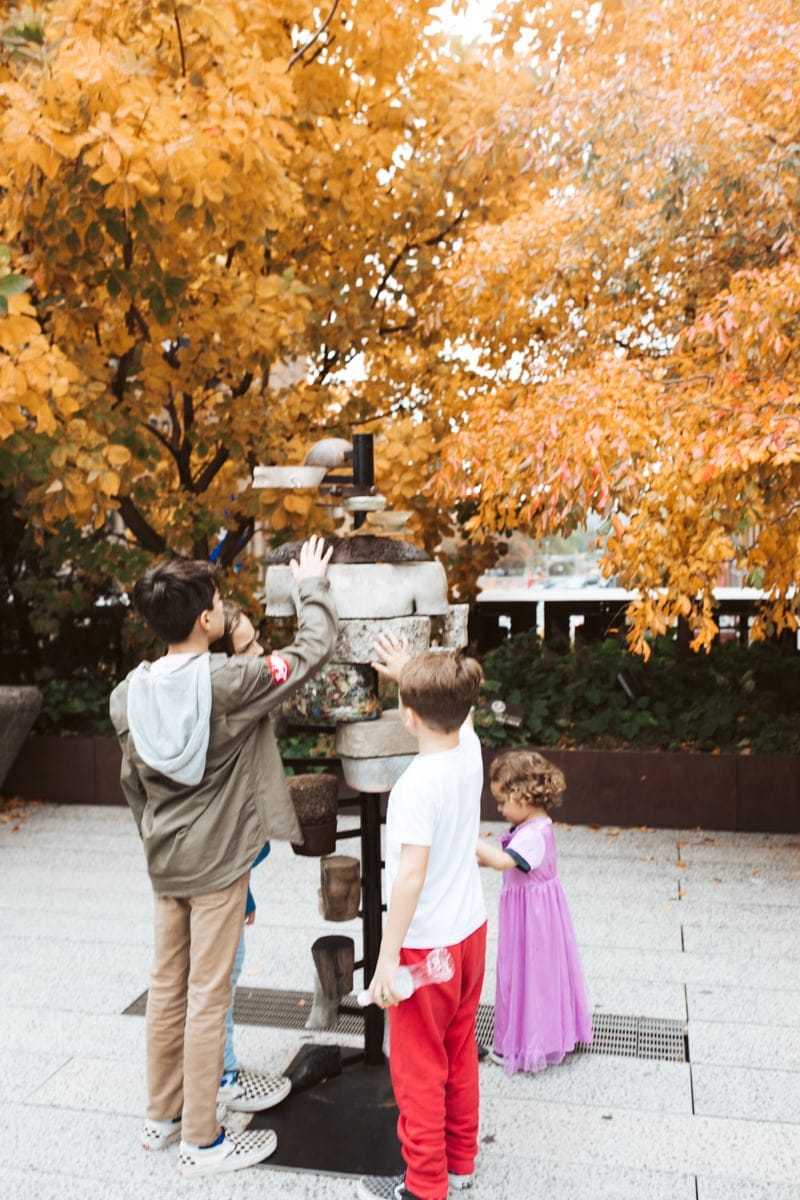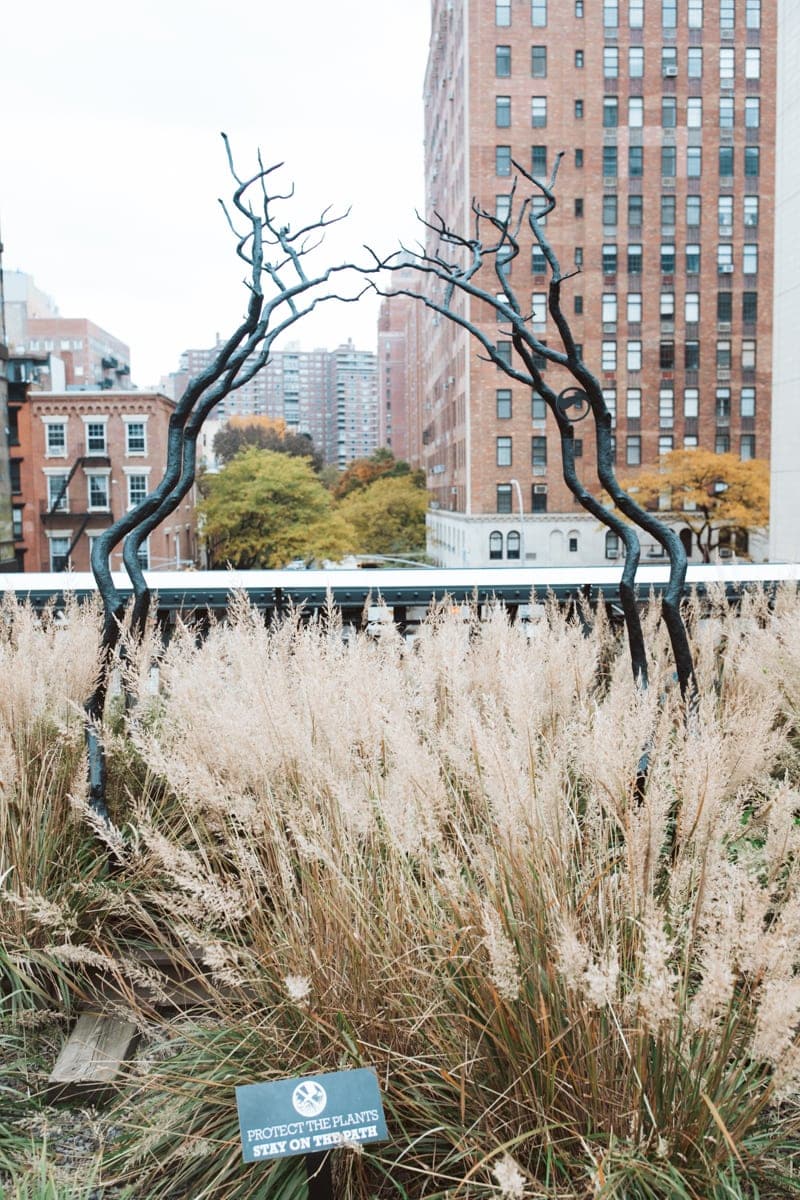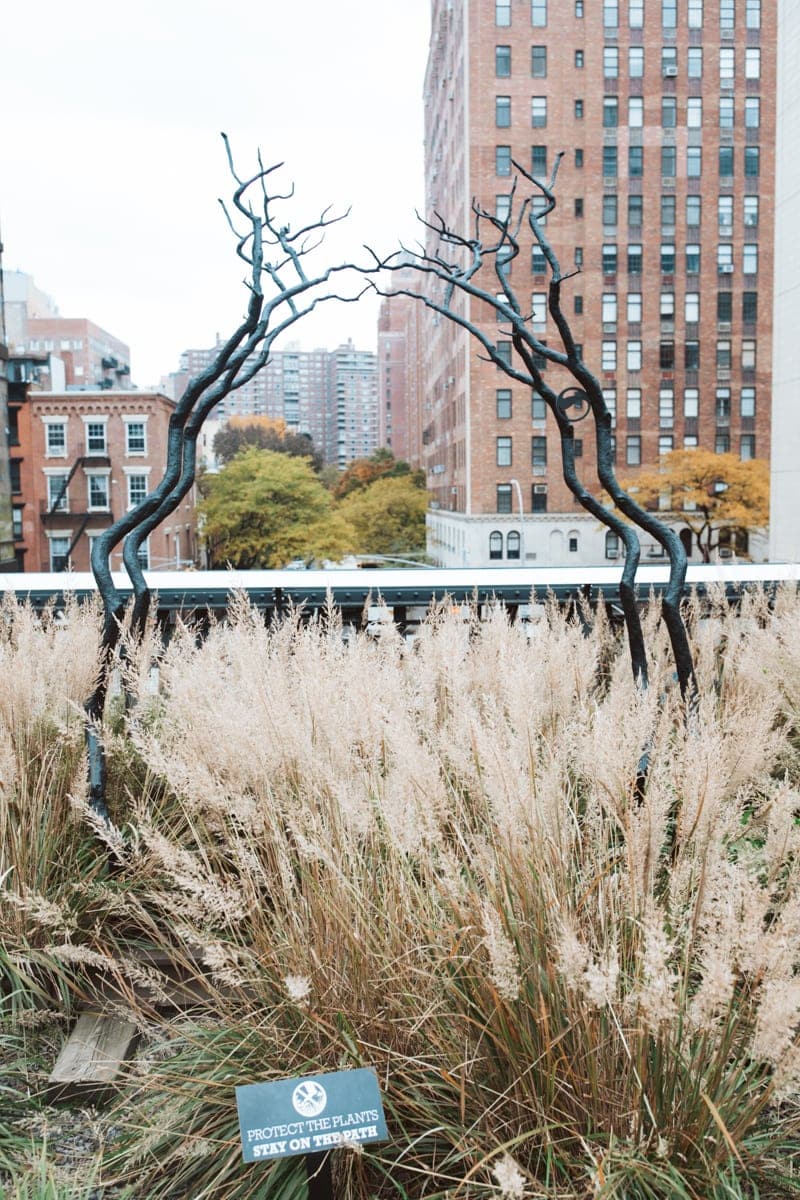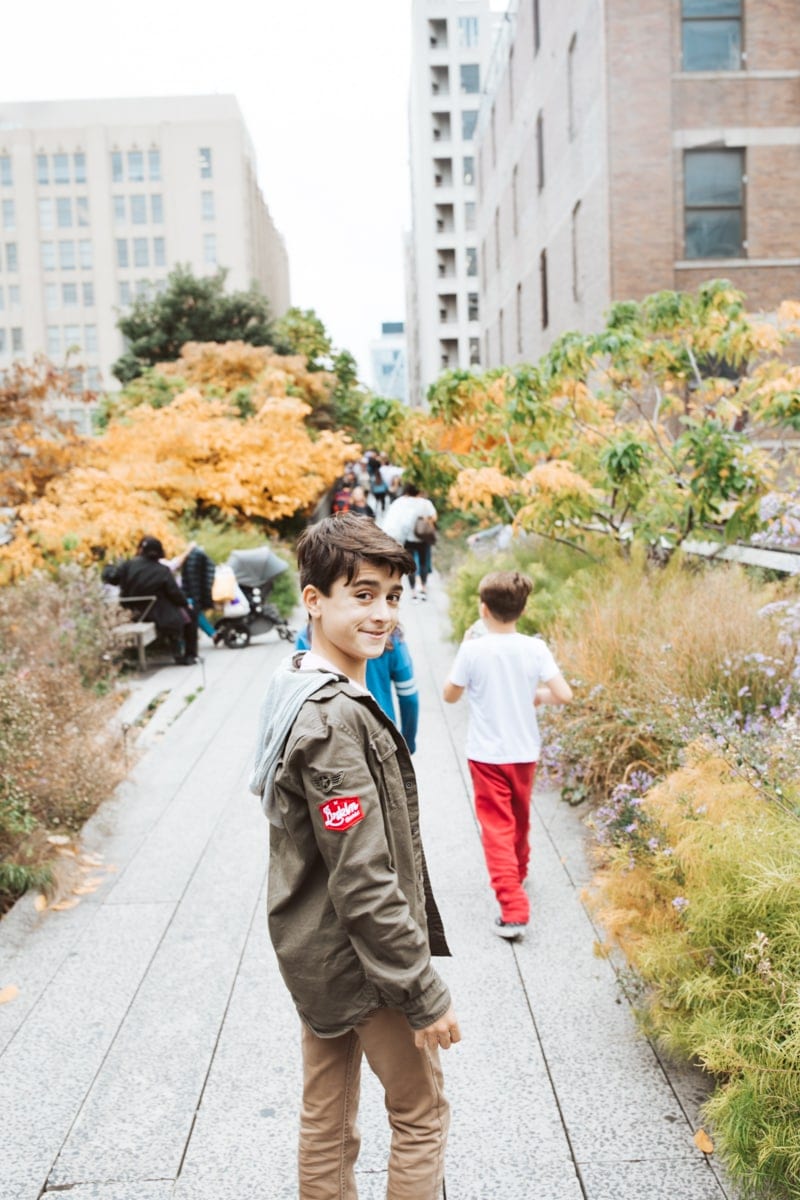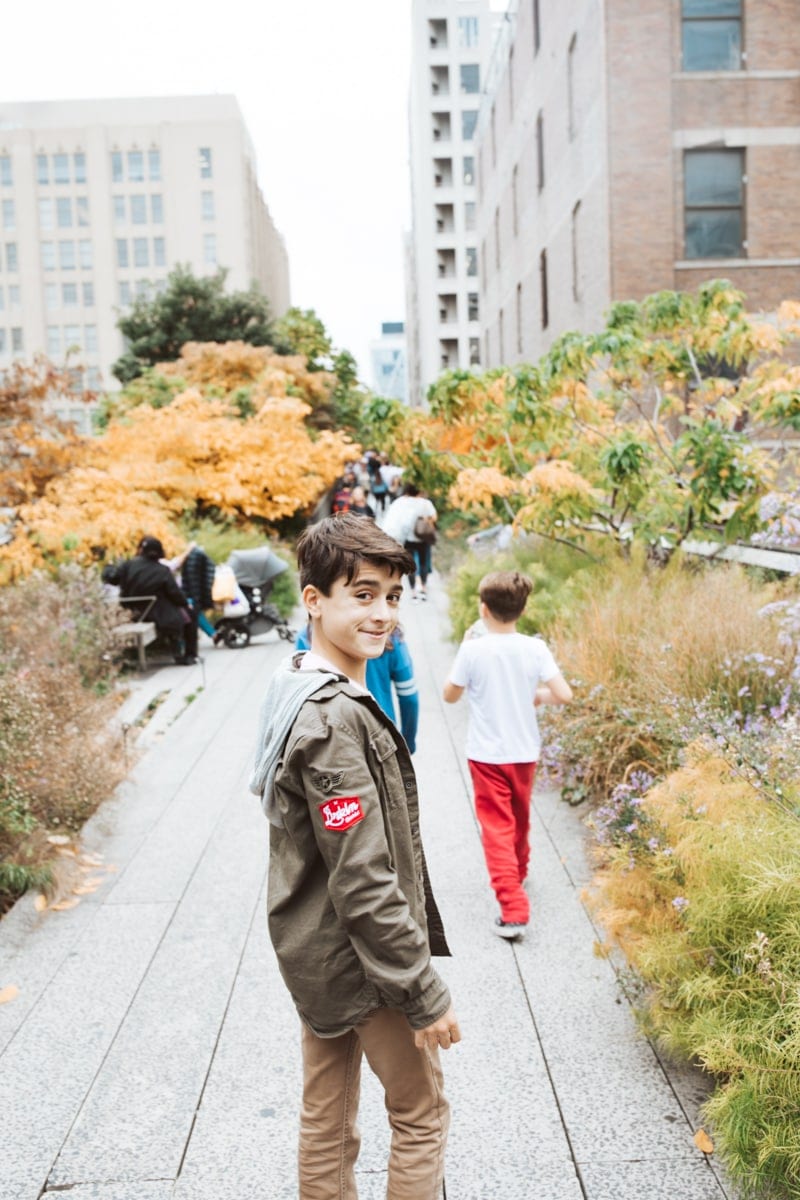 Trick Or Treat On The Upper West Side
We visited NYC during Halloween which was such a memorable experience! And I'm sure this is no surprise, but New Yorkers go all out, let me tell you. We went to the Upper West Side to trick-or-treat, and I think it was unanimously everyone's favorite part of the trip. The famous West 69th street full of skulls is famous for its elaborate Halloween decor, and it did not disappoint.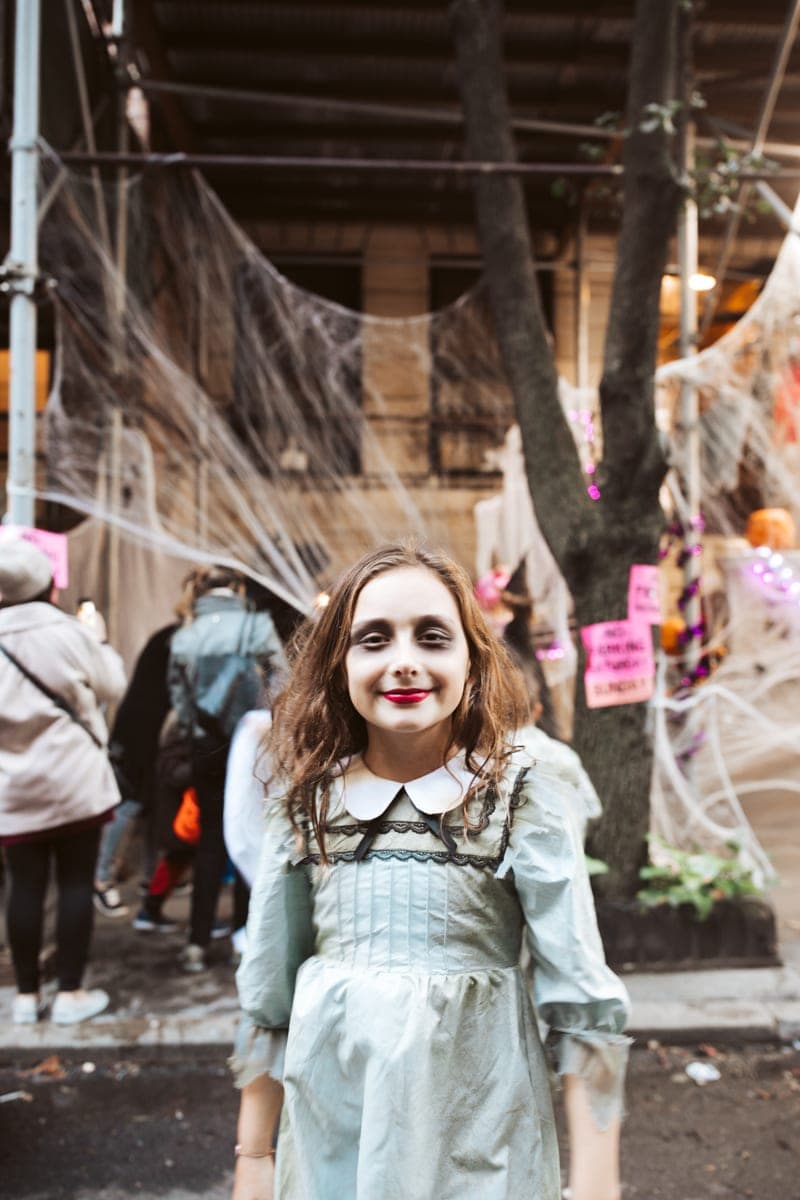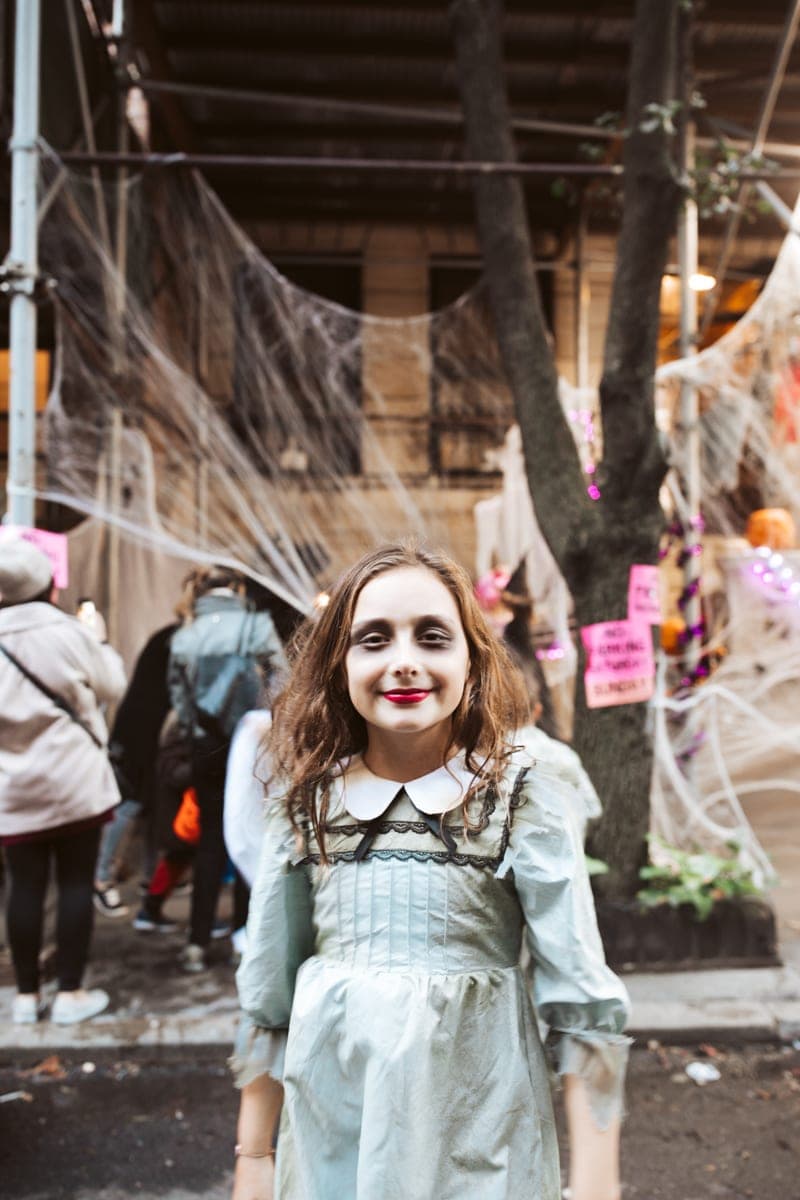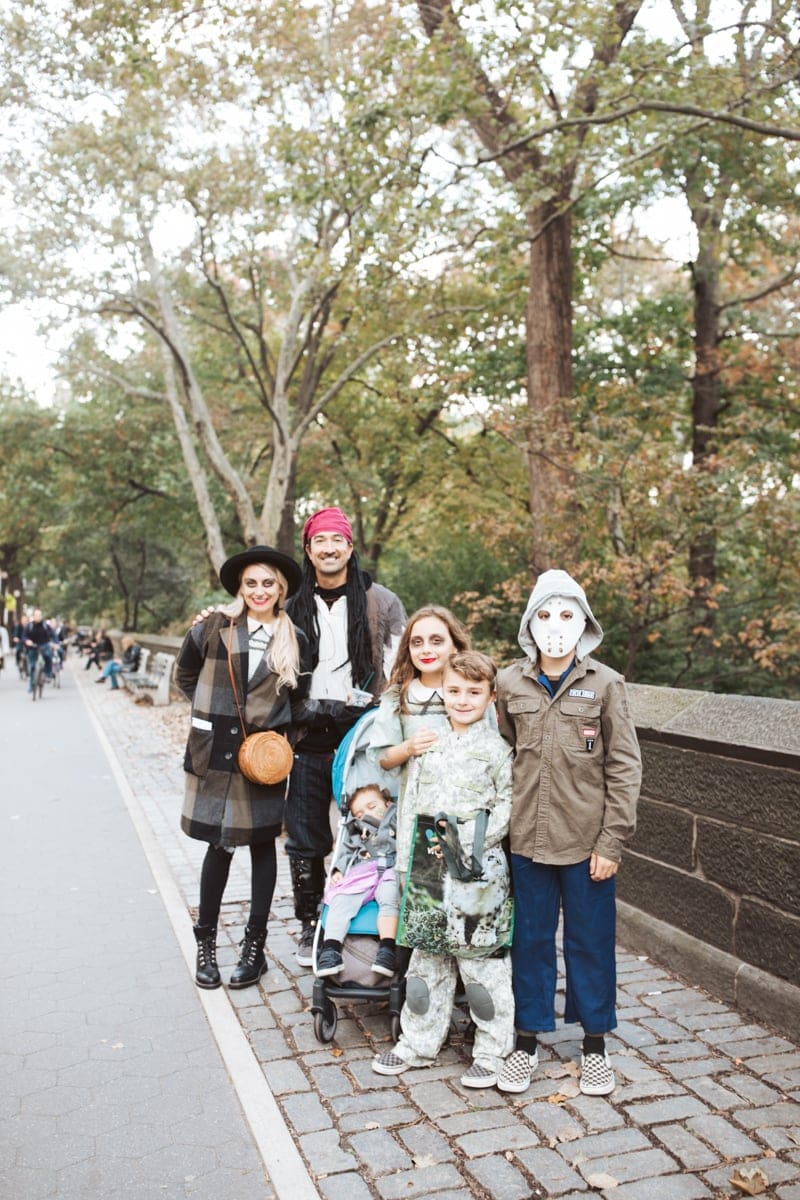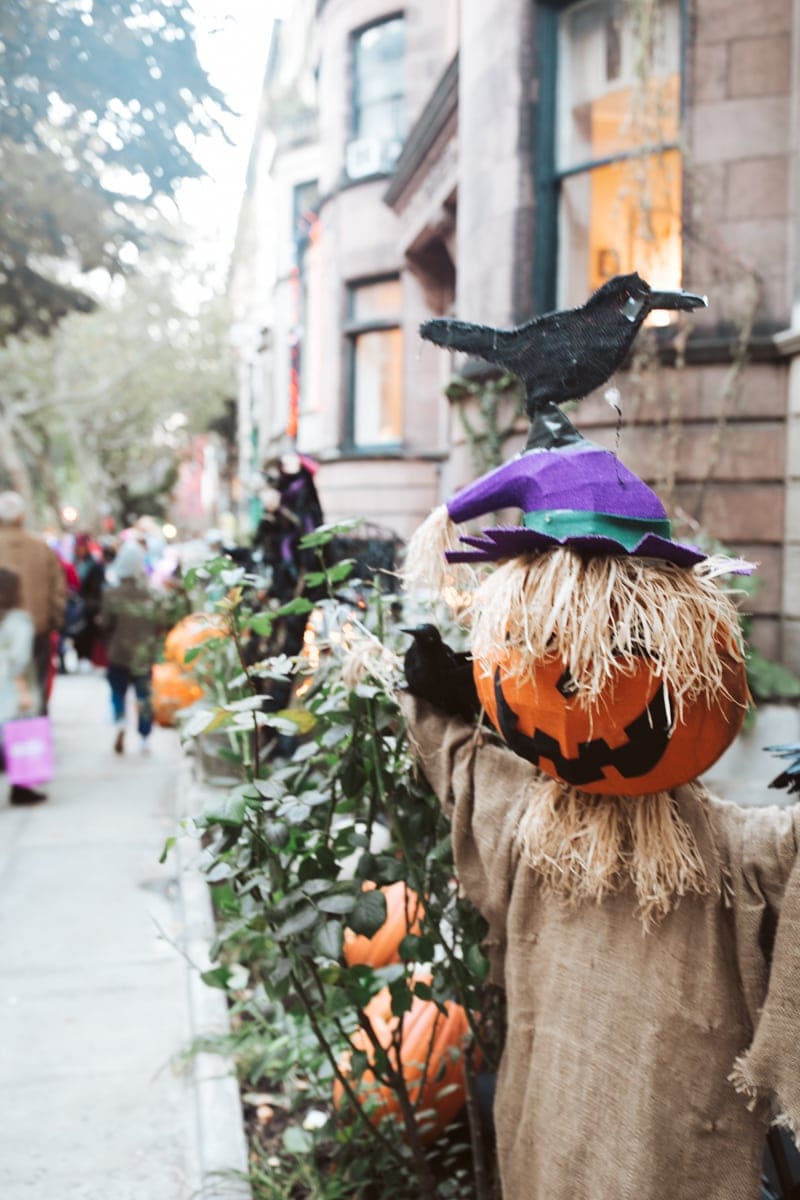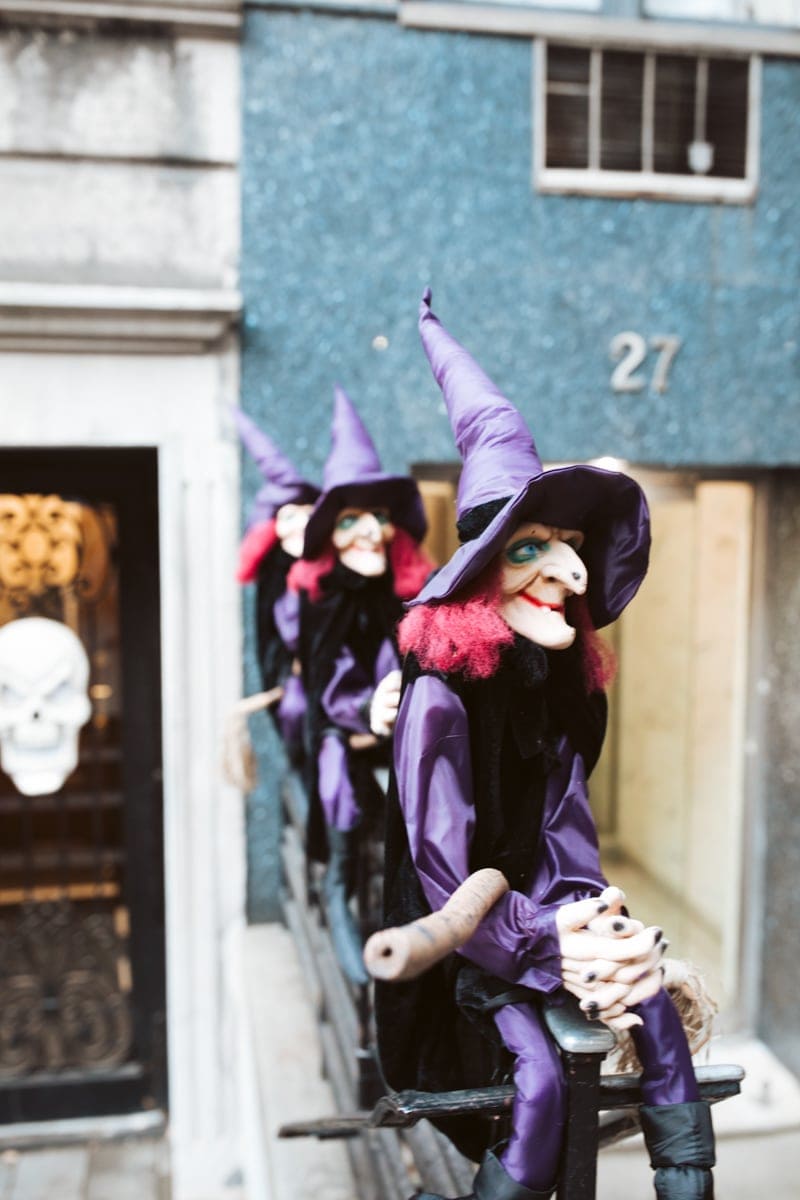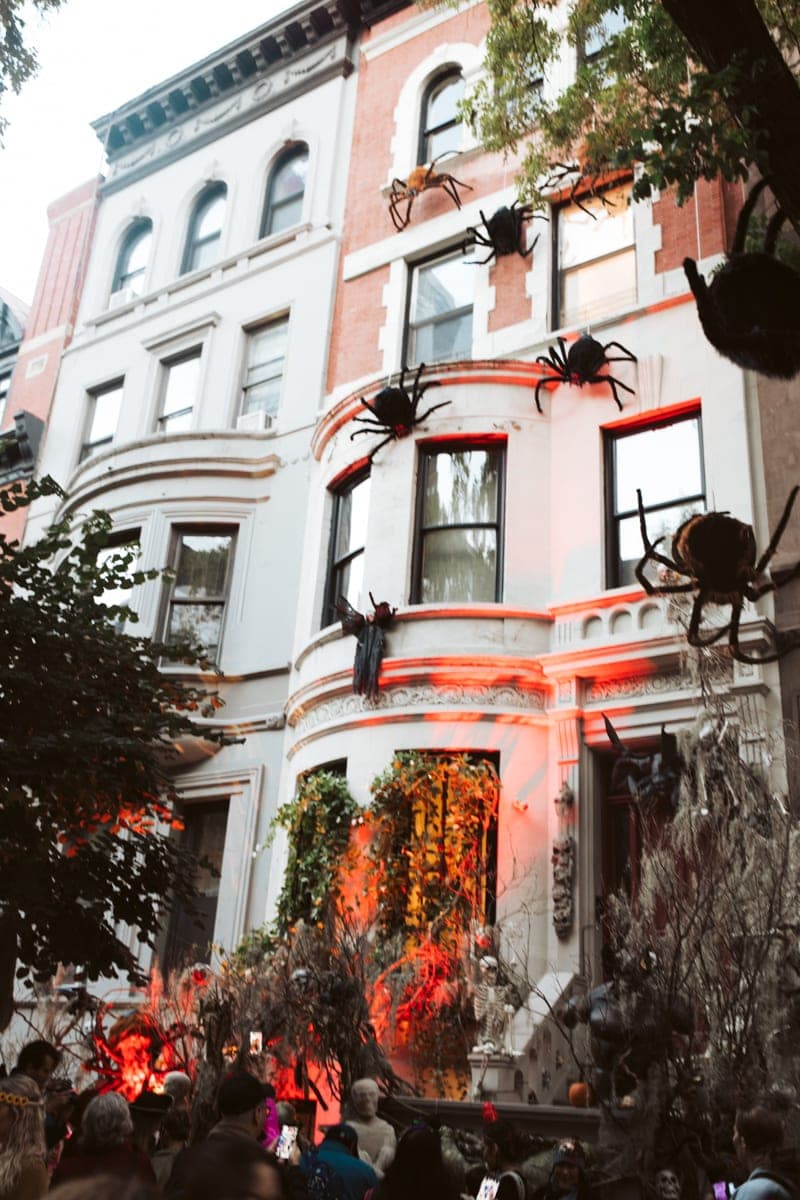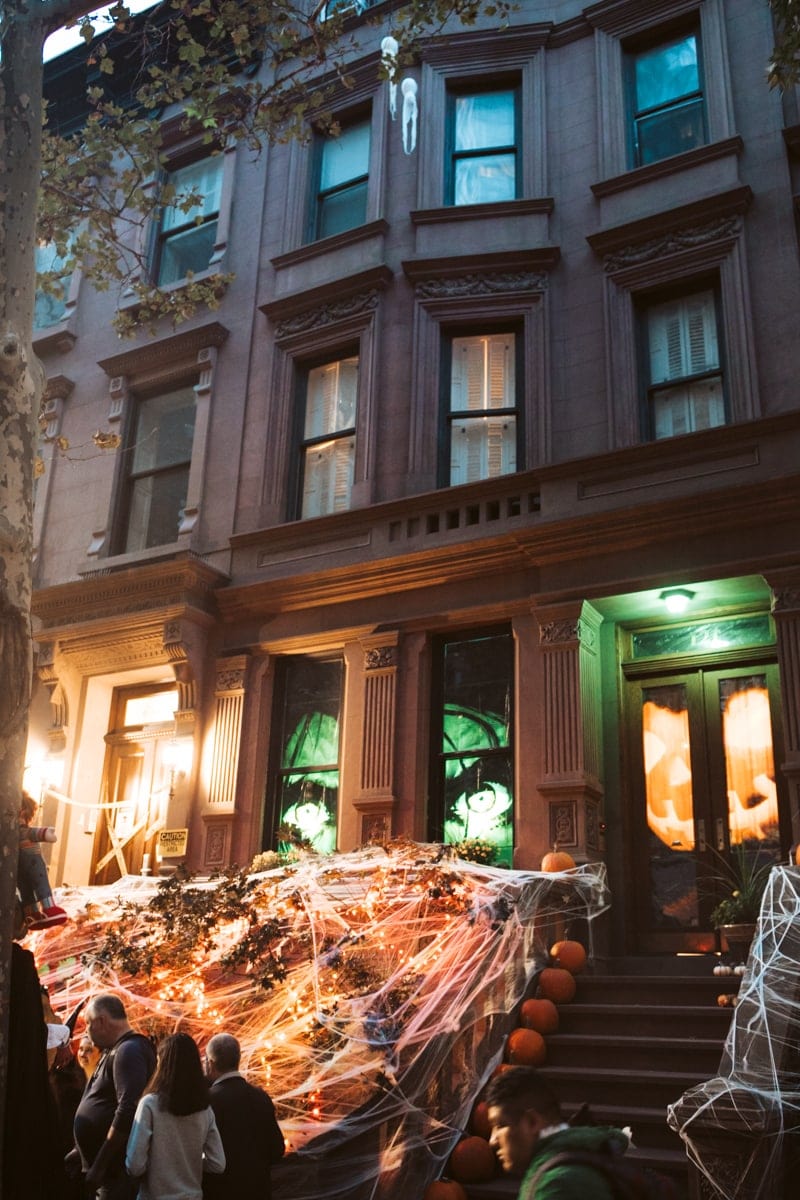 Strawberry Fields
Nearby is Strawberry Fields where John Lennon once lived. As longtime fans of The Beatles, Bobby and I were stoked to check it out. Halloween is a super busy night for the city, so I recommend making dinner reservations in advance if you plan to wine and dine.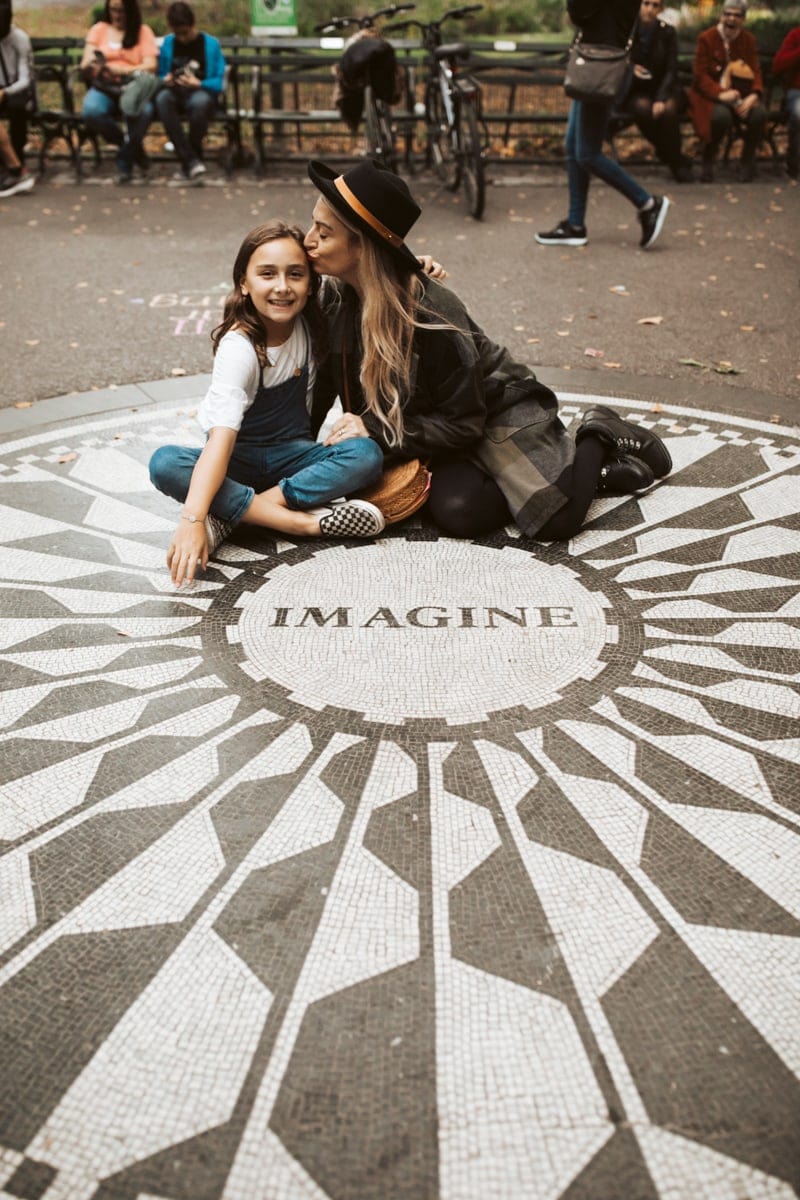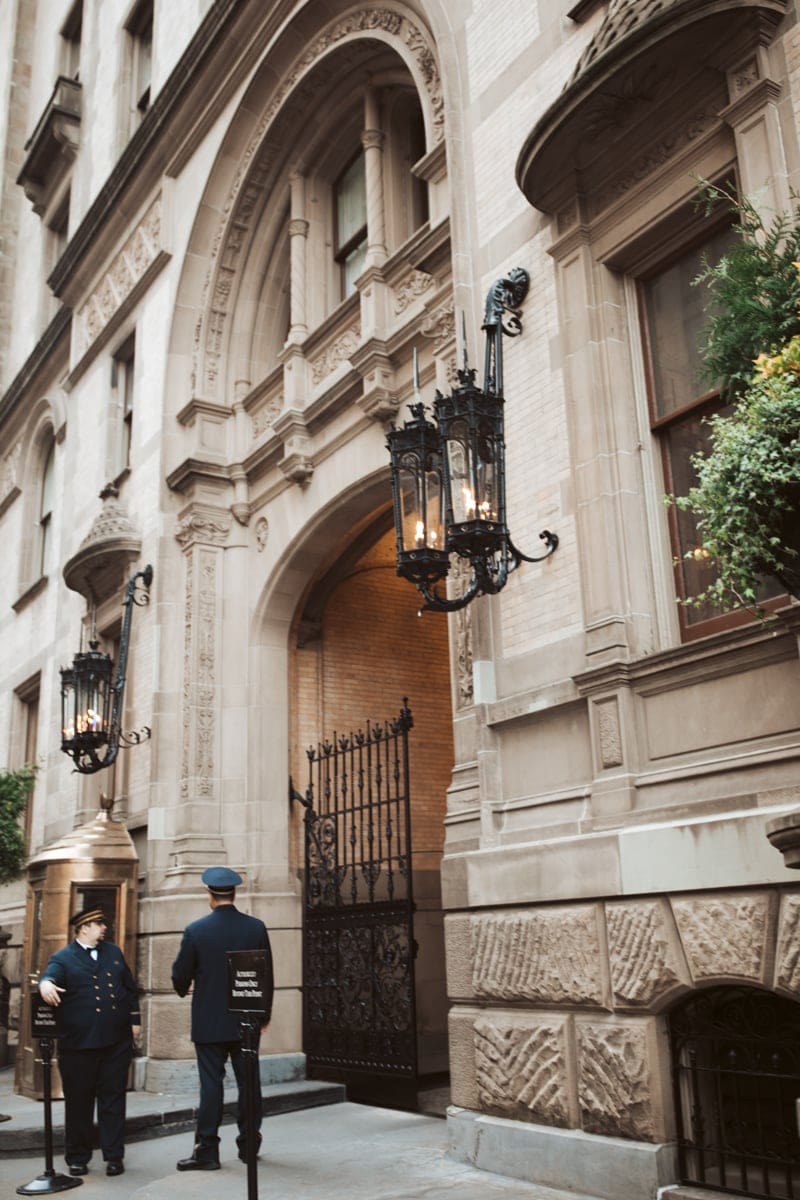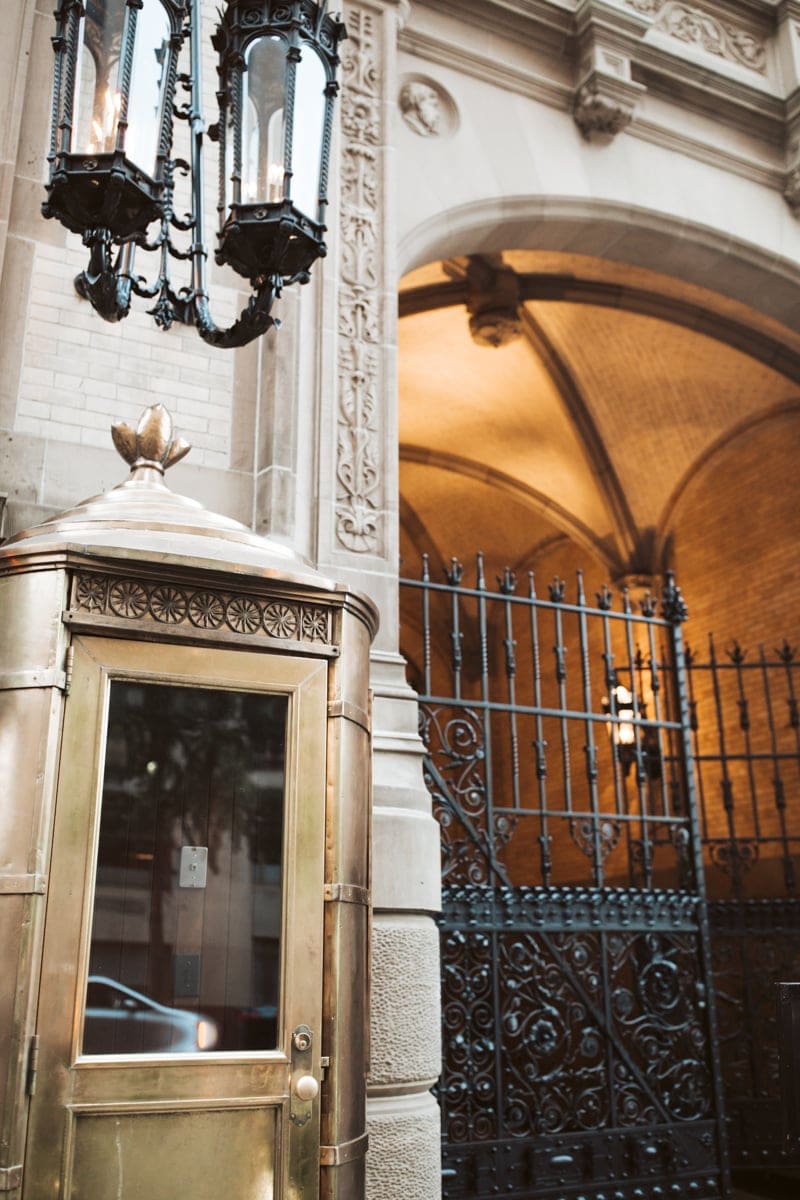 Pizza Party
When I think of New York City, the first thing I think of pizza. The best pizza. It's just not the same anywhere else. Luckily, finding a great slice in NY is easy, and there are pizzerias on every block. I'm not complaining! Some of my favorite spots for pizza are:
•Santa Panza in Bushwick
•Di Fara in Brooklyn
•Joe & Pat's in Staten Island (if you want to make the trek)
•Last but not least; go to Joe's for a traditional New York Slice.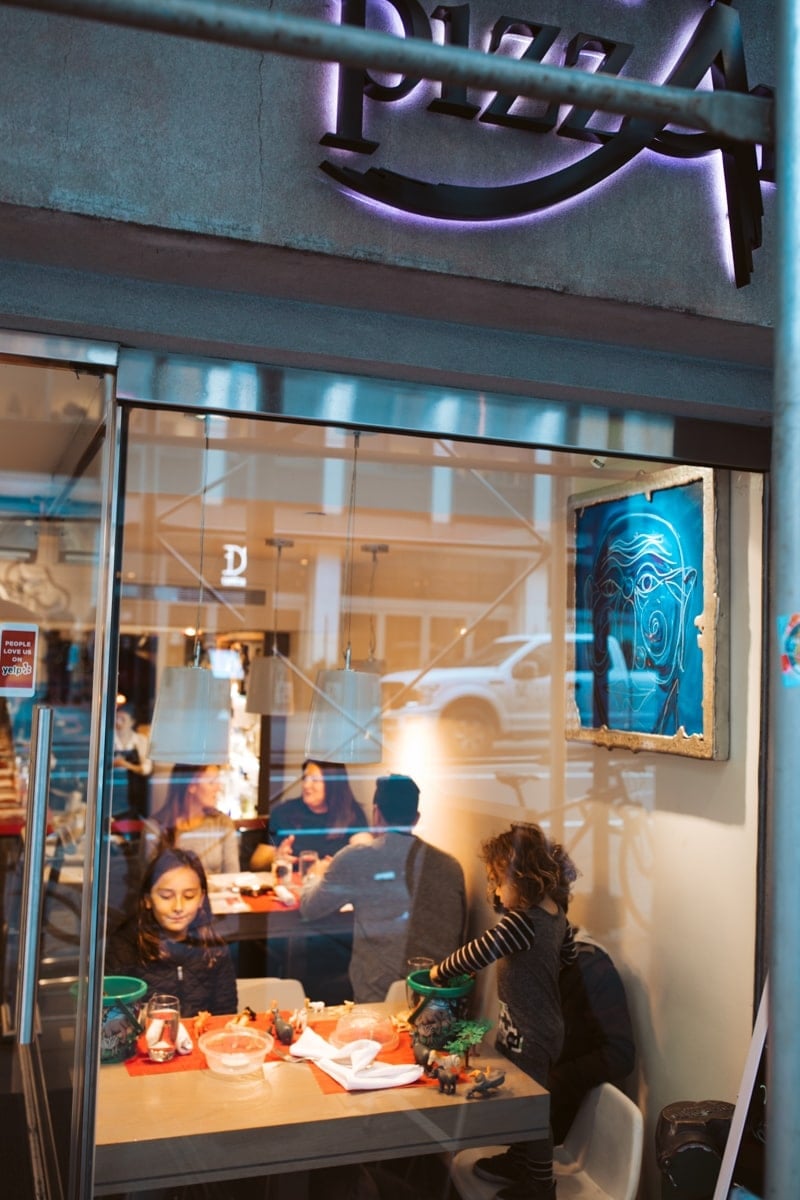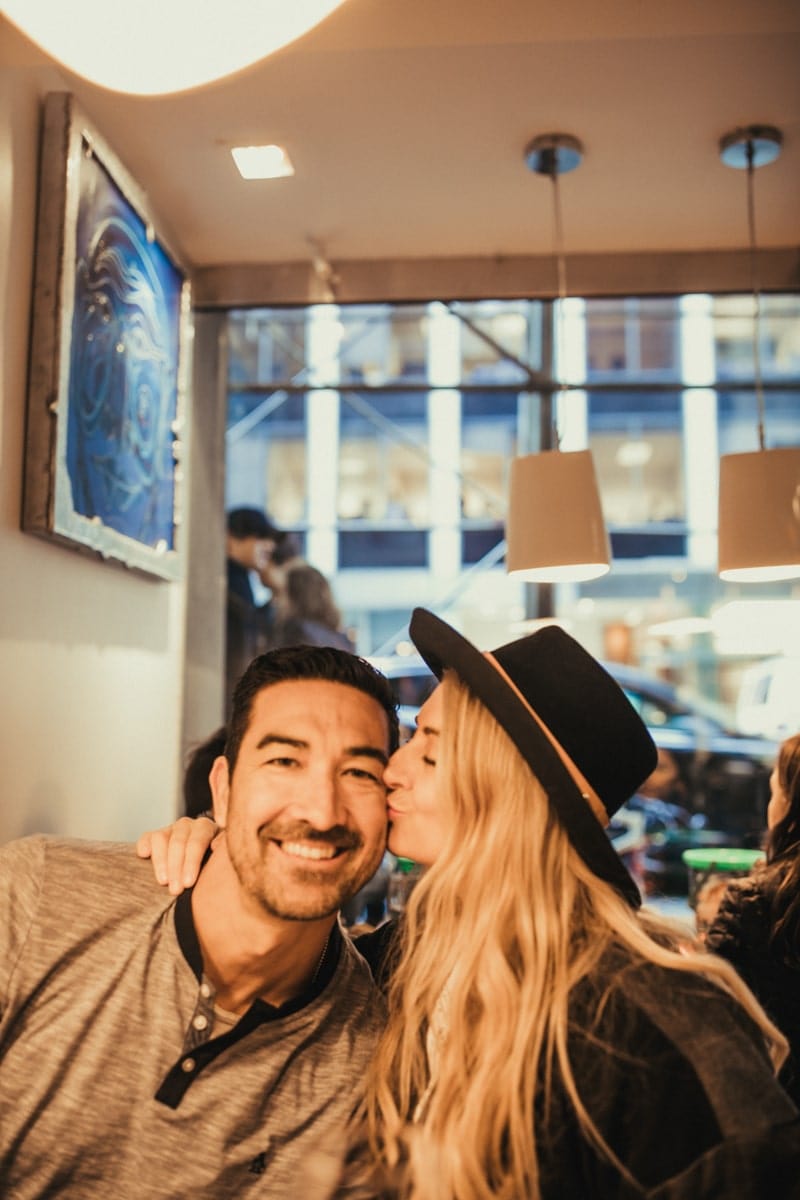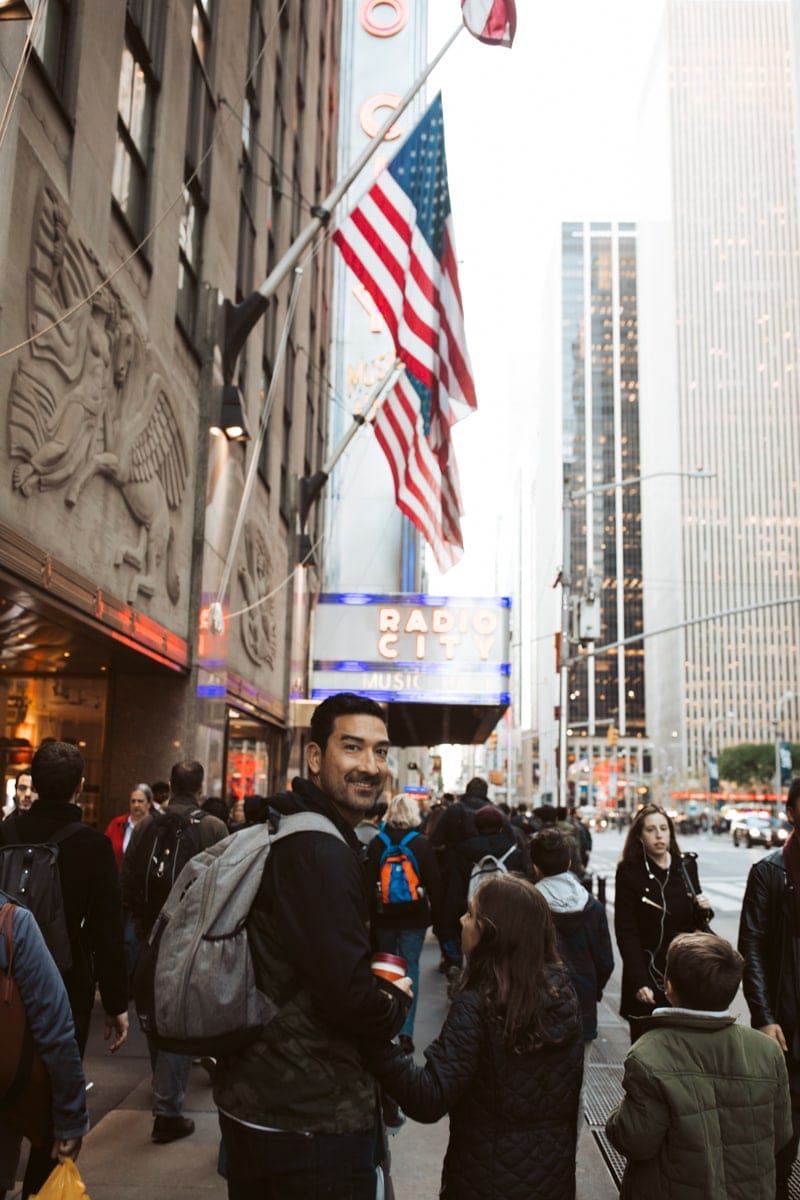 The Brooklyn Diner
Also known for its outstanding fare, the Brooklyn Diner is a must. It's the perfect choice for breakfast, lunch, or dinner. It takes you back with its with nostalgic ambience, and that wonderful classic American diner feel. My kids loved the giant hot dog, but beware- it's seriously huge. The pot pie was creamy and delicious with a flaky crust. Expect to bring leftovers back to the hotel for later, because all of the servings are massive.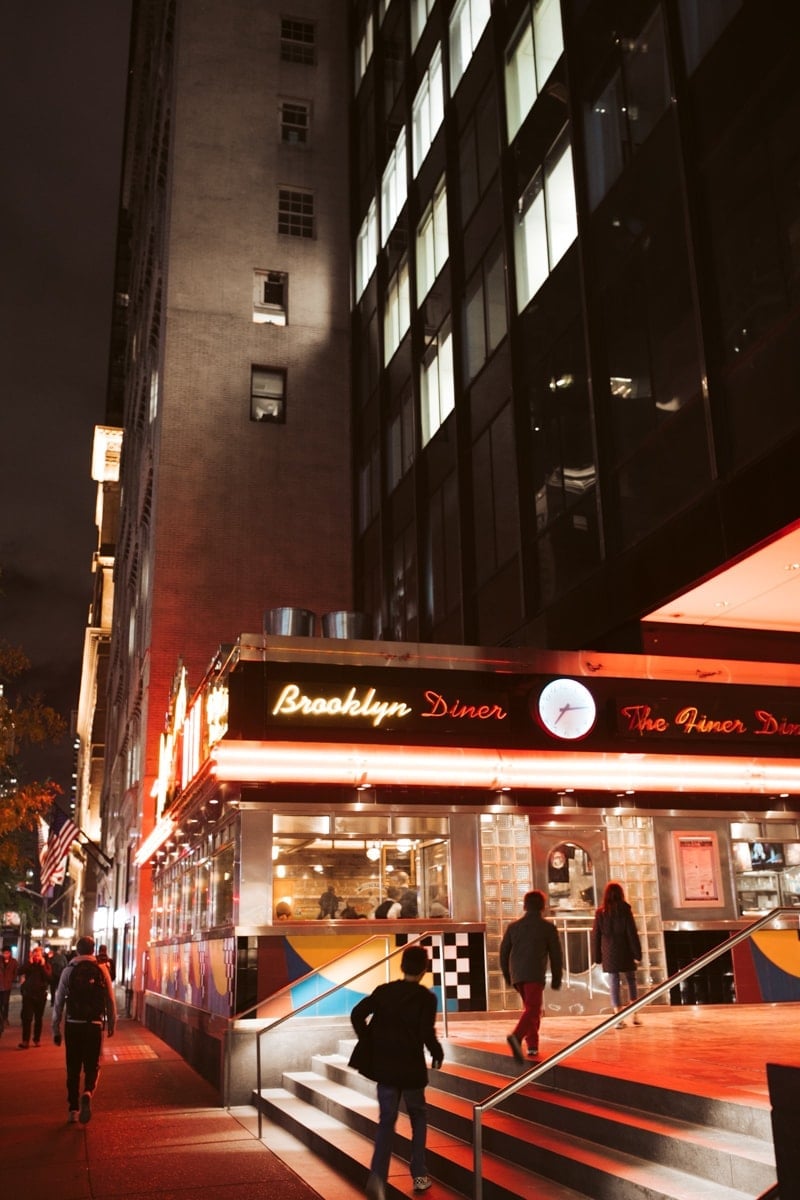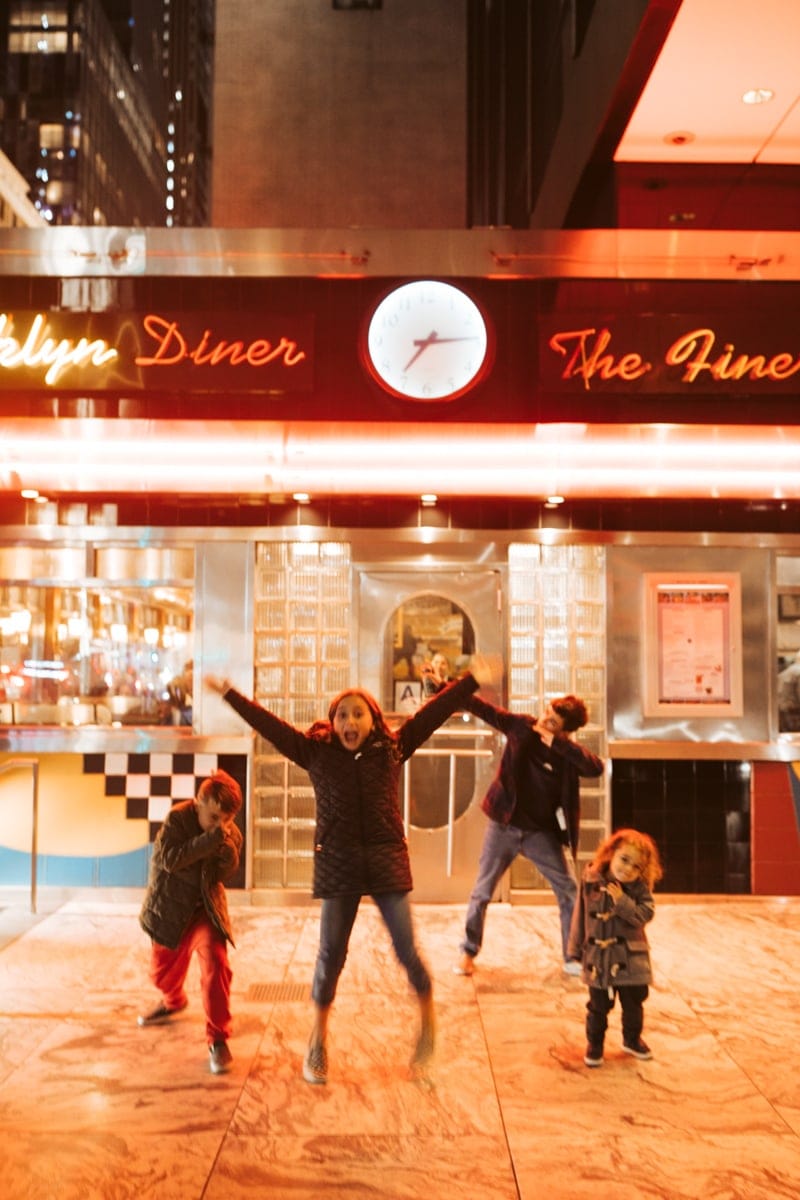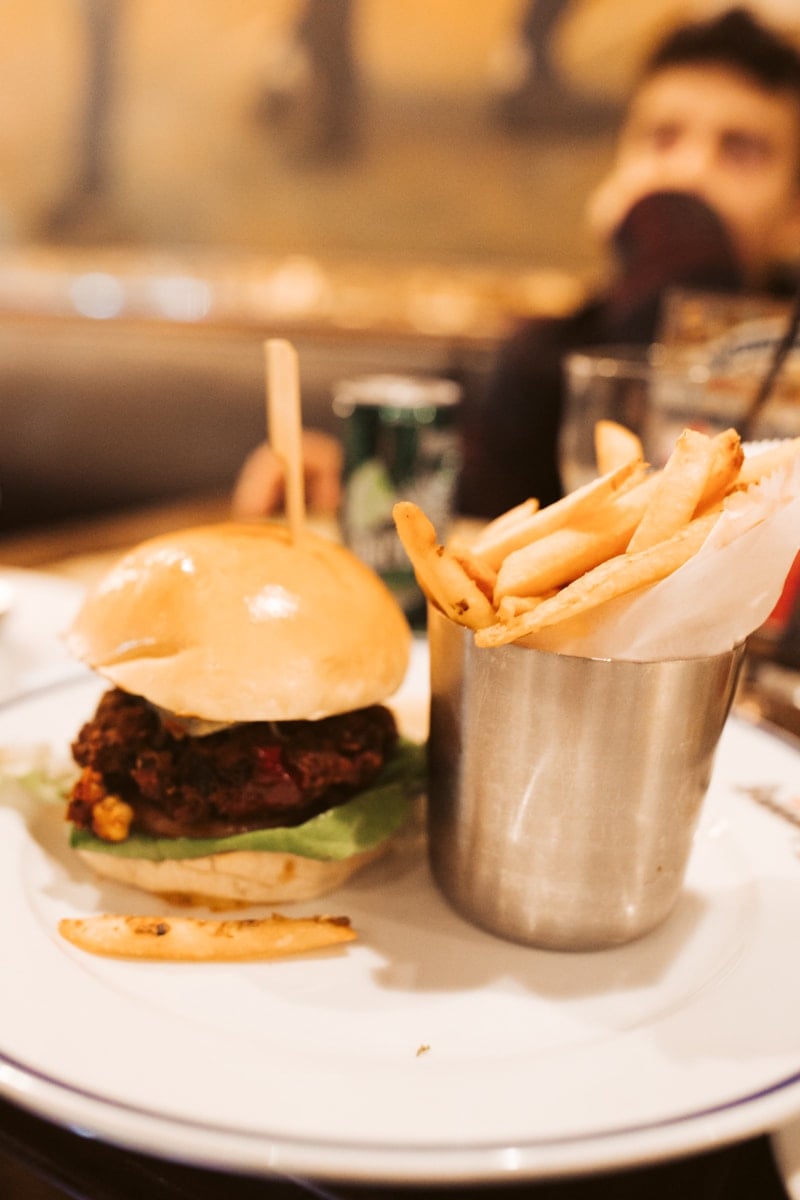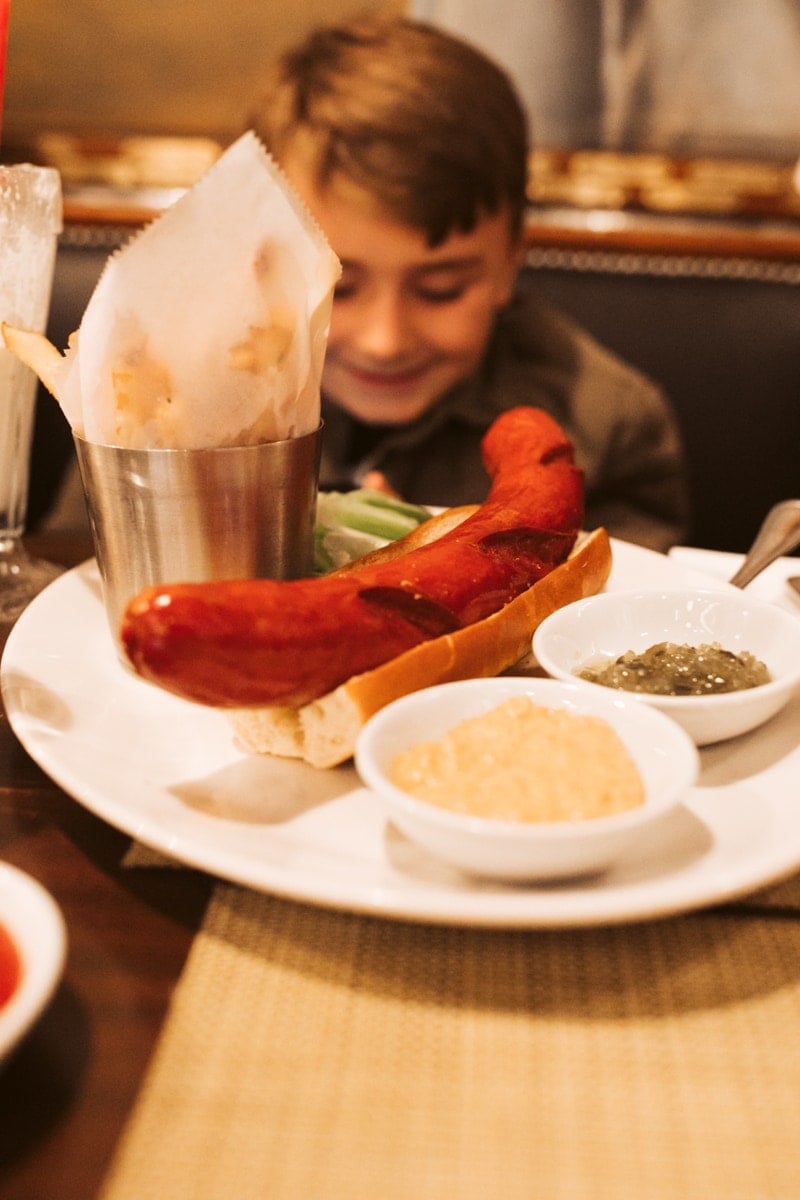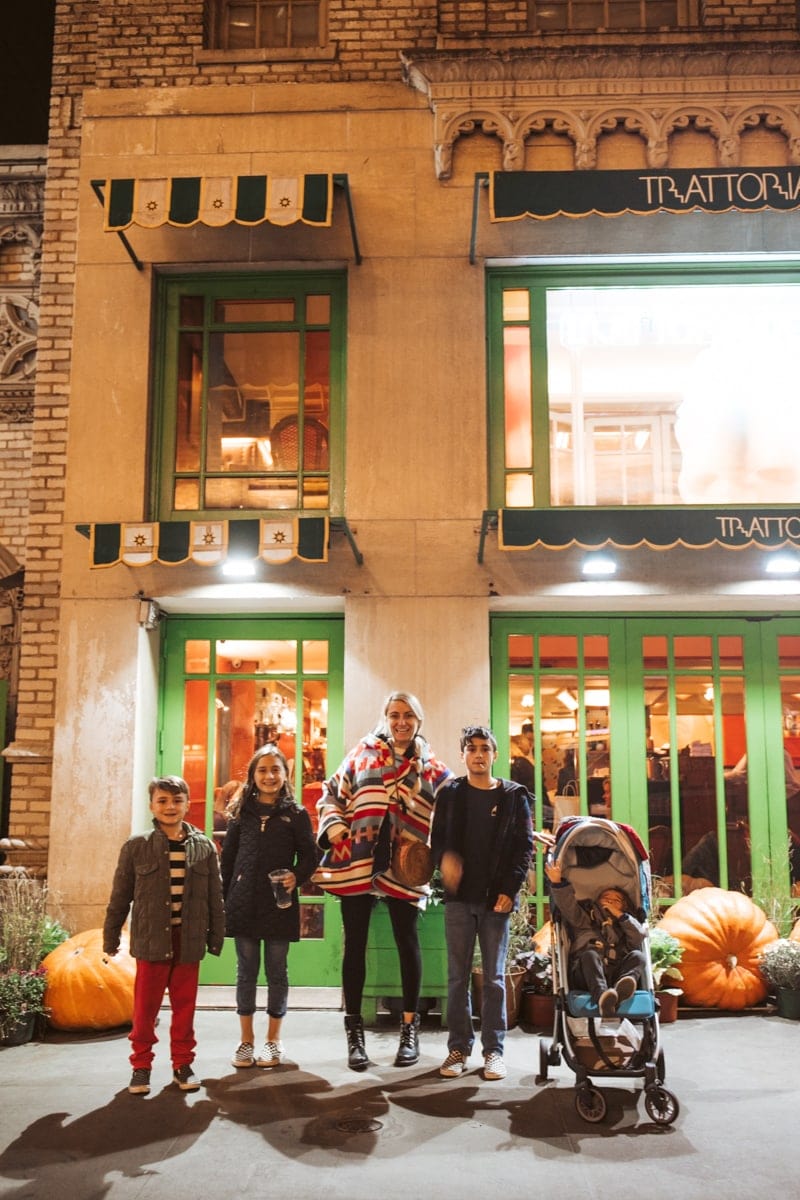 St Patrick's Cathedral
You may think this is an unlikely stop on a vacation, but St. Patrick's Cathedral is a must-see. It's a prominent landmark of NYC, recognized by people all around the world. The architecture is extraordinary and impressive, seen from blocks away. The stained glass windows are masterpieces in and of themselves. This church is breathtaking, and the kids were floored by the extravagance of it.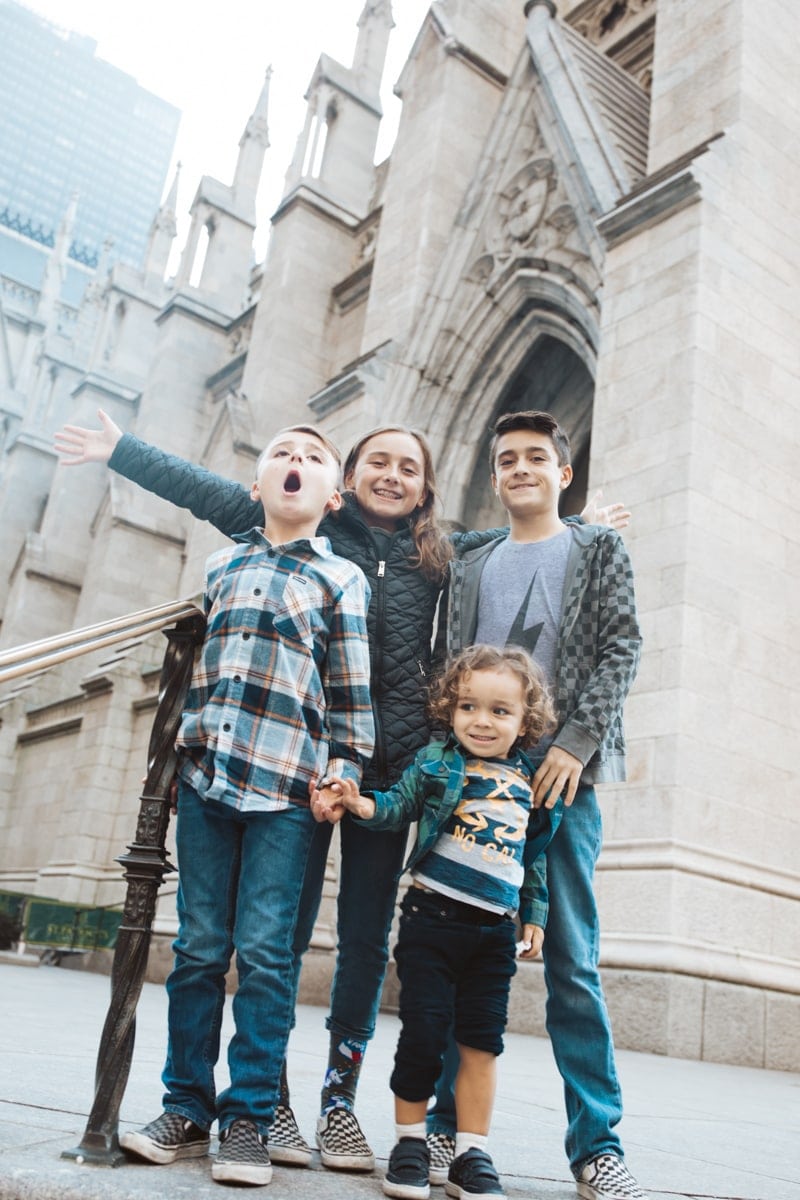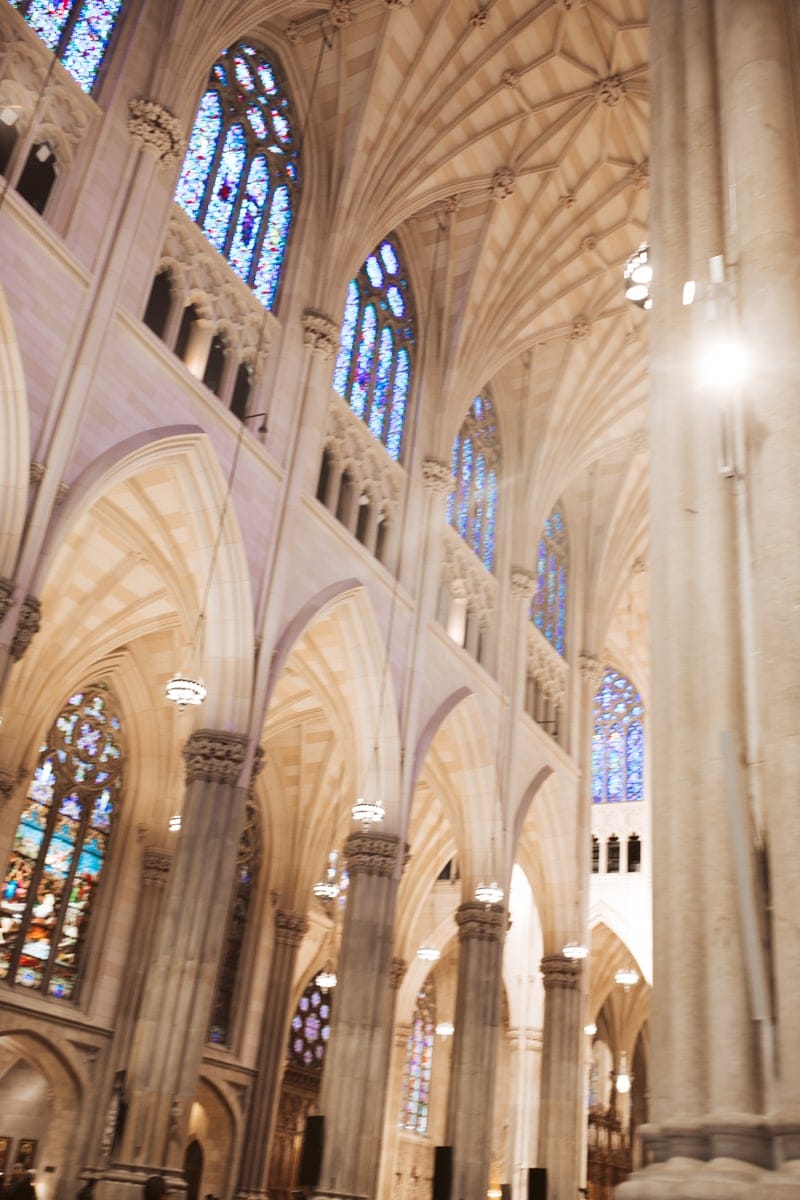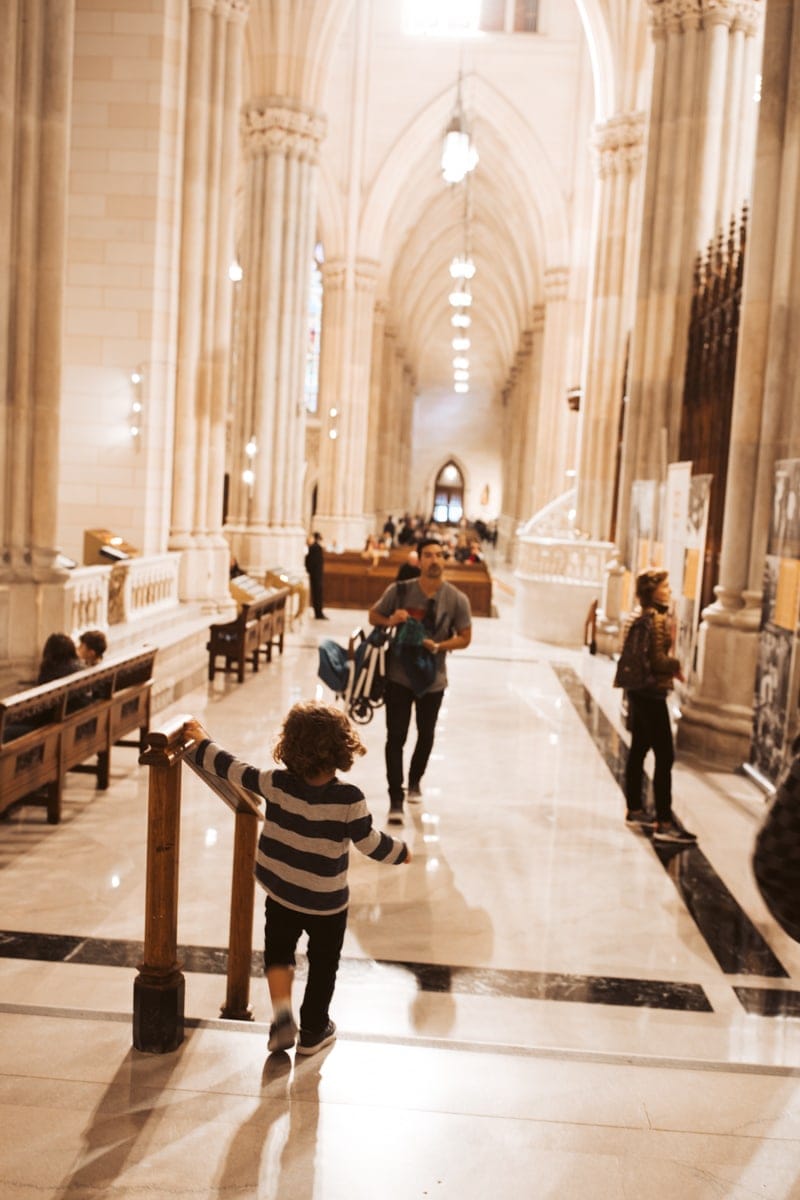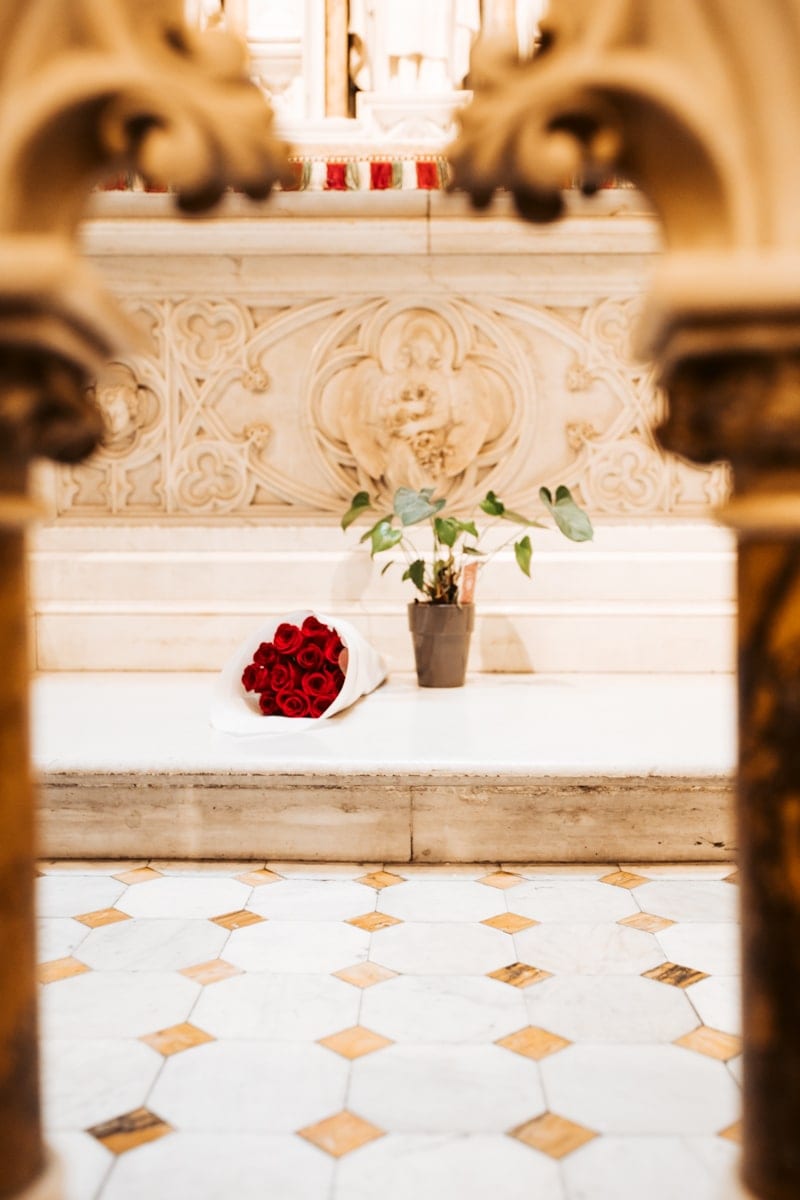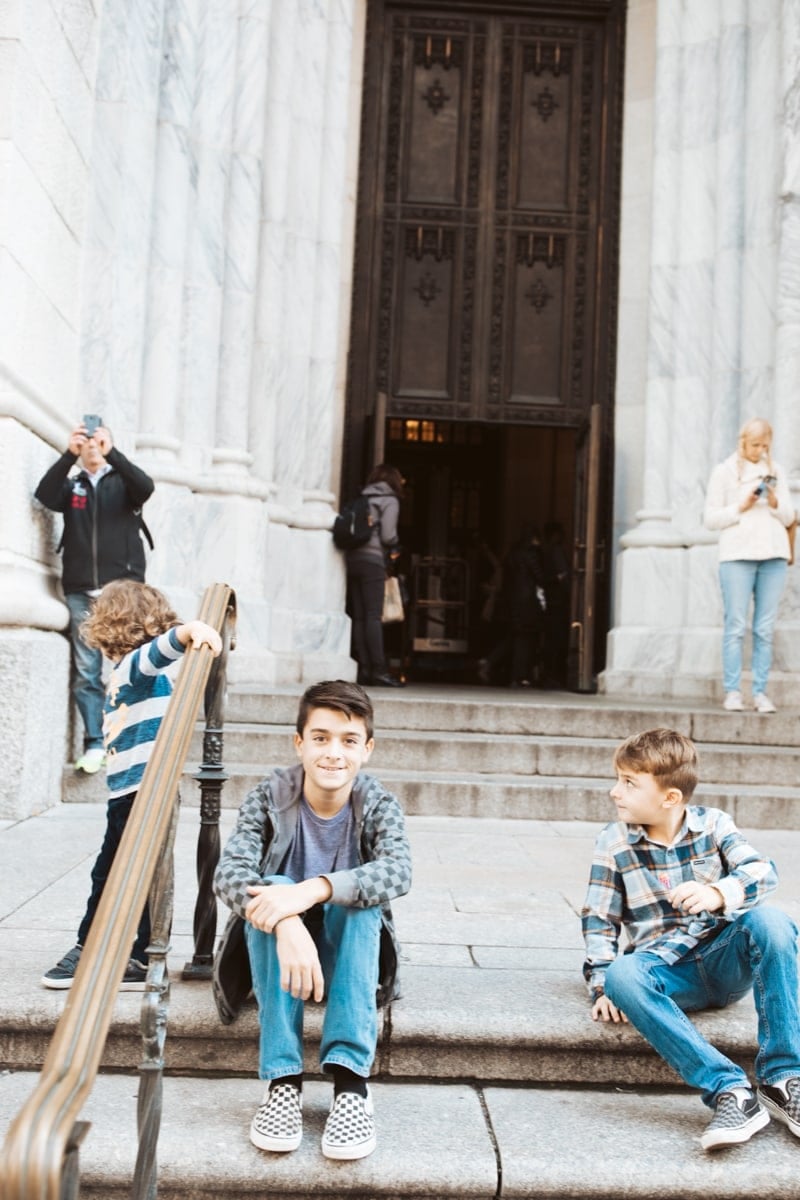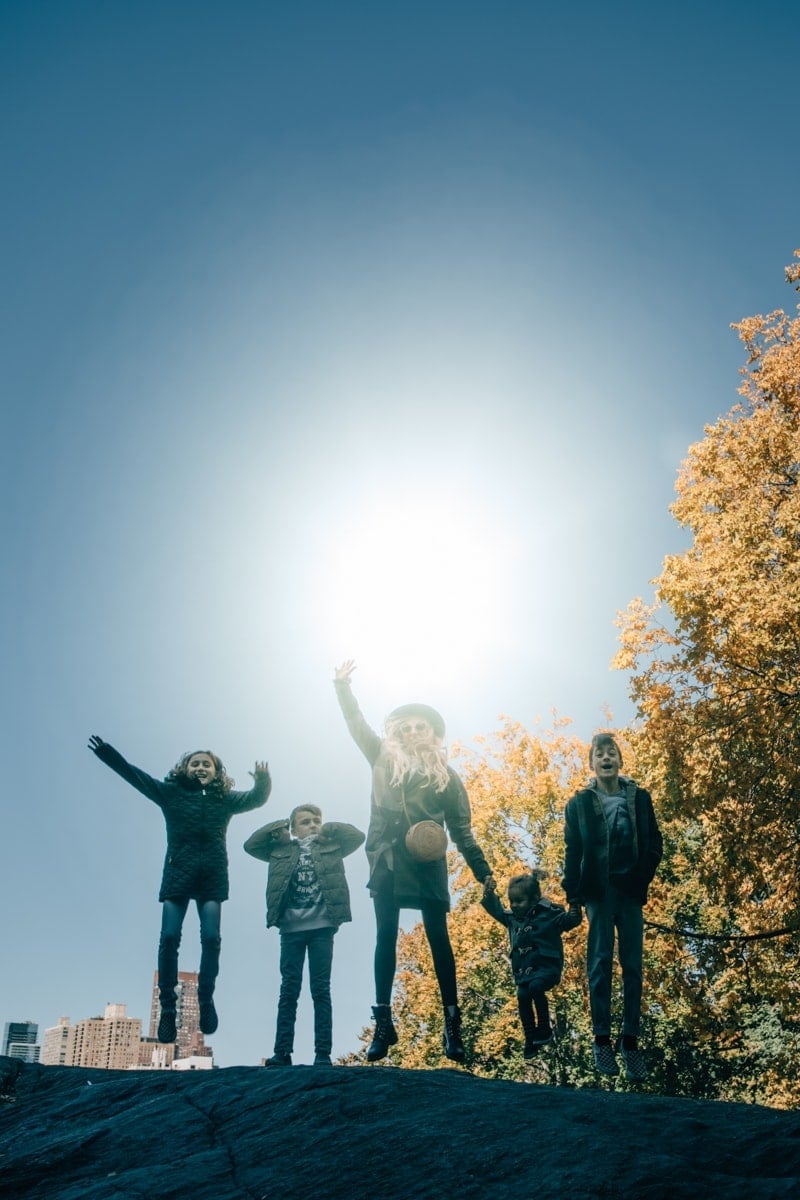 Overall, there are so many incredible things to do and see in New York City. Going back to my roots always leaves me feeling grateful and refreshed. Being there with my kids gives me a whole new appreciation for the city I still call home, and it really was a dream come true to experience it all through their eyes. If you're ever so lucky and inclined to visit the city that never sleeps with kids in tow, reach out to me for an insider's scoop on successful family travel to NYC.
You May Also Like:
I Am From NYC, I Can Do Anything
All The Bells And Whistles With Chevy Colorado
The Best Tailgating Experience
Tips for Parenting In Style...
Never boring, always awesome. Keep up to date with the latest from City Girl Gone Mom.