This Post Is Sponsored By Arhaus. As always, All Opinions Are My Own. Thank You For Sponsoring CityGirlGoneMom.
It's no secret I have a love affair with Arhaus, the home furnishings mecca that wooed me with its authenticity, fresh influence, and global flavor. A few years ago, with the goal of upping our interiors game for a more chic and contemporary coastal vibe, we embarked on a long-overdue living room reinvention.
Looking back, it had to be 10 plus years since we last bought new furniture. And if I'm doing the math correctly (in dog and kid years) that's approximately 42 years of furniture wear and tear! Based on the stained fabric and flattened cushions alone, it was no secret that we were long overdue for an upgrade. With some of the most gorgeous tones and textiles a design-obsessed mama could dream of, what I actually valued most was the fact that Arhaus made the entire experience feel like a collaboration as opposed to a transaction. And that's when I knew this redesign was well worth the wait.
---
If your home has brass doorknobs, it's cleaner than homes with wood or glass ones. Brass doorknobs will typically disinfect themselves in about eight hours because the metal ions in brass and copper are actually toxic to mold, viruses, and other living things.
---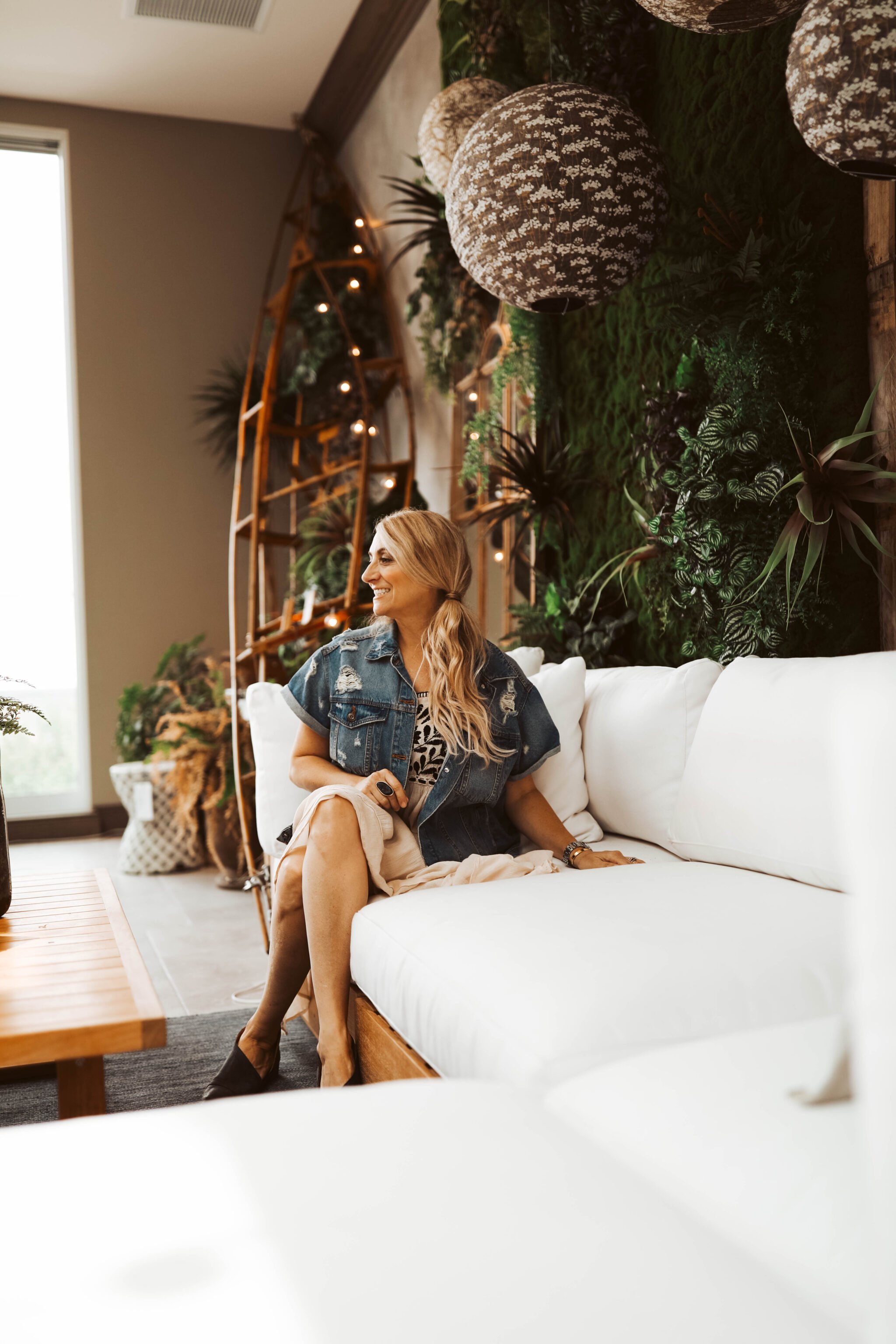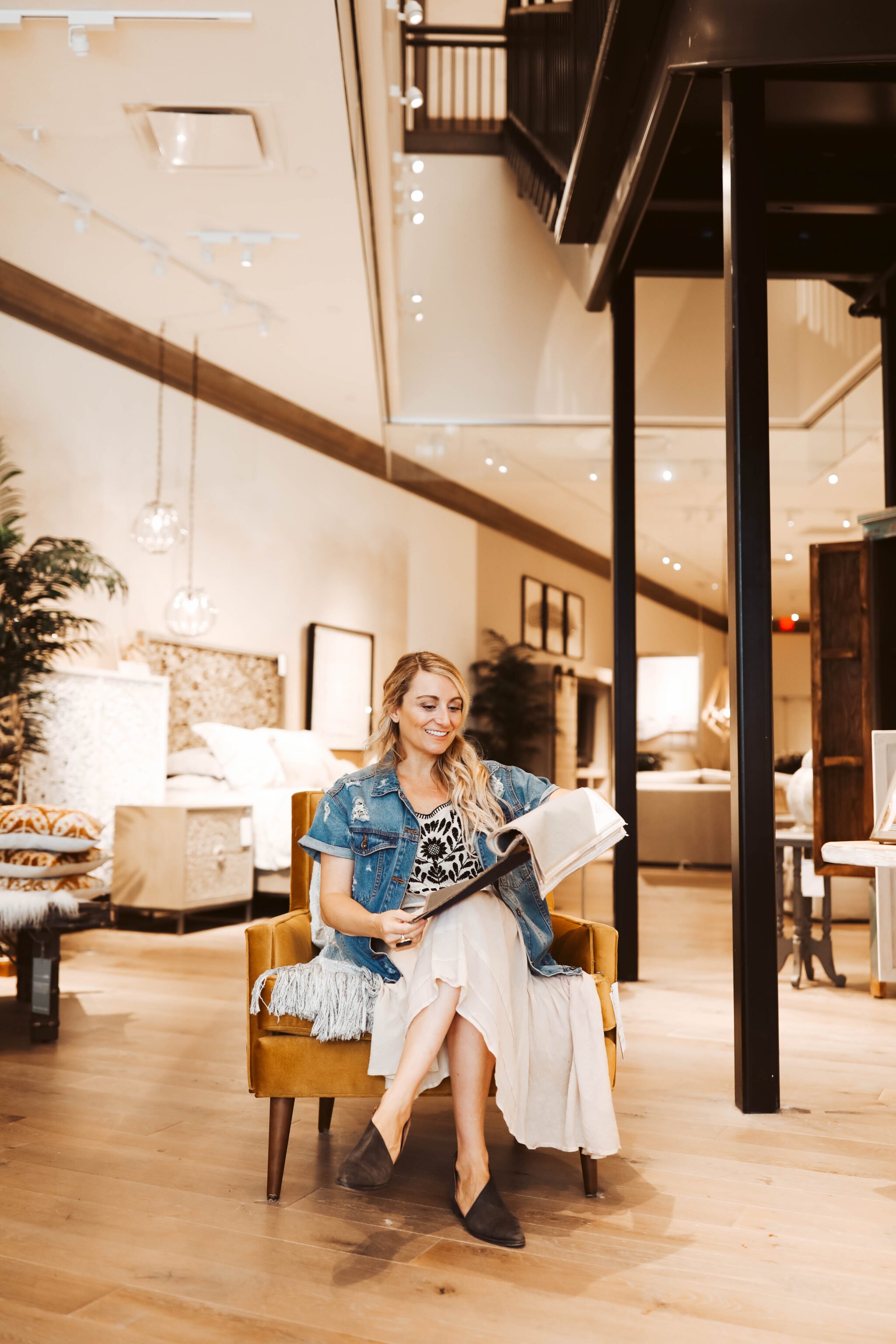 Starting From the Bottom Up
Although many people choose to redesign in stages, I wanted to start with a clean palette—it's partially why we waited so long. So, before beginning, we donated all of our old furniture and shiplapped the walls for a fresh new coastal look.
After meeting with the Arhaus design team for a virtual overview of the space, we selected some key pieces, starting with the Tahoe Slipcovered Sectional. Comfort and versatility with real goose feathers and generous cushions are what make this the ultimate lazy Sunday sofa. And the soft, tailored slipcovers are exactly what we need to get through the next decade of delightful destruction.
---
In some homes, fireplaces remained lit for generations. Because it was a necessary source of both heat and light, it was so essential to everyday life that the hearth fire was rarely allowed to die out.
---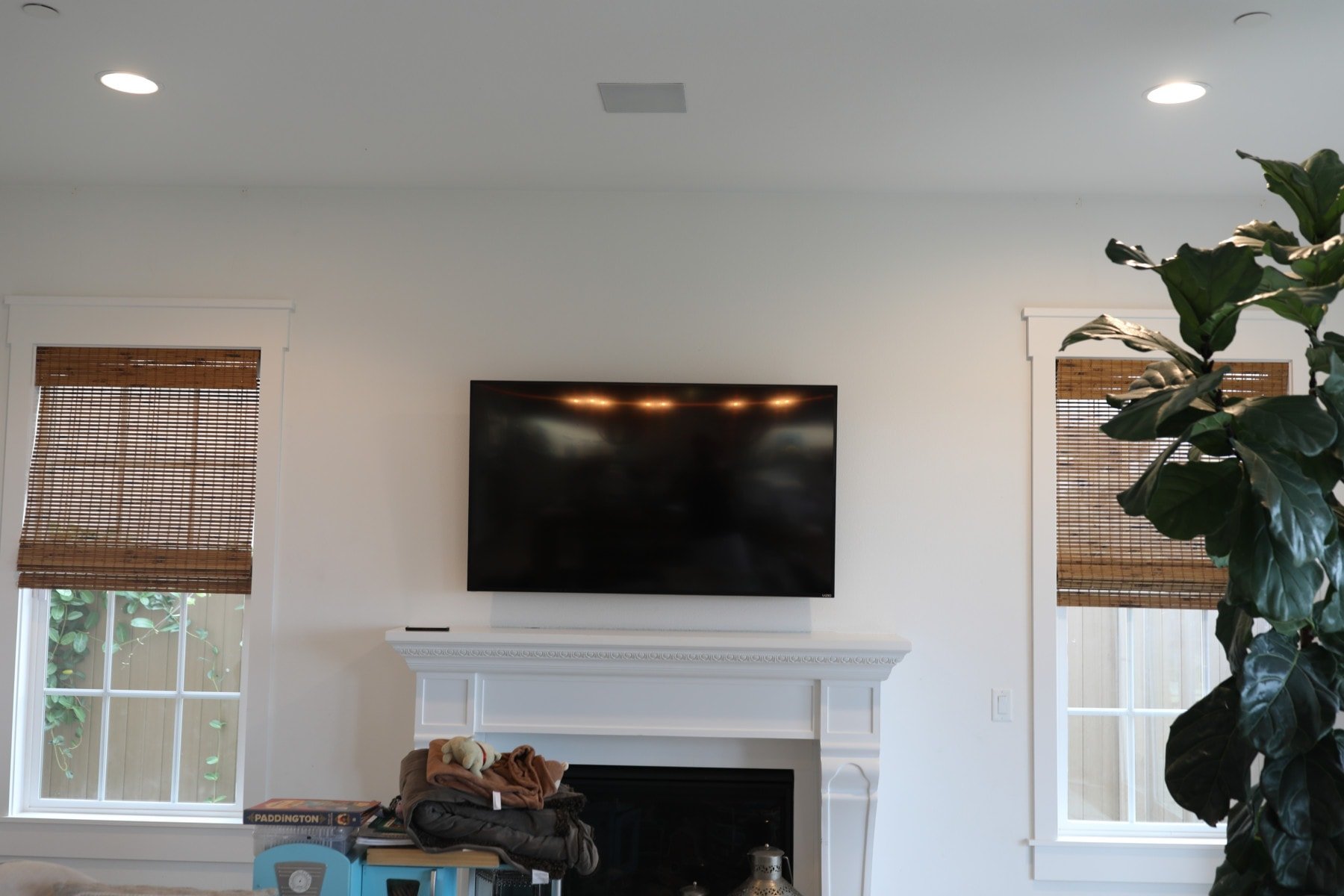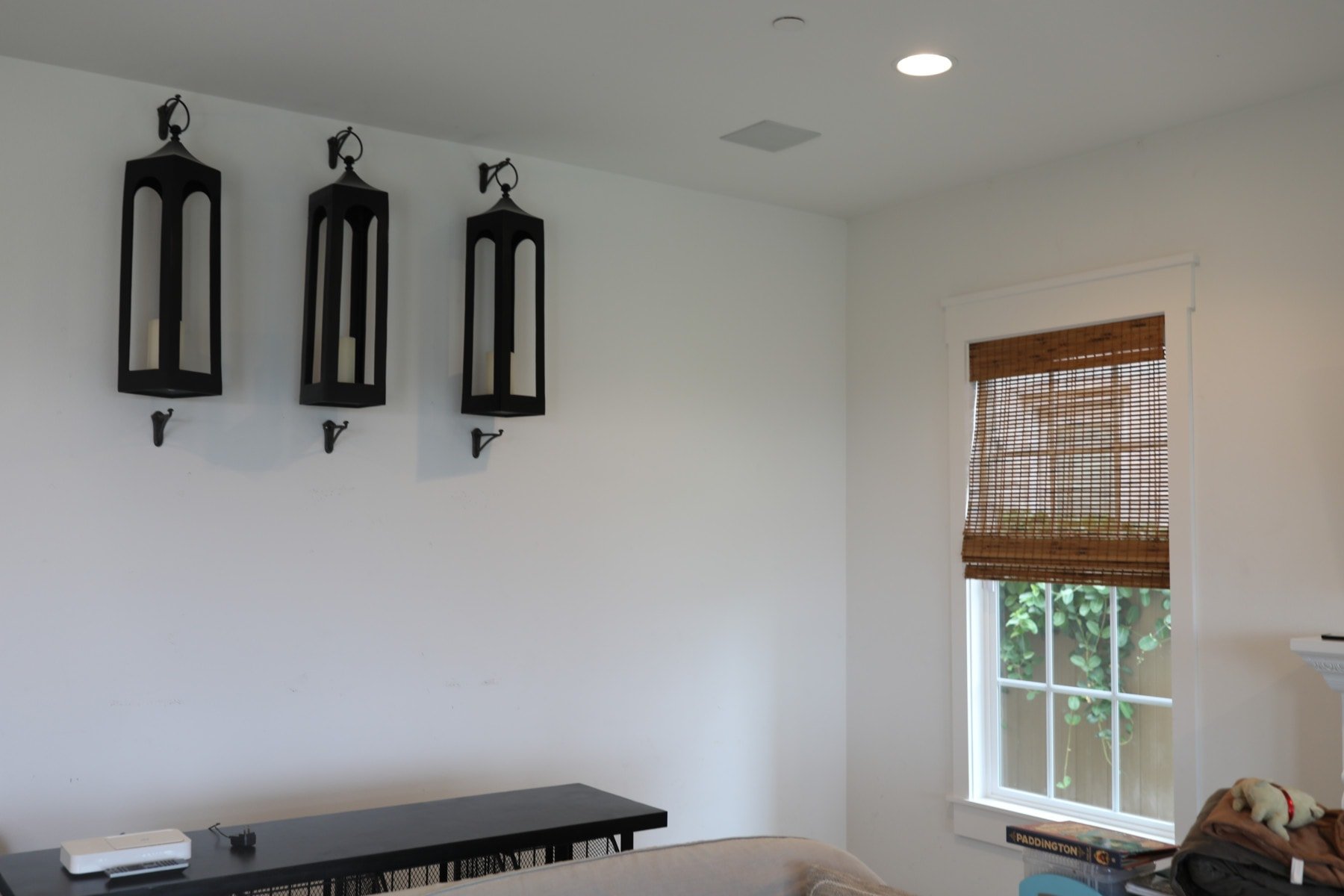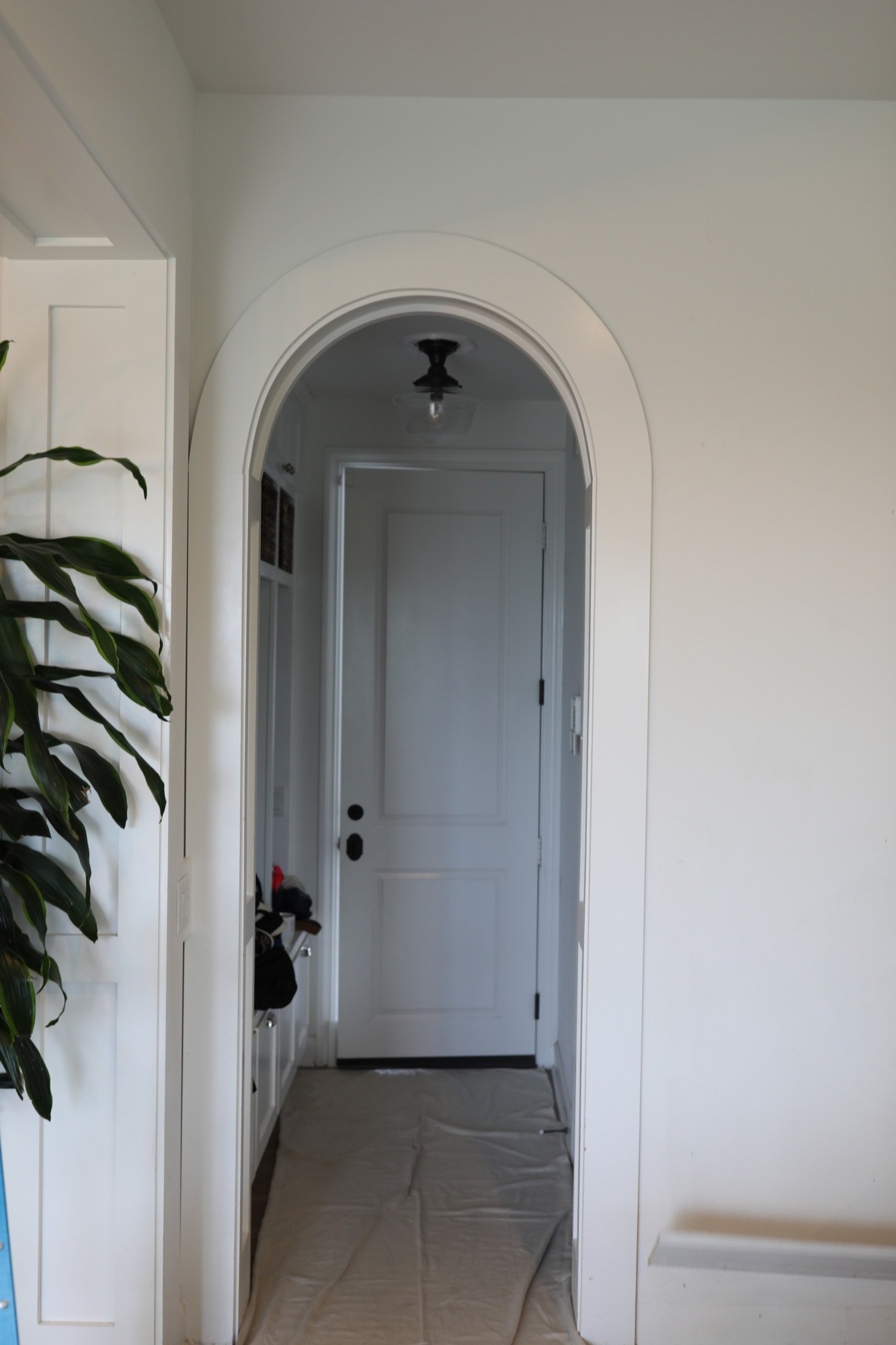 Before Getting Started
As you can see, it was originally a hodge-podge of items with no direction and lacking in style. It served us well while raising little kids, but one of the best words of advice the team at Arhaus gave me was not to wait till the kids were gone to have the living room of your dreams. Live now!!! And I couldn't agree more. Why was I going to wait 20 years to have the living room I always wanted?
Call us gluttons for punishment, but when it comes to the focal point of our living room, my husband and I have always preferred light and bright. If I had a dollar for every time we've been asked, "Why on Earth would you ever have an all-white sofa?" we'd own a second home in Tahoe, likely with another white sofa! My answer? Because we prefer to have our cake and eat it too…even on the couch.
The coastal farmhouse transformation started with shiplap and plenty of it! Enough to make even Joanna Gaines happy. I felt the texture on the walls really worked with our select pieces from Arhaus. We opted to shiplap the entire downstairs for a more seamless feel.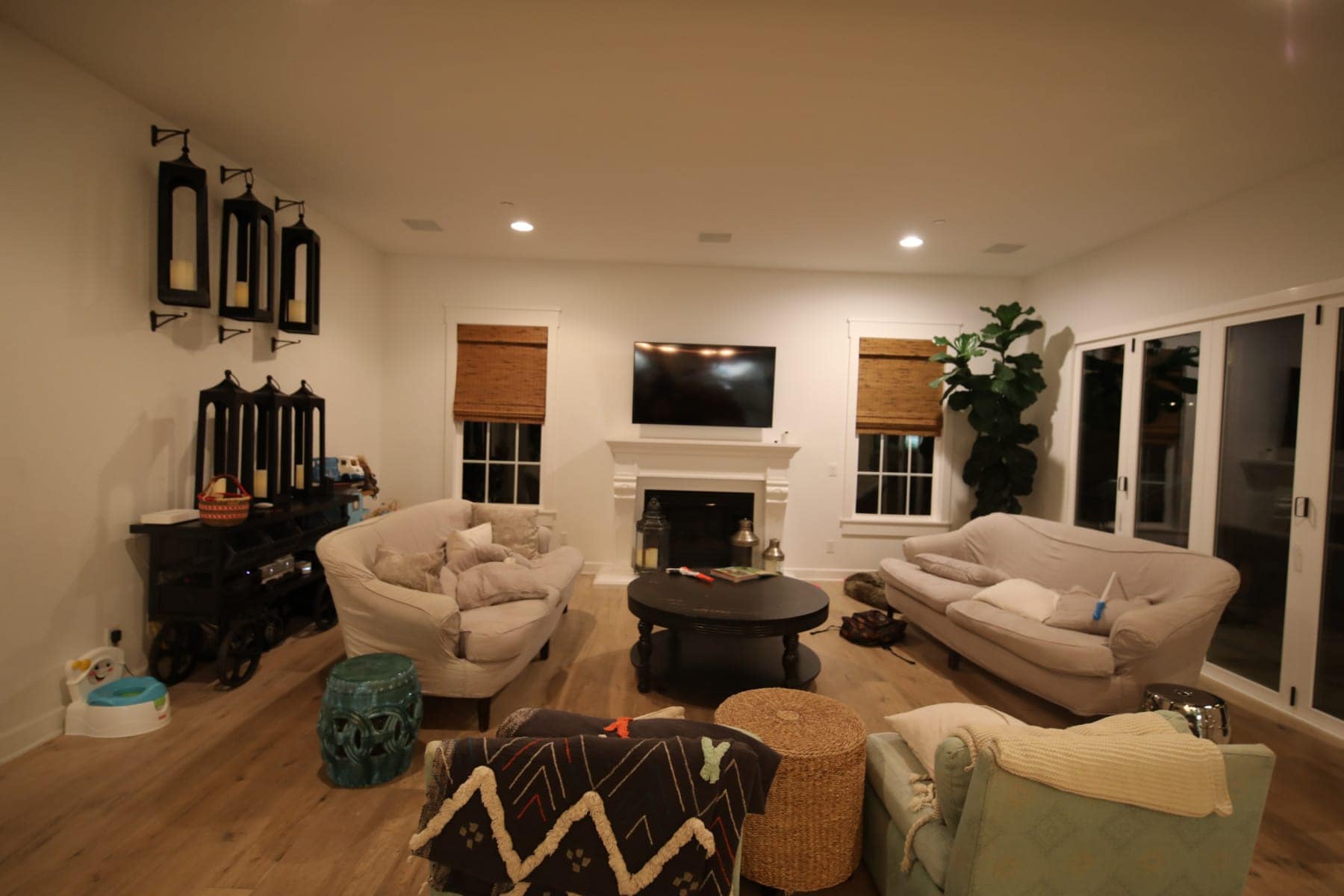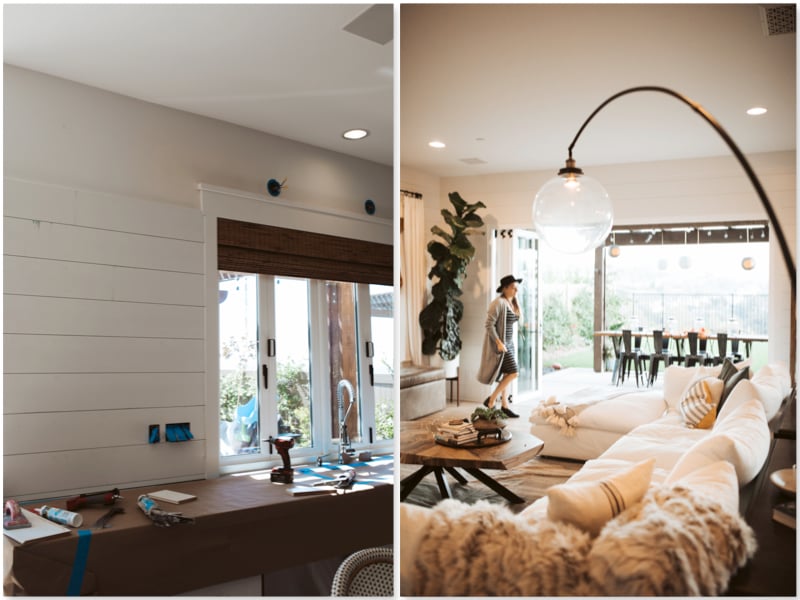 Our Favorite New Furnishings
The generously-cushioned Tahoe Sectional is designed by upholstery artisans to envelop you in plush, "sink-into" comfort for hours of relaxation. After flipping through handfuls of swatches, I particularly took to the stain-resistant options—a no-brainer for the sticky fingers, toes, and paws to soon encounter the otherwise risky white and dove grey fabric.
Each deep seat of this customizable, craftsman-built collection is thoughtfully supported with durable, reinforced frames and expertly fitted in soft, tailored slipcovers for an easy-to-maintain, casual style. I did get two colors so I can change up my slipcovers throughout the year.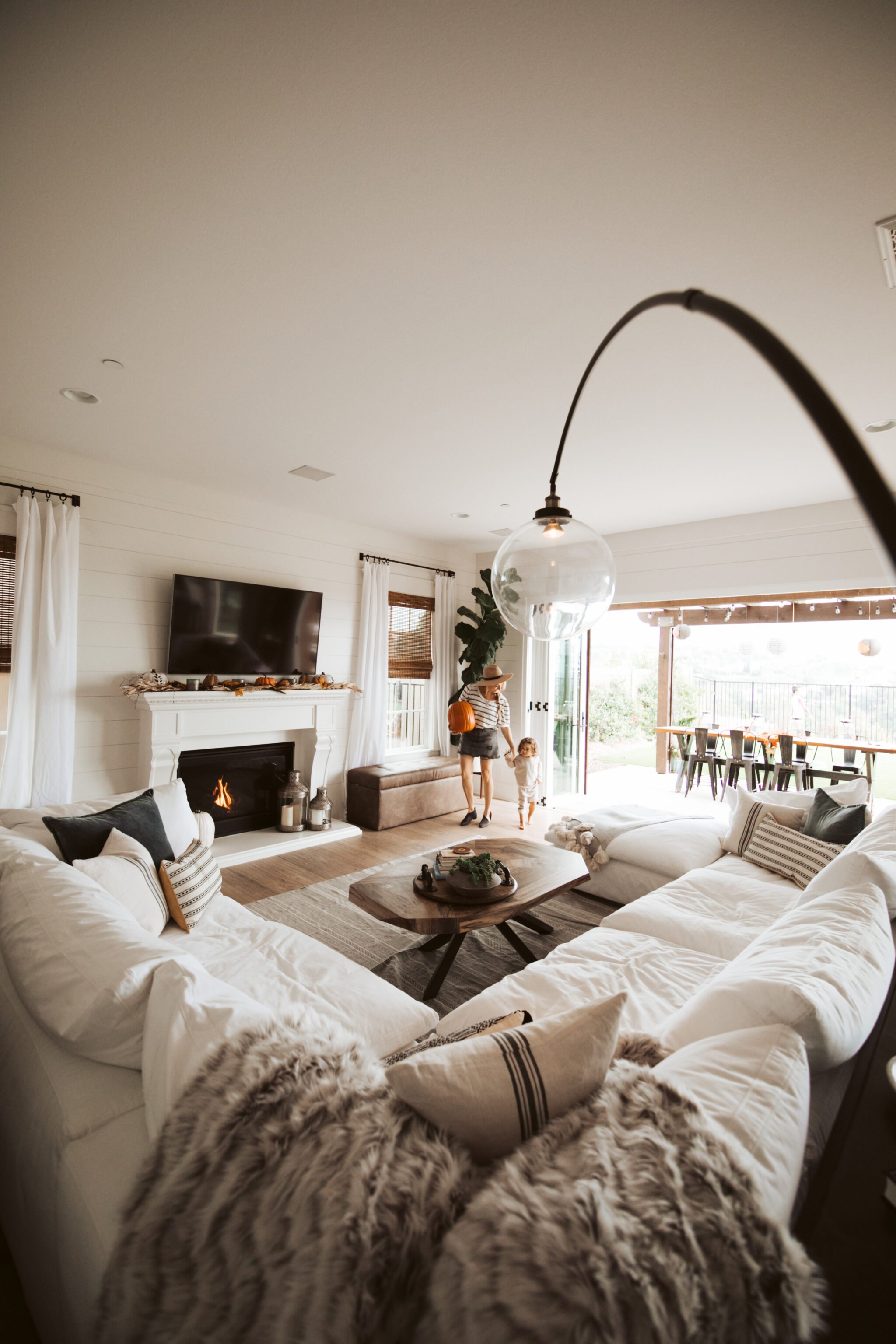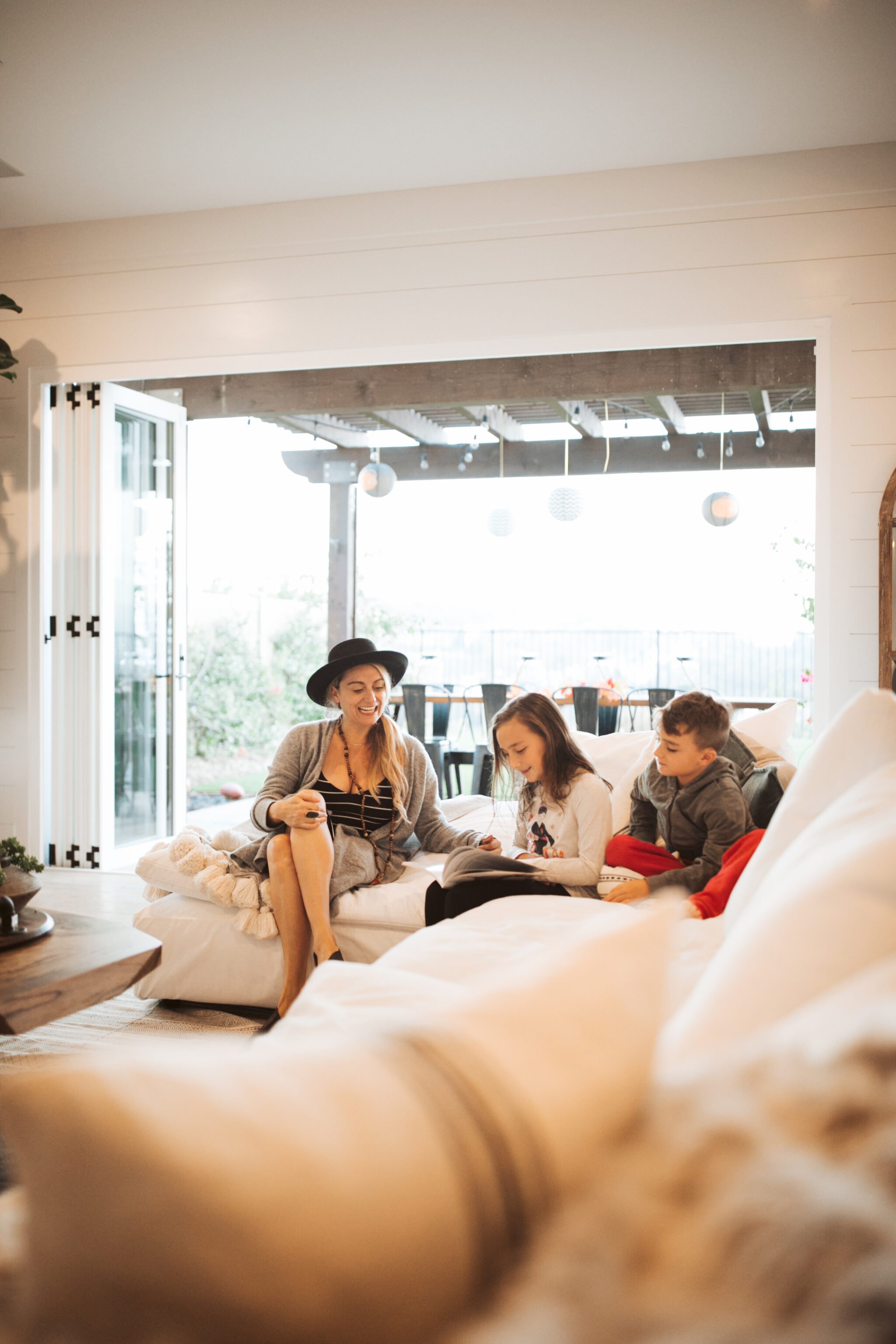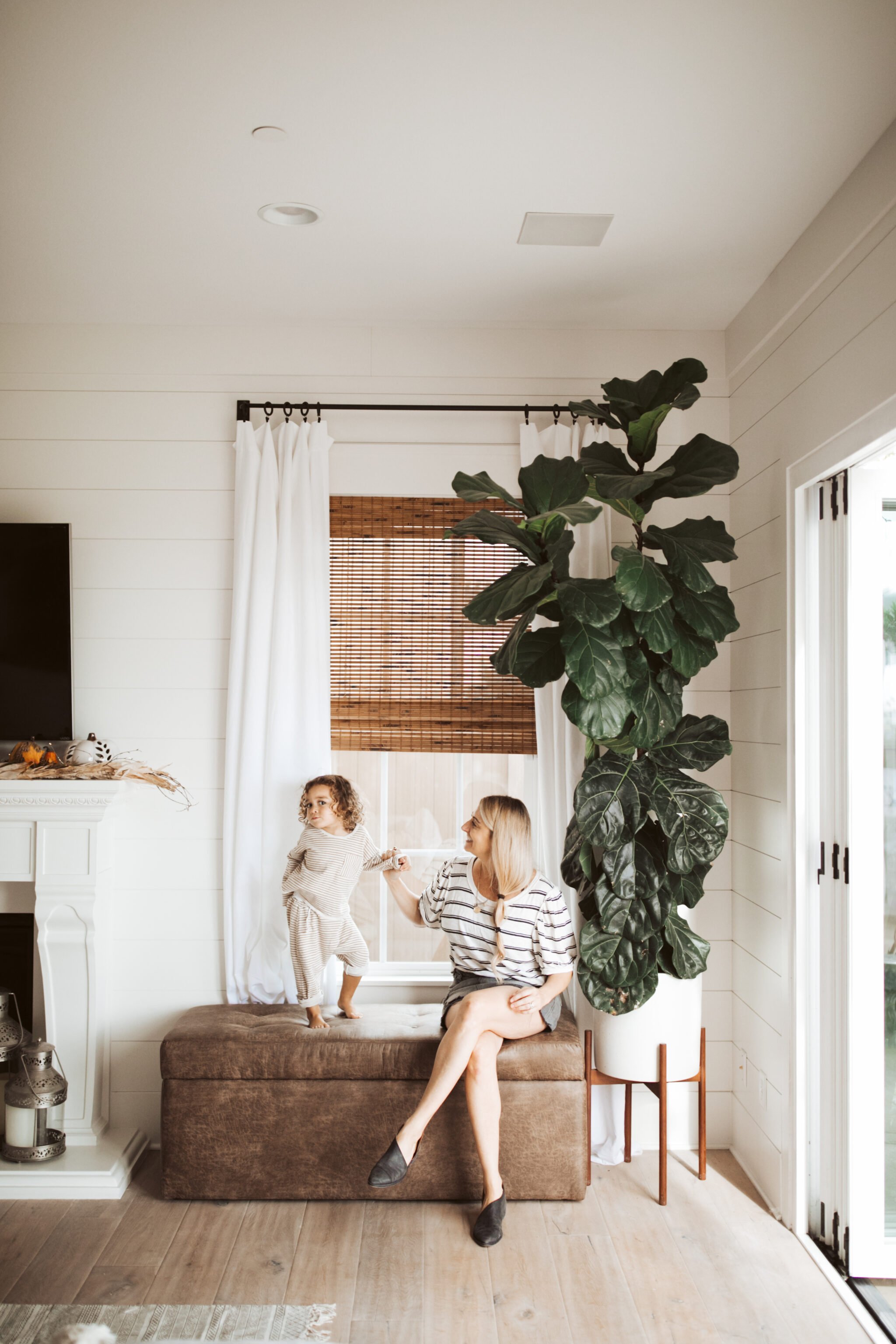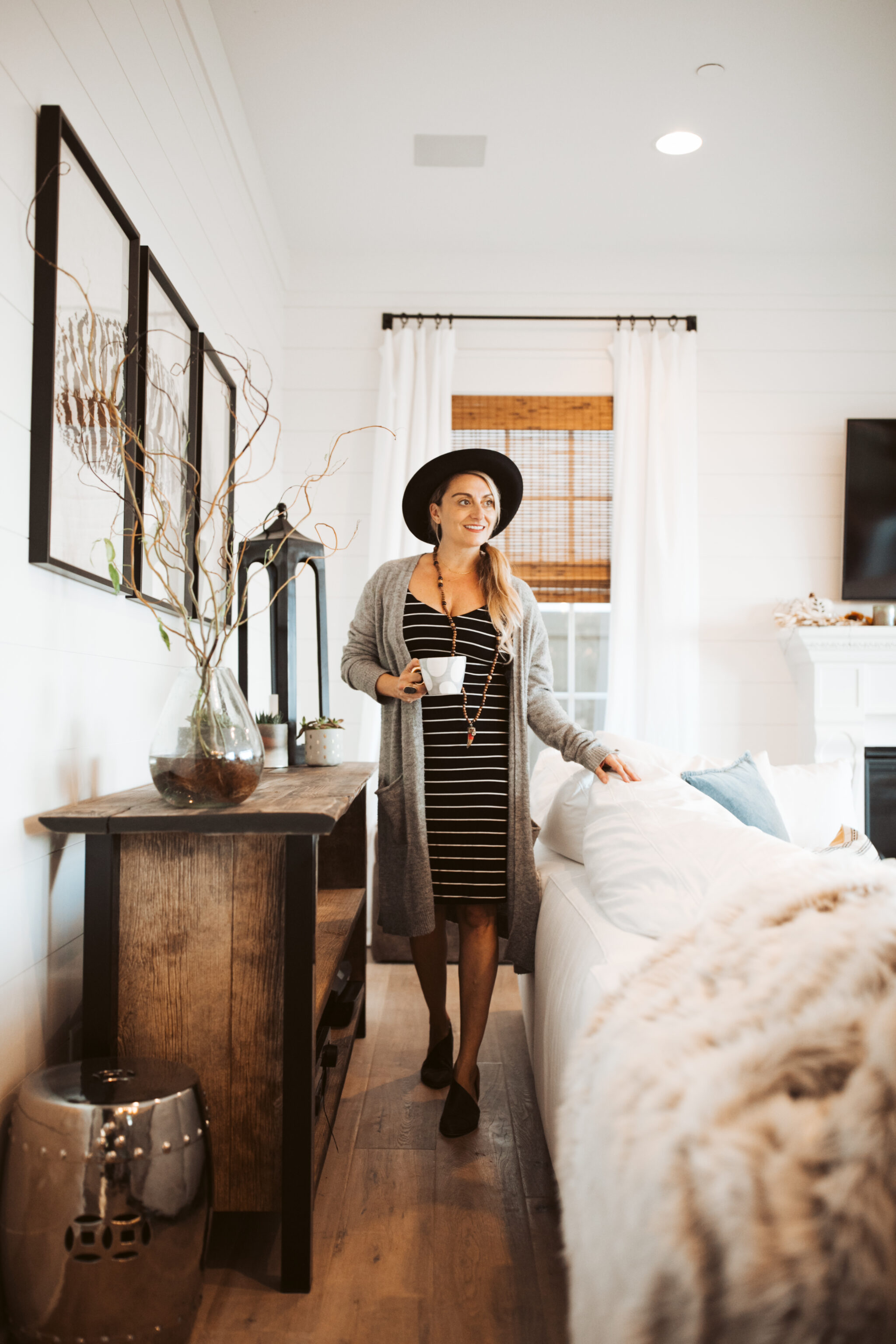 Finding the Right Sofa Tables
We chose two A-frame tv consoles for behind my sofa. Besides looking beautiful, the two pieces are perfect to section off the living room. They also have great functionality by holding books, decorative dishes, plates, and more. Even though this specific piece is no longer available, Arhaus has some other great pieces that go perfectly with a farmhouse aesthetic.
Their console tables complement the coastal farmhouse theme I was going for. On mine, the top of each piece has an enduring bluestone that is cut from the mountains of Northern China and sculpted by hand before being inset into the top of this chic piece. And the A-frame cabinet is expertly crafted from naturally beautiful pine from Finland, that Arhaus' craftsmen have sanded and hand-painted before careful distressing to create a weathered appearance. Perfect for storage and for pulling my living room together.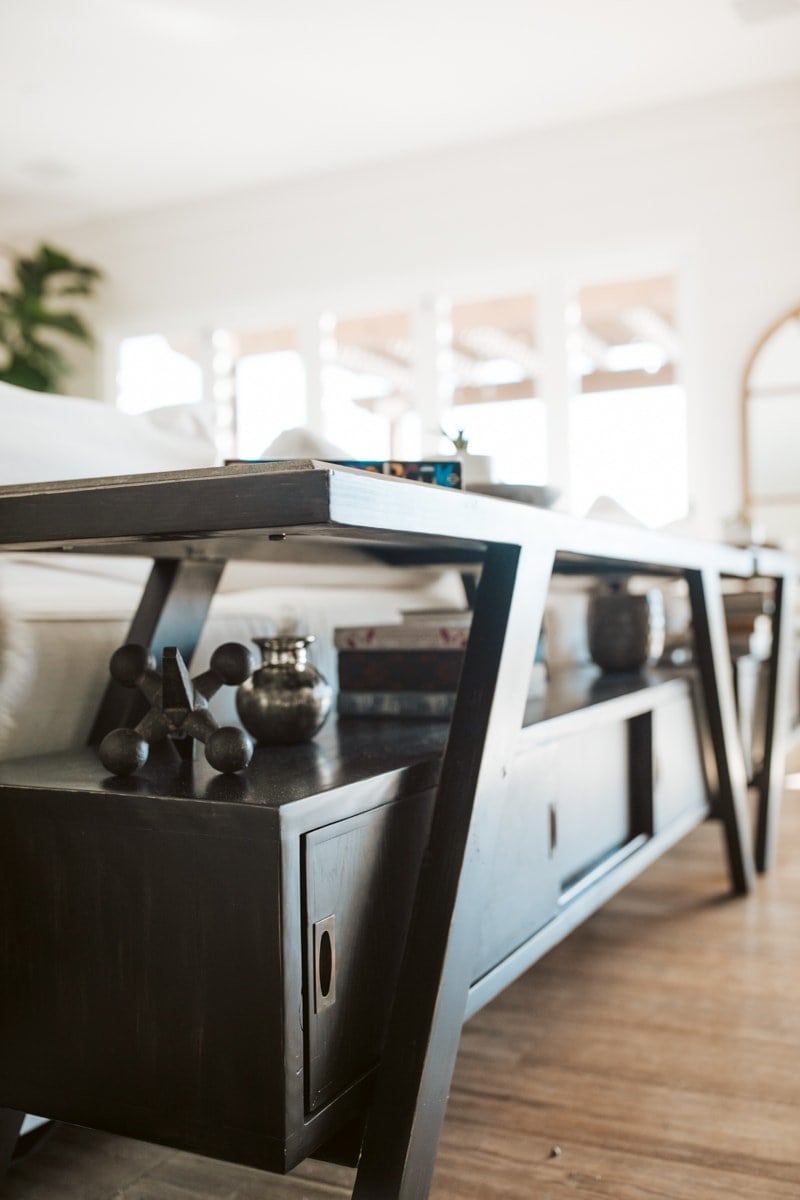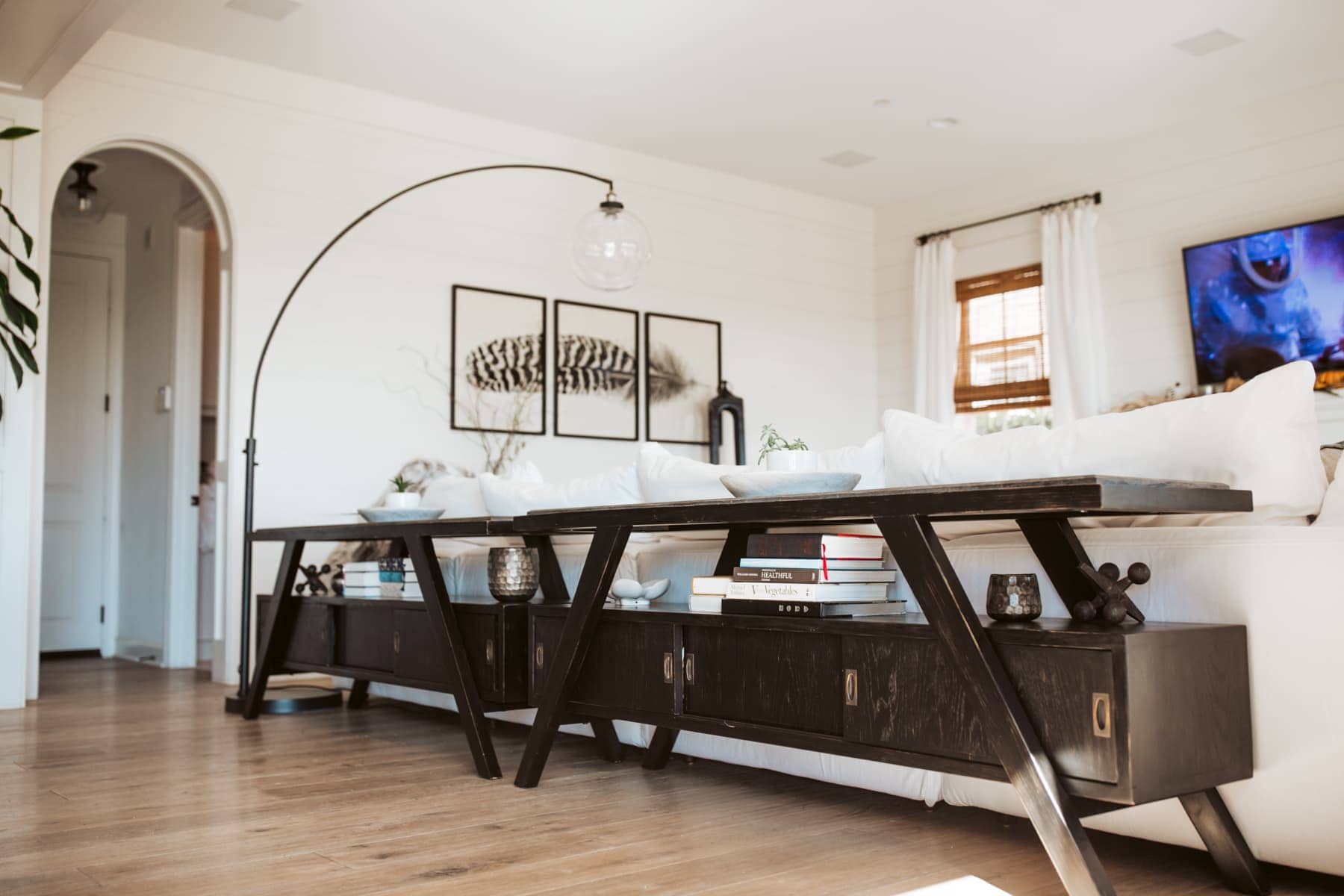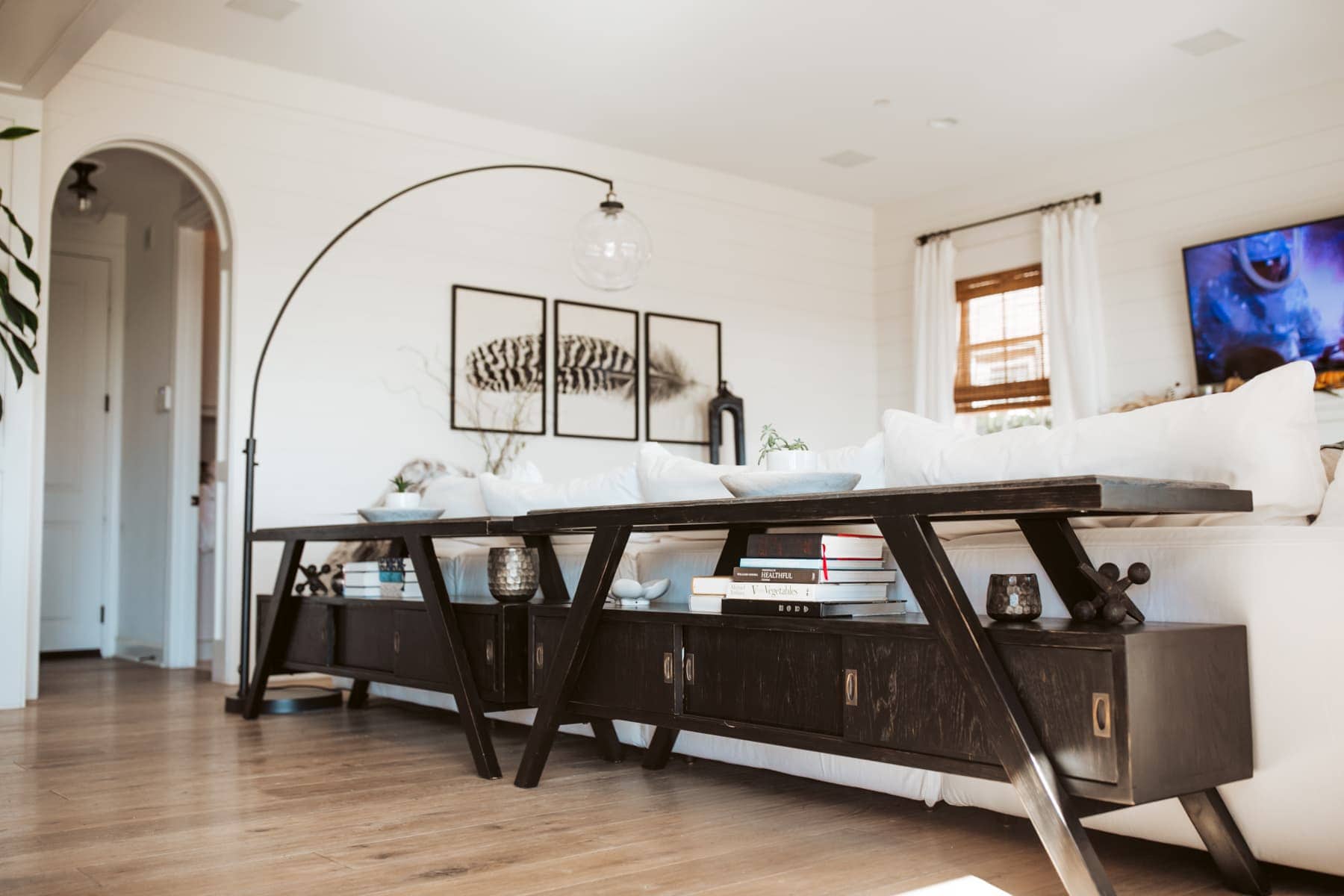 A Table For Everything
My Carrina Coffee Table is one of my favorite pieces because I feel it's the perfect blend of reclaimed wood colliding with an industrial frame. It's that perfect blend I'm looking for when I'm designing my modern farmhouse.
Expertly crafted from exotic, Mexican Palografico wood, the Carrina Coffee Table is made from tree trunks found submerged in water for many years. Each veneer used to form these stunning surfaces features a gorgeous patina created by natural discoloration and weathering. Tabletops are carefully shaped by Mexican artisans, who give each piece its sophisticated, faceted design. The tripod table base is made from steel with a gorgeous satin gunmetal finish to complement the tops' natural beauty.
Have you listened to my podcast? Check out The Mom Confidential!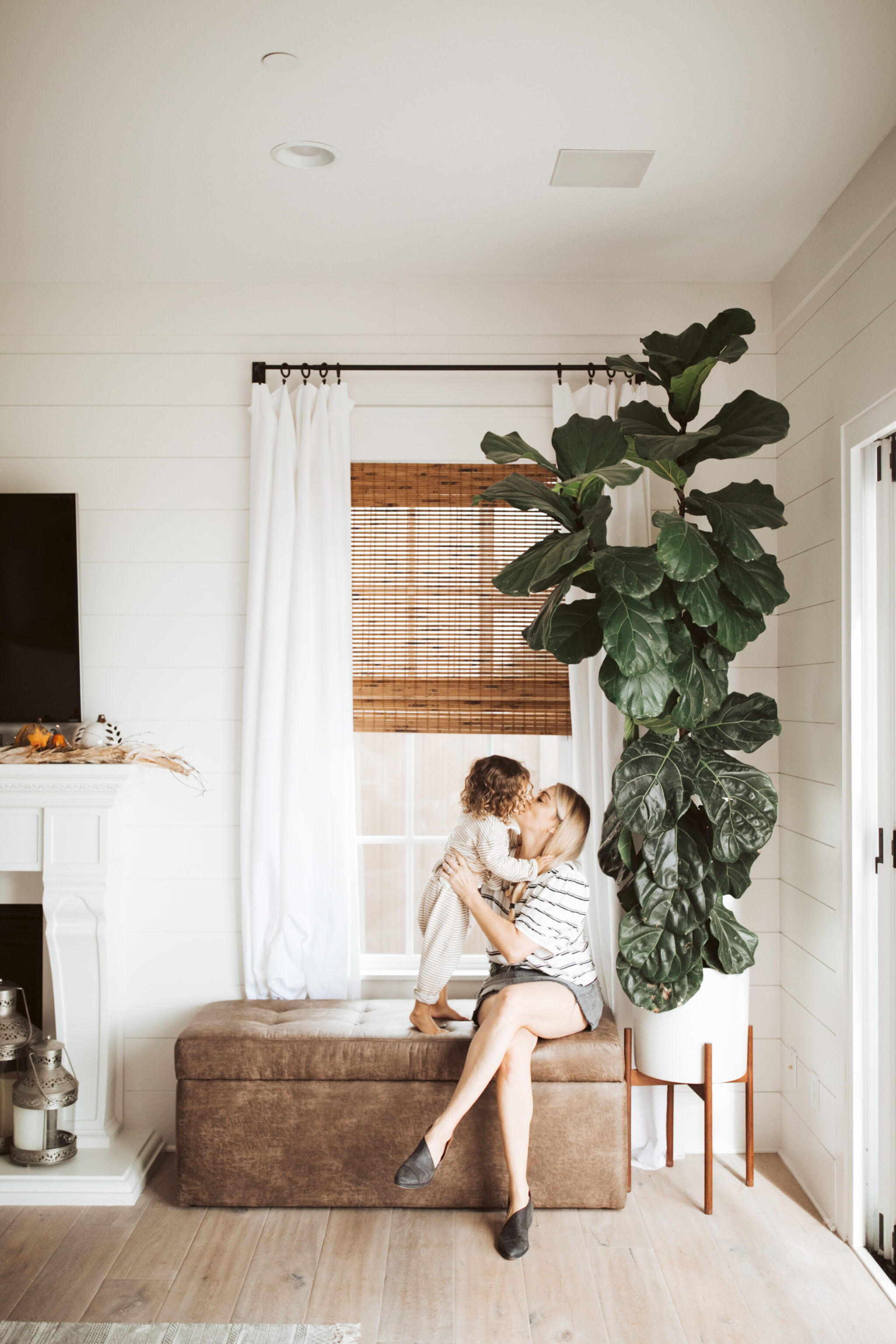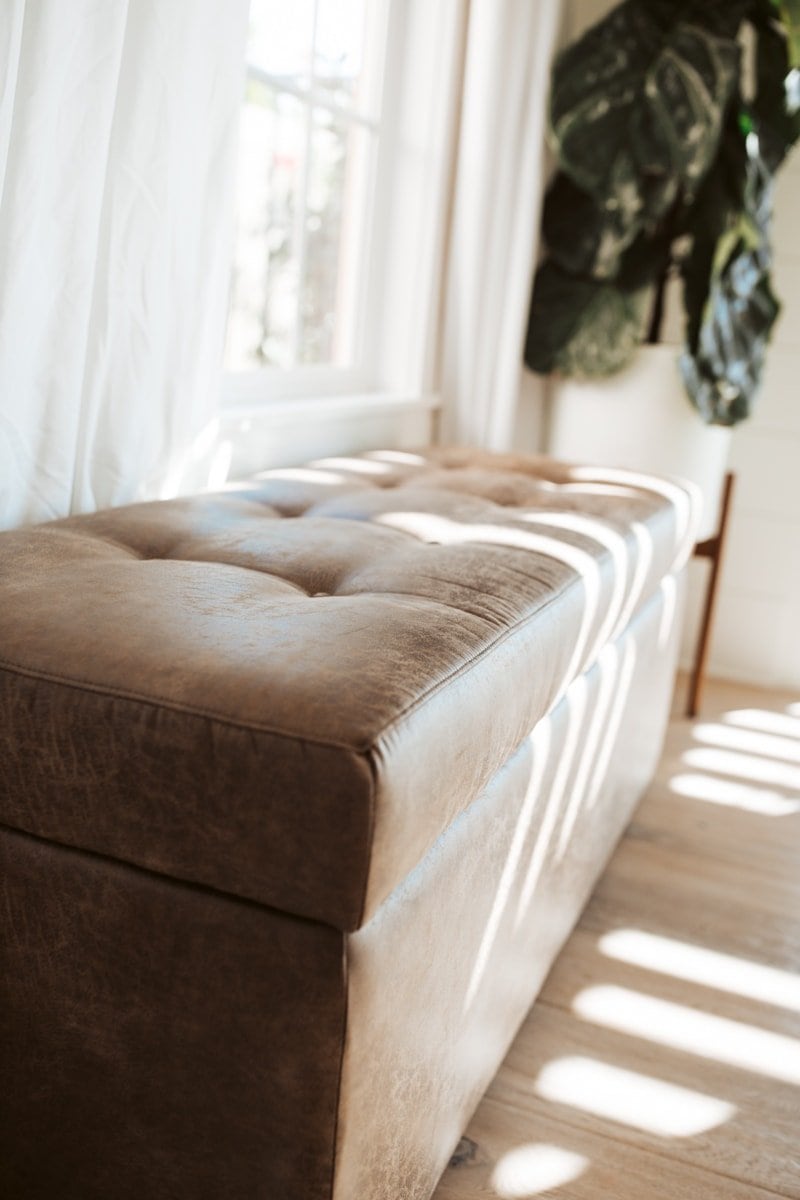 Everyone Needs Storage Space
I can't begin to tell you how appreciative I am for my two Devereaux Tufted Storage Benches. I chose recycled leather as my upholstery and I am in love with its durability and multi-function for either sitting or for storage. The soft, pillowy headboard is painstakingly upholstered by hand and adds a dramatic focal point to my space.
When guests come over, or I just need my space to feel clean and tidy, I can open it up and toss in all of the kids' toys and mess. Everything is out of sight for the moment and when it's time to play, it's easy to pull it out again!
---
Eating on a bare table was once something only a peasant would do. For Medieval knights and their ladies, good linen was a sign of good breeding.
---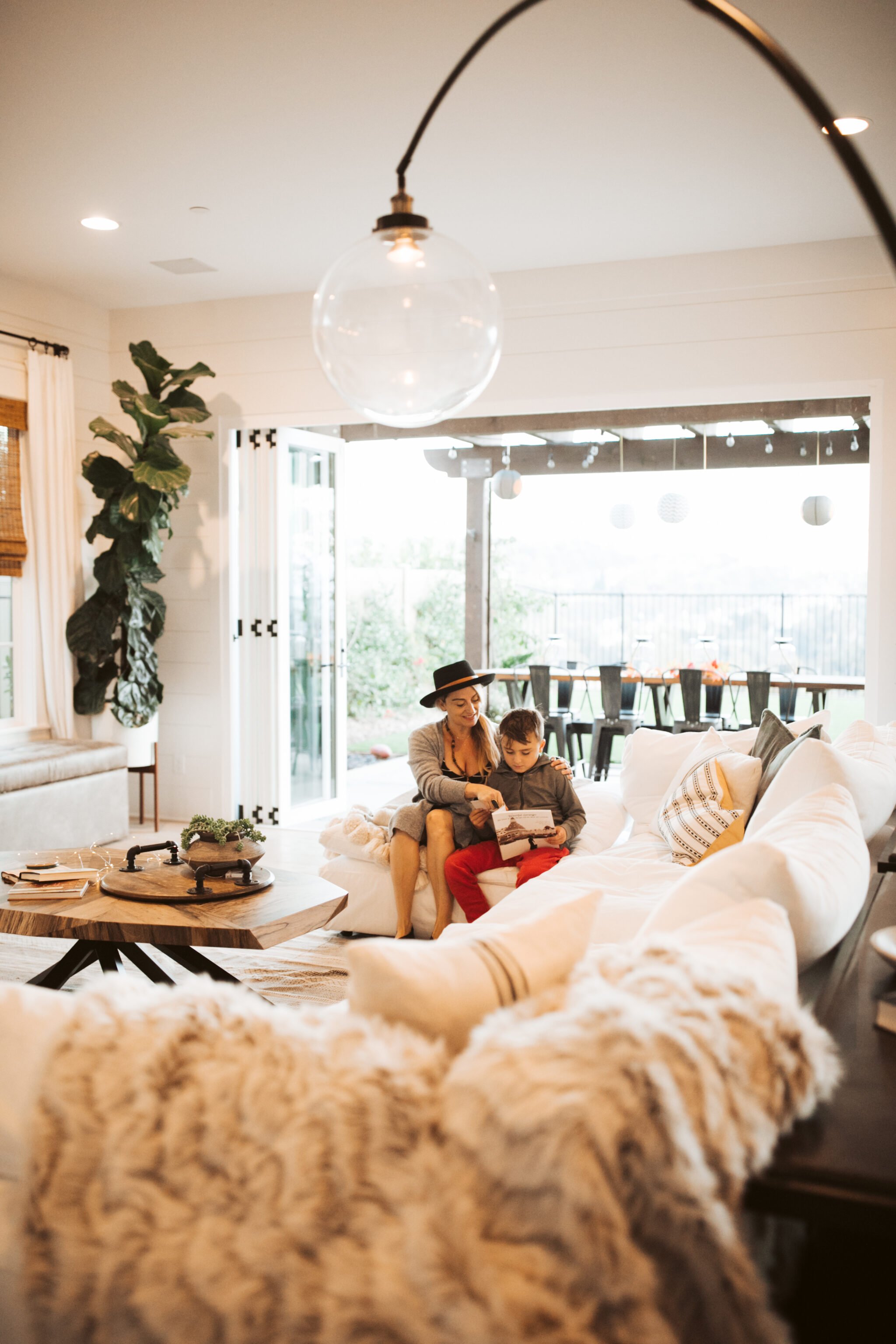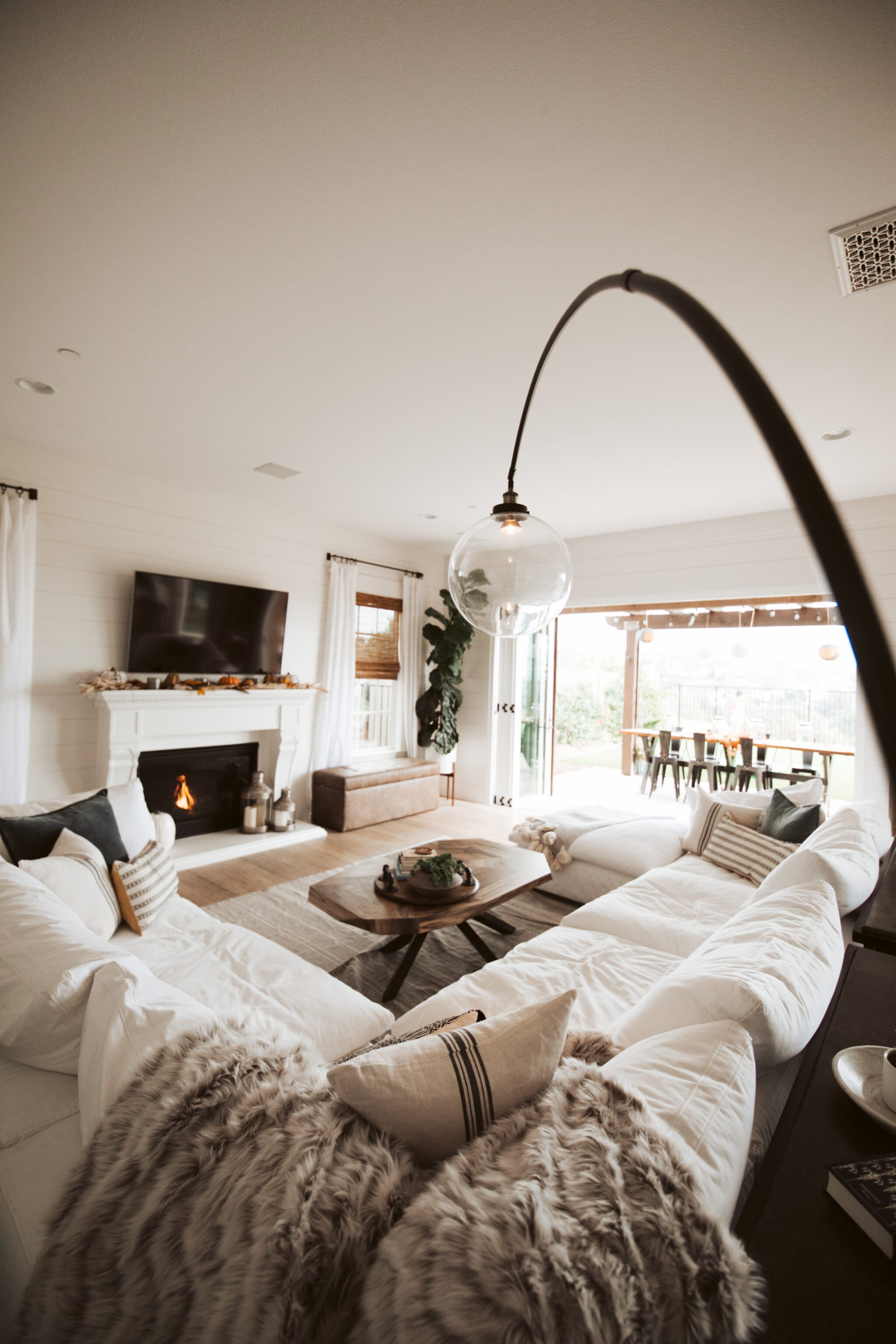 Lighting Up the Room
For the arc floor lamp, I am forever grateful for the design team. This is something I would have never picked out hadn't been for them. For its dramatic effect and its practical application, I am officially in LOVE with this lamp. I now have a little nook in the corner that I claimed as my own. The light overhead perfectly illuminates the space.
While this particular lamp is no longer available, they have some amazing new lamps that I absolutely love that give you the same effect and perfect cone of light. For something a little smaller, try the Odin Floor Lamp. For something big and dramatic, check out the Coronado Pendant Light.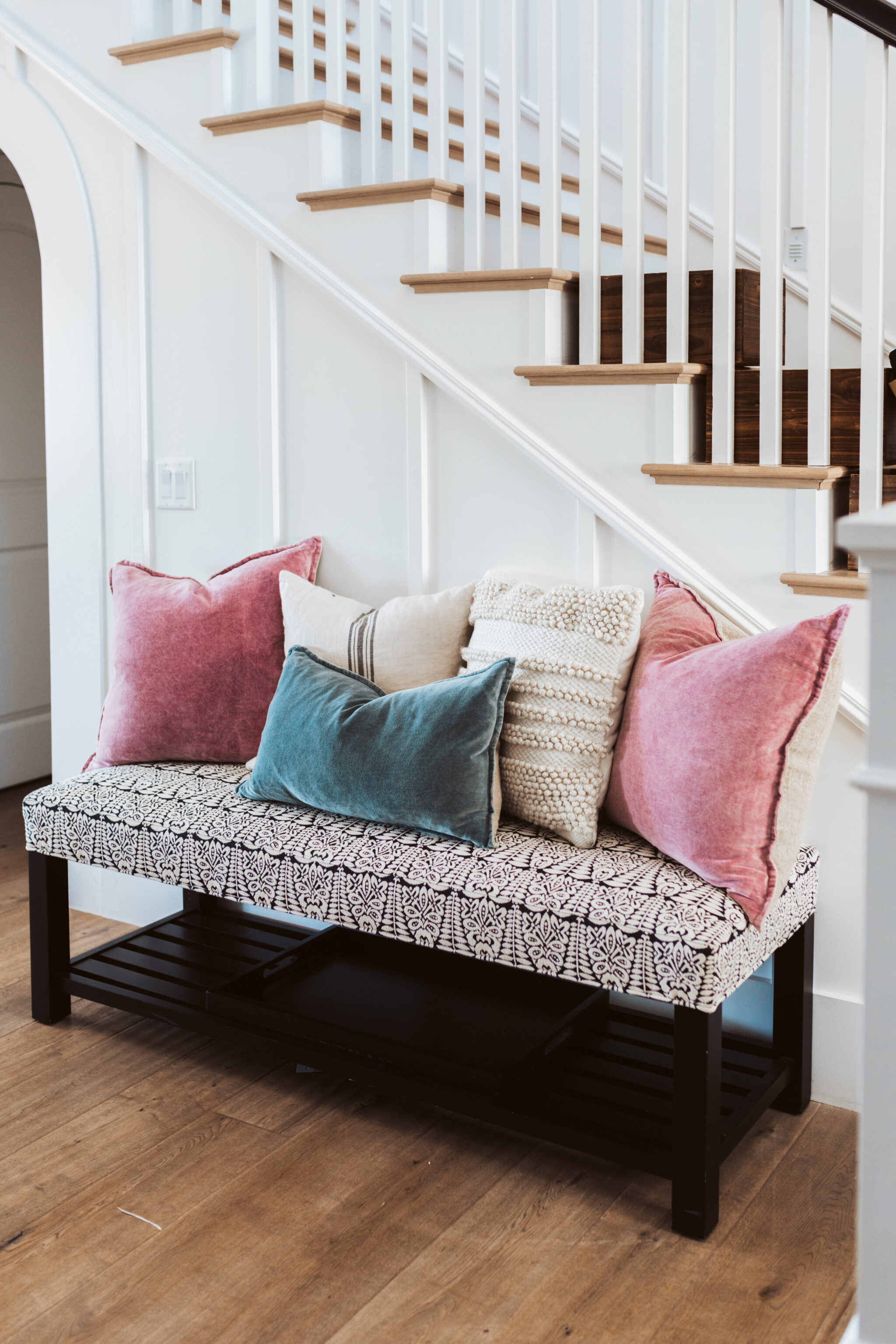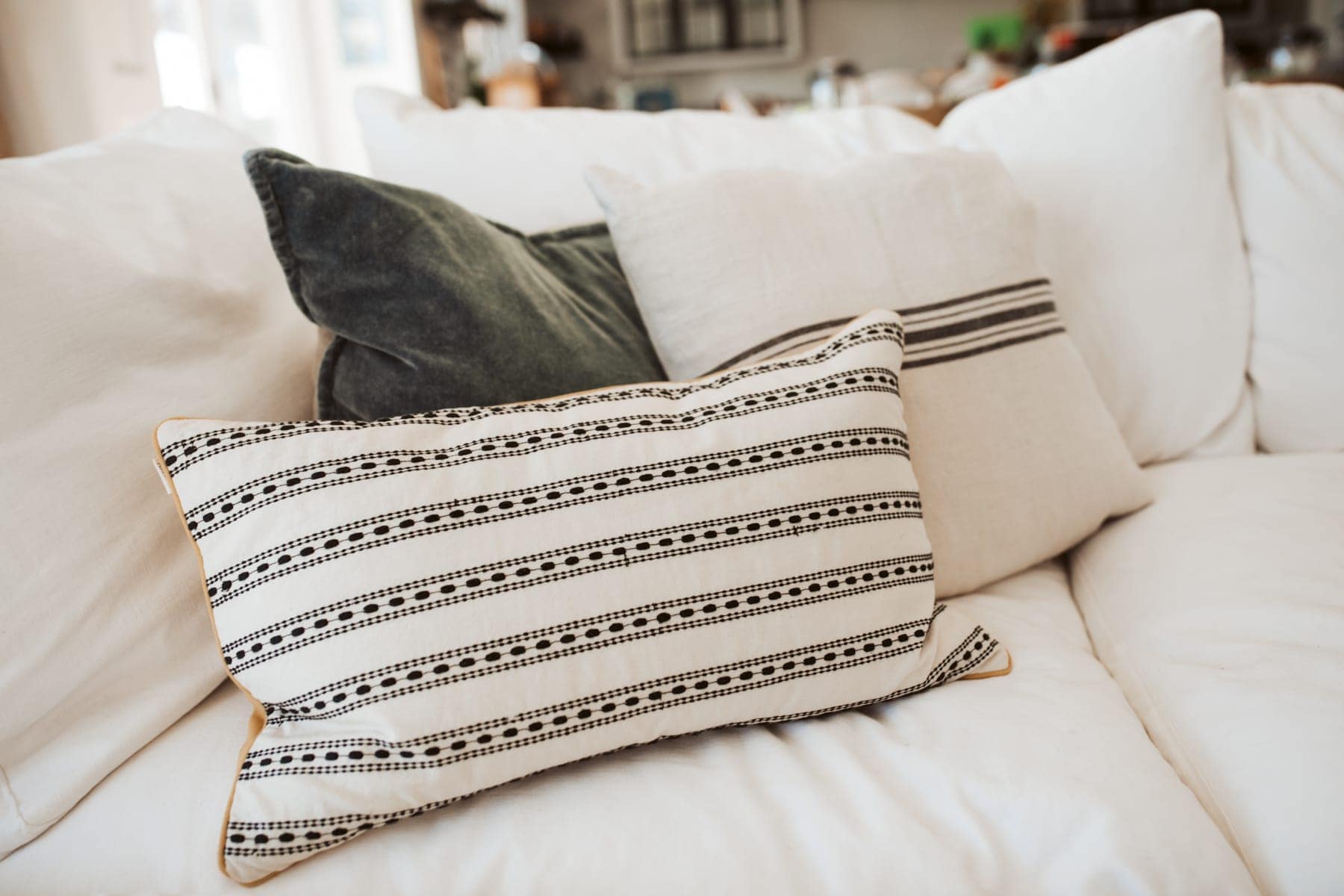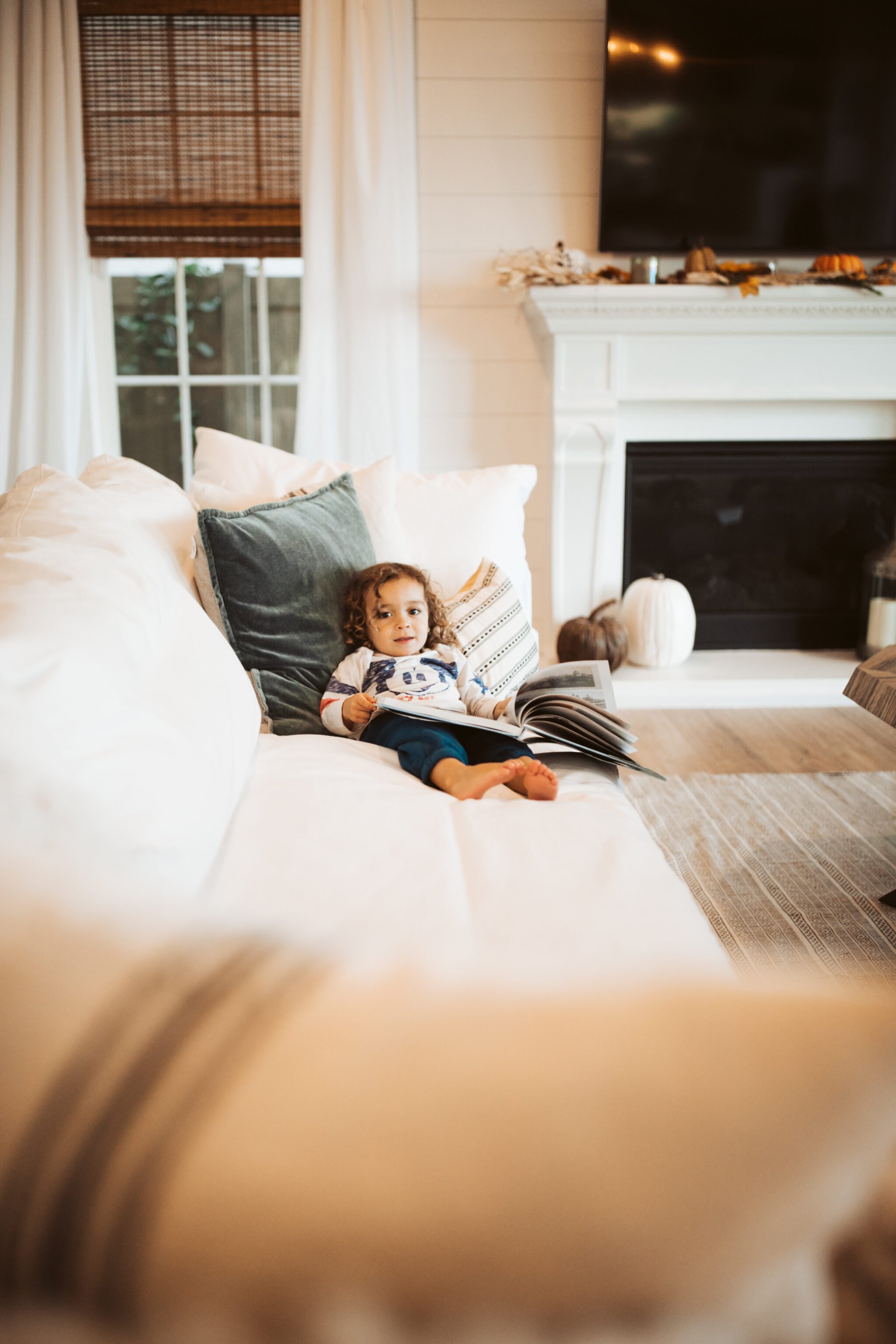 Pillows, Throws, and Everything Soft
We chose an array of throw pillows because when it comes to textures, mixing them is best. From the faux fur to the reversable velvet square pillows, all of them pulled the look together. I also recommend mixing not just the textures but the sizes. Don't fill your couch with symmetrical pillows!
Besides pillows, throws are also a must. I would suggest two at the very least. (Especially if you have a family of six like we do!) We opted for a marled grey knit with pom moms and a faux fur throw. They look great on the couch and in the space, plus they're cozy to snuggle up with!
---
The style of your roof depends on where you live. Gabled or peaked roofs tend to work best in areas where there's snow accumulation so that it doesn't weigh down the roof, while in warmer, drier climates, you're more likely to see flat roofs.
---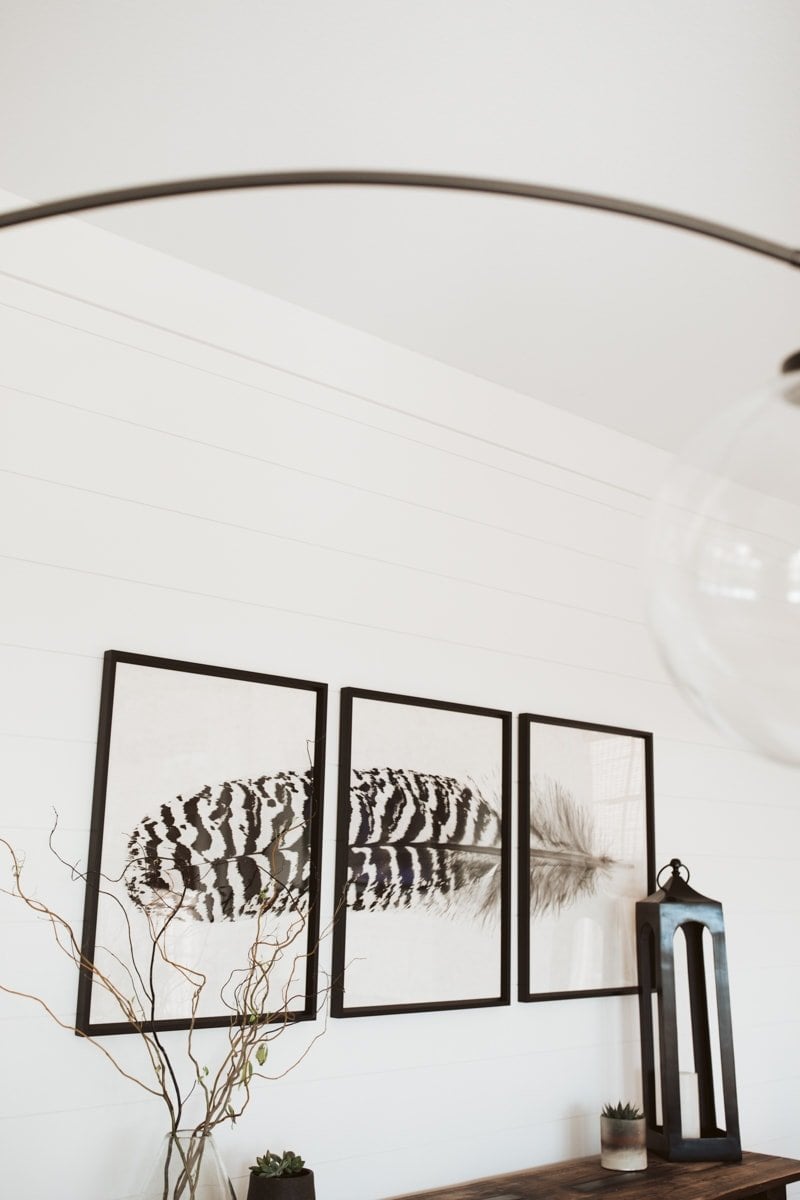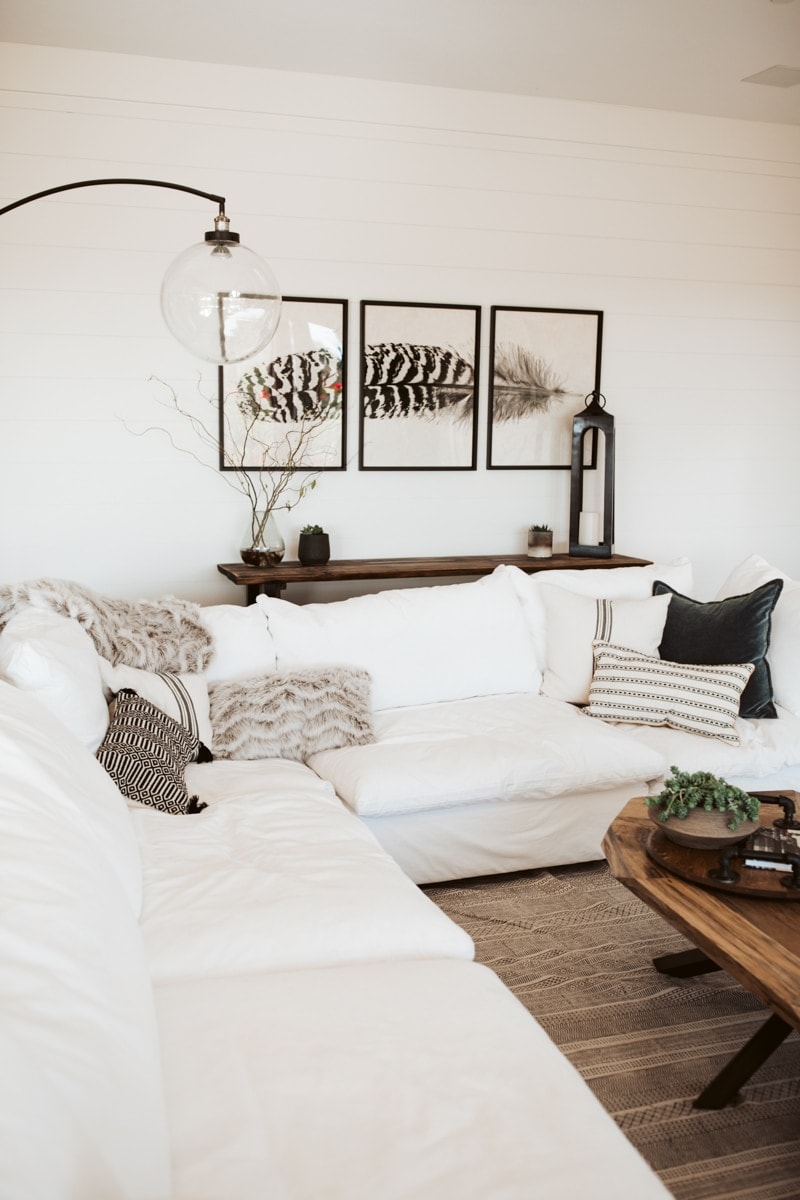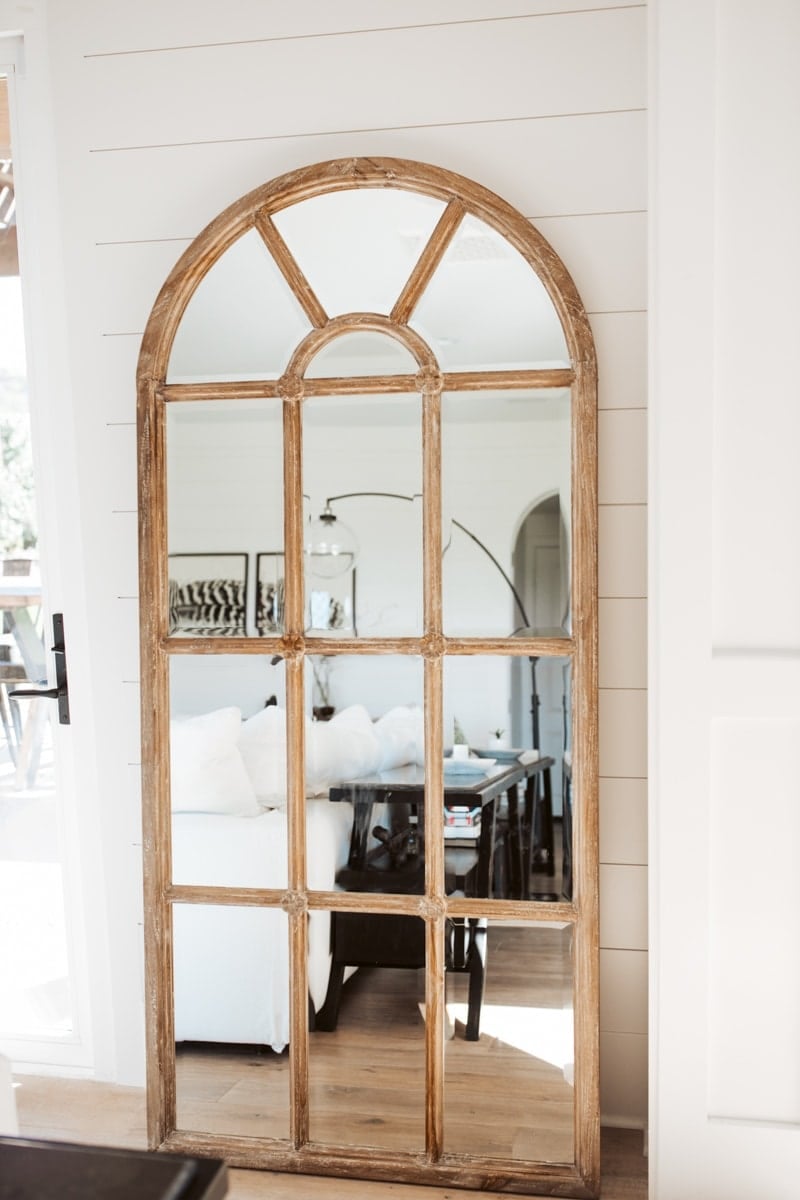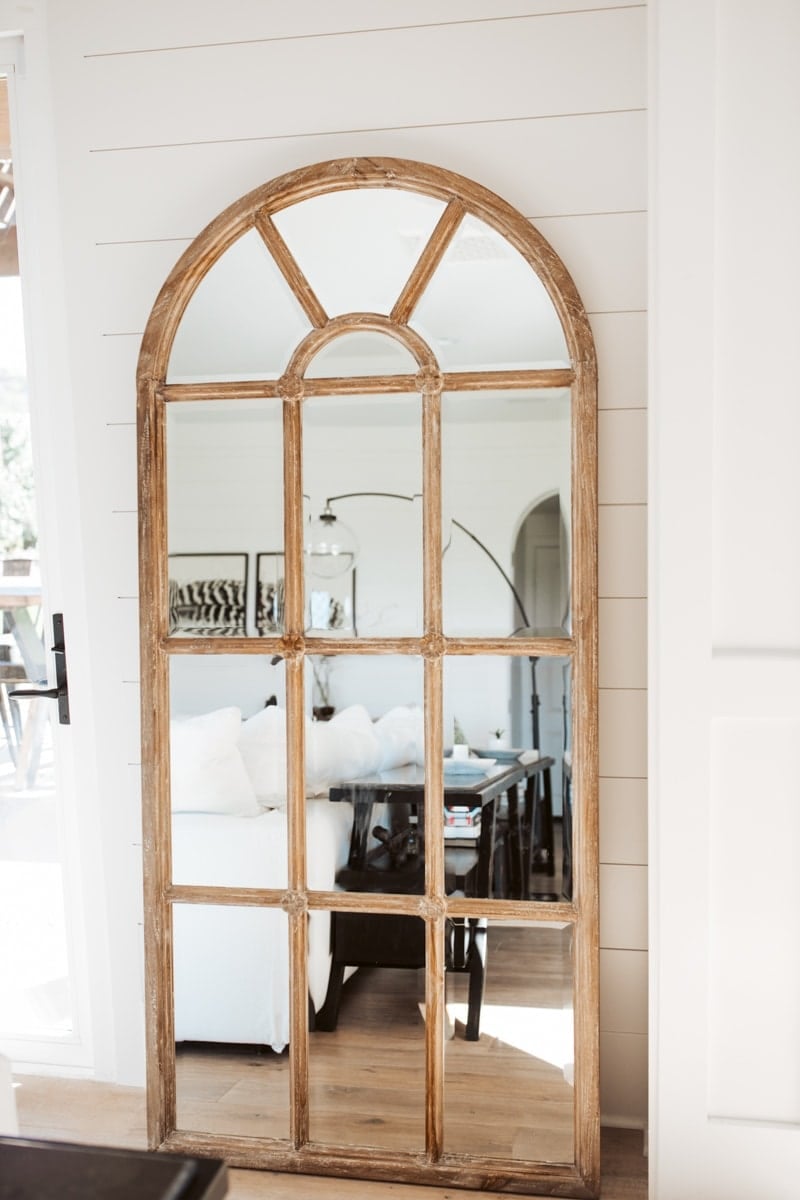 Floors and Walls
One thing Arhaus has plenty of is art. For my space, we chose a black and white triptych of a peacock feather. I love it because it captures the feather's beauty with organic charm. Plus its neutral color is a great backdrop for my farmhouse style, and it makes it easy to update my living room every season without worrying about my decor clashing with my art!
On an opposing wall, we added the Teak Arched Floor Mirror, which gave me the perfect coastal farmhouse feel. I love the distressed wood and how large the scale is.
I added the neutral tone Konya Rug because I wanted to soften up the room. This globally-inspired handcrafted flatweave rug added fresh style to the design of my living room. The hues of grey and ivory truly complement whatever color palette I choose to go in. I do love how my brown leather benches work with it. It's reminiscent of a well-traveled family. Since it's sold out, check out all their other amazing rugs!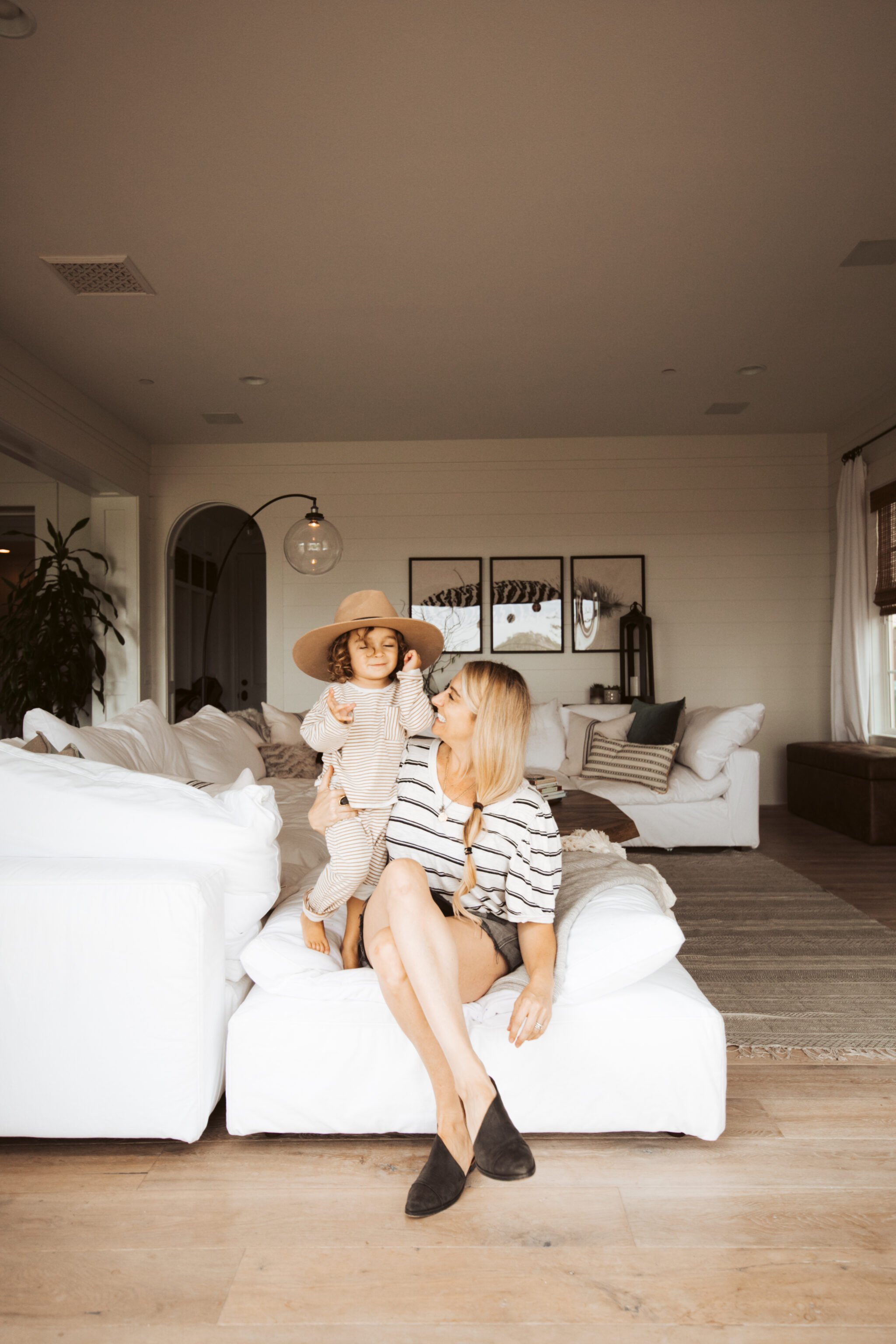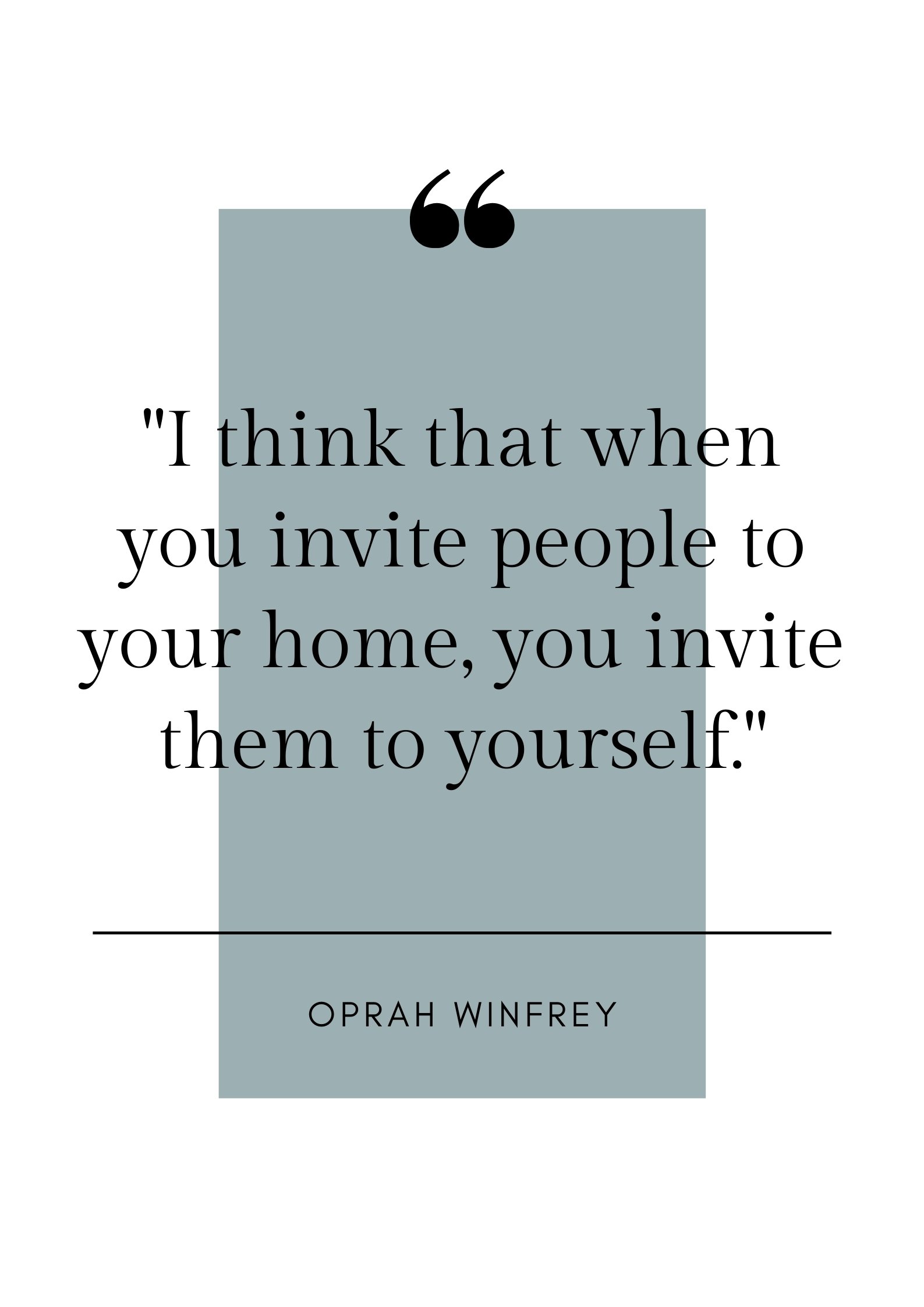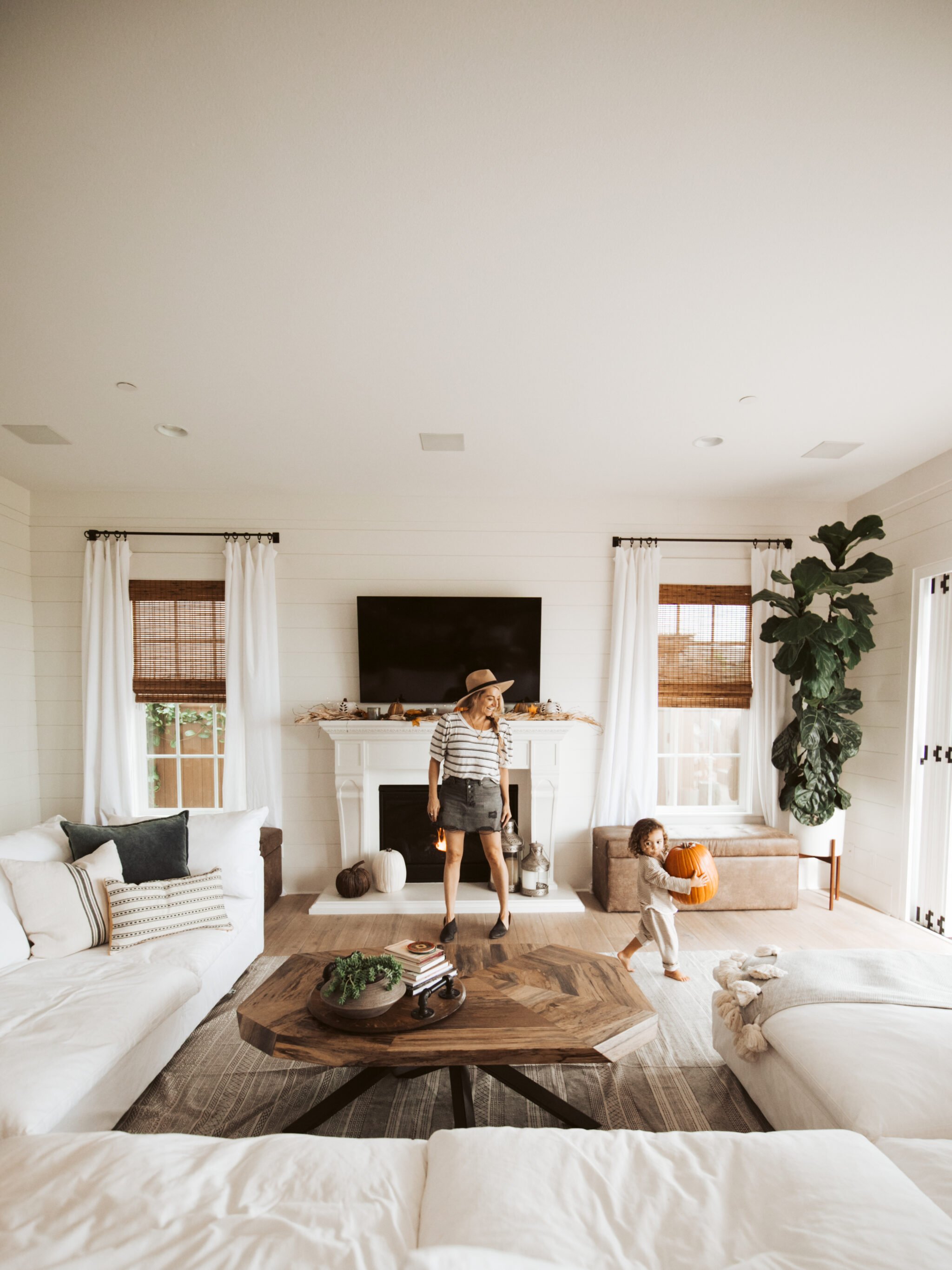 Our House Is Now Our Home
In our house, the living room is where we relax, unwind and connect as a family. After my design collaboration with the Arhaus team, it's now the source of comfort and inspiration. With its fresh tones and textures, including intentionally-selected accessories like plant life, books, and leather trunks that double as toy boxes, it also provides a sense of happiness throughout my at-home workdays.
Call me crazy, but as a stay-at-home, working mom of four, those things matter, and I'm extremely happy in our new space—especially when I peer over at the Peacock Feather Triptych, of which my husband initially had hesitations. Now, he can't stop staring.
Thank you, Arhaus, for making our house a comfy yet chic haven for living life.
---
The creaks in your house have little to do with its age. The sounds are more likely to be the result of temperature and humidity changes inside your house.
---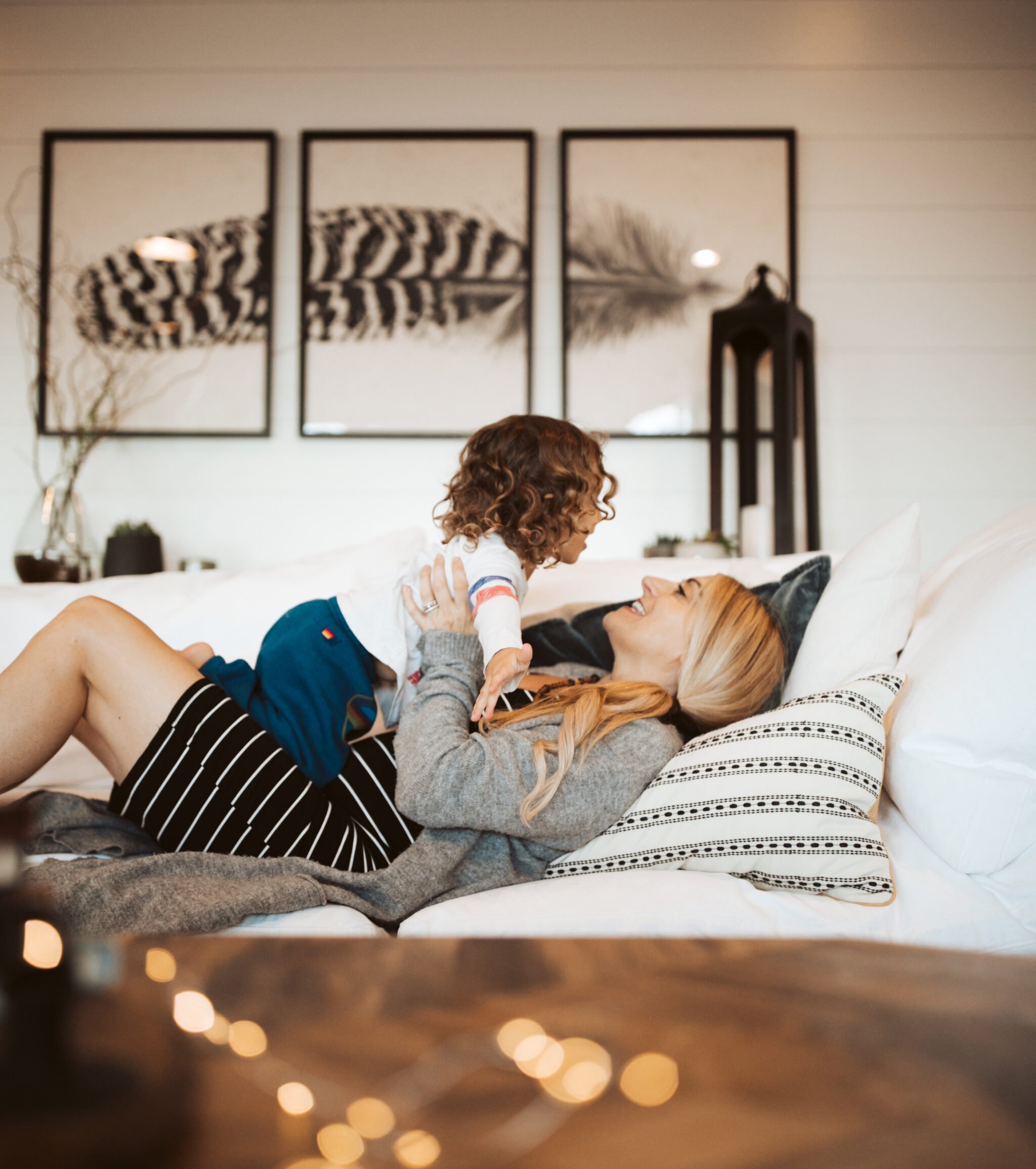 Tips for Parenting In Style...
Never boring, always awesome. Keep up to date with the latest from City Girl Gone Mom.