"Deserving nice things" can look like adding avocado to your lunch order and other times, it looks like giving in and buying the neat and clean white couch that's been all over that dream living room Pinterest board. Surprisingly, this clean-aesthetic piece is as practical as it is pleasing. With a little planning and the right tools, you can learn how to keep your white couch clean and just as sparkling as the day you bought it. (Even if you have four kids and three dogs!)
And working with Arhaus will make you confident that you don't have to wait until your golden years to enjoy the things you love now. A slip-covered white couch can be enjoyed without worrying about dirt, dog hair, or stains with these five tips.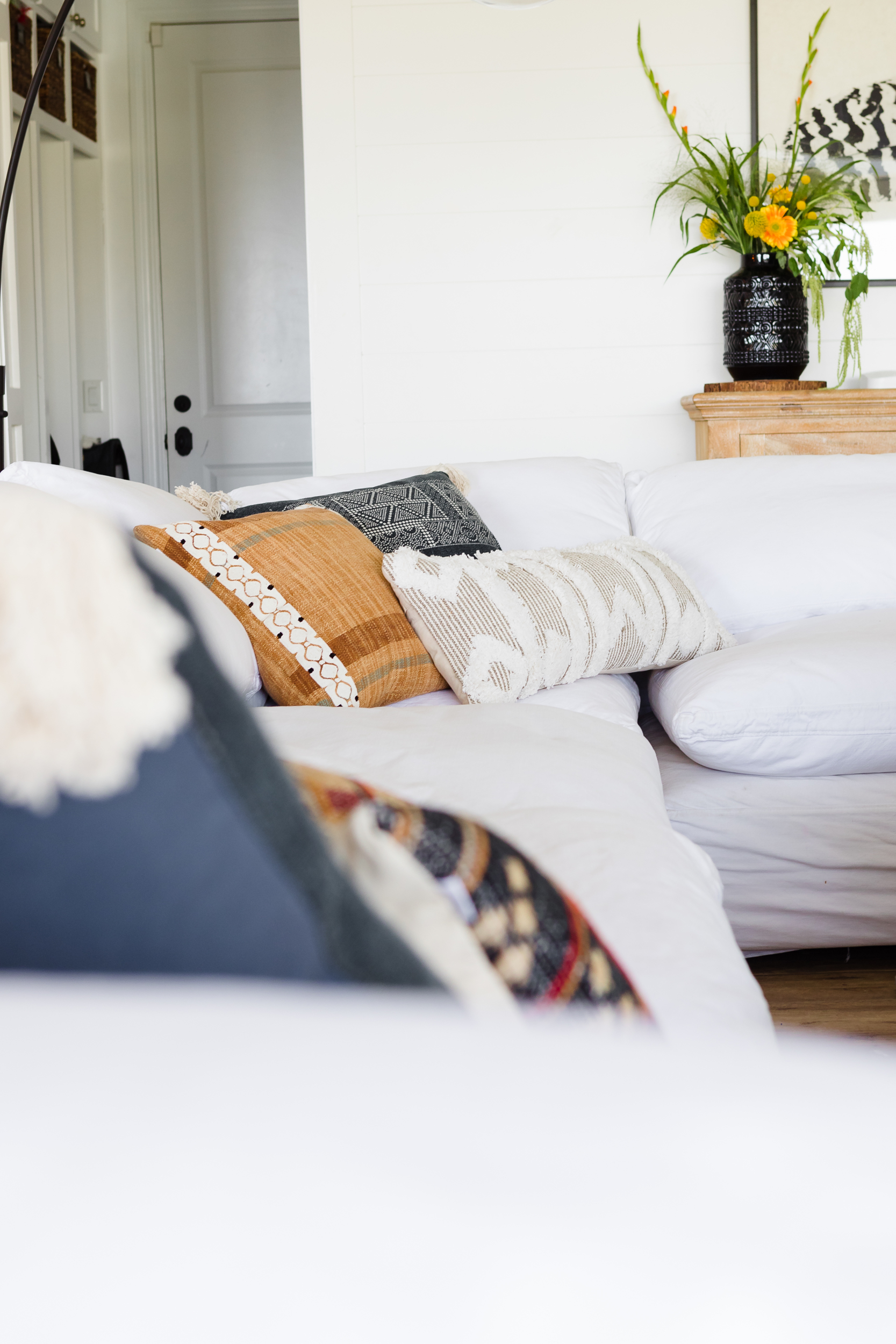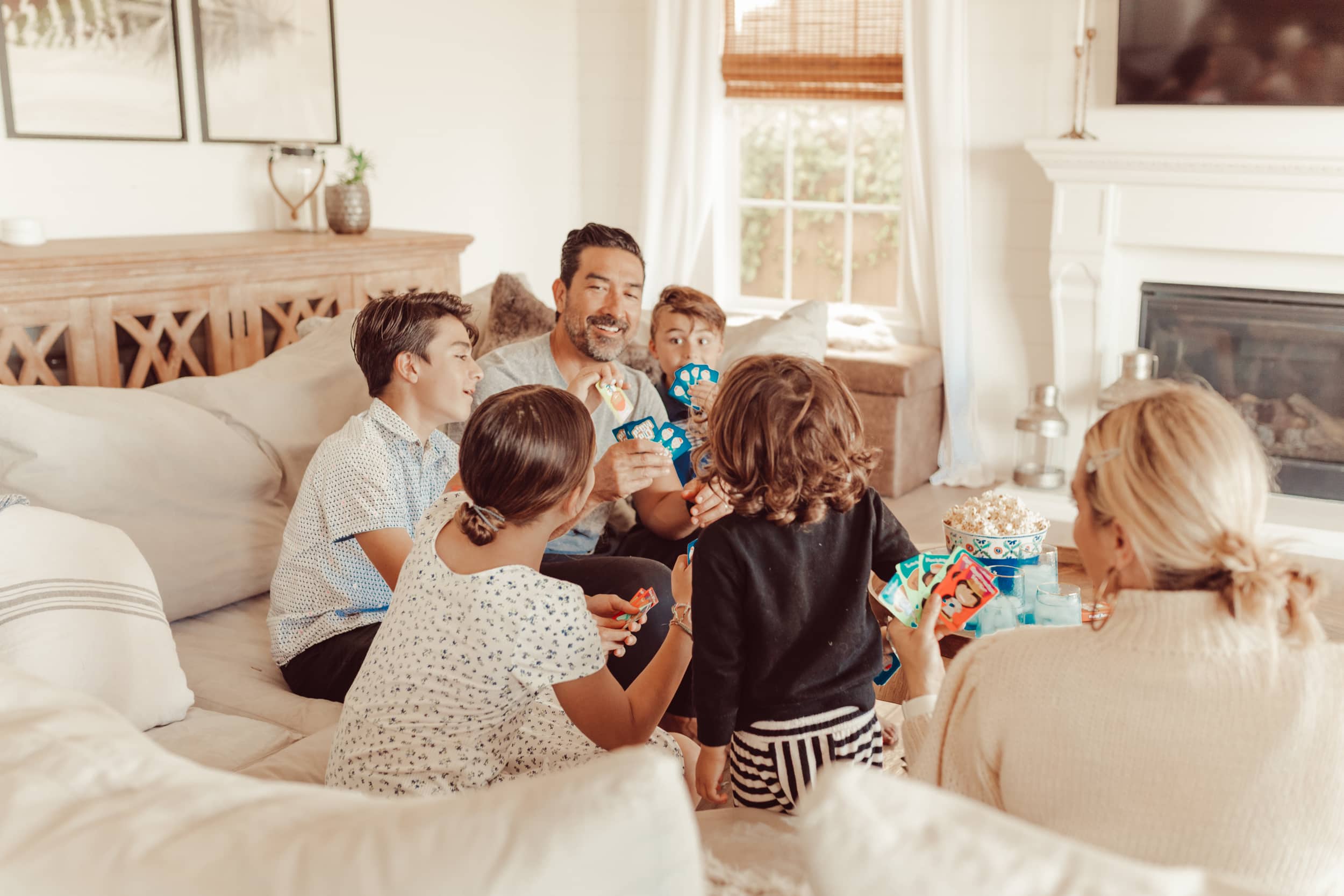 How to Clean a White Couch
Always have cleaning supplies on hand! There are a few products that will be your holy grail, depending on the material of your white couch. Pro tip: not all microfiber is the same. Before cleaning, search for the manufacturer's tag, which determines how to best treat the microfiber you have. You'll find several letters: "W" means a water-based solution, "S" is a solvent-based cleaner, "S-W" is either a solvent or water-based cleaner, and "X" means vacuum only!
No matter if you're using a homemade solution with vinegar, stain removal products, or a rag damped in dish soap, blot and spot! Don't try to rub the stain out because it will only push it deeper into the material and smear it around!
Second pro tip: if you have slipcovers, wash them once a week alone! Don't wash it in a load of whites because the fabric of a white towel can damage the material of the slipcover. Try not to use bleach since bleach can play a role in turning whites into yellows over time!
Last pro tip: if you have pets, lint roll the couch once a week to get the hair off before it takes over the whole couch.

---
The word "couch" comes from the French word "coucher," which means "to lie down."
---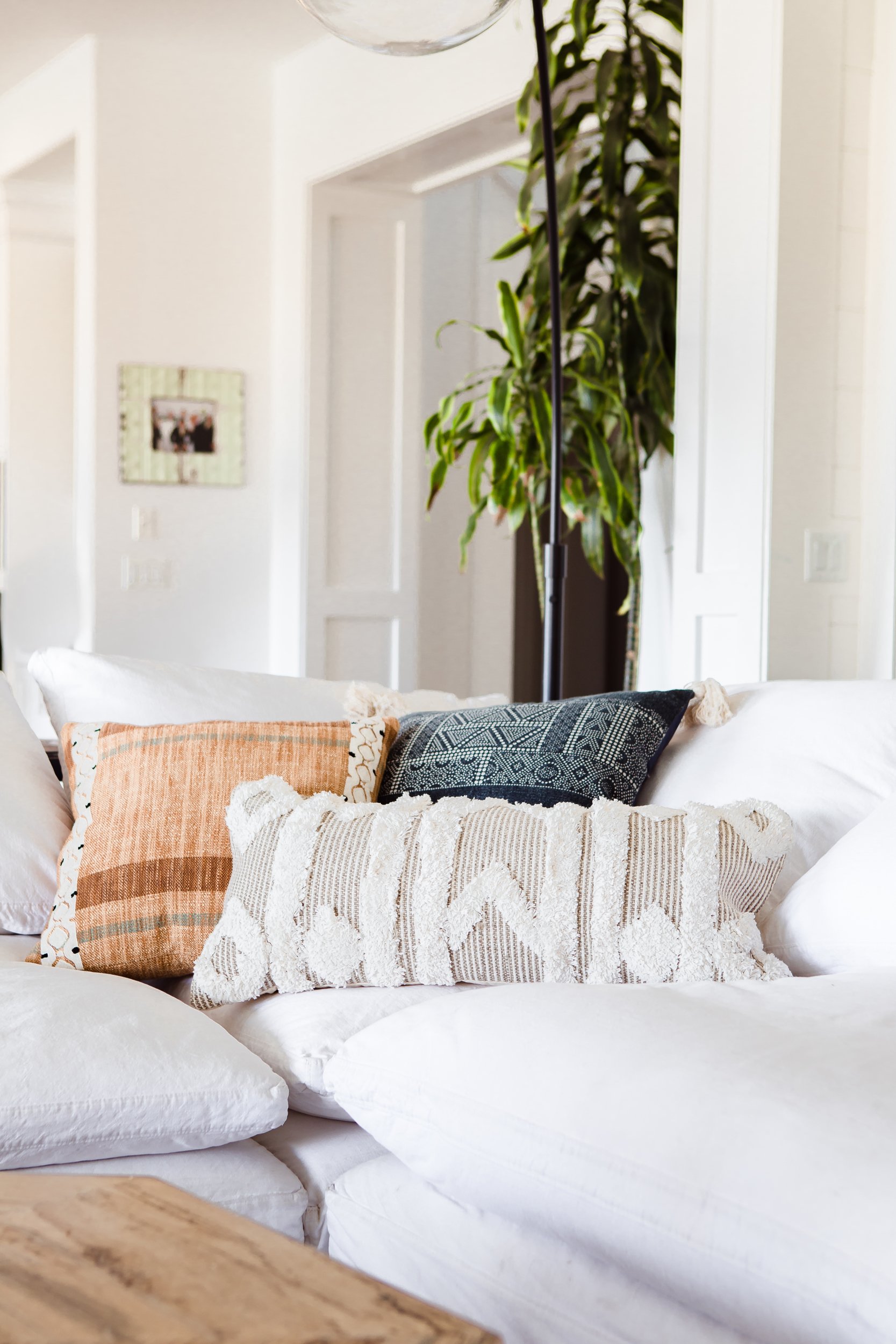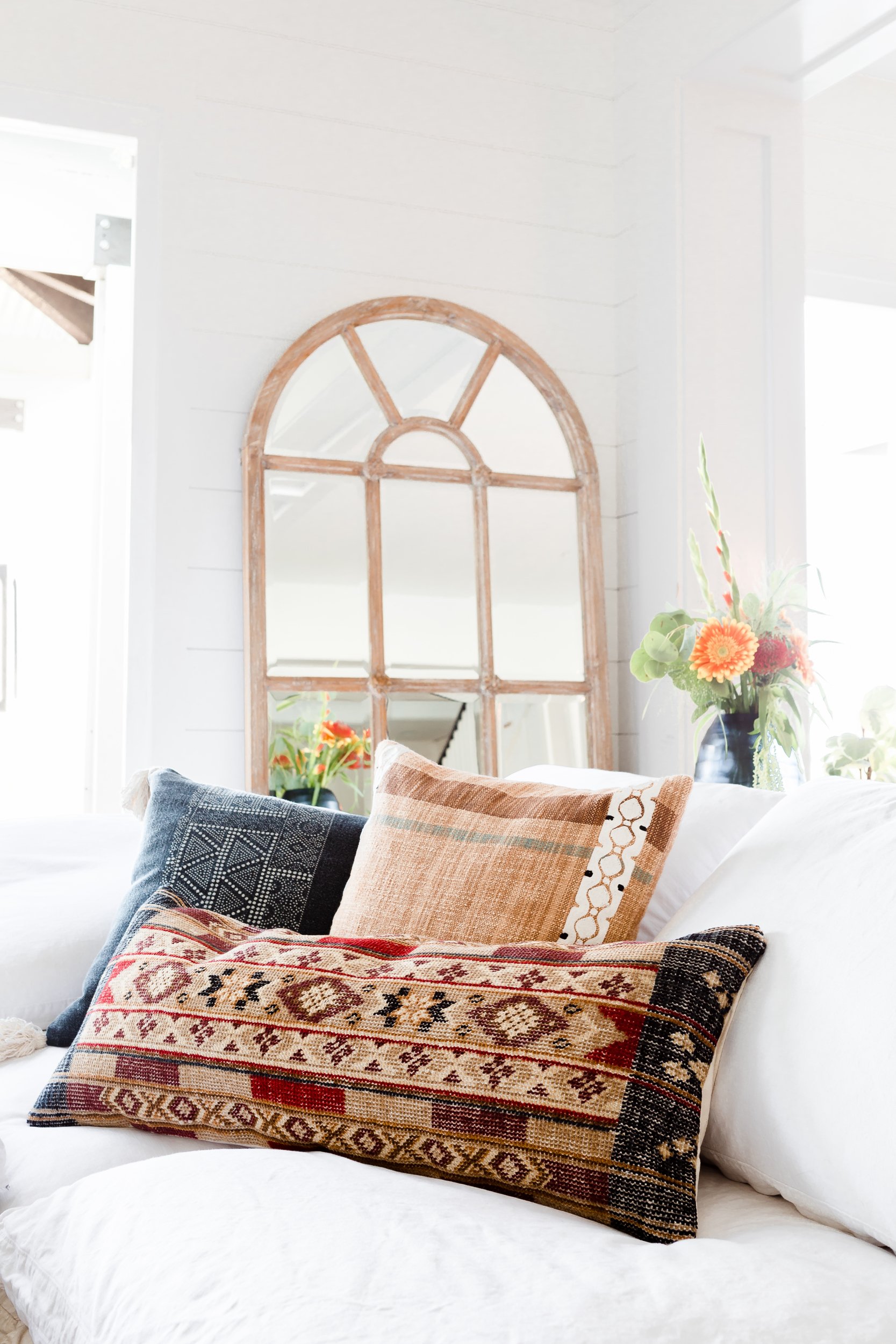 Find The Right White Couch
To avoid dirt and stains in the first place, do your research to make sure you buy a durable couch! If there is any room in the house that represents a lifestyle, it's the living room. Whether your lifestyle includes family movie nights, eating dinner on the couch, playing with cats, dogs, or kids, you should find a couch that fits your lifestyle.
Taking the time to look into frames, fabrics, and cushions may seem tedious, but remember, this is an investment! Opt for that "sink-into" feeling for hours of relaxation.
---
"Sofa" comes from the Arabic word "suffah," which describes a wooden bench that's covered in cushions and blankets—an elevated type of couch

.
---

Protect Your White Sofa
Opt for a slipcover, and no these aren't your grandma's plastic slipcovers. Add years to your couch with protective layering. You don't have to buy one that takes away from the beauty and construction of the couch. And why would you? You just invested time and money into it. There are options with texture, ties, or even some that are a smooth, clean slate of white.
Don't forget the importance of fabric. For easy-to-clean ones, look first for microfiber, then cotton and linen. For example, my white sofa is equipped with tailored slipcovers for an easy-to-maintain, casual style. Opt for two colors so you can easily swap out when needed.

---
Sofas have been around for thousands of years, and originally resembled chaise lounges, reserved exclusively for royalty or the exceptionally wealthy.
---

Maintain Your Clean White Couch
Don't wait for the first stain to happen. Get ahead of the mess and treat that white or off white sofa with a fabric protector to help repel any spills or dirt. It will make cleaning easier for when your children spill juice or when your dogs drag dirt in from outside. Or you can buy a couch that offers stain-resistant fabric like the ones at Arhaus.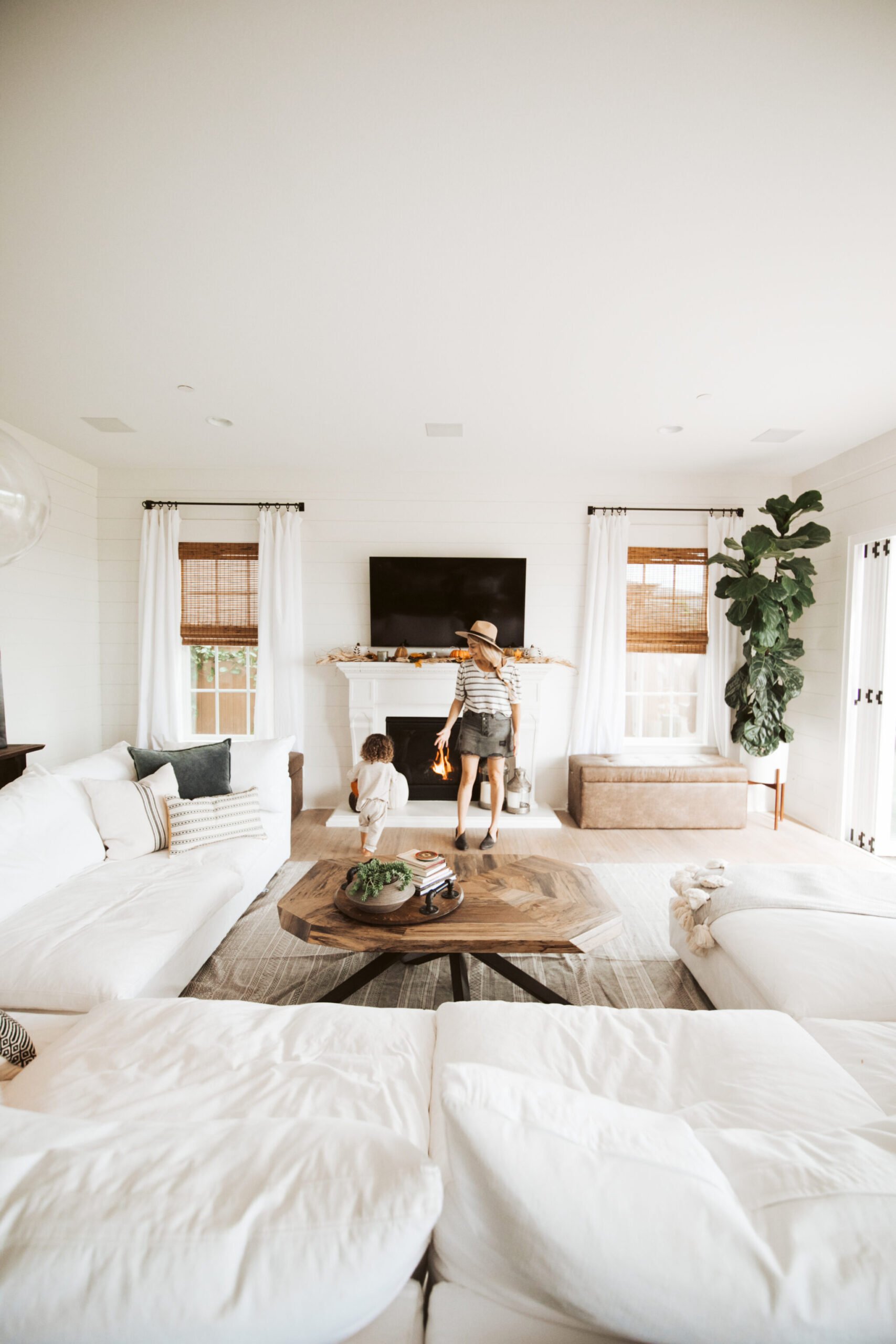 Rules to Keep Your Couch White
Rules aren't fun, but they are when they help keep your white couch clean! Come up with a few simple rules to help avoid messes. A few like a no-shoes rule, keeping drinks on the side table, or no eating in the living room will do! You don't have to limit the fun you can have on your cozy new couch, but with a couple of rules in place, you can prolong the life of your new sectional and make keeping your couch clean a breeze!
Have you listened to my podcast? Check out The Mom Confidential!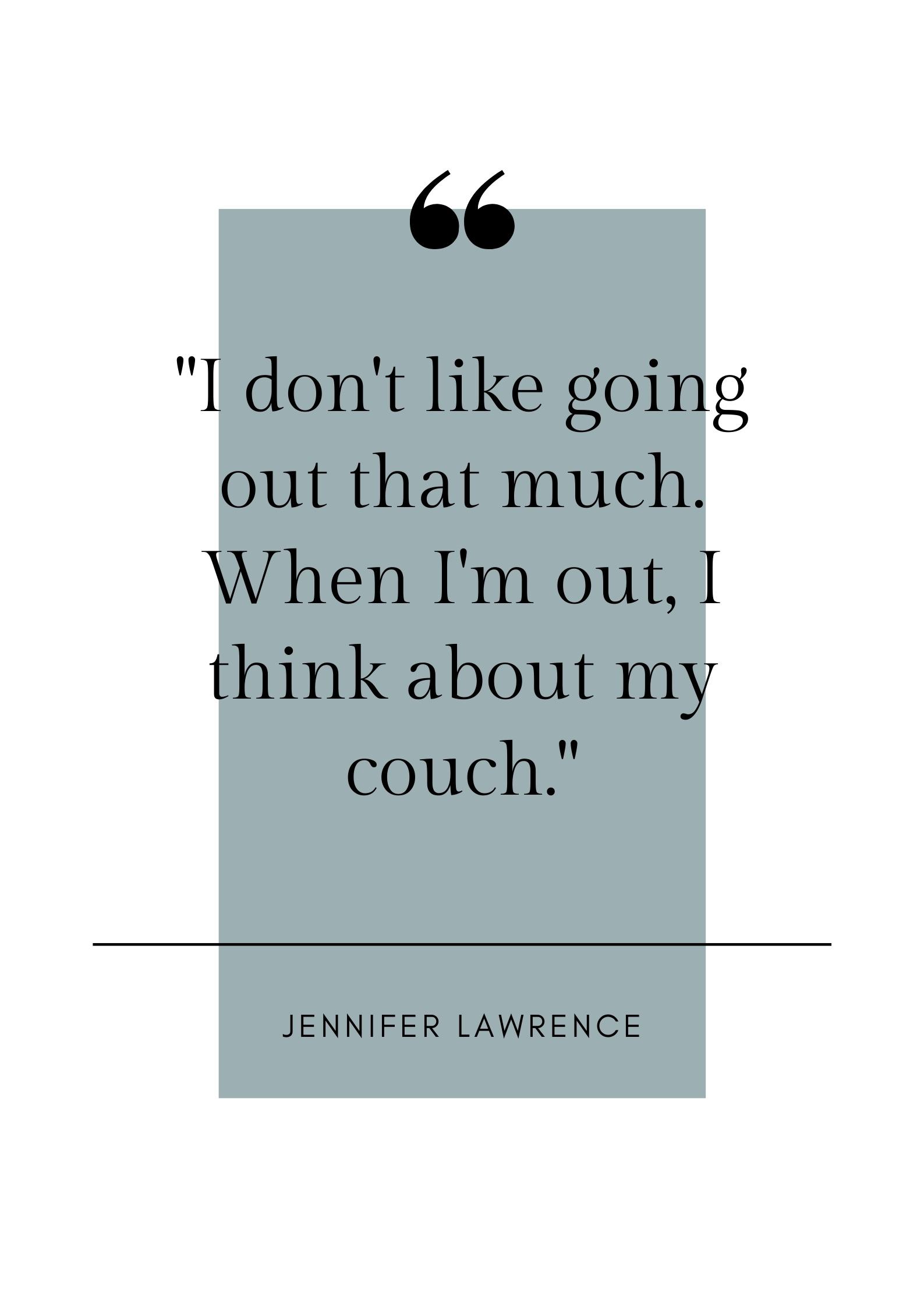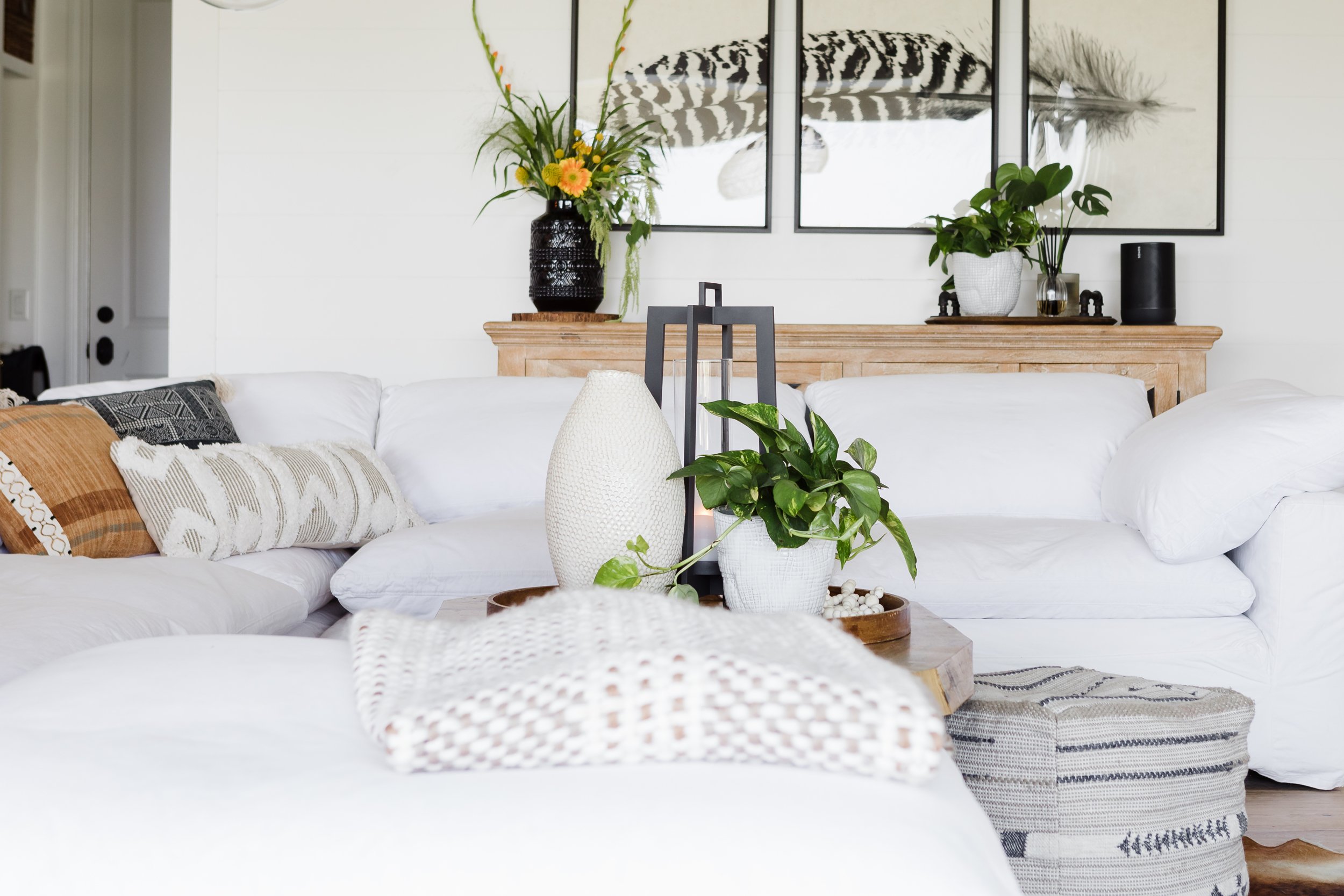 Tips for Parenting In Style...
Never boring, always awesome. Keep up to date with the latest from City Girl Gone Mom.