Some Things Are Better With Friends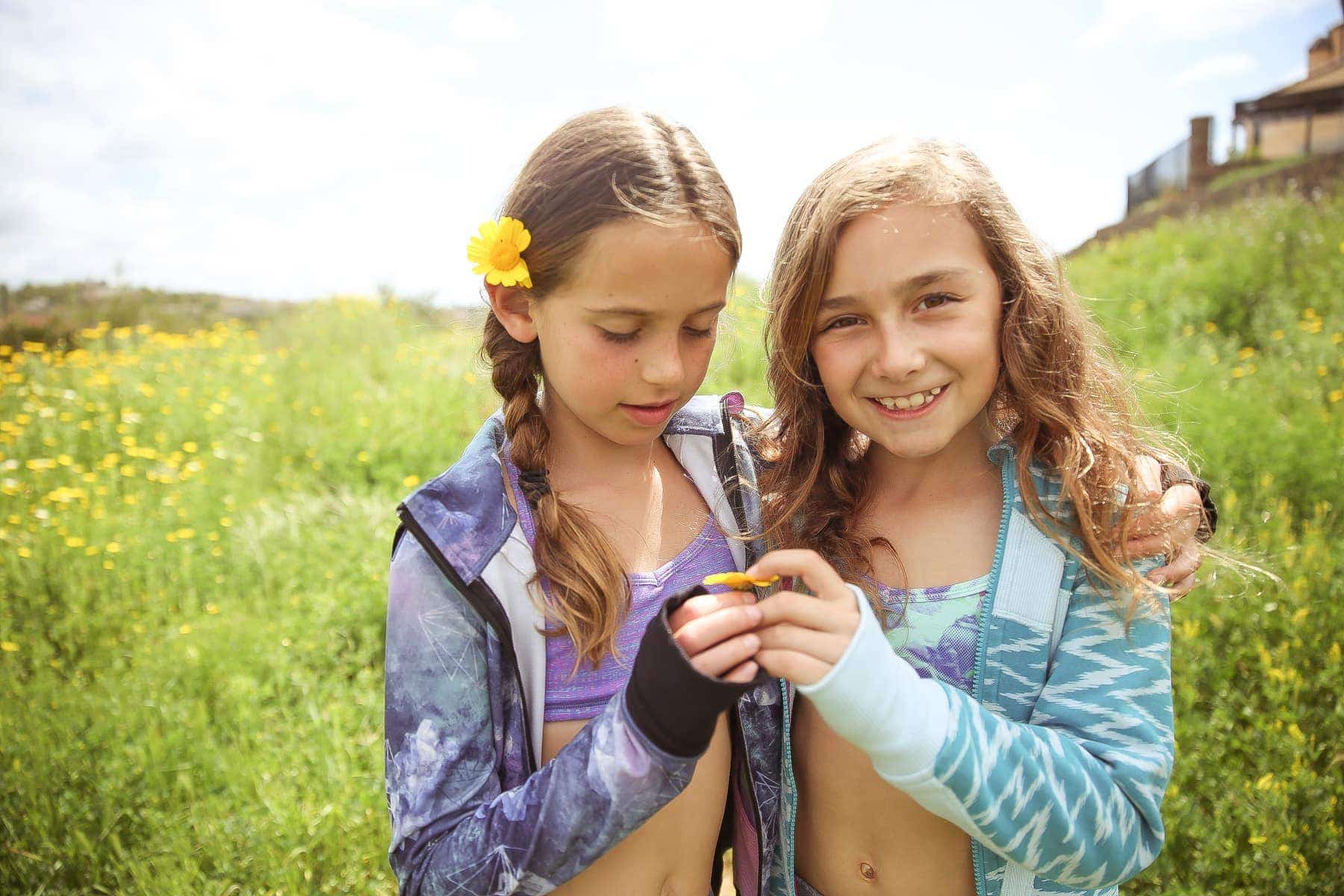 This Post Is Sponsored!  Thank You For Sponsoring CityGirlGoneMom!
Some Things Are Better With Friends
Shopping for your first bra can be as awkward as it is exciting.  As a blossoming pre-teen, these milestones can be less intimidating and a lot more fun with friends by your side. At Ivivva, who designs with the active girl in mind, an experience has been crafted around pairing girls with their perfect first bra.
With girls developing at their own rates, how do you know when's the right time to explain the multi use and necessity of sports bras? As a mom, it's good to have a pulse on what's happening in the world of our daughters and their friends, so we're prepared to respond and react. Little girls can be sensitive to growth and development, so we've got to be able to pick up on subtle cues. When I noticed that several of Dylan's friends had already started to develop, even though she's wasn't at that point yet herself, it gave me a reason to start 'the bra conversation'. Ivivva, served as the perfect setting to explain why girls wear sports bras.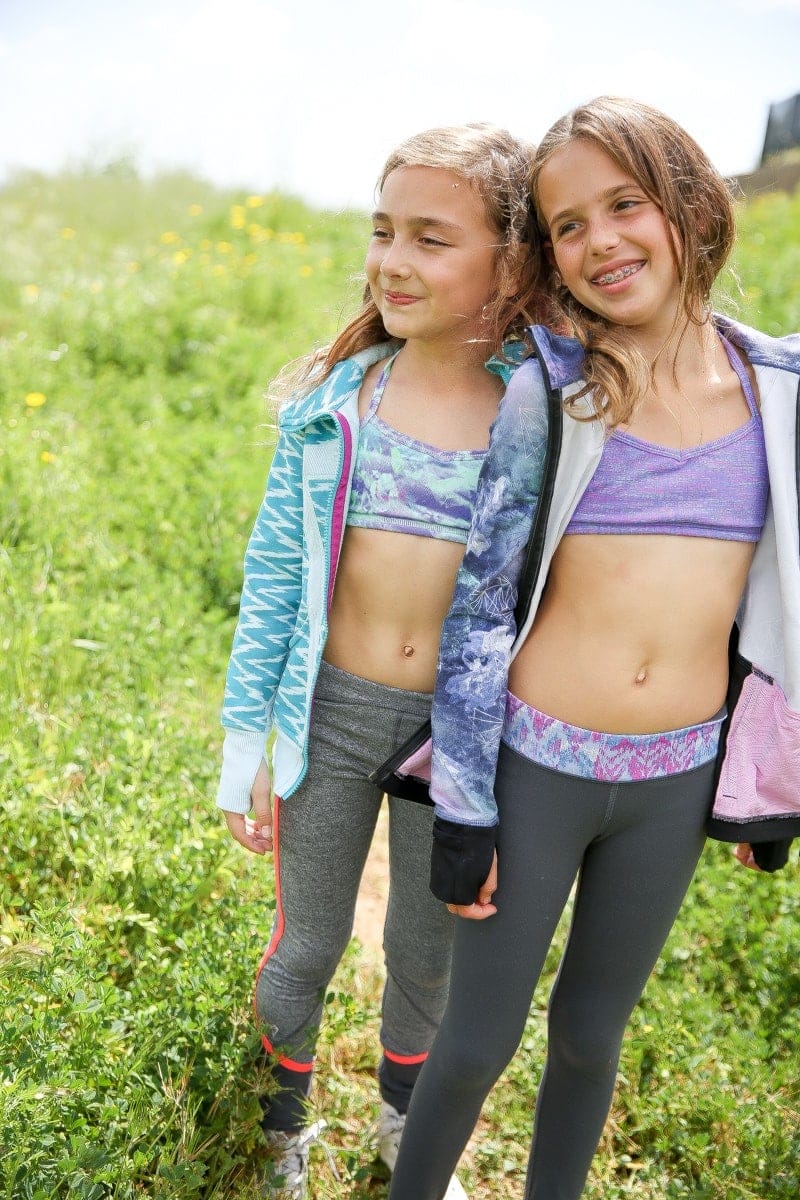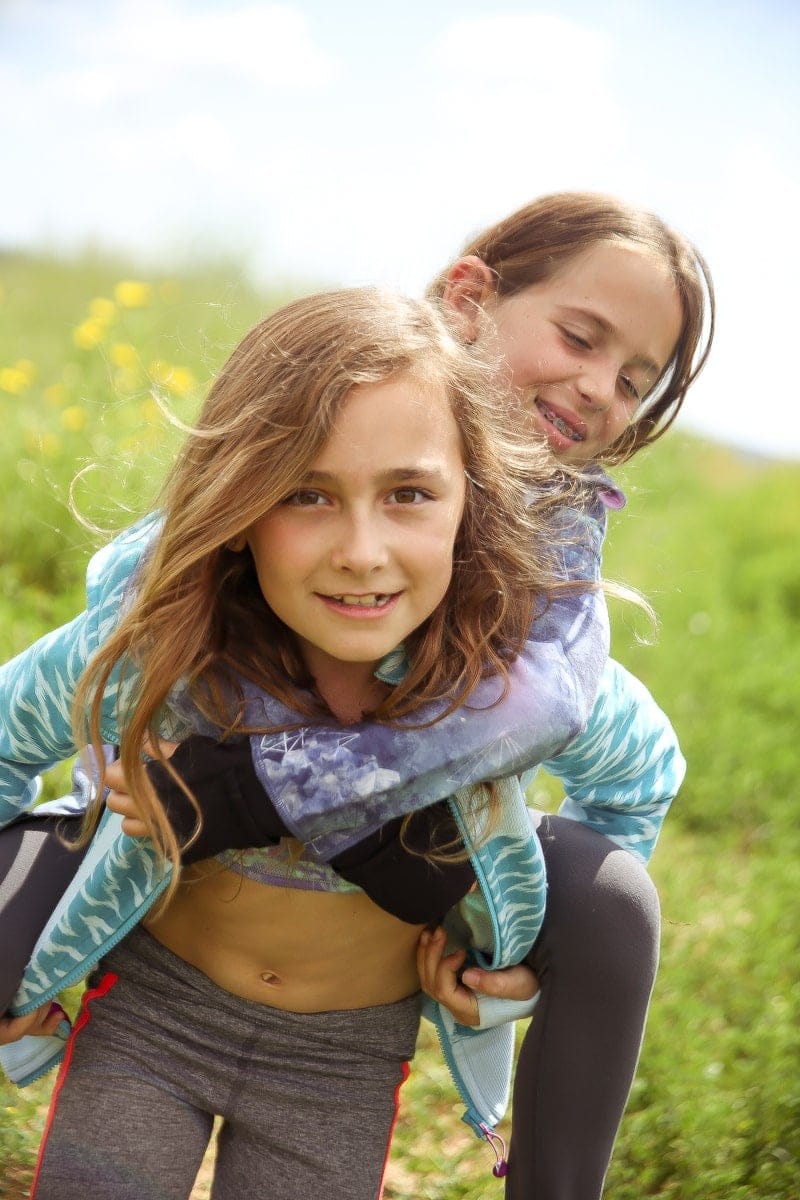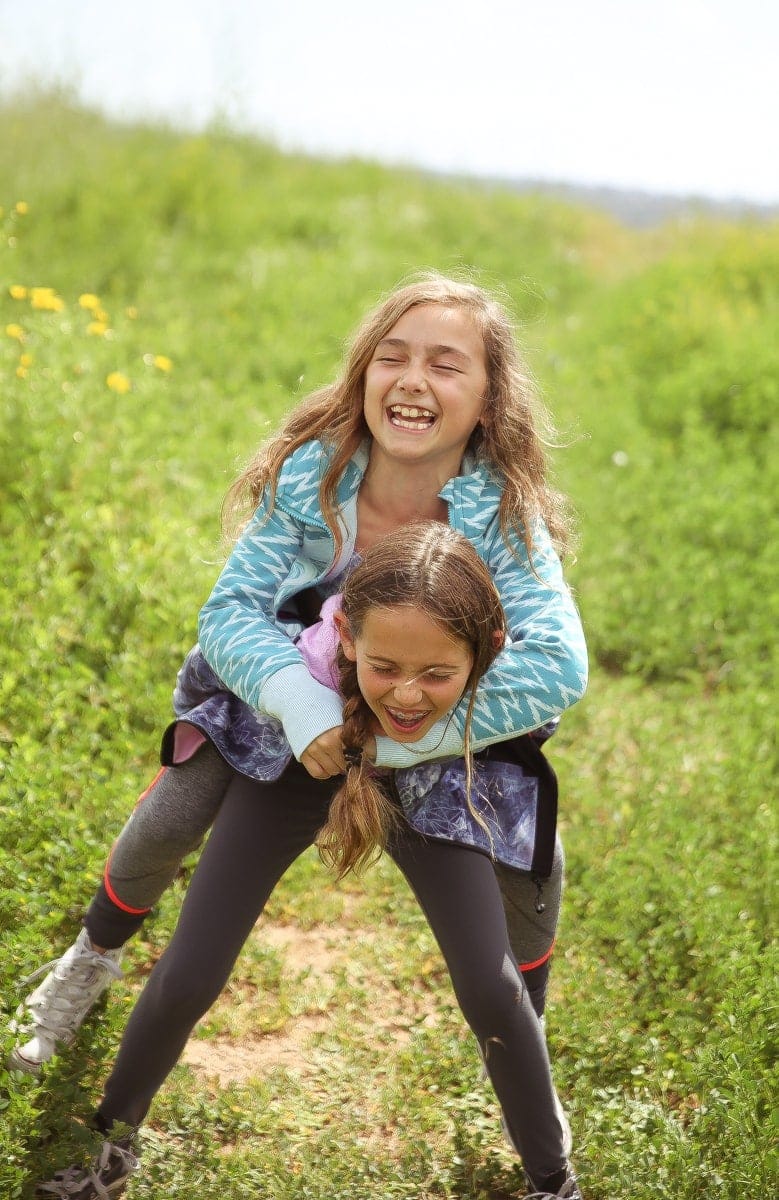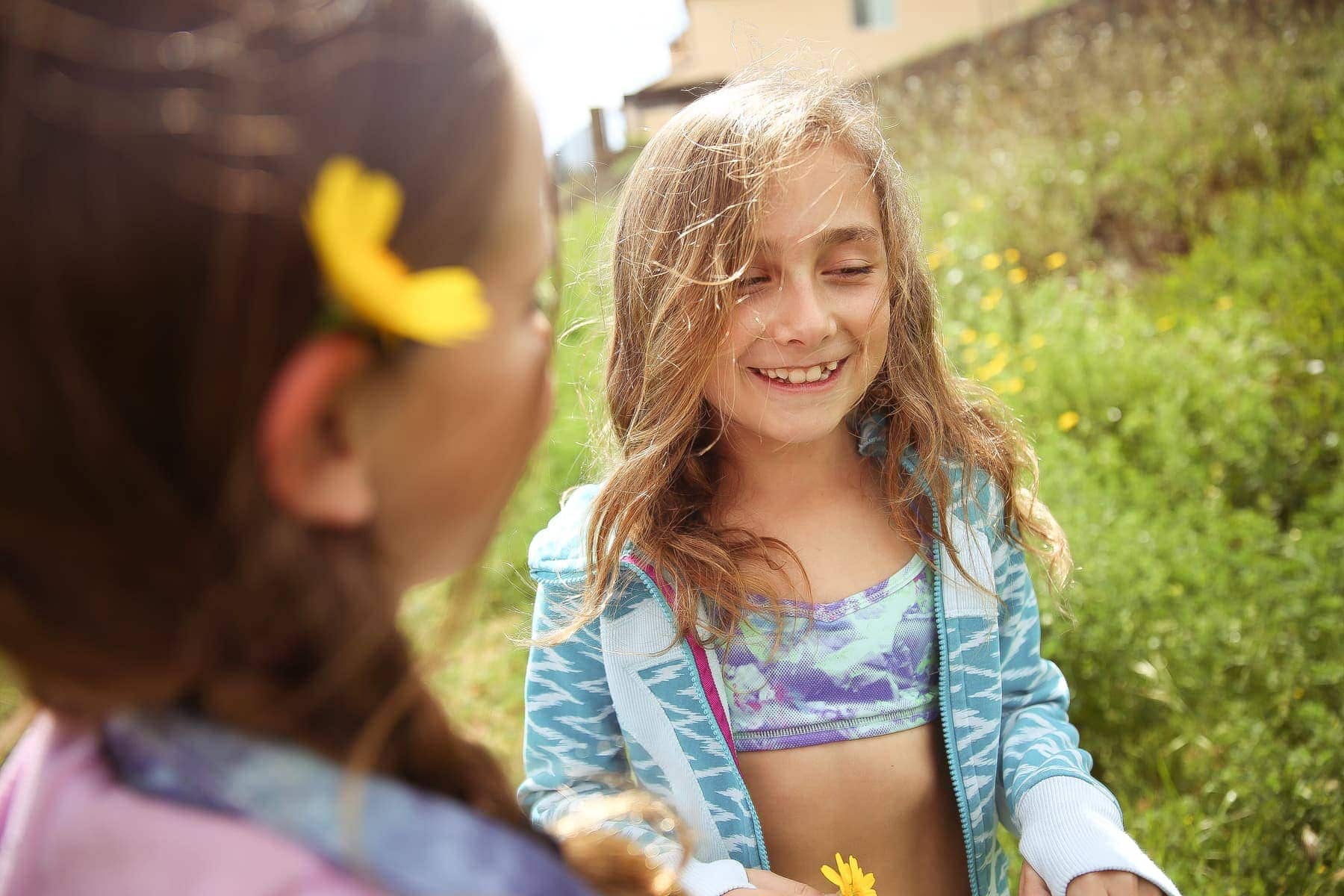 The 3 C's With Shopping For Her First Bra
I have to admit that at first, I was a little nervous about having the bra talk with Dylan with her friend by her side. Turns out, it was a lot easier than I had anticipated, and the girls were all giggles and smiles when I explained that there's a time when little girls start turning into big girls, and part of that process is developing breasts like mommy. For girls this age (9 – 11 years), I truly believe this transition can be a lot more fun and flattering if you approach it with a sports bra as opposed to a training bra. Here's where the Three C's come in:
Comfort: With any kind of bra, comfort should always come first! The sports bra is designed with comfort in mind, stretching and moving with us as we take on the day's activities, whether it be playing outside, yoga, or simply going from here to there. As I transitioned into my preteens, the sports bra was always my first choice, however, we didn't have the innovative fabrics and designs like those of Ivivva – which are also softer and more comfortable than any bra I can remember as a child!

Confidence: With each milestone comes a little more confidence, and watching Dylan with her best friend during this fun phase in life was truly special. They were beaming with pride once they had found the perfect sports bras. Right there, in that moment, it was like they had grown up in their own right. They held their heads a little higher, and there's no replacing that ear-to-ear grin that just radiated confidence from afar.
Cute: Though our little ones may not need a sports bra for the ultimate support just yet, they can take advantage of the fun and on-trend layering it provides. Many of today's adorable tanks are low cut, both on the front and sides. Wearing colorful sports bras underneath solves that problem while creating a casual cute layering look. Ivivva has the best selection of girls' sports bras for all of their activities, whether hiking, dancing or having pillow fights. Ivivva is right there.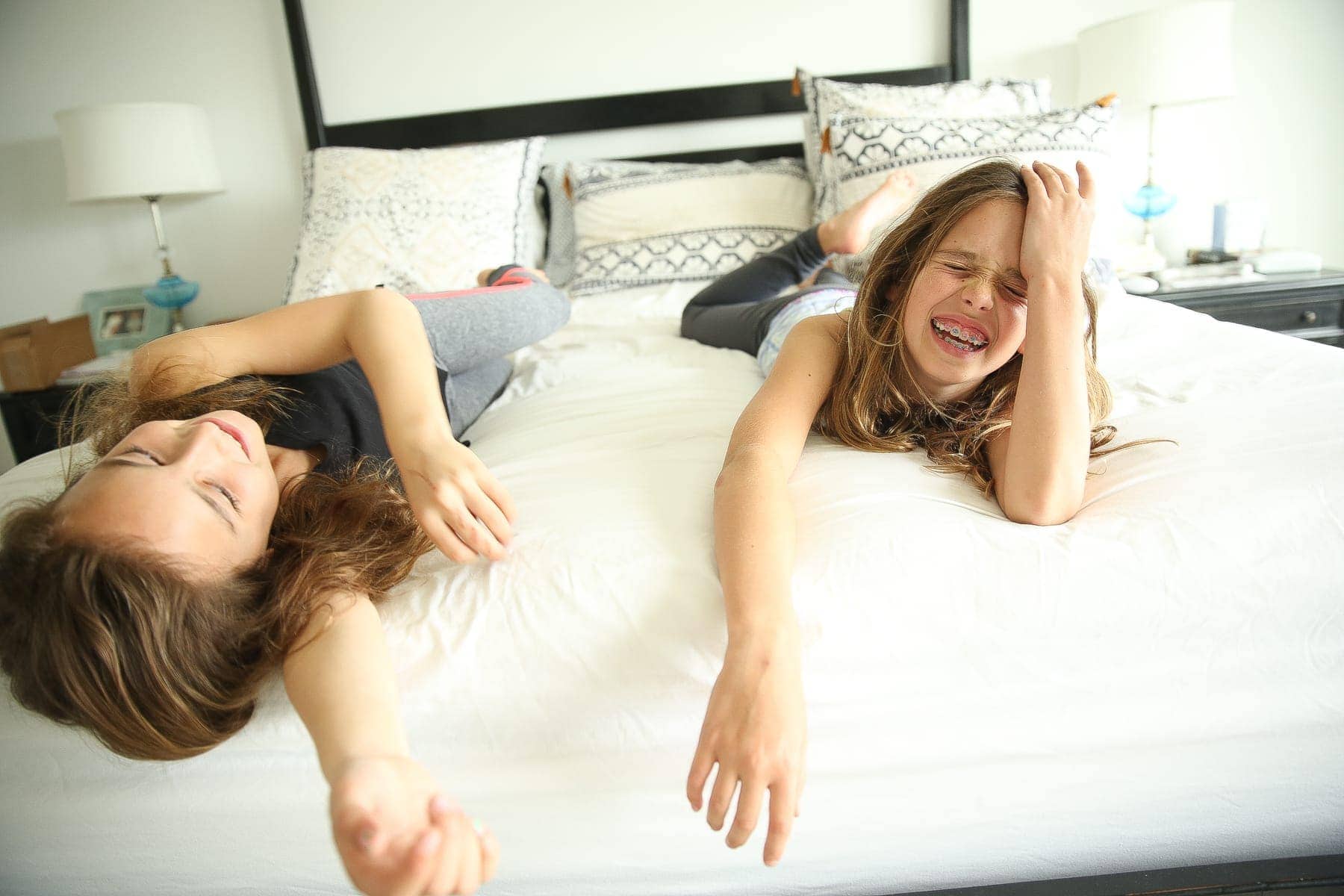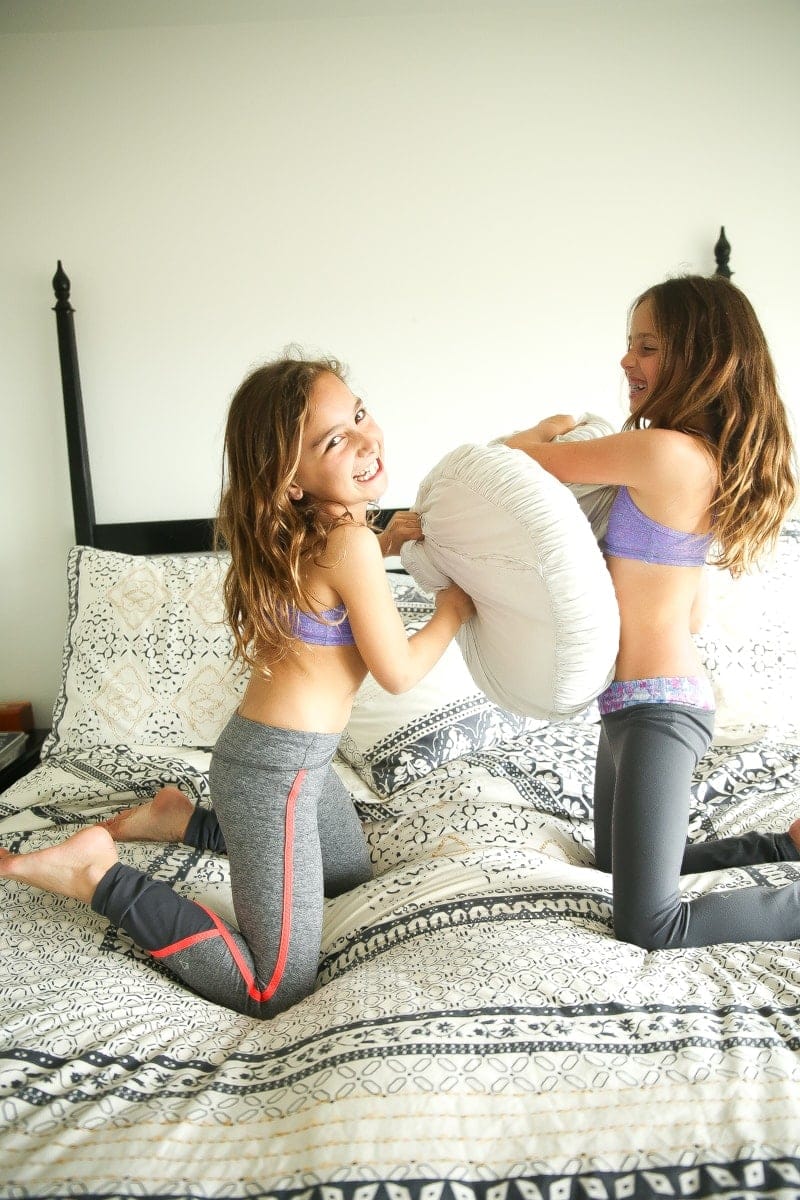 The Ivivva Bra Experience
The bra shopping experience felt just as important to Ivivva as it did for us moms. It's designed simply for having fun and feeling special. Upon entrance, there was a sign welcoming both of the girls by name, and some yummy treats to snack on between changes. Staff was on hand to give an age-appropriate education for both Mom and the girls. The girls learned how it should fit and feel, making sure sizing was on point. Our dynamic duo loved trying them on together and made anything that could possibly feel awkward, go right out the door.
---
It was not until the 1920's until a husband and wife team began changing the way bras were and actually started giving them cup sizes. ~ Useless Daily
---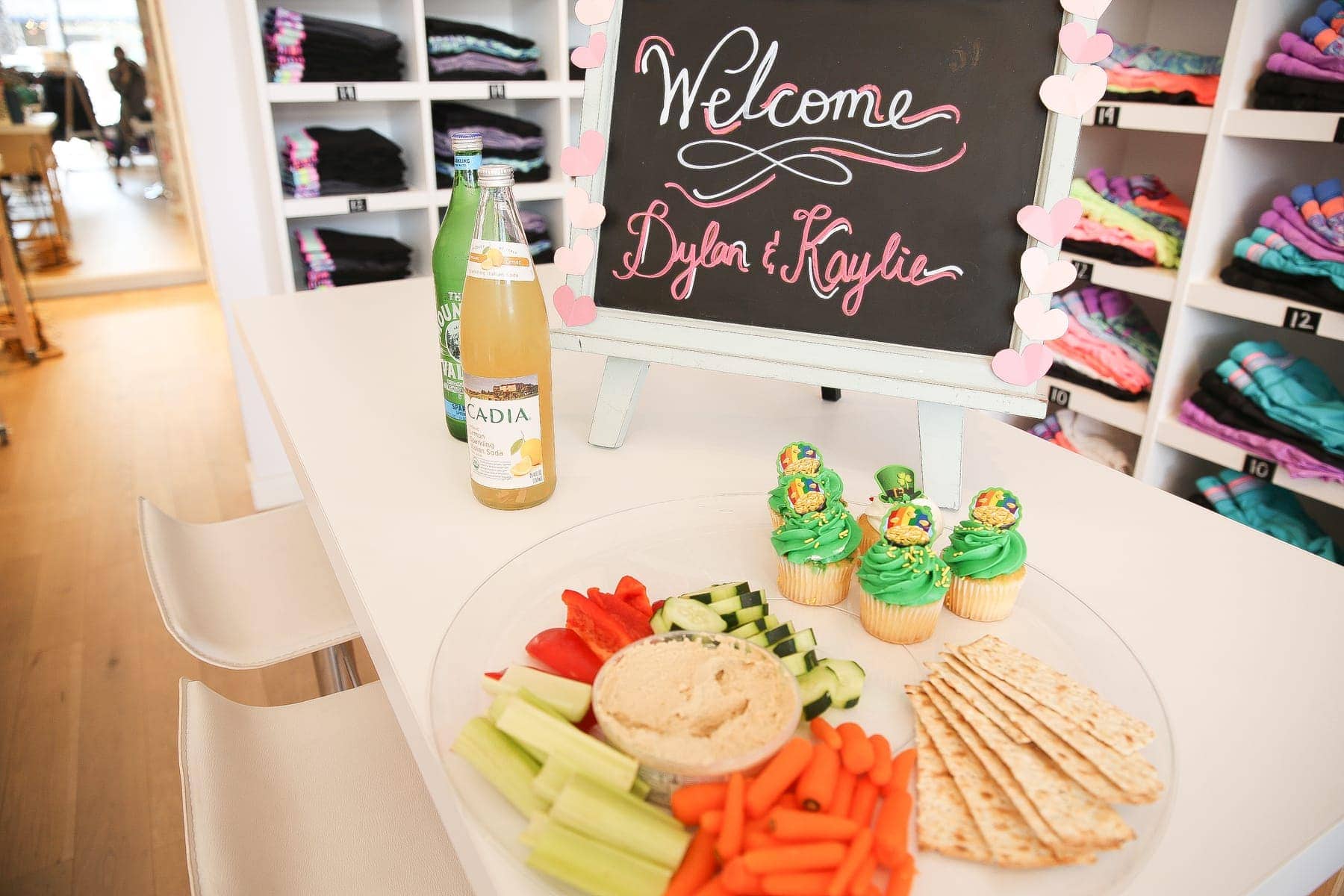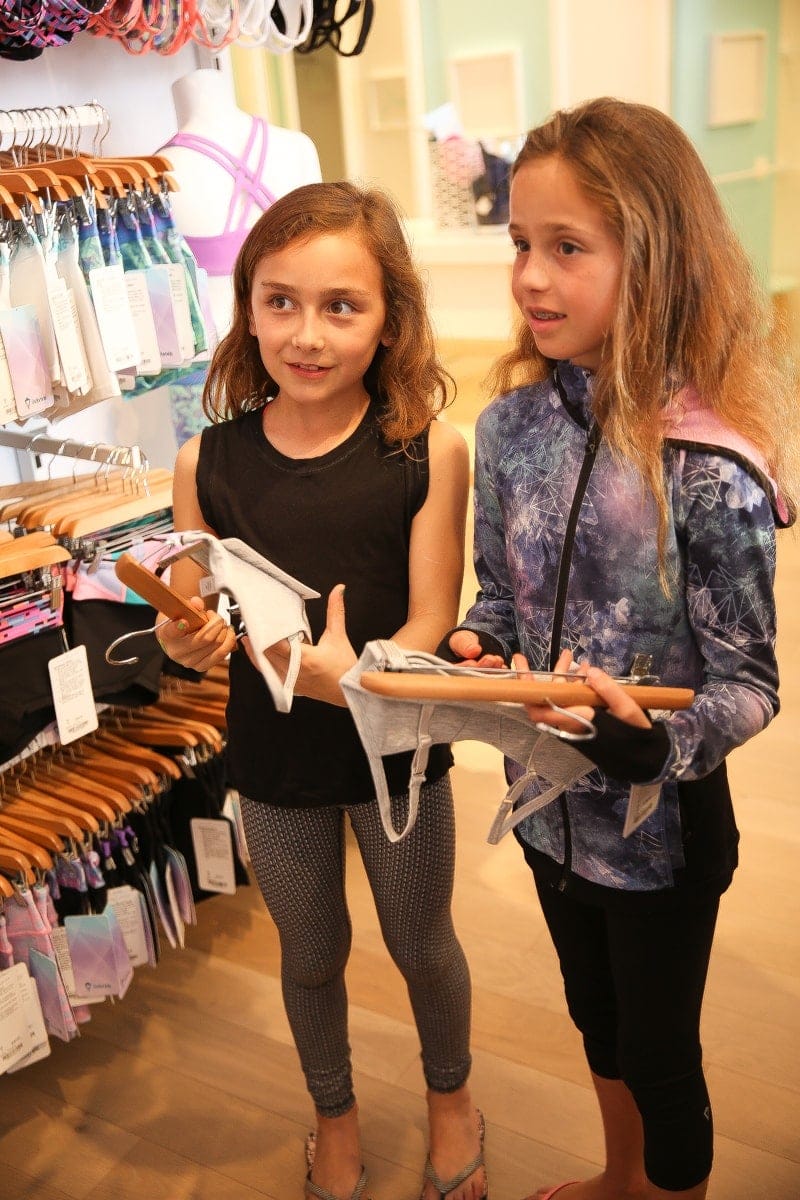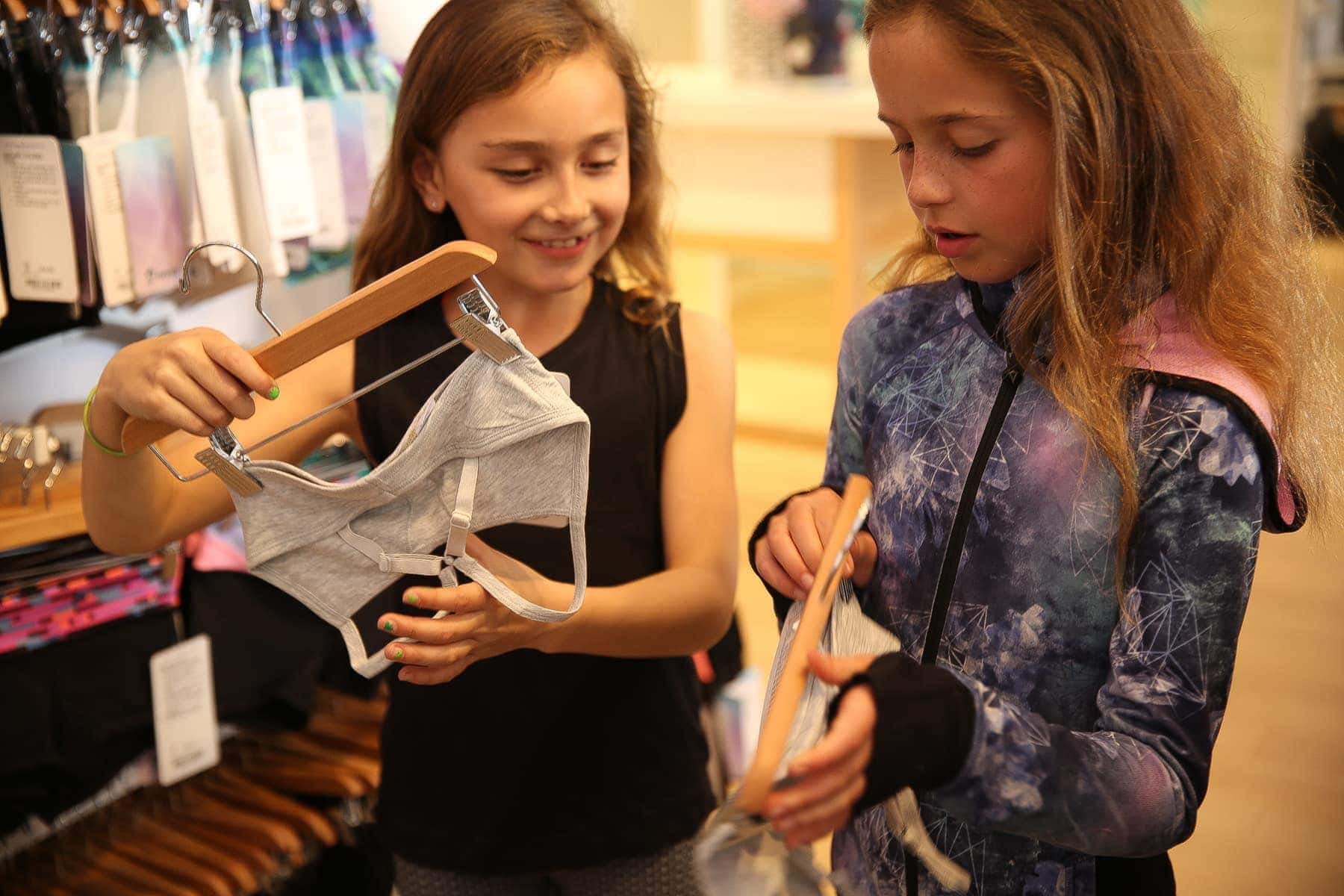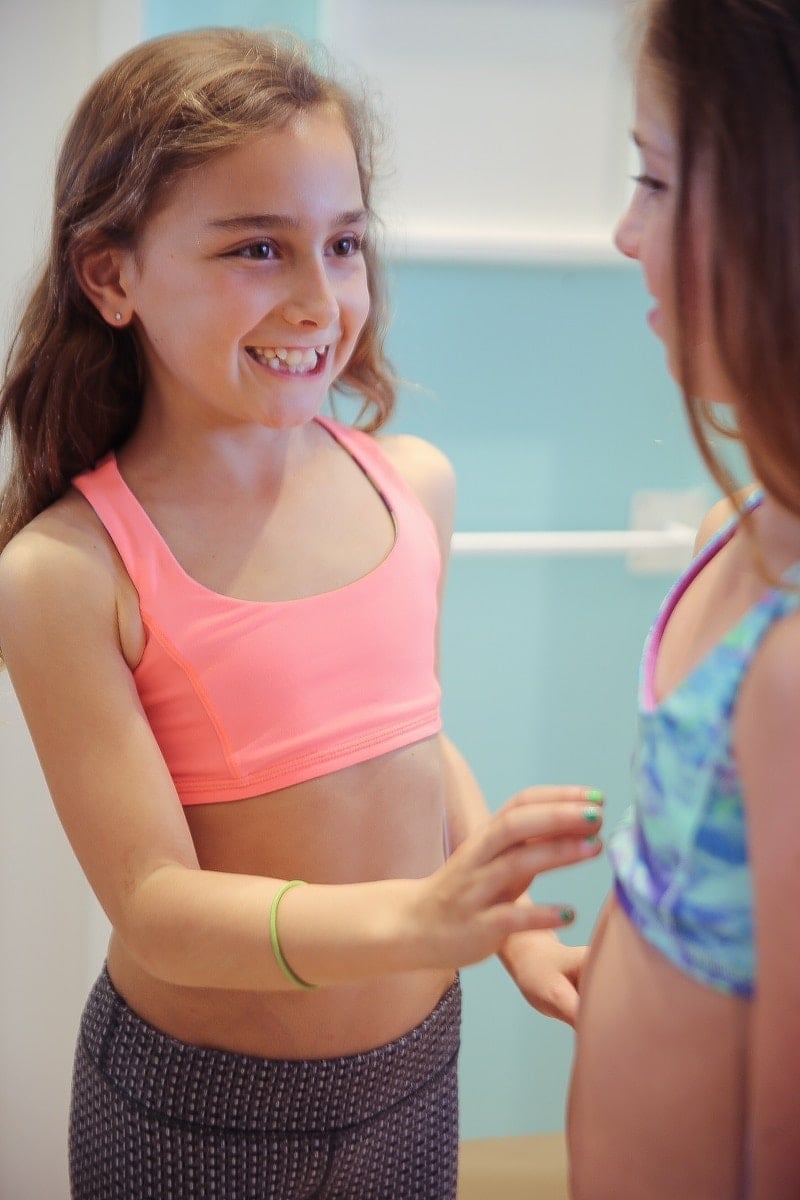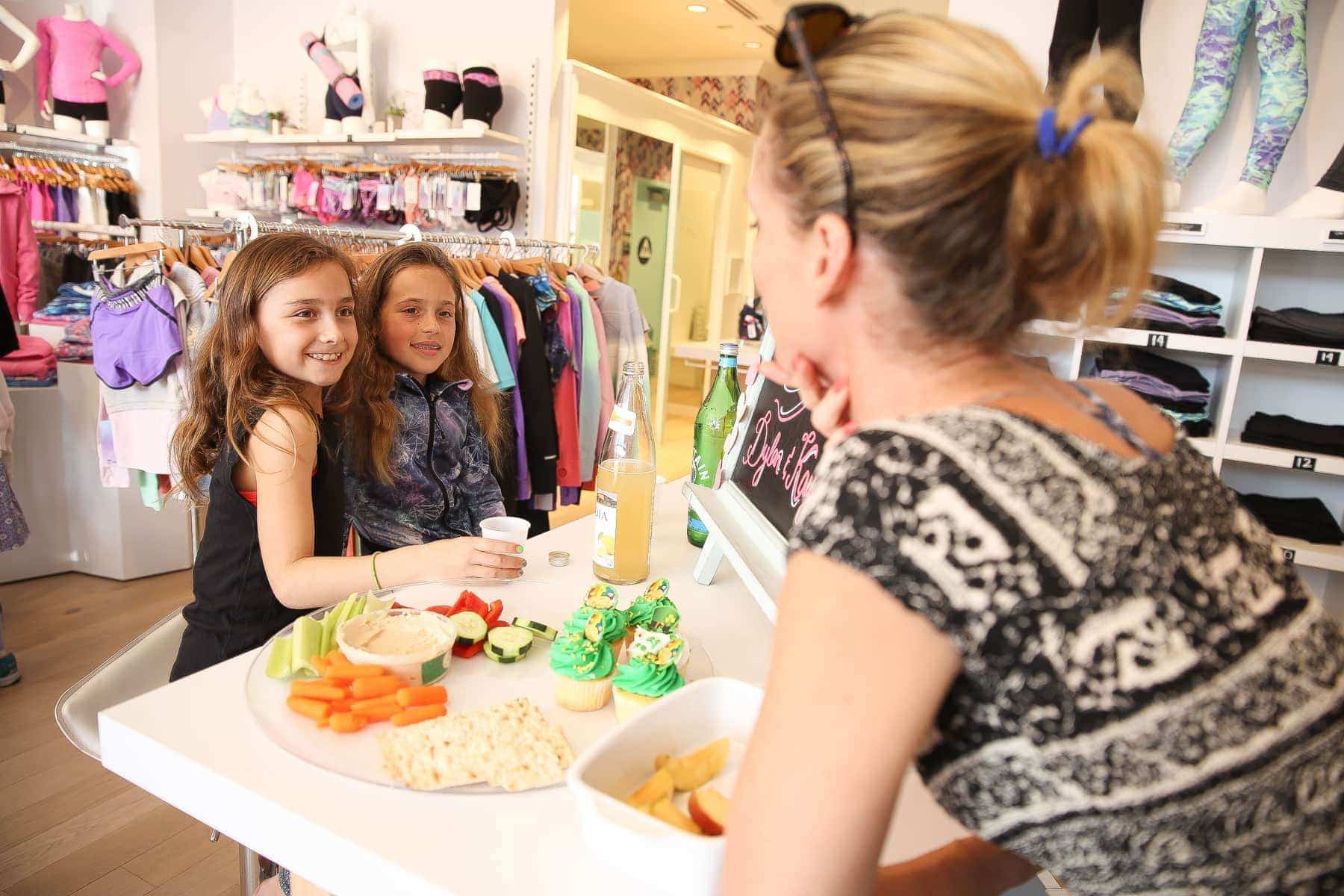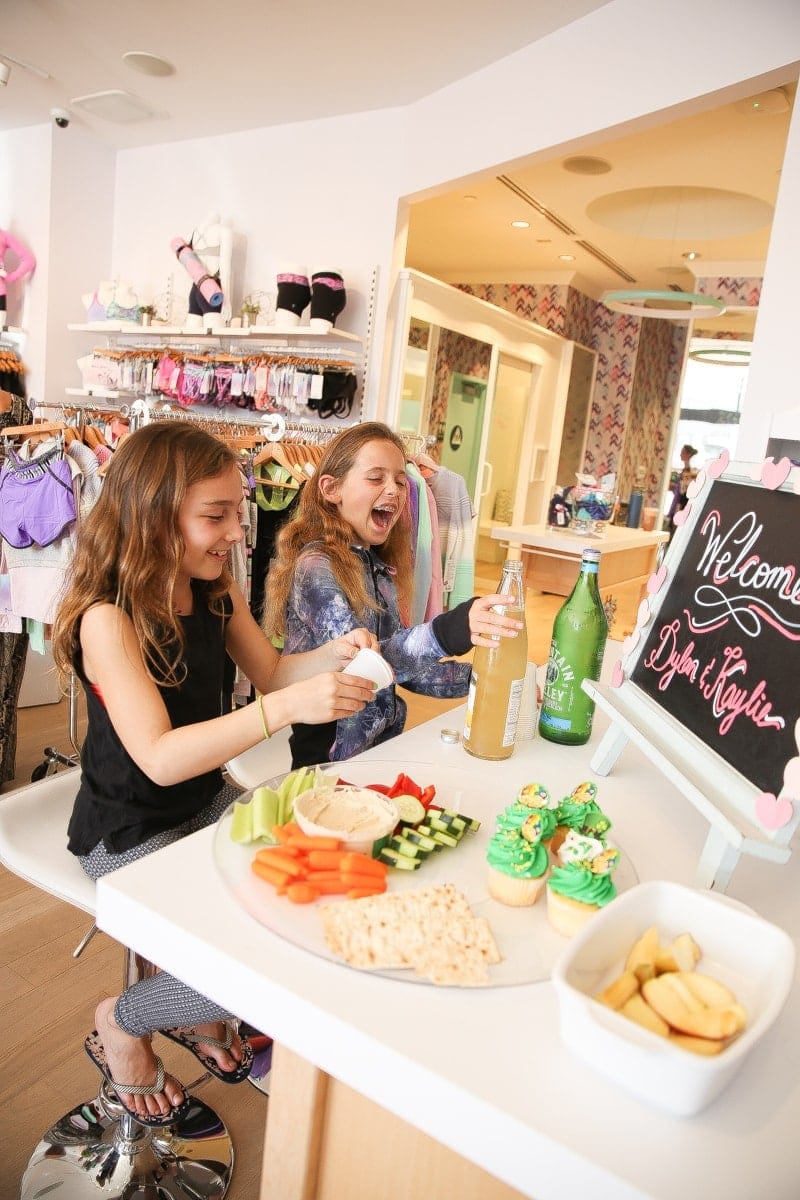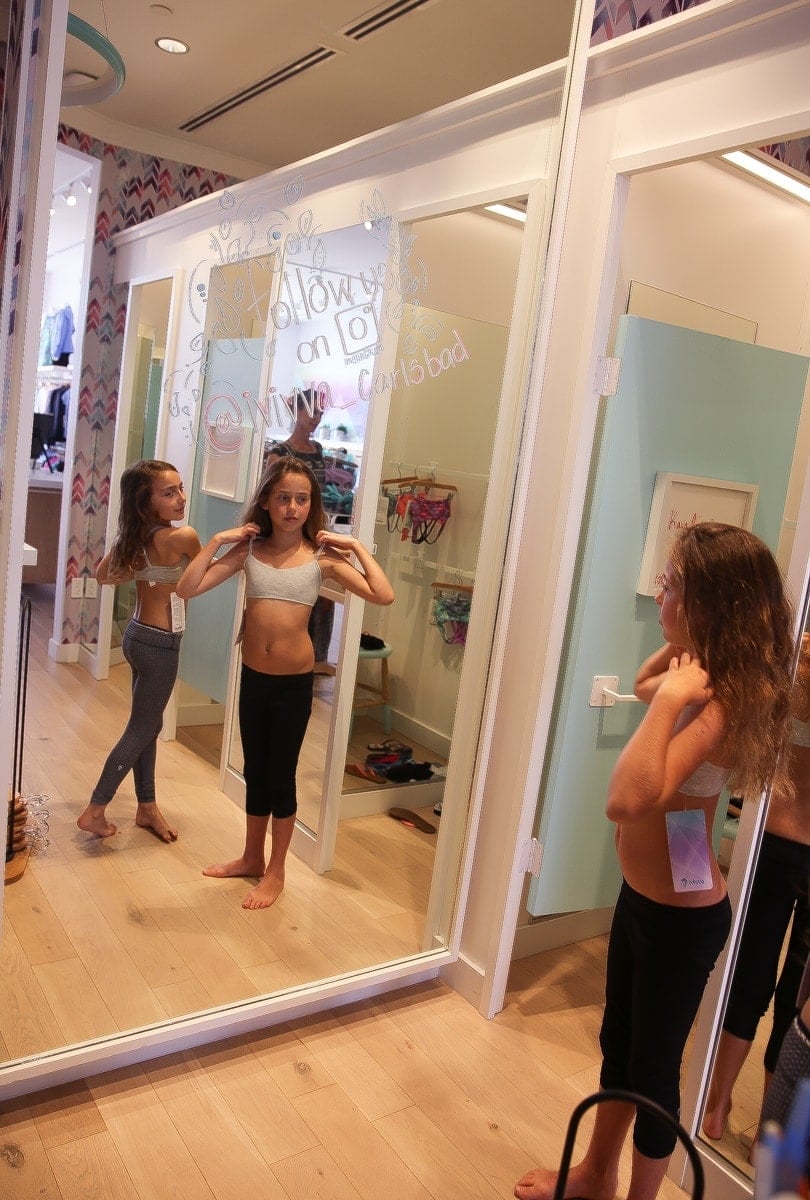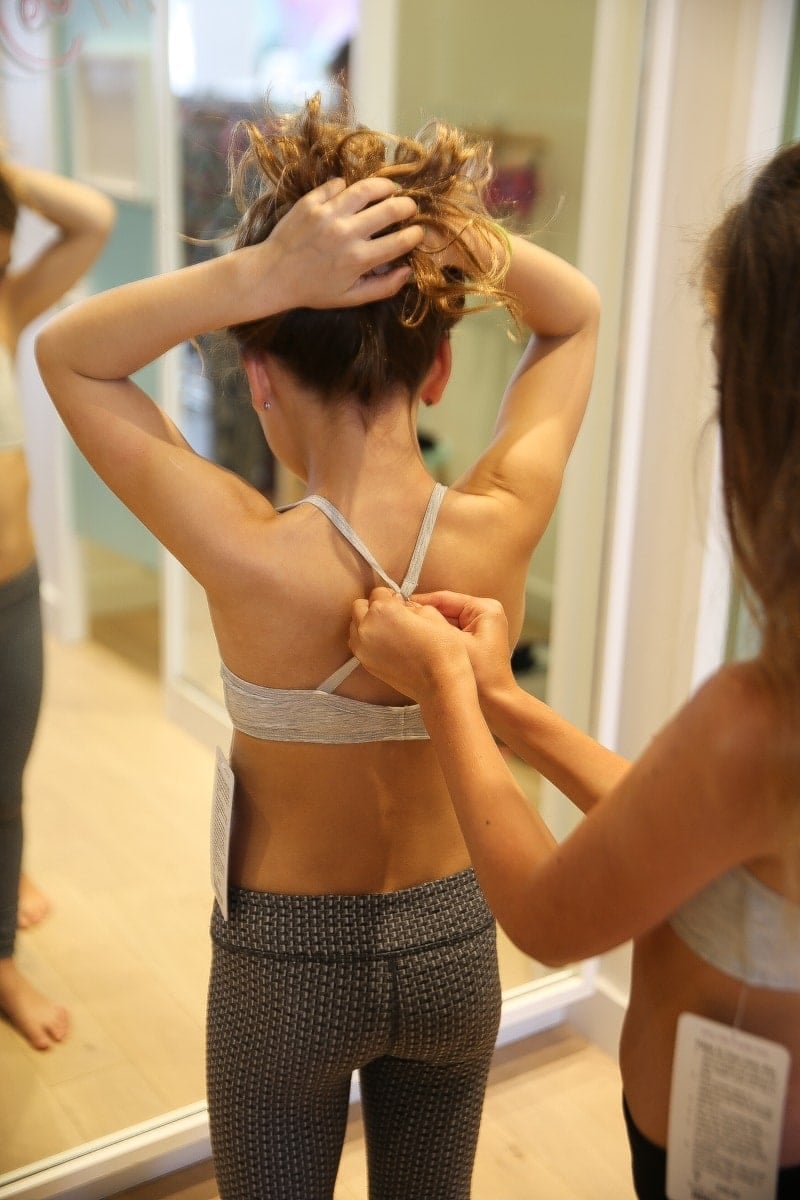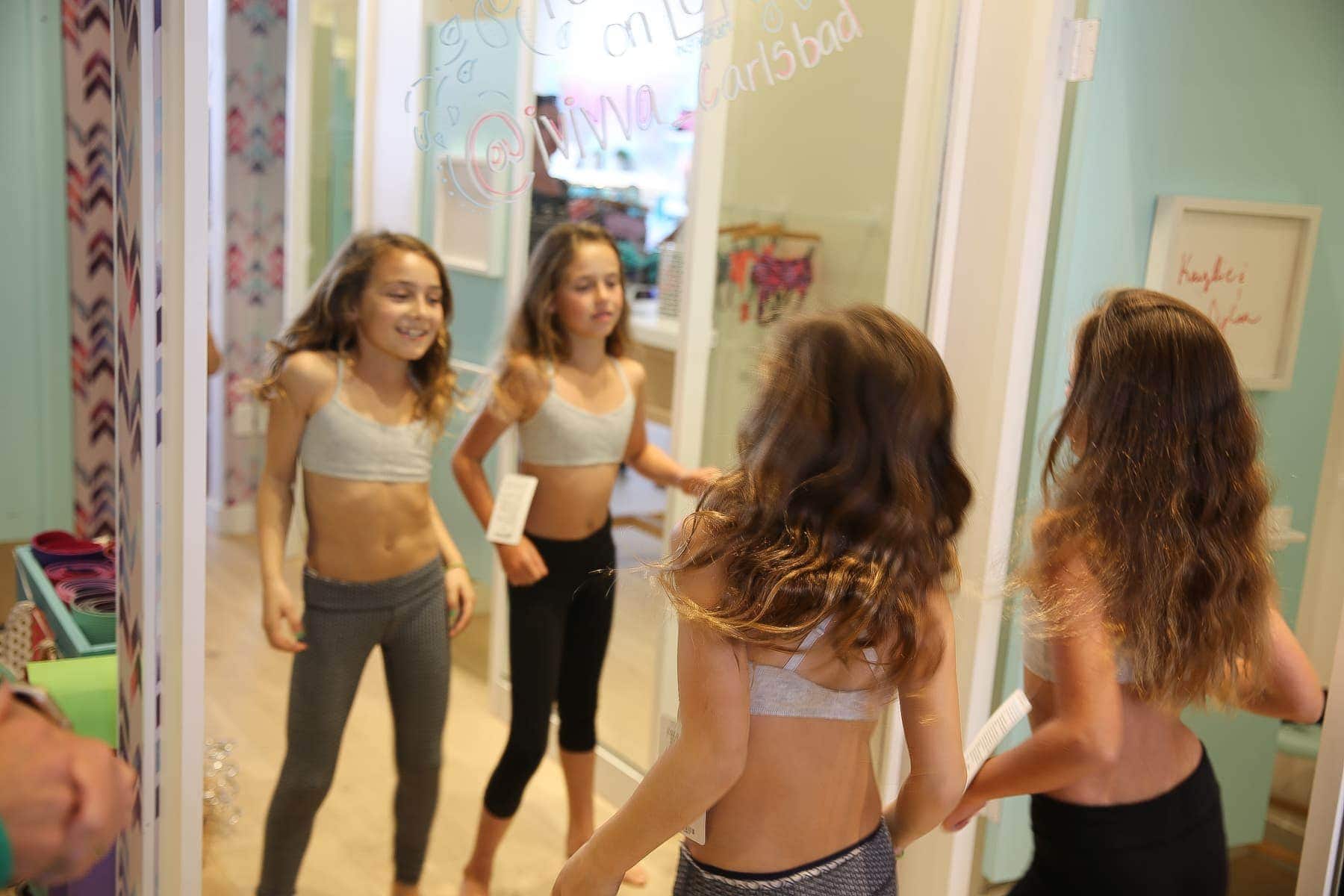 Core Styles
We looked at three styles, and in the end, opted to leave with two. For my daughter and her friend who are in dancing, they loved the reversible Vitality Bra, which moves with them as they stretch and dance. This bra is cottony soft and has a few trending prints from which to choose,
The other style the girls chose was the Drill Soft Bra. This one is great for layering under a tank, or can be worn as a top in their dance class. The fabric is sweat-wicking and features a four-way stretch, helping with the girls' constant stream of motion.

---
The term "brassiere" was first used in Vogue in 1907. This means "support" which is what a bra is used for – to support our breasts. From there, it was shortened to the "bra" as we know it today. ~ Useless Daily
---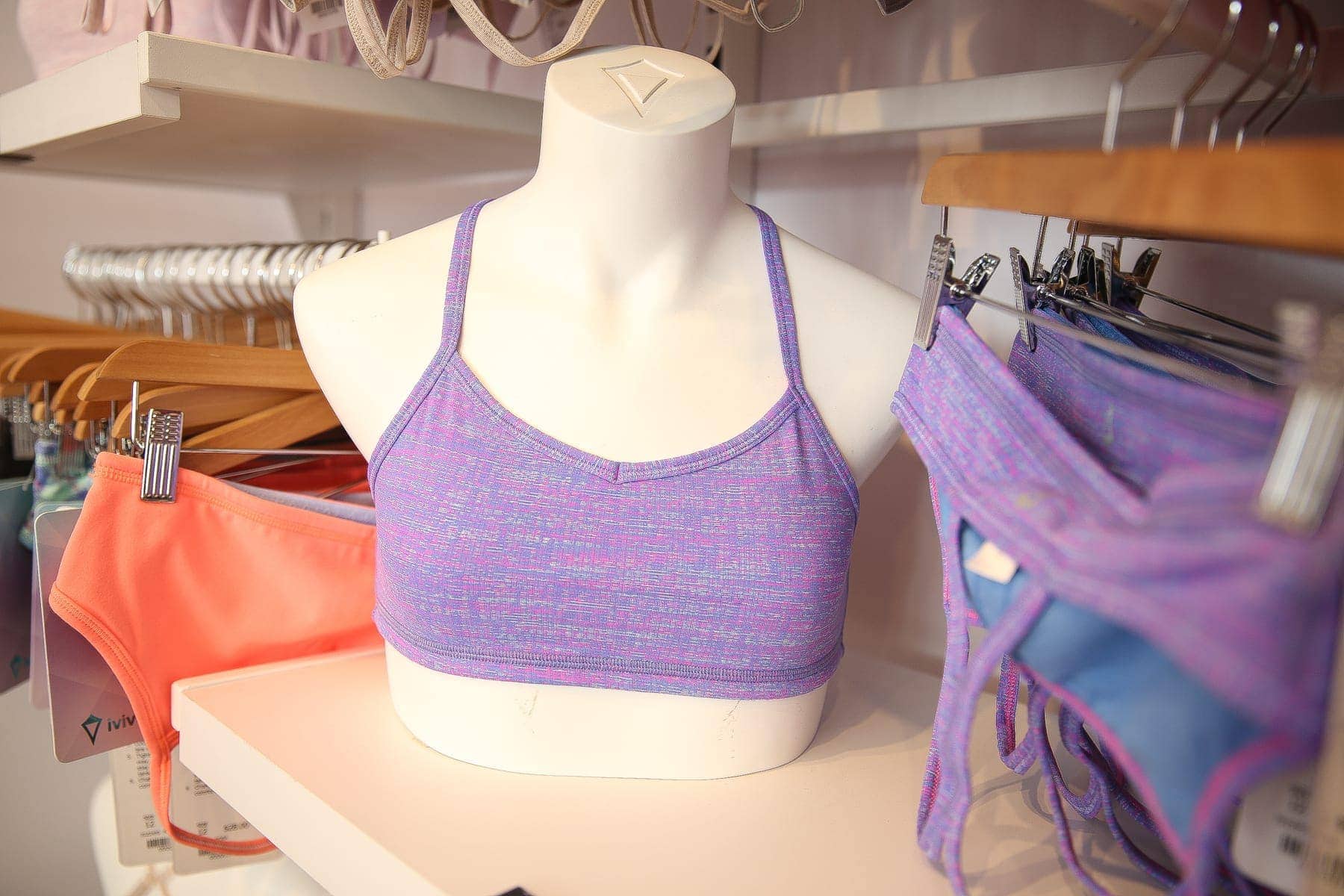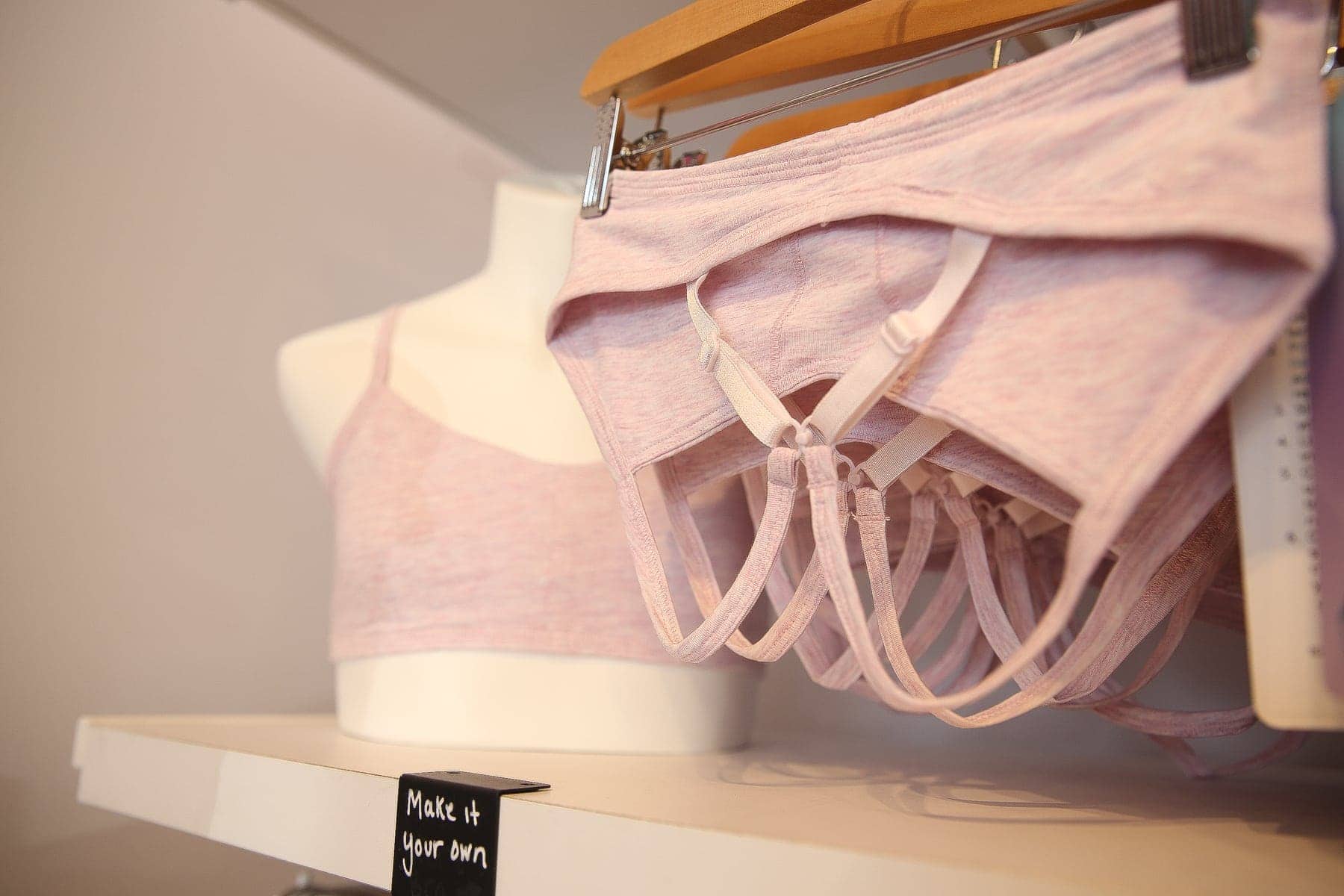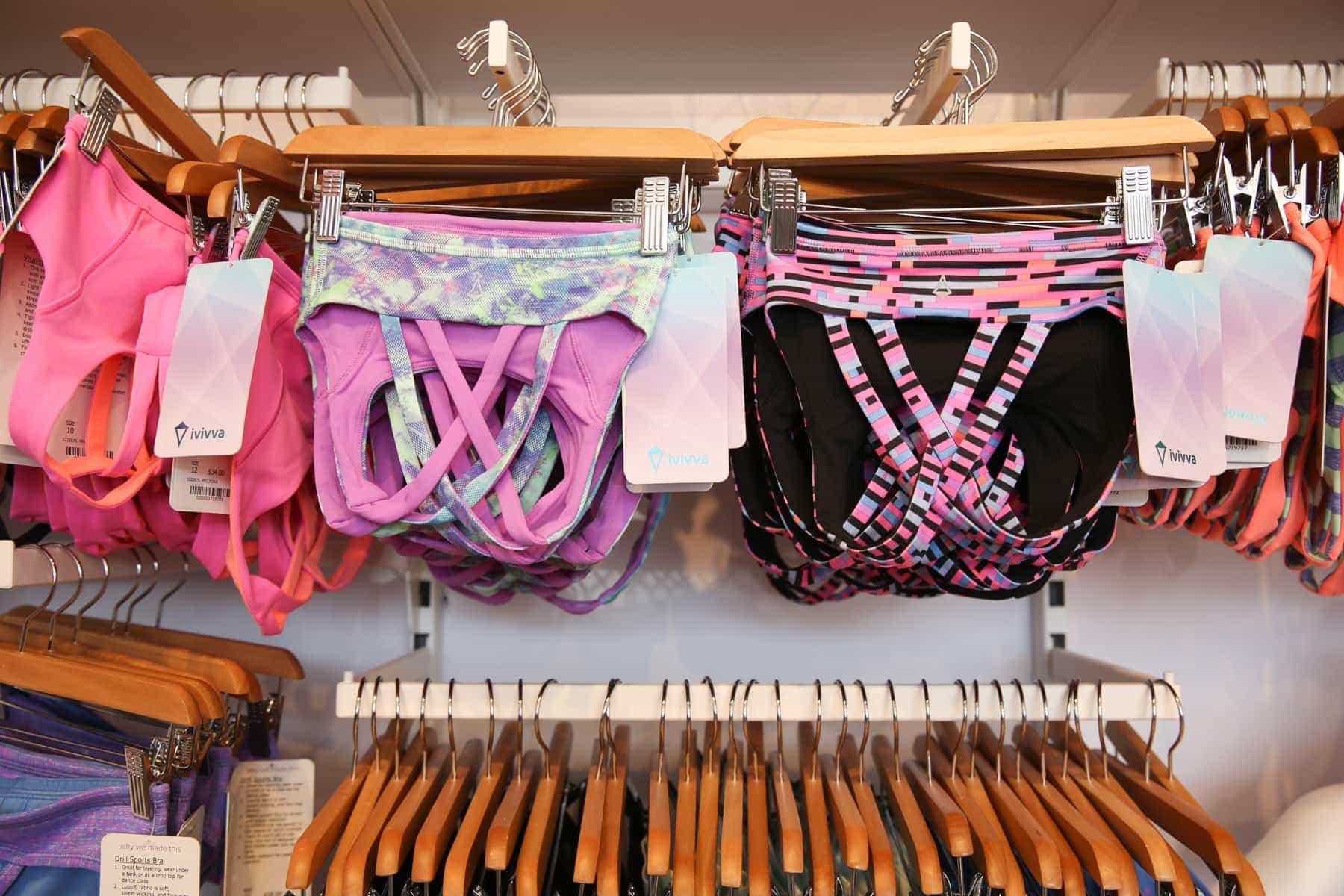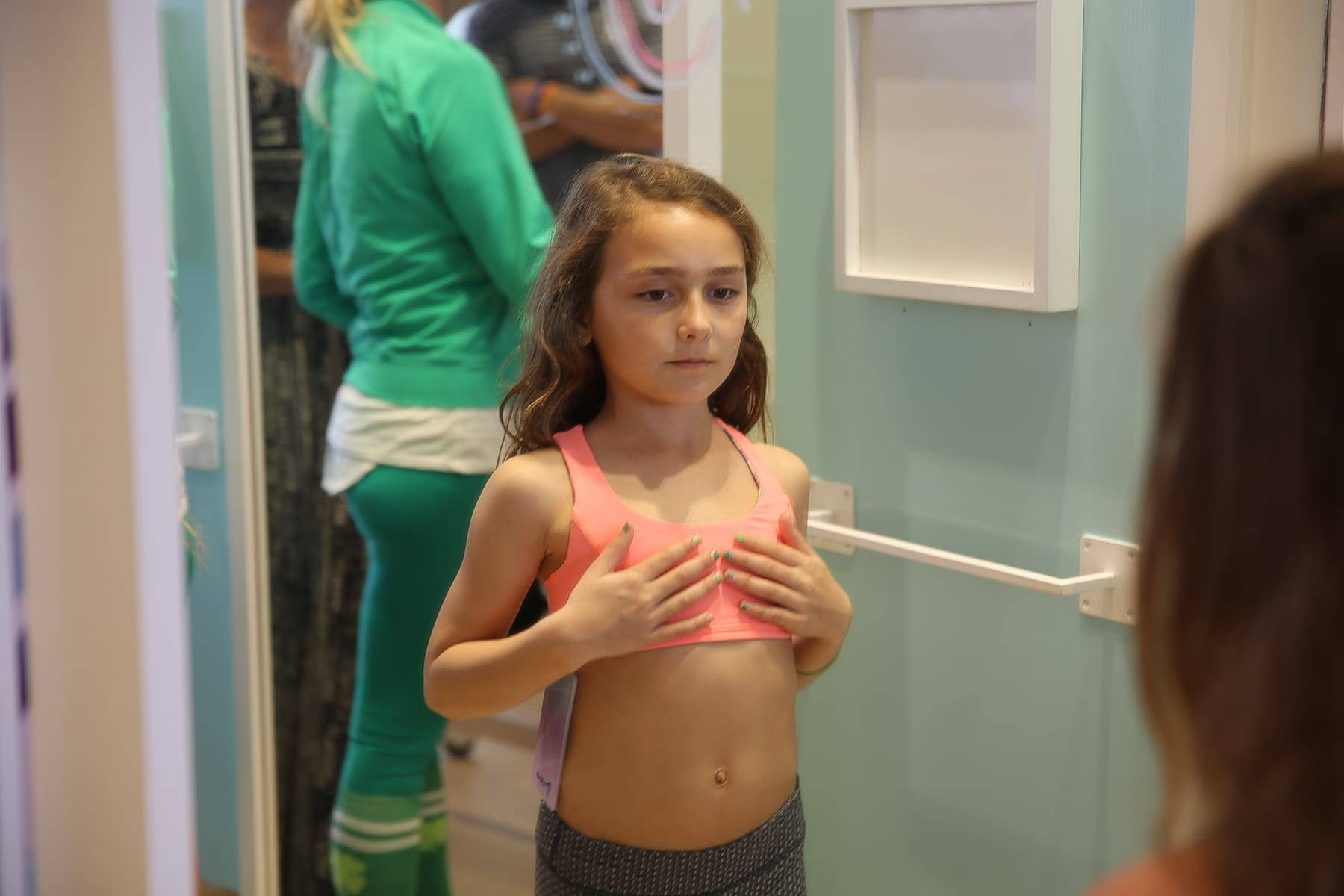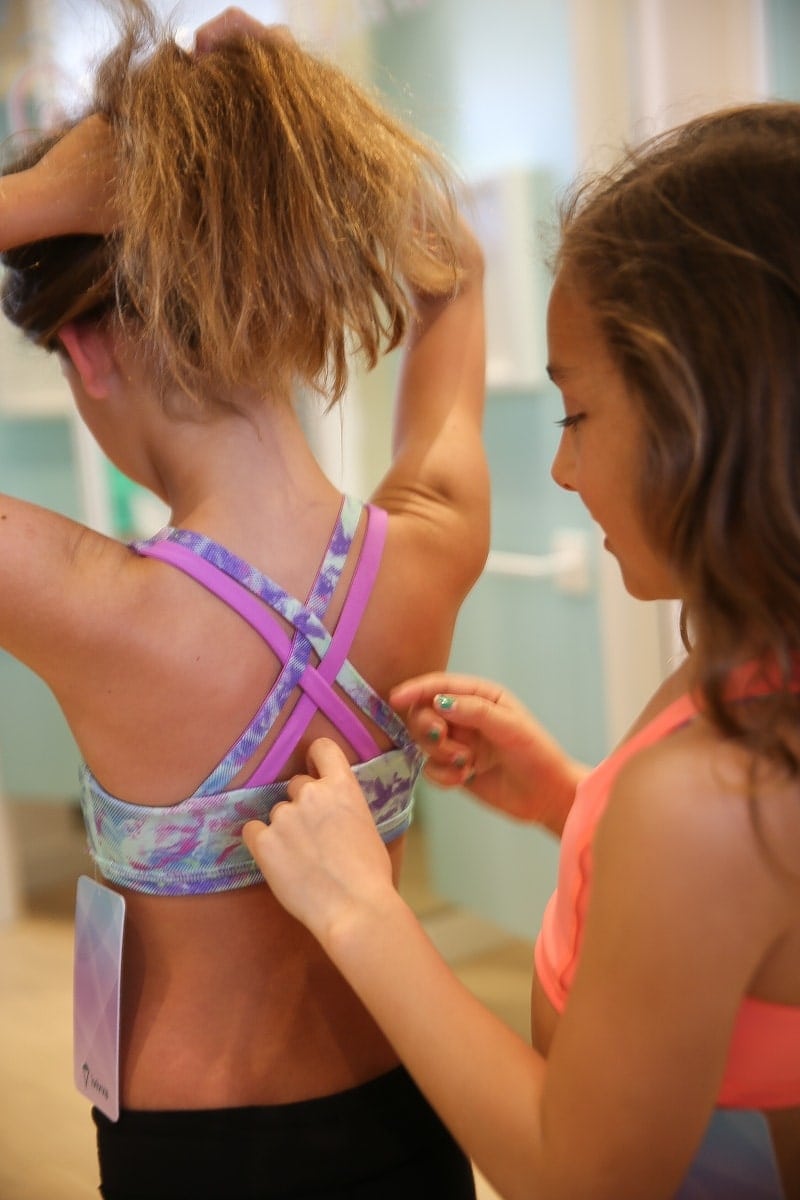 How to know when your girl is ready for her first bra.
If your daughter thinks she is ready, then she is. And as a mom, I always say to trust my belly.   Dylan's friend and cousin are starting to develop, and even though Dylan doesn't 'need' a bra for support, she can use one for layering and for coverage. It's important for them to understand we all develop at different rates. I also feel when she has to change amongst others, it's important to be able to do so having the right coverage, and also confidence that she's also a blossoming young woman like her friends. The new Ivivva bra styles provide exactly what Dylan needs: comfort, confidence and cuteness!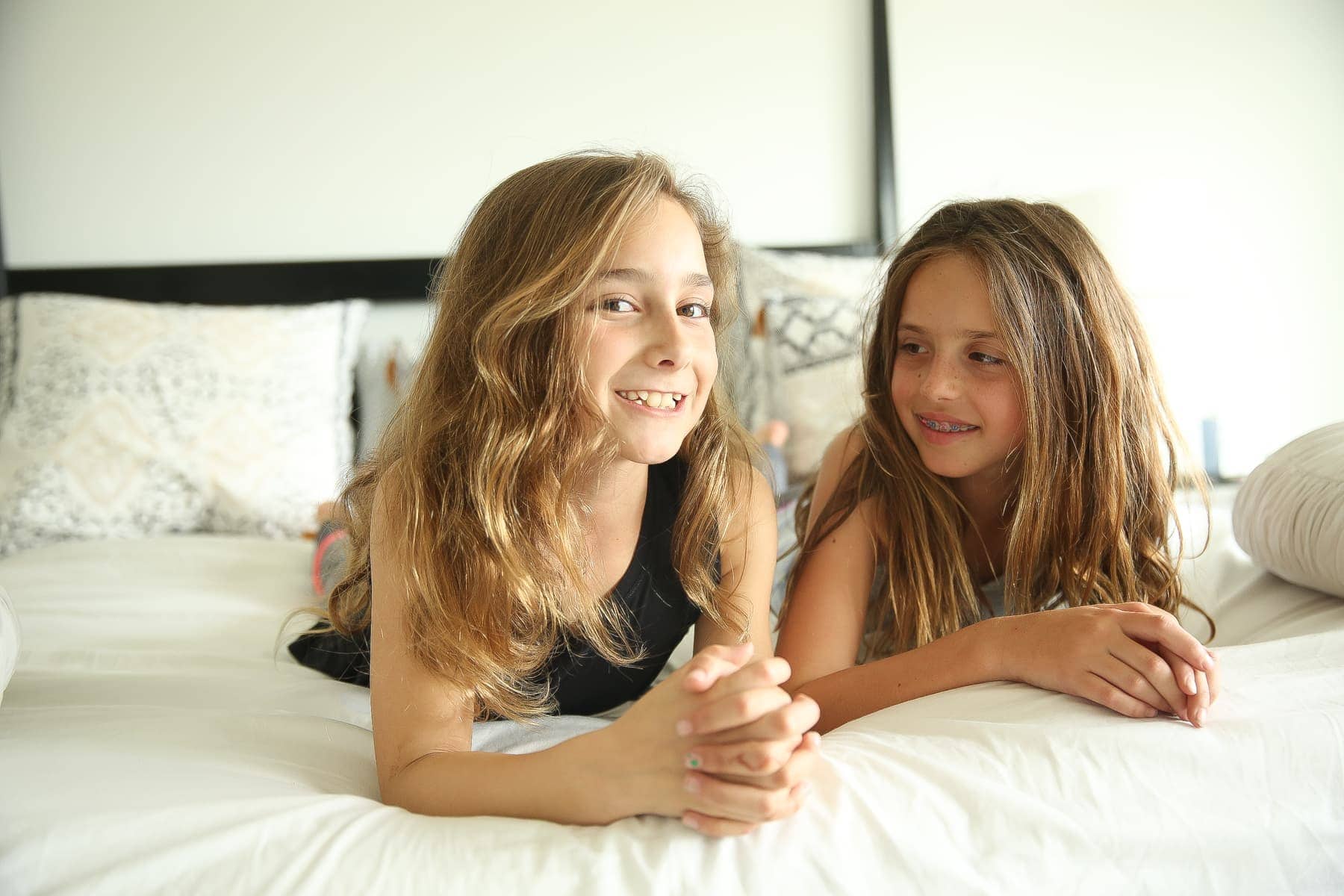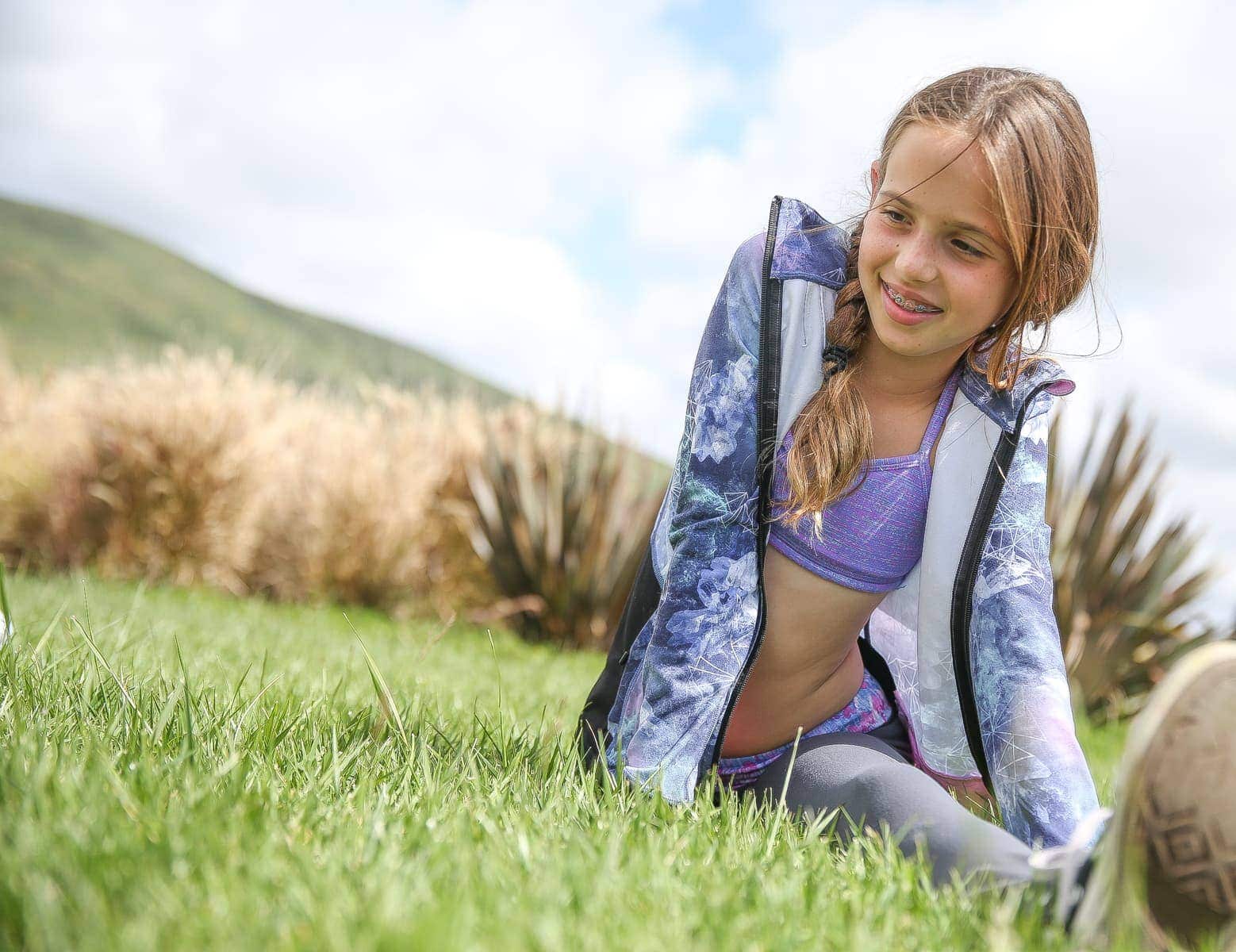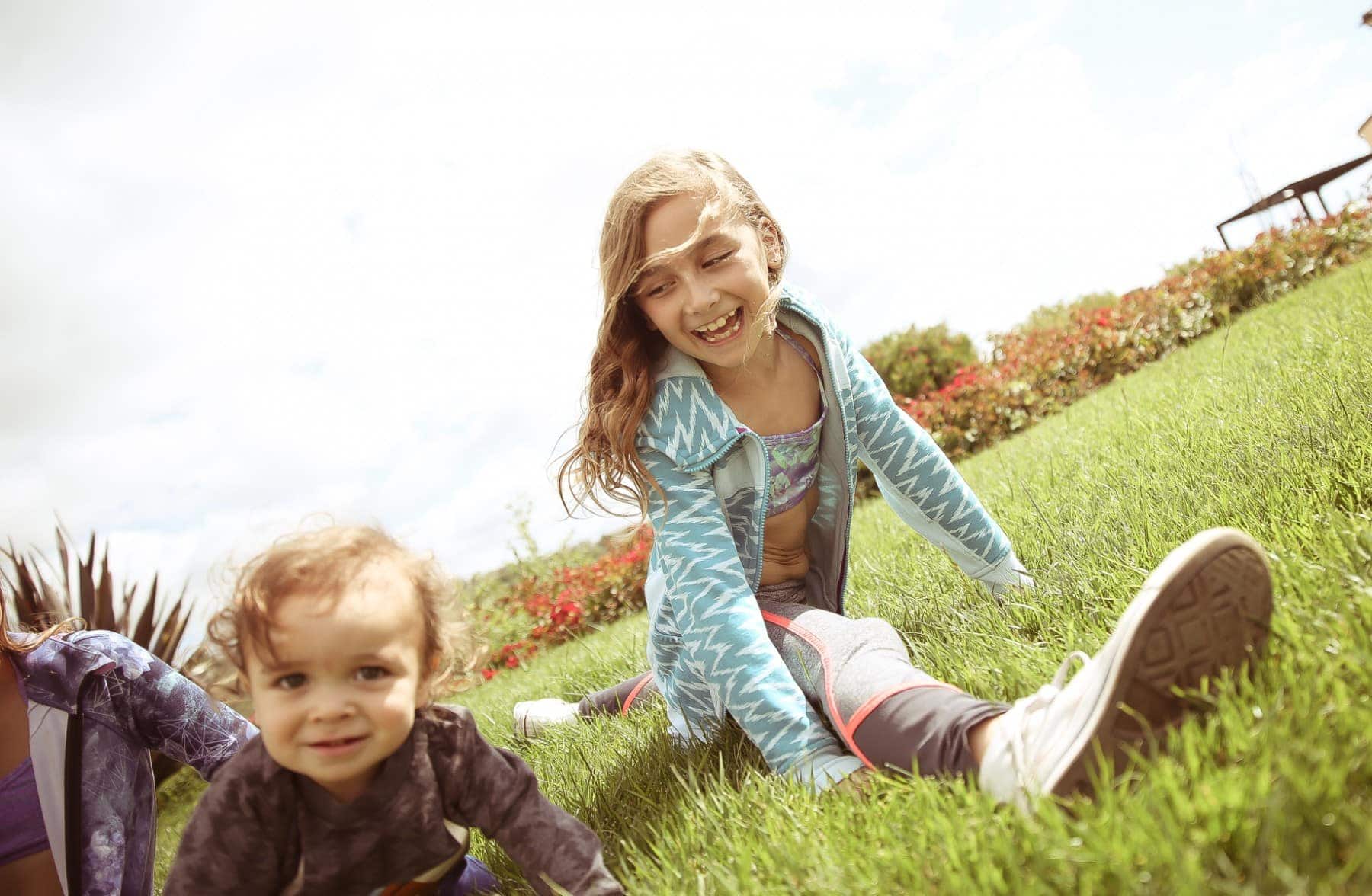 Bra Life: Fun Pointers to Teach Little Girls about their Bras
*Never tease friends who are wearing a bra.
*Never discuss size, we all have different ones.
*Respect that you're a Girl On The Grow and never tell the world about your new purchase.  *This is about you only!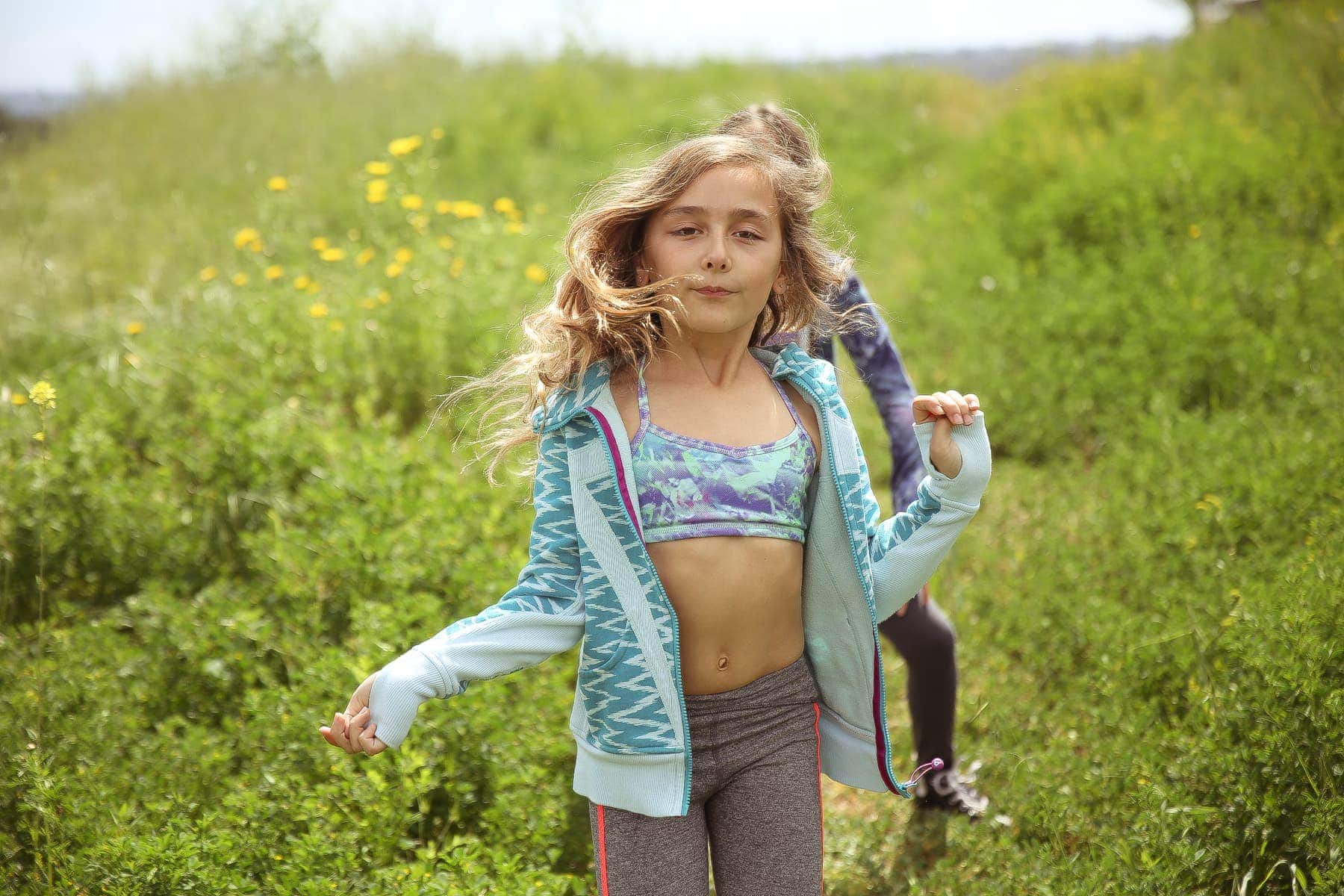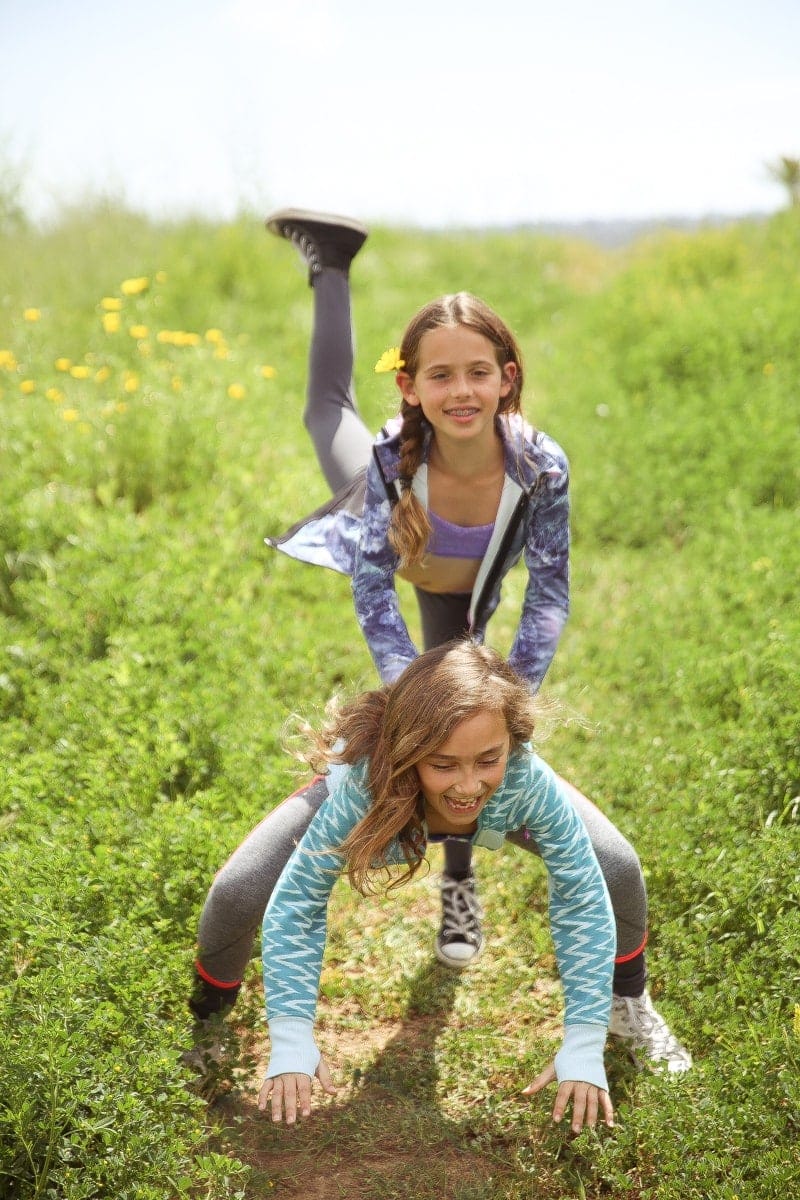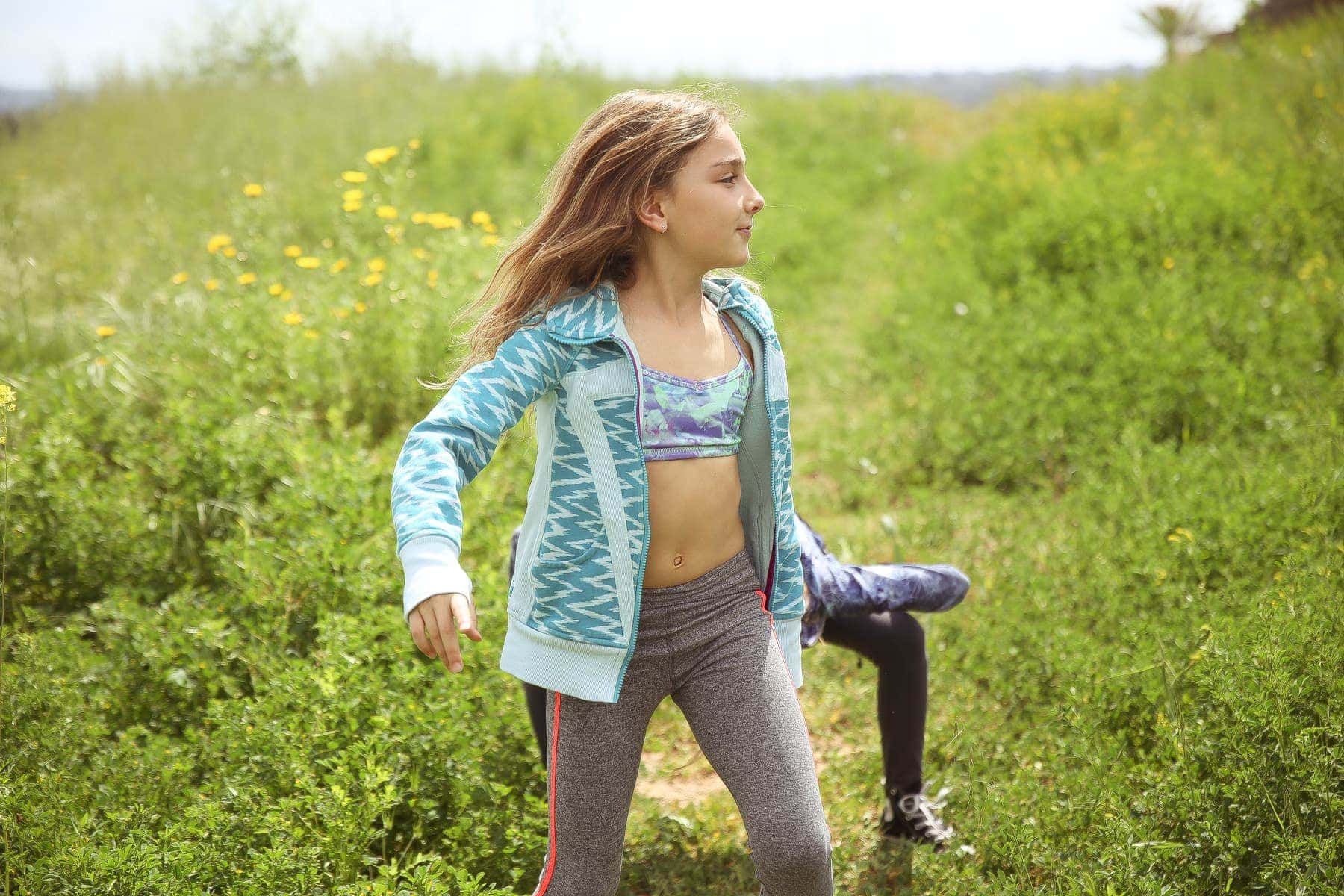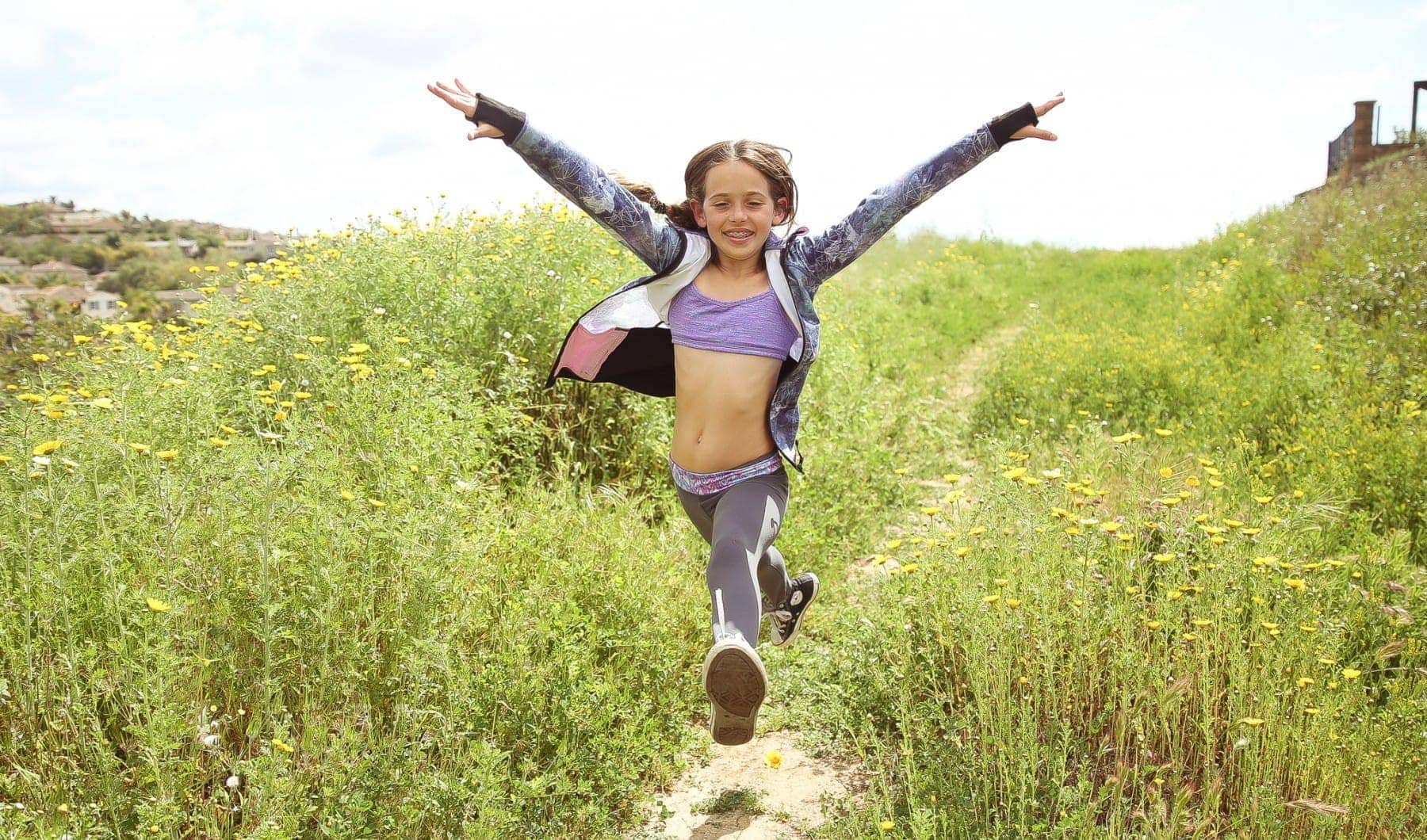 Shopping For Her First Bra Is An Important Milestone
Shopping for a bra is an important milestone for any girl. Ultimately, it's up to moms and their daughters to decide on the right time to shop for their first bra. Having a close friend to go through this experience made it more fun and harmonious for mom and for the girls. Ivivva set the stage, and made for the perfect girls bra shopping experience.
It's inevitable that my daughter's childhood is fleeting. Instead of seeing her transformation as awkward or uncomfortable, I've told her to own it with a sense of pride and confidence. Shoulders back, head up and a huge smile goes a long way, both inside and out into the universe – no matter what stage in life you're in. And remember, life is always better with your girlfriends by your side.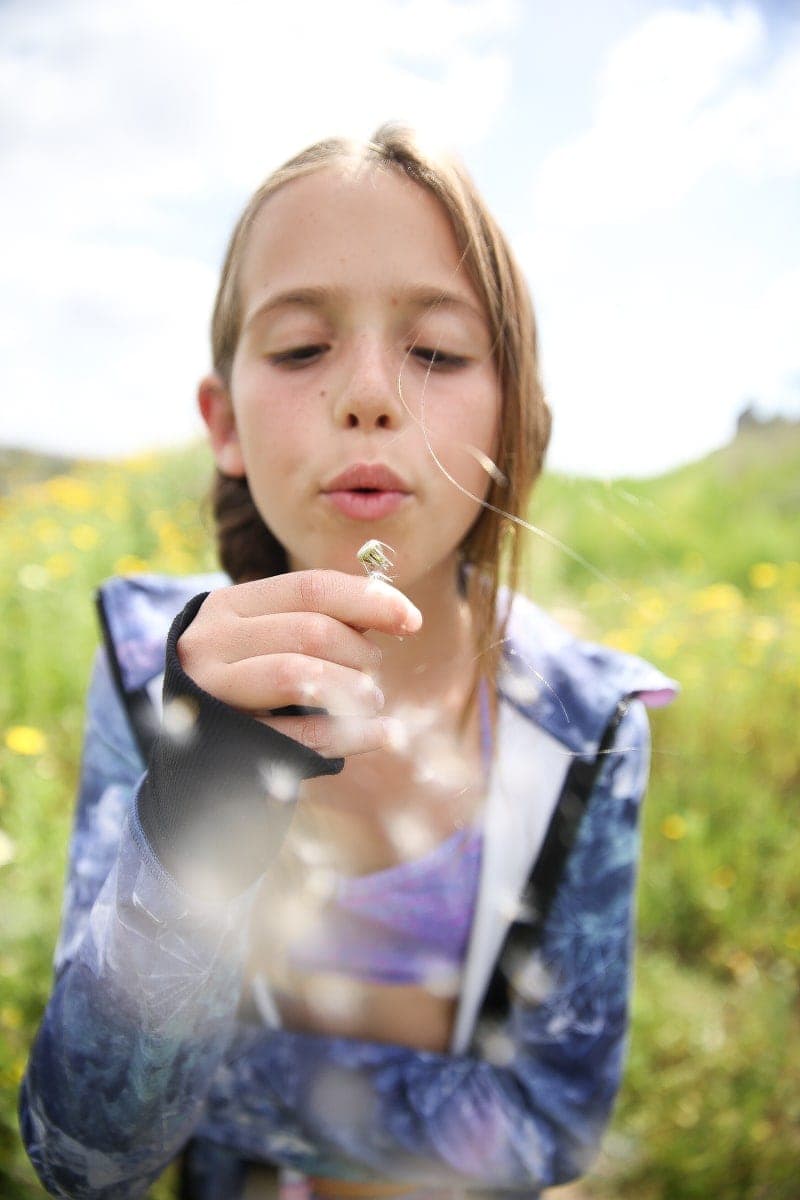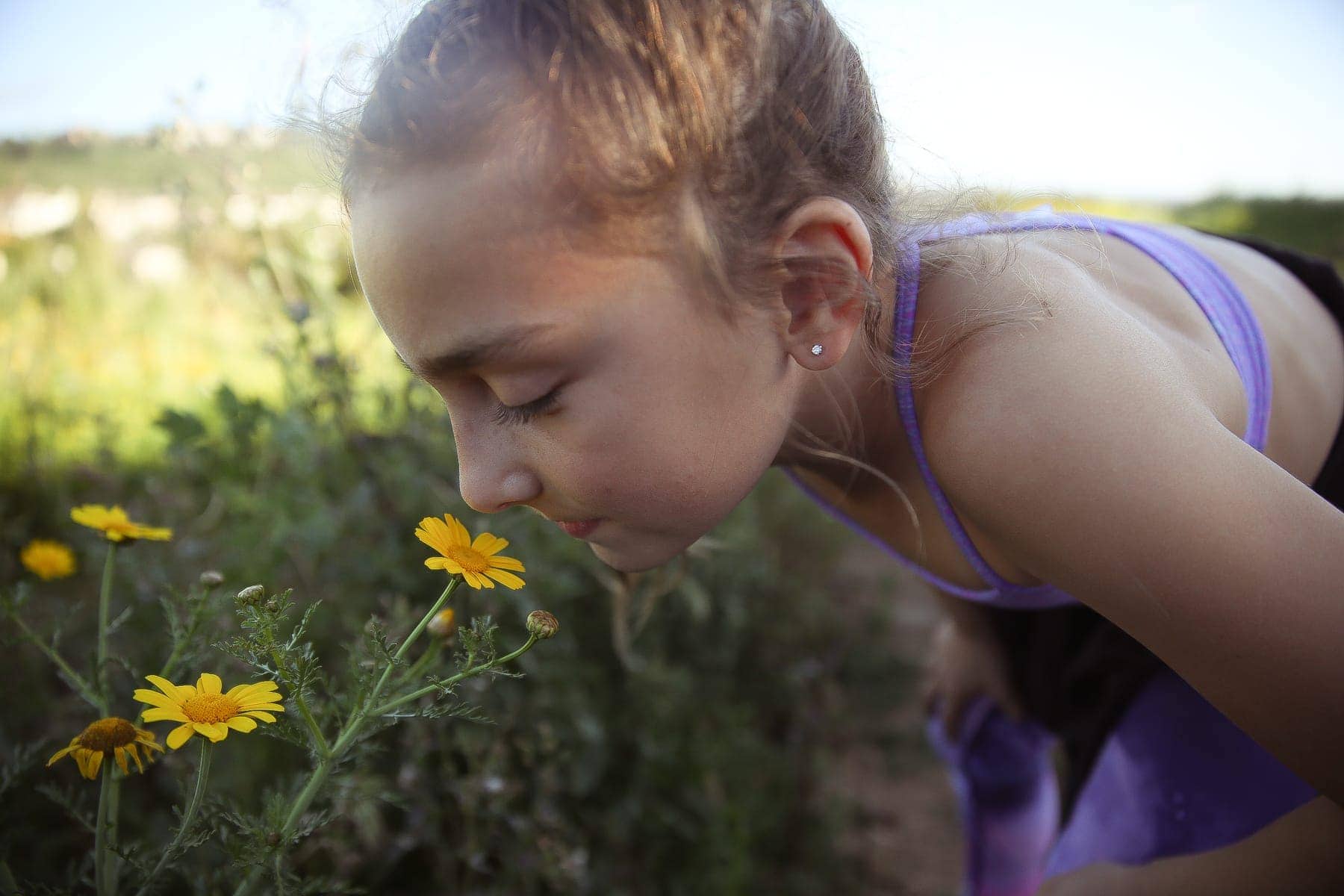 You May Also Like:
Raising Your Daughter To Be A Lady
Tips for Parenting In Style...
Never boring, always awesome. Keep up to date with the latest from City Girl Gone Mom.