I'll admit, I was apprehensive about traveling with my family during a pandemic at first, but what I didn't expect, was how vital this trip would be to our emotional well-being as a whole. I first realized the profound effect it was having during our time vacationing in Lake Powell. Without warning, our sullen faces from six months of sheltering at home began to disappear, and the smiles of days gone by began to reappear across the faces of my whole family.
With fresh air and open spaces, nothing lifted our spirits like the beauty and fun of Lake Powell. If you're in need of a family vacation, hit the road to this manmade lake. Check out everything there is to see and do in this beautiful, outdoor destination and get out there!
---
Lake Powell has over 2,000 miles of shoreline. More than the combined states on the Pacific Coast.
---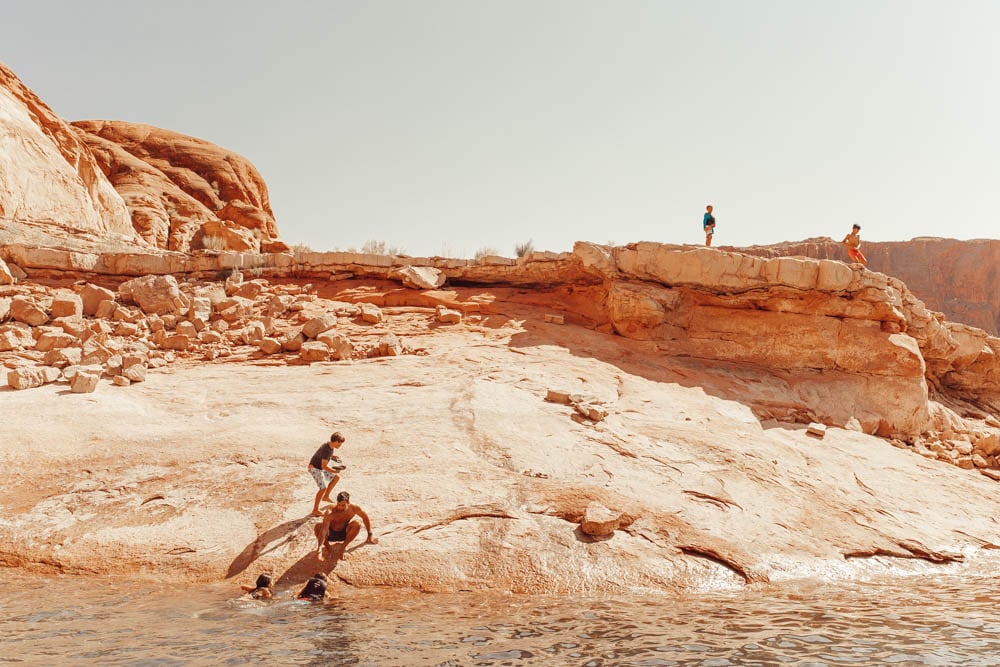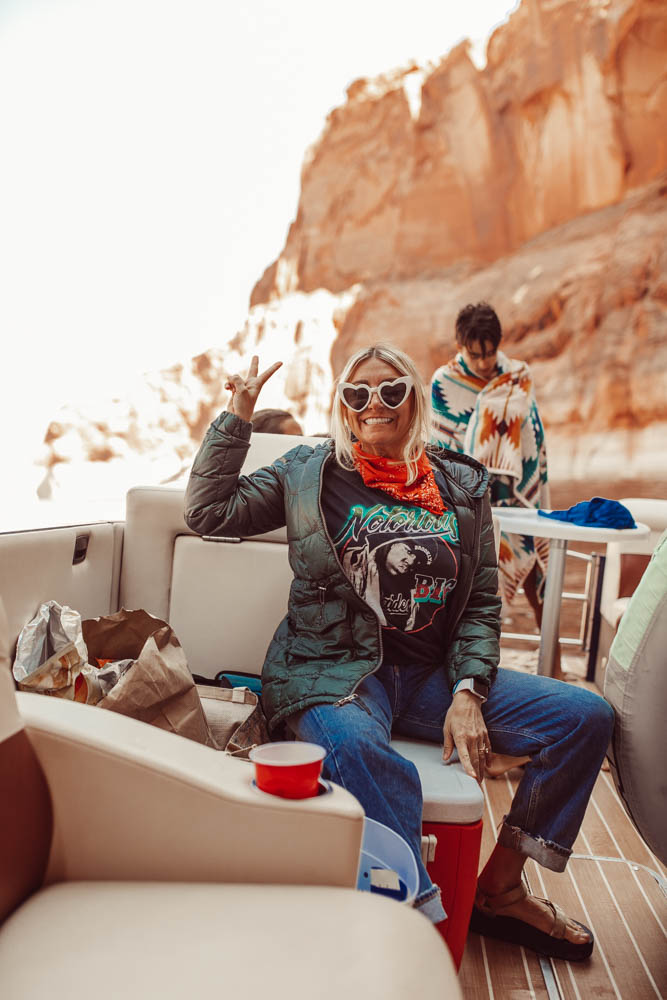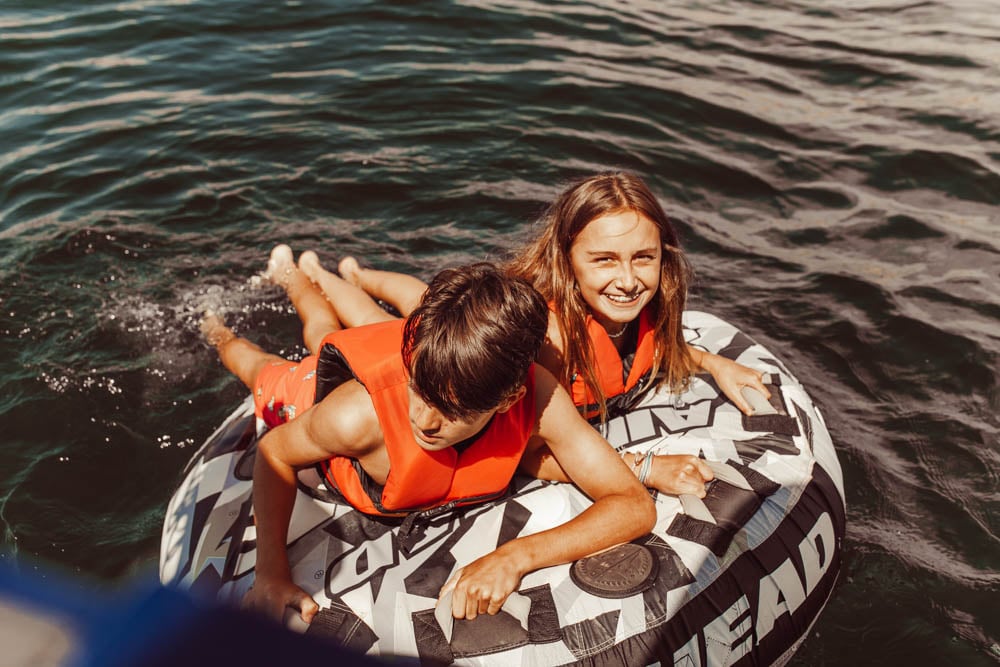 Safe Social Distancing Destination
Situated on the Colorado River, Lake Powell is the second-largest manmade reservoir in the United States. (And a spot where social distancing was especially easy.) We were enjoying ourselves outside with nature, and the area was not overly congested with tourists.
This afforded us the opportunity to enjoy many of the activities (safely!) that Lake Powell has to offer, such as boating, wakeboarding, waterskiing, hiking, fishing, horseback riding, scenic tours of Antelope Canyon, and checking out the incredible Rainbow Bridge National Monument. Surrounded by hundreds of secluded beaches, this family travel destination gave us a short reprieve from the pandemic we were experiencing back at home. And it reminded us of what life was like prior to 2020.

---
Lake Powell was formed when the Glen Canyon Dam was completed on the Colorado River in 1963. Lake Powell took 17 years to reach "full pool" in 1980.
---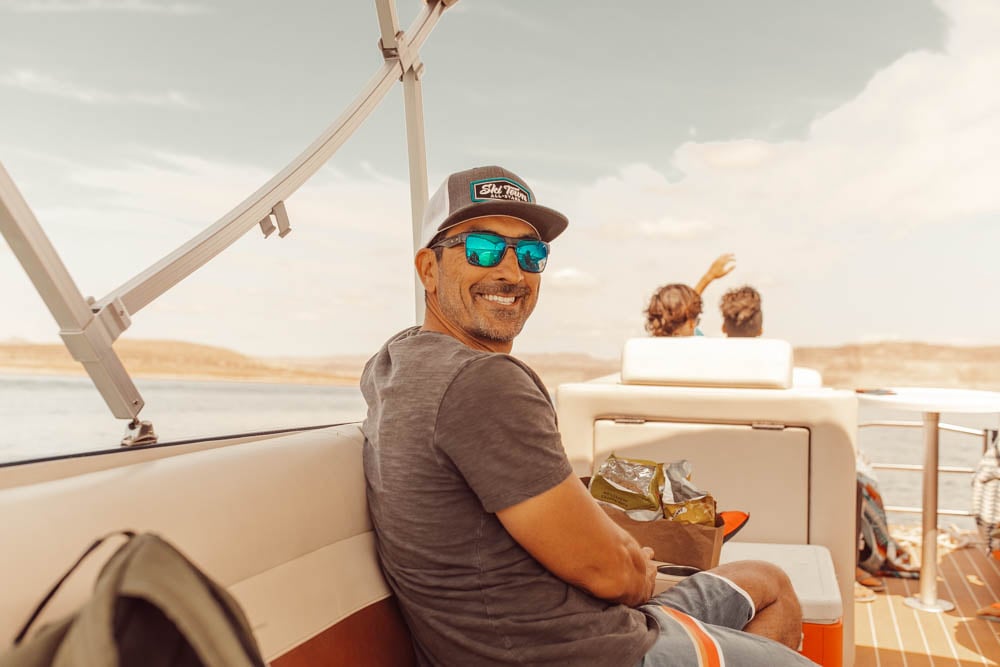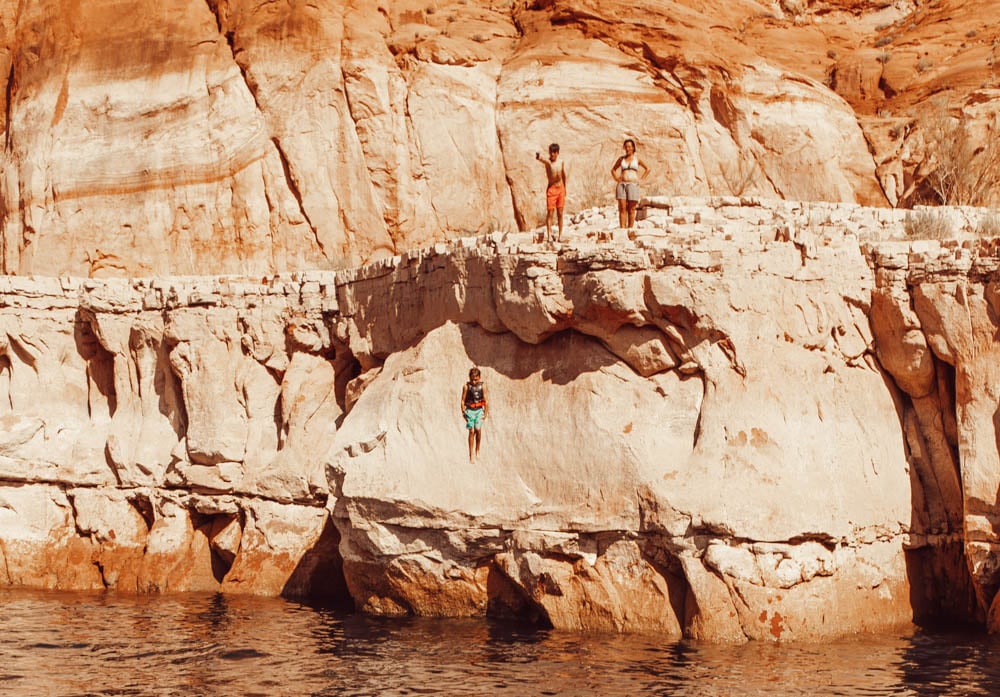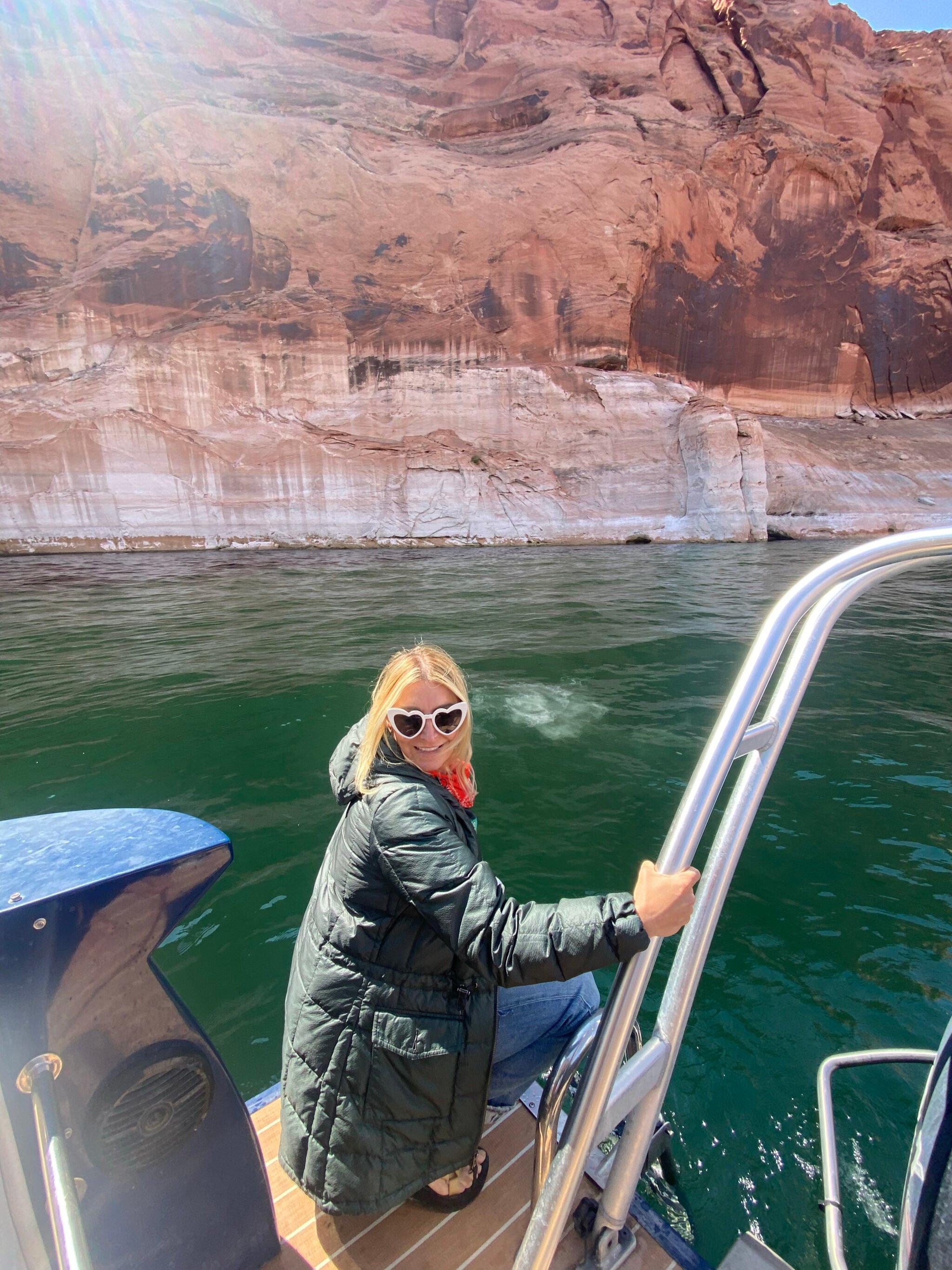 Vacation For the Family
For this section of the trip, we opted to stay local in a Page, AZ VRBO vacation rental which proved to be a great choice because the property was ideally located giving us ample access to everything Lake Powell has to offer. Dubbed "America's Lake," Lake Powell was exactly the place I needed to embrace.
Here's a little background for those late to this series: My baby brother, Scott, lost his battle to the demons of opioid addiction, and this trip was centered around scattering Scott's ashes across National Parks throughout Utah and Arizona. Scott was a big part of our lives, and the loss of his life has impacted each one of us in a way I don't think I will ever properly convey.
Have you listened to my podcast? Check out The Mom Confidential!
---
Lake Powell was named in honor of Civil War veteran John Wesley Powell. He led an expedition in wooden boats down the Colorado River through the Grand Canyon in 1869.
---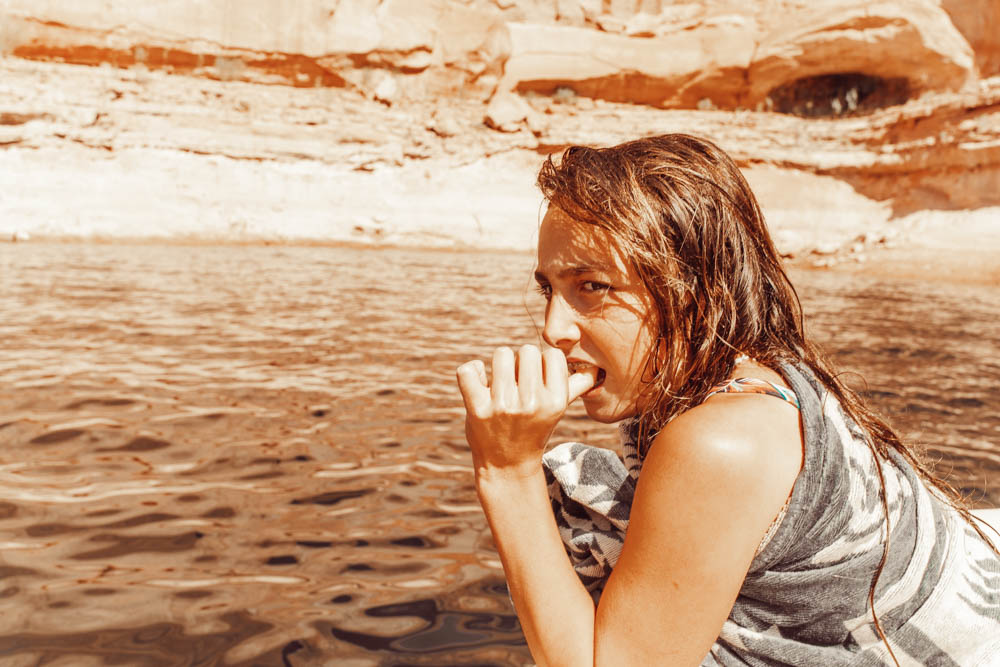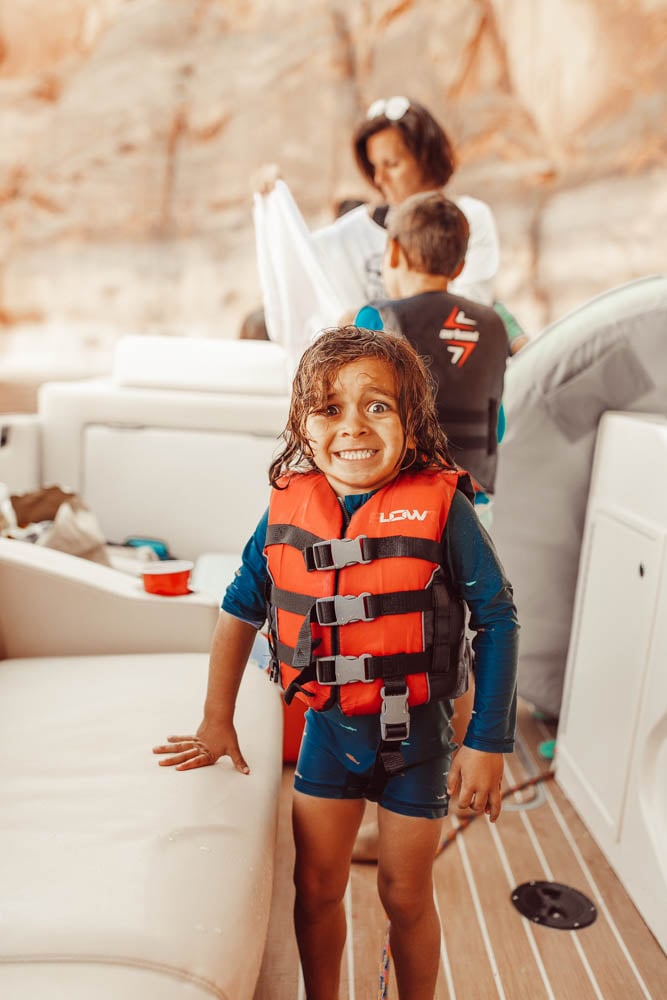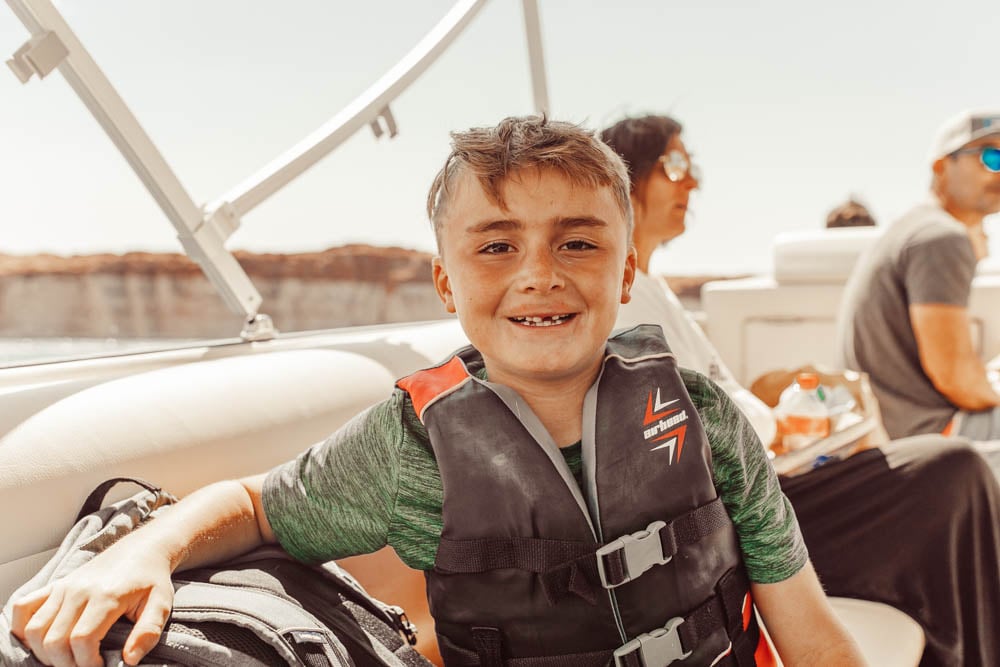 Appreciating the Beauty of Lake Powell
Waking up every morning was a special part of this trip on its own. Each day greeted us with the most incredible sunrises and warm breezes I have ever witnessed. It reminded me of all the reasons it was important to make this journey with our entire family. Especially during such a difficult year.
As the early morning sky graced us with colorful pink, orange, and red ribbons entwined resembling a watercolor painting, it was truly hard not to fall in love with Lake Powell. It proved to be exactly the type of destination we needed to escape the realities of home, even for a little while. Lake Powell gave us the well-needed opportunity to mentally regroup and recharge. And submerging ourselves in nature allowed us to unplug and find the solace each one of us so desperately needed.

---
Rainbow Bridge National Monument, the largest natural bridge on earth, is the most famous site on Lake Powell.
---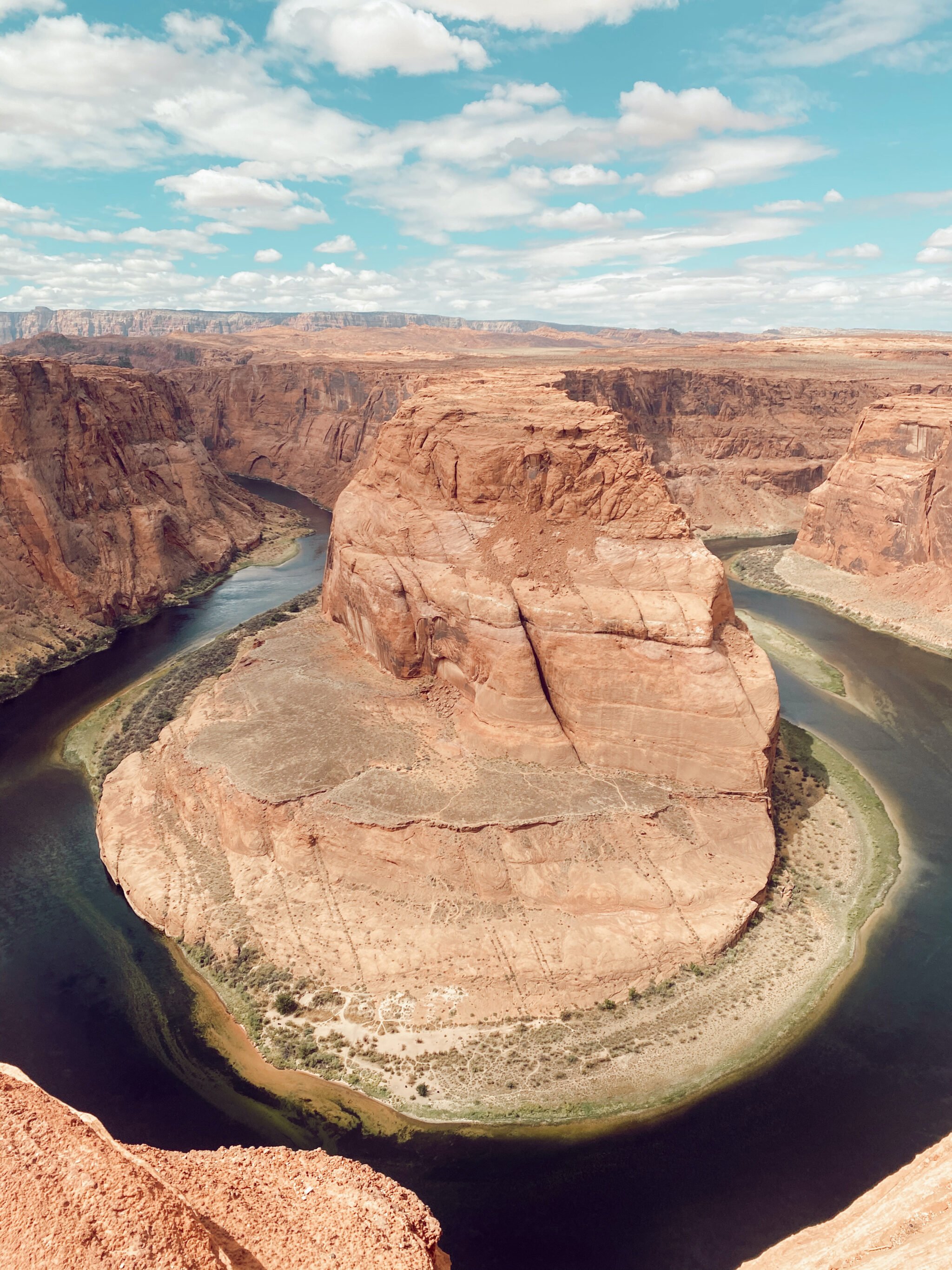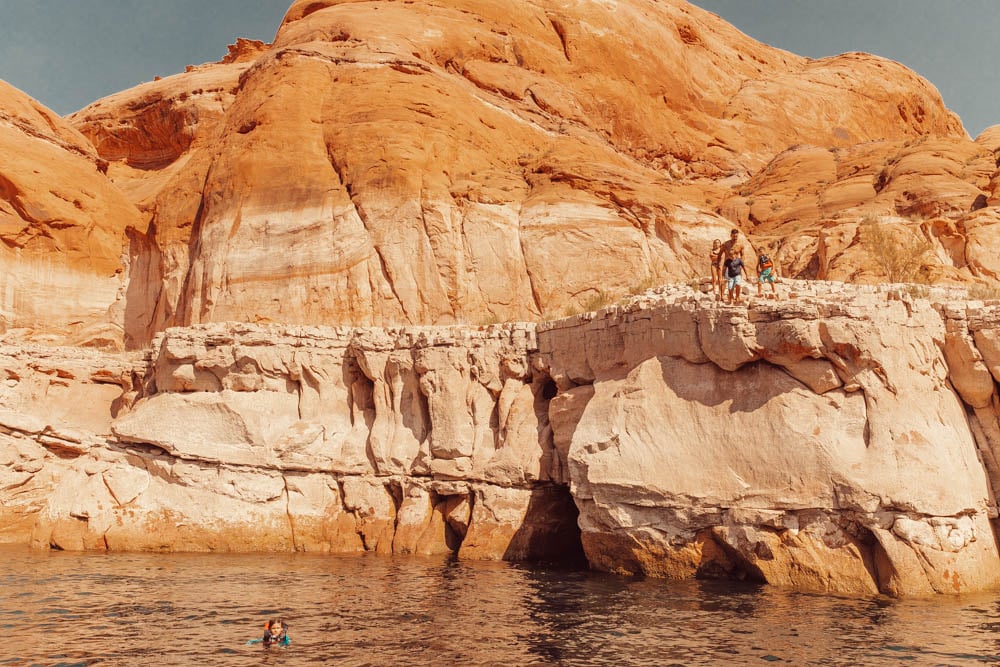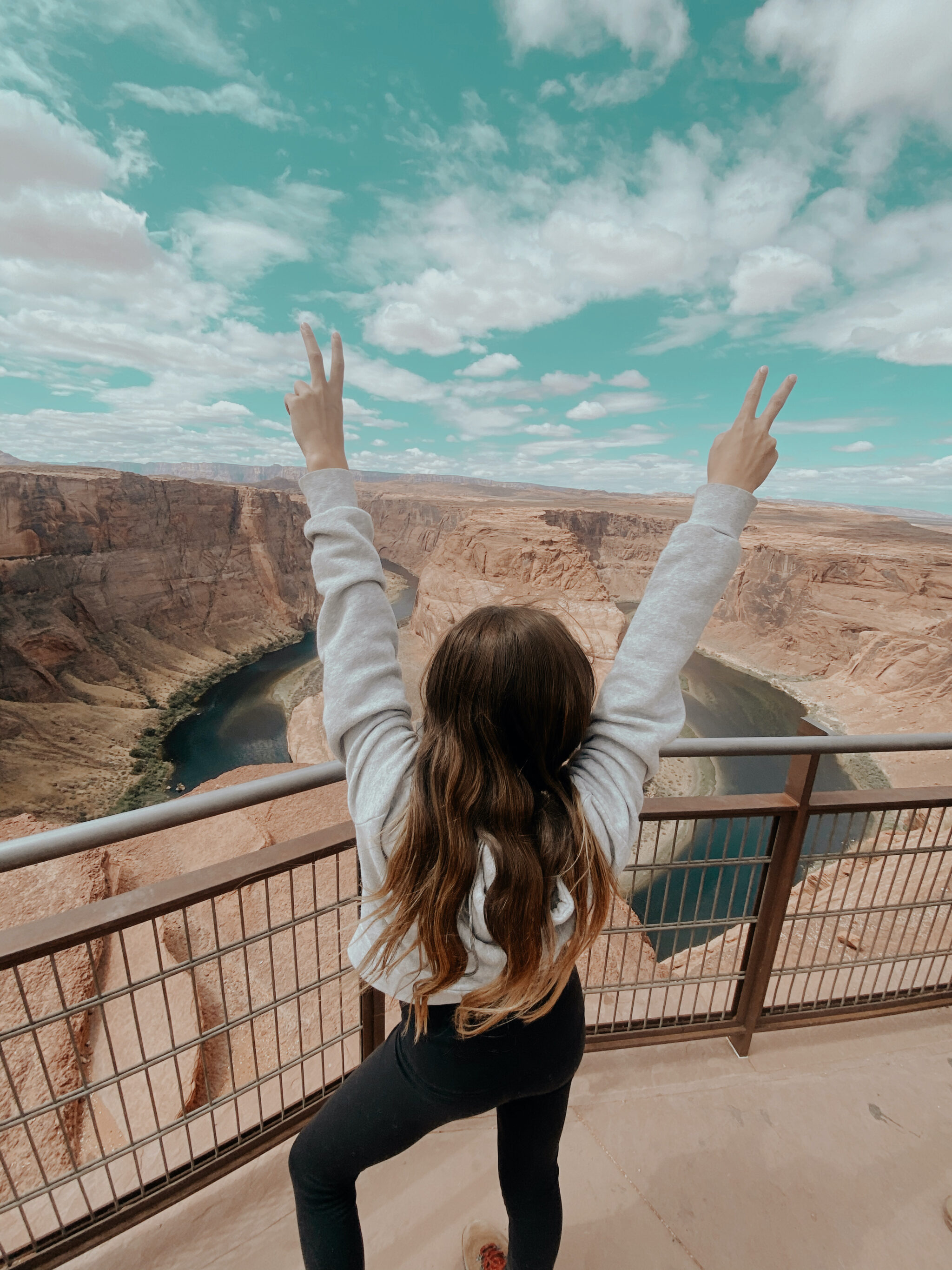 Discovering Horseshoe Bend
Lake Powell is also home to the famous Horseshoe Bend. Up until recently, Horseshoe Bend went relatively unnoticed only to become an Instagram hot spot. Located five miles downstream from the Glen Canyon Dam, this horseshoe-shaped incised meander of the Colorado River is located near the town of Page, Arizona. It's referred to as the "east rim of the Grand Canyon."
I highly recommend making the 1/2 mile hike down to the overlook right before sunset. But get there quickly to secure a spot! The 4,200-foot-steep cliff tends to become a popular gathering place around sundown.
---
Lake Powell is 400 feet deep, 186 miles long and has a water storage capacity of 27,000,000 acre-feet of water.
---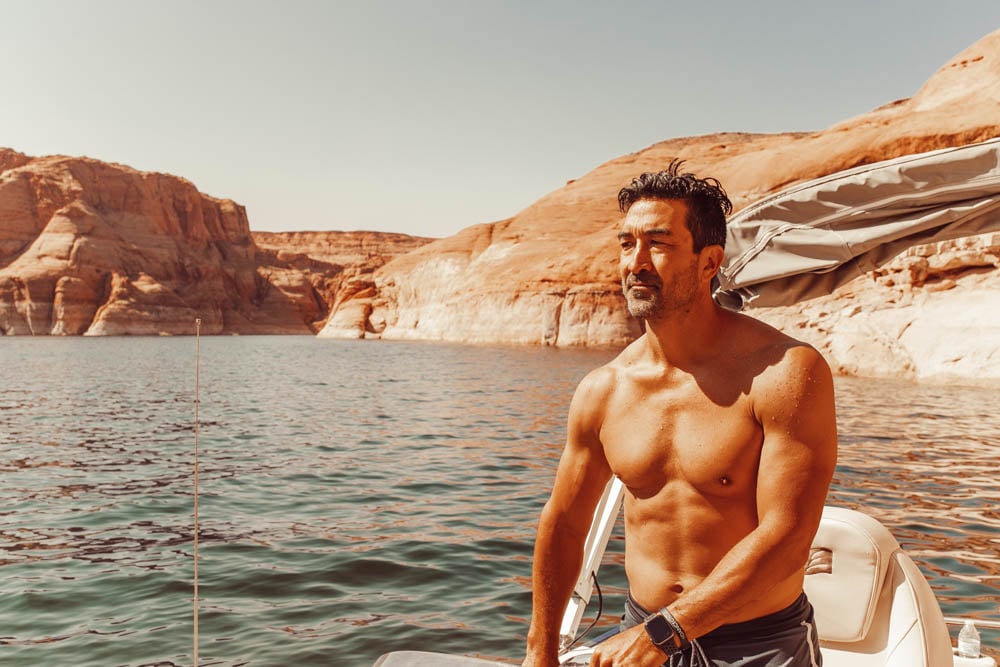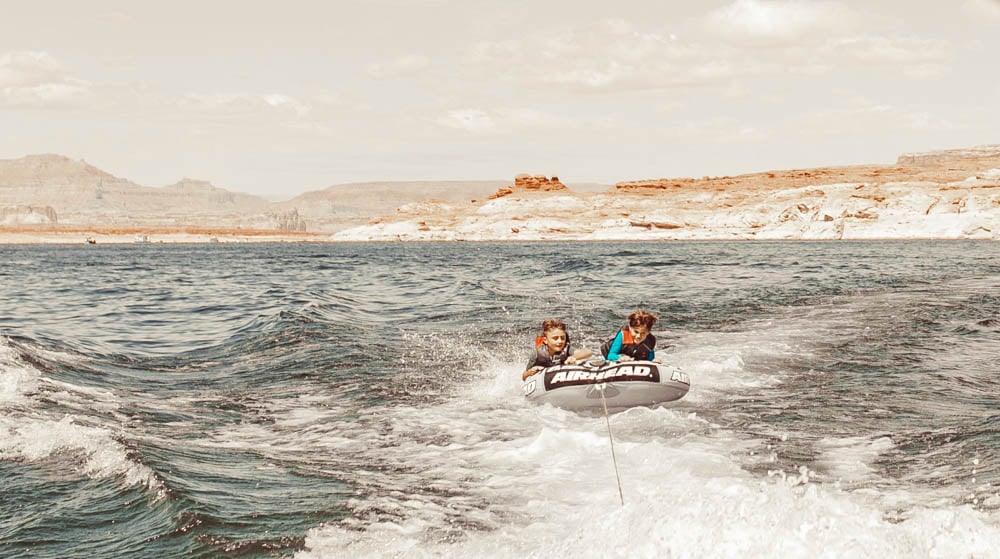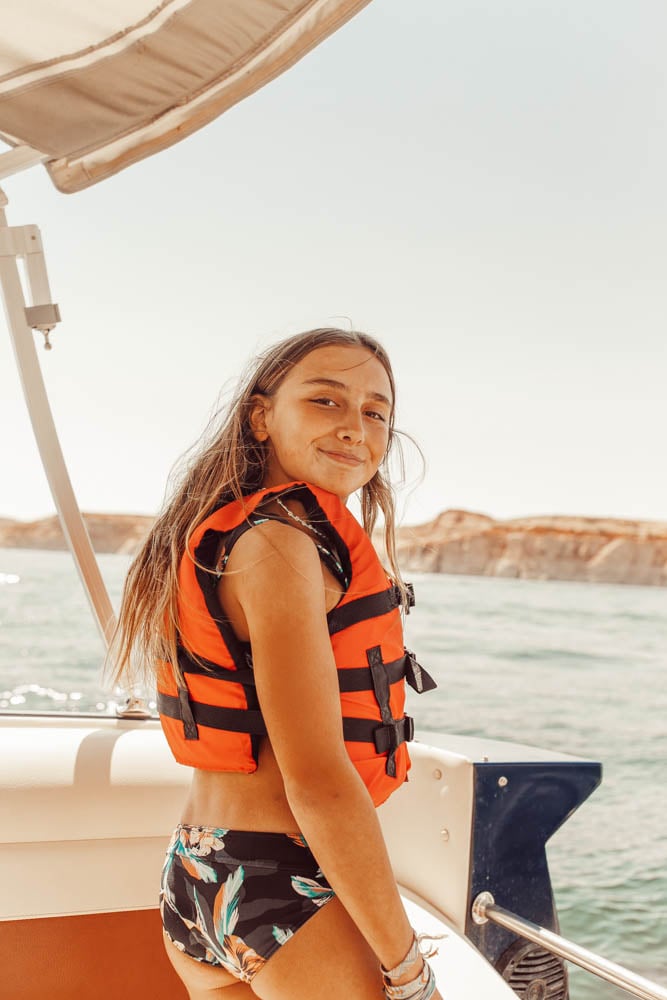 Hitting the Water on Lake Powell
So what was our favorite activity during our time visiting Lake Powell? That's easy, it was cliff diving. After a morning of hiking, we rented a pontoon boat and headed out on the lake for a relaxing day on the Colorado River. We cranked up the tunes and had a blast on the water! The kids cooled off by climbing the sandstone boulders and showing off their best dives and cannonballs.
Needless to say, if you could grade vacations by laughter, this part of the trip would score 100/100. It truly is the ideal destination! Whether you are in search of adventure or relaxation, there is something for everyone at Lake Powell.
---
Each year over 3 million people visit the 186-mile-long lake and the Glen Canyon National Recreation Area.
---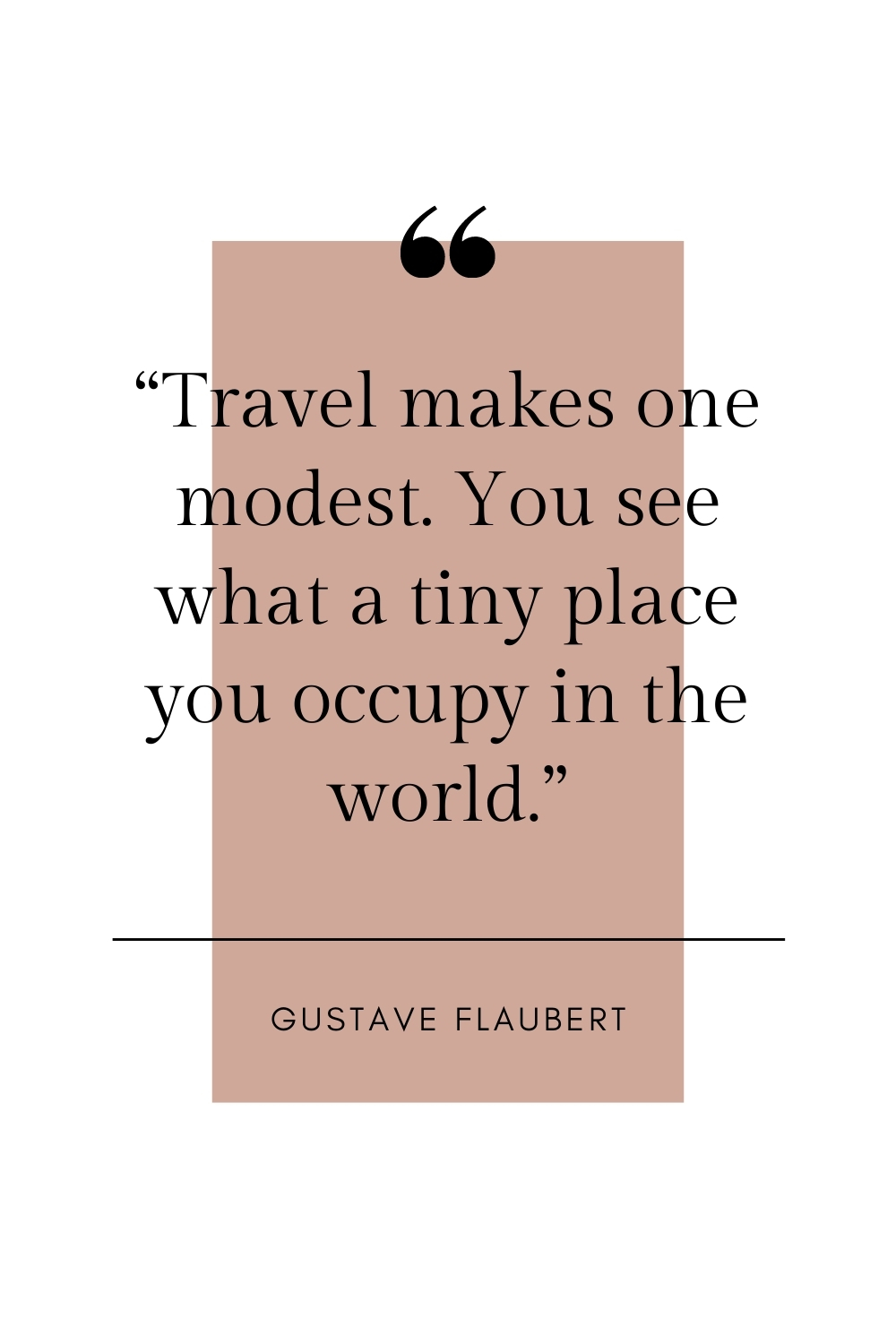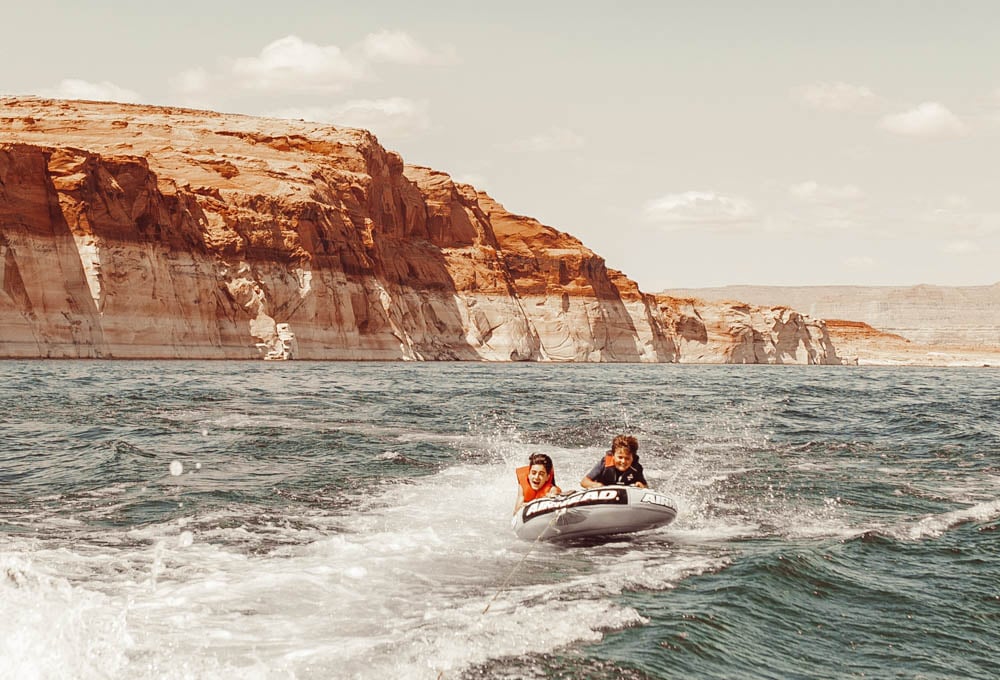 Tips for Parenting In Style...
Never boring, always awesome. Keep up to date with the latest from City Girl Gone Mom.