This Post Is Sponsored By Under Canvas As Always, All Opinions Are My Own. Thank You For Sponsoring CityGirlGoneMom.
One of the most valuable gifts as parents you can bestow upon your children is the gift of travel. Exploring faraway, exotic places doesn't always have to be on the agenda either. Providing the opportunity, whether it be a new country or exploring just hours from home, not only gives children a lifetime of memories but instills a confidence that will follow them the rest of their lives.
Introducing the possibilities of packing up a caravan, selecting a playlist, engaging in conversations you may not typically have on a day-to-day basis, is the stuff dreams are made of. Even when boredom sets in, petty arguments ensue, and the unavoidable "Stop touching me!" arguments make you want to leap from the front seat and walk the rest of the way.
Luckily on our journey to the Grand Canyon, we didn't endure too much of the road trip chaos. (That's almost inevitable with a family of six!) We laughed, sang, and discussed what we were most excited to experience and learn about this natural wonder.
---
The Grand Canyon creates its own weather. Sudden changes in elevation have an enormous impact on temperature and precipitation. So the weather could vary drastically depending on where you are in the Grand Canyon.
---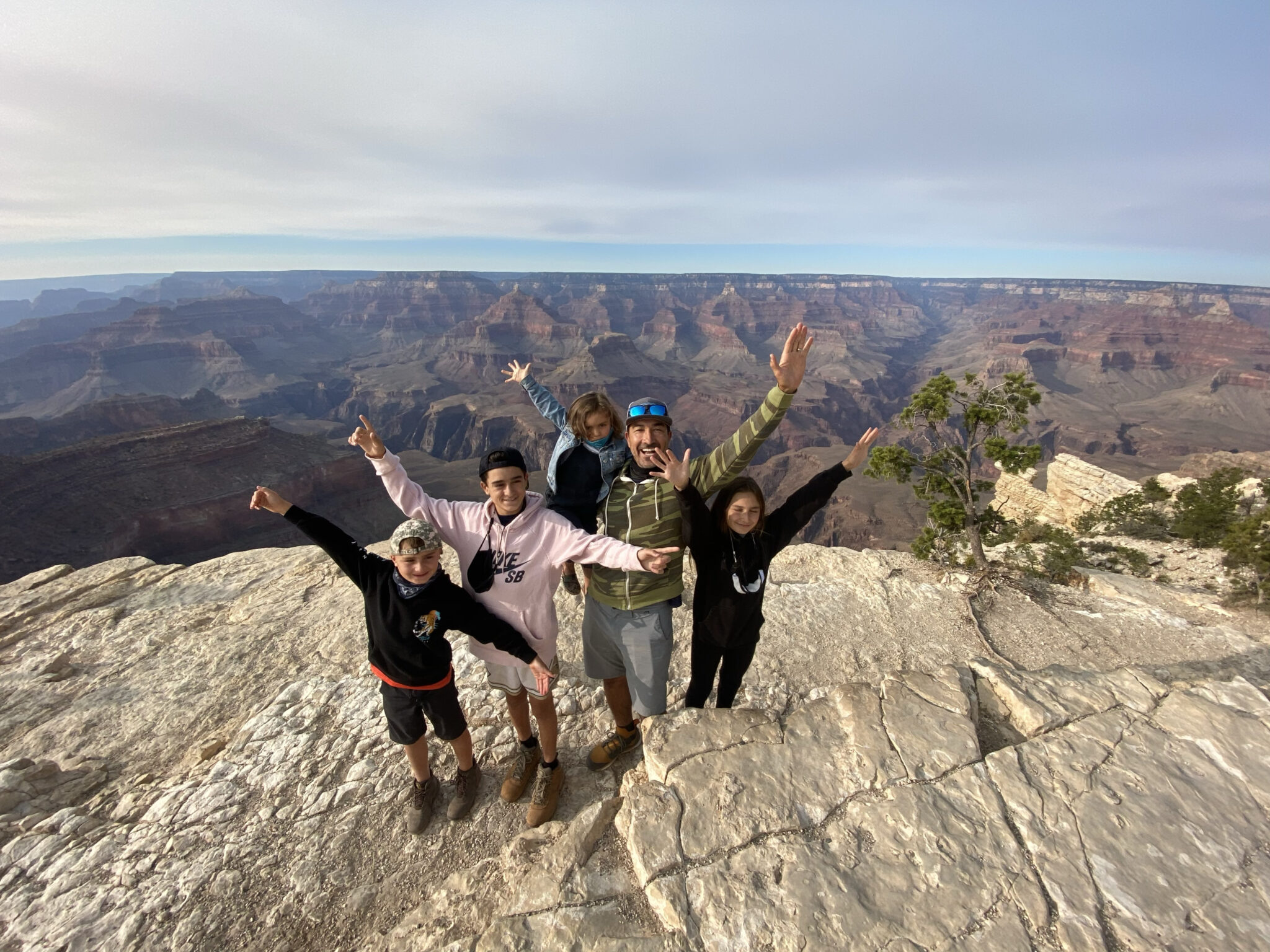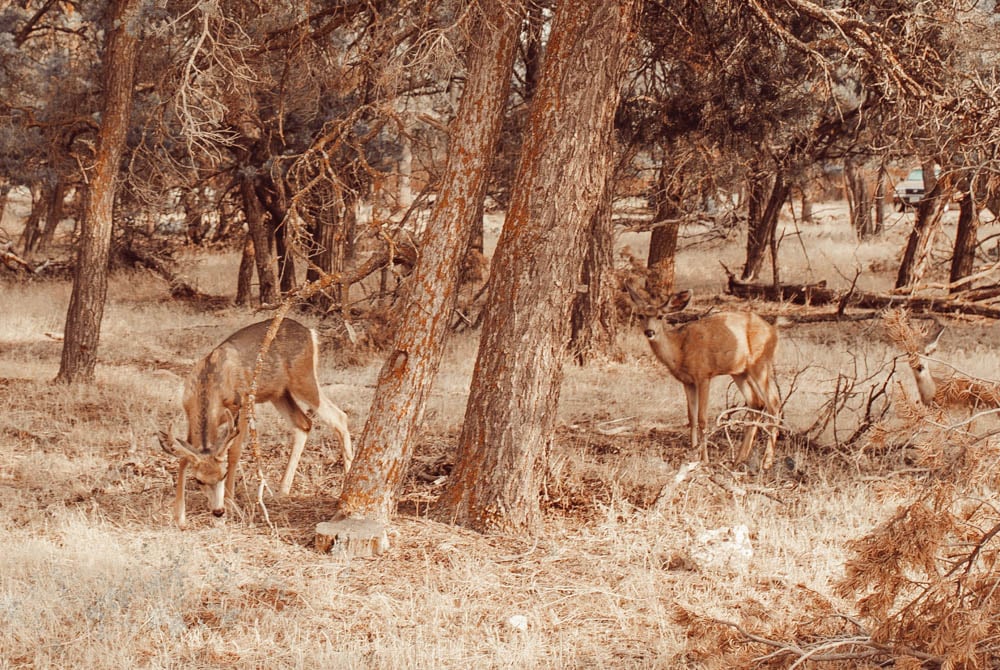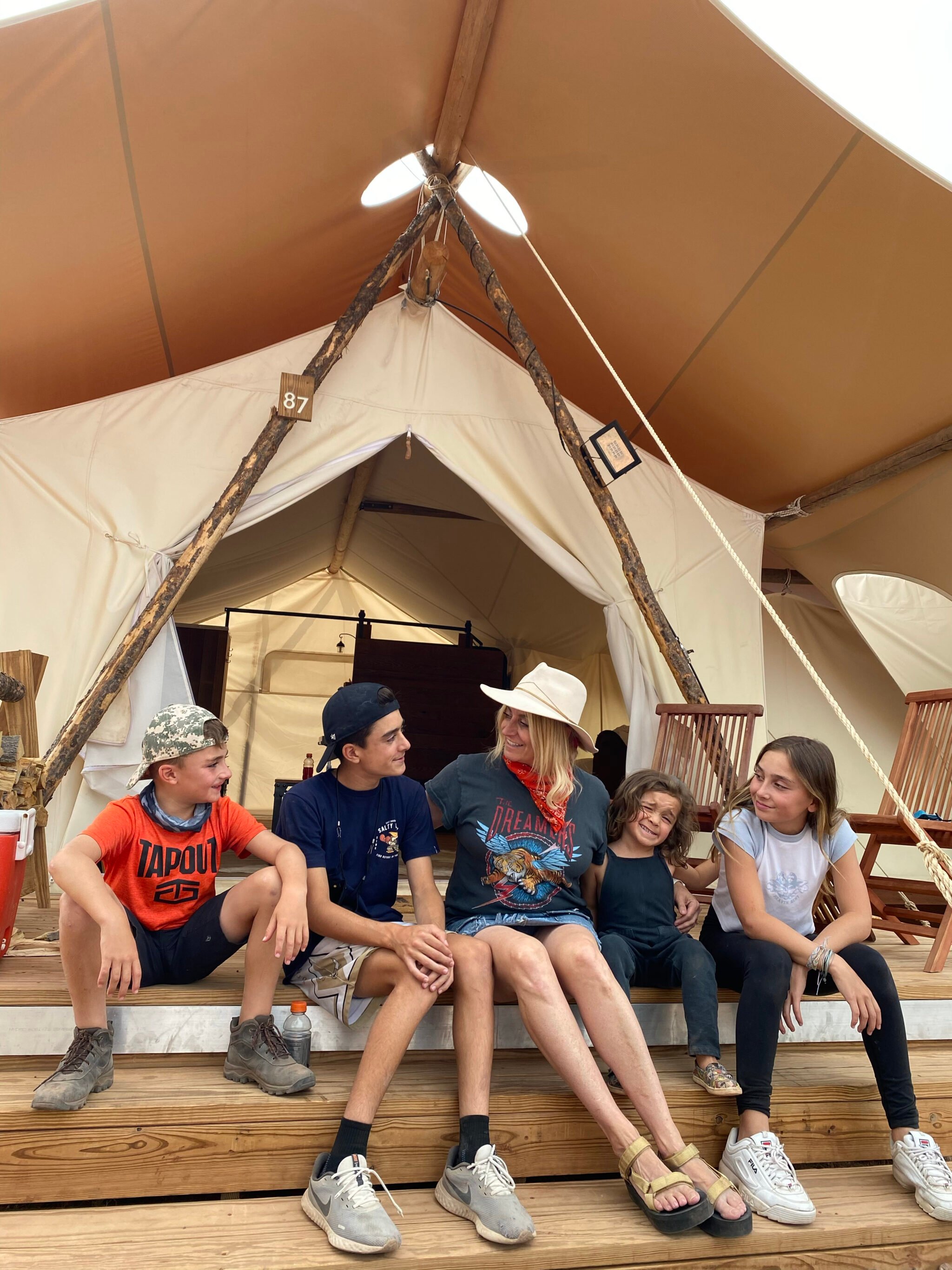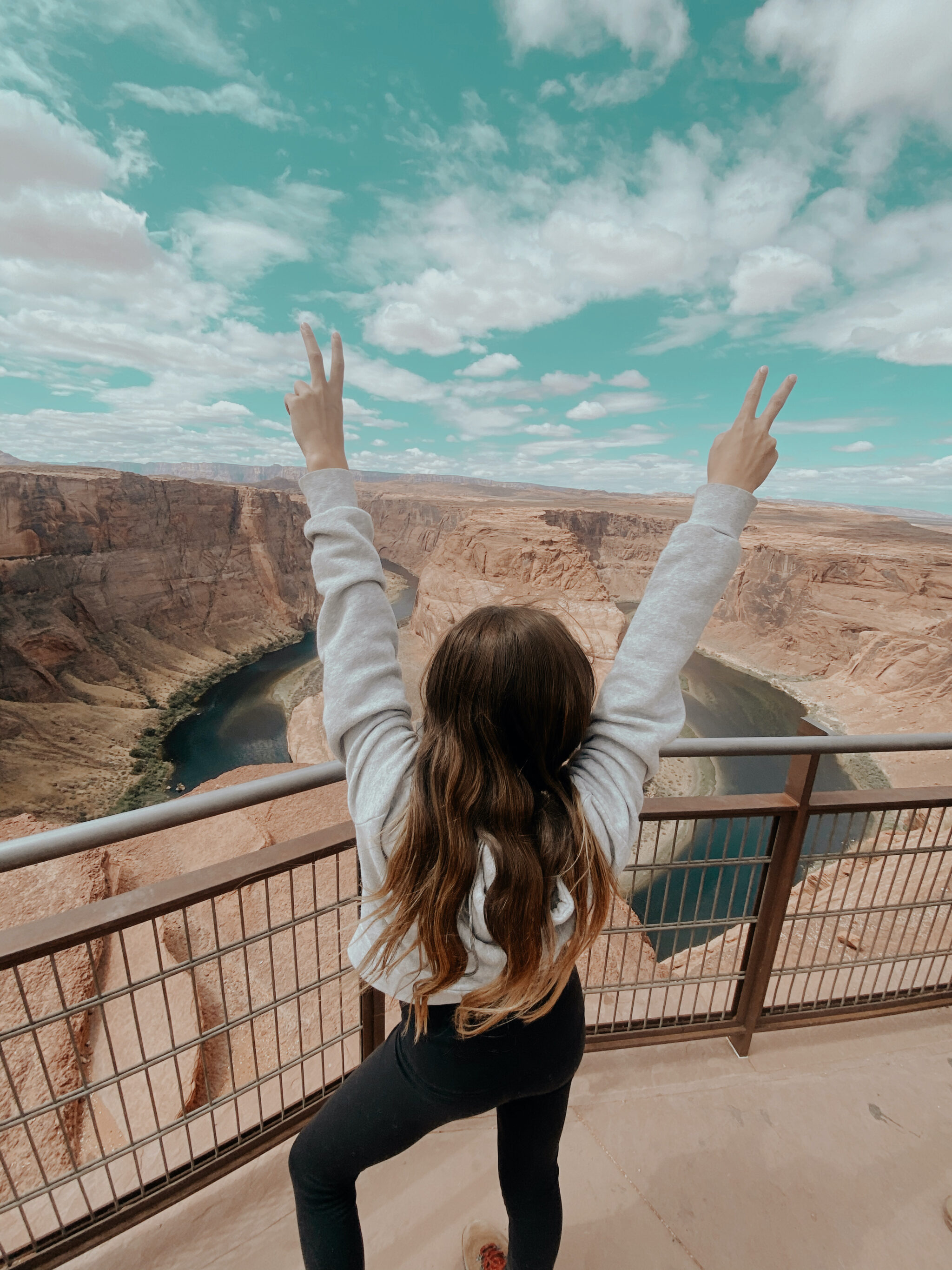 Making the Pilgrimage to the Grand Canyon
Personally, embarking on this journey, I wasn't sure what the kids would make of this trip. After all, it is just a giant ditch, right? But I wasn't going to let that stop us from diving in and exploring every possibility. Well, except maybe getting too close to the edge of the canyon which honestly, PETRIFIES me. The kids on the other hand? Absolutely, fearless.
In my previous post, I shared how I wanted this to also be a pilgrimage to spread my brother's ashes. We started the trip somewhere very special, in Zion, Utah. As I mentioned, Zion means Utopia, a celestial kingdom. This is where I wanted to remember my brother's first of many destinations. But I knew for this road trip, the Grand Canyon National Park would probably be his favorite destination on our tour.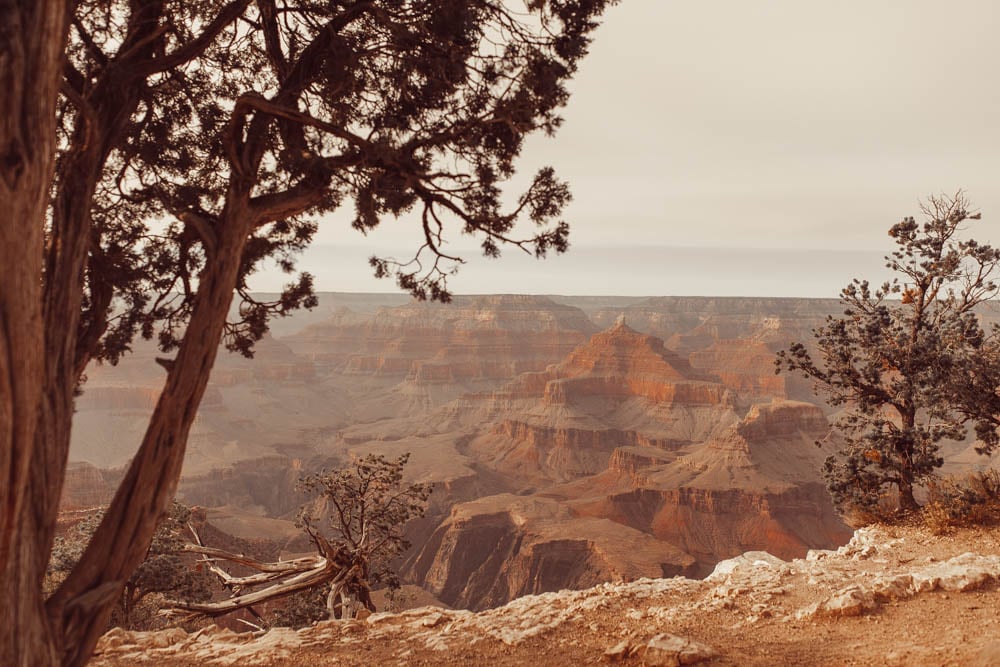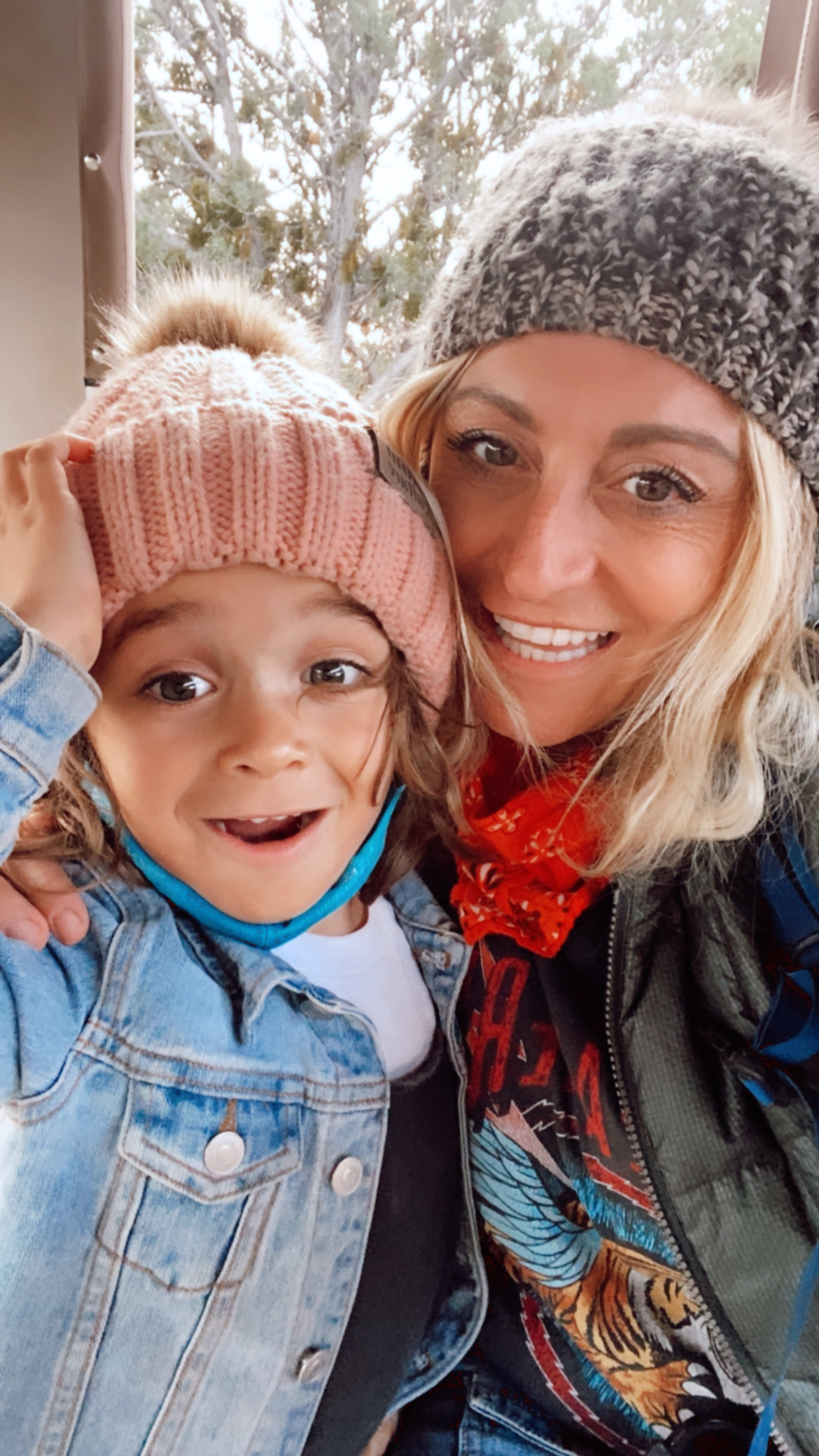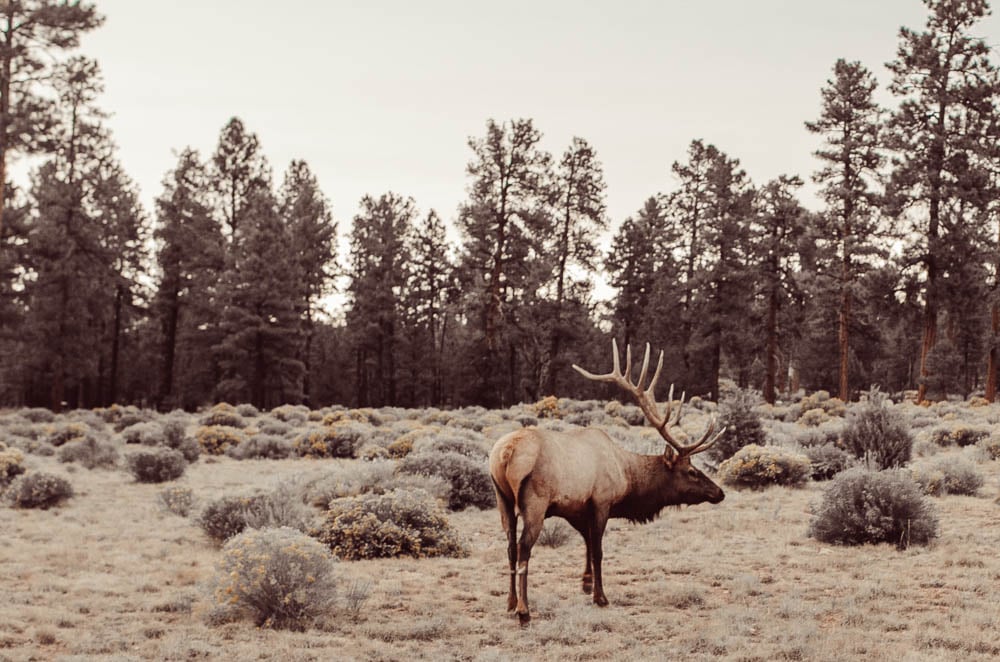 One of the Seven Natural Wonders of The World
The days were filled with happiness, laughter, and joy, mixed appropriately with tears of joy, and melancholy. But as time went on, my heart was full seeing my family together celebrating such a beautiful soul. Despite a heavy heart, I was excited to celebrate Scott's life at one of the greatest natural wonders of the world. So I put on a brave face and made sure my children would have the greatest memories of how we honored their favorite uncle. And that is exactly how this trip played out.
But I also wanted to make sure our family absorbed the magical environment we were about to experience because there is nothing quite like the Grand Canyon. It was difficult to ignore the breathtaking beauty of the surroundings, and for those who have had the pleasure of visiting this incredible destination, it's impossible to forget the warmth of the colors, especially during the golden hour at sunset.
---
The Grand Canyon is not the deepest canyon in the world. The Yarlung Tsangpo Grand Canyon in Tibet plummets to a depth of 17,567 feet. It's more than two miles deeper than the Grand Canyon's 6,093 feet.
---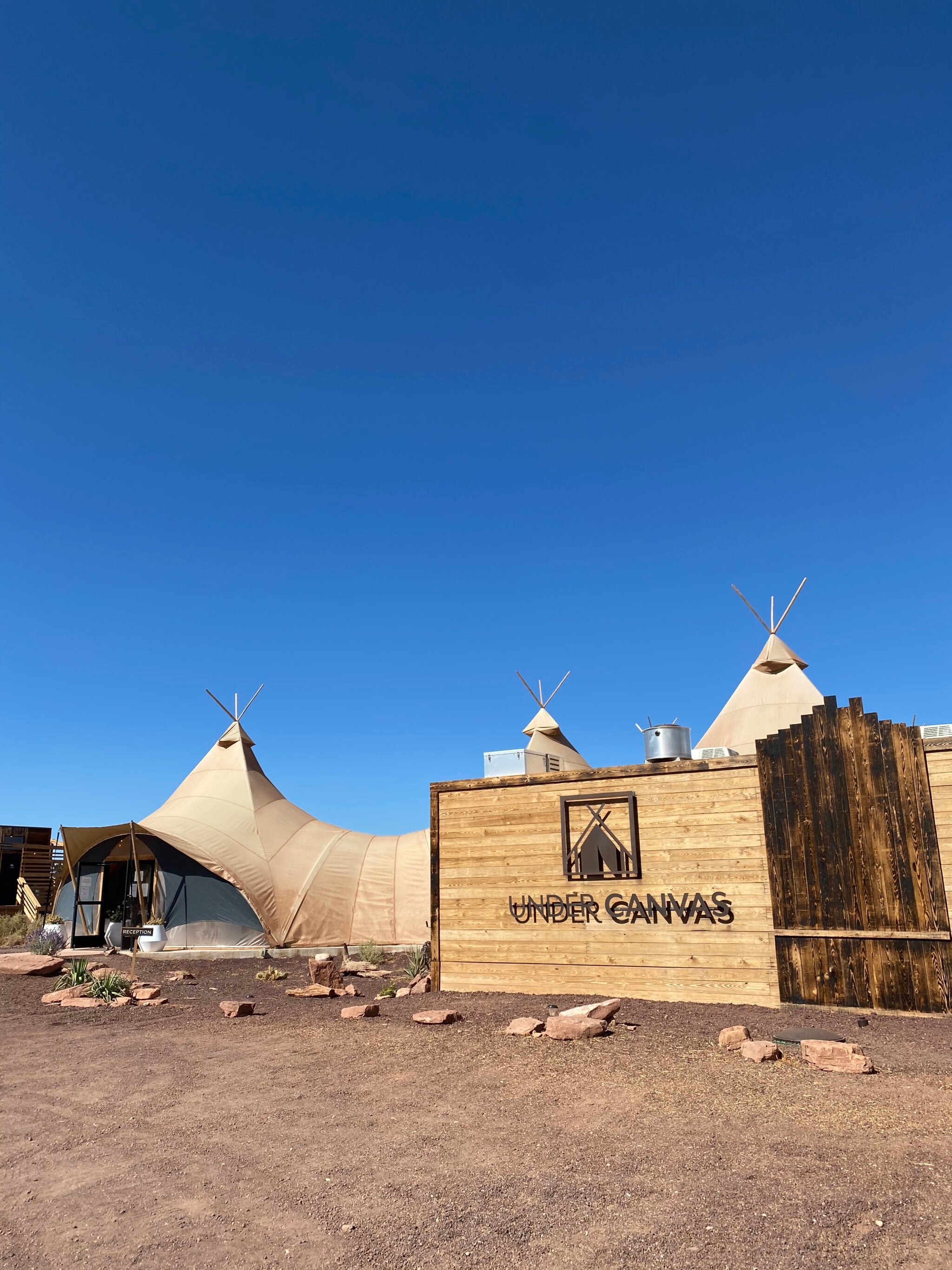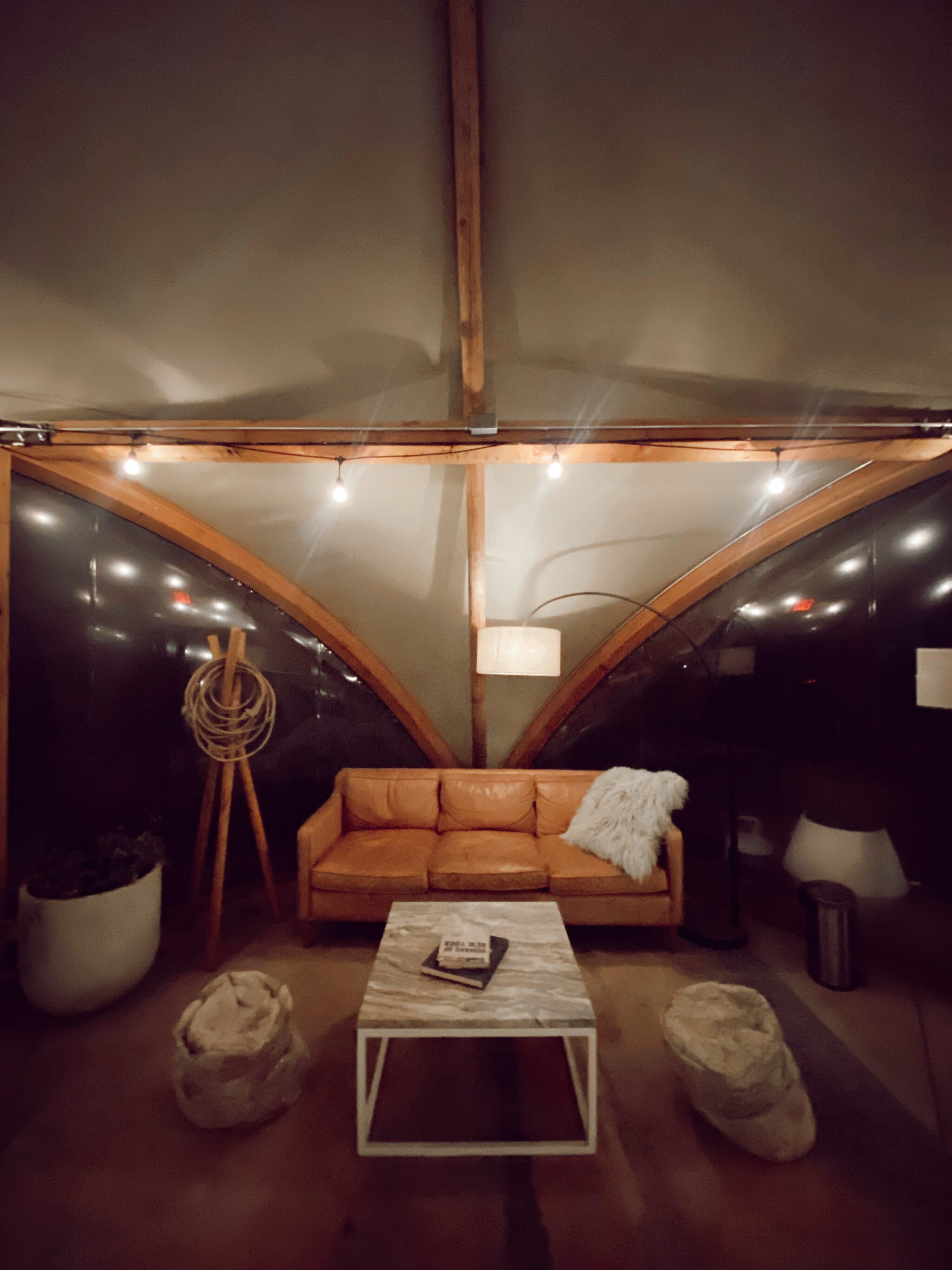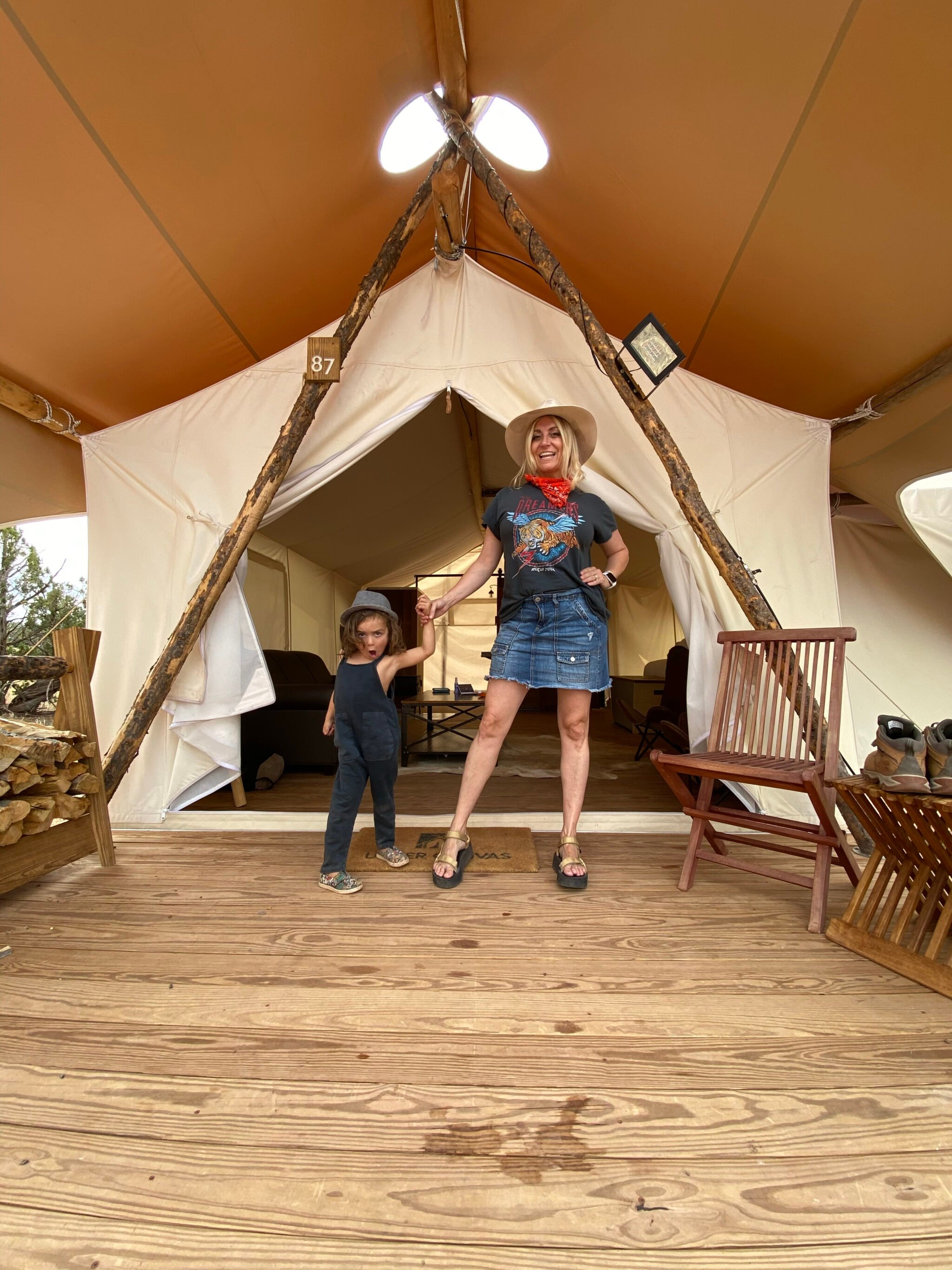 Where We Stayed
I'd love to pretend we were roughing it for two weeks of camping through the national parks, but Under Canvas gave us nothing but the best accommodations. Upscale would be an understatement—this is where lavish safari tents meet five-star hotels in the midst of nature. Their luxury tents have no room for error, from daily housekeeping to lush beds and spacious rooms, roughing it is the farthest from the truth.
Their Grand Canyon base is located on 160 acres just minutes from the South Rim entrance of the Grand Canyon National Park. When it comes to exploring this area of Arizona, there is nowhere else you would want to be. Under Canvas is simply the definition of luxury glamping.
And the whole family loved our time at camp. The kids were occupied with painting, live music, and my favorite, stargazing surrounded by majestic mountain ranges.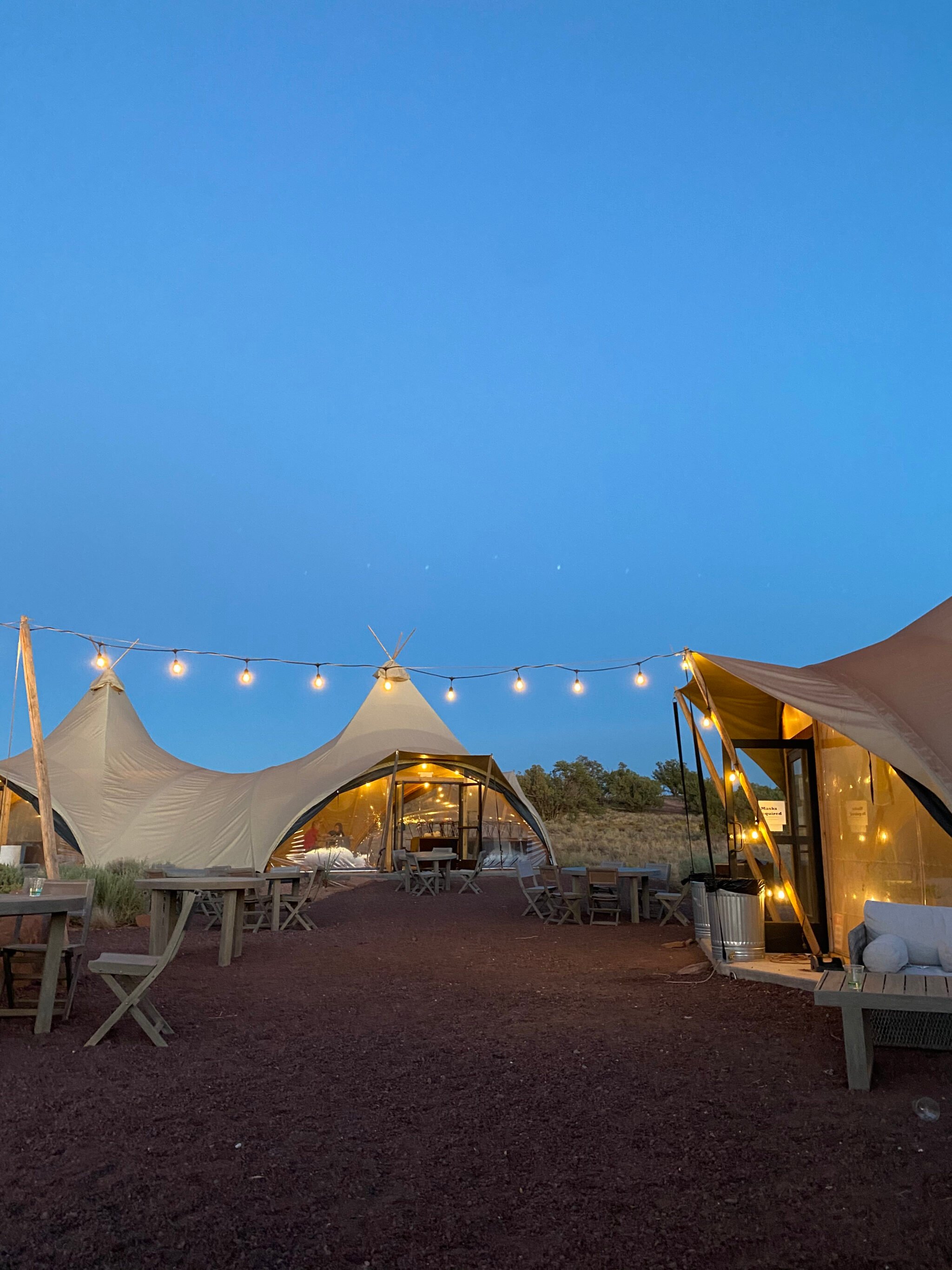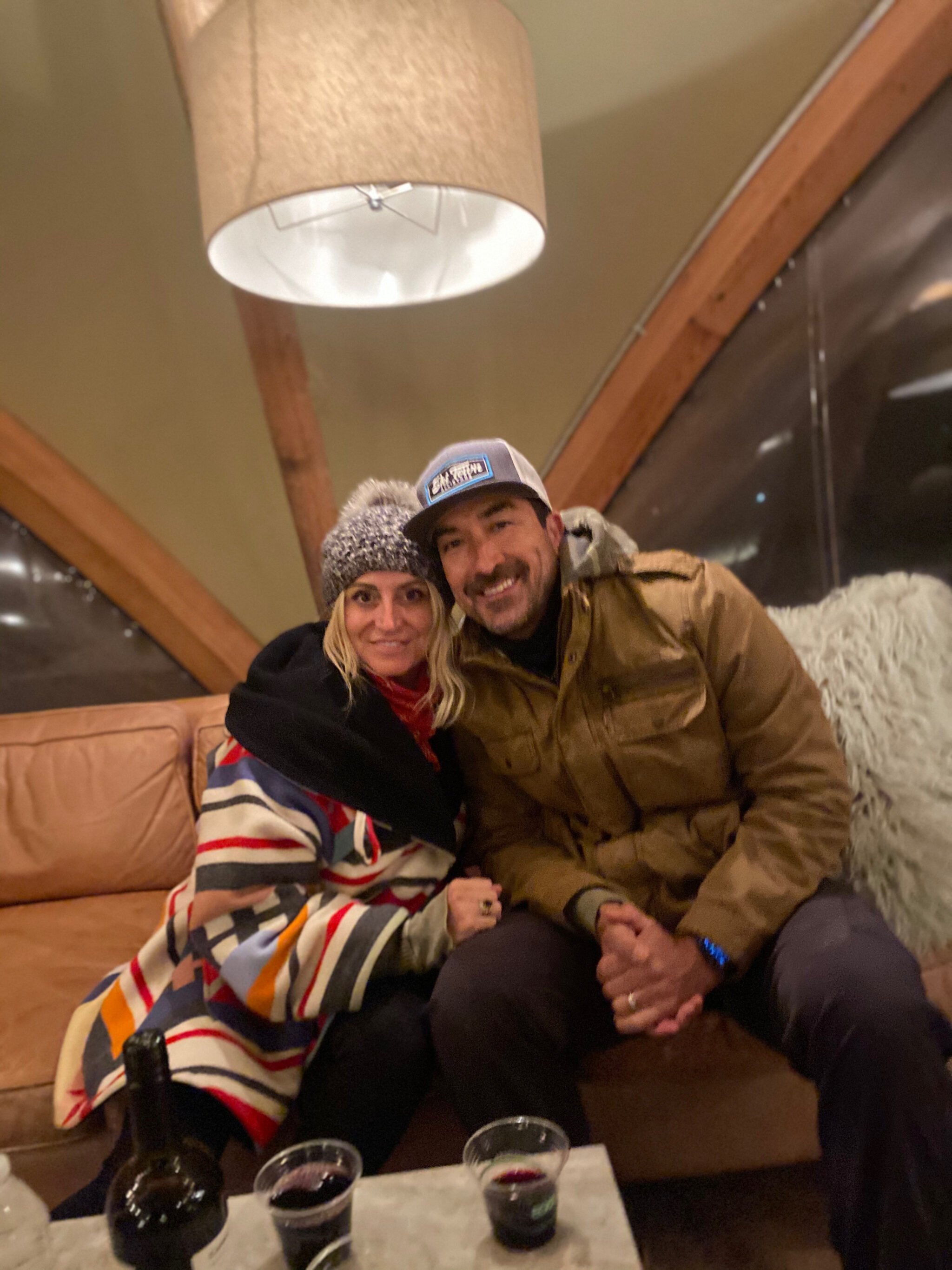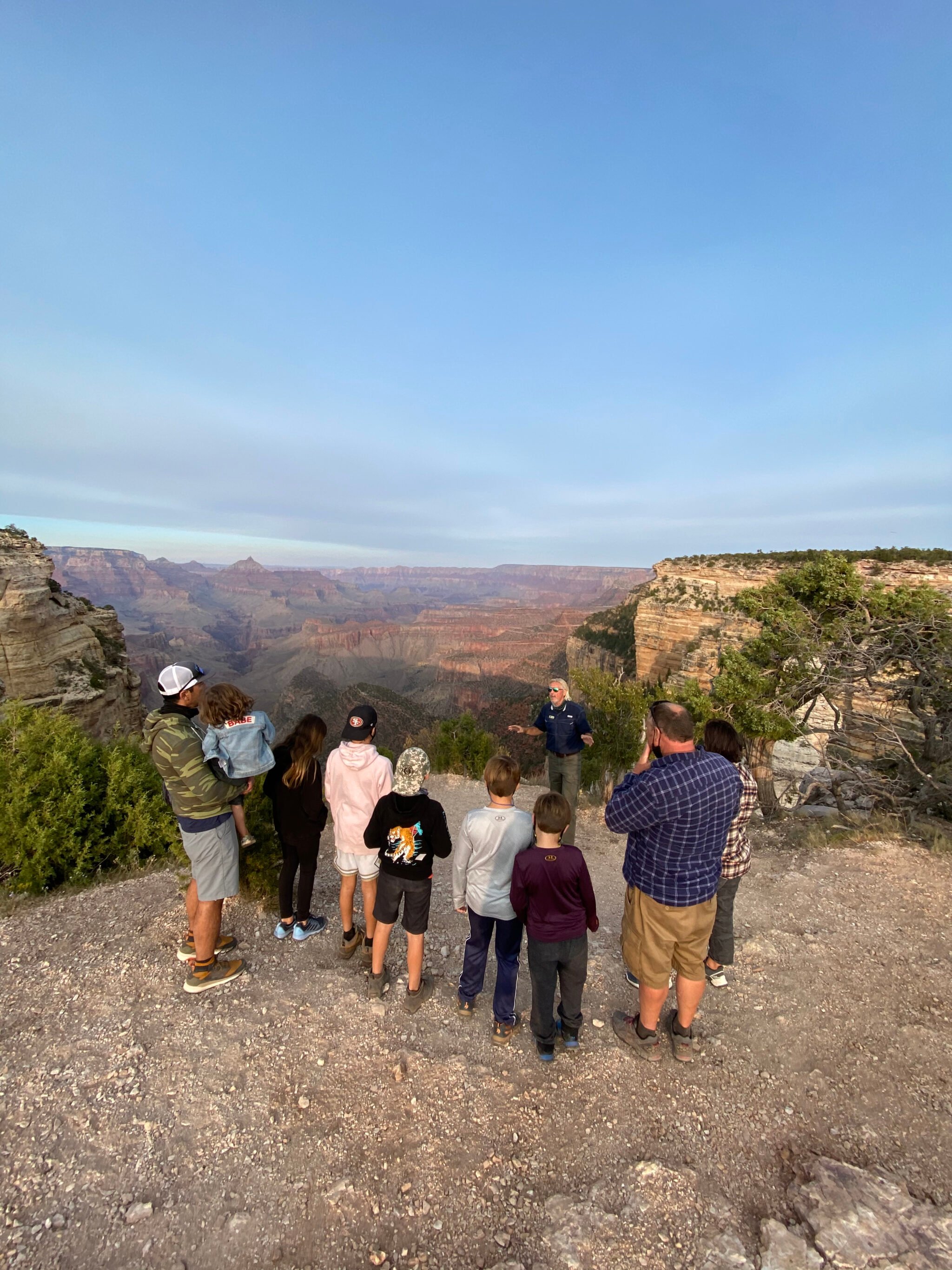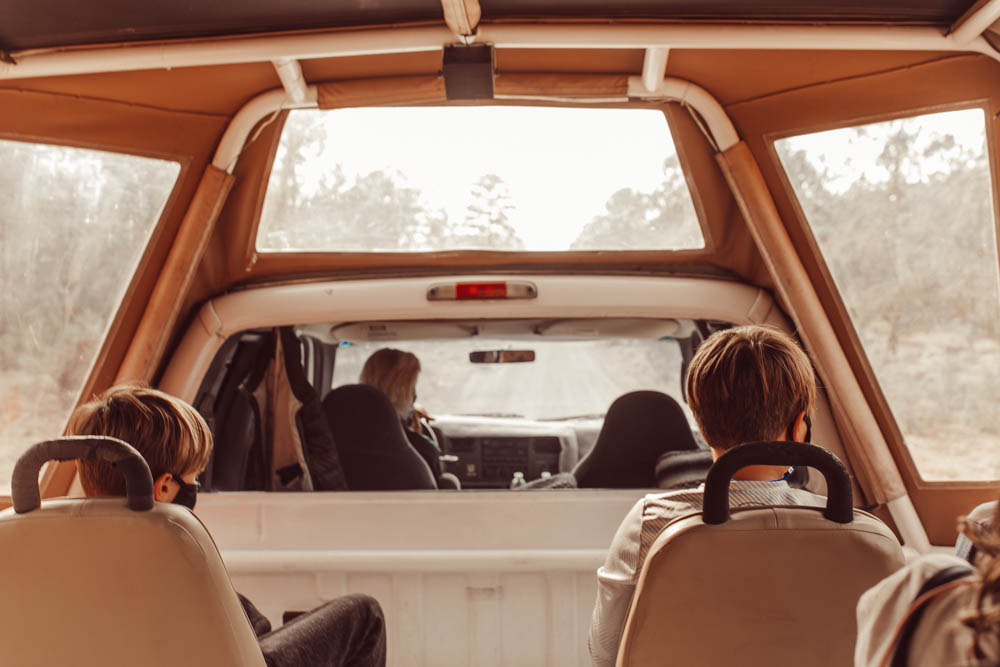 Seeing the Best of the Grand Canyon
One of our first adventures? A late afternoon Jeep tour which was a major hit for Bobby and my son Jackson. Being able to take in the sights, and familiarize ourselves with the vast landscape filled with wildlife and history gave us an overwhelming sense of gratitude. But it was made more special because we were together as a family. It was absolutely majestic as the sun began to set, highlighting all of the beautiful colors of the region as we made our way back to camp.
Nothing could compare to the natural wonder of seeing The Grand Canyon. The one memory that stuck with me was being under the night sky, covered by a blanket of stars as I watched Brody in all his glory dancing around the campfire, devouring as many s'mores as my pint-sized performer could possibly consume before crashing into a dreamland state.
---
Only eight fish species are native to the Grand Canyon. Six of which are found nowhere else outside of the Colorado River.
---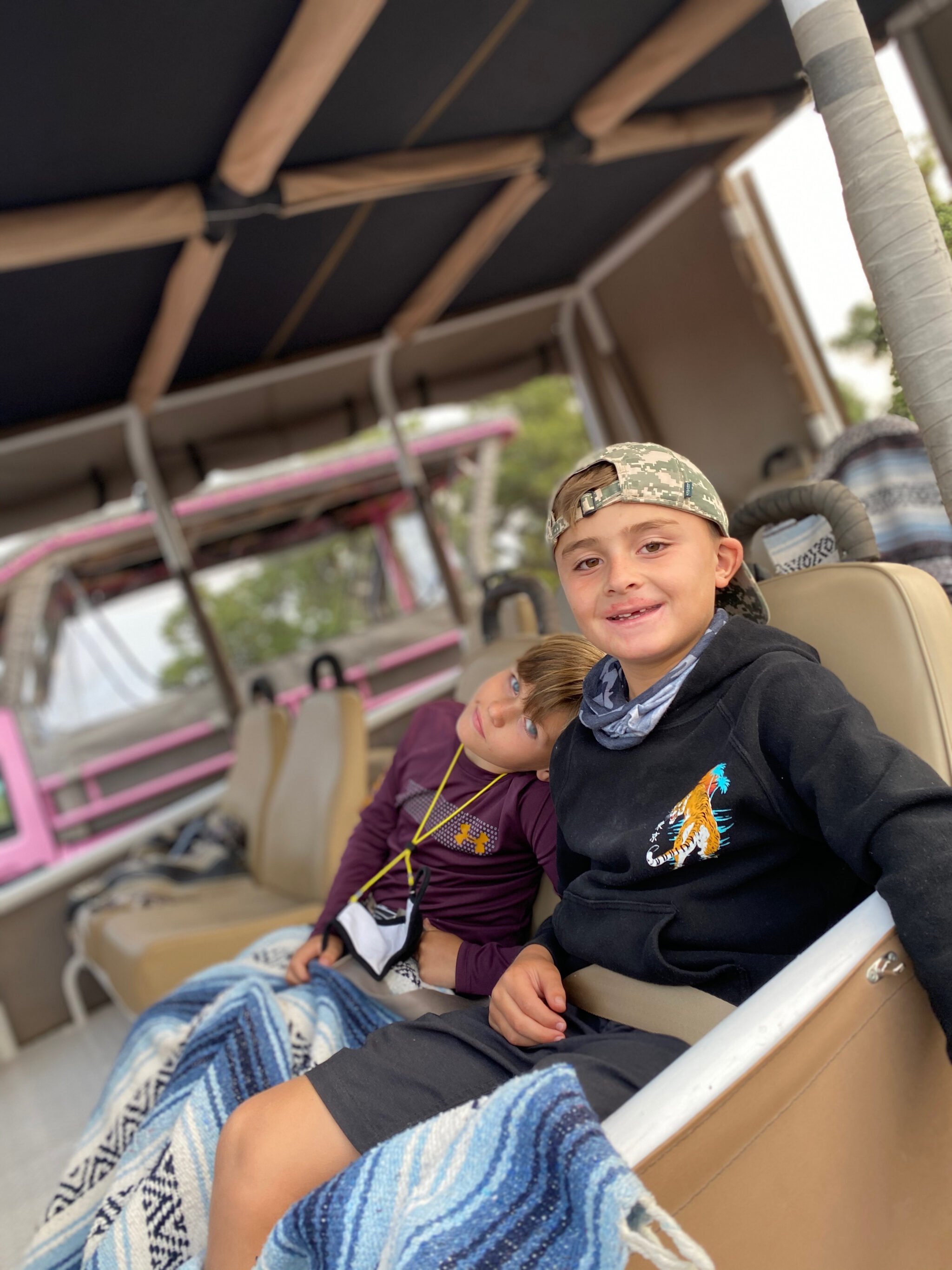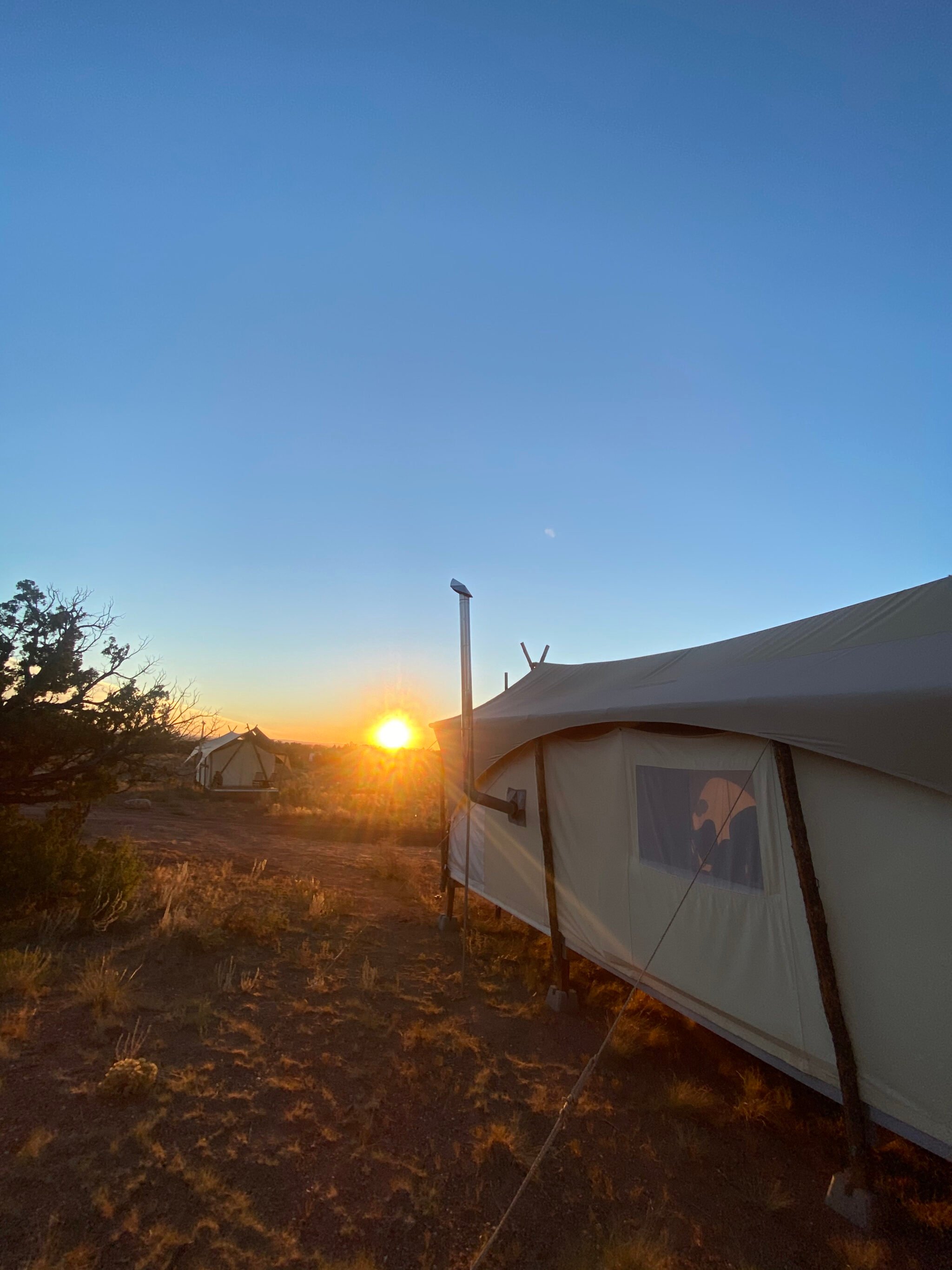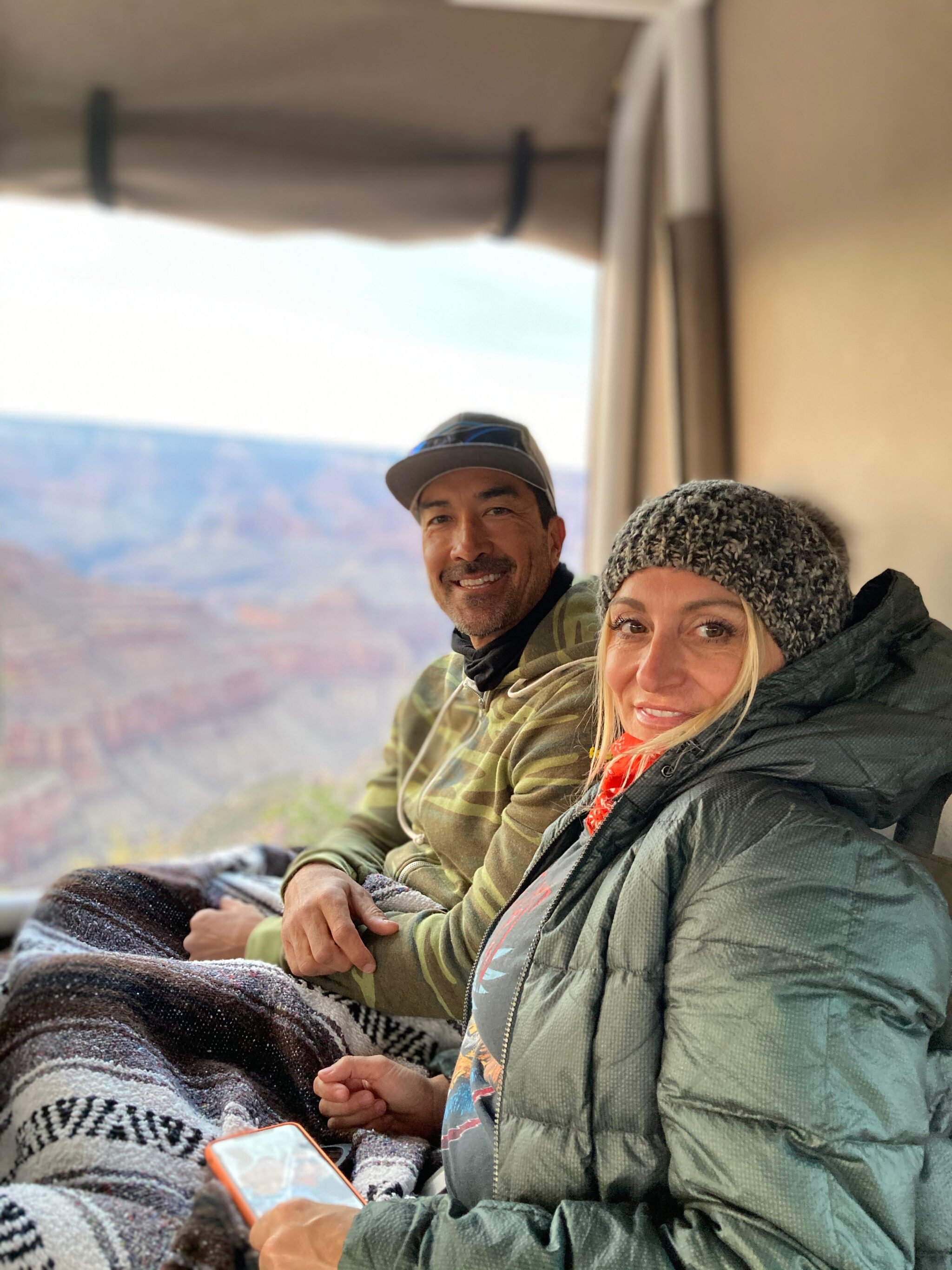 Highlights of Our Stay
Never in my life did I consider myself a hiker. Sure, around home, during a short camping trip, or for exercise, I'd get up and go, but this trip considerably changed my view. It's true when they say you connect with the universe most in nature, and I witnessed this first hand. The kids were troopers, and around every bend, and every mile, there was something magnificent to discover. And as our tour guide explained the history of the surrounding landscape and mesmerizing views, there was one thing on all of our minds: "When will we arrive?" And that's when it appeared.
I don't need to tell you how immense and impressive the Grand Canyon is. But for those who have not had the opportunity to visit–wow. To call The Grand Canyon majestic would be a vast understatement. Seeing millions of years worth of red rocks and layers just show life is so much bigger than we know. And it was heartwarming to see the pure awe and excitement on my children's faces. I know that they'll visit the same spot with their families one day.
I'll admit, while I was thrilled to be able to capture this moment with my family on film, and did my best to put on a brave face, my anxiety shifted into overdrive the closer I got to the edge. I could pinpoint the exact spot, with my luck, I'd go, SPLAT! Can you blame me? The canyon ranges anywhere from 800 to 1,200 feet in depth! Let's just say I stayed a little further back.
Have you listened to my podcast? Check out The Mom Confidential!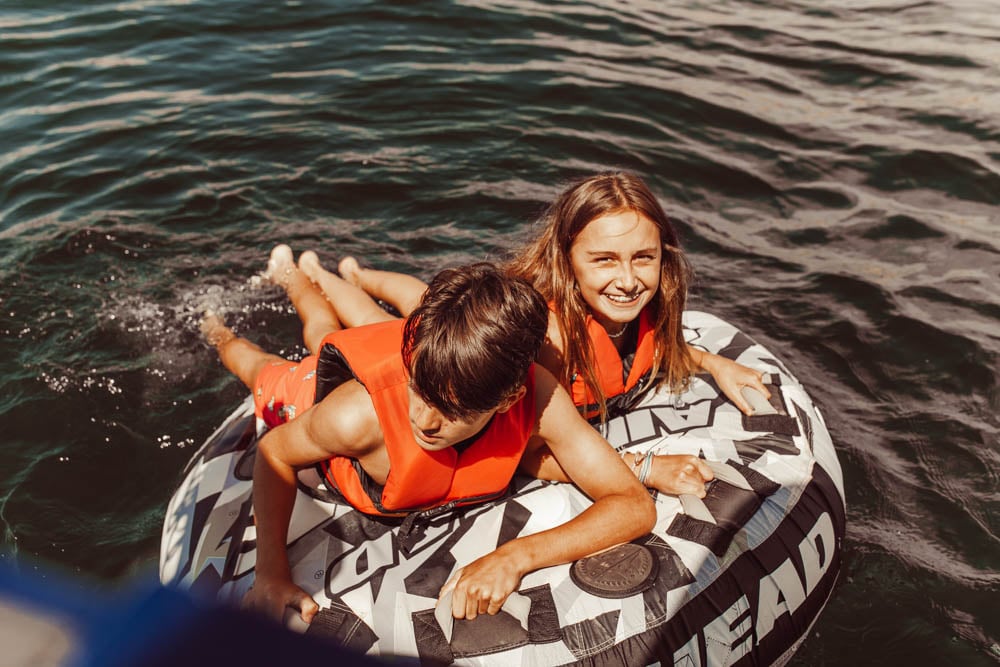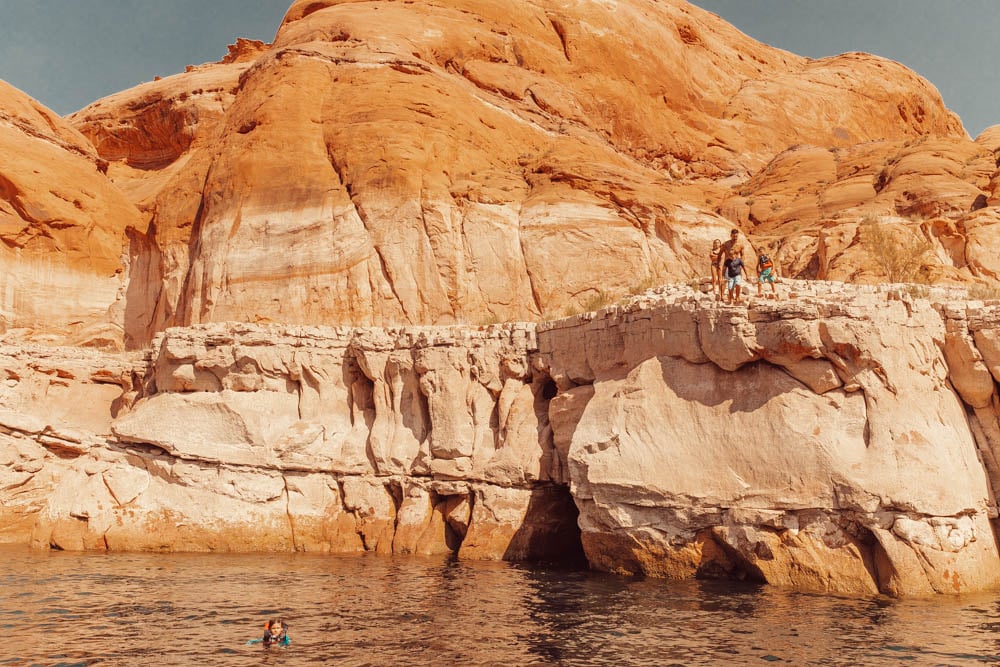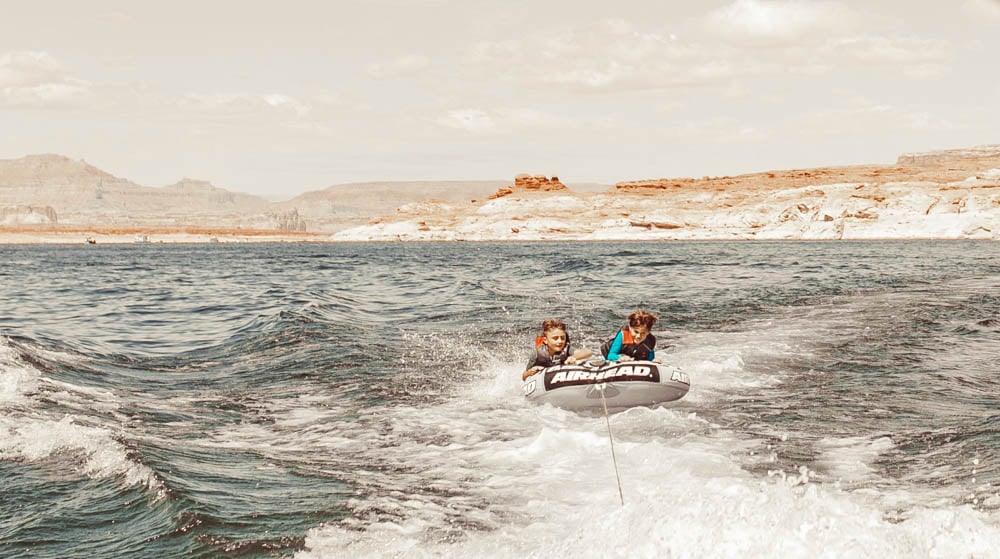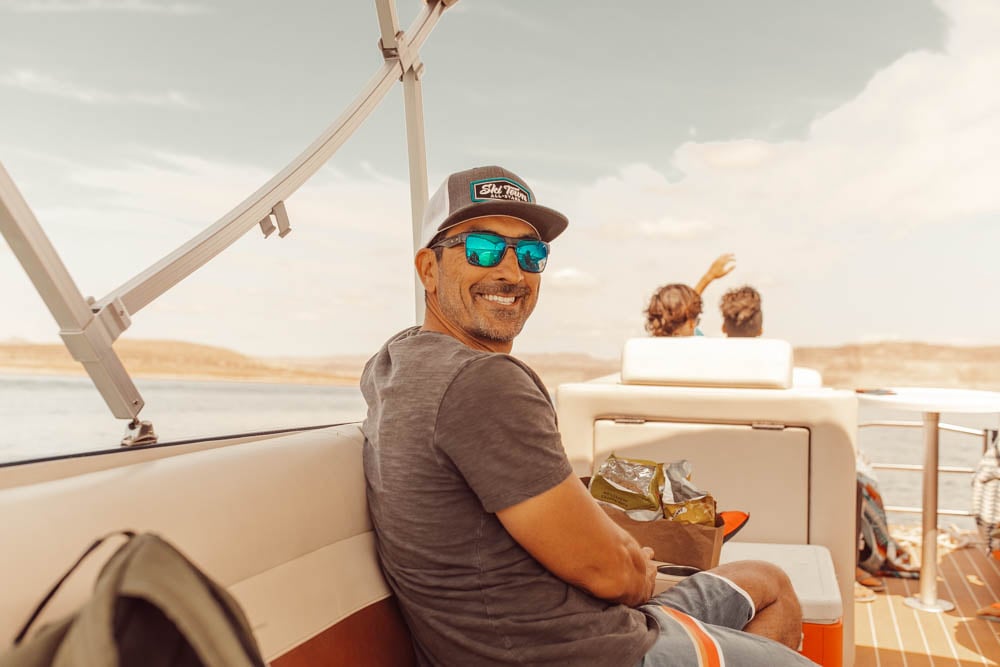 Our Stop at Lake Powell
With a trip chock full of highlights, adventures, memories, laughter, bonding, and love, our day at Lake Powell encompassed everything I could have dreamed of and more. Being on the water that day, was exactly what our souls needed. And it was impossible to remove the smiles from our faces.
Boating, cliff diving, rafting, and Bobby at the helm, I couldn't help but feel a spiritual connection beyond nature, beyond our travels. It was here I felt Scott with us. Arizona was "our" place. My brother and I created so many memories in this beautiful state. And my heart was overflowing because it truly felt as though he was here with me, Bobby, and our children. Everywhere we looked, we could just imagine Scott's beautiful smile and big blue eyes letting us know he was right there with us, enjoying every moment.
---
Supai Village is located at the base of the Grand Canyon within the Havasupai Indian Reservation. It is the most remote community in the lower 48 states,

with a population of just 208. It'

s the only place where mail is still delivered by pack mule.
---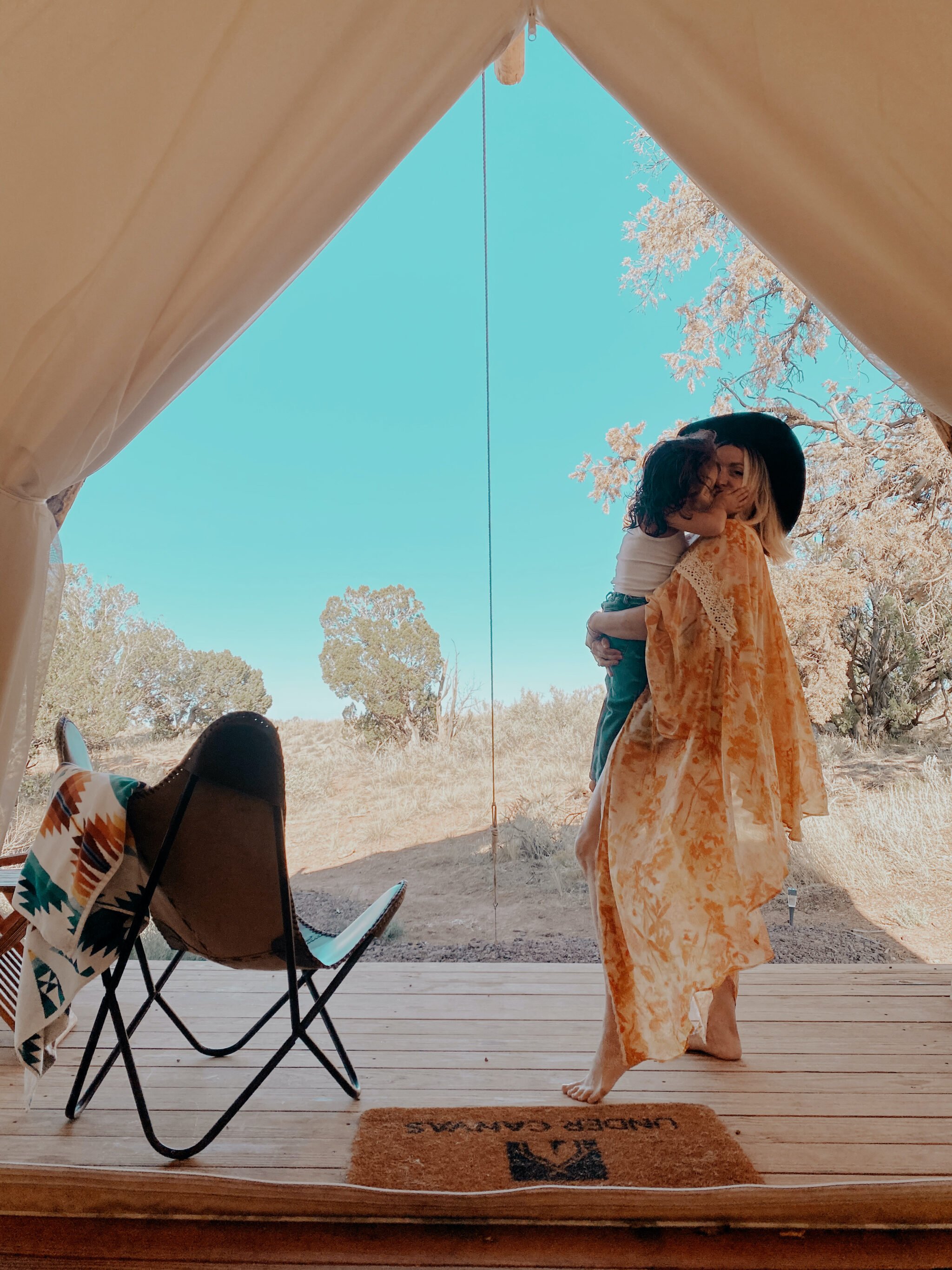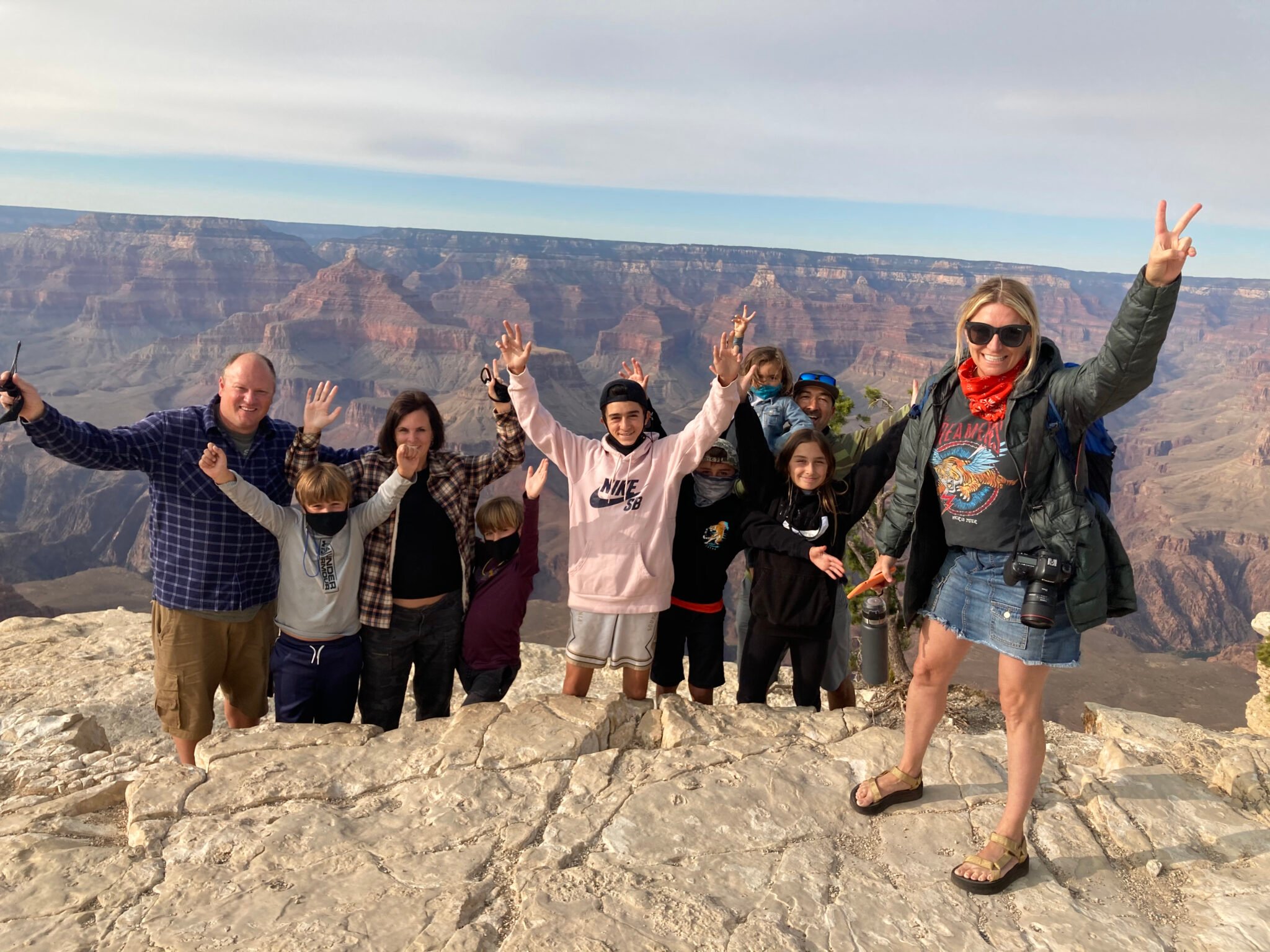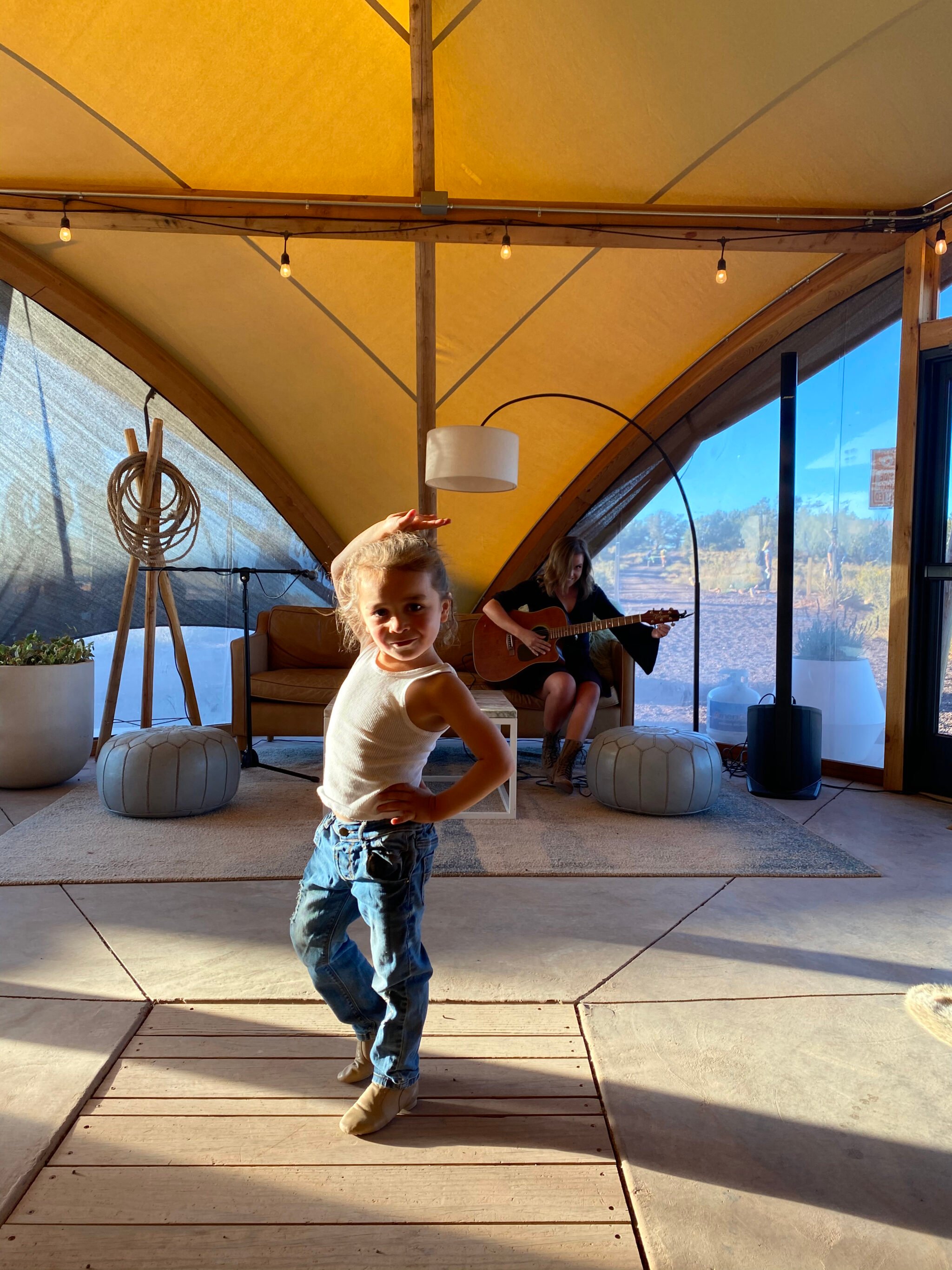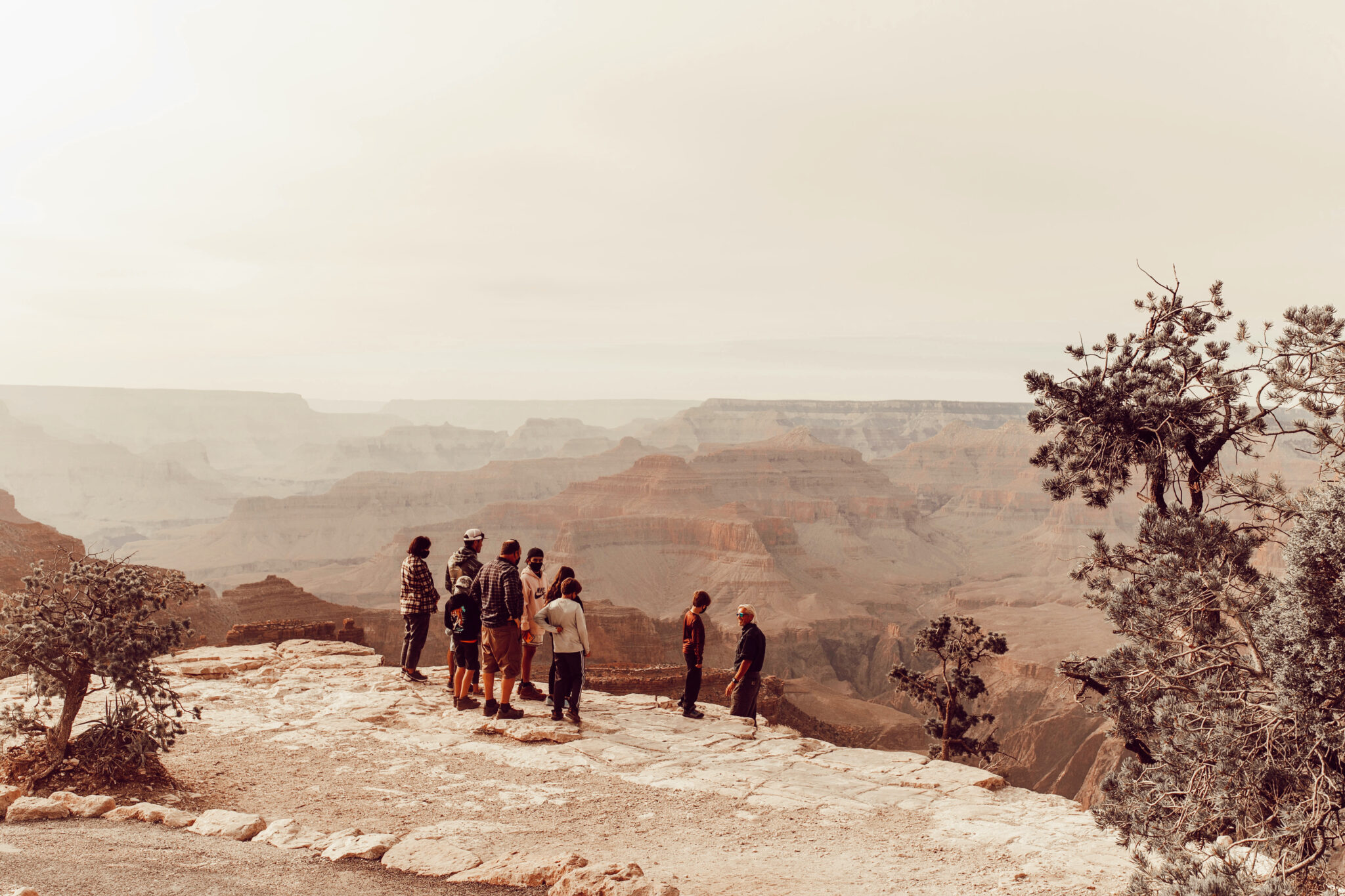 Tips for Parenting In Style...
Never boring, always awesome. Keep up to date with the latest from City Girl Gone Mom.