When Bobby and I purchased our home, we knew this would be the place to raise our kids. Spacious and full of possibilities, I fell in love with what could be. Design-wise, we've always loved the feel of a modern farmhouse home—making use of gorgeous neutrals, antique touches, and contemporary details to create a space that was inviting and warm to everyone who entered.
Over the years, we've spent time transforming each room into a modern farmhouse oasis that everyone in the family loves to be in. Truly, I love each room in our house!
If you're just starting out on your interior design journey or looking to give your existing space an upgrade, I thought I'd share my tips on how to get the same effortless coastal farmhouse design in your home. The secret? Invest in a few key pieces and fall in love with neutrals!
---
Your house has nearly a third of a million items in it. The average American home contains about 300,000 individual items, from furniture to office supplies.
---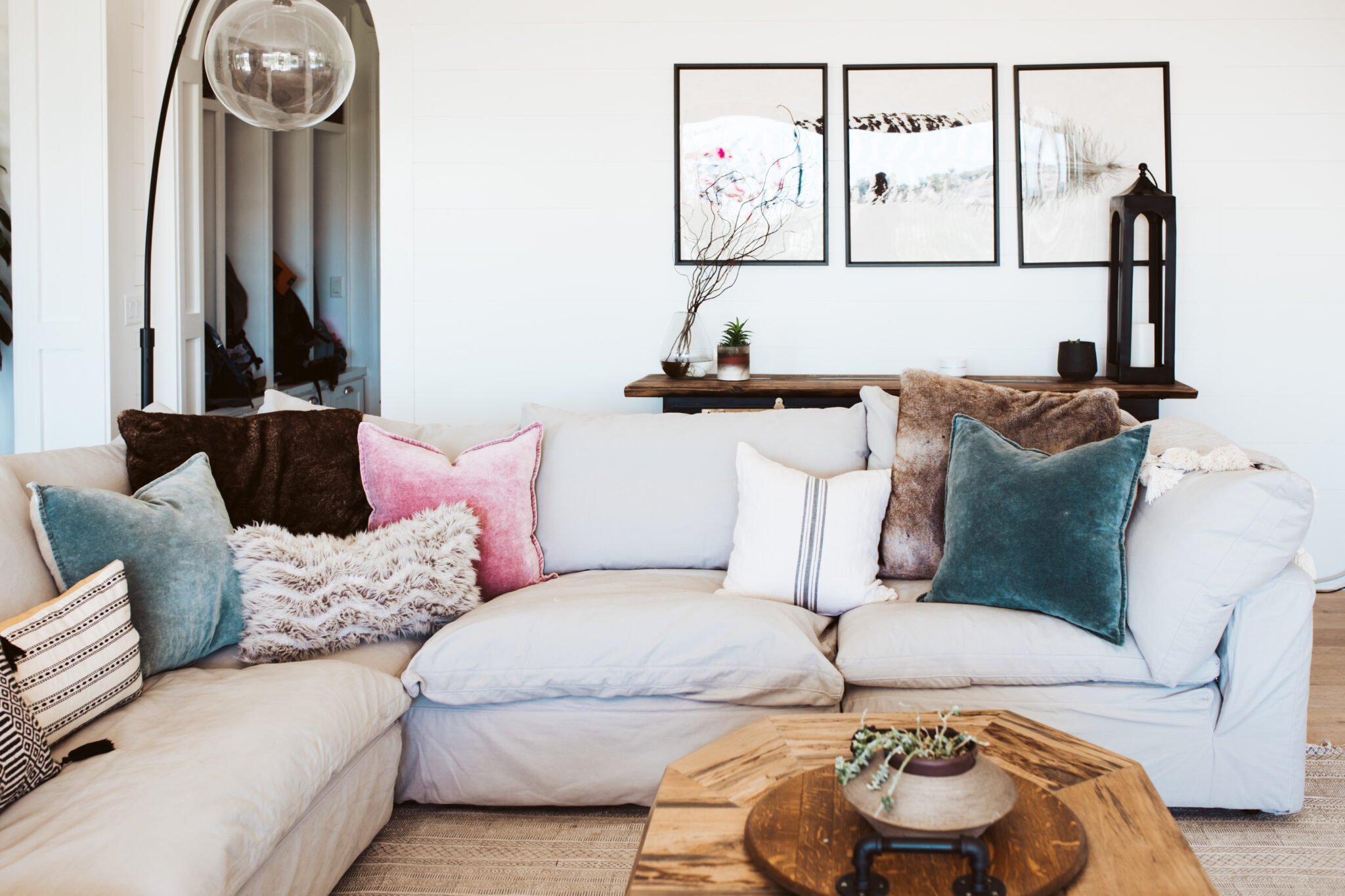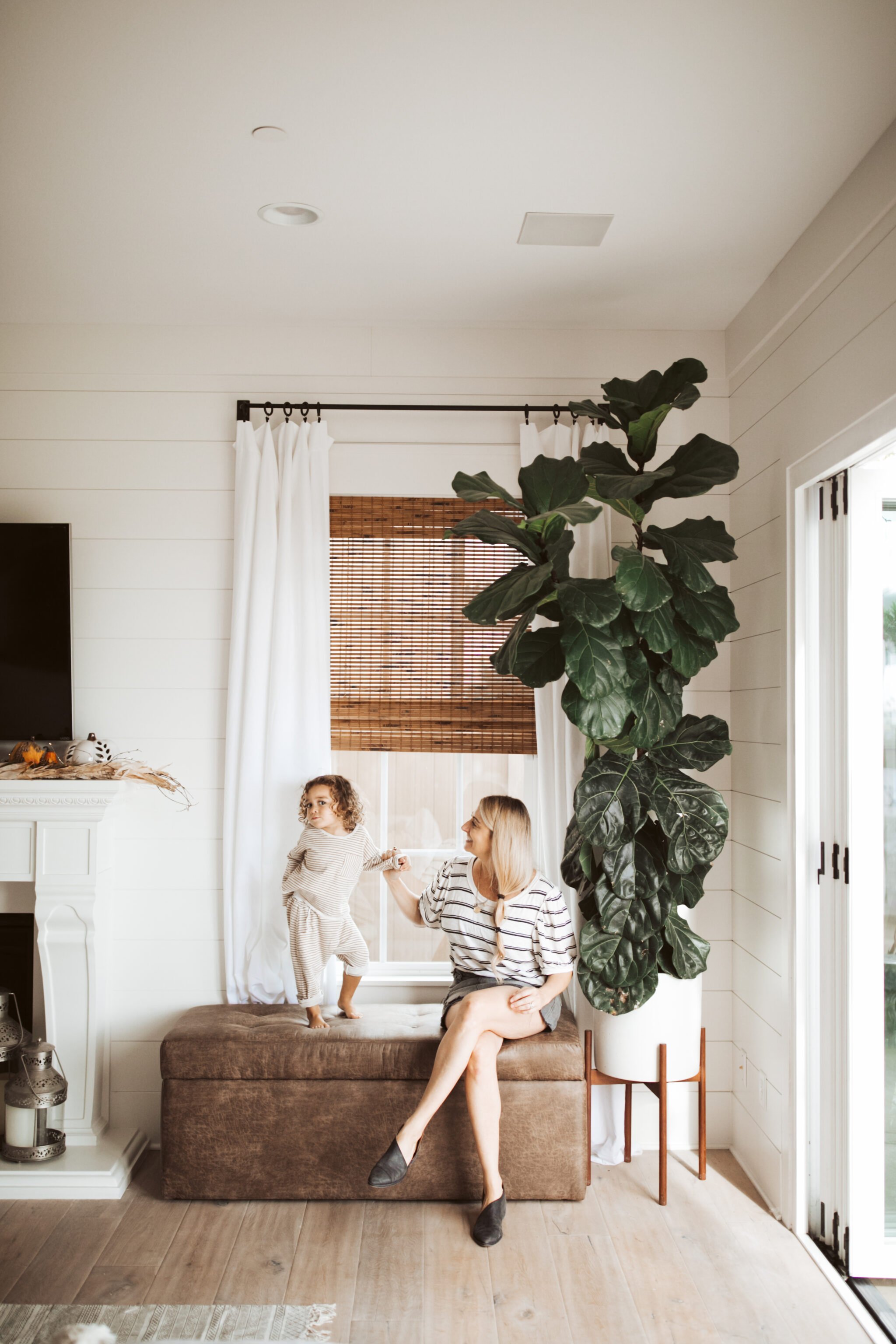 Start With the Foundation
I knew as soon as I started designing that I'd want barn doors in my home. A classic element of traditional farmhouse homes, they're what I like to think of as movable art. I started with barn doors in my upstairs hallway as opposed to built-ins. And for extra authenticity, we made them out of reclaimed wood planks.
Beyond the barn doors, I opted for open shelving instead of cabinets. They open up the space and give it that modern yet rustic feel. Plus, it forces me to keep things organized! I love how both the barn doors and kitchen shelves complement each other. I am able to display my plants and decorative dishware. The shelves create the perfect balance with my cabinets being on the other two walls.
Starting with these simple, basic touches can transform your space overnight. Over time, you can purchase dishware or accent decor that falls into an antique or rustic style to further the design vibes.

---
There's a reason your lower cabinets are lifted and protrude slightly. It's called a "toe-kick" and it's there so you can stand closer to the countertop while working.
---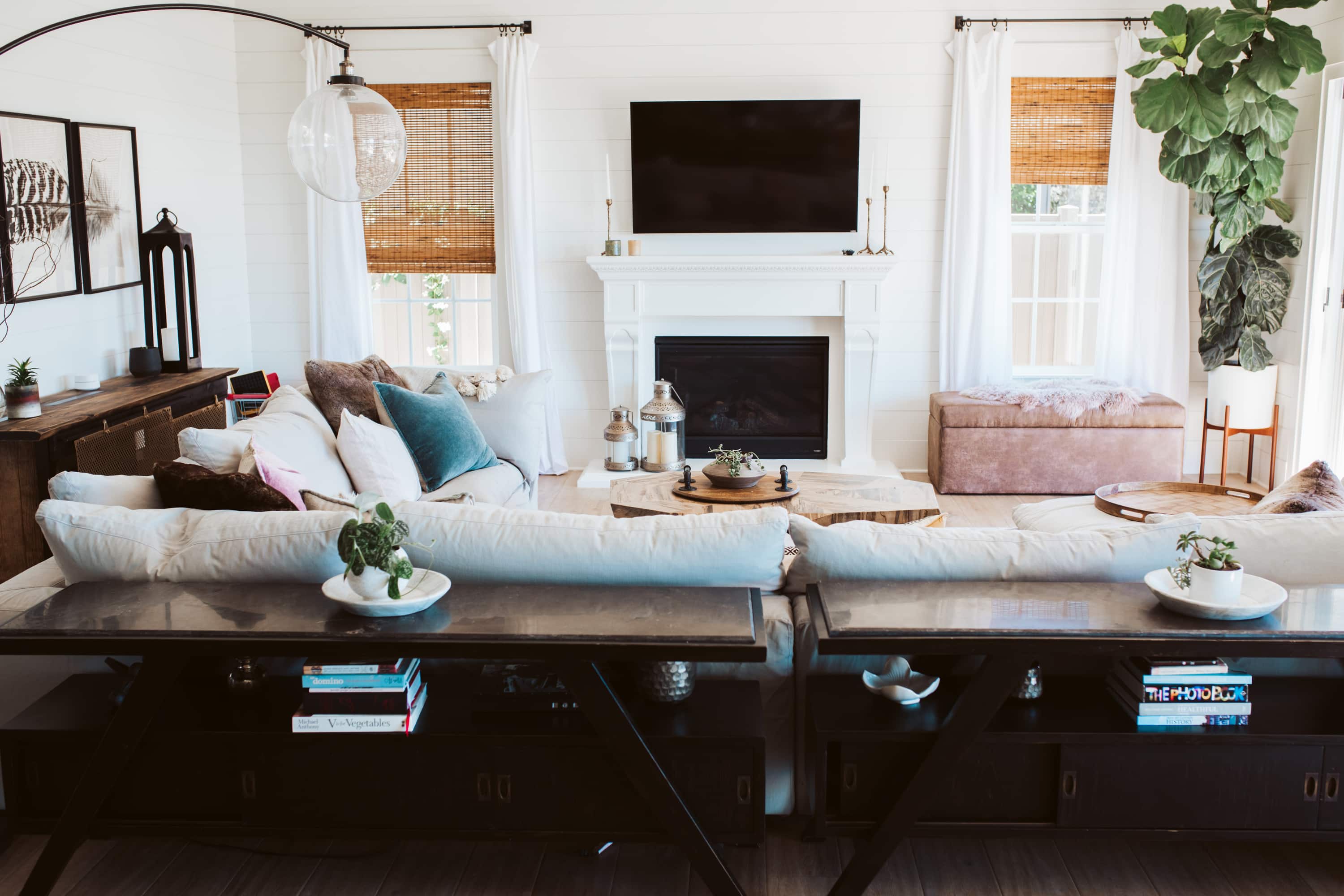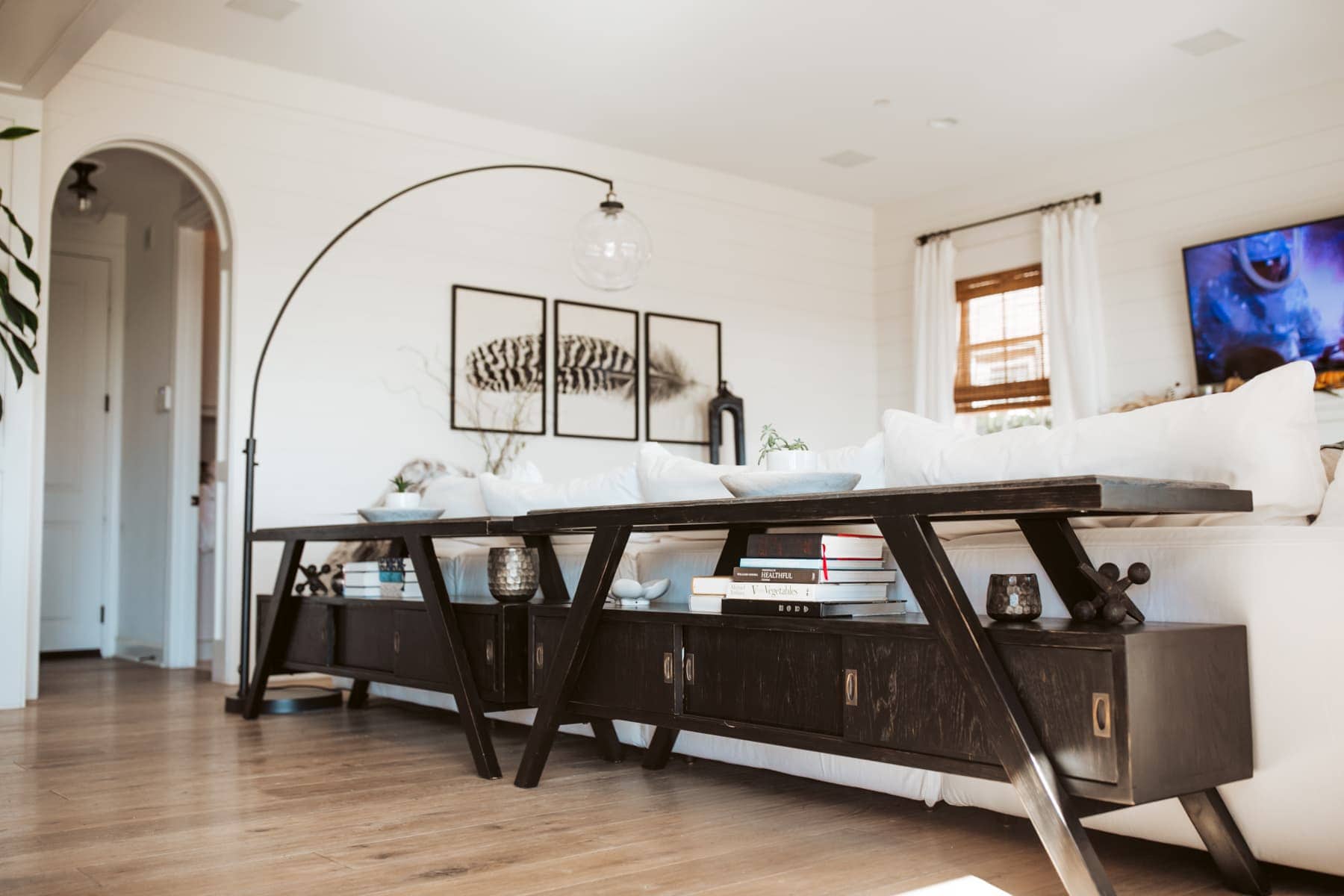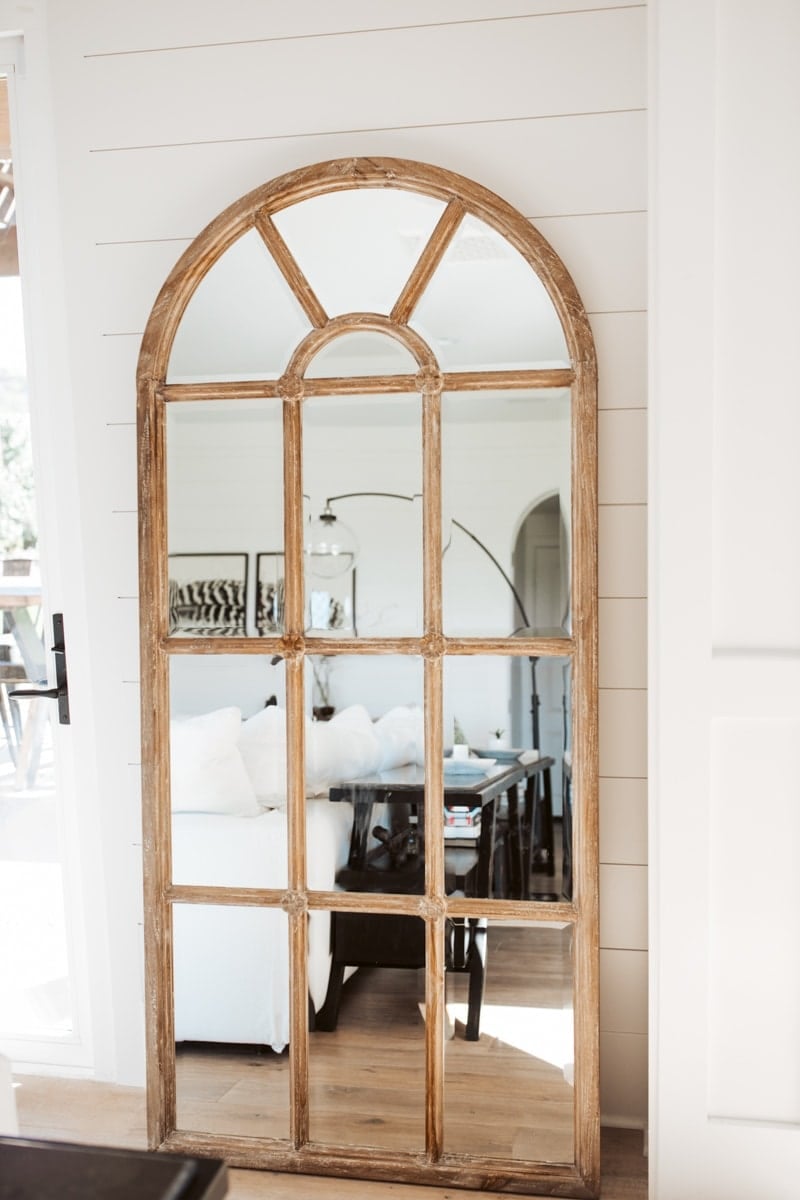 Invest in Key Pieces
I truly believe one piece of furniture can complete a room. Whether it's a grand dining table, an eye-catching light fixture, or just the coziest sofa you've ever sat on (more on that in a second), finding the right piece can then affect the rest of the room's design.
In our living room, the Tahoe Sectional from Arhaus was the perfect addition—the kind of plush, "sink-into" comfort my family loves on movie nights or on Sundays during football season. We decided on the stain-resistant options because I have four kids with lots of sticky fingers. (Not to mention, three pups with dirty paws.)
Another piece I love is my Carrinna coffee table. The perfect blend of a rustic farmhouse with an industrial frame, this coffee table has gotten so many compliments over the years! It's durable and a classic neutral to add pops of color or accent decor onto throughout the year.

---
The copper in brass has an antibacterial effect. These types of knobs are less likely to harbor harmful bacteria than your average glass or wood ones.
---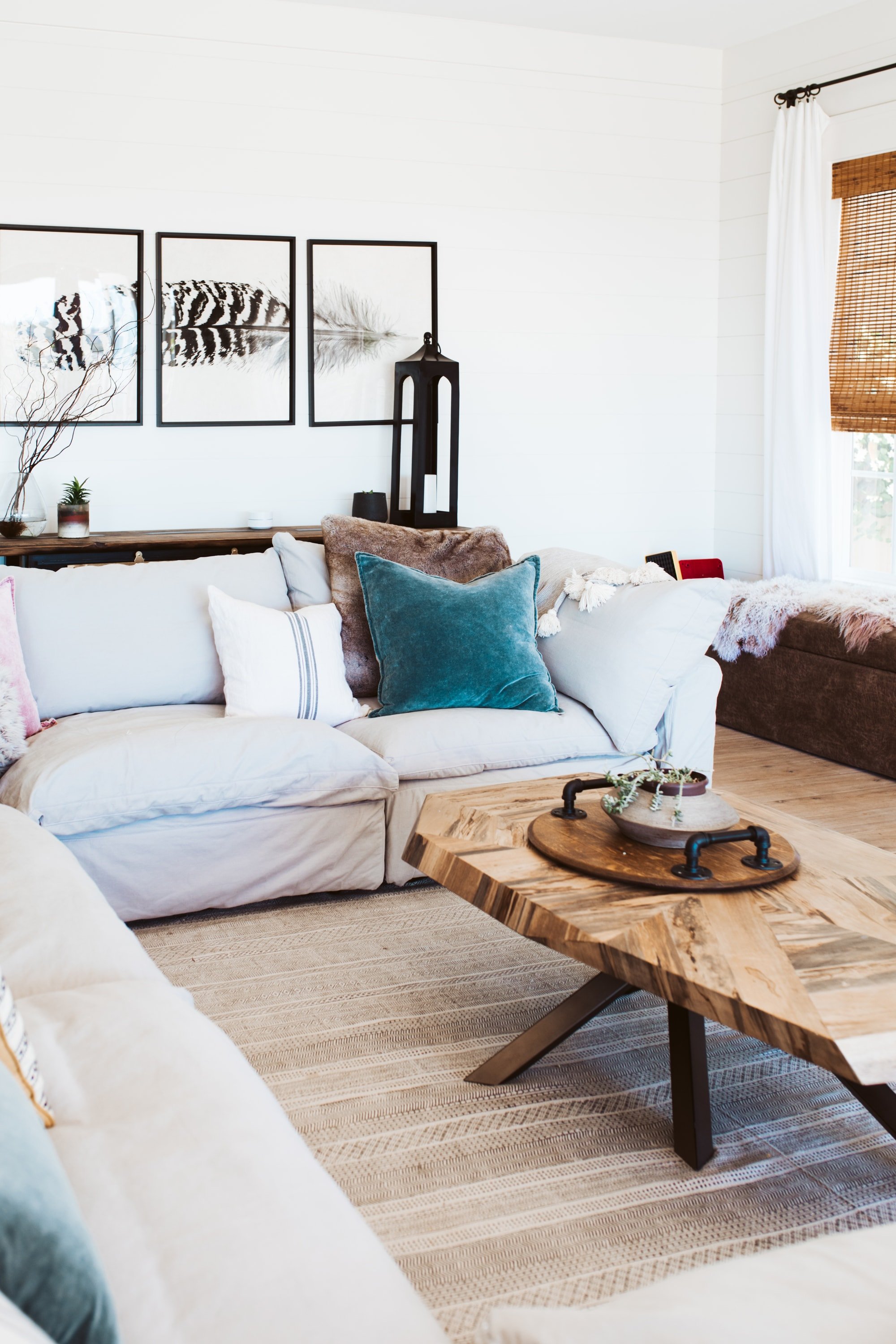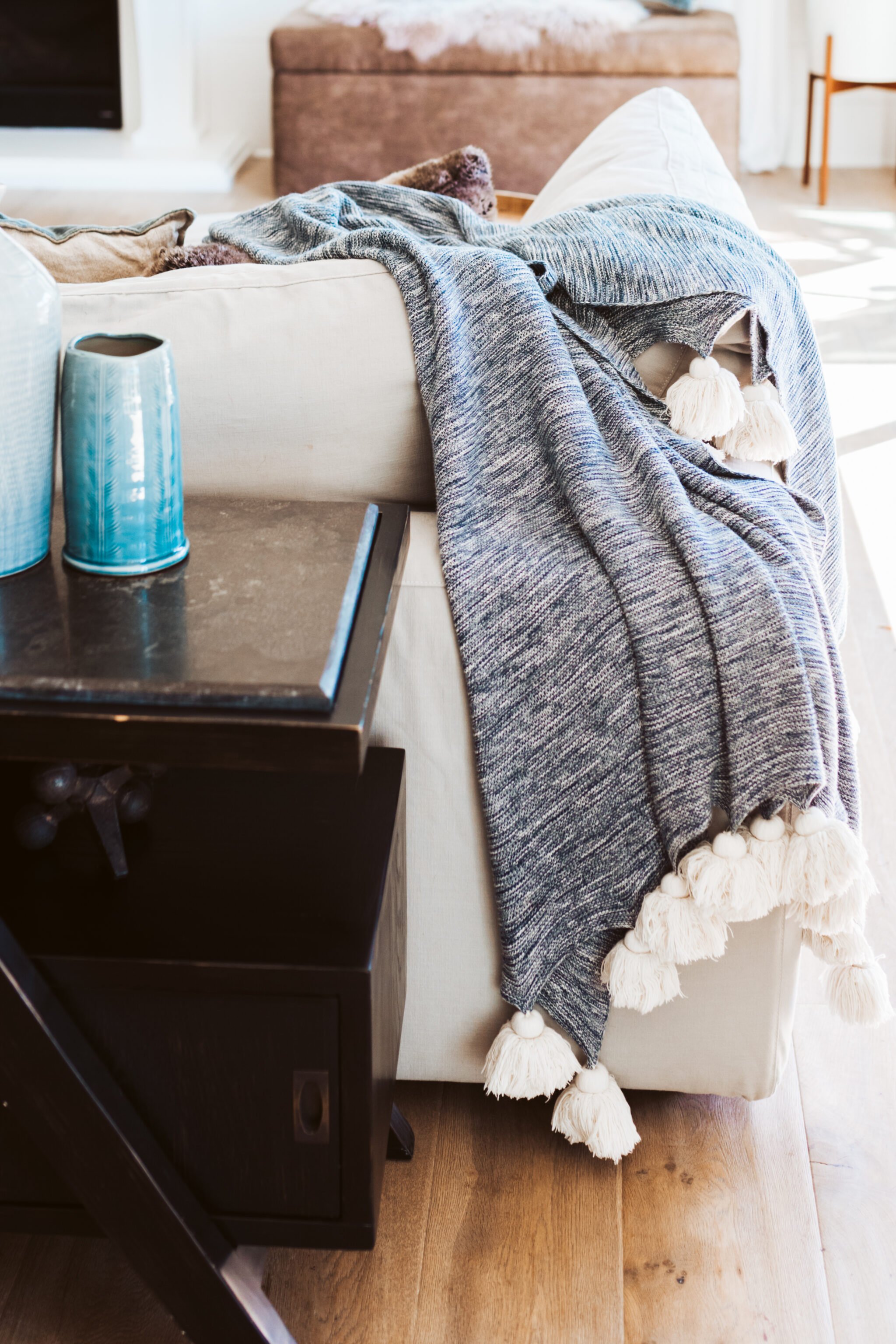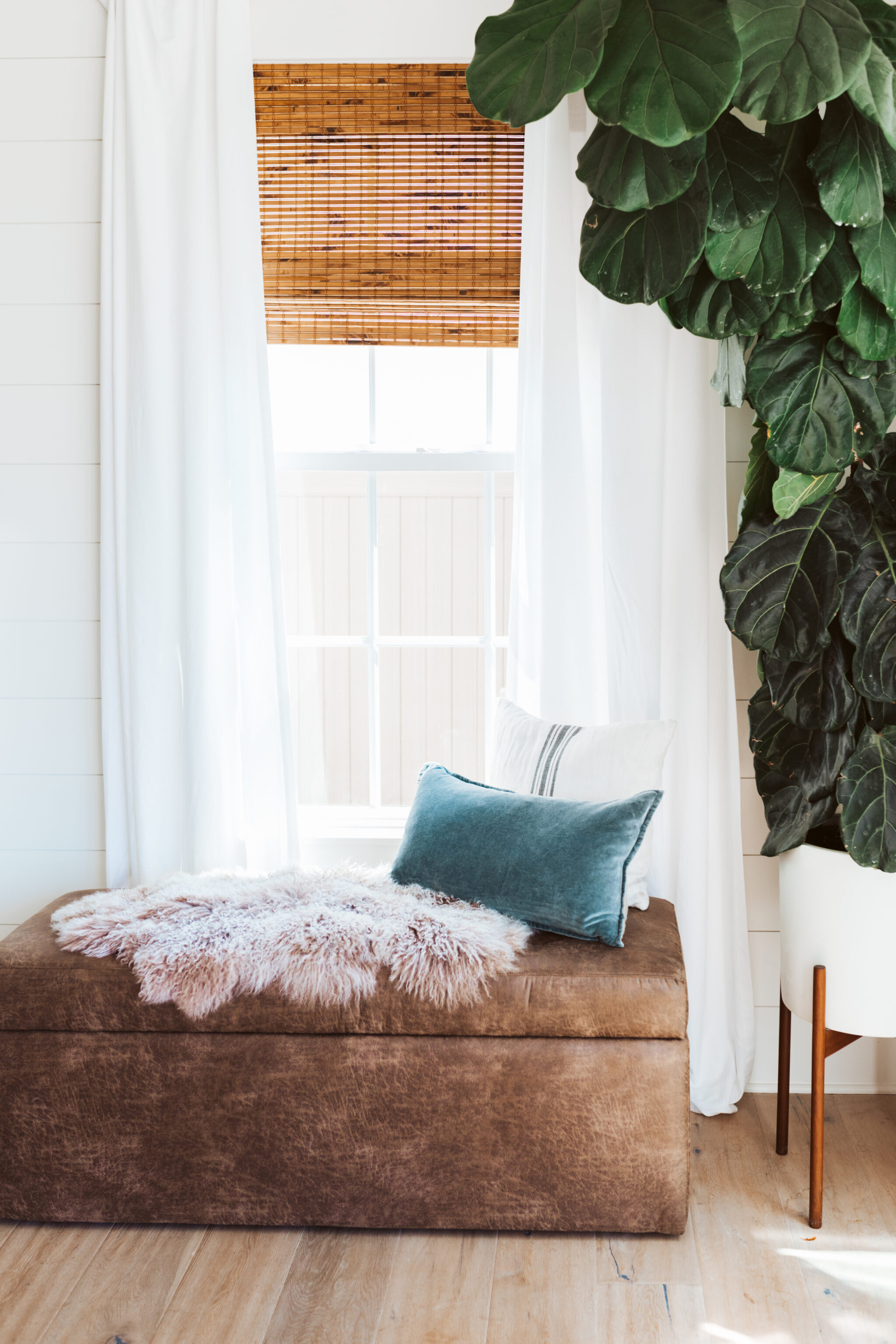 Find Your Style With Accent Pieces
Once you've created a solid foundation with subtle neutrals and key furniture pieces, you can tie your home together by bringing in the most important part: your personal taste! Whether it's a pop of color with bright throws, making use of fresh greenery, or using statement wallpaper, you want to add in the things you love. This is key for taking a house and turning it into your home. Sometimes, it's easy to just copy what you see online. But the real warmth of a space comes from incorporating your own personality into it.
For me, another important factor was having an easy transition between the indoors and outdoors. We're so blessed in Southern California with sunny weather nearly year-round, so it was imperative for me to have a space that took the best of both worlds. With the help of Arhaus, we created an outdoor patio that felt just as cozy and comfortable as our living room.
Your home should be a reflection of you and your family. With these key modern farmhouse design tips to recreate in your house, you can create a truly magical space you'll want to live and make memories in for years to come. Happy nesting!
Have you listened to my podcast? Check out The Mom Confidential!
---
Balusters—also known as spindles or stair sticks—are named after "balustra," the Italian word for pomegranate flowers.
---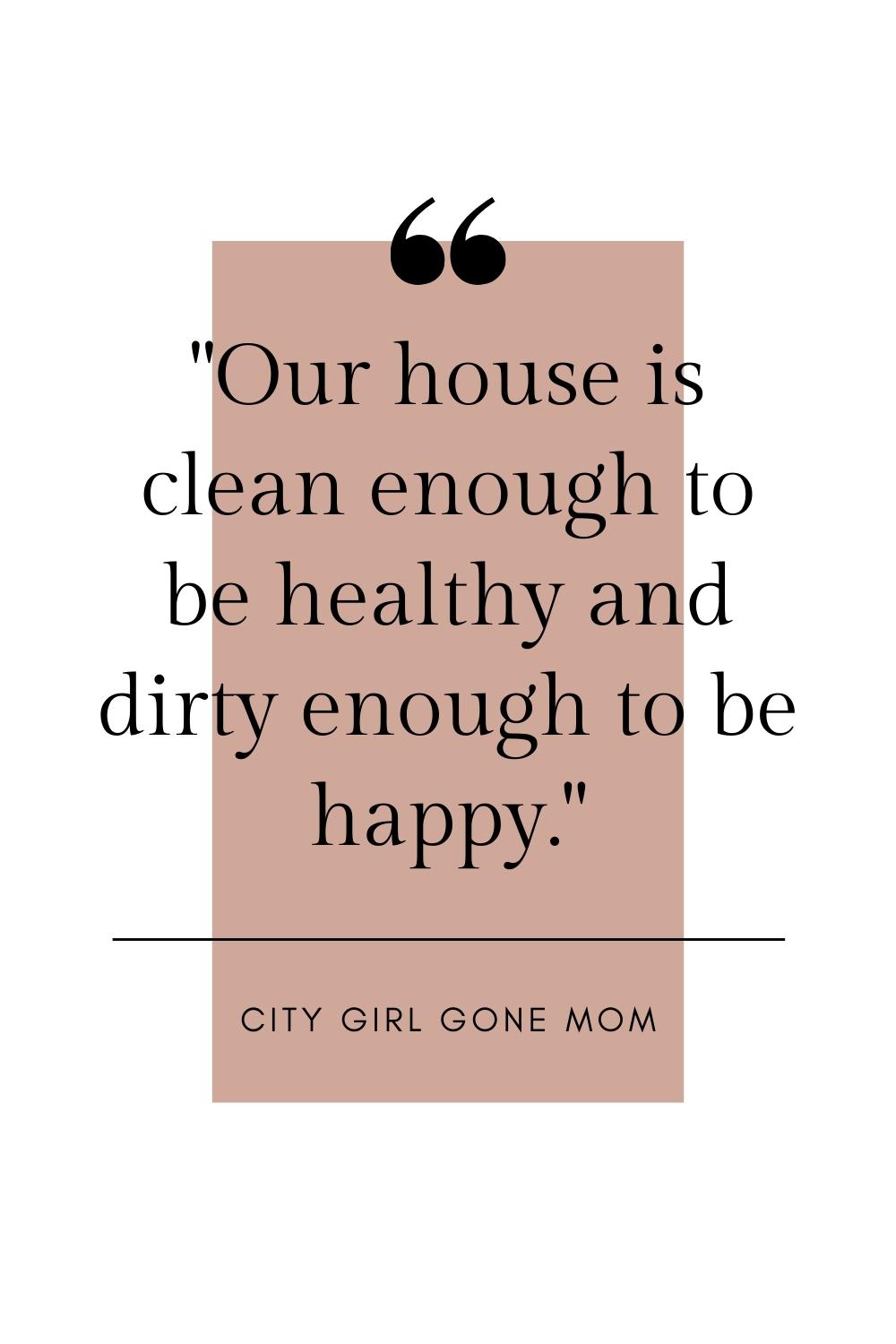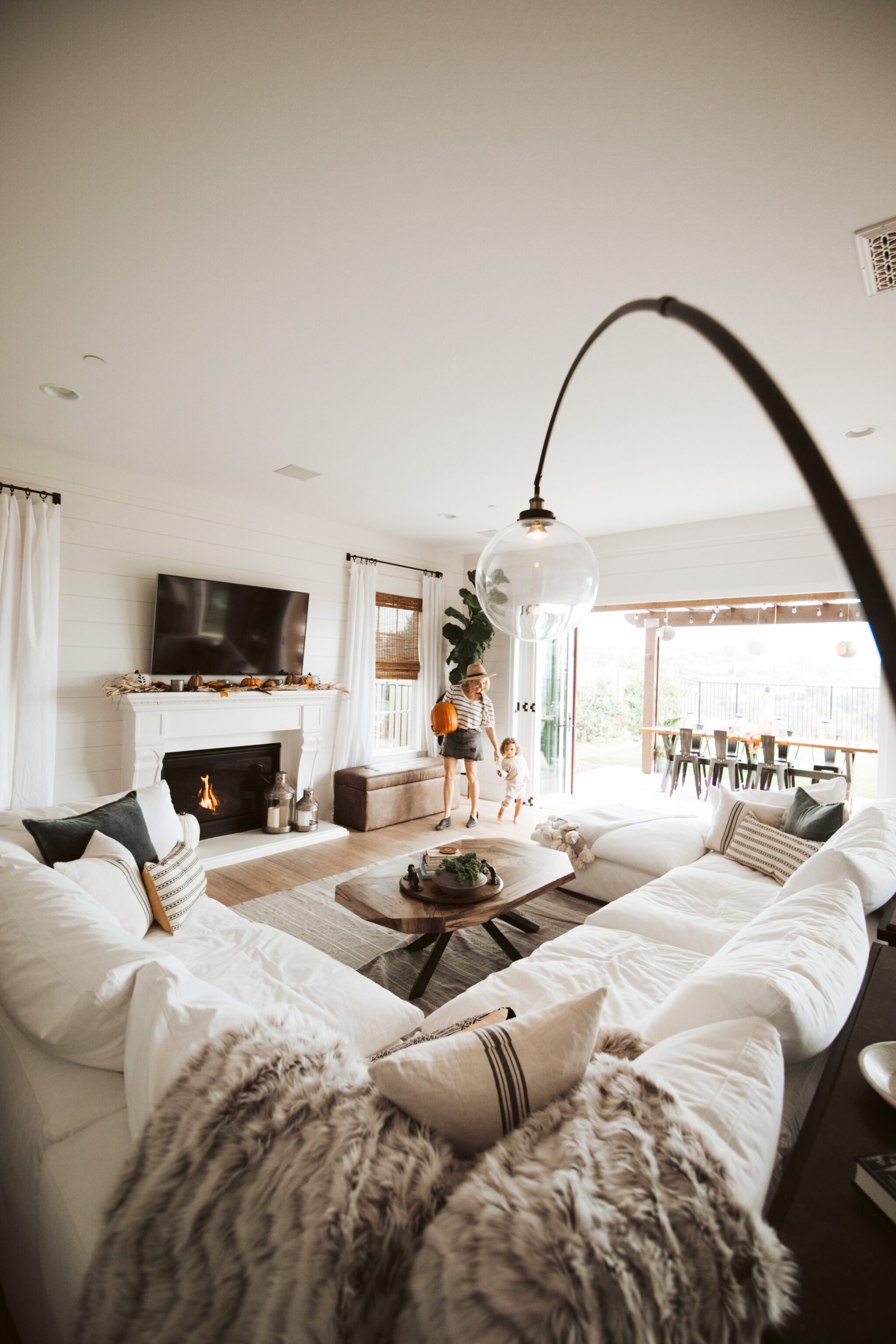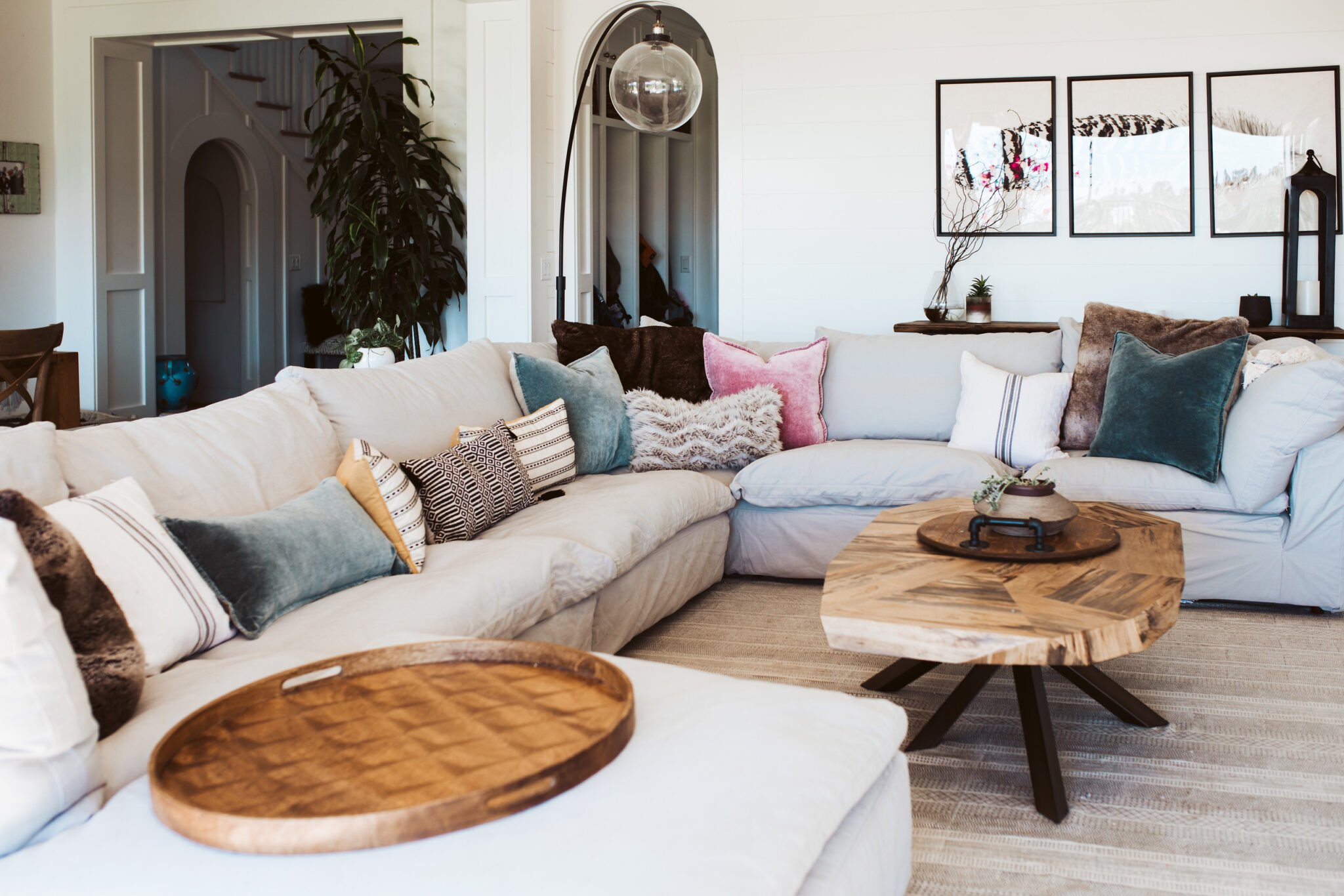 Tips for Parenting In Style...
Never boring, always awesome. Keep up to date with the latest from City Girl Gone Mom.