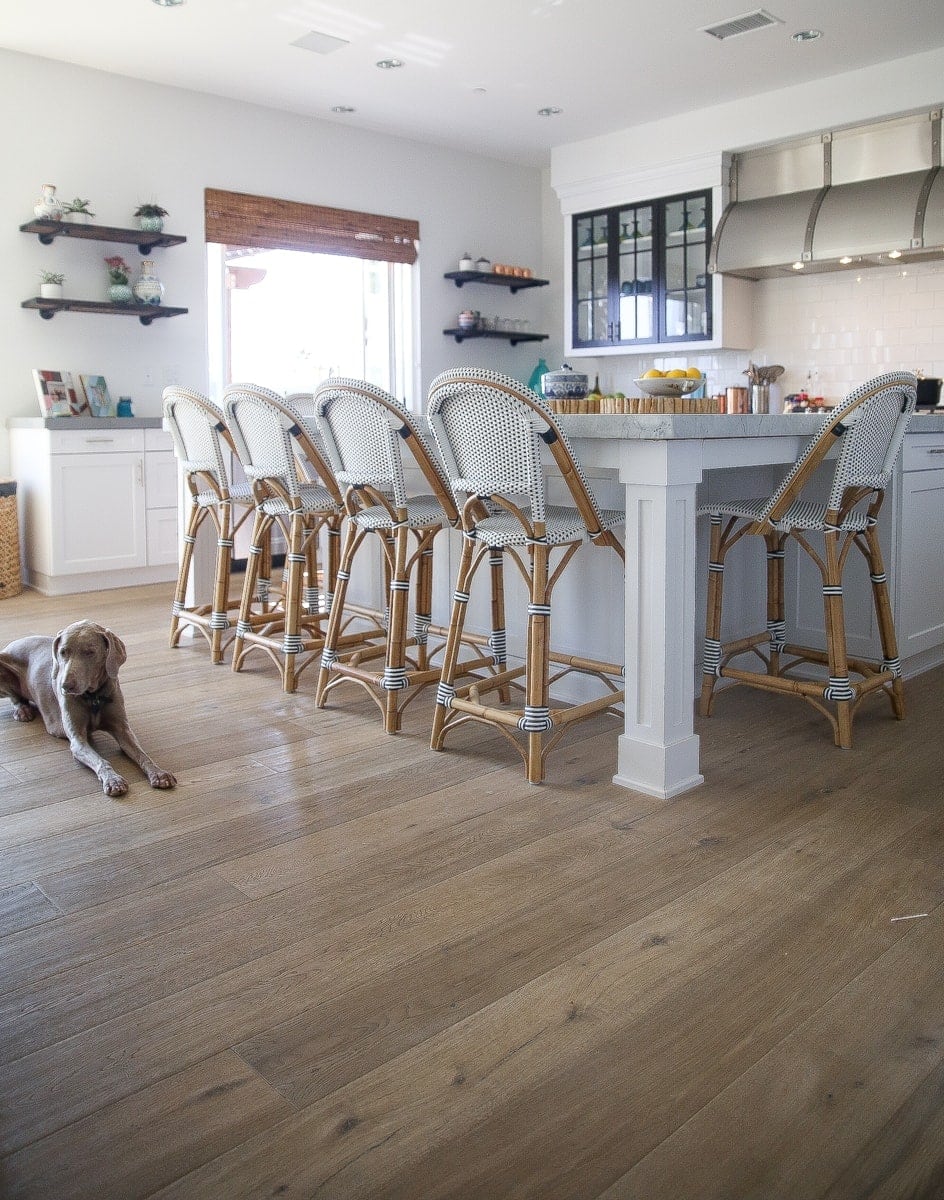 When it comes to Interior Design, making the best possible use of the available space is the goal.  It took us years to plant our roots in southern California, and I am happily working with a blank canvas of a home.  Its our starting place of love, hope and dreams and I get completely amped when artists come in and share their craft with me.
I want my surroundings to be tranquil, to embody all that it can be: a place where memories are being made and hallways filled with laughter and joy. I want little nooks where you can find a quiet place and a refuge that represents my design aesthetic and passions while also representing our past.
When friends and family enter our home, I want them to feel cozy and warm where they can enjoy the views, sip on coffee or tea or even some wine.  I want to share with my guests our daily rhythms, passions, and direction.  We have waited, and worked very hard to finally have a place we can now call home.  Tackling every inch will take years, but I am finally here, ready to make our home more intimate and inviting.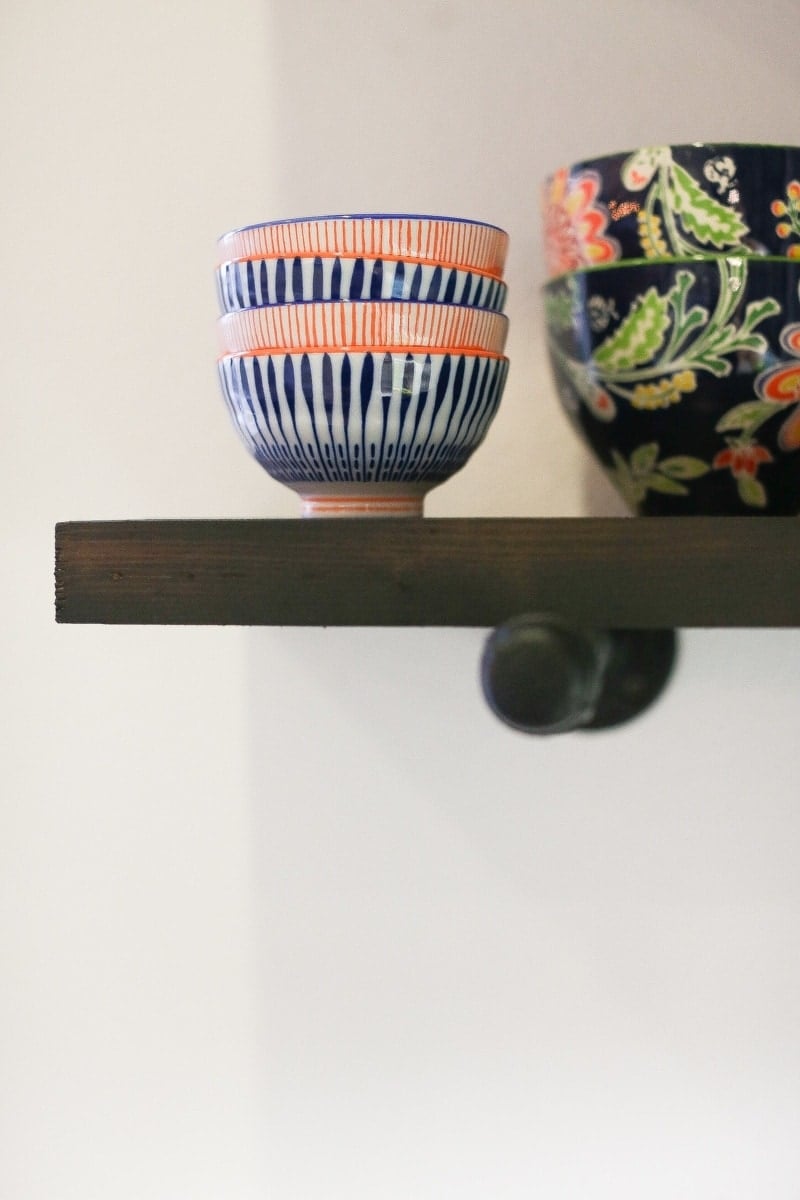 Paint or Trim
When it comes to painting I like to wait till the trim is up.  Some people rather paint first and trim later.  I fell in love with trim when we built our first home on acre of land in North Carolina.  Being a native east coaster, I love everything about trimming the walls.  From board and batten, crown moulding to tongue and groove, I am obsessed with trim.  I told my husband once we land in our forever home, we are going to trim every wall.  It's not cheap, so this will take years and we are prepared to slowly cover our home room at a time.  When we do decide to paint, I will be using a grey tone called Balboa Mist by Dunn Edwards.
Casings
I decided to start with casings around the archways and the dividers between each room.  I feel that trim really makes it look more complete.  We opted for a more coastal trim with flat edges as opposed to a more ornate style.  I designed it myself with my team of carpenters.  We are not handy this way by any means and like to leave these type of jobs up to the professionals.  Luckilyy I found Jacovo and his team.  (see below for details)
The four spaces that we installed the casings on took two days of tedious work.  I went with a semi white gloss paint to make sure it pops for when I eventually paint the grey walls.  I absolutely love the way these four spaces came out and will really be able to see it pop once I paint.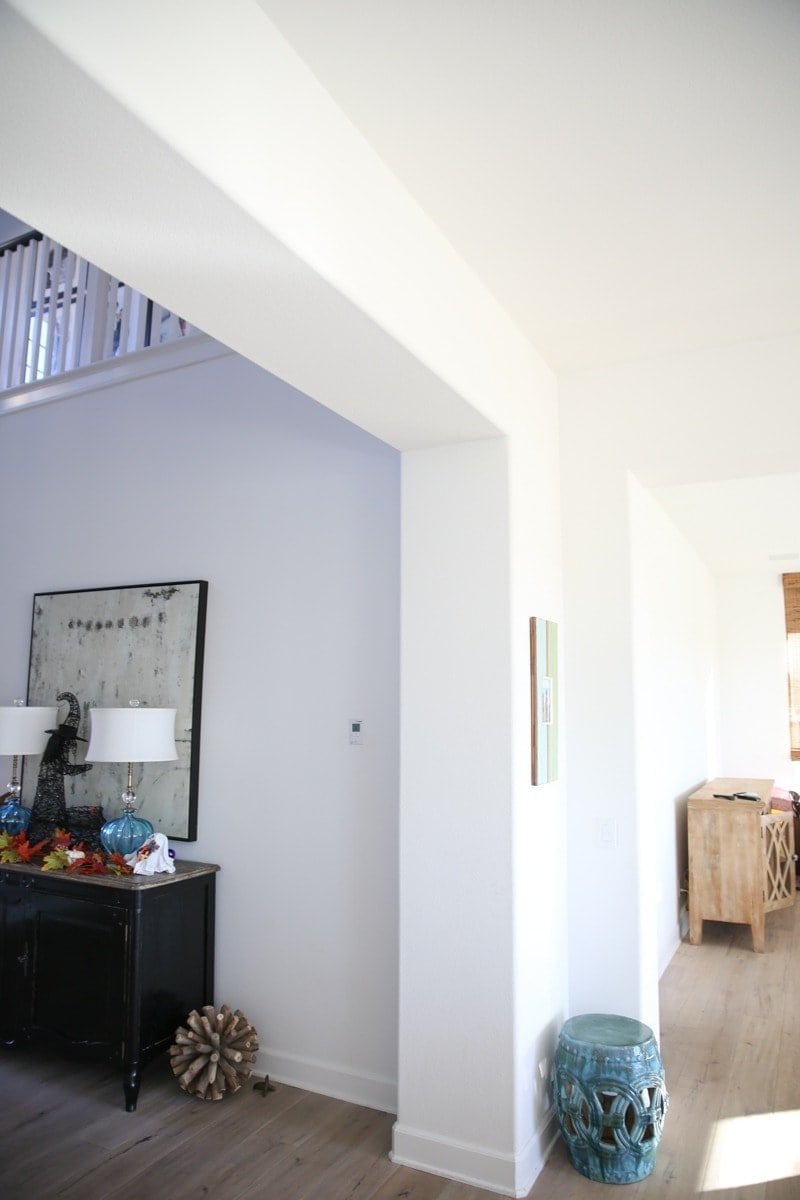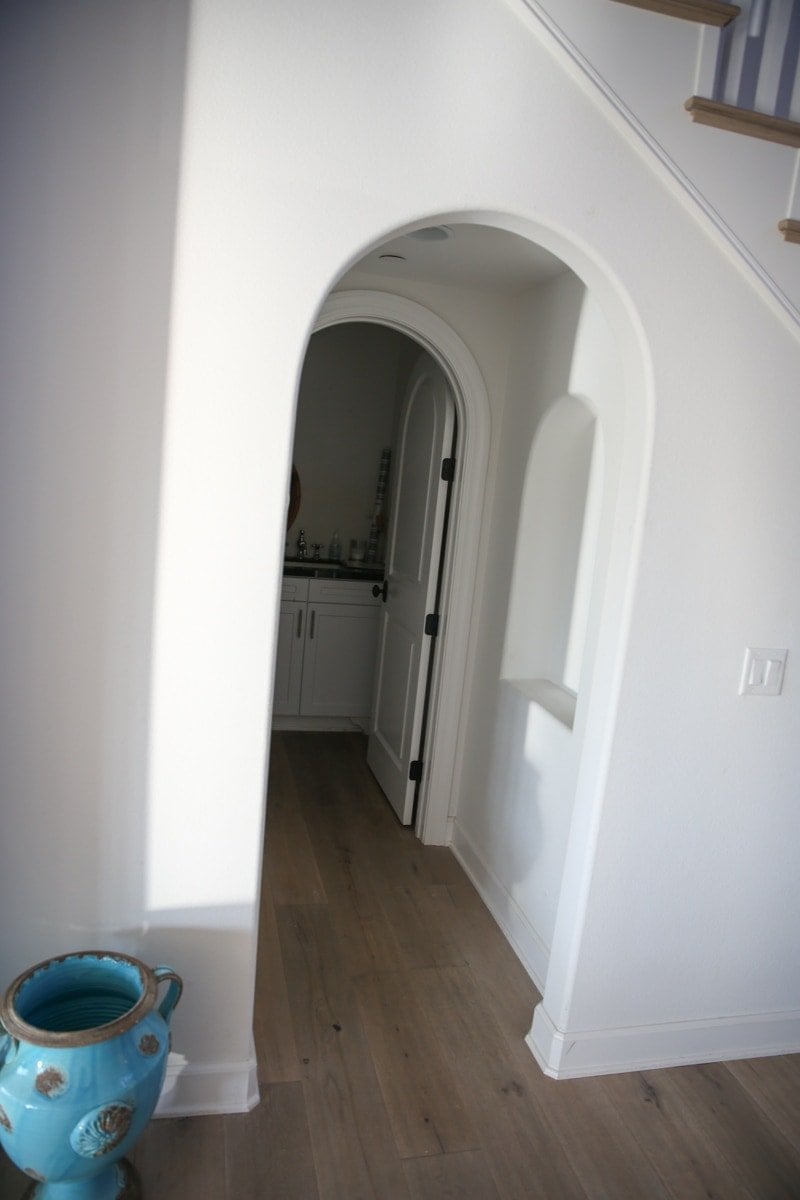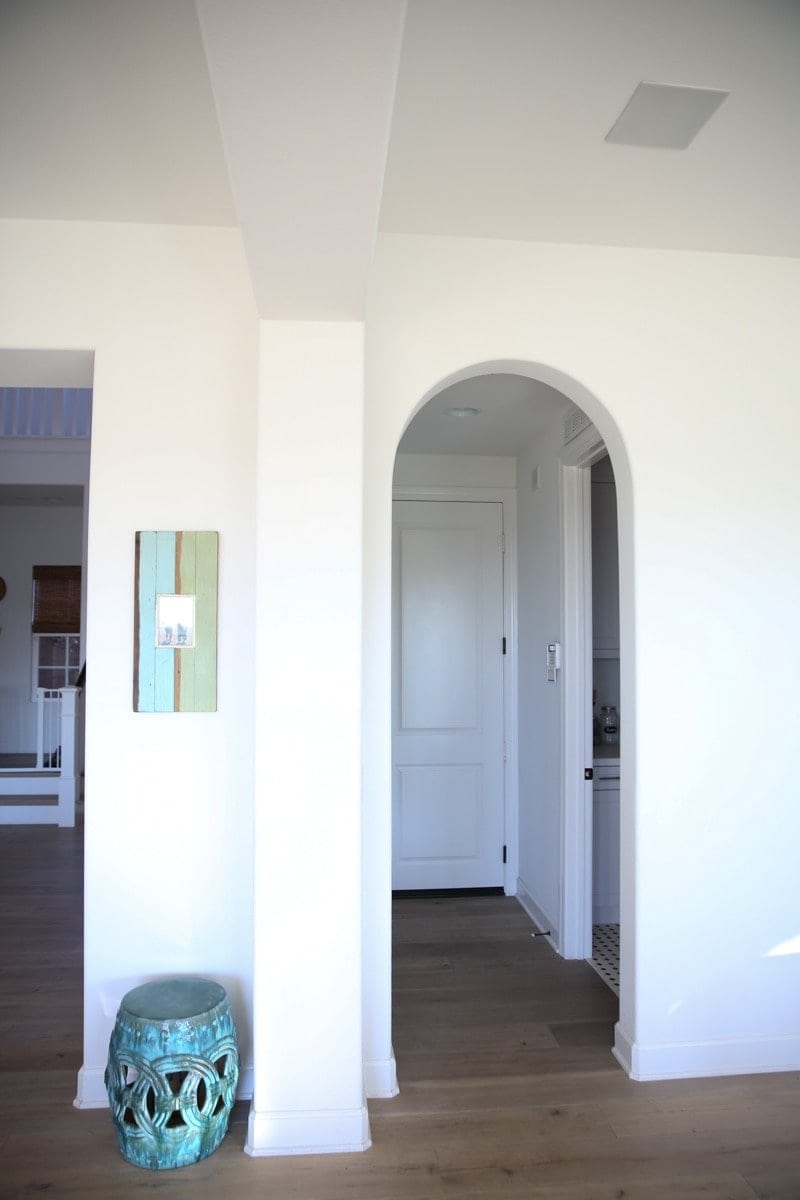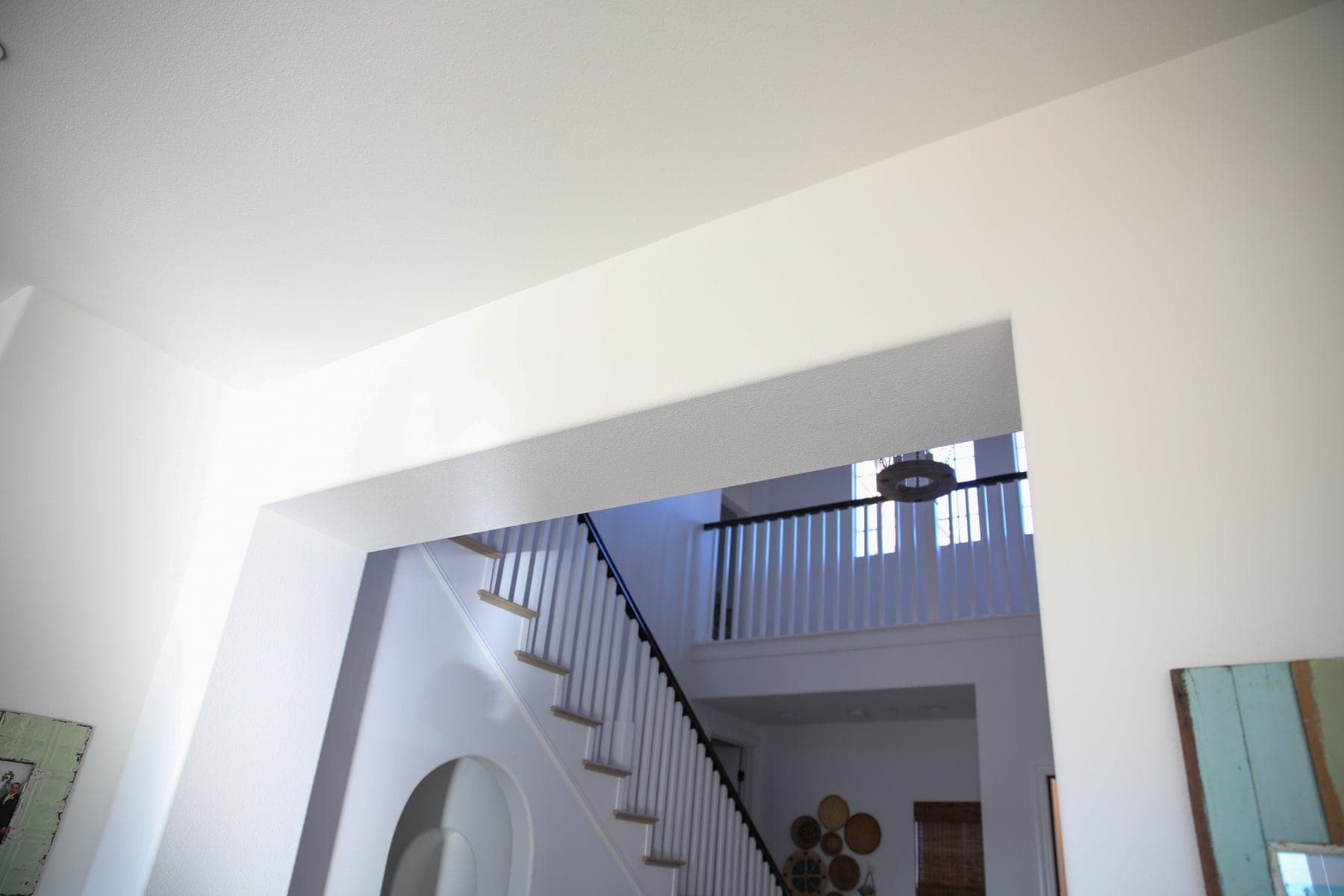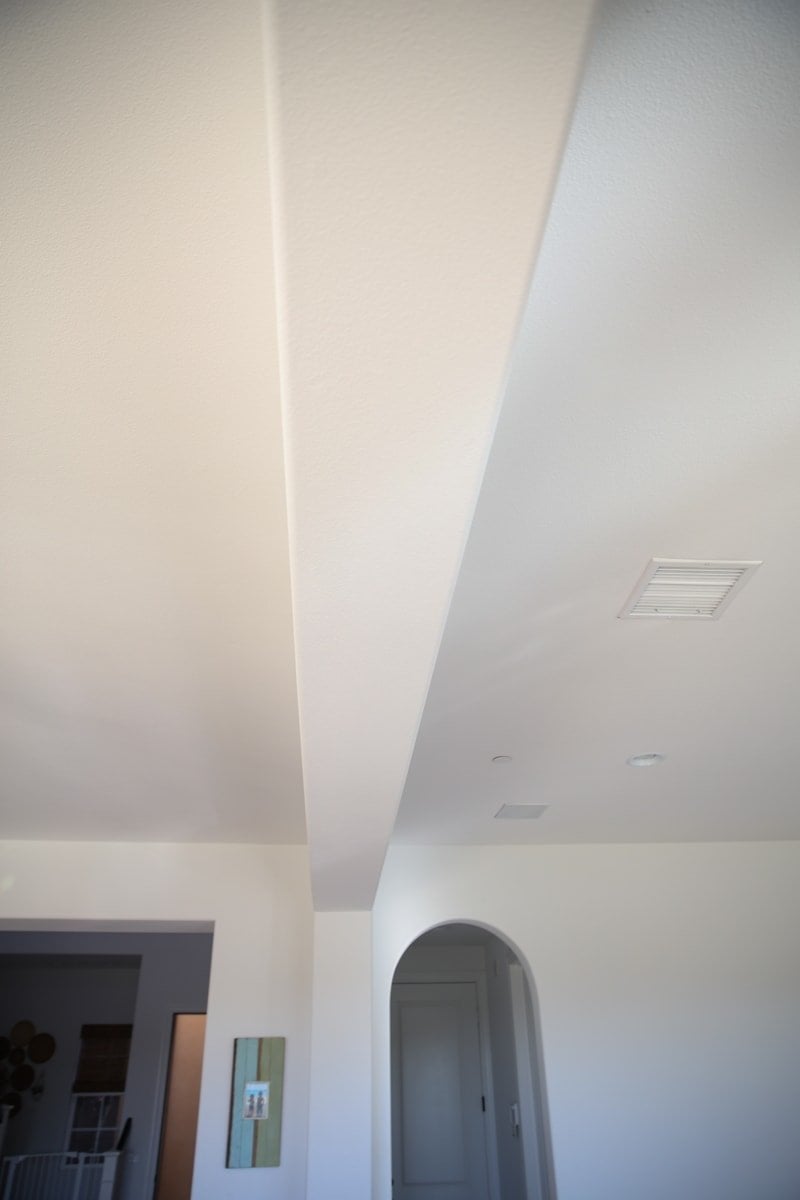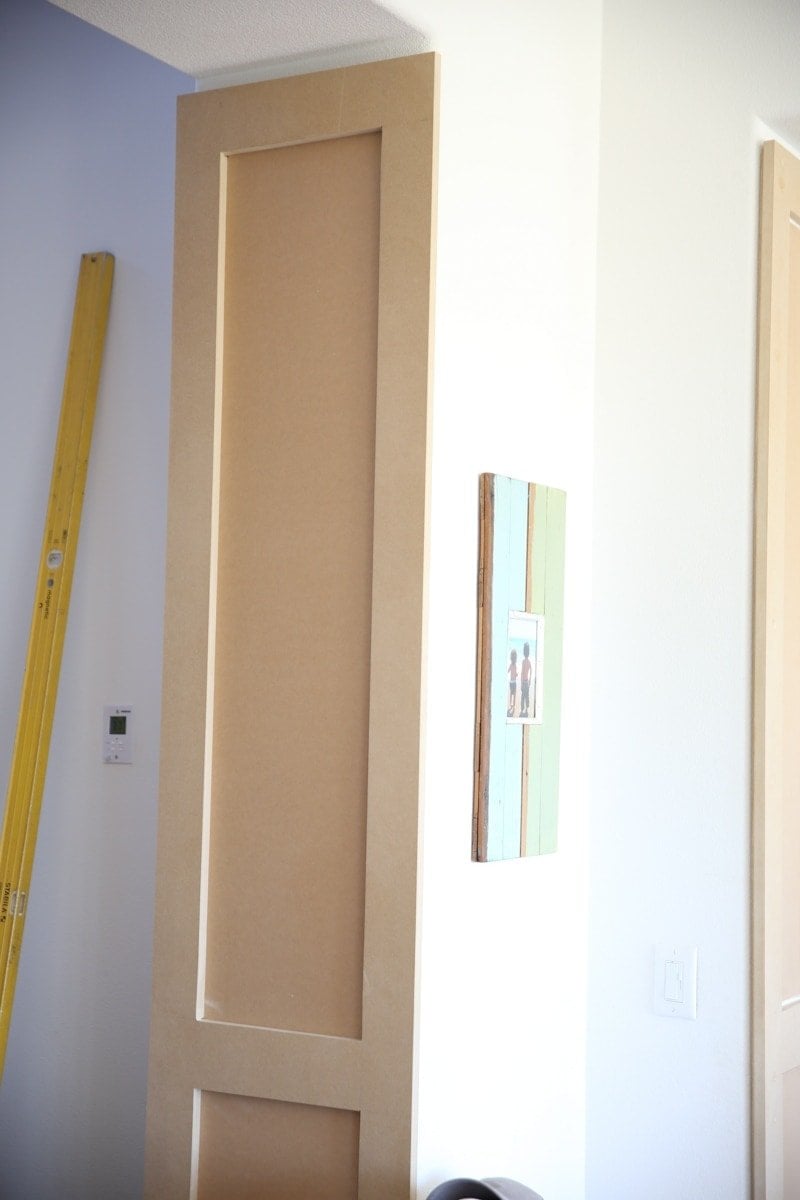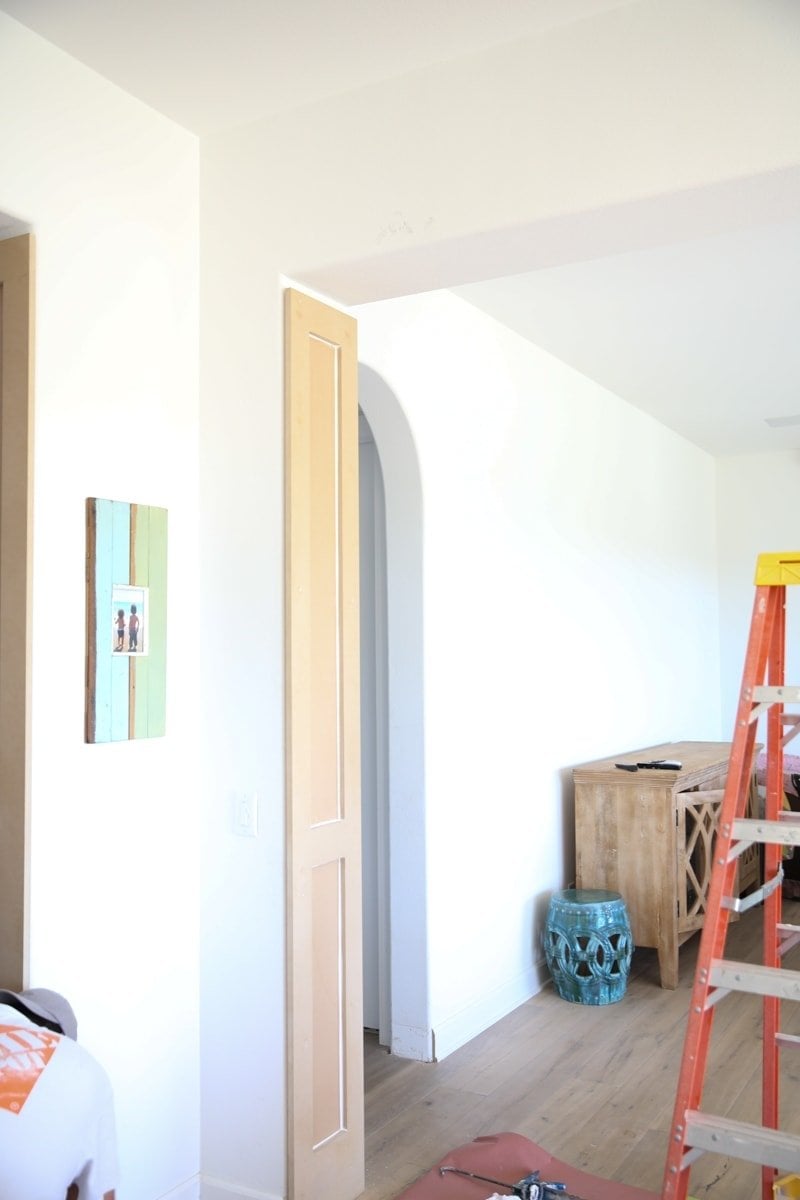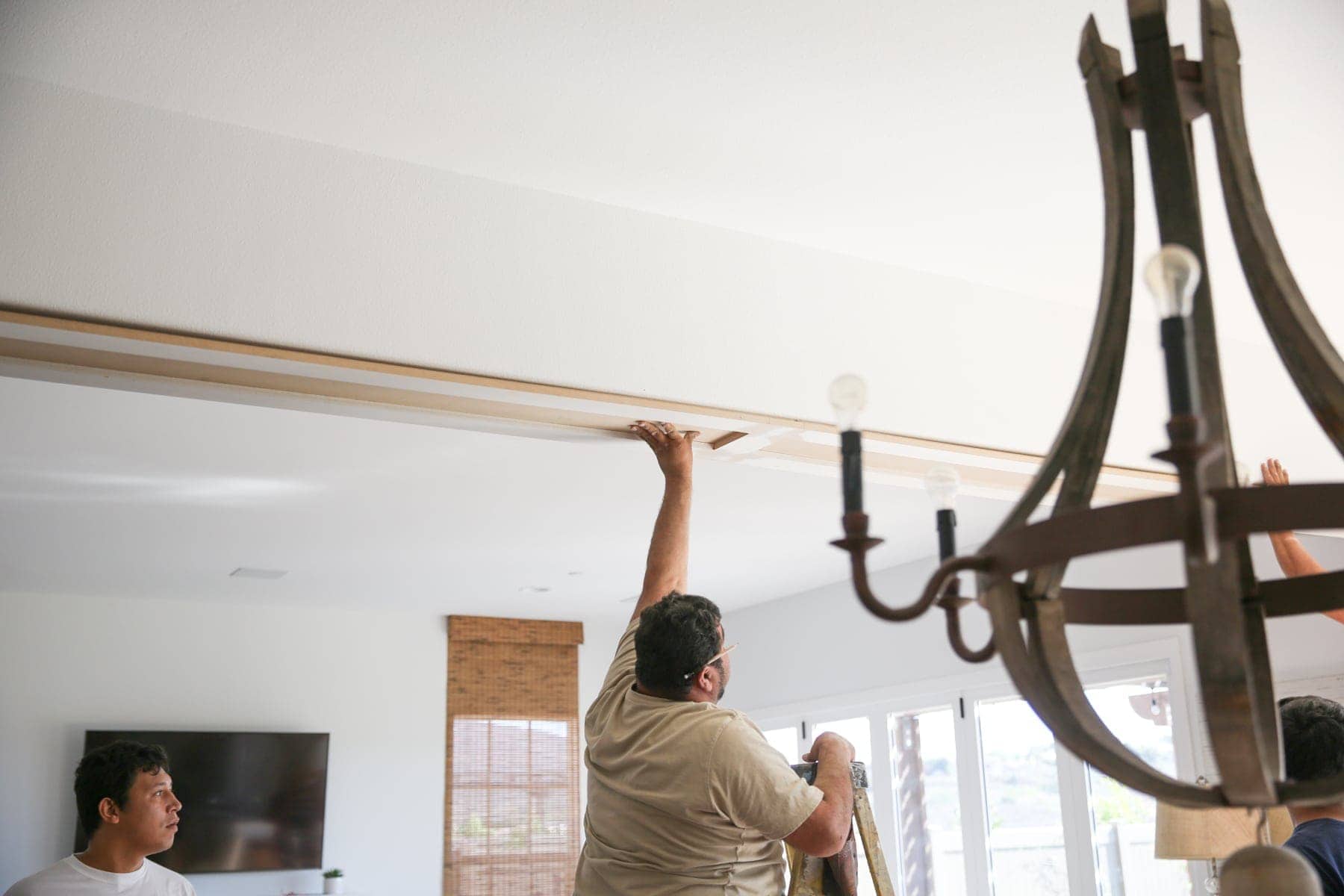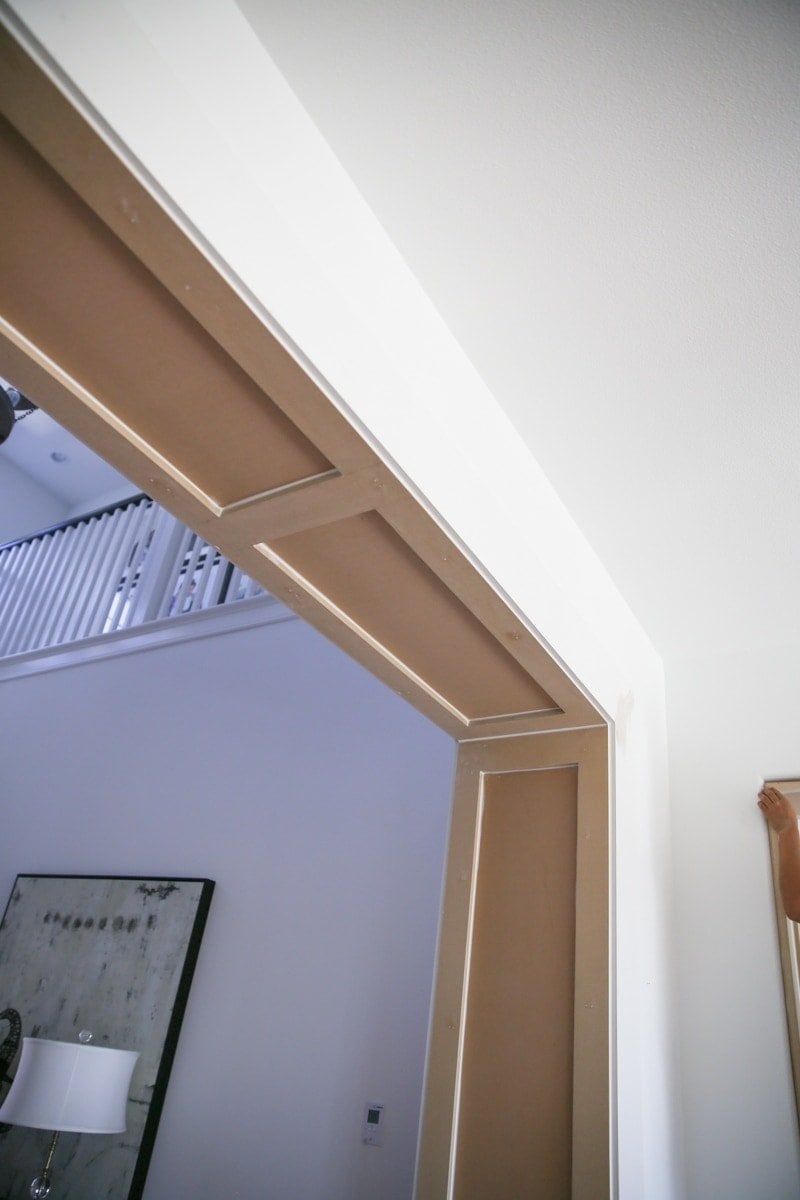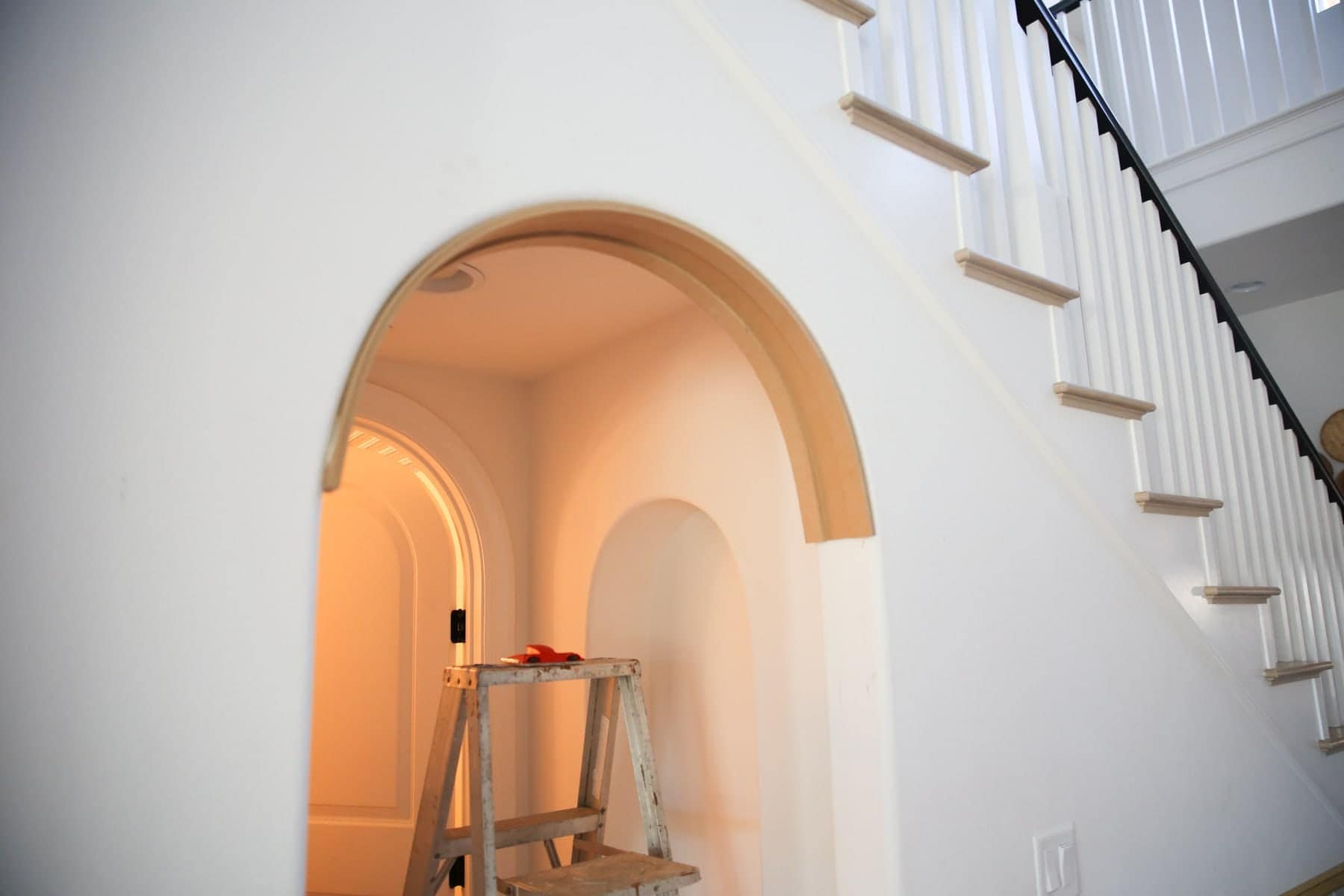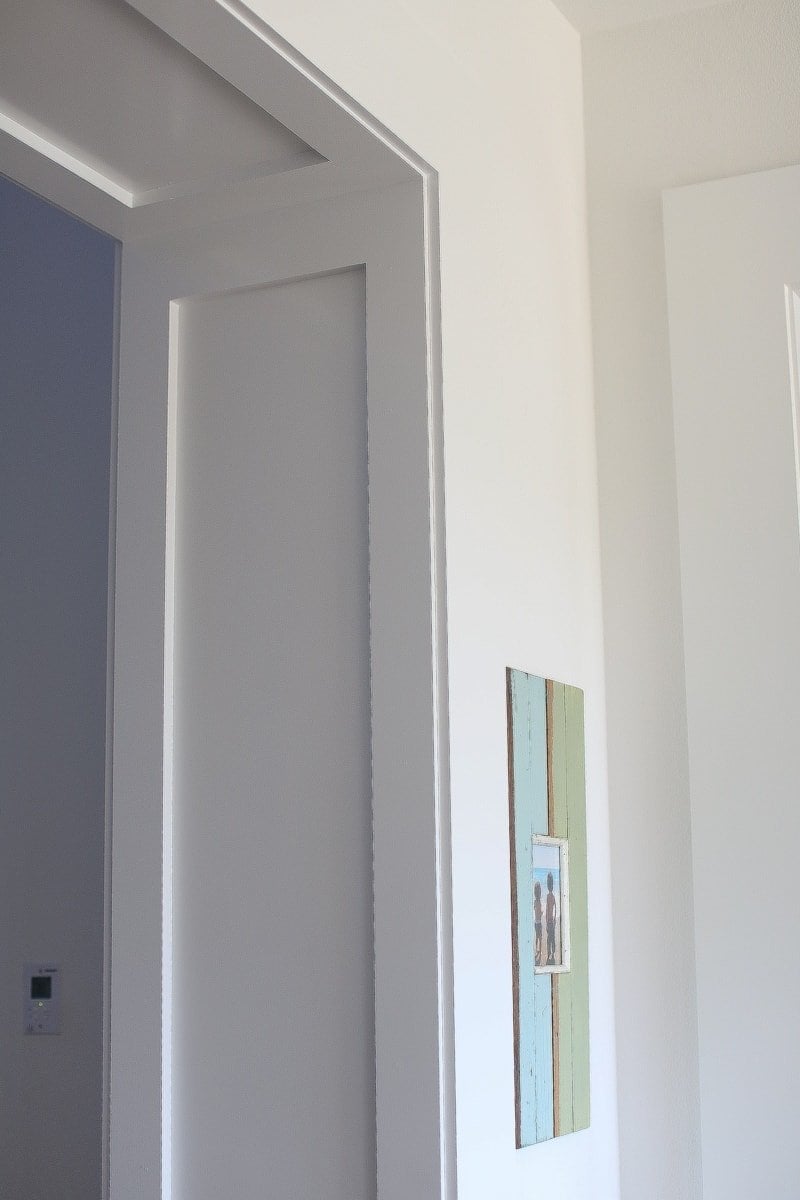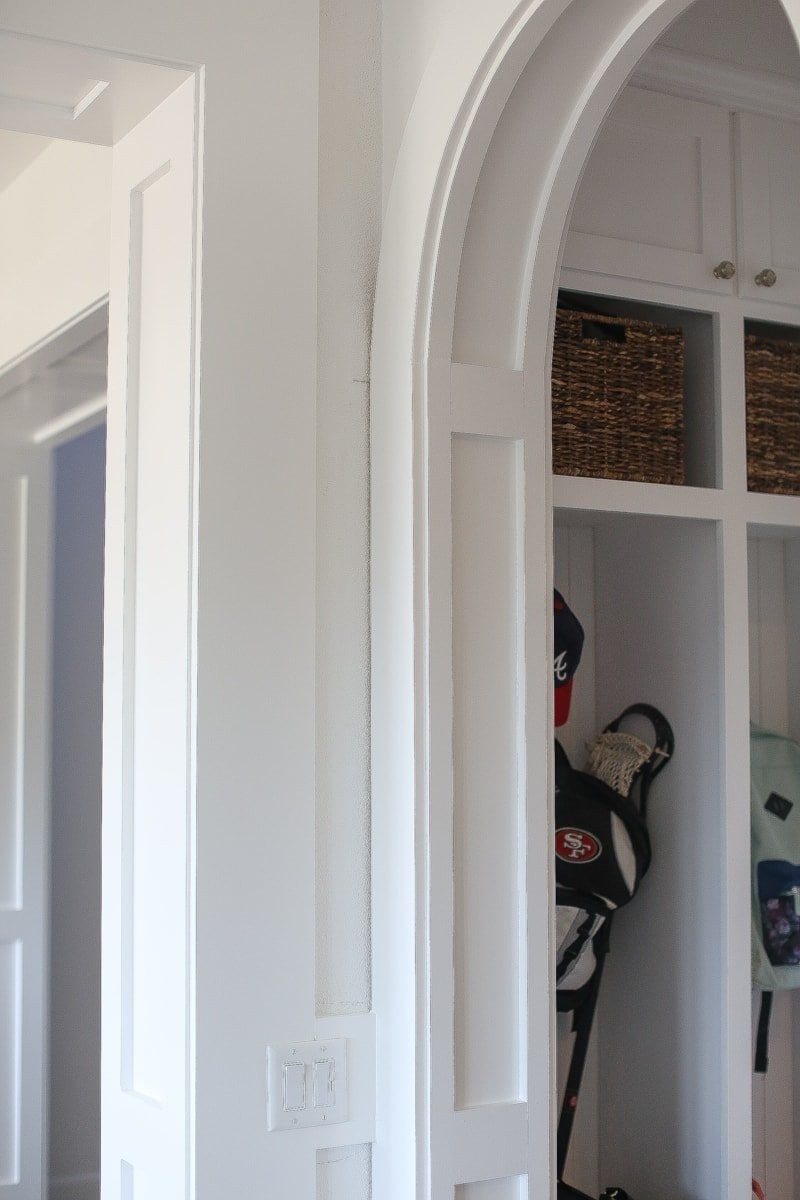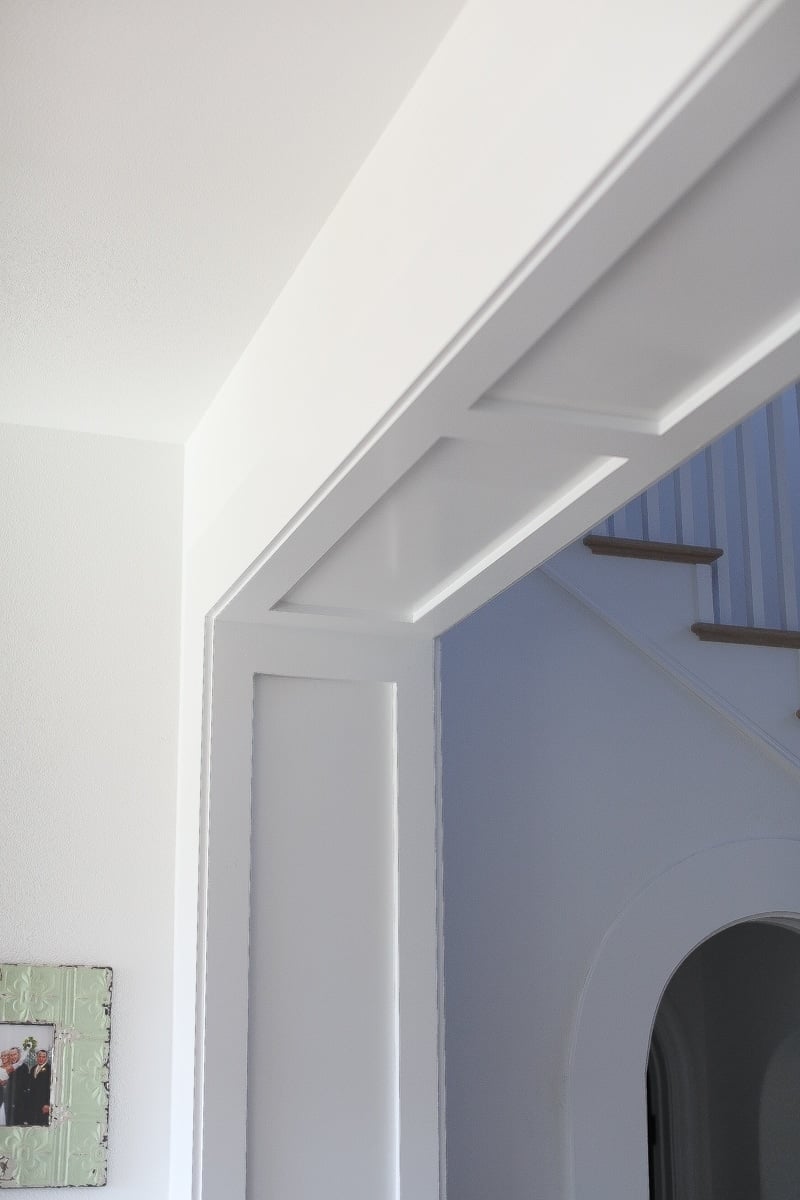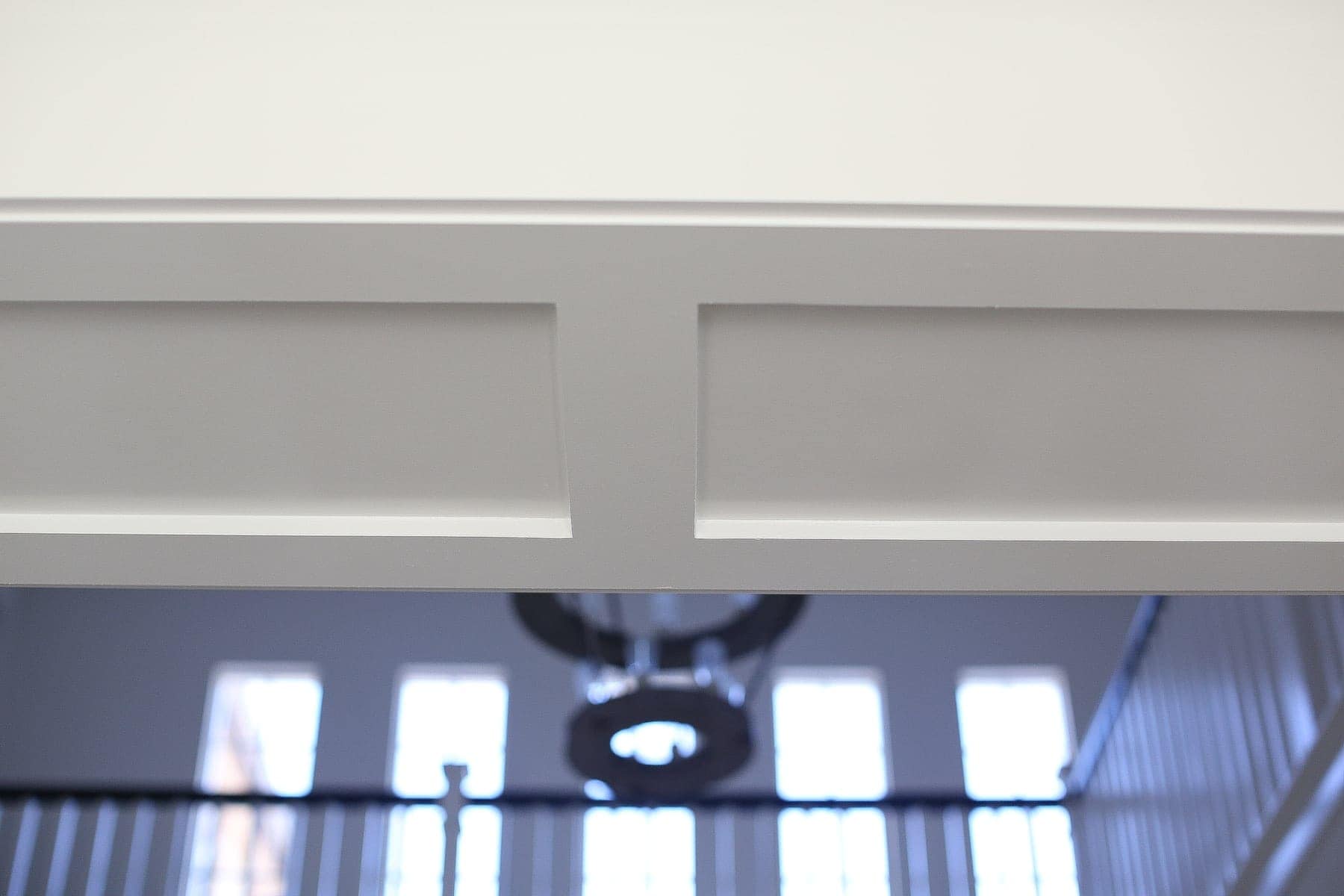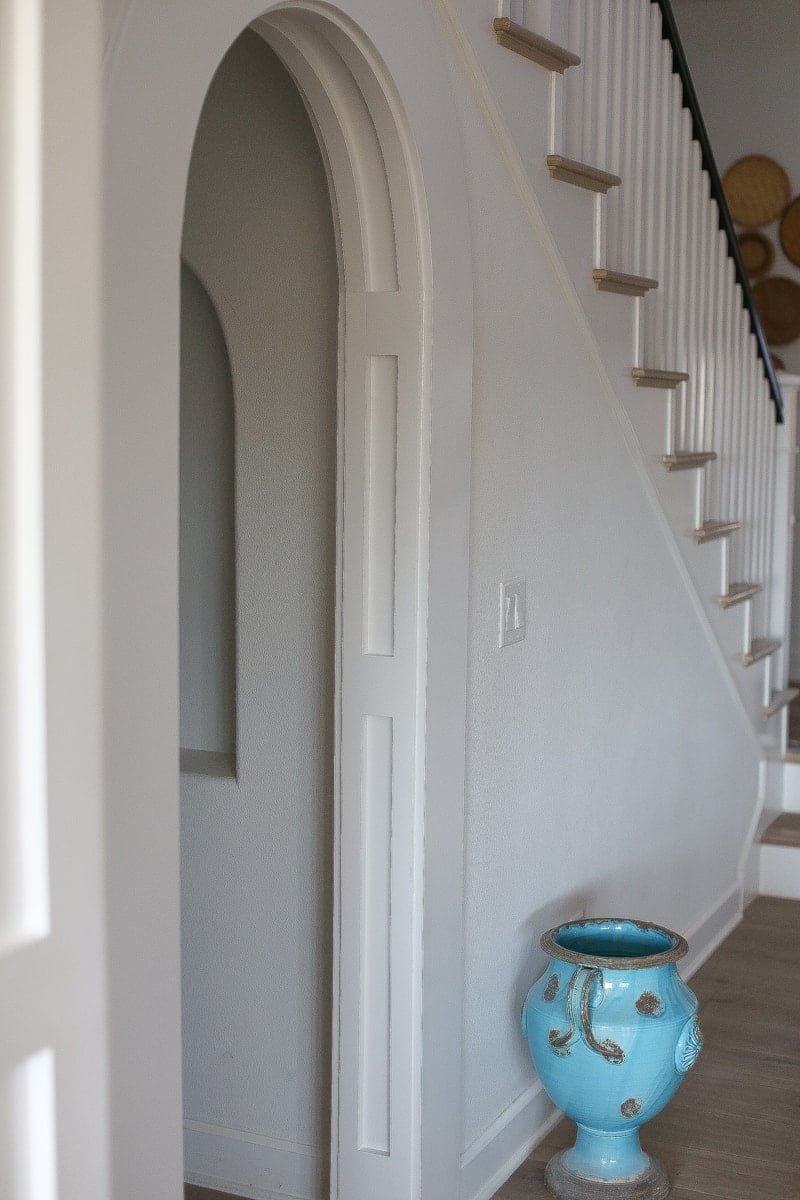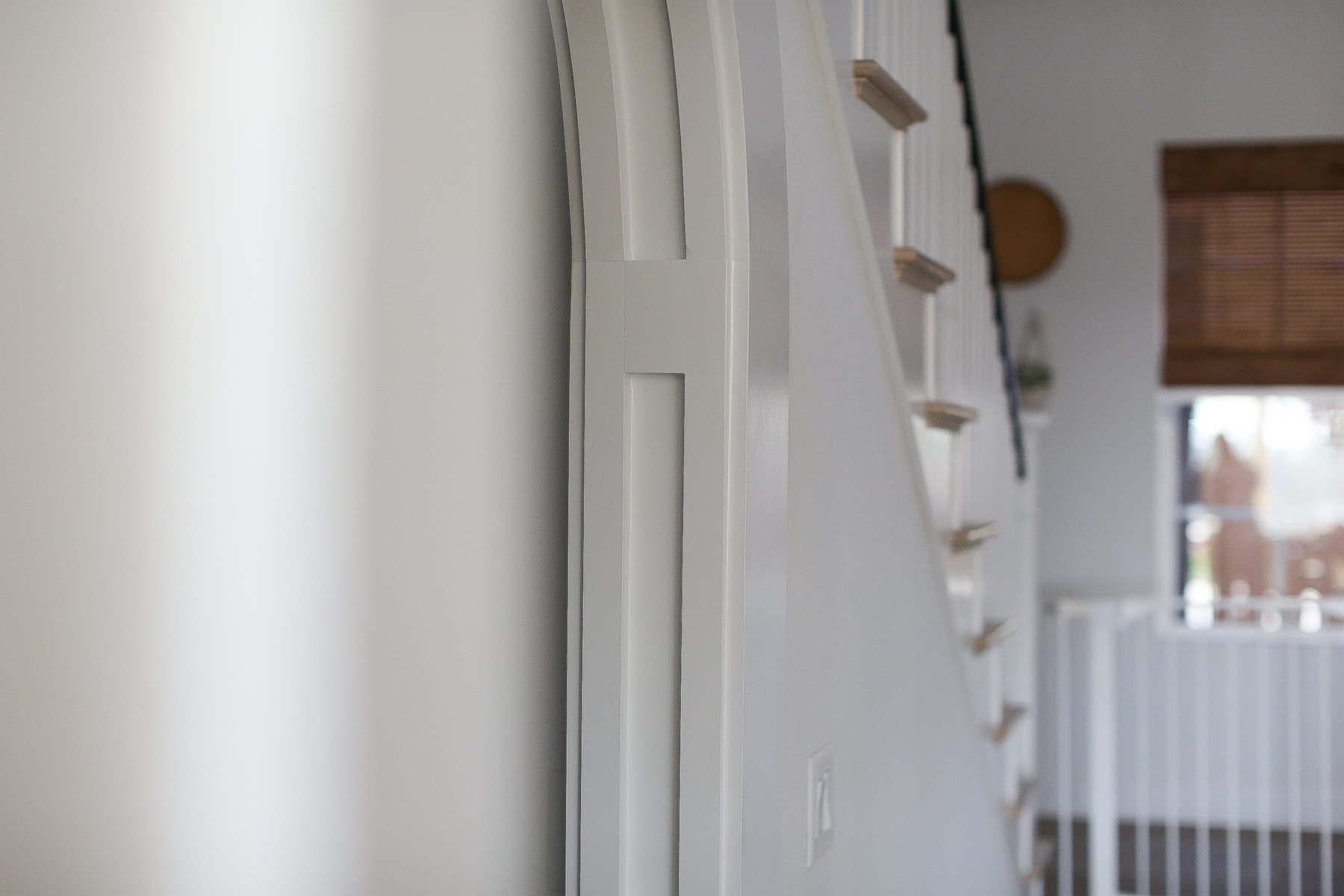 Movable Art
It's still a mystery to me on how I found Bryan.  In my quest for barn doors, someone along the way gave me his number and a year later I found it in my phone.  Bryan Palacios, creator and CEO of Palacios Design Co. is the project manager of my home.  He also is the Urban Outfitters display artist.  I adore his vision and he listens to where my passions lie. He knows what I am looking for and seamlessly takes charge with his expertise.  I started with barn doors in my upstairs hallway as opposed to built in's recommended by the builder. With Bryan to the rescue, he created two very large barn doors out of reclaimed wood planks.  He added just the right splash of colors where needed, highlighting the doors natural beauty.  They are beyond perfect and also utilize rustic hardware complimenting the wood.
In my kitchen, I opted for shelves instead of cabinets on the back wall.  I felt cabinets would be too heavy and the wall would look better with a more minimalist approach.  For this space, Bryan designed four shelves, which are reclaimed charred pieces of pine wood.  He used blackened pipe and flange steel plumbing mechanisms and covered it into shelving hardware.
I love how both the barn doors and kitchen shelves compliment each other.  I am able to display my plants, and decorative dish ware.  The shelves create the perfect balance with my cabinets being on the other two walls.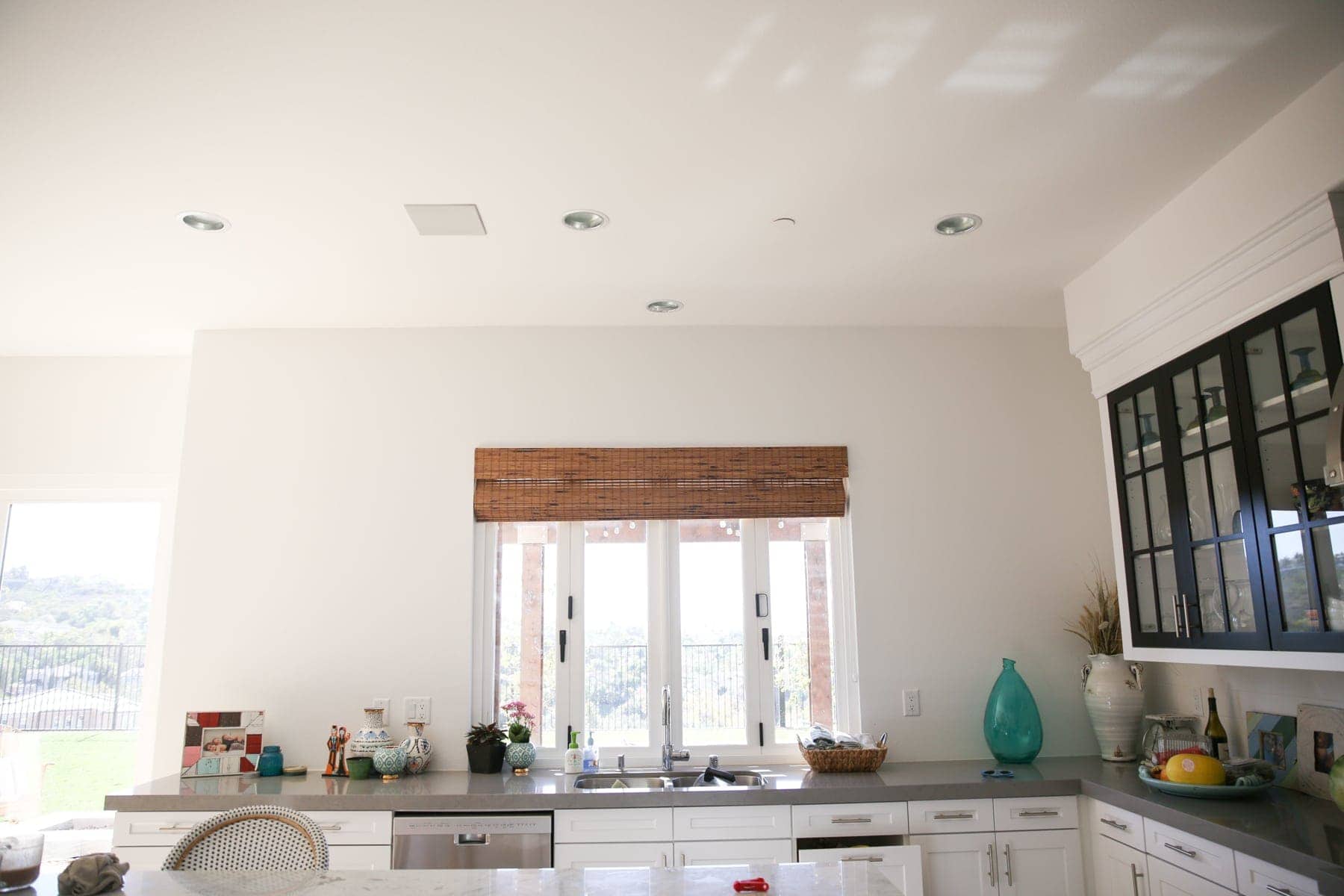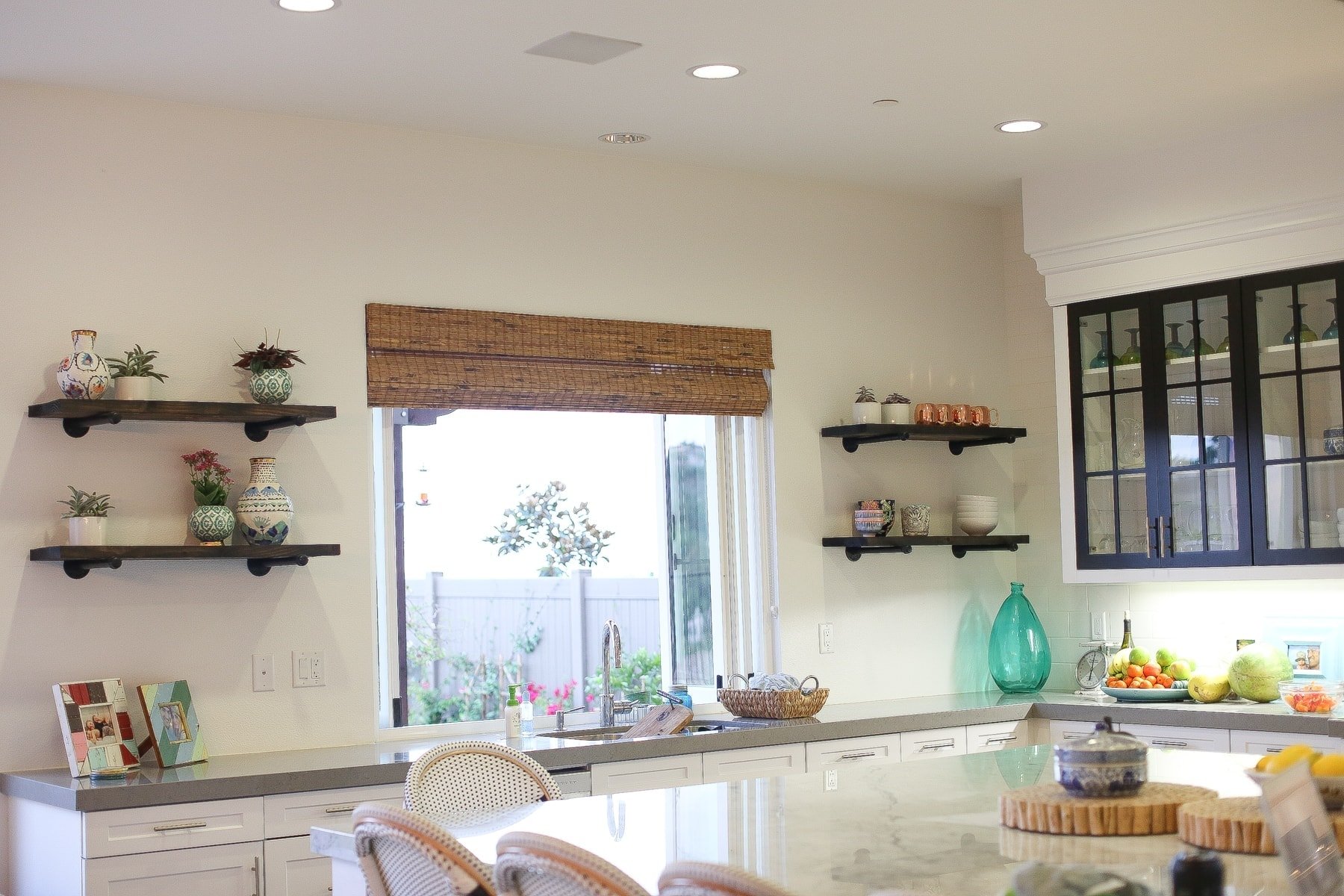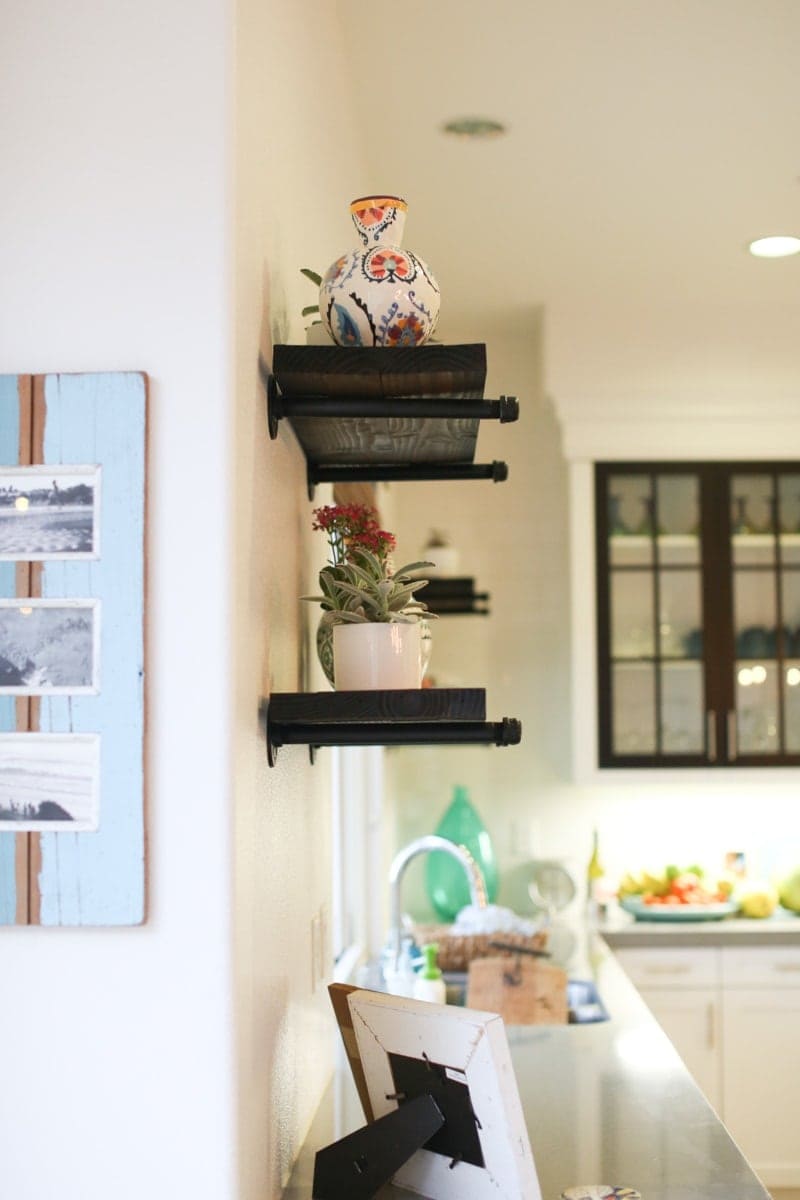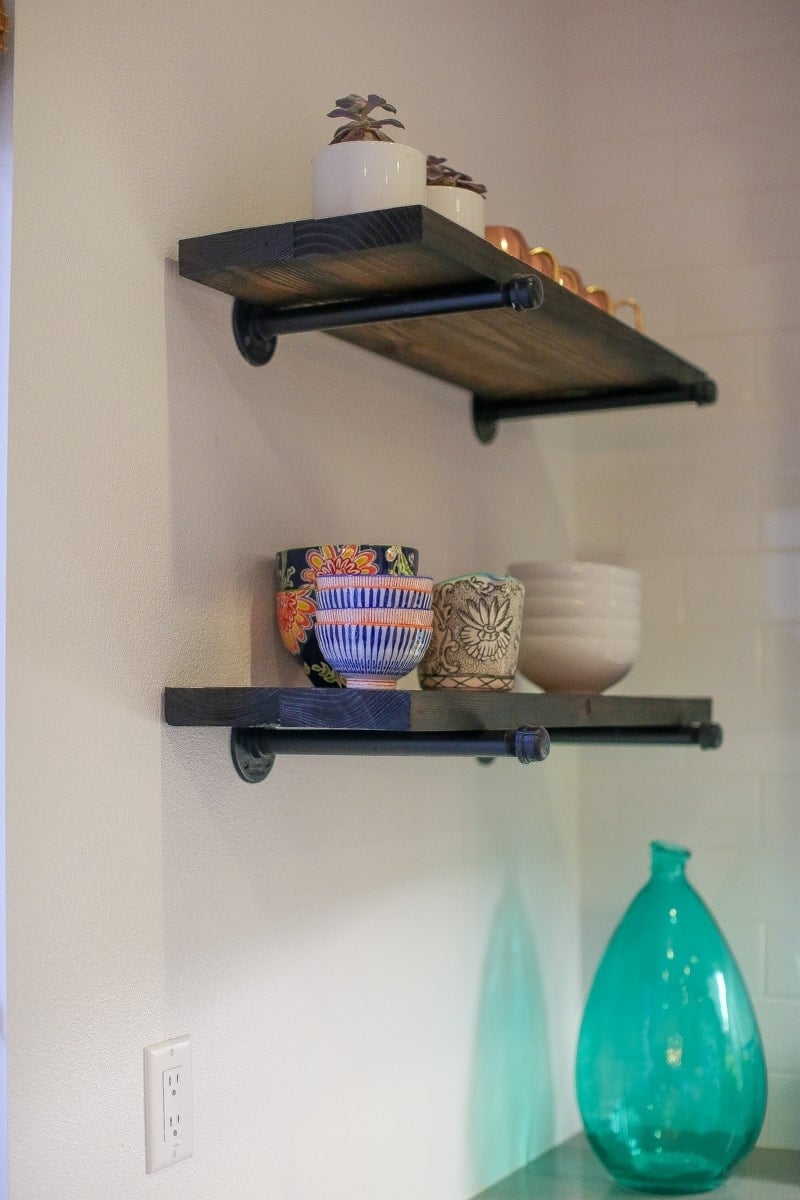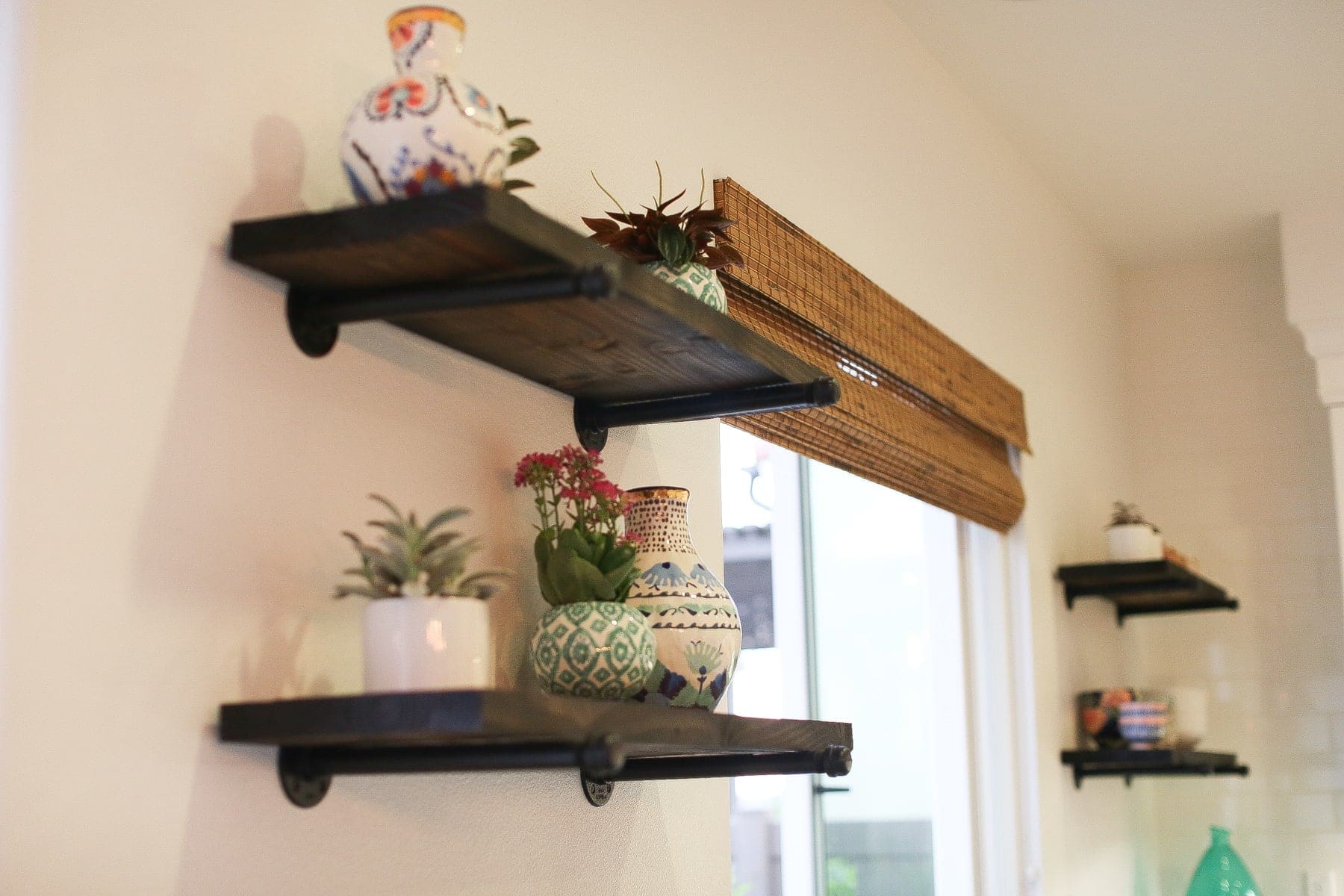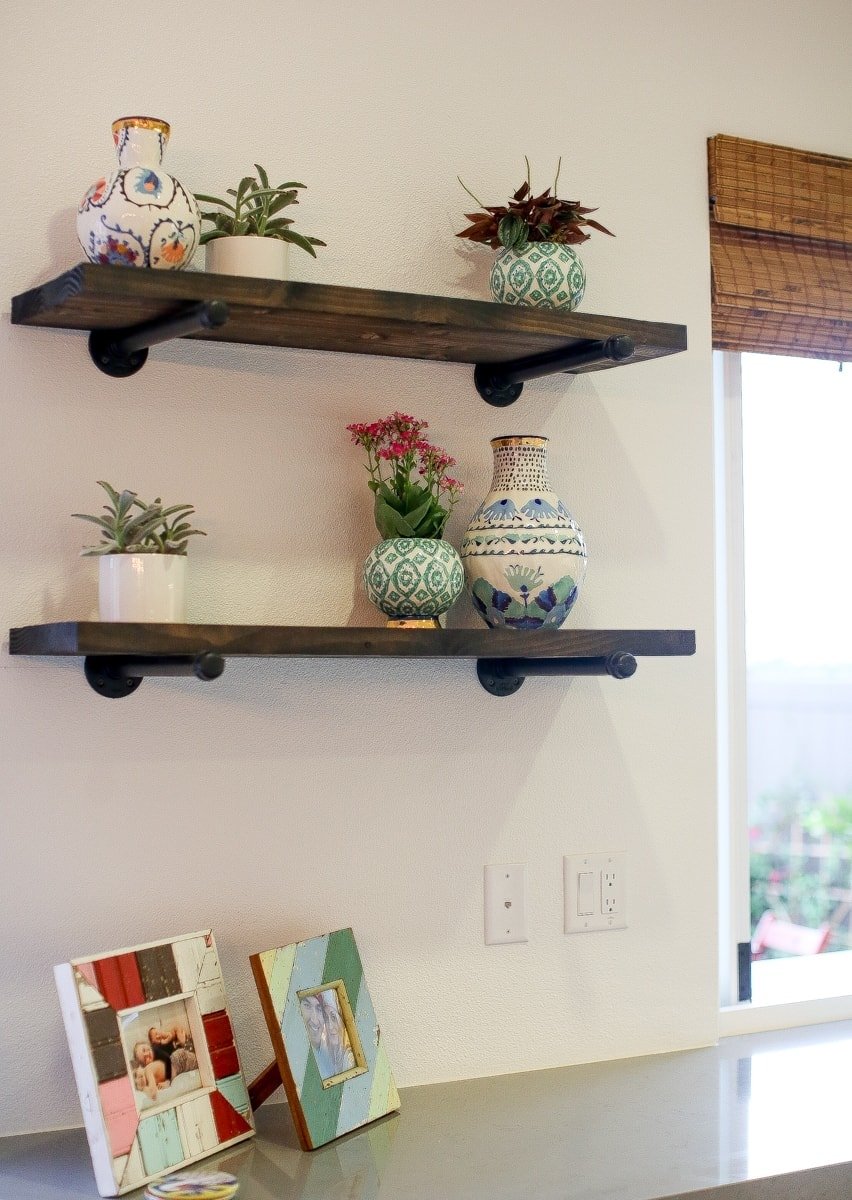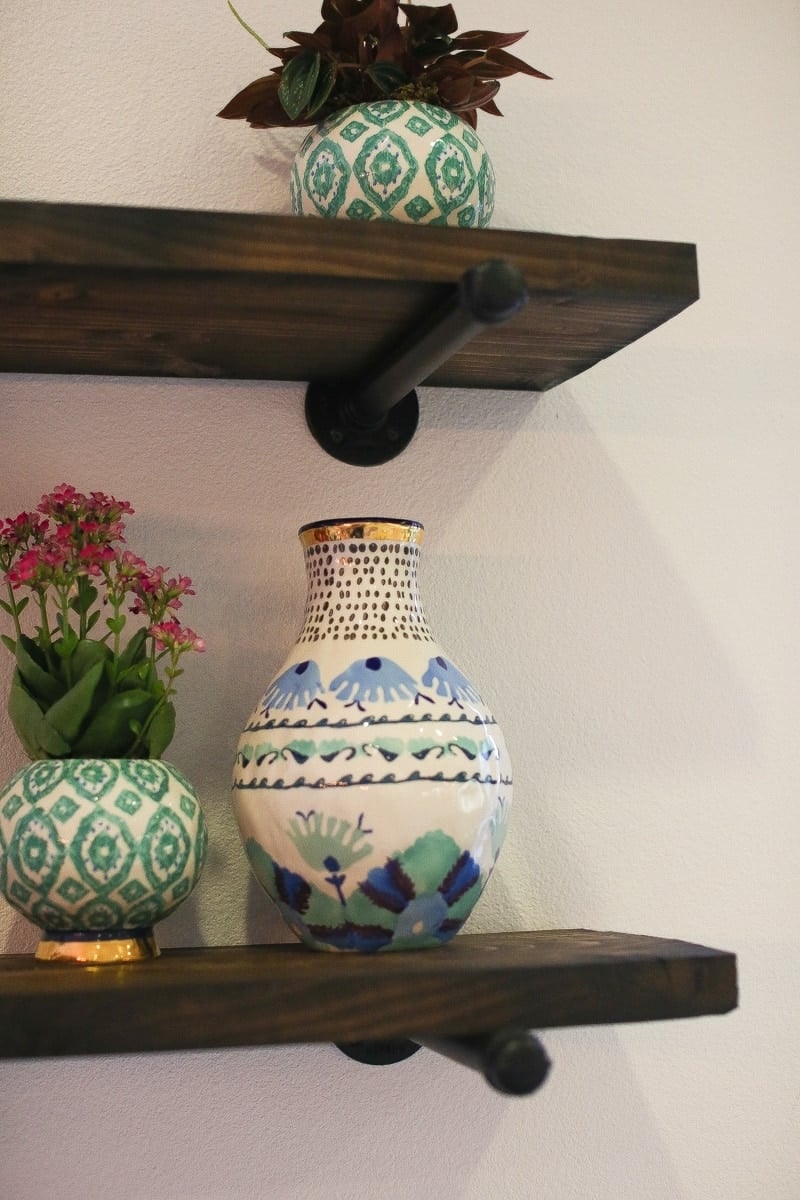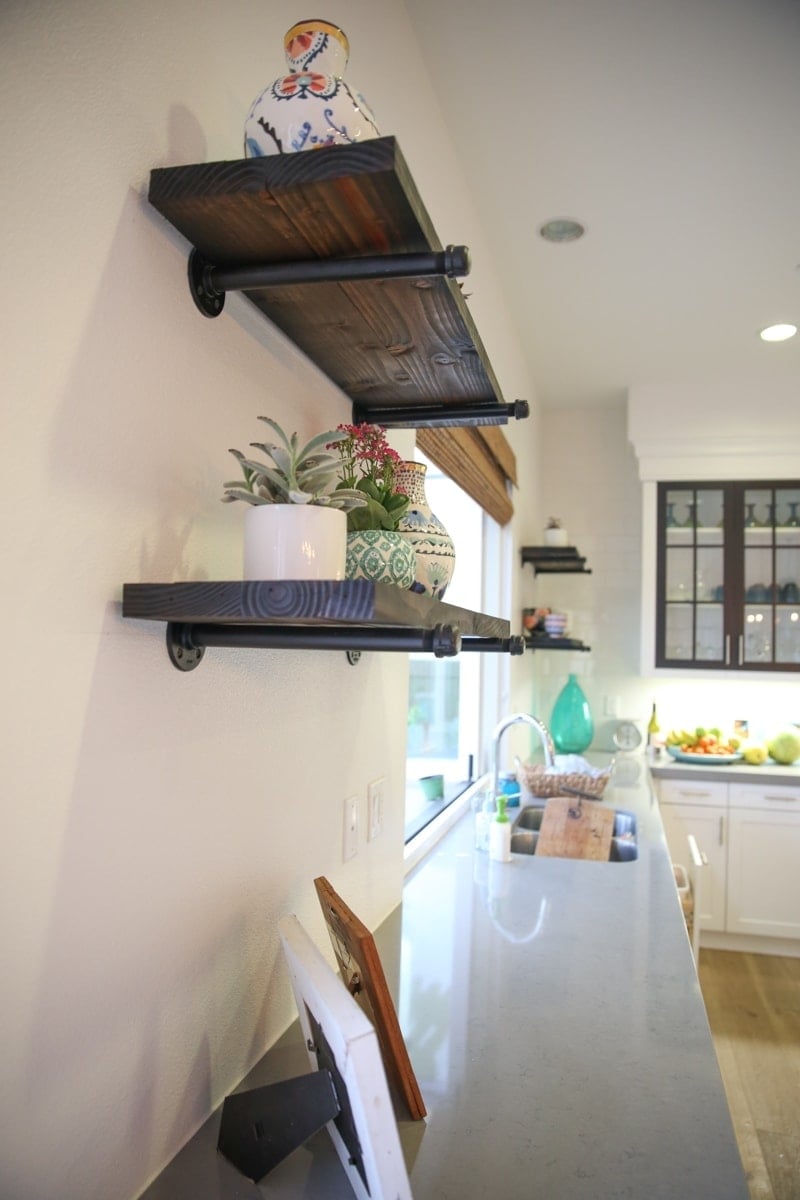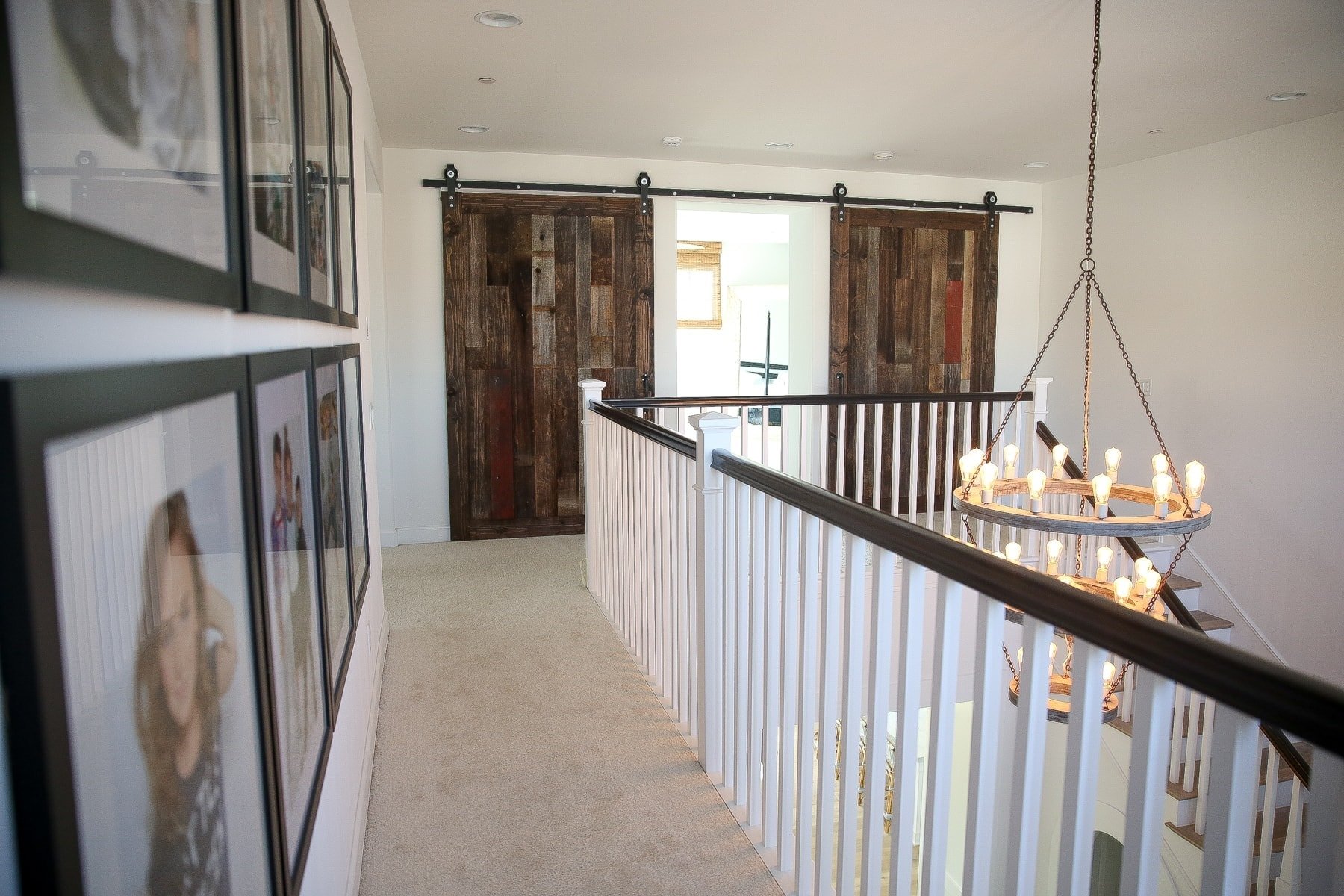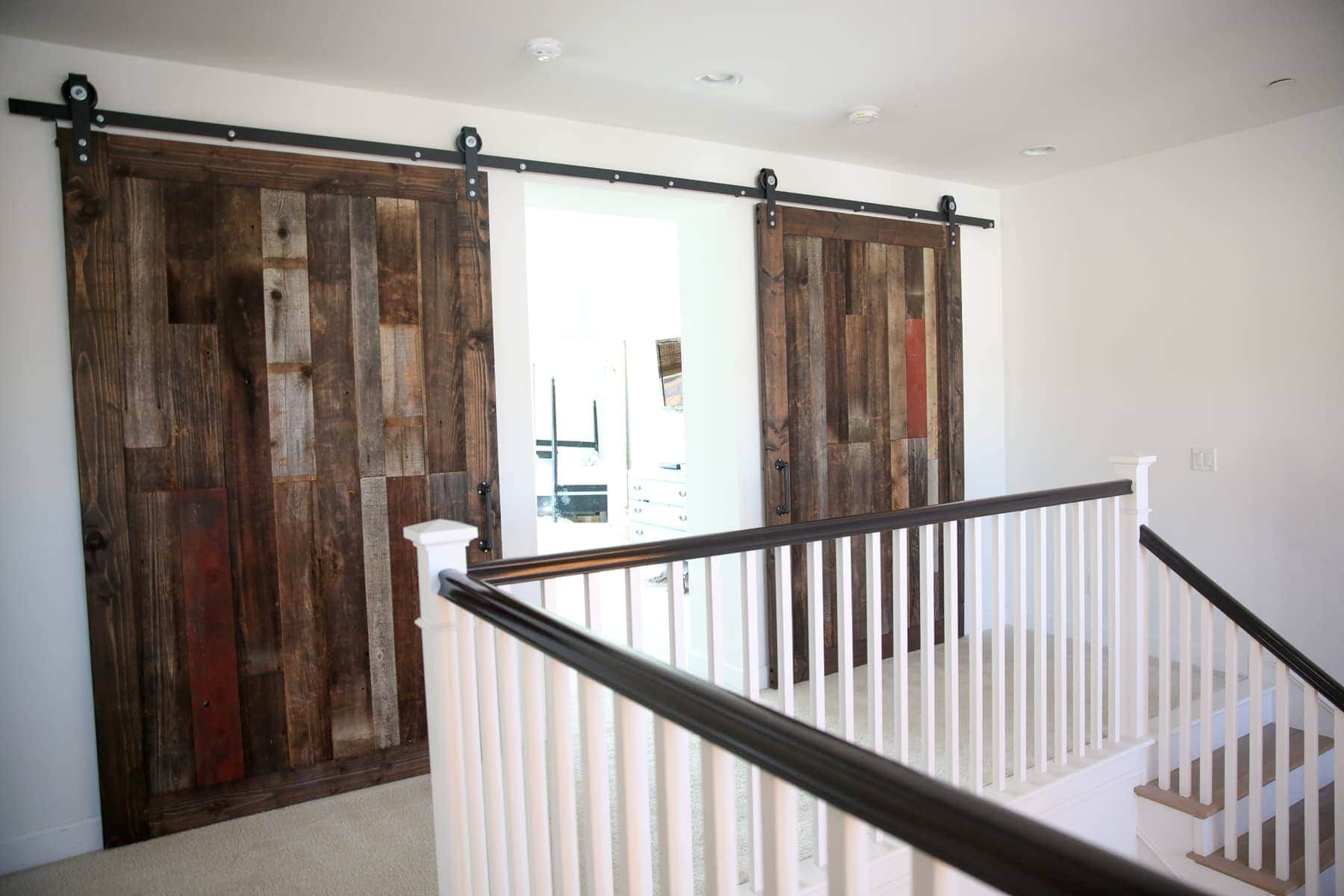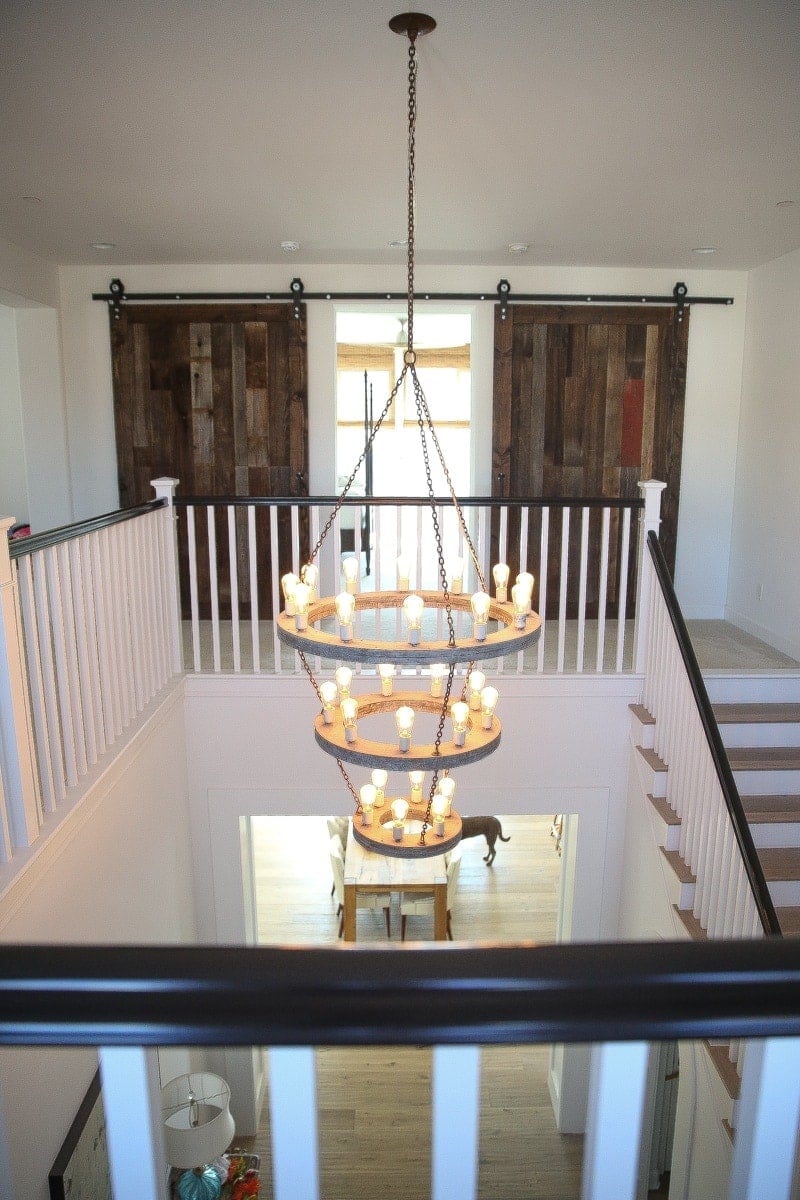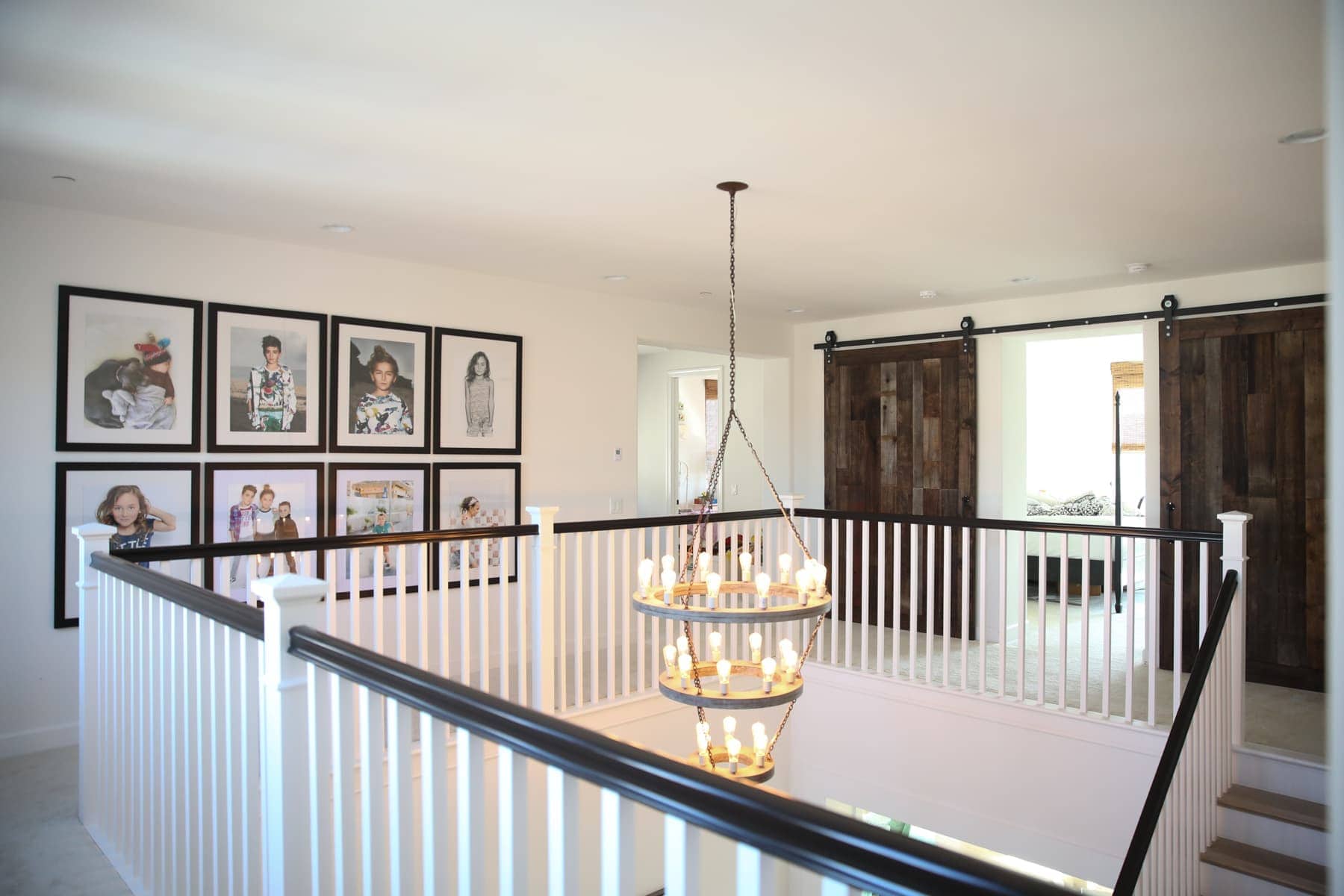 What's Next?
Hardwoods upstairs… and finishing our half bath with wall paper, shiplap, and some fun Serena & Lily accessories. I also plan on completing my kitchen with tongue and groove on the wall with the shelves, adding some sconces above the sink and finishing it with crown molding.  Thank you for letting me share with you the steps we take filling in our blank canvas.
By far the most important thing when tackling designing my home would be creating an oasis that embodies who we are.  When you have a big family like we do, its important that your home feels like a family retreat, an oasis where memories can be made.  I like to refer to home as The Schaffer Six Oasis of Calm.  Ok I would be lying if I didn't include "chaos" too, so The Schaffer Six Oasis Of Calm and Chaos would be just about right.  What are your passions about home design?  Comment below
SHOPPABLE ITEMS
Jacovo and his team for trim: 3jjjand1carpentry@gmail.com
Stools now 20% off
Planters
Tips for Parenting In Style...
Never boring, always awesome. Keep up to date with the latest from City Girl Gone Mom.