If I weren't a full-time blogger and mother of four (yes, it is a full-time job in and of itself), I swear I'd be an interior decorator. Give me a vision and a budget and I'm off to the races! Decorating my home is truly one of my most favorite things to do and something I have loved sharing with you all over the years as I've turned our house into a home.
But what really gets my heart bursting? Decorating for the holidays. Don't tell summer, but I have an obsession with fall, winter and the fun holidays that come with them—maybe it's the New Yorker in me. So you better believe that the moment my calendar notified me it was almost fall, I was first in line to grab a pumpkin. (Or ten, but who's counting).
I'm so excited about getting my front entryway and porch decor ready for the fall season. I'm still adding the finishing touches (and battling it out with Bobby over whether or not to keep all those candles, ha!), but I wanted to share my tips and tricks for creating a wow-worthy fall entryway. Who doesn't love some good old-fashioned fall decor inspo?!
---
Historically, fall was called "harvest" because of the "harvest moon" that occurs close to the autumn equinox.
---

Select a Variety of Fall Foliage
We may not naturally get the jaw-dropping autumn leaves that the East Coast has, but that doesn't mean your house can't have those same vibrant colors. I like to include a mix of dried and fresh foliage for the porch.
For outside, I found a couple of garlands of dried leaves to go around the door—they even have pine cones tucked in here and there to add a bit of texture. I also went with a few potted flowers to line the doorway, I love the warm autumn vibes and the pop of color, too! Each is in a different barrel that I got from Michaels.
It brings some variety and a fun, mix 'n' match feel to the space. My home definitely has a stylish, farmhouse quality to it, so I still tried to find pieces that evoked that same sense of style in my fall porch decor.

---
Fall colors are caused by the amount of sugar in leaves. The redder in the leaf, the more sugar that leaf is storing. Evergreens don't change colors because they have a natural wax covering that protects the green chlorophyll inside.
---

Pick a Couple of Statement Pieces
I love a bold statement! And we all know how head-over-heels in love I am with the gorgeous seven-foot, gold Arhaus Amelie mirror. I mean, come on. It's a stunner. (And it's on sale right now for Labor Day Weekend!) I knew that with this grand piece as the main spotlight, I was going to keep the rest of the indoor entryway pretty simple.
For another big statement, my all-black door is already a showstopper. To make it pop even more, I found a beautiful cotton wreath and knew immediately that it was a must for my door. White or gold are amazing accents against black, so a crisp white cotton was a no-brainer. Once you have your key focal points chosen, the rest should come pretty easily!

---
Pumpkin spice is actually the spice mix used for pumpkin pies. It doesn't actually contain any pumpkins.
---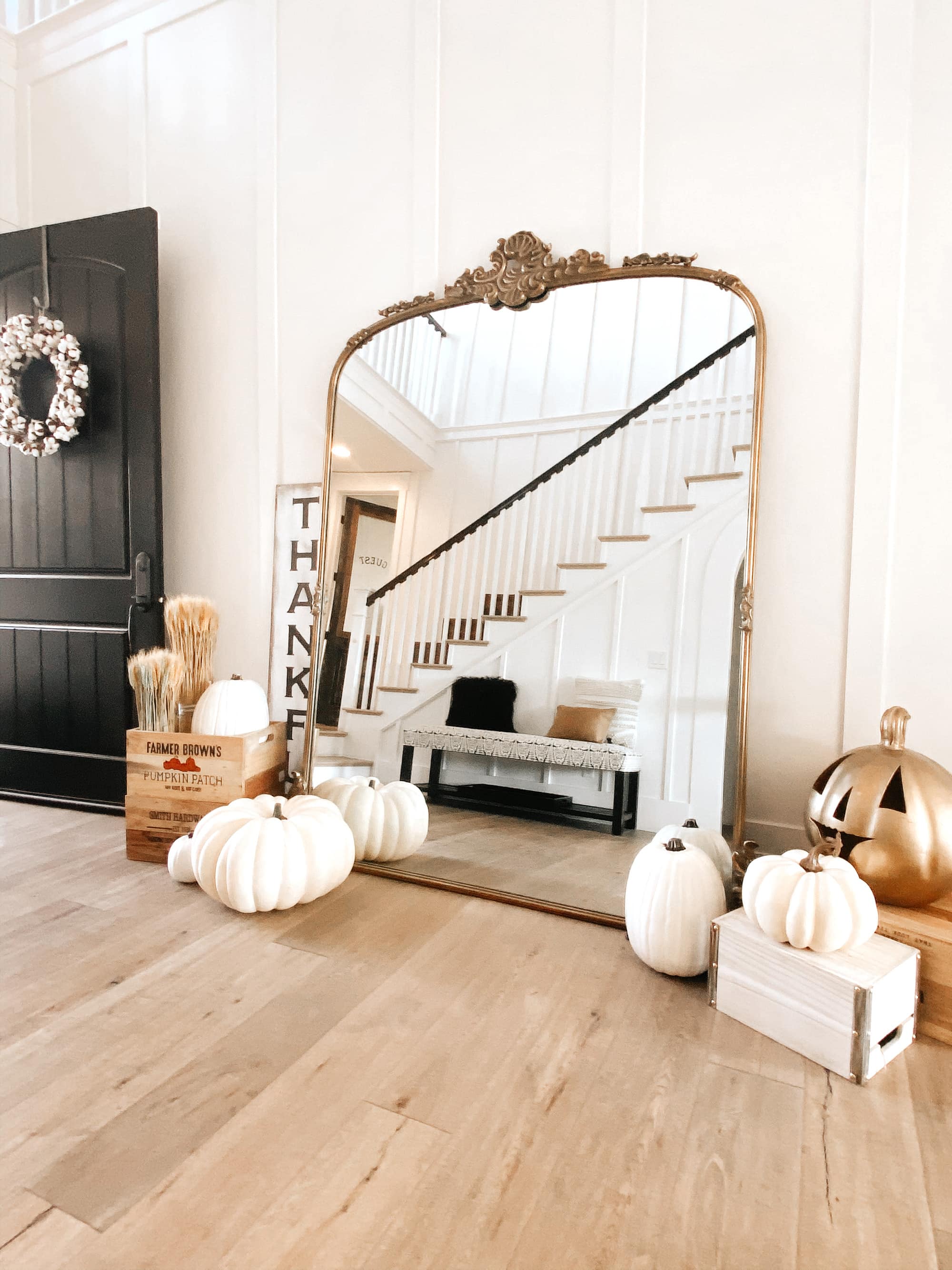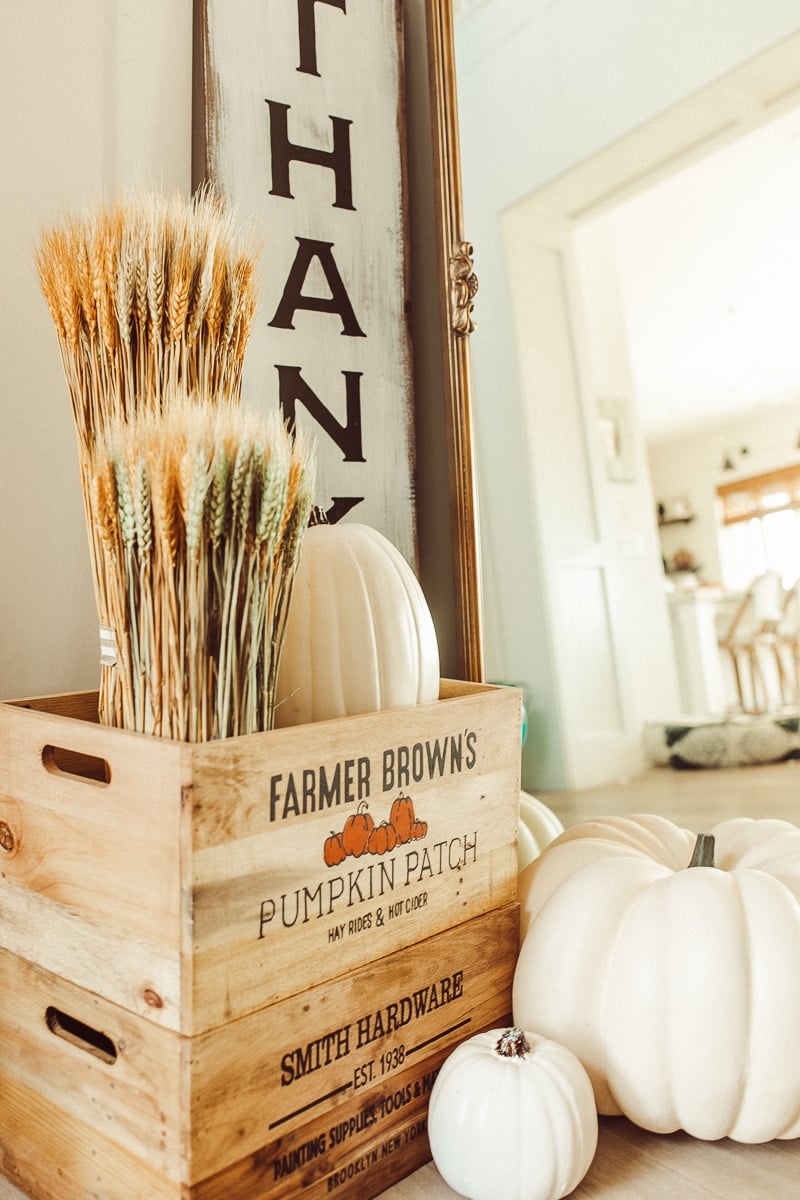 Layer and Build With Fun Decor Pieces
Layer, layer, layer! That's what gives my space that special something. The key to great styling is to incorporate a variety of different heights and textures and play around with depth. You can see this right as you walk into my home.
Surrounding the Arhaus mirror, I found fall-themed crates and white pumpkins from HomeGoods and Michaels. I organized them in a unique way, making sure that they didn't look too symmetrical by flipping some crates on their sides or laying them flat, then building upon that.
Decorating is a lot of trial-and-error, putting something together, then taking a step back to see how it looks. Find some decor essentials and then have fun creating a fall porch and entryway that is uniquely you!
Check out more interior design ideas and follow us on City Girl Gone Mom TikTok!
---
Fall tourism, aka "leaf-peeping," brings in big money for New England states. The seasonal change brings around $3 billion to the small region.
---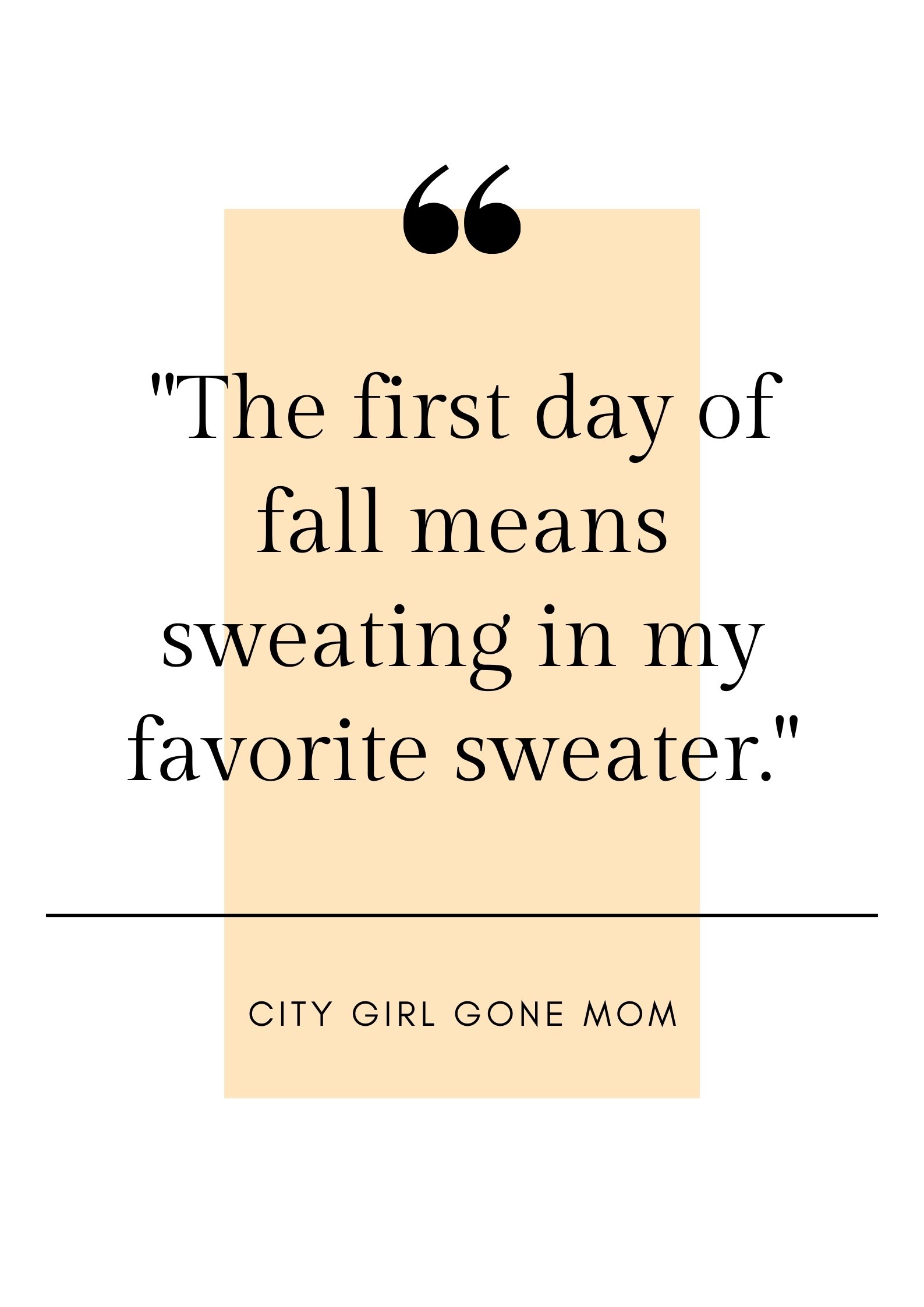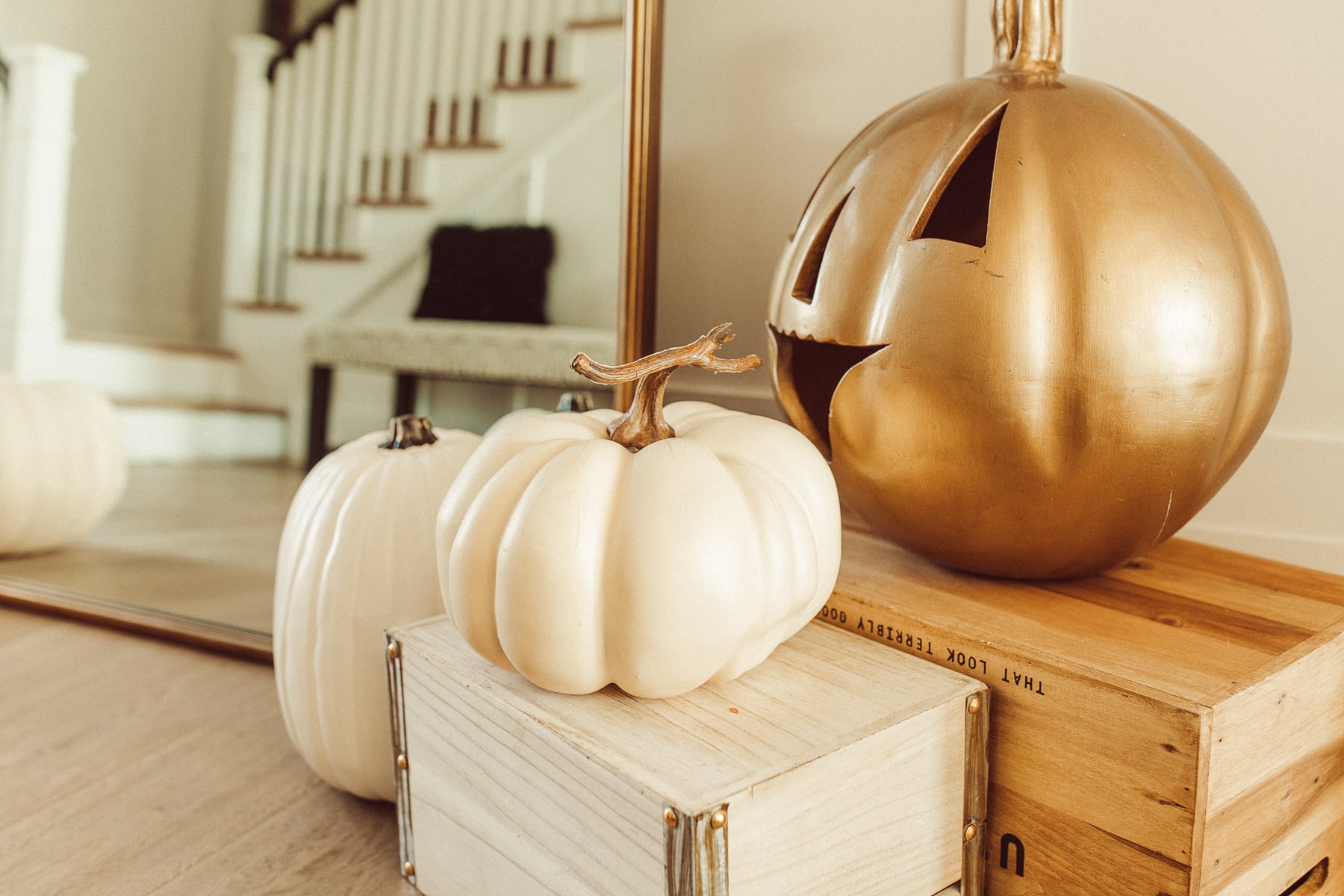 Tips for Parenting In Style...
Never boring, always awesome. Keep up to date with the latest from City Girl Gone Mom.