With an ongoing quarantine and four kids and a husband to feed, I feel like there's suddenly a shortage of creative dinner ideas in my head. I want every meal to be delicious and nutritious, especially since I want to keep their immunity up. For me, it's important to focus on nutrient-packed meals that won't get rejected by my littles for too many veggies or not enough flavor. So I'm going back to one of my family's tried-and-true favorites — Thai coconut chicken.
It's one of those dishes that my kids can't get enough of but I don't make very often. And since we're all suffering from meal fatigue and need the pick me up that comes from deliciously unexpected dishes, I know this will be a dinnertime hit. And the kids won't even realize it's packed with immunity-boosting veggies with all that juicy chicken and creamy coconut sauce!
---
Carrots are rich in beta carotene, which your body converts into vitamin A. This nutrient promotes good vision and is important for growth, development, and immune function.
---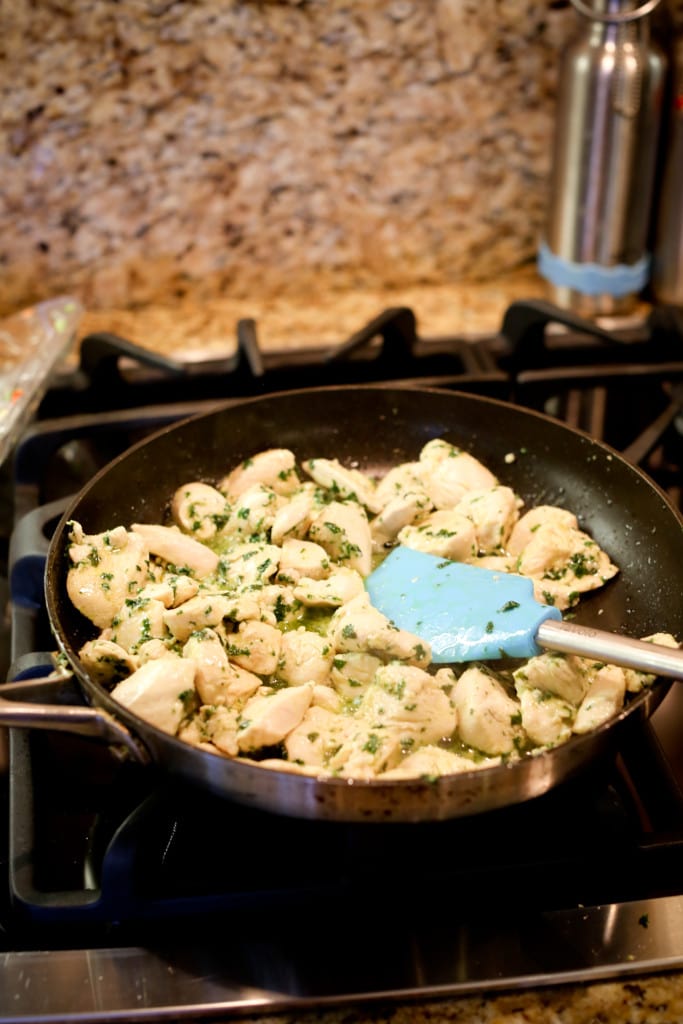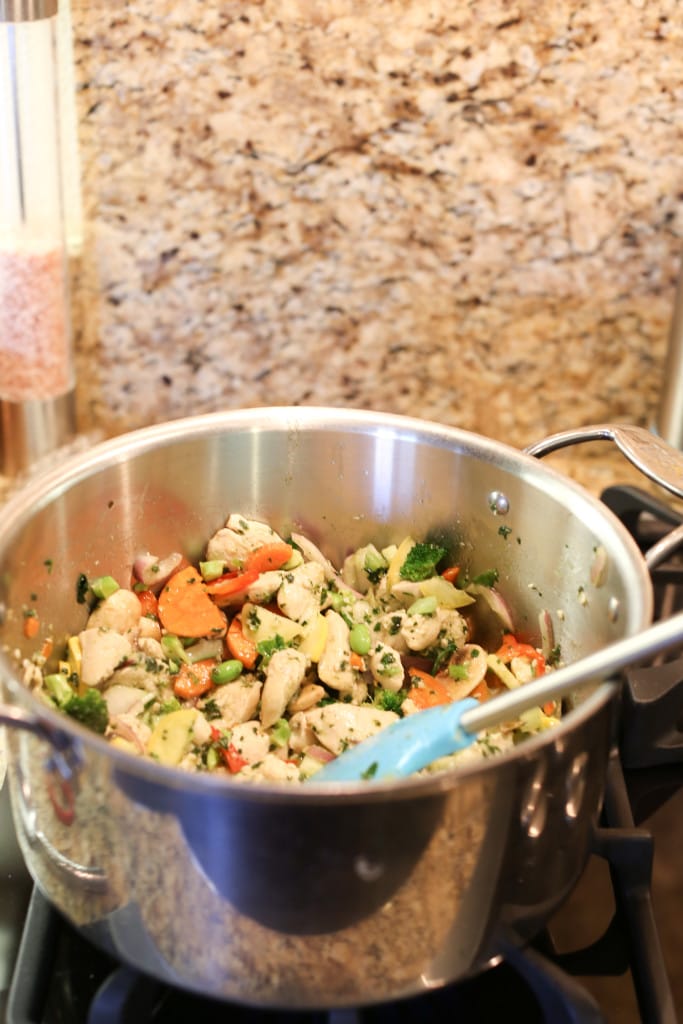 It's a Family Favorite
Now, the last time I made my Thai coconut chicken, my husband literally called it, and I quote, the "BEST chicken dish ever." So, yeah, it's pretty good. In fact, hands down there is no better chicken dish than this one. Even for the picky eaters in my family, it's truly a hit.
Now you can share this yummy, creamy, chicken-y goodness with your family! Check out the recipe, but please note I don't measure much when I cook. The Italian in me always improvises to my liking, whether it be measurements or additional ingredients like leafy greens. (The kids don't even notice all the nutrient-packed veggies!) Plus it's easy to add in whatever veggies you have on hand—carrots, cabbage, zucchini, onions, celery, etc.—I make it just a little different each time. And instead of rice, sometimes we try it over quinoa. It's fun to mix it up!
Let me know if you give it a go… You won't be sorry.

---
Bell peppers contain many healthy antioxidants, including capsanthin, violaxanthin, lutein, quercetin, and luteolin. These plant compounds are associated with many health benefits including preventing heart disease and cancer.
---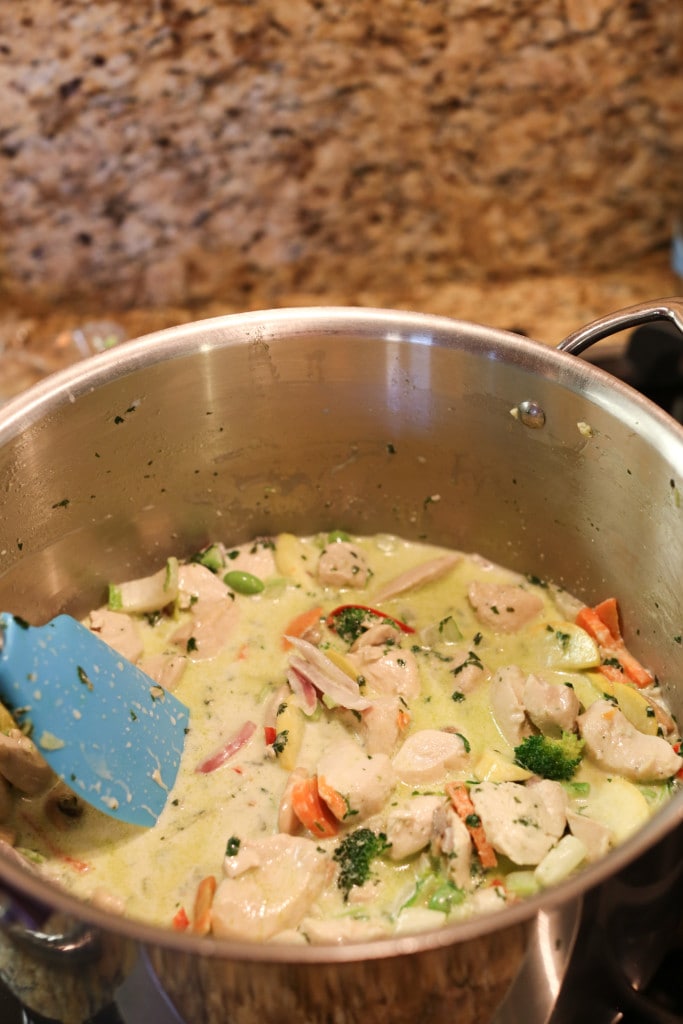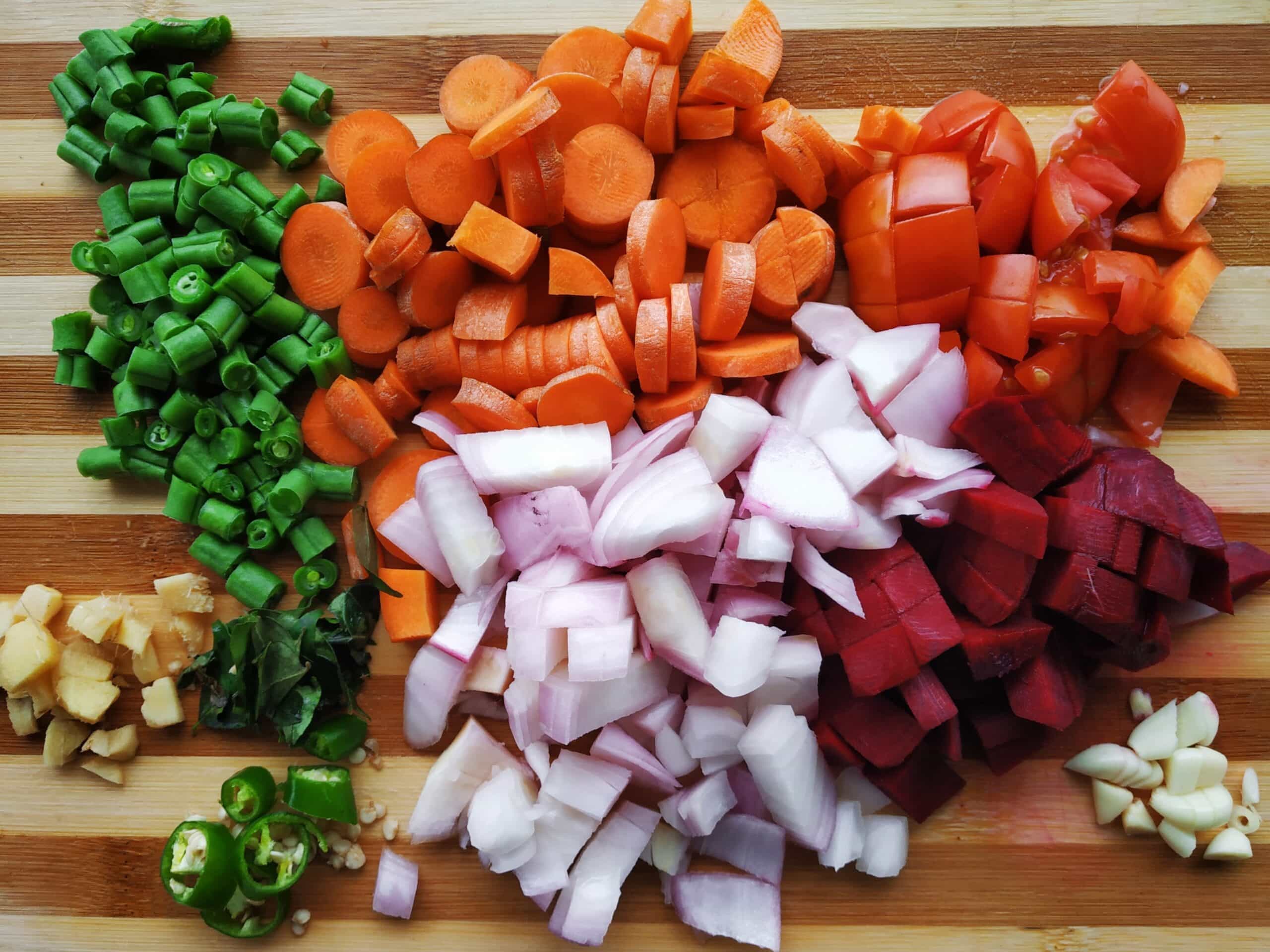 Gather Your Ingredients
1 tablespoon vegetable oil or coat the pan with olive oil
1 lb boneless skinless chicken breasts, cut into bite-size pieces
2 fresh serrano chilies or 1 jalapeño chili, seeded and finely chopped
1 teaspoon grated lime peel
1 teaspoon grated gingerroot
¼ cup finely chopped fresh cilantro
1 cup sugar snap pea pods or edamame
1 medium green bell pepper, cut into 1-inch cubes
2 medium carrots, sliced
½ cup of chopped broccoli
2 cans (less if you prefer a less soupy dish) of coconut milk (not cream of coconut)
1 teaspoon packed brown sugar
1 clove garlic, finely chopped
½ teaspoon salt
1 tablespoon soy sauce
2-3 cups of cooked jasmine or white rice, if desired
1 tablespoon chopped fresh basil leaves

---
Test-tube studies suggest that the lauric acid found in coconut milk may reduce the levels of viruses and bacteria that cause infections.
---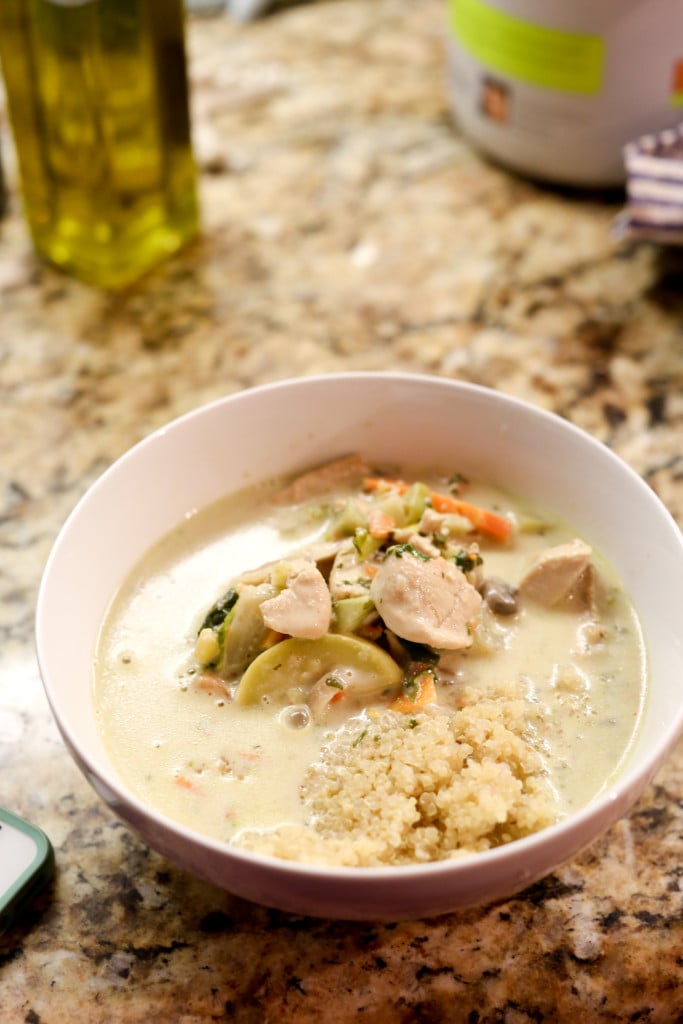 Thai Coconut Chicken Preparation
In a nonstick wok or 12-inch nonstick skillet, heat oil over high heat. Add chicken; stir-fry 2 to 3 minutes or until chicken is no longer pink in center.
Add lime peel, ginger root, garlic, chilies and cilantro, then stir-fry 1 minute.
Pour coconut milk over chicken. Stir in brown sugar, salt, soy sauce and veggies. Reduce heat to medium.
Simmer uncovered 3 to 5 minutes, stirring occasionally until vegetables are still crisp but tender.
Spoon into shallow serving bowls; top with basil. Serve with rice.
---
Ginger has a very long history of use in various forms of traditional and alternative medicine. It has been used to help digestion, reduce nausea and help fight the flu and common cold.
---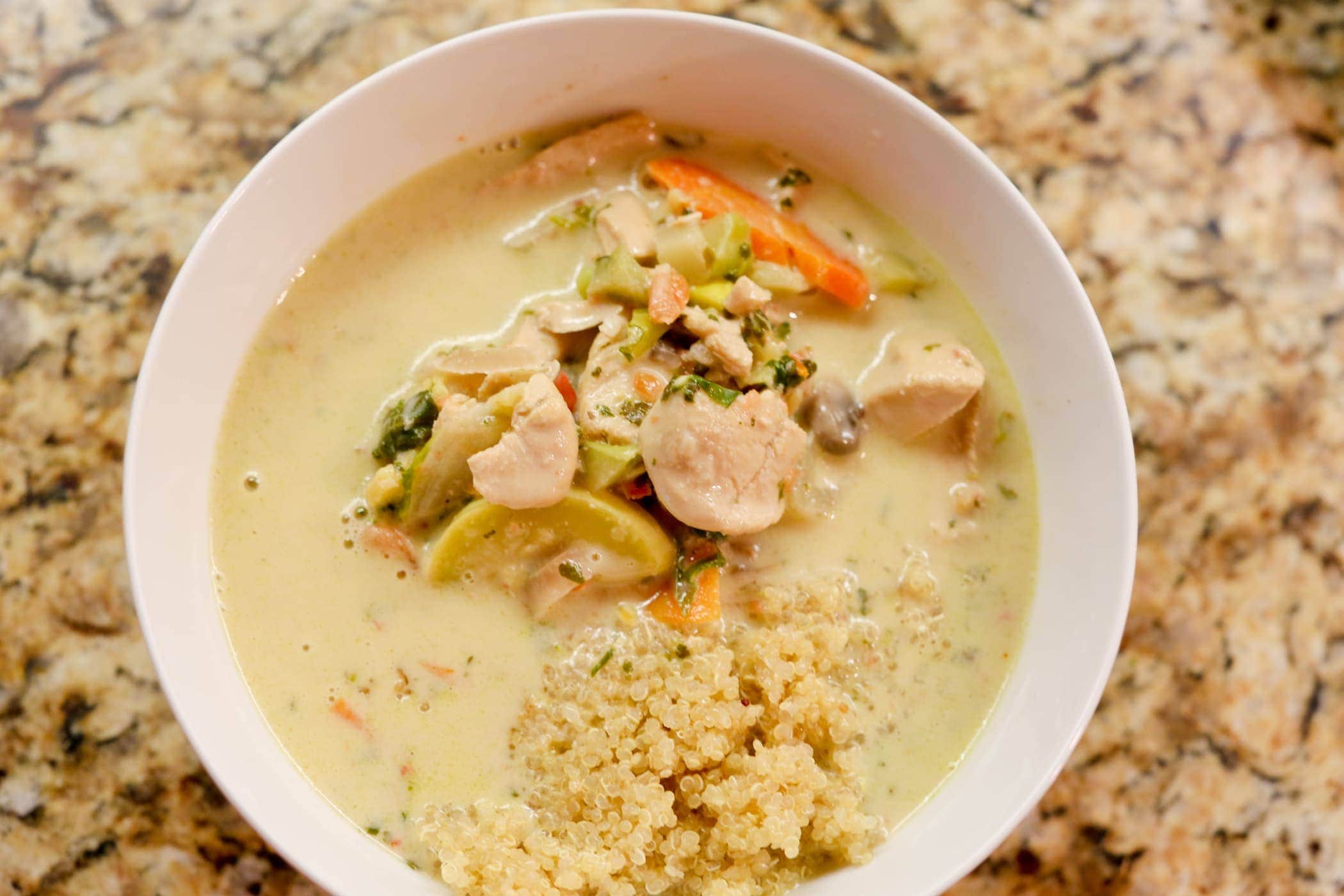 Tips for Parenting In Style...
Never boring, always awesome. Keep up to date with the latest from City Girl Gone Mom.