My husband walked in the door yesterday and said, "What is that smell Danielle?  Smells DELICIOUS."
Then he took a bite and said, "Now this is your BEST chicken dish ever."
Hands down there is no better chicken dish than this one.  I tried it for the first time yesterday and it truly was a hit.  Here is the recipe, but please note I don't measure much when I cook.  I always improvise to my liking, whether it be measurements or additional ingredients like vegetables.  In this case, I bought a package of fresh chopped veggies in the produce section of the grocery store, to save time.  You can make this dish with any veggies.  Instead of rice we tried it over Quinoa.
Let me know if you give it a go… You won't be sorry.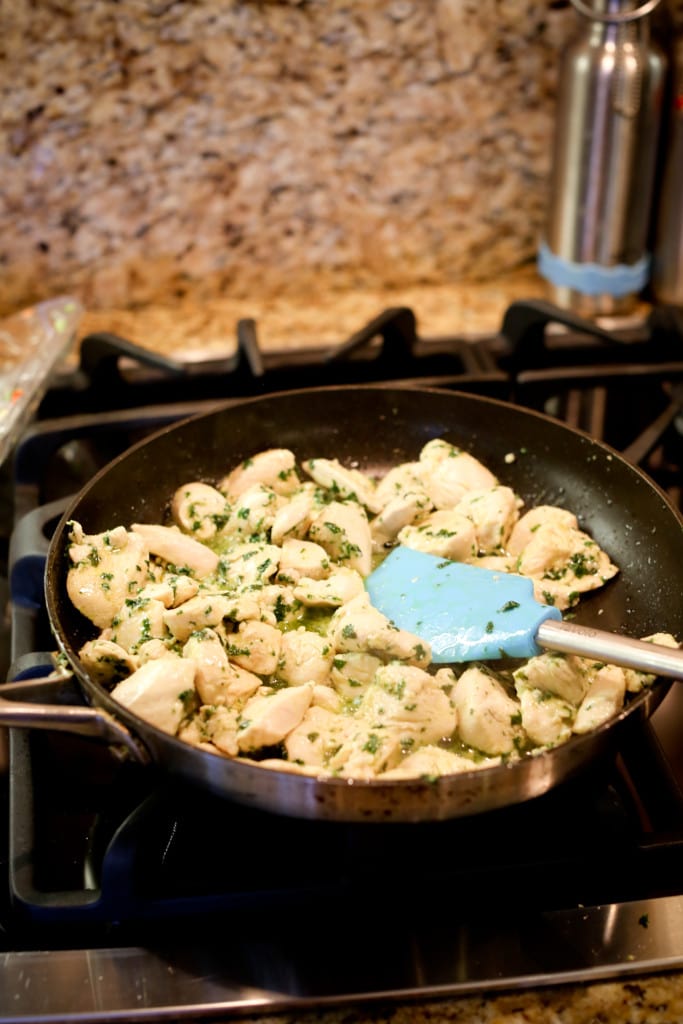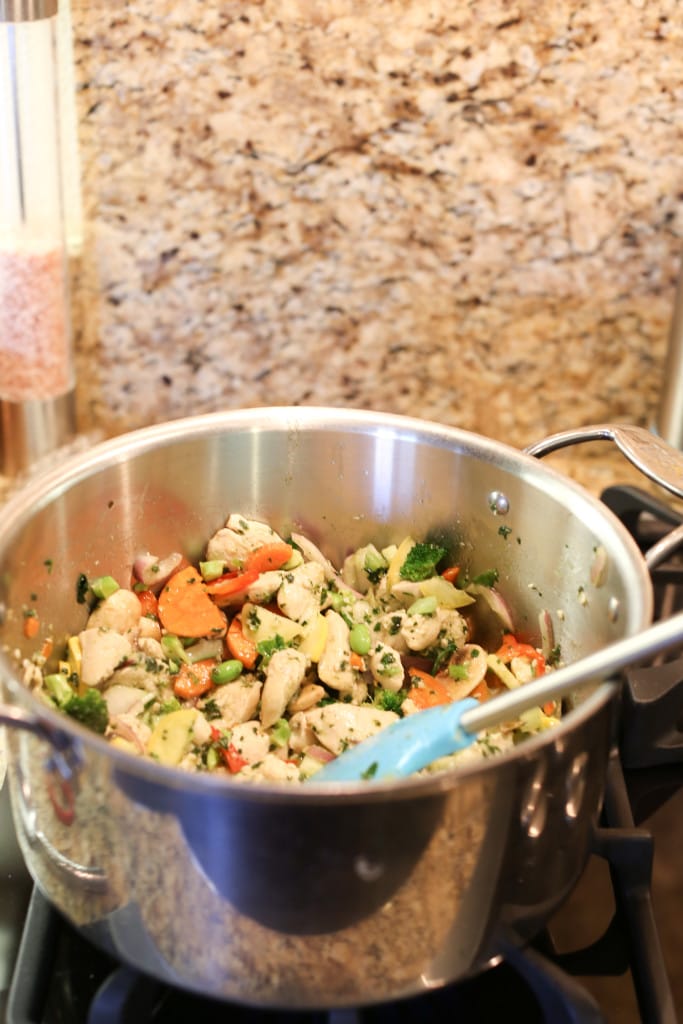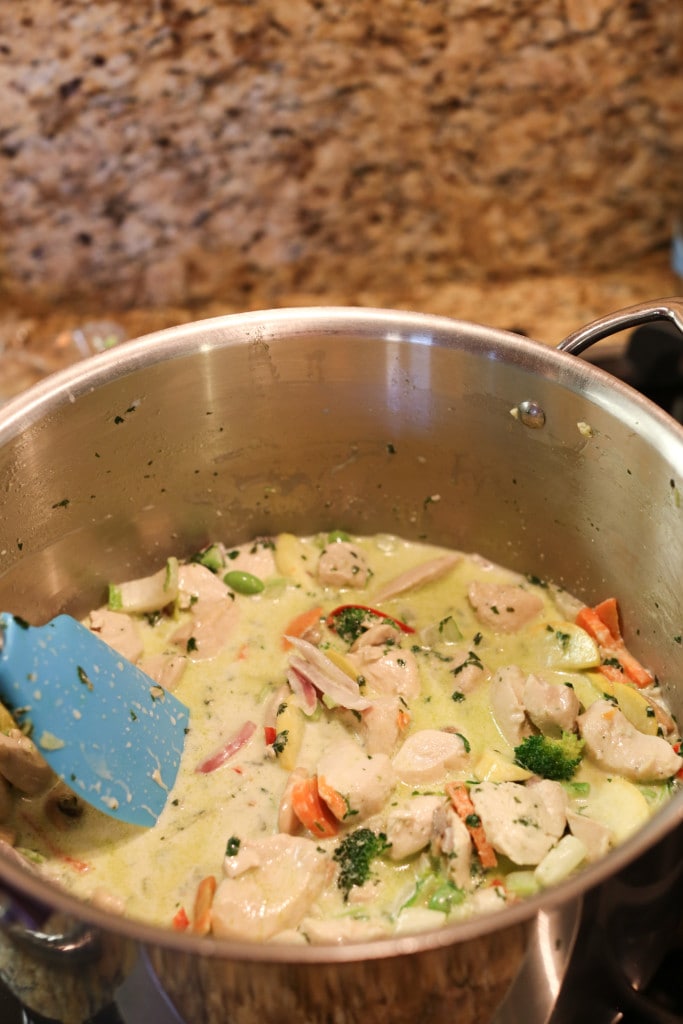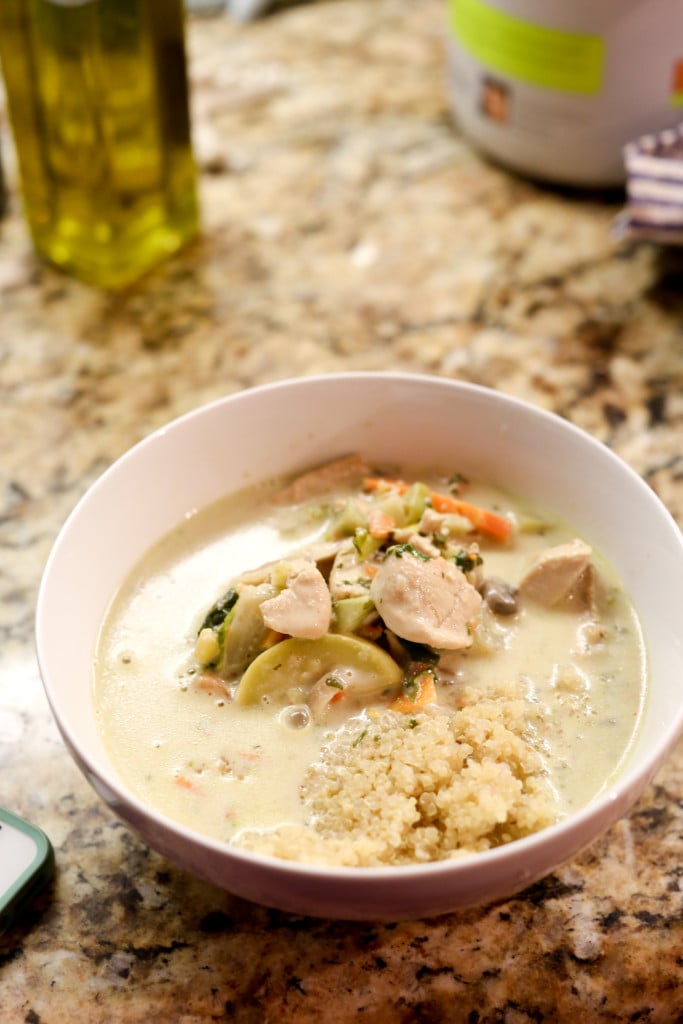 INGREDIENTS
1 tablespoon vegetable oil or coat the pan with olive oil
1 lb boneless skinless chicken breasts, cut into bite-size pieces
1 teaspoon grated lime peel
1 teaspoon grated gingerroot
1 clove garlic, finely chopped
2 fresh serrano chilies or 1 jalapeño chili, seeded and finely chopped
1/4 cup finely chopped fresh cilantro
1-2 cans (about 14 oz) coconut milk (not cream of coconut) You judge how soupy
1 teaspoon packed brown sugar
1/2 teaspoon salt
1 tablespoon soy sauce
1 cup sugar snap pea pods
1 medium green bell pepper, cut into 1-inch cubes
1 medium tomato, chopped (3/4 cup)
1 tablespoon chopped fresh basil leaves
Hot cooked jasmine or white rice, if desired
PREPARATION
In nonstick wok or 12-inch nonstick skillet, heat oil over high heat. Add chicken; stir-fry 2 to 3 minutes or until chicken is no longer pink in center. Add lime peel, gingerroot, garlic, chilies and cilantro; stir-fry 1 minute.
Pour coconut milk over chicken. Stir in brown sugar, salt, soy sauce, pea pods and bell pepper. Reduce heat to medium. Simmer uncovered 3 to 5 minutes, stirring occasionally, until vegetables are crisp-tender. Stir into tomato.
Spoon into shallow serving bowls; top with basil. Serve with rice.