Easter is one of my favorite holidays because with it comes all of the beauty, happiness, and freshness of spring. I love watching my kids open their baskets, hunt for eggs, and whip up some colorful creations in the kitchen. It's such a fun holiday and we get to spend time with family and friends that we haven't seen since Christmas! It's time to decorate, bake, and dress up for this colorful, warm-weathered holiday. And you know I can't celebrate Easter without my favorite one-stop shop—Kohl's!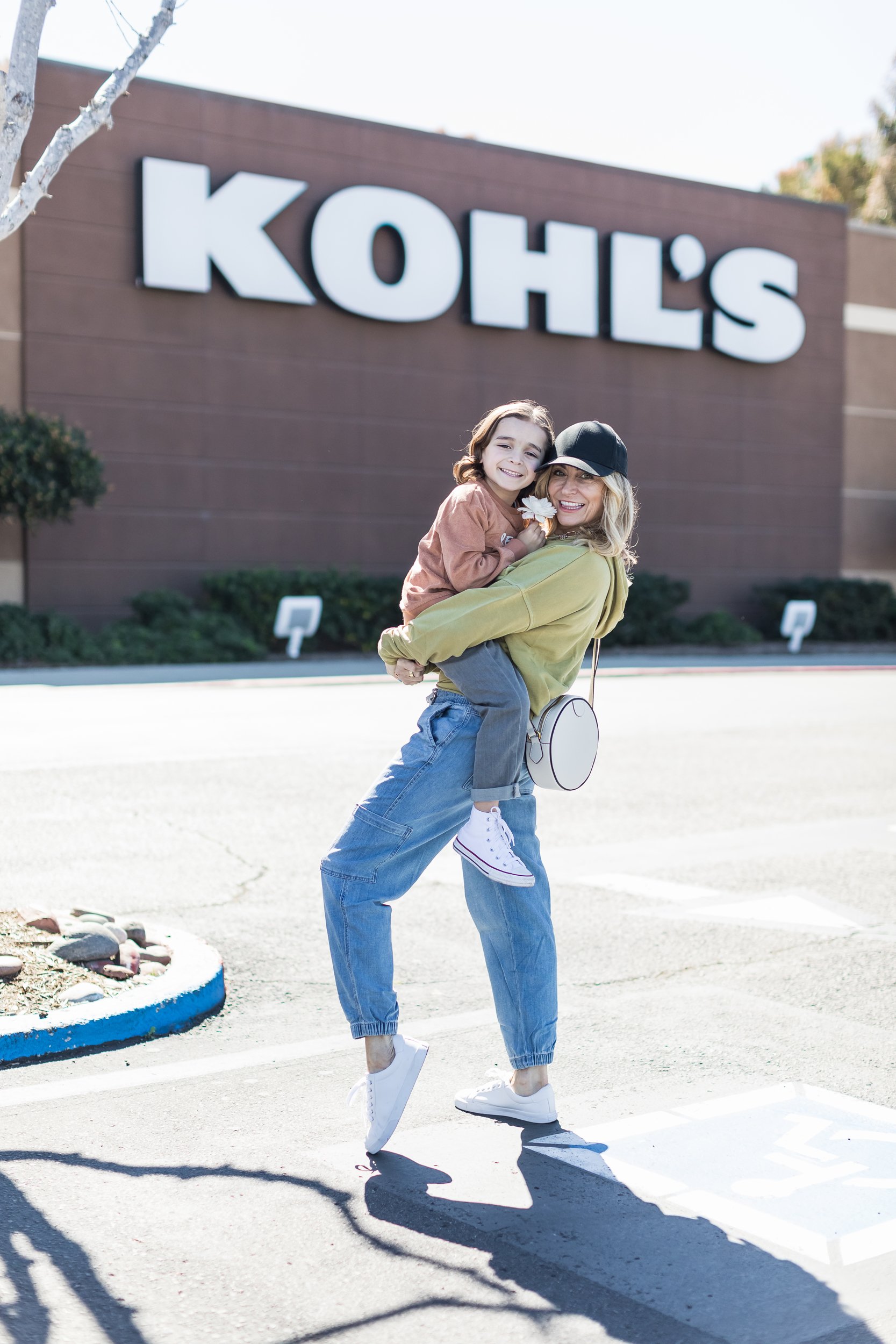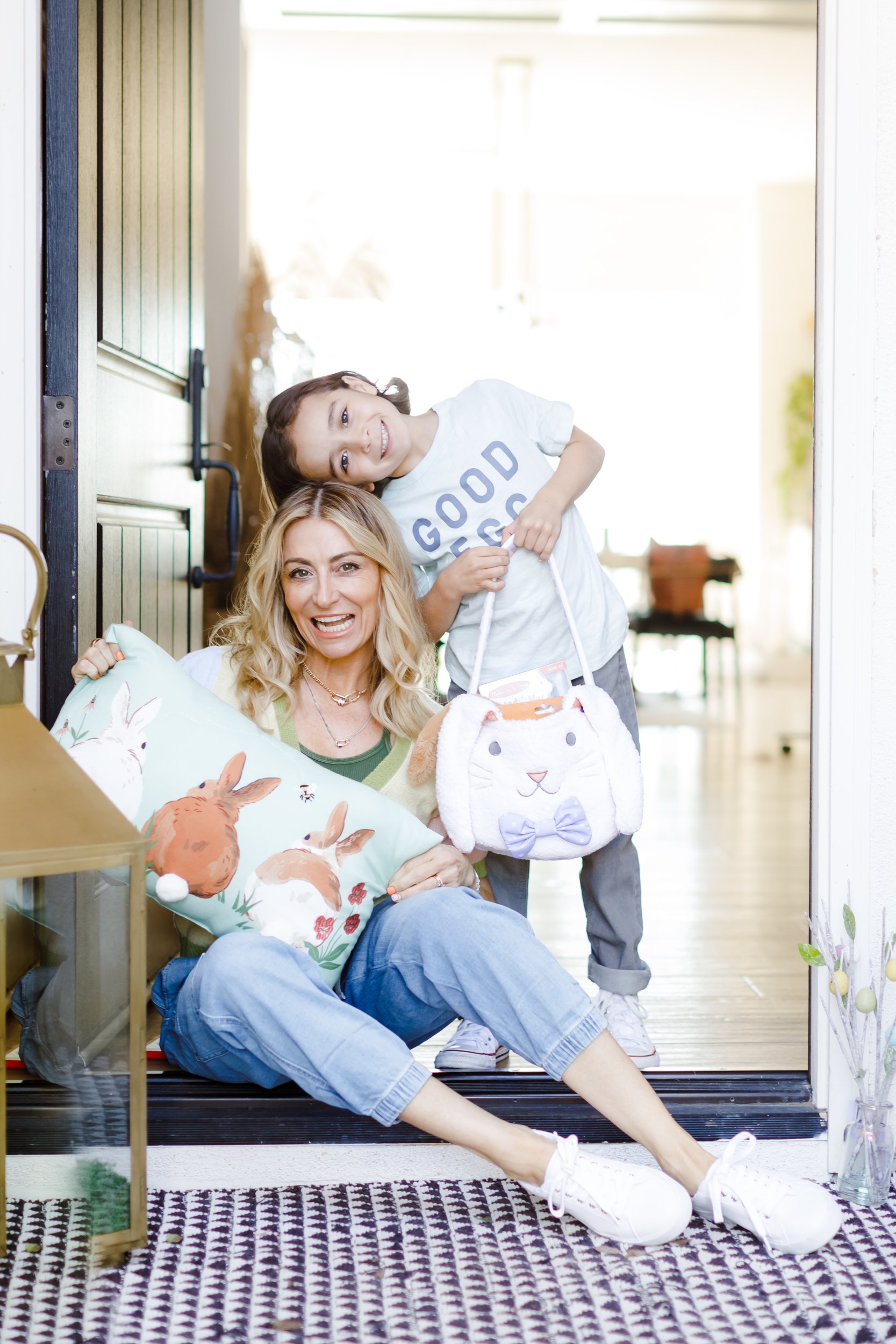 Dress for the Season
Omg, you guys loved Brody's outfit during our Kohl's Live. He loves it too! His Good Egg t-shirt paired with a French terry hoodie, and pull-on jeans is so casual but perfect for running around collecting eggs! It's fun to style and wear, and great for layering just in case it's a little chilly outside on Easter Day.
My pastel cropped sweater cardigan with denim joggers was so comfortable and as Brody says, I look like a rainbow egg! Perfect! Paired with my white sneakers they are so easy and cute so I can look good but stay comfortable while I'm whipping up Easter dinner. If I need something a little warmer, my relaxed hoodie is perfect to wear while hiding eggs outside in the chilly morning air before the kids get up!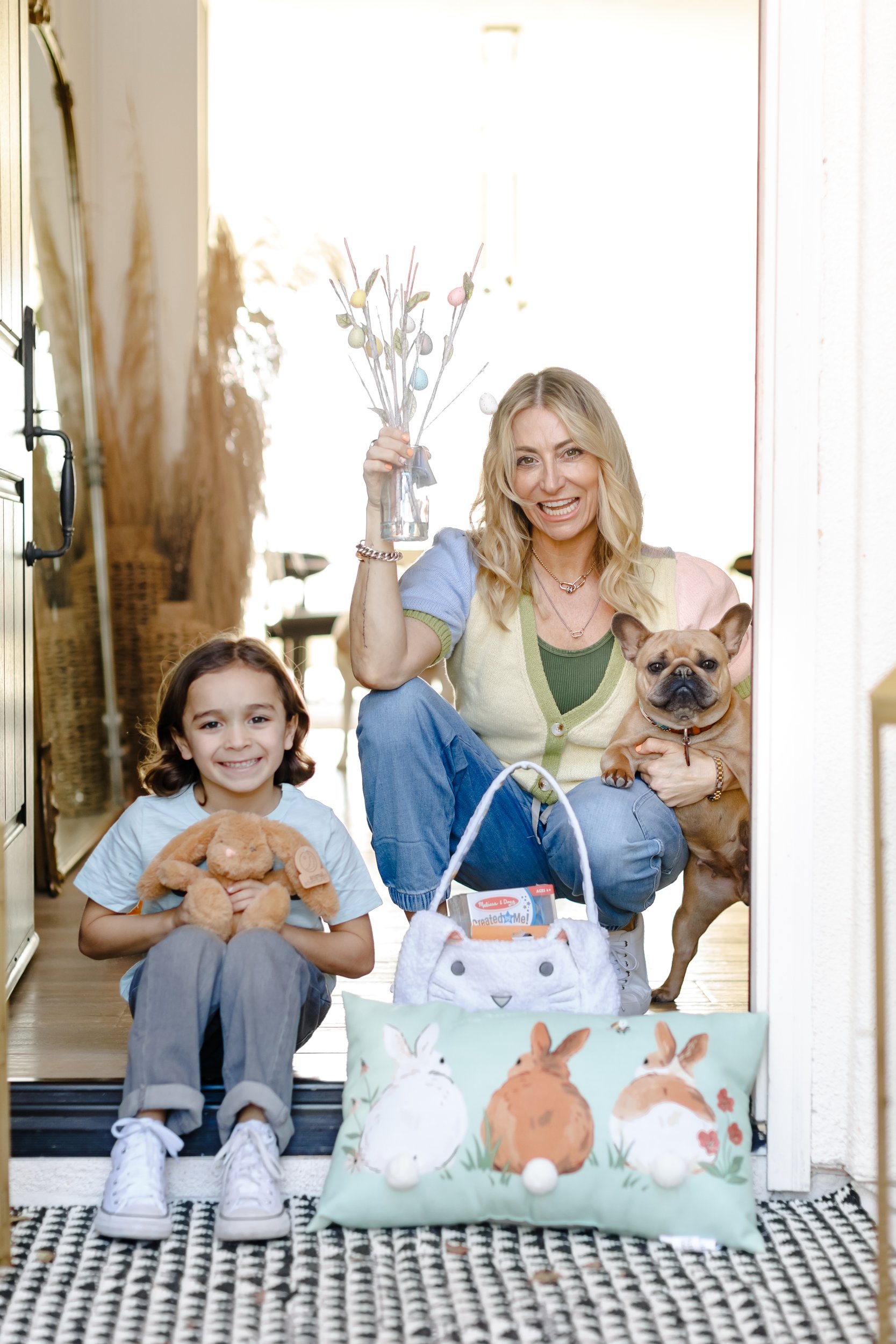 Decorating My Table
I love pieces that I can use year after year. If I find a tablescape I love, chances are I'm going to want to do it again next year. And this look from Kohl's is so precious. I decorated my table with adorable Easter Garden bunny plates that are so colorful and create such a beautiful focal point. And the matching Easter Garden Oval Platter? An absolute must-have! Plus it makes Brody so happy to see bunnies everywhere!
And the napkin rings with bunny ears? They are just beyond adorable and come in lots of different spring colors to decorate your table. Slide them around the checkered dinner napkins and your plate settings will pop with color. All of this sits on top of a neutral jute placemat to ground it and give it another layer with a neutral background.
Green goblets bring some of the colors of nature inside and look so pretty on the table. For a centerpiece, pile together the eggs your kids found, or if they're busy eating them, decorate with these faux patterened eggs and set them out in the round decorative deviled egg tray. If you need a bigger centerpiece, opt for the egg tree, it's cute, seasonal, and brings some great height to the table. We set them beside our bright and colorful candle holder with flowers and bunnies.
But Brody's favorite part of the table was the bunny pillows on the chairs with embroidered bees and poufs for bunny tails! Too cute! Ours have since sold out, but this bunny bum pillow is just as adorable!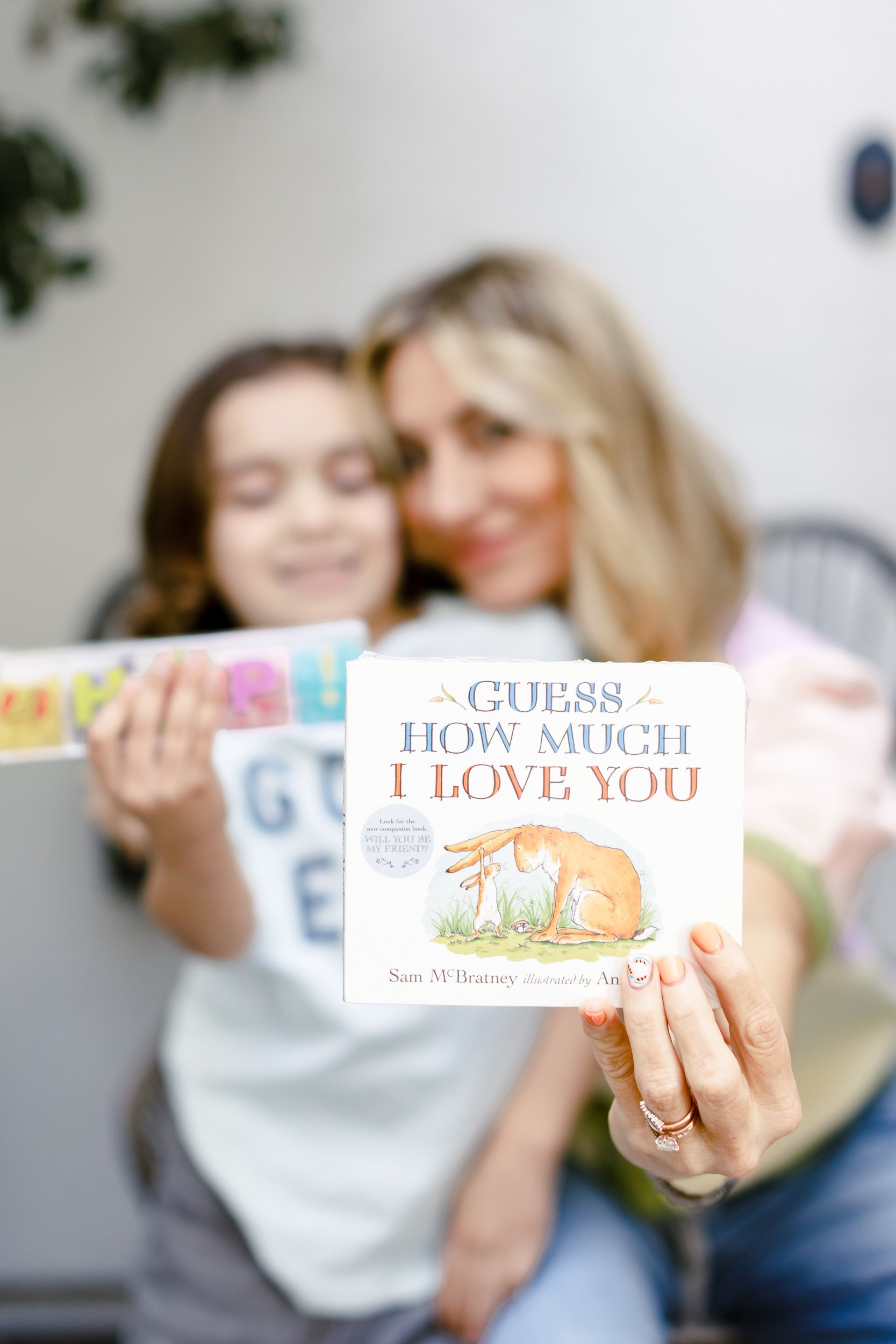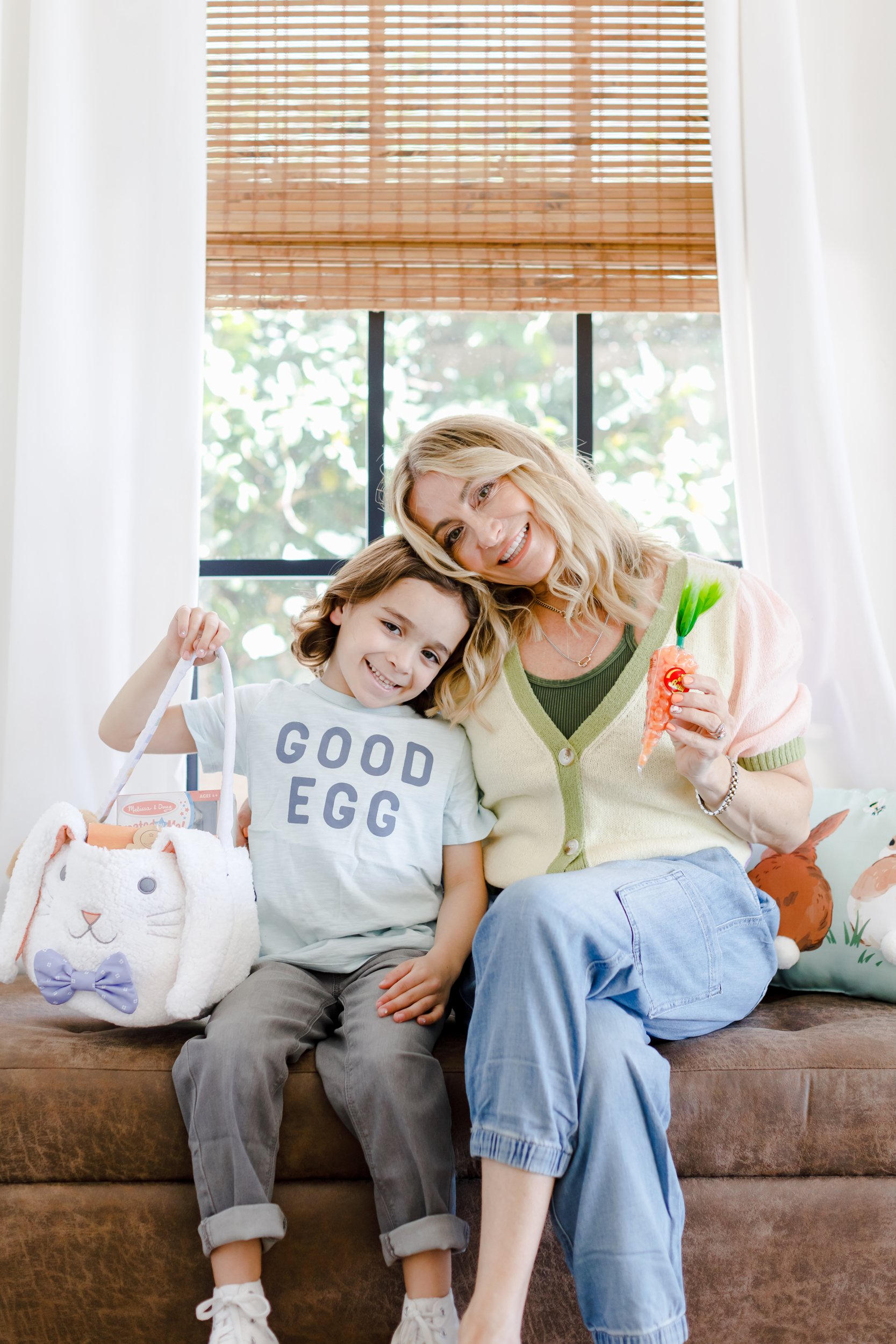 My Favorite Snack
I just learned how to make peeps in a blanket and it's such a cute idea for your Easter party! Just bake up a tray of brownies, any way you like to make them and lay the peeps down on top of them. Melt some chocolate and drizzle it over just the bottom so it looks like they're lying in a chocolate bed. Then decorate with sprinkles and you're good to go! Such a fun and easy Easter treat!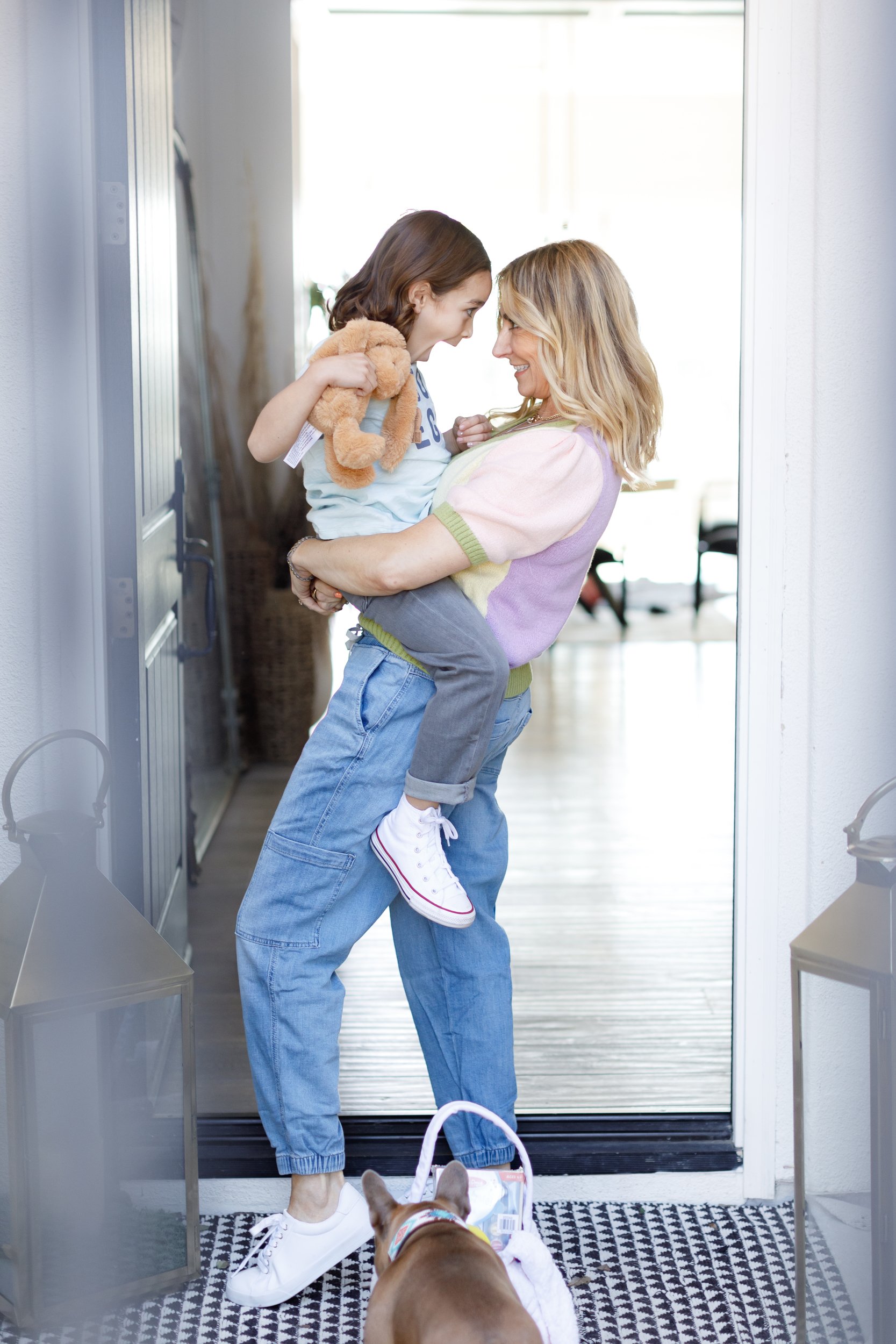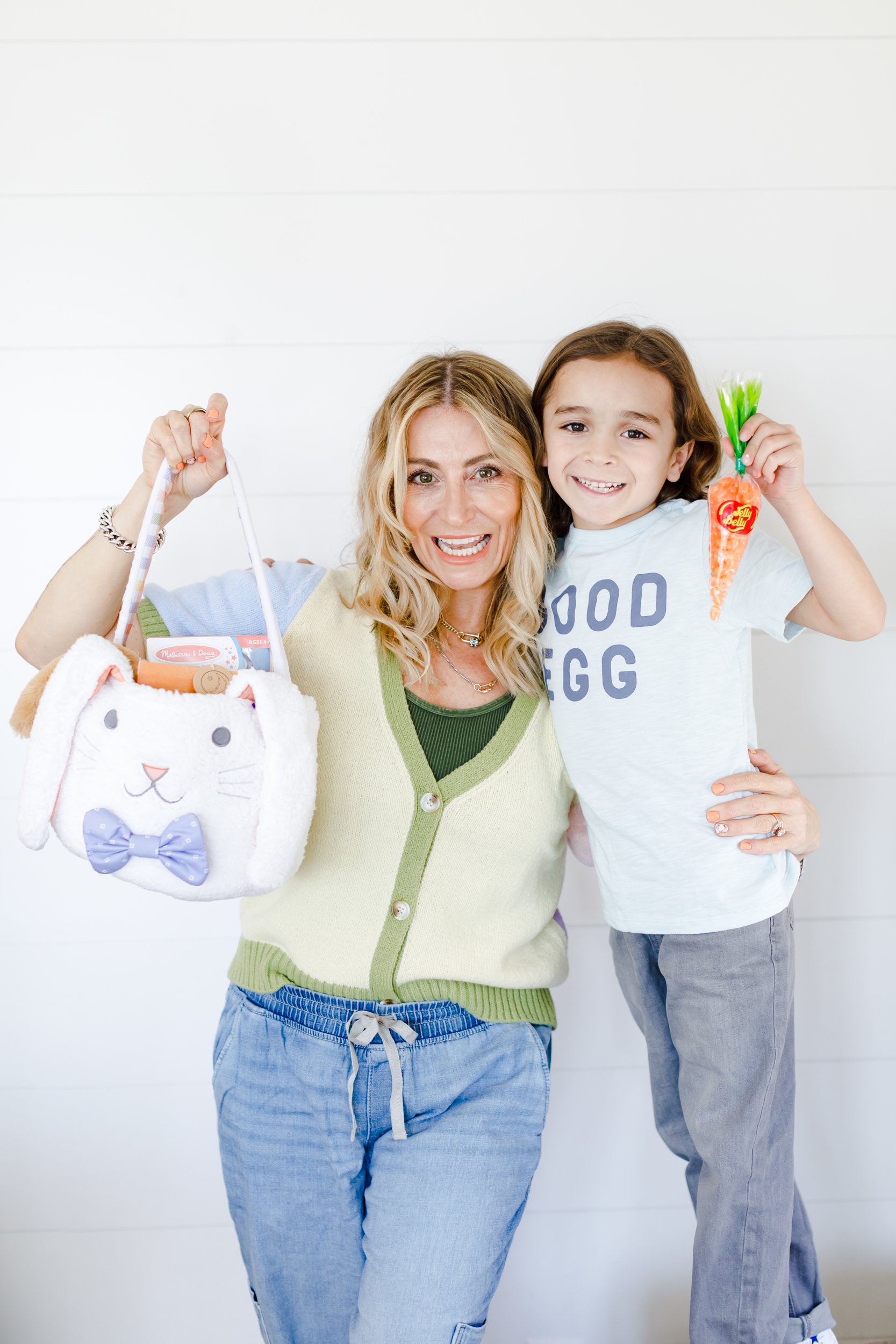 Create a Basket
Easter isn't complete without creating an amazing Easter basket for your kids. Grab the egg decoration kit and some room-temperature eggs, and get colorful! With a black wireframe bread basket and a colorful napkin, you can display your eggs for everyone to see! (Or eat, if you hard-boiled them beforehand!)
Brody created his own gift basket with lots of kid-approved goodies! This adorable bowtie bunny basket was filled up with his favorites like original marshmallow peeps, a Peeps rainbow pop, and jellybeans! Of course, we needed more than just candy so he added the book Guess How Much I Love You, a brown bunny plush, and a monster truck and car crafting set. Perfect for the holiday!
Have you listened to my podcast? Check out The Mom Confidential!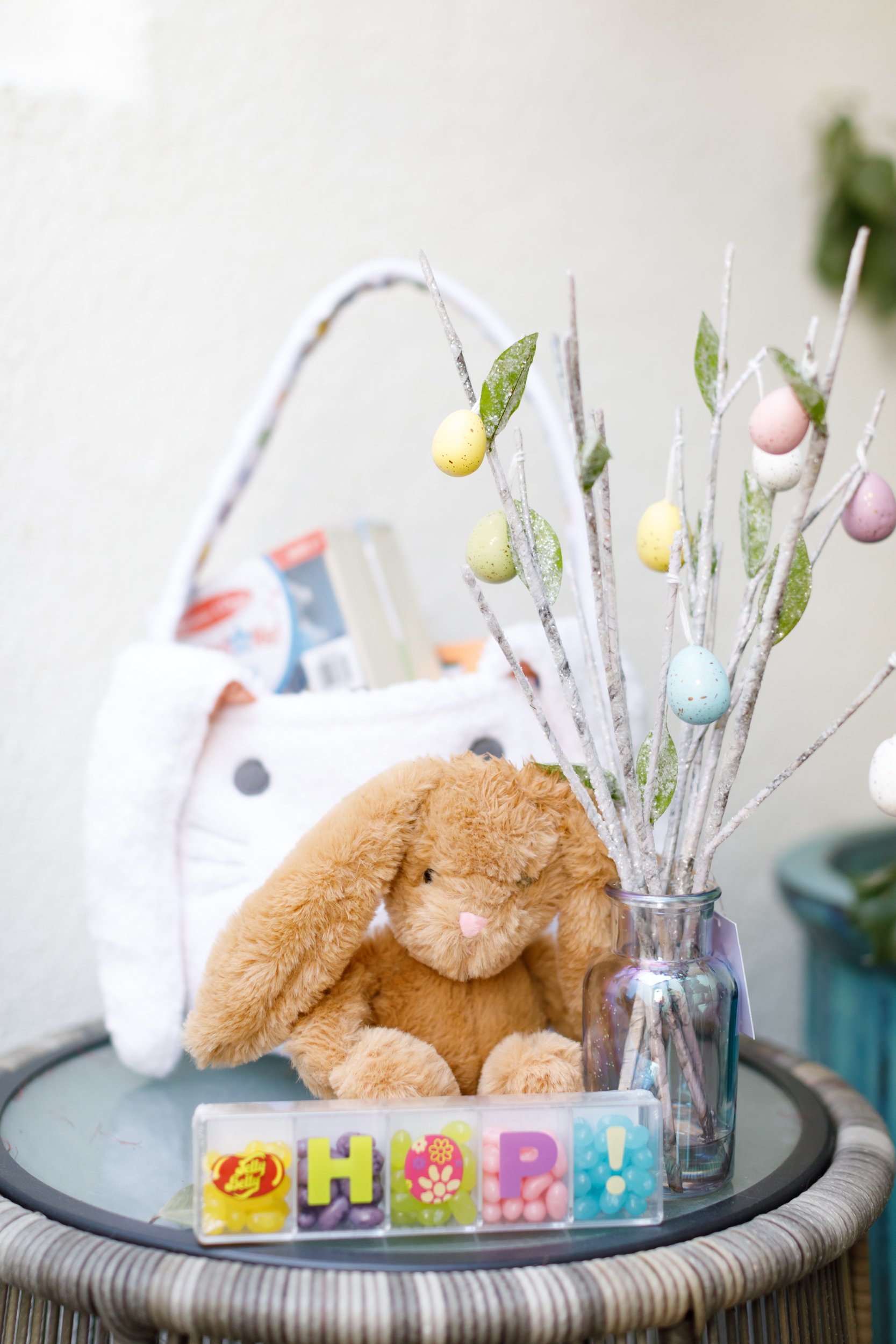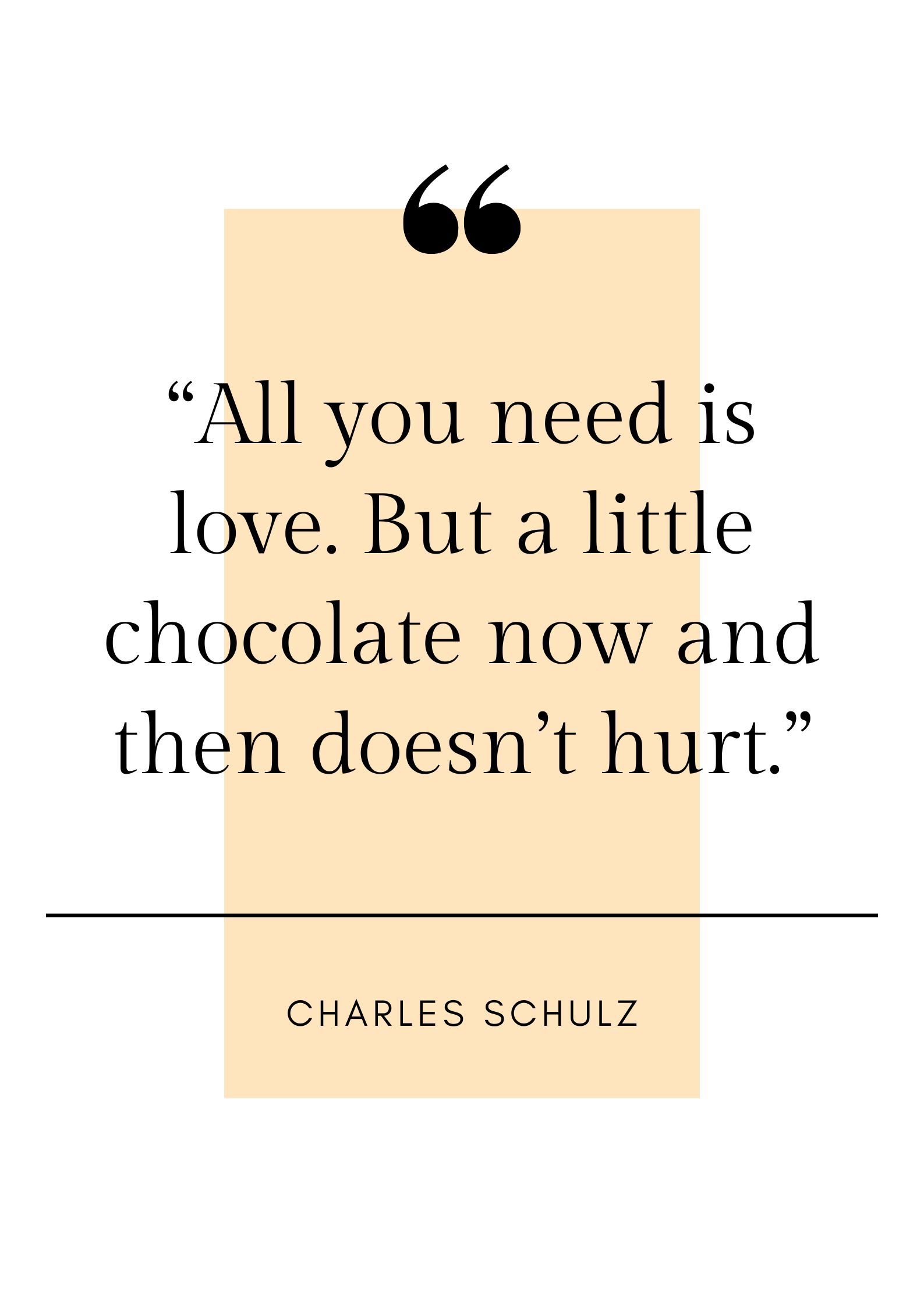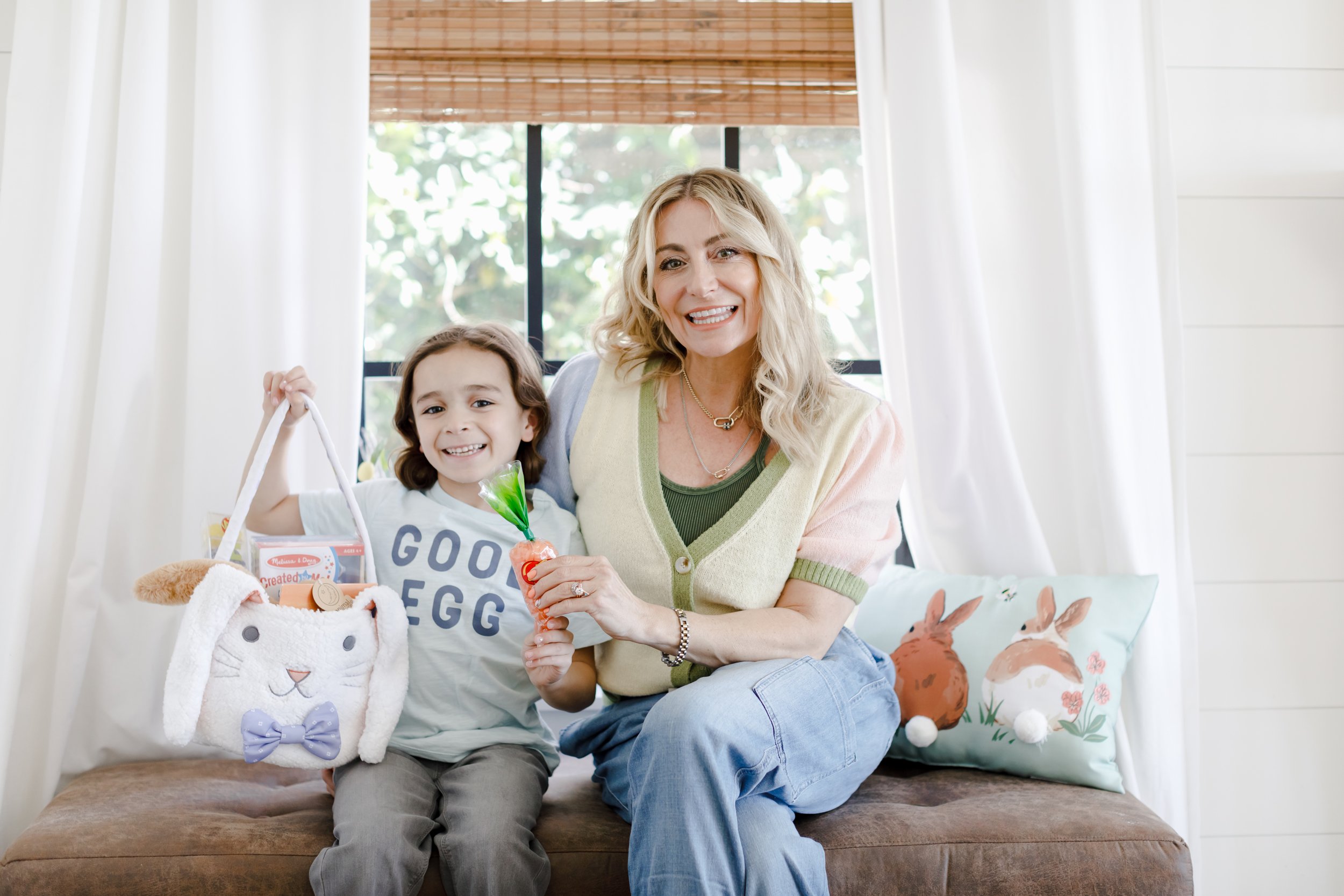 Tips for Parenting In Style...
Never boring, always awesome. Keep up to date with the latest from City Girl Gone Mom.