Summer is right around the corner. Use City Girl's recommendations for the best bronzer with sunscreen and kick off the season with a warm sun-kissed look! The secret to achieving a summer glow isn't spending long days at the beach, by the pool, or in your backyard. Rather, it's by using a great bronzer with SPF.
I absolutely love playing with bronzers. They are a huge part of my summer beauty routine. I'm sharing my picks for the best bronzer with sunscreen that will give you healthy-looking glowing skin every day.
It's no secret that bronzer is a must-have in any beauty arsenal. Not only does it add a healthy, sun-kissed glow to the skin, but it also helps even out the complexion and imparts an ultra-natural finish.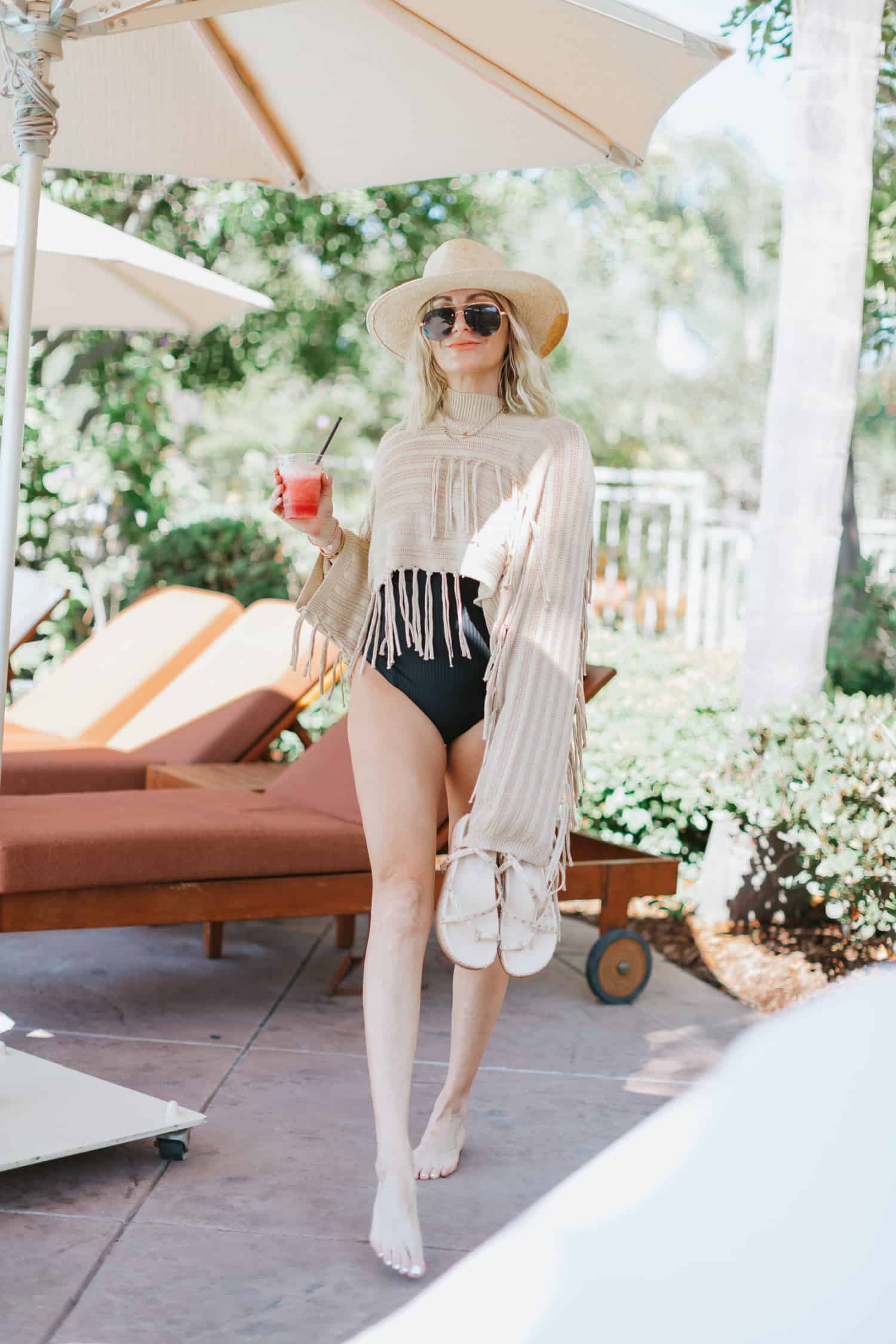 Bronzer with Sunscreen Benefits
Most of us want the appearance of a summer tan but not the damaging effects of the sun that come with it. A bronzer with sunscreen is summer's top beauty product. There are a wide variety of bronzing powders, BB creams, self-tanners, bronzing drops, body shimmers, bronzer sticks, and bronzers that contain a broad spectrum SPF.
Long-term exposure to the sun can cause premature aging and damage to your skin which can lead to skin cancer. If you burn easily using the best bronzer with sunscreen is essential. I take summer skincare very seriously so choosing cosmetics with a high SPF is an absolute must.
How to Choose the Best Bronzer with SPF
When choosing the best bronzer with sunscreen, it's important to remember that not all bronzers are created equal, especially when it comes to blocking sun exposure. Consider the sun protection factor. Look for a formula with broad spectrum protection that blocks both UVA and UVB rays, as well as an SPF of at least 30 or higher.
If you'll be in direct sunlight for long periods of time, opt for a higher SPF. When it comes to the bronzer itself, look for options that are buildable and blendable, with a hint of shimmer to create a sun-kissed glow without looking over the top. Keep in mind that many bronzers contain talc, so if you have sensitive skin or allergies, make sure to read the ingredients list carefully before buying.
Different Types of Bronzer with Sunscreen
There are four main types of bronzers: powder, cream, gel, and liquid bronzers. The type of bronzer you use will vary depending on your skin type and whether you want to achieve an entire body sun-kissed glow or a touch of color and natural warmth to your face and decolletage. Whichever you choose, be sure to use a bronzer with SPF.
Powder
If you have oily skin or prefer a more matte-finish use a powder formula bronzer with sunscreen. Matte formula powders are the most popular for adding a subtle hint of color and definition since they can be blended easily and layer nicely with makeup. Powder bronzer is a great way to add warmth to your complexion and achieve natural-looking color without the use of harsh chemicals.
Unlike liquid or cream bronzers, powder bronzer won't clog pores or cause skin irritation. It's easy to apply and quick to blend – just add a light dusting with a brush for subtle definition that lasts all day long. Plus, it won't leave you feeling greasy or shiny. Powder bronzer is perfect for adding a sun-kissed glow to your face and body – no matter what the season.
In addition, powder bronzer offers great versatility when it comes to makeup looks. Not only can you use it as a contouring tool, but you can also mix and layer different shades together for a custom color blend. With so much potential to play around with, powder bronzer is the perfect product for any beauty enthusiast looking to experiment with their look.
Gel
Gel bronzer is great for dry to normal skin types. Not only does it give you a sun-kissed glow, but it also has many beneficial properties that make it an ideal product for long-lasting wear. Gel bronzer is water-resistant, smudge proof, and creates a flawless look every time.
Moreover, its lightweight formula allows your skin to breathe and keeps you looking natural all day long. What's more, it won't clog your pores or cause skin irritation, so you can enjoy the perfect summer glow with no worries!
Cream
Cream bronzer with SPF is ideal for normal skin types. For the most natural look try a gel or cream formulas. Cream bronzer is an essential part of any beauty routine, and for good reason. It provides benefits you can't get with traditional powder bronzers, like a more natural, dewy finish and better blending ability.
Cream formulas also offer buildable coverage that won't cake or settle into fine lines. Plus, since cream products are super moisturizing, you can wear them knowing your skin is getting an extra dose of hydration.
Liquid
Liquid bronzers are your best bet for dry skin types and for when you want that ultra dewy-looking skin. Liquids also work great for contouring and creating more defined looks.
Bronzing liquid has become increasingly popular in recent years due to its various benefits. It offers an even, natural-looking glow that won't streak or fade throughout the day. Liquid bronzer is also easier to blend and layer for a more subtle look. Plus, it's transfer-proof—so no worrying about leaving a mark on your clothes.
Dani's Picks for Best Bronzer with Sunscreen
Bronzers with sunscreen:
How to Choose the Best Bronzer Shade
Bronzers come in many different shades. Since I have fair skin, using a natural-looking bronzer suits me best. Choosing the right shade of bronzer for your skin tone is a lot like an art — one that has mastered the perfect balance between subtle and sun-kissed. But don't worry if you haven't quite gotten the hang of it yet.  
If you have fair or light skin, look for a bronzer with a cool undertone and light shimmer. You should avoid shades that are too dark or orange, as they can look heavy on your skin. For medium to tan skin tones, opt for warm-toned bronzers with deeper pigmentation and more pronounced shimmer. Finally, for darker skin tones, you'll want to choose a bronzer with deep hues but still no orange undertones.
You do want a bronzer that is just a little darker than your natural skin tone. To ensure a natural glow, be sure to not go too dark when choosing a bronzer with sunscreen. No matter what your skin tone is, make sure to apply the bronzer sparingly and blend it out well for a natural-looking finish. Keep in mind that bronzers are meant to enhance your existing features — not completely transform them! With the right bronzer shade in hand, you'll be sure to look radiant all summer long.
Look for Natural Ingredients
When it comes to selecting a bronzer with SPF, the key is to look for natural skin-loving ingredients that will give you the right amount of color and nourishment for your skin. A mineral bronzer is a really good choice. Ingredients like cocoa powder and mica can be used to create a beautiful bronze glow. Cocoa powder in particular adds warmth and richness to your complexion while also improving its texture. Mica helps add reflective properties to your skin, giving it a natural-looking sheen.
For even more glow, look for products that contain ingredients like mango butter, jojoba oil coconut oils, olive oil and sunflower seed oil. These oils help hydrate and nourish your skin while also providing a gentle bronzing effect. Other beneficial ingredients include Vitamin E, tea tree oil, Vitamin C, and aloe vera. With the right mix of natural ingredients, you can create the perfect bronze hue for your complexion.
Bronzer vs. Contouring
Bronzing and contouring are two makeup techniques that can be used to give your face a more sculpted look. They are interchangeable but are not quite the same.
Bronzer is a powder or cream product that adds warmth to the skin and gives it a natural, sun-kissed look. It can be applied with a brush or fingers over the cheekbones, forehead, nose and chin for a light glow.
For contouring, a darker shade of bronzer with sunscreen is used to create shadows in certain areas of the face. This can help give your face definition and make it look more chiseled. When applying both bronzer and contour, be sure to blend the product with a brush or sponge so that you don't have harsh lines.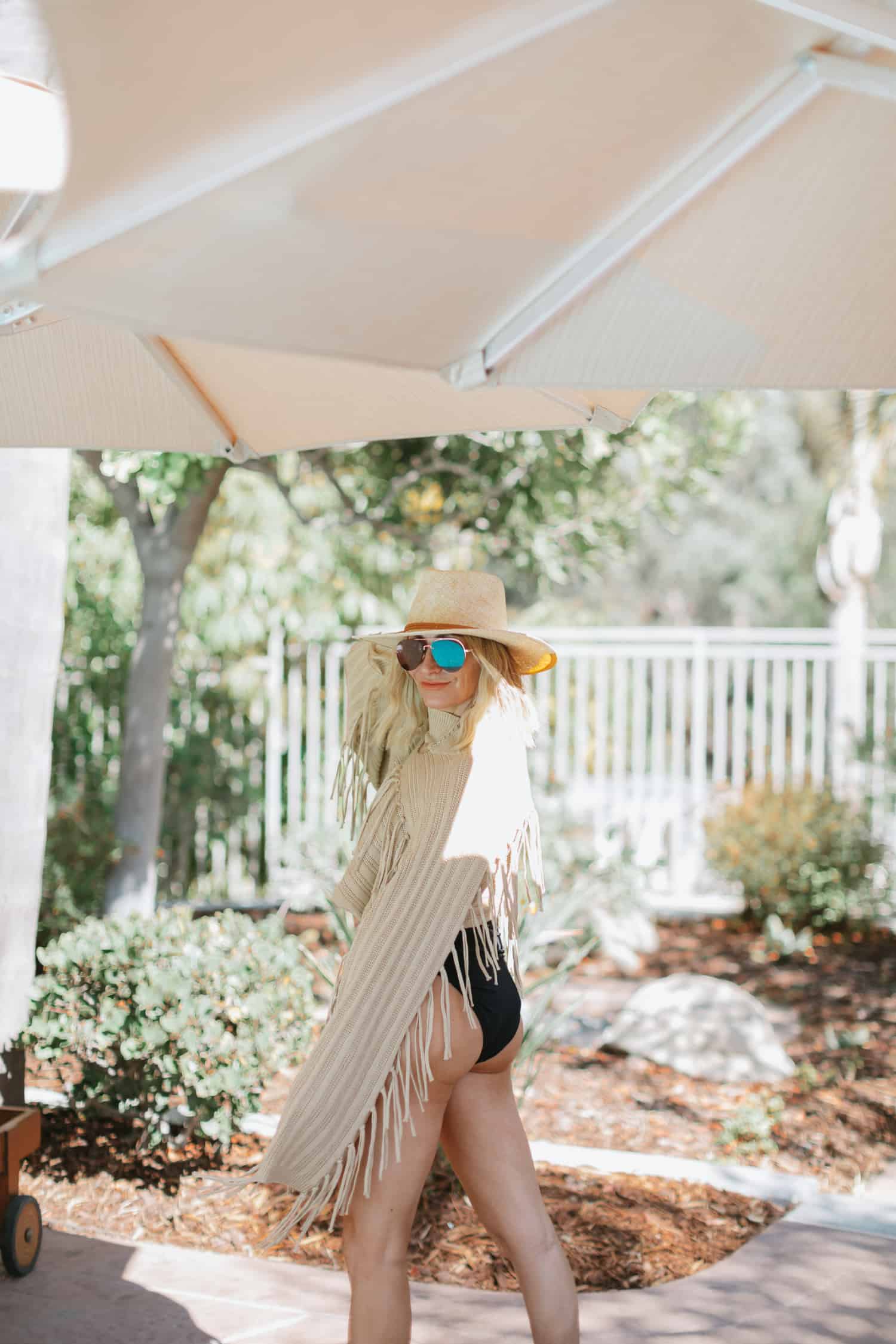 How to Apply Bronzer to Your Face
Once you've applied your foundation, it's time for the bronzer. Bronzer is key to adding a touch of warmth and color to your face. But how do you apply it without looking like an orange? Here are our tips for applying bronzer like a pro:
Start with a light hand.
You don't want to overdo it with the bronzer, so begin by applying just a small amount. You can always build up later if you need to.
Apply in sweeping motions.
Don't just stick to one spot; instead use circular or sweeping motions when applying your bronzer. This will help blend out any harsh lines and create a natural look.
Use your brush.
Make sure you use a good quality, fluffy bronzer brush to apply your bronzer. This will help it look more blended and natural.
Add layers.
If you want to add more warmth or color, just add an extra layer of bronzer over the first one. This will give you a more dramatic effect without making it look too heavy.
Finish with a blending brush for best results.
To finish off the look, use a damp beauty blender or makeup sponge to blend out any harsh lines or edges. This will give your face a seamless, natural appearance.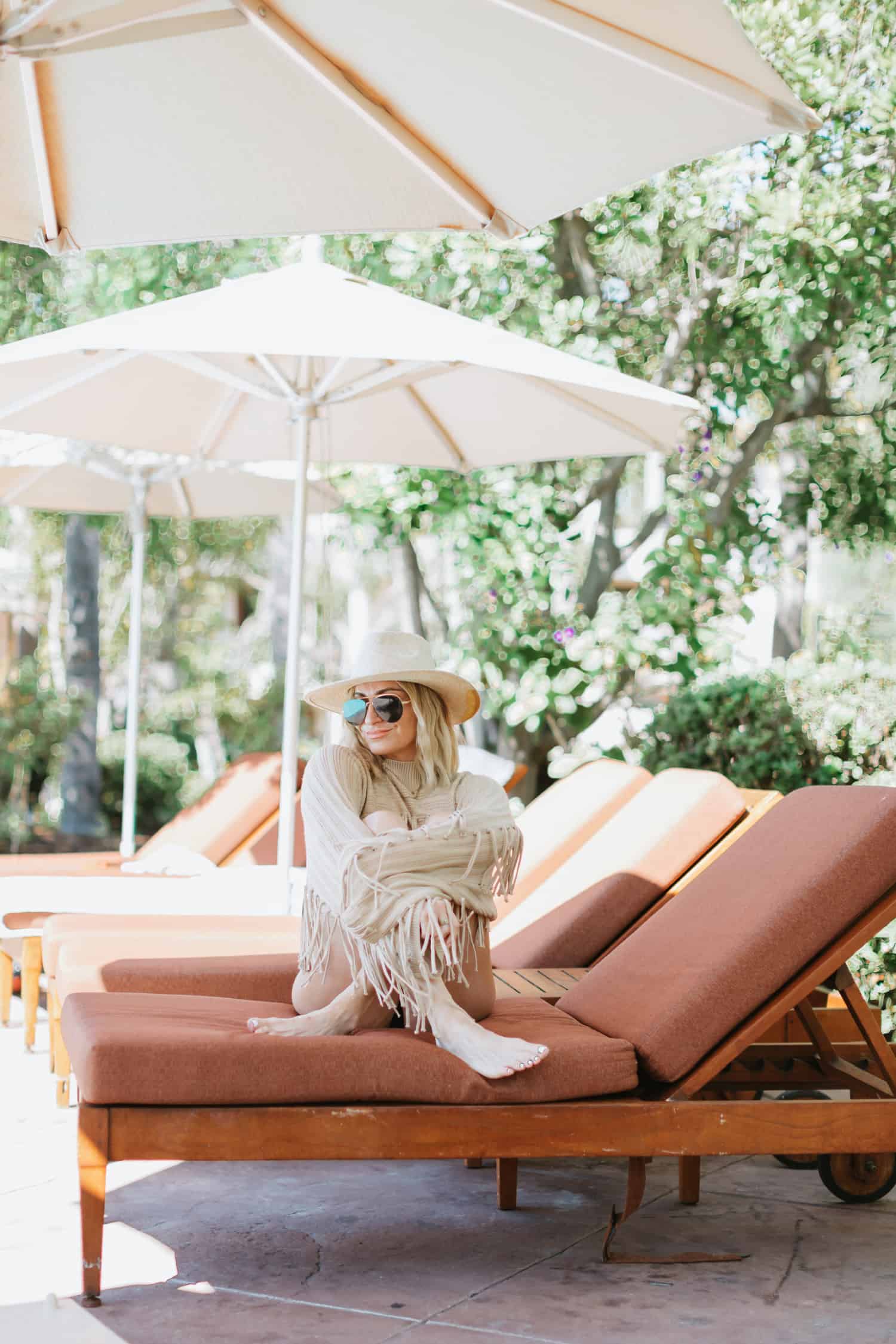 Easy 3-Shape Bronzer Application Technique
If you're in a hurry or don't have a lot of experience adding bronzer, this 3-shape bronzing application is a tried-and-true technique. Bronzer with SPF is the perfect tool for creating a warm three-dimensional shape on your face all summer long. When used properly, bronzer can add depth and dimension to any look. Here's a step-by-step guide on how to create a 3-shape with bronzer:
1. Start by using a large, fluffy brush to apply bronzer in an oval shape along the hollows of your cheeks.
2. Using a smaller brush, apply bronzer along the forehead and jawline to form a triangular shape with the oval in the middle.
3. Swirl some bronzer on the bridge of your nose to draw attention to this area and make it look more prominent. 
4. Blend out the bronzer to ensure there are no harsh lines.
5. Finish off your look by sweeping a light highlighting powder onto areas such as the temples, cheekbones, and bridge of the nose.
For an effortless summertime glow, bronzer is a must-have item. So get ready to shine this summer!
Tips for Parenting In Style...
Never boring, always awesome. Keep up to date with the latest from City Girl Gone Mom.