As a mom of four living in sunny San Diego, I take sunscreen seriously. I've found a mineral sunscreen that I absolutely love and have to share it with you! Read my All Good Sunscreen review to find out what makes this sunscreen the best sun protection for the whole family.
The best sunscreens provide good SPF protection, are void of harmful additives, and are gentle enough for sensitive skin. All Good Sunscreen ticks all of these boxes and more. They make wonderful mineral sunscreen products that protect from the sun's harmful rays. I don't know about you, but getting a bad sunburn at the beach or by the pool is not how I want to learn if sunscreen will do the job. All Good Suncare products meet bread-spectrum standards. That's why I'm sharing this All Good Sunscreen review to take the guesswork out of it for you.
All Good skincare products are made in the USA, using simple plant-based ingredients like seed oil and leaf juice. All of the ingredients used are reef-friendly that won't cause damage to coral reefs or harm marine life. As someone who is passionate about taking care of Mother Earth and loves the ocean, this is very important to me. I'll be stocking up for the upcoming summer in San Diego.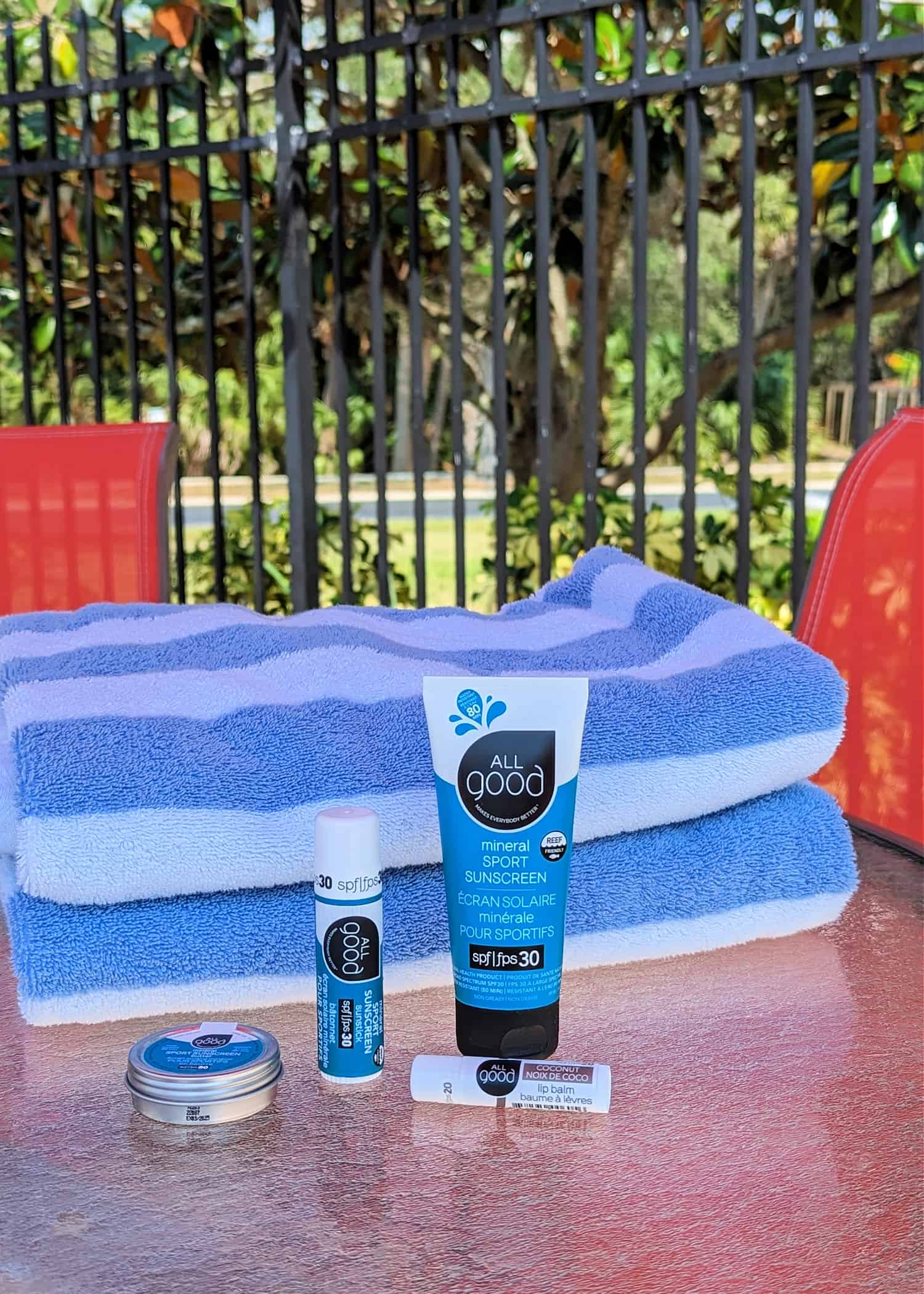 What's So Great About All Good Sunscreen?
Hypoallergenic and safe for sensitive skin
GMO-free
Gluten-free
Paraben free
Oxybenzone free
Certified organic by USDA/NOP
Made with safe mineral-based ingredients
FDA general recognition of safety
Cruelty-free
Vegan
Coral reef-friendly
Made in the USA
What first drew me to the All Good brand was reading all of the positive online reviews from customer purchases. All Good specializes in making mineral-based sun protection using natural and organic ingredients, such as rose hip, fruit oil, and green tea leaf extract. To top it all off, their products also meet broad-spectrum FDA standards. Just a quick label comparison shows that these products are superior to conventional chemical sunscreens.
How is Mineral Sunscreen Different?
The difference between mineral sunscreen and chemical sunscreen is really quite simple. Mineral-based sunscreen sits on the skin's surface, providing a barrier between you and the sun. Chemical sunscreens sink into your skin, acting more like a sponge.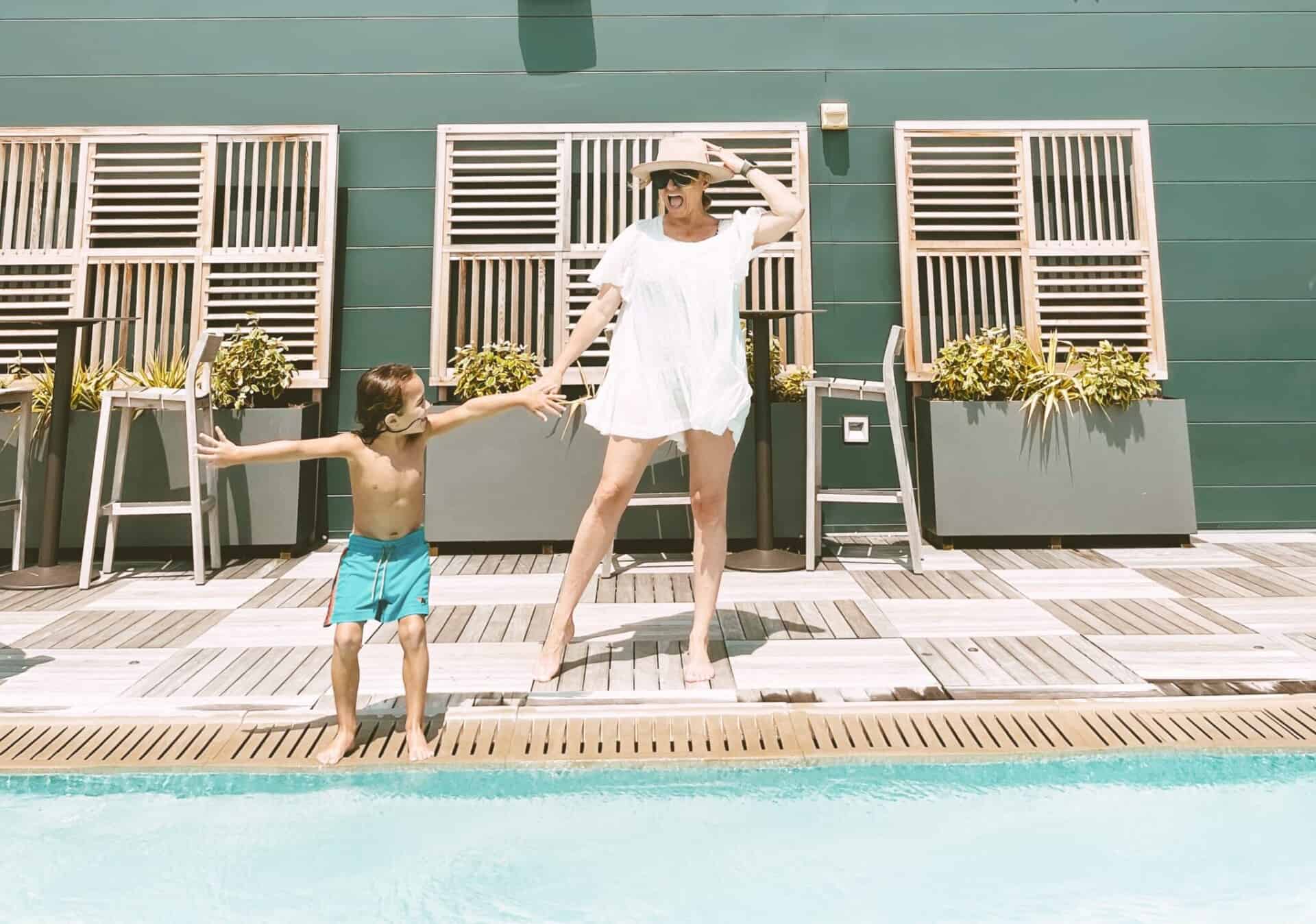 Reef-Friendly All Good Sunscreen
Are you ready for summer? Put on your favorite swimsuit and toss some All Good Sunscreen into your beach tote!
This wonderful line of skin protection is available in a lotion, stick, spray, and butter. For the purpose of this All Good Sunscreen review, I'll be talking about five of their products. Not covered in this All Good sunscreen review are the spray-on sunscreen, tinted sunblock, and a few others that I haven't tried. Instead, I will discuss the ones I have tried.

All Good Sport Sunscreen Lotion Review
All Good Sport Sunscreen Lotion Review: The SPF 30 mineral sport sunscreen is water resistant and provides broad UVA/UVB protection. A small dab goes a long way to provide full coverage. I have somewhat sensitive skin and have found that I can wear this on both my body and face. It leaves a well-hydrated surface that lasts for hours. This is easily my favorite sunblock. It feels lightweight, and non-greasy, and actually hydrates and repairs the skin. It soaks in quickly and leaves the skin feeling supple and soft. A small amount provides good coverage.
All Good Sport Sunscreen Zinc Butter Review
All Good Zinc Butter Review: This is for when you really need some protection. I personally wouldn't use this as my everyday sun protection, but All Good Zinc Butter is ideal for some of the most extreme environments like high elevation, water, and snow sports. It has more of a matte finish and is great for those who work outdoors in warmer climates. The 80-minute water-resistant formula goes on white but rubs in clear. Ideal for face, nose, ears, and more. It comes in a convenient tin that fits easily in a pocket, purse, or backpack.
Sunscreen Butter is made with only 5 simple organic ingredients plus non-nano zinc oxide as the active ingredient.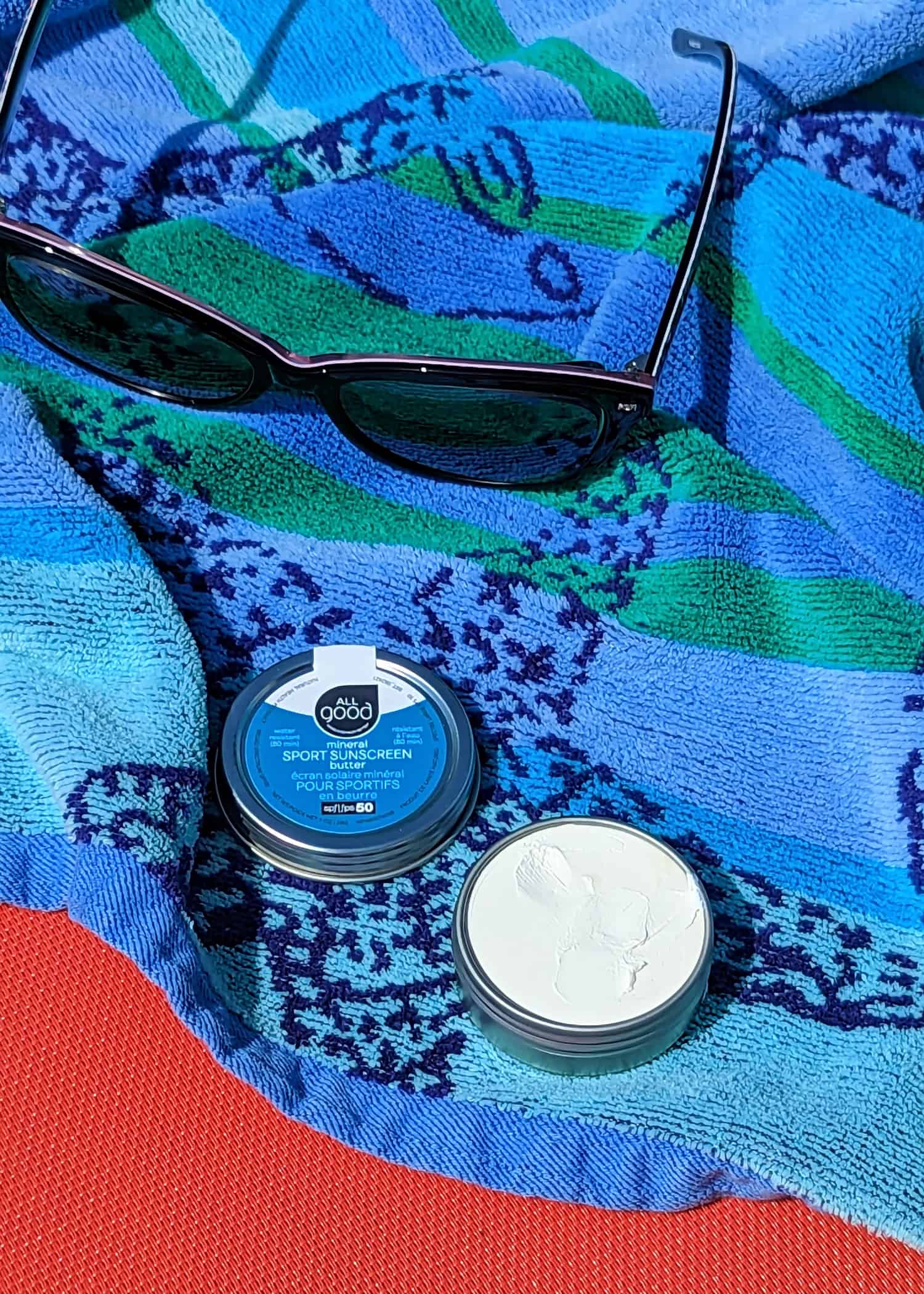 SPF 20 Coconut Lip Balm Review
All Good Coconut Lip Balm Review: The first thing I want to say about the All Good Lip Balm is that it has a pleasant taste, unlike some other brands I have tried. It is a creamy, smooth lip balm that stays on most of the day. All Good Coconut Lip Balm is made with organic extra virgin olive oil and beeswax, infused with a blend of soothing herbs. I love this SPF lip balm and keep one in my beach tote and one in my purse.
All Good Kids Sunscreen Review
All Good Kids Sunscreen Review: This gentle sunscreen is good for kids and babies six months and older. The lotion protects kids' skin without harmful toxins and chemicals. Zinc Oxide is the active sun-protecting ingredient that works as a barrier between your skin and the sun. It's not absorbed into your body. Other ingredients include soothing farm-grown calendula, seed butter, rose hips, buriti oil (the super fruit of the Amazon), and olive oil.
It is water resistant up to 80 minutes full UVA/UVB Broad Spectrum Protection. As with all sun protection, be sure to reapply liberally, and in this case, I would do it every 2 hours or 80 minutes if your child is in the water.
Mineral Sport Sunstick Review
All Good Sport Stick Review: Available in both SPF 30 and SPF 50, the Sport Mineral Sunscreen Butter Stick goes on silky smooth. The mess-free stick is really nice and ideal for the face and touch-ups are easy. Just glide it over the top of your skin. It is super hydrating and blends easily thanks to coconut oil and jojoba oil. Equally important, this and other All Good sun protection products is Vitamin E which plays an important role in preventing UV-induced free radical damage to the skin.
If you are worried about the All Good Sunstick clogging your pores, don't be. This sunscreen doesn't leave your skin greasy and won't clog your pores. It can be used on the entire body, though I find it is easier to apply lotion to the body. Like the Zinc Butter, the Sunstick is terrific for keeping in your handbag, especially during the summer months.
Tip: Zinc will apply more smoothly on a well-hydrated surface, so if your skin tends to be on the drier side, moisturize beforehand.
Final Thoughts
All in all, All Good makes good products and earns top scores for sun protection, skin hydration, and earth-friendly. The sunscreen is perfect for my family's busy lifestyle in San Diego.
I'm a super fan of skincare products made from botanical ingredients, hence this line of sunscreen does not disappoint. All of the products are super hydrating and easy to rub in thanks to a blend of coconut oil, jojoba oil, and shea butter. I've found that hydration is incredibly important the older I get.
Tips for Parenting In Style...
Never boring, always awesome. Keep up to date with the latest from City Girl Gone Mom.