Is anyone else suffering from the dreaded quarantine 15? I don't know if it's the lack of exercise or the extra pantry-fresh staples like quinoa, pasta and rice that are helping me pack on pounds, but it's probably time to cut back on a few carbs. Even when I'm not worried about weight, I am always trying healthy alternatives to rice, pasta and breads. This time, I created a thyme-braised short ribs dish, served over a bed of (carb-free!) sesame cucumber noodles.
This recipe is fantastic and if you have a slow cooker, you could buy a package of pre-made short ribs at Trader Joe's and forgo the short ribs part of the recipe, saving a lot of time. It's also easy to make this dish your own. Make it with zucchini noodles, cauliflower rice, fresh veggies like broccoli and asparagus, or really anything low-carb and healthy! Plus it's a great way to get the kids to eat more vegetables.
---
Cucumbers contain antioxidants, including flavonoids and tannins, which prevent the accumulation of harmful free radicals and may reduce the risk of chronic disease.
---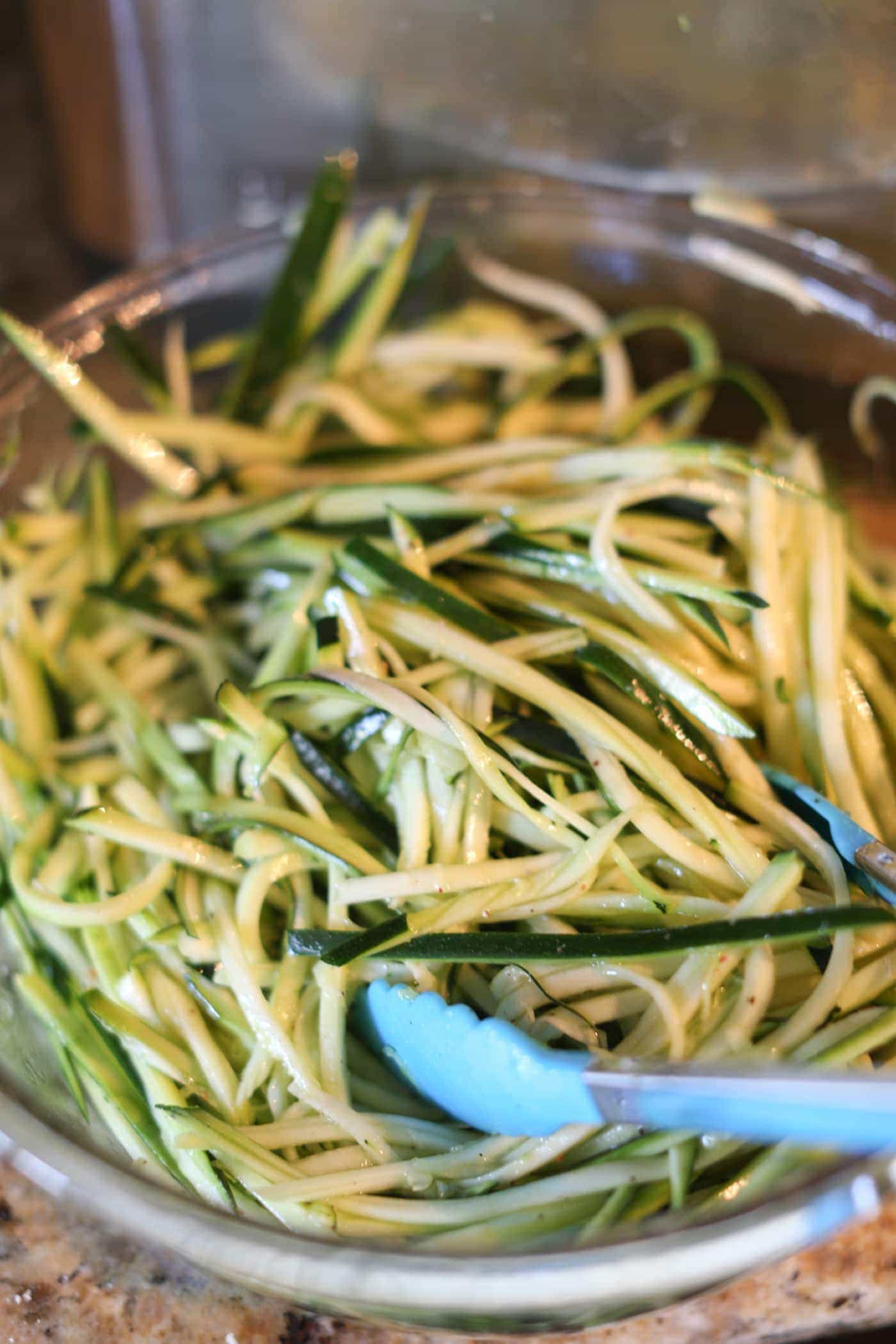 Sesame Cucumber Noodles Ingredients
4 large cucumbers
2 teaspoons of sesame seeds
8 teaspoons of tahini
4 teaspoons of sunflower seed butter
2 teaspoons of toasted sesame oil
2 teaspoons of coconut aminos
1 teaspoon of rice vinegar
2 tablespoons of water
½ teaspoon of red pepper flakes
3 teaspoons of minced garlic
½ teaspoon powdered ginger
2 scallions (thinly sliced, green part only)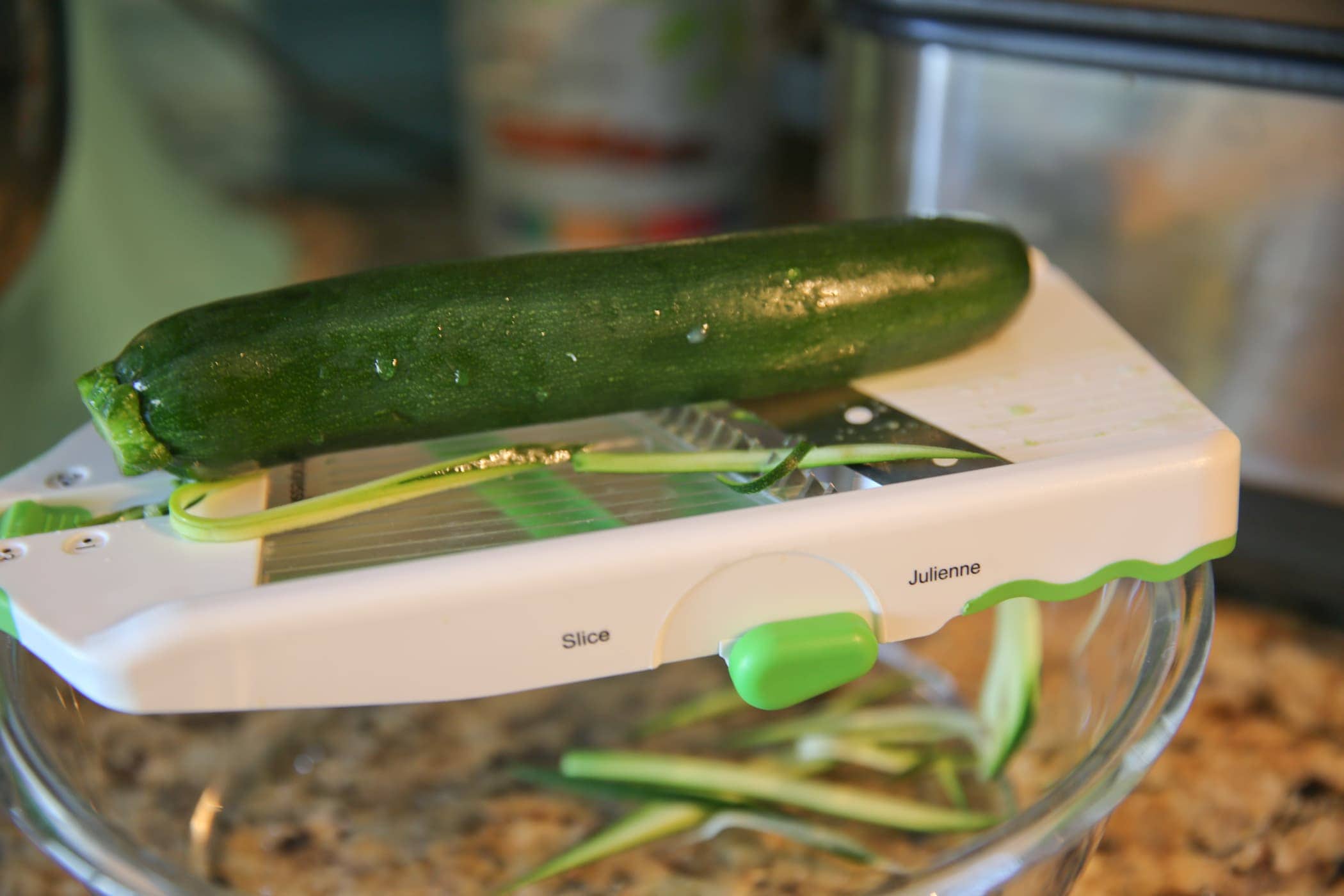 How to Make the Noodles
With a julienne peeler, carefully turn the cucumber into noodles. Toss noodles with salt. Allow the noodles to set for 30 minutes and remove the excess water. Rinse and pat dry with paper towels. (This step prevents watery noodles so don't skip it!)
Toast the sesame seeds in a pan or use pre-toasted sesame seeds.
In a food processor mix the tahini, sunflower seed butter, sesame oil, coconut aminos, rice vinegar, water, red pepper, garlic and ginger until smooth.
Place noodles in a big bowl and mix with a wooden spoon until evenly coated. Sprinkle with sliced scallions and toasted sesame seeds.
---
Cucumbers are composed of about 96 percent water, which may increase hydration and help you meet your daily fluid needs.
---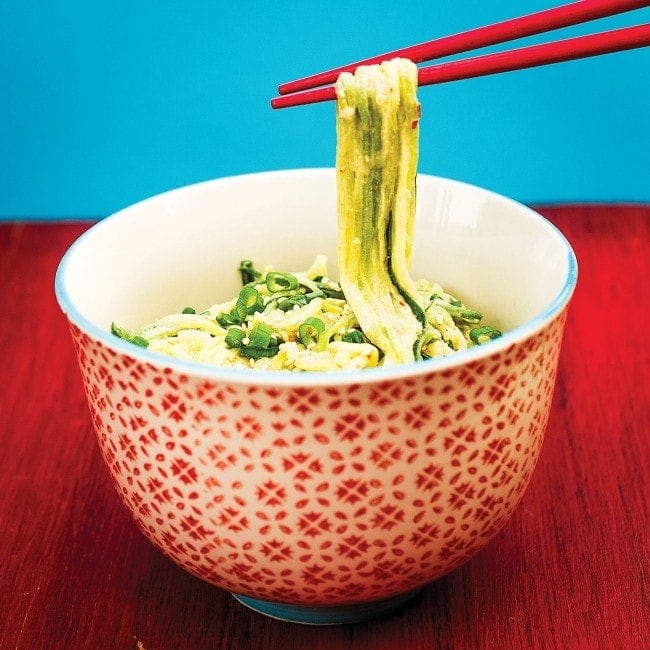 Thyme-Braised Short Ribs Ingredients
½ tablespoon coconut oil
3 – 3½ pounds beef short ribs (about 5-6 ribs)
salt and ground black pepper
½ medium onion, diced (about ½ cup)
2 medium carrots, peeled and diced (about ½ cup)
2 medium ribs celery, diced (about ½ cup)
5 cloves garlic, peeled and smashed
1 tablespoon tomato paste
½ cup balsamic vinegar
¼ cup water
1 tablespoon dried thyme
5 cups beef broth
6-8 portobello mushroom caps (or use the cucumber recipe above)
1 tablespoon ghee or coconut oil, melted
garnish: fresh chives, minced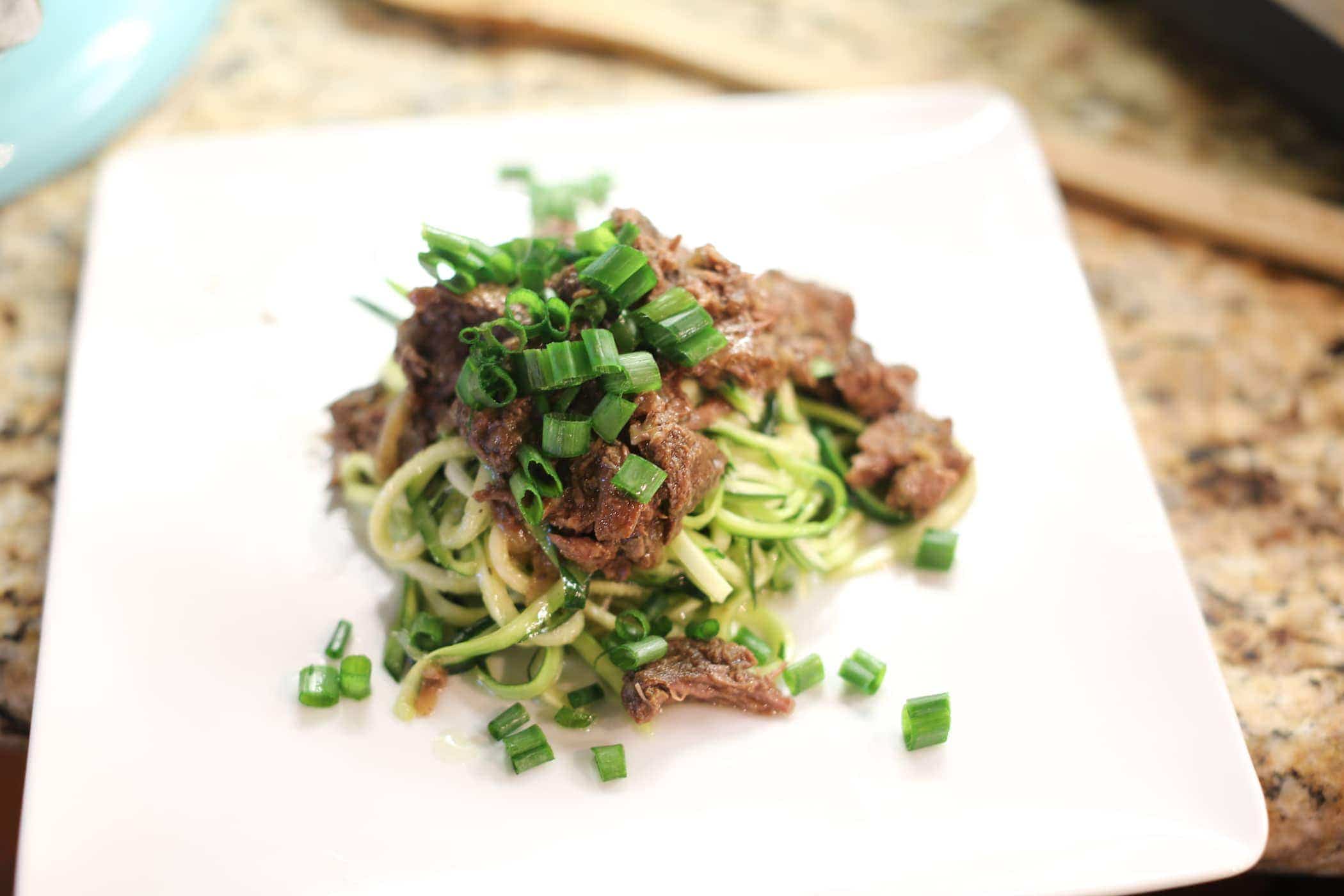 Directions for Perfect Ribs
Sprinkle the ribs lavishly with salt and pepper. Heat a large, deep pot over medium-high. Add the coconut oil to the pot, and when it's melted, add the ribs in a single layer and sear on all sides. You want a serious crust, so you'll probably have to work in batches. As the ribs brown, remove them to a bowl to catch their juices.
Add onion, carrots, celery and garlic to drippings in pan. (Add a little more coconut oil if you need to.) Cook the vegetables until they're soft and beginning to brown, about 7 minutes. Add the tomato paste and fry until brown, about 3 minutes. Add balsamic vinegar, water and thyme. Bring to a boil and cook until it's syrupy. About 5 minutes.
Return the ribs to the pot and wiggle them into the vegetables. Add the broth and bring to a boil. Reduce heat to simmer and cook, partially covered, 4 hours or until the meat is fall-apart tender.
Thirty minutes before the meat is finished preheat oven to 450F. Cover a large baking sheet with parchment paper or aluminum foil. Place the portobello caps on the baking sheet, rib side up. Brush with melted fat and sprinkle gently with salt and pepper. Roast in oven 10-12 minutes, until browned and tender.
When the ribs are done, transfer to a plate, remove bones, and shred with two forks. Strain the cooking liquid through a sieve into another pot to remove the mushy vegetables. Bring the sauce to a boil, then simmer until reduced and thickened. Return the meat to the sauce. Remove mushroom caps from the oven. Mound shredded meat on a cap, drizzle with sauce, and sprinkle with minced chives.
---
Mushrooms can protect your brain as you age. They contain large amounts of antioxidants ergothioneine and glutathione which may help prevent Parkinson's and Alzheimer's.
---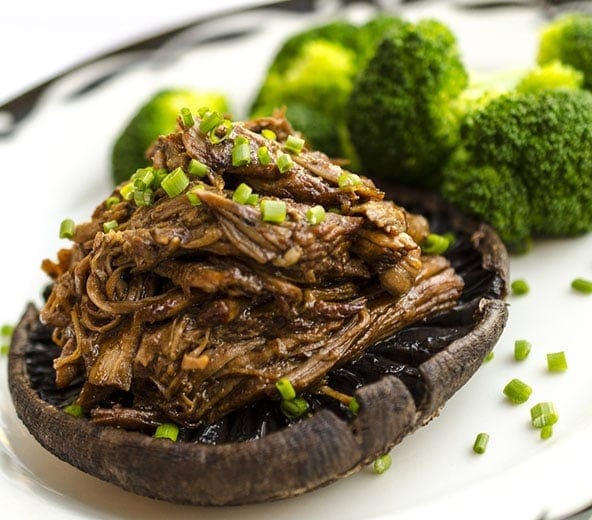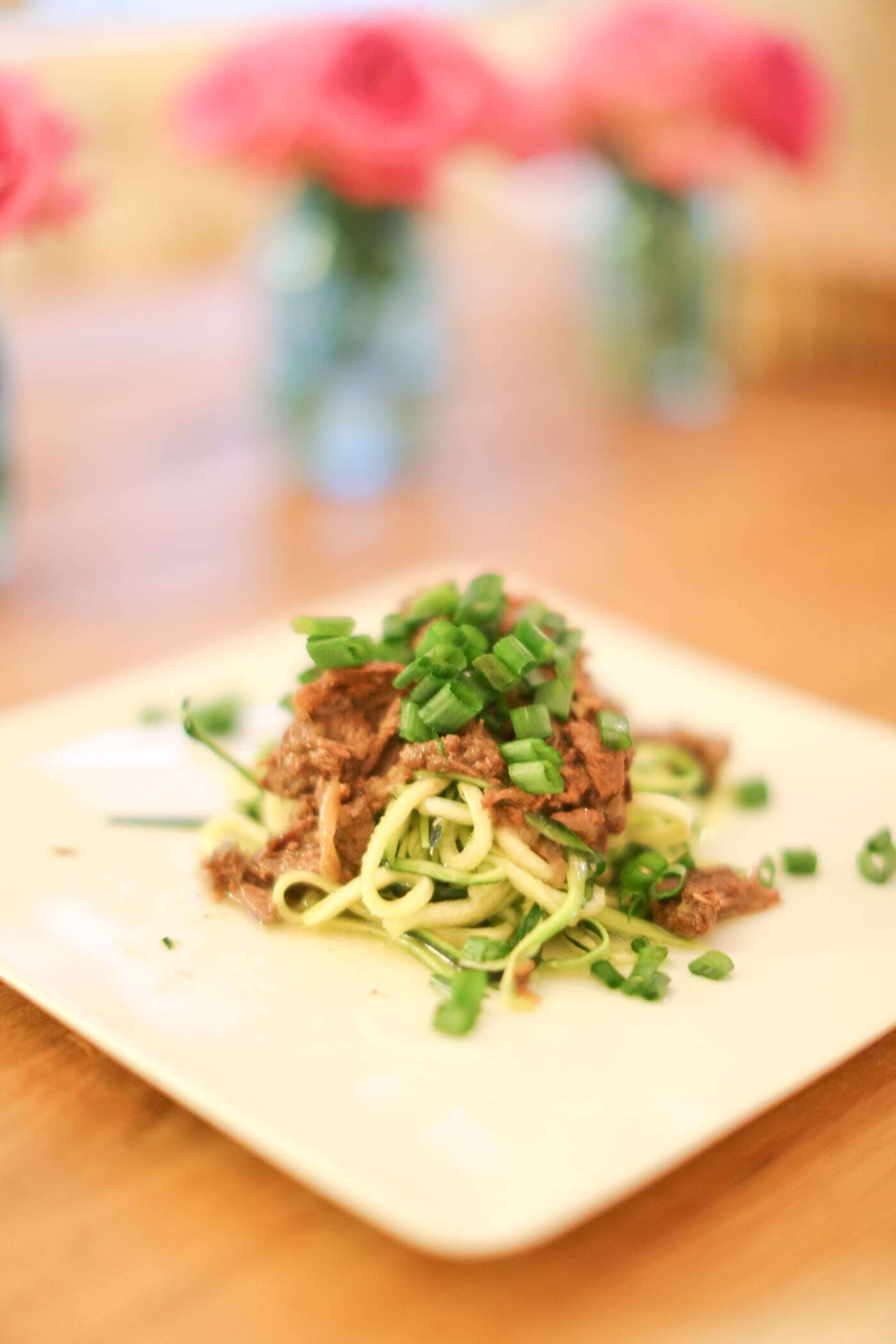 Tips for Parenting In Style...
Never boring, always awesome. Keep up to date with the latest from City Girl Gone Mom.