Who else is loving this fall weather in San Diego?! While I miss the amazing colors of autumn in New York, I'm totally here for the cooler weather in our sunny city—it's a nice change from the sweltering heat we've been accustomed to this time of year. And it's really getting me into the spirit of the spooky season. If you're new here: we love Halloween in this house. Halloween, autumn, Thanksgiving, Christmas—October through December is truly our favorite time of year, especially for decorating.
As someone who loves home decor, it's also my favorite time of year to reimagine our space to reflect the holiday on the horizon. For Halloween and fall, this means decorating with pumpkins, neutrals, and a touch of haunted fun! My trick is to keep your decorations layered so that they can easily transition from Halloween to Thanksgiving. Read on for more details!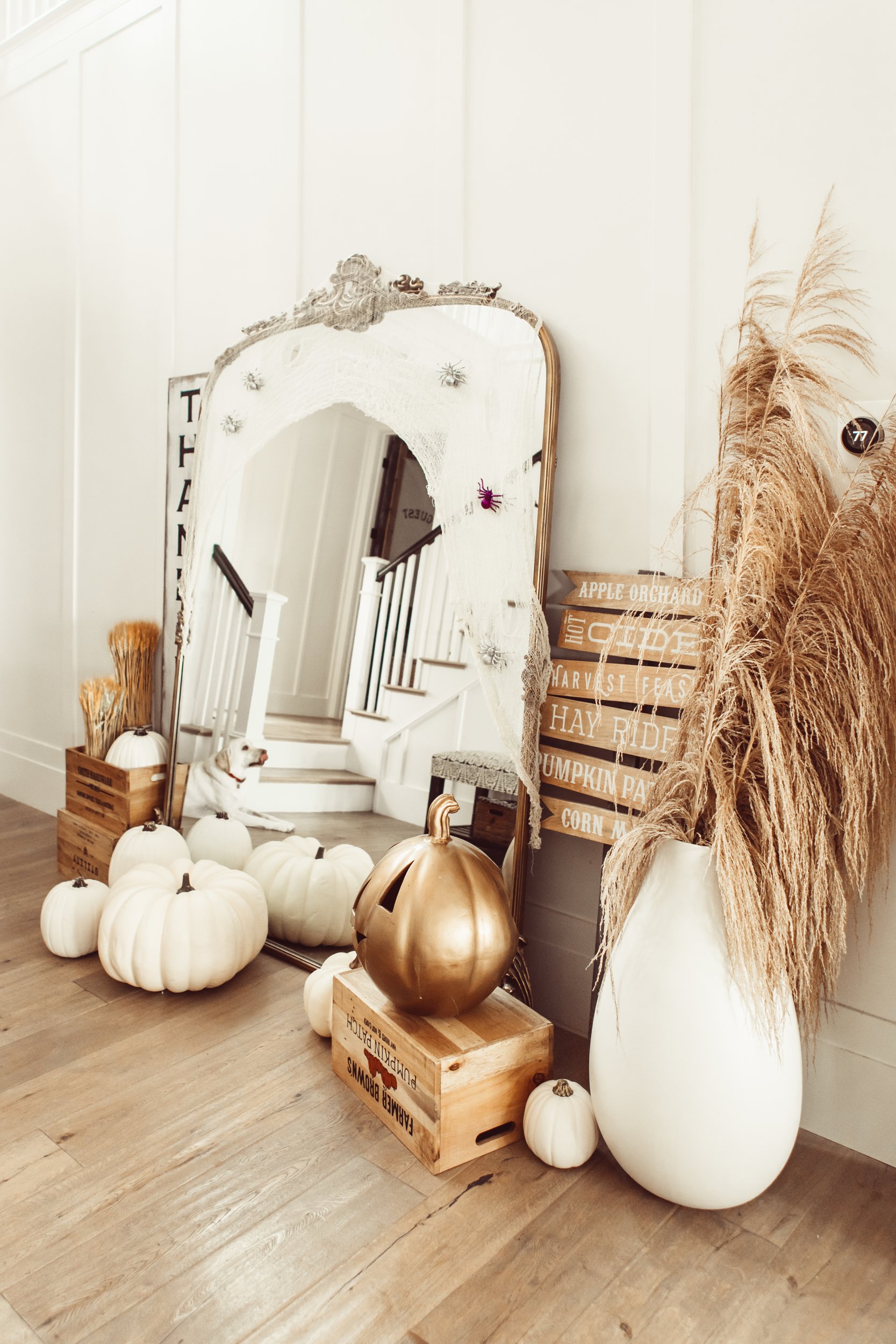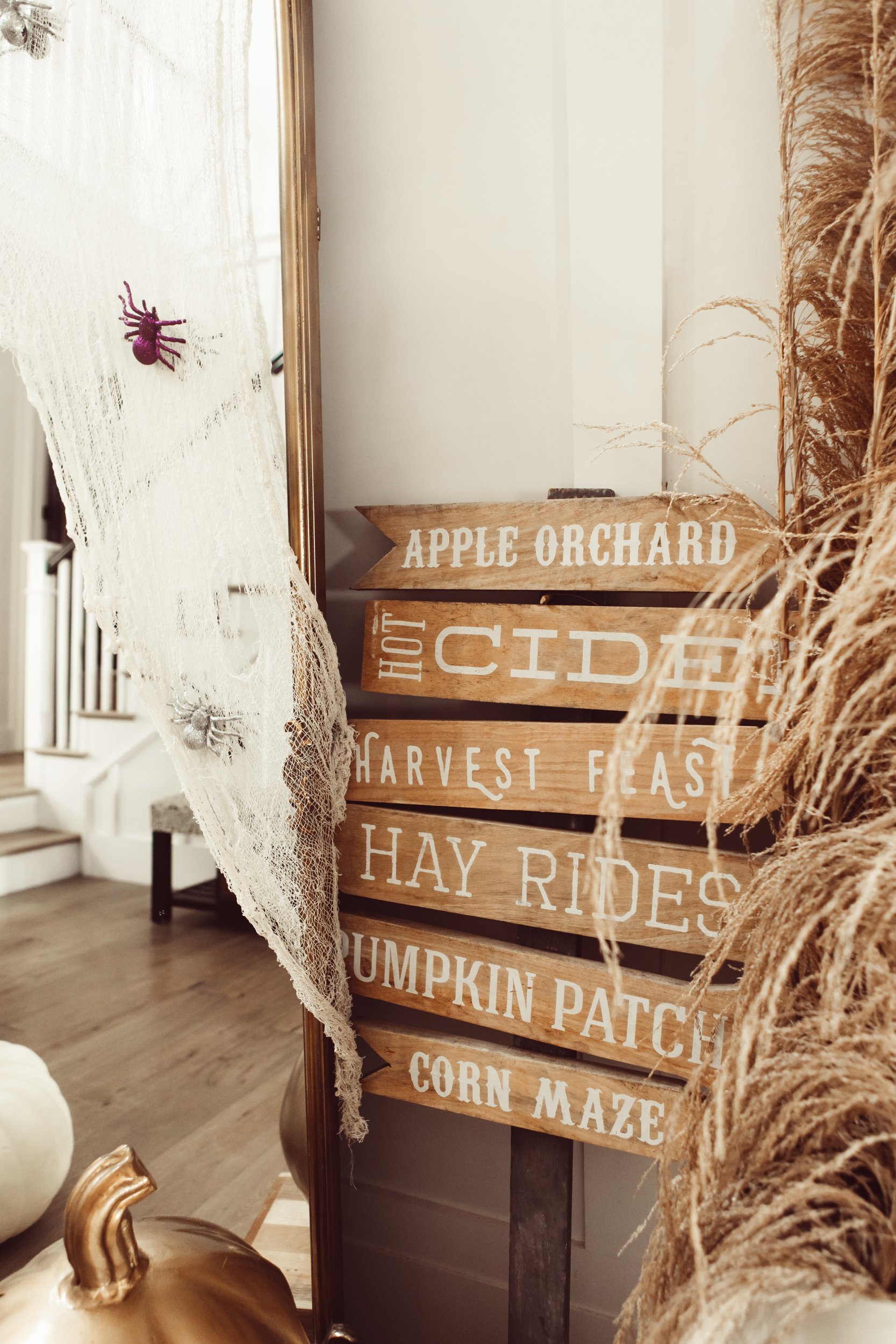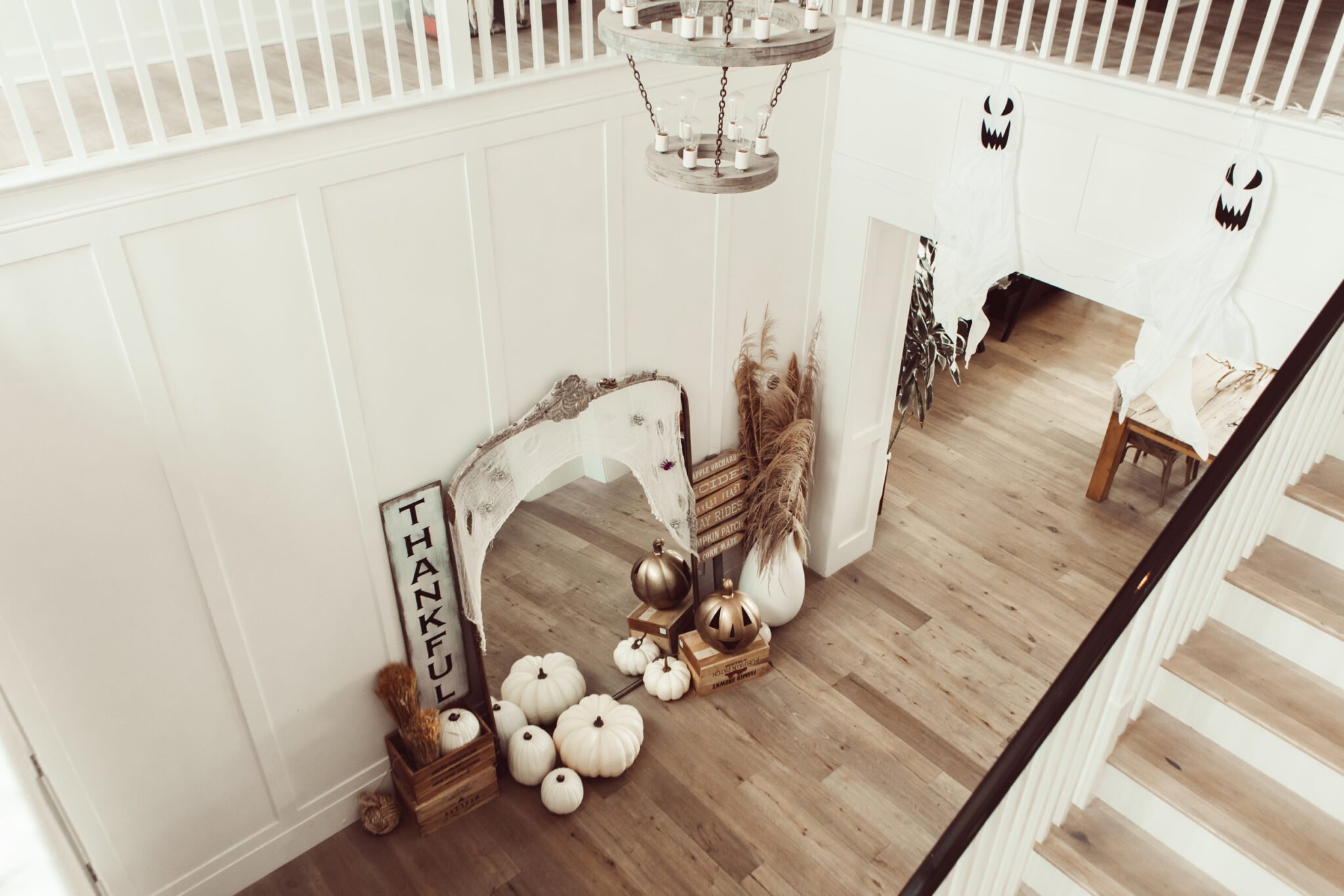 An Entryway That Wows
In my home, I keep the decor as transitional as possible. Creating spaces that can easily move through the months is a major win for me. It makes your life easier and allows you to enjoy the space for longer. In my entryway, the star of the show is my Amelie mirror from Arhaus. I could write love letters about this mirror. In fact, I'm pretty sure I have. The point is, I never get tired of it, it always steals the show, and the holidays are an excuse to dress it up even more.
Here, I decorated with Thanksgiving in mind and went with a softer, more neutral palette (I am the neutrals queen if you didn't already know). I found these chic white pumpkins of varying heights and shapes and set them around the mirror. Hot tip: don't put equal amounts of each thing on each side, it's better to have it be a bit mismatched and asymmetric.
I added more dimension and interest by incorporating this tall, gorgeous pampas grass, a couple of cute rustic boxes with quotes on them, and a rose gold jack-o-lantern. Around the stairwell, I strung up some haunting spirits and bats flying along the walls. Come time for Thanksgiving? Remove the obviously Halloween items, and you're still left with an ultra-chic yet simple entryway.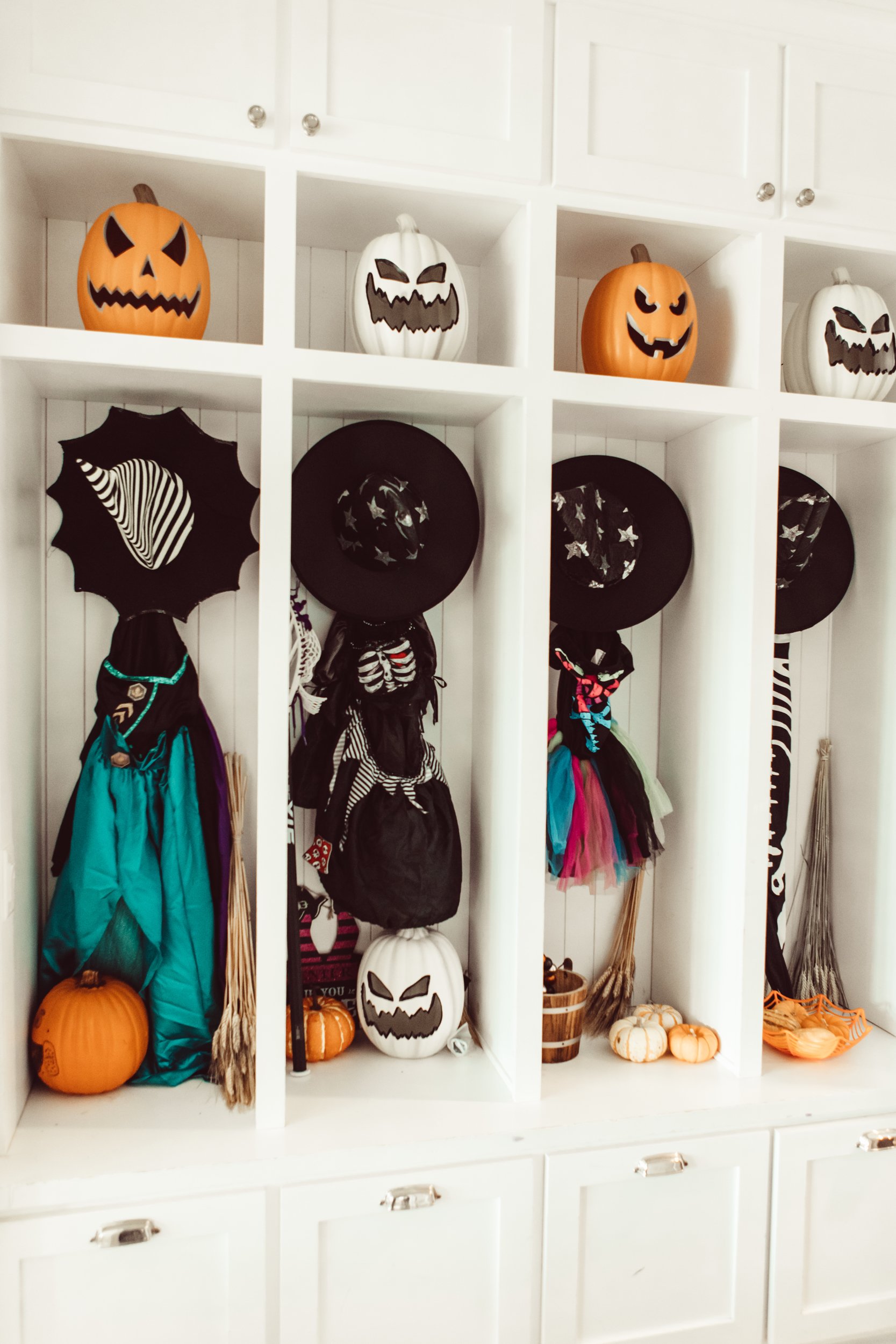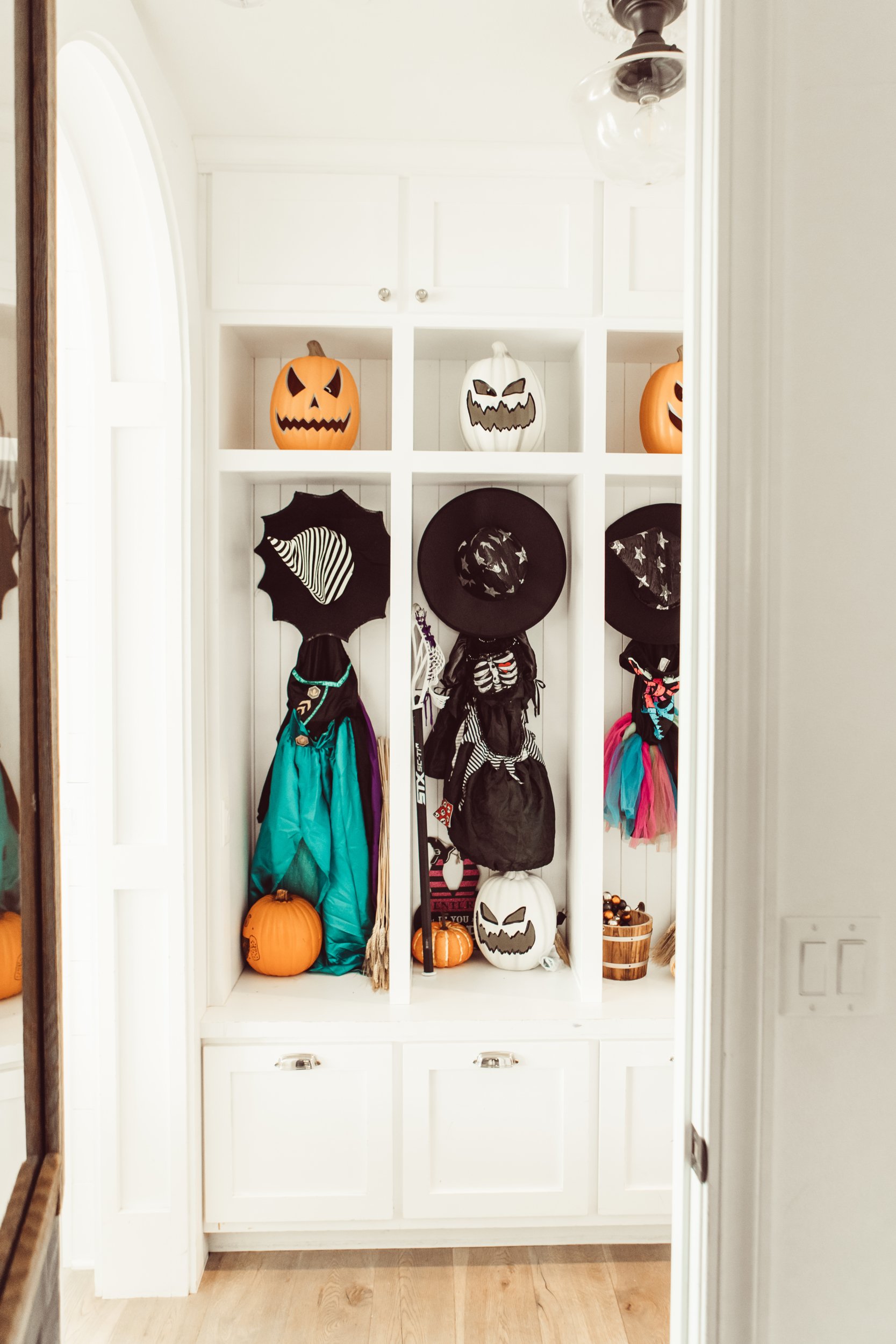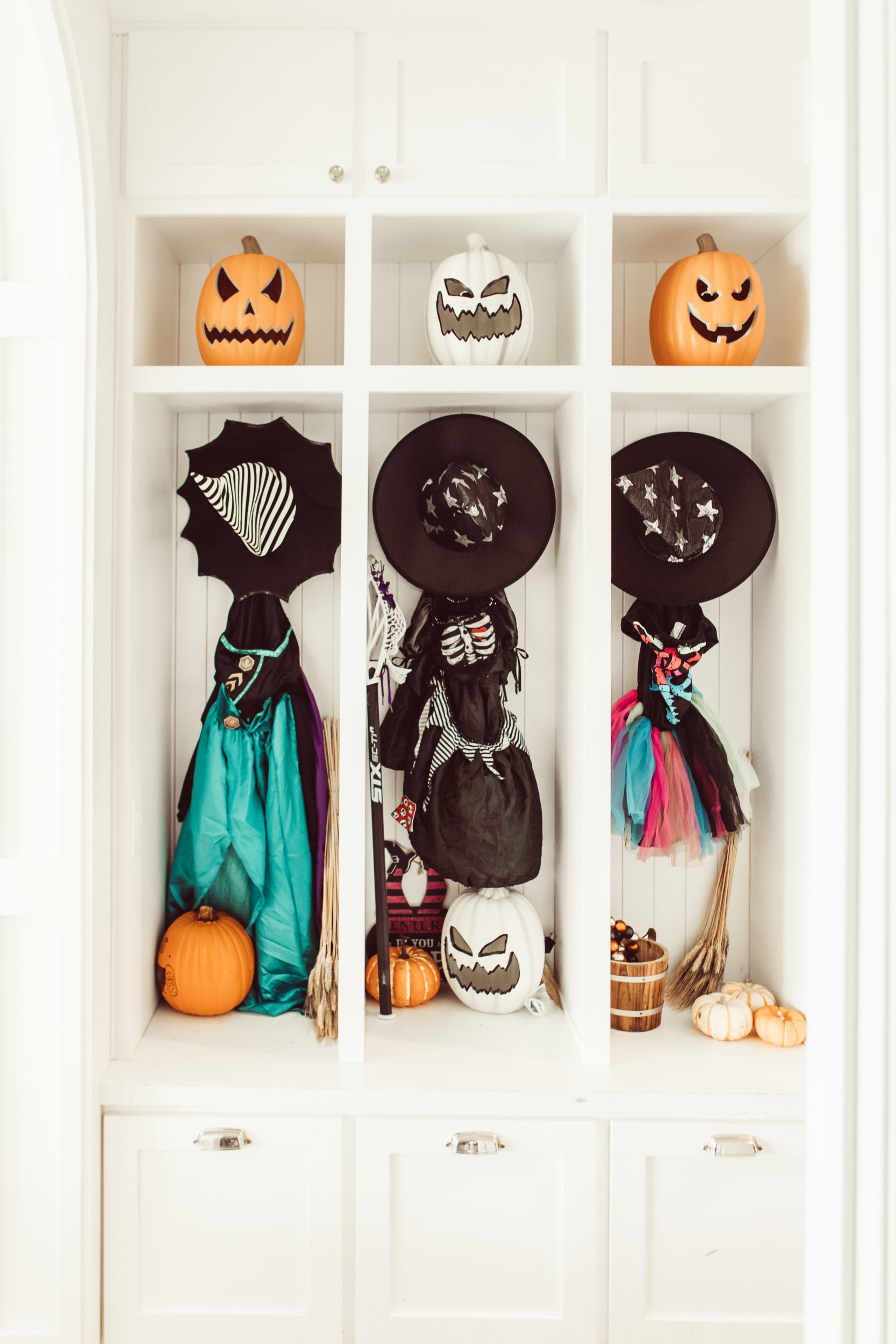 Spookifying the Kids' Zone
Yes, you can even make the catch-all zone fun and festive. These four cubbies are my kids' drop-off zone for their school stuff, sports gear, hats, shoes, and just about everything else that whirls in with them as they come in and out of the house. Since it's such a high-crowd zone, I wanted to make sure it was spruced up a bit for Halloween.
An obvious choice was to swap the baskets up top with these spooky white and orange jack-o-lanterns. Sun hats? Who needs them this season when they have pointy witch hats instead! In place of their jackets, I hung up Halloween costumes for some extra inspiration and rounded out the space with more of these small pumpkins. These are such easy items to use to fill up space when decorating. Plus, as I mentioned previously, they can stick around long after Halloween is over.

Have you listened to my podcast? Check out The Mom Confidential!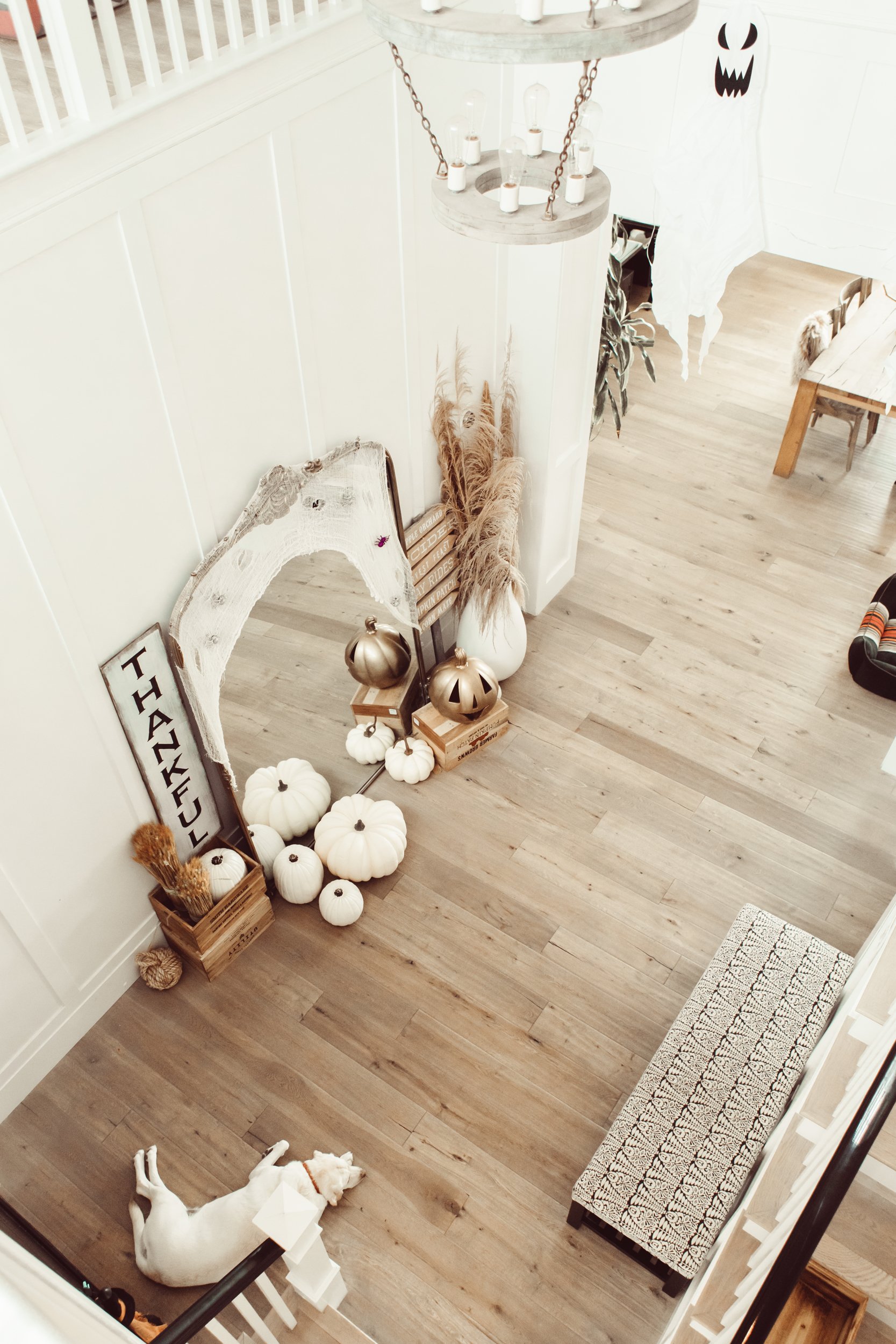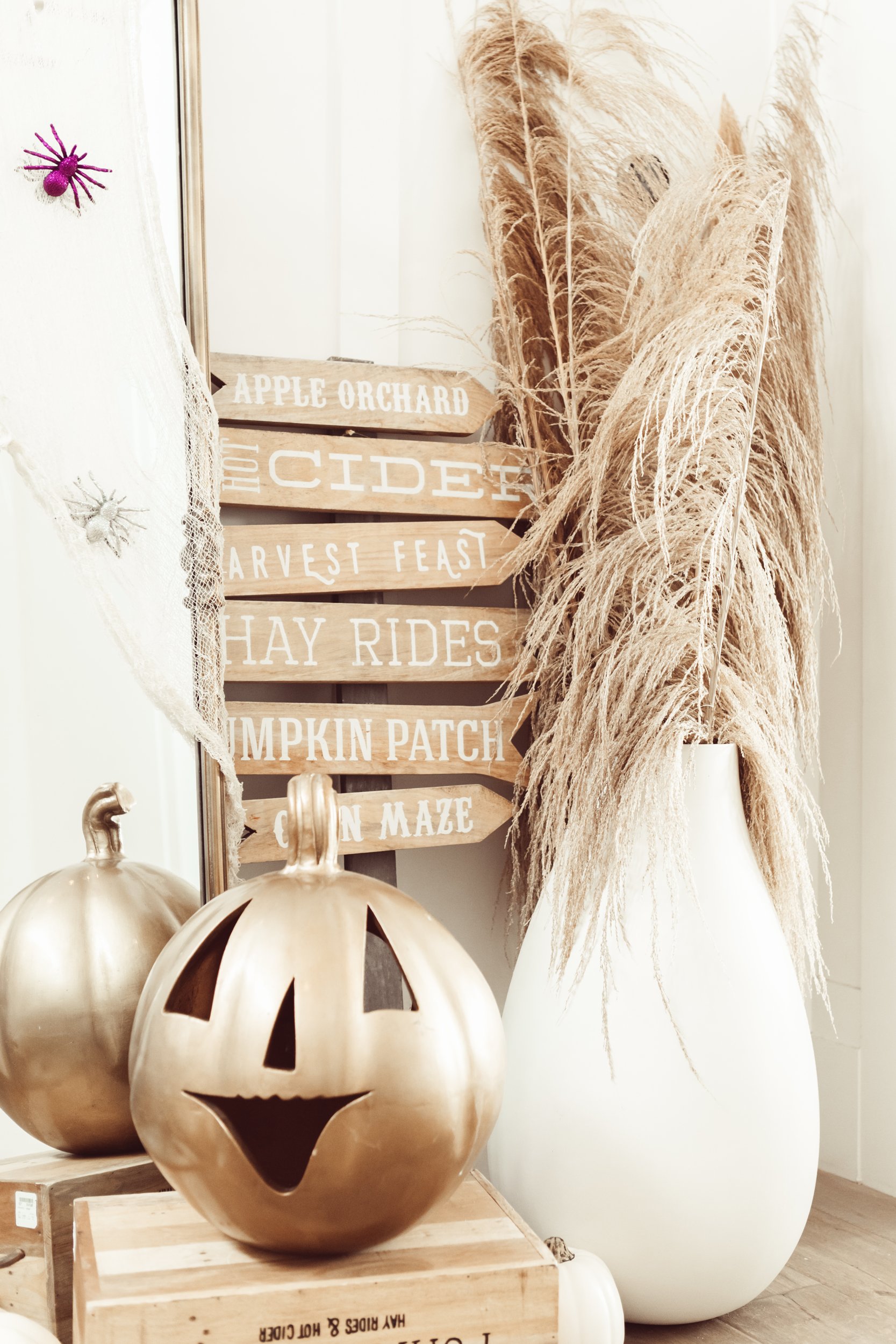 Make Your Home Your Own
These are just a few of the ways we've brought a ghostly touch to our home this October. As you can see, decorating with some really simple items can pack a powerful punch in giving your space a festive feel this Halloween and all season long. Happy haunts!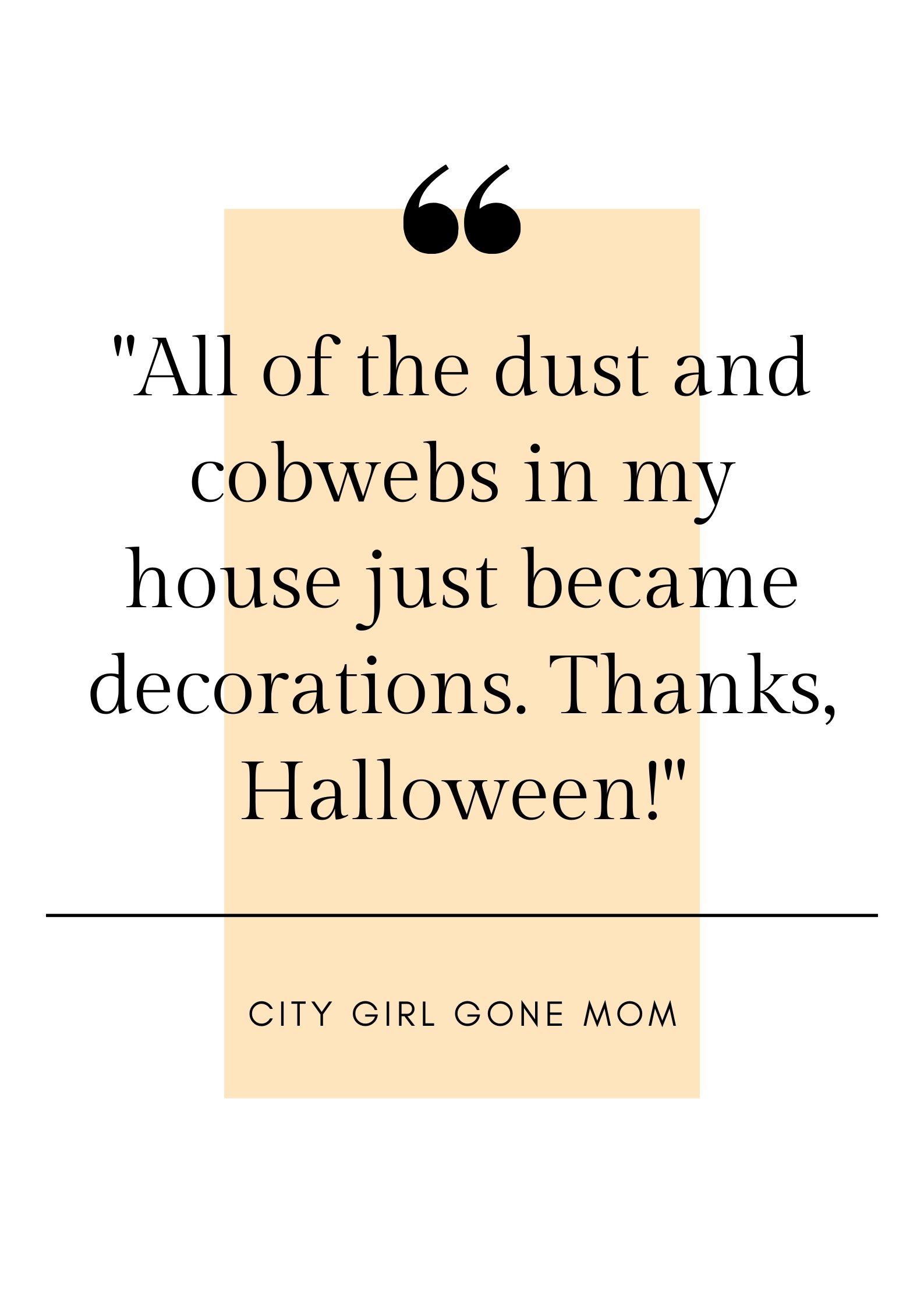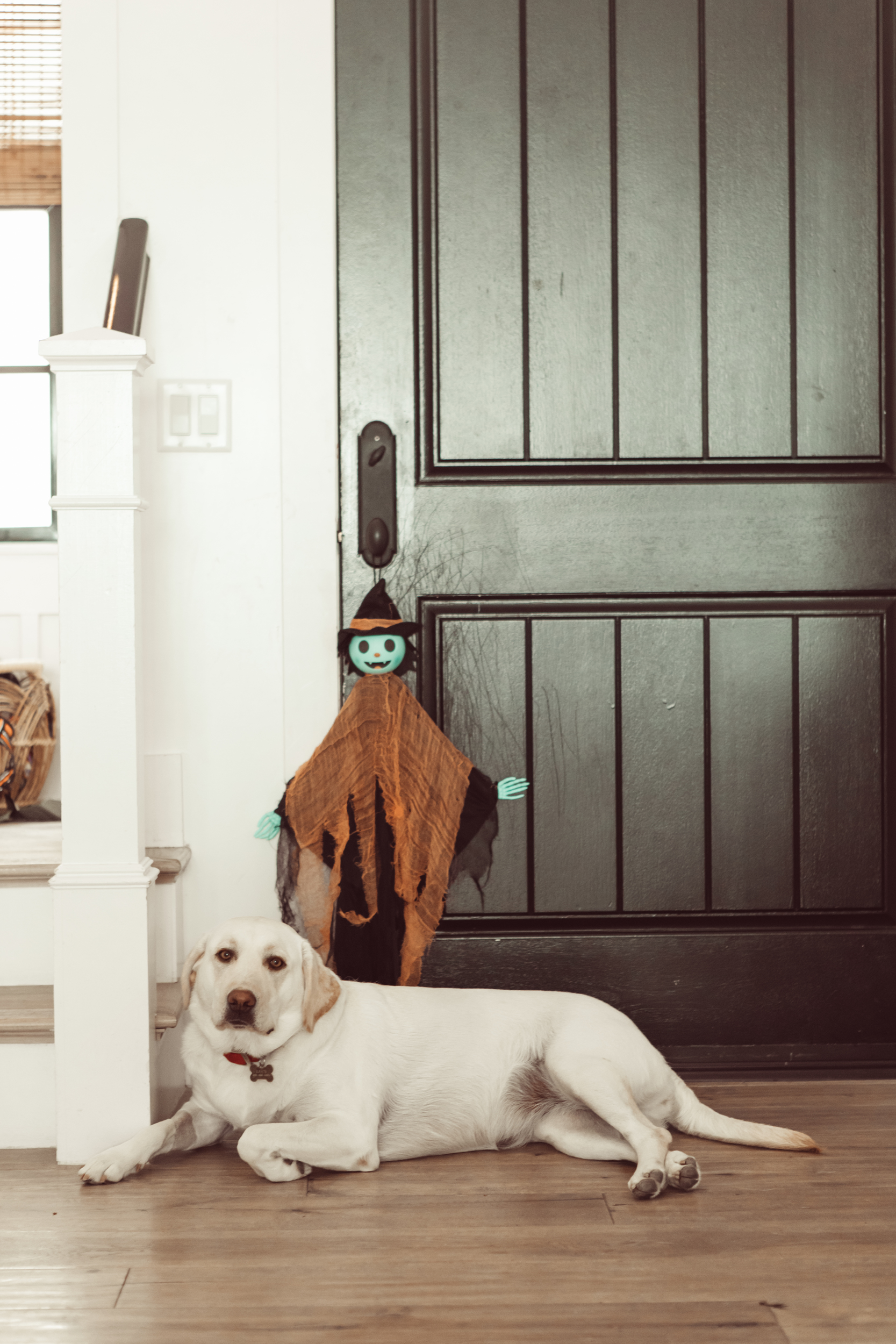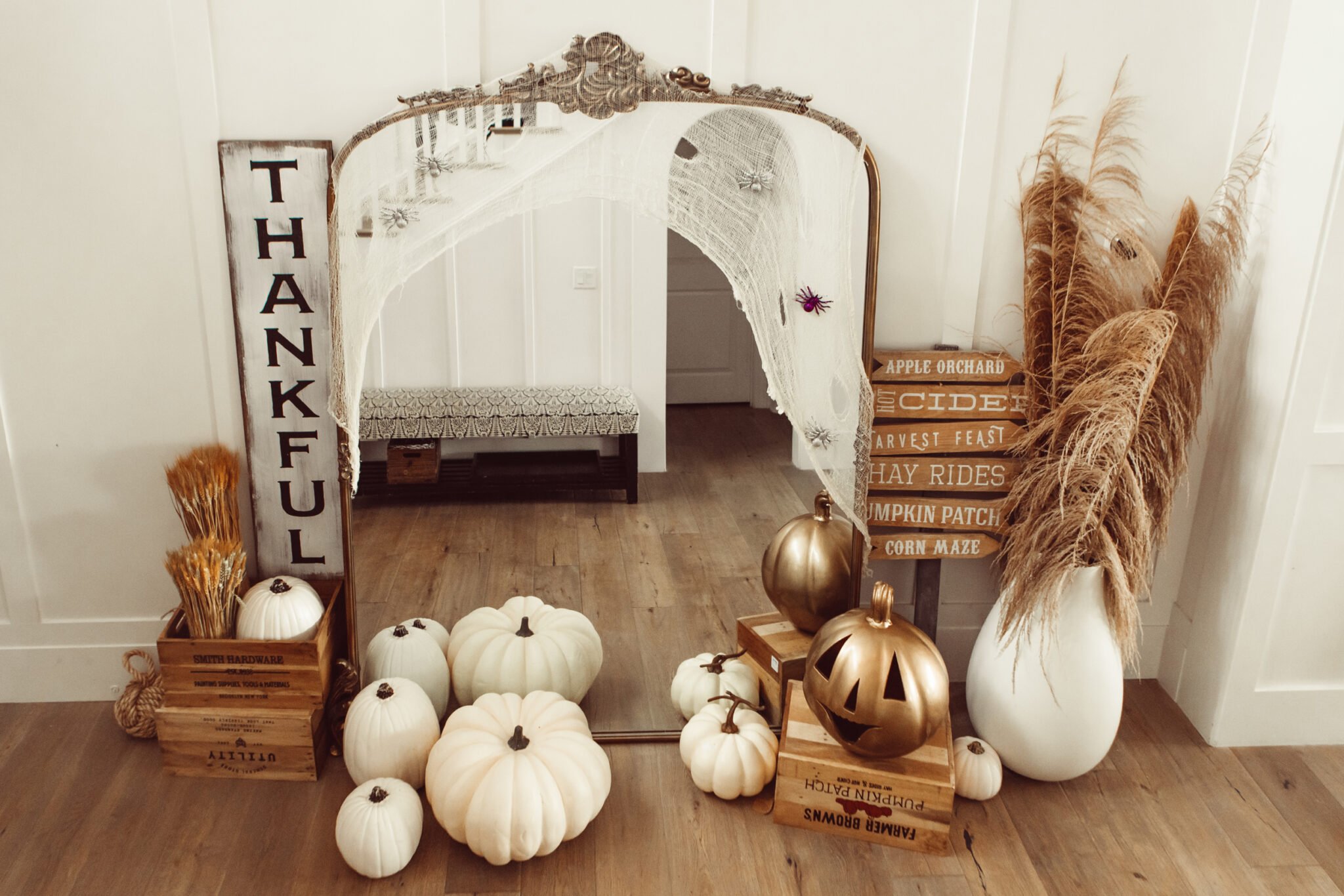 Tips for Parenting In Style...
Never boring, always awesome. Keep up to date with the latest from City Girl Gone Mom.