When the weather outside is frightful—or a least a little cooler than normal here in Southern California—we love to make our homes a cozy little getaway filled with warmth, happiness and maybe a pumpkin pie or two. And as soon as autumn hits, you can be sure we're breaking out the fall decor to decorate our homes with all the trimmings of the season. But our favorite place to start? Designing the front porch and entryway decor for fall!
Not only does it welcome friends and family in for good times and great food, but it's the showstopper that gets everyone into the fall spirit before they even step foot inside. To help you update your home for fall, we gathered together some of our favorite looks to inspire your own seasonal front porch decor.
---
The largest pumpkin pie ever made was in New Bremen, Ohio. It was 20 feet in diameter and weighed 3,699 pounds! It took days to bake, but was cut into 5,000 slices when it was finished.
---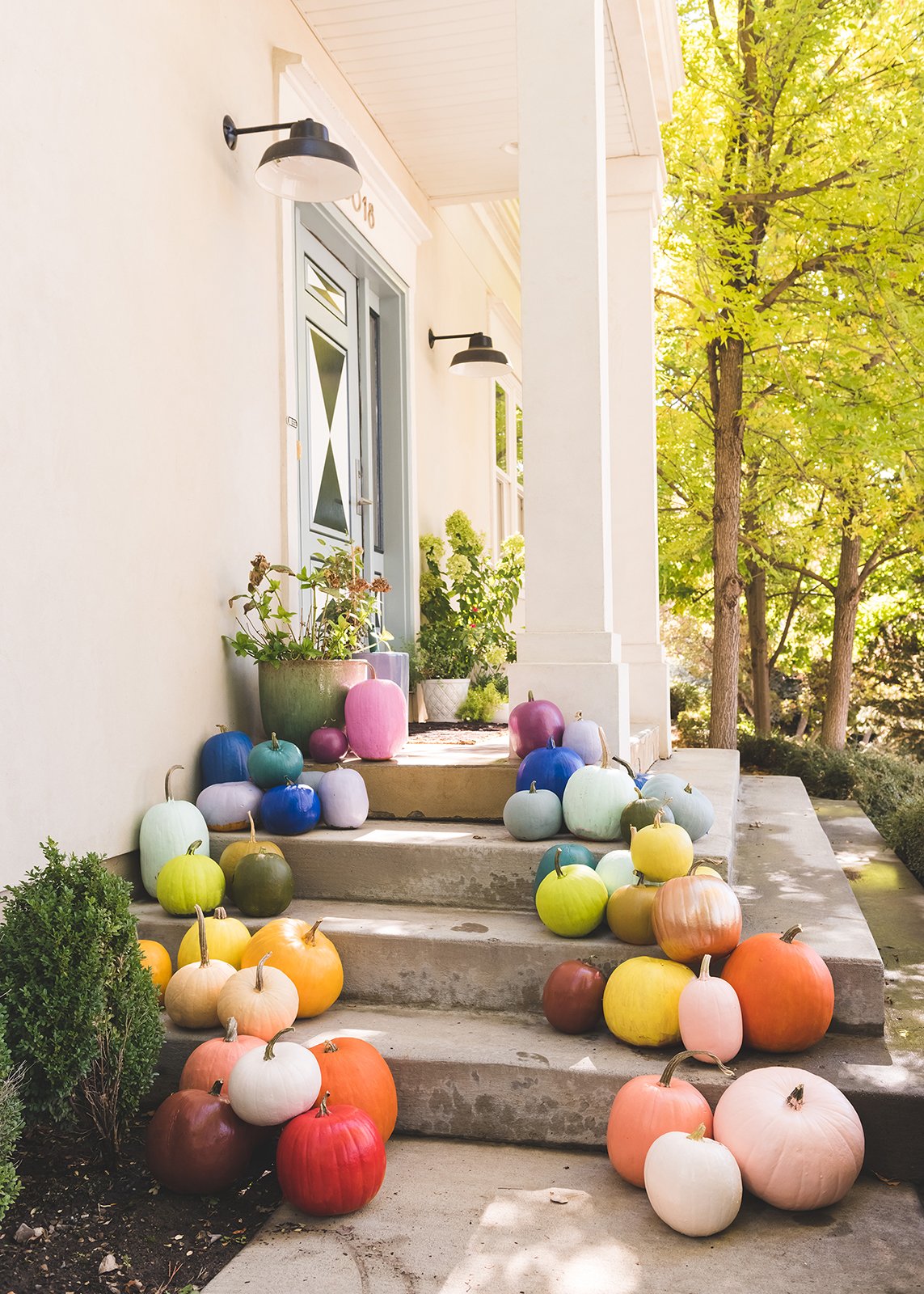 Rainbow Connection
We love the classic orange and gold theme when it comes to fall porch decor, but is there anything as adorable as this rainbow pumpkin porch by Brittany at The House That Lars Built? Use your porch like a palette, and show off how, with the right touch, color can be used year-round. It makes us want to ditch that traditional decor for something fun and funky!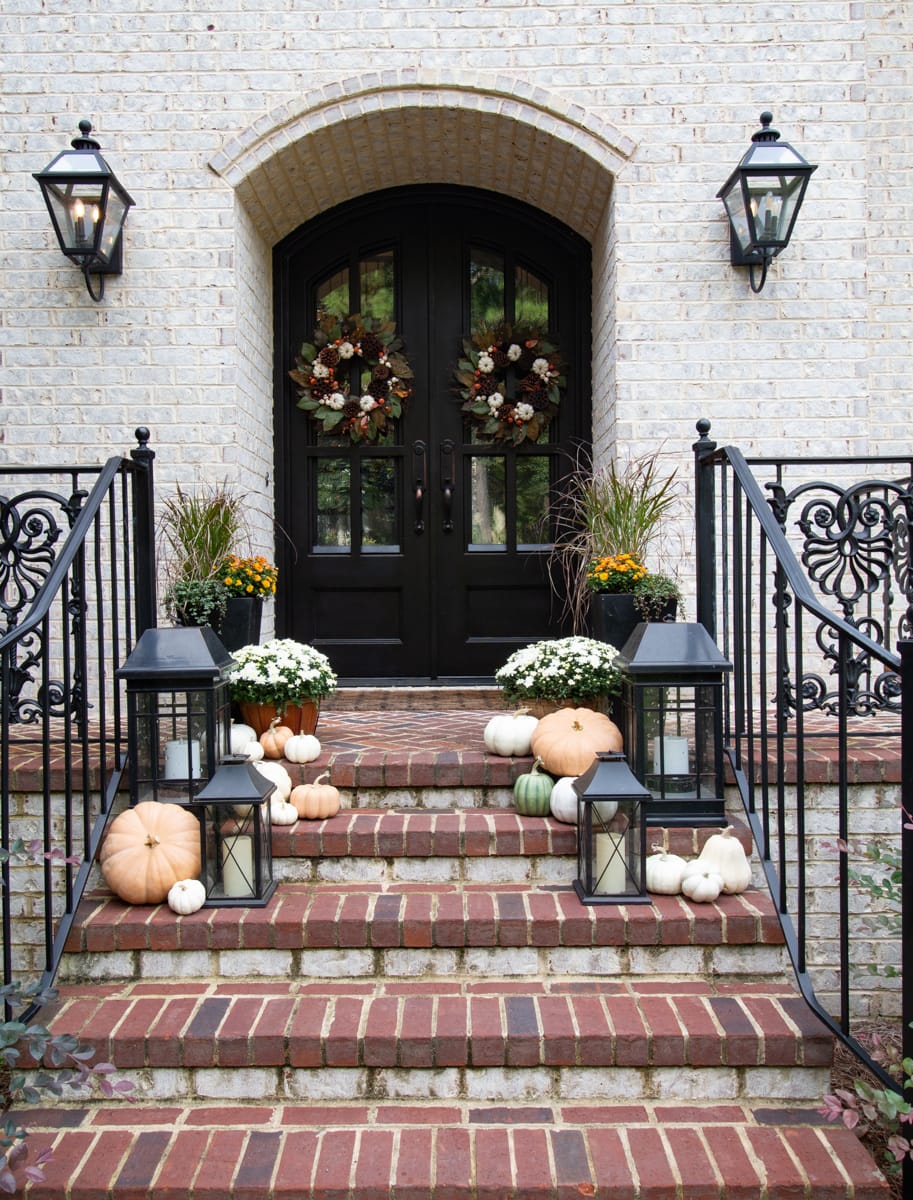 Understated Elegance
For a chic take on the season, add lanterns, candles and minimal floral designs like Leslie over at Deeply Southern Home. Using cream and soft orange heirloom pumpkins, it feels beautiful and inviting without being overly bright or kitschy.
---
When leaves change color in the fall, they are actually becoming their true color. In the summer, the chlorophyll takes over and causes them to turn green and hide their color.
---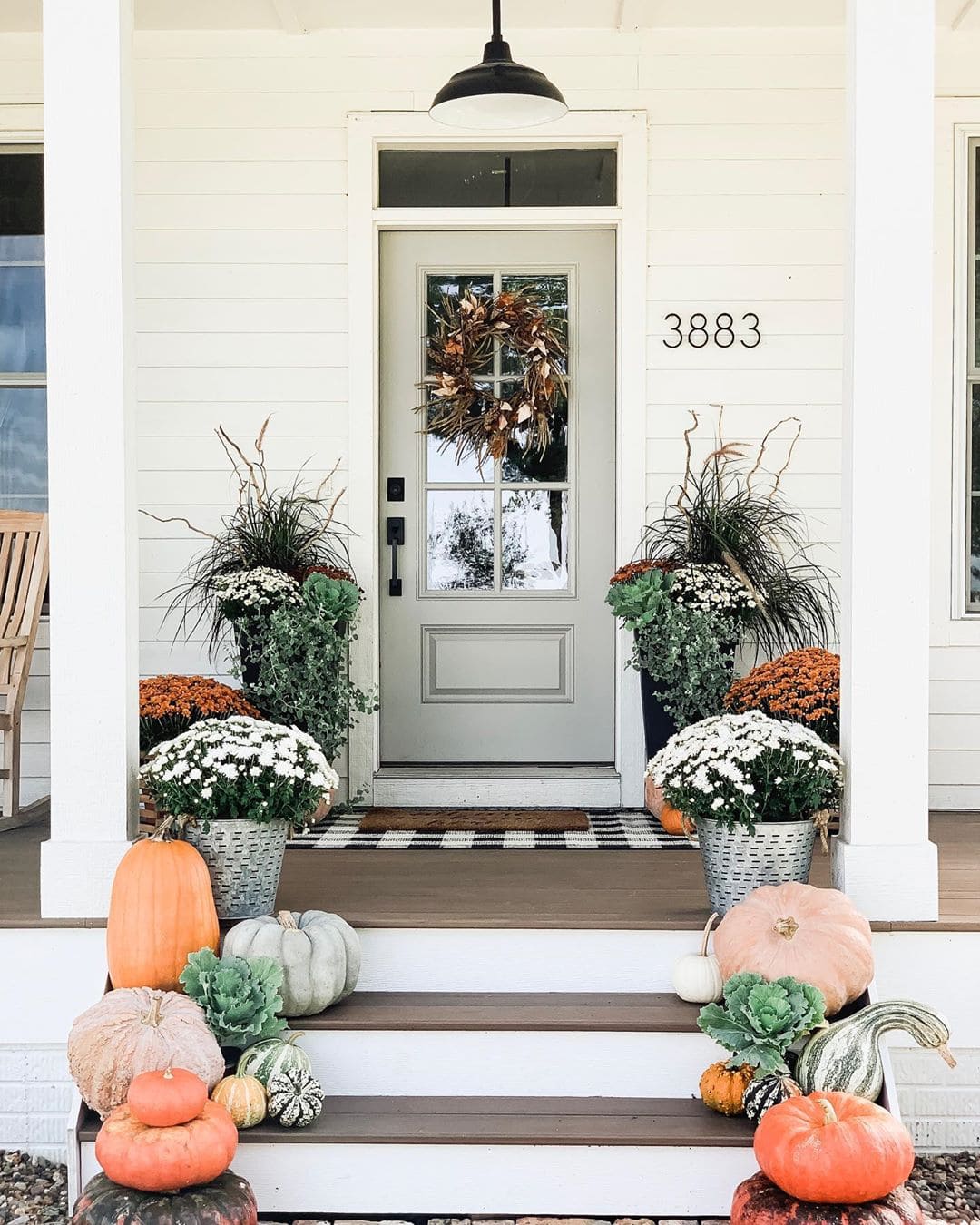 Down At the Pumpkin Farm
If you prefer a traditional touch to your fall designs, emulate the gorgeous harvest theme from Emily over at Vine & Willow. The simplicity of the orange, cream and green tones are perfect for the season! And the fun addition of gourds and autumn veggies on the porch stairs makes it feel like you're right on the farm.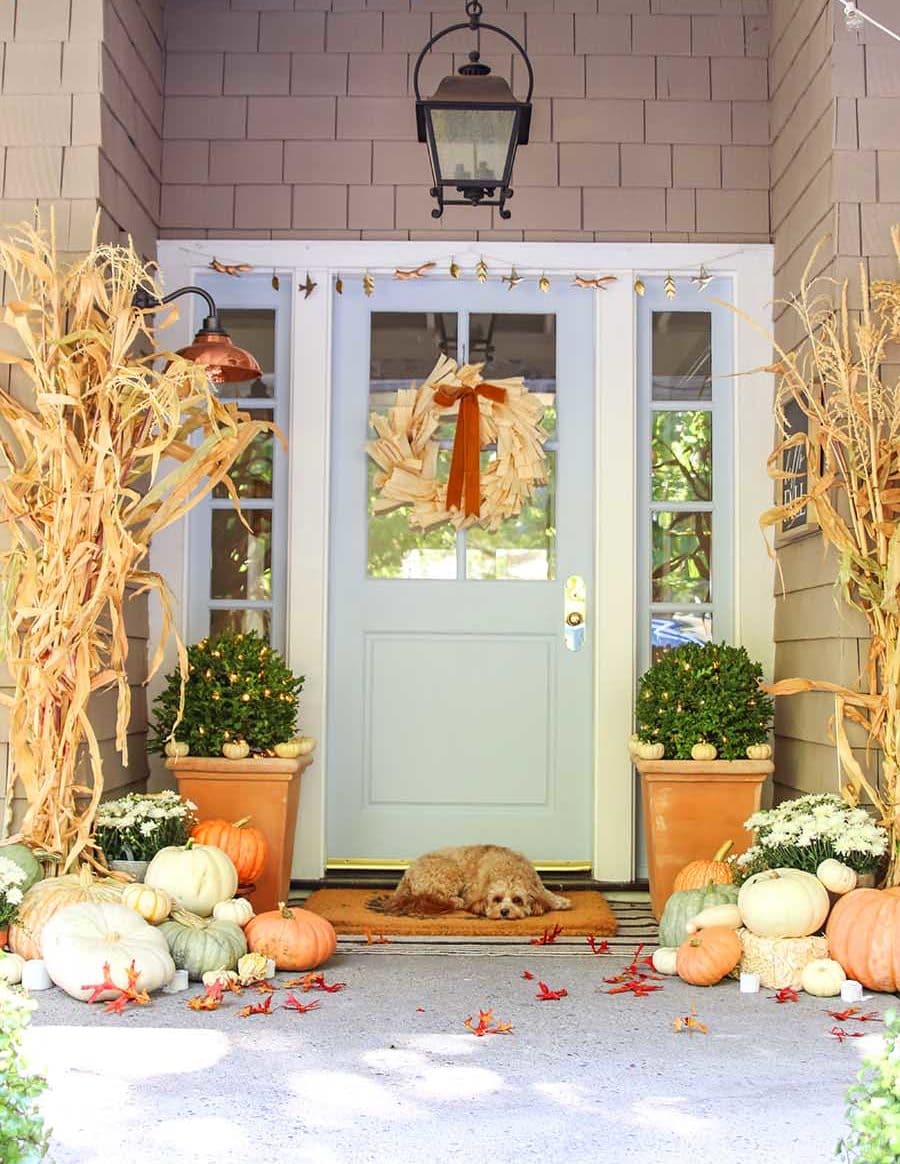 Pile On Those Pumpkins
It's harvest season over at Modern Glam! Ashley uses a ton of personality (and even more pumpkins) to decorate her porch for fall. Think more is more, with big corn stalks, piles of multicolored pumpkins and a brushing of fall leaves that make it look like autumn landed right on your doorstep.
---
The word "harvest" comes from the Old Norse word "haust," which means "to gather or pluck."
---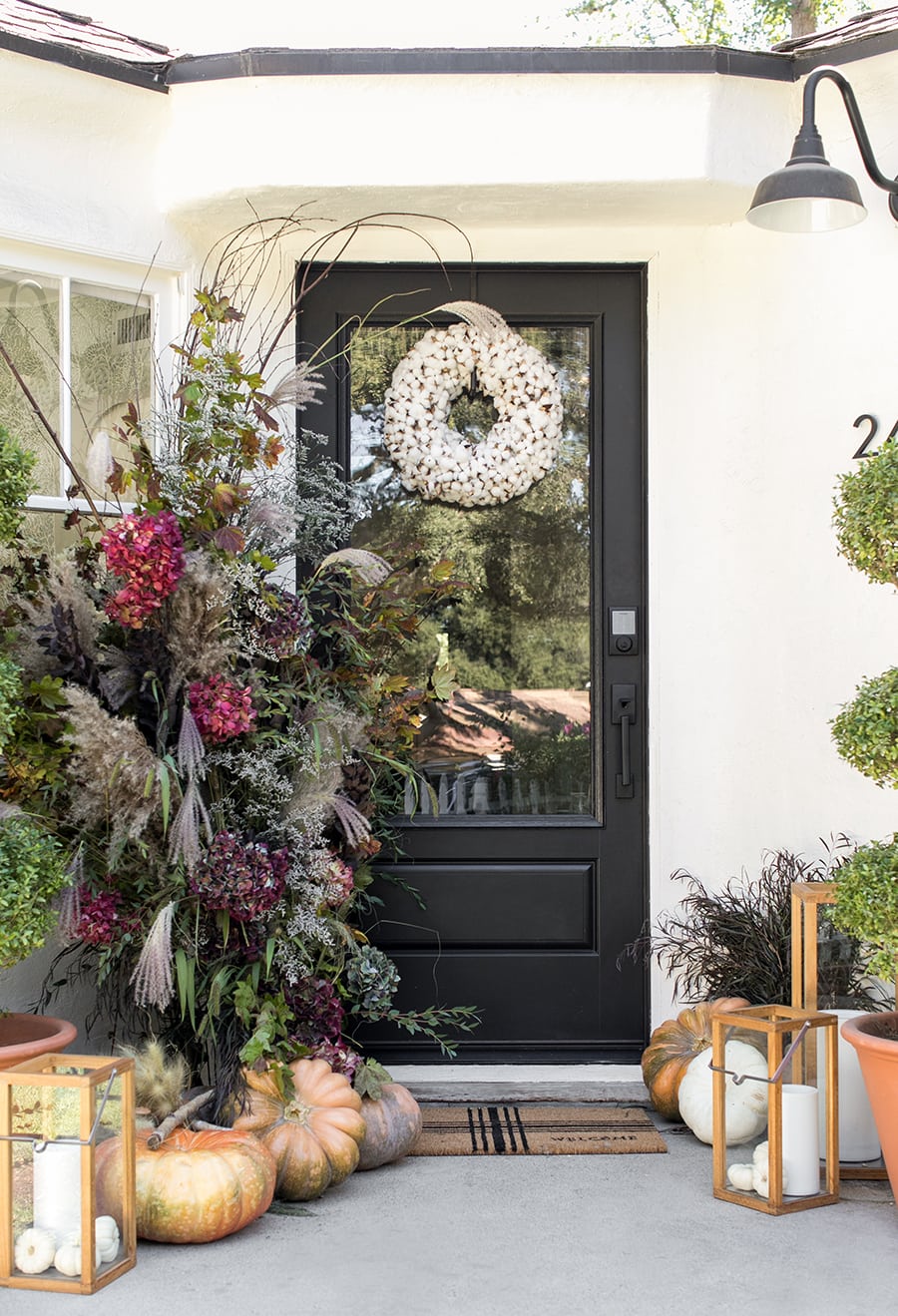 Fall Is For Florals
When we think fall, we think pumpkins (and pumpkin spice lattes!). But the season has a subdued beauty all its own. The oversized florals used by Eden from Sugar and Charm showcase often overlooked fall foliage and her cotton wreath adds cozy texture to the front door. Adding a few fairytale pumpkins to the porch decor gives it just a touch of familiar warmth.
---
According to superstition, catching leaves in autumn brings good luck. Every leaf means a lucky month next year.
---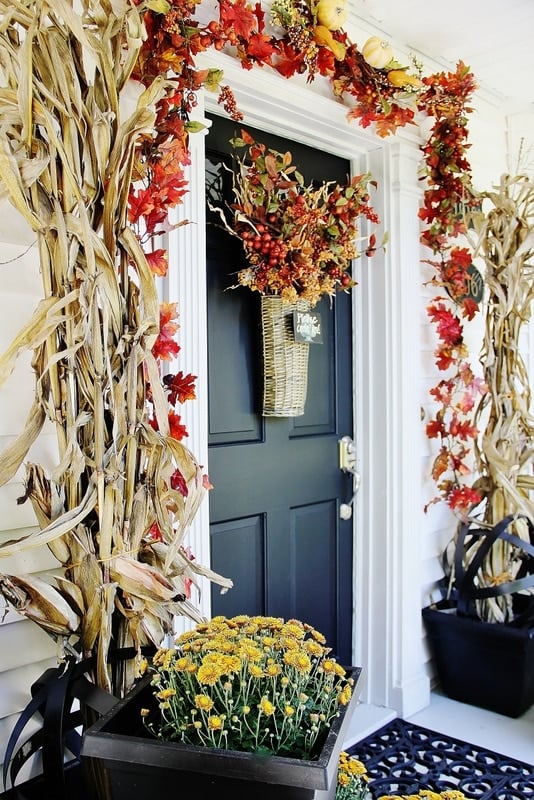 Piles of Leaves
Who doesn't love playing in the fall leaves? Drape your front door in a full garland of red, orange and yellow pumpkins and leaves like Karianne at Thistlewood Farms. Then ditch the traditional wreath for a full basket of dried blooms on your front door. Hey, it's fall. Go big to go home.
---
Etymologists are unsure of the origin of the word autumn. It's believed to come from the ancient Etruscan root "autu," which implies a change of season.
---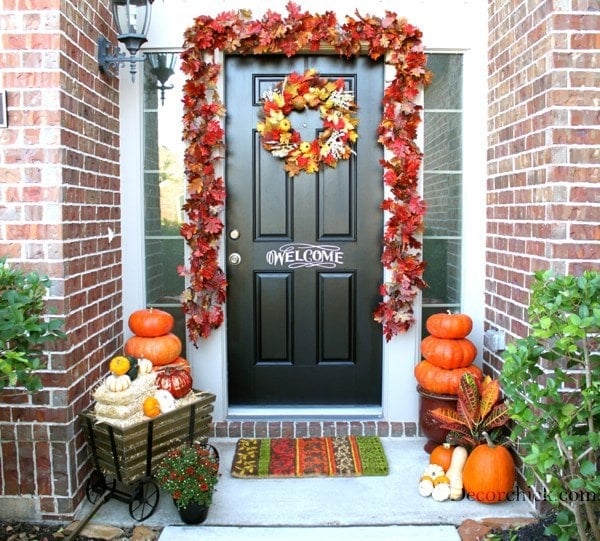 Time For a Hay Ride!
Do you remember the days of pumpkin patches, corn mazes and riding around on bales of hay? Maybe you still get to do that with your kids? Whether or not you've been on a hay-ride recently, you can still relive some of the fun of fall with a porch that recalls the fun of childhood. Emily at Decor Chick adds some hay, a wagon and a few stacked pumpkins to enjoy those memories every time she walks through her front door!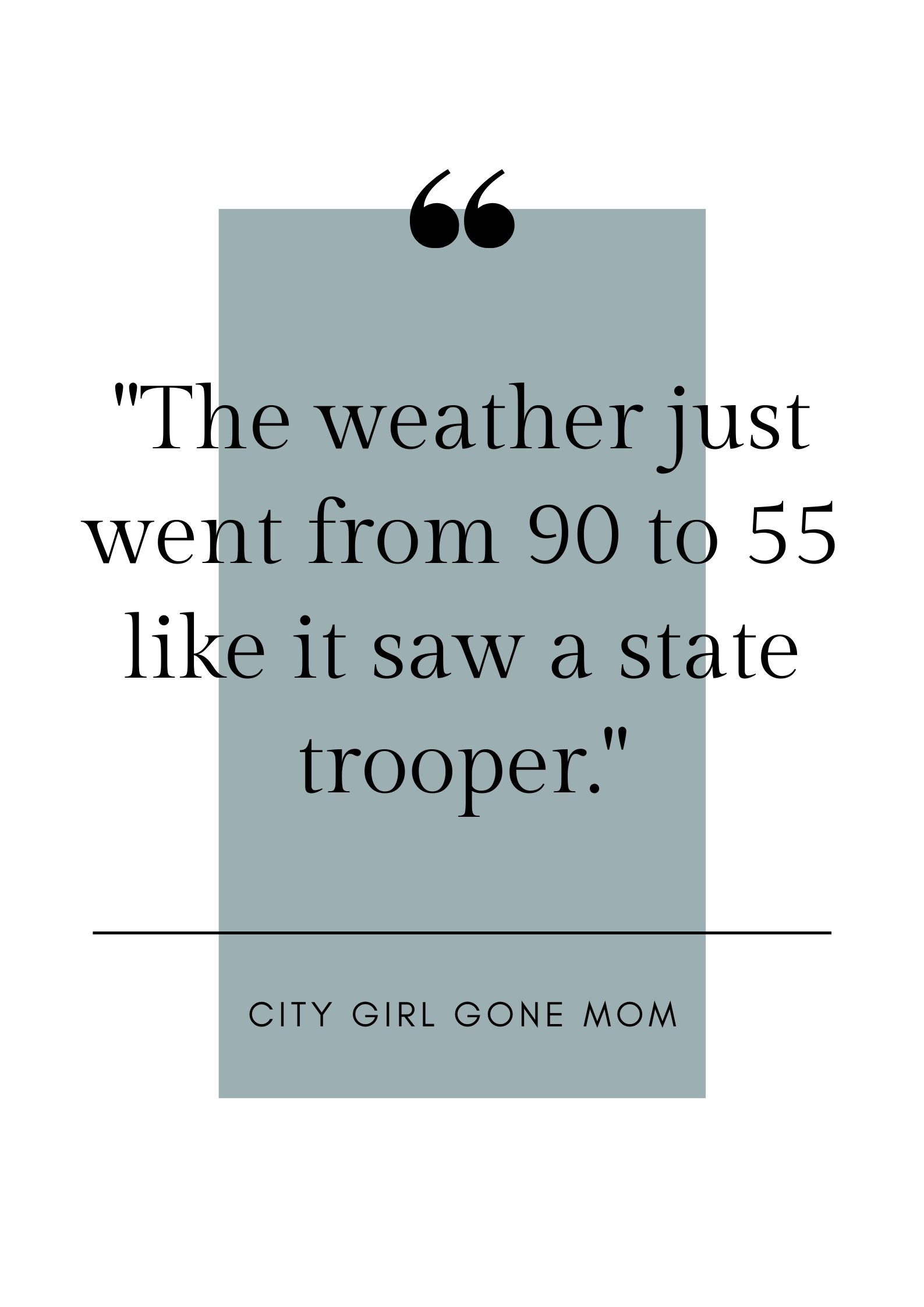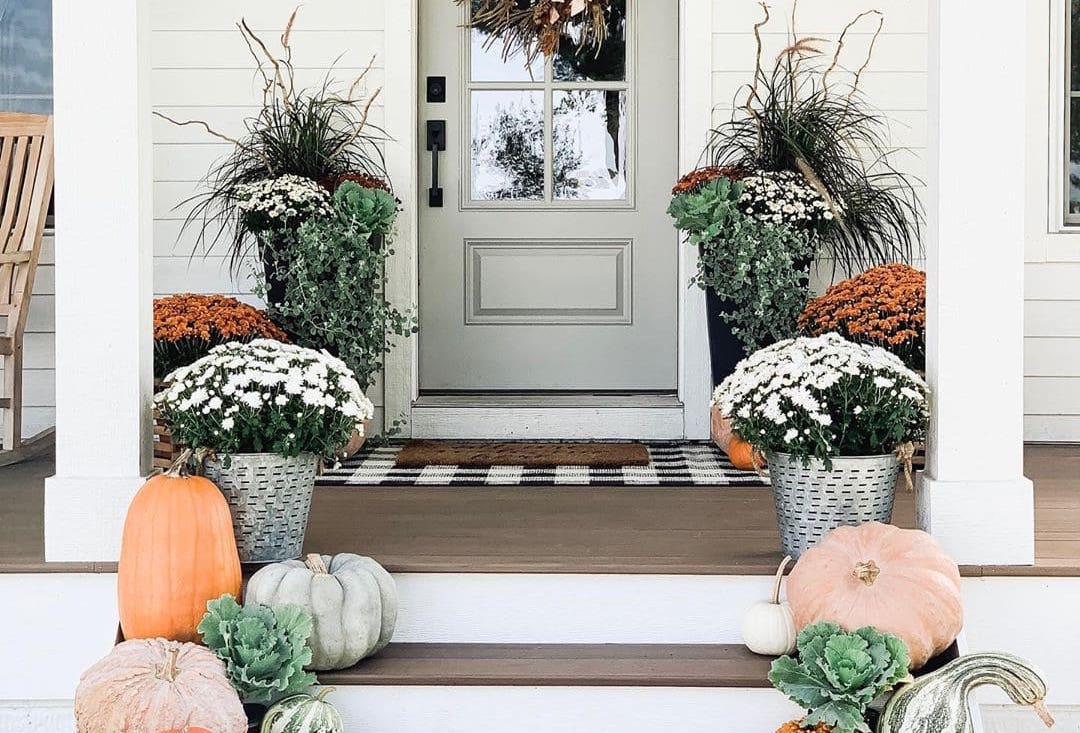 Tips for Parenting In Style...
Never boring, always awesome. Keep up to date with the latest from City Girl Gone Mom.