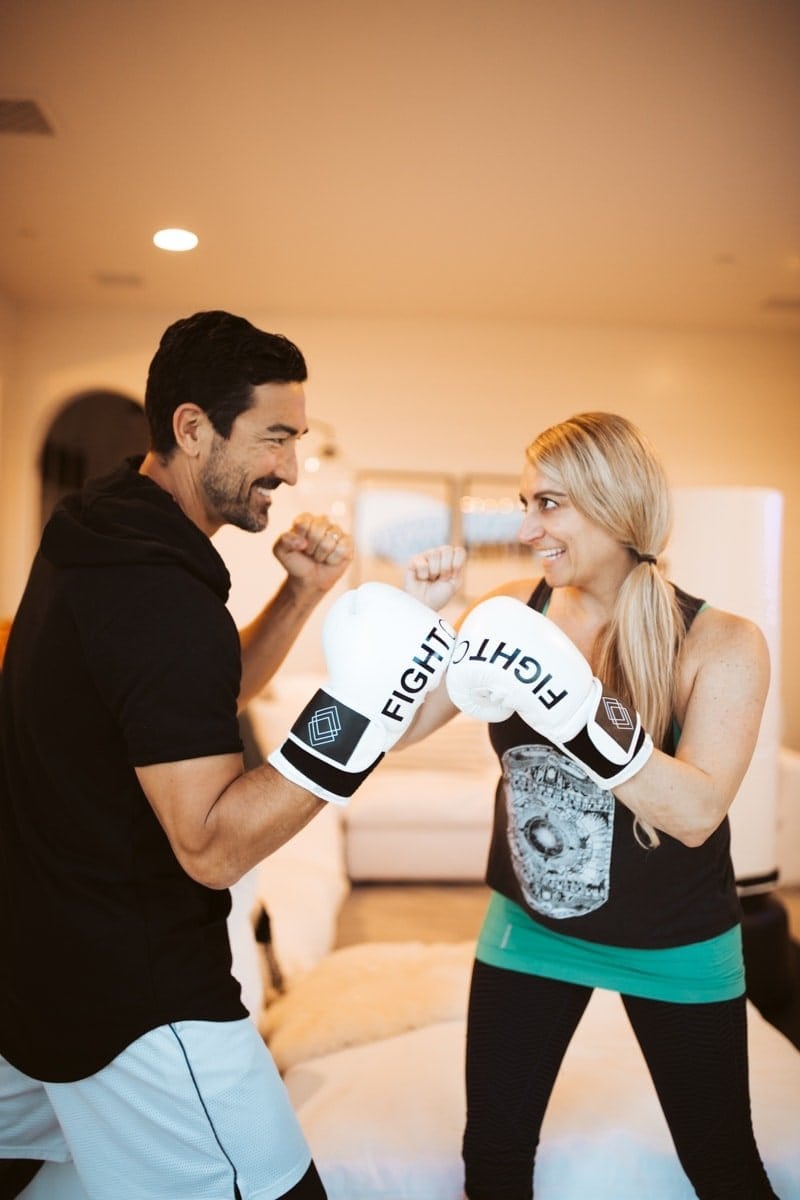 This Post Is Sponsored By My Brand Partner FightCamp. As Always, All Opinions Are My Own! Thank You For Sponsoring CityGirlGoneMom.
My 6:00 a.m. workout can't come soon enough…. said NO MOM EVER. On the contrary, it seems to be prime time for my husband's consistent weekday workouts. Maybe it was his military background, or maybe he never actually adapted from the EST time zone in which we lived (very strategic, Bobby), but regardless, he finds a way to get his workout on. Every. Single. Day. So, there's no reason that I can't commit to a few times a week, right? Well, there are actually plenty of reasons, but I just discovered the one thing that will keep me on my toes (literally), make me sweat (profusely) and build my self-confidence – all on my own time.
I've heard for years that boxing is one of the best total body workouts in the world. As much as I'd love to say that I now belong to a boxing gym and train with a professional trainer with "Eye of the Tiger" on repeat, that's simply not in the cards with my schedule. That said, I found an even better option: FightCamp, a full studio boxing gym in my home! This, my friends, is a brand new take on the total body workout featuring a 10-12 week "Prospect Path" (perfect for beginners) dedicated to teaching basic boxing techniques, while giving you a great workout.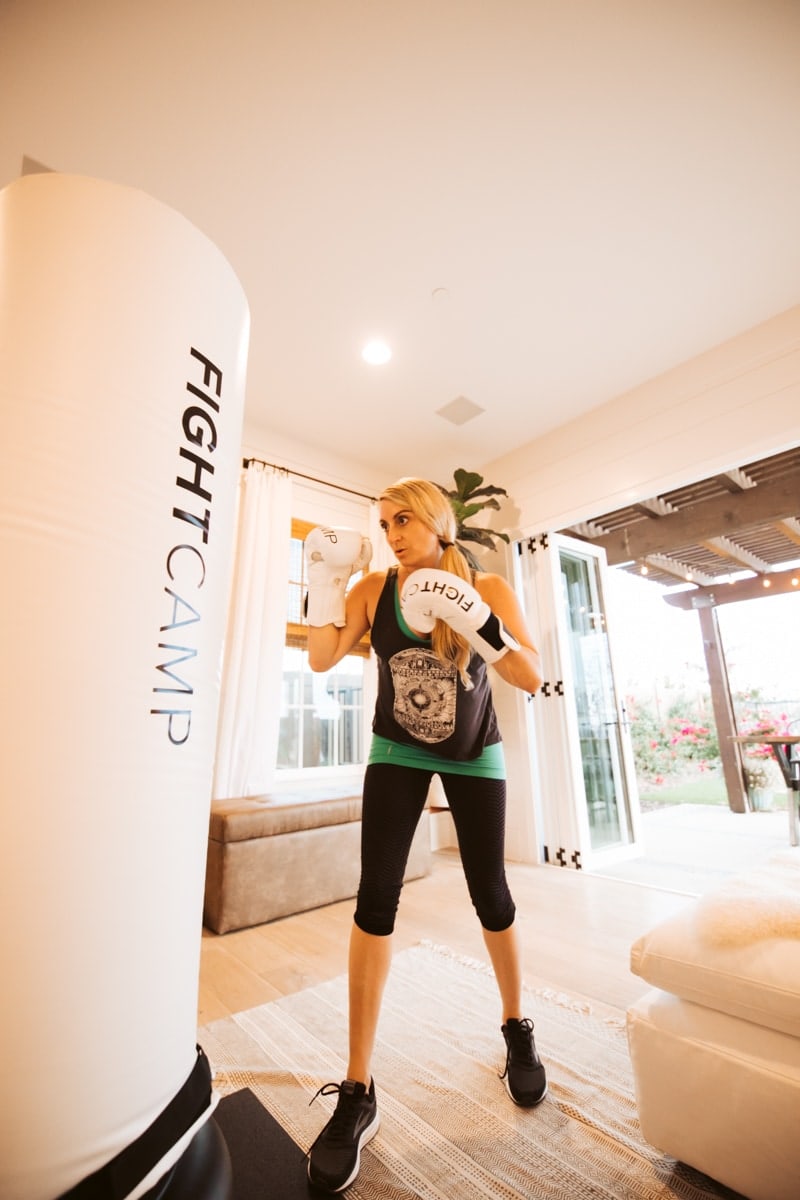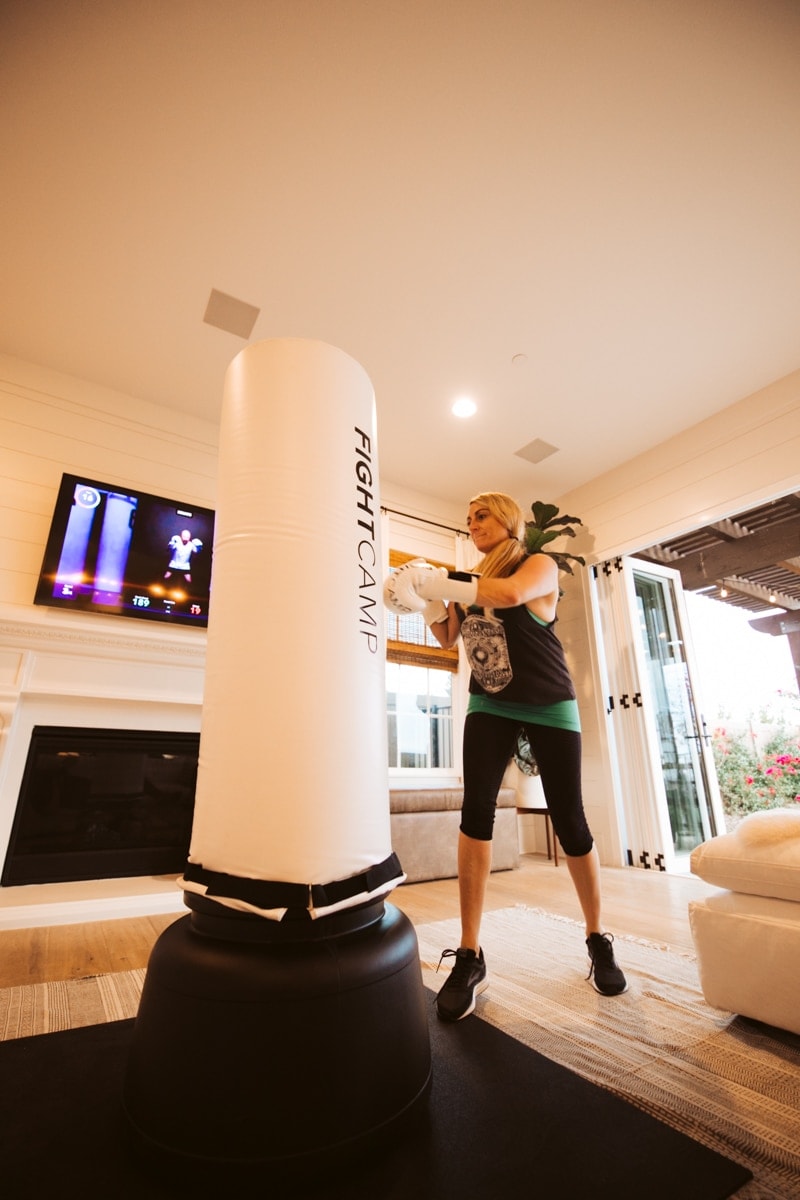 Mom truth: When it comes to working out – and especially at home – admittedly, self-motivation is not my forte. Out of necessity, the majority of my workouts happen when my three-year old is napping. Sometimes his naps last 15 minutes, and other times an hour. Lucky for me, FightCamp's curated workouts range from 15-45 minutes in length. Coincidence? I think not. And while I've failed time and again with other at-home workouts, the FightCamp equipment, technology and classes are a game changer for me. As soon as I put those gloves on, I start channeling my inner Muhammed Mommy, ready to take on that workout like a champ.
If you're anything like me, you're well aware of the struggle and juggle of kids, jobs and dogs on any given day. Sadly, those 600-800 calorie burning weekday group exercise classes, are a thing of the past. Or, are they? With FightCamp, the classes are all led by former fighters who pack a punch (pun intended), and who can motivate me to do more than just put on my workout clothes! Plus, the FightCamp gym has a punch-tracking tech used by the world's top pros, so it makes it interactive, keeping things exciting. And for someone whose biggest competitor is herself, the live punch stats have an effective way of pushing me like no other workout has. There's even a detailed performance record so I can map out my improvement over time and make adjustments.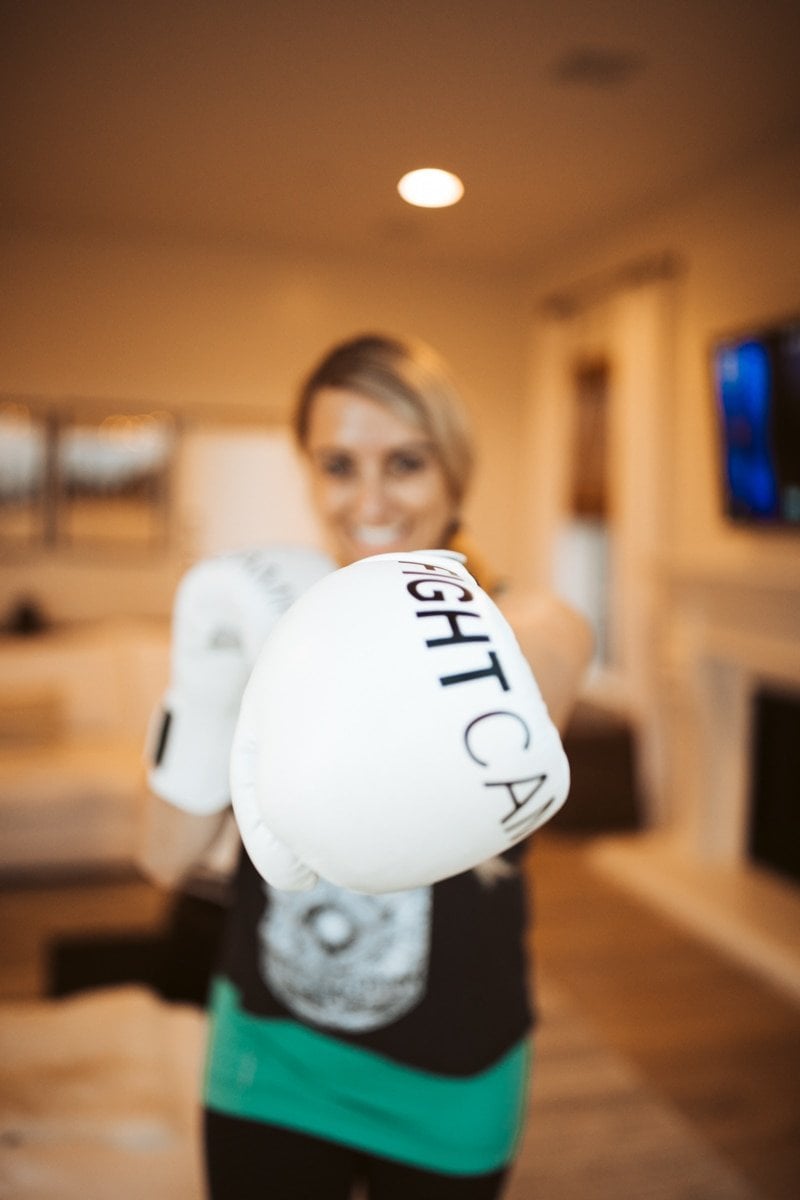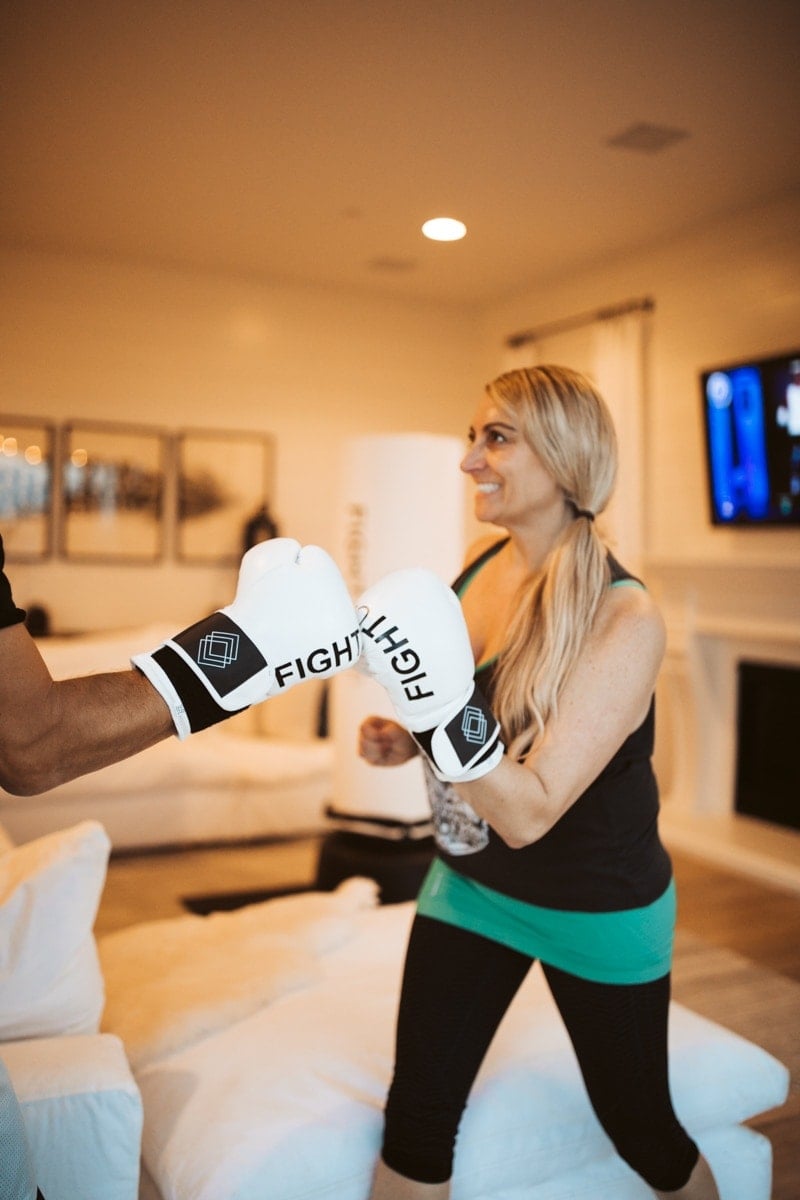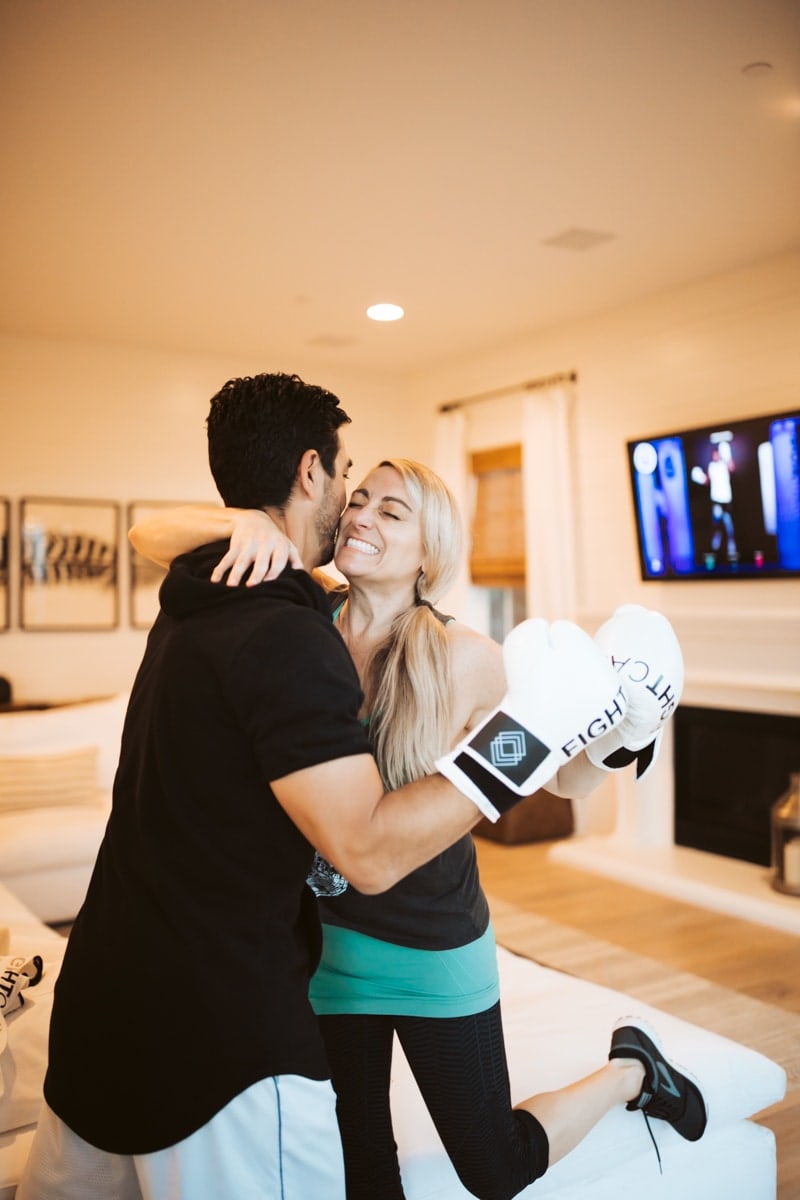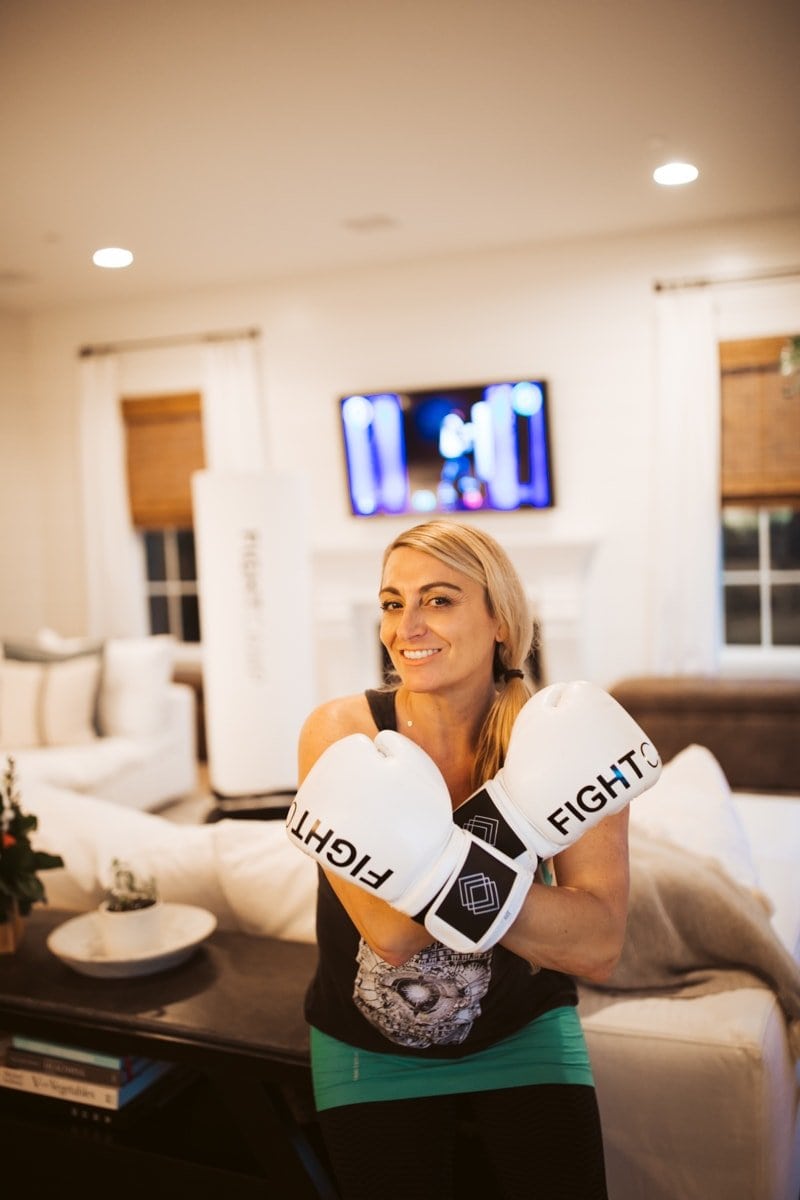 About FightCamp
FightCamp is committed to inspiring and empowering the fighter within, because if you have a heartbeat, you're a FIGHTER. Their workouts are built to empower the individual to become stronger and more confident physically and the aim is for this to resonate through each facet of life: physically, mentally and spiritually. Their desired impact is to empower people and change the world – one person, one heartbeat, one punch at a time.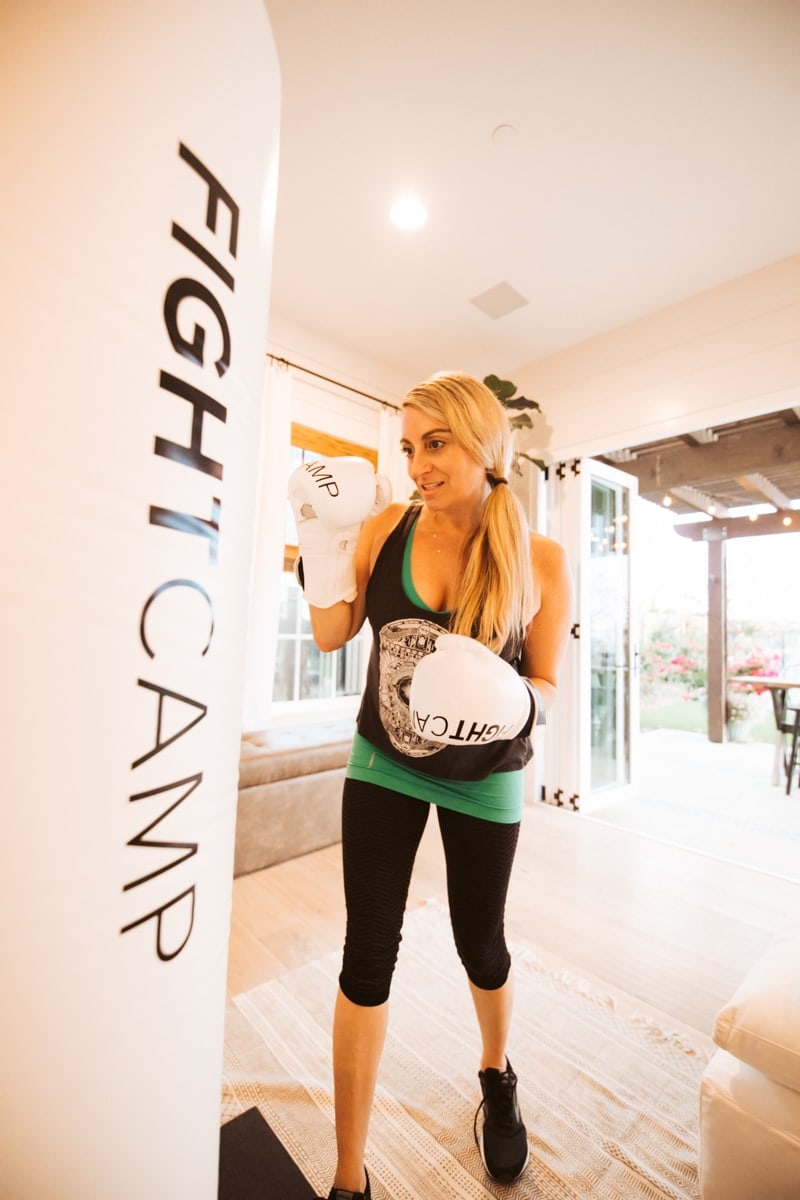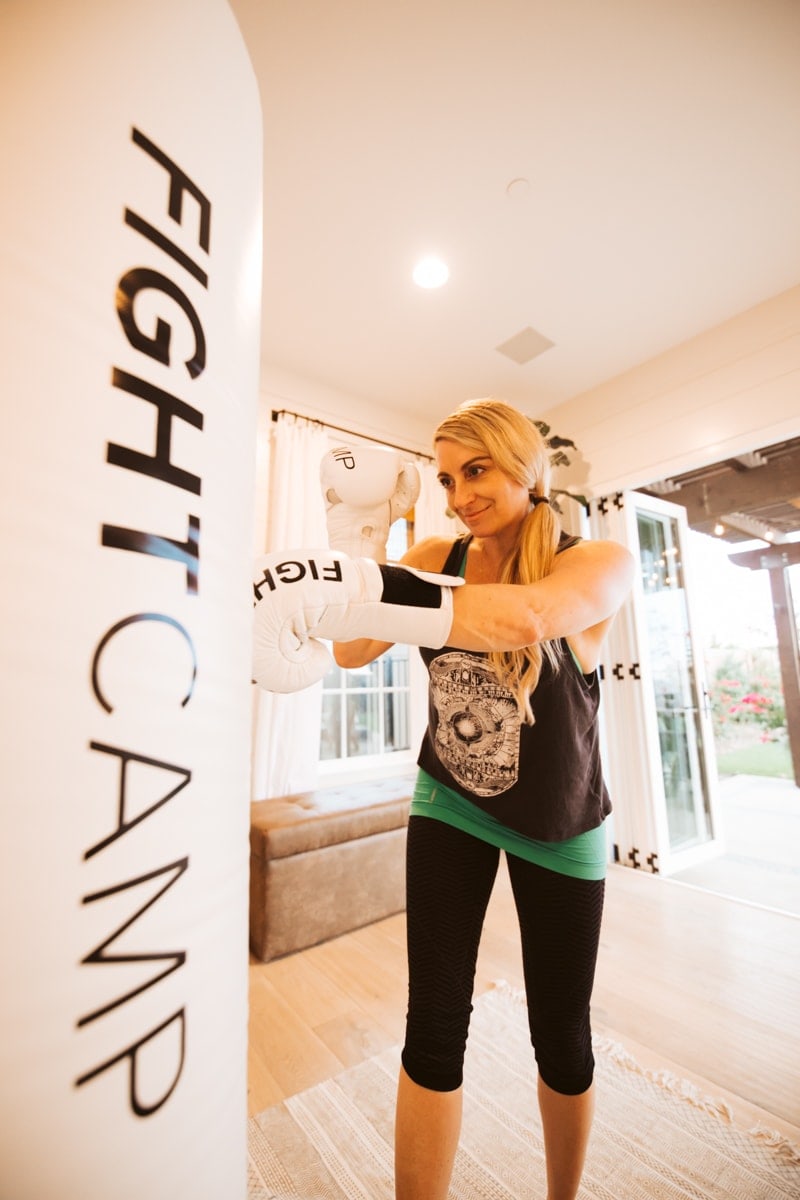 Whether it's 15 minutes or 45, morning, noon, naptime or night, FightCamp is fun, affordable and convenient, with a foot footprint small enough to work in the comfort of your living room or home gym. If you're looking for ways to get fit in the new year, consider adding FightCamp to your wish list.
Hey mamas! If you're looking for a fun and fierce total body workout, visit www.joinfightcamp.com to learn more and use my referral code "CGGM" for $100 off!