I love designing. Of all the aspects of my life I share with you—from fashion to food to home life—interior design sparks a passion in me like no other. I love it! Whether it's a simple room refresh or a total house overhaul, it's a fun, exciting challenge I never shy away from. Besides the reaction from my family about buying them a cabin in Big Bear, the thing I was most excited about was getting in there and starting to make this house a home. We've only just begun, but I'm so excited to bring you all along for our cabin's design journey!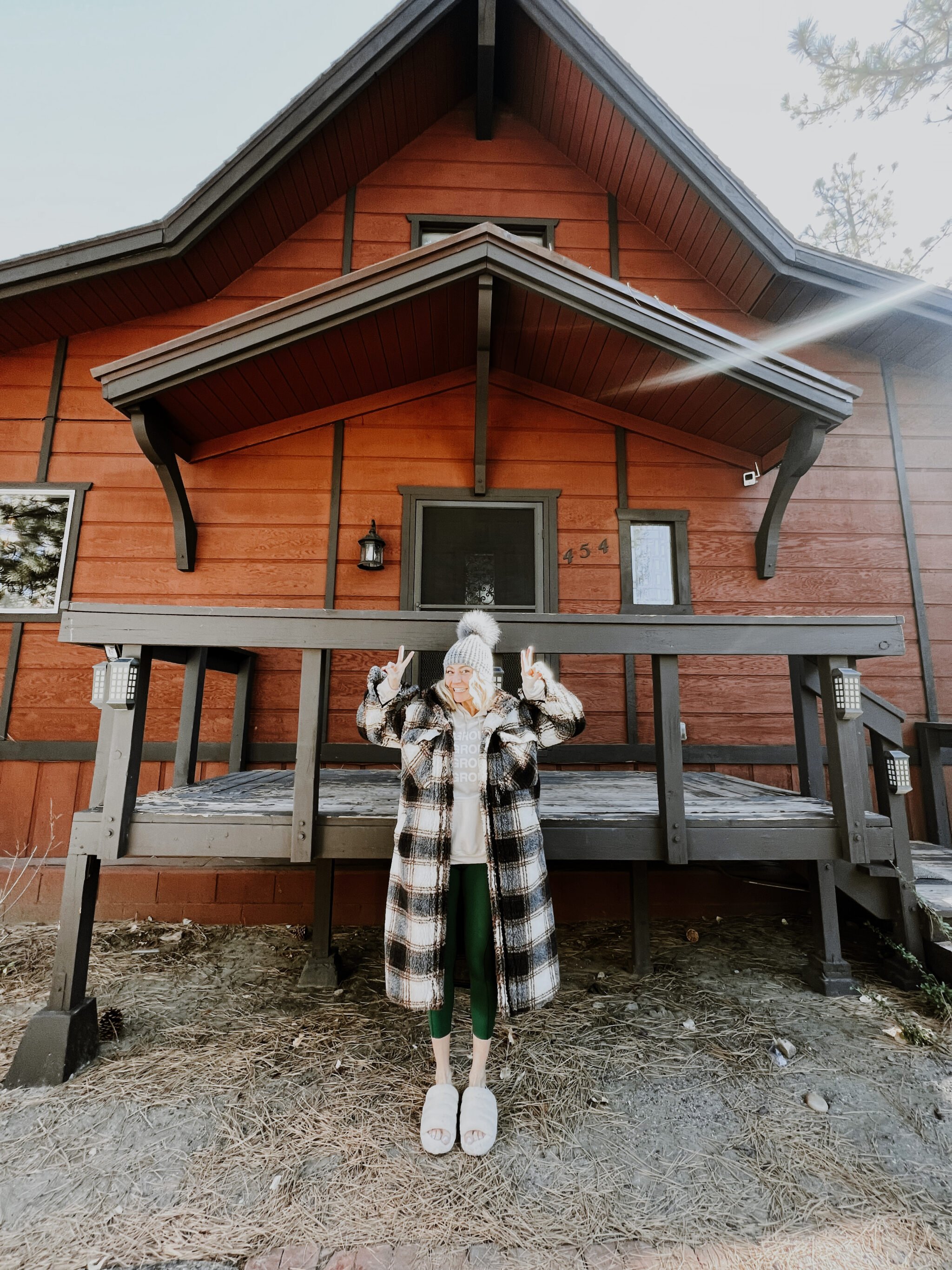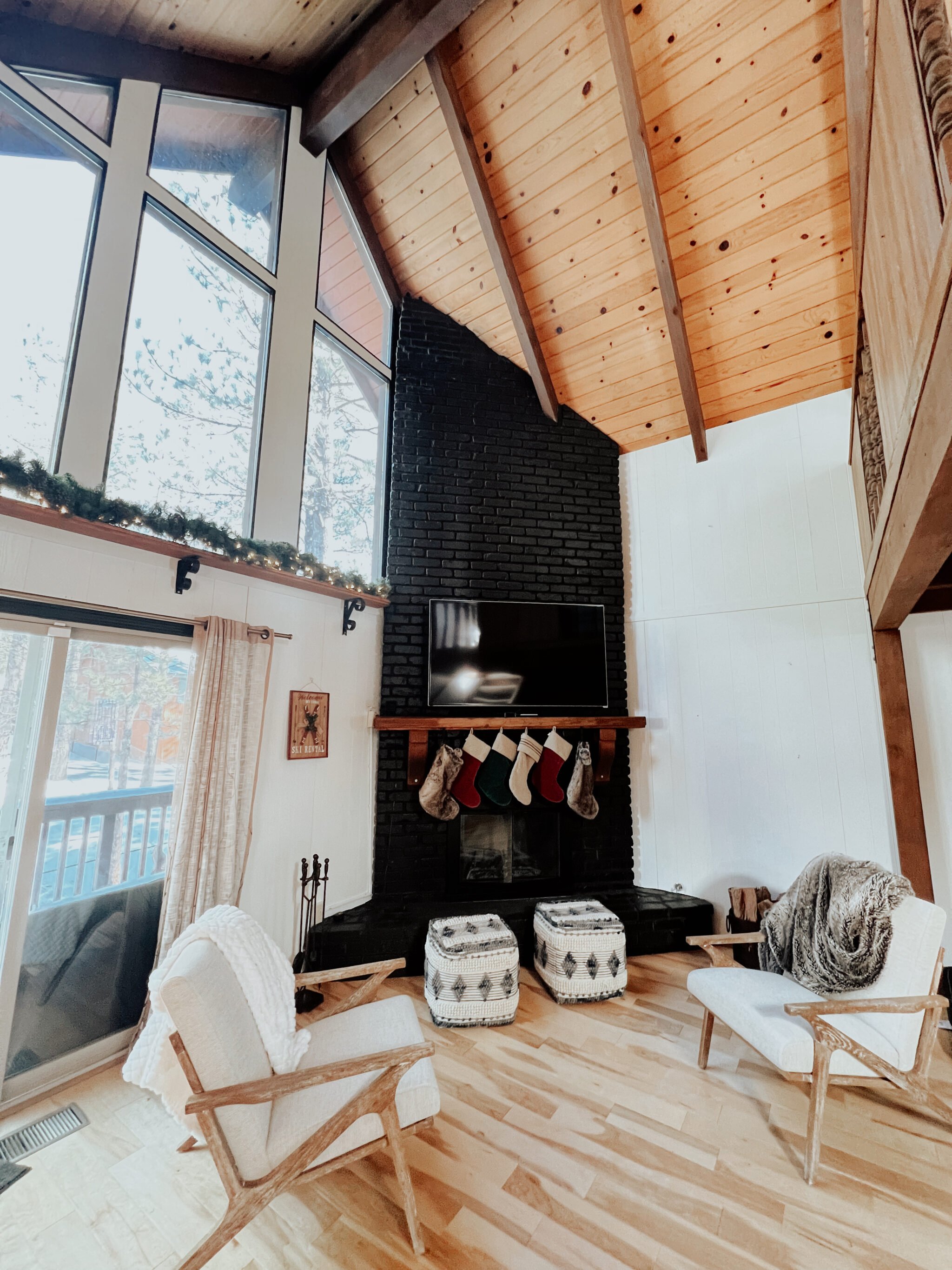 Good Bones
There were two things I immediately fell in love with when I first toured the house: its charming A-frame and tons of natural, bright light. It just felt happy. It had that good energy, which is something that no amount of design experience can change. The previous owners had taken such good care of it. I loved all of the natural wood, the large open spaces, and could easily envision my family and friends creating lasting memories there.
When it came to thinking about design, I immediately leaned into the neutral, timeless aesthetic I've adopted for our home in San Diego—warm tones, black and white statements, and bohemian accent pieces. Because the home was so well taken care of for so many years, I think it's just a matter of warming it up and adding a more stylish touch to blend the cozy mountain vibes with the modern Schaffer style.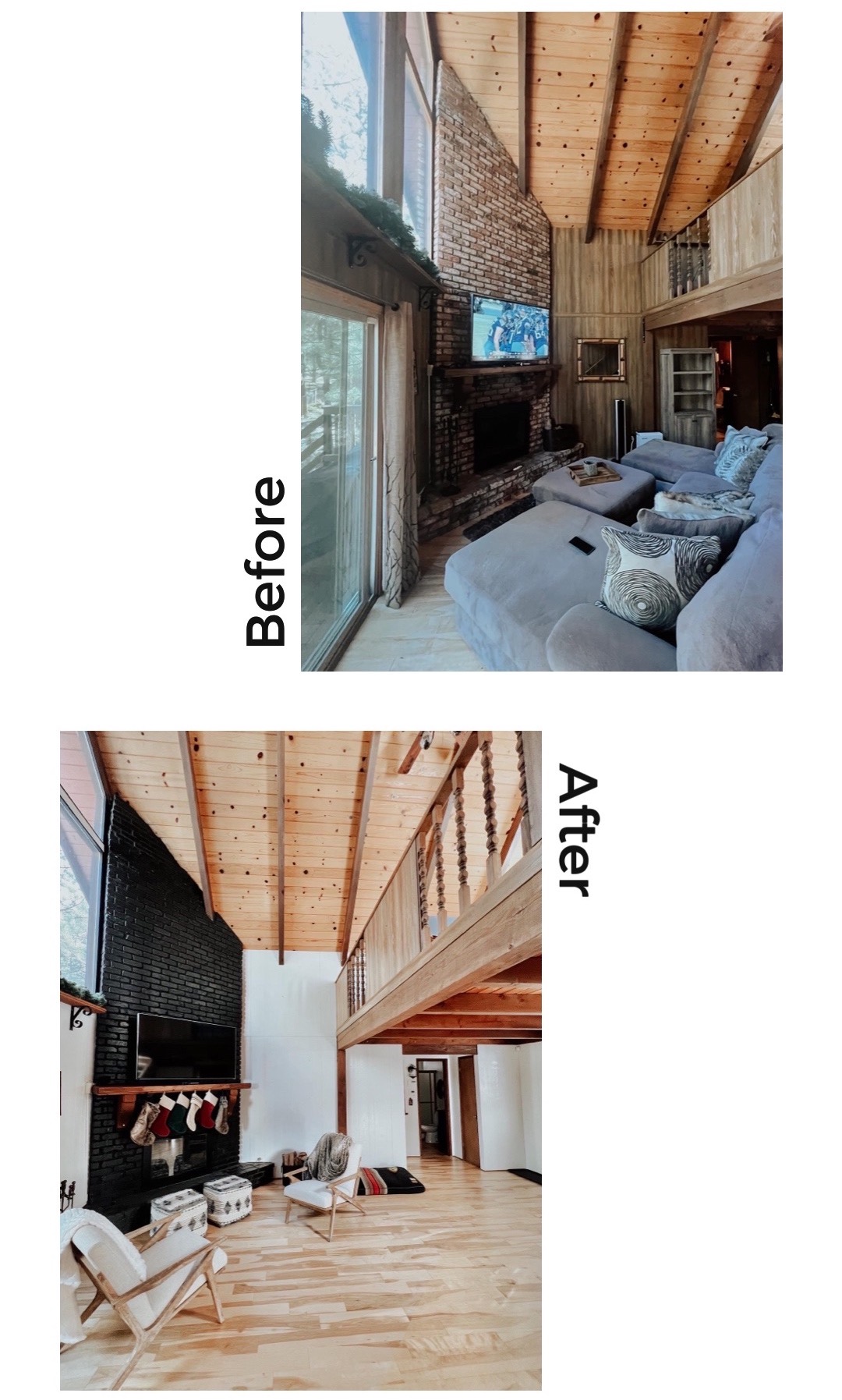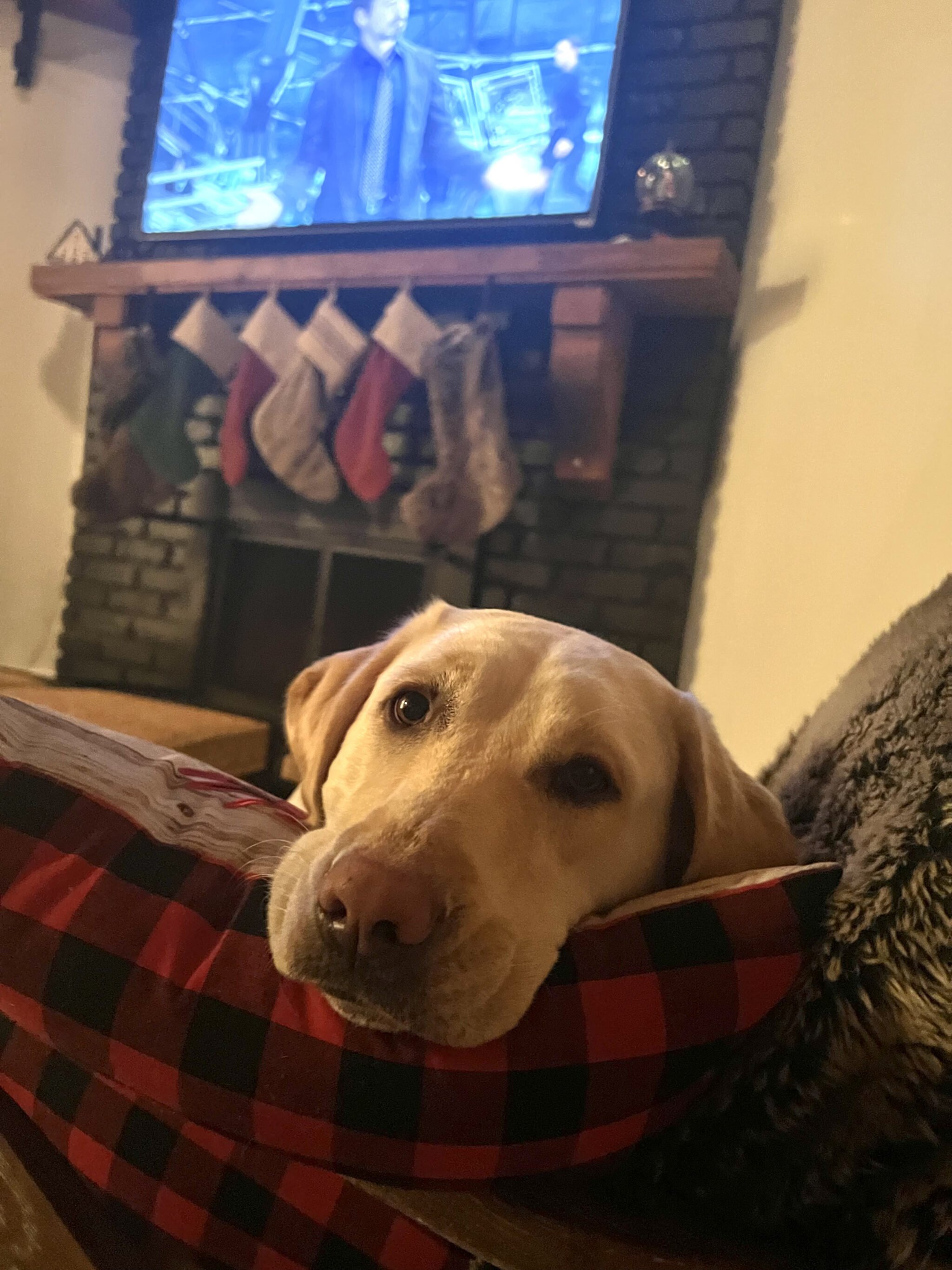 Bold and Beautiful
Because I can't sit still for too long, I obviously came prepared to make a few minor changes as soon as the surprise was out! I knew we were going to stay there for a few days at first, so I brought along some paint, chairs, and decor pieces to start dreaming up what our modern mountain house has in store.
The first change was painting over the classic brick red fireplace. I know what you're thinking—why?! While I love vintage brick, this one definitely had seen some better days. Because I want to bring a more modern design to the cabin, I tend to try and find a balance between the old and the new. There were so many other main features I wanted to keep the same, so I decided to bring this eye-catcher up to date with a bold, black paint. And I mean, how amazing does it look?! I'm so in love with the result. It made a statement feature even more of a focal point.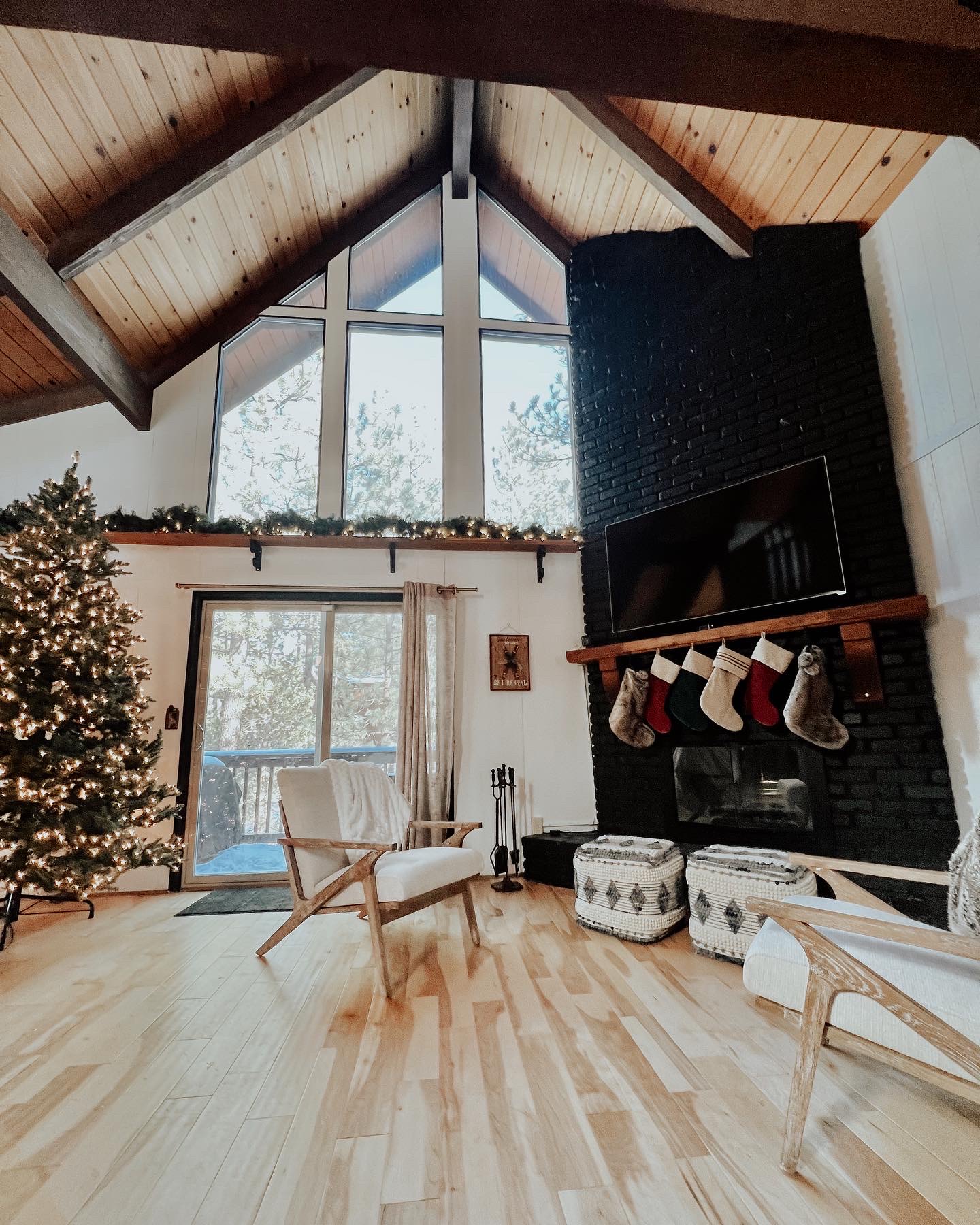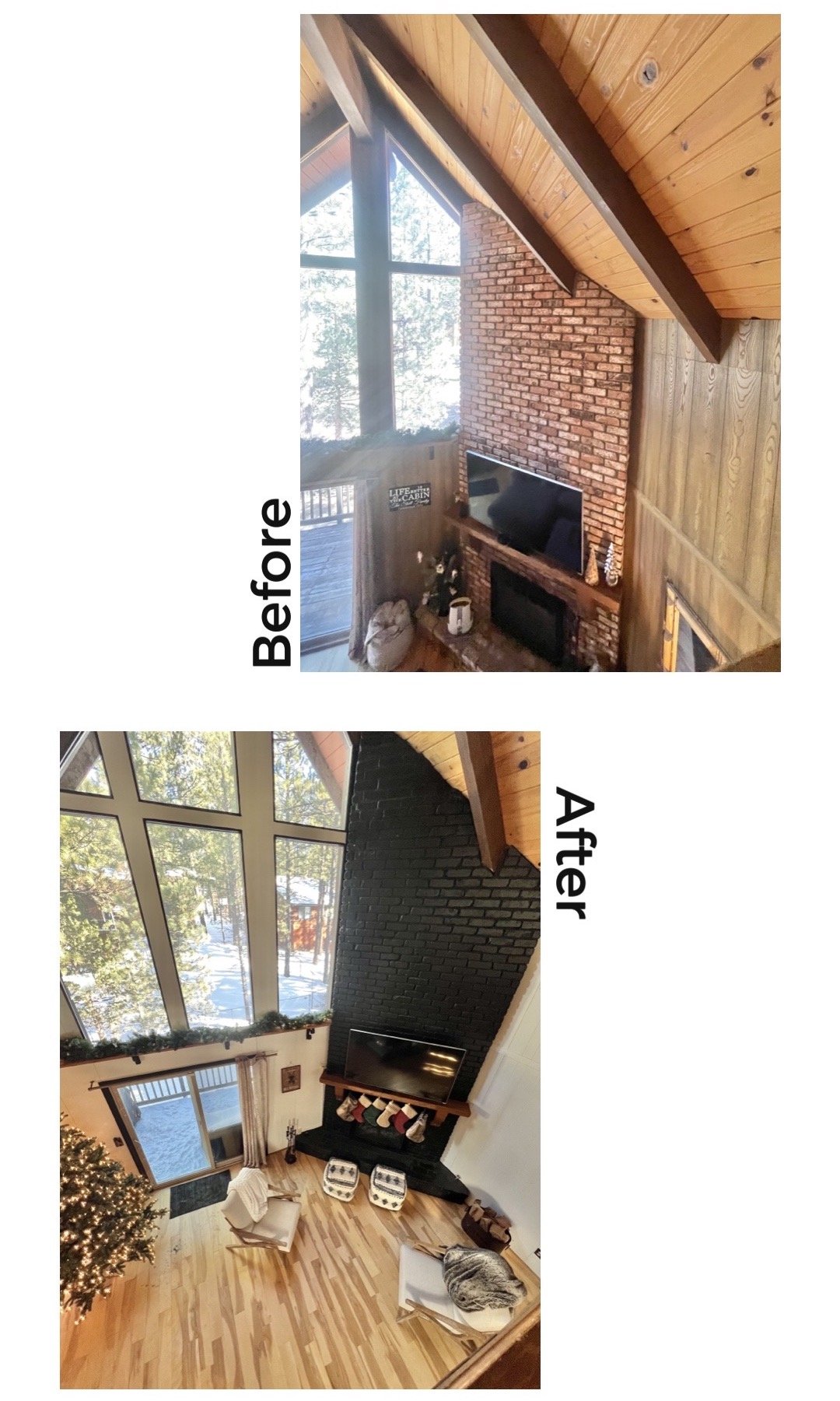 Fresh Slate
We also brought some crisp white paint for the walls. With a clean, airy, and bright foundation, you can then warm up a space with elements like throw pillows and furniture. But for walls, I like to keep them neutral, streamlined, and modern. It's such an easy, affordable way to give an old space new life. Super excited about this special place and the memories we will have with the kids, and with every change—no matter how simple—I really start to see it all fall into place.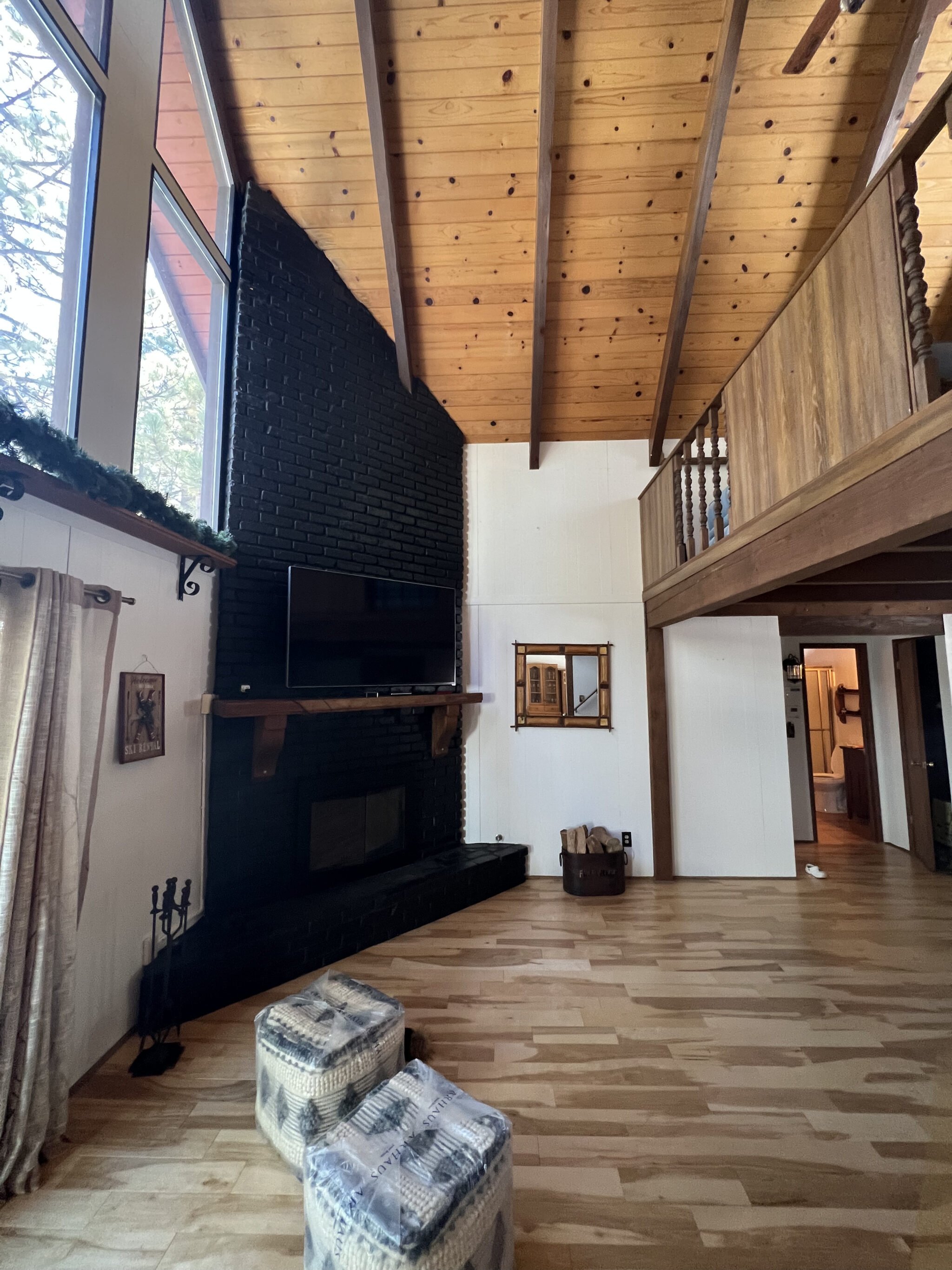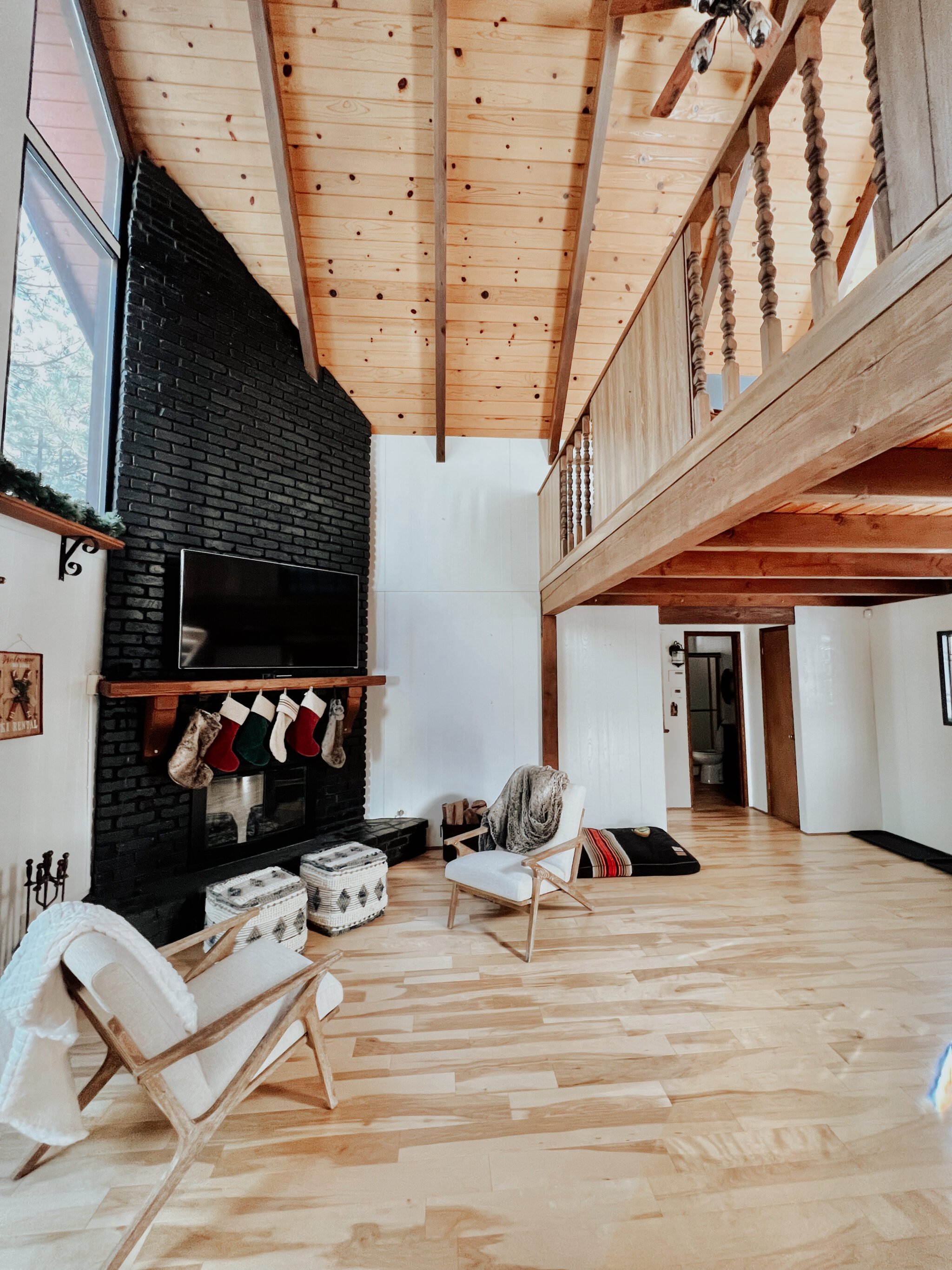 A Place to Gather
Also in tow with me were a few chairs and poufs from our main house. These may or may not stay in the mountain house, but I wanted to get some pieces that we already loved into the space just to see how they'd feel. Set beside the fireplace, they create a really cozy place to gather. The chairs are a midcentury modern-inspired silhouette and are so comfortable. The poufs are an easy way to create more seating, or provide a place to rest your feet—versatility is key because this space can sleep up to eight!
Have you listened to my podcast? Check out The Mom Confidential!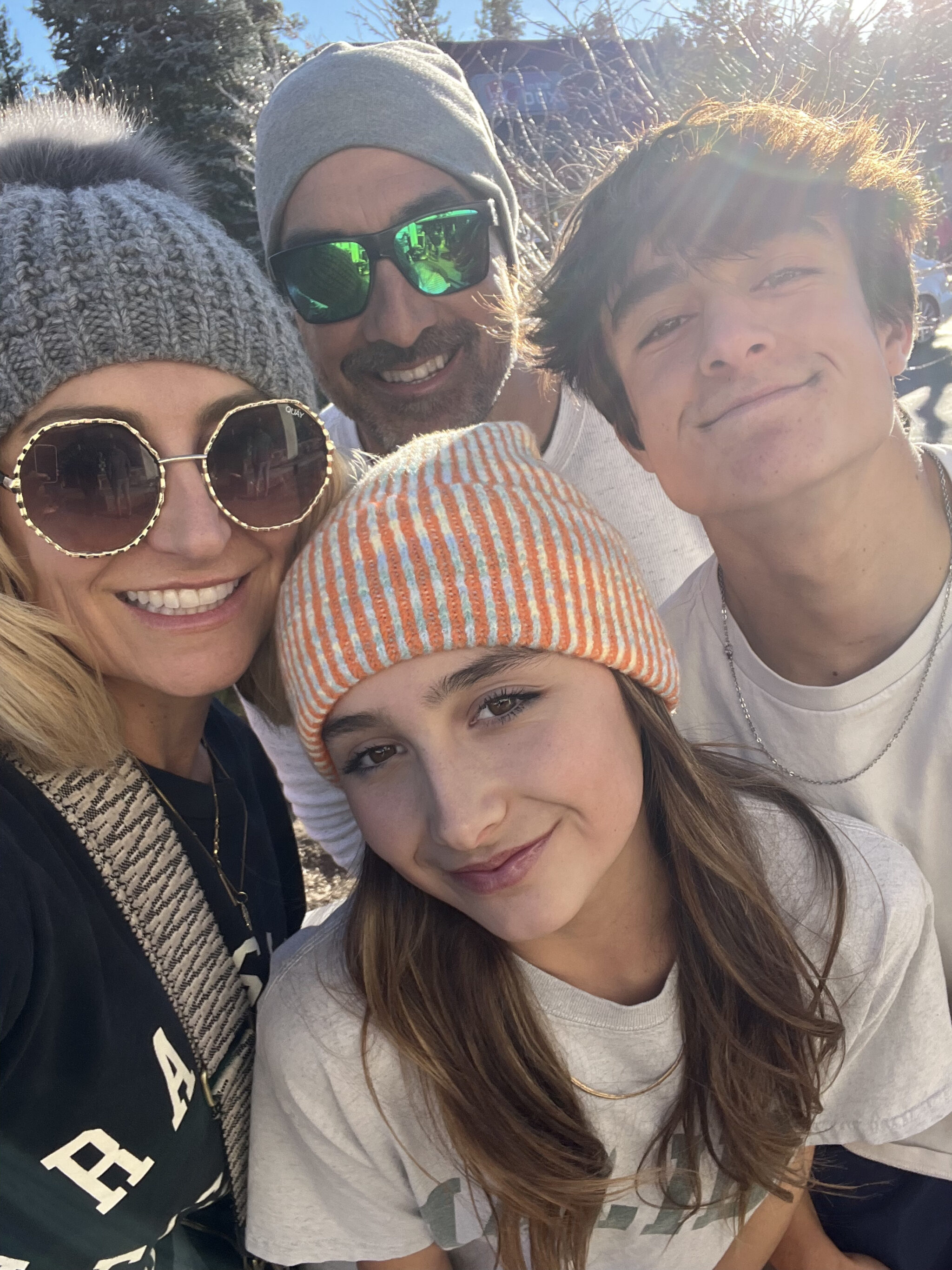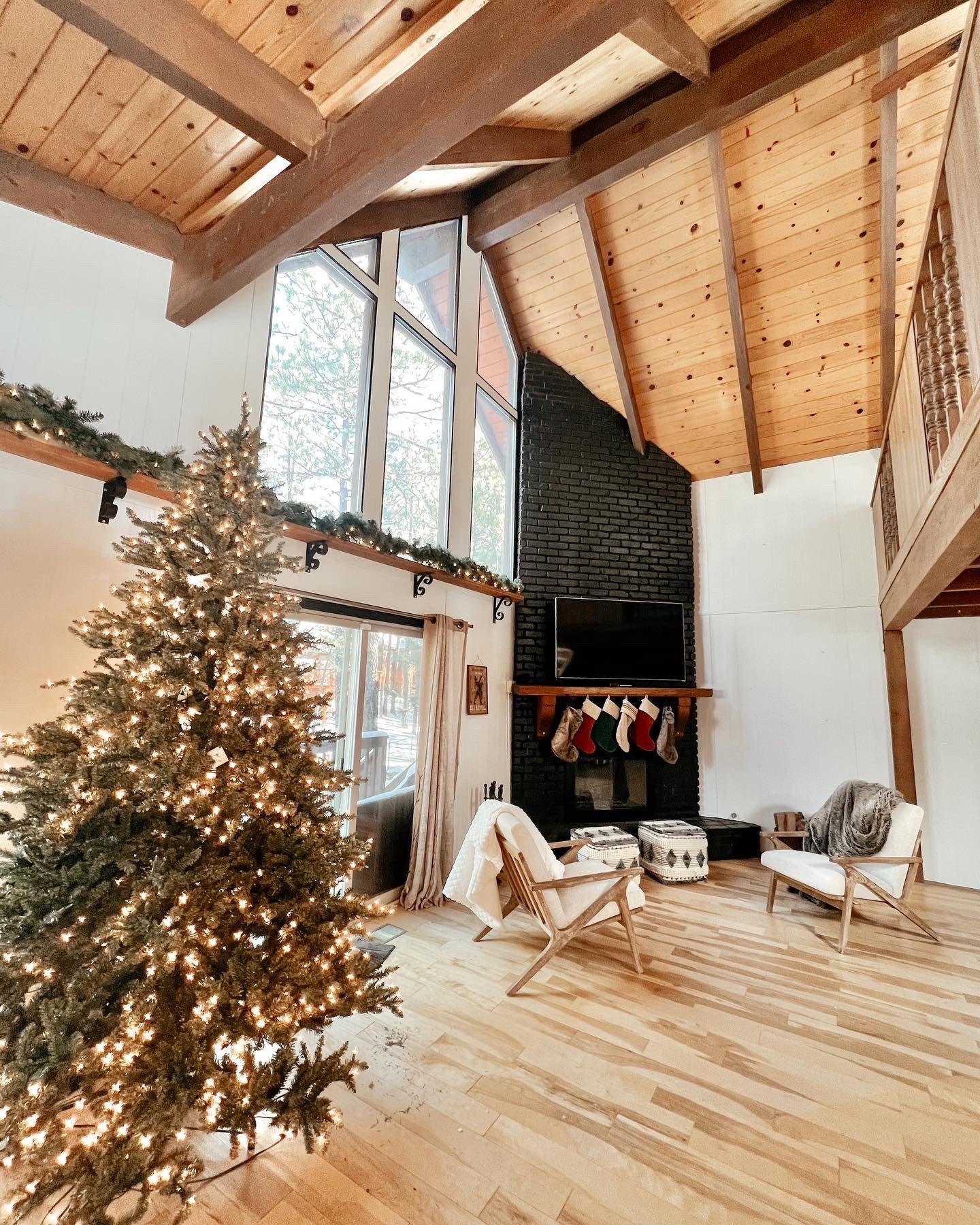 On the Road
Don't you just love a good before and after? You may not see much change in these photos, but I do. Inside and out, I'm so excited about our plans both big and small for this space. This cabin has been such an emotional journey already, I'm so excited to see how its design journey unfolds. There are definitely more concrete changes coming soon, so please stay tuned and follow along. I'd love to hear what you think!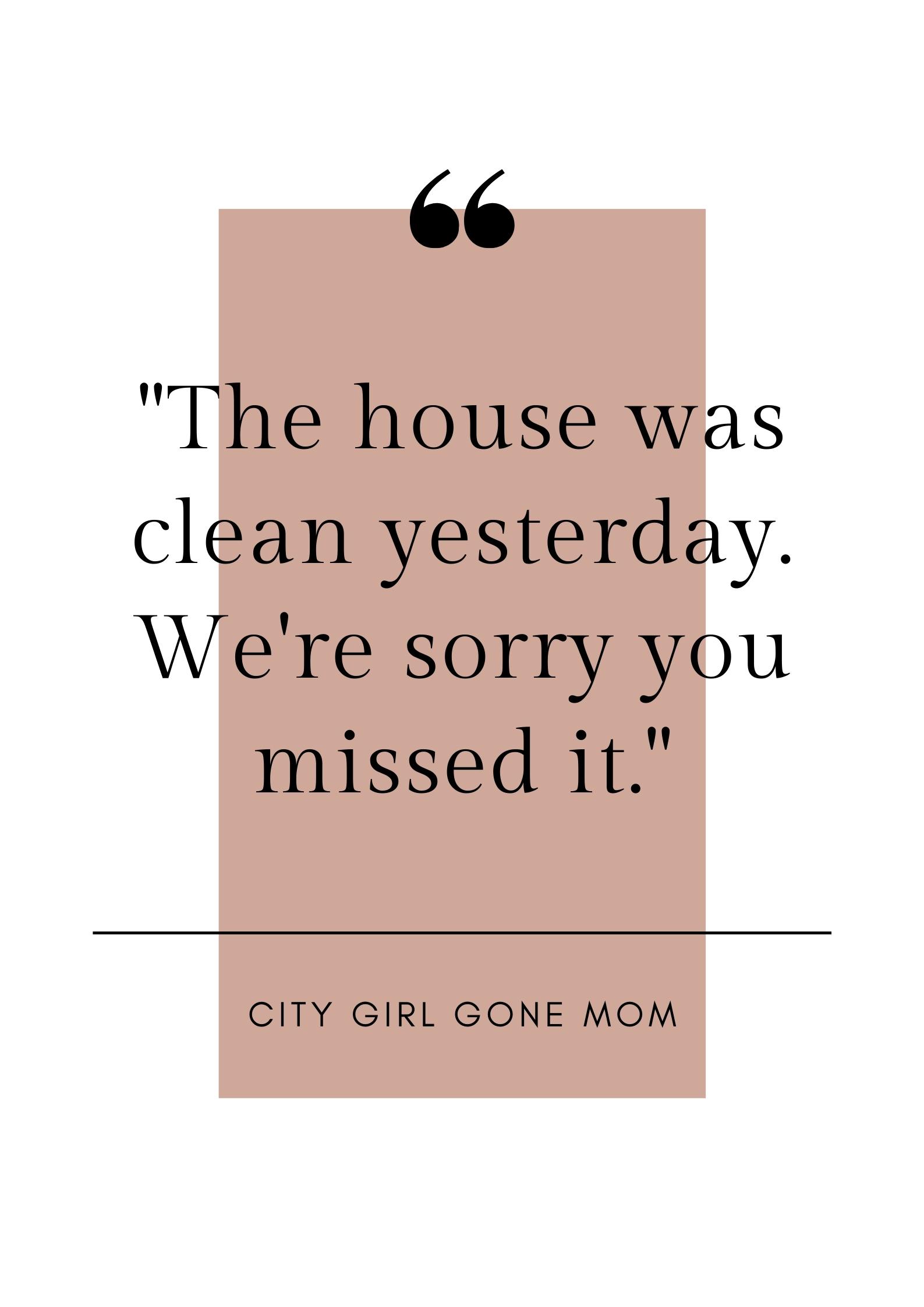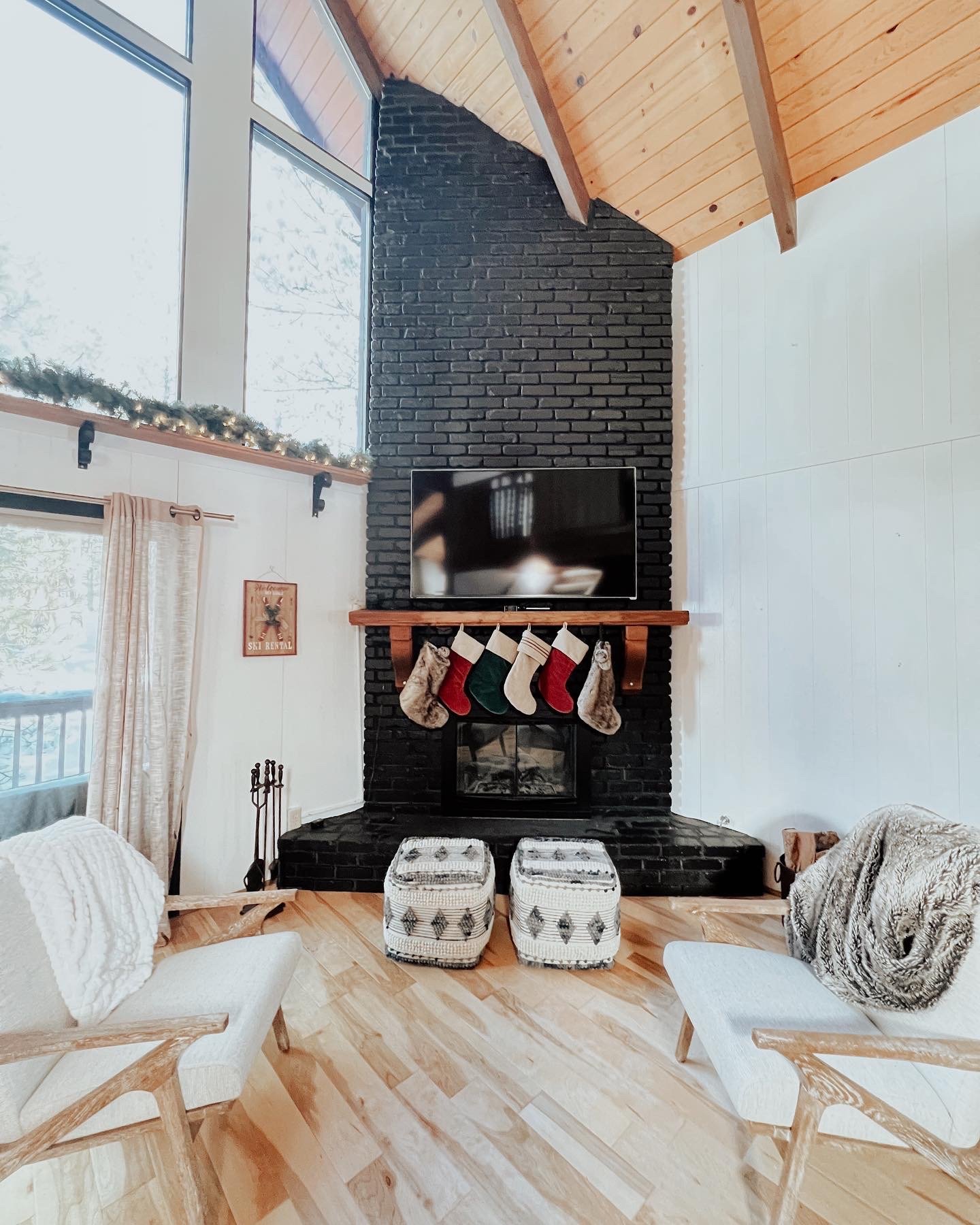 Tips for Parenting In Style...
Never boring, always awesome. Keep up to date with the latest from City Girl Gone Mom.