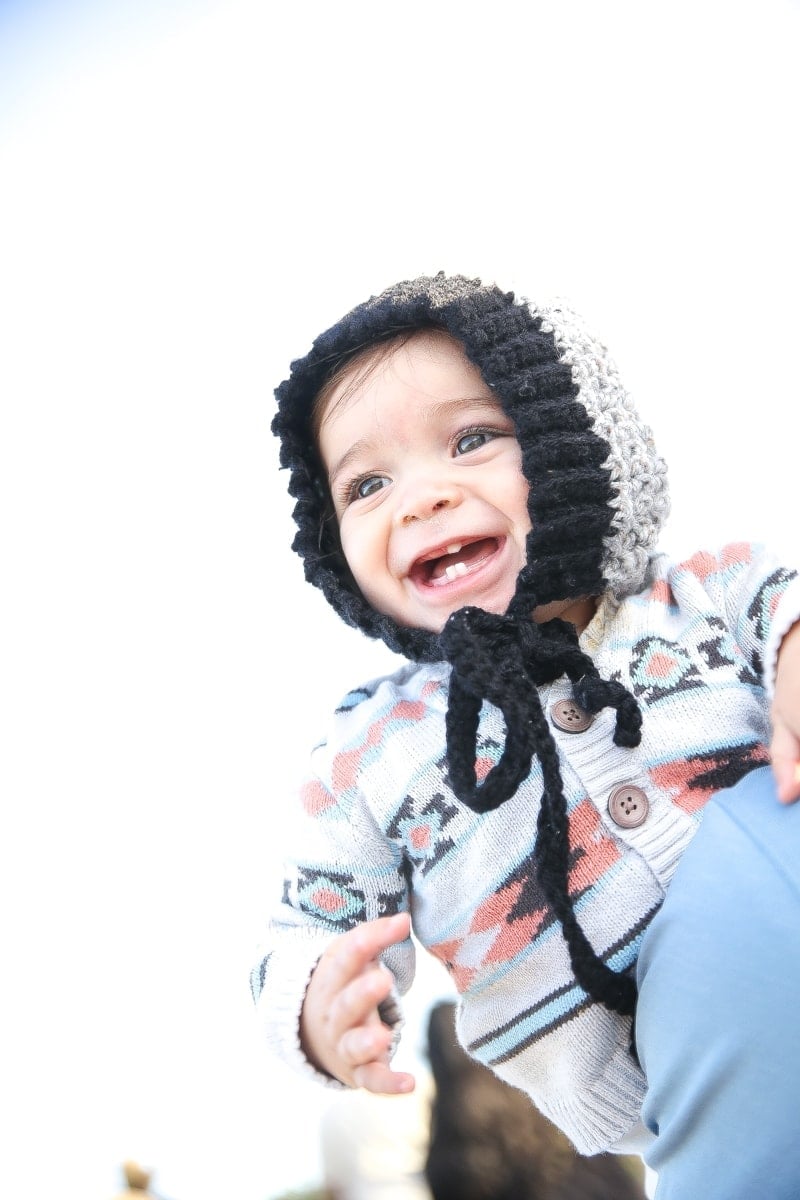 This Post is Sponsored! Thank You For Sponsoring CityGirlGoneMom!
As parents, we not only pass on our genes to our children, but we pass on our habits as well. They look to us for everything from how we treat one another, to what we eat and how we make the best of every single day. My life can be best described as a potent mix of blissful (and sometimes chaotic) mothering, wifing and creating. And at all times, I have the eyes and ears of my four mini spectators watching, listening and learning straight from their mom source. However, with all that they observe, there are a few routines that are non-negotiables in our household, designed to instill healthy habits. At the top of the list? Best practices with oral hygiene (or simply brushing teeth twice a day).
Oral hygiene was always important to me, until one day it became an absolute focus, a priority and topic of conversation in my everyday life. You see, Bobby was a dental student at NYU when we first met. The minute I found out he was going to be a dentist, I naturally wanted him to think I had a great smile. Most people, when dating someone they like, aim to make a long lasting first impression. Whether it's enjoying the great outdoors or displaying a love for music, whatever the case is, you want to impress the one you're with. Who knew in my case, it would be displaying the perfect pearly whites to win over my man?!
Now that we have four kids and daddy is their dentist, one would think the children would jump at, "go brush your teeth." Instead, at times its more like a battle hymn. For any parent, it can become a struggle getting your children to brush their teeth or anything simple. There's no rule book for us to tell us what to do, but learning from other people and eventually finding your own ways of doing things is what helps. Oral hygiene should be an important aspect in everyone's lives, even kids. It is best to set a good example for them earlier on so they can carry it through as they get older. If you want to find out ways of improving your techniques of getting your children to look after their teeth, you could look into a site like https://www.sicknessnhealth.com/tips-to-help-your-child-develop-dental-hygiene/ to get tips on improving their overall dental hygiene.
With Daddy being a dentist, we didn't want brushing their teeth to be a battle. We knew we had to set a good example and introduce proper oral hygiene at an early age. Here's how we did it:
INTRODUCING ORAL HYGIENE AT AN EARLY AGE
A great way to introduce brushing teeth is with an infant finger toothbrush. Using this gentle method on our baby's gums and emerging teeth helped to ease the baby into the habit of teeth brushing. If we didn't have the finger toothbrush on hand, we wrapped gauze around our finger, wet it and cleaned the baby's gums. We were successful with this early introduction with all of our kids.
Purchasing a pack of children's toothbrushes and letting our little ones try it out themselves was also a great practice. We all know how independent they can be, and watching our youngest give it a try as the older three are brushing makes his day. Adult supervision is imperative in this case.
Another thing to know is that children under the age of 6 should use a pea-sized amount of toothpaste and be supervised in order to develop good brushing and rinsing habits, and to minimize product swallowing.
Until your child reaches mastery at brushing teeth on their own (typcially around age 8), parental or caregiver supervision is highly recommended.
The American Academy of Pediatrics changed their oral health guidelines in late 2014 to advising parents to begin using a smear of fluoride toothpaste at tooth eruption. It's important as a parent to know the fluoride ingredients and visiting the KnowYourOTCs website is a great parent resource. As always, read the labels before you give anything to your child.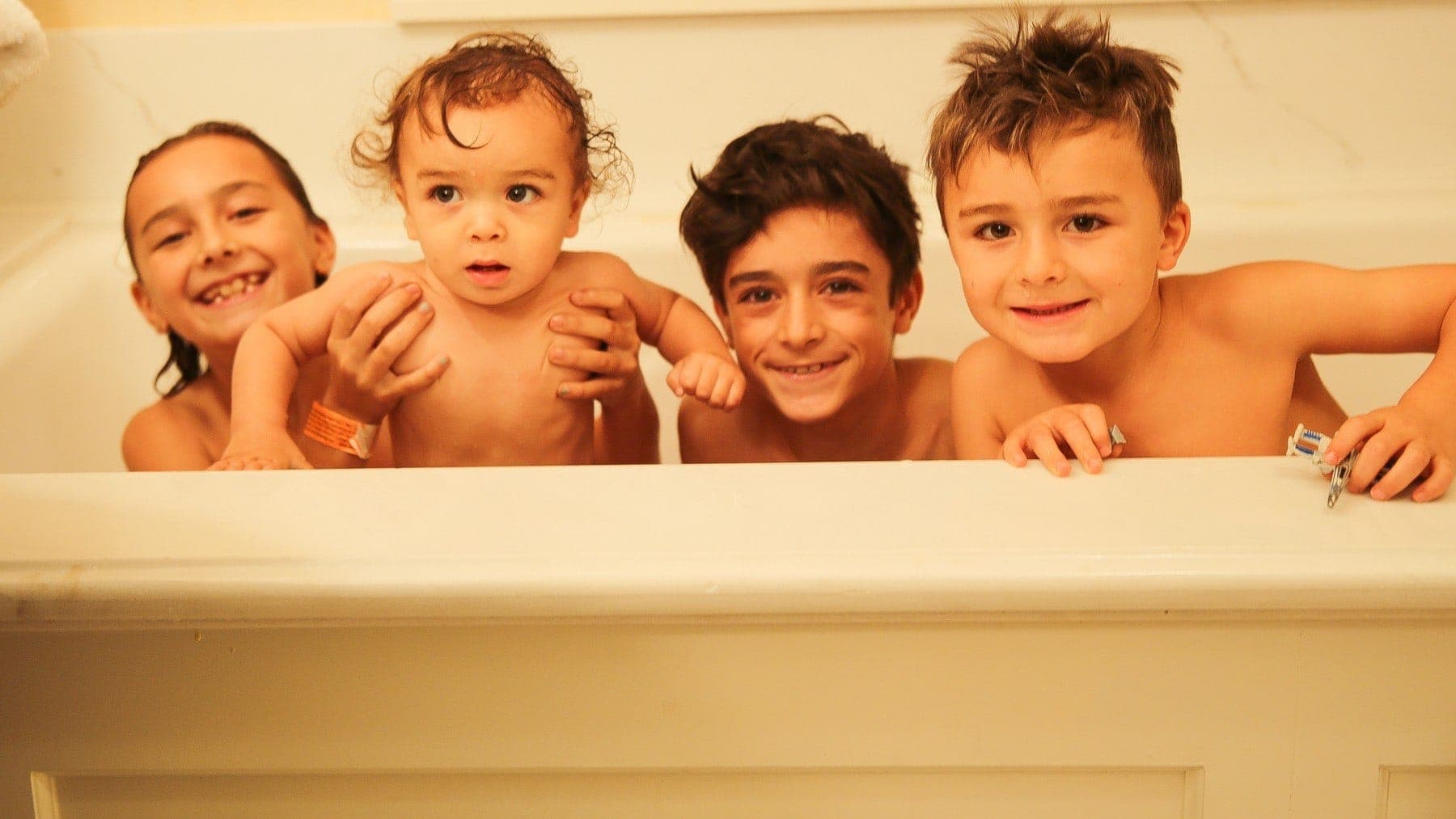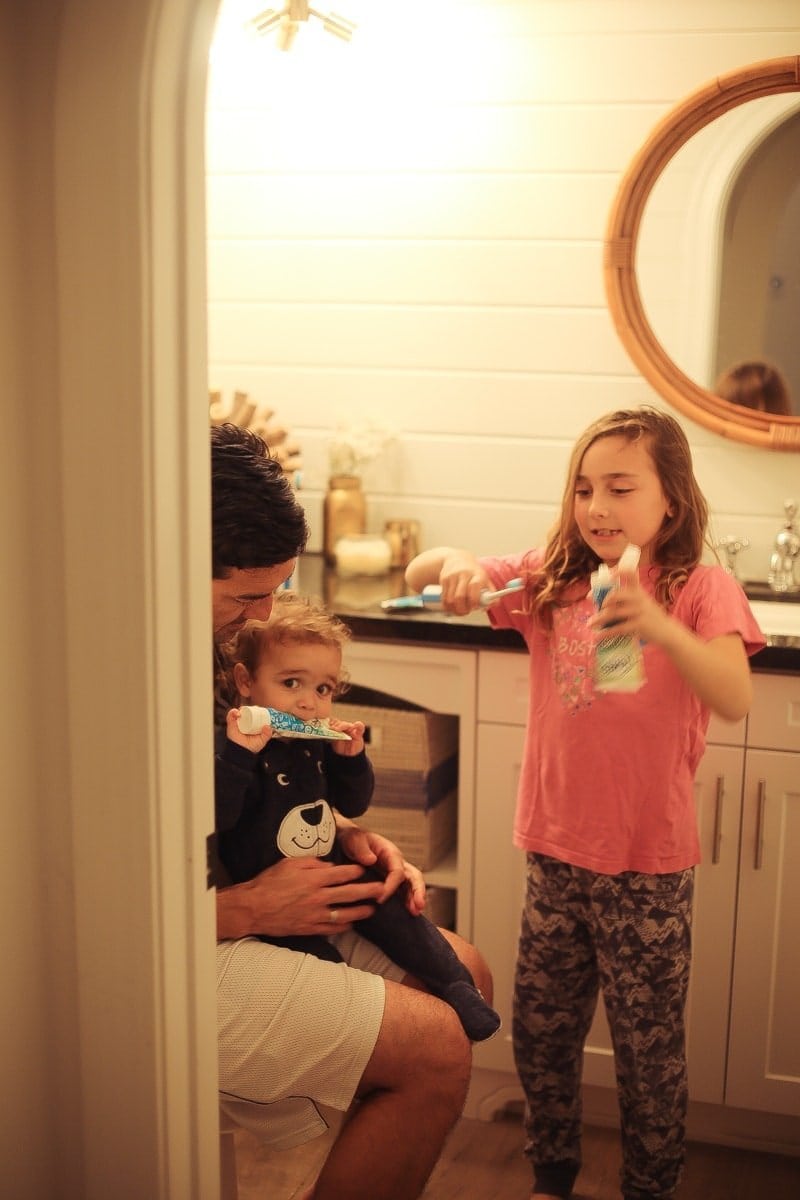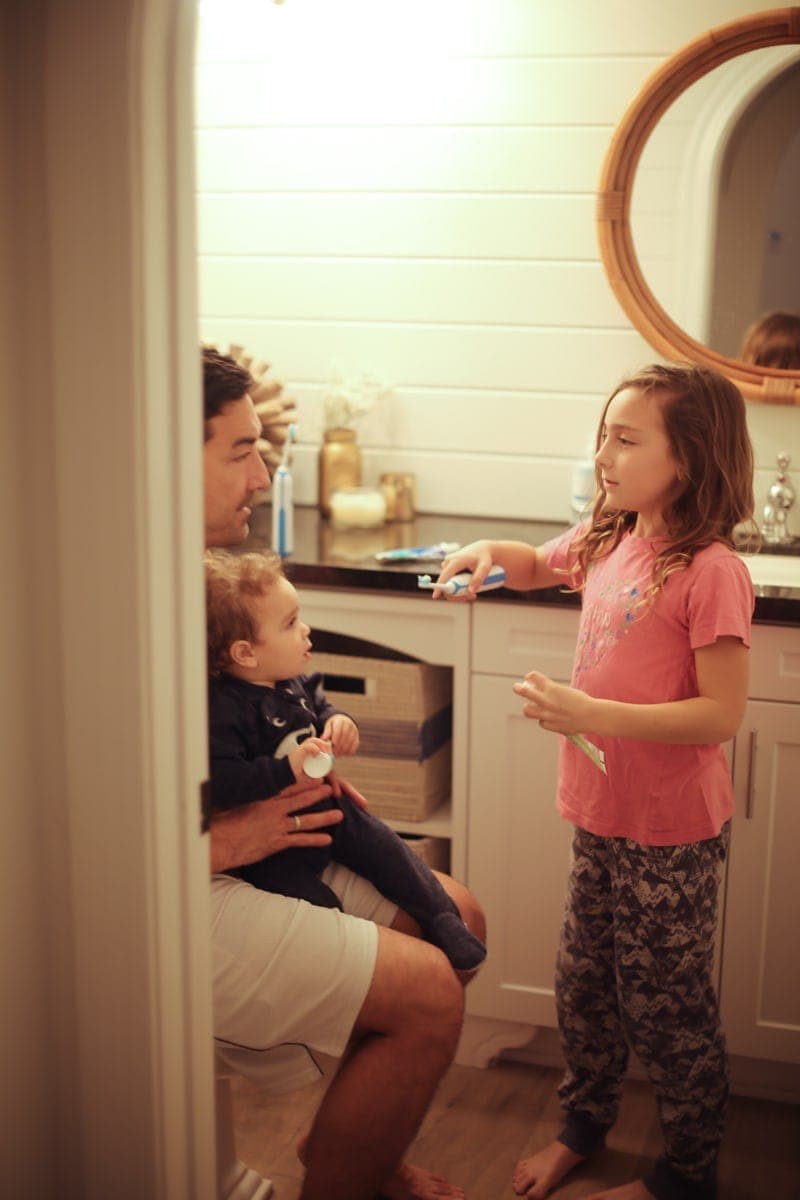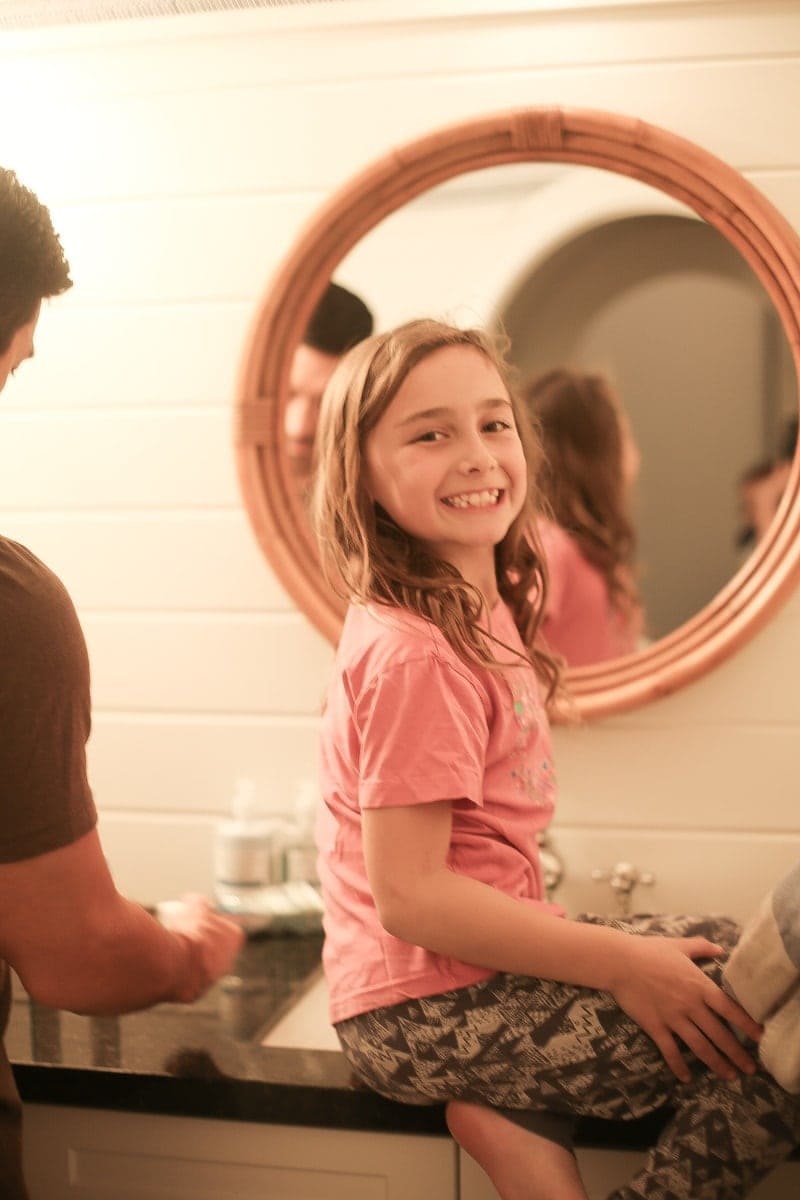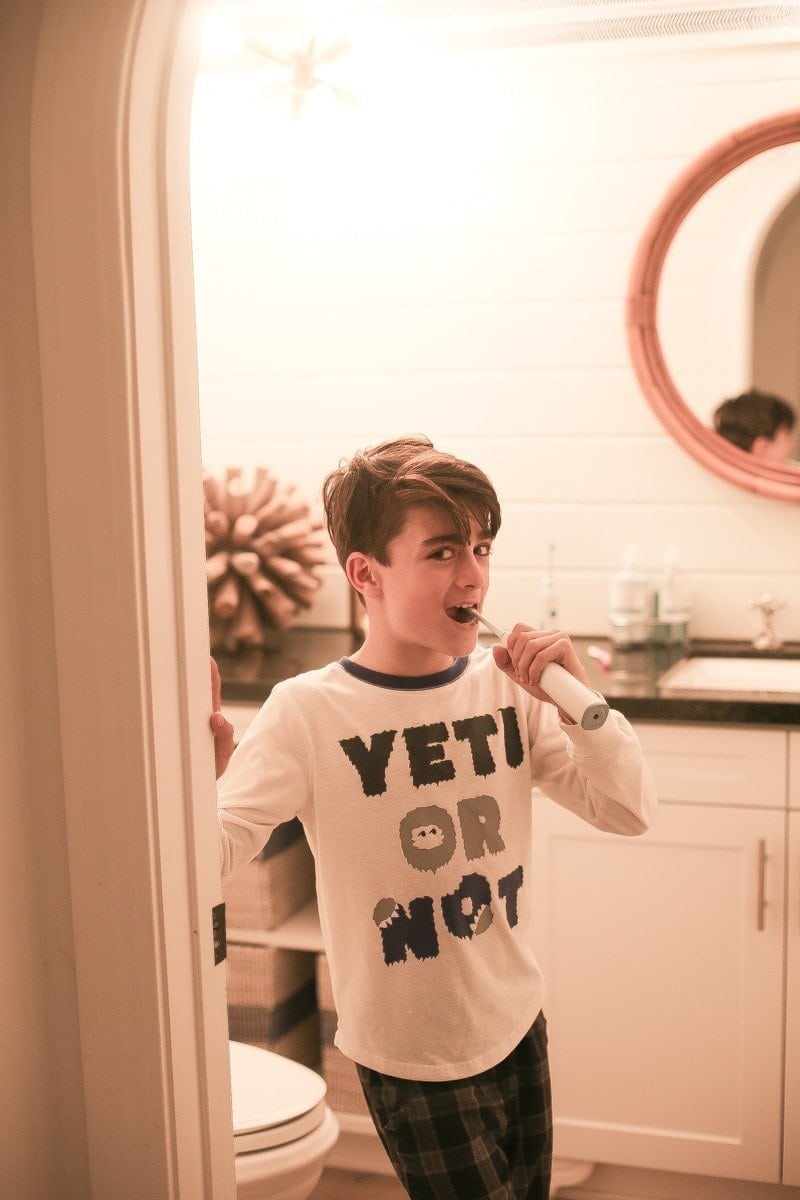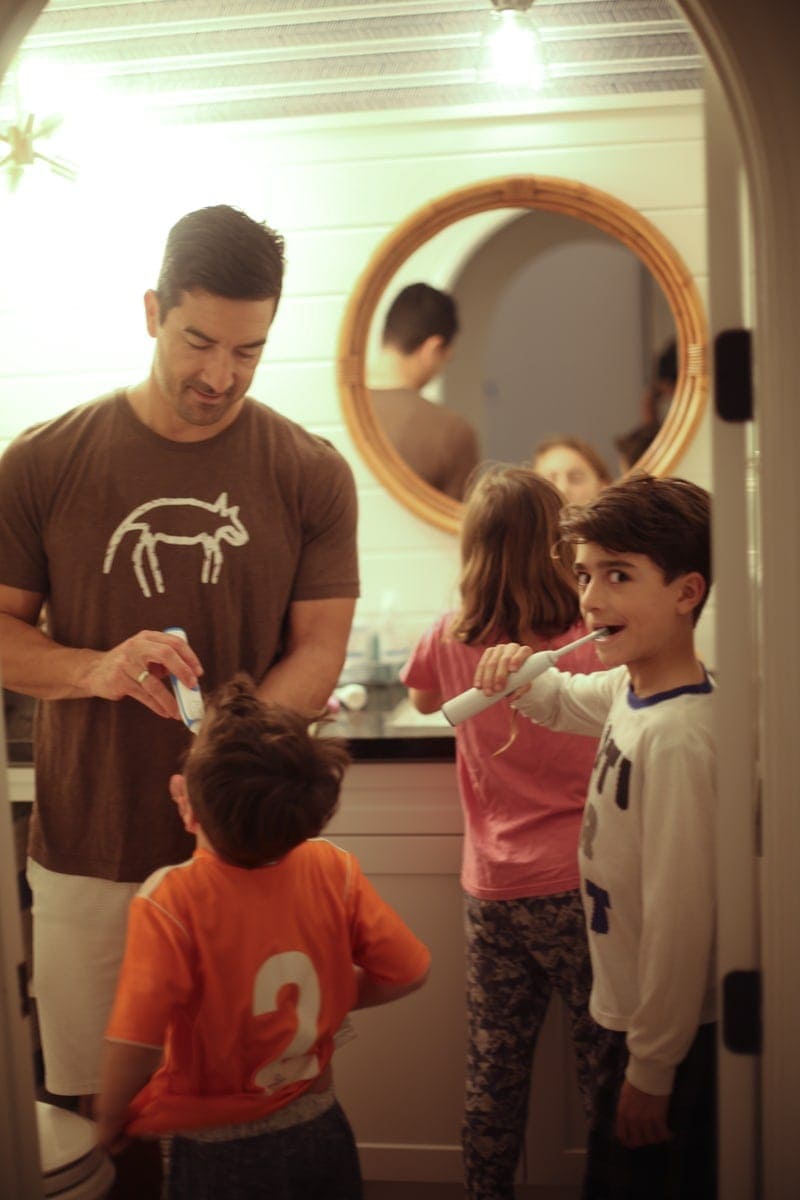 The American Dental Association declared February as National Children's Dental Health Month and with Valentine's Day around the corner, its great time to raise awareness with so much Valentines Day candy coming their way. According to the CDC, at least 20% of children ages 5-11 have at least one untreated decayed tooth. Tooth decay is the most common chronic disease in kids age 6-11 and adolescents age 12-19.
TWO GREAT METHODS FOR ENSURING A PROPER TEETH BRUSHING SESSION
As a family, we use Children's Sonicare Toothbrushes. The timing feature leaves nothing to guess when it comes to exactly how long they should take brushing their teeth – two minutes. It also beeps after 30 seconds and alerts them when they should move to the next part of their mouth. If using an electric toothbrush is not an option, then make sure you use a timer. Per Dr. Bobby, it's really important!
Another great trick we have is Allie The Alligator, which is a great way to demonstrate proper brushing habits. All of my children love taking turns with Allie and we can show the kids the four sections they should brush during the 30 seconds.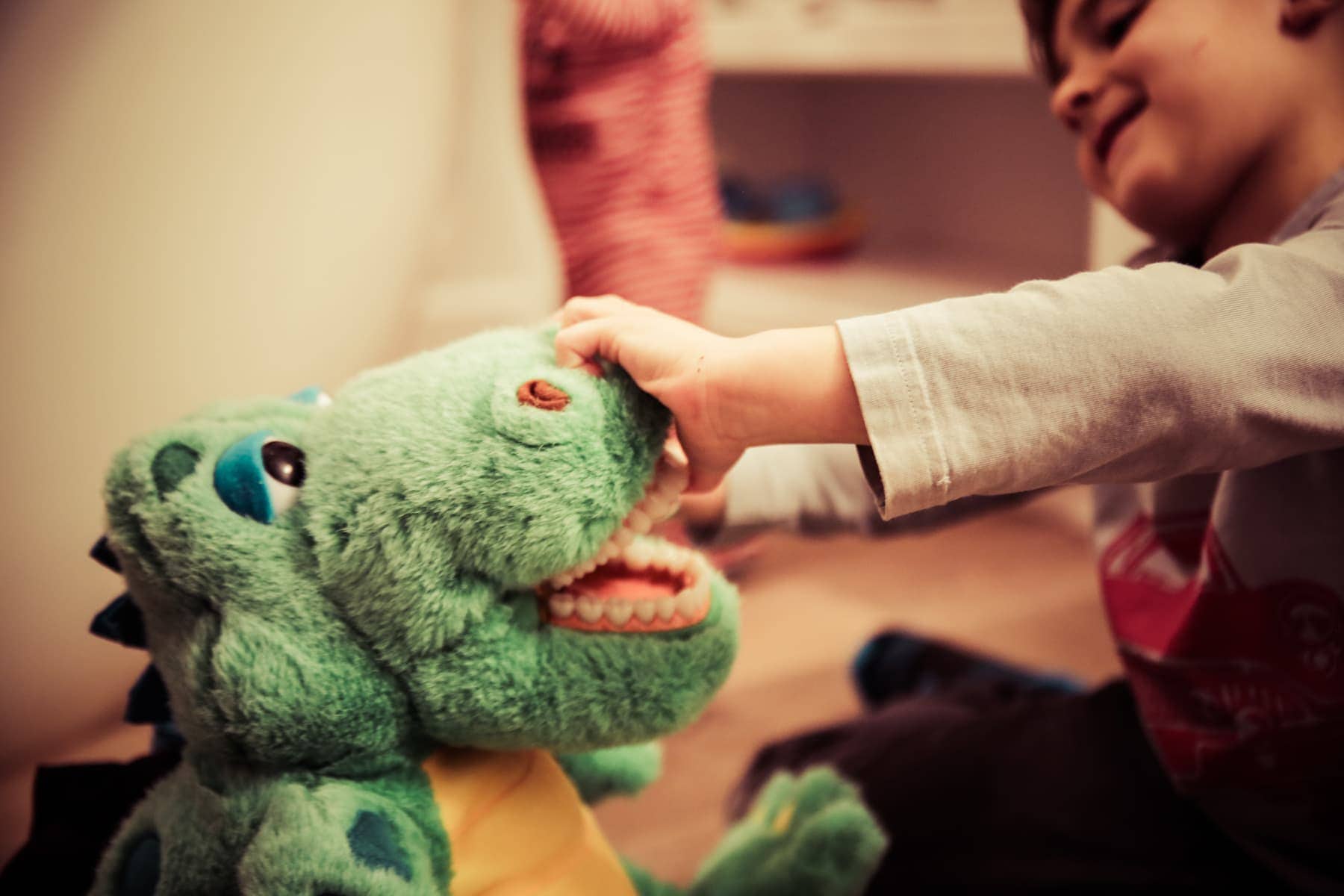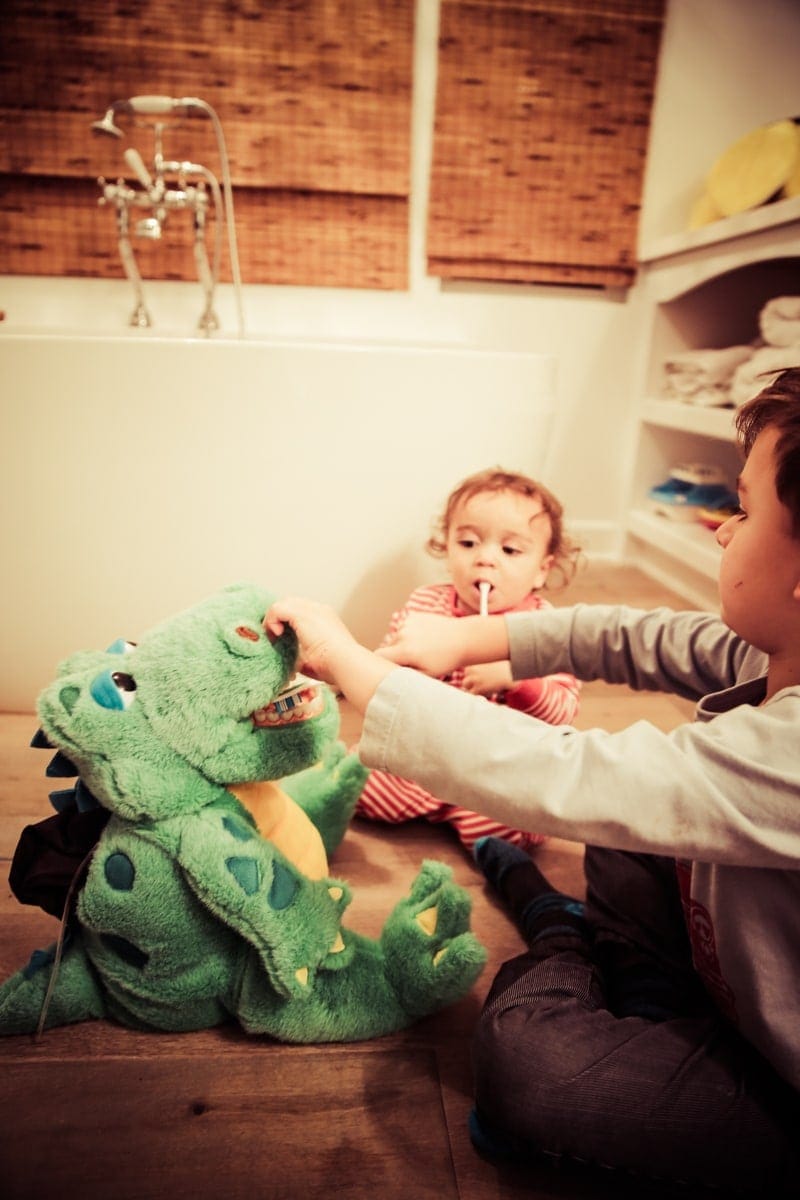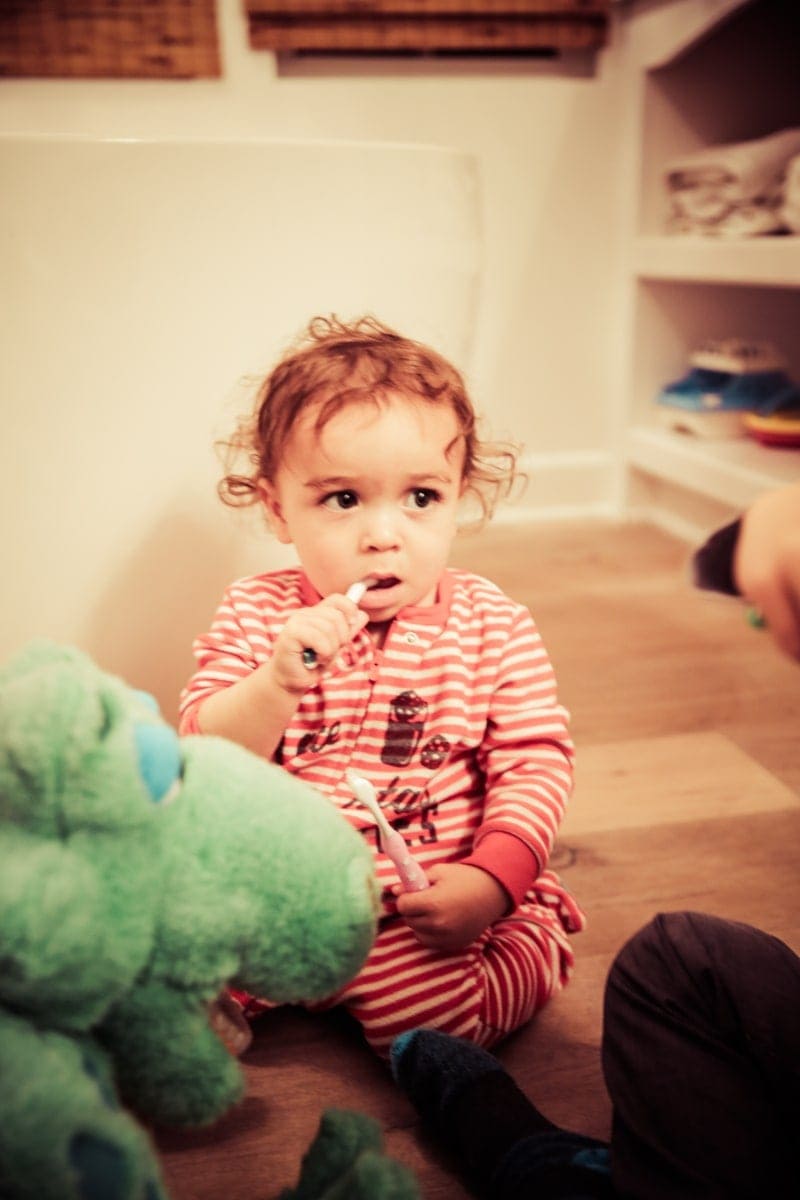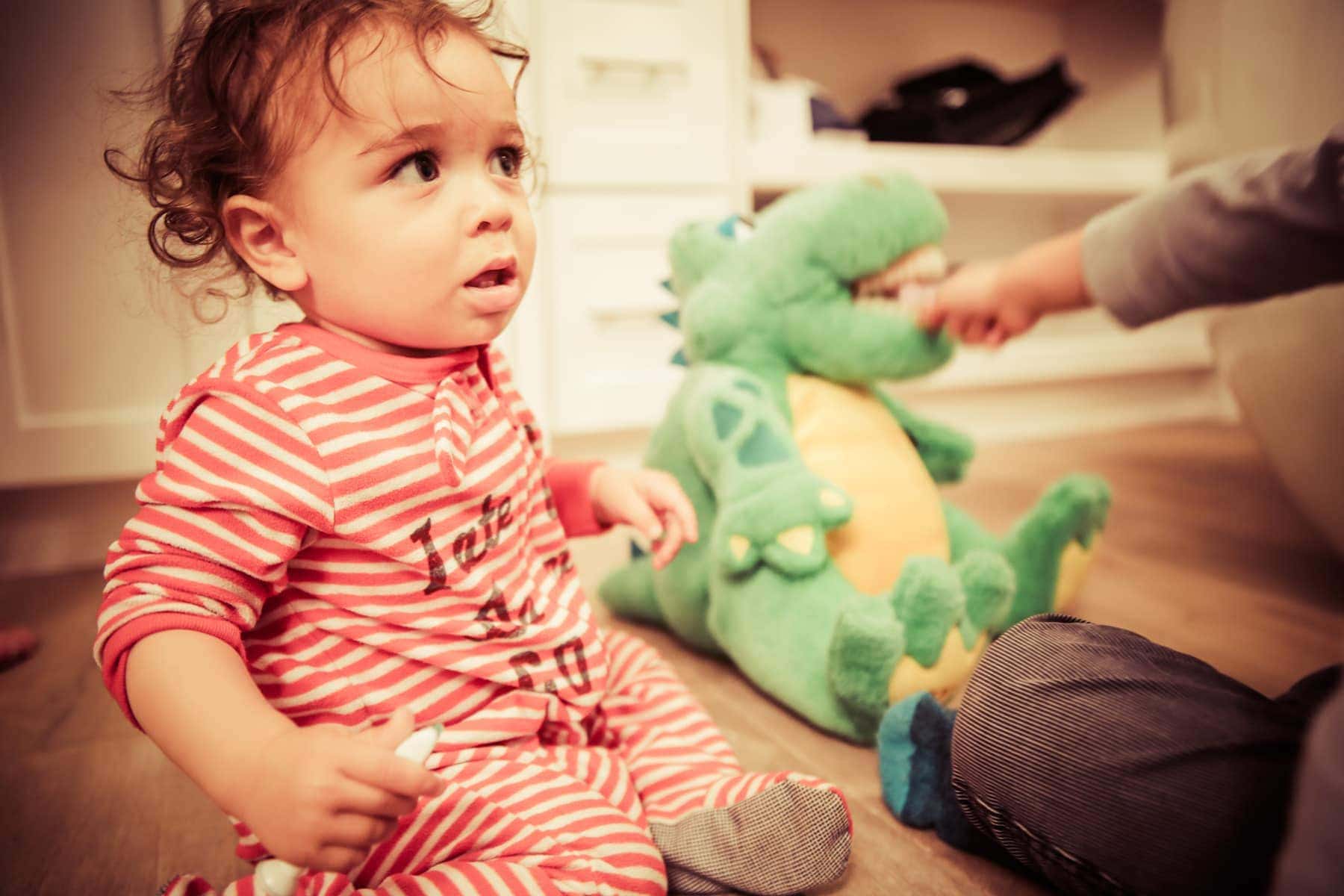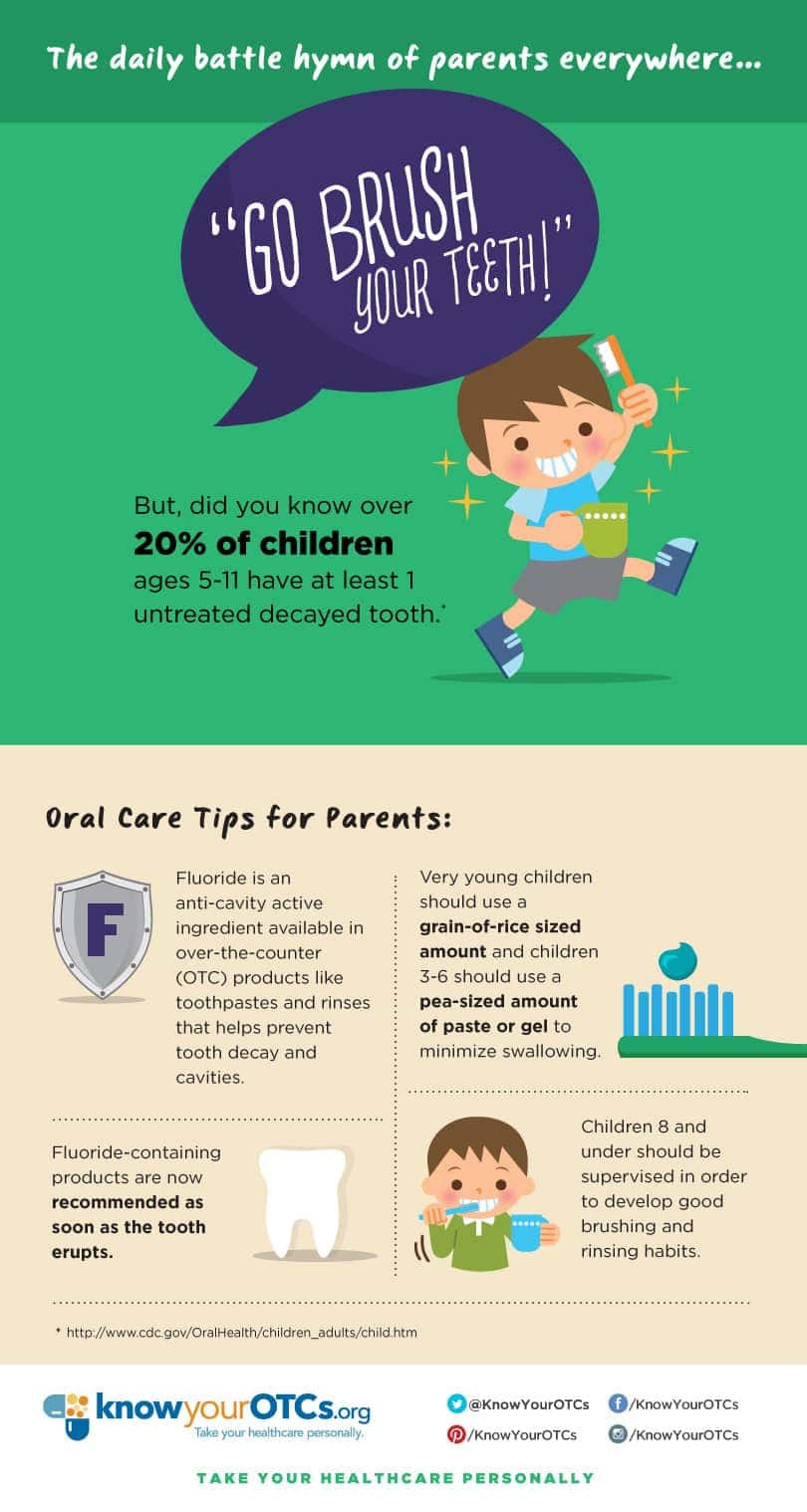 Although not every family is fortunate enough to have a live-in dentist, we can all instill good habits. With so many exterior influences, it's easy for kids to slip out of a routine and into bad habits if we're not careful and consistent in our actions and messaging. Friends, birthday parties, holidays and TV watching can all be sources for temptation, making good choices for kids sometimes seem impossible. As a child, I can remember the elation a bag of skittles or starburst would bring, and although in today's information age and knowing just how bad a sugar infused diet can be, the candy is still around no matter where we turn. As much as I want my children to be resilient, I want them to naturally make healthy choices. As their parent, I want them to develop life long habits like excellent oral hygiene, and it starts well before you see teeth. Taking care of their gums and their future permanent teeth by avoiding "sugar bugs" (as my husband likes to call sugary foods) will only benefit them. Leading by example, and being positive role models gives our kids the best opportunity to grow into happy, health-conscious little citizens. The cool part? The proof is in their smiles!
This Post Has Been Sponsored, Thank You For Sponsoring CityGirlGoneMom. I have been compensated by the CHPA's Educational Foundation, KnowYourOTCs,
but all opinions are my own.
Tips for Parenting In Style...
Never boring, always awesome. Keep up to date with the latest from City Girl Gone Mom.