It's no secret the Schaffer Six are suckers for a good family vacation. So, after a week of lacrosse tournaments and feeling fancy from our sweet road trip to Sonoma powered by a Platinum Escalade, we decided to stop at the Ritz Carlton in Lake Tahoe. It was a totally spontaneous decision—the kind that makes for lifelong family memories and travel mishaps that you laugh about years later.
Listen, if Aunt Betty didn't buy a cabin here in the 1970s when prices were a fraction, do yourself a favor and splurge if you can. For three amazing nights, Bobby, the kids, and I soaked up the sun and went wild enjoying those hot days of midsummer. The panache and sophistication that is coupled with the Ritz, was so worth it—never mind Aunt Betty.
---
Lake Tahoe has a capacity of 39.75 trillion gallons of water. That is enough water to fill 60.2 million Olympic pools or supply 314 million people with 69 gallons of fresh water a day for 5 years.
---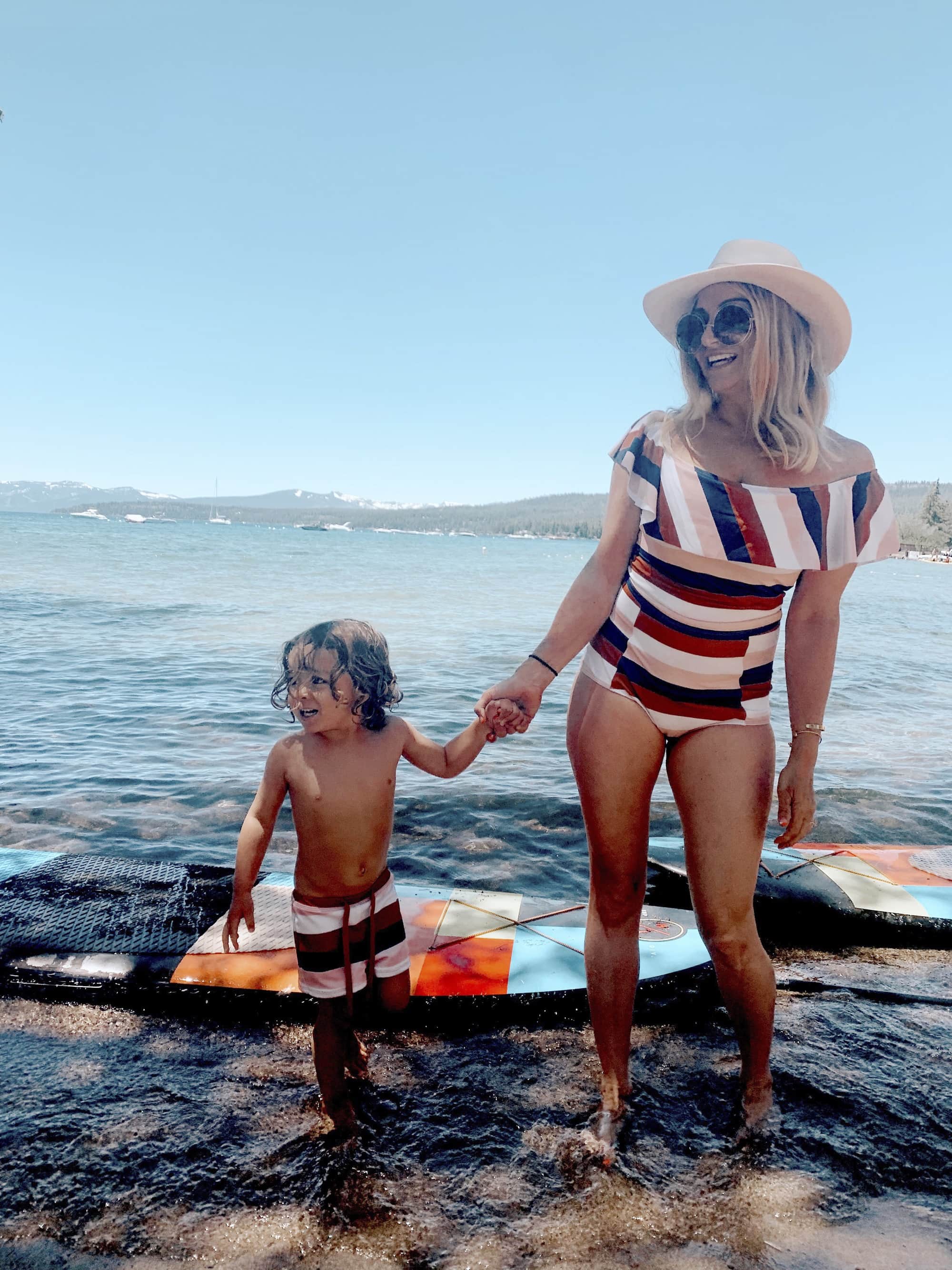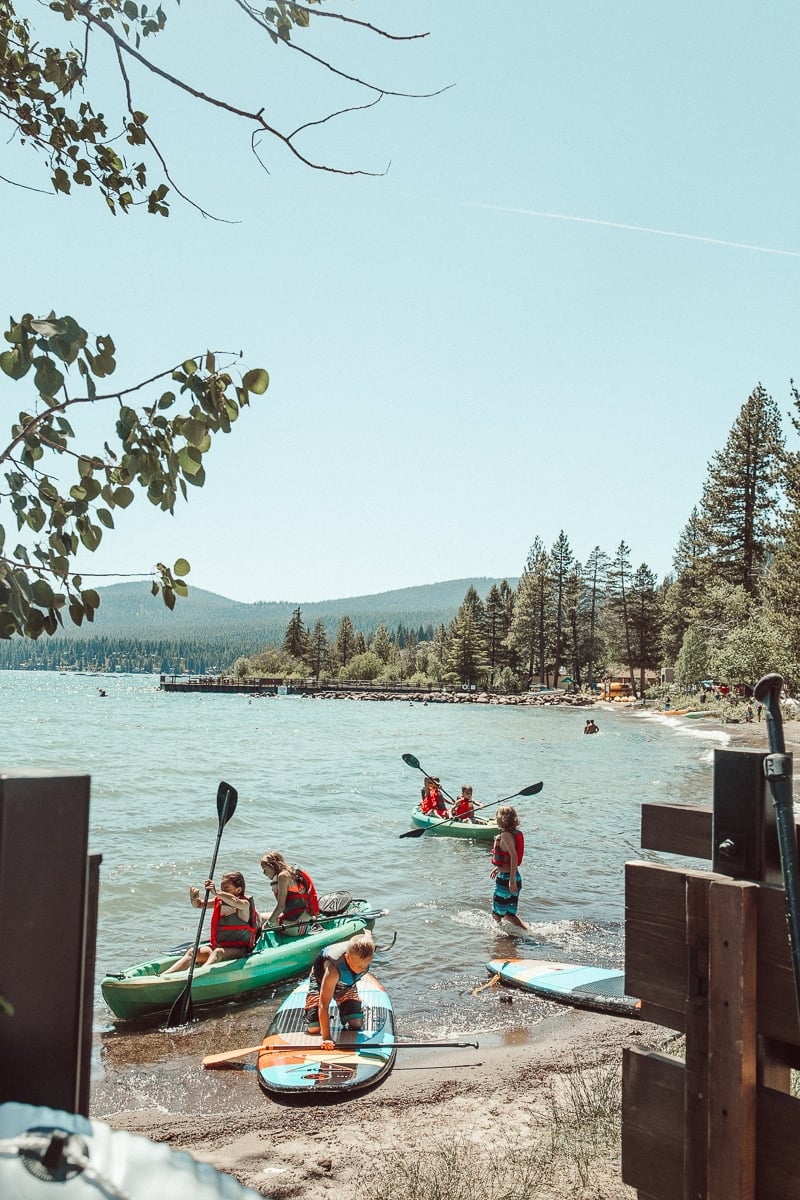 Experience Summer in Tahoe
I know Tahoe is famous for its winter sports, but for us, it really comes alive in the summer. If you've never been in the warm season, it's a must for your family. There is something about that cool crisp air blowing over a gorgeous lake in the heat of midsummer that makes for a relaxing getaway.
And while I always expect beauty and comfort at the Ritz, no two properties are exactly alike. Here, they make use of the scenery with a location that is perched high in the mountains with miles of uninterrupted views. Even with the kids screaming and running circles around me, I felt at home and at peace. It was like I suddenly had some really cool superpower to tune everything out a lot easier.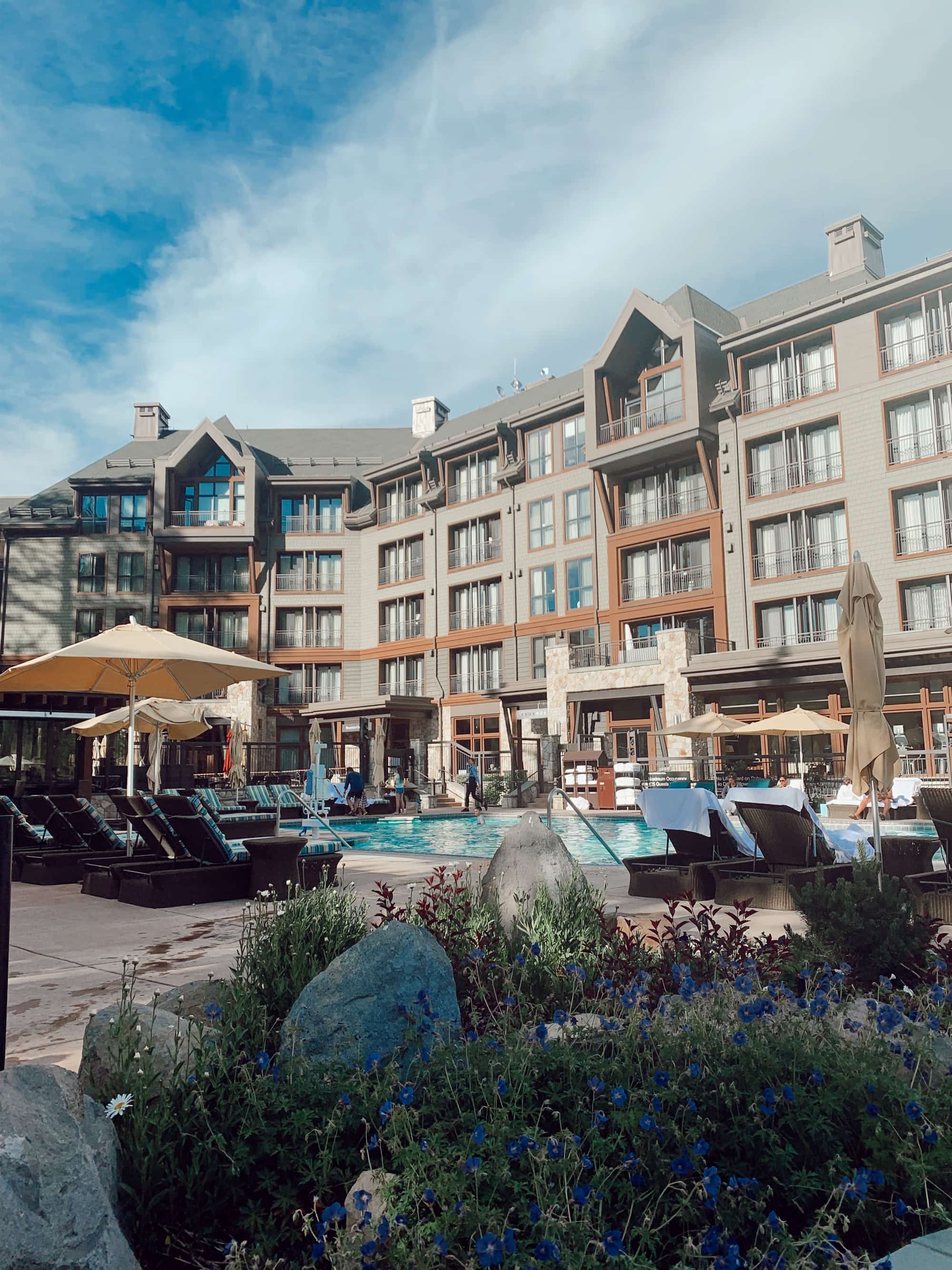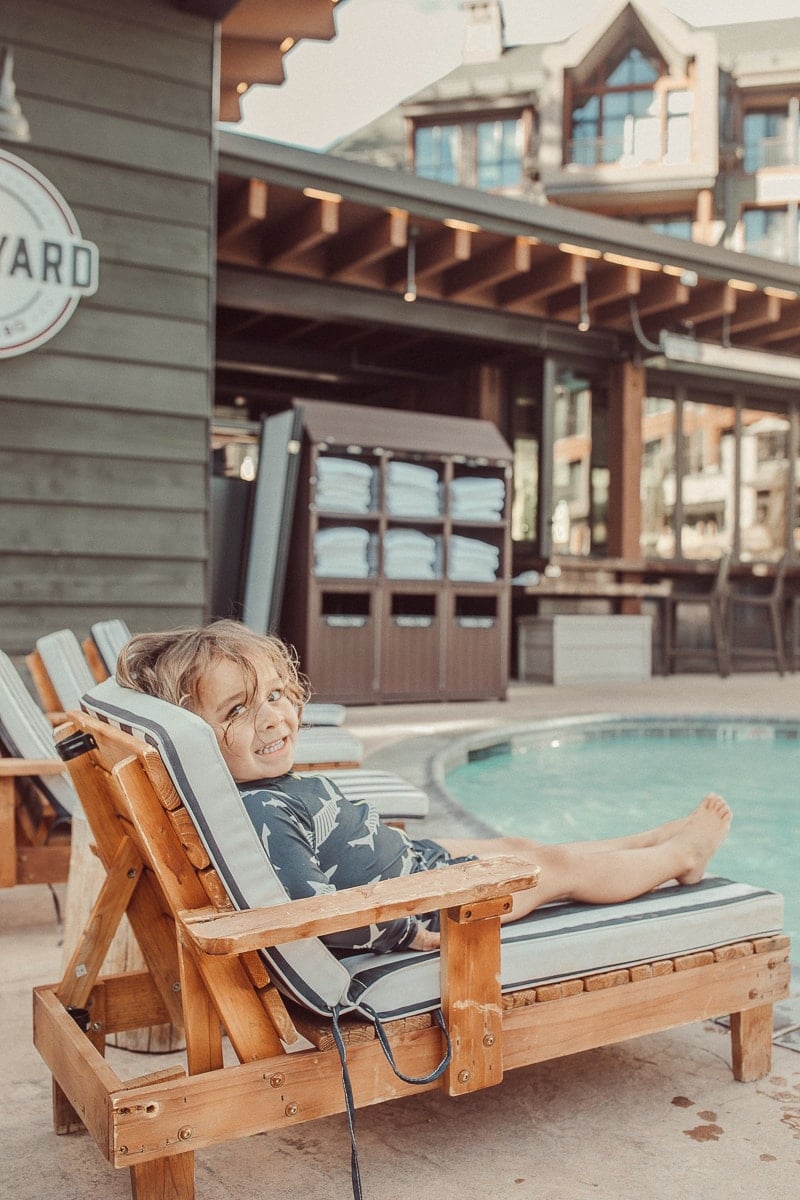 Finding the Perfect Place to Stay
The Ritz Carlton prides itself on the limitless joy of travel. When I vacation it's my preferred place to stay—it's expensive as hell, but I love it. Besides, it's not about the money, it's about the memories. Plus, I always bring my Bonvoy card when I'm traveling so I can tap into extra savings, get member-only perks and rack up those points for my next stay at the Ritz.
And like their other hotels, the Lake Tahoe location is the perfect destination for our big family. The six of us were able to stay in a one-bedroom comfortably with a great pullout couch and a roll-away bed.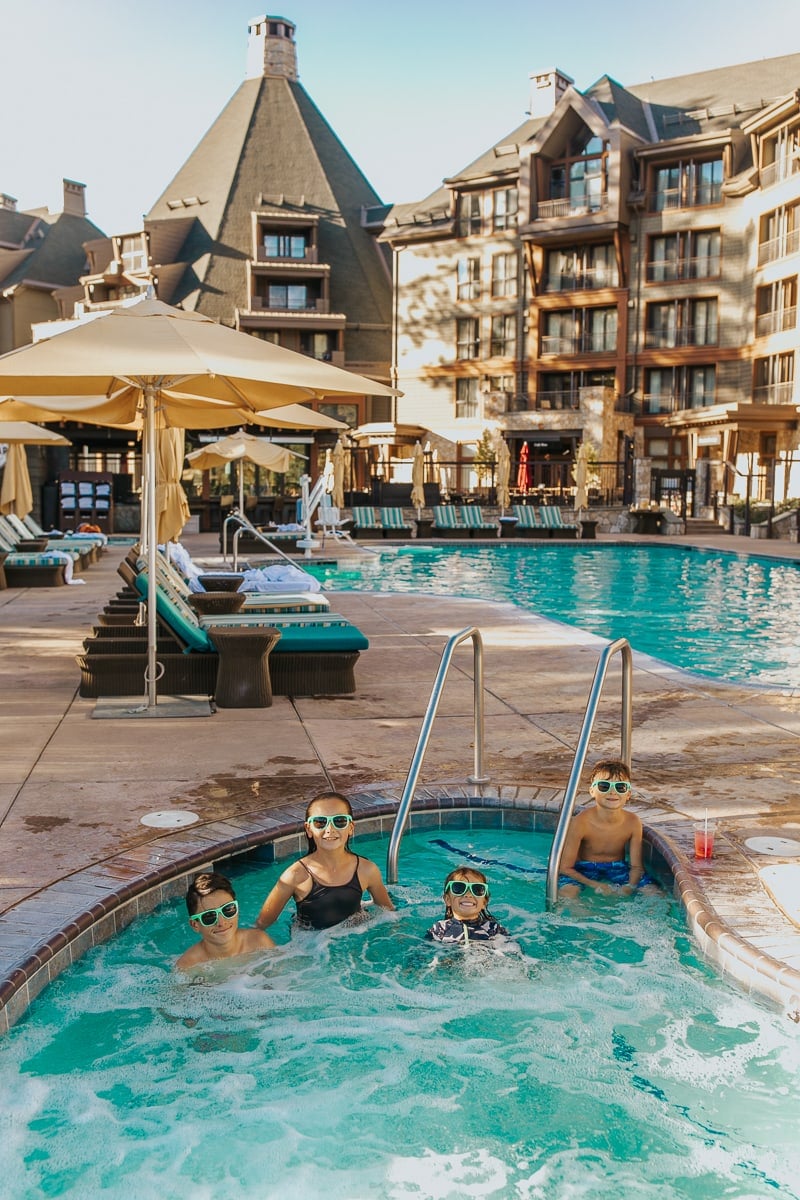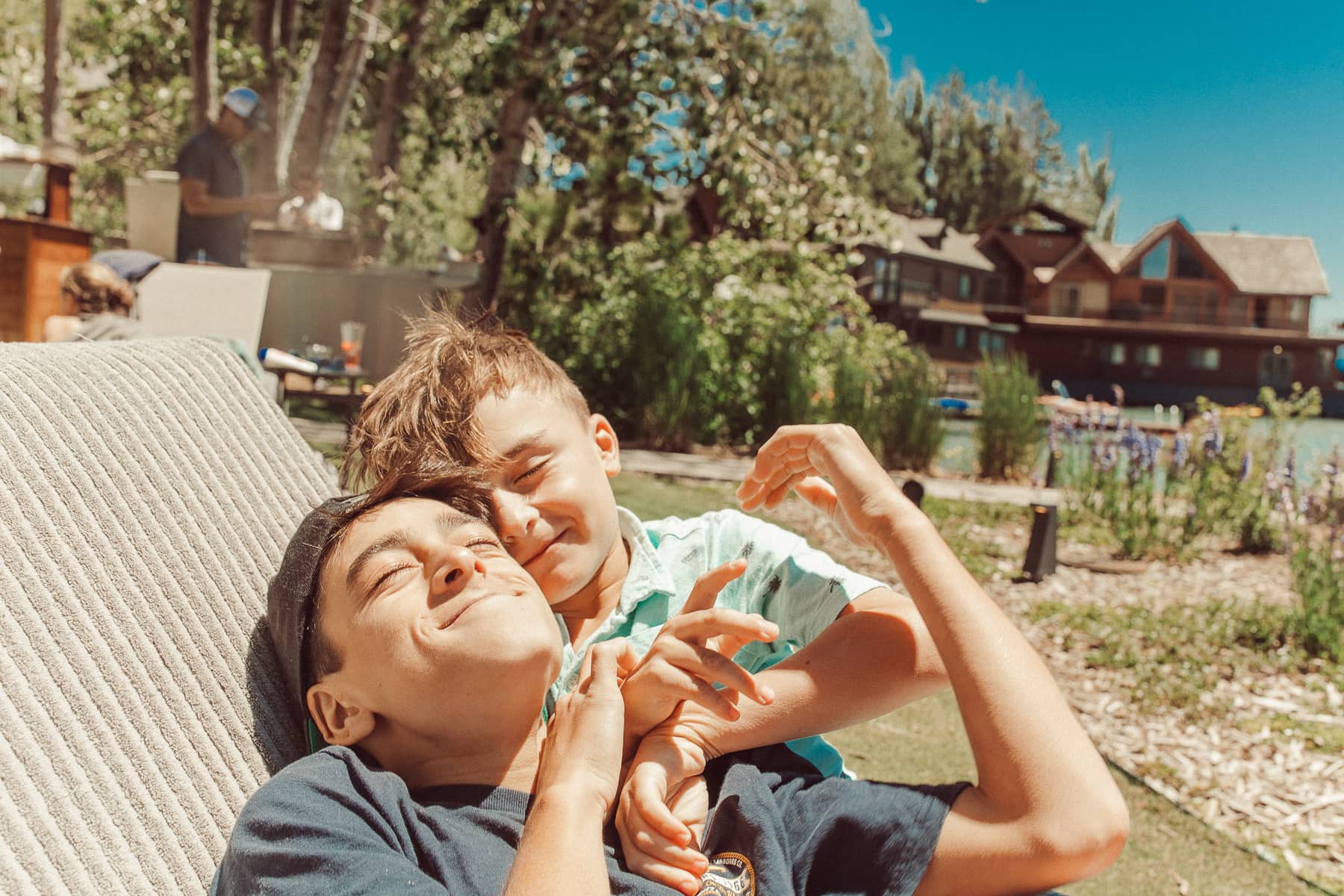 Keep the Kids Entertained
For the kids, the best part of the hotel was the arcade. Easily located on the main floor it had every game my kids could dream of. After a day of exploring it was fun to let them continue playing indoors while Bobby and I took a much-needed break. As every parent knows, we love anything that will keep the kids entertained and having a good time bonding together.
---
Lake Tahoe has existed for over 2 million years. Formed by the movement of glaciers, the valley eventually sunk in creating the Tahoe Basin.
---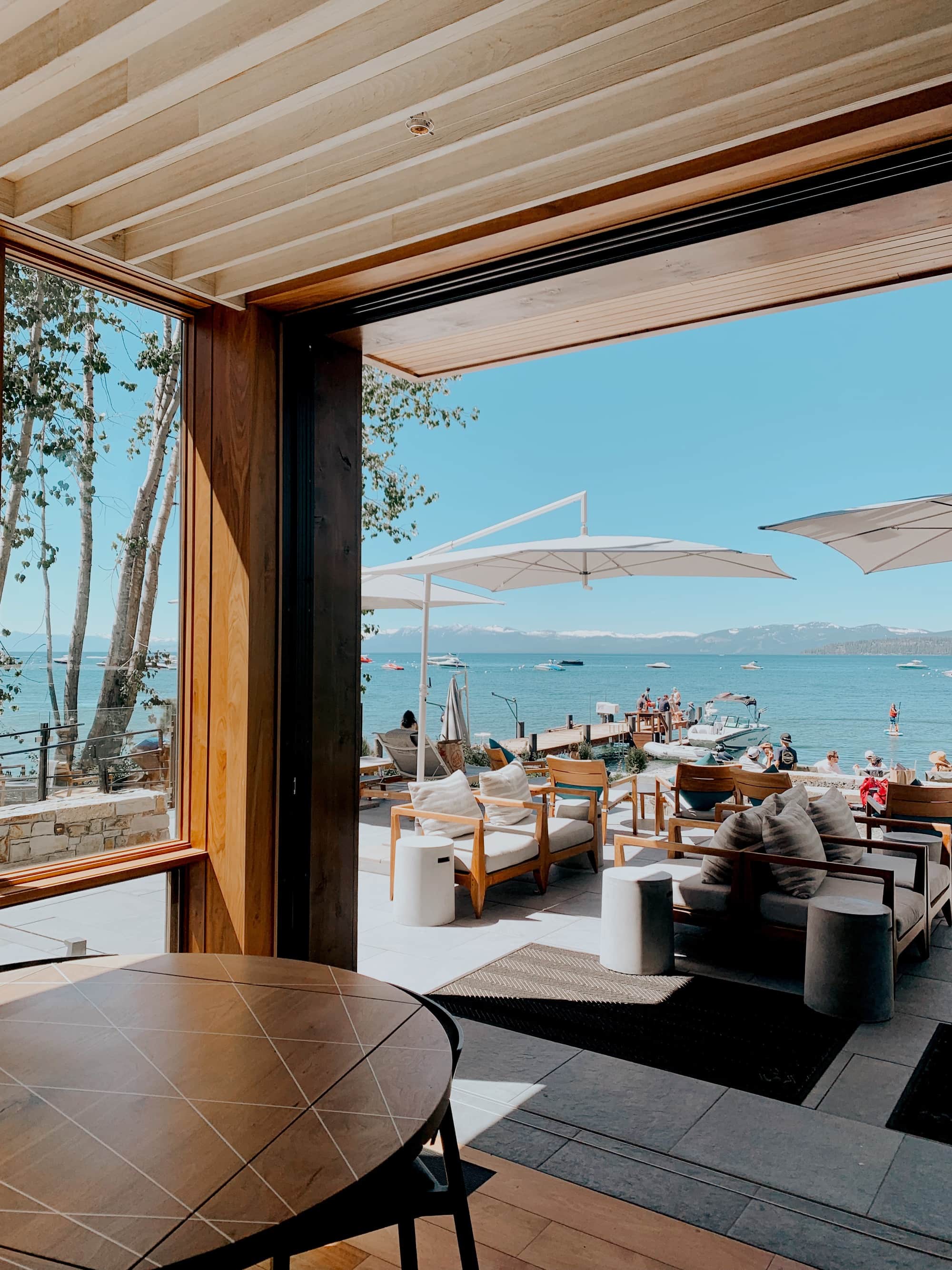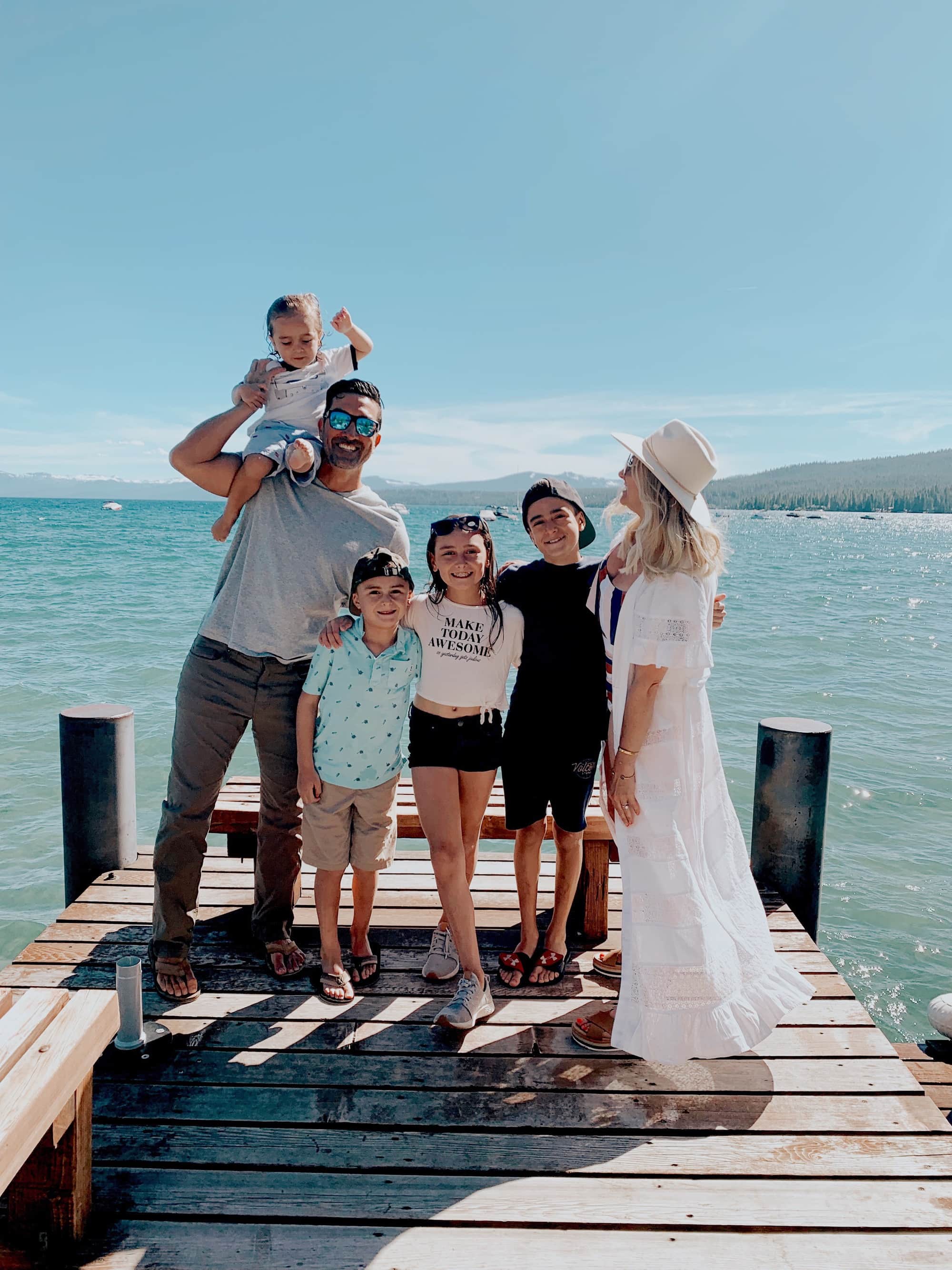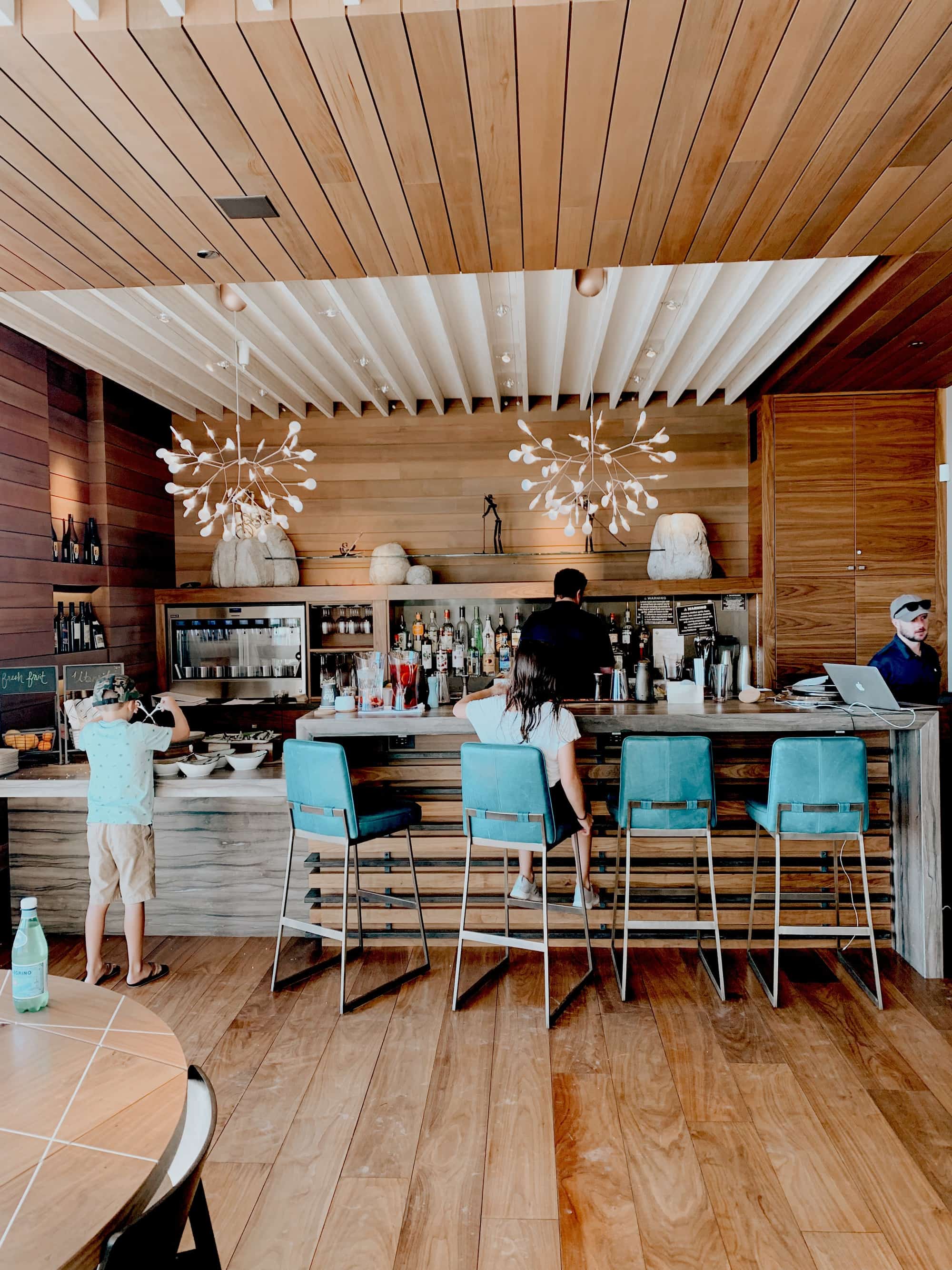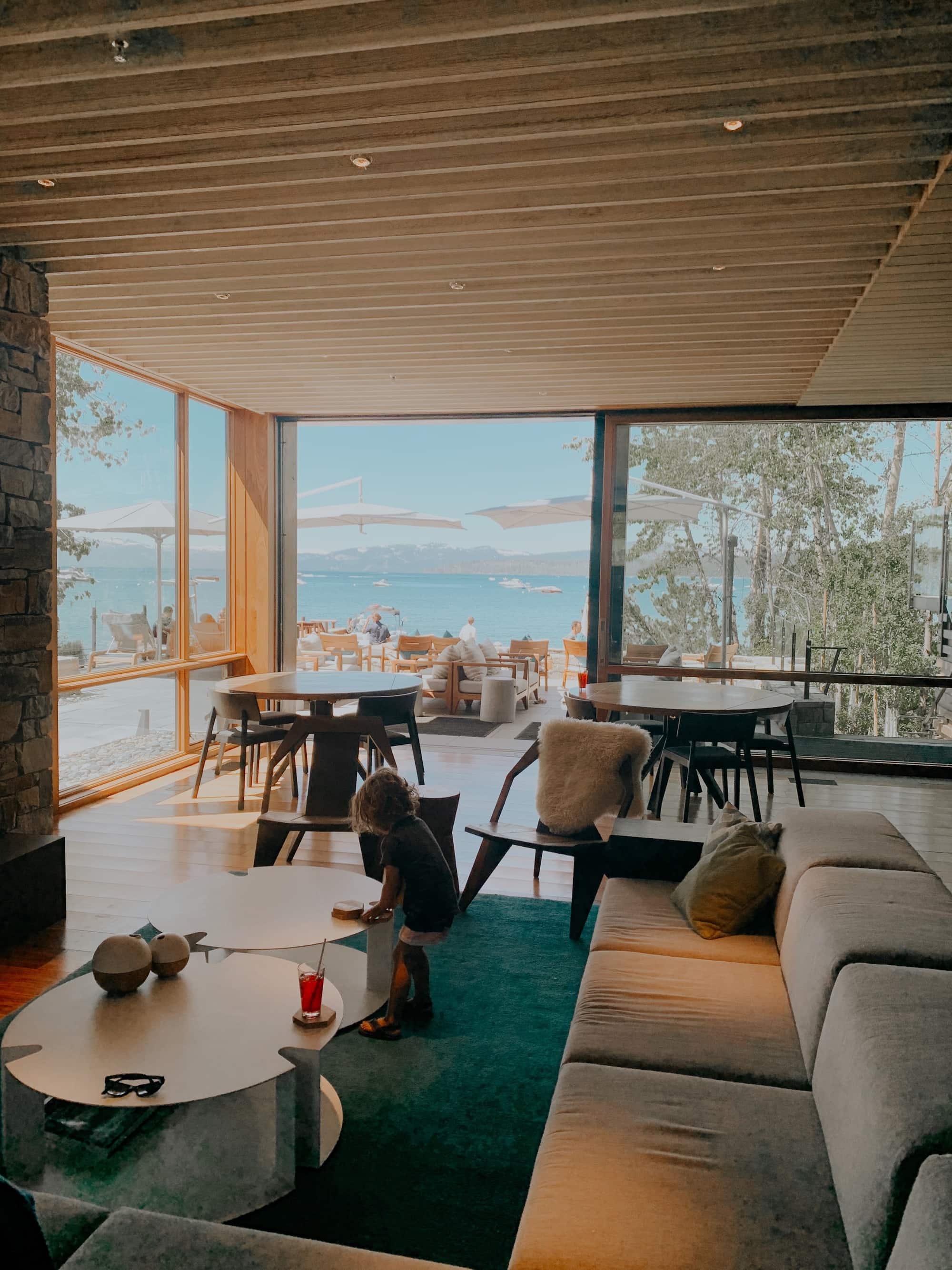 I'm the (Queen) of the World!
While the kids loved the arcade, for Bobby and I, nothing was as amazing as the property's Lake Club. This intimate waterfront venue is exclusive to Ritz guests and made us feel like royalty. Kate Middleton and Prince William royalty.
With a cap of only 40 guests per day, it also gave us that intimate family vibe we were hoping for. It's not a cheap experience, and the price can vary depending on the time of year, but I can honestly say it was worth every penny because it was first class every step of the way.
From the open bar and grill-to-order meals to the complimentary watersports and five-star hospitality, it was luxury at its finest. And doesn't every mom deserve to feel like a queen for a day?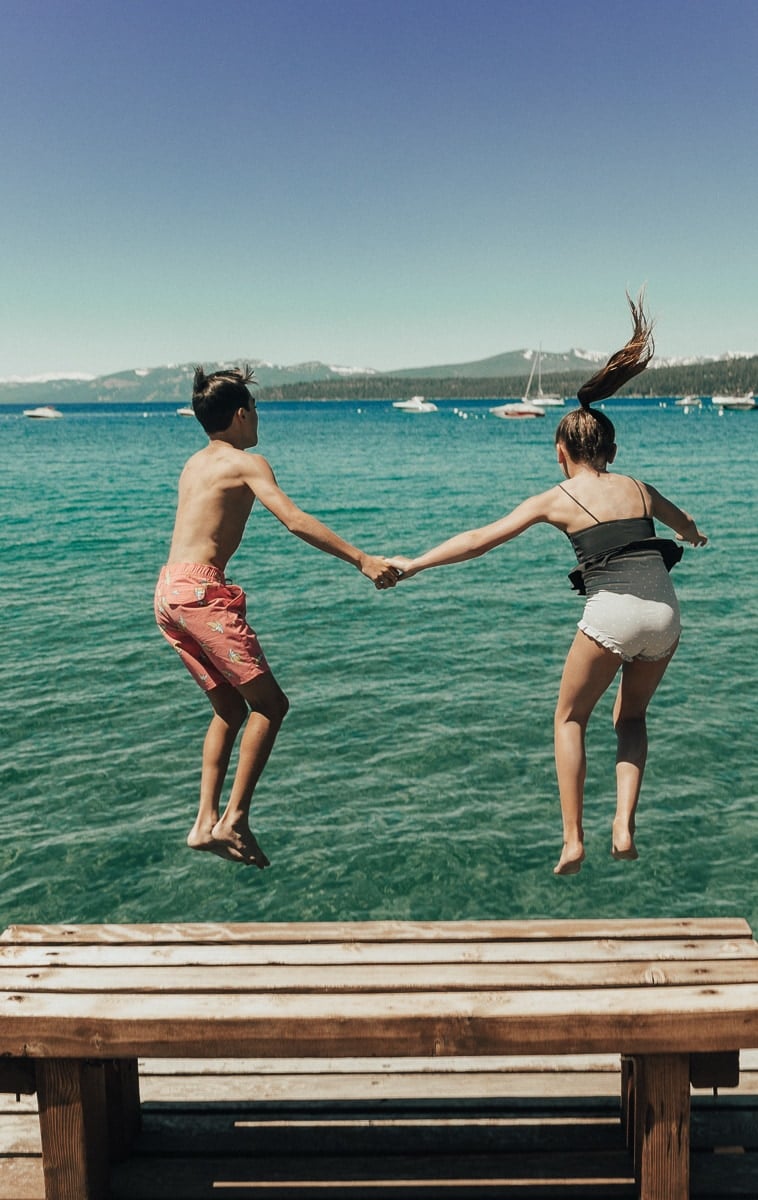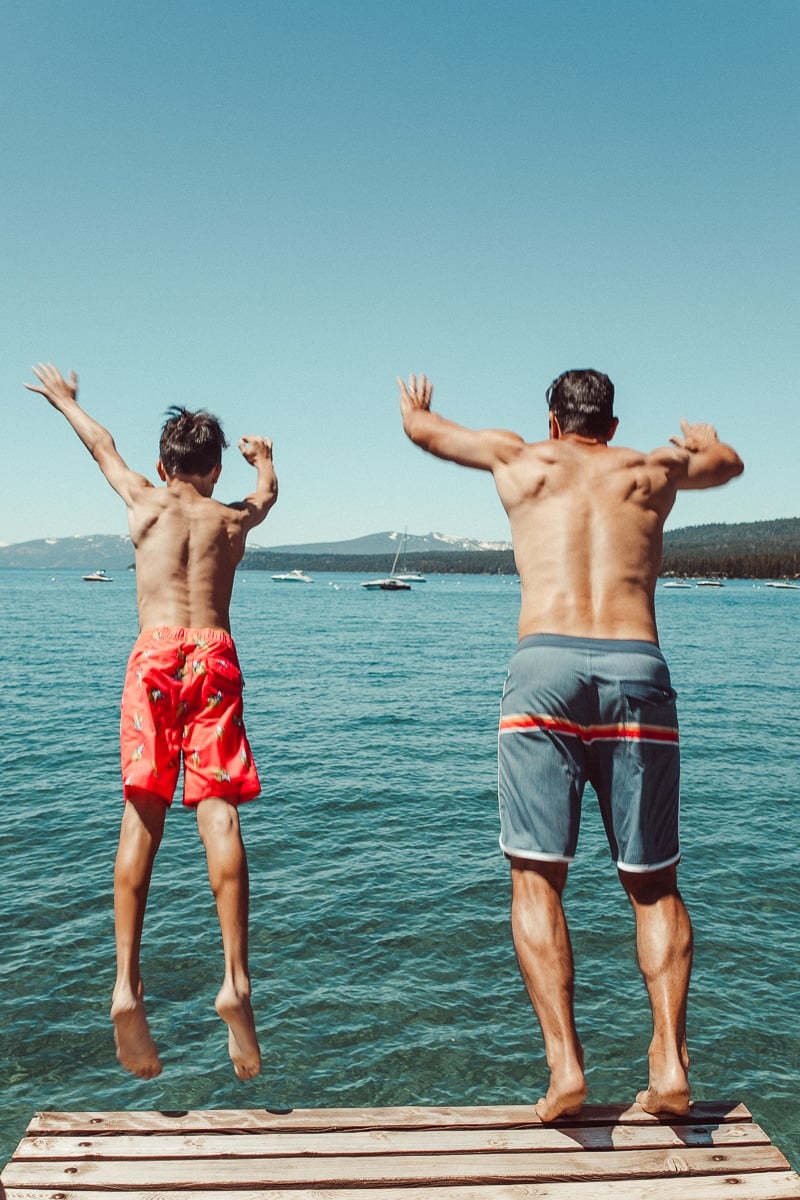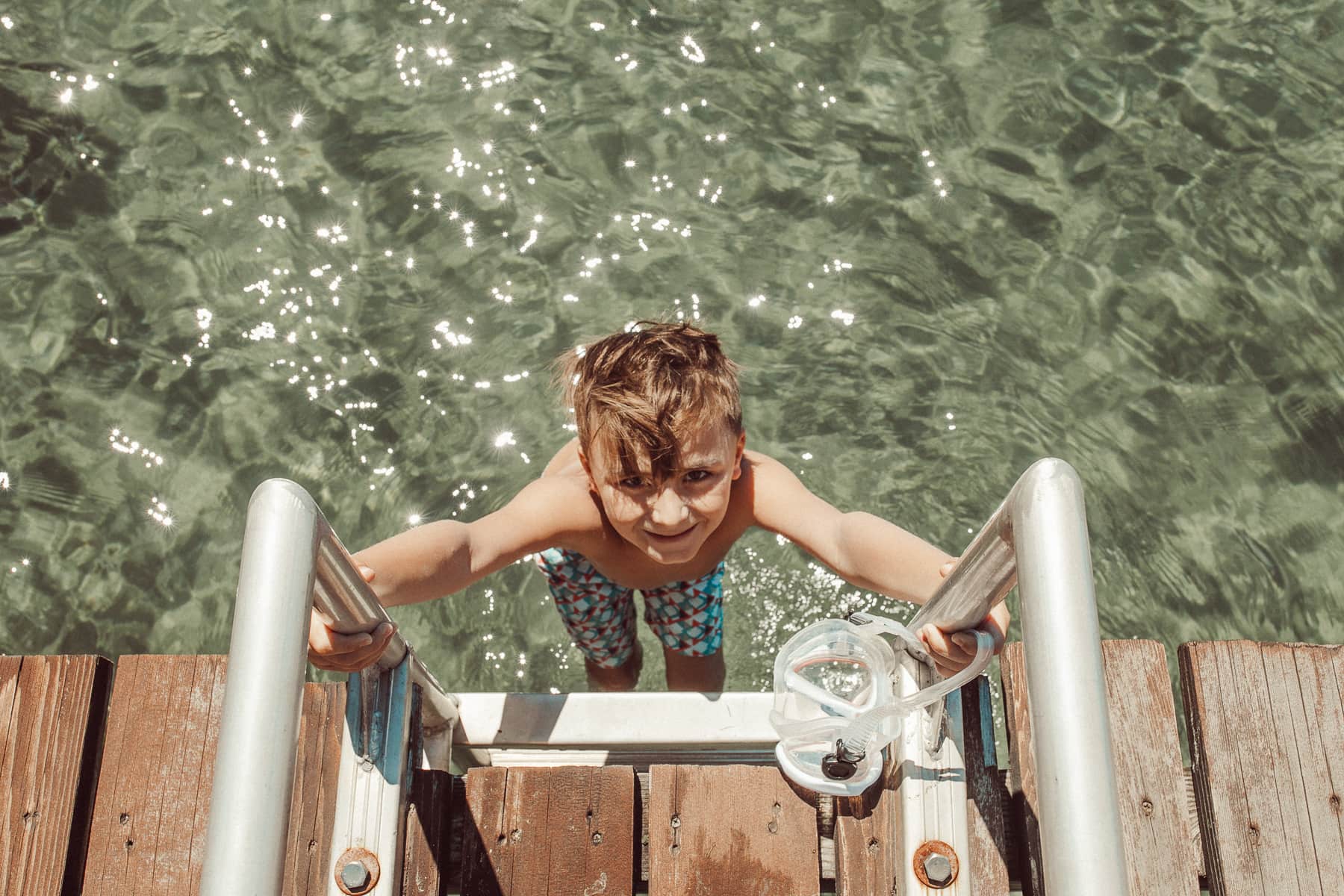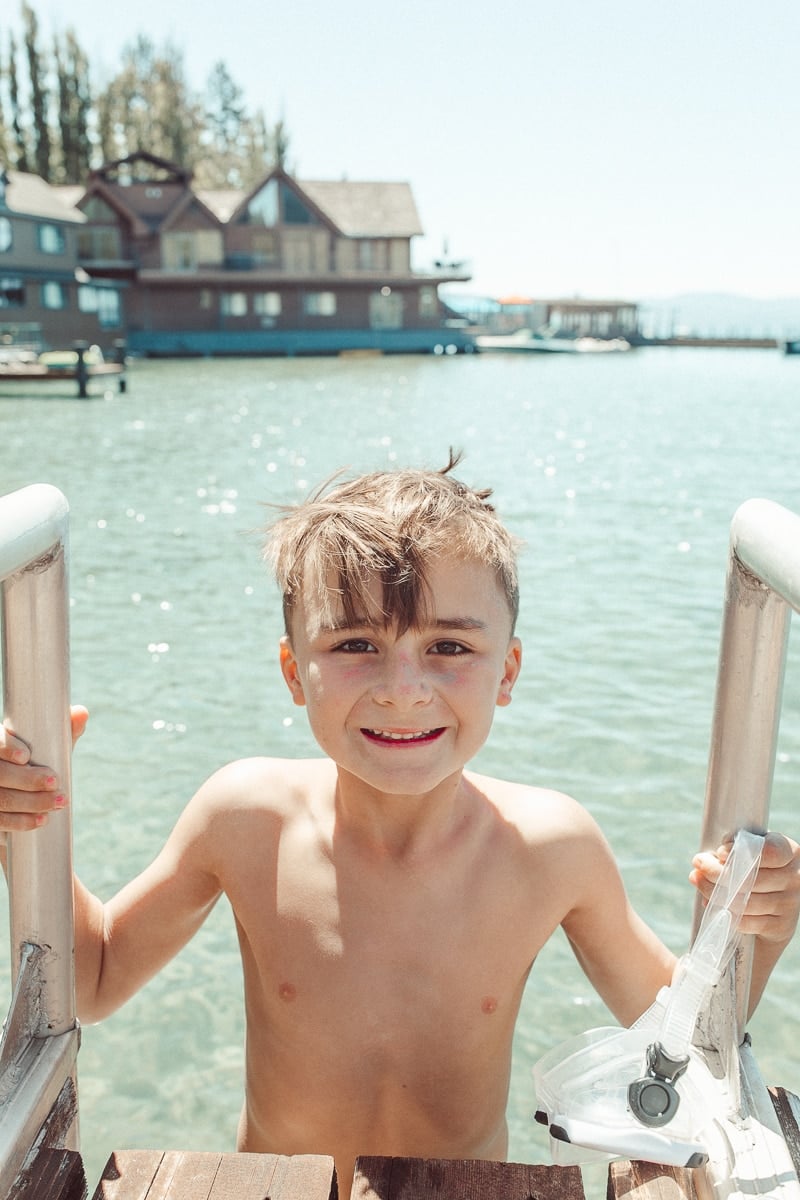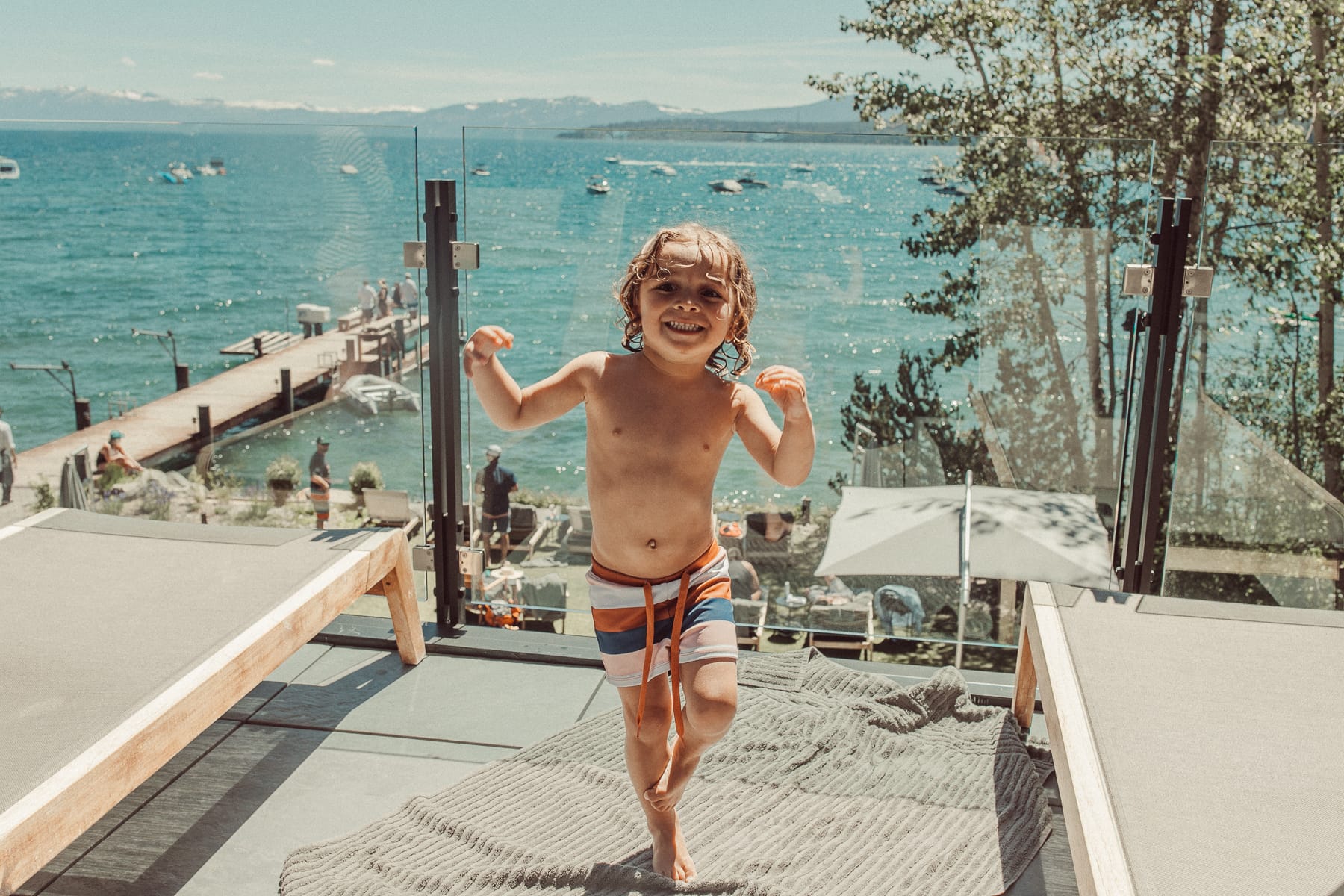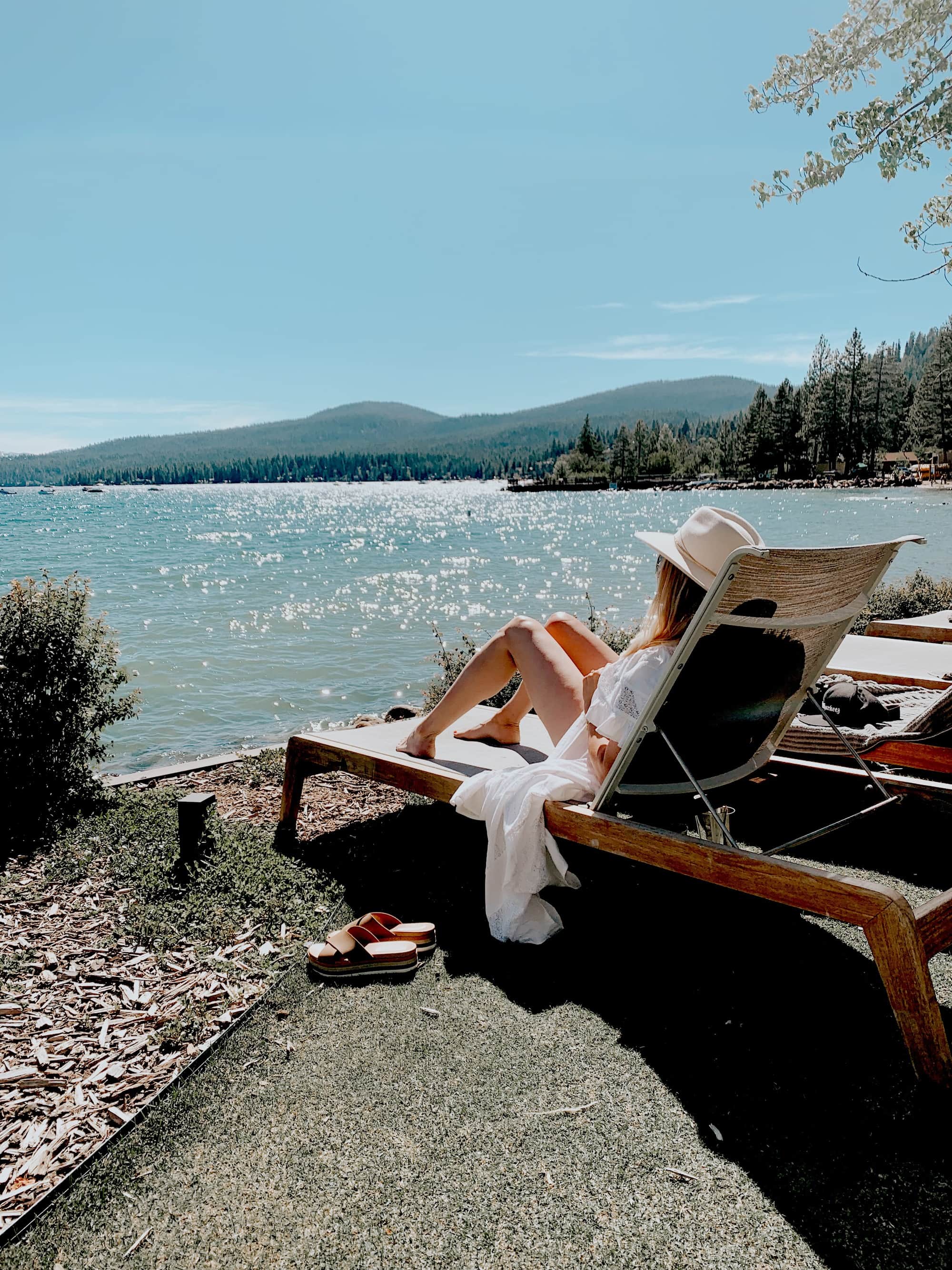 Enjoying Outdoor Sports
My kids loved the standup paddleboards and kayaks and instantly made friends with other guests. The indoor and outdoor amenities are breathtaking, and the changing faculties have beautiful showers and lockers to hold your belongings if you go out on the water.
If you want to rent a boat for a cruise or to water ski it's easily booked, but I chose to lounge in the sun and let the waiter bring me chilled cocktails. The staff was so attentive I could have happily lived out the rest of my life relaxing at the Lake Club—Aperol Spritz in hand.
---
Lake Tahoe is the second deepest lake in the United States with a maximum depth measured at 1,645 feet.
---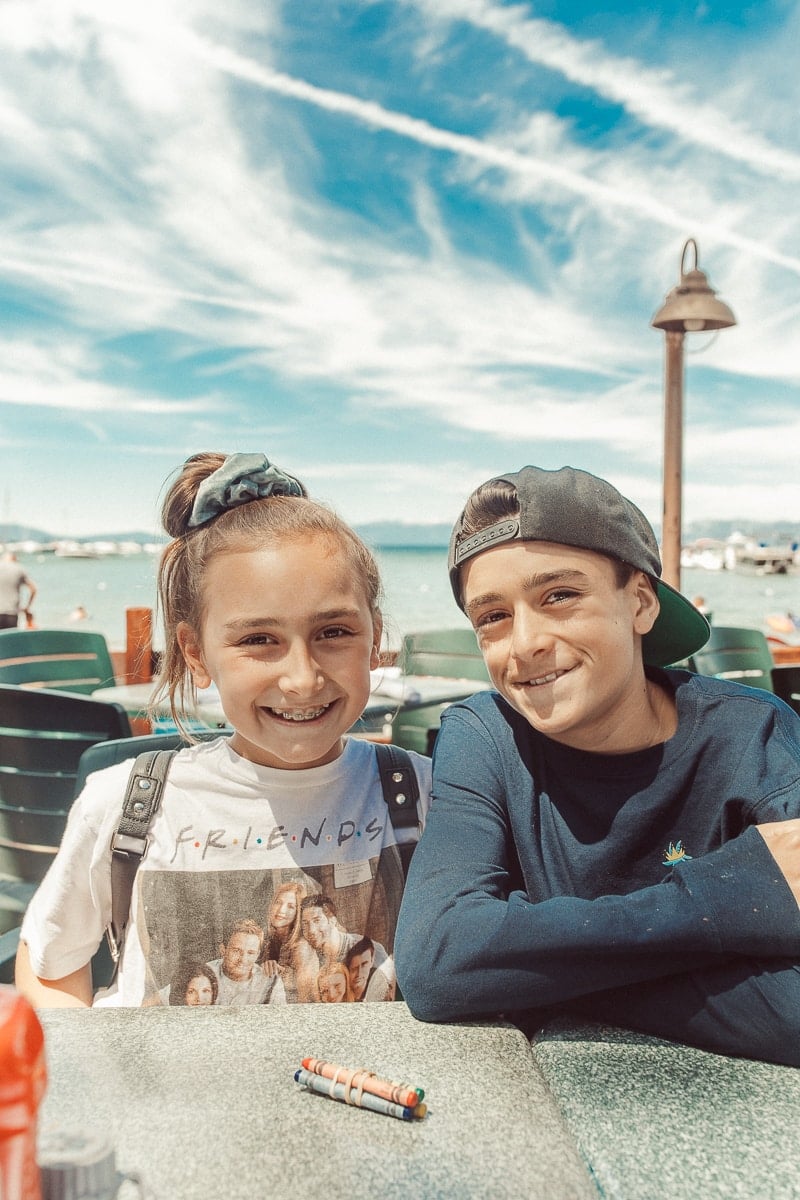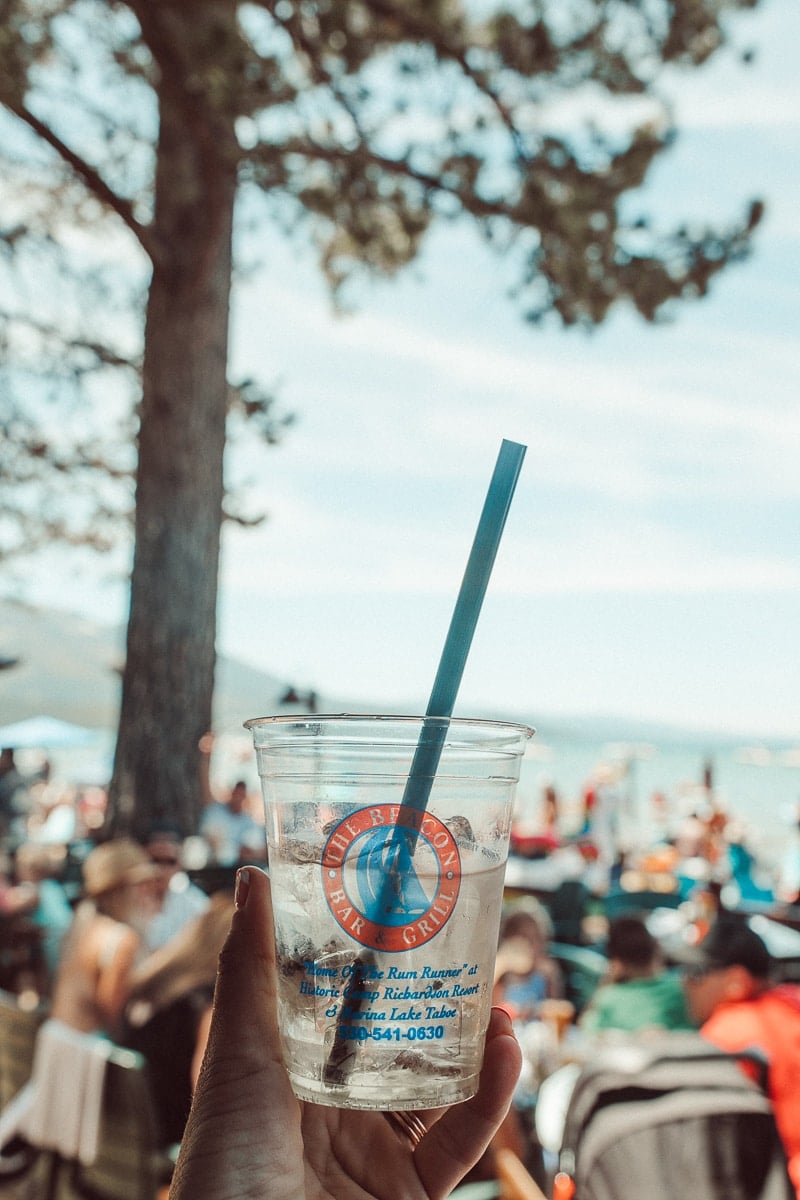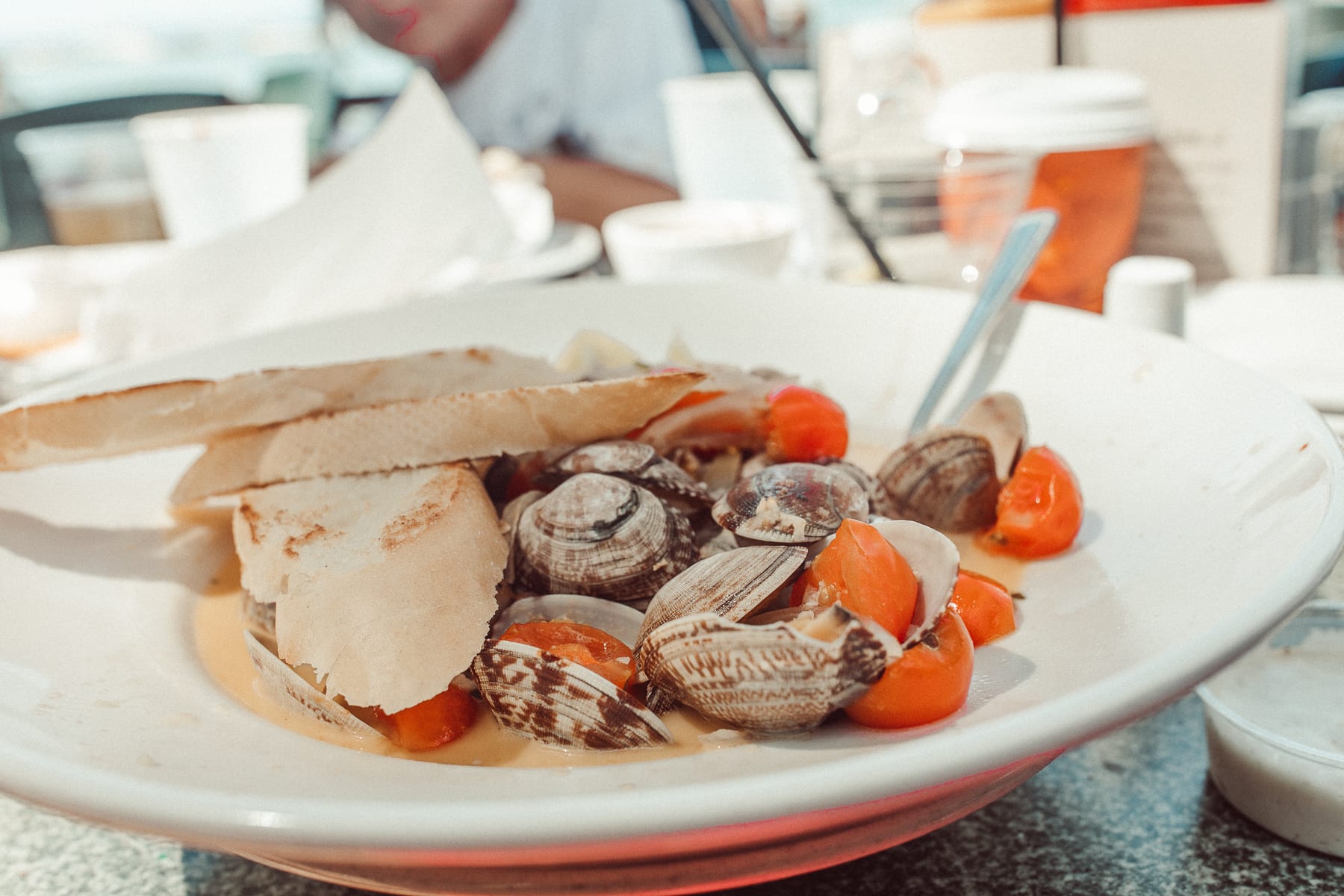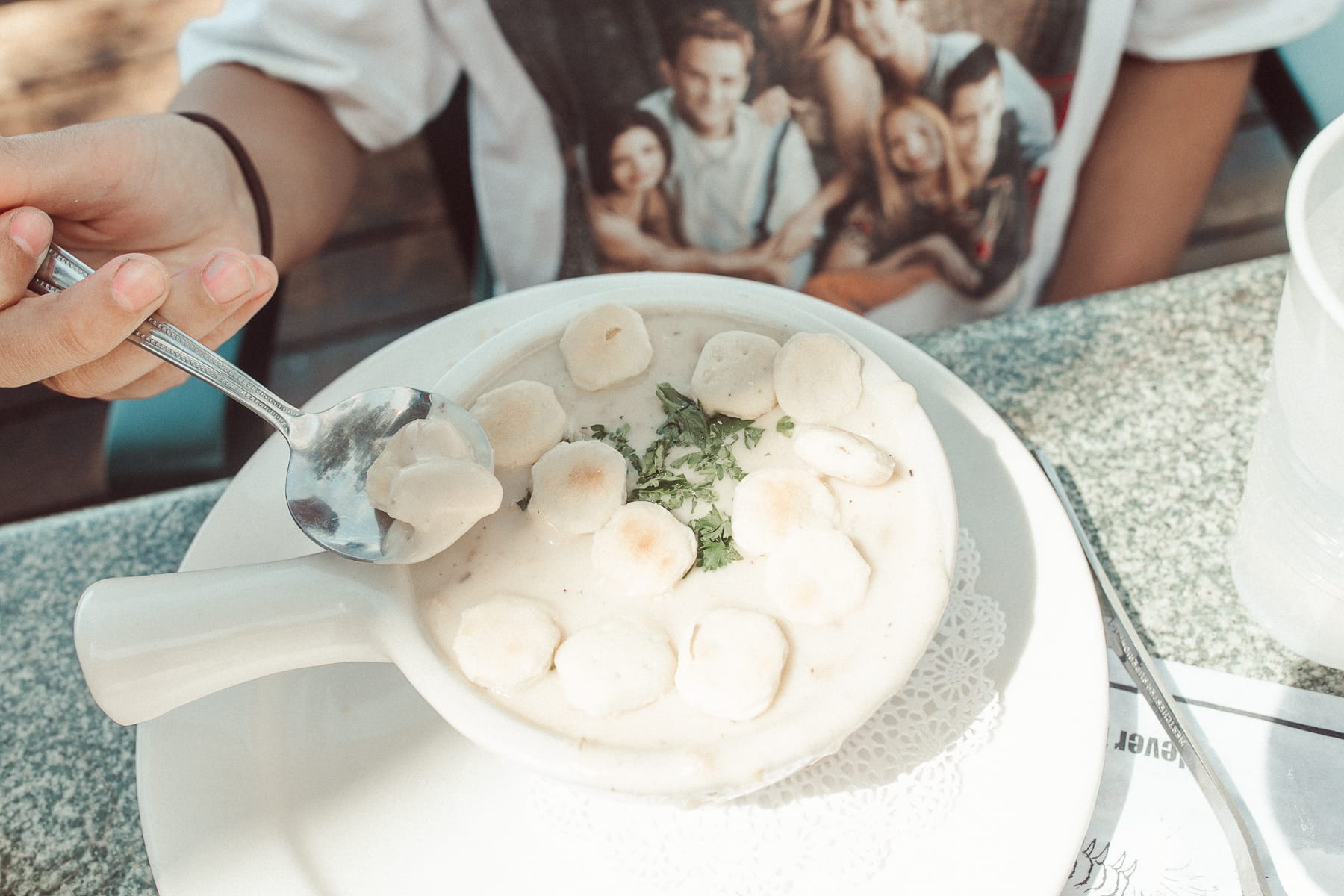 A Quick Hop, Skip and Jump Over to the Village
Of course, we couldn't play in the sun all day, so we caught the complimentary shuttle over to the village. We jumped on the Heavenly Gondola and stopped at the village for face painting, roller skating and mini golf. We tried some of the local food including gelato for the kids and a pie for the whole family to share.
Since we needed more than gelato in our tummies after a day at the lake, we tried the Beacon Bar and Grill. It was an instant family favorite with live entertainment, lake views, and a sandy beachfront for the kids to play on. The kid's menu was quick and easy with favorites like chicken tenders and mac and cheese, and they served organic margaritas for mom and dad.
Have you listened to my podcast? Check out The Mom Confidential!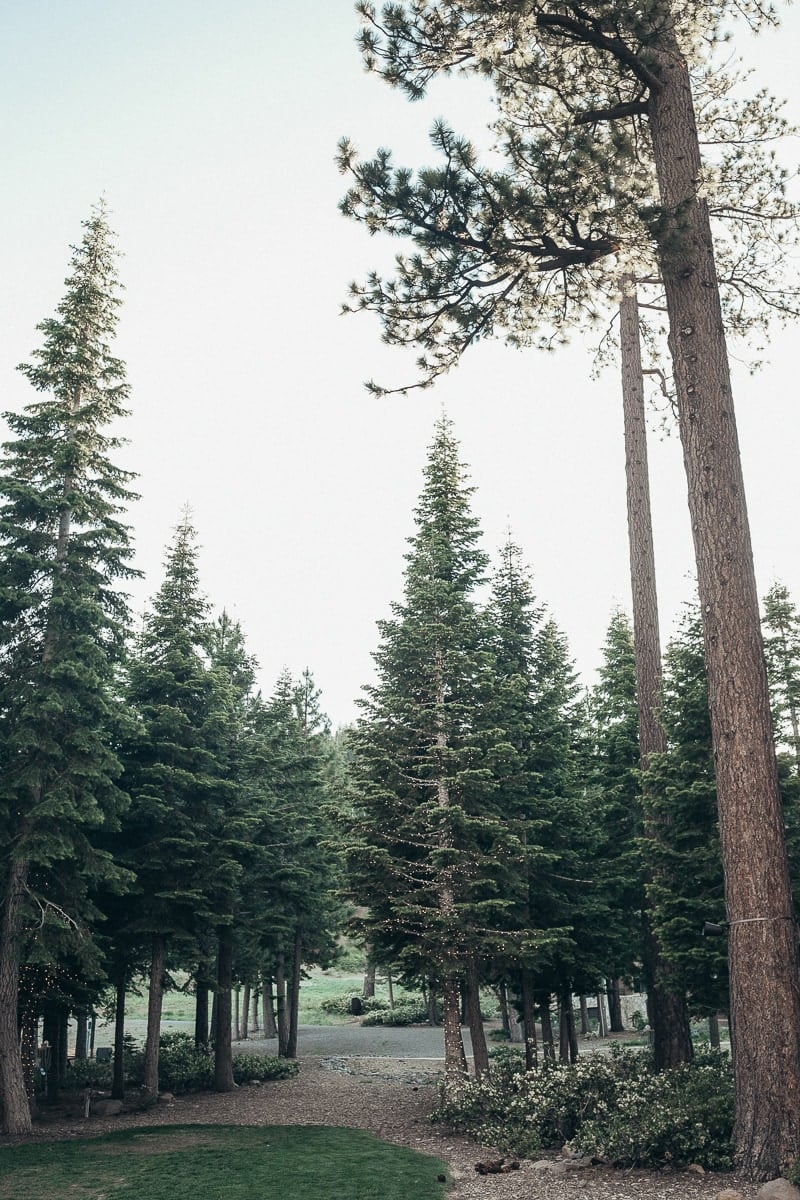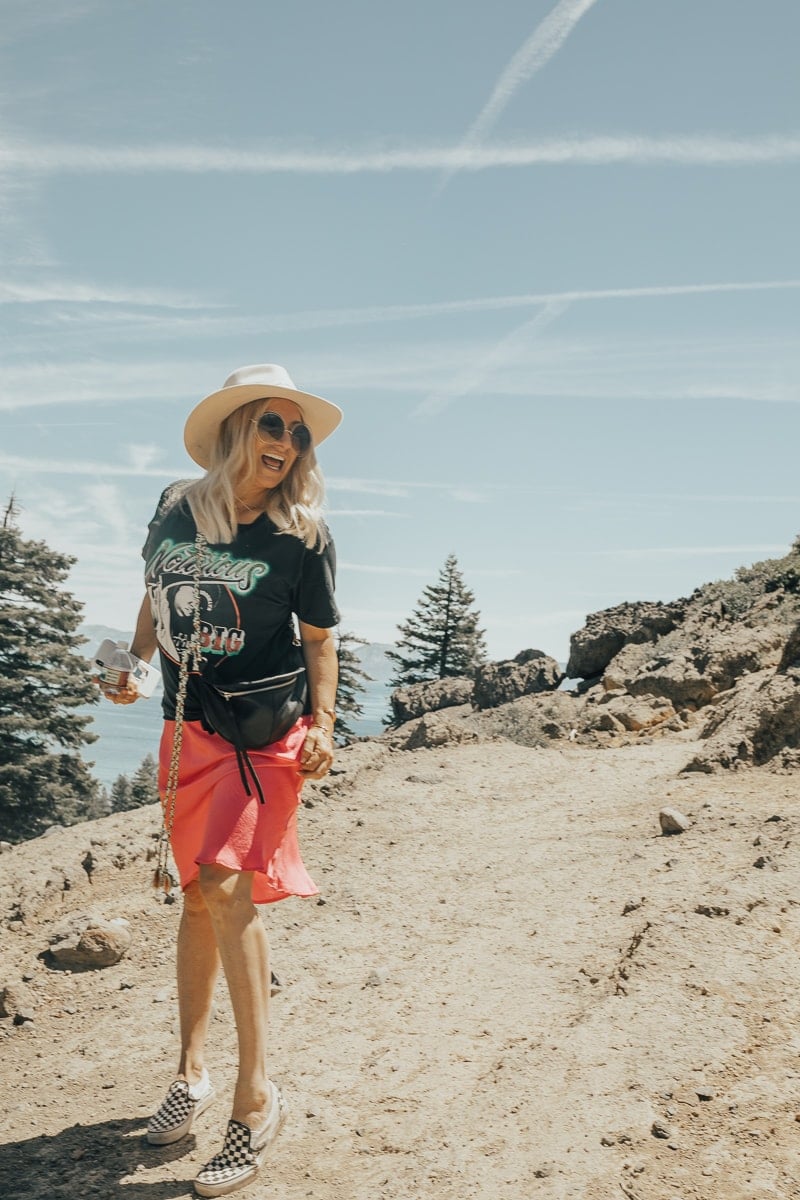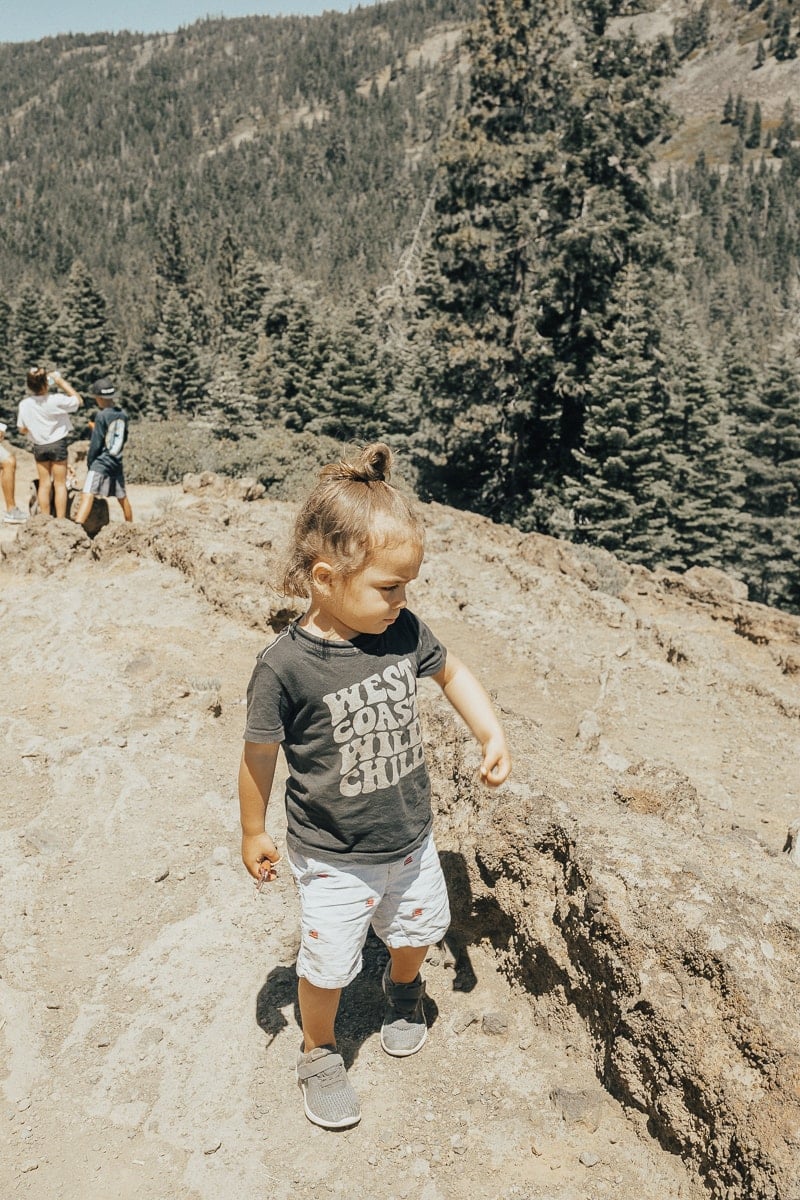 Get Up Close and Personal With Nature
We're a family who loves hiking, so we decided to explore Eagle Rock Trail. It's an easy incline and less than a mile long, so it's perfect for families with little ones.
I might have underestimated the hike just a little with my hot pink skirt and Vans sneakers. (I'm such a pro, I know.) You'll want to bring hiking shoes or sturdy sneakers. I'm speaking from experience—it gets a little slippery at the top.
---
The name Tahoe comes from a mispronunciation of the Washoe Native American name for Lake Tahoe. The original name was"da ow a ga," which means, "edge of the lake."
---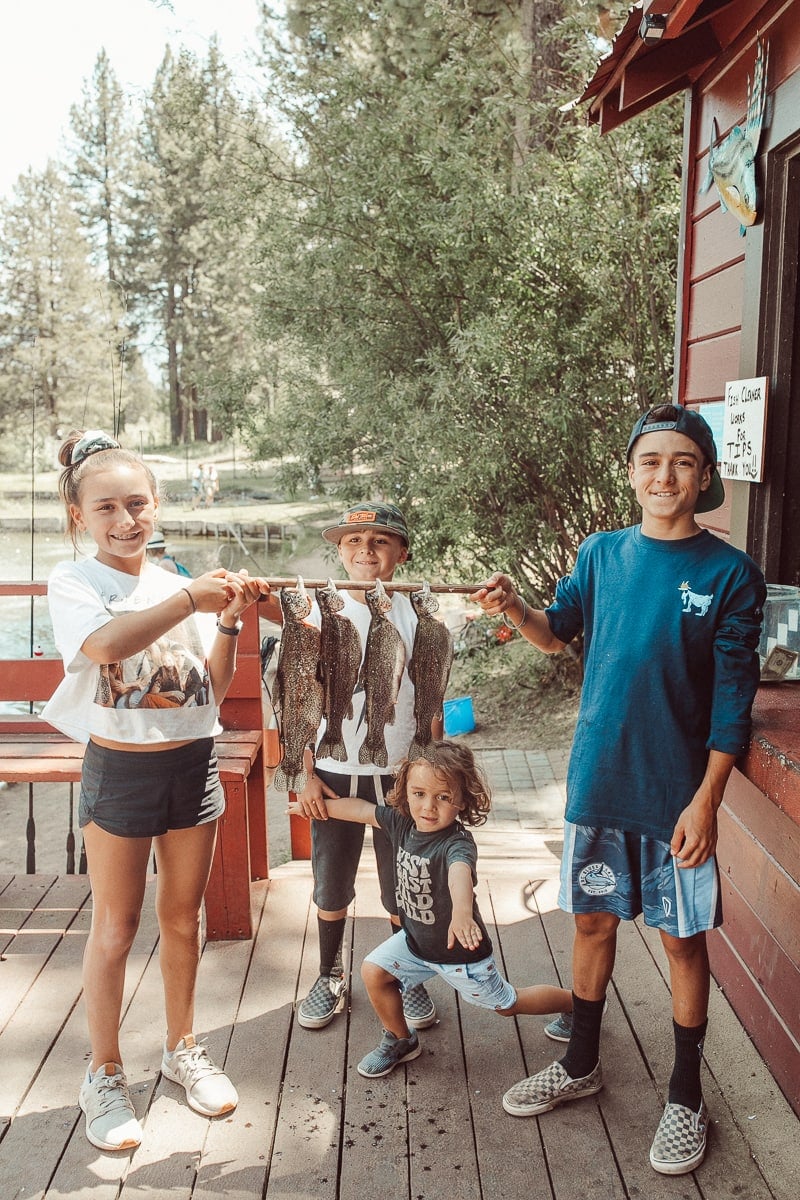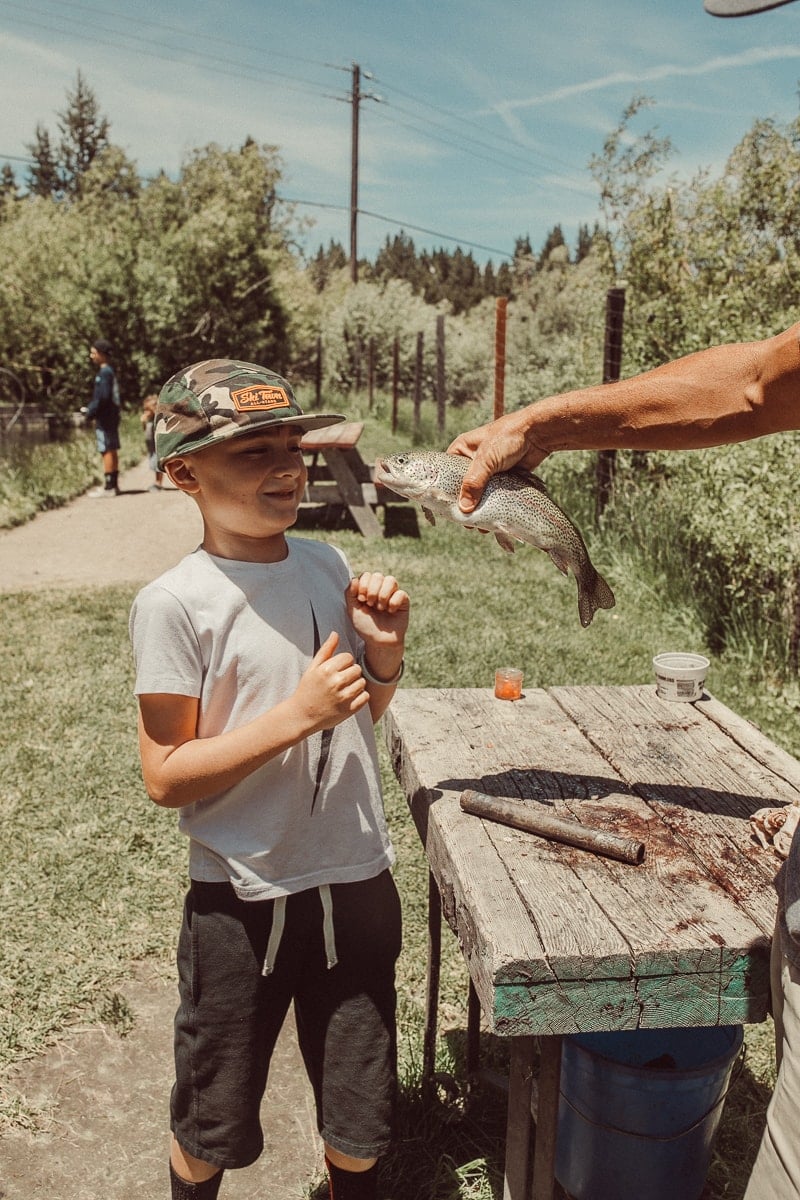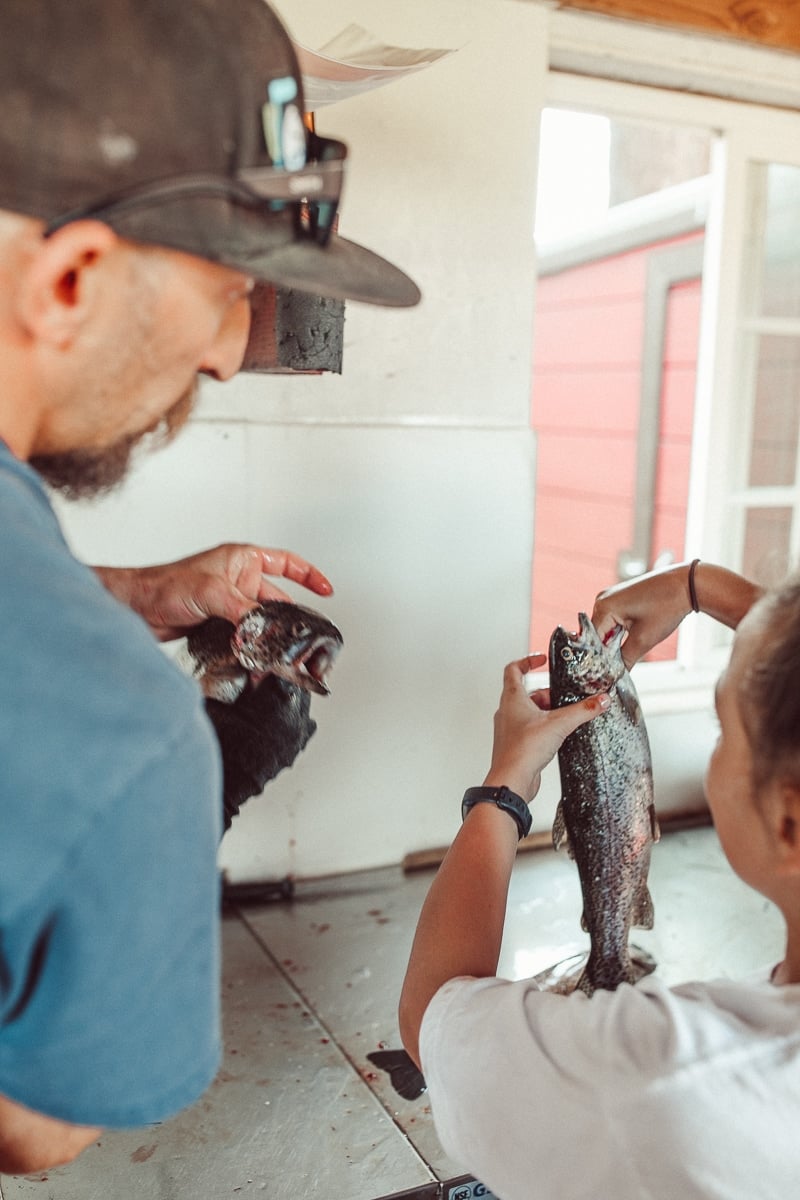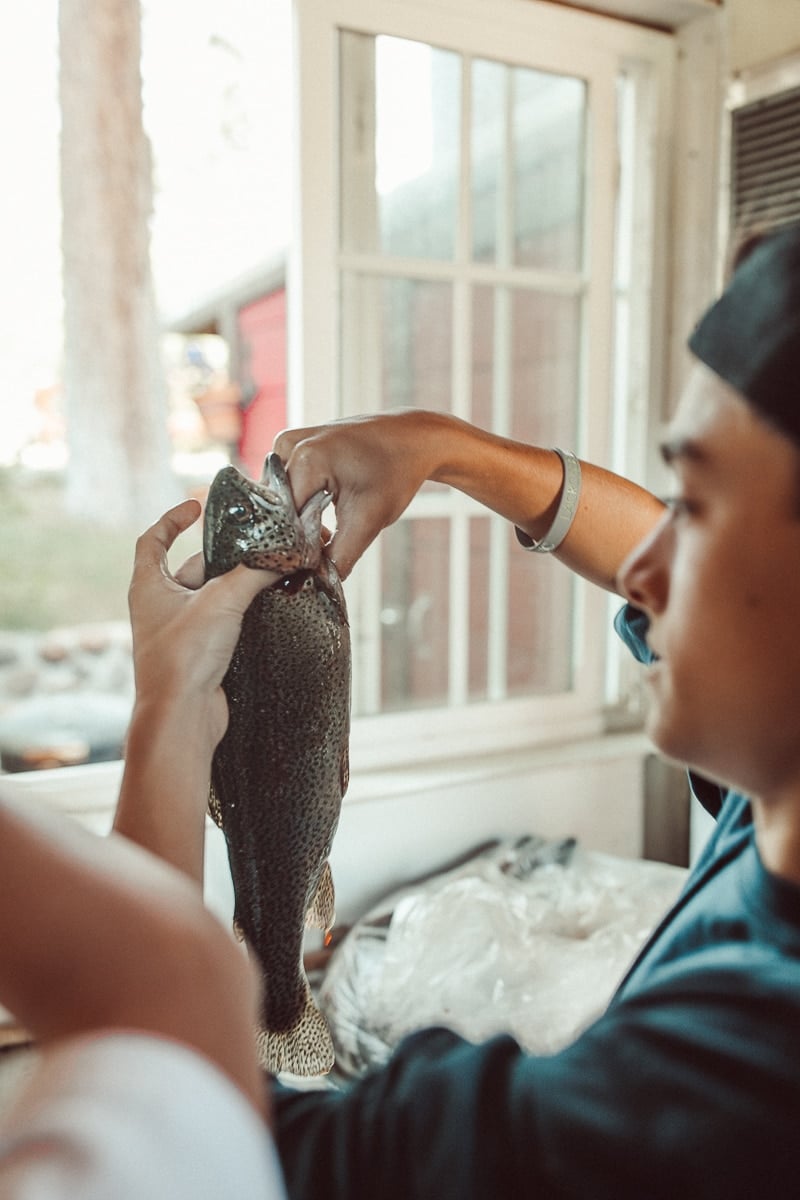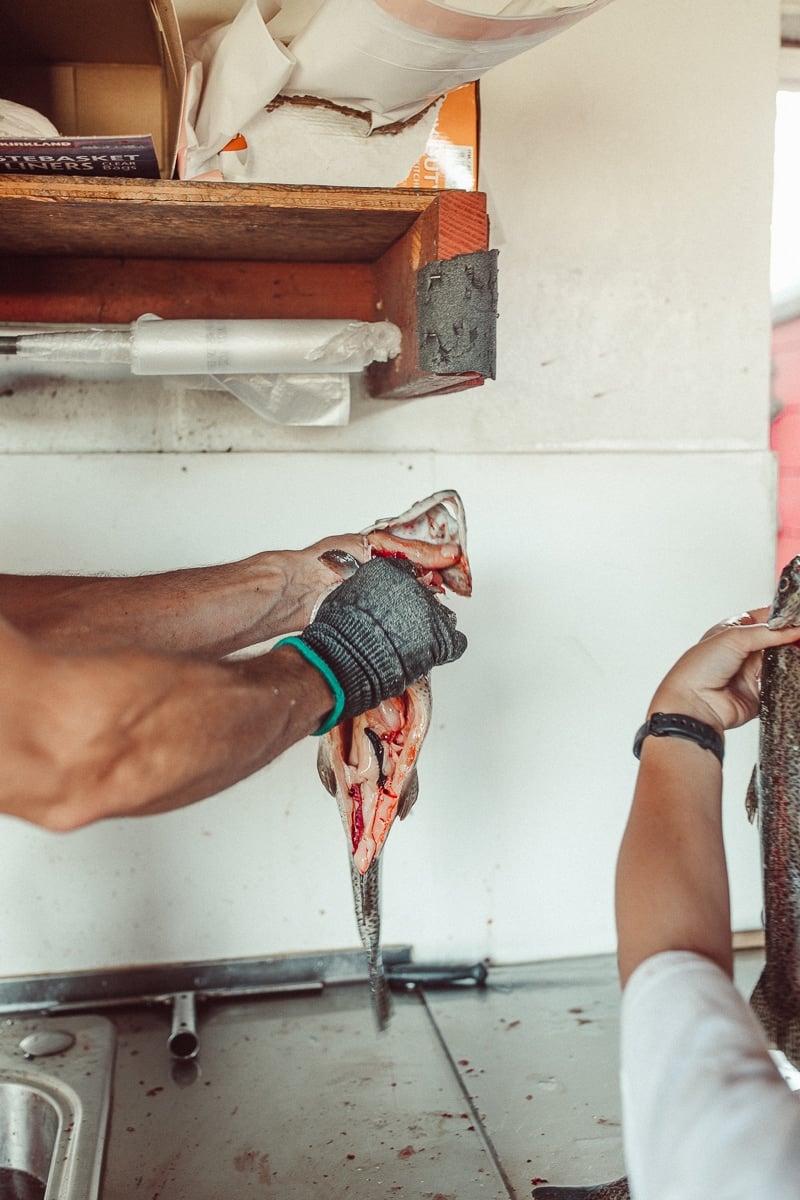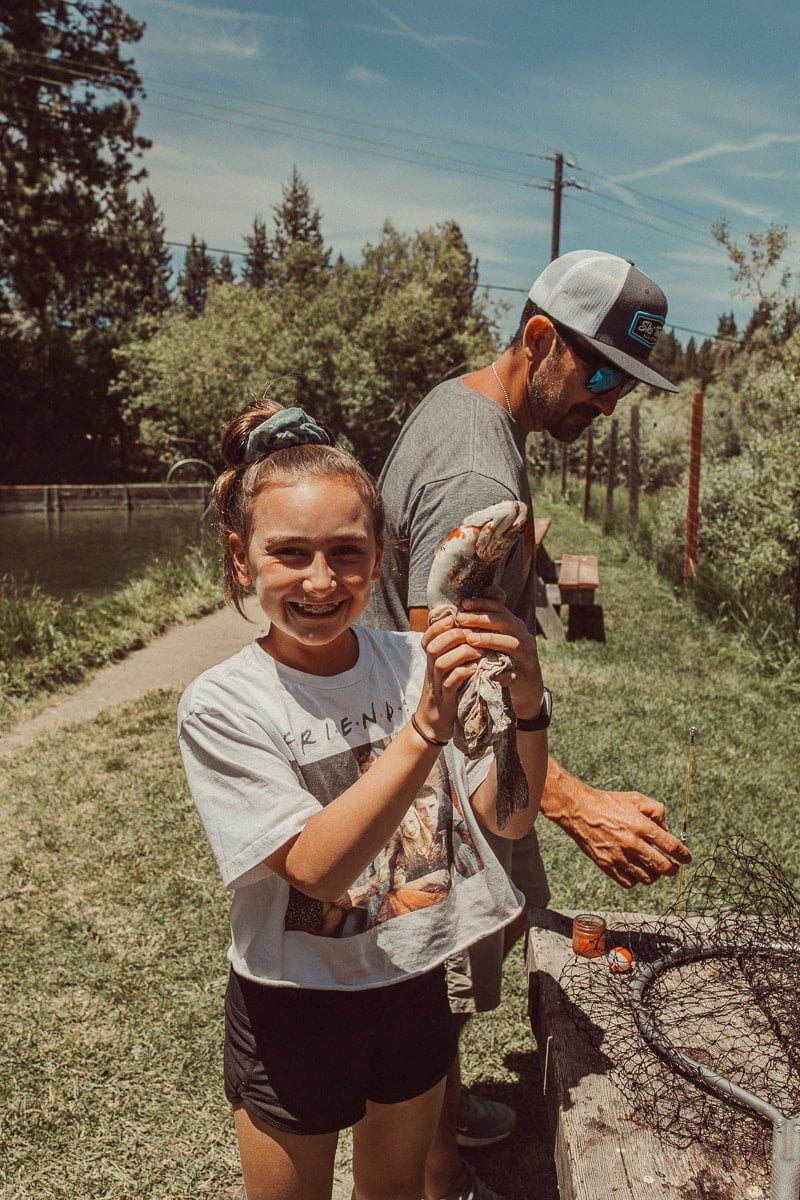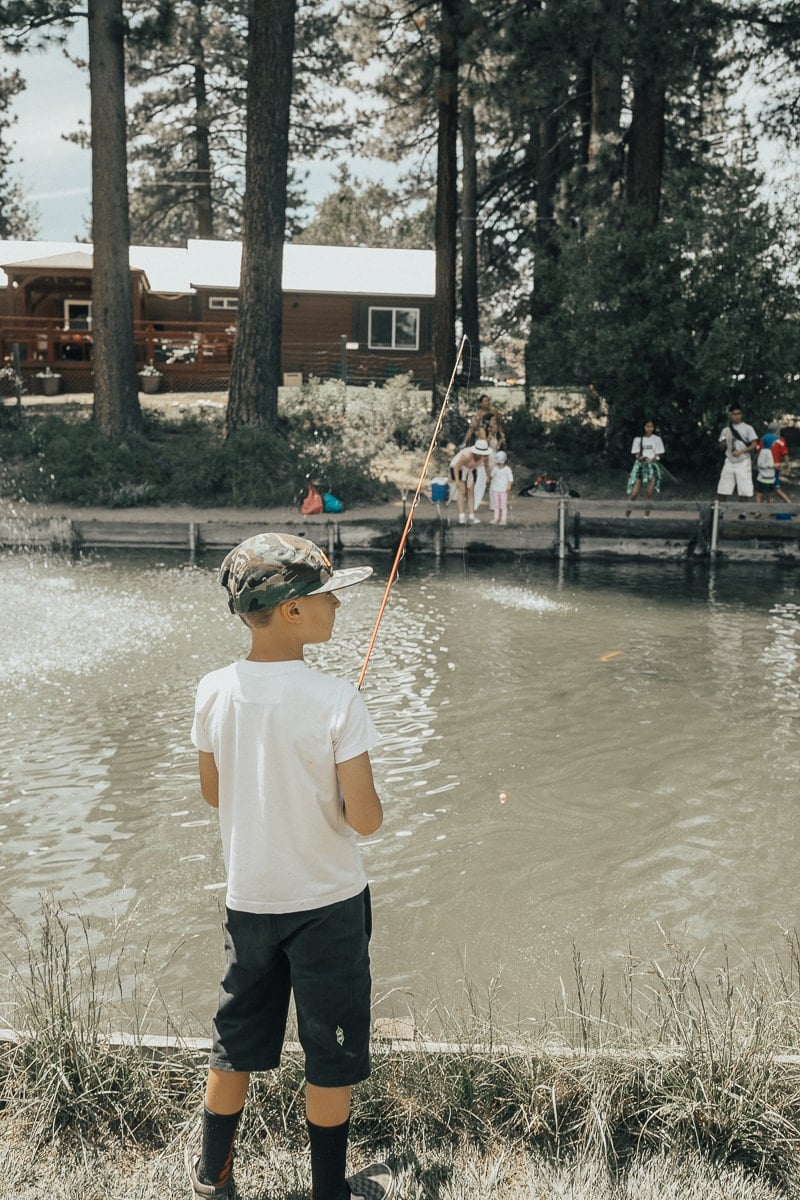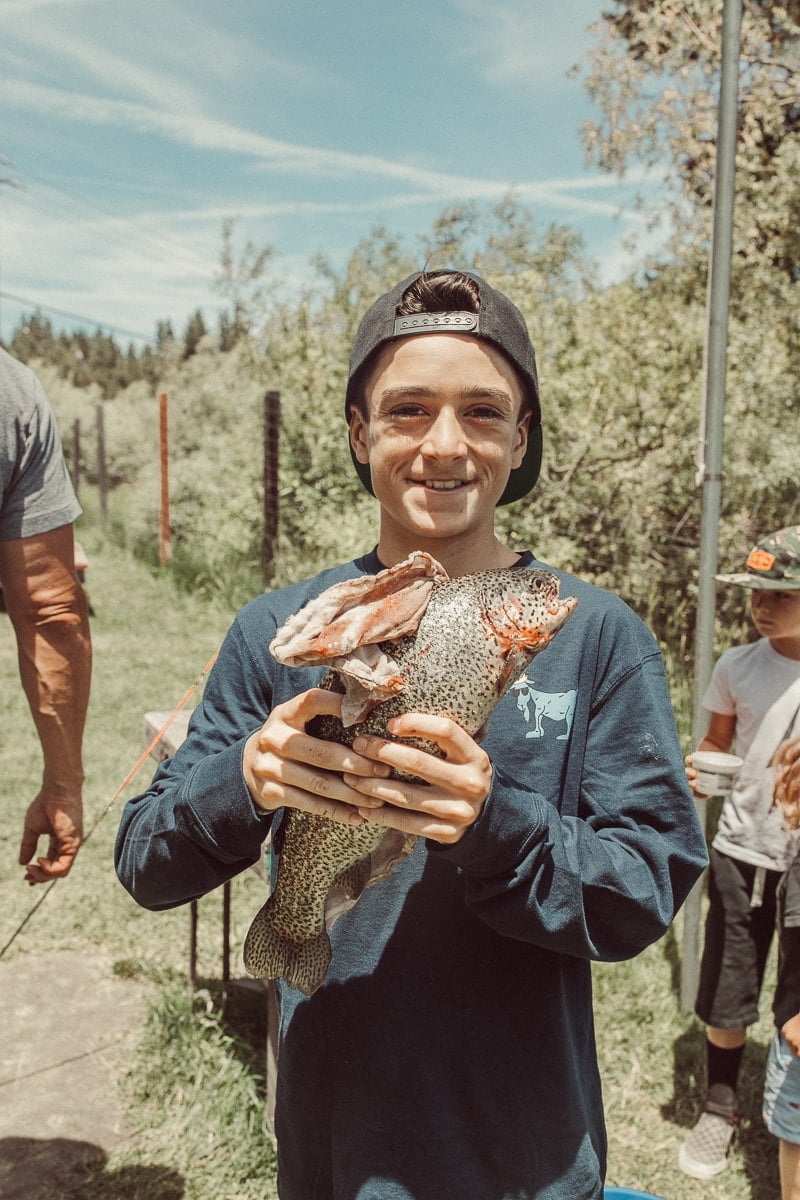 Don't Forget to Enjoy Your Hobbies
My kids love to go fishing, so we weren't about to leave Lake Tahoe without casting a few lines. We stopped at Tahoe Trout Farm and signed the kids up for a fishing and gutting class. Yes, a fish gutting class.
I'll be honest, after lying on the beach like a princess the day before I wasn't excited about messing up my manicure with fish juice. But mom that I am, I put my big girl panties on for my kids and went for it. Sure, my mani got ruined and it was absolutely disgusting but the kids loved it. And that's what matters.
As it wasn't a catch and release farm, we had the option of eating the fish, donating them to the homeless or donating to the local baby bears that roam the woods. Of course, the kids opted for all three.
---
The water in Lake Tahoe is 99.994 percent pure, making it one of the purest large lakes in the world. For comparison, commercially distilled water is 99.998 percent pure.
---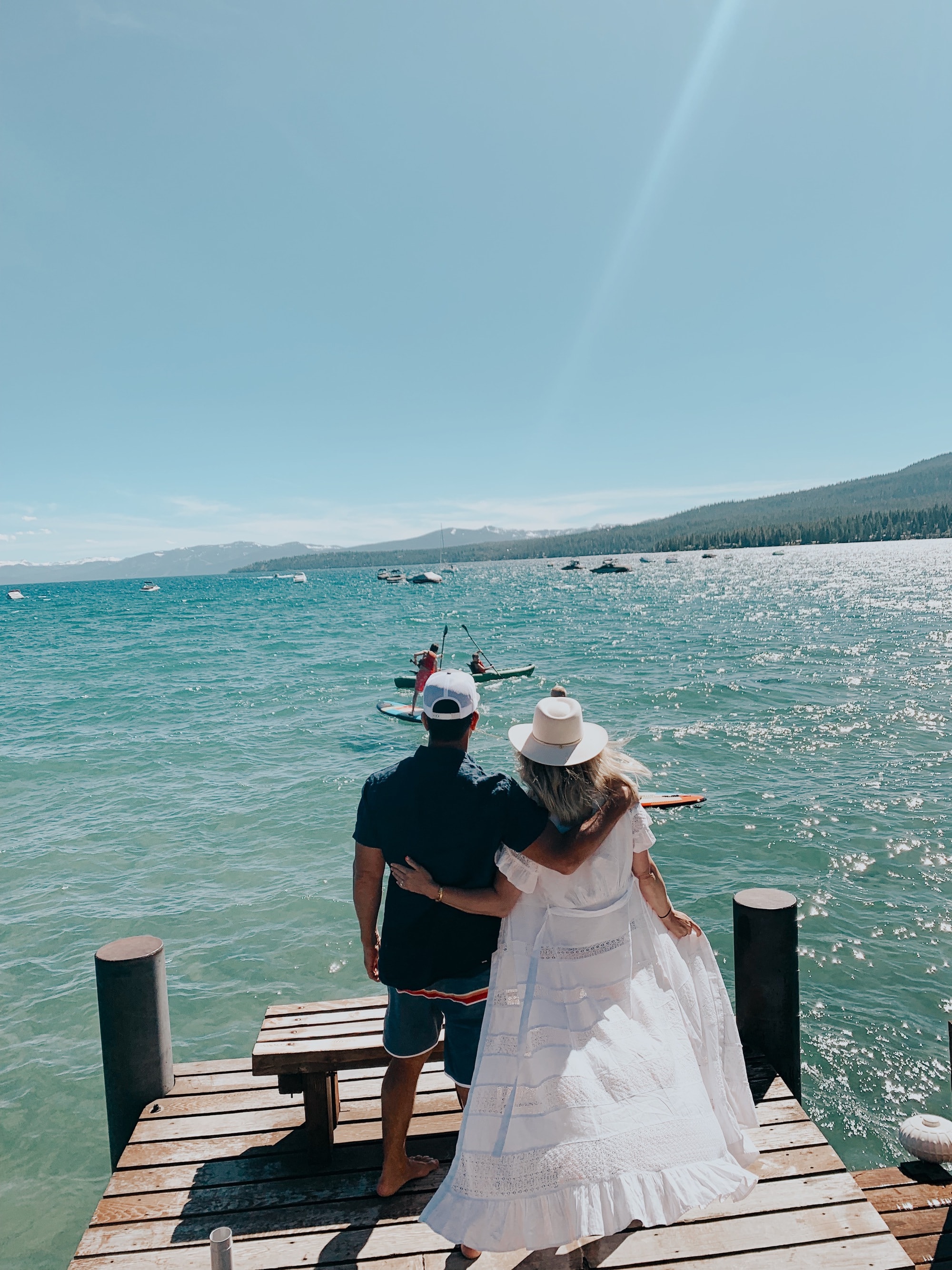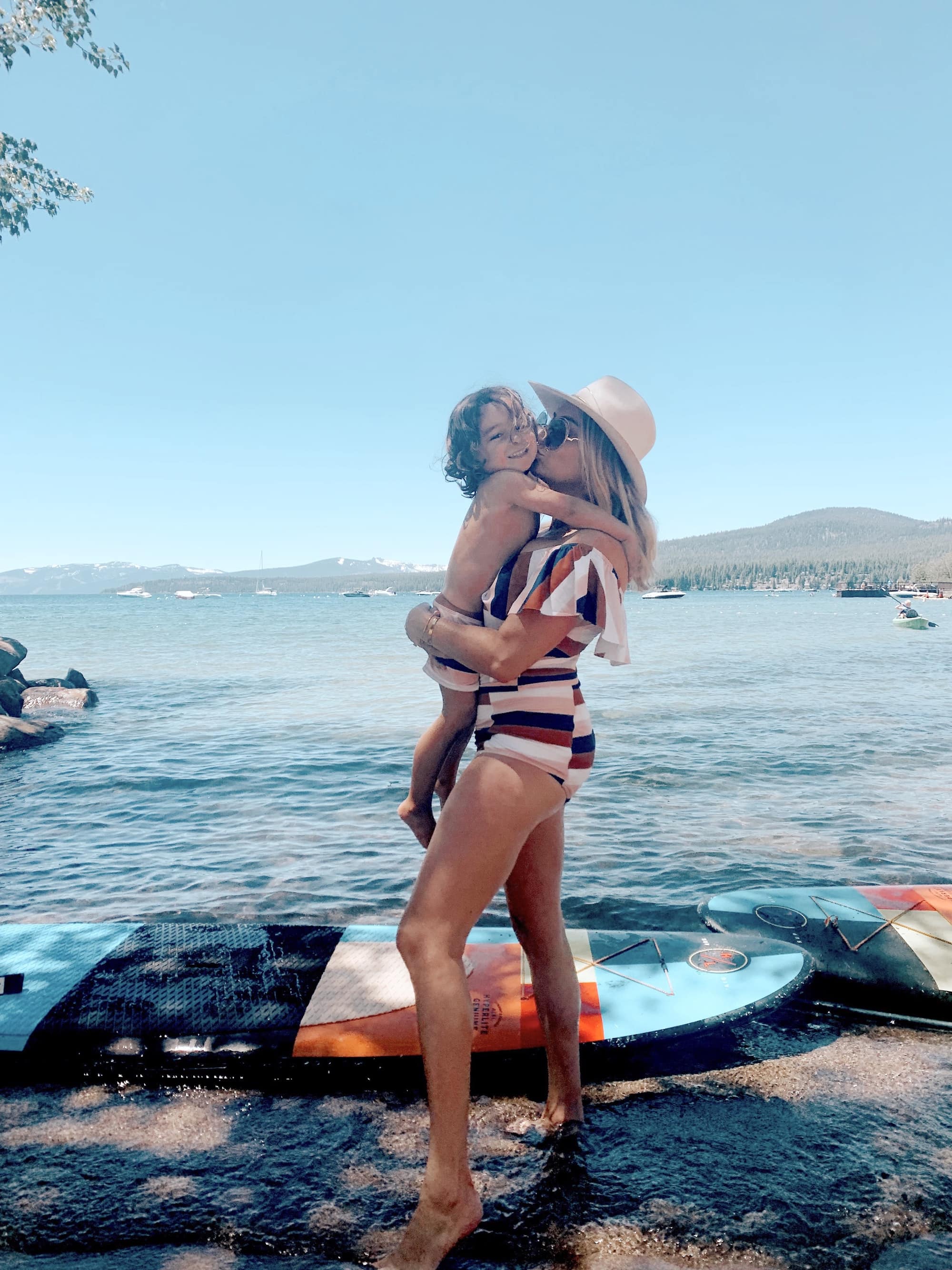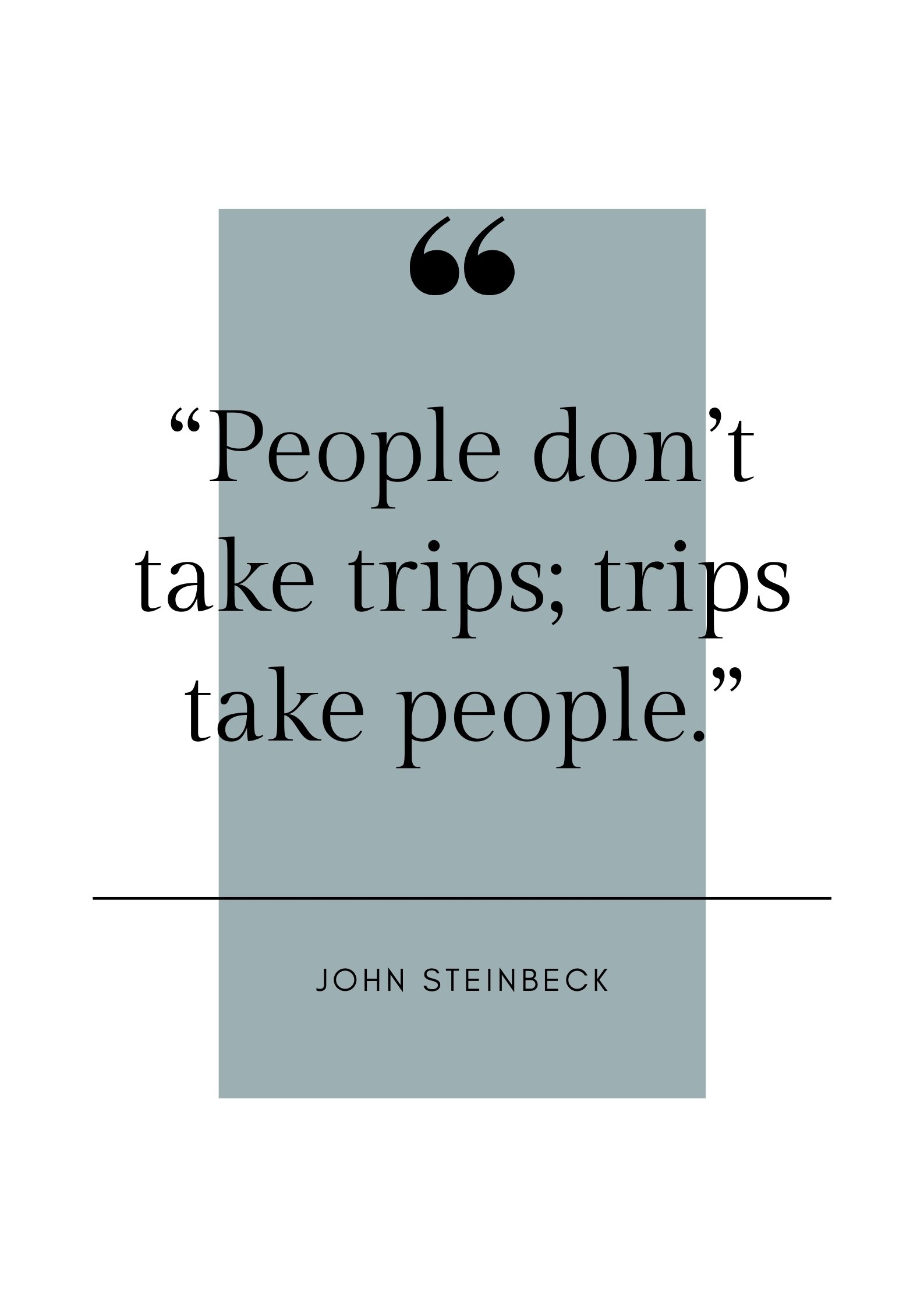 All About the Family Memories
Bear cubs aside, my baby bears had an amazing time on this family trip! I hope it's one they'll always remember. I know I won't forget the taste of those Aperol Spritzs…or the smell of fish guts.
---
Lake Tahoe is surrounded by six peaks. The tallest is Freel Peak, which reaches an astonishing 10,881 feet.
---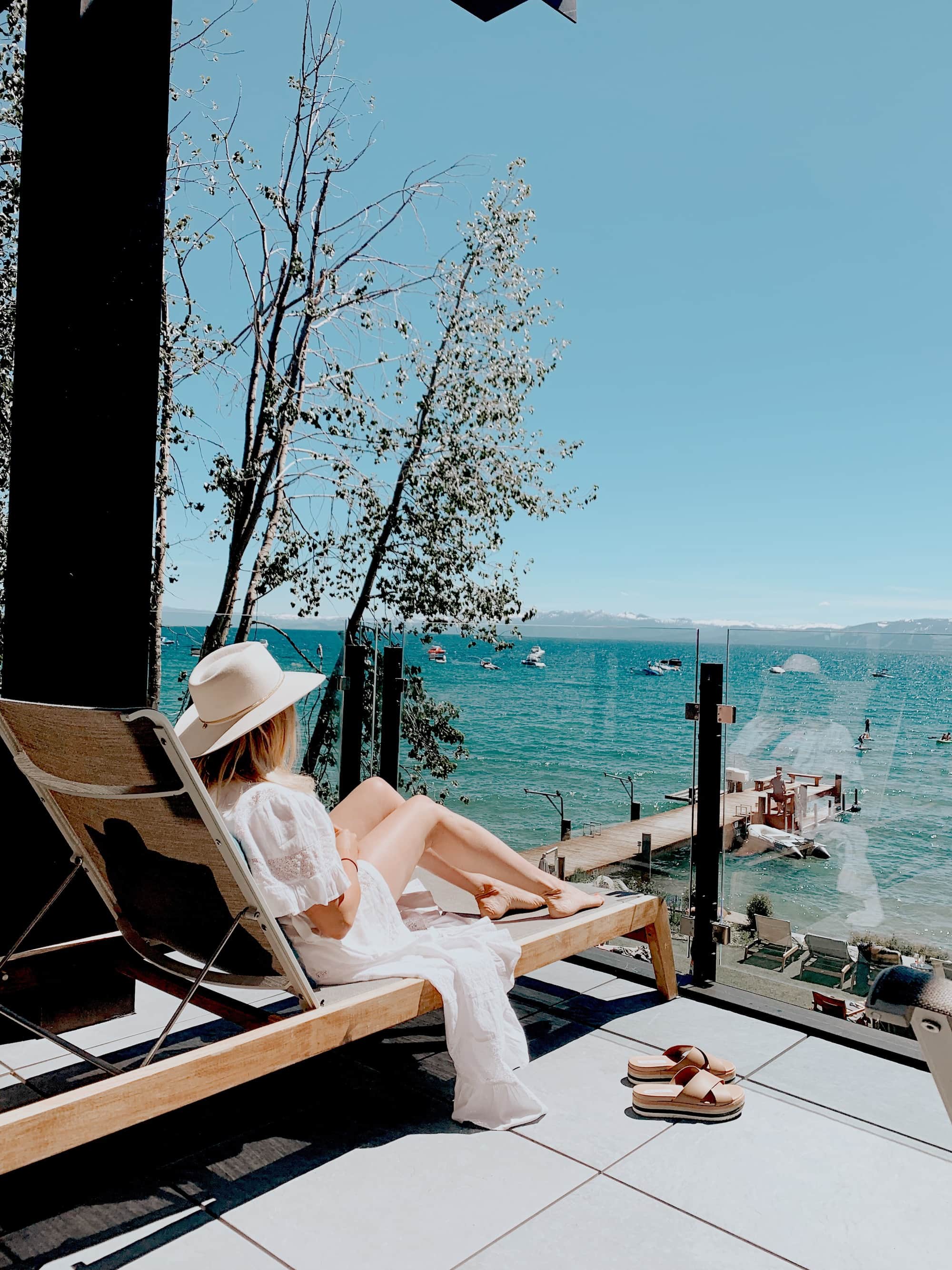 Tips for Parenting In Style...
Never boring, always awesome. Keep up to date with the latest from City Girl Gone Mom.