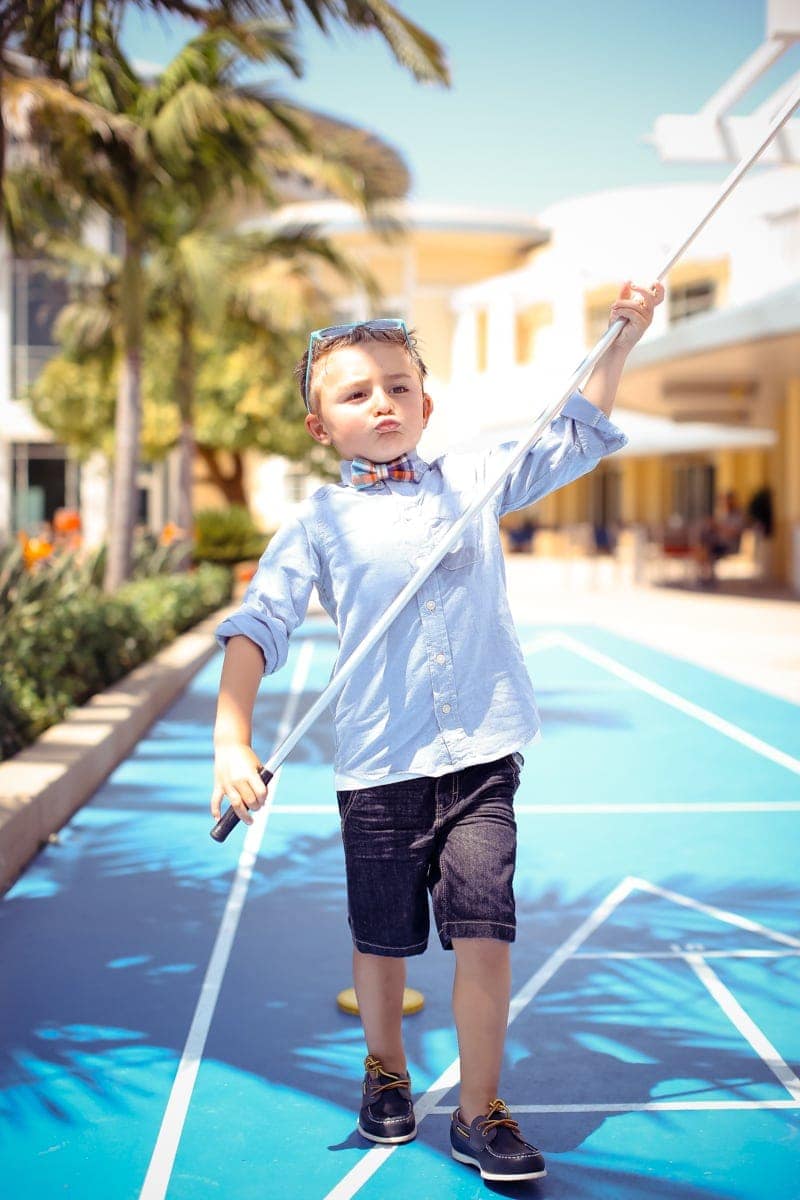 "This post is sponsored by Everywhere Agency on behalf of OshKosh B'gosh; however, all thoughts and opinions expressed are my own."
This is it. We are in the last stretch of lazy mornings, chasing ice cream trucks and plenty of sandy toes. The kids go back to school in just a few weeks, leaving the last of our summer days numbered. Not quite ready to say goodbye to the freedom that summer brings, there's no doubt we'll have to pry summer from our children's clenched fists. As a child, I certainly didn't like to see summer go. Looking back, there was only one thing that could soften the blow…. back to school shopping! I'm especially excited about the school jackets online that are now available.
With every new school year comes new beginnings for my little ones. One thing that always remains constant in our household is that style and self-expression go hand in hand. And with my "City Girl" fashion sense, I know the perfect outfit is a MUST for a great first impression, and the first day of school is no exception. It's game time, and we're going back to school with a bang!
This summer, I have thoroughly enjoyed watching my four-year old's budding sense of fashion surface. He has an opinion… a strong opinion, if I may say. He's my fearlessly reckless child, that quite often has us standing on our toes, anticipating his next move. When he finds a piece of clothing he loves, he literally takes it and runs with it, rarely to be seen without it. Whether he's on one of his Superman-like missions or saving his siblings from "The Dark Side," you can bet he's incorporated this staple piece into his unique superhero swag.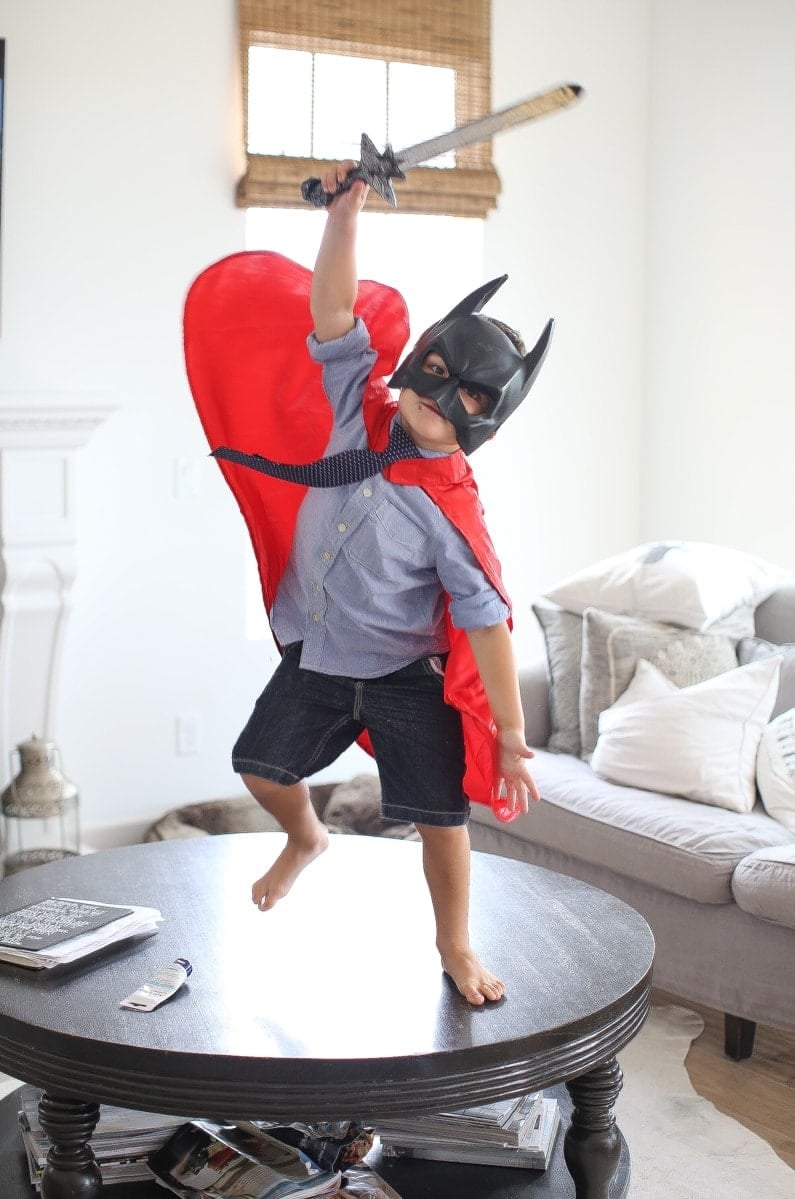 The Button Front Oxford shirt by OshKosh B'gosh is that ONE piece of clothing my little one refuses to take off. While the staple in my wardrobe might be my organic cotton boho tunic, Roman's is the OshKosh B'gosh blue button down. With his newfound love for this versatile piece, and my styling know-how, creativity was key on maximizing its potential. This year, I invited Roman to take charge (with Mom by his side) in the quest for his new back to school outfits. With every kid-approved look we crafted, he'd soon be flying in sartorial style, kicking off a new school year.
The OshKosh B'gosh Button Front Oxford turned out to be one of the most versatile items in Roman's closet. It's a good thing, because as I mentioned, he wants to wear it every day. And I'm okay with that, because as a mom, there's nothing better than seeing your little one's eyes light up when he looks in the mirror, confidence radiating, feeling just like one of the big boys. Here are four fun looks that Roman and I worked into his everyday activities, that will translate nicely into the school season.
1 – Hello Hamptons!
As an East Coast native, there's something to be said about a dapper, summer beach club style. I've always been a fan of little boys in bow ties, and this look by OshKosh B'gosh has mom dreaming of the Montauk Beach House. Not only does he look über adorable, his confidence shines with every vast smile.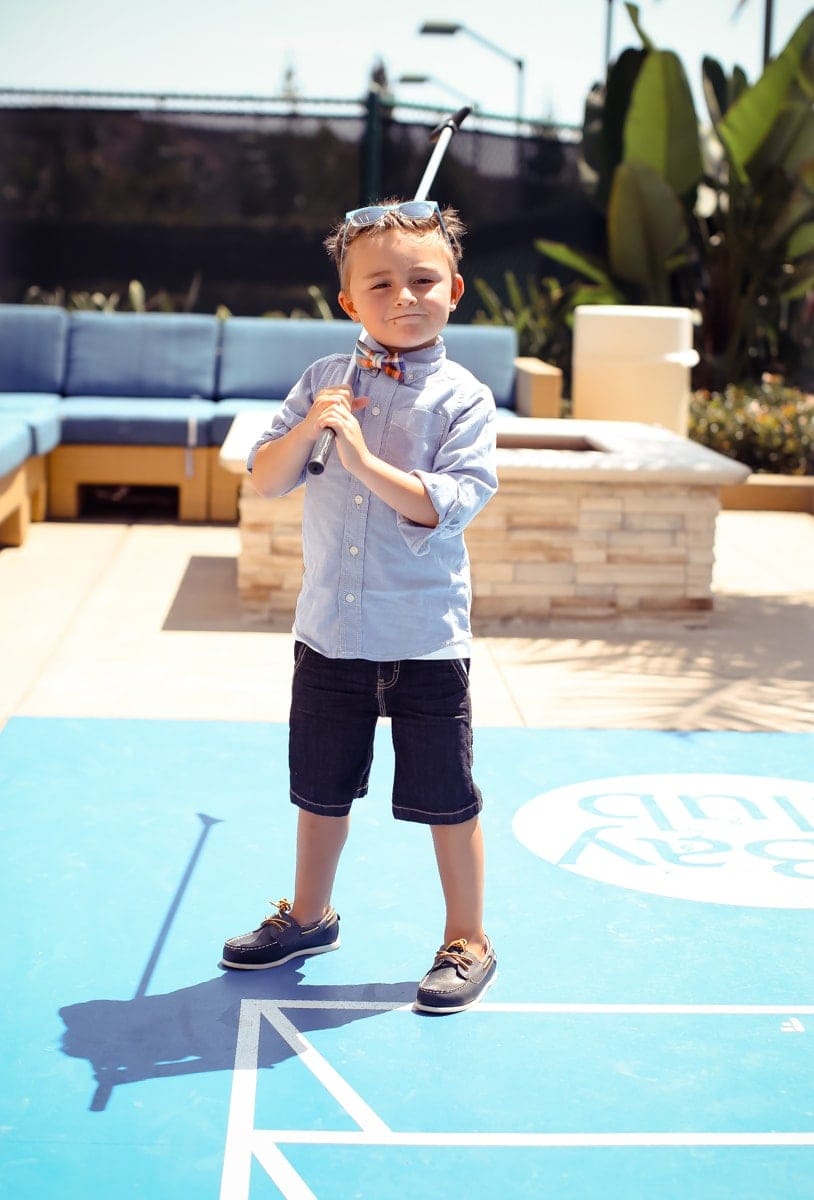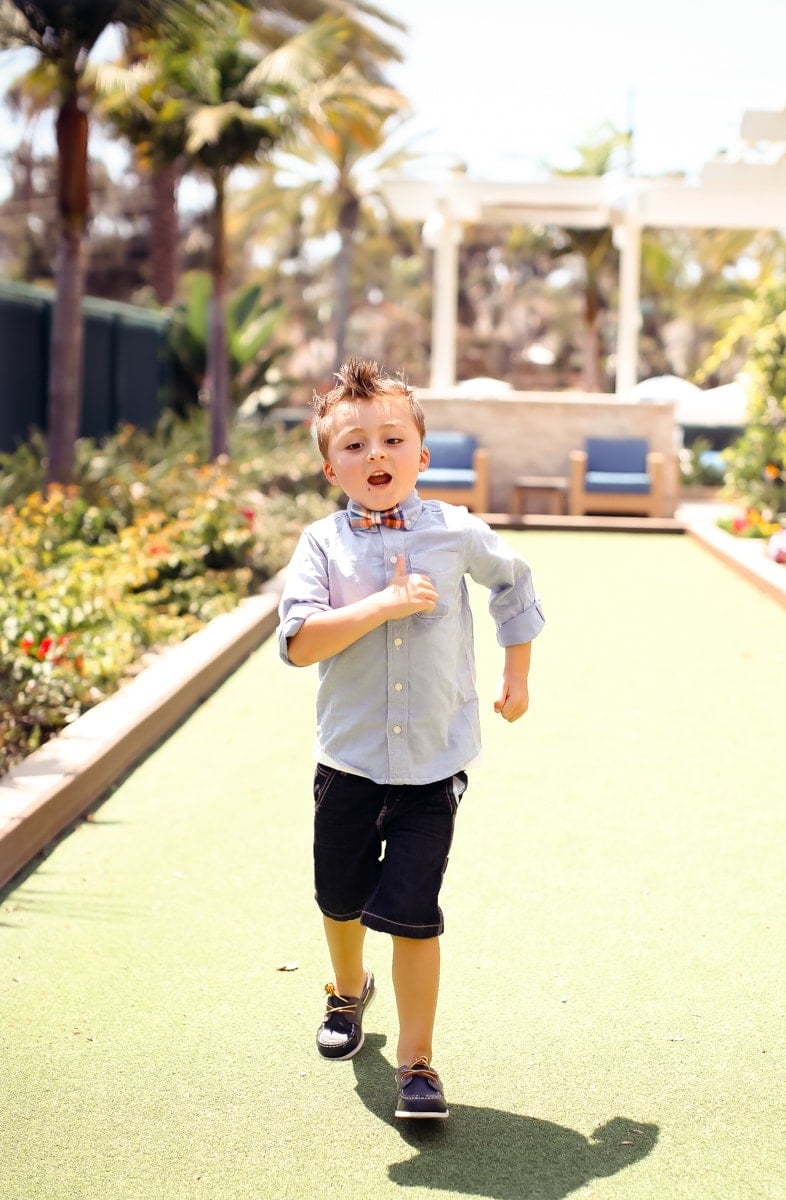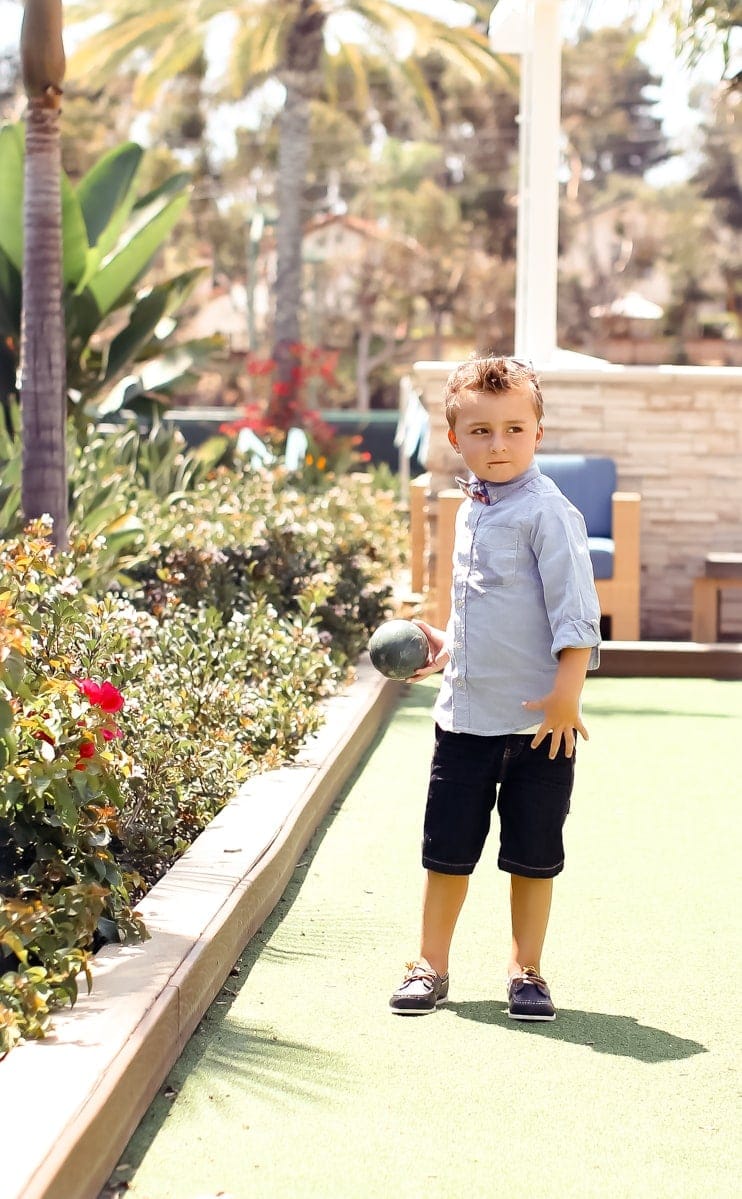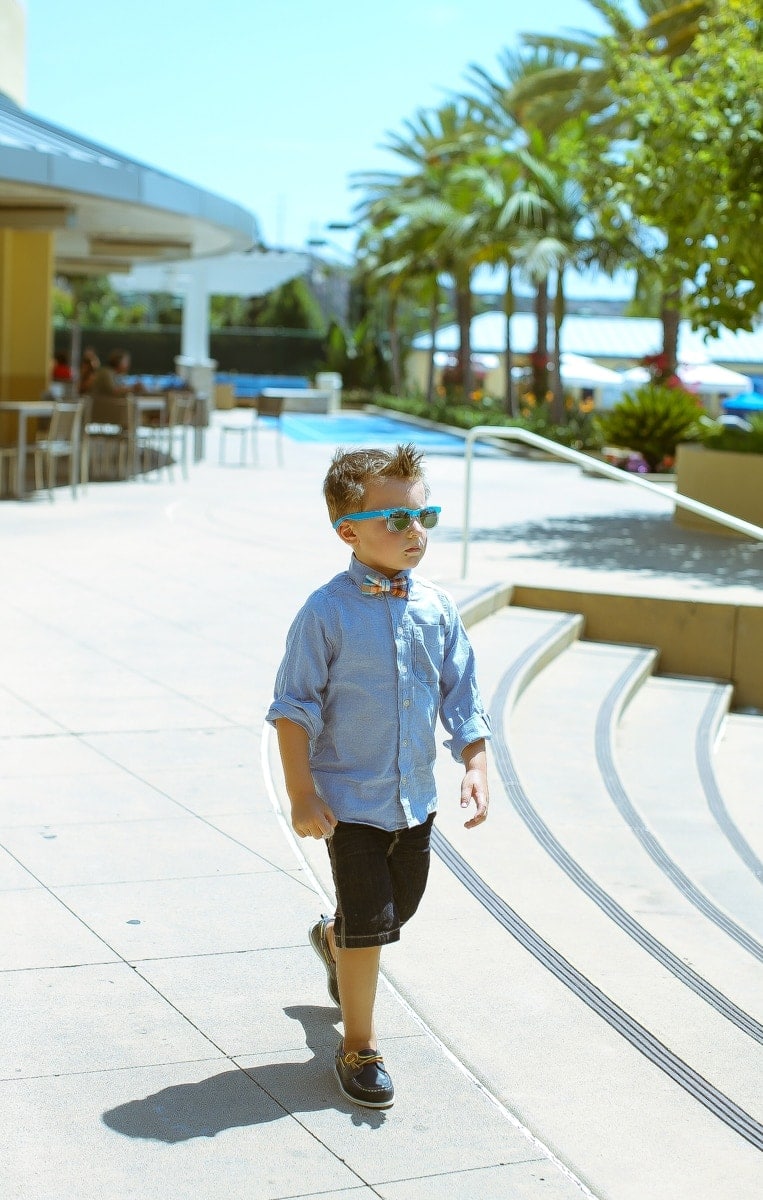 2 – Playing it Casual Cool
On the West Coast, layers are a must. Another way we're maximizing the OshKosh B'gosh Oxford Button Down is by layering it over other essential pieces like graphic tees. In August, the evenings are a bit warmer, and his typical hoodie is a little too heavy. The Oxford button down is a nice replacement for a day on the go that turns into a fun evening out. Like mom, he also has a day-to-night piece now! And rest assured – the graphic tee will never go out of style, and layering it over Roman's fave always works like a charm.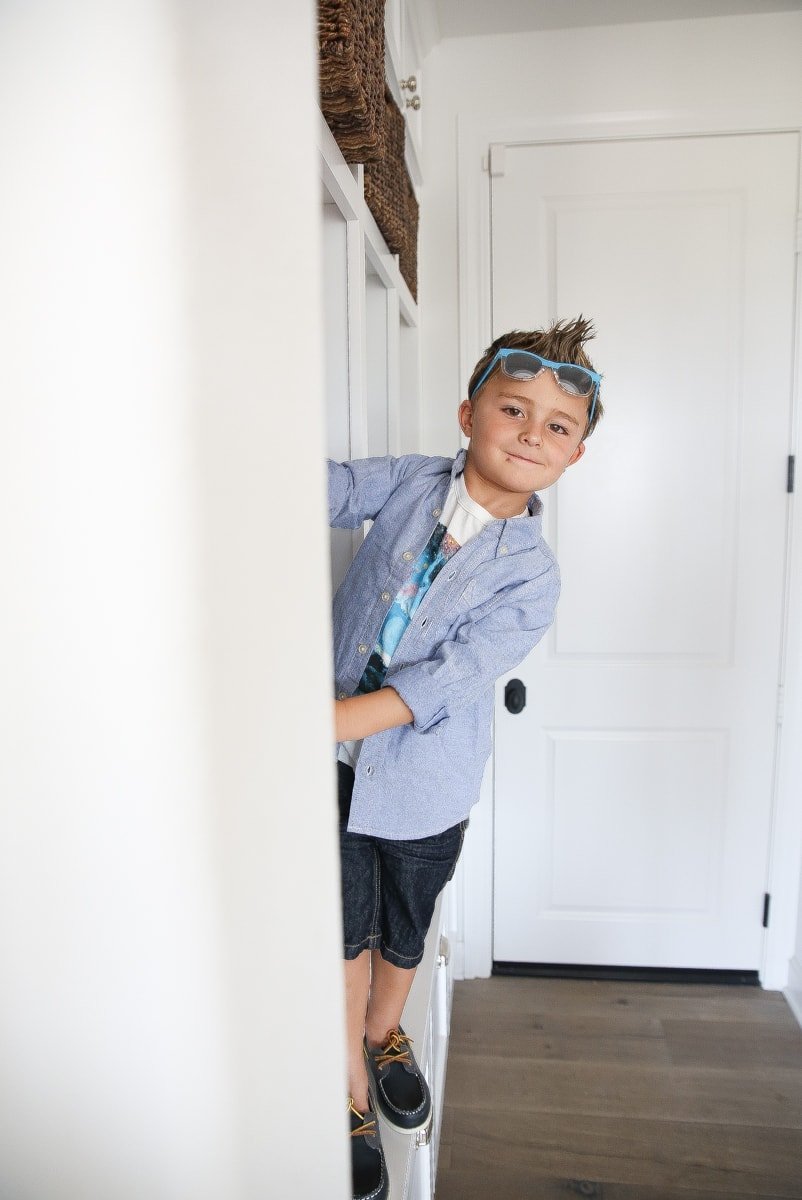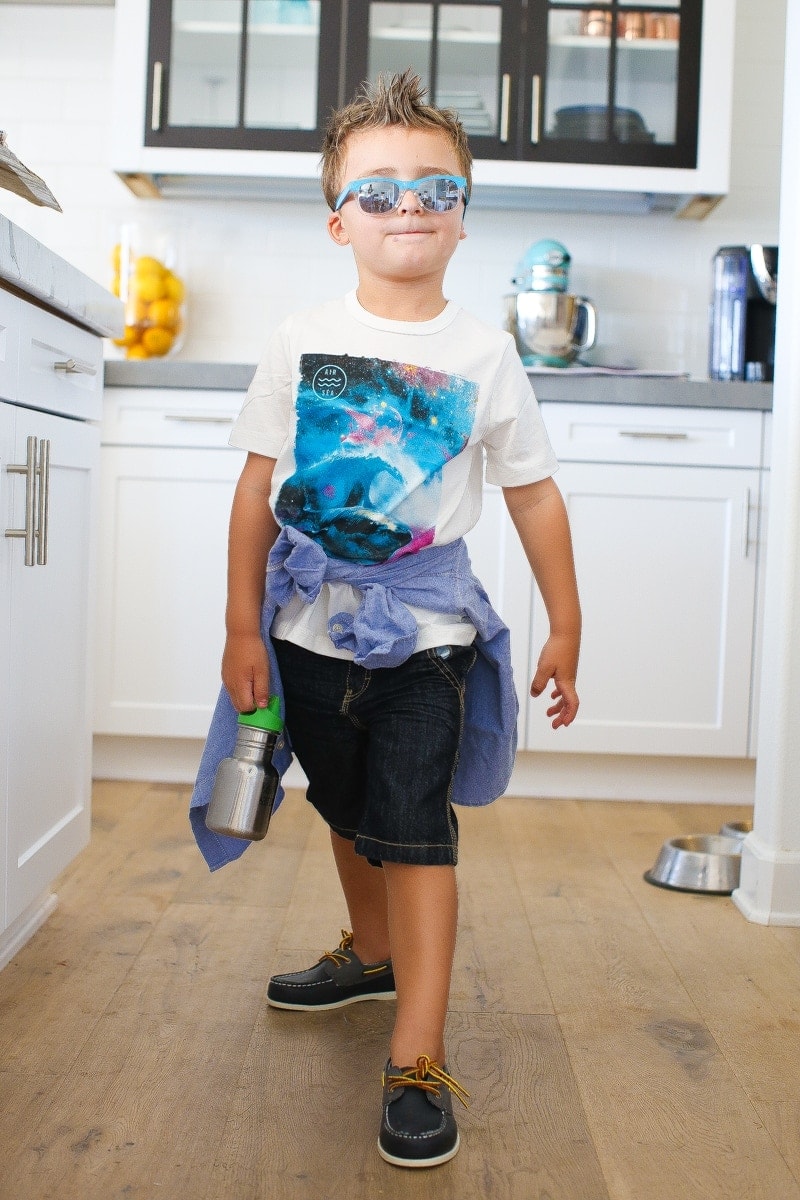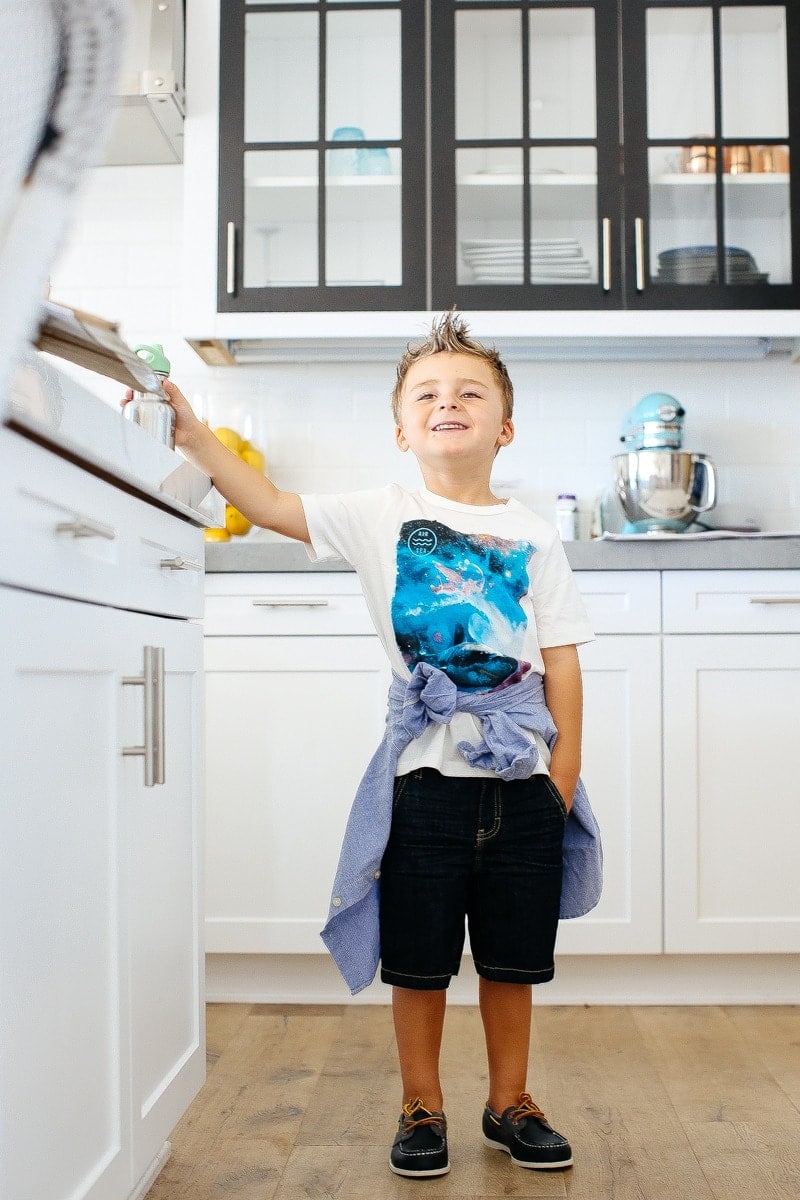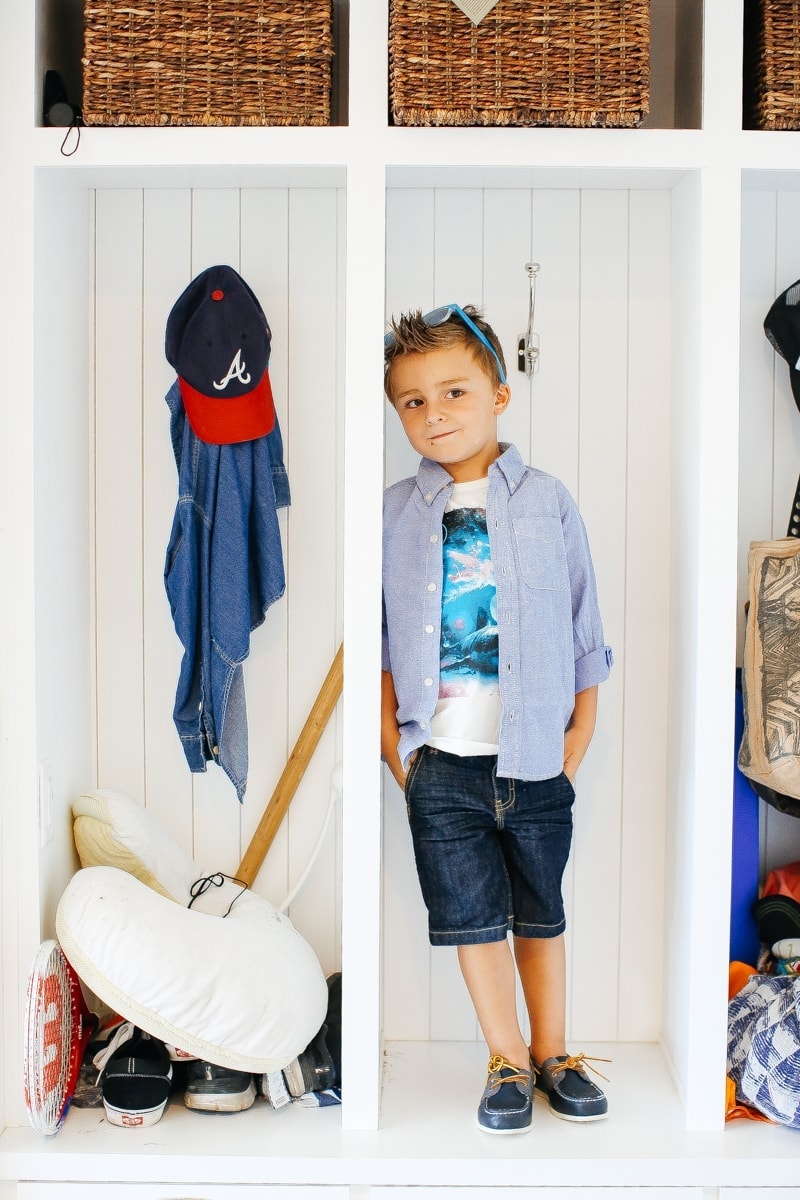 3 – Sporty Mid layer for the Athletic Tyke
More layers? Yes, please! I like to call this the three-layer special: t-shirt, button down and zippered sweat shirt. Back to school means the cooler, fall season is upon us. Another layer makes for a happy, cozy boy. Like his daddy, Roman is all sports, and on any given day he's ready for whatever game is thrown his way! With a beanie, hoodie and football in hand to compliment his favorite Oxford, he's ready to take the win… that is unless the pup gets the ball first.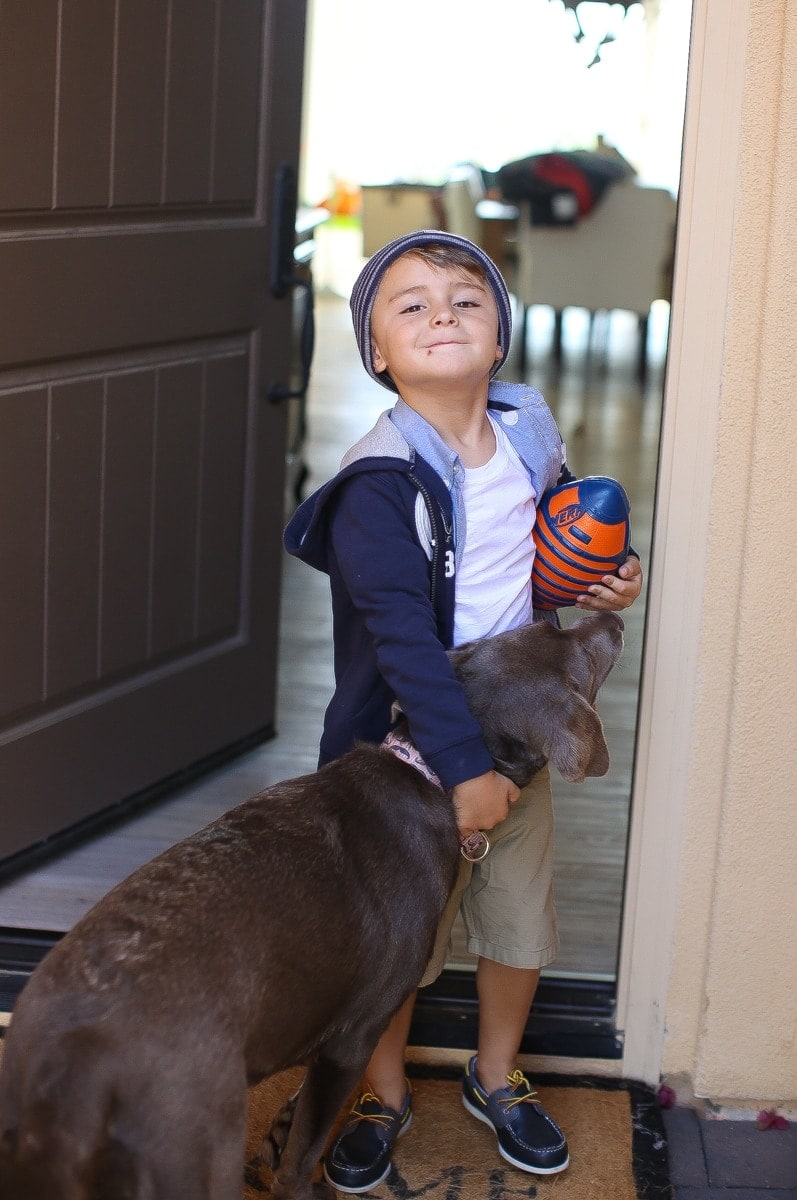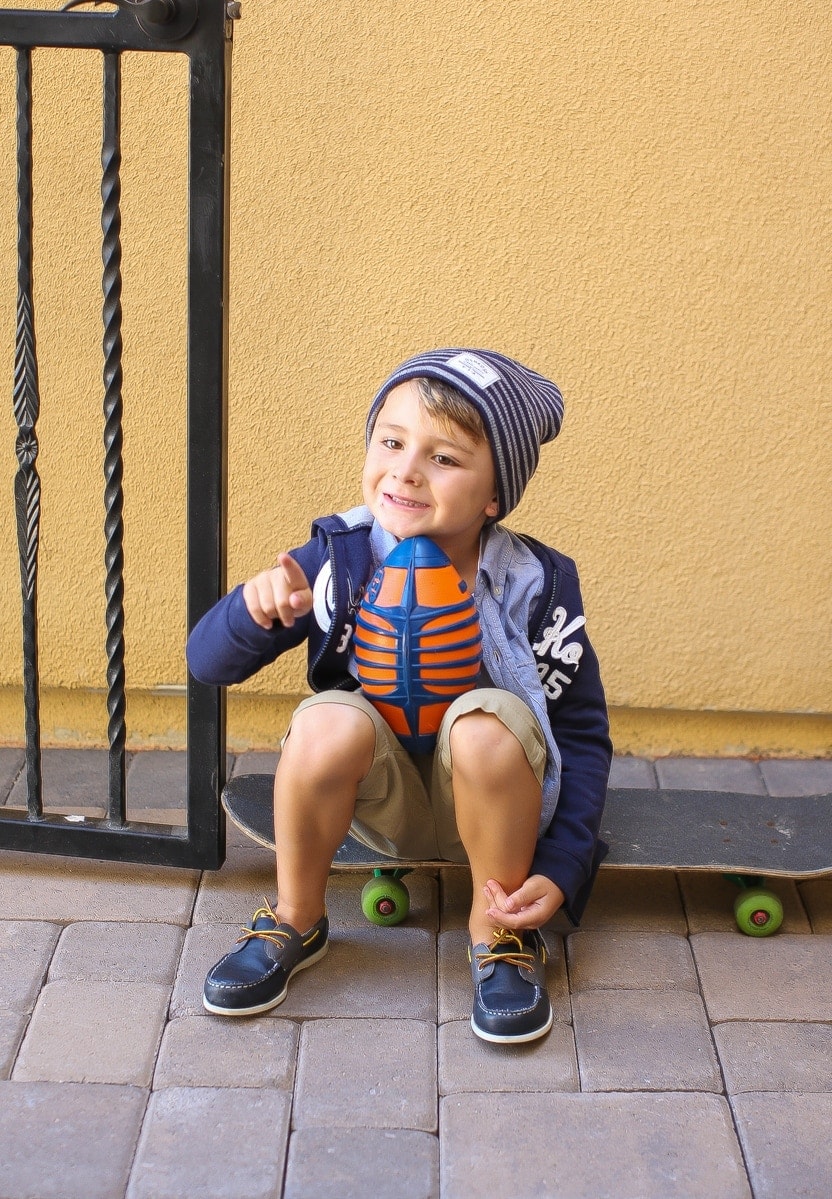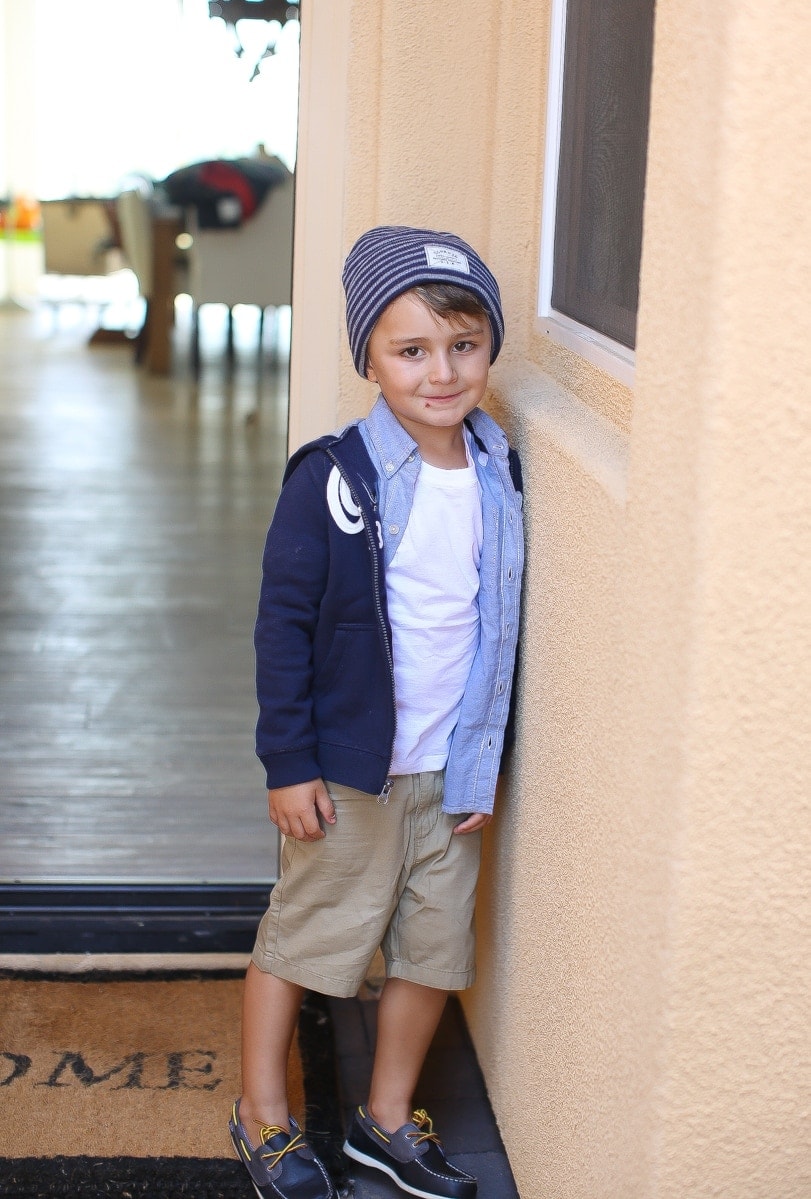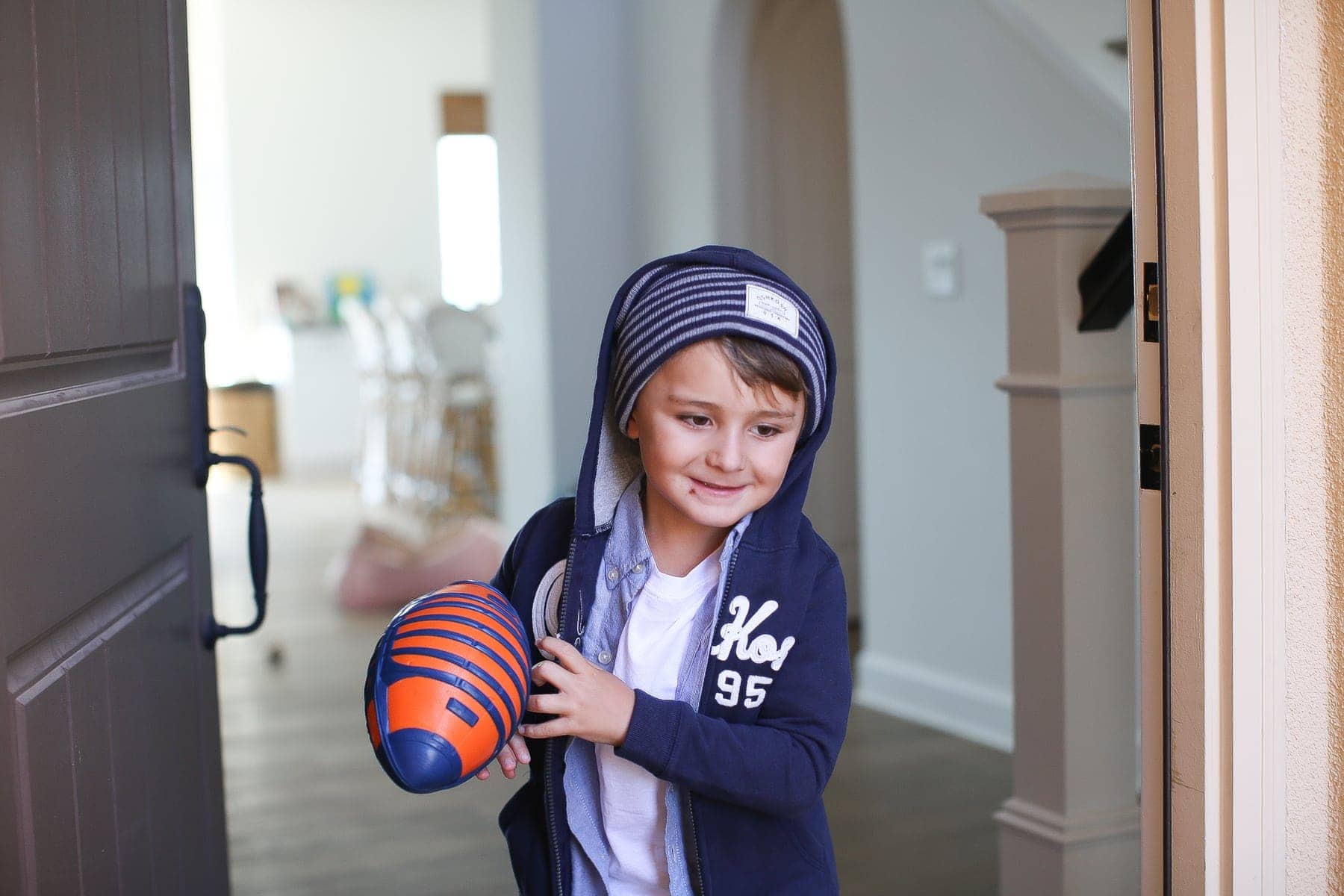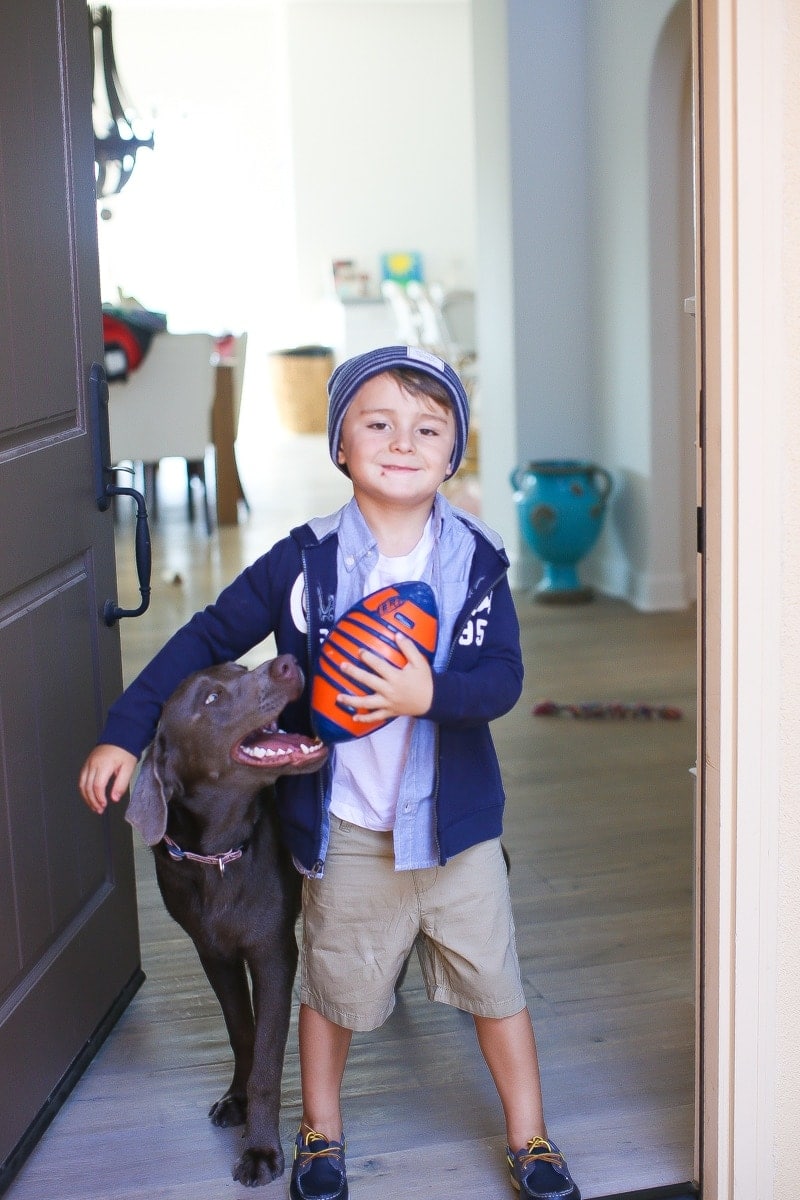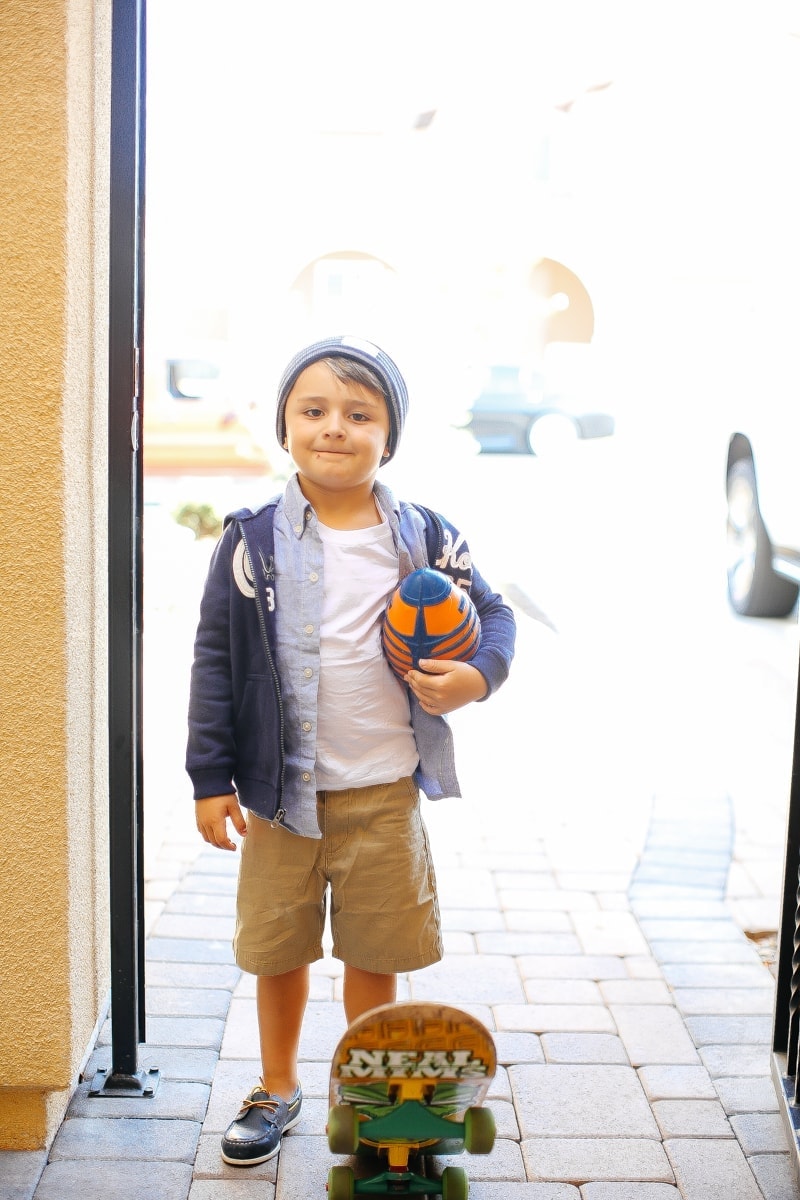 4 – Basics, baby!
Another layering look for this fashion forward kiddo is the tried and true plain white tee. We also paired it with a vintage Raglan graphic tee for a similar vibe. This look is simply classic, and most definitely kid approved. Roman's key element (his button down) really pulls together this awesome ensemble. And you can bet that his jean shorts will always be on trend… because like the little black dress we all know and love… some things never go out of style, even in kids' fashion.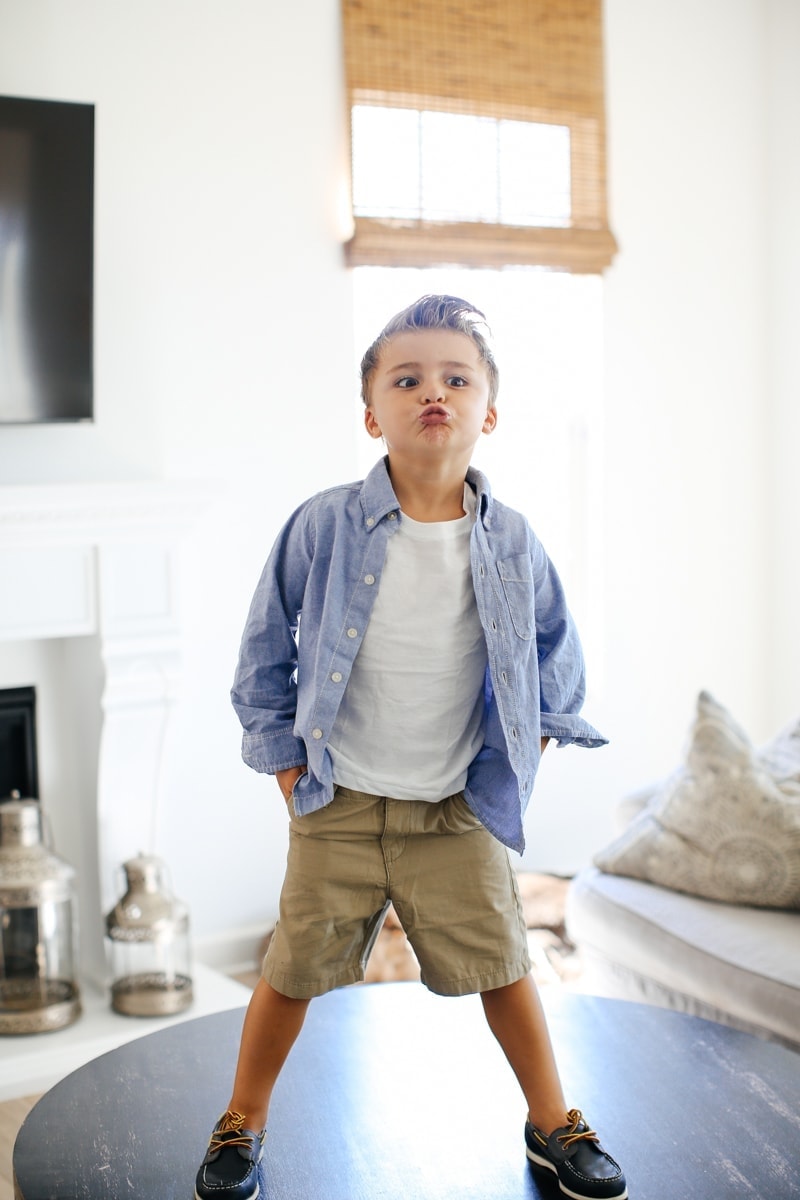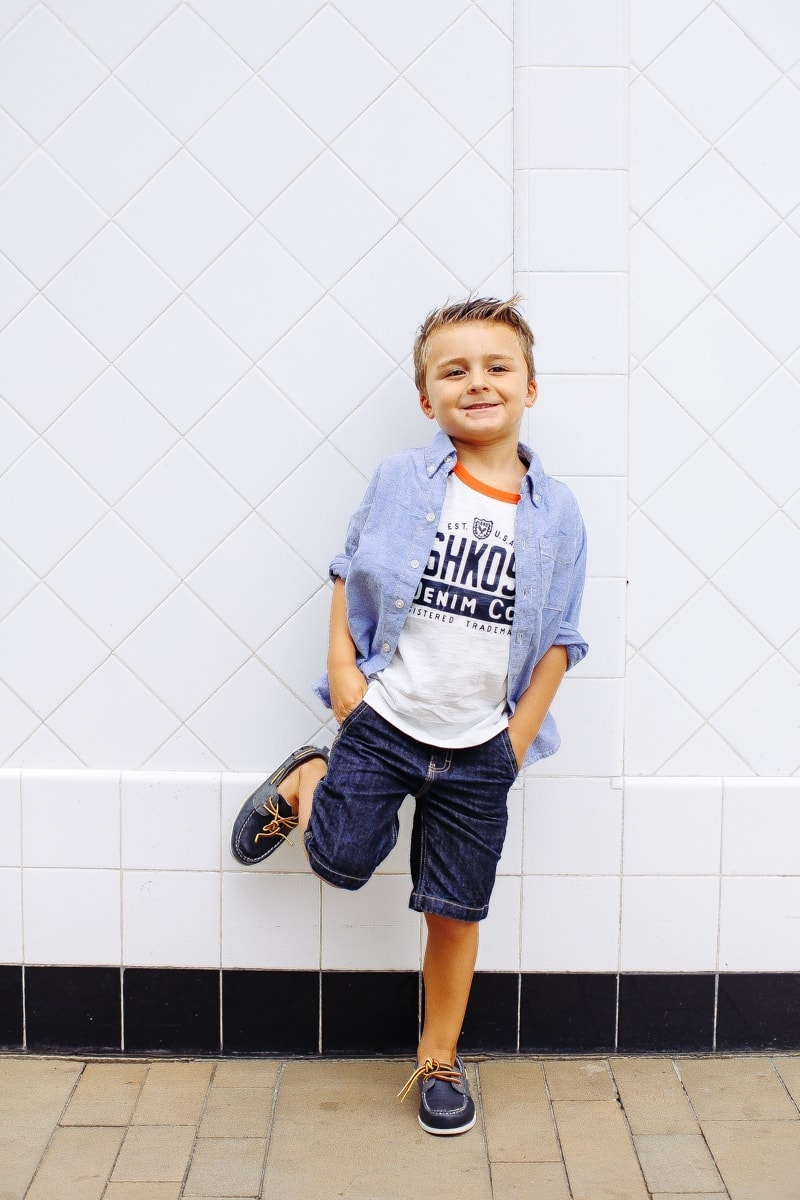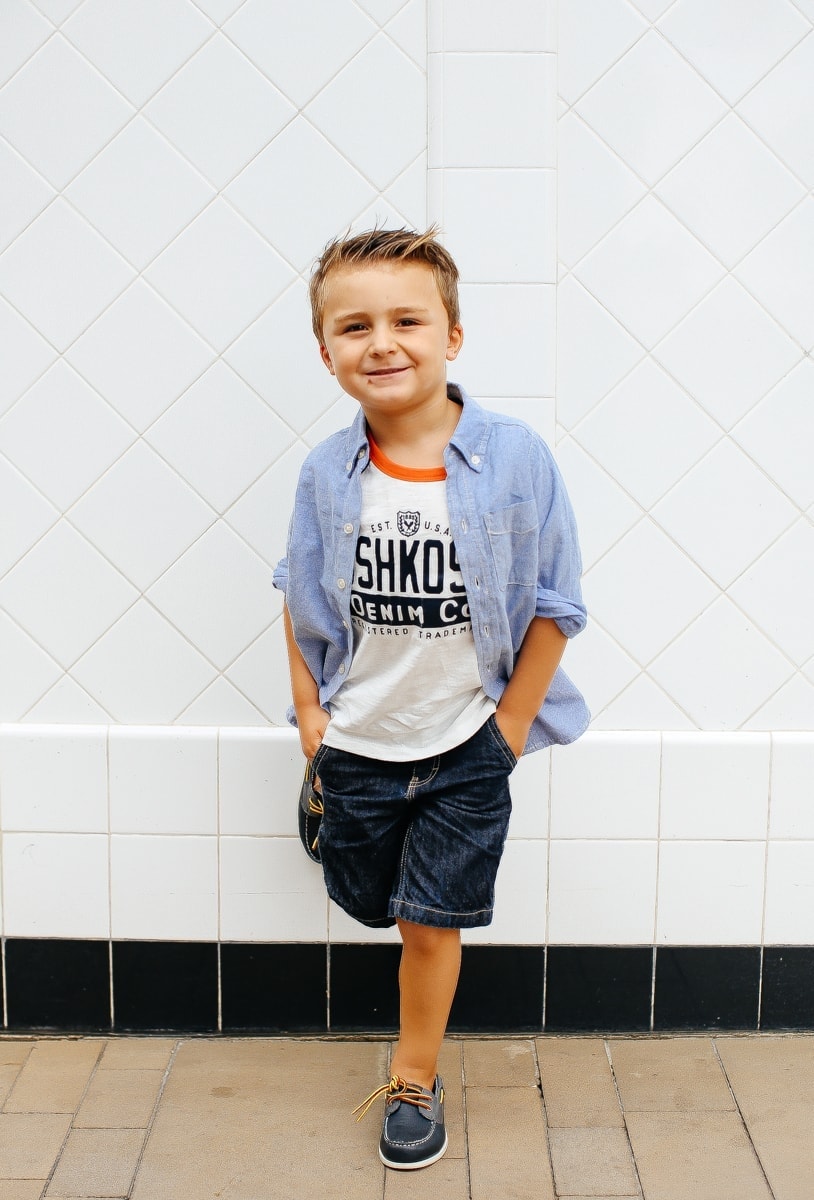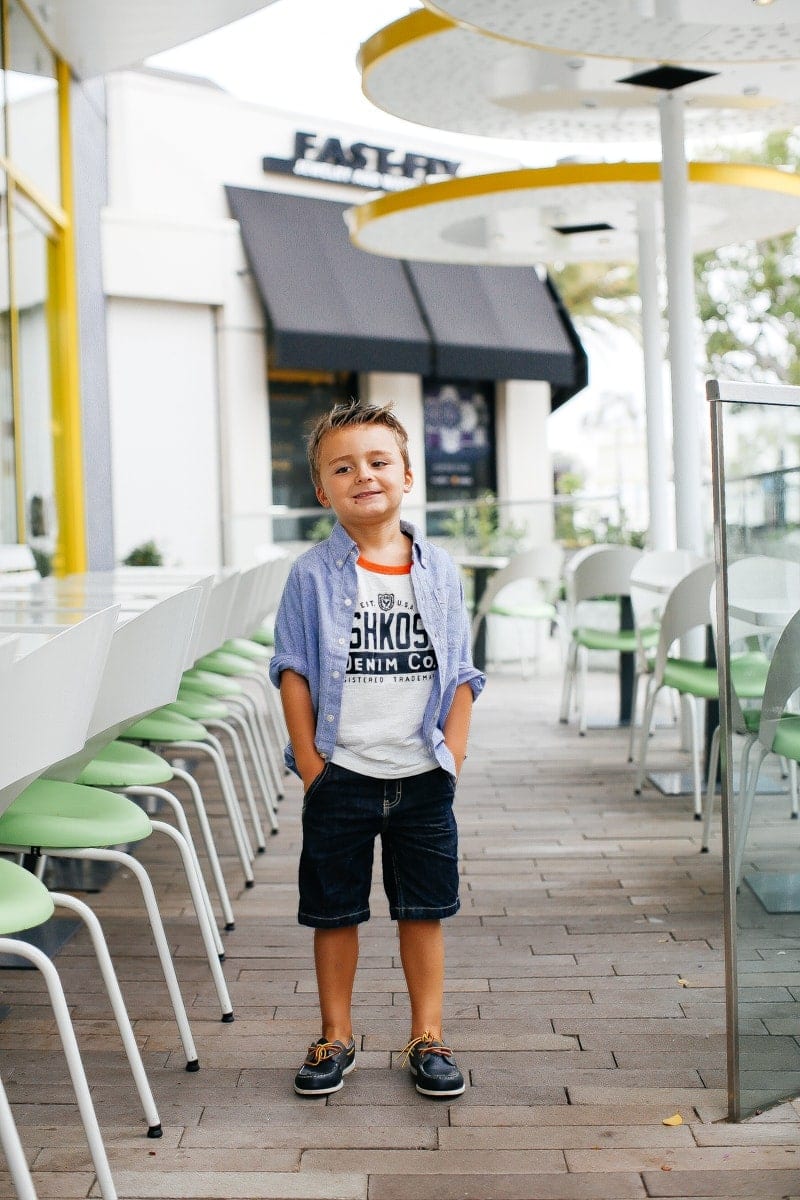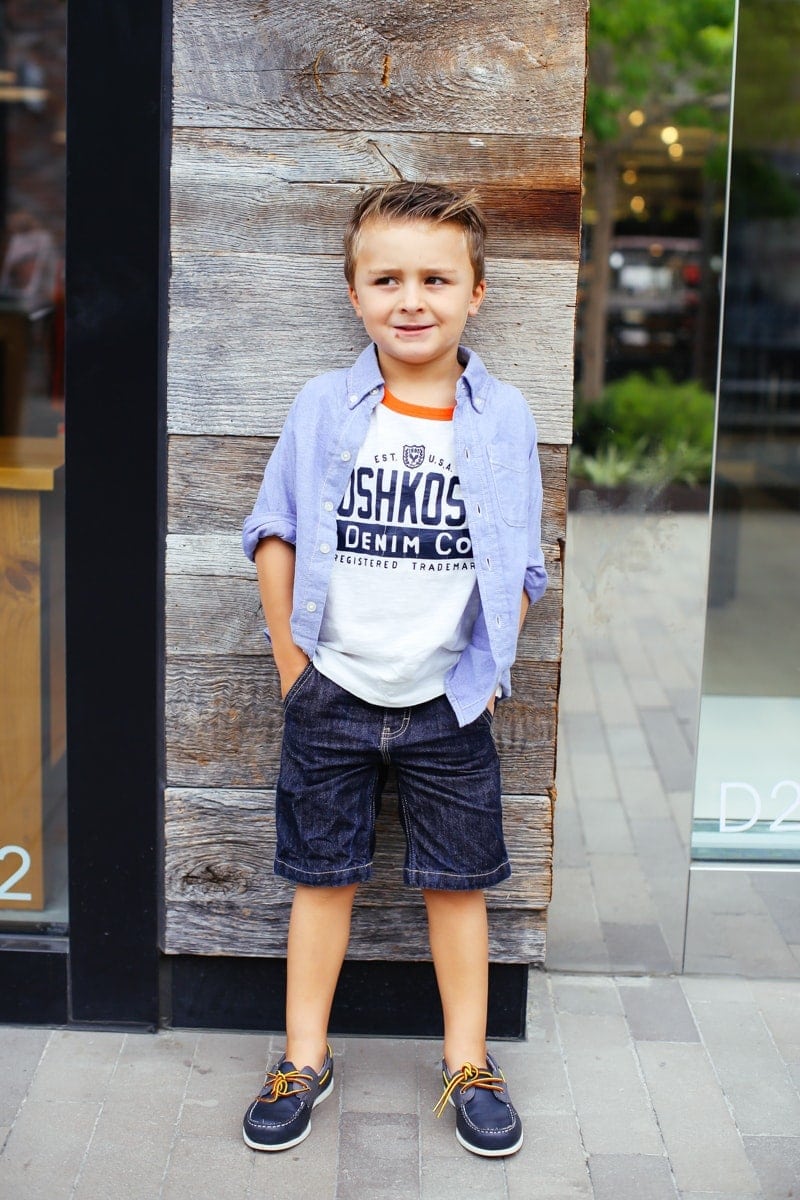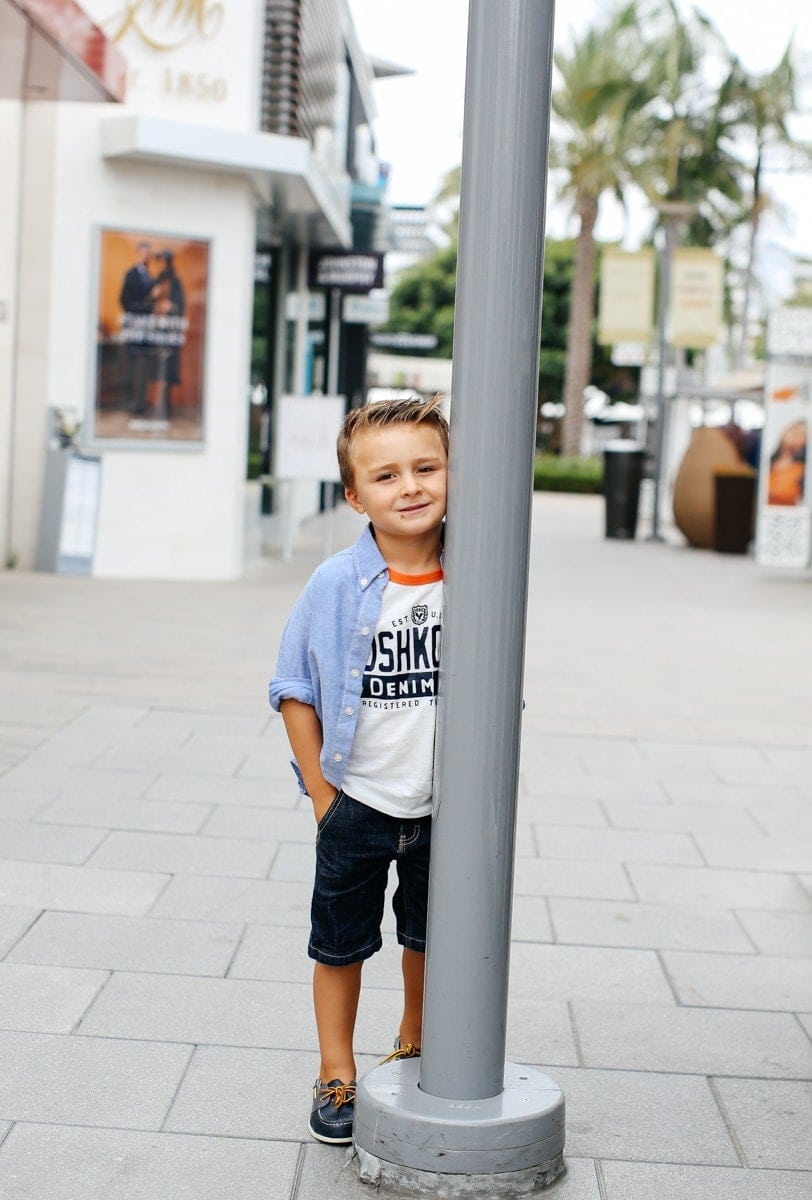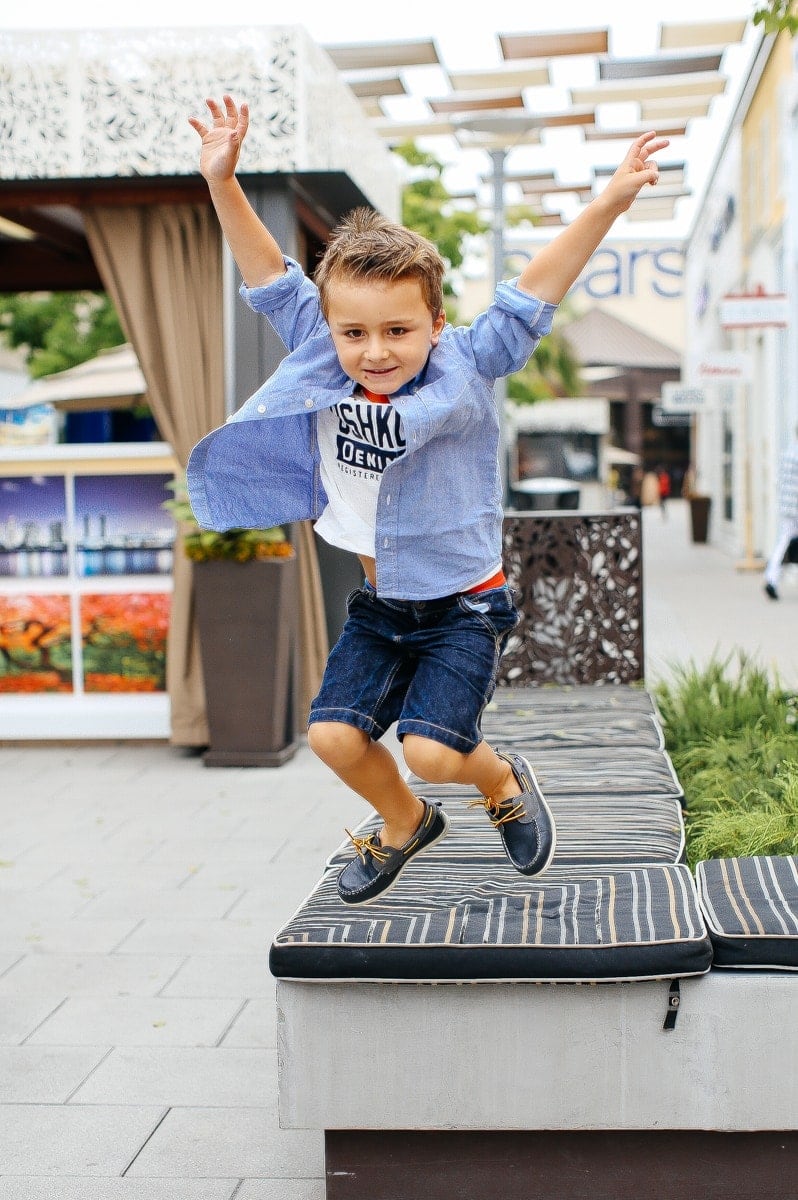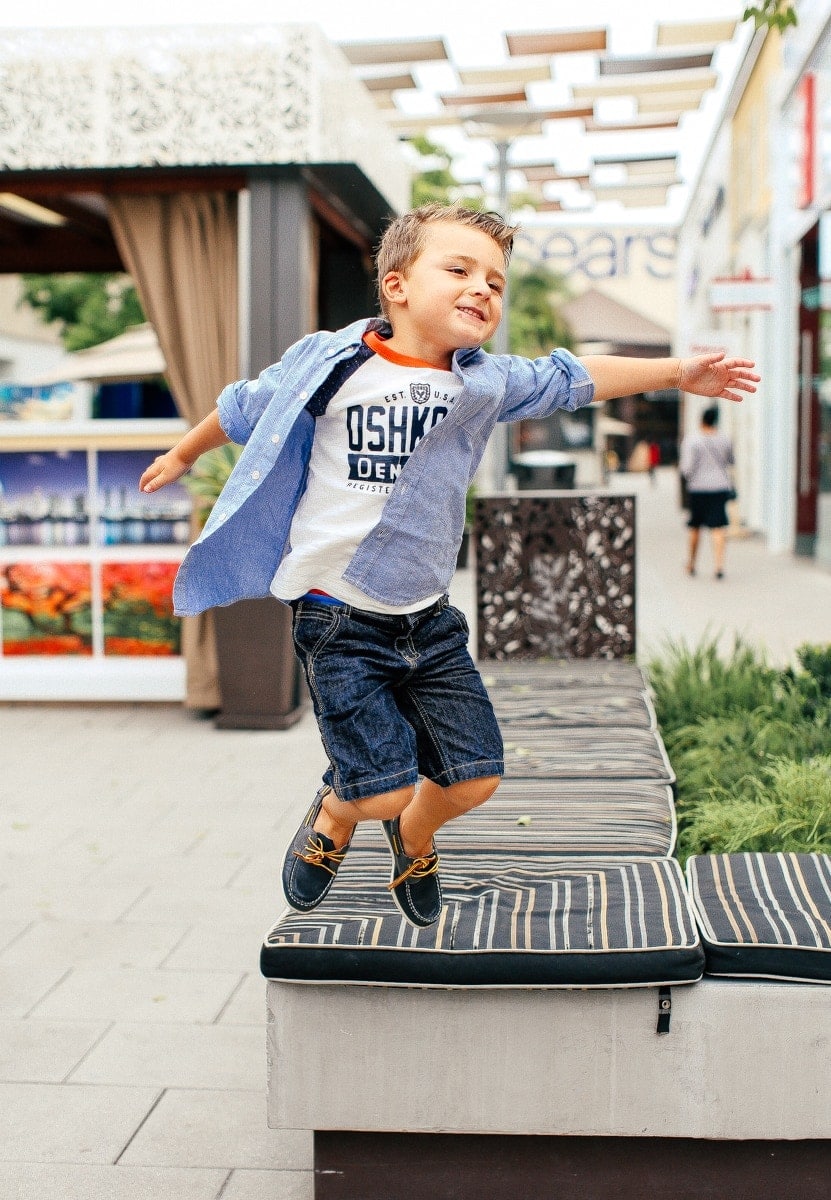 Although we're trying to stretch out the summer for as long as we can, it's inevitable that the routines, big-family schedules and the endless to-dos will soon be upon us. The school supplies lists are wistfully rolling in, putting a dent in our summertime groove. However, thanks to OshKosh B'Gosh we have the back to school wardrobe totally squared away. As a mom who is well-versed in what's cool and trending for the minis, our sweet Roman gets an A+ for coordinating four looks around his must-have Oxford Button Down. Bring on the Fall 2016 school season. We are back to school ready!
What I love about my job: OshKosh B'Gosh is giving all City Girl Gone Mom readers 25% off their next purchase. You can use this coupon till September 31st. For a store near you, please click here!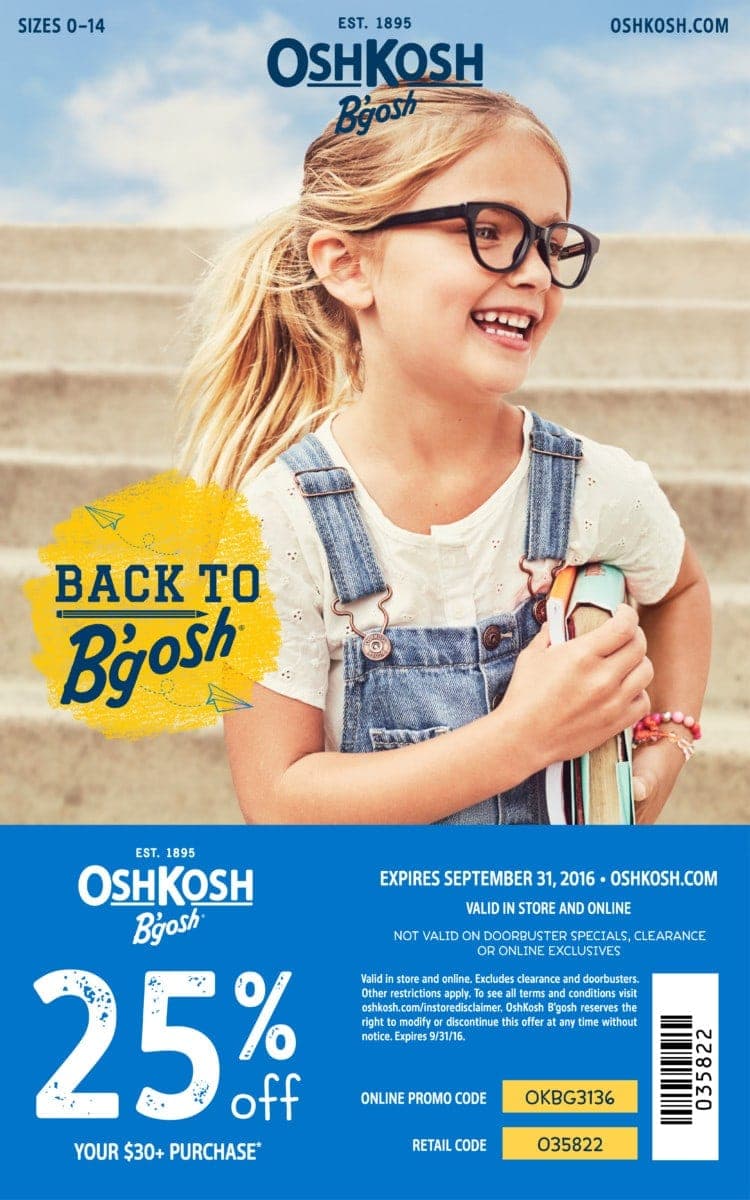 Tips for Parenting In Style...
Never boring, always awesome. Keep up to date with the latest from City Girl Gone Mom.