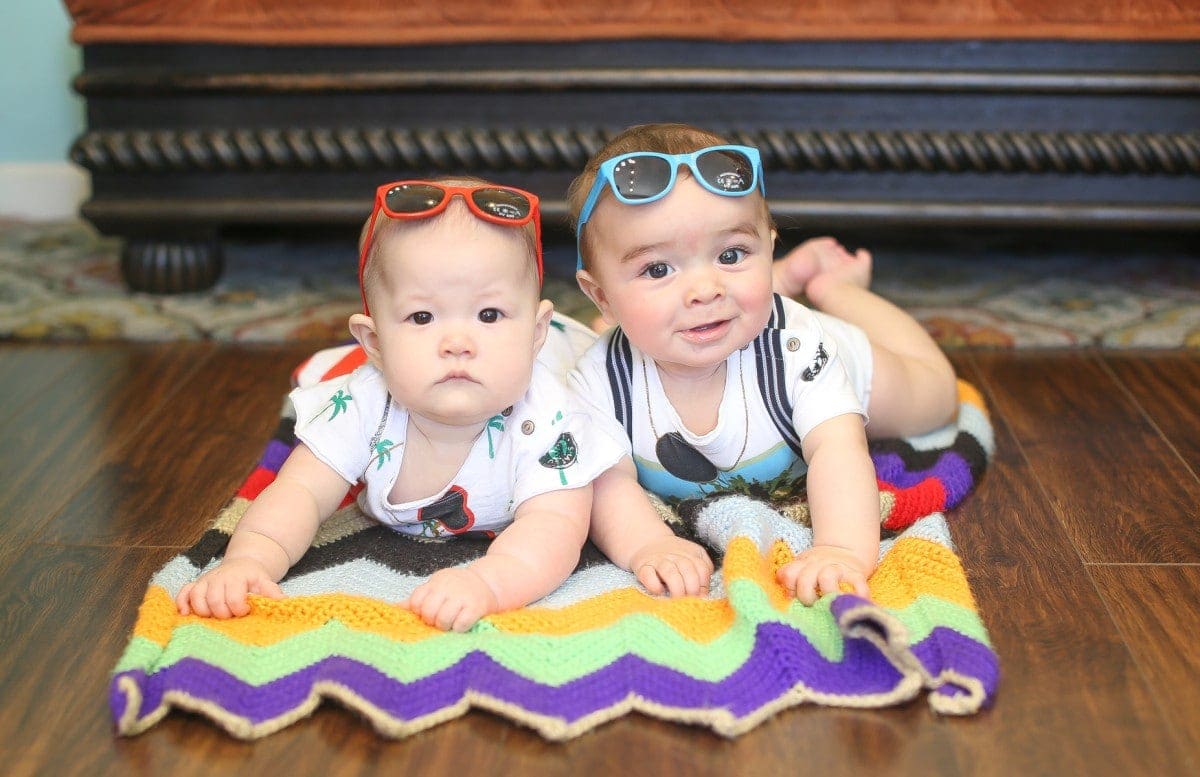 With every baby step, a new chapter begins.
And so a page was turned… when I adorned my baby and his sweet playmate in the latest threads at Modish Baby Boutique.  In celebration of Modish's two-year anniversary, I had to stop in and check out the latest looks that are consistently at the forefront of kids' fashion in southern California.
If you are looking for baby clothes that are unique and innovative, Modish Baby Boutique has some of the best. A perk?  It's located within Modish Maternity, so it's more of a one stop shop where you can get maternity wear, postpartum must-haves and accessories all under the same roof.
As a child of the 80's, I fell hard and fast for the bold, bright designs of Mini Shatsu, one of Modish Baby Boutique's most colorful lines. Funky and fearless, the brand deems itself "a line of life-inspired clothing brought down to size to fit the most prized members of your family." Inspired by Hollywood in the 80's, the Mini Shatsu brand reeks of "rap to rock, beatbox to breaking, hoops to skateboarding, mohawks to tattoos" and the bigger the boom box, the louder the outfit.
For a company that began with spray paint and sharpies, they sure got it right for these two little pikachus. Forget pastels and soft watercolors, these creative duds give my kids (who are a quarter Japanese) a wearable canvas that illustrates their equally vivid personalities. And if you didn't already know, "shatsu" is Japanese for "shirt".  Why is it that "shirt" seems a heck of a lot cooler in Japanese?!
What's even cooler?  Mini Shatsu has very limited collections, producing only a few hundred of each design. This means that your kid's style can be pretty darned unique if that's something that appeals to you. In my mind… SCORE!  But it also means you have to act fast to get in on these cool clothes.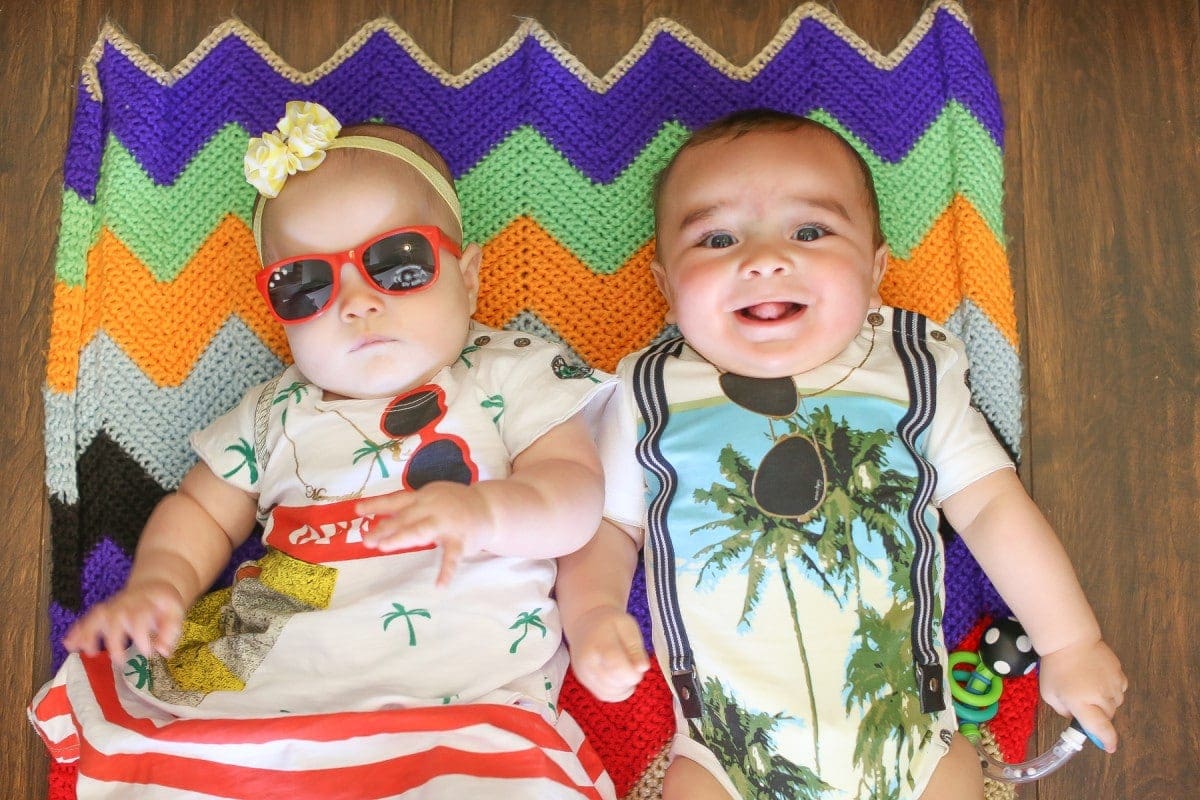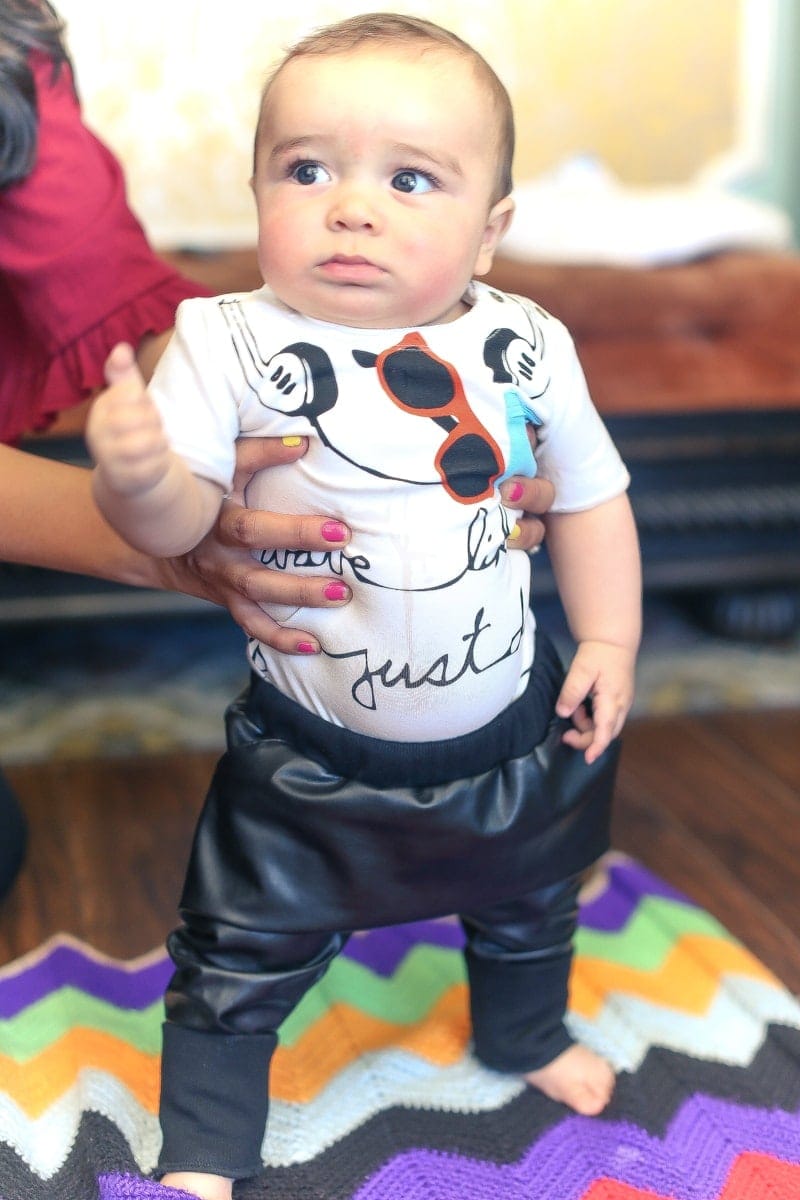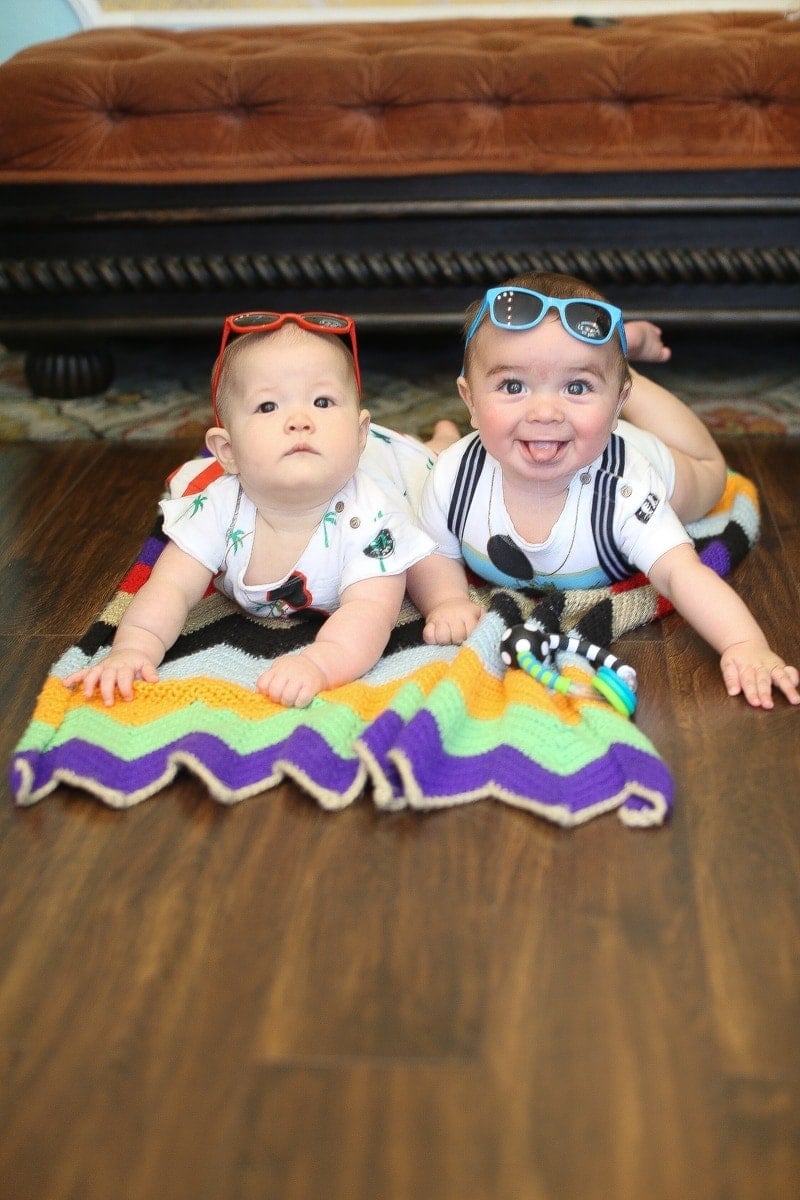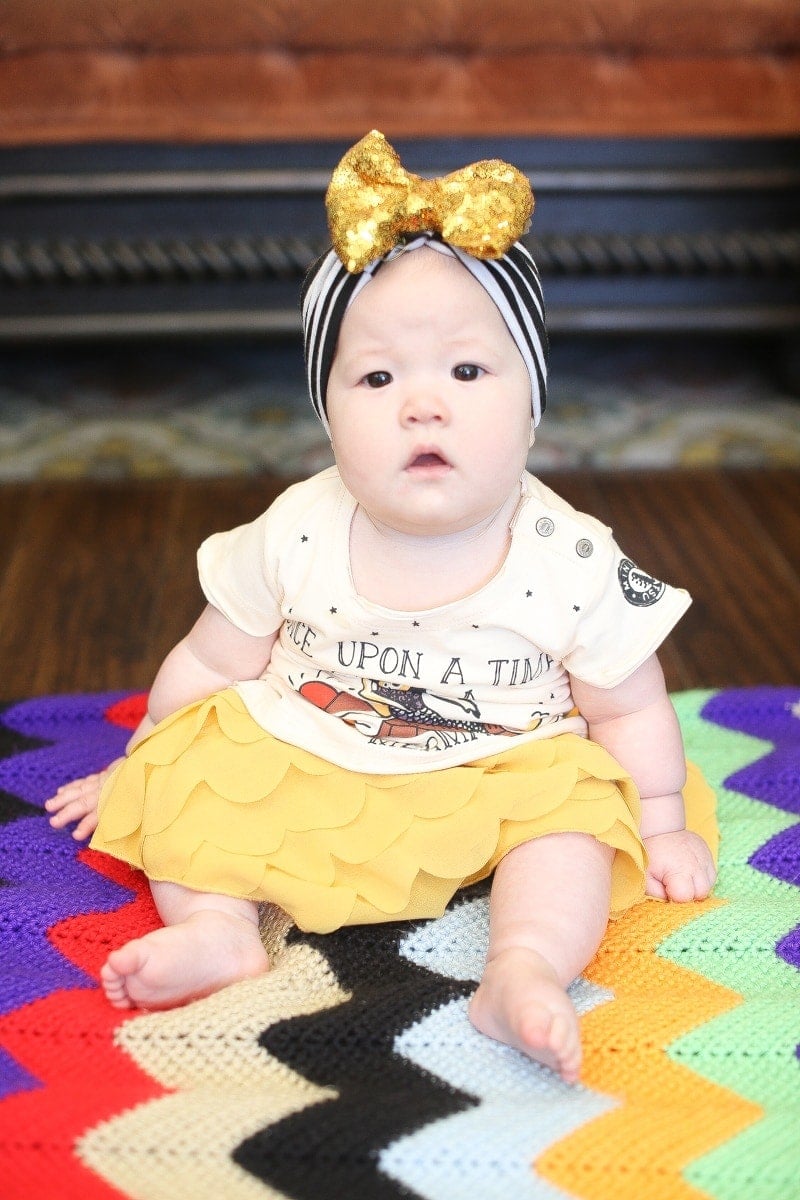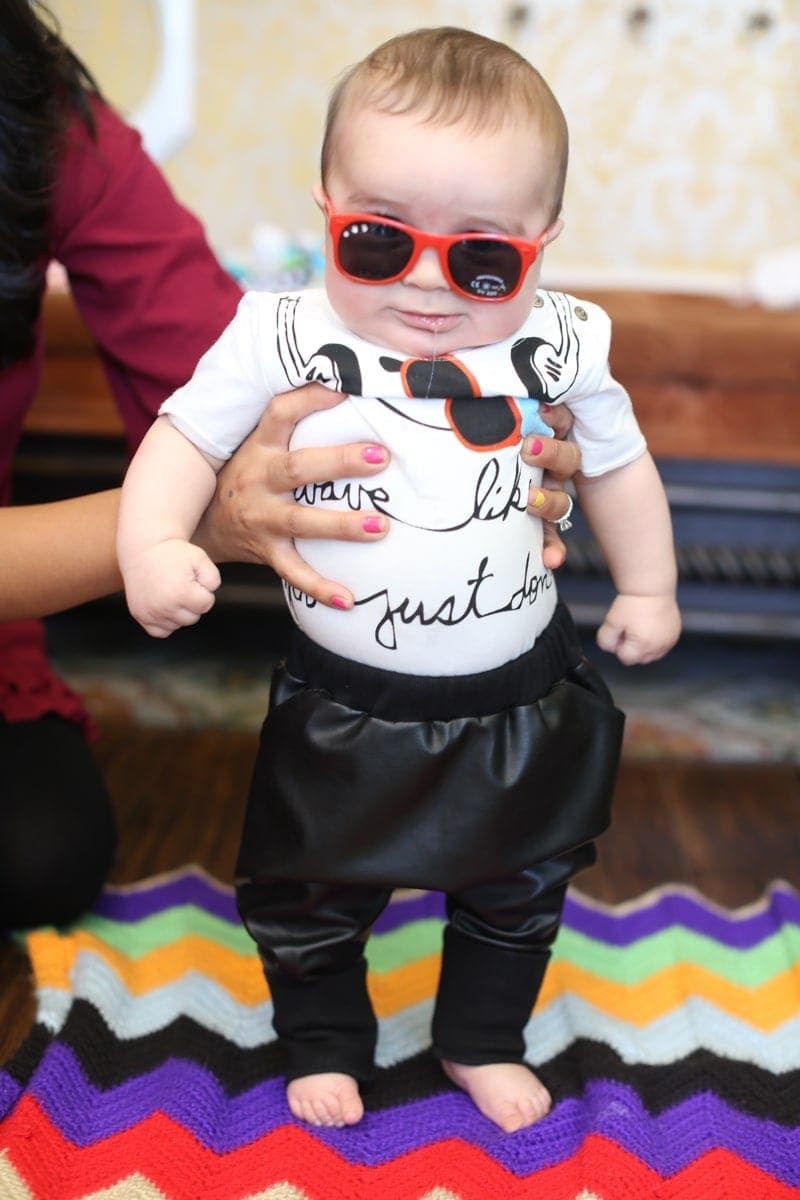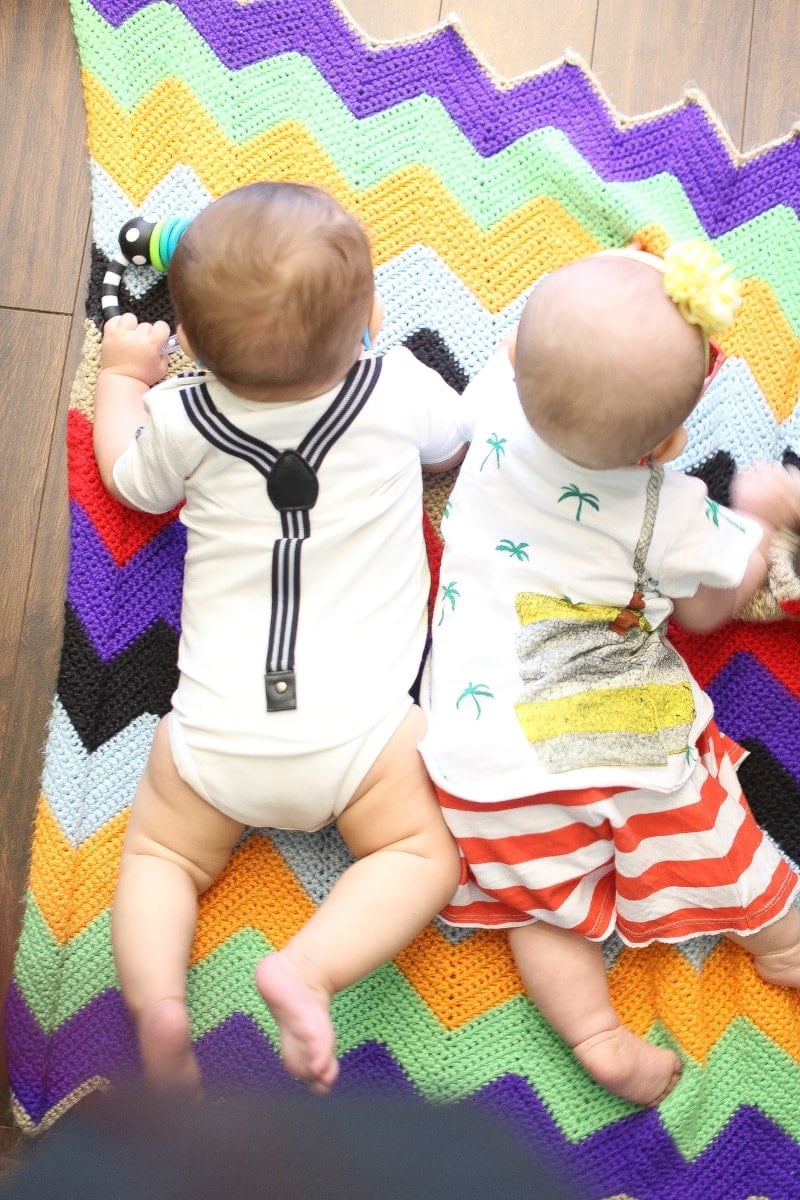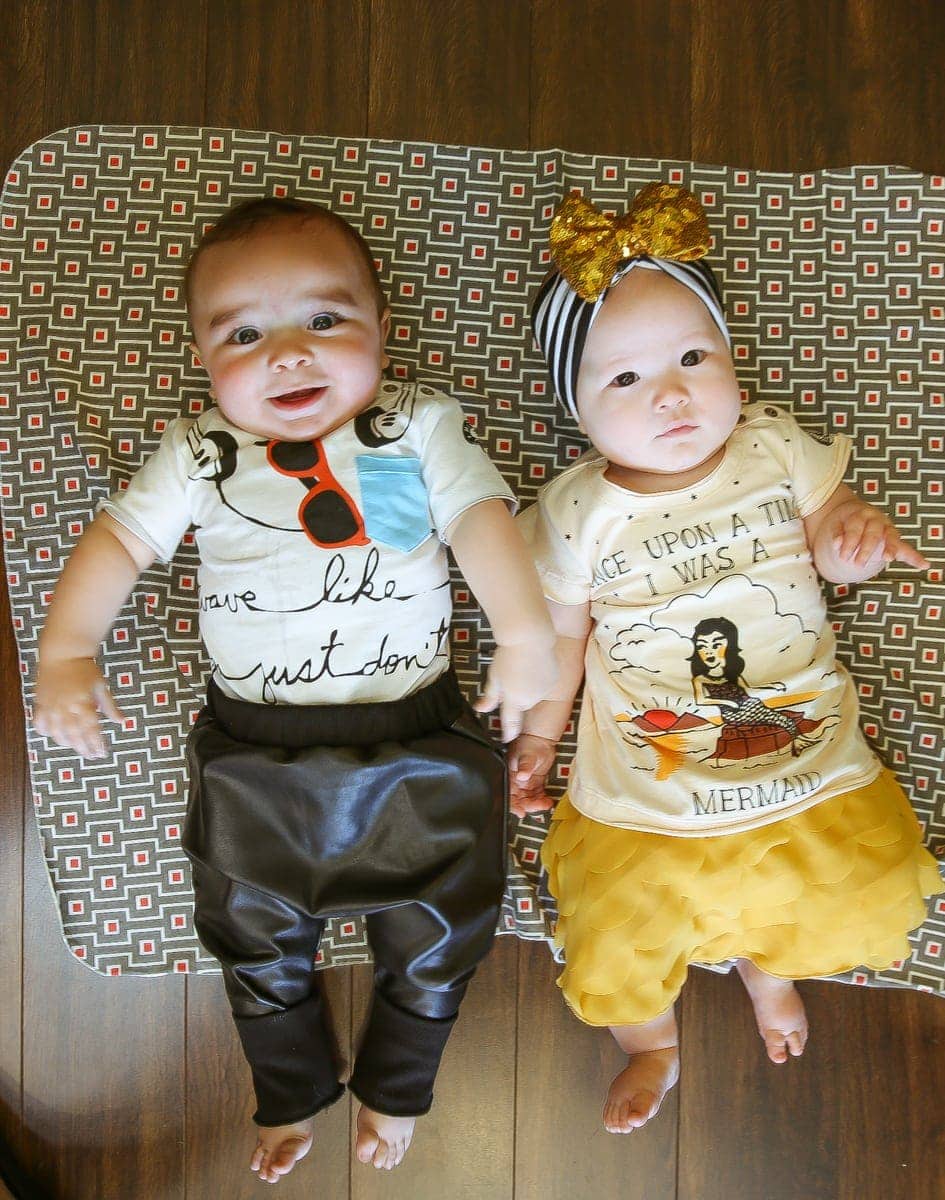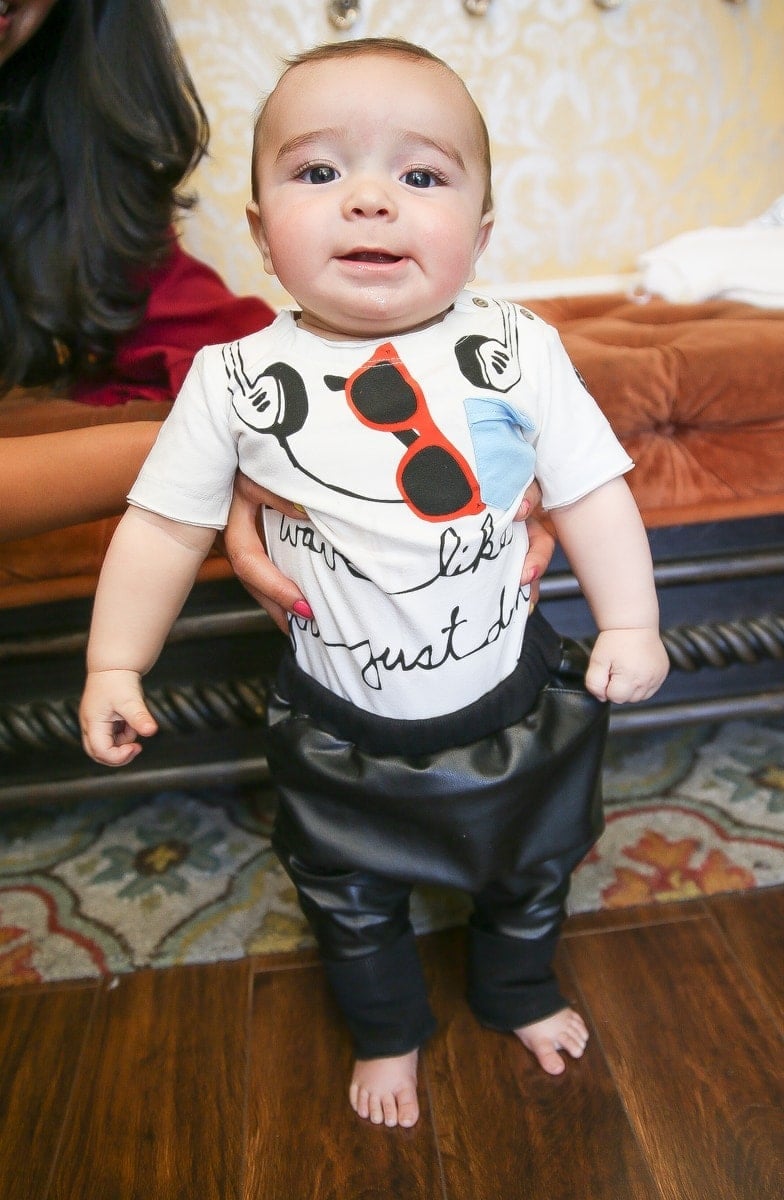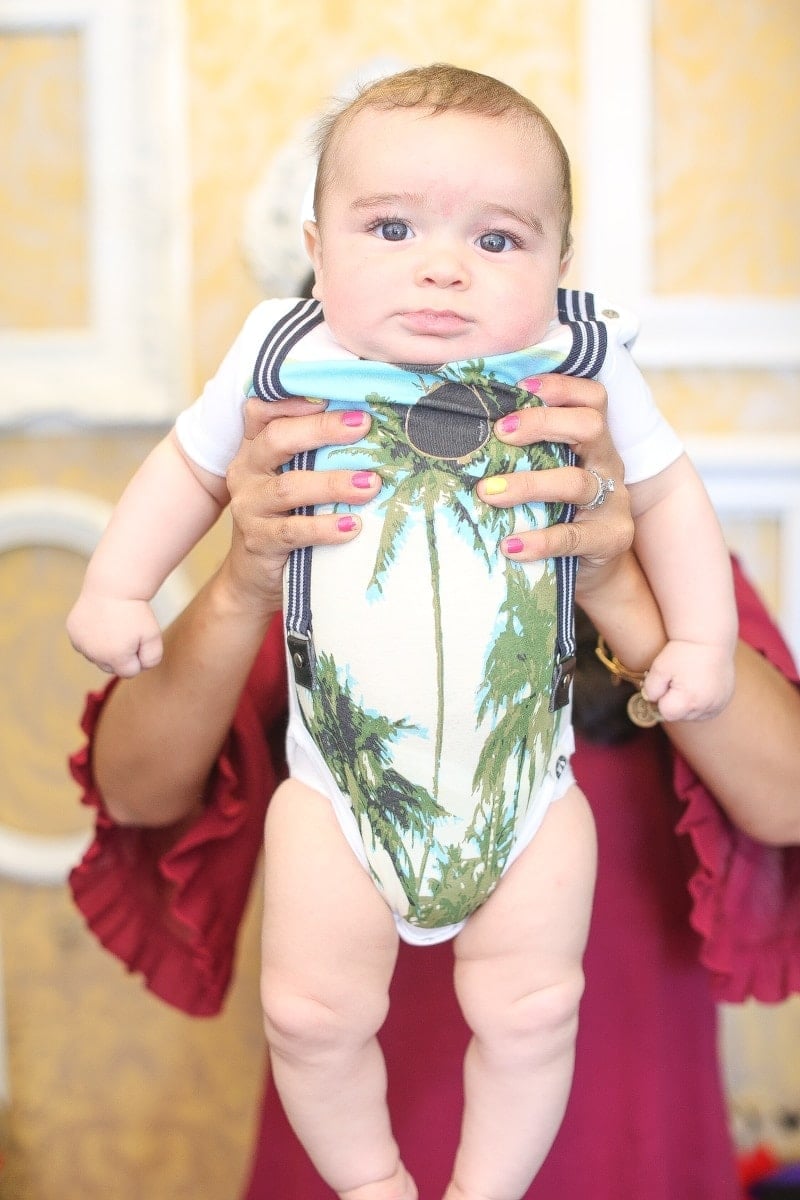 Another kids clothing line that has me swooning? Wee Monster. Check out the faux leather pants on my little one.  This LA based designer has mastered an uber adorable edge when it comes to kids' fashion.
Wee Monster gives babies and toddlers an urban look that brings me back to my New York City fashion roots. Rather than fussing around with flowers and sparkles, traditional pinks and blues – Wee Monsters' simple blacks and greys give a soft edge to my kids' #OOTD.  What's better than hanging out in your crib and prowling the playground in these cool, signature looks, designed for comfort? According to founder Jakki, "Being a mother and a textile designer, I take pride in offering fun and comfortable clothing that will make any wee monster look and feel, like an original."
Giving Back
Wee Monster is the creator of the Monsters Off the Street Foundation. This non-profit organization strives to keep kids off the street by creating after school programs with art classes.  This company donates $1.00 for every item sold to keep kids off the street.  According to Jakki, "If a child's calling is to paint or sculpt, we need to water this seed until it grows into something beautiful."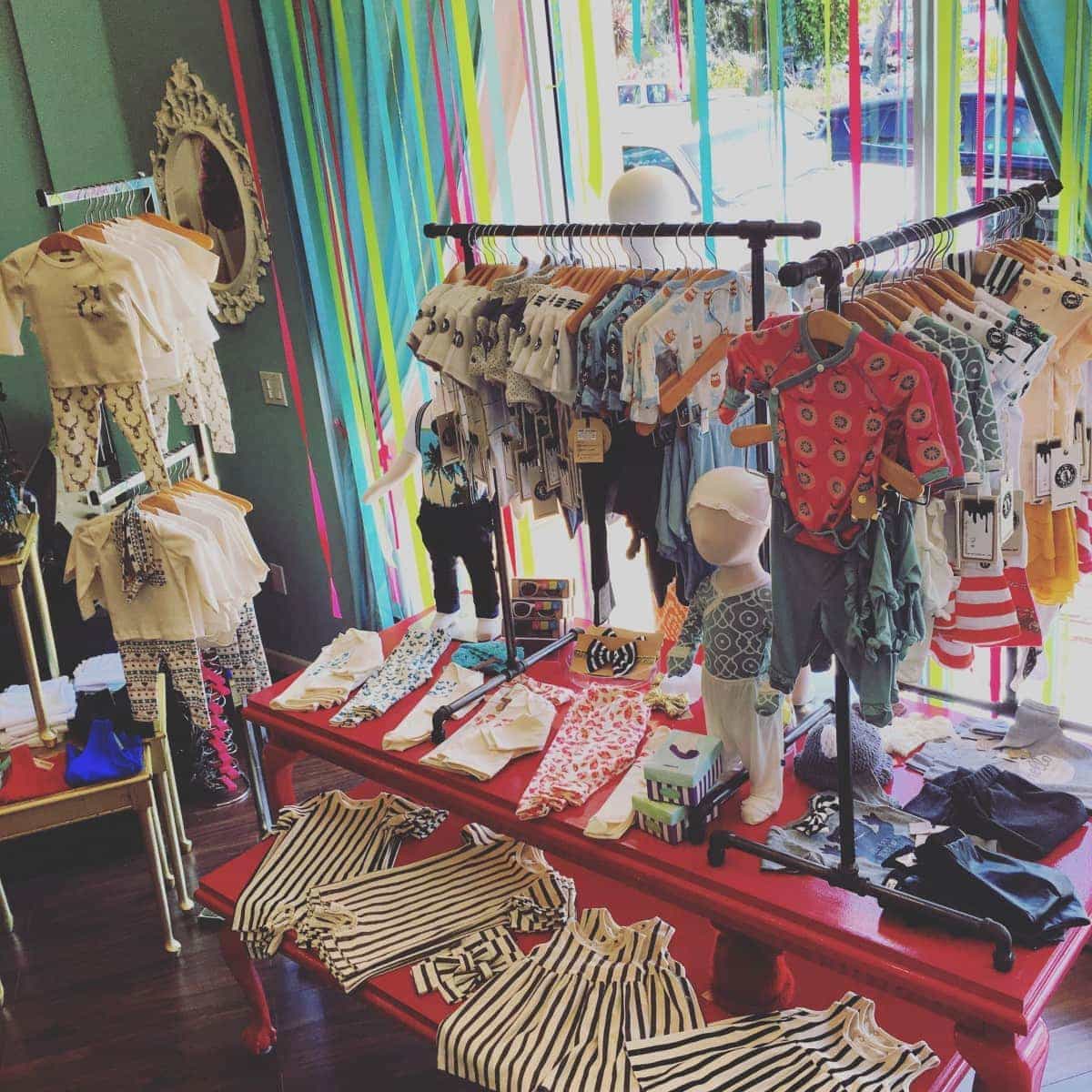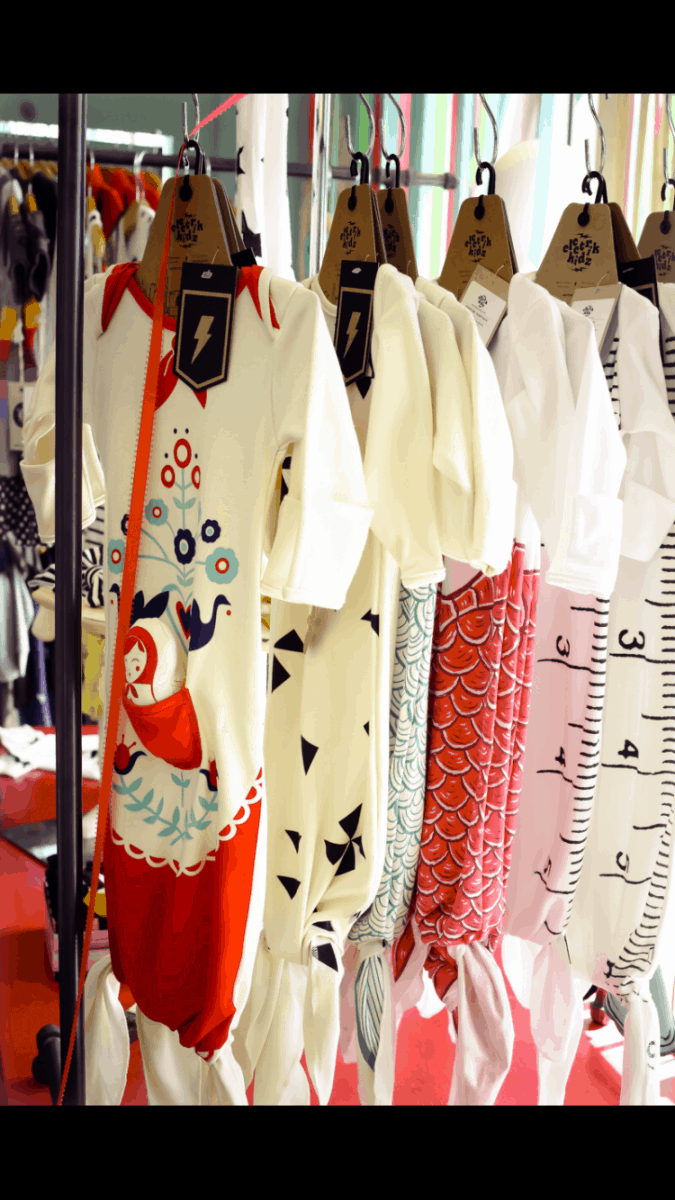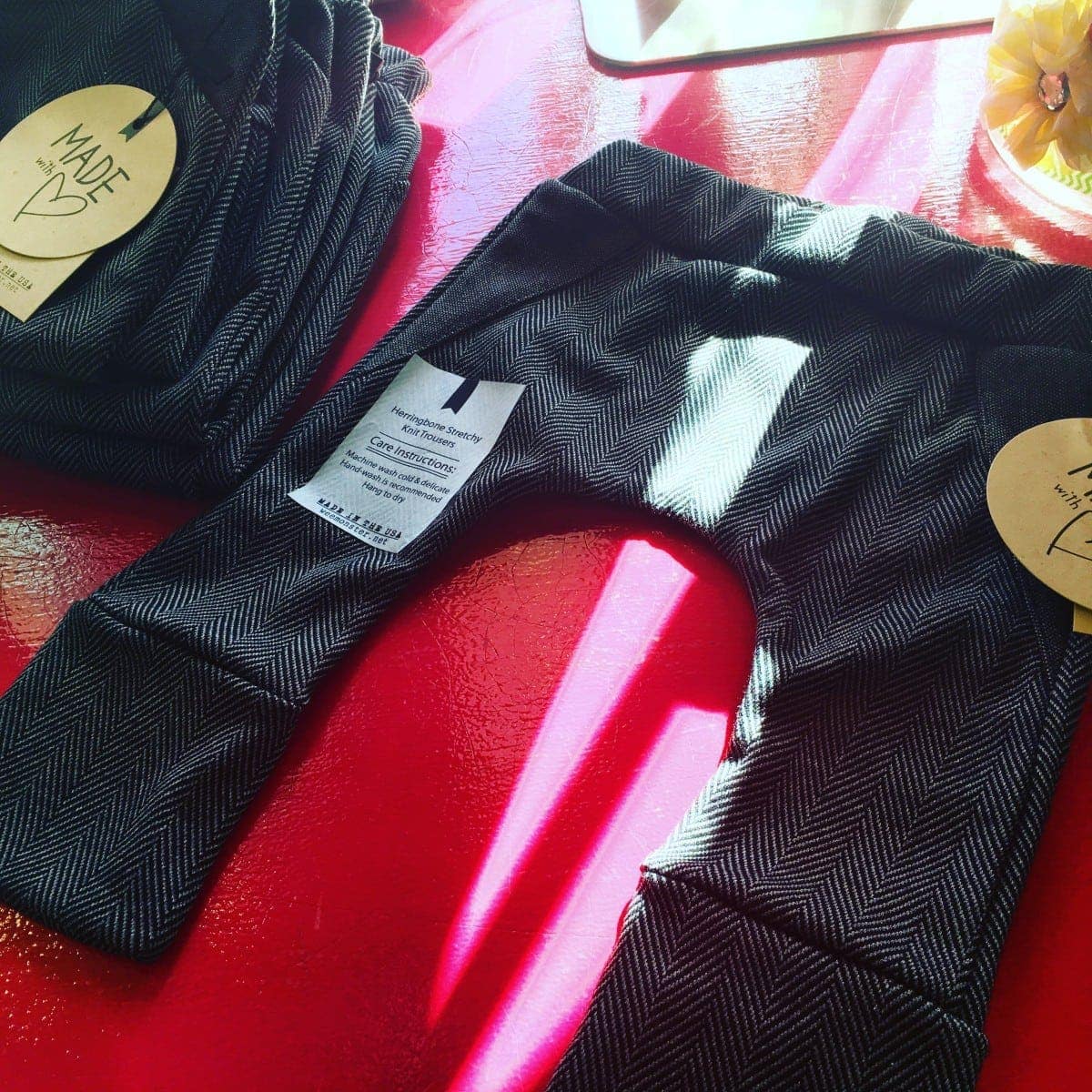 Gery Freshour, owner of Modish Baby Boutique makes sure she is the first to have what is trending.  What I love most about Gery is she likes to pay it forward.  She supports local designers like Wee Monster, J Avenue Organic and Ro.Sham.Bo.  Tammy, from Modish Maternity took Gery under her wing and helped Gery pursue her dream of selling cool kids lines.  If you live close to La Jolla California, I suggest you stop in and meet this dynamic duo.  If not, you can see what she has on her website.
Good news for all of my readers because you can save 20% on your next purchase.  Just use the code CGGM20 at checkout.
Giveaway:  In honor of Modish Baby Boutique's two year anniversary, owner Gery has teamed up with me to give one lucky winner a "I'm New Here" Onsie and  pair of Ro.Sham.Bo baby glasses.  All you have to do is the following:
Follow all three of us on Instagram : @citygirlgonemom, @modishbabyboutique, and @modishmaternity.  Post a photo of your little one and hashtag the photo: #mymodishbaby.  Winner will be announced in 7 days!
GOOD LUCK!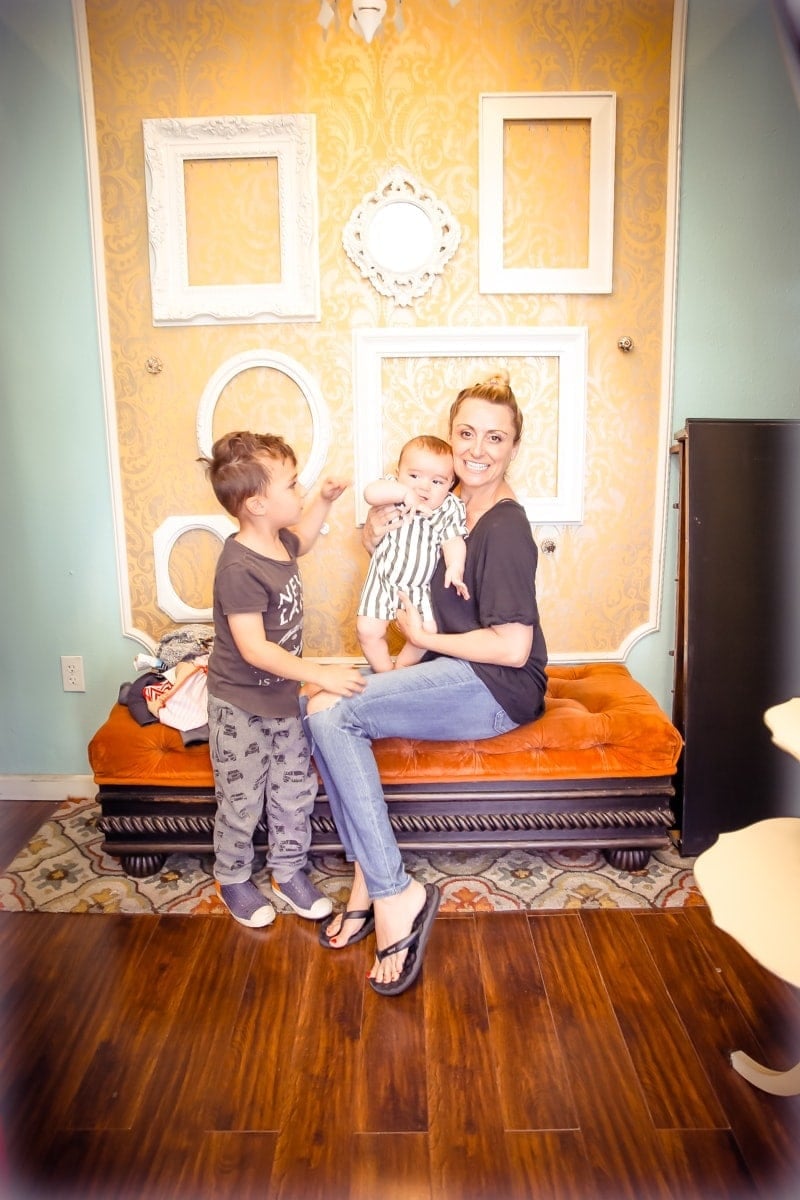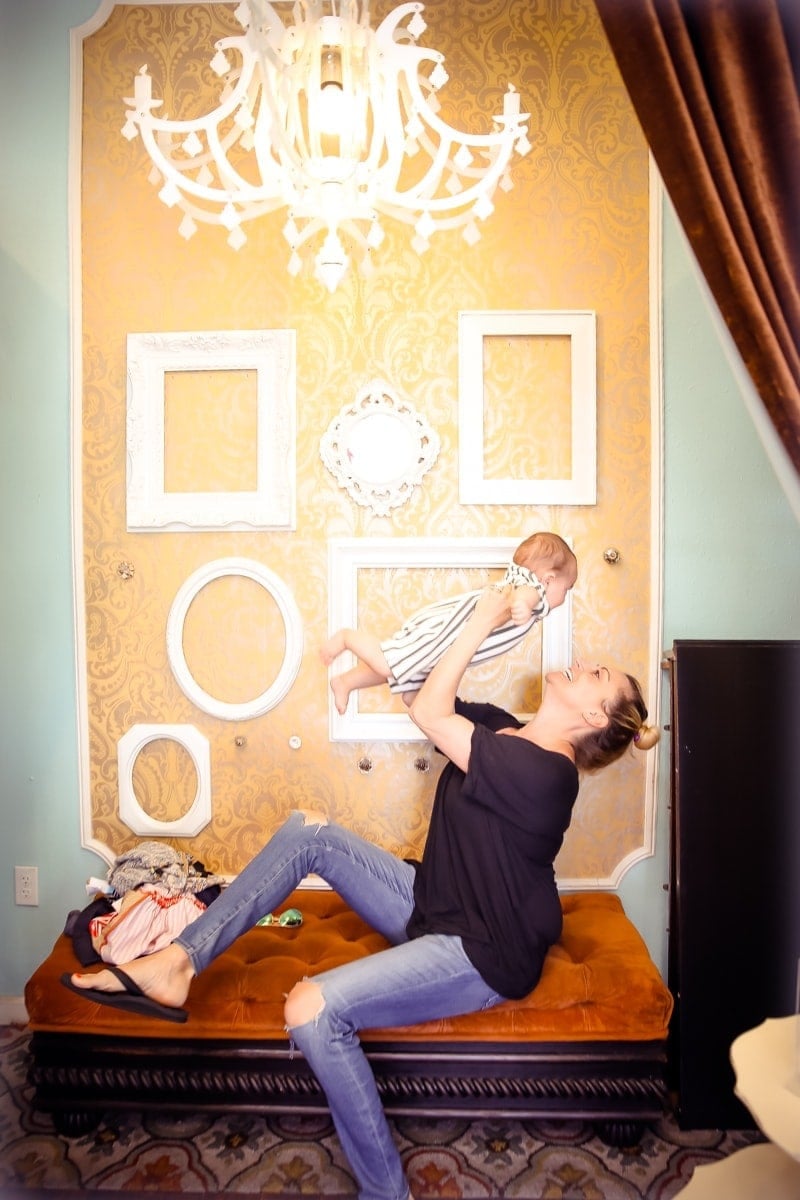 Tips for Parenting In Style...
Never boring, always awesome. Keep up to date with the latest from City Girl Gone Mom.