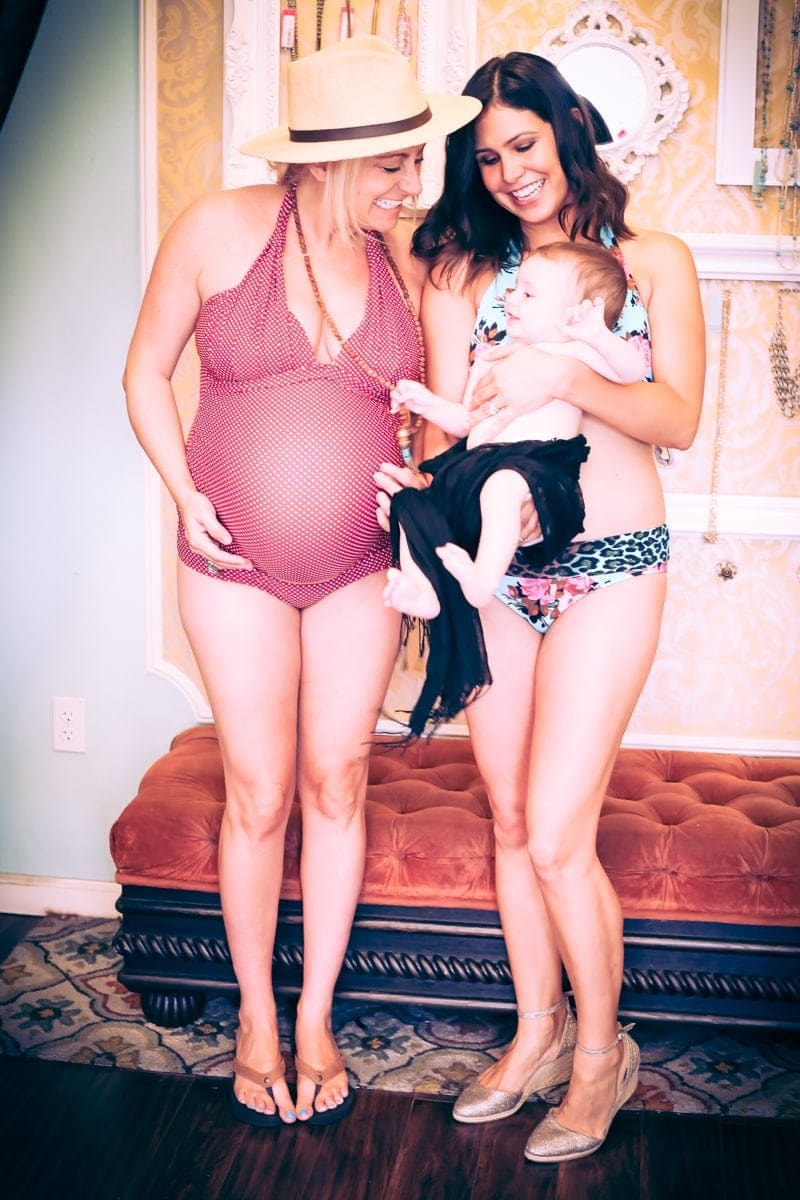 With your body drastically changing in such a short time of 9 plus months, it is crucial you are comfortable while attempting to look fashionable. I am one that tries to wear her non-pregnancy clothes as long as I can. However, maternity clothes are not what they used to look like. You can say bye-bye to the moo moo's and not so attractive tops and pants. Say hello to maternity fashion done right! And who better to turn to than Tammy Layson from Modish Maternity located in La Jolla, California. If you haven't read my first post on her Modish Maternity's pregnancy trends, click here.
What attracted me so much to her store, was that her maternity fashion selections are on point. They are made to help you breathe and grow easily while still looking super cute. A perk? The clothes can easily be worn postpartum while you are nursing and getting your body back. With this being my last it was important to me that I can get some use out of the clothes after the baby is here. Tammy Layson has just the right selection I have been looking for.
She is so on point with what's trending, she has been asked to showcase her looks on Fox Five. And luckily for me, she has asked me to join in on the fun. As you know San Diego is quite the destination spot so while my friend was celebrating her anniversary I asked her to accompany me modeling maternity fashion. She already had her beautiful four babies but happily obliged to the fake bump we had her. What a morning to remember!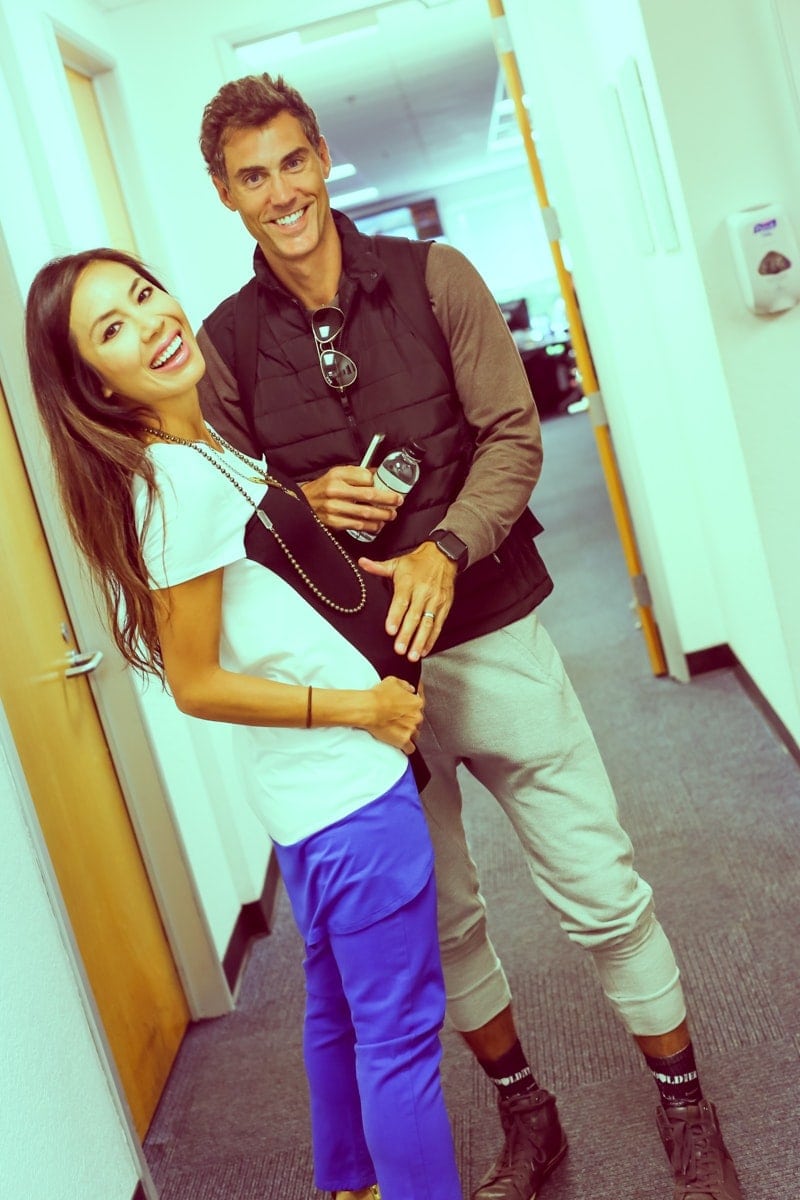 Modish Maternity Shift Dress and on Amanda The Block Tee and Skinny Ankle Jean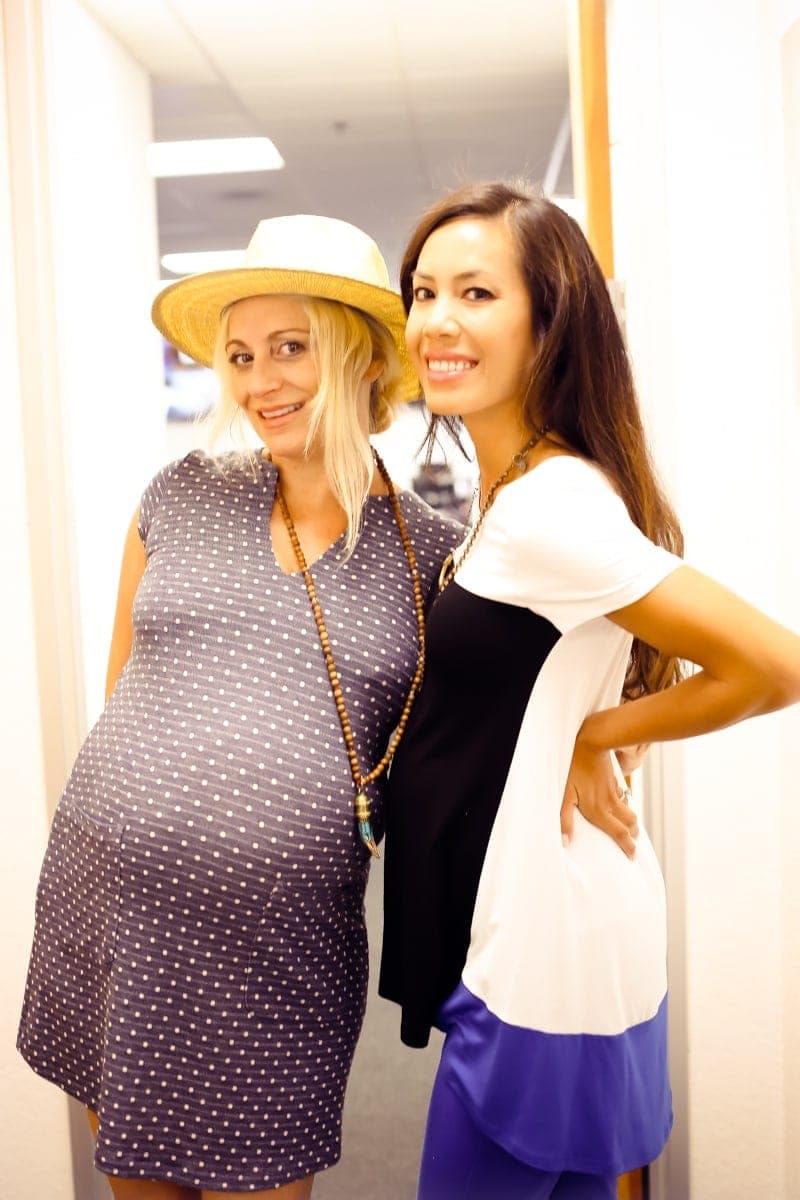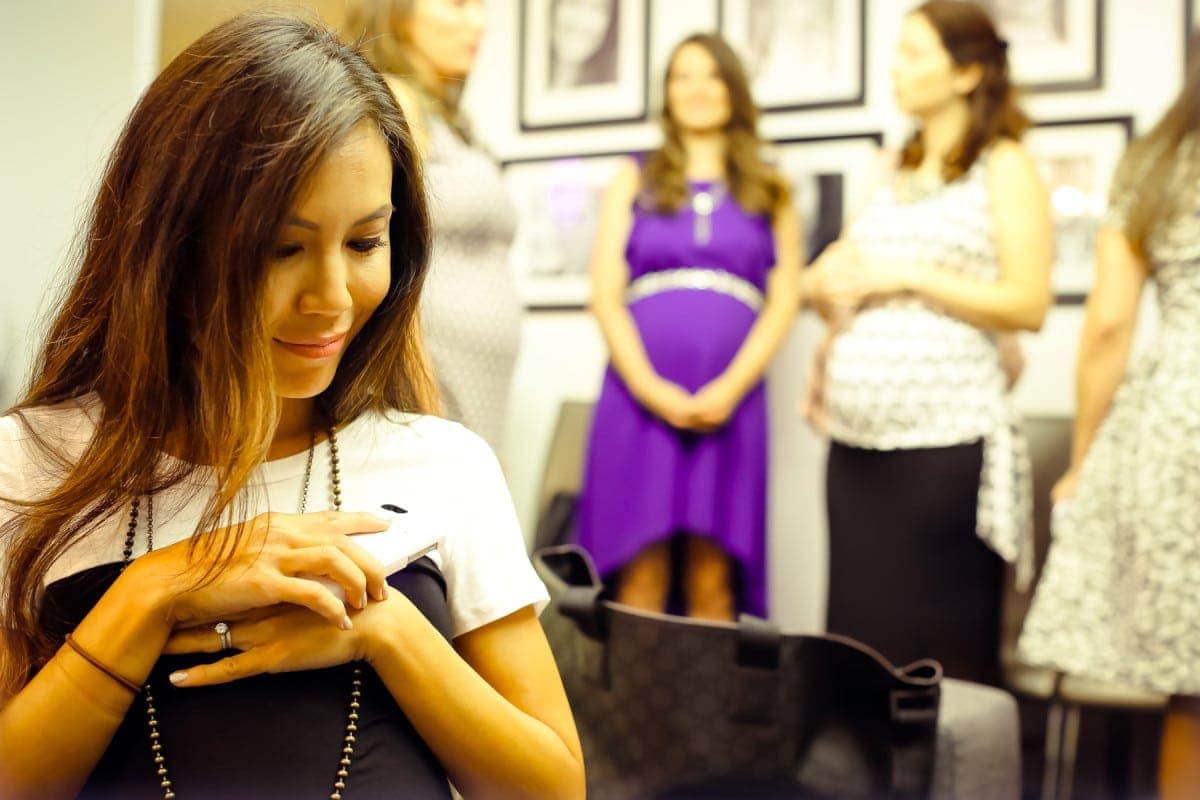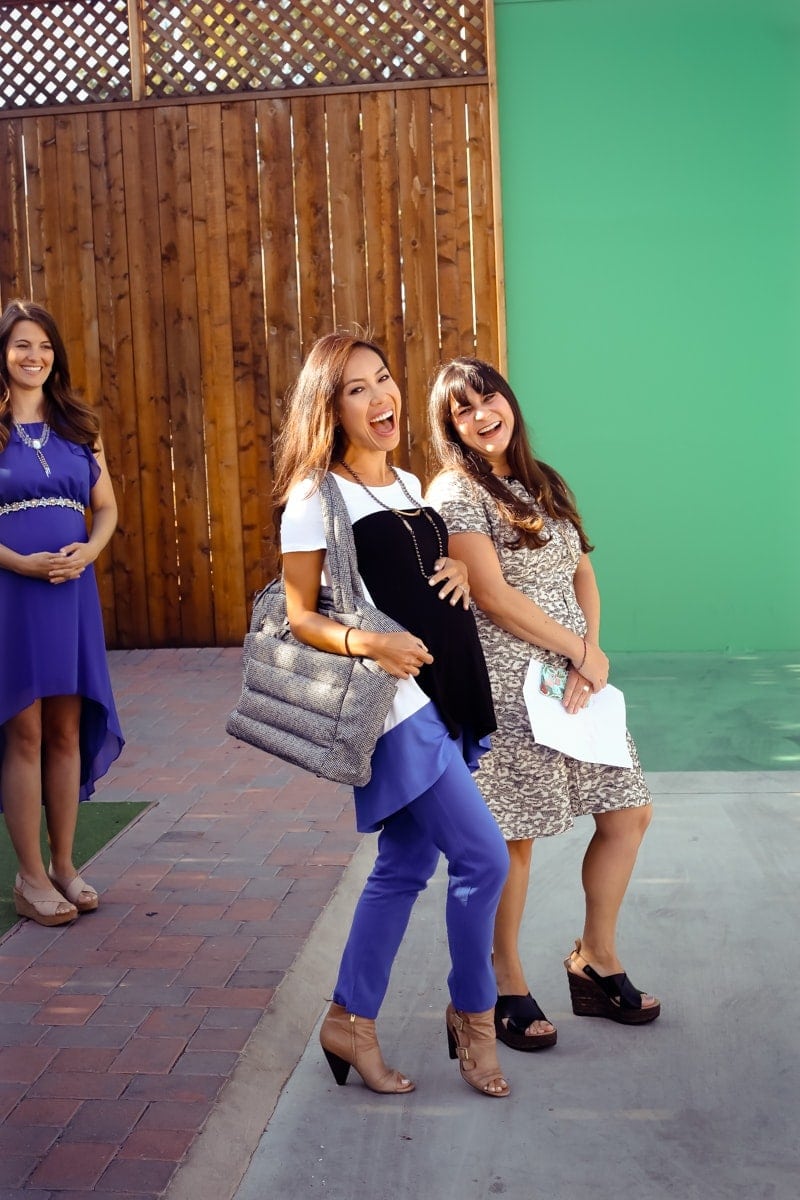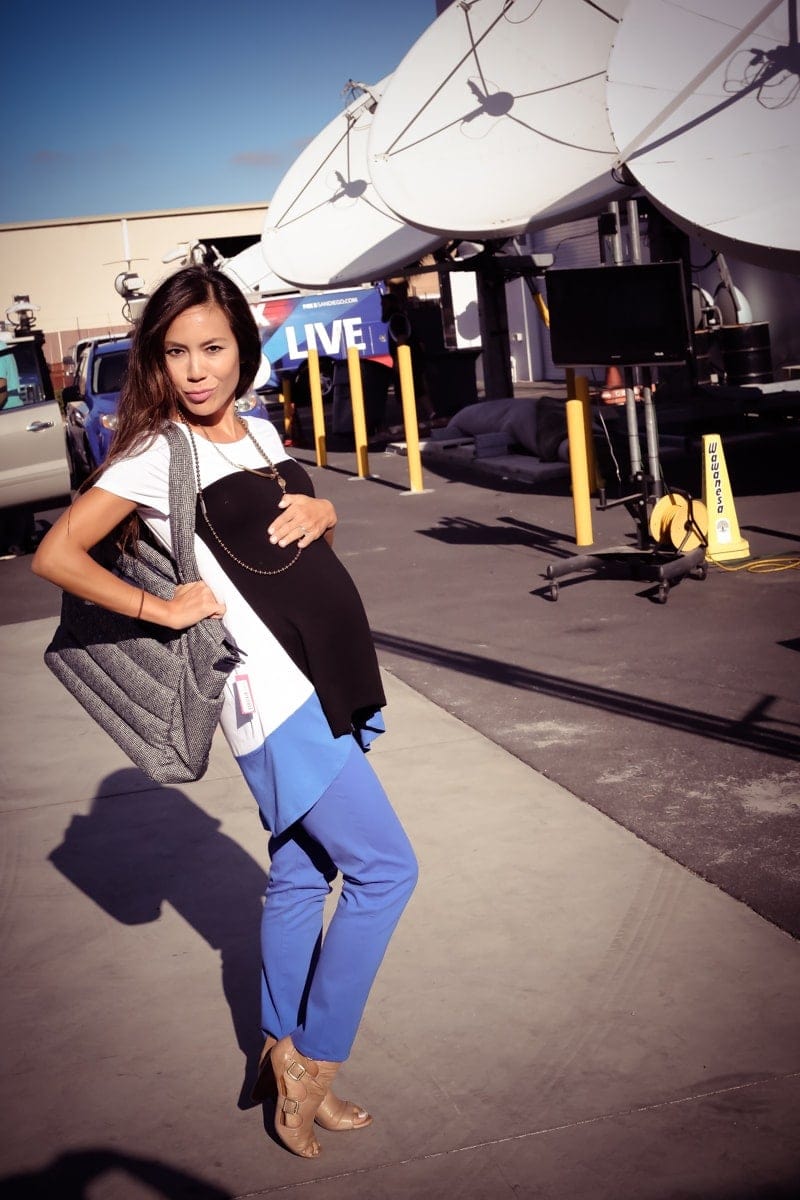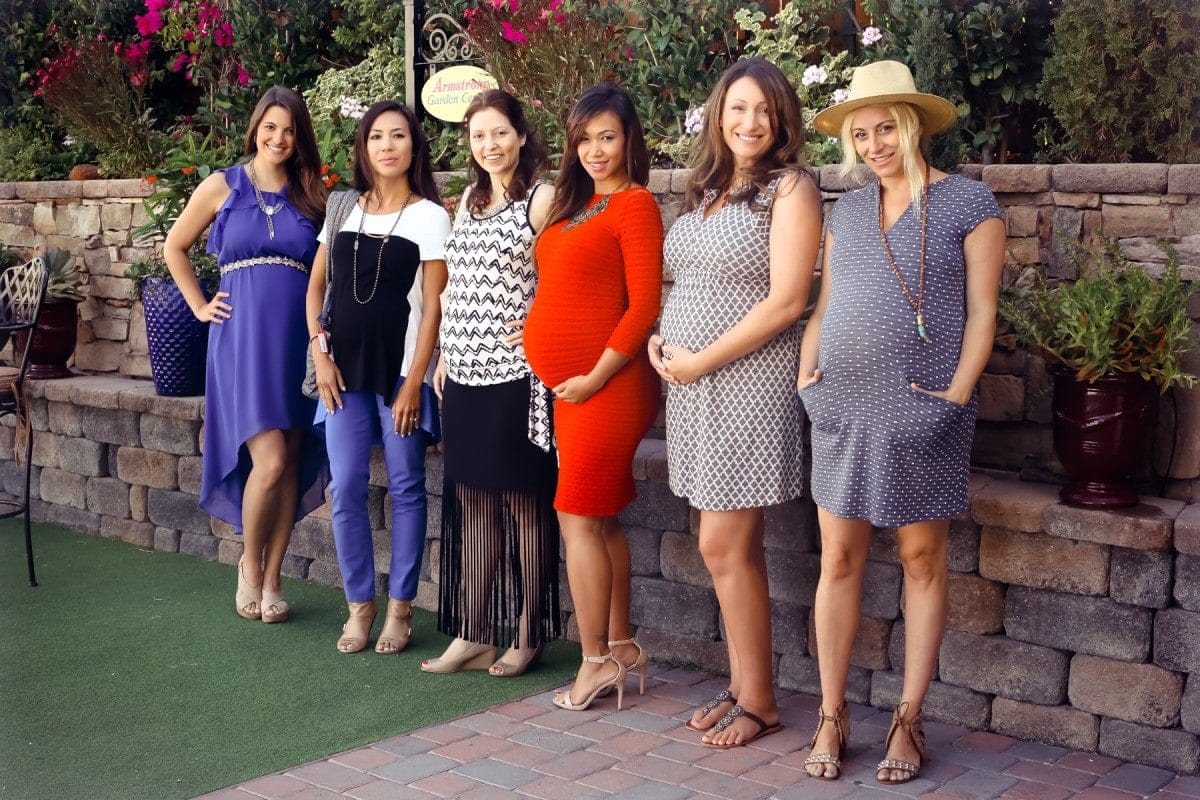 Our segment was so much of a hit that I decided to showcase how Tammy's selection looks both 9 months pregnant and 9 months post partum. I met a friend of mine, mommy realtor and fashion stylist, Paula Middleton with her adorable 9 month old Jack at Modish Maternity.
We went through various looks and decided on a few of our favorites to share with you.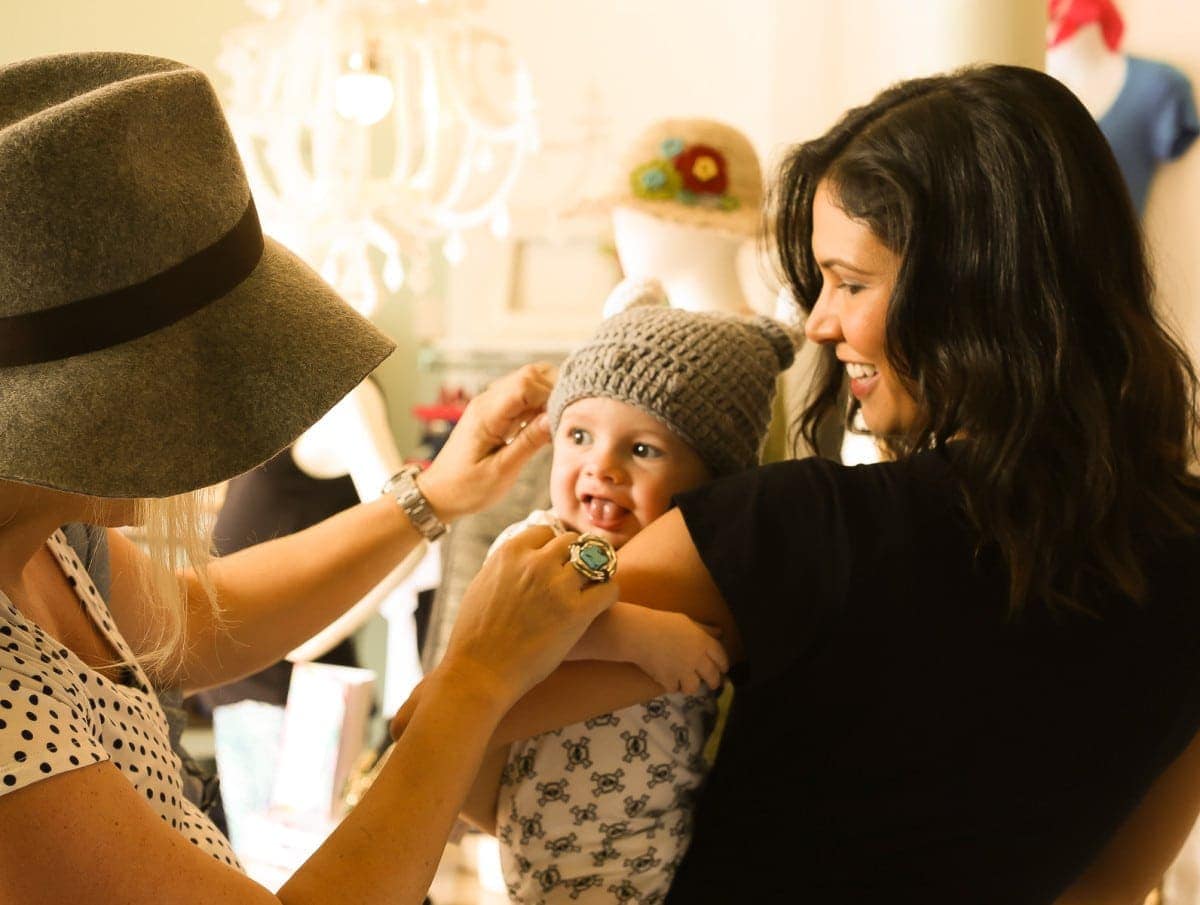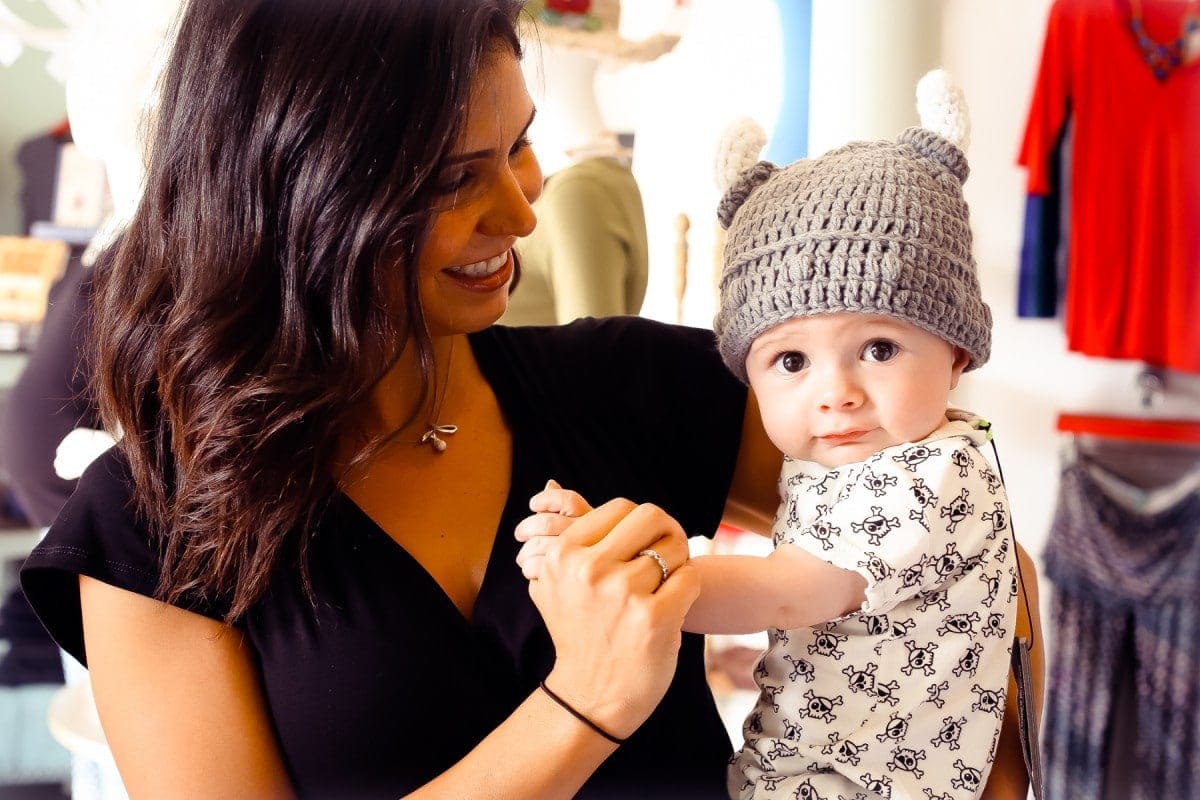 You can find baby Jack's outfit at Modish Baby!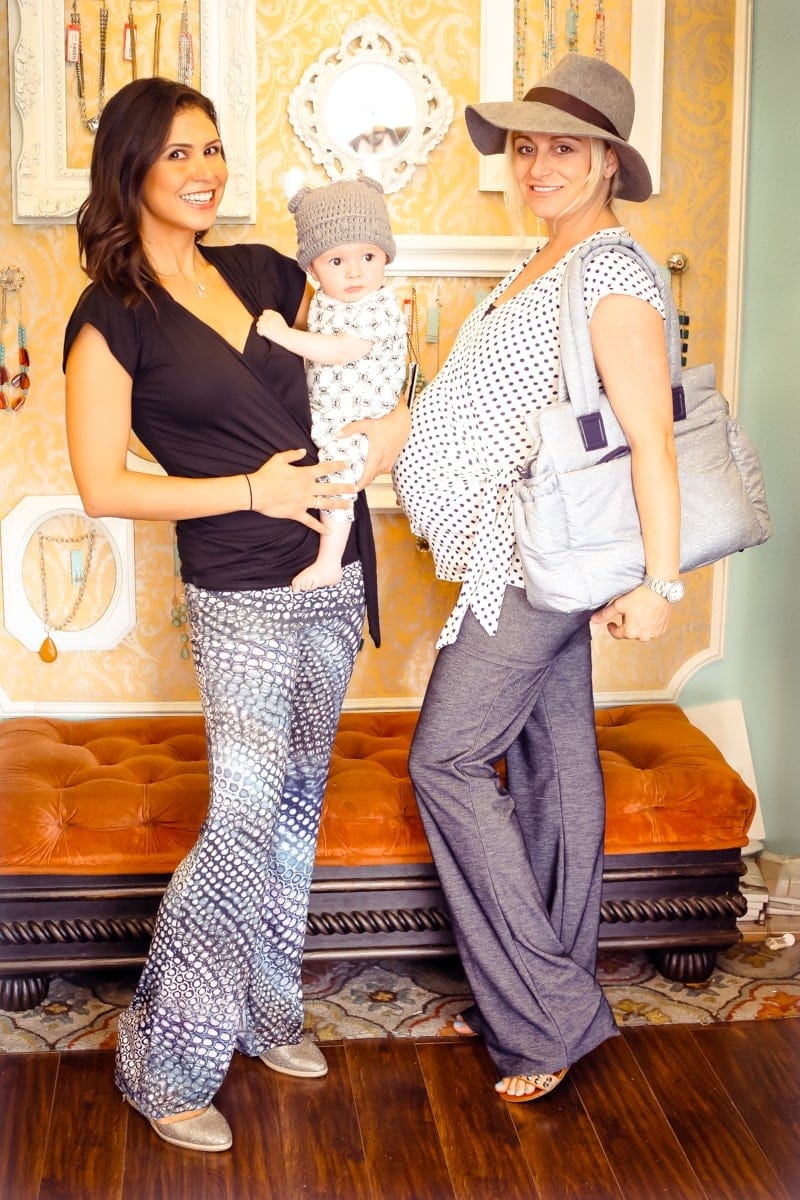 This Modish top is great and makes breastfeeding easy; a great pregnancy and postpartum selection. And the Yogi Knit pants you can wear pregnant or not. Super adorable and you can get a lot of use out of them. One thing about this top that Tammy designed in various colors is that it makes breast-feeding very easy.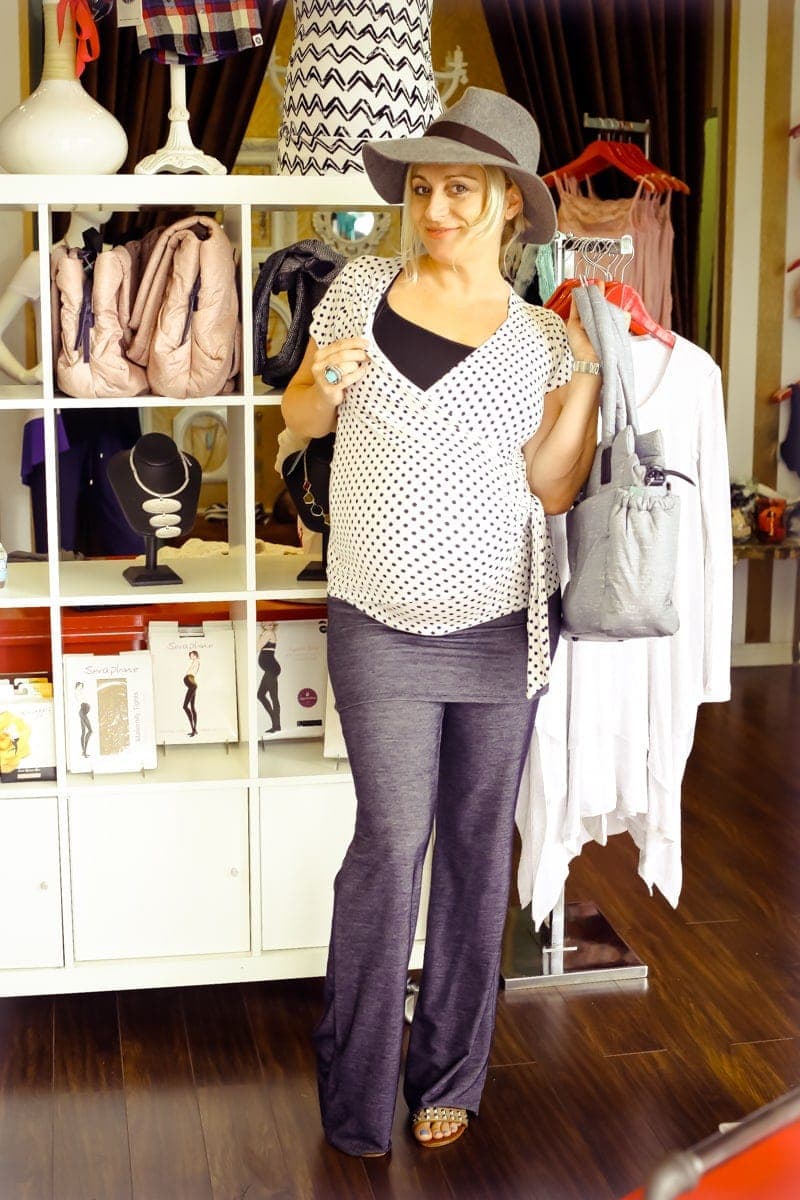 Baby Jack is wearing NUNUNU and a knitted hat all can be purchased on Modish Baby.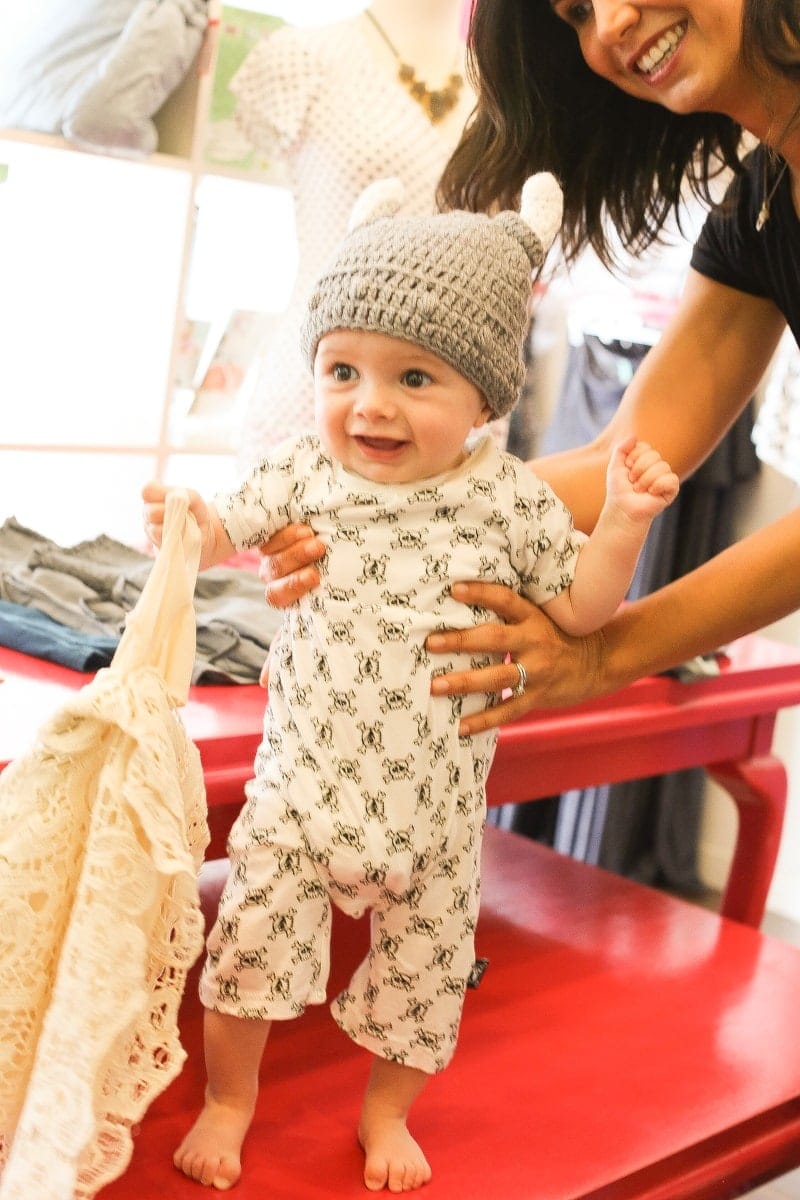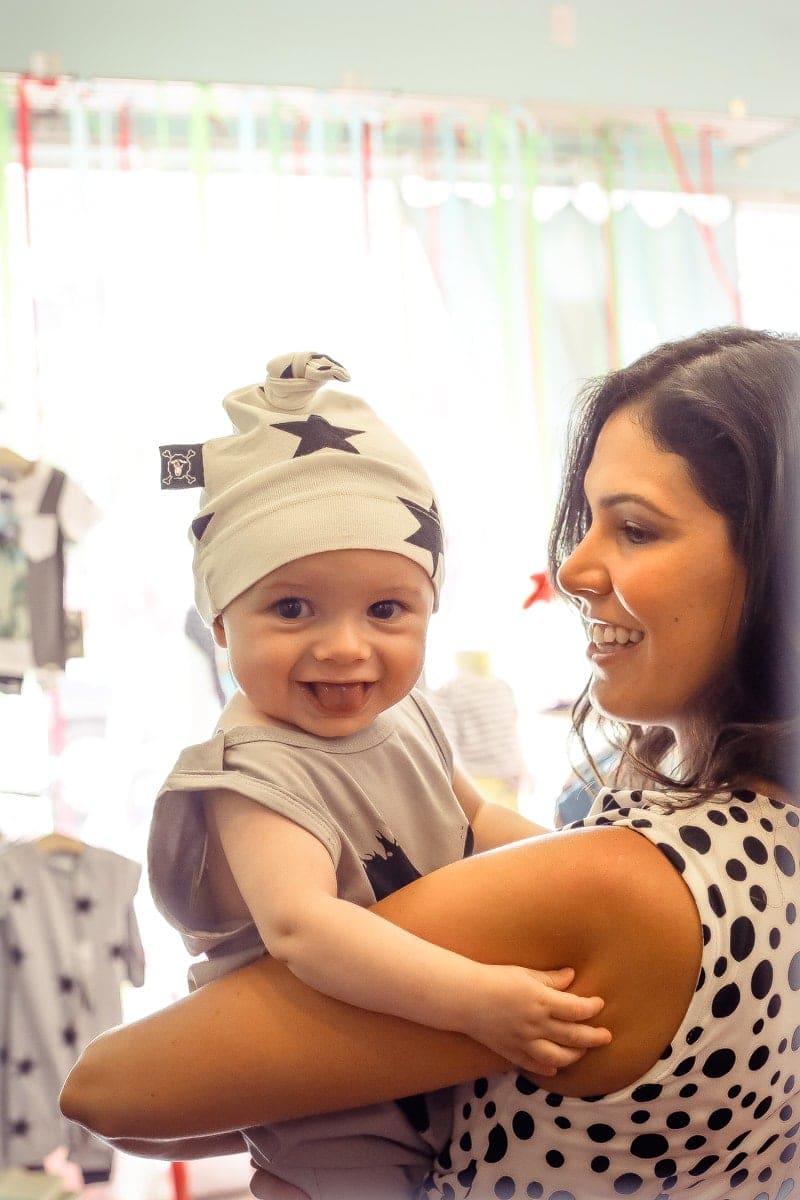 Tammy styled us in these dresses which were so much fun. You can see Paola wearing this maternity dress postpartum and it's still flattering to her bounced back figure. And for me I feel very comfortable in this design and could easily belt it when I get back to my norm.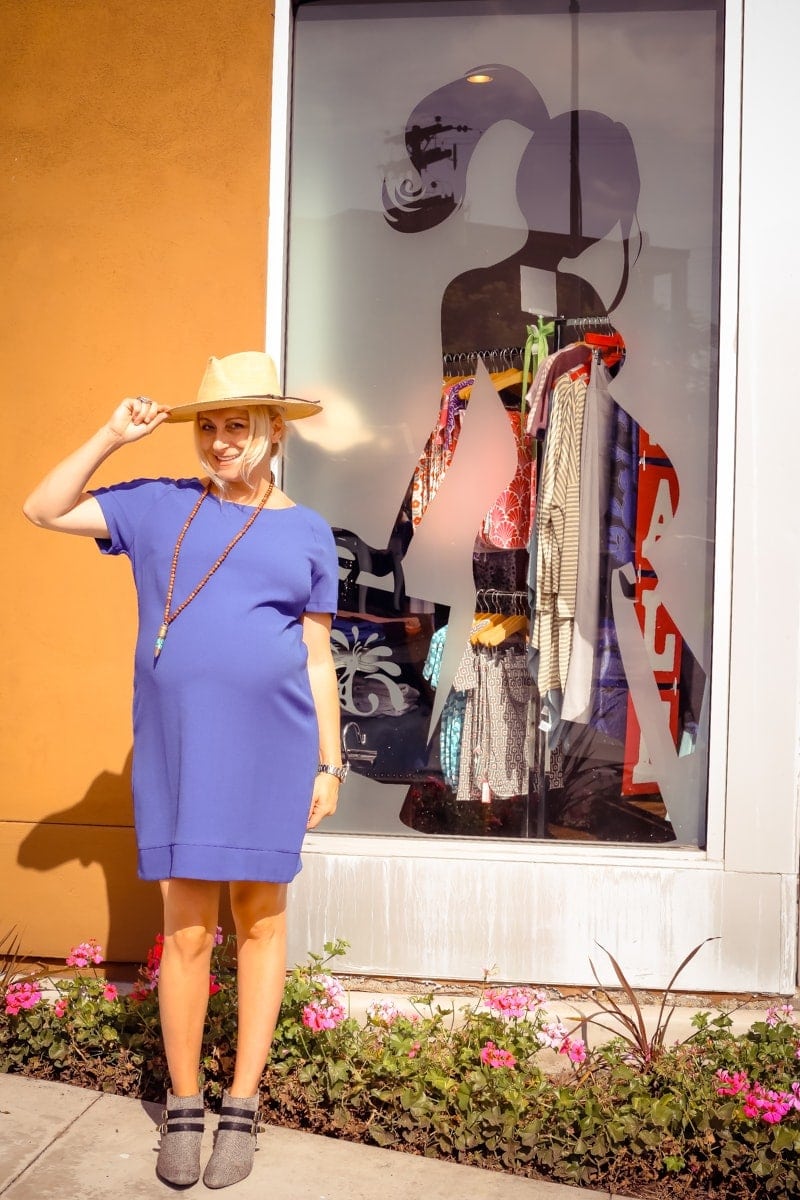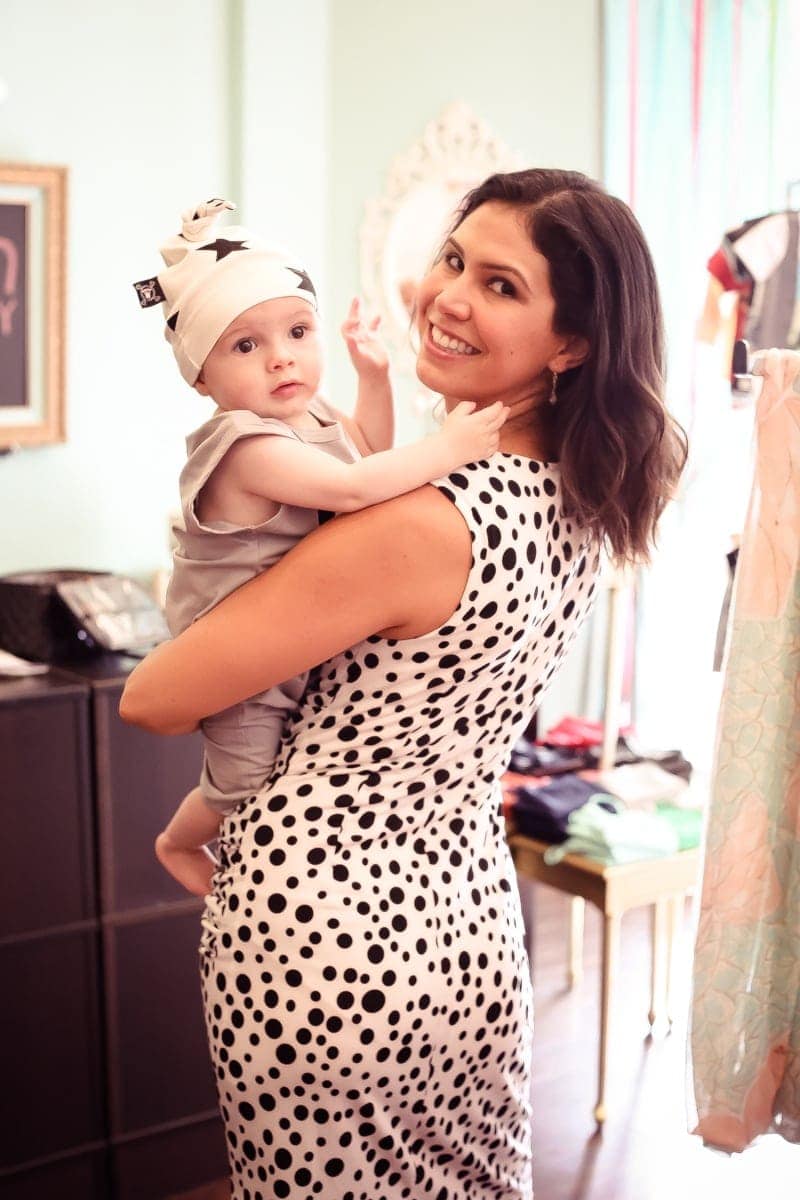 We loved the Cowl Neck Dress & the Sara Shift Dress.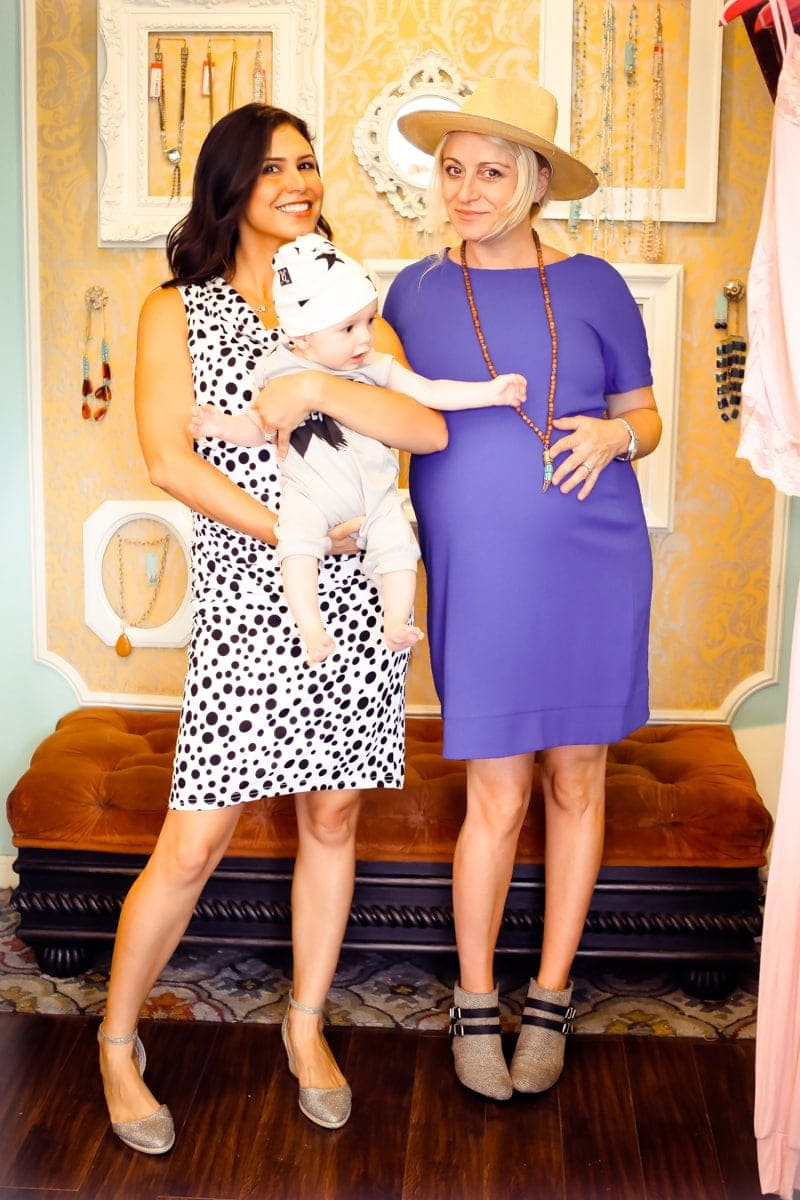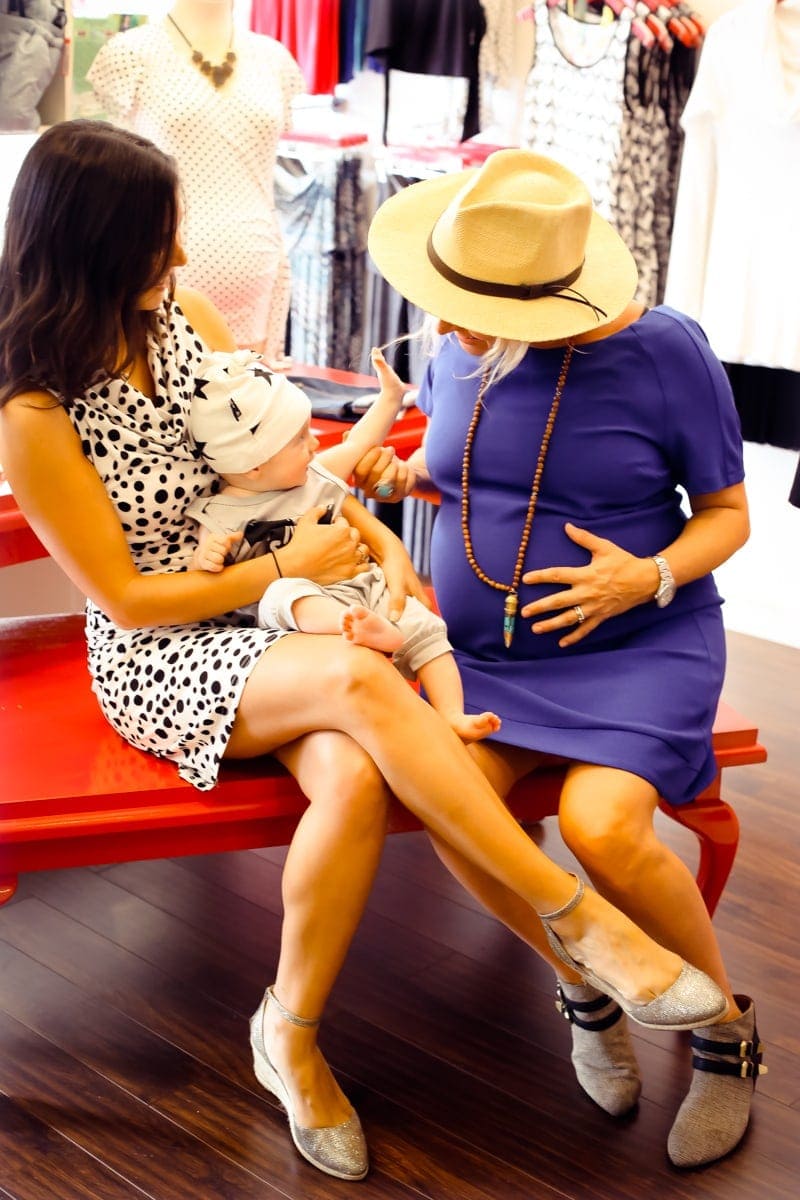 We then let our fears go and embraced the bathing suits. We had a fun time trying on the various selections and decided to show case these two. I am wearing the Lila Tankini and Paola is wearing the Betsy Bikini. To be completely honest Tammy's selection is truly flattering and it was liberating to put on a swim suit with no fear both pregnant and like Paola who is newly a mom.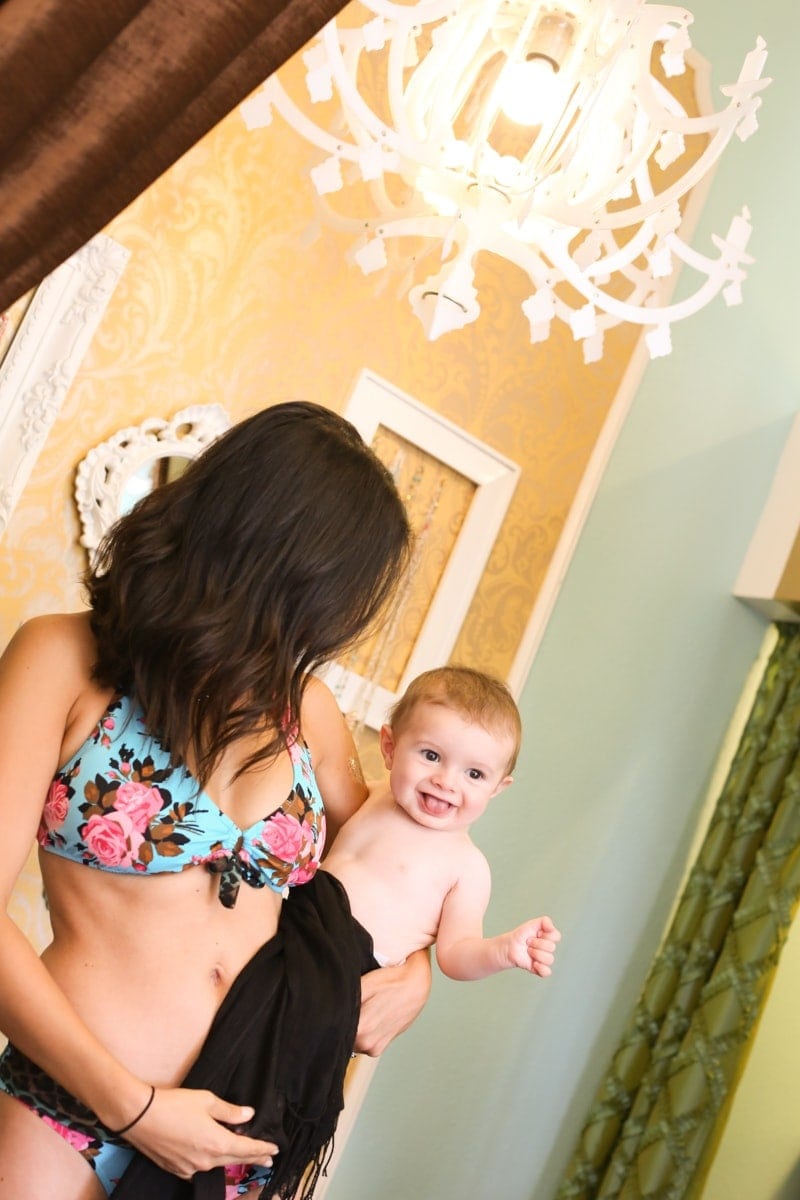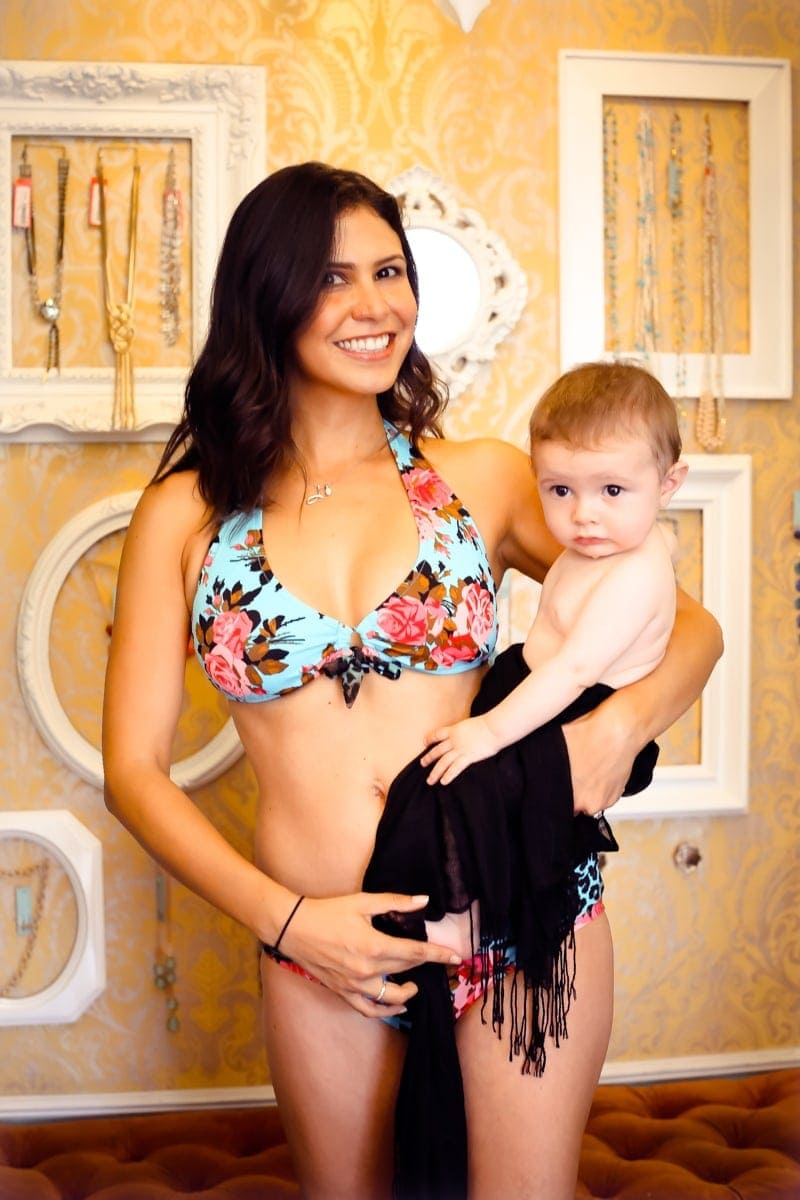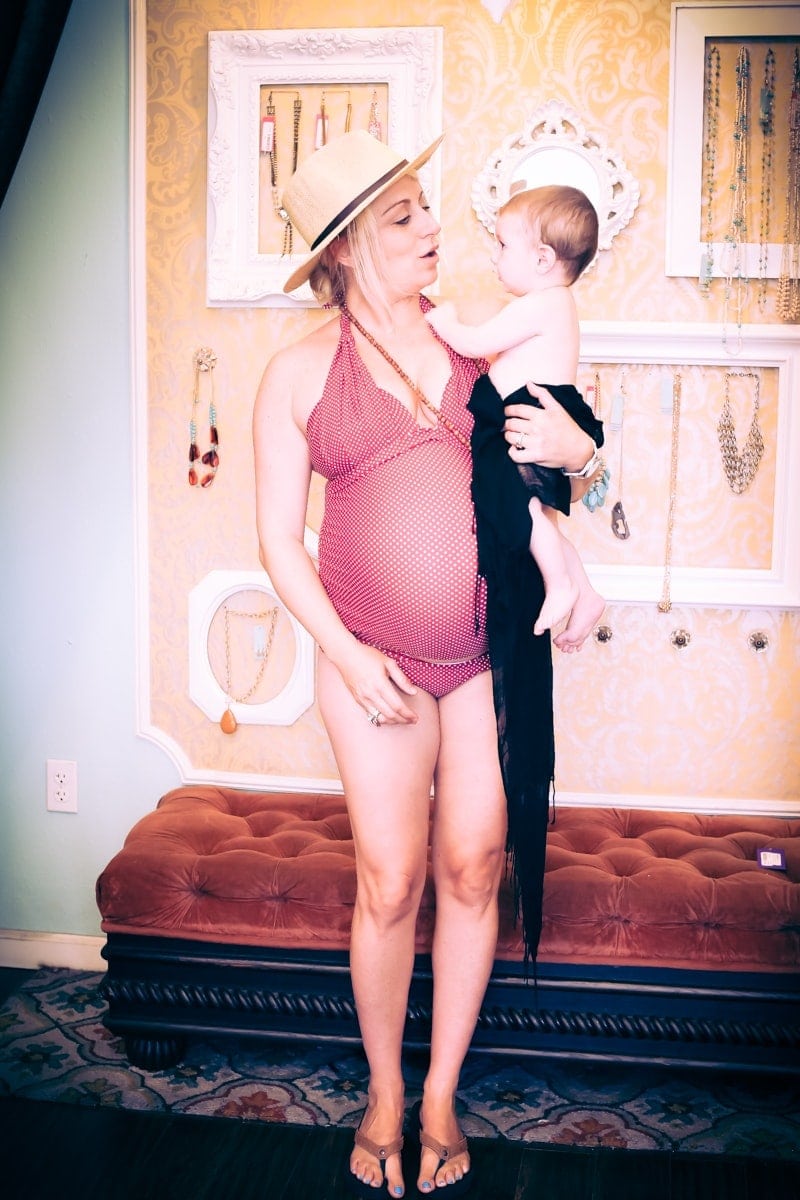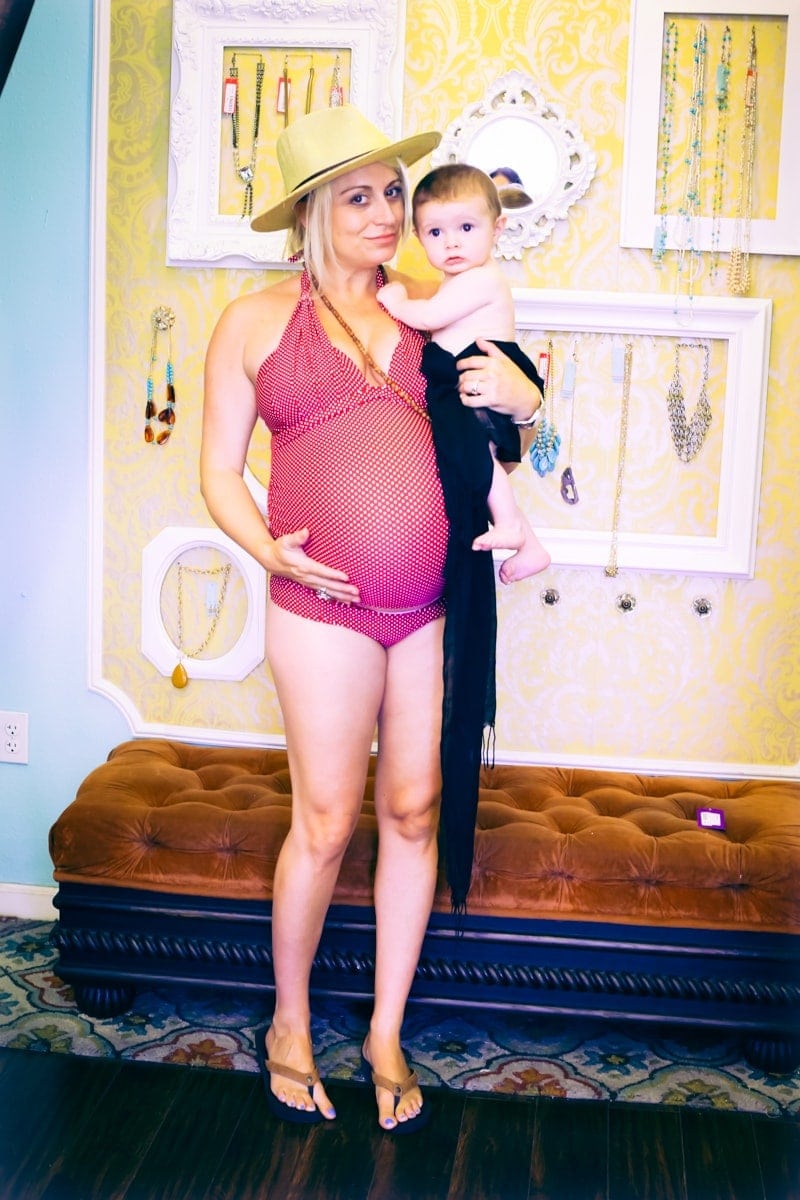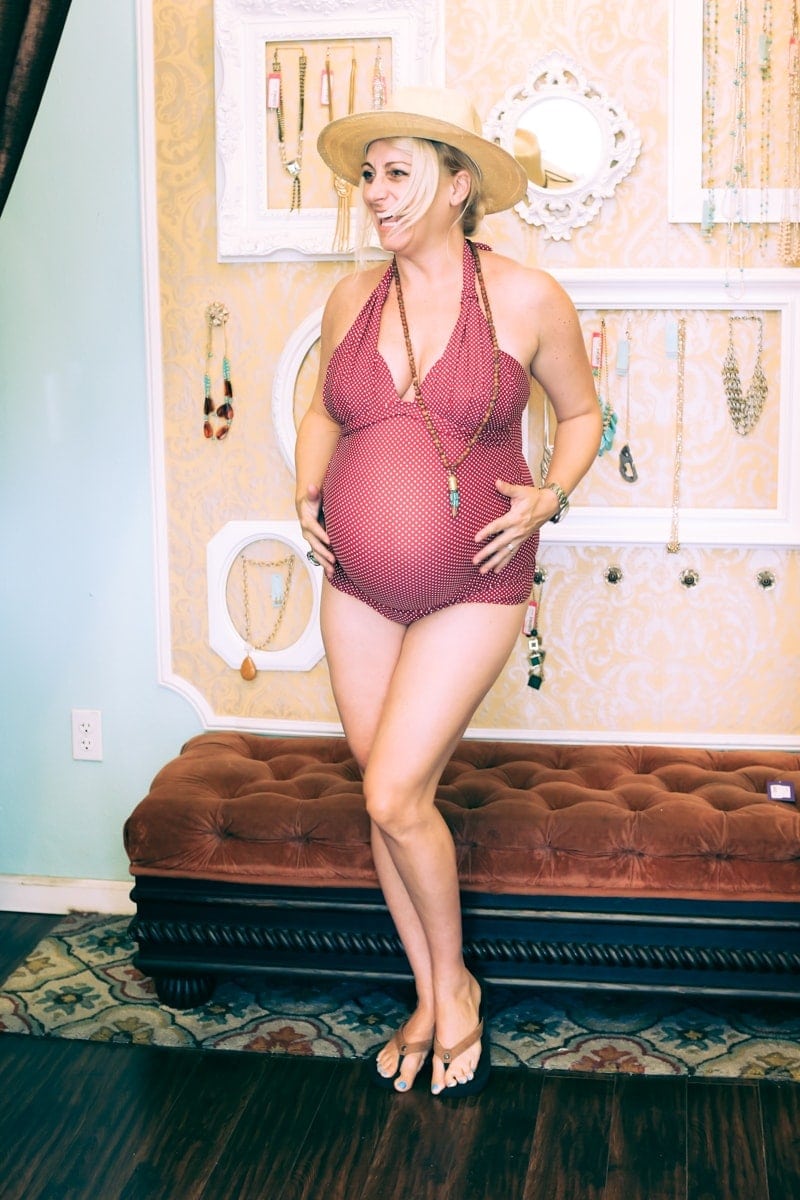 Modish Baby is owned by Geraldine and is seamless integrated into Modish Maternity and her selection of baby clothes has me über-excited for my 4th bundle of love. They carry some of the most trendiest modern lines that have me oohing and ahhhing. Take a peek here at some of the selections.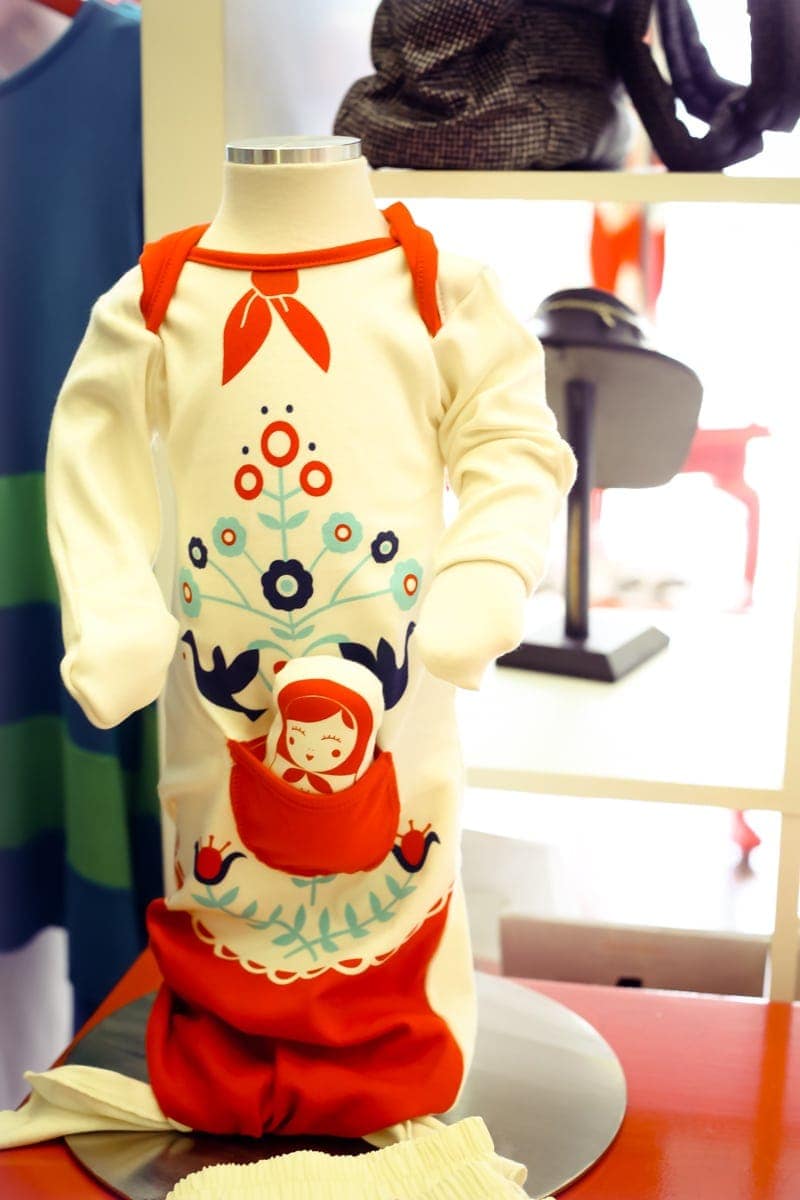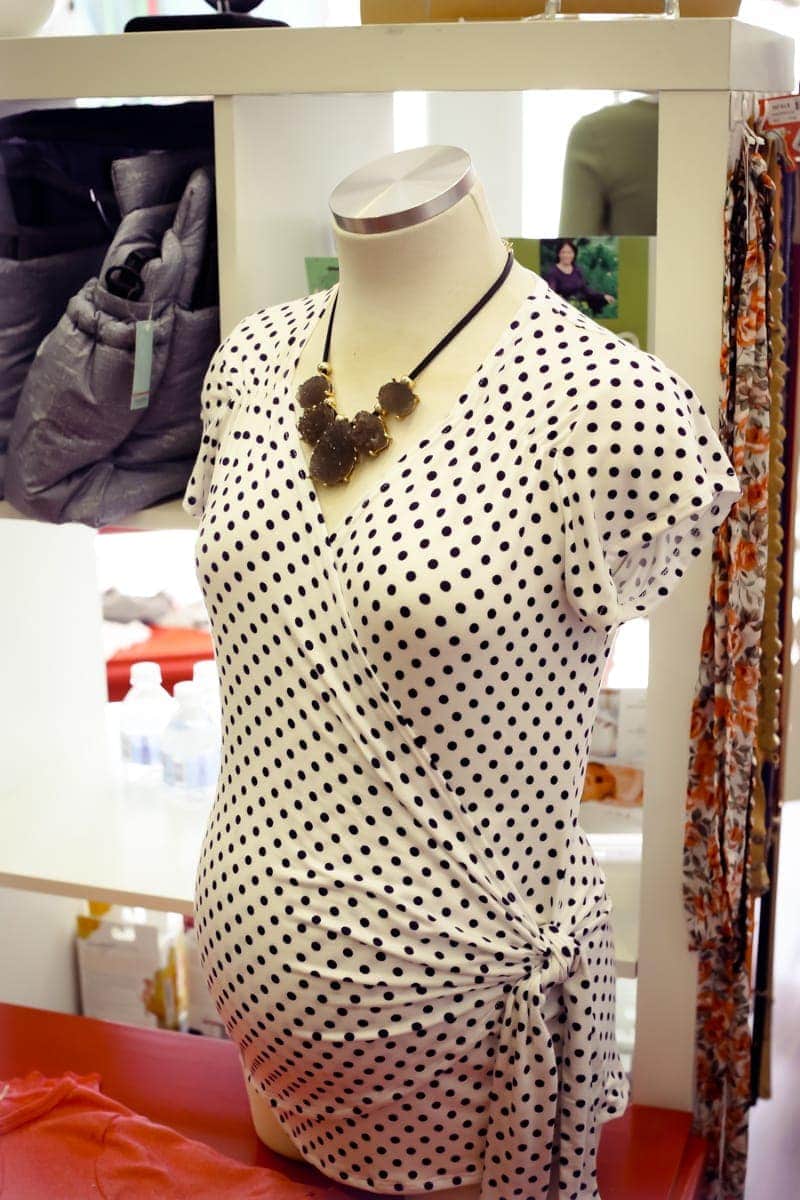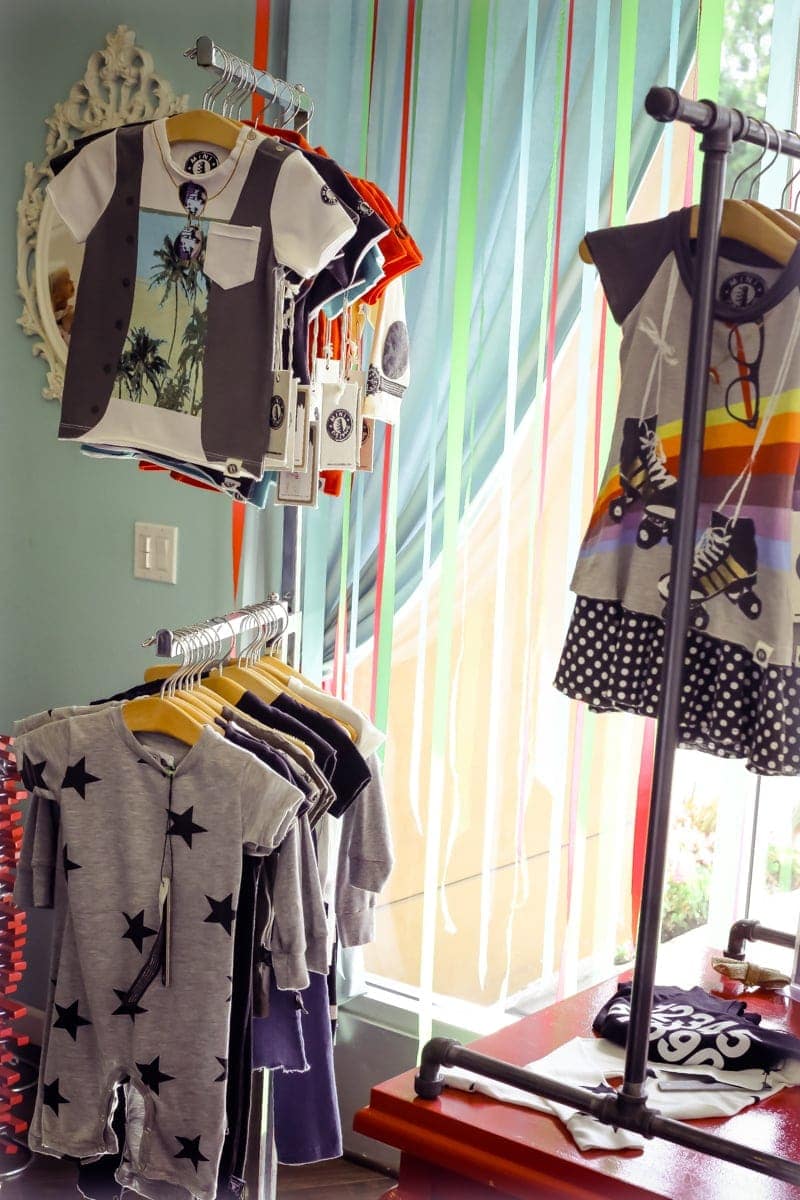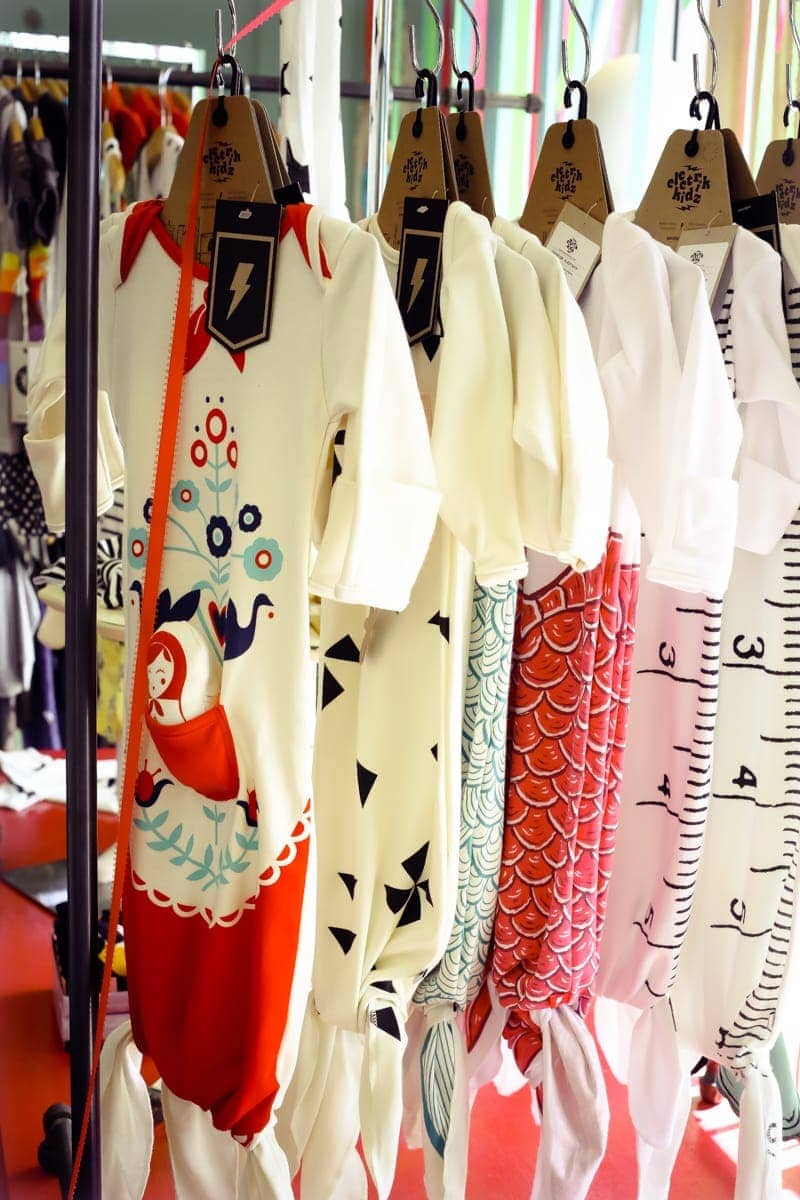 In the end, you want to give your wardrobe a boost with items you can definitely wear later. Modish Maternity has everything you are looking for. Also Gypsy Posh has some outstanding hand-made designs that you will be stopped quite often with the familiar, "Where did you get that necklace?" Don't be afraid to add a little drama to your look. For me I love pops of color and chunky beaded necklaces. When you are feeling huge try belting your dress empire style. The empire style gives the much-needed definition between bosom and belly. You can easily change where the belt goes once the baby arrives.
Enjoy your pregnancy and enjoy this precious time and always keep your fashion in mind.
I love this part of my job. Modish Maternity is giving my readers 20 % off their entire purchase. Just enter the code CGGM2015 and enjoy your discount.
INSTAGRAM CONTEST:
Win a $50.00 pottery barn gift card, the polka dot maternity shirt I am wearing, a surprise hand-made jewelry design by Gypsy Posh & the movie 40 weeks sponsored by Cord Blood Registry!
TO ENTER, YOU MUST:
Follow all 4 of us on Instagram (help us get more Instagram followers!):
@citygirlgonemom, @paolacmiddleton, @modishmaternity, and @gypsytosh
Like the CONTEST photo on all of our 4 instagrams
Post a photo of your styled bump and tag all four of us in it! make sure you use the hashtag #styledbump
For extra entries repost this contest in your instagram.
Winner will be announced in 7 days! Enter as much as 3 times per day!
GOODLUCK
To watch us on Fox Five click here!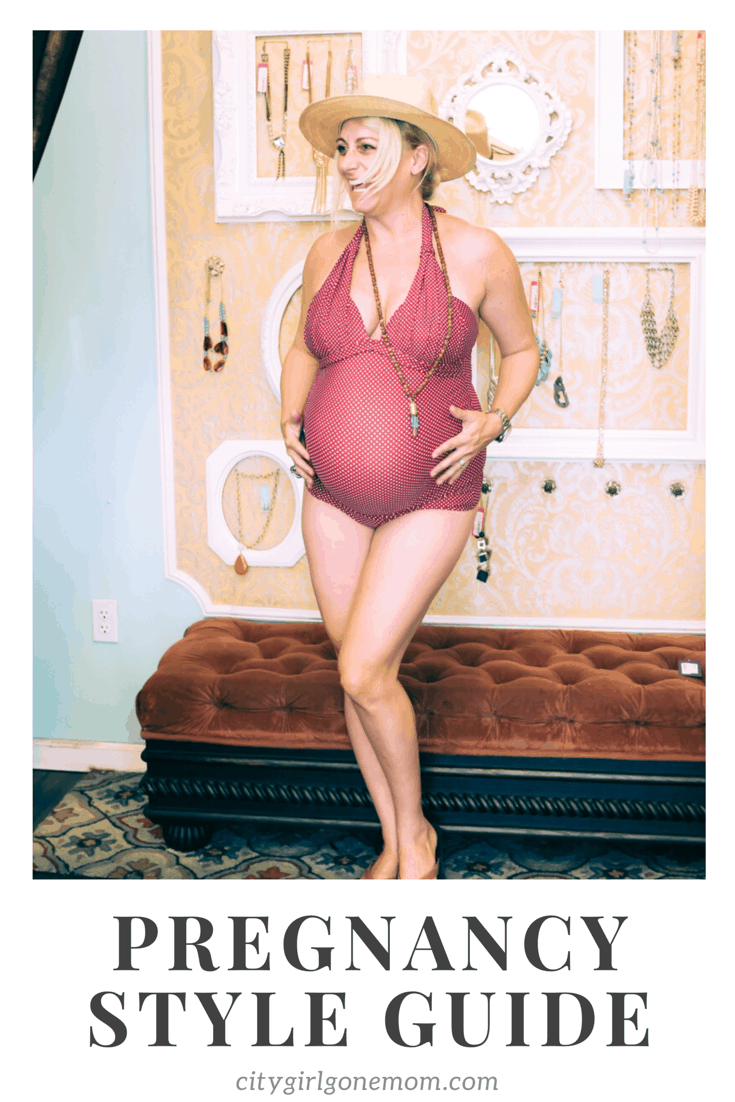 Tips for Parenting In Style...
Never boring, always awesome. Keep up to date with the latest from City Girl Gone Mom.