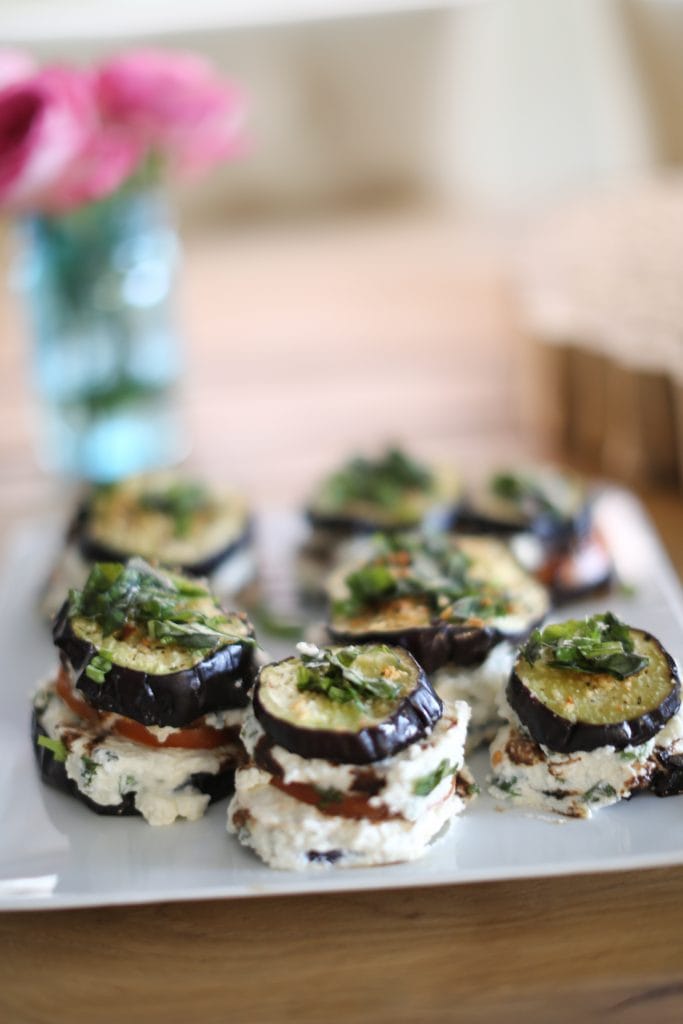 I have truly been enjoying the visual feast seen in my new favorite recipe book, Nom Nom Paleo: Food for Humans
. It has been such an interesting spin on the "caveman approach" to eating.
Why I picked this recipe:  I am the eggplant queen when it comes to slicing it thin and making them crispy.  I just had to try their spin on my specialty dish, eggplant.
What worked: The assembled stacks looked superb and my guests were wanting more.  I also loved the thick sliced raw tomato texture combined with the cooked eggplant.
What didn't:  It was my first time making a balsamic reduction and I think I cooked it a bit long.  Also, I had ricotta in the house and decided to use it with grated parmesan.  Next time I will try her Macadamia Nut "Ricotta" (see below)
My Spin on it: Adding ricotta with flax oil, a handful of chopped basil to the cheese mix.  I sprinkled a little Panko… I know I know… that's not Paleo… It's a process ok guys.
Ingredients
1 cup balsamic vinegar
1 medium shallot, minced (about 1/4 cup)
1 cup balsamic vinegar
1 medium shallot, minced (about 1/4 cup)
2 tablespoons melted ghee or fat of choice
2 globe eggplants (approximately 1 pound each), sliced crosswise into 1/2-inch rounds
Kosher salt
Freshly ground black pepper
1 1/2 cups Macadamia Nut "Ricotta"
2 tablespoons minced fresh basil, plus more for garnish
1 tablespoon extra-virgin olive oil
2 large heirloom tomatoes, sliced into 1-inch rounds
Procedures
1.  In a small saucepan, bring the balsamic vinegar and shallots to a rolling boil over high heat. Lower the heat to medium, and continue cooking until the liquid is syrupy and reduced by half, about 15 minutes.
2.  While the balsamic reduction is cooking, place a wire rack 6 inches from the heating element in the oven, and turn on the broiler. Coat a foil-lined baking tray with the melted ghee, and arrange the eggplant slices on top. Season liberally with salt and pepper, and flip the eggplant slices over to season the other side.
3.  Broil the eggplant rounds for 2 to 3 minutes. Using tongs, flip each slice over, rotate the tray, and broil for another 2 to 3 minutes or until golden brown. Set aside to cool.
4.  In a bowl, combine the Macadamia Nut "Ricotta," basil, and olive oil. Season with salt and pepper to taste, and then stir to thoroughly incorporate.
(please note this is my ricotta blend pictured and i used real ricotta)
5.  Assemble the stacks by spreading generous spoonfuls of the herbed "ricotta" and drizzles of balsamic reduction between layers of eggplant and tomato slices.
6. Garnish with basil and a final splash of balsamic reduction before serving.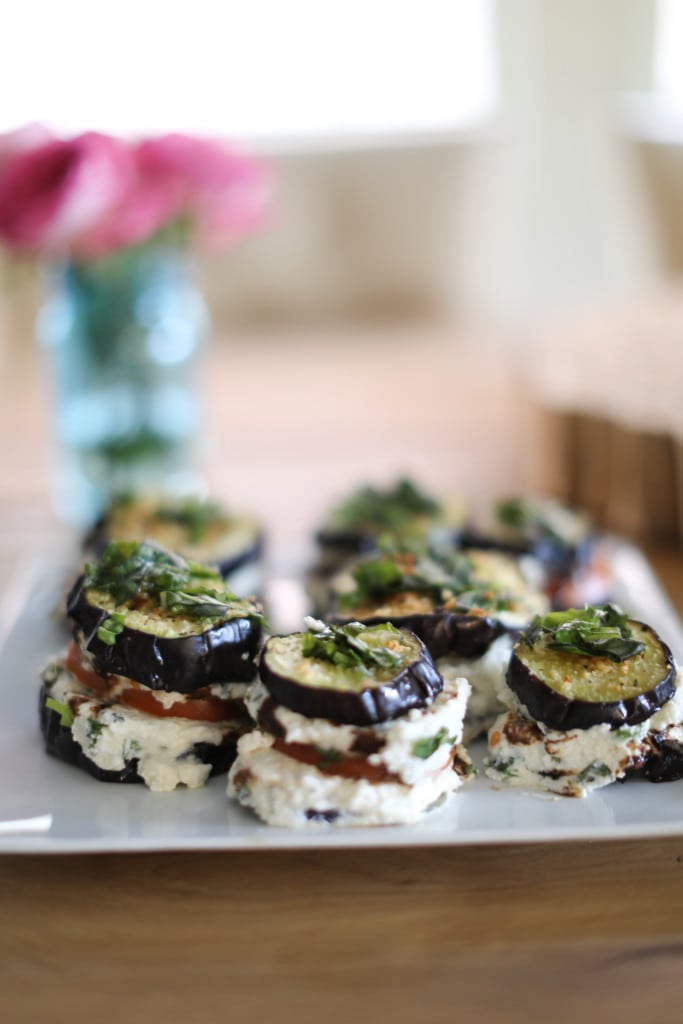 Macadamia "Nut" Ricotta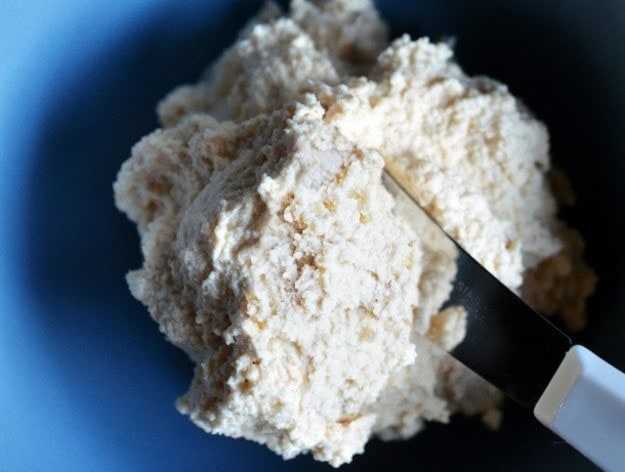 Ingredients
2 cups raw macadamia nuts
1 teaspoon kosher salt
Juice from 1/2 medium lemon (about 1 tablespoon)
1/2 cup water
Procedures
1. In a food processor or a high-powered blender, purée the ingredients together until smooth. If necessary, scrape down the sides with a spatula and/or add a bit more water. The resulting texture should resemble—you guessed it!—ricotta cheese.
Tips for Parenting In Style...
Never boring, always awesome. Keep up to date with the latest from City Girl Gone Mom.