Strike a pose, mamas! I have some creative mother-daughter photoshoot ideas to share with you today.
One of the best ways to capture the special bond between mother and daughter is in a photoshoot. From sweet and heartwarming to unique and fun, there are so many ways to make lasting memories with a mother-daughter photoshoot. Whether it's a summery outdoor shoot or something more whimsical like costumes and props, every good moment captured will be treasured forever.
Your daughter will be your best friend for life. Take a quick look around this blog and you'll see that I love having photos taken with my children. With Mother's Day just behind us, I have some fun and creative mother-daughter photoshoot ideas to share. I intended to write this ahead of the holiday, but you know… mom life. My life is insane with dance right now.
No special occasions are required for mom and daughter portrait sessions. Having professional photos done with your daughter is a fun way to capture the close bond between you. It is not only a great bonding experience but will give you beautiful images to treasure and share with family and friends.
These creative mother-daughter photoshoot ideas include my favorite ideas, best poses, and tips for the best portrait sessions. Be sure to read my tips for choosing your photographer, location, theme, wardrobe, and more.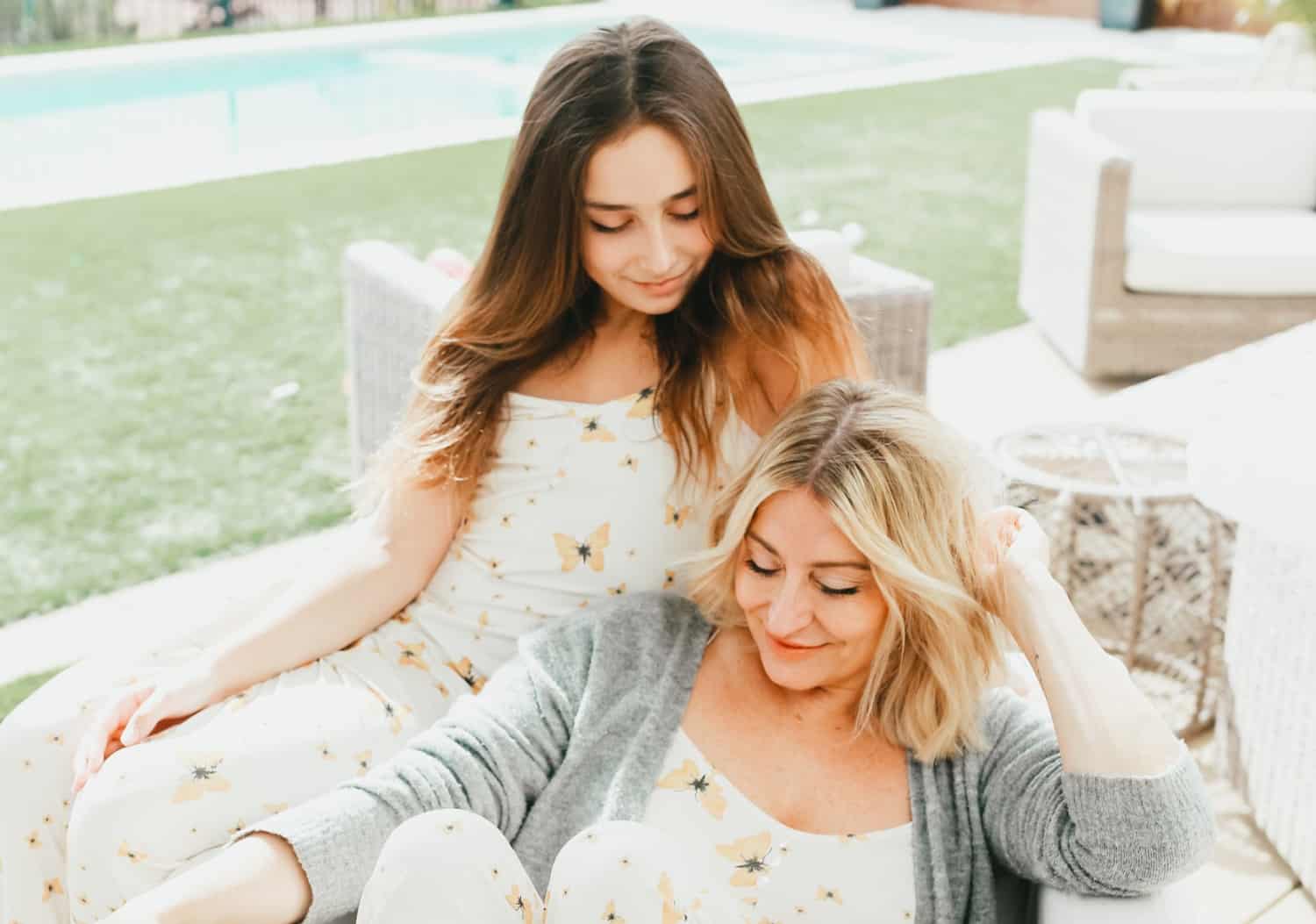 Hire A Local Photographer
Finding a local photographer can be tricky – you want someone who has the right skills and style, but also someone who's close enough to shoot your event or session. Ask friends and family. Word-of-mouth referrals can go a long way when searching for a local photographer. Ask your friends and family if they can recommend someone in the area who has done great portrait work in the past.
Don't forget about your local mom's group for recommendations. Before signing a photography contract, take a look at the photographer's gallery online or request some samples of their work. Find out what their session fee is and how many edited images you will get. Some photographers will also include unedited images.
Select a Location
Parks, the beach, old barns, street cafes, and the ice cream parlor all are great locations. How about a spa day with your little girl?
Choose Your Wardrobe
Matching outfits or even matching pajamas are always a great option, especially with young children. If you don't want to be twins, consider both wearing the same solid colors such as a white dress for a classic look. Bold colors might be better depending on your skin tone.
Great accessories are a must. You know how I love my accessories! Hats, jewelry, and scarves will add a bit of flair to joint photo sessions. What a great excuse to go on a shopping spree!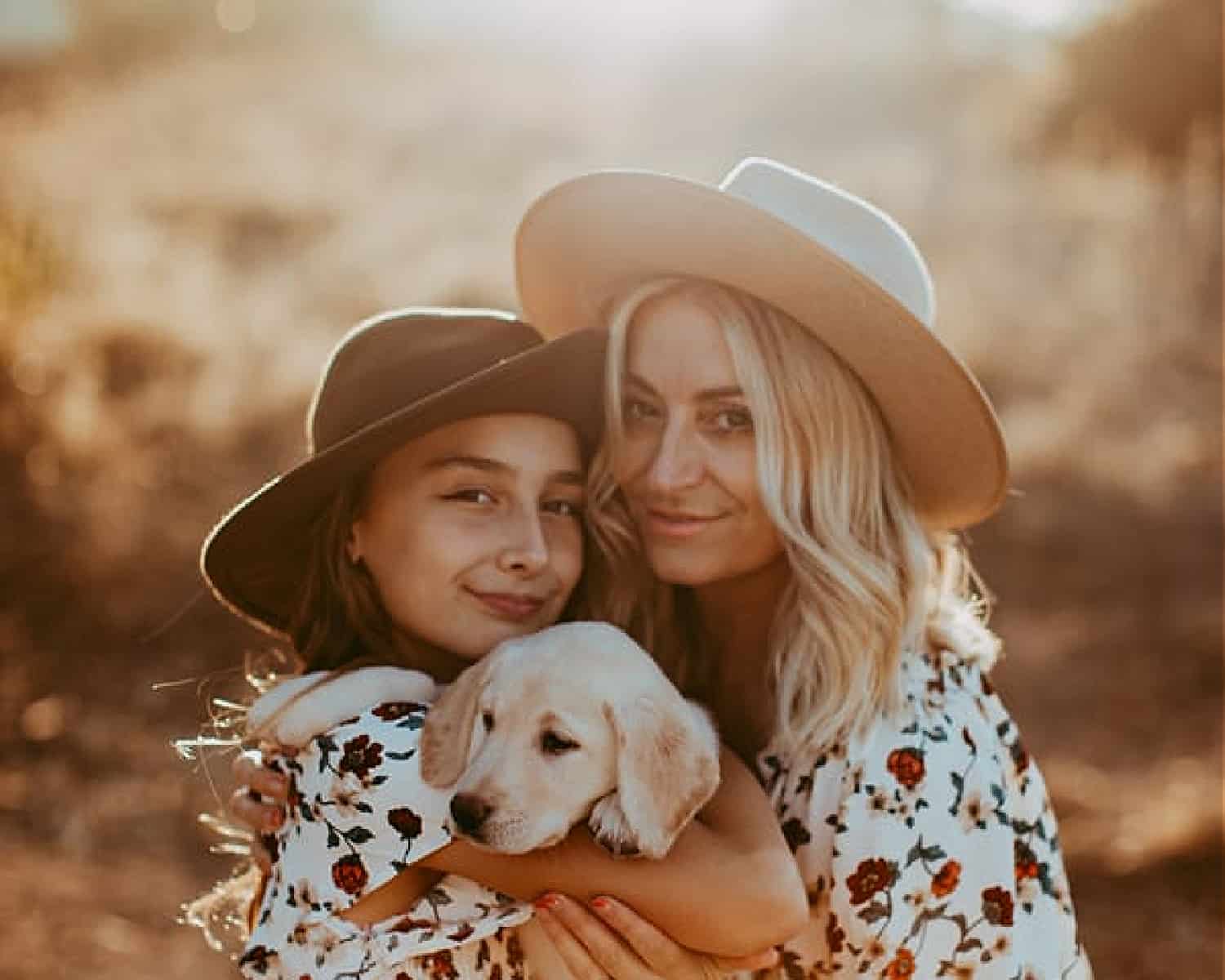 Find out if your photographer works out of a studio or if they will meet you on location or at multiple locations. Also, ask how far they are willing to travel. Local photographers typically know the perfect location and time for optimal natural lighting. My photographer recommends doing outdoor photos at the end of the day, before sunset. There are many options available when choosing a location for your photographs. A studio session with a professional photographer is a good option if artificial lighting is needed.
Mother-Daughter Photoshoot Ideas
There is nothing else quite like a mother-and-daughter relationship. Use these creative mother-daughter photoshoot ideas to fill your family album with precious moments.
Use Photobooth Props
Have a home photoshoot and get silly using photobooth props. Strike different poses, be goofy, and let your inner child out. I promise you will have so much fun. A mom-and-daughter photo shoot is easily achieved right at home.
By the Water
You can't go wrong with taking pictures by the water whether it be along a river or on the shore of a lake. Mommy and me photoshoots at the beach are very popular. Wear large brim hats and don't forget to take a few wearing large, colorful sunglasses. Soak in the sunshine, collect some shells, and make great memories along the ocean.
Recreate Old Photos
Recreating old photos is like bringing back a cherished moment in the present time. Make old family photos come alive again by recreating them with the help of modern technology. It can be a fun and creative way to bring back memories of your loved ones from years past. You don't necessarily need to have access to the original picture either- all you need is some basic knowledge of how cameras work, an eye for detail, and a pinch of imagination.
Start by gathering up any information you can about the original photo – who was in it, what they were wearing, and where it was taken. This will help you as you try to recreate the picture with modern technology. If the original photo had been taken outdoors, for example, try and find a location that's similar and set up your shot there. Try to match the original clothing, hairstyles, and makeup as best you can. Once everything is in place, take several photos from different angles to get the perfect recreation.
Sweet Dreams
Does your daughter love hearing bedtime stories? Capture bedtime and storytime memories with a photography session! Children grow so quickly, so capture these moments before they disappear.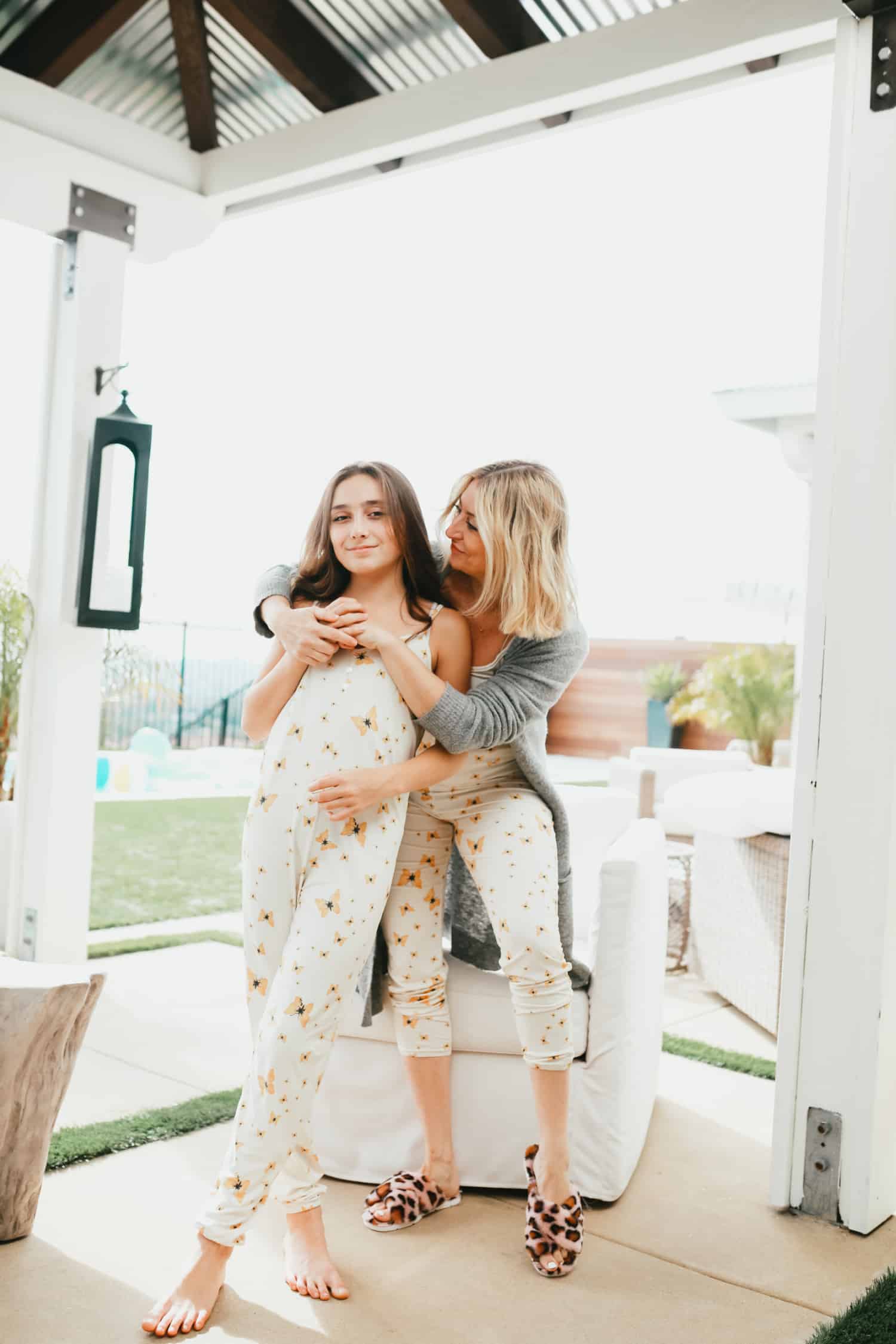 Dance Party
Turn up your favorite tunes. Get your groove on by having an impromptu dance party with your little daughter and have so much fun in the progress. Or, practice a choreographed dance with some simple steps. Have your photographer take images of you dancing together. Having a mother-daughter dance party photoshoot is a great way to break the ice with a child who isn't keen on taking photographs. I can't think of a better way to capture fun mother-daughter moments.
Local Park
Outdoors is one of the best places to do a photoshoot and chances are you have a picture-perfect local park nearby. Natural greenery and mature trees make the ideal backdrop. If the park has a playground snap some pics gently pushing your daughter on a swing.
Street Style
Plan a street-style shoot outside of a cafe, near a fountain or flower stand. It's a great way to show off your personal style. Carry shopping bags from your favorite clothing store. Ask your photographer to shoot at different angles for a more edgy look.
In the Kitchen
Cooking together and passing down family recipes is an excellent way to further mom-and-daughter bonds. Cooking dinner together is always an adventure. You can make the photoshoot extra cute by wearing matching aprons or chef hats. As an added bonus, you get to eat what you make!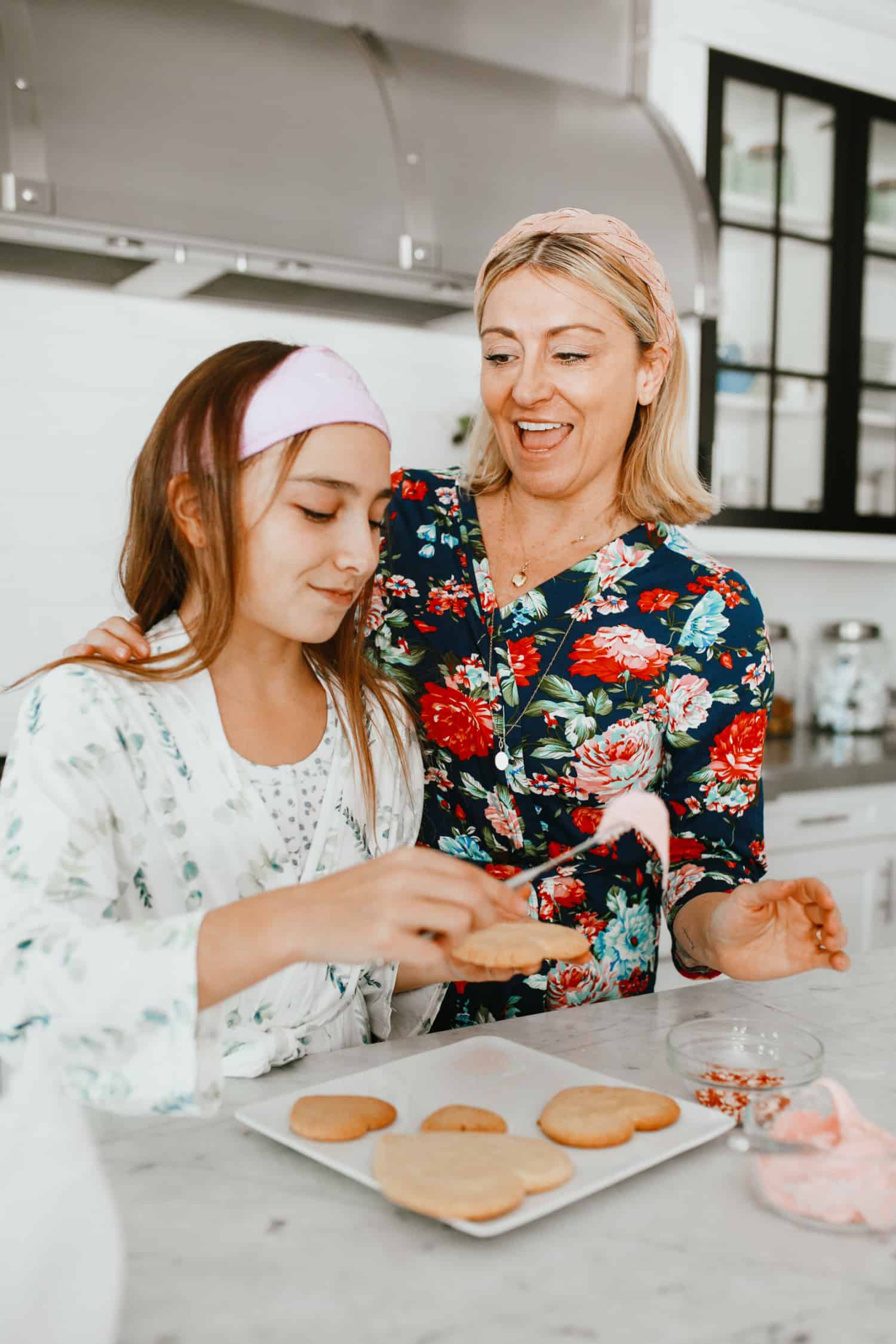 Black and White
One of the most unique and meaningful photoshoots you can do is a mother-daughter black-and-white photo session. These timeless photos capture the special bond between generations, while also highlighting the beauty of both mother and daughter. Whether posed or candidly captured, these stunning photographs will be cherished for years to come.
Garden Party Photoshoot
Whether you're celebrating a milestone birthday, anniversary, or just want to capture memories that will last forever, a garden party provides the perfect backdrop. Lush green gardens provide an exquisite setting for photos of mom and daughter that you'll cherish for years to come.
Throwing Leaves
Autumn is a magical time of year, and a mother-daughter photoshoot amidst the falling leaves can be a wonderful way to capture the precious memories you have together. The crunch of the colorful leaves beneath your feet as you both spin around and laugh is an experience that will stay with you forever.
You can use this opportunity to get creative and wear matching or complementary outfits for your photoshoot. Toss a handful of leaves into the air! The vibrant colors of the leaves will make for an excellent backdrop – so don't forget to take some traditional posed shots along with all the candid ones!
Mom and Daughter Hugging Photos
Don't forget the sweetest accessory of all: hugs! When it comes to mother and daughter hugging photos, the more love the better. So put your arms around each other and be sure to smile for the camera.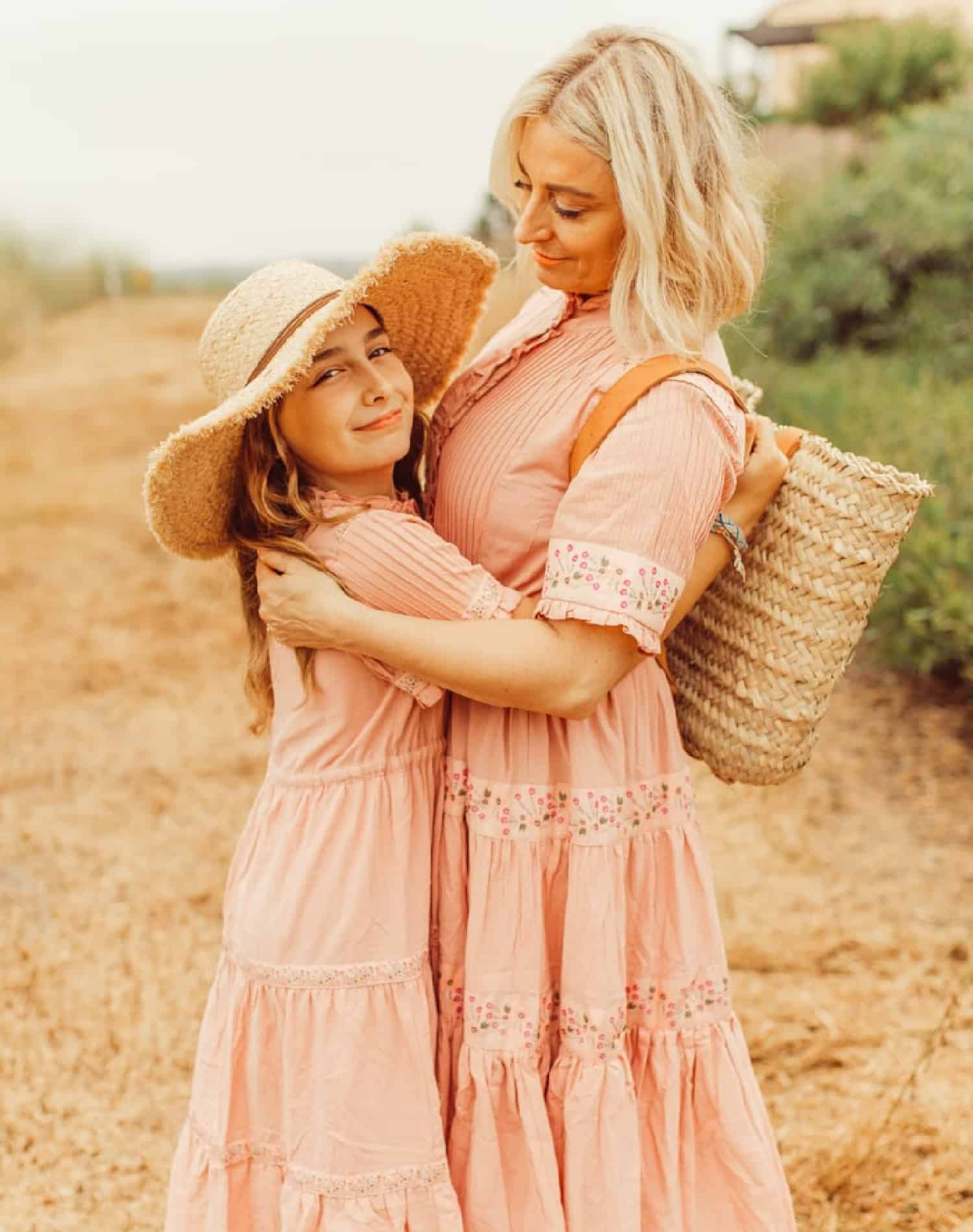 Balloons Party
This mother-daughter photoshoot is all about celebrating special moments of joy and connection. From the bright balloons to their warm smiles, these photos show that nothing can compare to a mom's unconditional love for her daughter.
Tea Party with your Mini-Me
A tea party is the perfect way to spend quality time together while capturing those special moments on camera. Whether it's a themed photoshoot or playing with your daughter's miniature tea set, these treasured memories will be cherished for years to come.
Mother-Daughter Matching Outfits
Mother-daughter bonding has never been so fashionable! Wearing mommy and me dresses is a popular trend. Capture your special bond with a photoshoot featuring matching outfits. From casual and cute to formal and fun, capture the perfect memory of quality time spent together. Dress it up and dress it down — there are so many ways to create one-of-a-kind mother-and-daughter matching outfit photos.
The possibilities are truly endless when it comes to mother-daughter photoshoot ideas. Why not let your imagination run wild and come up with some truly unique creative ideas, or plan a traditional photoshoot that'll showcase the special bond between mother and daughter? Whatever you choose to do, don't forget to let your personalities shine through in the photos! Have fun creating lasting memories together!
Tips for Parenting In Style...
Never boring, always awesome. Keep up to date with the latest from City Girl Gone Mom.