Did the laundry room just become your favorite room in the house?! It will once you check out these amazing farmhouse laundry room reveals from some of our favorite design bloggers.
Dreading laundry will be a thing of the past! Each space is stylish, cozy and, most importantly, functional. From modern takes to antique stunners, these laundry rooms are unique and the perfect inspiration to take your farmhouse laundry room design to the next level.
---
The first washing machine was invented in 1782 by H. Sidgier of Great Britain.
---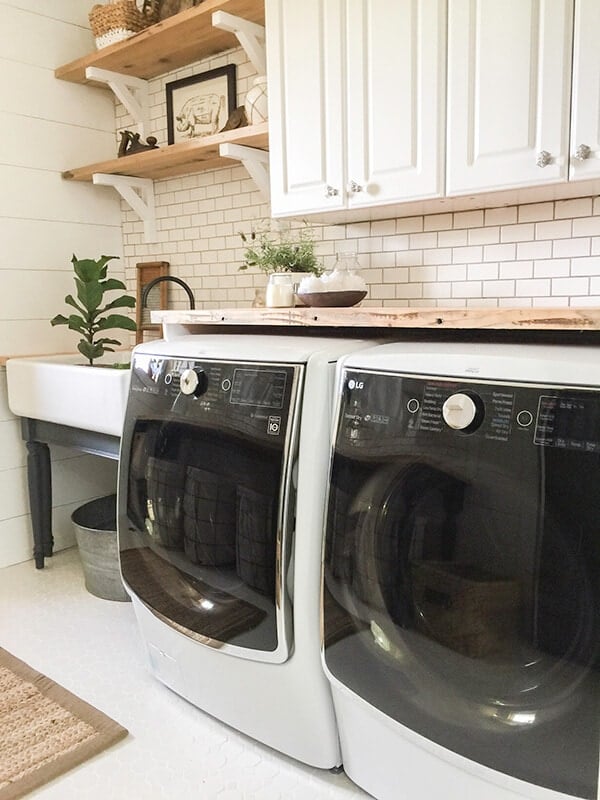 Twelve on Main
Ooh, la la! We are loving the vintage touches of this farmhouse laundry room reveal from Twelve on Main. The whole space feels bright and inviting, but the use of vintage decor, shiplap and classic subway tile totally ties the space together.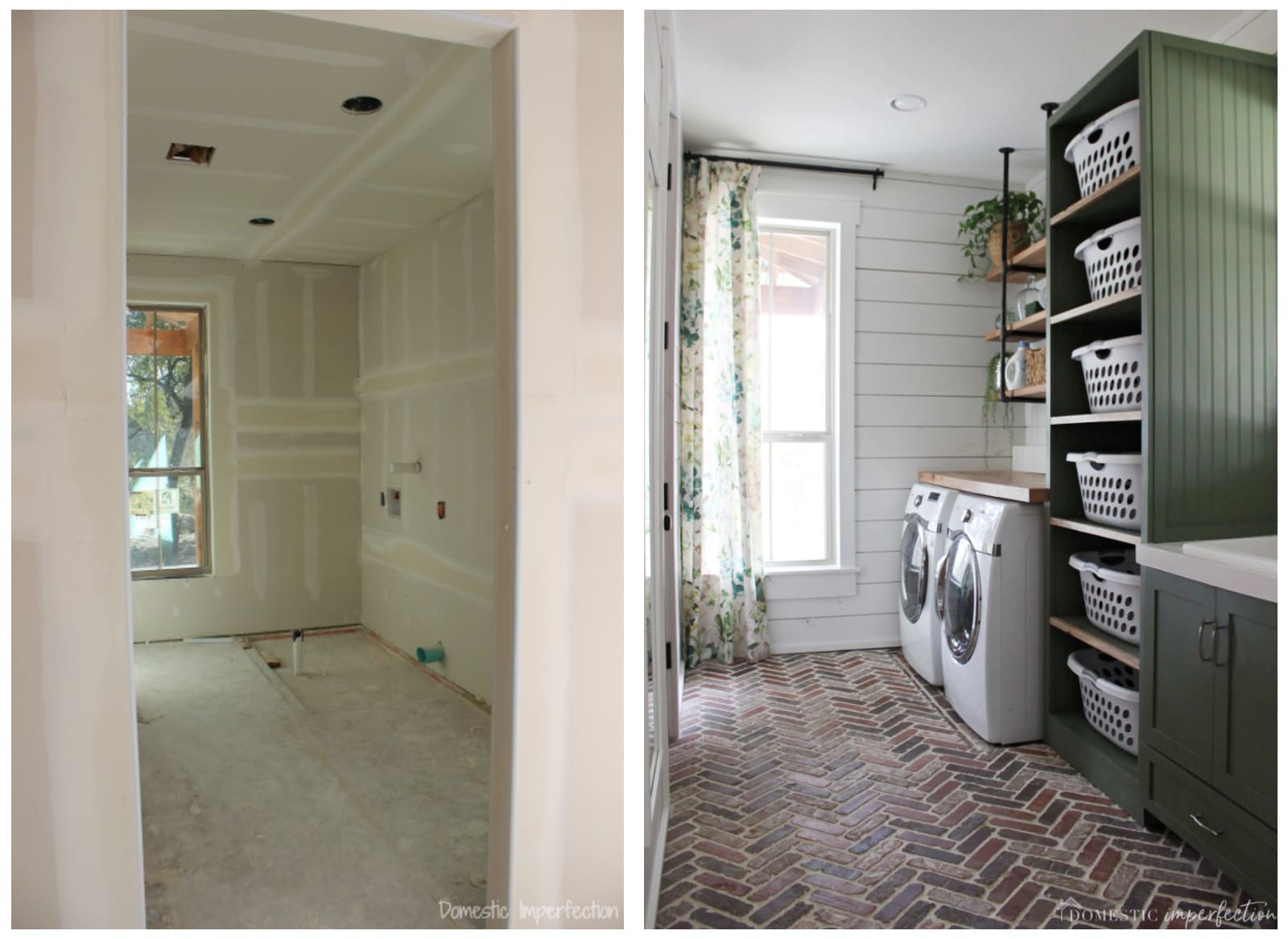 Domestic Imperfection
There's nothing imperfect about Domestic Imperfection's stunning and unique laundry room. With the brick floors and green accent color, the design celebrates cool tones you don't often see in farmhouse interiors.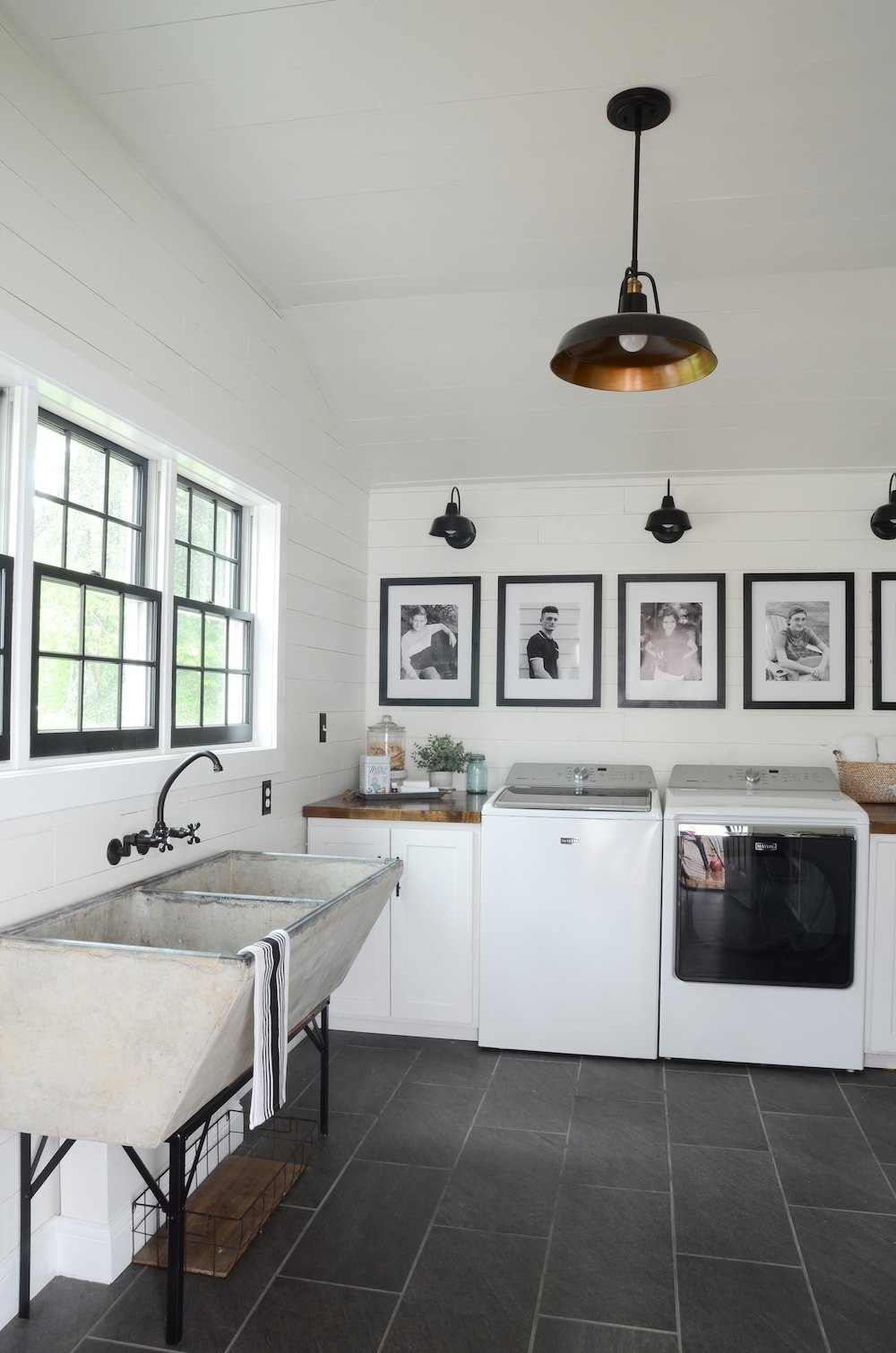 Beneath My Heart
Beneath My Heart's beautiful modern farmhouse laundry room wows from every single perspective. A concrete sink, antique accents, functionality, adorable photos of the family—dare we say you'll be wanting to do laundry every day? We would if this room was in our home.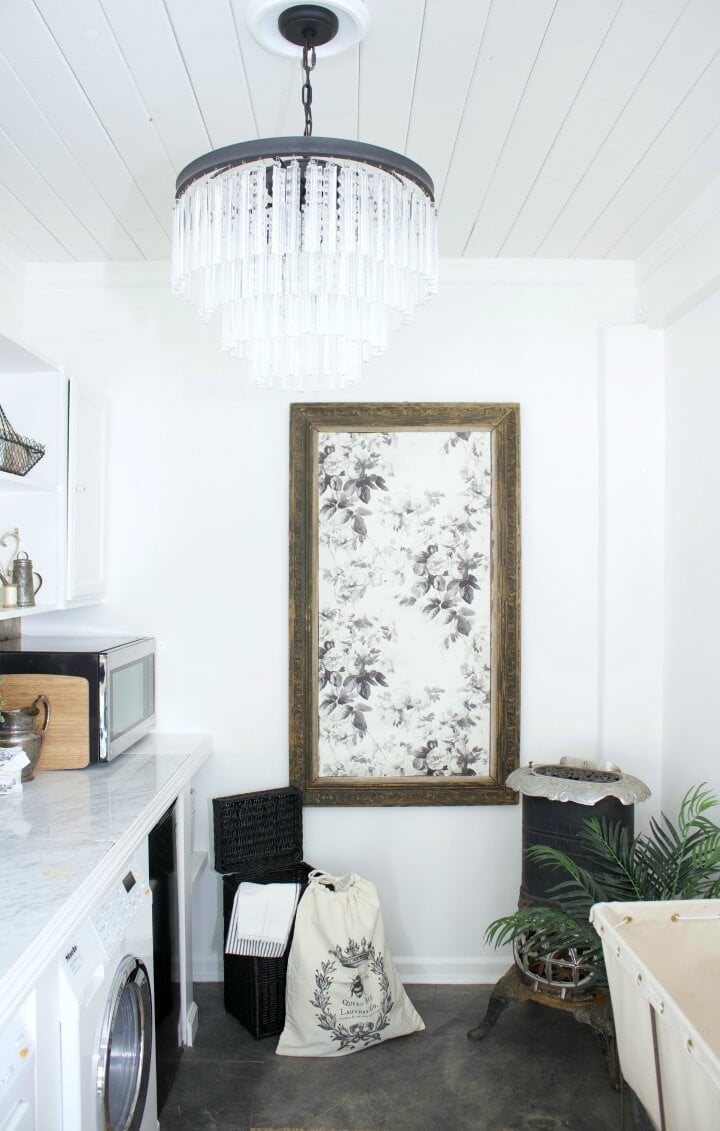 My Soulful Home
If you don't think a grand chandelier belongs in your laundry room, My Soulful Home's room reveal will have you thinking again. Complete with the show-stopping light fixture, the room also impresses with marble countertops and floral wallpaper framed on the wall.

---
Detergent was first manufactured in 1916 as a result of a soap shortage during WWI in Germany. But it wasn't sold in homes until the 1930s.
---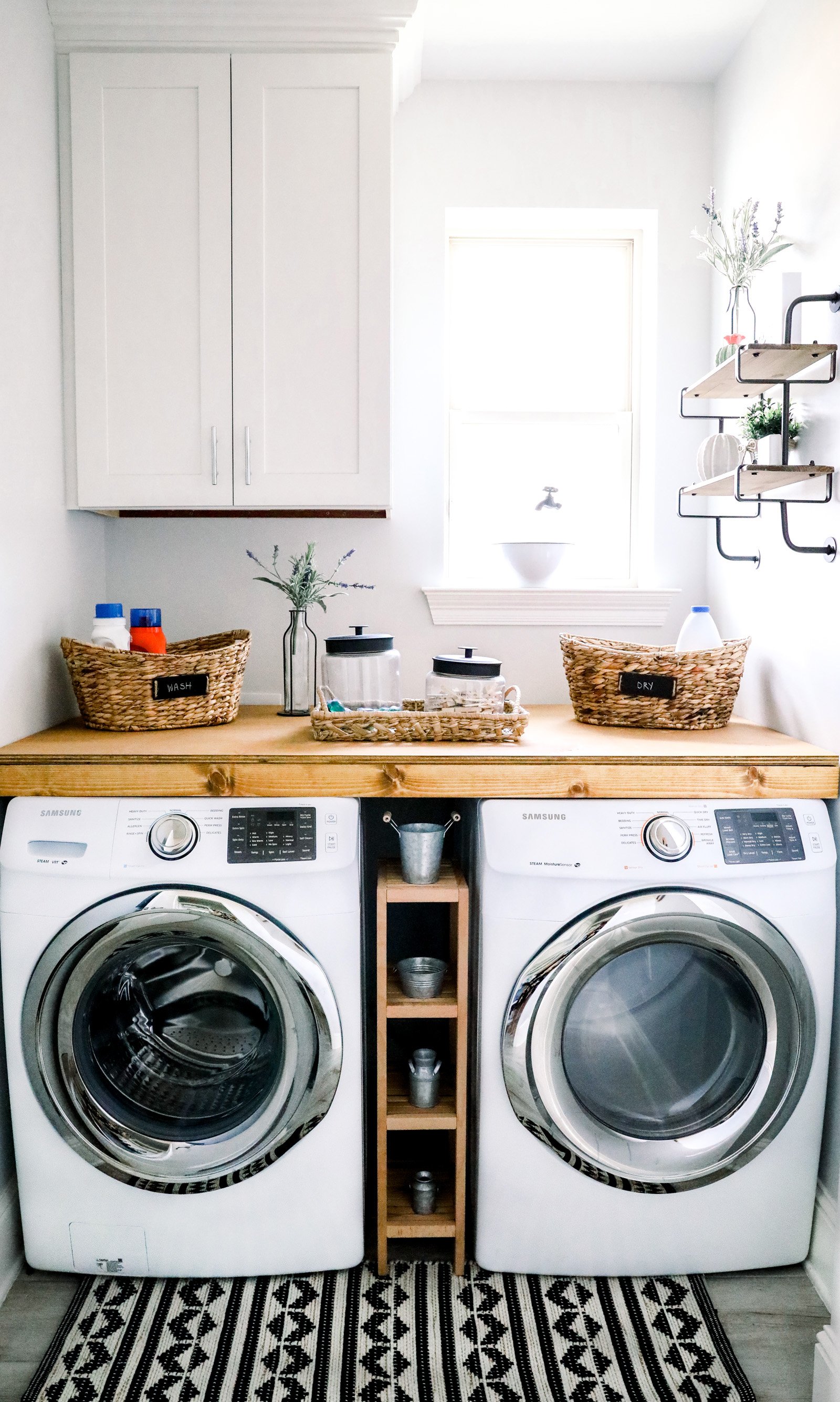 The Southern Thing
Small space? No problem! The Southern Thing's laundry room reno makes the most of its space with a fresh coat of paint, smart shelving and modern farmhouse accents to brighten up the room.

Have you listened to my podcast? Check out The Mom Confidential!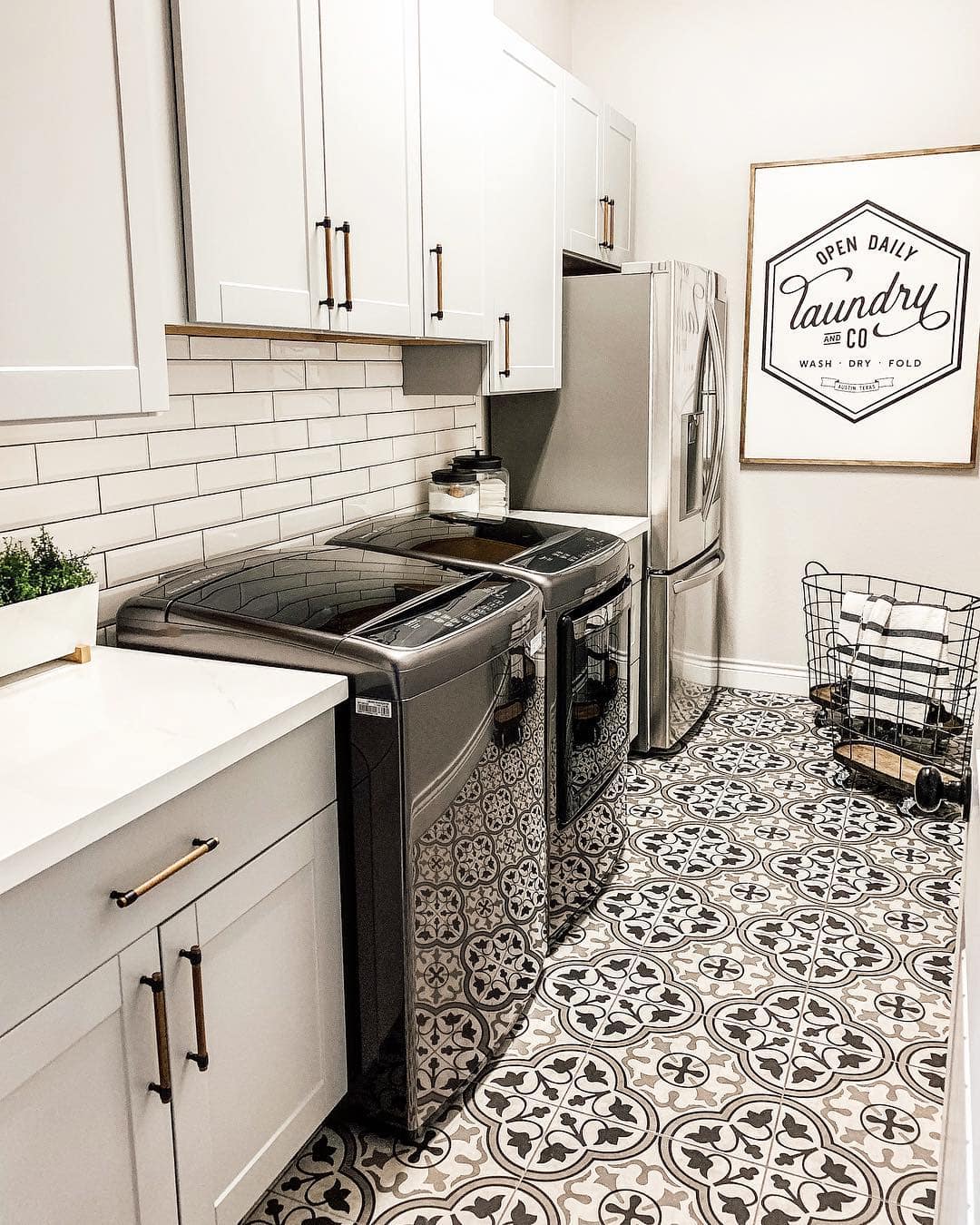 Our Faux Farmhouse
For a laundry room that slays, go for eye-catching tile like this gorgeous laundry room from Our Faux Farmhouse. Then add in new cabinets and a beautiful quartz countertop and you have our new favorite room in the house.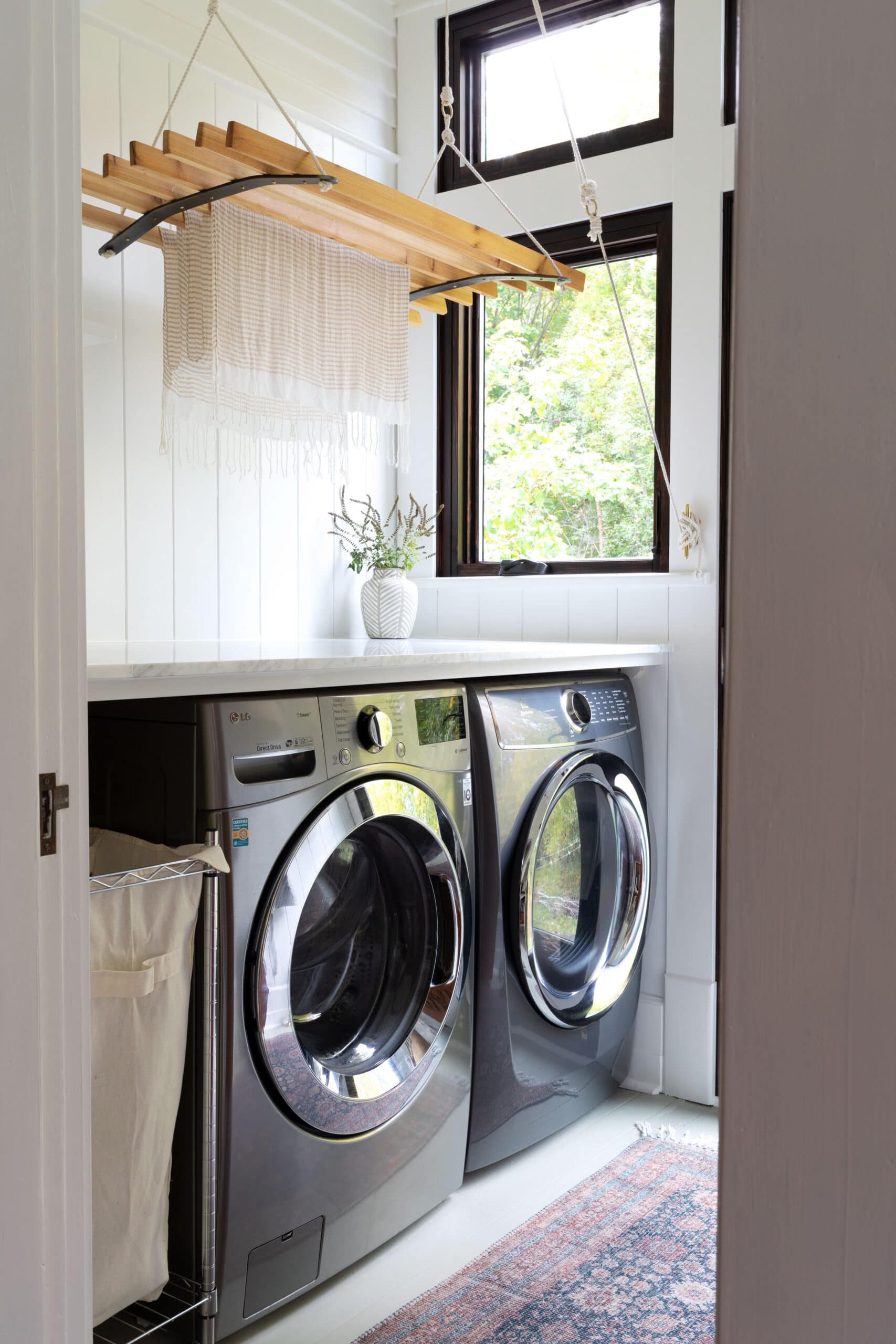 The Grit and Polish
Just say yes to hanging airers! We are obsessed with this beautiful laundry room from The Grit and Polish and their DIY airer above the washer and dryer—it's the perfect rustic farmhouse touch!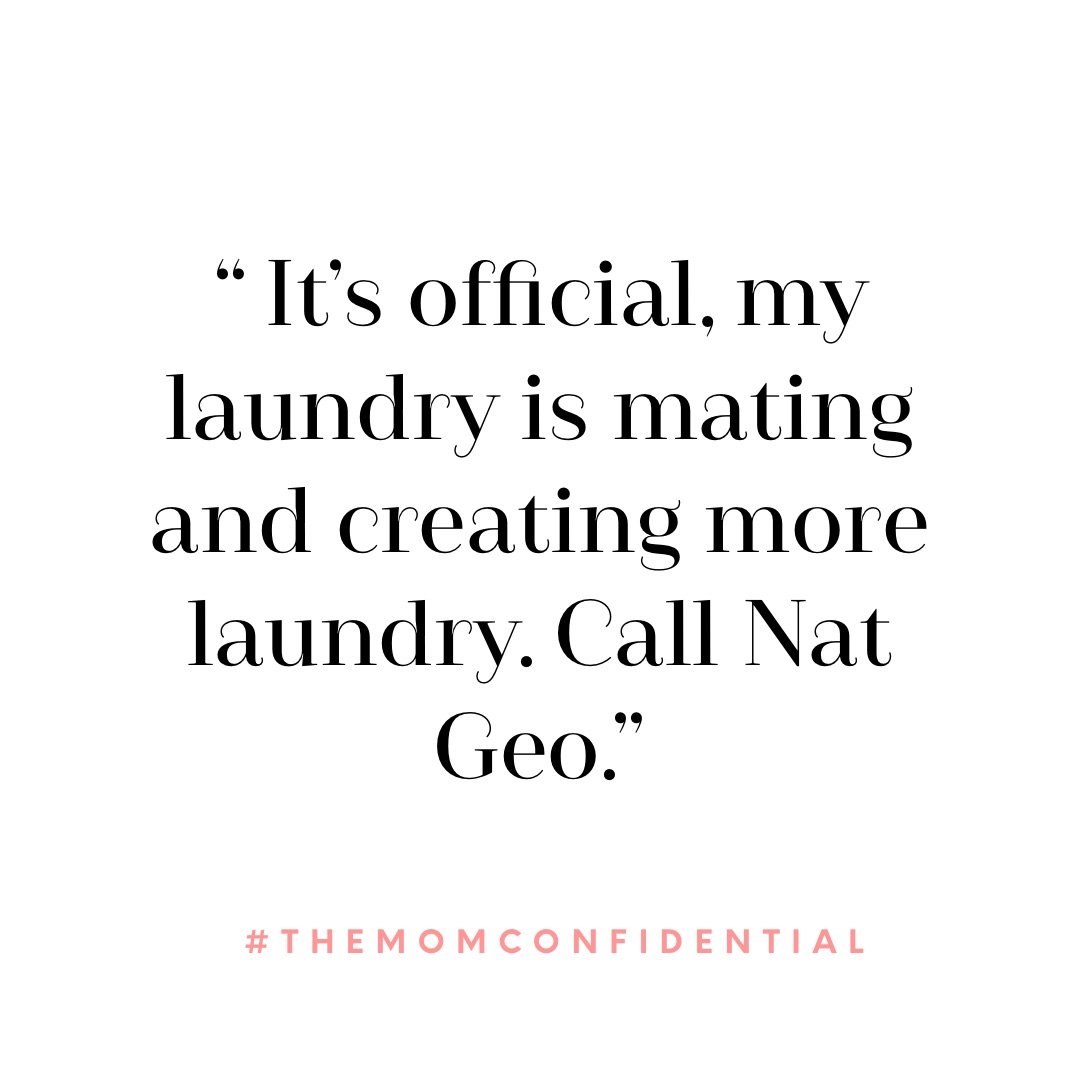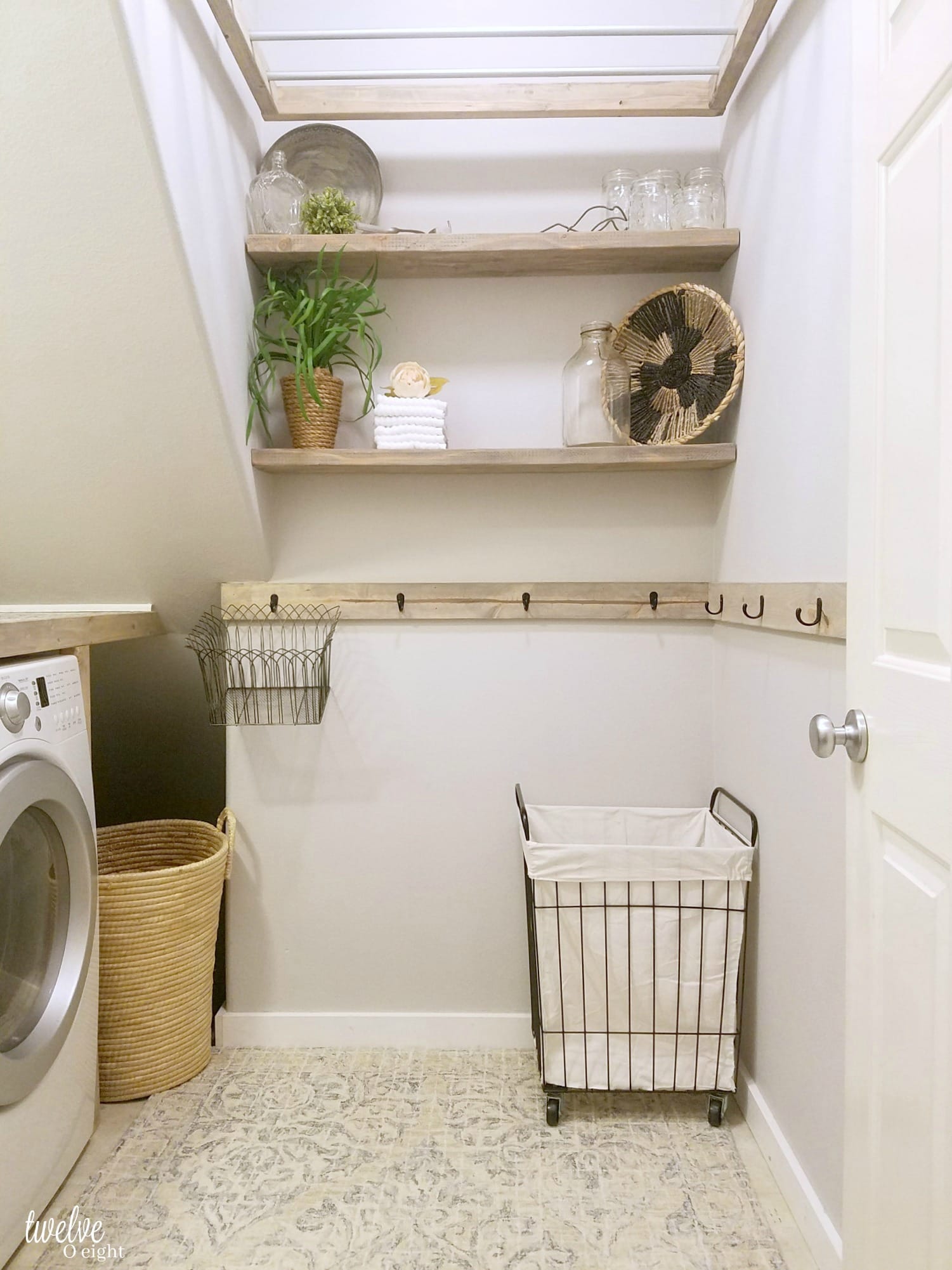 Twelve O Eight
Some of our favorite spaces are those that feature idyllic nooks and tiny details—Twelve O Eight's charming laundry room is no exception. Decorated with unique finds and practical must-haves, the laundry room is a cozy and peaceful space to knock off your to-do list.

---
The dryer wasn't a household item until the 1960s because they were too cost-prohibitive.
---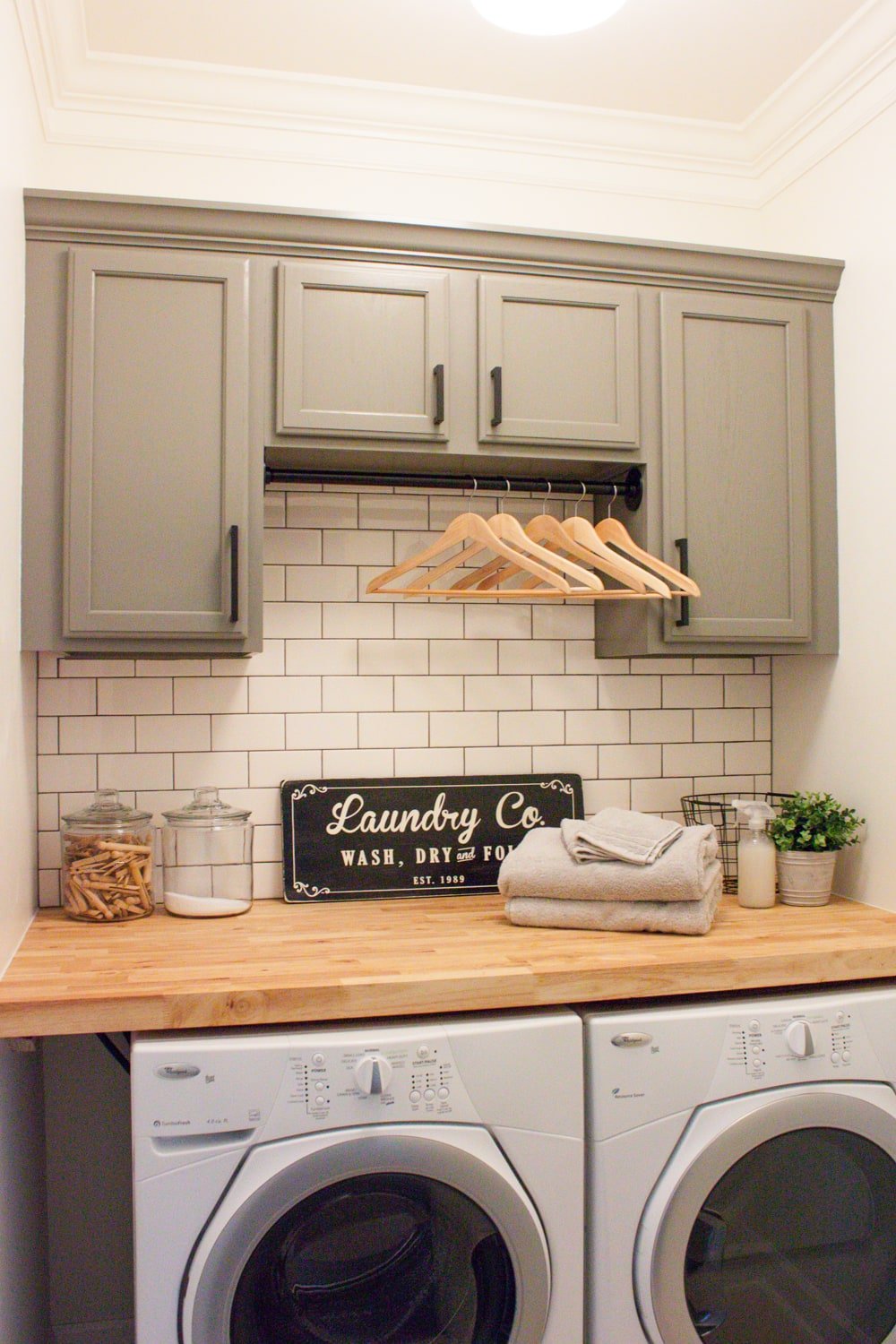 Gather and Flourish
The key to a more modern farmhouse approach is to incorporate industrial accents into the design. Gather and Flourish's laundry room reno nails this look with industrial handlebars on the cabinets, cool subway tile and a useful hanging rod.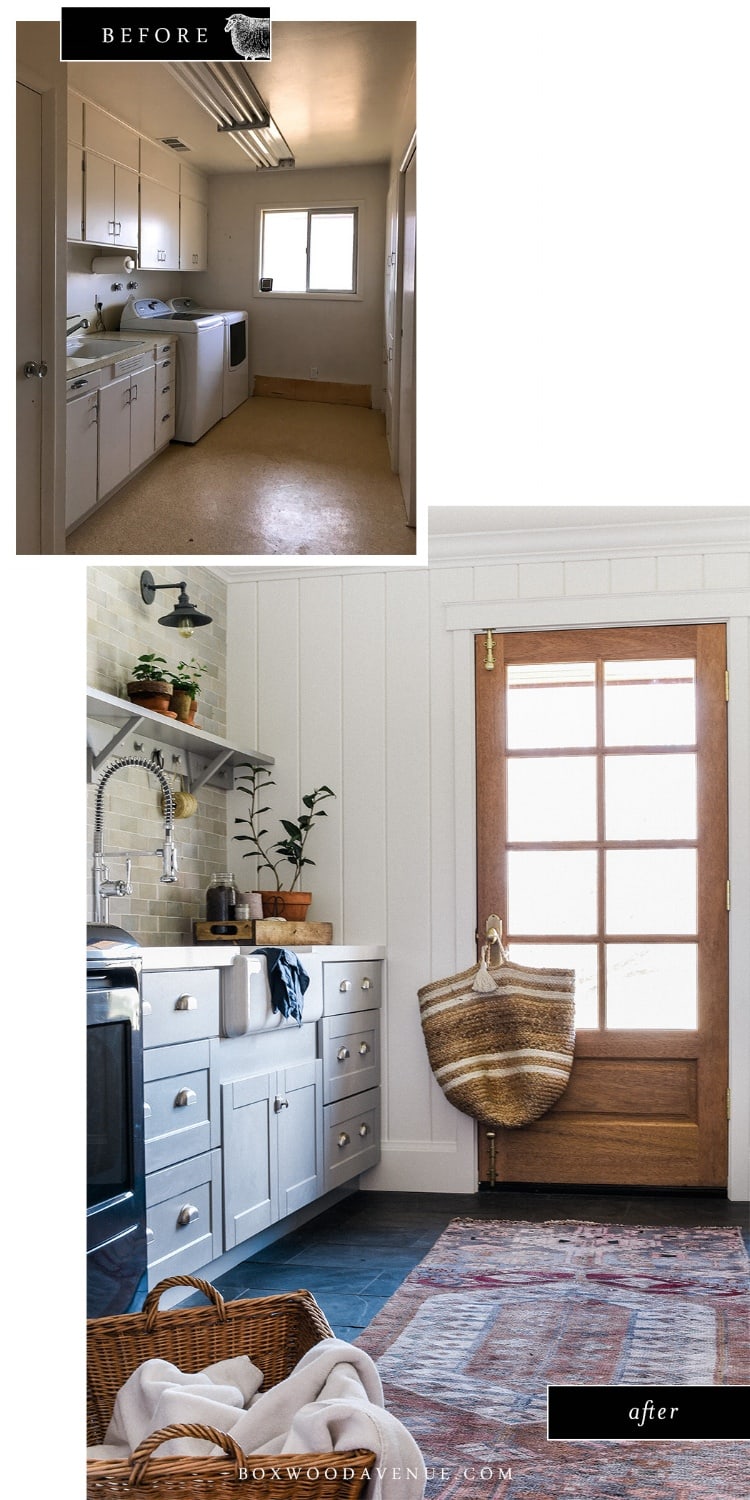 Boxwood Avenue
We are so in love with Boxwood Avenue's laundry room remodel and their stylish use of dark colors in the space. From the dark tile to a cool, neutral backsplash, the inviting space has an edgier appeal to it you don't often see in farmhouse designs.

---
In 1908, the first mass-marketed washing machine in the U.S. was called the Thor.
---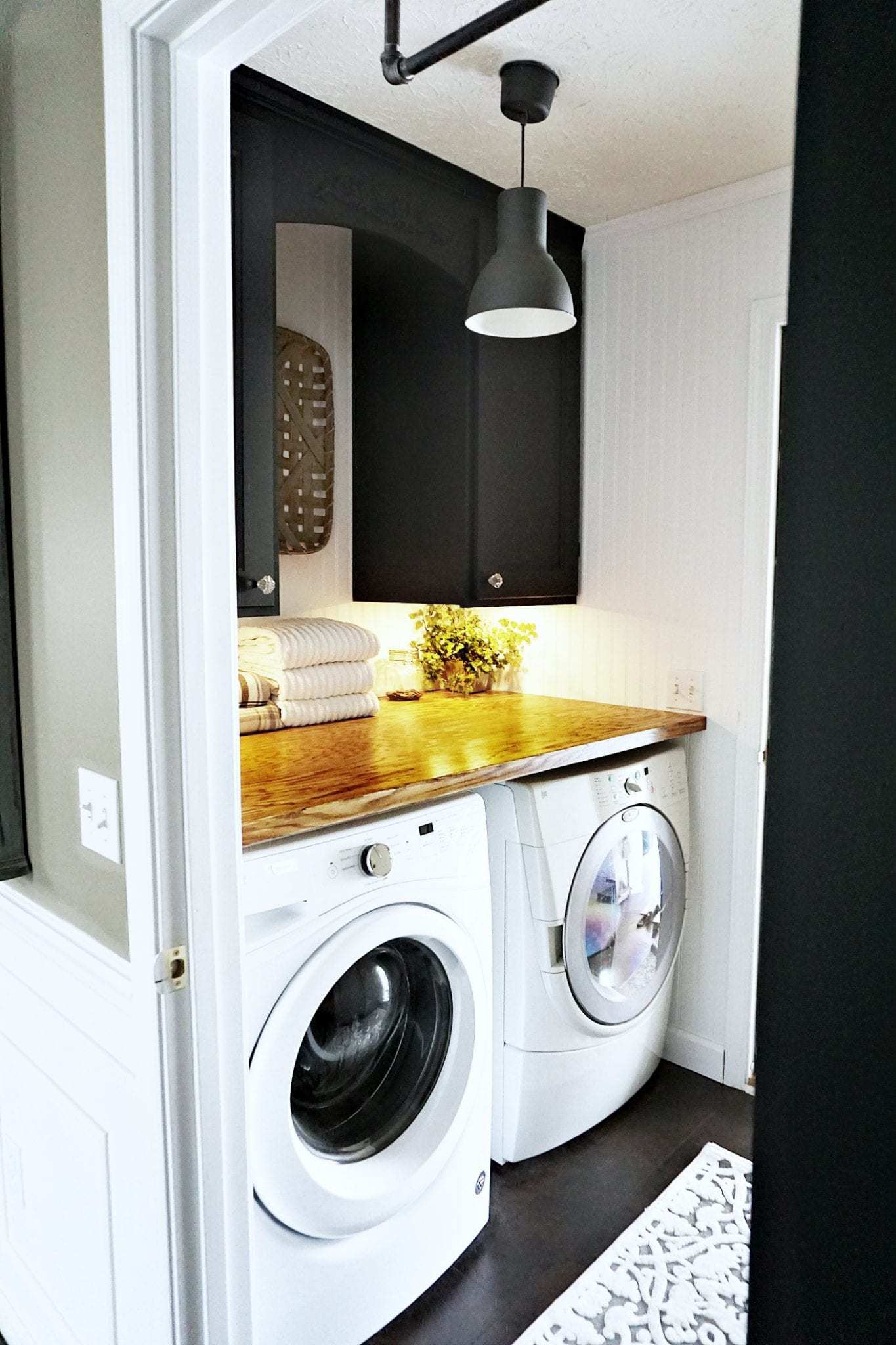 Snazzy Little Things
It's love at first sight with Snazzy Little Things' laundry room remodel featuring swoon-worthy, dark custom cabinets. With plenty of countertop space, the room is just as functional as it is picture-perfect.

The Leslie Style
If our laundry room looked anything like The Leslie Style's stunning renovation, we'd be living in that room. The stunning space has a wow-factor neon sign, a rustic statement wall and elegant decor items that exude the effortlessness of farmhouse design.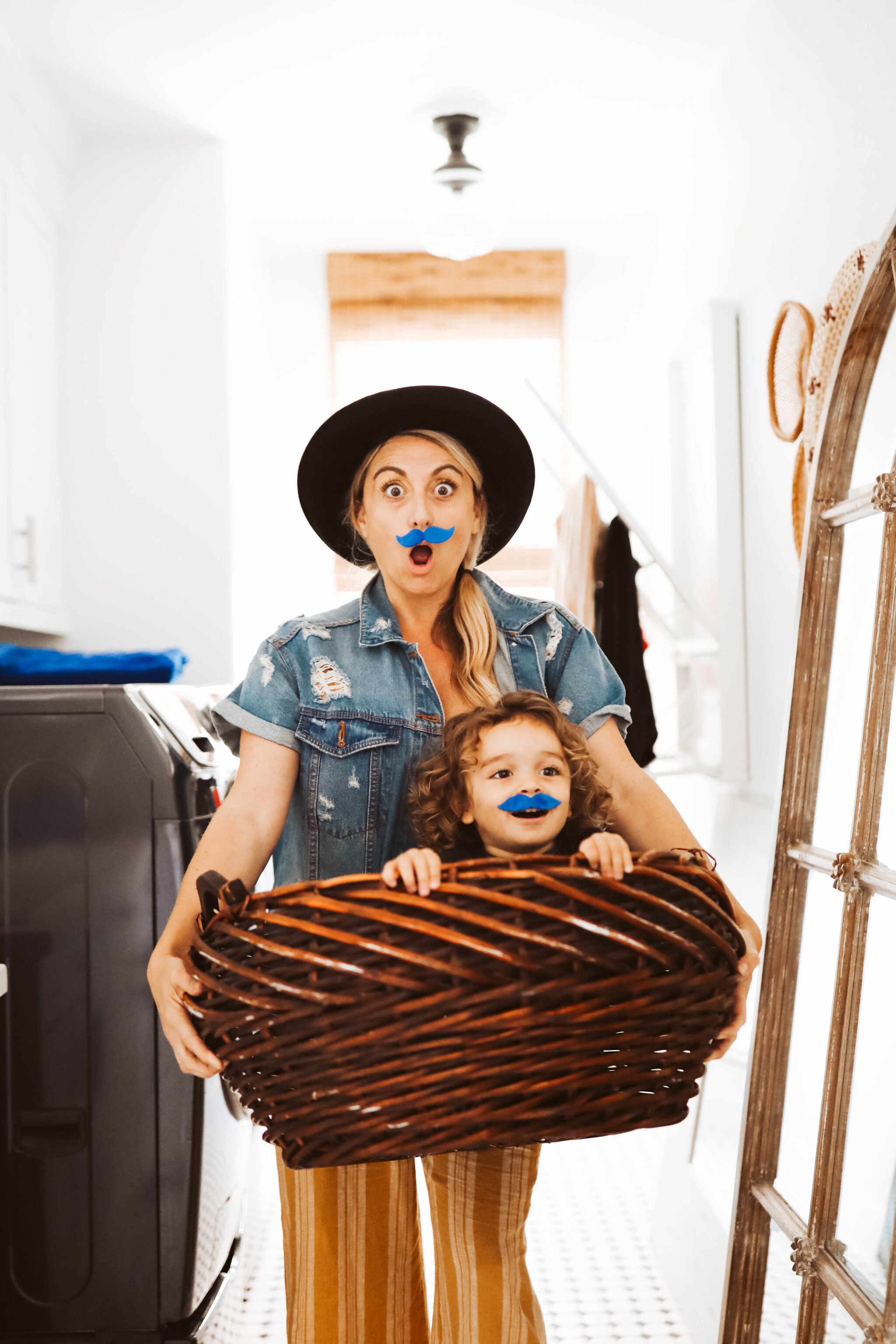 Tips for Parenting In Style...
Never boring, always awesome. Keep up to date with the latest from City Girl Gone Mom.