Gearing up for a kitchen makeover? You will be once you look at these stunning modern farmhouse kitchens. Whether you're looking for bright and spacious or stylish and sleek, we've found all of the farmhouse kitchen inspiration for your next design makeover. And let's face it, if you're not into farmhouse aesthetics, are you even a fan of City Girl Gone Mom?! Break out the white paint and start searching for the perfect antique accents, it's time to create the farmhouse kitchen of your dreams!
---
In the late 19th century, cooks in the United States went eggbeater-crazy. No fewer than 692 separate patents for eggbeaters were granted between 1856 and 1920.
---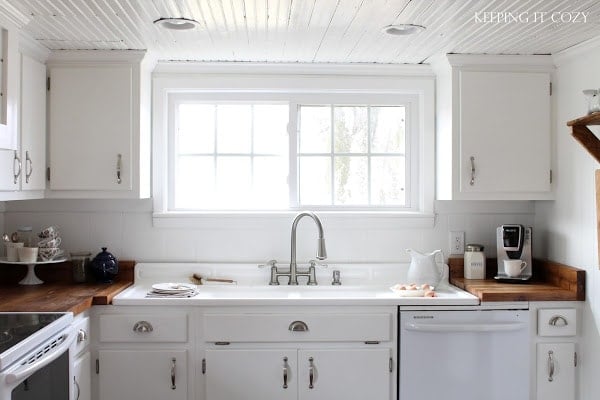 Keeping It Cozy
Keeping It Cozy's farmhouse kitchen redo captures the essence of the farmhouse aesthetic with reclaimed wood countertops from a 100-year-old barn. Then add a fresh coat of paint and vintage accent decor and this kitchen's ready for its close-up!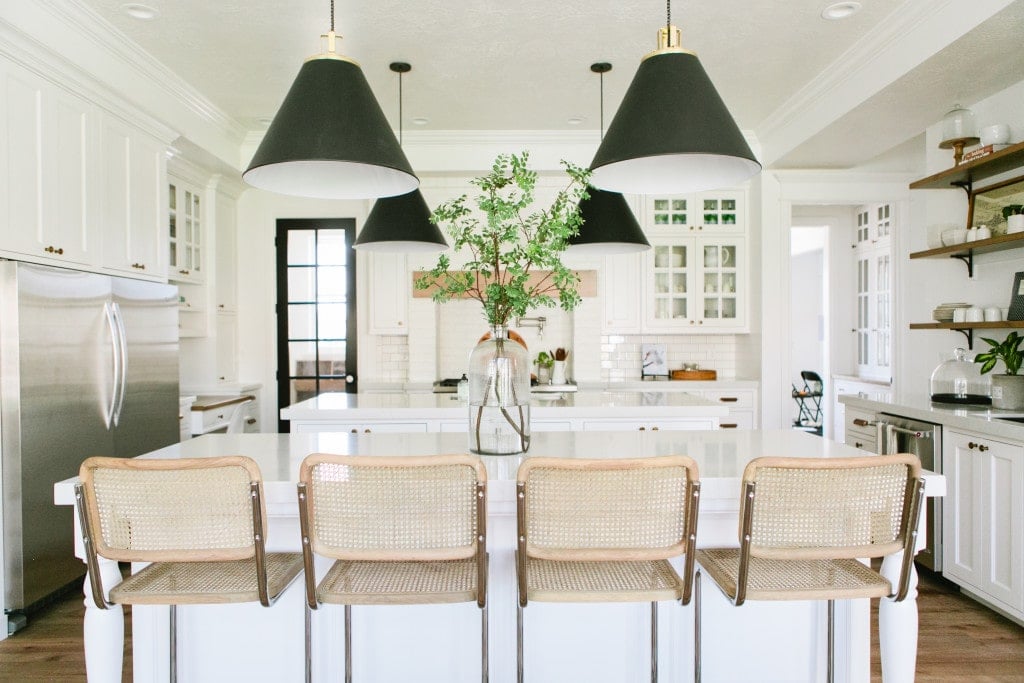 House of Jade Interiors
This farmhouse kitchen from House of Jades Interiors has just the right amount of modern touches to balance out its rustic-chic design. From matte, black pendant shades to wicker bar stools, every detail completes the space.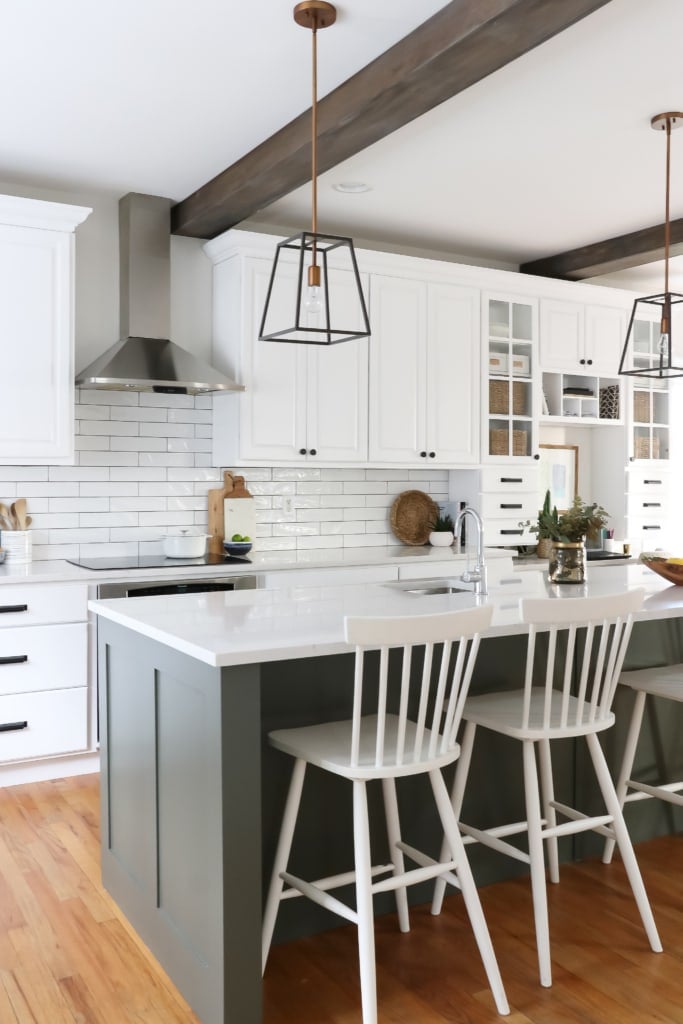 City Farmhouse
Classic subway tile, a matte green island, stylish pendants—City Farmhouse's kitchen is what modern farmhouse dreams are made of. But while you're at it, you may as well swoon over the whole house.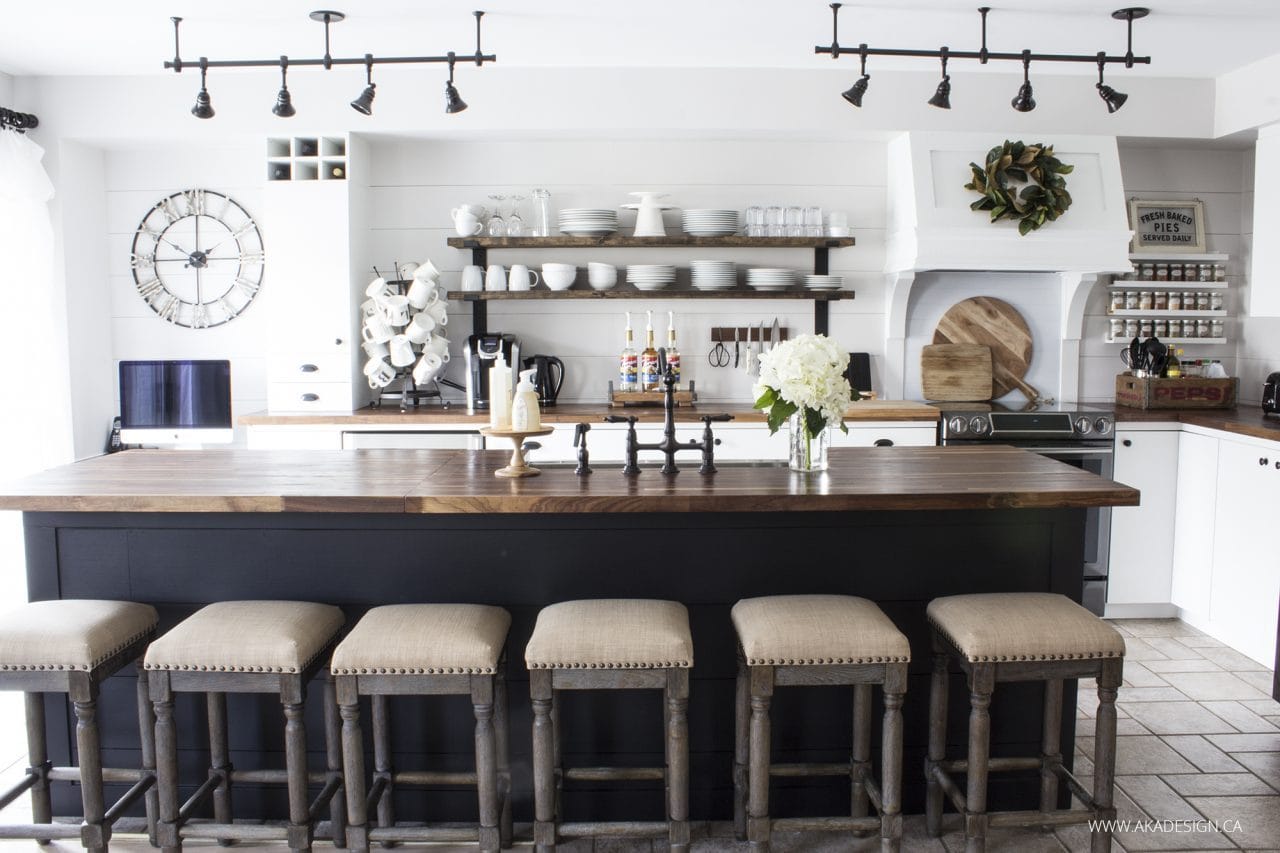 Homemade Lovely
Spacious and bright, this farmhouse kitchen from Homemade Lovely is a showstopper with black accents, rustic wood, and crisp white cabinets. Every detail is an eye-catcher, but we're especially swooning over that walnut butcher block.
---
In the days of open-hearth roasting, the job of turning meat in front of the fire was so unpleasant that special short-legged dogs called "turnspits" were bred to do it. In Tudor times, these poor dogs were forced to trundle around on a wheel attached to a spit.
---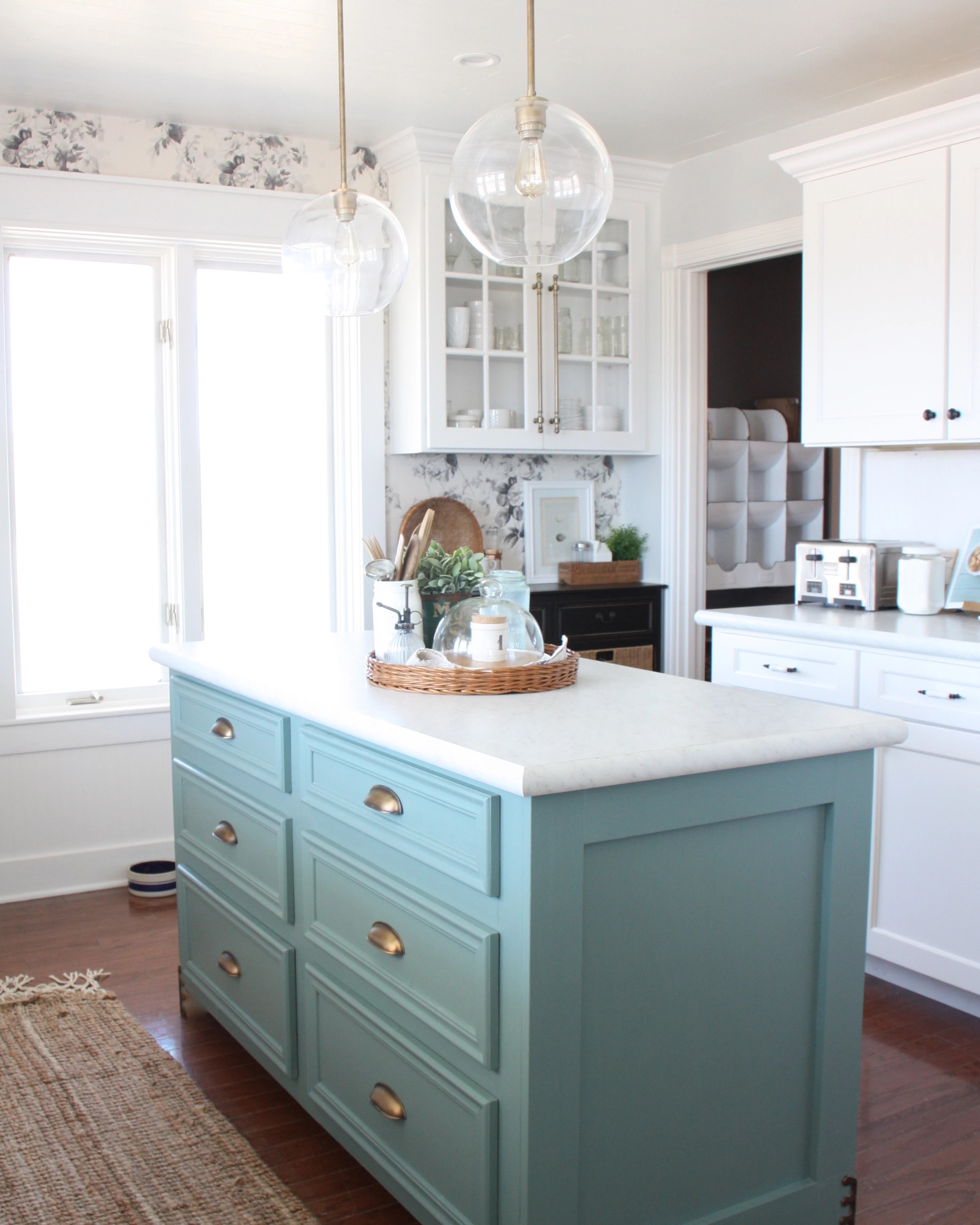 The Festive Farmhouse
When it comes to farmhouse kitchen inspiration, look no further than The Festive Farmhouse's stunning kitchen reveal. It was love at first sight of their accent floral wallpaper and classic farmhouse sink.
Have you listened to my podcast? Check out The Mom Confidential!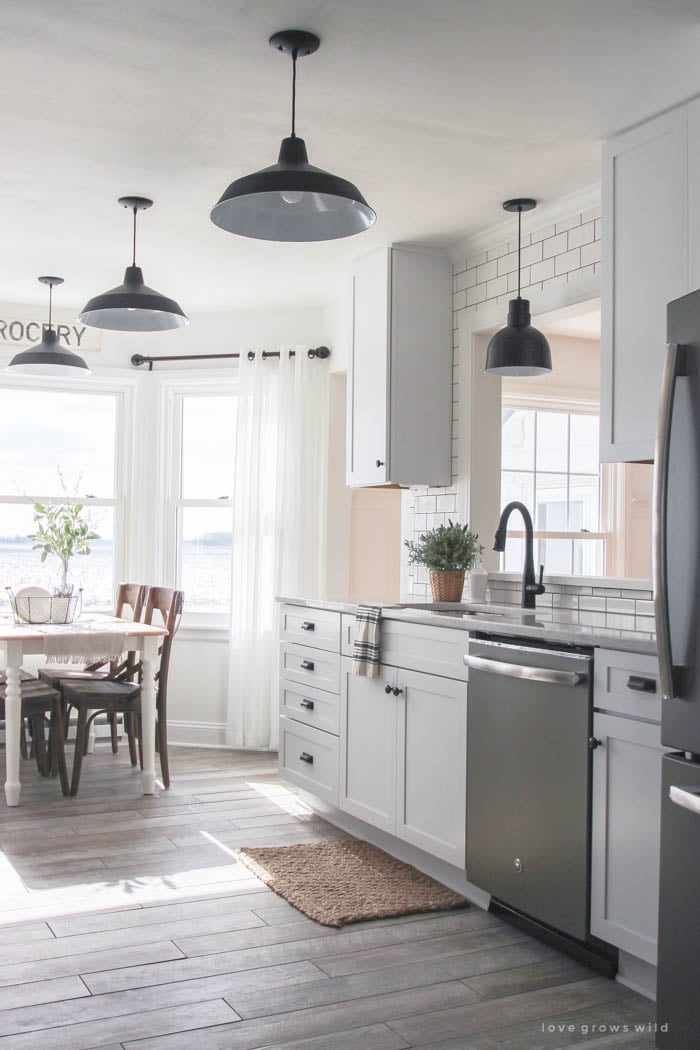 Love Grows Wild
Sleek, spacious, and inviting, the kitchen reveal from Love Grows Wild combines all of our favorite design aesthetics into one dreamy space. Note the quintessential subway-tile backsplash and charming dining chairs.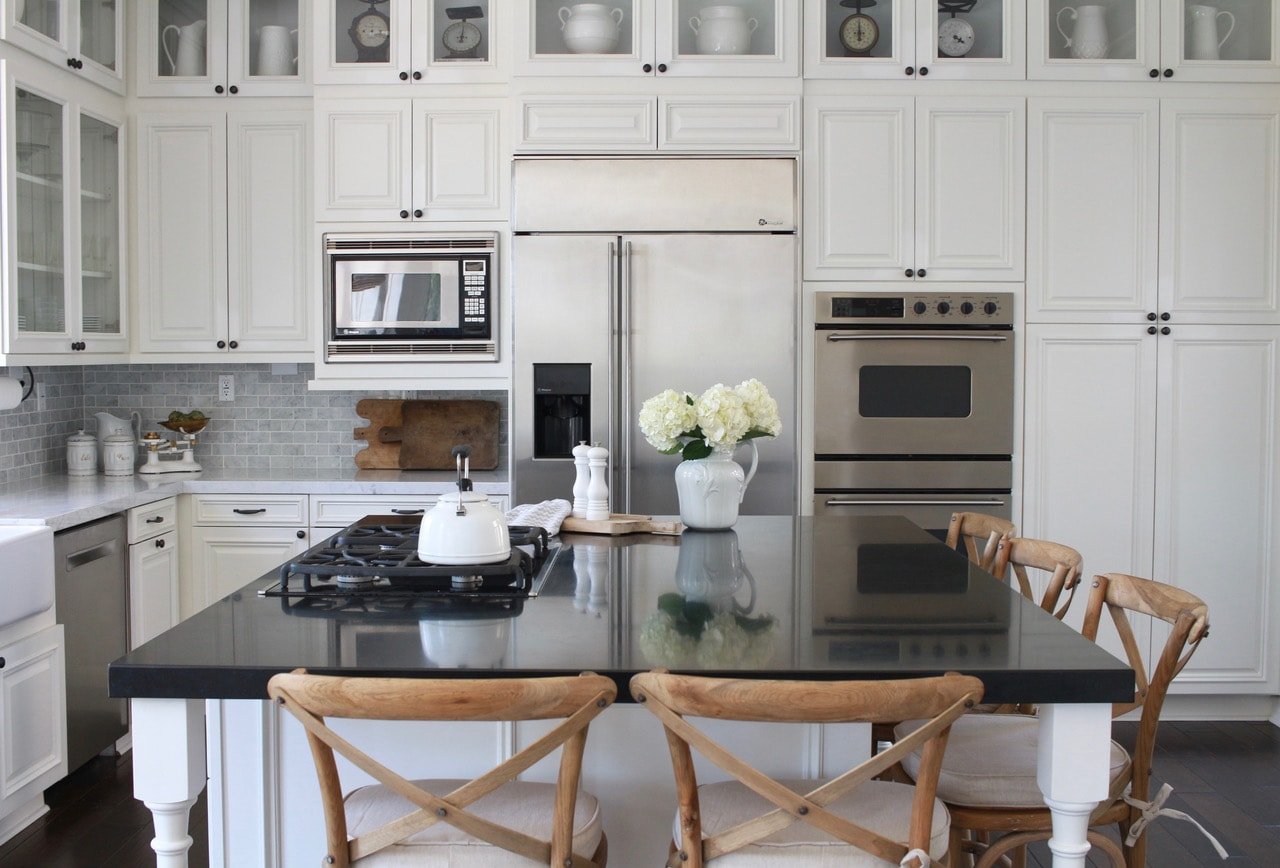 Maison De Cinq
With tall white cabinets and a swoon-worthy island featuring black granite and farmhouse legs, this gorgeous kitchen reno from Maison De Cinq is giving us all the design inspiration.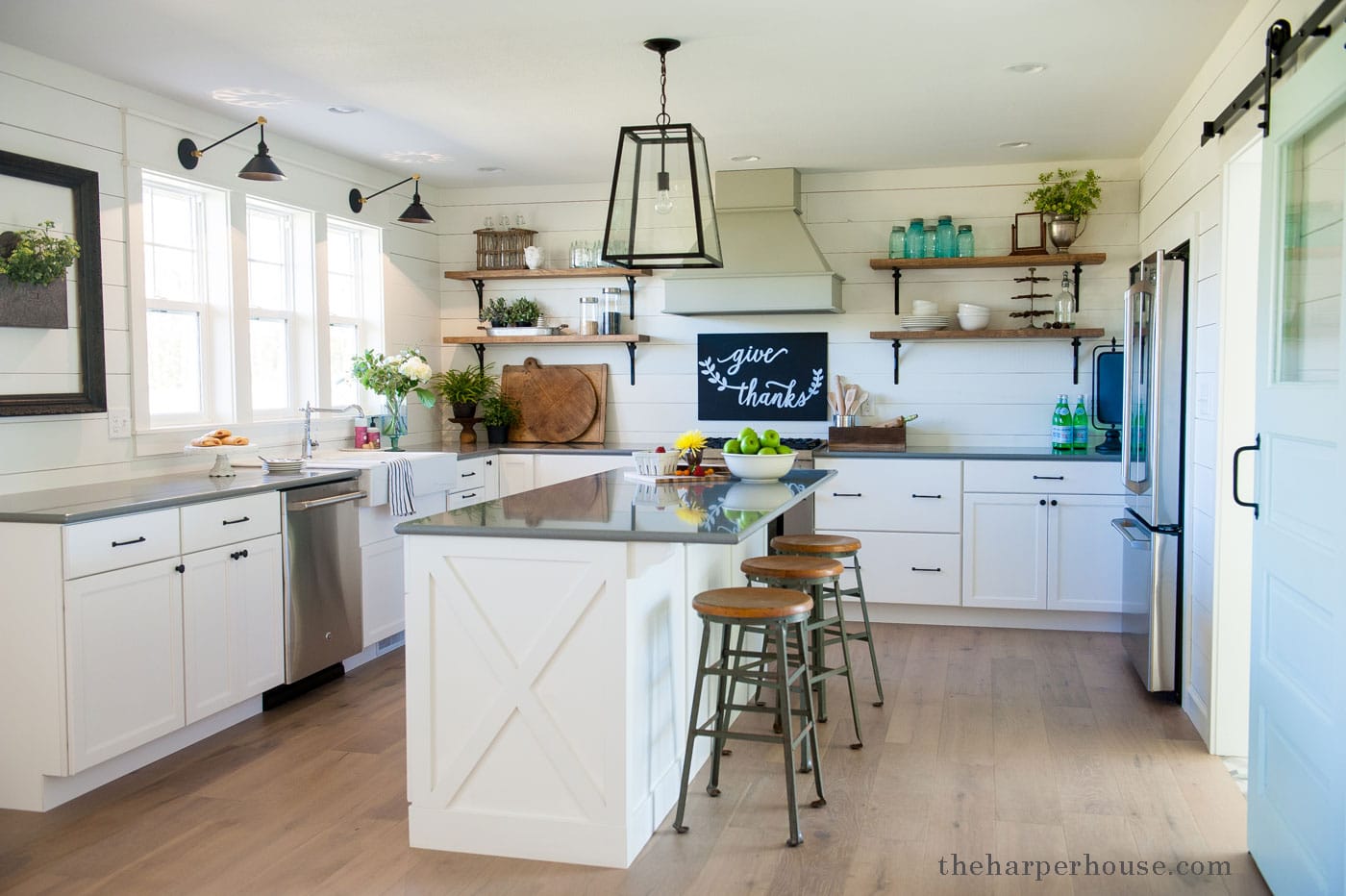 The Harper House
In most modern farmhouse designs, functionality is just as important as looks—especially when it comes to the kitchen. The Harper House's kitchen finds that perfect balance with all of the gorgeous farmhouse accents (see: white cabinets, statement pendant light fixture, shiplap) and plenty of space to cook, dine, and gather.
---
The alignment of human teeth in an "overbite" goes back to the adoption of the table knife and fork, around 250 years ago.
---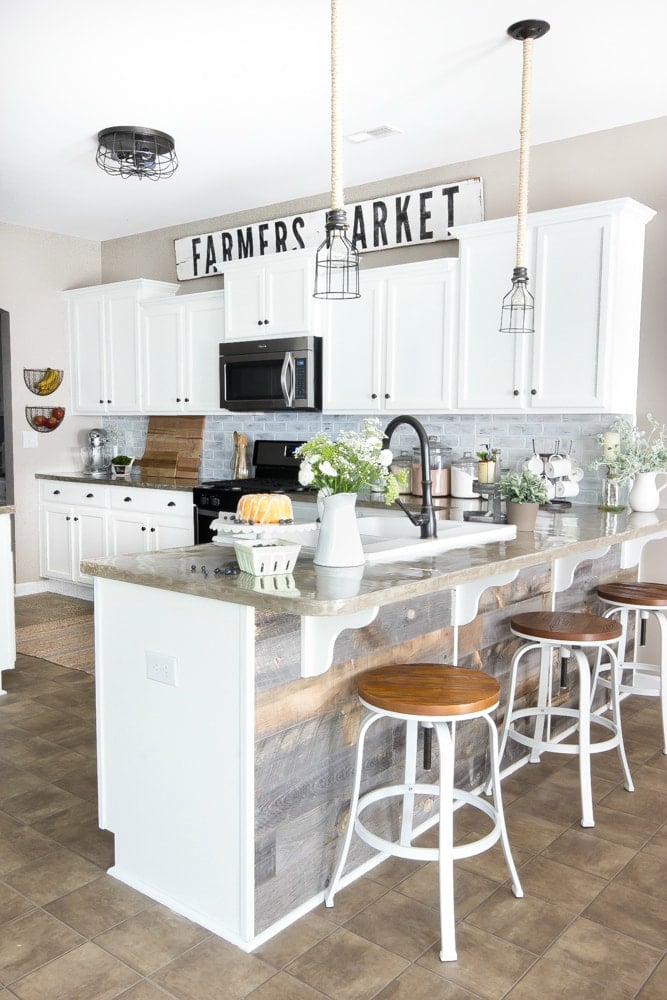 Bless'er House
Never underestimate the power of a fresh coat of paint! Bless'er House's beautiful modern farmhouse makeover embraced that motto to reveal a bright and beautiful space to gather. We're also in love with the farmers market sign above the cabinets!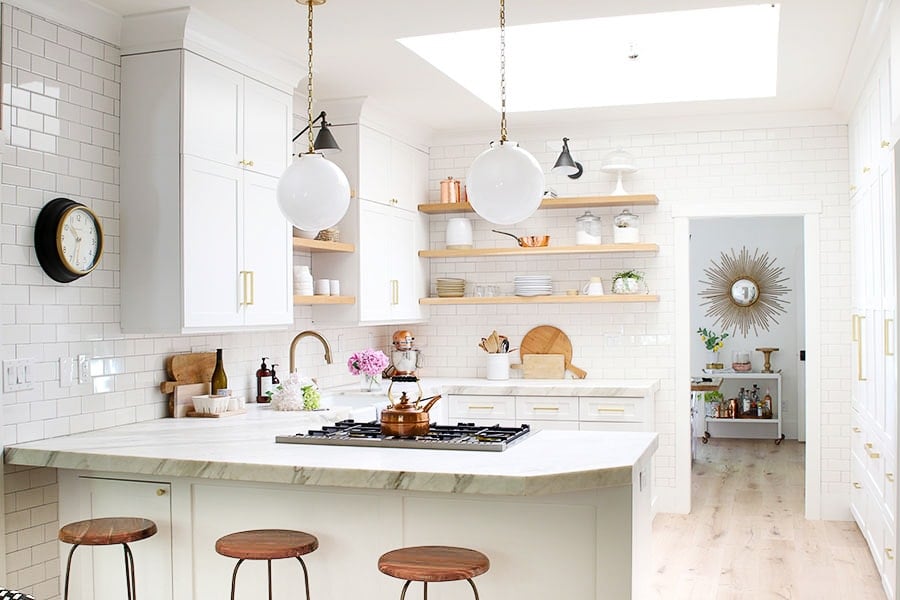 Modern Glam
Give us all the open shelves! Modern Glam totally nailed the look in their farmhouse kitchen redo with plenty of open shelves and charming accents to complete the space. Now add in the brass hardware and it's safe to say this kitchen is perfect.
---
Benjamin Franklin designed a stove in 1742. It had a labyrinthian path for hot exhaust gases to escape, allowing heat to enter the room instead of going up the chimney. However, this stove was designed only for heating, not for cooking.
---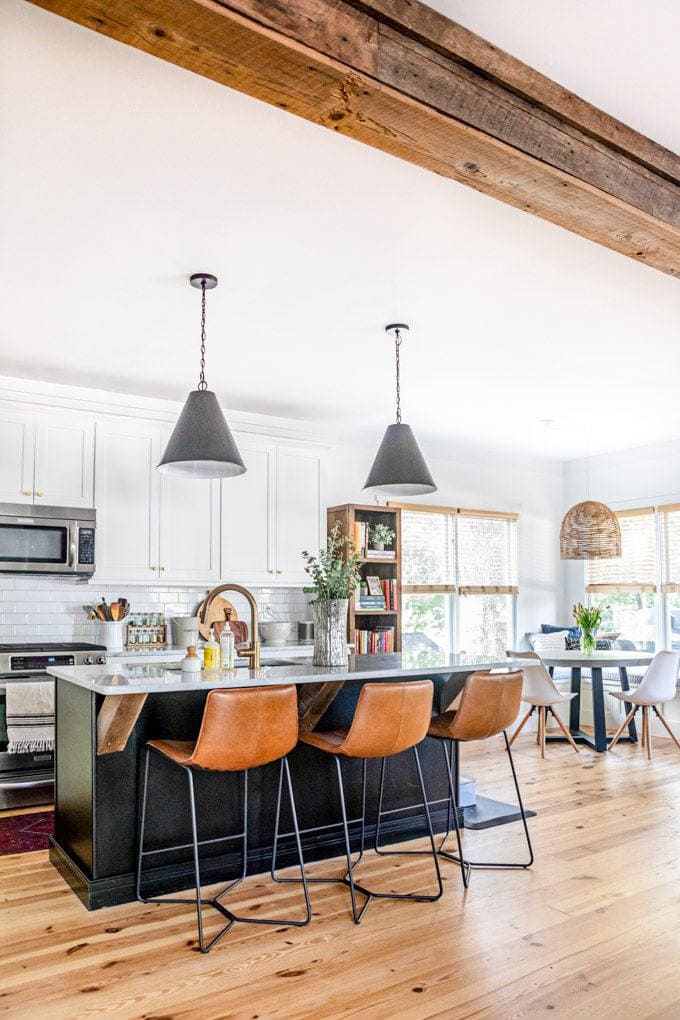 Root and Revel
Our favorite farmhouse kitchens are those that beautifully incorporate both modern and vintage touches throughout the space. This kitchen makeover from Root and Revel does just that. Brass hardware, modern bar stools, and wood accents give this kitchen the dreamiest farmhouse feel.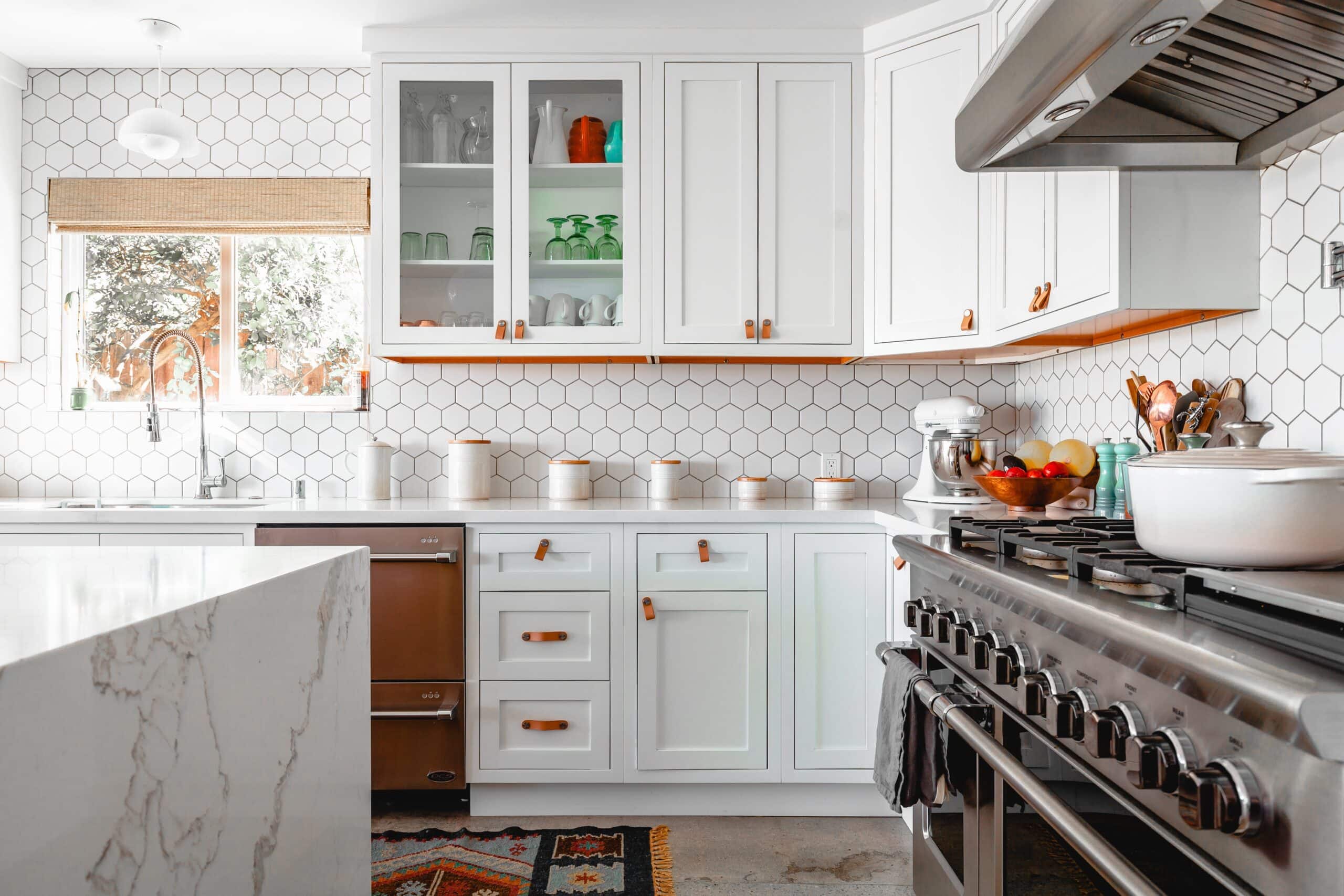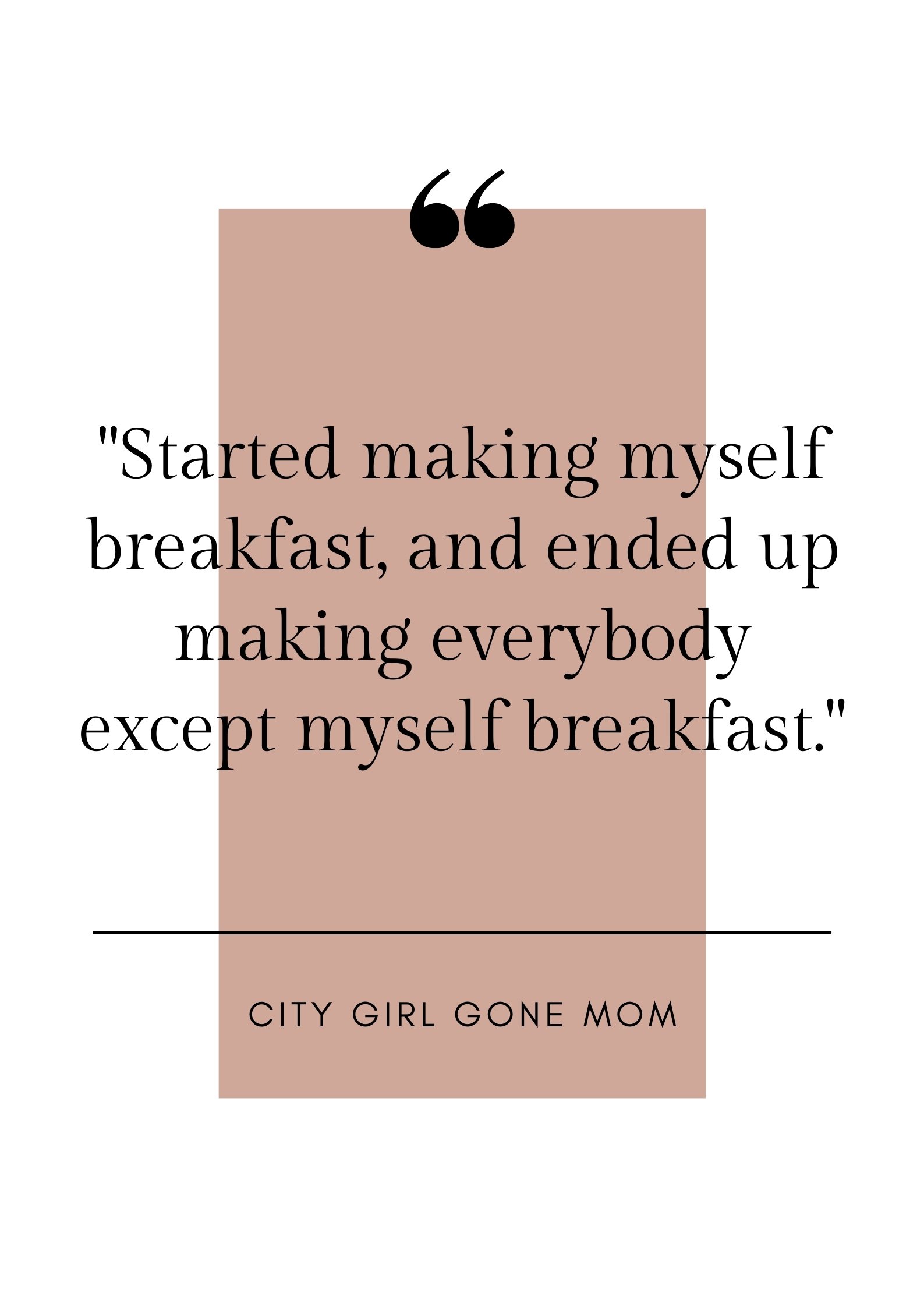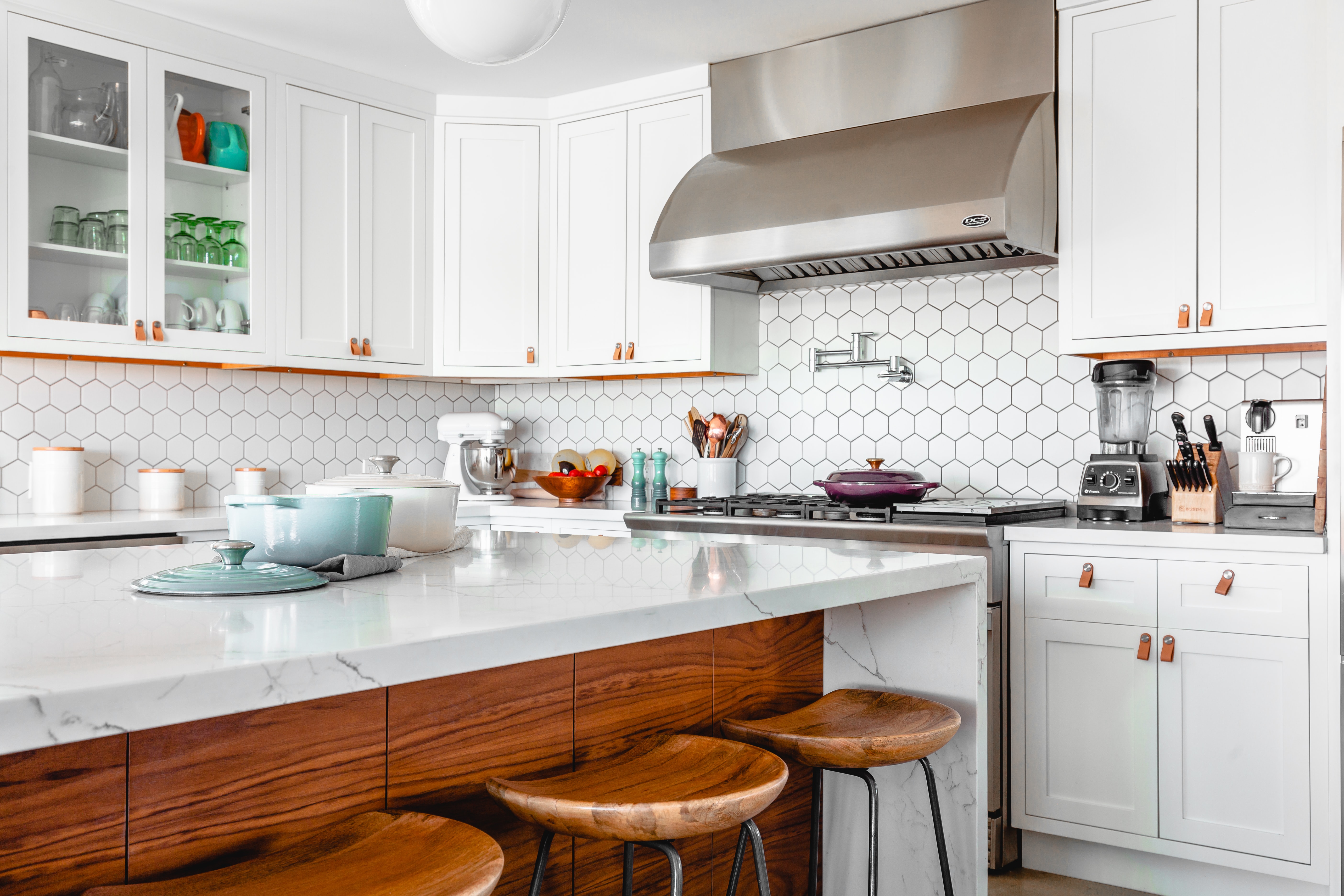 Tips for Parenting In Style...
Never boring, always awesome. Keep up to date with the latest from City Girl Gone Mom.