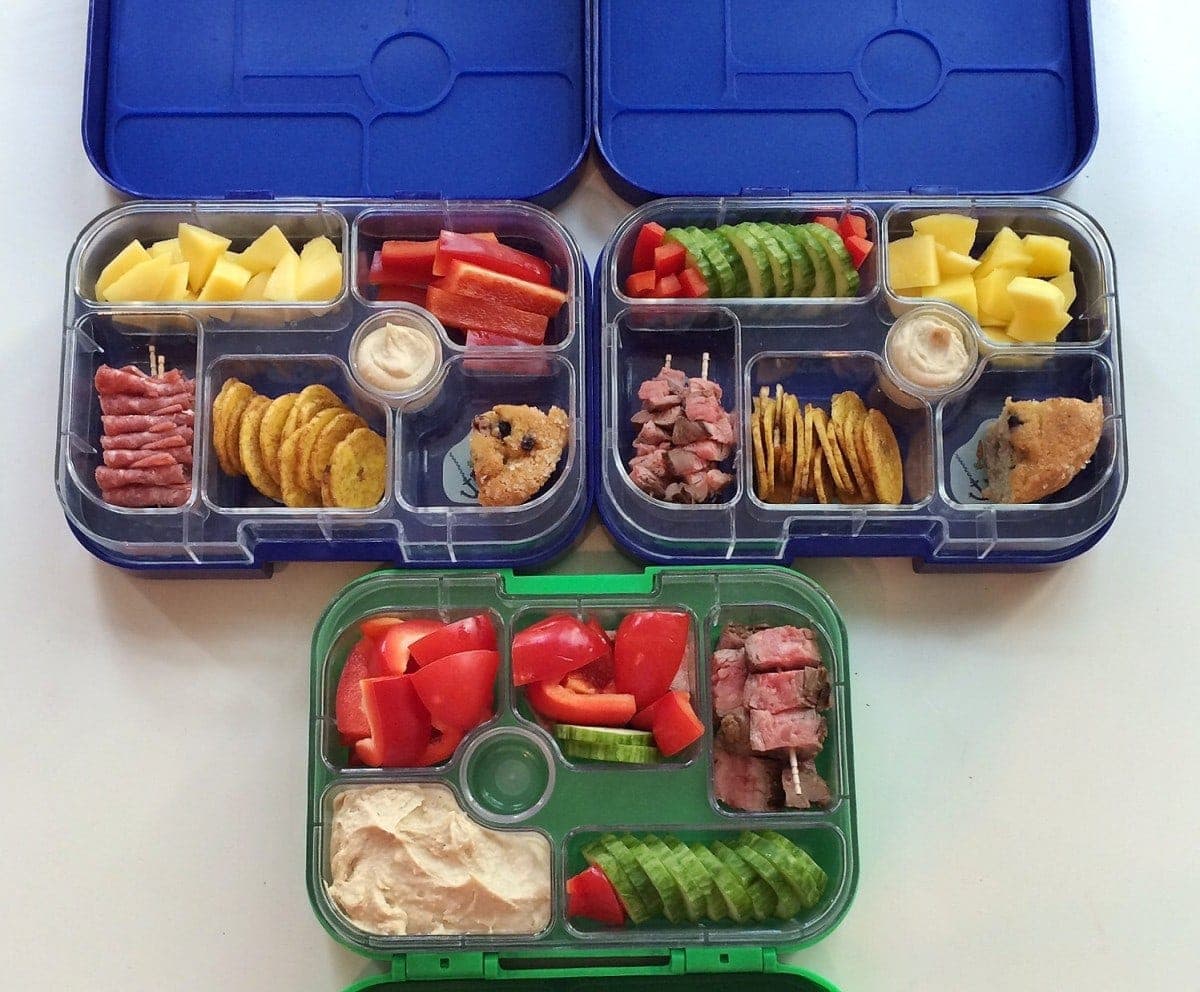 After watching my dear friend Elana burst through life with this new-found energy, I have to say she has me thinking. When you ask her what her secret is, all she says is she doesn't eat processed food nor does she eat sugar. That's it! Sounds simple right? I am here to say it isn't the easiest when for so many years you just pull off the shelves without reading the labels. Let's face it, if you can't pronounce it, you shouldn't eat it.
With all the kids starting school this month, it's time we start thinking about how can we as parents improve our kids lunches. We have to care because eating real whole food gives you and your children more energy and your body isn't fighting to get through the bad ingredients.
One way to encourage your child to eat a healthy lunch, is by letting them choose their own lunch box design. Need some inspiration? Check out these Eco Lunch Boxes!
In my research, I don't even know how, but I landed on so many pages where moms are tackling exactly what I am about to take charge of. I couldn't wait to share my findings with you.
I know you have seen them before, those perfectly adorable Bento lunch boxes made by some apparently superhuman moms. Cheese and veggies cut into fun shapes. Sandwiches and fruit formed into animals complete with eyes and ears. Perfectly shaped adorable lunches that for most of us result in "failing" because we didn't obviously go to the same culinary school as these chef moms. It's easy to give up and resort back to pizza and chips when that happens, but you don't have to. You can either give it a try or sit back and let the Martha moms win.
Here is what you need: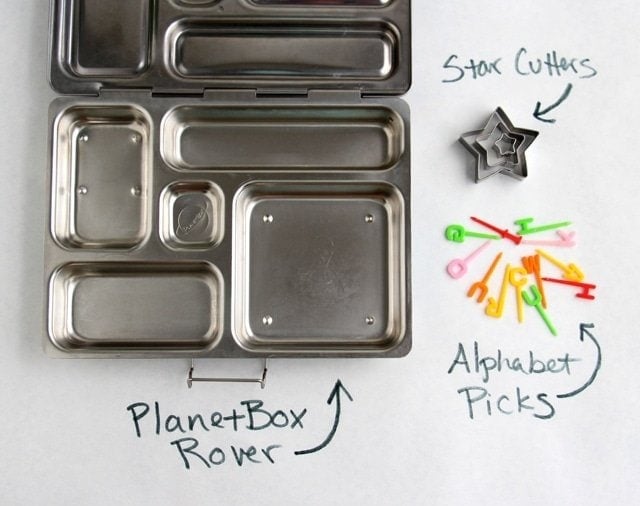 A Bento Box: I found three to choose from…


---

Yumbox Leakproof Bento Lunch Box Container (Lavande Purple) for Kids
---

PlanetBox Rover Lunchbox – Blue Carry Bag with Dinosaur Magnets
---

Smart Planet EC-34 Large 3-Compartment Eco Silicone Collapsible Lunch Box, Green
---
2. Star Cutters so you can make fun shapes of sandwiches and cheeses
3. Alphabet Decorative Picks — use these picks to spell out a word or include your child's initials in his lunch. Because each set only includes one of each letter in the alphabet, I recommend purchasing two sets so you can "write" more words.
4. Silicone Cupcake Holders to separate different veggies and snacks.
5. Cooking With Trader Joes Cookbook:

Cooking with Trader Joe's Cookbook: Easy Lunch Boxes
---
A healthy Bento lunch can be achieved with very few tools and very little skill.
You want your kids to have a healthy, yet fun lunch that they will be excited to eat, but it shouldn't require a cabinet full of fancy gadgets and a degree in graphic design to accomplish it.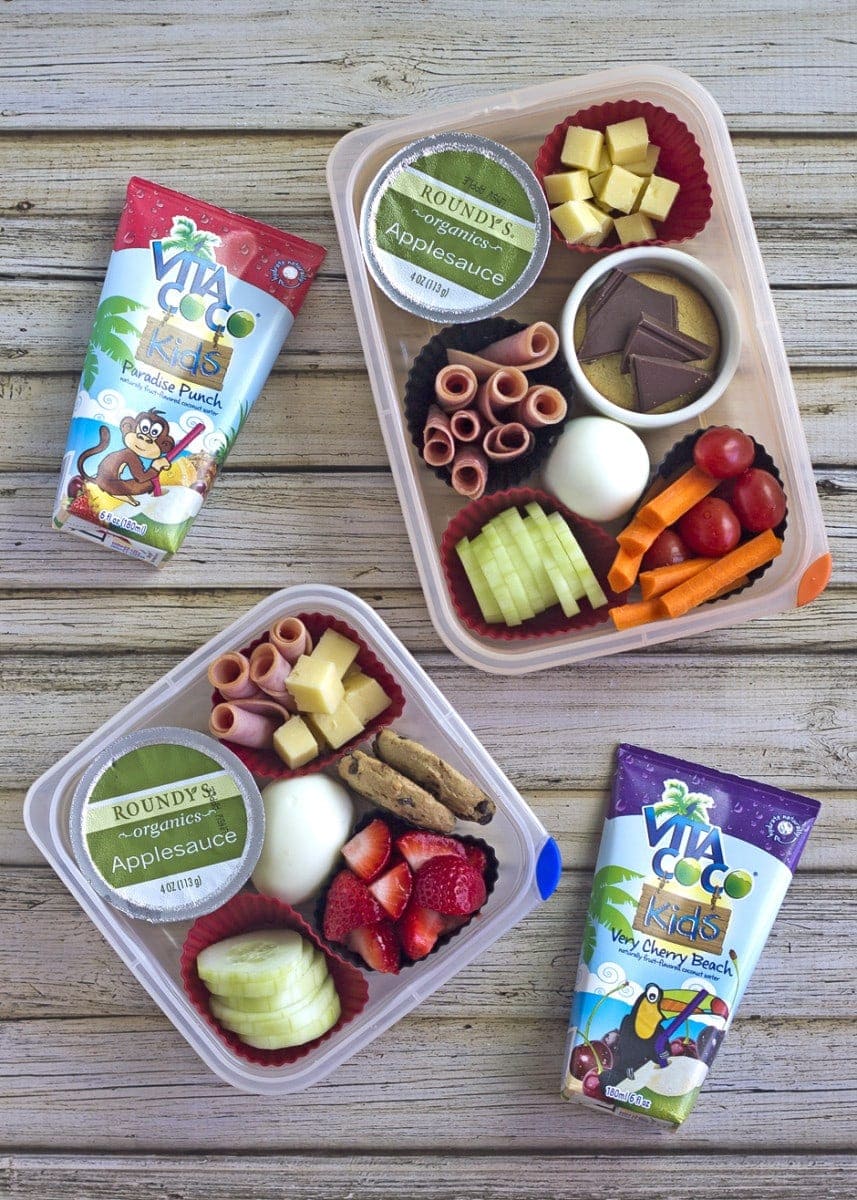 Most of us can agree that packing a healthy lunch box is a challenging and an often daunting task. We are all exhausted after busy days. What we want to do is cuddle up with a hot cup of tea or wine and our favorite magazine or mind-numbing reality show…What we need to do is put the magazine down, turn off the tv and pack lunch for the next day. Relaxing can come later. For our family, we like to make our lunches after we clean up the mess after dinner.
TOP REASONS TO PACK HEALTHY LUNCHES
Eating real, unprocessed food not only tastes better, but it is great for our physical and mental health too.
When our bodies don't need to cut through the clutter of chemicals and weird processed ingredients we think clearer, can keep our weight in check and burst with energy.
Real, unprocessed foods are best for our physical and mental health.

If we help guide what our children eat while away from home, there is a better guarantee for school success, overall happiness and health.

It costs less to pack lunch at home. With tighter budgets these days it makes sense to bring your own lunch.

We want our children and loved ones to thrive. Home cooked meals are best (unless your school or work cafeteria has embraced a real food meal plan)
Together as parents we can get it right…..
Here is an awesome pledge for parents I found on #projectlunchbox
Make a decision to provide meals with Real Whole Food ingredients as often as possible

My goal is to provide nourishing meals for my family, even when they are away from home. (work, school, camp, etc.)
I will include healthy snacks to keep nourished & strong throughout the day
I will use re-usable containers and lunch boxes to reduce waste and care for the environment.
I will spread the word with our school, friends and loved ones about Project Lunch Box.
I will encourage positive, mindful food behaviors including portion control & taking the time to sit and enjoy a meal.
One box. One Meal at a Time. Each day provides a new window of opportunity to get it right.
Even if I do not pack lunches for kids I support the mission to feed healthy food to those I care for.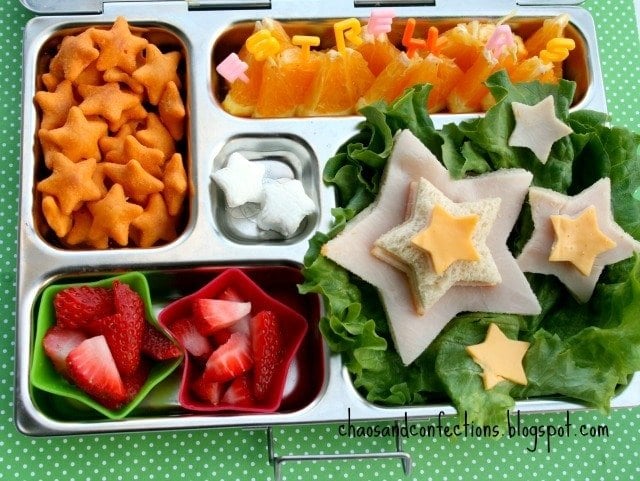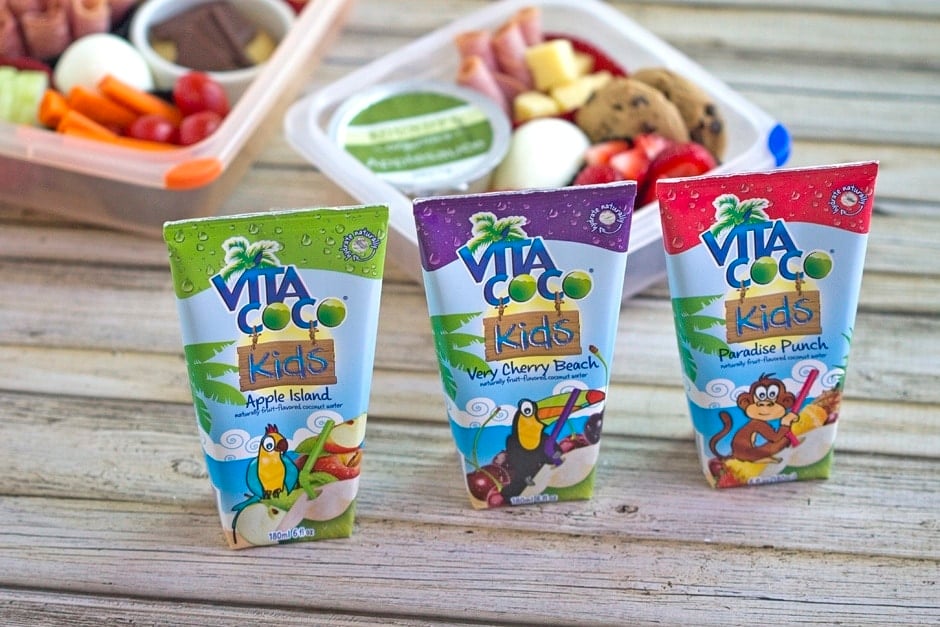 One of the key elements of any healthy lunch is the drink. Water is my obviously first choice, but let's be realistic – my kids are eating lunches filled with healthy fruits and vegetables, the least I can do is offer them some variety in their beverage. Thankfully with Vita Coco Kids, I don't have to compromise their health for great flavor and variety. They are easy to take on-the-go too! Vita Coco Kids is naturally fruit flavored coconut water. It has about 1/2 the sugar of other kids' juices, includes electrolytes to keep kids hydrated, and has nothing artificial in it! Simple ingredients, nutrients like potassium, calcium and vitamin C made Vita Coco Kids a hit with me and great flavor made Vita Coco Kids a hit with my kids.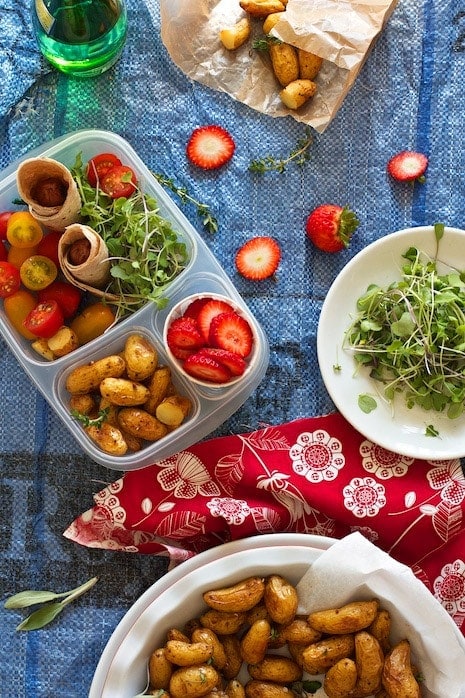 Bring on the recipes:
Whole Foods has come up with a five day lunch planner for us to check out.
Paleo Parents came up with a plethora of recipes for you to choose from.
Check out these recipes from momables where they offer nut free and dairy free lunch ideas.
And I am loving these from the sowhatmom.com 's instagram page!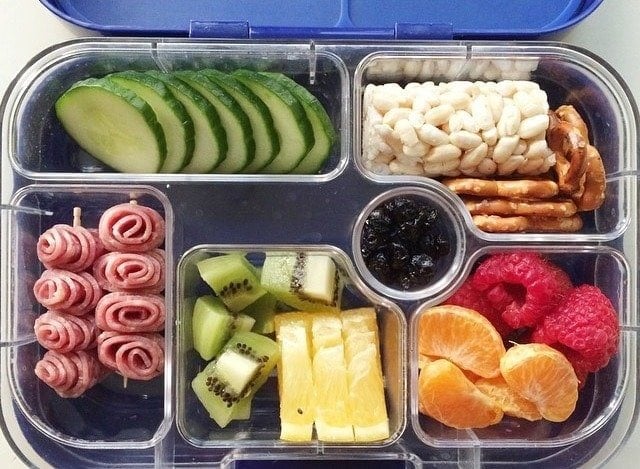 Bento #1 :
English Cucumbers
crispy rice roll
gluten free pretzels
rasberries
clementine oranges
navel orange
kiwi
applegate organic salami
dried blueberries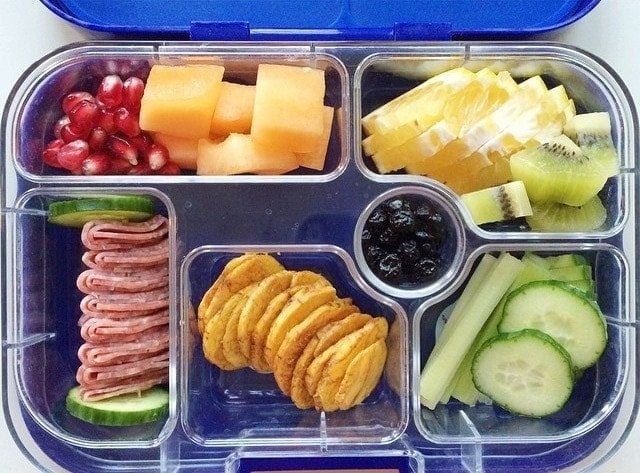 Bento #2:
pomegranate seeds
cantaloupe
navel orange
kiwi
cucumber
celery
plantain chips
organic salami
dried blueberries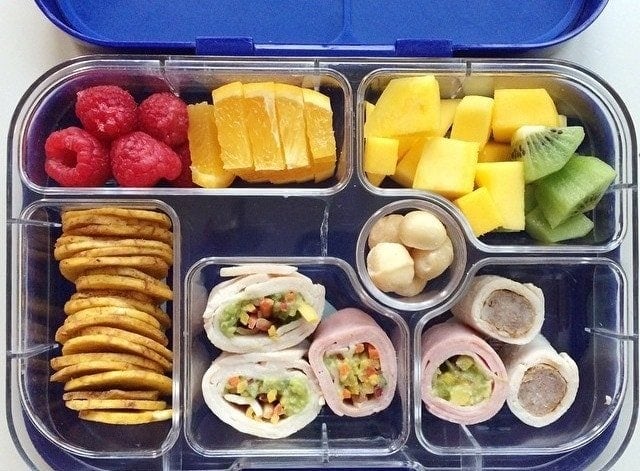 Bento #3:
rasberries
oranges
mango
kiwi
sausage link wrapped in turkey
sushi with shredded carrots, cucumber and guacamole wrapped in applegate organic ham & turkey
macadamia nuts
I am so grateful for all these moms supplying these epic ideas. I hope you like them too. Check out their sites below and I too would love to hear your lunch suggestions for the littles. Comment Below!
Resources: lovefromtheoven.com, Chaosandconfections.com, wendolonia.com, mommyandmelunchbox.com, marlameredith.com, theysmell.com
Tips for Parenting In Style...
Never boring, always awesome. Keep up to date with the latest from City Girl Gone Mom.