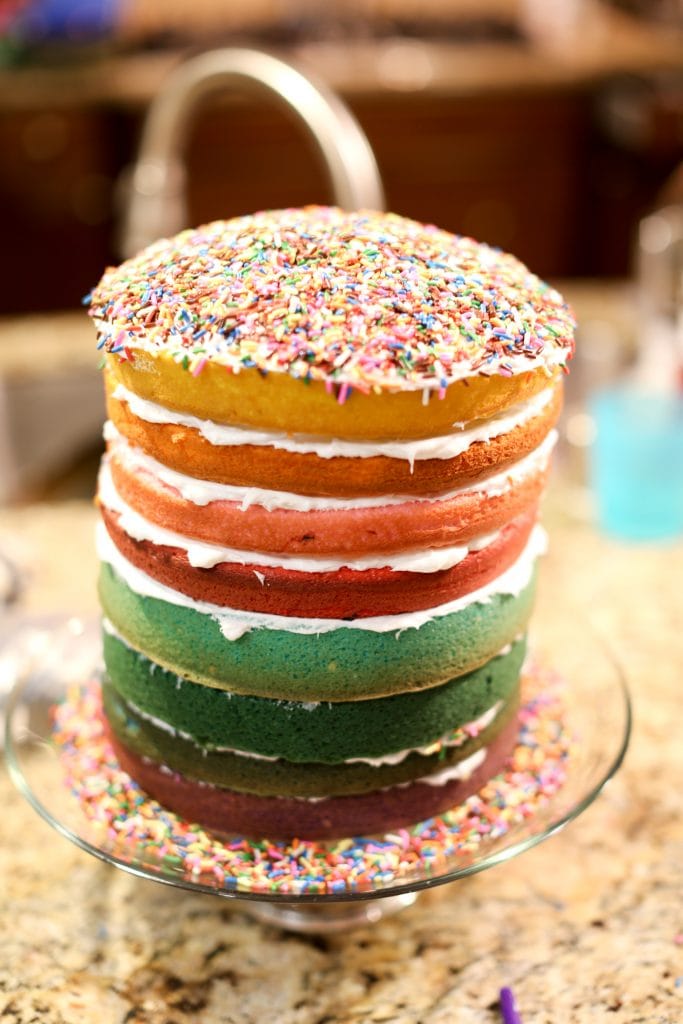 It is so important as a mother to find your tribe, the people you like to resonate with. For me, there is a great feeling of safety once I find my community.  With my family being in New York City and my husband's family in North Carolina, it was so important to make a community for myself when we moved to southern California.
After all, I learned everything about mom-tribes living in North Carolina. The South is known for their hospitality, but when you have a baby, or if there is an emergency, the women set up a meal train to come to your home.  This meal train isn't just for a few days, it lasts for more like three months.  One girl starts the process and sends a spreadsheet to hundreds of others, asking them to pick a day and make a meal for the family in need.  I was speechless when this happened each time I gave birth.  Could you imagine this went on all over the country?  What a kind and surprising gesture.  After three months of not having to prepare meals, I sure was smiling and so appreciative.  Not having to worry about meals during my first few months home with a new baby was crucial.  Gosh, the more I think about it, maybe it should be mandated in some maternity policy. Wouldn't that be nice?
When we moved to San Diego I was lucky to rent a house on a block that has two or more kids in every home.  I immediately bonded with my neighbors and at this point they are like family to us.  But it doesn't end there.  Over the past two years we have established a tribe, a sisterhood of moms.  We gather most Fridays and talk about our triumphs, our failures, and our ambitions.  Incredible people just keep showing up.  The kids too are building their mini tribe, little rascal style of course, and you just know, watching them, that they will be buds for years to come.
One of the moms is an Italian girl from the Bronx (score for me).  She always says in her robust NY tone, "you have to make your own community when you live so far from your family."  (and yes she speaks with her hands like most Italian women do.)  I couldn't agree more.
Yesterday was a great example of this.  I called a few out of the several wonderful women on my block to come over and help me bake this rainbow cake I saw in a post for my son's 3rd birthday.  You see, I do not bake.  I can't bake for the life of me.  It's awful.  I remember when an old friend of mine gave me a cookbook from her church and I tried to make the chocolate merengue pie, not once, but five times. It was, at most, an inch high at the max.  Like I said, I'm an awful baker.
My sisterhood of moms came over and set up an assembly line, divided and conquered this 8 layer cake that I just had to have for my 3-year-old.  We laughed and learned from one another.  It's such a breath of fresh air once you do establish your mom community.
It takes a village to raise a child, an assembly line of mom-friends to make an 8 layer cake, and a lot of trial and error with creating your village of moms.  There are pretty wonderful moms out there, when you find them, hold on to them.  Put in the effort and make the time.  It's within these friendships where I always feel safe and will never take them for granted.
Do you have a mom tribe?  Did you meet some not-so-nice one's along the way?  I would love to hear from you.
The recipe for the rainbow cake is at the bottom of the post.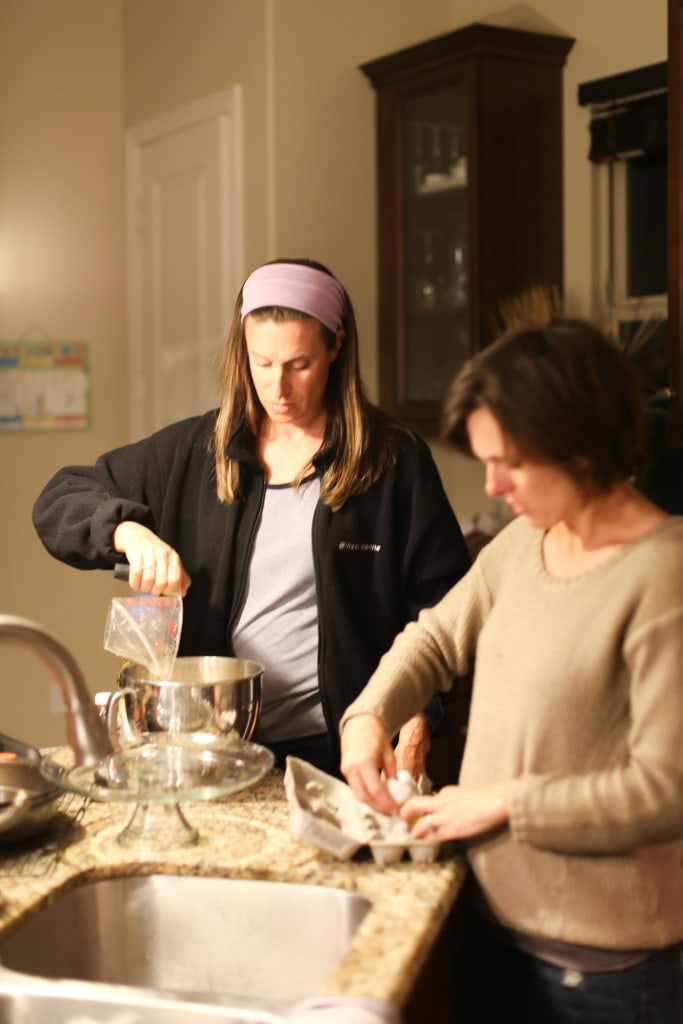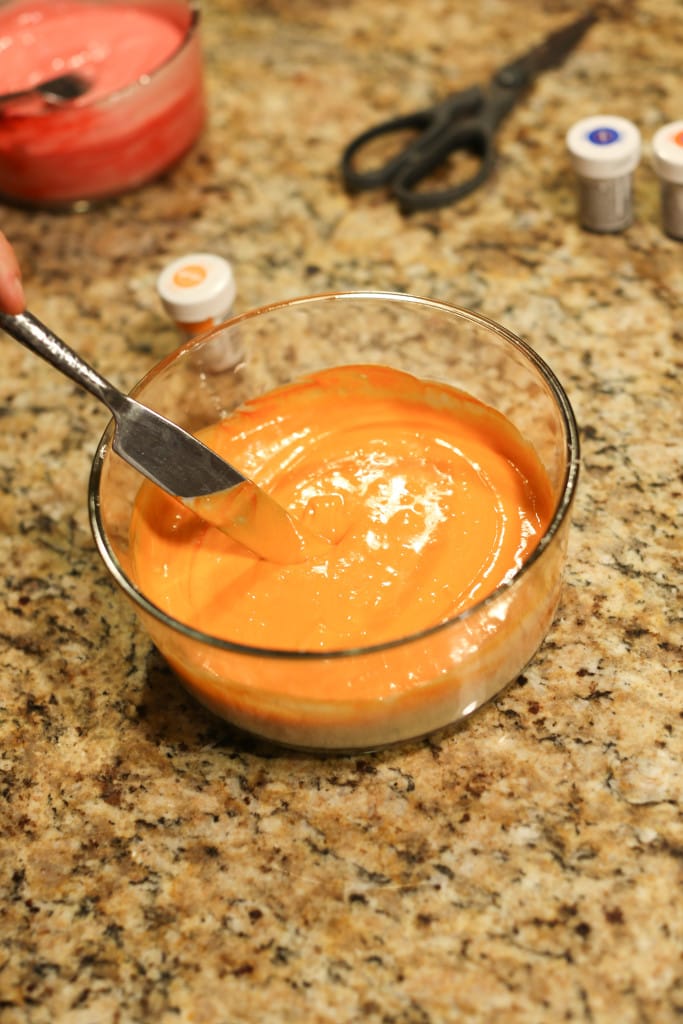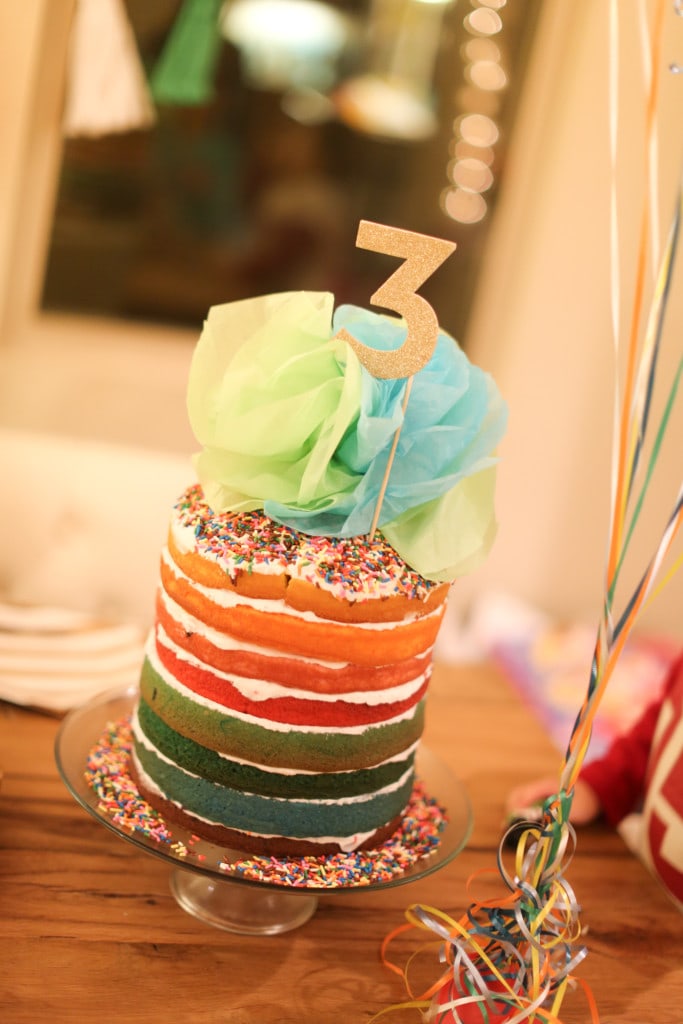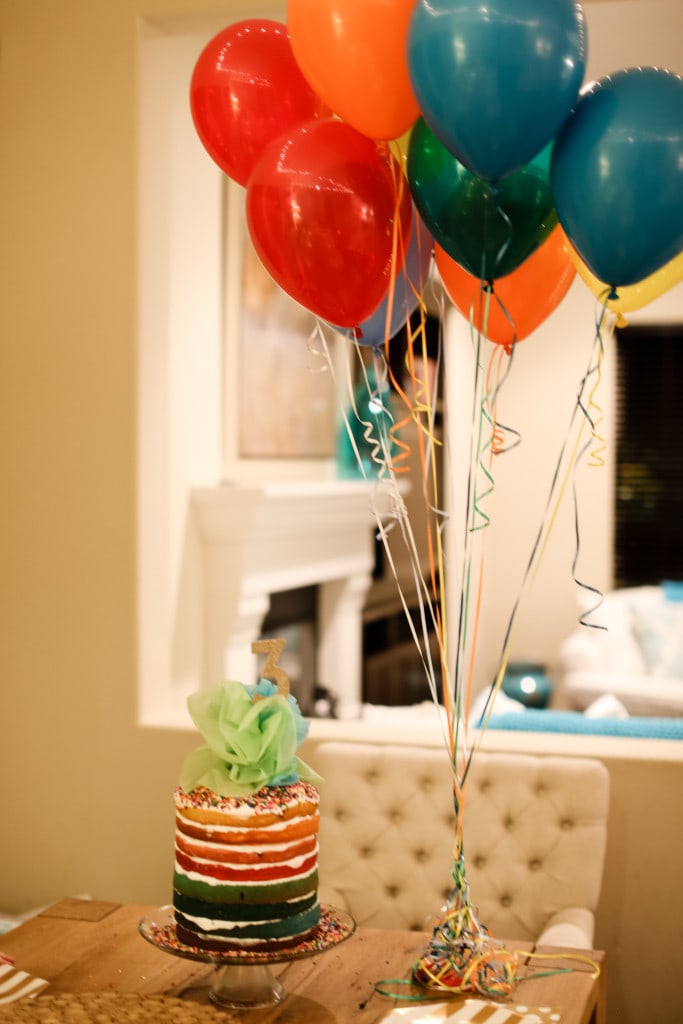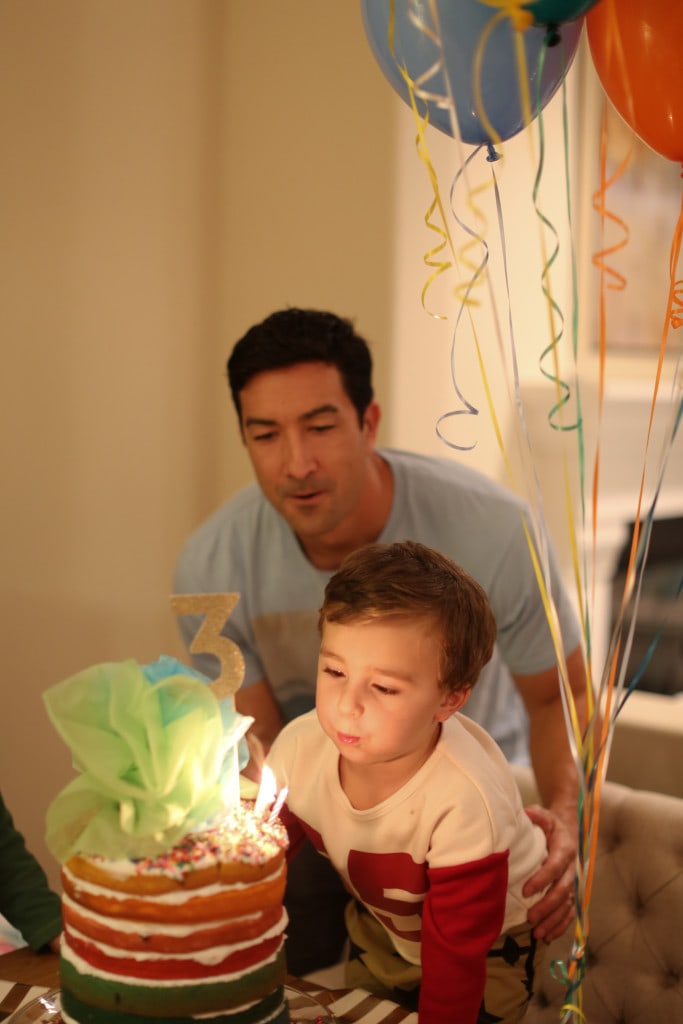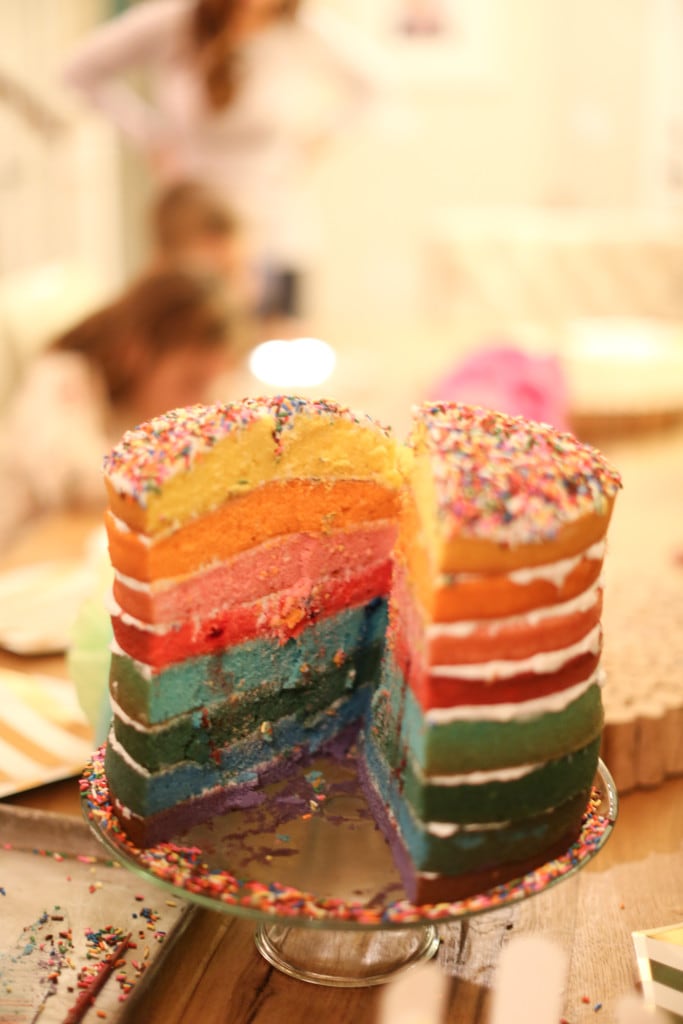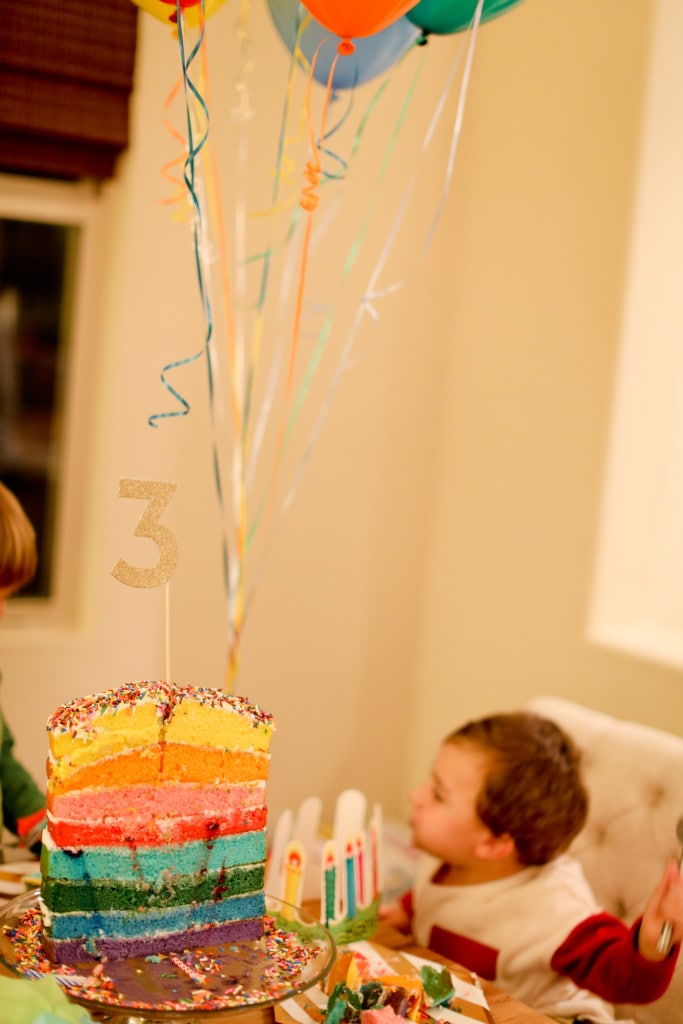 RAINBOW CAKE
4 boxes of White Cake Mix (prepare as the directions say with a few drops of vanilla)
Vanilla Extract
Vegetable oil
Eggs
3-4 Whipped Buttercream Frosting
Food coloring (pick ones you want)
Sprinkles
DIRECTIONS
Prepare the cake according to the box (with some added vanilla).
Divide the batter into as many bowls as layers you want.
Stir in food coloring to each bowl.
Spray the bottom of the pans with non stick spray.
Cook layers according to the box.
After the layers cool, you  may need to cut off the top for flat layering.
Frost between layers.
Top heavily with sprinkles, letting some fall to the sides.
Top with a paper mache flower and a number.
Refrigerate over night and cut while it's cold.
Tips for Parenting In Style...
Never boring, always awesome. Keep up to date with the latest from City Girl Gone Mom.