Each Thursday, my youngest and I go to an Italian Mommy and Me class in the heart of what I've come to call my second home in California: Little Italy. It's full of wholesome, farm-fresh restaurants bringing the flavor of the Mediterranean Coast to San Diego (without the costly plane ticket).  A Bonus? My fabulous friend, Adriana Wright, who loves to meet us when Roman and I get out of class.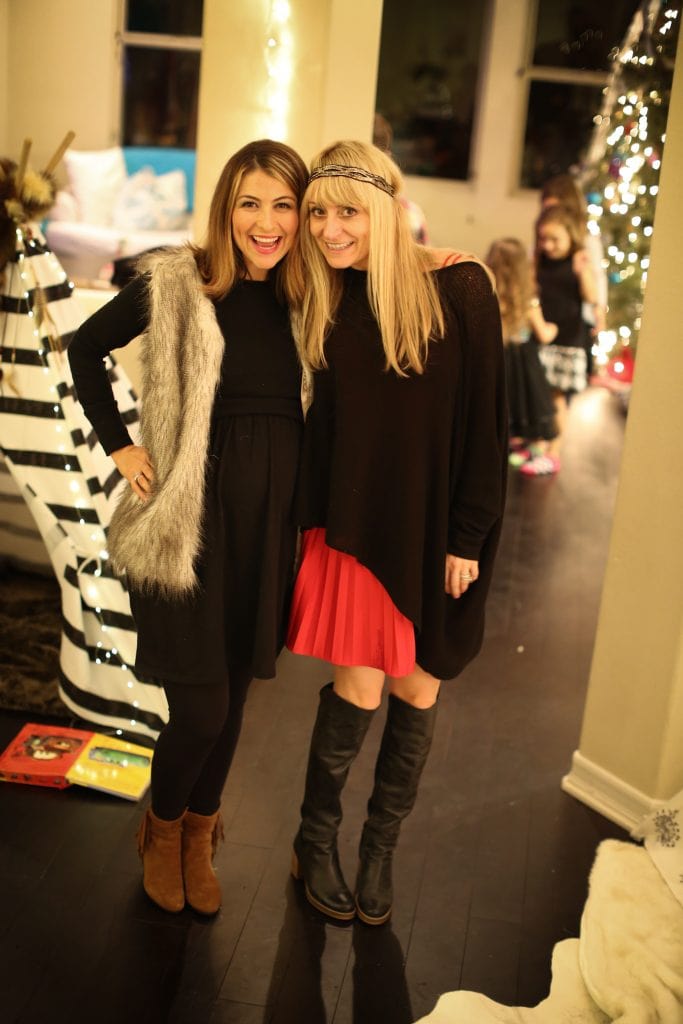 I love it when I find good girlfriends, like Adri, who have kids close in age to mine AND who have a marvelous sense of humor!  After having children, it occurred to me that having a baby bump can be an excuse for other women to push you around the mommy circuit… OH, You should meet her, AND have a play date with that mommy… Truth is, not every mother needs to be friends with one another. These days, some moms develop friendships based upon a common factor: their children. For me, a friend is someone you learn to love for their flaws, their charisma, their ambitions, and their love towards you and your family, not because your kids are enrolled at the same preschool.
Roman is home with me for the next two and a half years. I cherish this time with my not-so-small two-year old and find it more memorable when I include friends who have kids of a similar age. Not only do I get to enjoy the company of girlfriends, but Roman also gets to develop bonds with their kids, which I think is wonderful!
My friend Adri is a beautiful person both inside and out.  She loves food, loves kids, and loves making me laugh with her incredibly infectious personality. In a nutshell, she is a modern-day Giada De Laurentiis because her cooking is as phenomenal as her personality! Her specialty?  Her homemade chips and salsa, which I get to sample quite often.  I guess you could say that I hit the mommy-friend jackpot!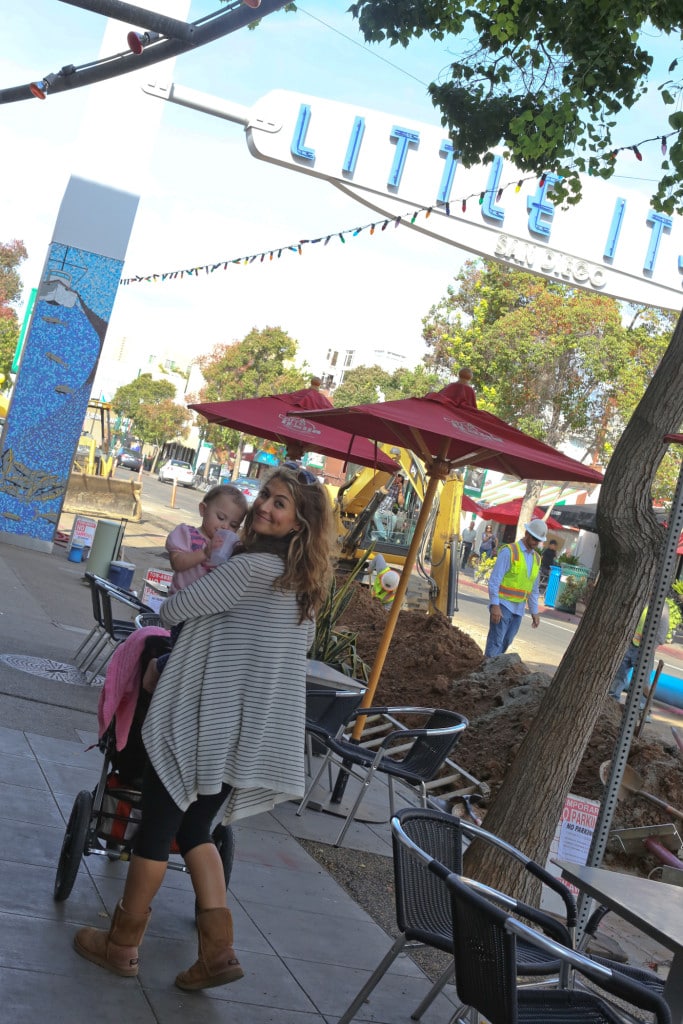 Adri and I share A LOT in common: we have a passion for boho-fashion, we have big appetites for delicious food, and we have similar parenting styles for our children. One thing we do and do quite often is just belly laugh. We can't go a sentence without cracking up.  It's silly things, kind of like when Long Duck Dong from Sixteen Candles said, "Hey Sexy Girlfriend"….. We are just plain silly when together.  Her youngest, Sasha, and my little guy, Roman, are starting to have fun together too.  At this point, we have hit a few restaurants and the Firehouse Museum all located within the heart of Little Italy.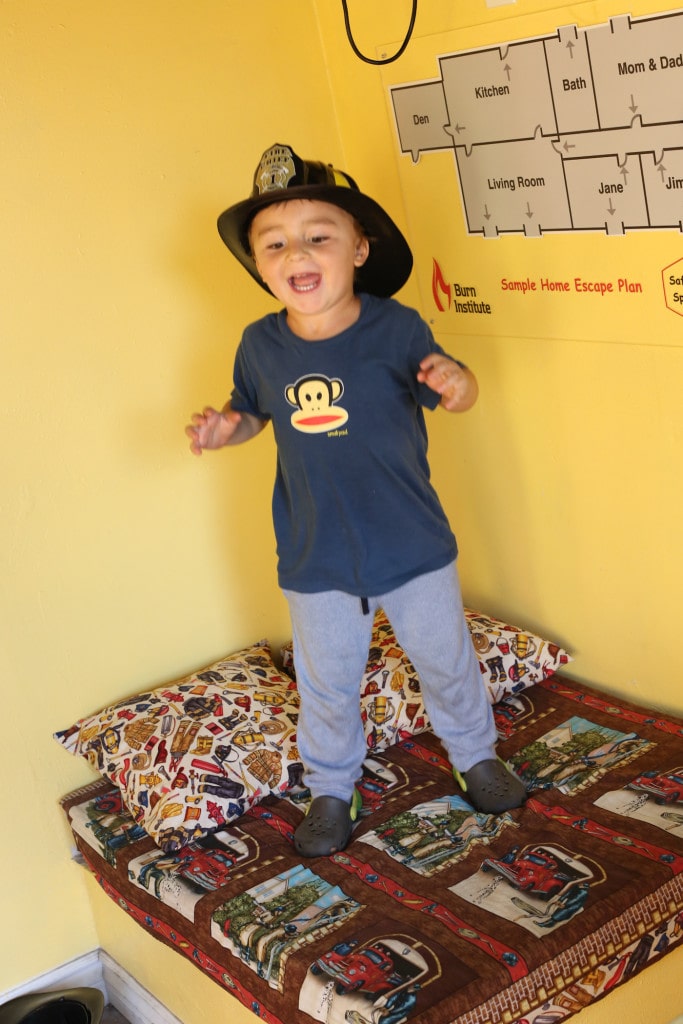 It's moments like these that I am so glad I work these flexible hours so I could spend quality time with my kids and the people I care about the most.
Speaking of moments, a few weeks ago Adri and I explored NA-PIZZA. Their slogan, "we believe in healthy and organic," is a very prominent fixture throughout the entire restaurant, as reflected through the decor and, of course, the food! They have three locations here in San Diego, but we are sticking to the one in Little Italy for now. They offer some of the most delicious pizzas I have ever tasted, but Adri and I  we were looking for something a little lighter, so we checked out their long list of salads. We were quite pleased when we learned all of their produce was from local farmers. They offered every salad topping you could imagine!  It was delicious (to say the least) and my favorite part of the meal was the lemon basil dressing…YUM!
This past week we ventured to Isola Pizza Bar.  One thing about the restaurants in San Diego's Little Italy is that you can always count on the homemade pizza! Isola is the perfect combination of sophistication and practicality. I loved the backyard seating that has so many natural elements that make you feel like you are sitting on the Almalfi Coast, while your tots can explore without interrupting other people dining.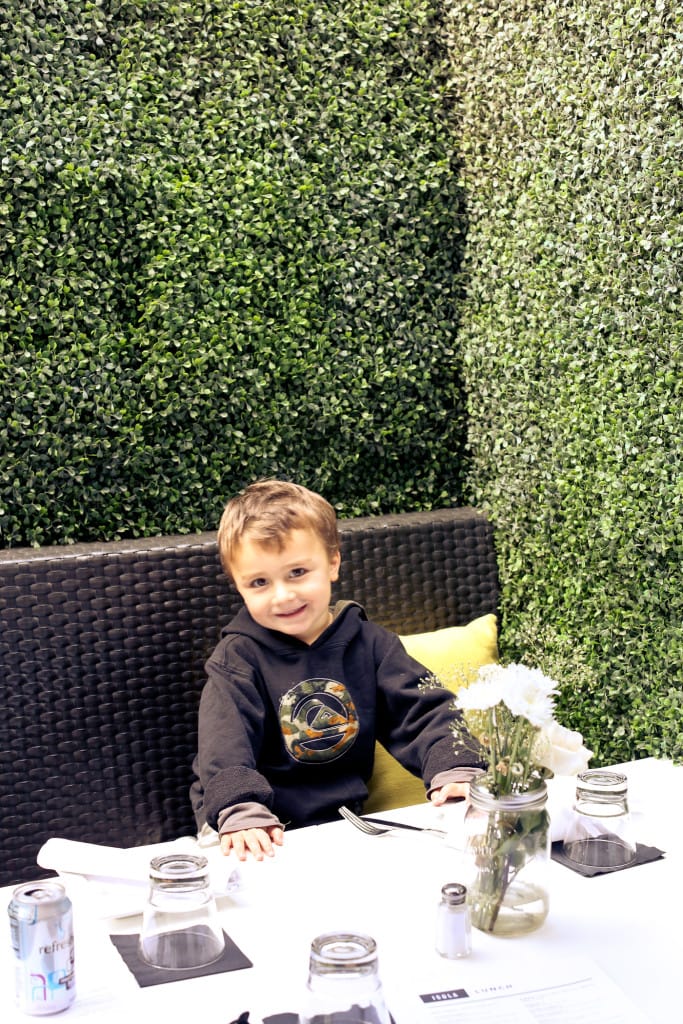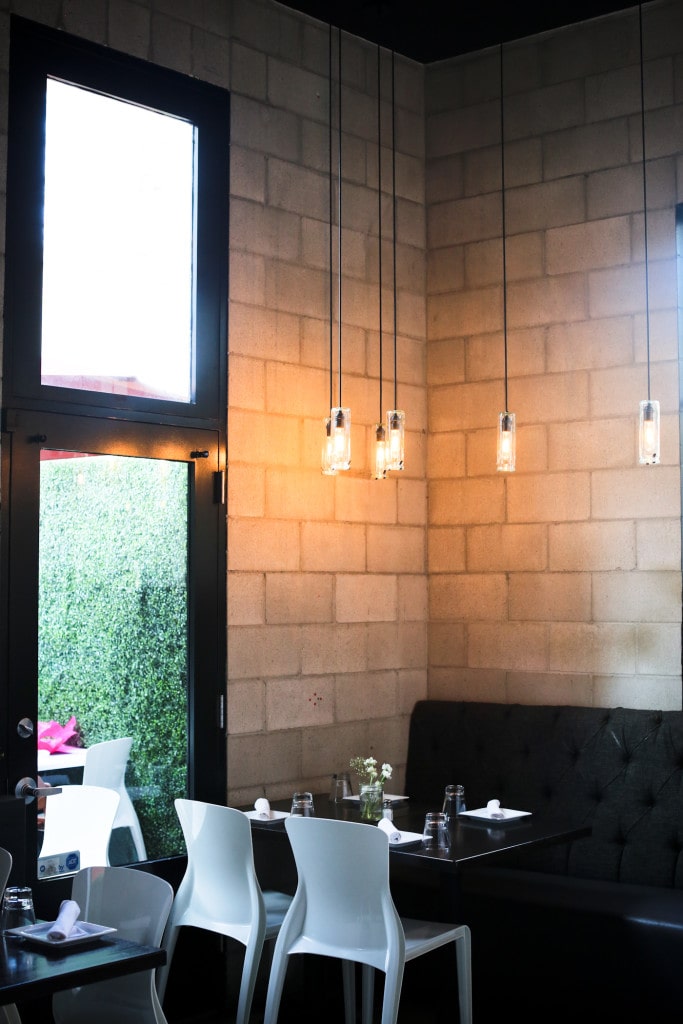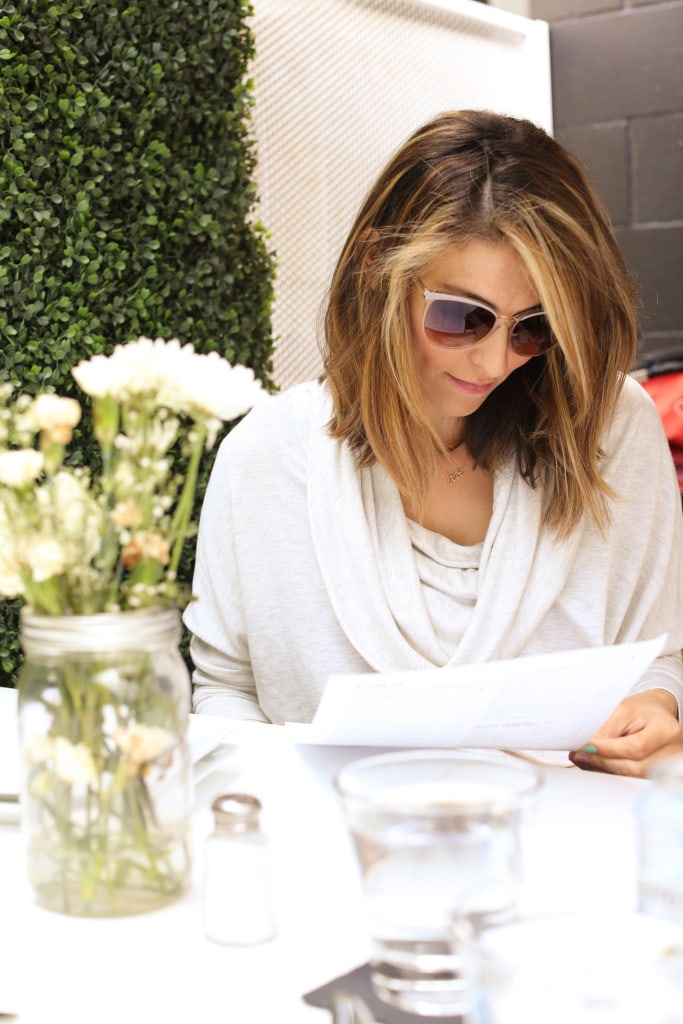 At Isola, baby Sasha decided to dive right into her mommy's arugala salad, while Roman decided to test out the seating before diving into the fresh bread topped with shaved parmesan.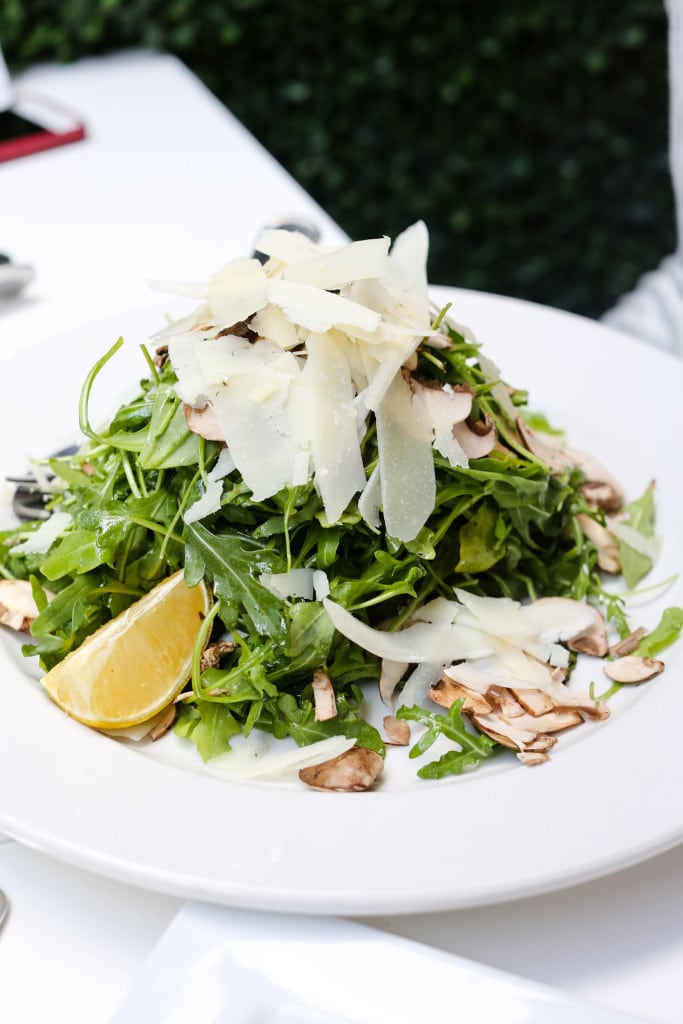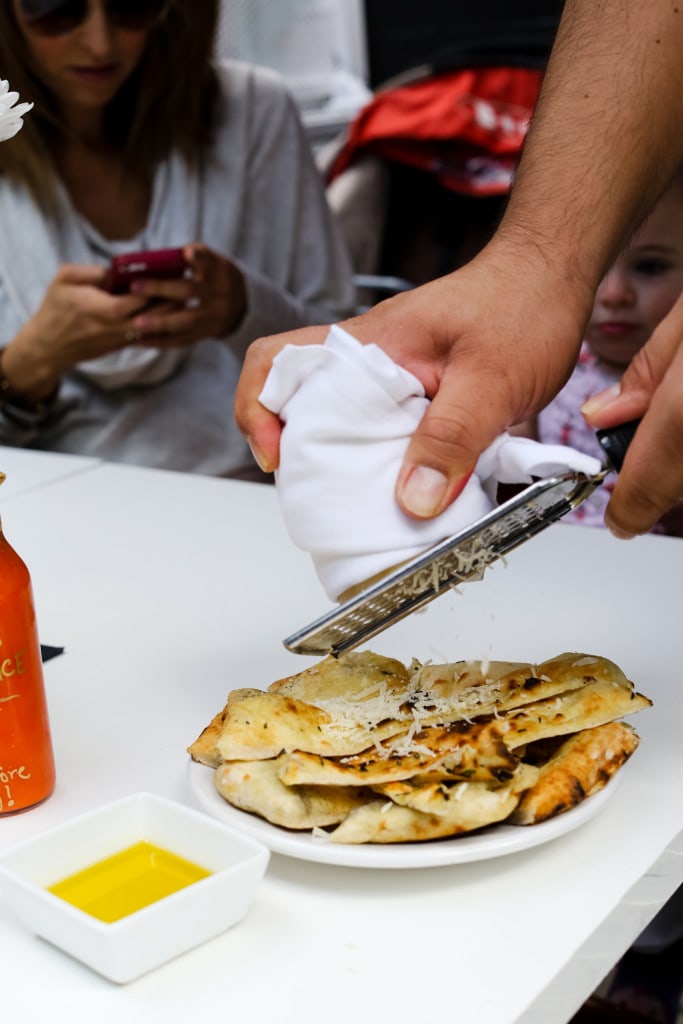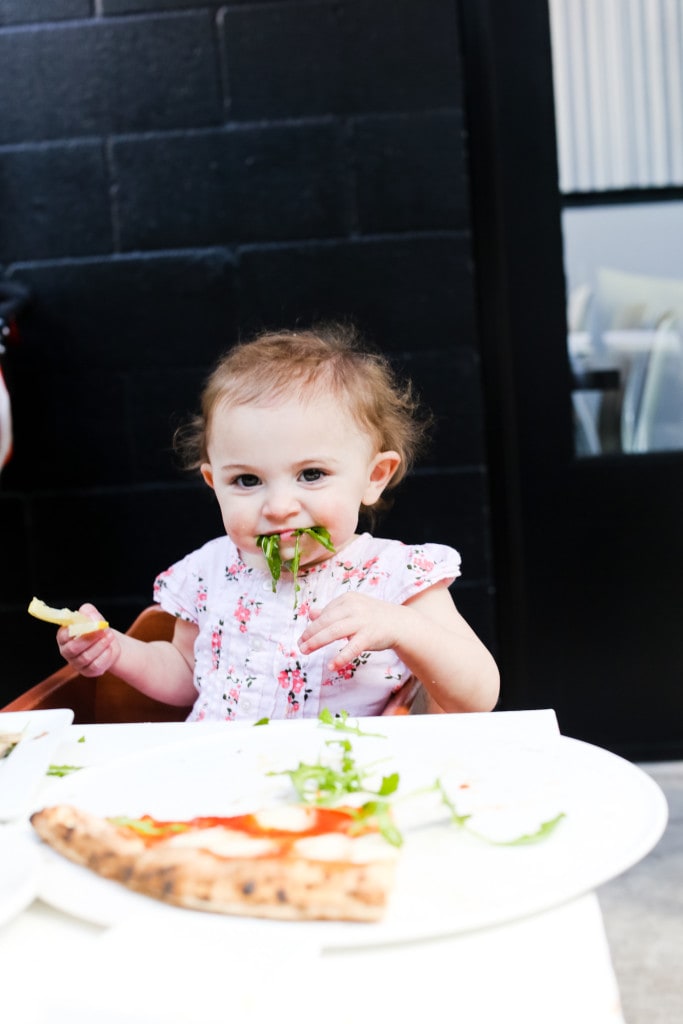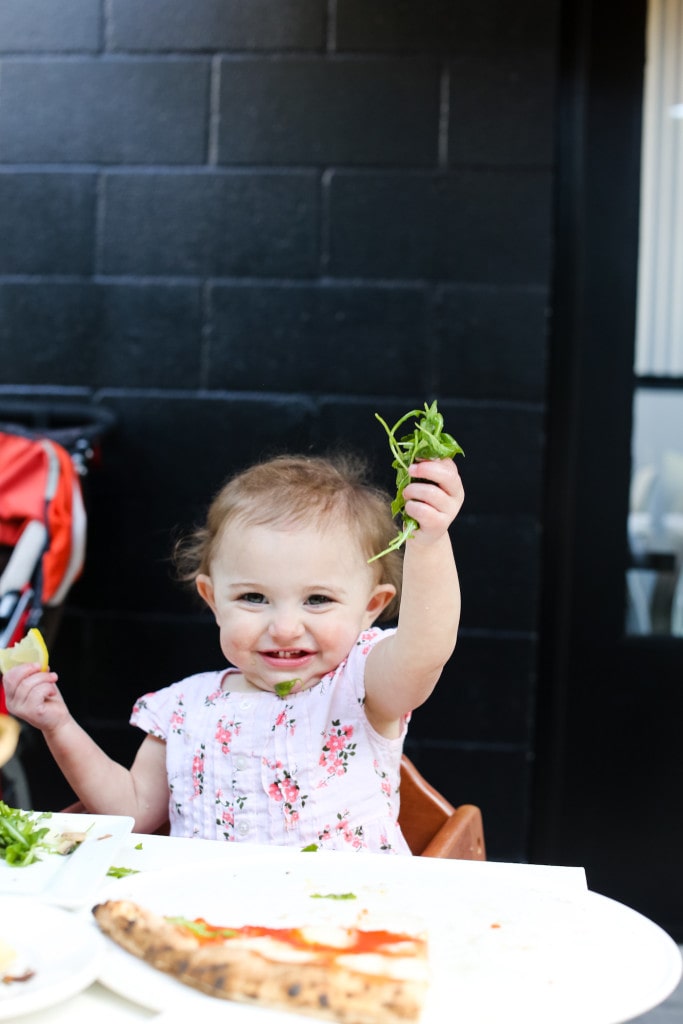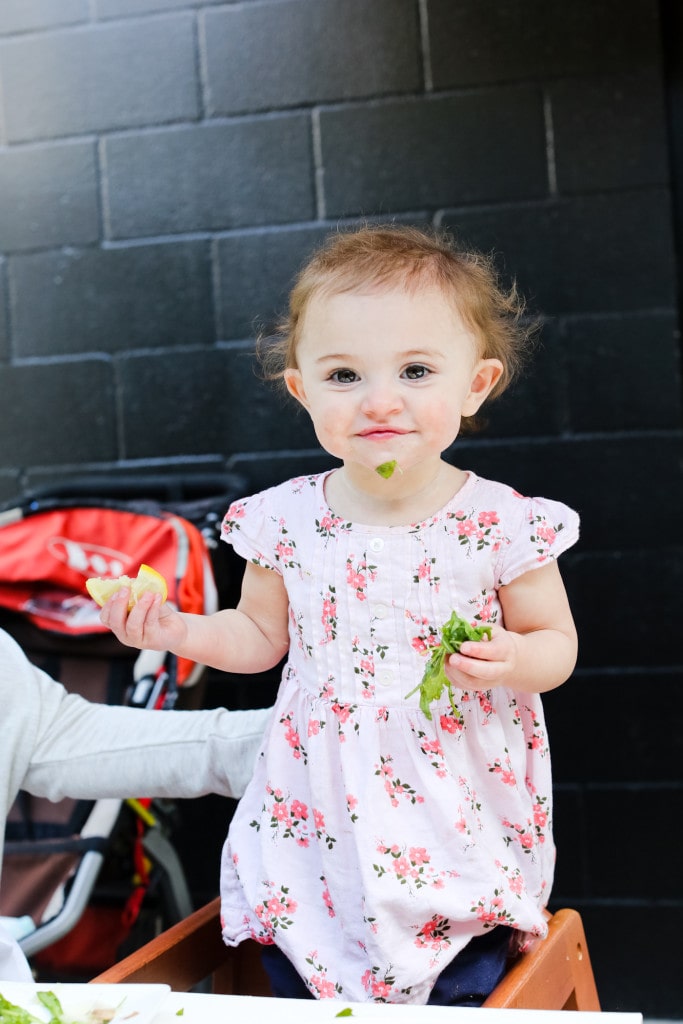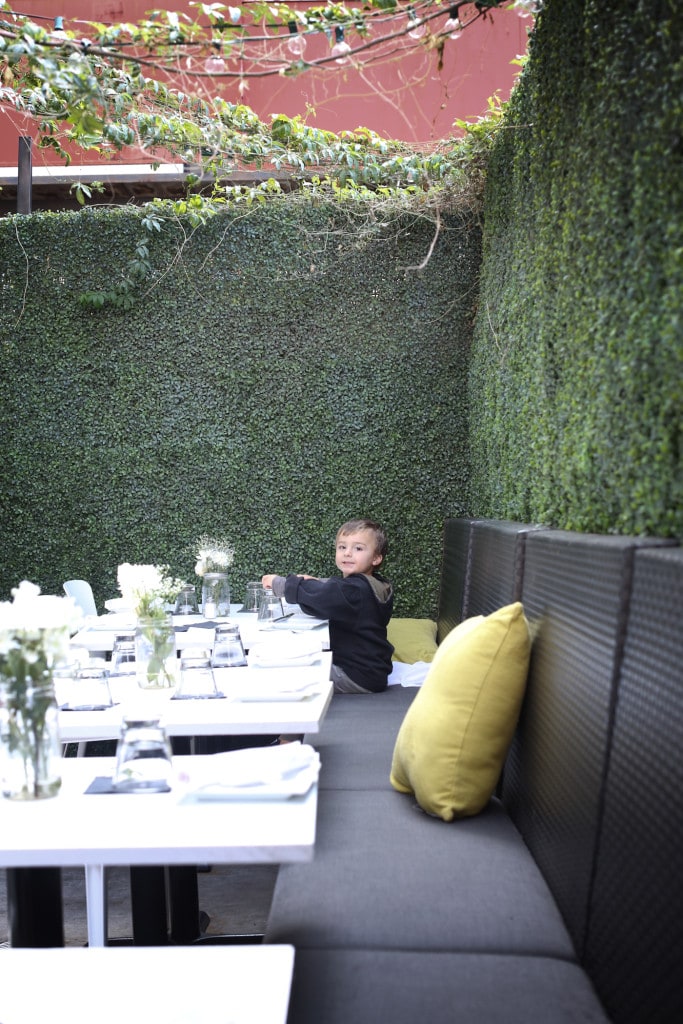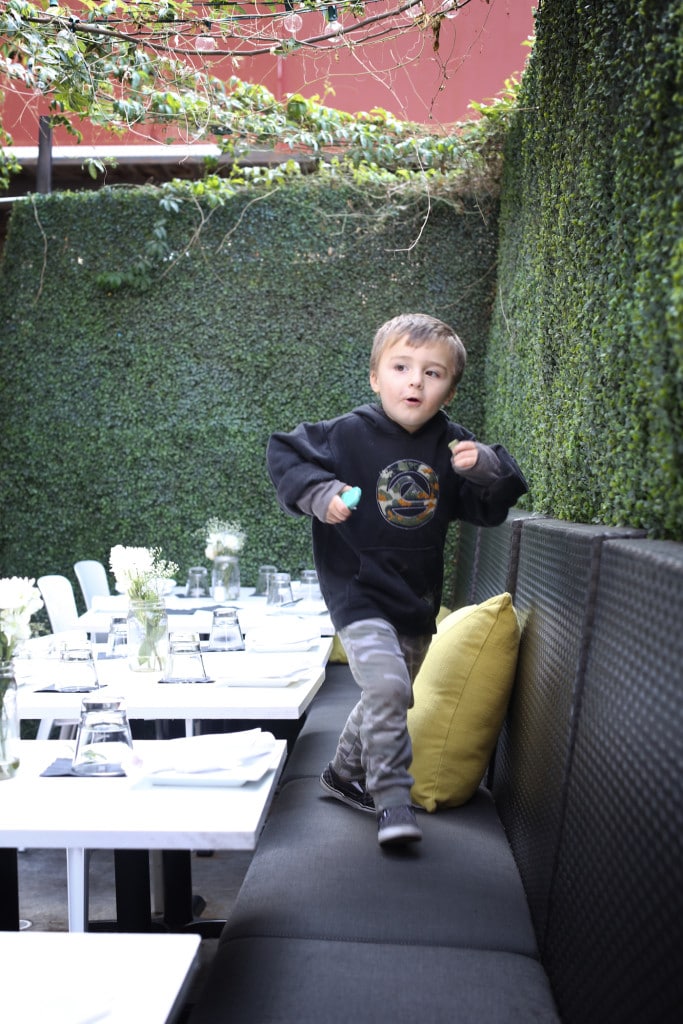 I ordered the charred octopus salad, while my sweet Roman & baby Sasha shared a pizza (Adri and I had some too).  My salad was beyond perfect and I loved the wine and lemon taste it had.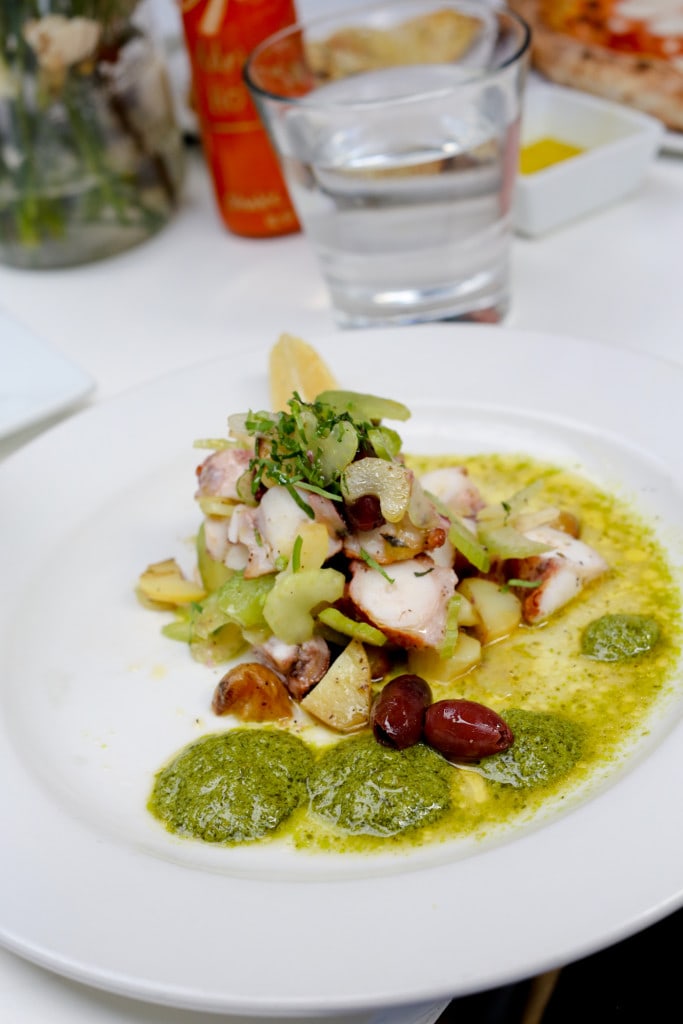 After our wonderful lunch, Adri spoiled me with birthday gifts. I love how she acknowledges my birthday, but knows I am not getting older. (wink wink) Like I said earlier, a good friend. She spoiled me with a cozy scarf, a wonderful smelling candle, and a bottle of her very own hot sauce, which is to-die-for! Not to worry, I will provide links to her bottled specialties as soon as they are available.  But in the meantime, you can check out her recipes and all that she is doing here.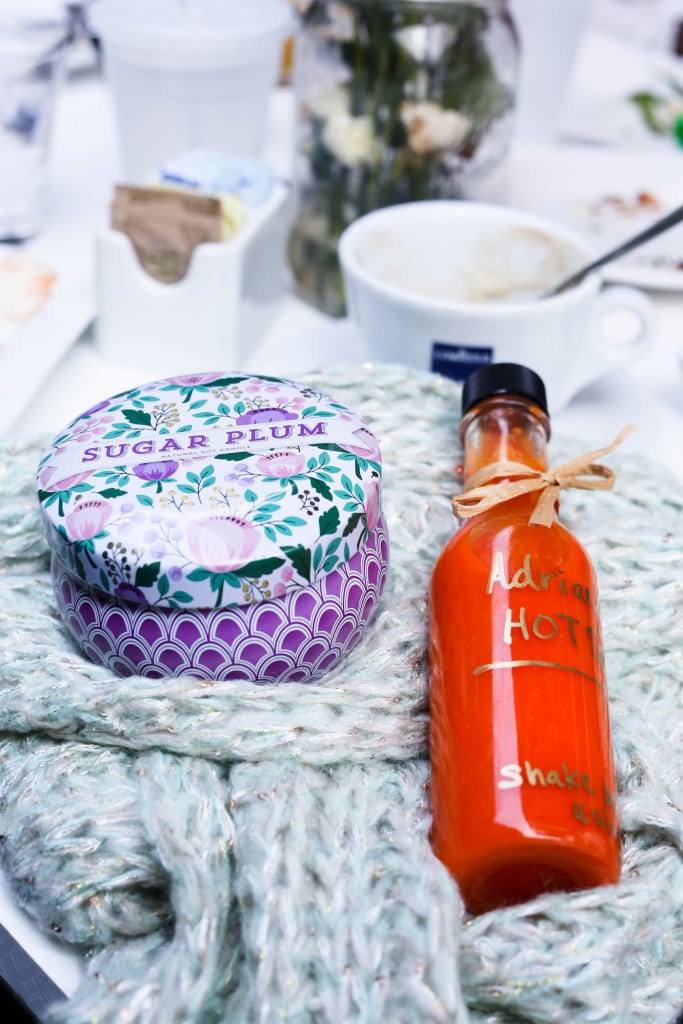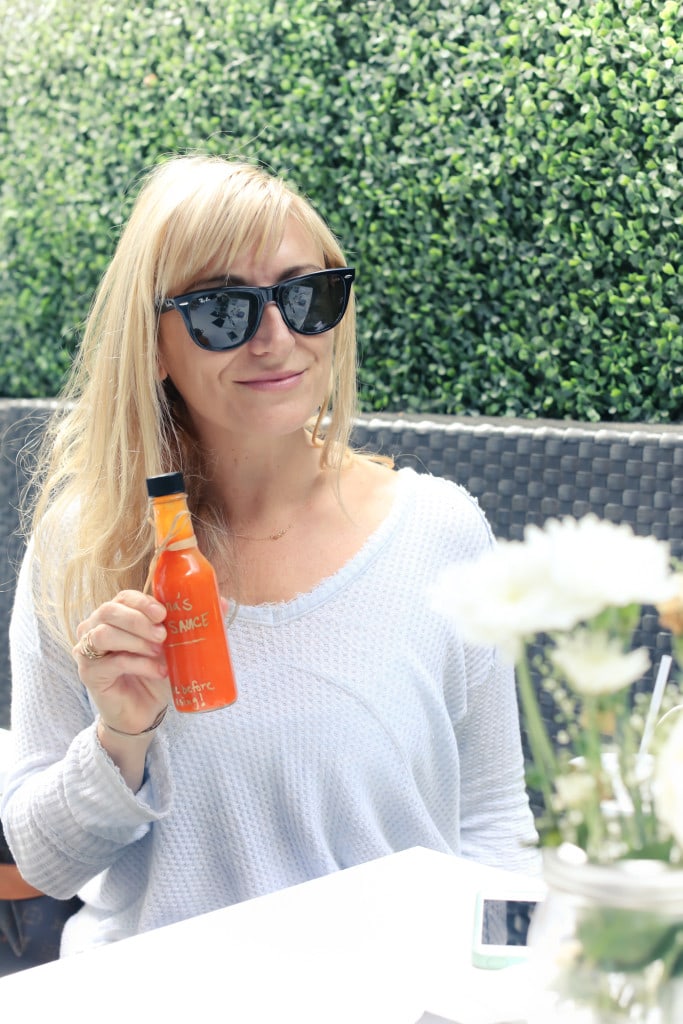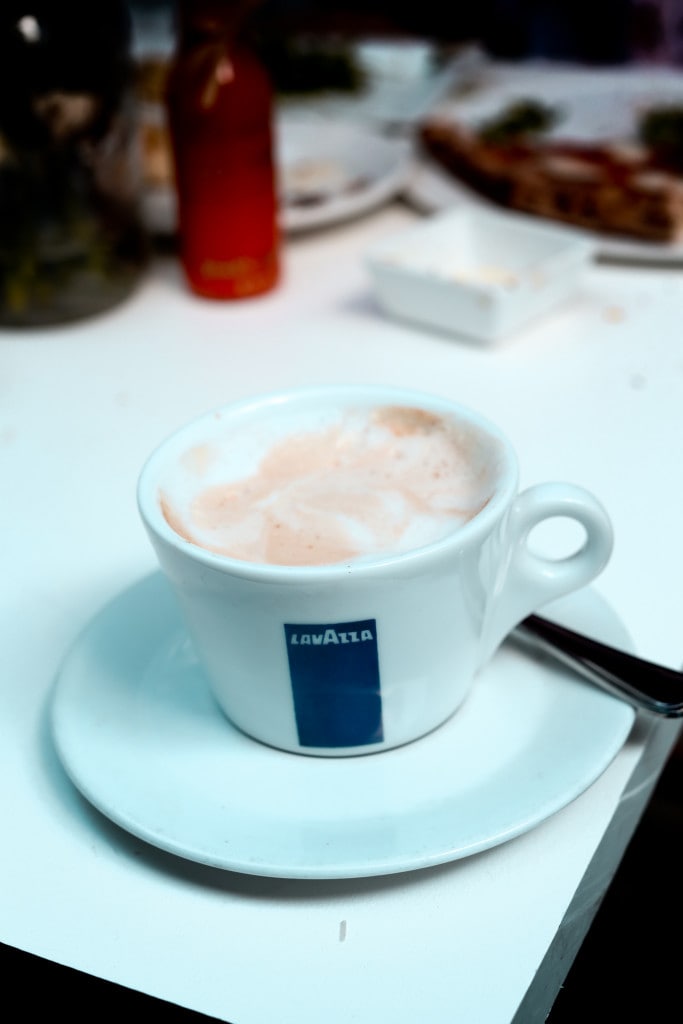 After coffee and dessert, we love to walk off our meals down the quaint streets of Little Italy.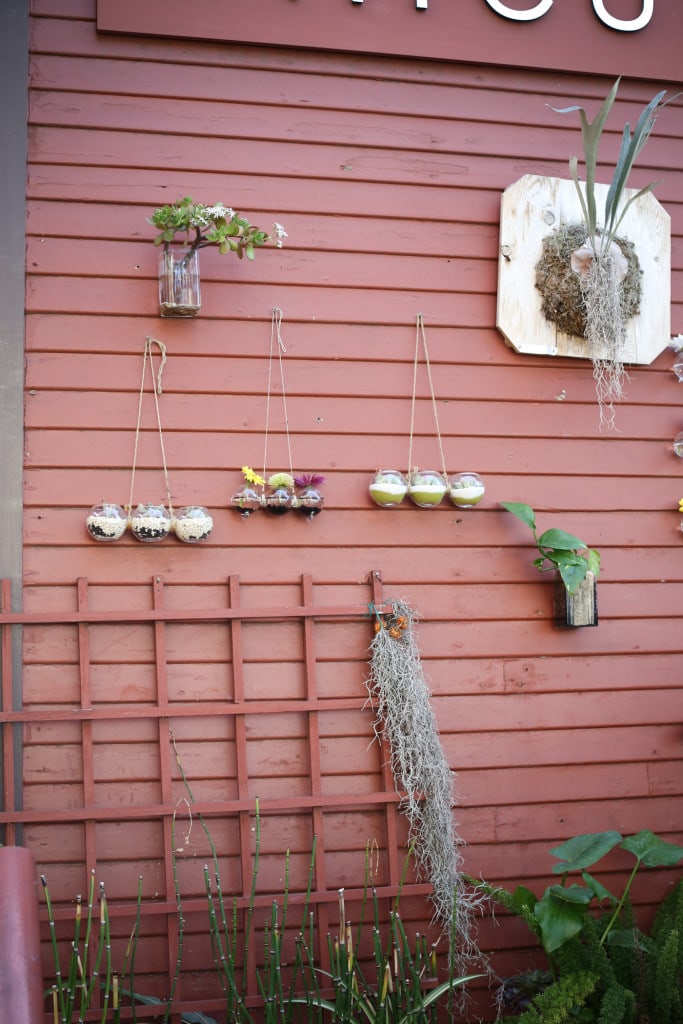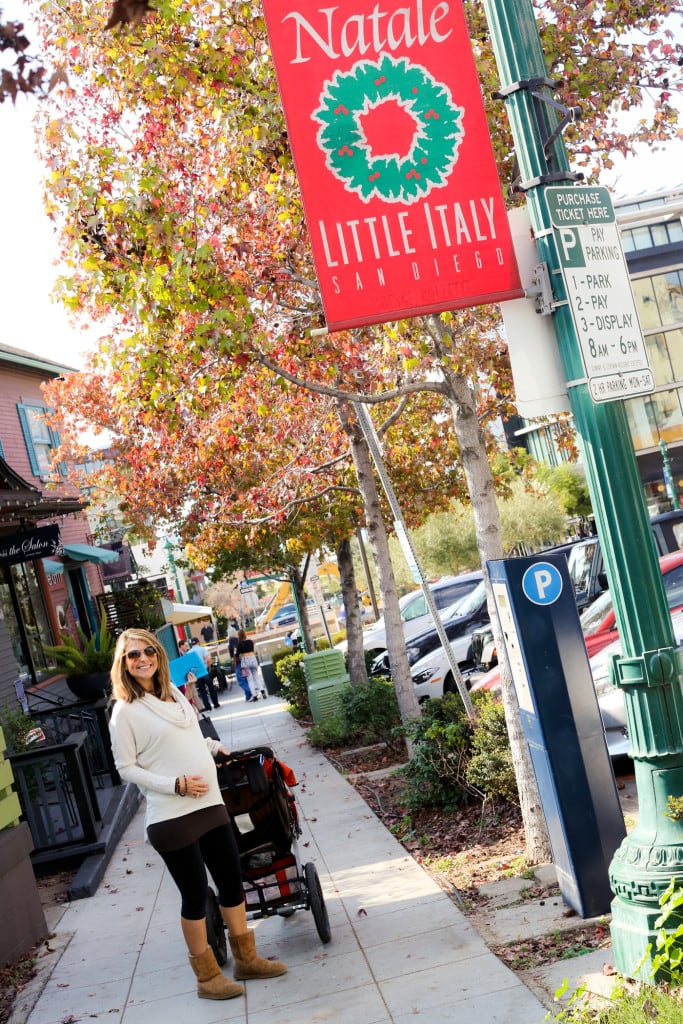 Believe it or not, our Thursday Little Italy outings only take about an hour-and-a-half. Within that time, I am able to bond with my toddler, eat some delicious food, and have a sore tummy from laughing so hard.
In this beautiful life that we all have the privilege of living, time is of the utmost essence! So, make your time count with good cuisine and great company.
In the meantime, enjoy this video of Adri cooking it up!  Too cool not to share with you guys.
Tips for Parenting In Style...
Never boring, always awesome. Keep up to date with the latest from City Girl Gone Mom.