There are many things that can make a house a home, and one of our favorite showstopper attributes is a stunning farmhouse front door! A beautiful front door can truly go a long way on a home's appearance, and show off your style before you or your guests even walk inside!
To give you all the farmhouse porch inspiration, we have compiled a collection of unique and beautiful front doors that offer plenty of curb appeal. You might just want to steal one of these farmhouse front door designs for your own home!
---
"A designer knows when he has reached perfection not when there is nothing left to add but when there is nothing left to take away." —Antione de Sainte-Exupery
---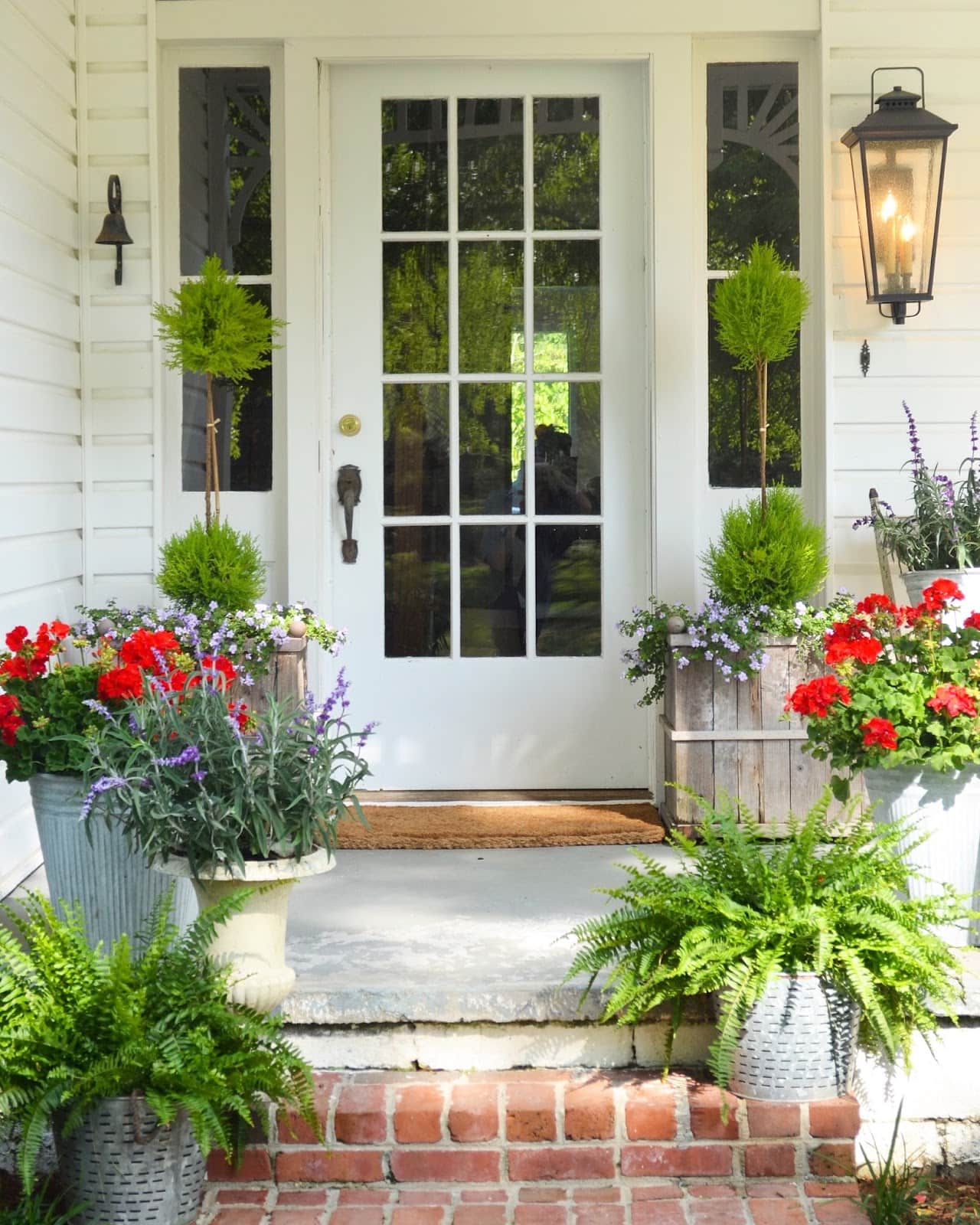 Fresh and Clean
This door is so classy in white. And that classic beauty doesn't go out of style. Lauren at Little White House paired her white front door with a vintage style lantern and beautiful greenery, so stepping up to it can almost make you feel as if you are in a fairytale. You can't go wrong with such a fresh and clean design like this one.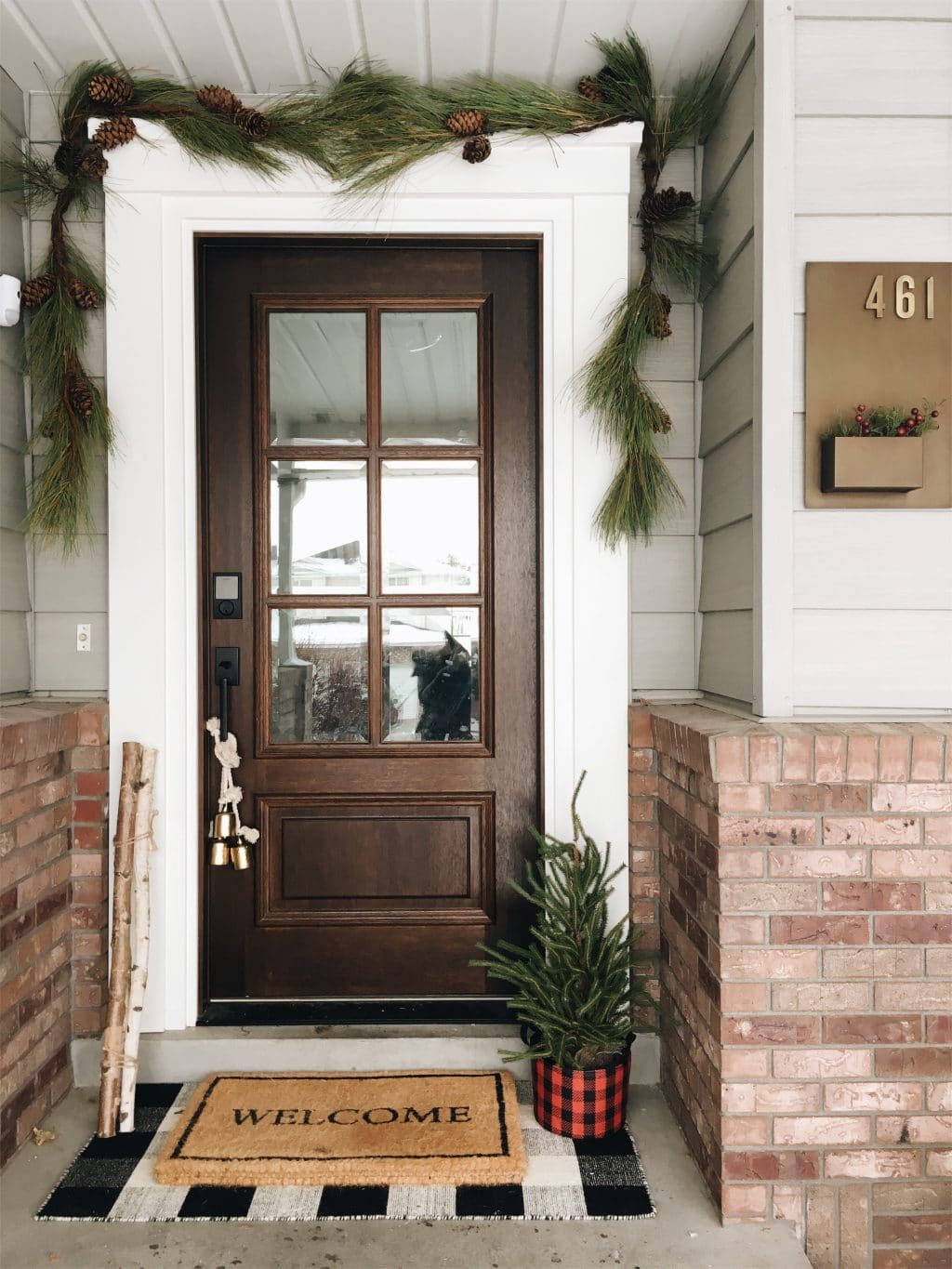 Cozy with Cocoa
You can almost feel the mountain air on your skin when looking at this door. The fabulous cocoa tones in this rich colored door give us all the cozy feels. It just screams "welcome home." Its simple details are just so lovely and make you want to head inside and get snuggled up in a blanket. See how Chris and Julia at Chris Loves Julia decorate it for an easy mountain look.
---
"Home is the nicest word there is." —Laura Ingalls Wilder
---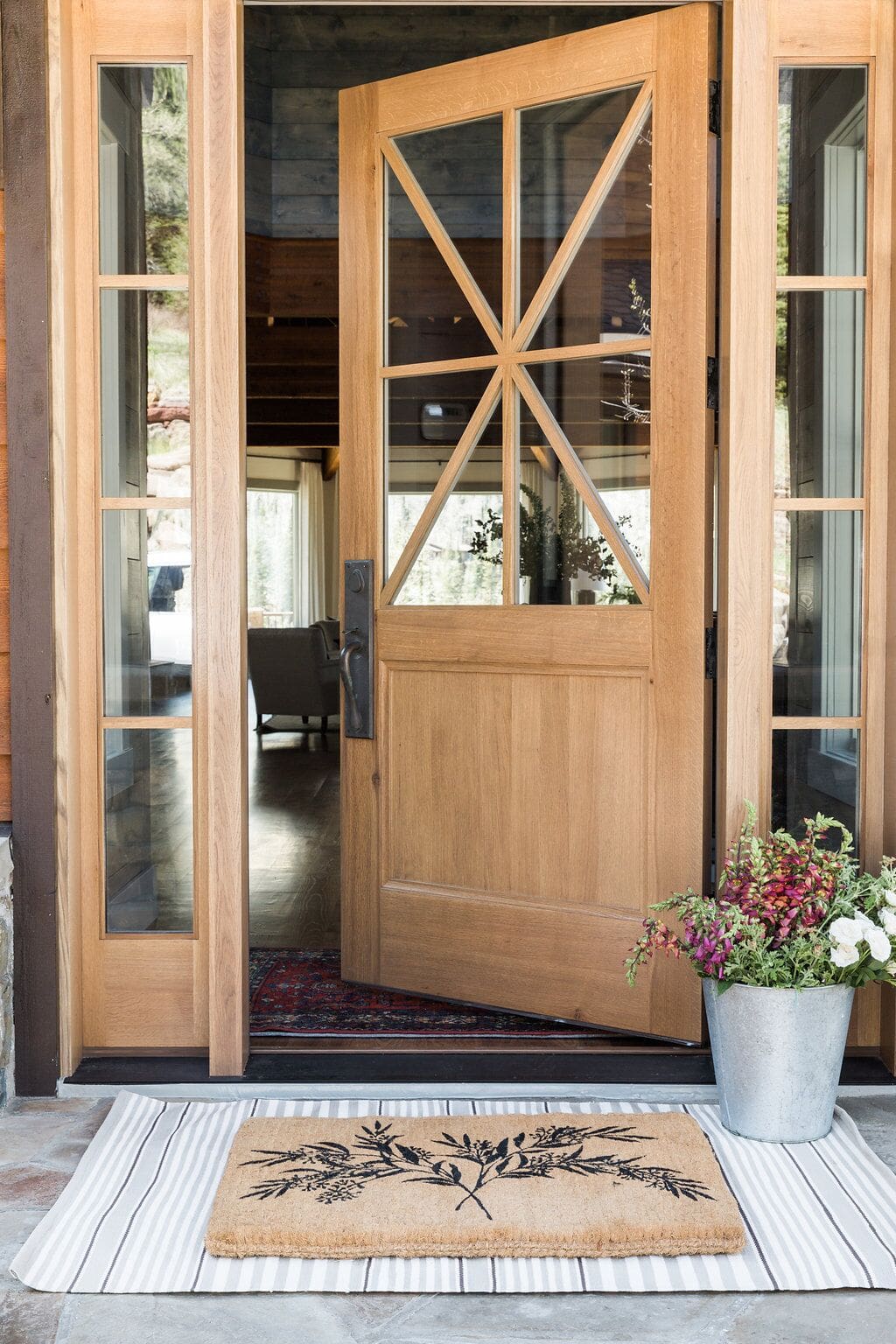 All in the Design
Timeless, clean, and creative design…there's no denying that this door is simply a looker. Why are geometric lines just so attractive? Have to love those shapes that pull your eyes to the center of the door. This is one of those doors that will jazz up your home in a more subtle way. Shea at Studio McGee just lets the design do the talking!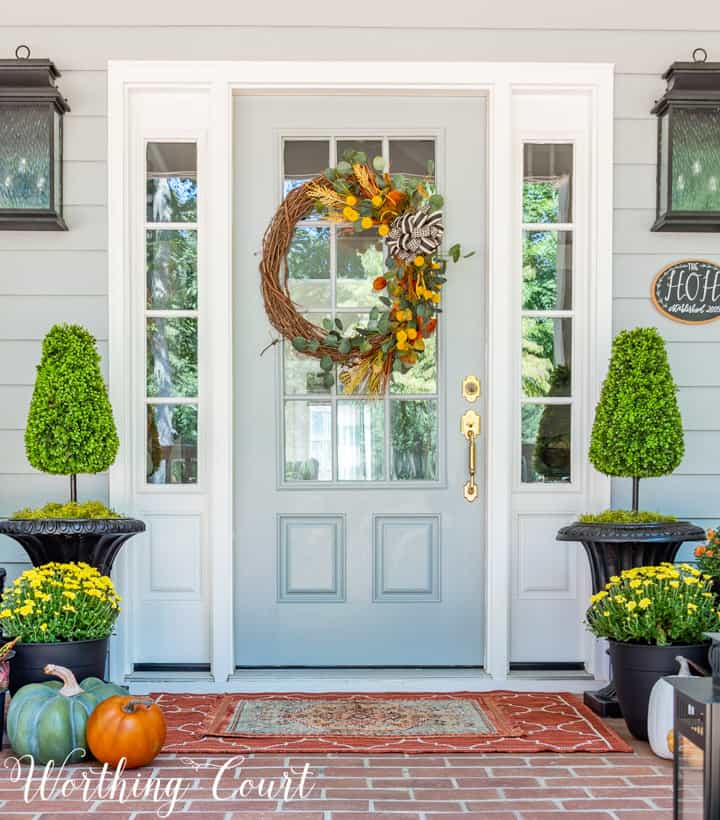 Soft and Stylish
It's nice to imagine coming home to this door! We are loving the baby blue hue next to the white side panels and the gold handle adds such a lovely touch. Suzy over at Worthing Court sure knows how to style a door. Add a lavish wreath like her and your farmhouse style will be in full action.

Double the Fun
Gotta love a gorgeous double panel French door like this one. This has an elegant feel but at the same time is so inviting. This door accompanied by a rocking chair makes for a perfect modern farmhouse style. Brooke and Henry at Plank and Pillow created a front door that just invites you in.
Have you listened to my podcast? Check out The Mom Confidential!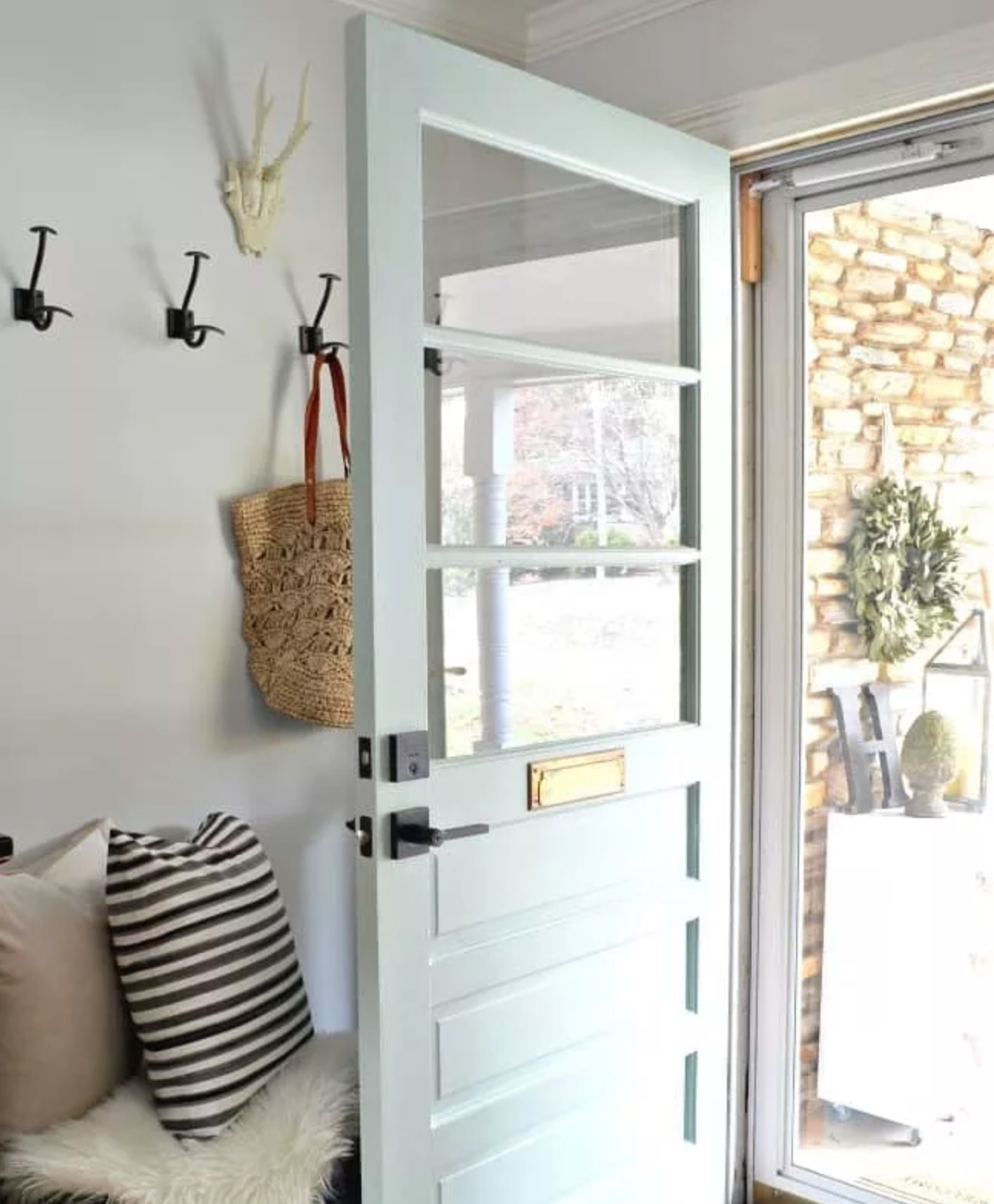 Darling Detail
This door is easy to fall in love with! We sure did! The door is just so stylish with its adorable design and eye-grabbing details that truly make it feel like home. Plus, check out that mail slip! Kristi at Chatfield Court made this adorable, second-hand door her own. Honestly, could it get any more darling?
---
"Decorate your home. It gives the illusion that your life is more interesting than it really is." —Charles M. Schulz
---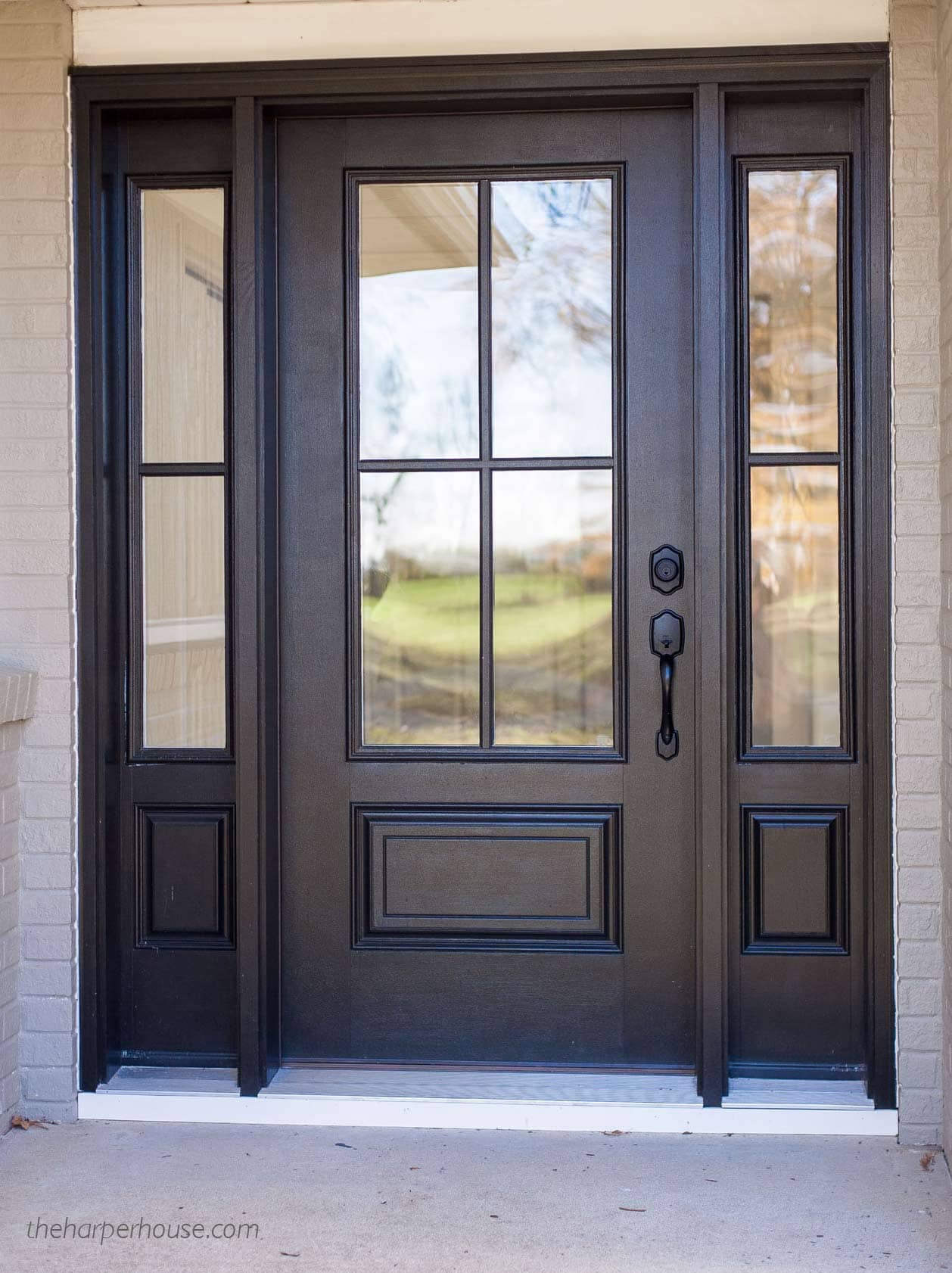 Dark Magic
Christy at The Harper House shows us the beauty of clean-cut stunning simplicity! With more of a blank canvas like this, you have the freedom of sprucing it up just the way you like it—adding your own style with a mat, wreath, lighting, you name it. This door's deep dark tone may be just the thing your home needs!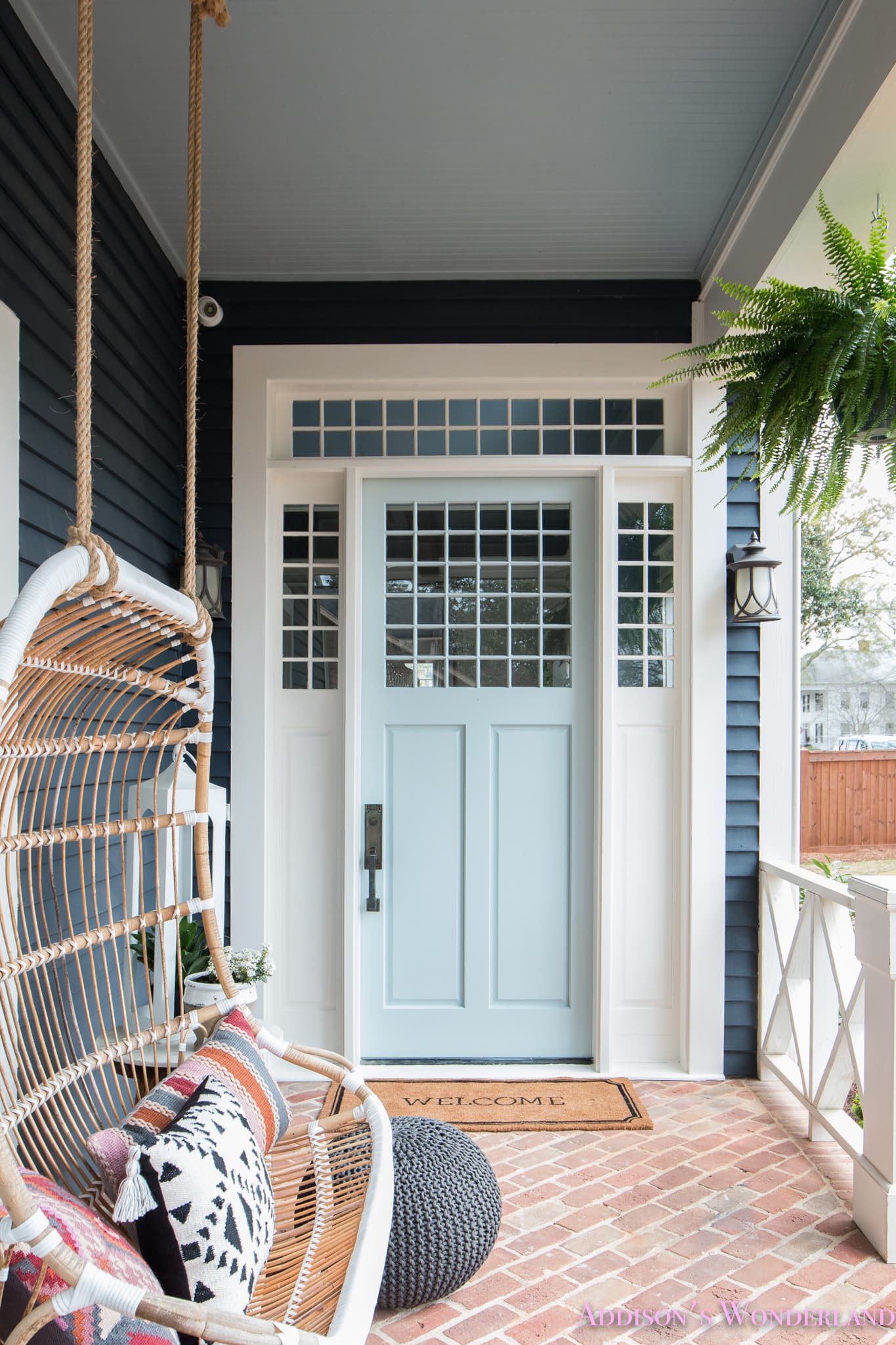 Boho Farmhouse
This front door and porch bring the boho cottage and farmhouse feels together. It's a door that we can envision for a beach house or in the quiet suburbs. There is no denying the tiny squared window design is downright adorable and adds a little more life to the exterior of a home. And we are loving how Brittany at Addison's Wonderland put this porch together.
---
"Recognizing the need is the primary condition for design." —Charles Eames
---
Farmhouse Turned Farmhome
This modern farmhouse porch will make a house come alive. Not everyone wants windows on their door. The light can still enter from the top and side panels but the door itself offers more privacy and a certain look that you can't get with a windowed door. At the end of the day, it's all what you do with a door and Marian at Miss Mustard Seed got it right. It is certainly a farmhouse design you may want for your own home.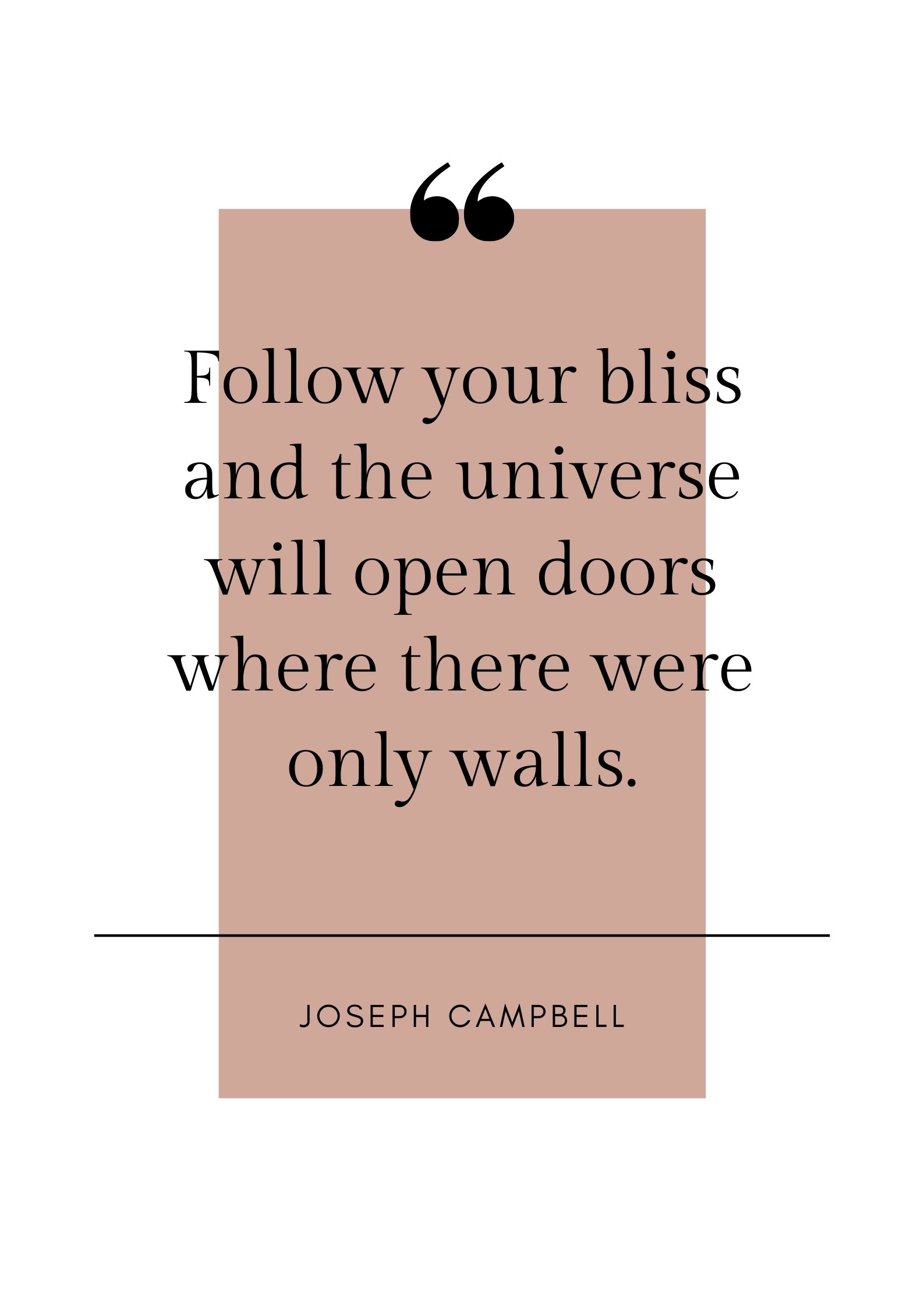 Tips for Parenting In Style...
Never boring, always awesome. Keep up to date with the latest from City Girl Gone Mom.